Today the Phoenix Suns became the latest team to unveil their "Classic" (throwback) uniform for the upcoming season, and like several other squads, have chosen to return to the 1990s. The "Sunburst" uniform, which was worn from 1992-2000, is marking its 30th Anniversary as well.
The 1992-93 Phoenix team was led by Sir Charles Barkley, and made the trip to the Finals that season, eventually succumbing to the Chicago Bulls.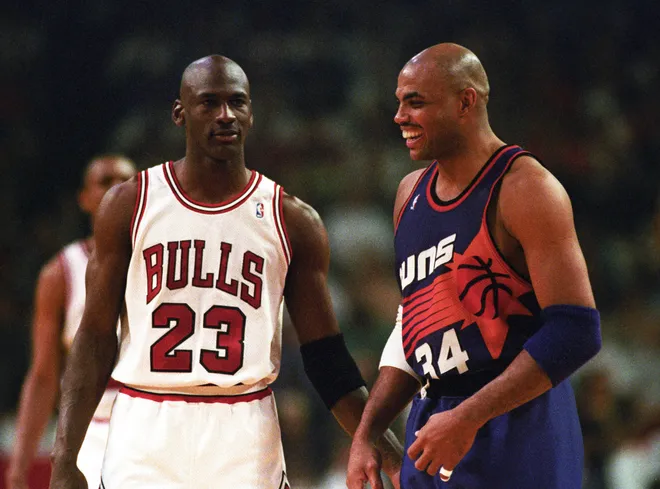 Needless to say, the uniform has proven immensely popular with fans over the ensuing decades, and it seemed like only a matter of time before the team brought it back. Let's have a look at what they'll be wearing for the upcoming season.
As you can see, it's pretty faithful to the original (obviously there was no uni ad or makers mark back then). The jersey is purple, with orange and black piping, the classic "SUNS" ambigram, and featuring a basketball inside a "sunburst". Numbers are slightly oriented upward, in white with a black blockshadow. Pants are also purple, with a black waistband, with an orange/black stripe on the right hem, with an angled orange stripe and black triangular section, featuring "PHOENIX" in orange, on the left.
Here's a different angle on the shirt. You may be able to notice the numbers contain slight perforations.
According to the NBA, "The Suns will wear the uniform throughout the 2022-2023 season and celebrate the 30th anniversary by hosting corresponding 90s nights."
Here's one last look at the full uniform:
Finally, the team also introduced a new 30th Anniversary logo, to celebrate the 1992 Western Conference champion Suns team.
And of course, what better way to "introduce" the new uniforms than with a very 90's-inspired hype video (unfortunately, we don't get much better looks at it than the still photos). But there is some good detail in the closeups.
' .@PayPal | https://t.co/mOggQGcSQa pic.twitter.com/9KNoCCZapO

— Phoenix Suns (@Suns) August 23, 2022