[Editor's Note: Paul is on his annual August break from site (although he's still writing his weekly Bulletin column and may pop up here on the blog occasionally). Deputy editor Phil Hecken is in charge from now through the end of the month.]
A good Friday morning to you all. We made it.
I have a very special article written by today's featured author, Timothy P. Brown, who's put together an absolutely outstanding piece chronicling the evolution of football sideline gear, from the earliest coverups to the more modern gear of the 1940s and 1950s, which were the predecessors of today's more luxurious appointments (like indoor stadiums and heated seats). Spartan though they were, those early pieces of gear kept the players warm(er) or cooler. Timothy will take us through it all.
Enjoy!
• • • • •
The Good Old Days of Sideline Gear
by Timothy P. Brown
Most stories about football uniforms and gear focus on the items worn on the field during play, but the world has many benchwarmers, and even the stars spend time on the sideline during this new-fangled two-platoon era. Players on the bench have needs as well. Remember, old-time football players did not play indoors or sit on heated benches, and for many decades, players had to remain seated on the sideline. No stationary bikes, standing up to pump the legs or walking around to warm the feet. They sat and sat and sat. So, let's review how the boys on the bench dealt with the cold, snow, rain, and shine during football's glory days.
In the beginning, there were blankets, and they came in especially handy because few stadiums had locker rooms. Blankets covered injured players lying on the field, players on the field wrapped up in blankets during the occasional timeout, and everyone slipped one over their shoulders at halftime when teams wandered to the sideline or the end of the field to rest and confer. Fancy schools like Texas stitched logos on their blankets. Blankets became so big that many schools offered them as awards instead of letter sweaters. Some still do.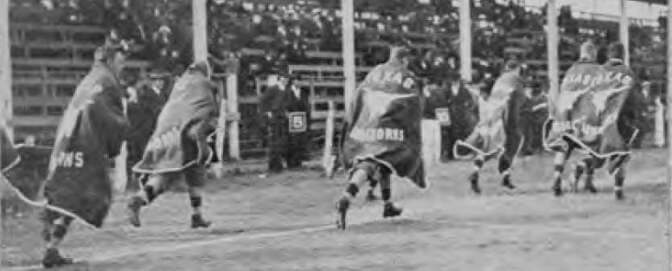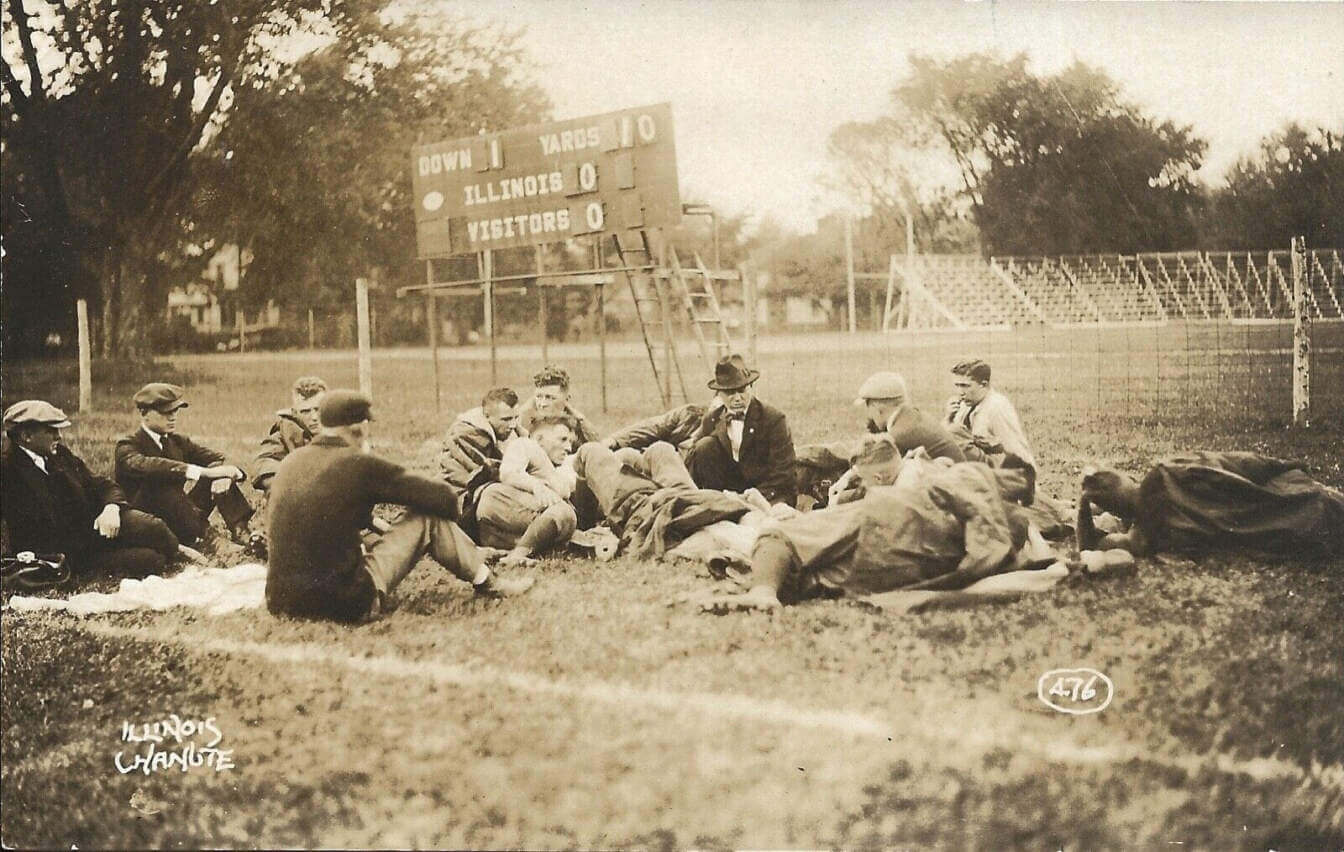 Although football teams wore bulky wool sweaters in the 1800s, they wore increasingly lighter equipment, including jerseys, as time passed. While blankets kept the fellas warm on the sideline, they had less value when throwing a football or otherwise warming up, so warmup jackets became all the rage in the 1920s. Who better than Red Grange to promote a new look?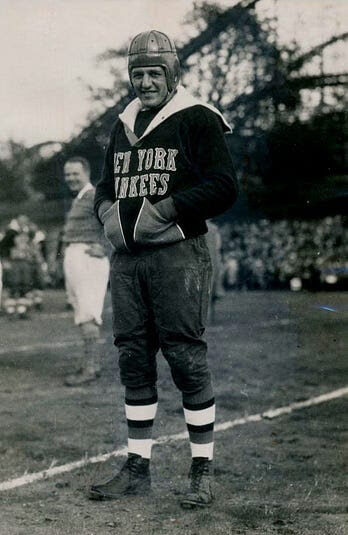 Most warmup jackets covered only the arms and torso, though some extended down to midthigh, achieving parka-like status.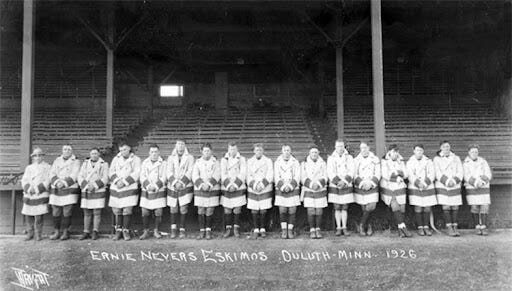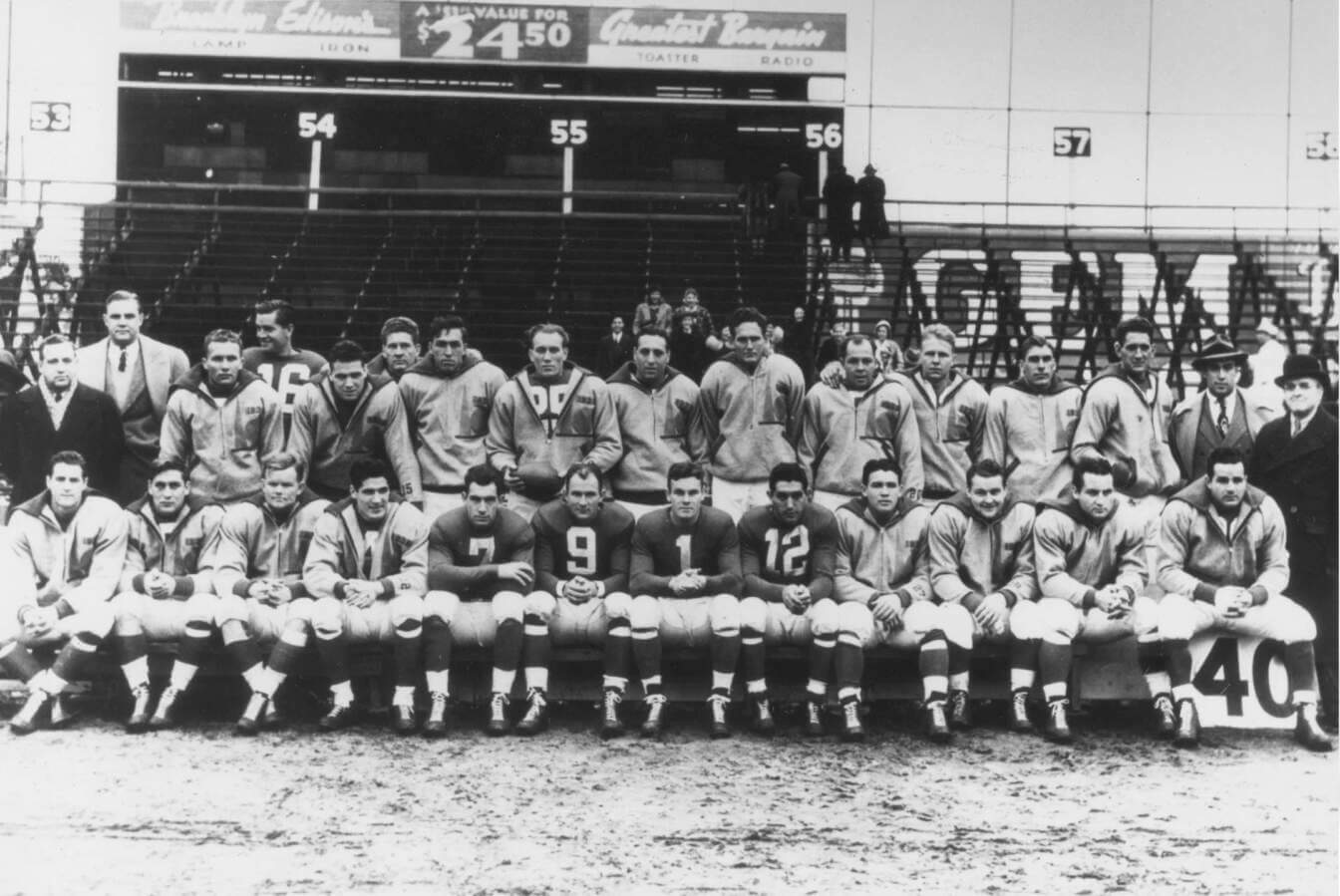 Warmup jackets began falling out of favor in the 1940s, hastened by the introduction of two-platoon football. Bench players could no longer rely on sitting on the sidelines for a complete game, they entered the game periodically to give the starters a break, and most starters only played offense or defense. With players unexpectedly returning to the field due to turnovers, warmup jackets with sleeves proved a hindrance, so the preferred sideline covering shifted to capes.
Sideline capes appeared in sporting goods catalogs in the late 1930s but did not "take off" until the late 1940s and 1950s.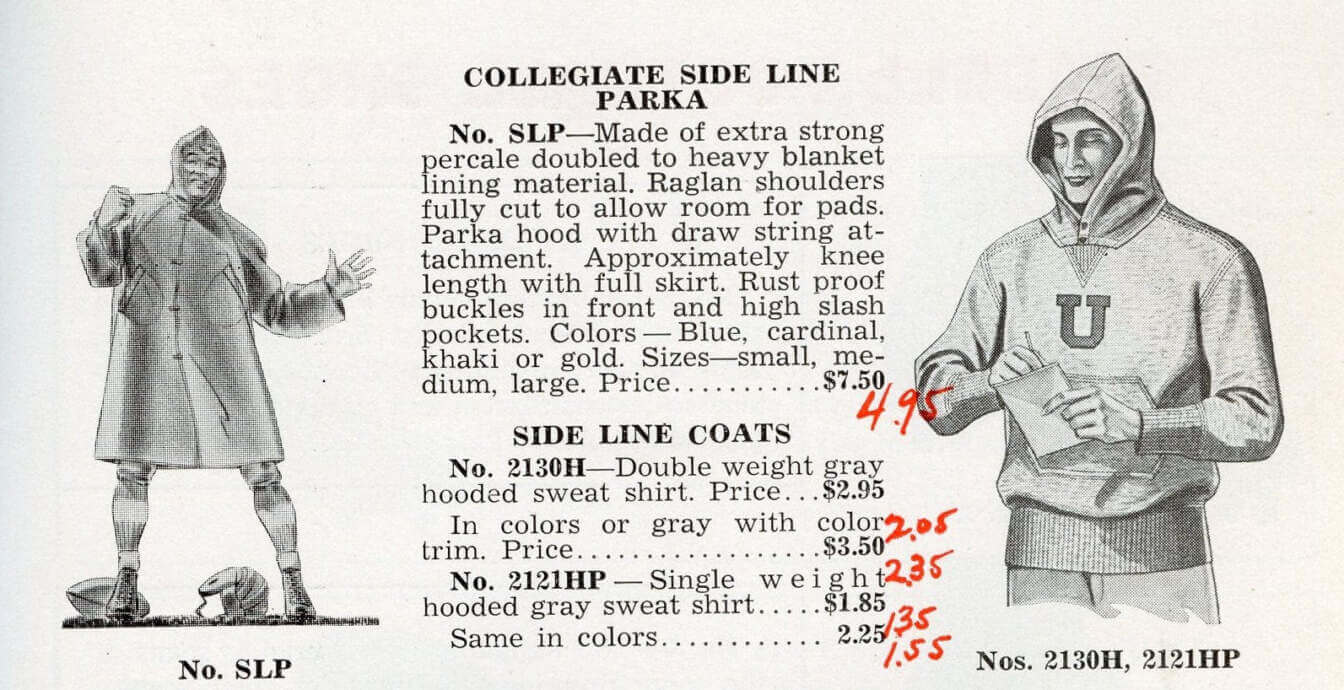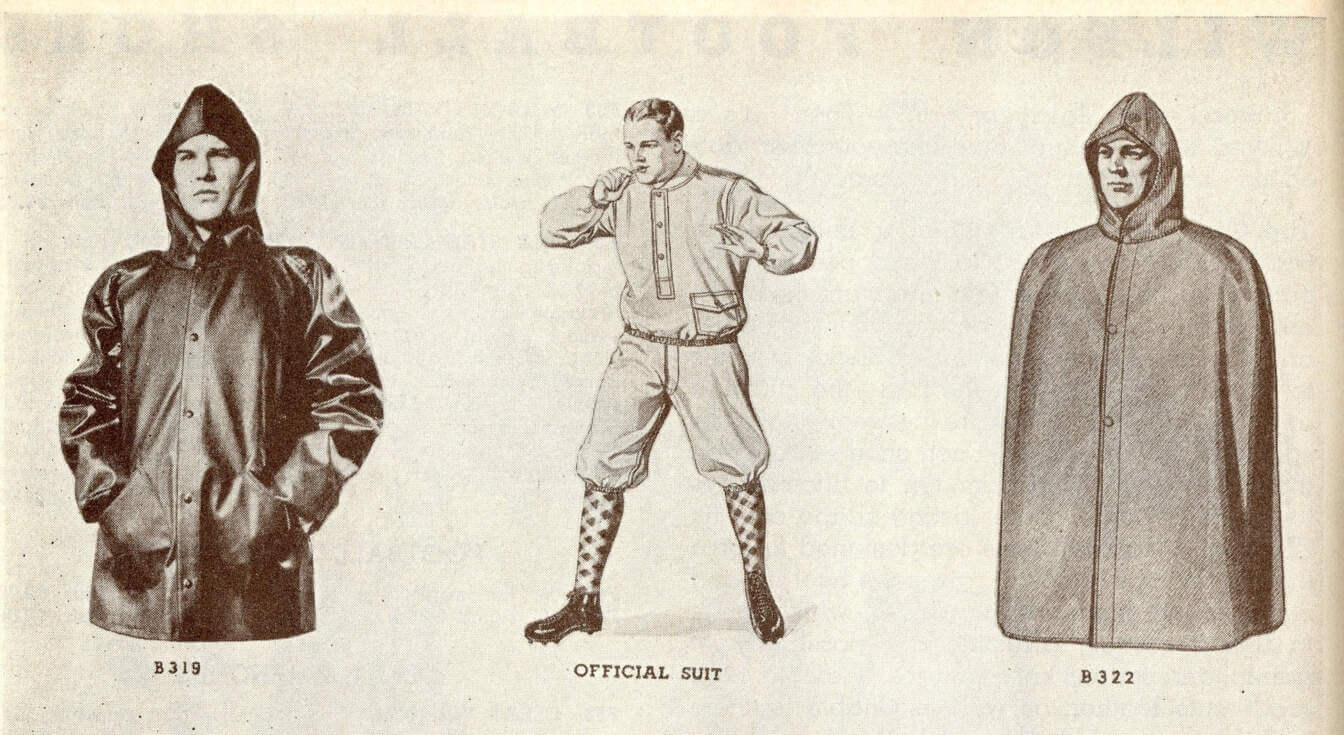 Of course, sideline capes in sterile catalog images do not stir the blood. Sideline capes must be seen in the wild on players standing or sitting on the sidelines, muddy and exhausted, their breath visible in the cold air.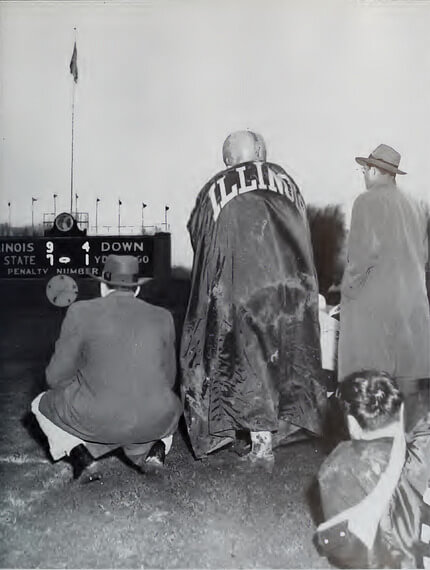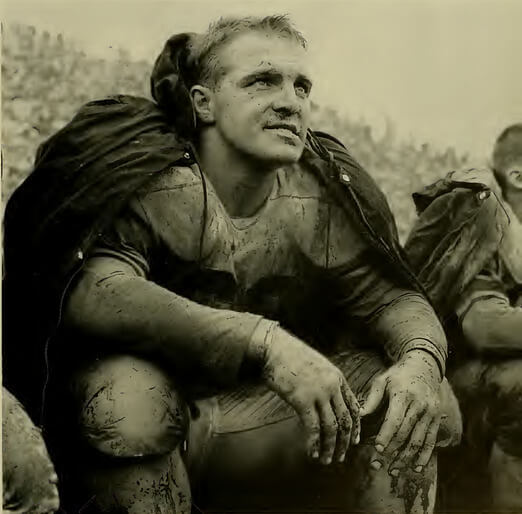 Obviously, football is not always played in bad weather, even if it should be. Sometimes games are played under the scorching hot sun, and benchwarmers must also protect themselves in those conditions. But, just as the cape is the iconic sideline gear for cold weather, nothing maximizes the backup quarterback's bench time on a sunny day like a baseball cap or visor.
For fans of a certain age, backup quarterbacks have always worn baseball caps or visors, while those a bit older think the sideline cap is a relatively recent invention. (They were on NFL sidelines by the mid-1970s, if not earlier.) However, they were on some football benches a few decades earlier, as seen in the image of several LSU players wearing visors eight years before Steve Spurrier's birth.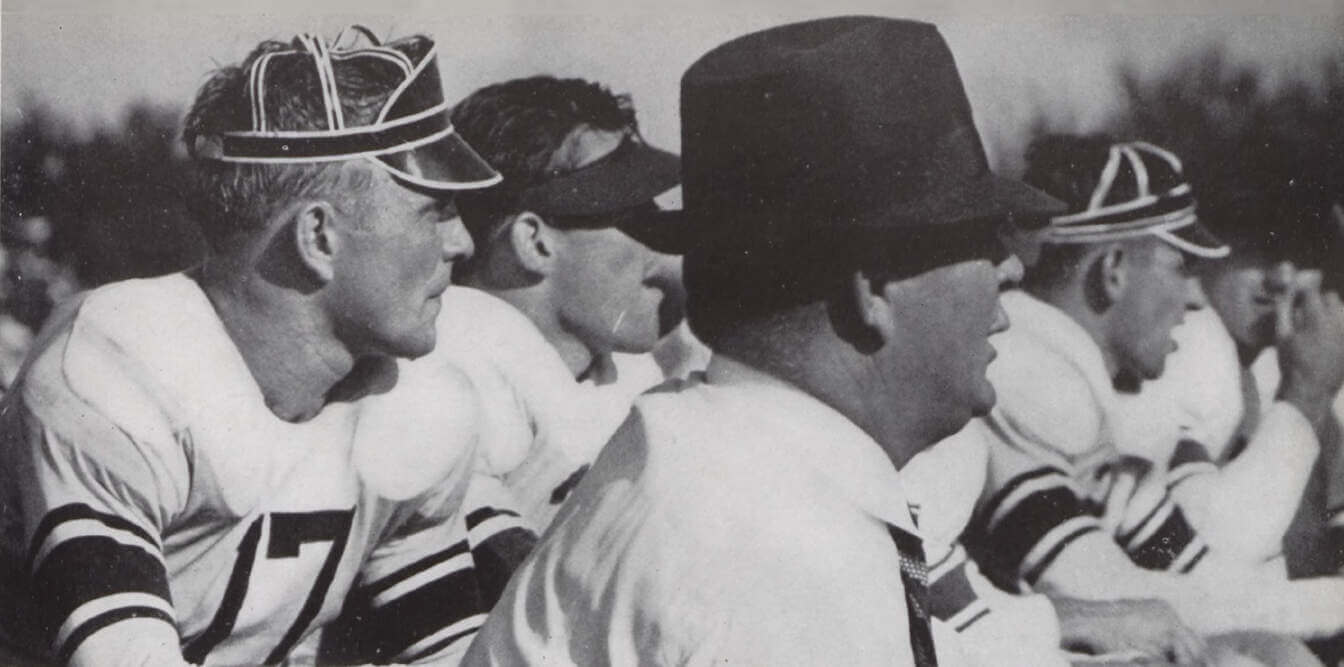 Eight years after Spurrier's birth, the Georgia Tech Yellow Jackets came onto the field at the 1952 Orange Bowl with even high-numbered players sporting ball caps.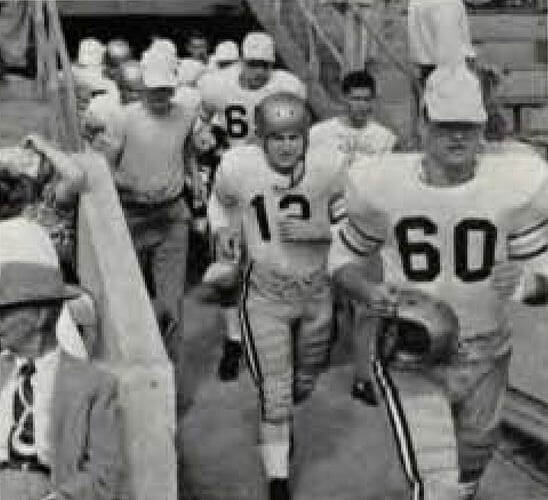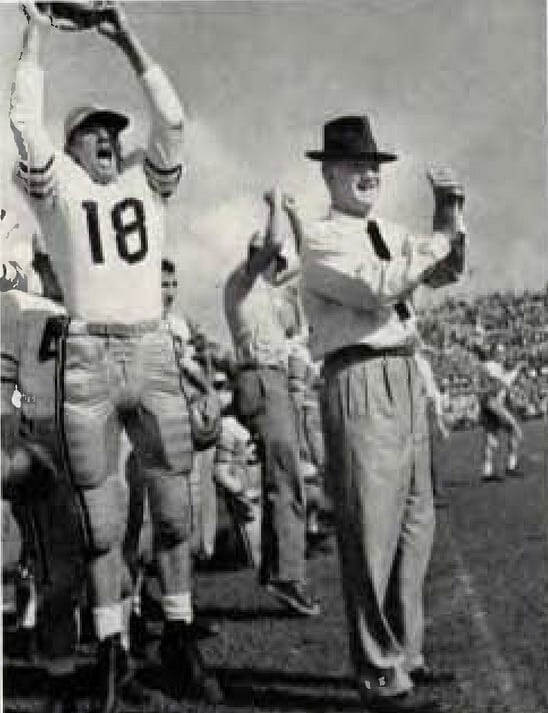 Big-time football is now played indoors and on artificial turf or well-drained grass fields. The uniforms and other gear use synthetic materials that wick moisture from players' bodies, and players now have access to heated benches, warm air blowers, and, in the worst case, warm locker rooms. Of course, every old-time player would trade current playing conditions and gear for theirs, but you must admire those old goats for successfully battling the elements and their opponents.
• • • • •
Fantastic article, Timothy, thanks so much for sharing. If you enjoyed this, you'll definitely enjoy his website,
Football Archaeology
, which is "digging into gridiron history to examine how football's evolution shapes today's game."