Earlier today, the Mississippi State Bulldogs announced a new special alternate uniform, designed to honor the school's first Black varsity players, Frank Dowsing, Jr. and Robert Bell. The look features maroon jerseys with white numbers and, "MISS. STATE" across the chest. The new helmet is white with a maroon "MS" logo.
The uniform reflects the 50th anniversary of when Dowsing and Bell last played for Mississippi State. They were the first Black varsity football players in the program's history.
This is a great recognition on the part of the school. But it's a bit odd, timing and uniform-wise. You see, Dowsing and Bell first arrived at Mississippi State in 1969. They became star players on the team and played until 1972 (which is the 50th anniversary of when the two last suited up for MSU). The team showed a video of the players and offered a bit of the backstory:
:

On Sept. 24, their legacy lives on. #HailState pic.twitter.com/r1L9rVIwdH

— Mississippi State Football (@HailStateFB) August 15, 2022
Here's the thing though. If you look at the video and the uniforms the two players wore, they don't look like the uniform Miss State introduced. The school is describing the uniform thusly:
The new uniforms showcase a unique look that hearkens back to the practice jerseys the groundbreaking players wore three years later in 1972. The outfit also features a custom Dowsing-Bell logo in the spirit of the traditional M-State stripe that honors the two men's pioneering achievements both on and off the field.
Don't get me wrong, it's a great looking uniform as it is — but "harken(ing) back to the practice jerseys" the guys wore in 1972? They didn't want to do a straight throwback or the vertically arched "MISSISSIPPI" above "STATE" practice jersey shown in the video?
Anyway, there are a few more details Mississippi State put out, and which show a better view of the helmet they'll pair with the new uni: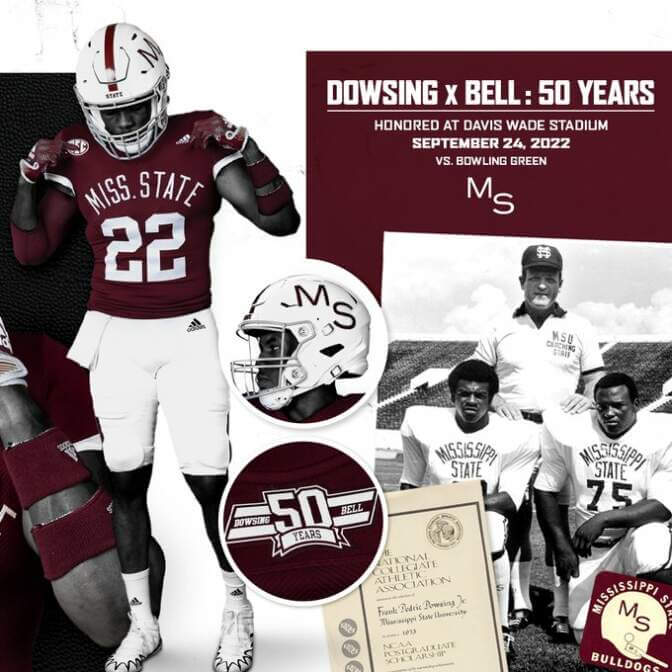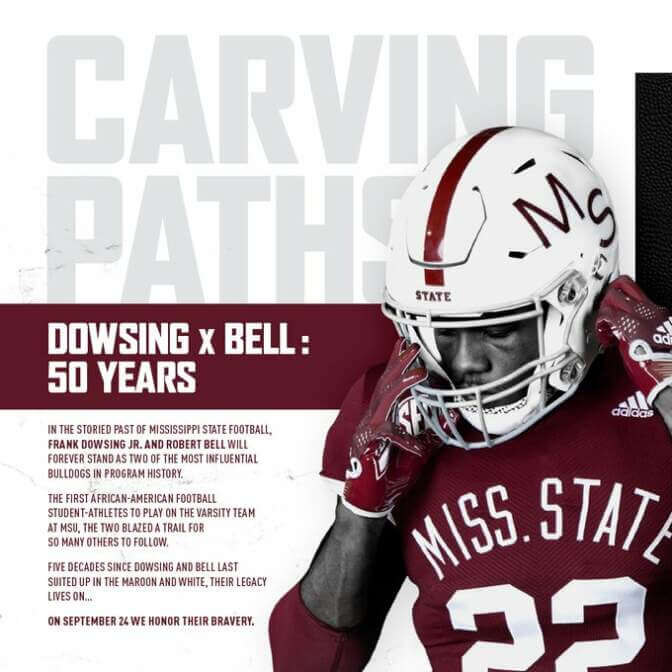 Great gesture, nice uni! The team has announced they'll wear these on September 24th, against Bowling Green.
You can read a bit more about the uniform here, as well as some historical information on the groundbreaking achievements of Dowsing and Bell.