Greetings and good Saturday morning Uni Watchers. I hope everyone has had a pleasant week, and you've been enjoying the new and improved features of the blog. If you read Paul's introductory post on Monday (and been reading all week), you'll know that the weekdays will now be broken up into several smaller postings throughout the day, rather than one long standalone post — as has been the custom basically since Paul started UW back in the mid-2000s. He also mentioned that weekends might still consist of one long post, or follow the new style we just adopted.
What I'd like to do this weekend is to employ both — today will follow the previous format with one long(er) post, although the ticker will still be its own standalone article (which will be posted later today). Of course, if there is any breaking uni news today, then I'll run a shortish post as Paul has been doing throughout the week.
Regardless of whether there is an additional uni-post today, tomorrow I plan to employ the "new" style, with several shorter posts sprinkled throughout the day. What I'm hoping for is feedback from you guys: please let me know whether you prefer one longer posting (like today) with only a ticker as a separate item, or whether you prefer things broken up (as is the new weekday style), and which I'll employ tomorrow. Depending on your preference(s), I'll adapt the weekend posts accordingly. The one exception will likely be once SMUW (Sunday Morning Uni Watch) rolls around — that will likely be broken up into several posts throughout the day, even if readers prefer the "old" one-post-per-day (plus separate ticker) style.
Now then…
Today I'm pleased to once again be joined by Walter Helfer, who as you're all aware has guest authored several different articles over the years, and who most recently brought us "A Beauty Pageant for Numerals" (Part I and Part II) for MLB. When those articles appeared, I mentioned Walter would be back with a look at the NFL in the same style. We have that for you today. I'll now turn the rest of this lede over to Walter!
• • • • •
An NFL Beauty Pageant for Numerals, Part I
by Walter Helfer
If there is a common factor among all the team sports, perhaps the most iconic is the basic octagonal numeral. They bond pro baseball, varsity football, ultimate frisbee, volleyball, and more. Designed with a ruler, it offers function and beauty; readable from long distances, it can be rendered plainly or in multi-colors without sacrificing legibility. But I would regard a world decorated only by these no-nonsense numbers in the same way I would consider rock & roll played only on acoustic guitars. Capable, but lacking in imagination. The time has arrived to put the NFL under the discriminating eyes of the judges.
In the NFL, the most commonly used font is Sand-Knit, with a few teams using variations. Tampa Bay, for instance, multiplies the outlines in an unusual way. Indianapolis uses a fancy version once employed by the Cowboys and the New York Titans. Each font will receive a score of 5 through 0: 5 = Excellent; 4 = Good; 3 = Okay; 2 = Poor; 1 = Godawful; 0 = Booby Prize.
__________
Arizona Cardinals: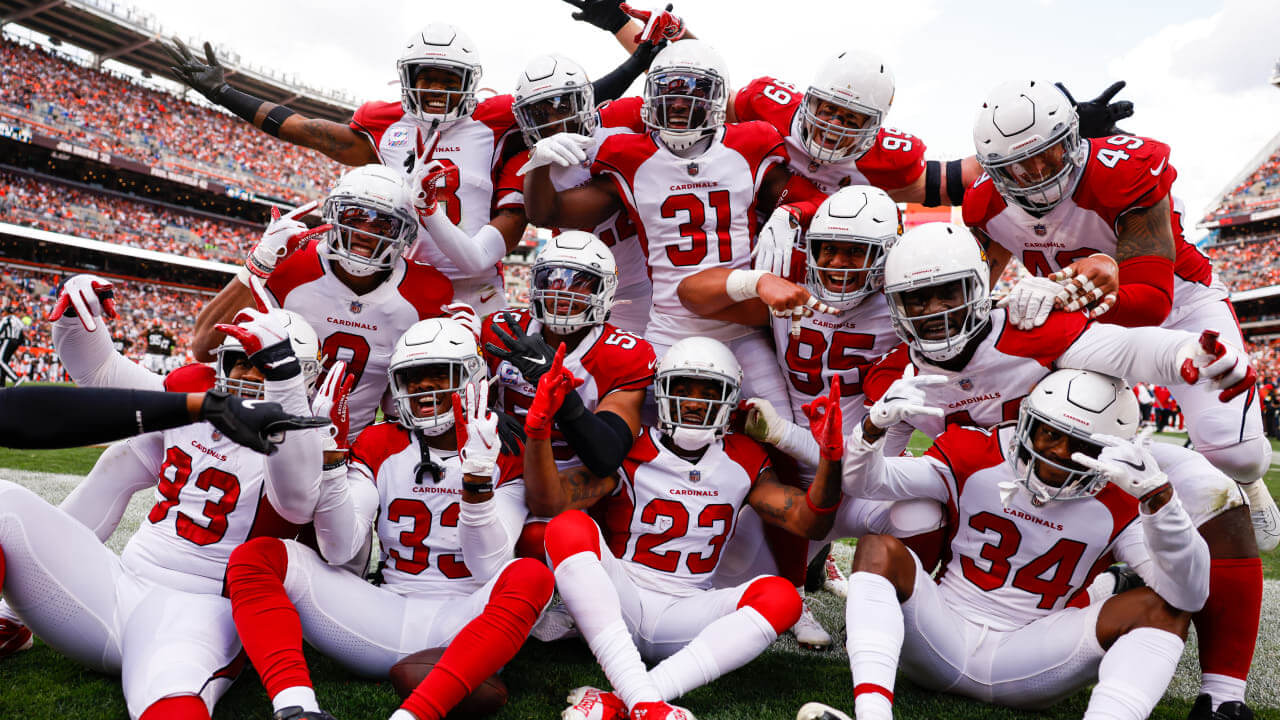 Looked upon as a textbook case of what NOT to do, the NFL's oldest extant team adopted a garish costume with contrasting panels and shoulders in 2005, and replaced their Sand-Knit numerals with a bland font having rounded corners. It was a bad look 15 years ago and it is execrable now.
My Score: 2
__________
Atlanta Falcons: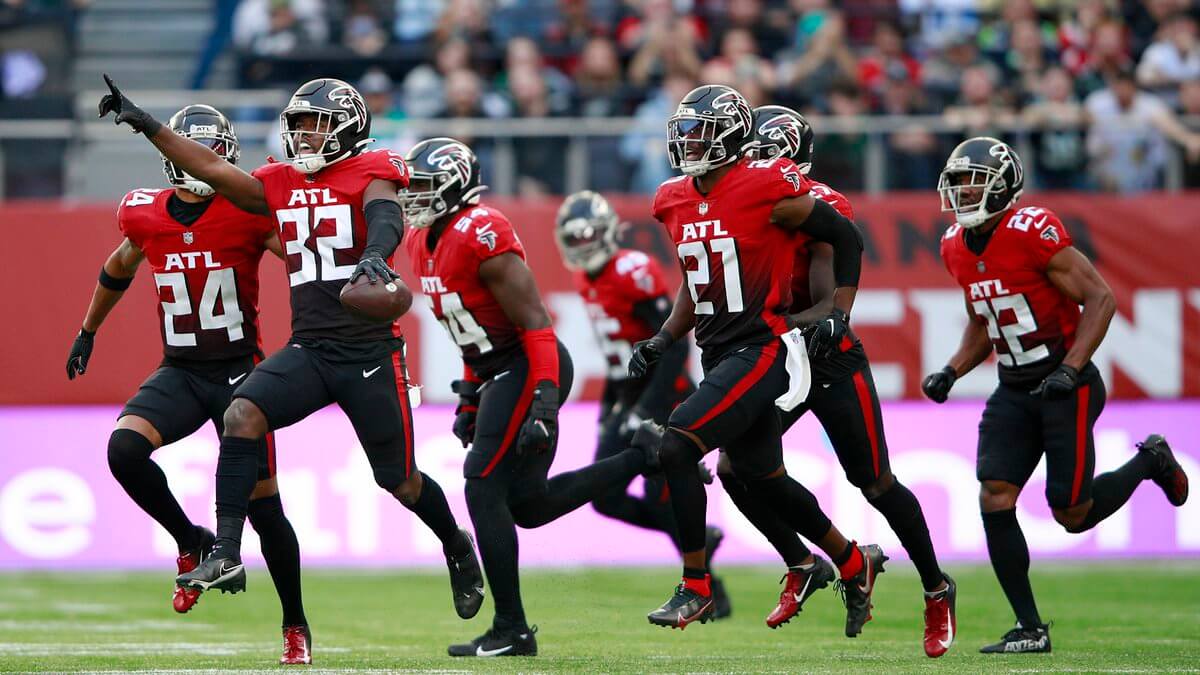 The Falcons' sartorial history strikes me as periodic spasms of a tormented franchise. Each new design comes off as the worsening of a series of mistakes. In 2003 Atlanta birthed a contrived, fussy uniform with crowded sleeves and rectangular numbers featuring rounded corners and a subtle drop shadow. The jerseys' only redeeming feature. Hoping to change their luck after a torturous Super Bowl, a new design came in 2020, and it managed to upset even more people. Constructivist square numbers with a "redshift" feature arrived to muddy things further. A cry for help if ever I saw one.
My Scores: 3 (2003); 1 (2020)
__________
Baltimore Ravens: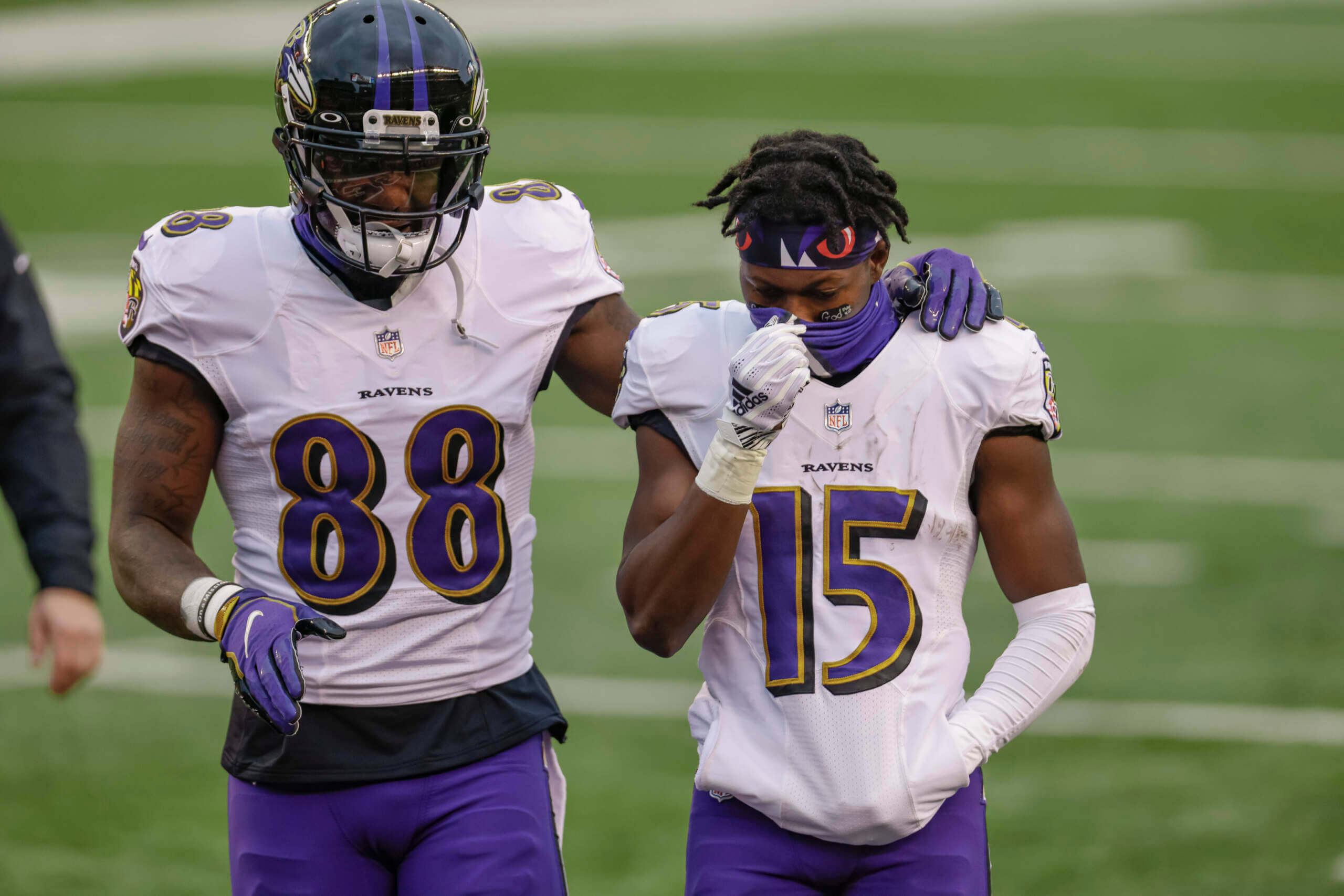 Demonstrating the axiom "When you name your team the Browns it ends up in Baltimore", Cleveland became the Ravens in 1996. Donning crow-inspired purple and black, the team added an attractive display font. The slim triangular serifs were evocative of a bird's talons. The following season, drop shadows were added to the numeral outlines, so the face was simplified somewhat. It has aged very well and continues to be a Raven trademark.
My Score: 5
P.S. The first-year numbering matched the font of the Arizona Diamondbacks through their purple tenure.
__________
Chicago Bears: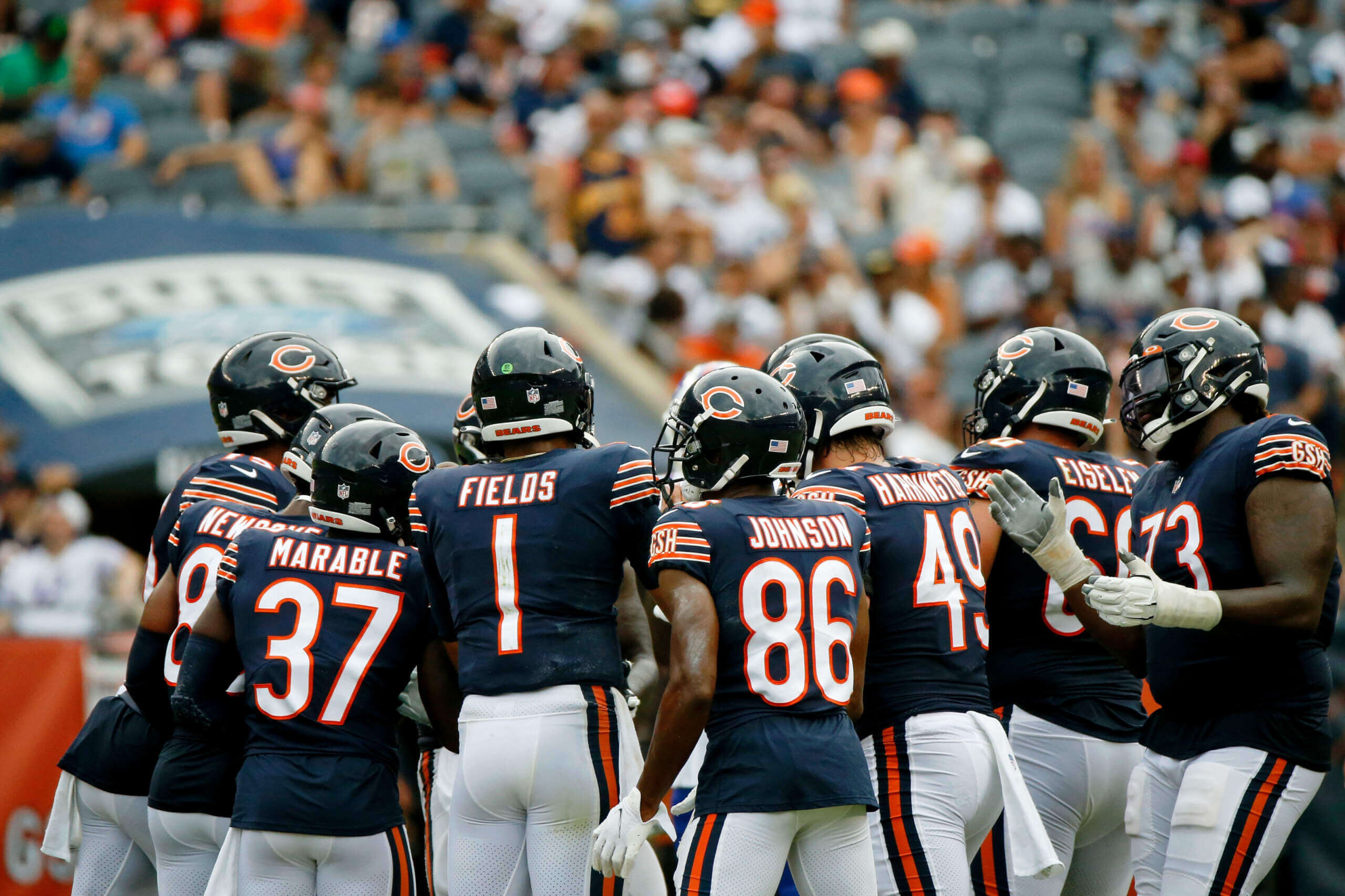 A font which seemed to be older than George Halas, himself, was actually inaugurated in 1950. Was it developed specifically for the team? Maybe, but I admit I haven't seen it anywhere else. It bears a passing resemblance to the serpentine numbers used by the Cubs decades before. Readability? Not an issue, and it takes outlining beautifully. TV numbers and torso numbers have the most difference of all NFL faces; the little numbers have beautiful circular counters. The gold standard!
My Score: 5
__________
Cincinnati Bengals: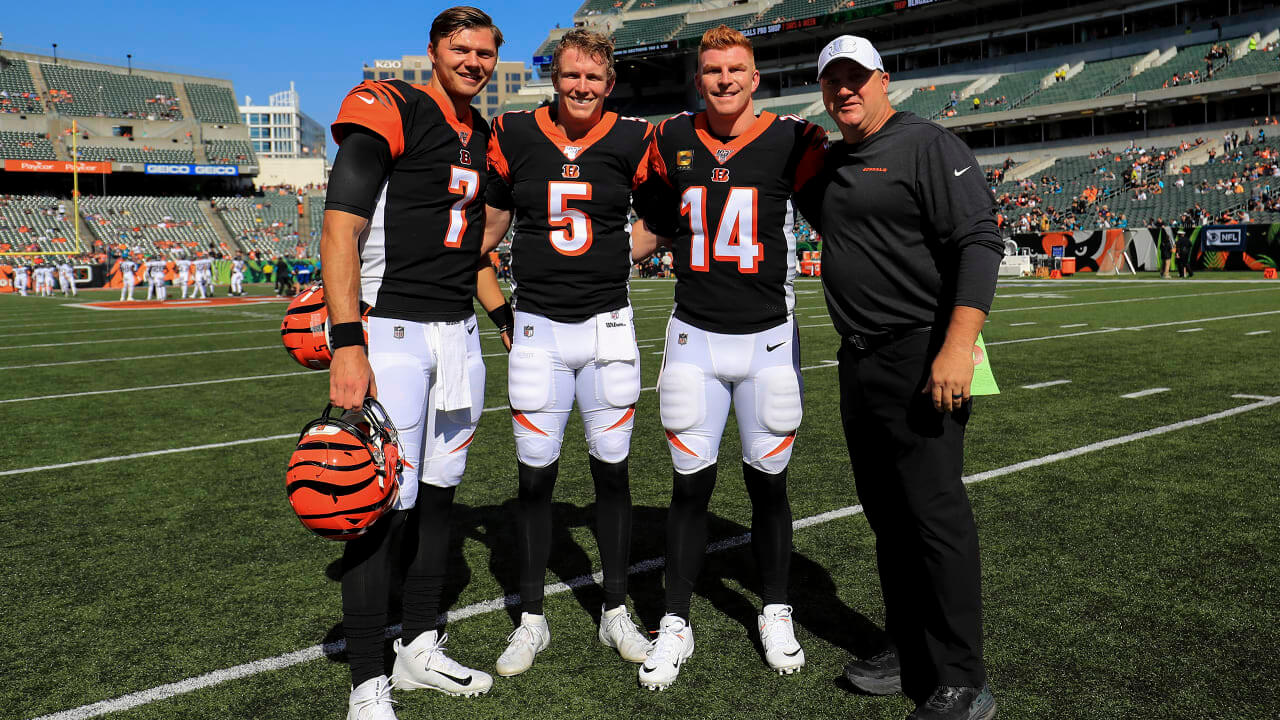 The 2004 Bengals augmented their redone uniforms with a curvy font inspired by the Chicago Bears'. A deep drop shadow was added which lent clutter to a pretty garish costume. In a rare show of good taste, the 2021 team excised all the details which didn't work, and retained the ones that did. Fonts were tweaked with triangular ends and the shadows were deleted. Happy team, happy fans, success on the field. Win-win-win.
My Scores: 3 (2004); 4 (2021)
__________
Cleveland Browns: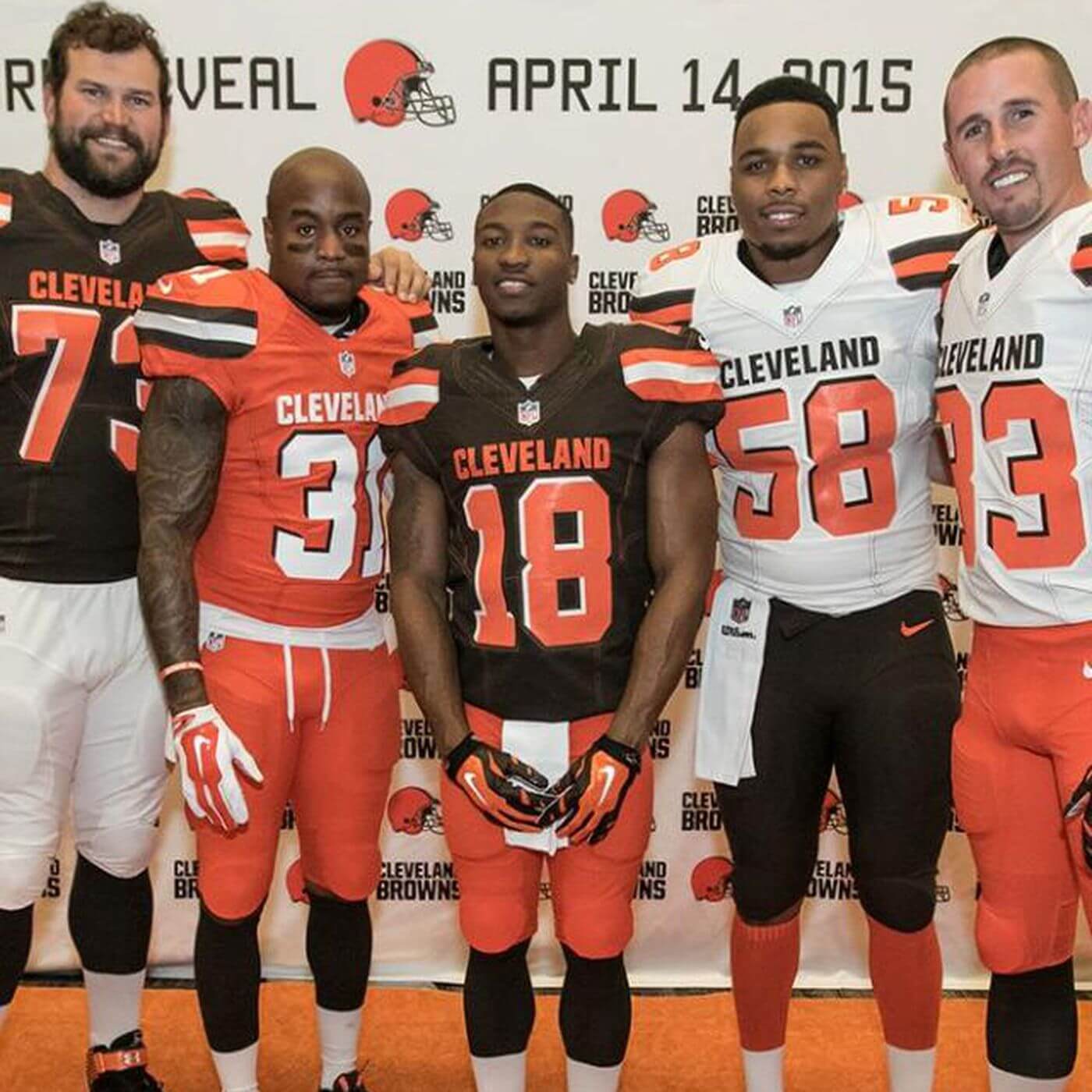 The Mistake By The Lake invoked bad mojo in 2015 by soliciting a Nike makeover. Every crass detail was employed to make an august franchise look like a group of clowns. The ONE THING they got right — the number typeface — was ruined with gaudy colors and incomplete outlining. A bonfire was called for, and in its wake the Browns actually received a tasteful restyle. Most, but not all, of the original trademarks were returned, and number font based on Sand-knit with a few rounded corners graces the 2020 jerseys.
My Scores: 3(2015); 4 (2020)
__________
Denver Broncos: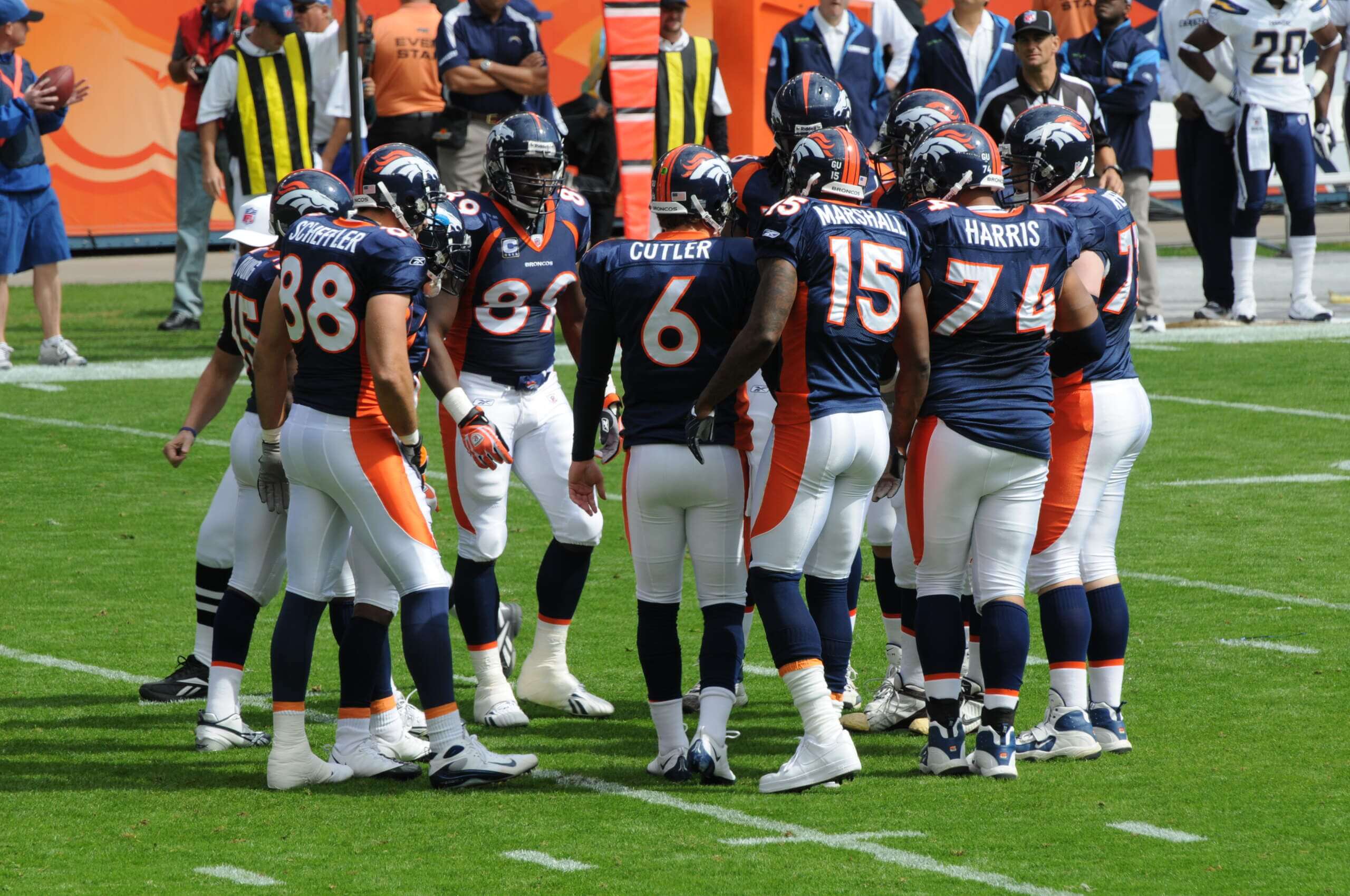 There must have been a sense of desperation in the Mile-High City. The Broncos seemed to be complete, but needed something intangible to reach the top of the NFL mountain. It came in 1997 in the form of a much-discussed redesign which relegated orange to a fat swoosh running down the players' sides. The popular and trendy Emigre foundry was tapped to render a font for the new look, and the look was geometric with left-pointing rectangular flourishes. Success followed, but hard-core Broncophiles appeared to believe the team had sold its soul. I feel the face has aged poorly, and could do with some freshening.
My score: 3
__________
Detroit Lions: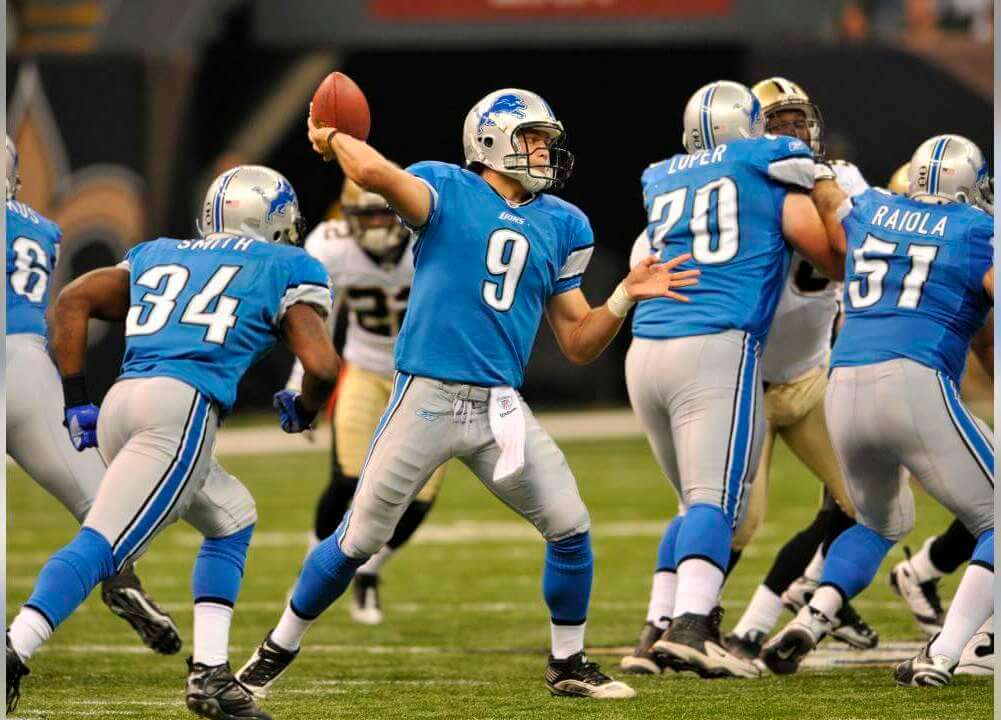 You think following the Jets is tough? Try being a Lions' fan! After the axe was grabbed from Matt Millen's hands, and the team had added black to its palette (making them resemble the Carolina Panthers), a 2009 restyle gave them a blue Ohio State vibe. The serpentine font looked rather silly. Nor was it easy to read. Dissatisfaction must have run pretty high, because they were replaced in 2017. Improved? Hardly. Fat, clunky stripes ruled the day, and slender, italicized numbers rendered in shades of grey were hard to read. Expect more changes before long.
My Scores: 2 (2009); 2 (2017)
__________
Houston Oilers: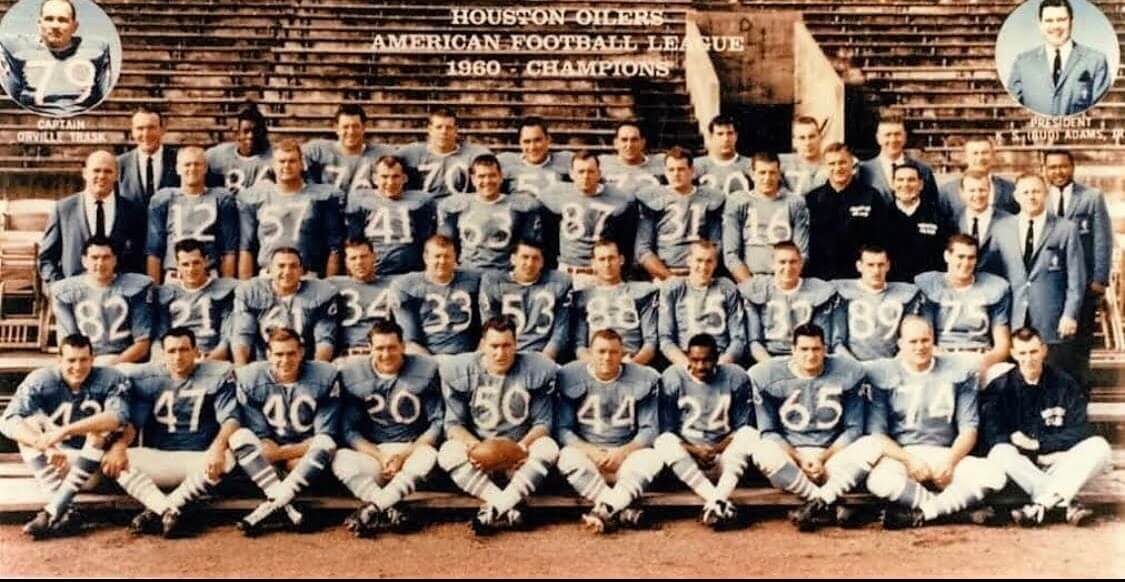 For one year, their first, the Roustabouts wore the then-new University Gothic font.
My Score: 5
__________
Houston Texans: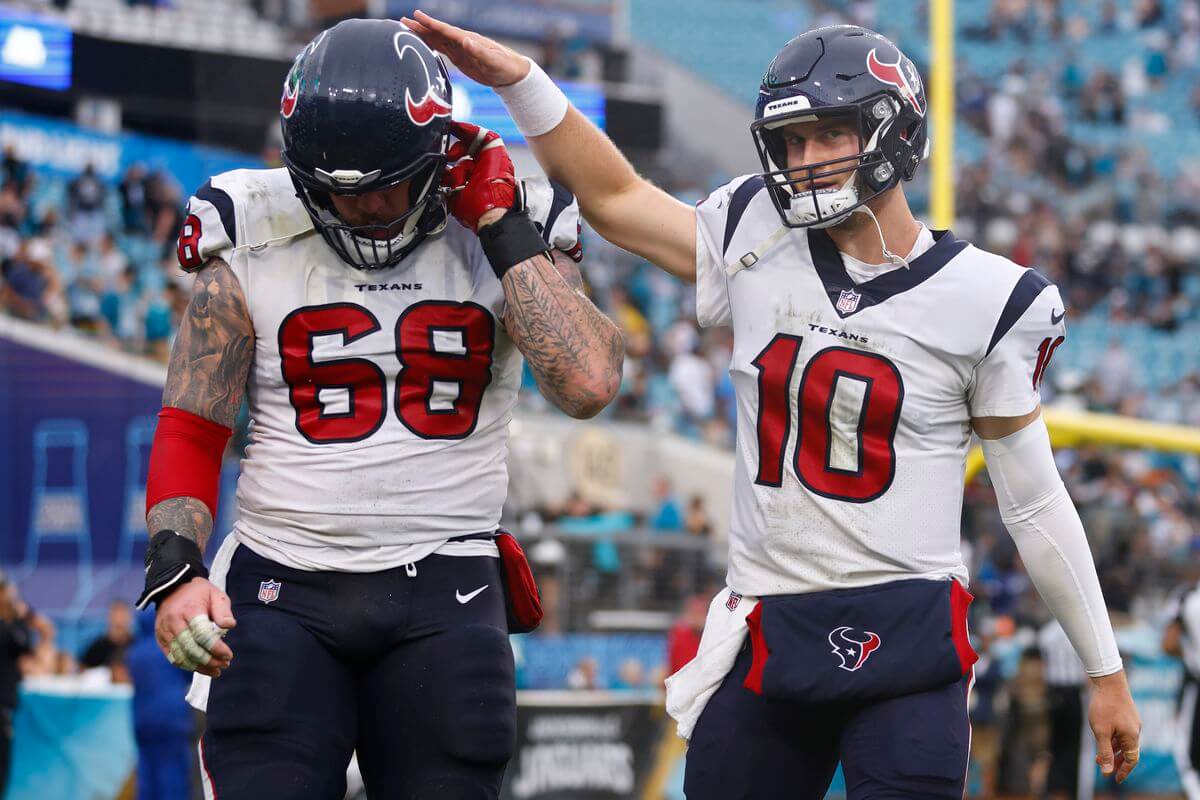 The 2002 expansion Texans appeared with conservative dark blue duds and a straightforward, readable typeface which still managed to look fresh. In a way, it reminds me of the face used by the AL Texas Rangers on their white jerseys throughout the 1970s. They did their homework.
My Score: 5
__________
Jacksonville Jaguars: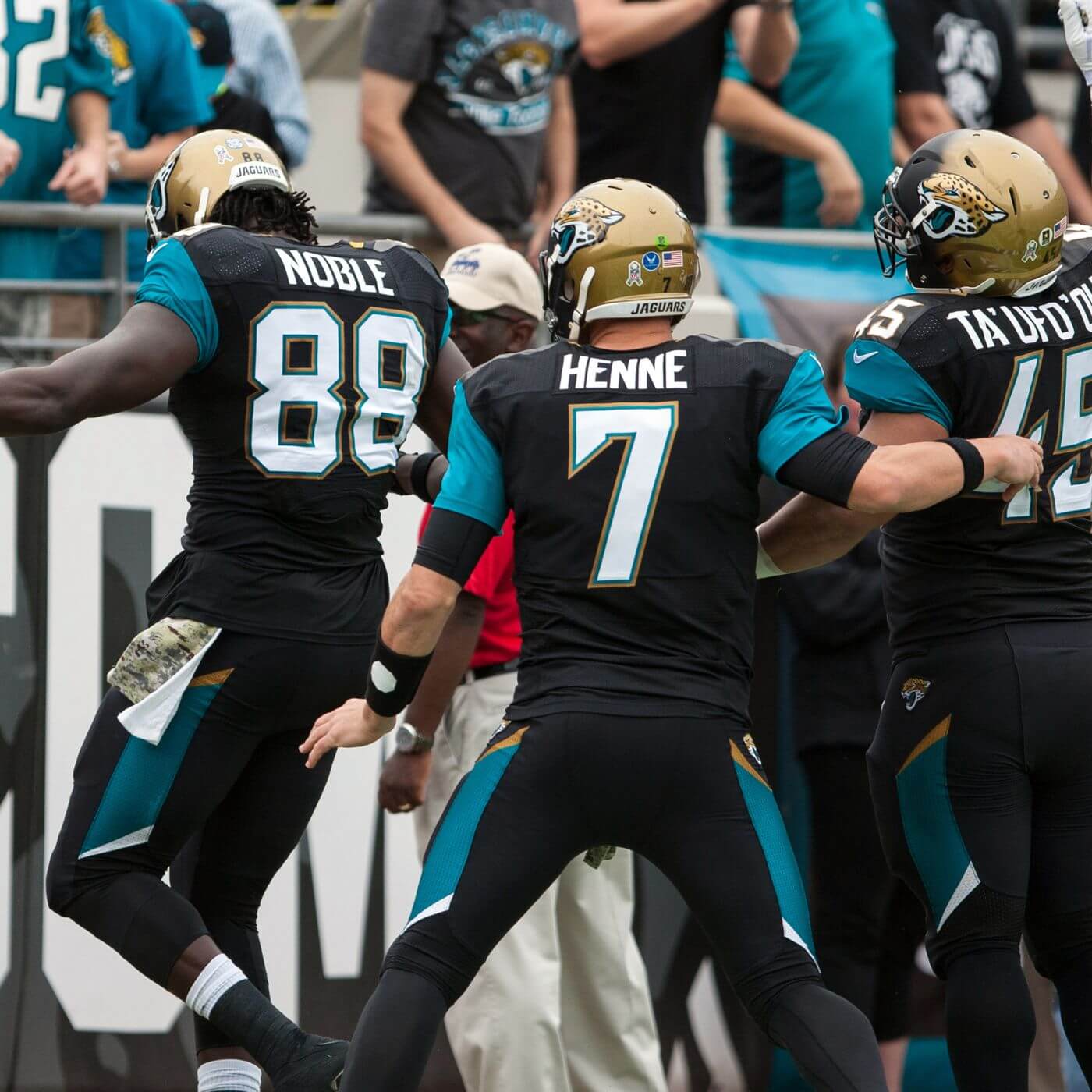 Responsible for a hefty chunk of this list. The 1995 Florida expansion team changed its numeral font in the 1997 preseason. The characters were very oblong and featured a drop-shadow. Legibility issues caused the team to tweak the numbers in time for the regular season. In 2009 the Cats simplified their color scheme, excising the gold, and adopted a fussy, multi-cornered number face. Nobody liked it, evidently, and it was hastily replaced in 2013 with a garish, tacky costume including half-painted helmets, diagonal swatches of color, and a bespoke font with incisor-shaped serifs. Truthfully, the numbers weren't bad. Readable, and colorful. A beaten-down team said "Let's try this again" in 2018 and issued a stark uniform with no stripes and very little decoration. The new font is a riff on Varsity Bold and seems only different enough to spite counterfeiters. Readable, but not all that attractive. Two-color treatments (in gold) would do wonders for this team.
My Scores: 3 (PS-1997); 4 (1997); 1 (2009); 3 (2013); 2 (2018)
__________
Las Vegas Raiders: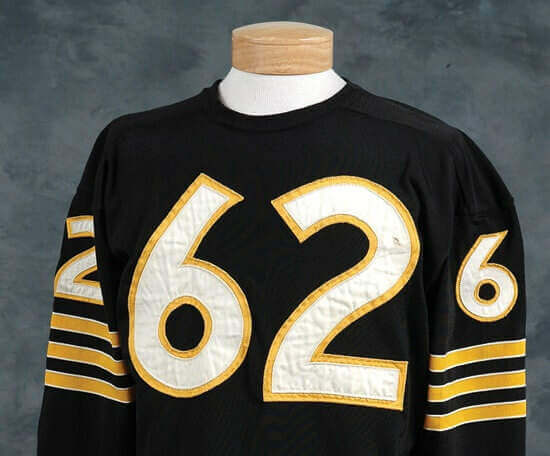 The earliest iteration of this team (the Oakland Señors) wore uniforms with Steelers' colors and the recently-minted University Gothic face. In 1962, they went to the Sand-Knit font before adopting their silver-trimmed uniforms.
My Score: 5
• • • • •
Once again, terrific stuff Walter! Looking forward to Part II!