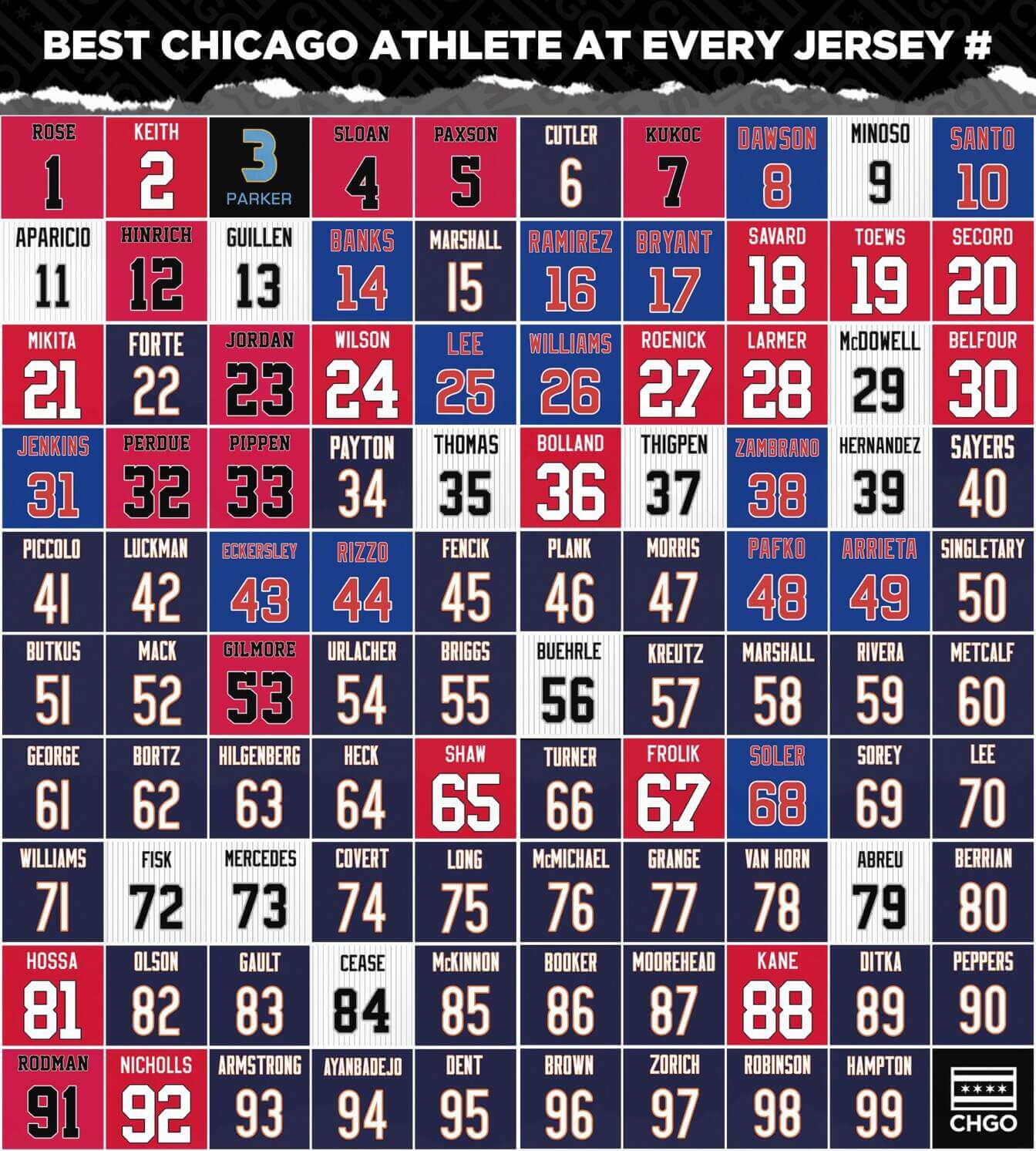 We've all seen articles where someone picks the best player ever to wear each uni number for a given team, or league, or sport, or city, or whatever. They're fun argument-starters and good history lessons.
But the CHGO Sports outlet has done something even better, at least from a Uni Watch perspective: Today they tweeted a really awesome graphic showing the best Chicago-based player for every uni number from 1 through 99. It's like one of those articles that we're used to seeing, but in a uni-based visual format. I love it!
I realize you could quibble with some of the choices they made, like Minnie Minoso over Bobby Hull for No. 9, but I'll let other people worry about that — I just love the visual approach. Of somewhat greater concern, they don't seem to have used the proper fonts for the Bulls or White Sox, so there's definitely room for improvement here.
Chicago is a good city for this type of thing, because they have teams in all of the Big Four pro leagues — including two MLB teams! It might be a harder thing to do for, say, St. Louis. Still, it would be interesting to try something similar for other cities. (And of course you could make the choices more inclusive by including MLS, WNBA, or even college teams.) (Update: Reader/commenter Tom Nawrocki points out that Candace Parker of the WNBA's Chicago Sky is indeed included at No. 3. Thanks for catching what I missed, Tom!)
The design choices are also interesting. I assume, for example, that the Cubs players were shown in the Cubbies' blue alternate template because the team's home pinstripes might look too similar to the White Sox's pinstripes (or just result in a graphic with too much white). Of course, they could have put the Sox in black, but that might look too similar to the Bears' dark navy. And so on.
Anyway, kudos to CHGO Sports for coming up with this. I hope someone out there is already planning similar graphics for other sports towns.
(Big thanks to Steve Sher for bringing this one to my attention.)