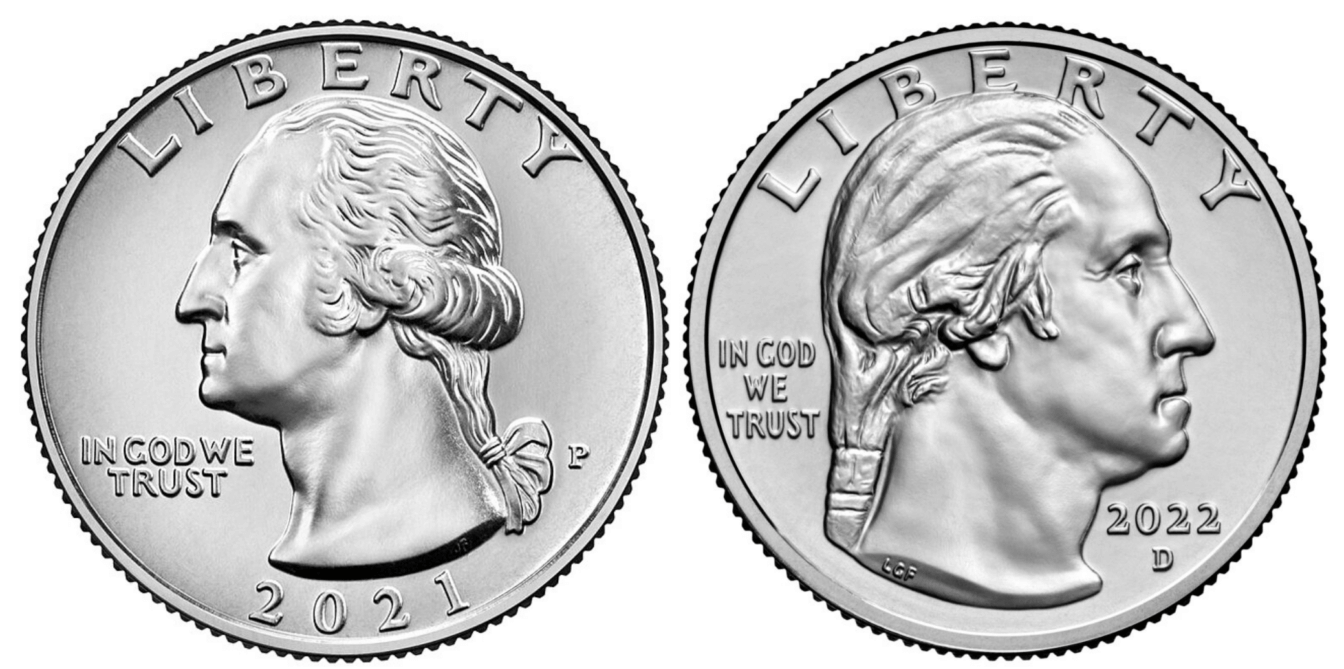 Did you know that there's a new U.S. quarter obverse design this year? Unlike the familiar old design, which dates back to 1931, the new one shows George Washington facing to the right, instead of to the left.
According to this FastCompany article, leftward-facing profiles were fairly standard on U.S. coins and currency for many years. Indeed, think of FDR on the dime, Jefferson on the nickel, JFK on the half-dollar, and even Eisenhower on the dollar — all lefties. I'd never thought about that before (although it's worth noting that Lincoln faces rightward on the penny, but maybe he's the exception that proves the rule). And why were all these figures shown facing to the left? According to the FastCo article:
In the early 20th century, as marketing and branding began their development, the design of many logos was based in the centuries-old traditions of heraldry. One of these [traditions] was that figures on a heraldic shield should face the viewer's left, because that was the shield-bearer's right, and it was his perspective, not the eye of the beholder, that mattered.
Faaaascinating. I didn't know that! The author of the FastCo article, James Bowie (who has his own website devoted to logo design), says the leftward-facing protocol began fading in the 1960s, when right-facing designs started coming into vogue. And now rightward has become the norm. At present, says Bowie, "Of the 62 Fortune 500 logos that can be said to be facing or moving laterally, 82% go right."
The reason this all matters from a Uni Watch perspective is that fans often ask me about left- and right-facing logos. I wrote a piece about that about a year ago, and found that the NFL has only one team with a left-facing logo (the Eagles — this is actually mentioned in the FastCo piece), while the other Big Four pro leagues have more of a mix of lefties and righties. So the new right-facing quarter would be a particularly good fit for the NFL. Hell, throw a helmet on George Washington and you're good to go!
Personally, I tend to feel more comfortable with left-facing logos and profiles because our culture reads from left to right, so I tend to equate rightward motion as moving forward. But there are several cultures in the world that read from right to left. Hmmm, I wonder about their logos — and their coins.