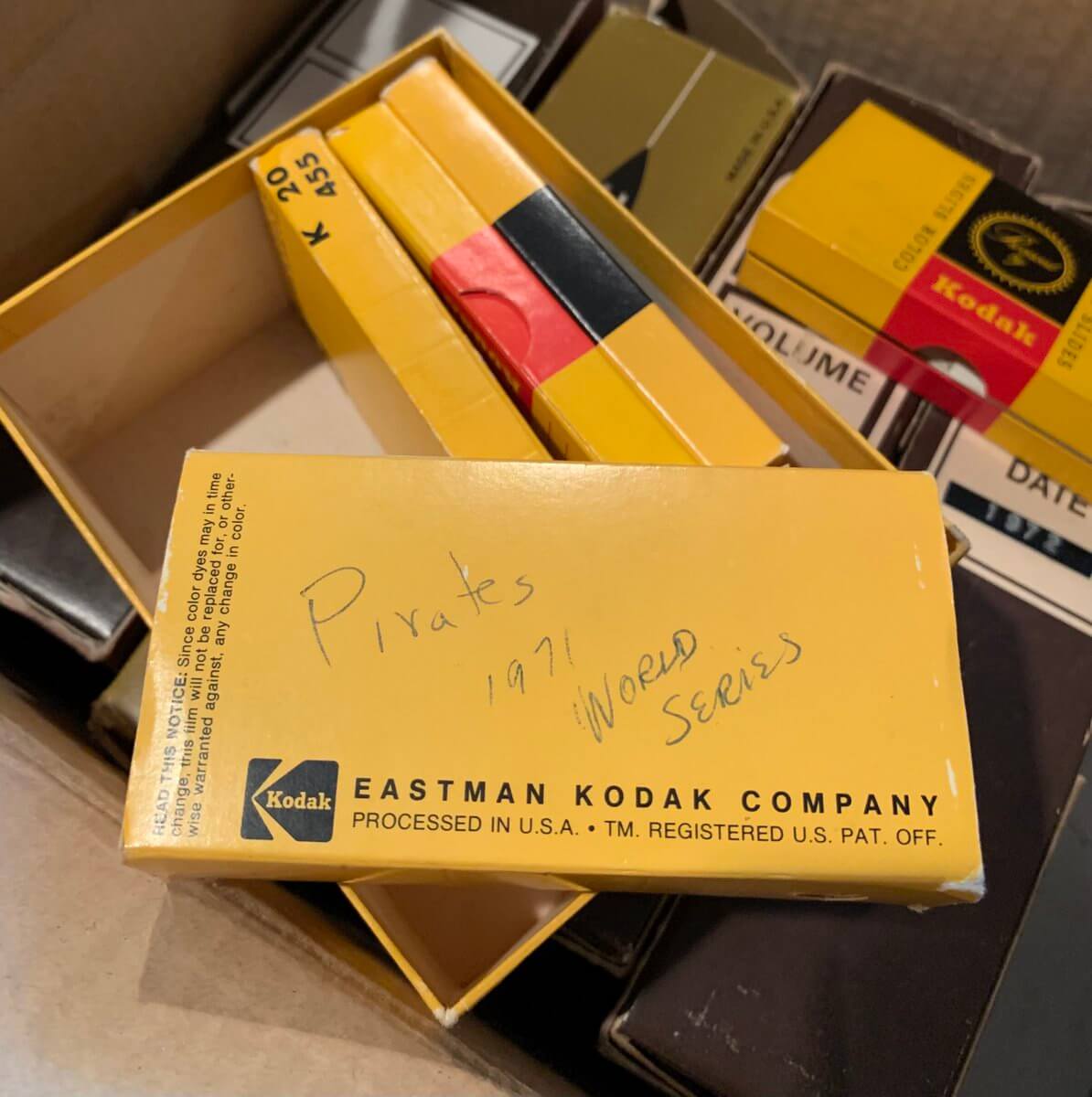 For all photos, click to enlarge
Bill Guilfoile had a remarkable career in baseball public relations. He worked for the Yankees from 1960 through 1969, for the Pirates from 1970 through 1978, and for the Baseball Hall of Fame from 1979 through 1996.
Guilfoile died in 2016, but his son, Kevin Guilfoile, was recently visiting his mom and discovered an old box of slides, apparently taken by by Pittsburgh photographer George Gojkovich, marked "Pirates 1971 World Series." That was the year that the Buccos beat the defending champion Orioles in seven games. It was the first World Series to feature a night game (Game Four, in Pittsburgh), and it's also the first Series I remember watching. I was seven years old at the time.
After Kevin Guilfoile found that box of slides, he posted a bunch of the photos in a great Twitter thread. Several of those photos are uni-notable, so I want take a closer look at them today, starting with this shot of Pirates infielder Dave Cash and (I think) O's second baseman Davey Johnson: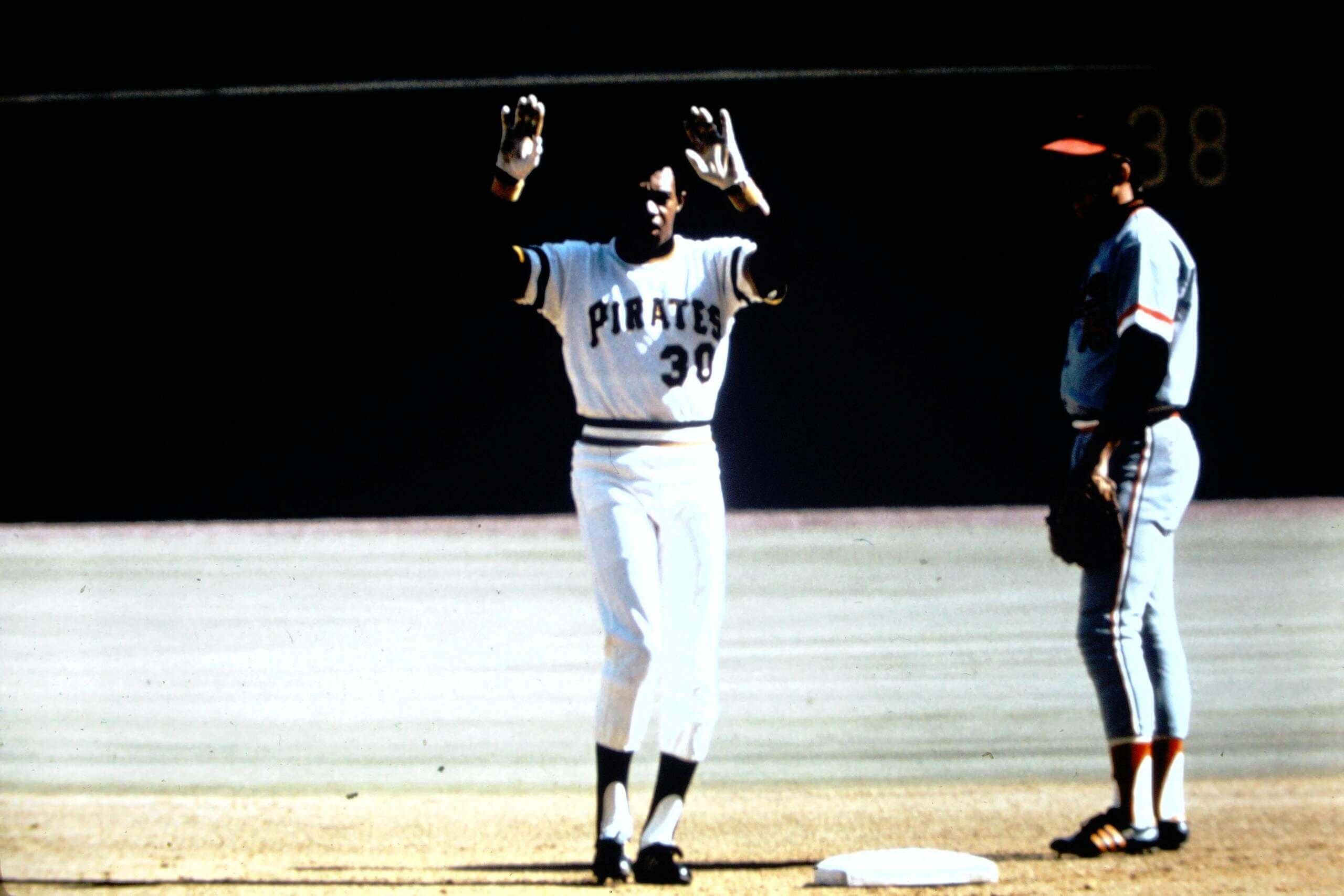 See how they're both wearing sansabelt pants? That was a World Series first, as was Pittsburgh's use of pullover jerseys — all previous Fall Classics had featured buttons and belts. Also, see how they're playing on artificial turf? That had happened only one previous time (in 1970, for the games hosted by the Reds). Man, between the newfangled uniforms, the turf, and the night game, this Series must have been a traditionalist's nightmare!
Next, here's a shot of Pirates first baseman Bob Robertson being greeted at home plate by catcher Manny Sanguillen. Note the difference between Robertson's glossy helmet and Sanguillen's flocked lid (he was, I believe, the last player to wear that style):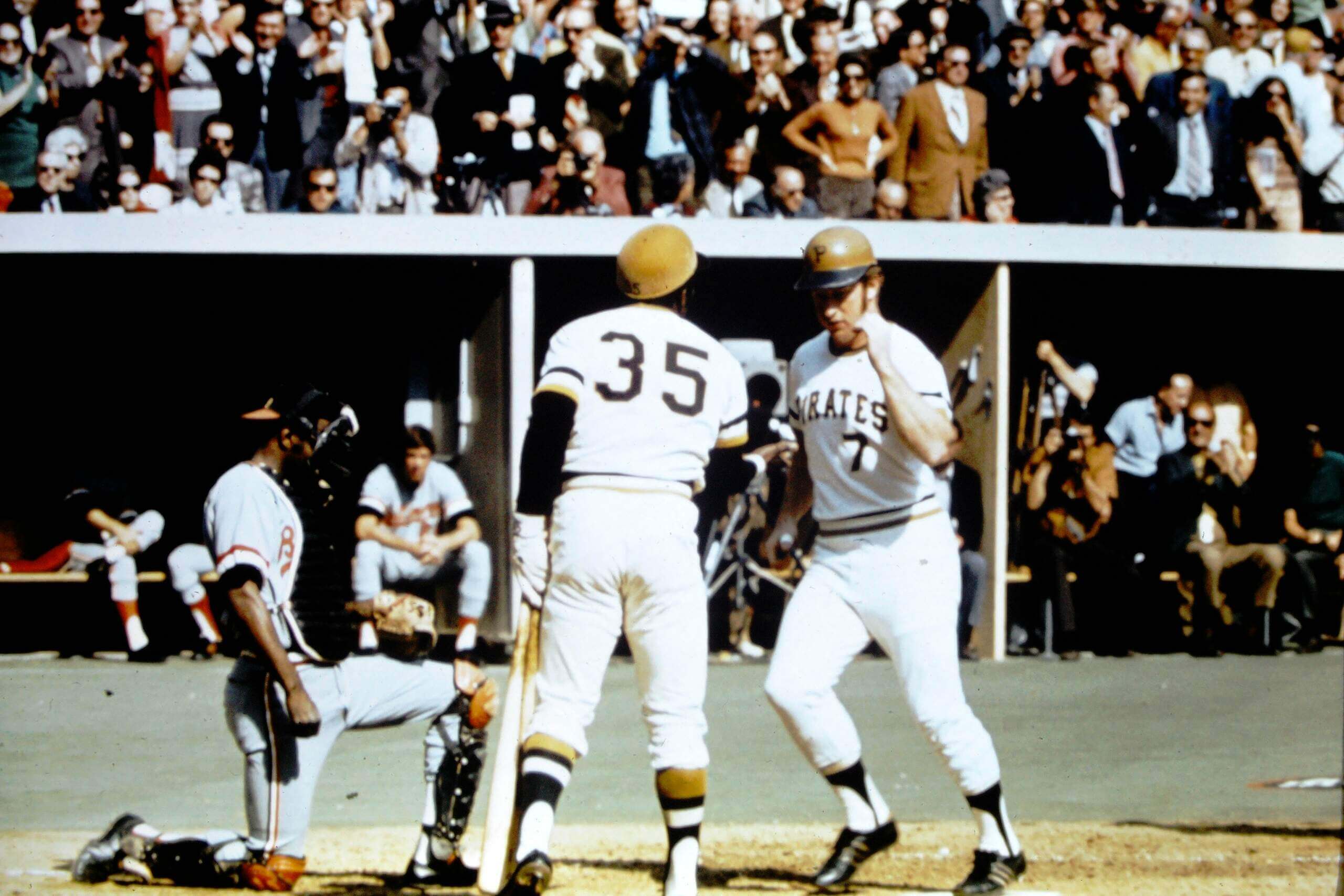 Here's Robertson again, this time celebrating with pitcher Steve Blass. I like this shot because it shows us the ump's uniform (including a necktie!) and what I assume is an usher's uniform: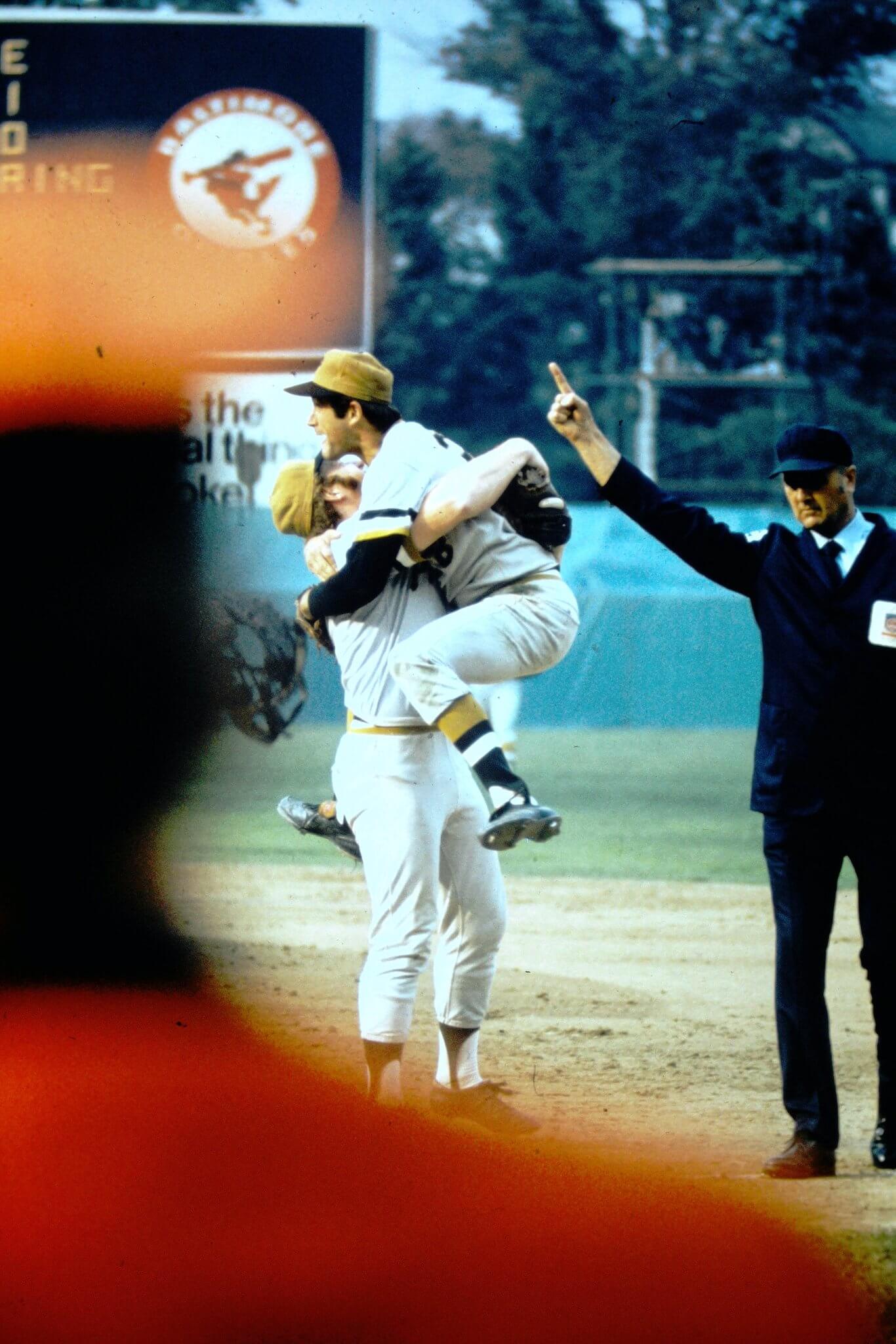 Looks like Pirates pitcher Bob Johnson may have been wearing his stirrups backwards (!), with the higher opening in the front: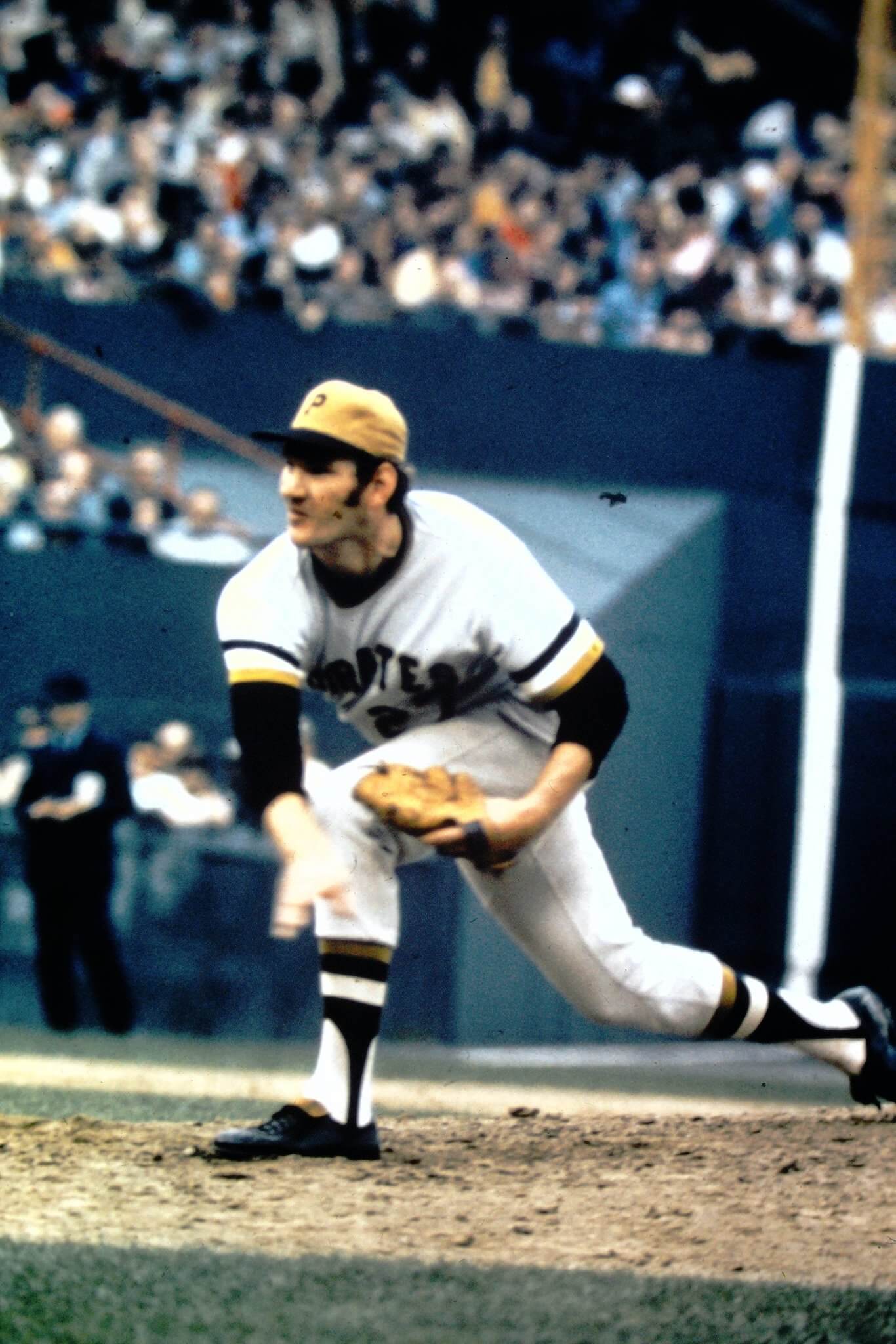 Outfielder Al Oliver's nickname was "Scoop," as you can see from the back of his dugout jacket: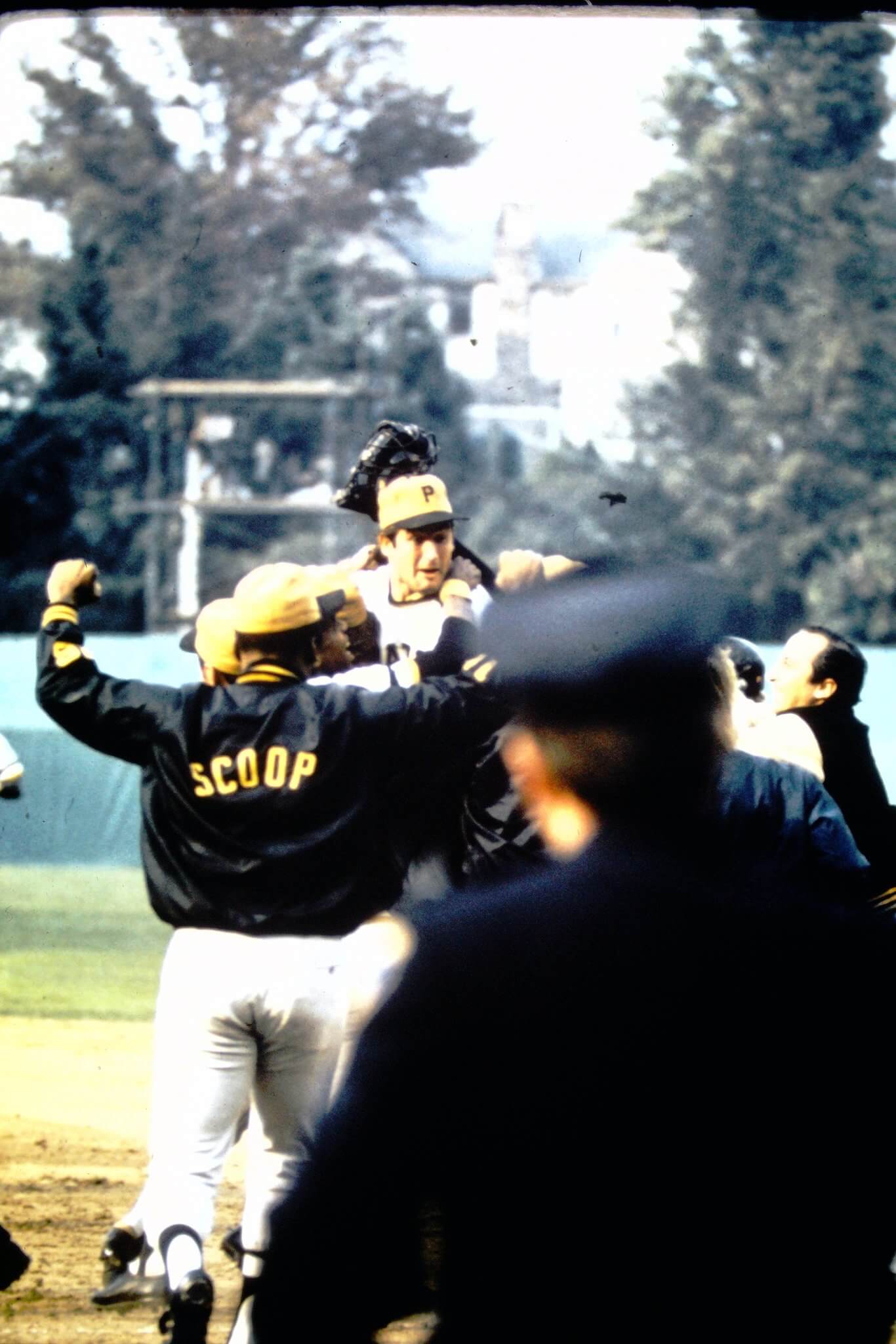 Speaking of Oliver, here he is getting smelling salts from Pirates trainer Tony Bartirome while Brooks Robinson and Roberto Clemente share a glance. Do trainers still use smelling salts?
Oddly (or at least it seems odd to me), the first ball at that one night game was thrown out by Stan Musial. An incongruous choice, given that the Cardinals weren't involved in this Series: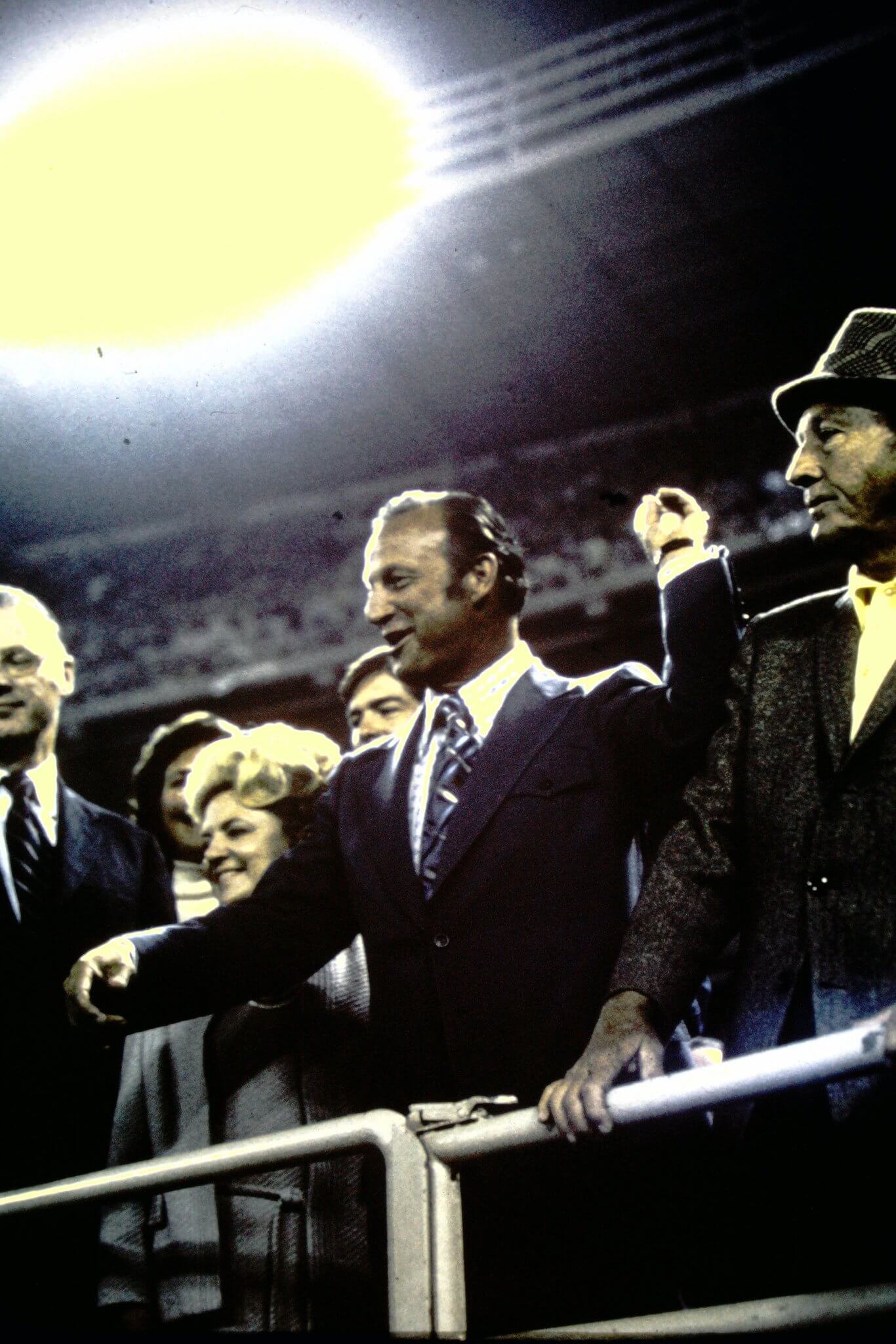 Incidentally, that guy at far-right is Bing Crosby, who was a part-owner of the Pirates at the time.
———
Want to see more? Check out Guilfoile's full Twitter thread.
(My thanks to the many readers who brought this photo thread to my attention over the past two days.)
• • • • •
• • • • •

Click to enlarge
The usual slop: Ten of next month's MLB flag-desecration caps showed up yesterday on the Dick's website. If your favorite team isn't among those 10, count your lucky stars I'm sure you can extrapolate what their cap will probably look like.
I look forward to hearing that five Rays players will decline to wear these caps for deeply held personal reasons (like, for example, having at least a single iota of good taste).
(My thanks to Twitter-er @superturboboost for letting me know about the Dick's leak.)
• • • • •
• • • • •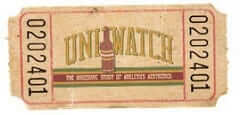 ITEM! Bulletin subscription raffle: I know some of you want to subscribe to my Bulletin content but simply don't have the financial resources to afford it. So today I'm going to raffle off a one-year subscription. The winner will receive the weekly articles via email. Obviously, there's no way for me to enforce the "financially strapped only" rule, but I'm hereby asking, on the honor system, that you only enter this raffle if you truly can't afford to pay for a subscription.
This will be a one-day raffle. No entry restrictions aside from the one I just spelled out. To enter, send an email to the raffle in-box by midnight Eastern tonight. One entry per person. I'll announce the winner on Monday.
For those of you who like sponsoring raffles, you can donate a subscription for me to raffle off by sending me $35 via Venmo (use @Paul-Lukas-2 as the payee), Zelle (plukas64@gmail.com), or PayPal (newcollegeuni@gmail.com). If you want to use Apple Pay or a paper check, get in touch and I'll give you the appropriate info. Thanks!
• • • • •
• • • • •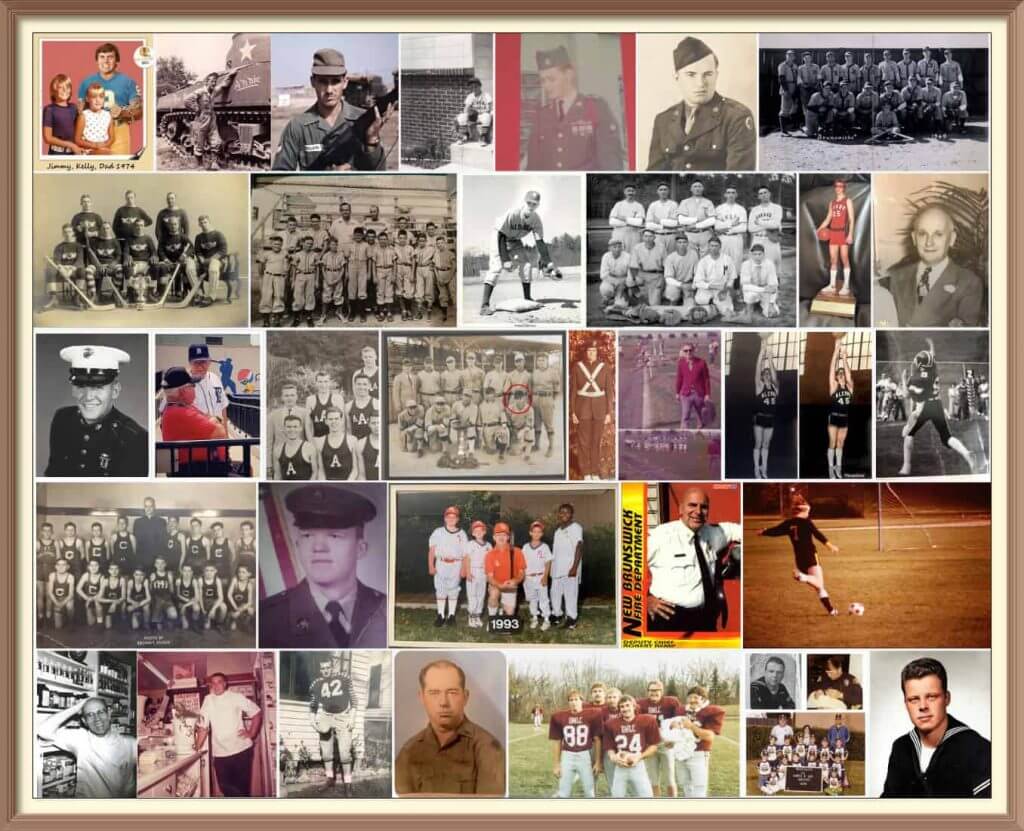 Father's Day reminder from Phil: Father's Day is coming soon (June 19), and I'll once again be posting photos of Uni Watch readers' "Dads in Uniform," an annual tradition that began in 2013. This is always a very special day, and I'd love for as many readers as possible to participate — especially those of you who haven't done so before. A few of you have reached out to me, saying, "I've run out of photos of my Dad," so if you want to resubmit a photo that we've used before, please feel free to do so.
To take part in this annual tradition, select one photo of your father (or grandfather or uncle) in uniform (it can be sports, military, work — as long as it's a uniform), along with a short description of 100 words or fewer. Then email the photo — again, only one, please — and text to phil.hecken@gmail.com with the subject line "Uni Watch Father's Day 2022" by next Tuesday, June 14, midnight Eastern. I'll run all of the submissions on Father's Day. Thanks!
• • • • •
• • • • •
The Ticker
By Anthony Emerson

Baseball News: This year, for Muscogee Nation Night, the Double-A Tulsa Drillers will become the Tvlse Rez Dogs, a nod to the FX show Reservation Dogs, which is filmed on Muscogee Nation territory with an all-Native cast and crew. Here are previous Muscogee Nation Night jerseys (from Kyle Lee). … In the background of a scene in Major League: Back to the Minors, there is a framed Lou Collins Twins jersey, a nod to Little Big League (great spot by Evan Gehlert). … The Greenville Drive, High-A affiliates of the Red Sox, will honor the Greenville Black Spinners, a semi-pro team of segregated Black players, with a fauxback uniform (thanks, Phil). … John Lynch, the former NFL safety and current NFL exec, also played baseball and was drafted by the Marlins in 1992 (even throwing the first pitch in Marlins organizational history while in the minors). He also had a baseball card made, and he's wearing what appears to be a prototype Marlins uniform on it (from Trevor Williams). … People often think of Hershey, Pa., as a hockey town, but it also has a rich baseball history. A Pennsylvania apparel company called Stay has used that history as the basis for a cool-looking Hershey Sweet Spots T-shirt. Additional details here. … The Double-A San Antonio Missions will wear Uvalde jerseys in the wake of the latest school shooting massacre (from Phil). … Great stat: Dodgers OF Mookie Betts has the most career homers of any MLB player with the initials "MLB" (from @TheTDJ).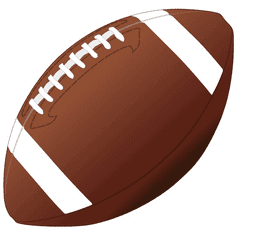 Football News: The Falcons will wear their newly revealed red throwback helmets more than once this season (thanks, Phil). … Also from Phil: New Broncos ownership might mean new Broncos unis. Let's hope so. … Kansas City rookies wore NNOB jerseys for a community event (from Ted Taylor). … Is this vintage football jersey ugly or amazing? I can't decide myself (from @kagavi). … New alternate unis for the CFL's Hamilton Tiger-Cats. Additional details here (from Wade Heidt). … The Cleveland city council has passed a nonbinding resolution calling on the Browns to change their stadium's name in the wake of a bribery scandal involving the current naming advertiser.

Hockey News: The new USPHL team in Idaho Falls now has a name and logo — the Idaho Falls Spud Kings.



Basketball News: The Bucks' new City Edition jerseys leaked yesterday, as did the accompanying court design (from multiple readers). … During Wednesday's NBA Finals game, Klay Thompson's back uni numbers had some weird issue — perhaps he was sweating through the jersey and affecting the glue? … The Clippers have revealed the scoreboard design for the new arena they're building (from Kary Klismet). … Here's the new mascot for next year's FIBA Basketball World Cup (from Jeremy Brahm).

Soccer News: New away kit for Scottish Premiership side Celtic (from Ed Zelaski). … England's Women's Super League and Championship have updated their logos with a new font (thanks, Jamie). … Members of the Dutch mens national team warmed up in the shirts of their amateur sides today to celebrate National Football Day in the Netherlands (thanks to all who shared). … The rest of these are all from Kary Klismet: Spain's men's national team will join Germany and Belgium in wearing a men's cut of their women's national team uniforms in their UEFA Nations League match against the Czech Republic on June 12. … On a similar note, Germany's men's team violated UEFA rules by wearing just two stars (representing the World Cups won by the women's team) instead of four (representing the men's titles) in their Nations League match on Wednesday. … New home kits for West Ham in the Premier League and Lyon in Ligue 1.

Ukraine News: Russian McDonald's franchises have a new logo, after McDonald's corporate pulled out of the country due to the invasion of Ukraine.

Grab Bag: Following up on a topic that Paul recently wrote about, more airlines are now allowing flight attendants to have visible tattoos and piercings (from @_ynnhoJ). … During his first appearance for LIV Golf, Phil Mickelson wore a windbreaker with a blacked-out Augusta National logo, perhaps a statement in regards to the ongoing feud between the PGA and golfers who defected to LIV Golf (from Bradford Smith). … SUNY-Geneseo has tweaked its athletics logo (from Kary Klismet). … Also from Kary, new logos for the NCAA D3 Midwest Conference. … Staying in D3, new athletics logo for St. Scholastica (from Nathan Ahlberg). … Virginia volleyball has a new floor (thanks, Jamie). … New kits for French rugby club Section Paloise (from Ed Zelaski).
• • • • •
That'll do it for this week. Stay well, enjoy Phil's weekend content and the summer sunshine, and I'll see you back here on Monday. Peace. — Paul