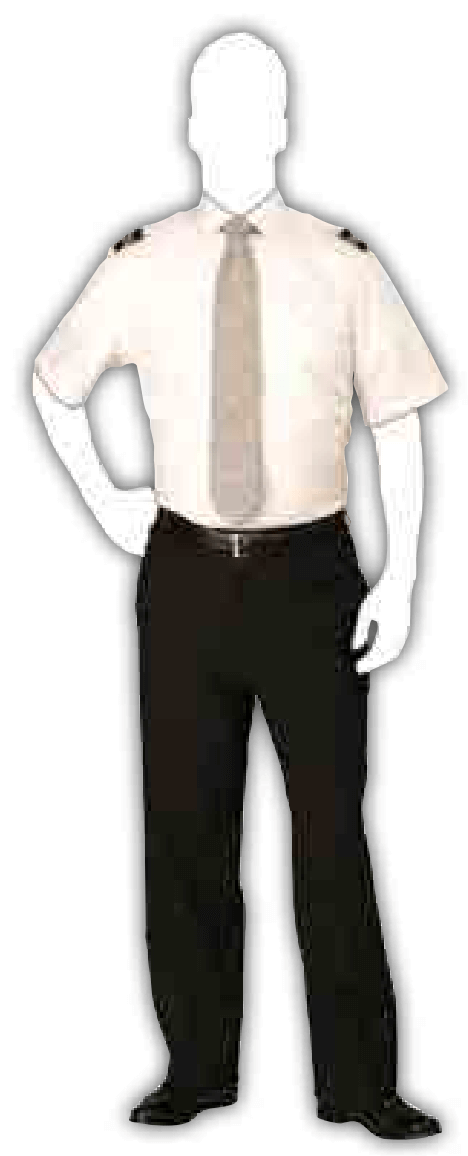 When I arrived in Denver last Tuesday, I stupidly left something on the plane. So I filed a "lost item" report with the airline — United — and was relieved when they emailed me two days later to say that they had my item. I told them I'd pick it up from them when I returned to the airport for my return flight home.
When I got back to the airport on Friday, I went to United's lost-and-found office, where a very helpful guy retrieved my item. (As he brought it out, he smiled and said, "Look familiar?," which was a nice touch.) He was wearing one of those standard bland uniforms that male airline desk agents usually wear — something like the image shown at right. The surprising thing, at least to me, was that he also wore a lot of jewelry: two silver hoops in one nostril, one hoop in the other nostril, and another hoop near the top of one ear.
I want to make it clear from the outset that I am not criticizing either the guy (like I said, he was very helpful) or his choice of jewelry (nose hoops are fine by me). But the combination of the bland institutional uniform and the facial hardware made for an interesting combination, and it's the latest example of something I've been thinking about for a while now, so I want to talk about that today.
Let's start with this: Why was this guy wearing a uniform in the first place? Because he's part of the large category of people in the public-facing uniformed service class. Cops, letter carriers, crossing guards, airline desk agents, concierges, security guards, train conductors, ushers, bellhops — all of these people wear a uniform to designate their status and authority, and also to communicate a message that roughly translates to: "I'm a professional, I'm a grown-up, I'm here to help you."
Moreover, the uniform serves to emphasize the institution over the individual. The plain design makes everyone look like an interchangeable cog in the same institutional machine. If the uniform design lacks pizzazz and maybe even seems a bit square, that's part of the point — the idea is to appeal to (or at least avoid alienating) the broadest swath of people, and the implicit message is that one uniformed worker could be swapped out for another and you'd still have the same customer experience (a uniform experience, you might say). This is also why uniformed service personnel have historically been subject to rules and restrictions regarding jewelry, grooming, visible tattoos, and so on, because the idea is for the individuals to subordinate themselves to the institution and not call attention to themselves via personal expression. It's the non-sports equivalent of playing for the name on the front of the jersey instead of the name on the back.
This all makes sense, right? You probably understood it already, at least on an intuitive level, before I spelled it out.
But here's the thing: Over the past 60 years or so, our culture has placed an increasing value on personal expression while casting an increasingly skeptical eye on institutional conformity and sartorial formality. I'm not looking to debate whether that's a good thing or a bad thing (especially because I think it's a mixed bag — some good, some bad). I'm more interested in what all of this may mean for service personnel uniforms.
As recently as, say, five years ago, I'm fairly certain that the United guy who helped me would not have been permitted to wear those nose rings. But institutional standards are changing. Here on Uni Watch, for example, we've run lots of Ticker items over the past few years about police departments and military branches that are scrapping their bans on visible tattoos, because the bans were hurting their recruitment efforts.
You can think that's a good thing or a bad thing (again, I'm not looking to debate that here). But either way, it sets up a weird dichotomy, because while tattoos and face piercings are more common than they used to be, they're still generally considered to be culturally transgressive and still function primarily as personal expressions of "Look at me" nonconformity, a way of saying, "I'm different, I refuse to be confined by society's silly guidelines, I don't play by the usual rules, I do things my own way."
There's nothing inherently wrong with that, at least when viewed in a vacuum (a healthy society needs some people who'll push the boundaries), but it seems fundamentally at odds with the messaging that comes from an institutional uniform. Or to put it another way, those nose rings probably would've looked fairly normal if that guy had been wearing his usual non-work attire, but they looked really weird when worn with a bland corporate-cog uniform whose design is based on clothing standards from the 1950s. It felt like a case of mixed messaging, and that's not necessarily what you want with service personnel whose job is to project mainstream accessibility and helpfulness to as many people as possible.
I've been sensing a lot of these mixed messages in recent years (it's sort of weird to see a cop or state trooper with full sleeve tattoos), and I feel like we're eventually going to need some sort of reckoning to resolve them. Tattoos and piercings aren't going away, so it seems like uniforms will be the thing that has to change. I'm not sure what those changes will be, but it's becoming increasingly obvious, at least to me, that the longstanding standards for institutional uniforms are no longer in sync with the people who are wearing them, or with the culture in which we all live.
A few parting thoughts:
• I was recently discussing all of this with a friend, and she mentioned that an early episode of Project Runway had the contestants come up with new uniform designs for the U.S. Postal Service. I looked up the episode — the designs aren't particularly inspiring, but the assignment was interesting.
• I feel like everything I've talked about here predates the pandemic. But the pandemic has clearly accelerated the de-emphasizing of formal dress standards throughout our culture, as more people are working from home and are now much less inclined to put on the jacket and tie or the posh frock.
• That said, The New York Times ran a piece just last week about how some restaurants are trying to bring back dress codes in their dining rooms. The piece includes some good historical perspectives — recommended.
———
Thanks for listening. When commenting today, let's please stick to the question of what this all means for uniforms and not veer off into more fraught territory. Thanks.
• • • • •
• • • • •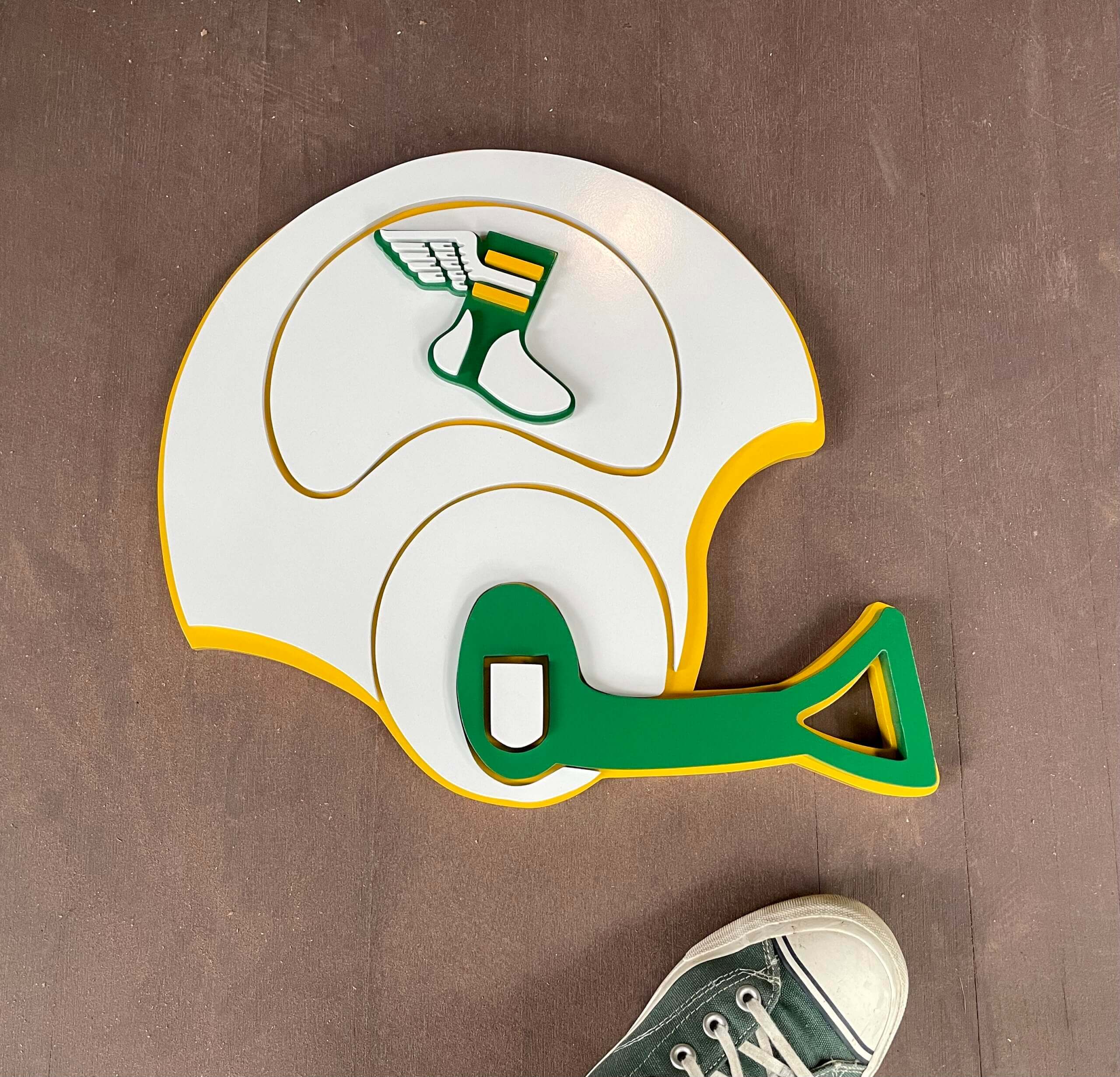 Sneaker shown for scale; click to enlarge
Something new to put on the wall: Two of the best DIY woodworkers out there — Kevin "Gashouse" Cearfoss and Gary Dahn of Lumberjack Logos — combined to make this Uni Watch gumball wall hanging. Kevin made the winged stirrup logo, and then Gary made the helmet and sent the finished piece to me. Isn't that nice? Thanks so much, guys — this will look awesome here at Uni Watch HQ!
• • • • •
• • • • •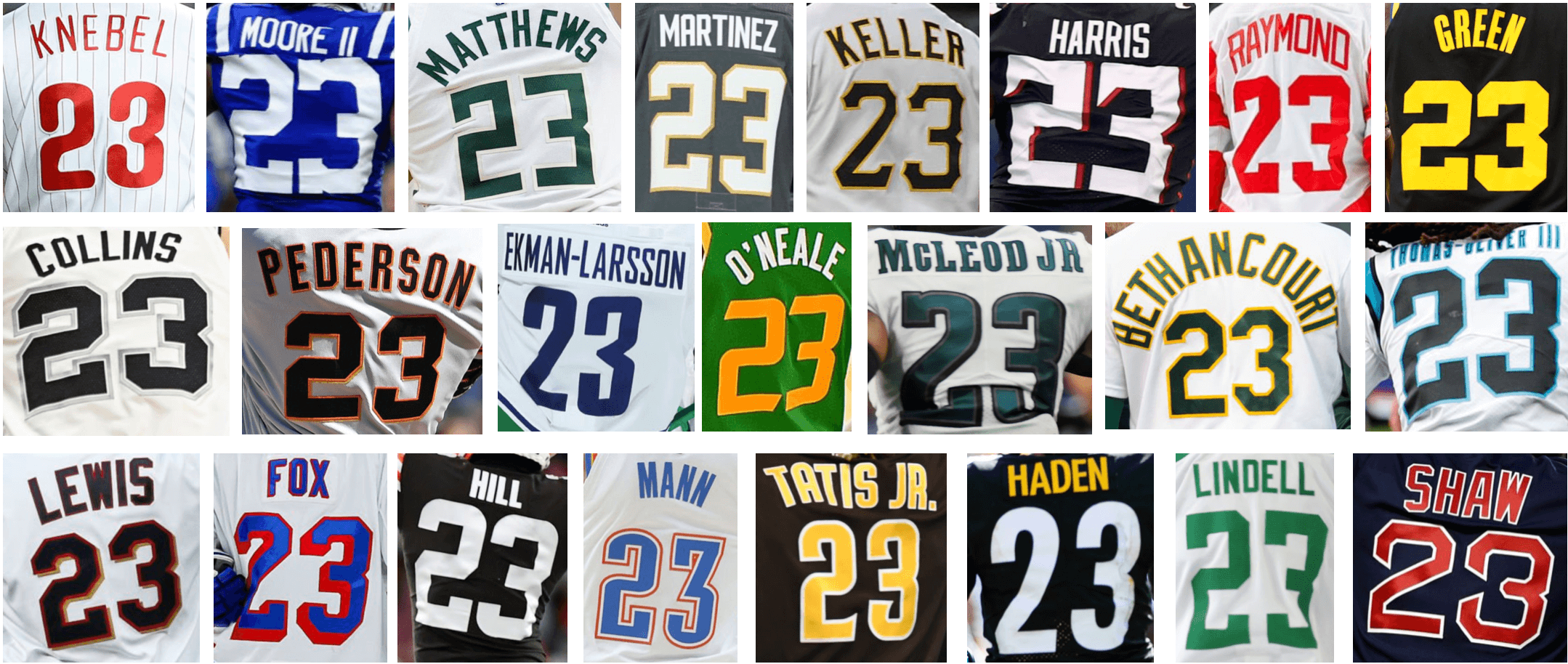 XXIII: Tomorrow is Uni Watch's 23rd birthday, so I'll have a special Bulletin column with 23 fun facts, previously untold stories, secrets, and behind-the-scenes anecdotes about Uni Watch. It was really fun to compile, and I'm pretty sure you'll enjoy reading it too.
This piece will be available tomorrow morning to my Premium Subscribers. If you haven't yet subscribed, you can do that here (you'll need a Facebook account in order to pay). Don't have or want a Facebook account? Email me for workaround info. Thanks!
• • • • •
• • • • •
The Ticker
By Paul

Baseball News: The Mets are giving away borough-specific caps for each of NYC's five boroughs over the next few months (from @maybeifollowyou). … The High-A Wisconsin Timber Rattlers, whose alternate identity is the Udder Tuggers, have collaborated with a local brewery to create Udder Tuggers Cream Ale (from Ray Barrington). … Atlanta wore their gold-trimmed championship uniforms on Monday night. I'm not 100% sure, but I think that's the first time they've worn that design since their season-opening homestand (from @tupelojoe81). … Speaking of Atlanta, Austin Gillis notes that the team has Dale Murphy's 1986 Gold Glove Award on display at their ballpark. Interestingly, the depiction of Murphy on the trophy shows him wearing a uniform that the team didn't start wearing until 1987. … Metallica's two guitarists played the national anthem prior to last night's Giants/Mets game in San Francisco and had Giants City Connect-themed instruments — except the "G" wasn't partially obscured by the fog (from @Spesh98). … In a related item, Mets broadcaster Keith Hernandez isn't a fan of the Giants' CC design. … The Yokohama DeNA BayStars unveiled their "Yokohama Star Night" uniforms yesterday. "The jersey has a Hawaiian shirt-like texture and collar," notes Jeremy Brahm.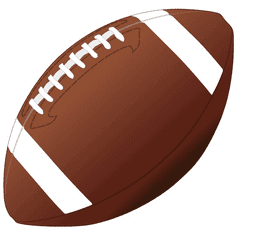 Football News: The NFL is considering eliminating the Pro Bowl. … Greg Mays found a 1924 newspaper clipping indicating that USC was wearing blue jerseys at that time. … Here's some historical background on some of the Pats' newly assigned uni numbers. … New uni number assignments for Penn State. … Green Bay fans are pissed off because former Vikings QB Tommy Kramer used the Packers' logo as a urinal.

Hockey News: Here are some Islanders "Fisherman" concept designs (thanks, Phil).



Basketball News: The WNBA's Minnesota Lynx will retire Seimone Augustus's No. 33 and Rebekkah Brunson's No. 32 on May 29 and July 3, respectively.


Soccer News: The USL Championship's Oakland Roots are starting a USL W League team, called Oakland Soul, next year (thanks, Jamie). … USL League Two side Ballard FC has unveiled a rather wacky-looking third kit (from Andrew Rhodes). … New home shirt for Brazlilian side Vasco (from Ed Zelaski). … New UEFA Women's European Championship shirts for England, France, and the Netherlands.

Grab Bag: The newly appointed police chief in Honolulu wants his department to get new uniforms. … A U.S. Dept. of Defense panel has recommended that nine Army bases currently named after Confederate military officers should be renamed (from Timmy Donahue). … The U.S. women's lacrosse team is playing a team of Athletes Unlimited lacrosse players in an exhibition on June 8. Both teams plan to wear these warm-up shirts for the charity Morgan's Message (thanks, Jamie). … Comedian Roy Wood Jr. wore Pirates and Penguins jerseys during a recent show in Pittsburgh (from Todd Davis). … New uni and grooming policies for the U.S. Space Force.