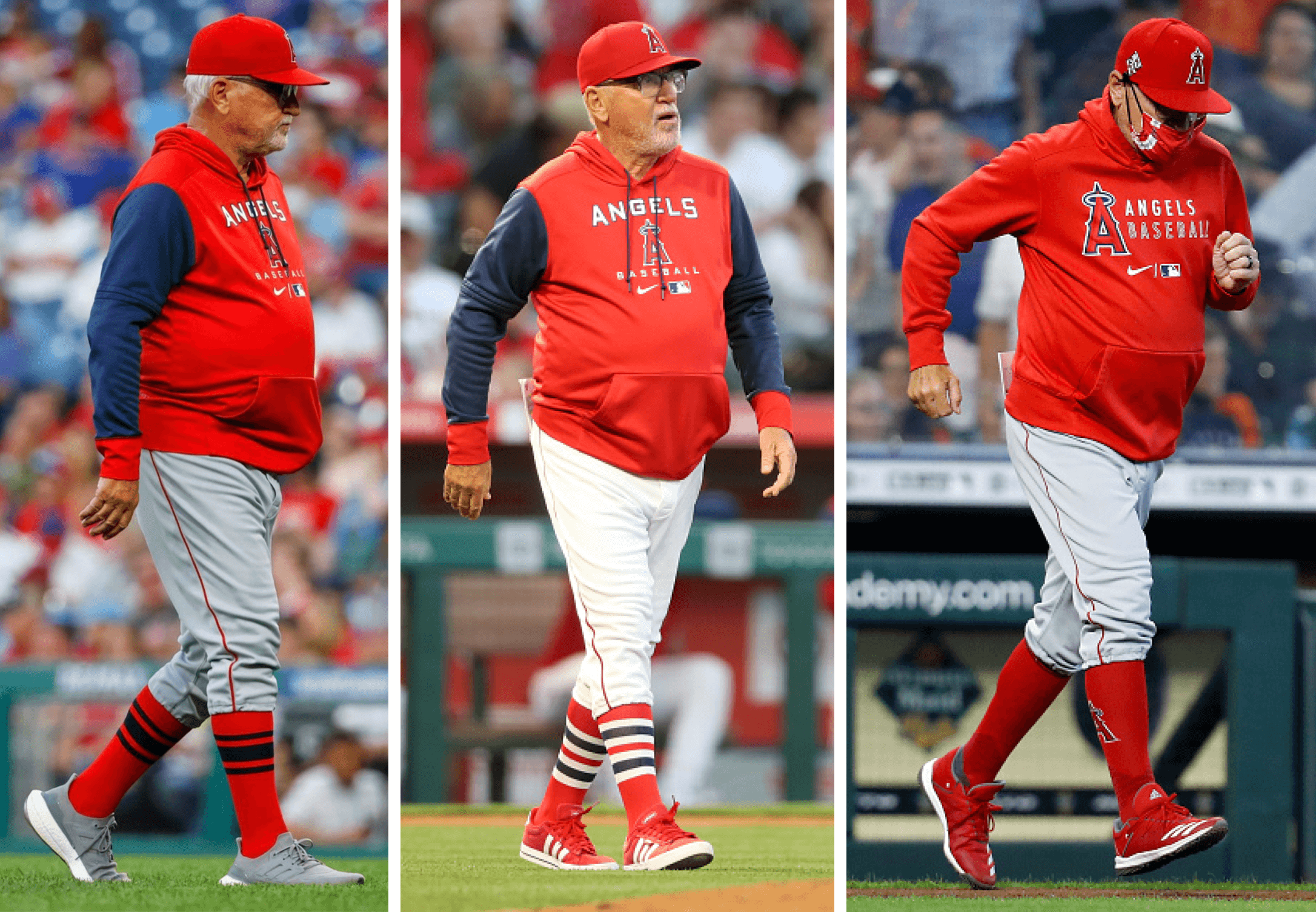 Click to enlarge
The Angels gave skipper Joe Maddon the boot yesterday. Whatever else you can say about him, Maddon almost certainly led the league in managerial hosiery styles. It's rare enough to see a skipper who goes high-cuffed, and even rarer to see one who varies up his sock designs.
When you factor in Maddon's eyeglasses, his unusual uni number, and his sock superstitions, he definitely qualifies as one of MLB's more uni-notable managers (right up there with Buck Showalter, whose uni eccentricities I covered several months back).
At age 68, Maddon probably has at least one more managerial stint left in him. Hope so — even in this era of managers not having as much influence or impact as they once did, he remains an entertaining character.
• • • • •
• • • • •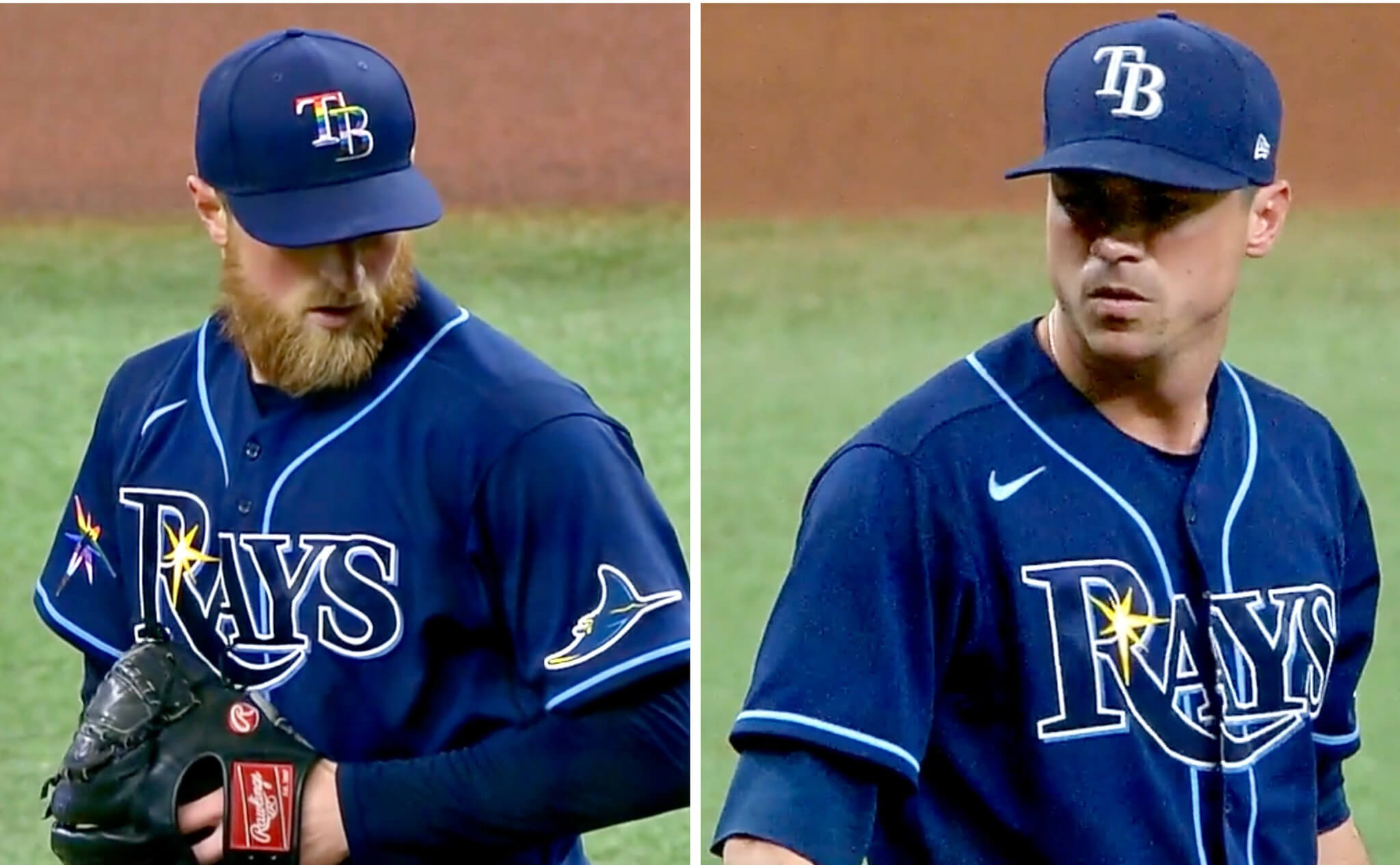 ITEM! New Bulletin article: The situation at the Trop last Saturday night — where most of the Rays wore the Rays' rainbow-striped Pride caps and sleeve patches but at least five players opted out and just wore the team's standard uni elements — raises some interesting questions about whether cultural-advocacy uniforms should be optional, and what that might mean if it became a standard protocol. I've explored some of the implications and possibilities in my latest Bulletin column.
My premium subscribers can read the article here. If you haven't yet subscribed, you can do that here (you'll need a Facebook account in order to pay). Don't have or want a Facebook account? Email me for workaround info. Thanks!
• • • • •
• • • • •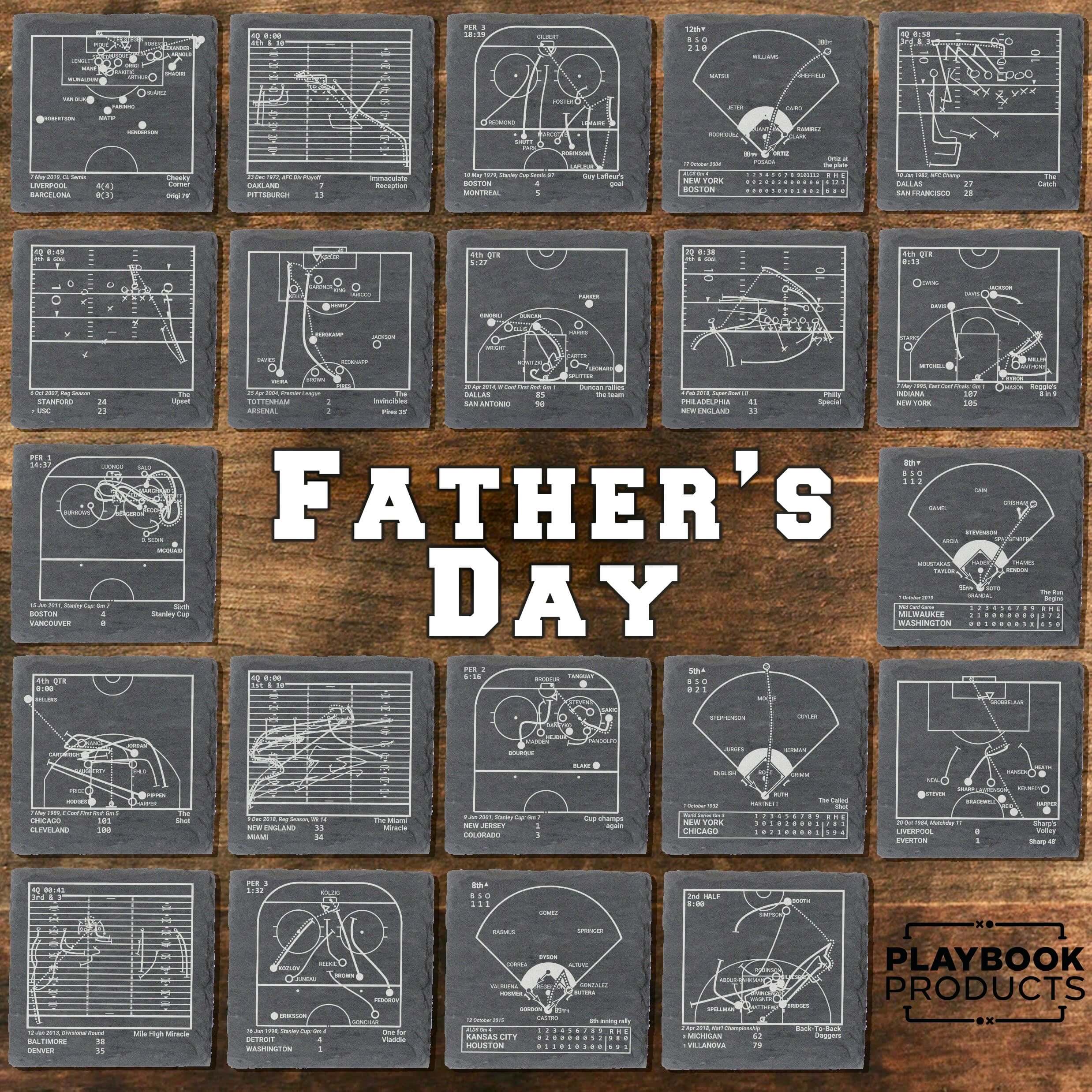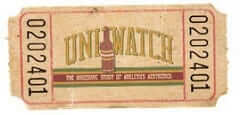 ITEM! New raffle: Playbook Products specializes in items featuring the designs of iconic plays (like the slate coasters shown above), and they've generously offered to let a lucky Uni Watch reader choose any item from their website. Winner's choice!
In addition, if you enter the raffle and don't win, you'll still get a discount code for 20% off a Playbook Products order, good anytime up until Father's Day.
This will be a one-day raffle. USA mailing addresses only. To enter, send an email to the raffle in-box by 11pm Eastern tonight. One entry per person I'll announce the winner tomorrow. Big thanks to Playbook Products for doing this!
• • • • •
• • • • •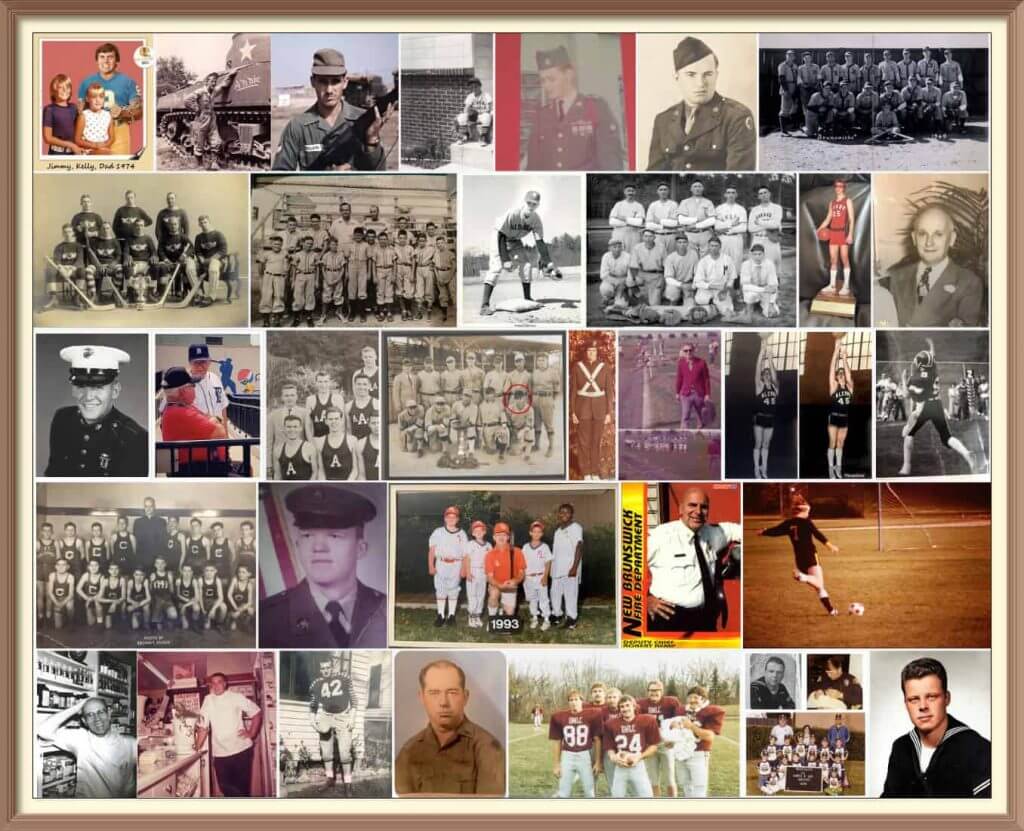 And now a few words from Phil: Father's Day is coming soon (June 19), and I'll once again be posting photos of Uni Watch readers' "Dads in Uniform," an annual tradition that began in 2013. This is always a very special day, and I'd love for as many readers as possible to participate — especially those of you who haven't done so before. A few of you have reached out to me, saying, "I've run out of photos of my Dad," so if you want to resubmit a photo that we've used before, please feel free to do so
To take part in this annual tradition, select one photo of your father (or grandfather or uncle) in uniform (it can be sports, military, work — as long as it's a uniform), along with a short description of 100 words or fewer. Then email the photo — again, only one, please — and text to phil.hecken@gmail.com with the subject line "Uni Watch Father's Day 2022" by next Tuesday, June 14, midnight Eastern. I'll run all of the submissions on Father's Day. Thanks!
• • • • •
• • • • •

Seam ripper update: After a brief supply-chain snag, I'm happy to report that all five colors of Uni Watch seam rippers are once again back in stock. You can order yours here.
• • • • •
• • • • •
The Ticker
By Anthony Emerson

Baseball News: The Great Lakes Loons, High-A affiliates of the Dodgers, are using a Cardinals-esque birds-on-bat motif for their Father's Day unis. … This might be a first: The grounds crew of the Hillsboro Hops created a camouflage home plate area for their G.I. Joke night (from Joel Horn).

NFL News: The Steelers are the latest team to adopt the guardian caps in practice (thanks, Phil). … The Dolphins practiced in completely blank helmets yesterday — no logo, no stripe (from @Frankie__Doodle).

NBA News: A leaked jersey design suggests that the Spurs will wear a George Gervin-era throwback uniform as an alternate next season (from Kary Klismet).

Soccer News: German men wore German women's jerseys during last night's match against England. Belgium's men will do the same  for today's match against Poland (from multiple readers). … New primary advertiser for Premier League side Wolverhampton Wanderers (from Ed Zelaski). … New kit for Dynamo Dresden, who will be playing in the 3. Liga next season (from Kary Klismet). … EFL Championship side Bristol City have unveiled their new kits (from @texastrevor). …  New match ball for Poland's I Liga (from Ed Zelaski). … New home kit for Newcastle United (from Ed Zelaski).

Grab Bag: The Air Force Academy has unveiled a new athletics logo (from Scott Heathcoat). … LIV Golf, the controversial Saudi-backed new golf tour, will have teams complete with the worst logos you've ever seen for its first event (from multiple readers). … Welsh rugby players Leigh Halfpenny and Scott Williams picked their favorite jerseys for a YouTube video (from Tim Dunn). … Team England has revealed its kits for the 2022 Commonwealth Games (thanks, Jamie).