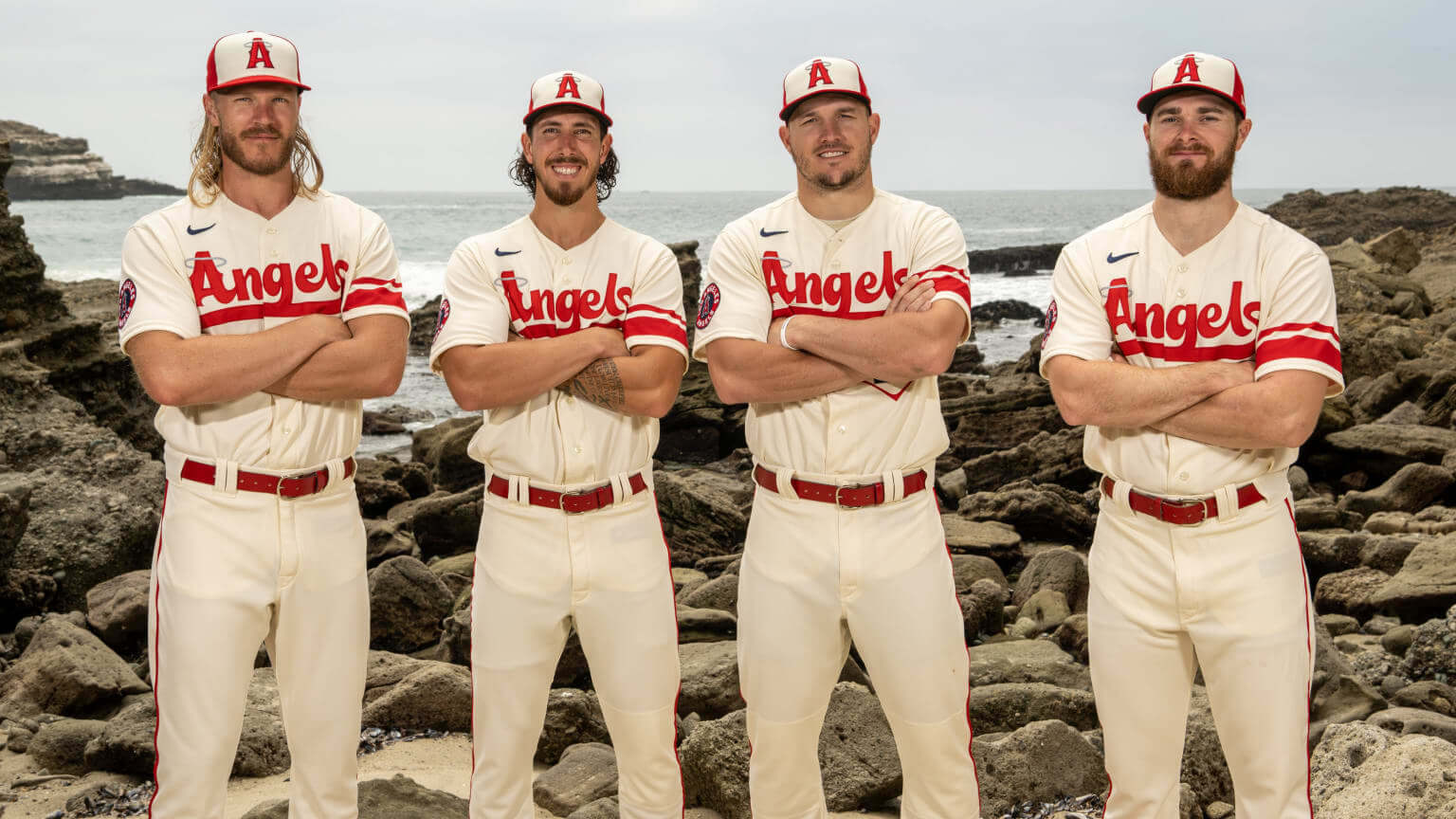 Click to enlarge
The Angels unveiled their City Connect uniform yesterday. The design had already leaked about 10 days earlier, so yesterday's reveal didn't offer much in terms of surprises, but it gave us some closer looks at the design, which is supposed to be based on surf culture, fun in the sun, and so on.
In theory, I like the idea of the Angels (or Dodgers, for that matter) having a casual, beach-inspired alternate uniform. In practice, though, I don't much care for this one. Here's why:
1. The chest script is so close to being really good — very Hanna-Barbera, and I mean that as a compliment. But I hate the way the "g" gets subsumed into the underscore: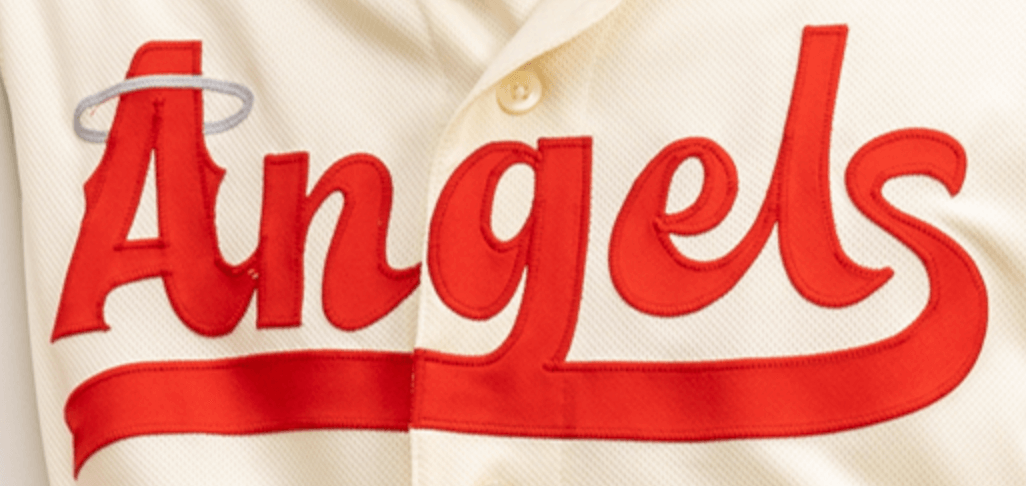 If you didn't know better, you might think it said, "Anaels." Why couldn't they have had the descender of the "g" loop back up, or have it outlined in white? A foolish mistake.
2. The striping on the left sleeve feels more football-y (like Northwestern striping with the bottom line missing) than baseball-y. Yes, there's a cringe-inducing "storytelling" explanation for it, but whatever — it either works visually or it doesn't, and it definitely doesn't work for me.
3. Even worse, the striping appears on only one sleeve, throwing the jersey's symmetry out of whack. (I realize this is like the old joke where one person says, "The food at this restaurant is lousy" and the next person says, "Yes, and such small portions!" But in this case, even though the striping looks out of place on a baseball uni, I'd still rather see it on both sleeves. Or, better yet, neither sleeve.)
4. The "A" on the cap doesn't match the goofy playfulness of the "A" on the chest insignia. Here's a comparison — jersey on the left, cap on the right:
I wish the cap logo looked a bit more like the jersey logo.
As for the other details — the numbers, the sleeve patch, etc. — I can take or leave them.
A few other notes: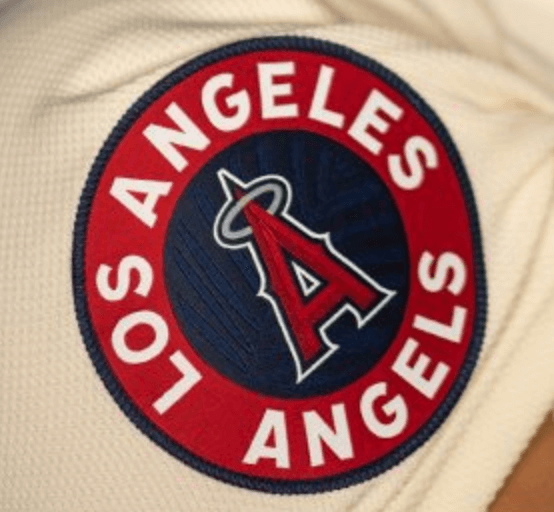 • Speaking of the sleeve patch (shown at right), Twitter-er @SDubs35 says this marks the first time the Angels have used the words "Los Angeles" on their uniforms since reclaiming L.A. as their hometown in 2005.
• Up until now, almost all of the CC uniforms have featured non-white jerseys — often with matching pants, creating a mono-colored look — so the Halos are bucking the trend a bit here by going with a traditional white jersey. (Okay, so it's actually cream, but you get the idea.)
• I'm mildly surprised that none of the CC uniforms have featured pullover jerseys. I thought MLB and Nike might use the CC program to experiment a bit with that format, but that hasn't been the case.
• This uniform will make its on-field debut this Saturday, June 11.
• The Brewers are now in the CC on-deck circle. Their design is slated to make its on-field debut on June 24, so the unveiling will presumably be four or five days prior to that. (As you may recall, the cap apparently leaked about a month ago.)
• • • • •
• • • • •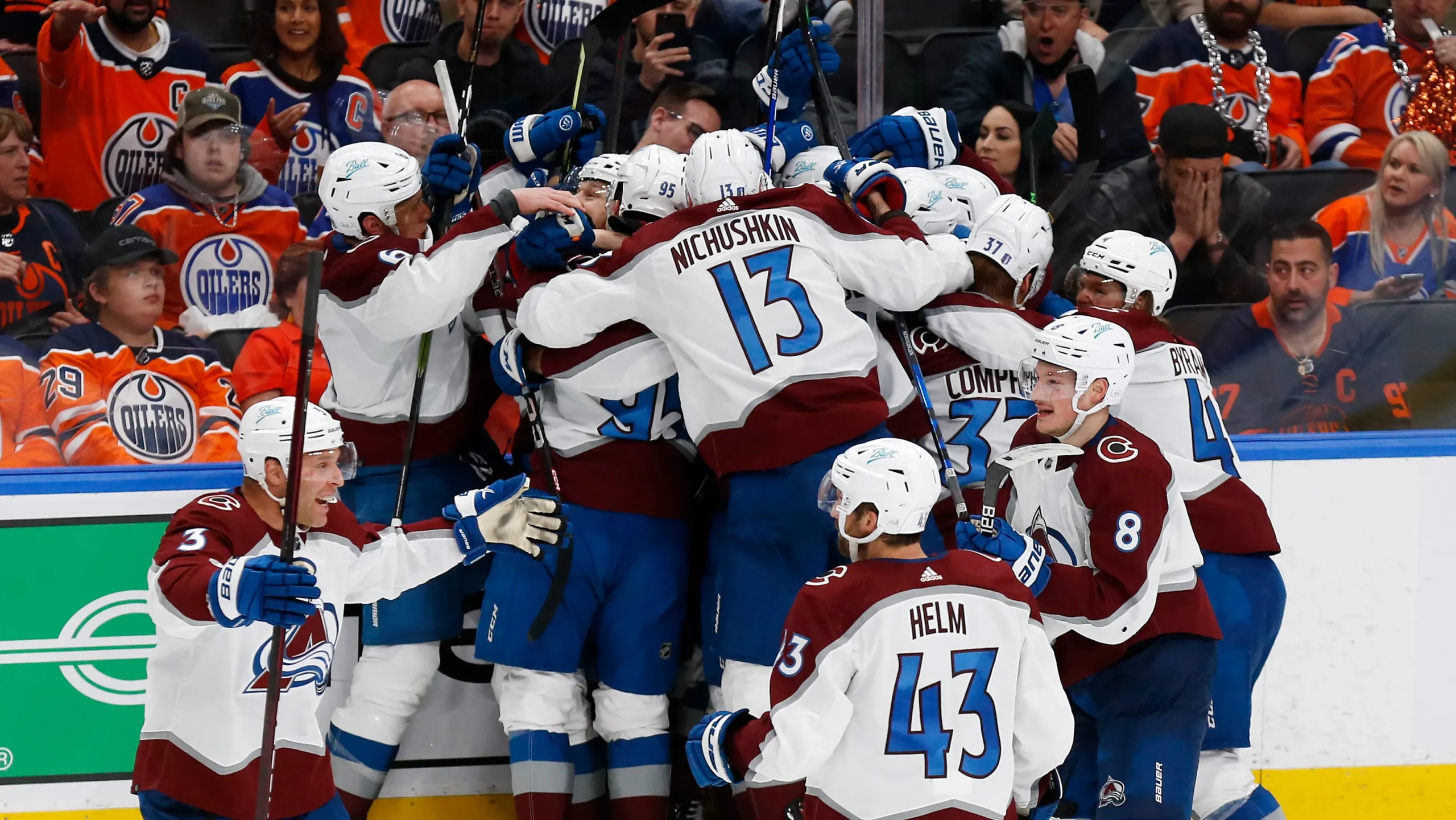 Click to enlarge
One down, one to go: The Avalanche punched their ticket to the Stanley Cup Final(s) last night. If the Rangers take care of business and also advance, we'd be treated to a major rarity: a championship round featuring two teams with vertically arched NOBs.
The last Cup champion to go vertically arched was Detroit in 2008. And the last time both teams in the final round went that route was — uh, I'm not sure that's ever happened before! Definitely a good reason to root for the Rangers.
Meanwhile, now that the Avs have advanced, we've also gotten our first look at how the new Final(s) logo will look as a jersey patch.
• • • • •
• • • • •
Click to enlarge
Start 'em young: Got a note the other day from reader Brent Horstman, as follows:
Just wanted to say thank you for all the years of great writing, as well as some of the inspiration for my kids' South Bay PONY all-star uniforms. Our league's colors are green and gold (a combo I know you like) to match Mira Costa High School, whose fields we play on.

As our league's all-star director, I have a hand in designing our uniforms, so I went back and read several old Uni Watch articles on the Oakland A's for some of the inspiration.  

Last year we went with a gold jersey, and this year I pushed the limits with a Kelly green look, complete with tackle twill letters and numbers.  (We also produced fan gear, which sold surprisingly well.)
Nice! Here's how those uniforms look from the back:
• • • • •
• • • • •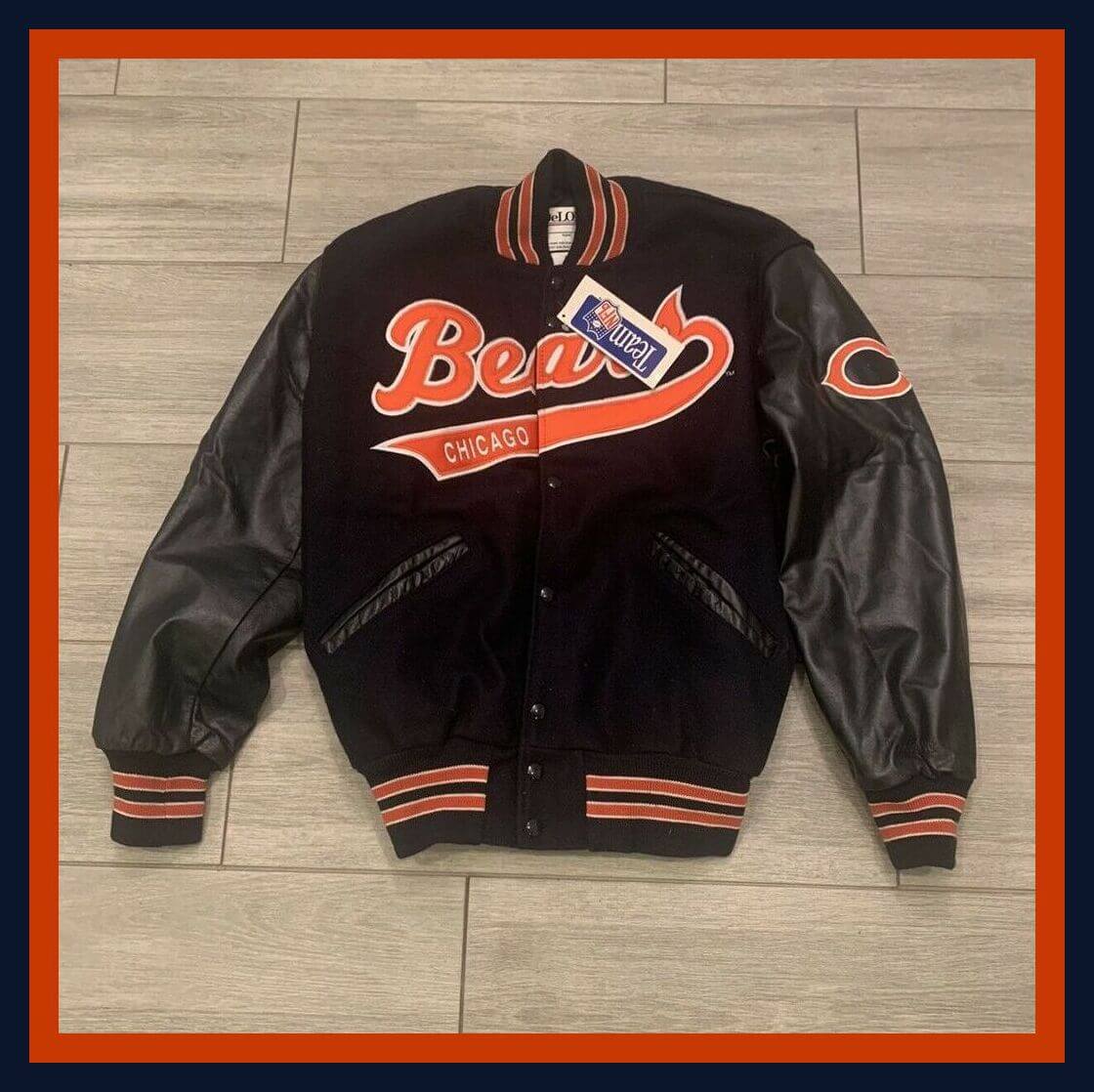 Click to enlarge
Collector's Corner
By Brinke Guthrie
Follow @brinkeguthrie    
Reader Todd C. submitted this week's showcase item, noting, "I know how you love DeLong and this one is a beauty." Well, he's right about that — this Chicago Bears varsity jacket is indeed a beauty. New with tags!
Now for the rest of this week's picks: 
• This 1935 Big League Baseball Game is played — get this — with tiddlywinks!
• Here's a pair of World Champions patches for the 1969 Amazin' Mets. These include the names of Tom Seaver, Tommy Agee, Art Shamsky, and Jerry Koosman.
• You may recall last week we included an eBay listing for a rather deranged-looking 1960s Baltimore Orioles bumper sticker. There's no quit in that guy — he's back again, this time on a 1960s shirt.
• This is a really nice-looking CBS Sports Radio/NFL cap. Navy with a red bill, embroidered logos, and adjustable strap.
 
• This 1971 Keds Allsports Poster Book of Champions includes six full-color posters of stars like Johnny Unitas, Pete Maravich, Tom Seaver, Johnny Bench, Bobby Hull, and Willis Reed.
• Hall of Fame pitcher Rollie Fingers is sporting the Milwaukee Brewers' powder blues for this 14″ tall hand-knit plush doll. 
• Richard (Popcorn) Wylie recorded this 1973 single, titled "Move Over Babe, Here Comes Henry," in honor of Henry Aaron's pursuit of the MLB home run record. (If you want to know what it sounds like, you can listen to it here.)
• The Golden State Warriors are in Boston tomorrow night for Game Three of the NBA Finals, so we'll do one item for each team: Here we have a 1990s Warriors cap in the Logo Athletic "Sharktooth" design, and also a 1960s Bob Cousy Pro 14 basketball shoes plastic bag.
• Rafael Nadal won his 14th French Open title two days ago, an achievement of mind-boggling proportions. Here's an autographed Nadal cap with his Nike "bull" logo and a letter of authenticity.
• • • • •
• • • • •
The Ticker
By Alex Hider

Baseball News: The Tigers have two pitchers on their roster with the last name Rodriguez: Eduardo and Elvin. Eduardo has been wearing a traditional NOB. Elvin is now wearing El. Rodriguez after starting the season with just FIOB (from Joanna Zwiep). … Paul has written about this before, but on Saturday, Dodgers broadcaster and former P Orel Hershiser spoke at length about MLB's decision to switch from green to light-grey undervisors in the 1990s. During the game, Hershiser noted that he used to color his undervisor black with a sharpie because he preferred a dark color (from Michael Baker). … Here's a look you don't see every day: biker shorts, tights, and stirrups! That's Columbia SS Andy Blake in a NCAA tournament game from last weekend (from Kevin Kurz). … UCLA has a street map of Los Angeles sublimated into the numbers on both their baseball and softball jerseys (from James Gilbert). … Both Texas and Oklahoma have been inconsistent with their College World Series sleeve patch placement. Some players are wearing the patch on their left sleeve, others are wearing it on their right (from John Muir and Kevin Clark). … Also from John: Hofstra is using inconsistent batting helmet logos. … Southern Mississippi wore white during the NCAA Tournament despite being designated the road team (from Chris Mycoskie). … The Kia Tigers of the Korean KBO League will wear jerseys made out of recycled PET plastic material for an upcoming series (from Jeremy Brahm). … Also from Jeremy: The World Baseball Softball Confederation has unveiled the mascot for the upcoming U12 Baseball World Cup — "Dorky." … UConn P Justin Willis wore a 2021 cap last night (good spot by Timmy Donahue).

Pro Football News: The Commies will release their revamped team fight song on Aug. 13 (from Tom Turner). … A man was recently interviewed on a local Charlotte TV news segment while wearing an XFL cap (from Lake Koelling). … Cowboys RB Ezekiel Elliott is one of several NFL players wearing Riddell's new Axiom helmet model during OTAs (from Brinke).

College Football News: Illinois has a new turf design for the upcoming season (from @mrmichael21 and Kary Klismet). … Here's a look at USC's helmet history (from Phil and Kary Klismet). … It's not often you see a football field with yard markers in anything but white. But at Genesee Community College, the school is outfitting its new FieldTurf with black football markings. That's because the field will primarily be used for soccer/lacrosse, though school officials wanted to leave the option open to host local high school games. The final version of the field will feature the school's mascot, a cougar, at midfield (from Joseph A. Bailey).

Hockey News: Wayne Gretzky's sweater from the 1988 Stanley Cup Final — the last sweater he wore as an Oiler — recently sold at auction for $1.452 million, the highest price ever for a hockey jersey (from Andreas Papadopoulos). … New logo for Chicoutimi Sagueneens of the QMJHL (from Rob Altman).

Basketball News: The NBA has sold advertising on tweets showcasing players' pre- and post-game outfits (from Paul Panganiban). … Rapper J. Cole is giving pro basketball a shot by playing with the minor league Scarborough Shooting Stars of the Canadian Elite Basketball League. The Shooting Stars played their home opener Sunday, and fellow rapper Drake was in attendance, wearing J. Cole's jersey (from Bob Martin). … New court design for San Jose State (from Ethan Kassel).

Soccer News: The first four items are from our own Jamie Rathjen: Two U.S.-based teams used uniforms to spread awareness about gun violence in America over the past weekend: USMNT players wore orange armbands, and Washington Spirit of NWSL wore warm-up shirts in support of the Brady Center, a gun control advocacy group. … Gotham FC of the NWSL wore rainbow numbers for Pride Month on Saturday. … Tottenham's women's team will soon begin playing most of their home games at Leyton Orient's Brisbane Road Stadium. … Speaking of Tottenham, here's their new first shirt. … Japanese club Nagoya Grampus has unveiled a fauxback uniform that honors the 1995 team that won the Emperor's Cup (from Jeremy Brahm). … Bristol City of the English Championship have unveiled new goalkeeper jerseys for the upcoming season (from Kary Klismet). … New away kit for Spanish side Athletic (from Ed Zelaski).

Grab Bag: Uni Watch lacrosse correspondent Jared Buccola notes that Whipsnakes (all green) and Cannons (all white) debuted new uni combos in Week 1 of the Premier Lacrosse League. He also notes that on all uniforms, both the Champion maker's mark and the PLL logo are plastic patches. … Wolfie Browender sends along a couple of license plate-based submissions: California is testing out vinyl decal license plates as a potential replacement for traditional metal plates. License plate fanatics should also check out this database that has photos of plates from around the world. "A great way to get lost for a few hours," Wolfie says. … The Big Ten is holding its annual 10K race next month in Chicago. As the conference has done in years past, registered runners receive a T-shirt in the colors of their school of choice (from Kenneth Traisman). … Indian River State College in Florida has a new mascot logo (from Michael Jaworski). … The Space Force has issued clarifications on its lipstick and nail polish regulations (from Timmy Donahue). … The Army has published a press release on its website that recaps all the changes it has made to uniforms in recent years to better accommodate female soldiers (from Kenn Tomasch). … The Mid Mountains Netball Club, a youth program in New South Wales, Australia, has unveiled new uniforms designed to recognize indigenous people (from Kary Klismet). … Also from Kary: New marching band uniforms for Pierce County High School (Georgia).
• • • • •
Our latest raffle winner is Bud Parks, who's won himself a Uni Watch membership card. Congrats to him, and thanks again to birthday boy Jamie Rathjen for sponsoring this one. — Paul