Good morning, and happy Friday the 13th! The full 2022 NFL schedule was released yesterday, and there were some interesting uni- and logo-related tidbits for us to consider. One at a time:
1. Like many teams, the Falcons created a video to promote their 2022 sked. At very end of it, there's a glimpse of a throwback helmet lurking behind a sign: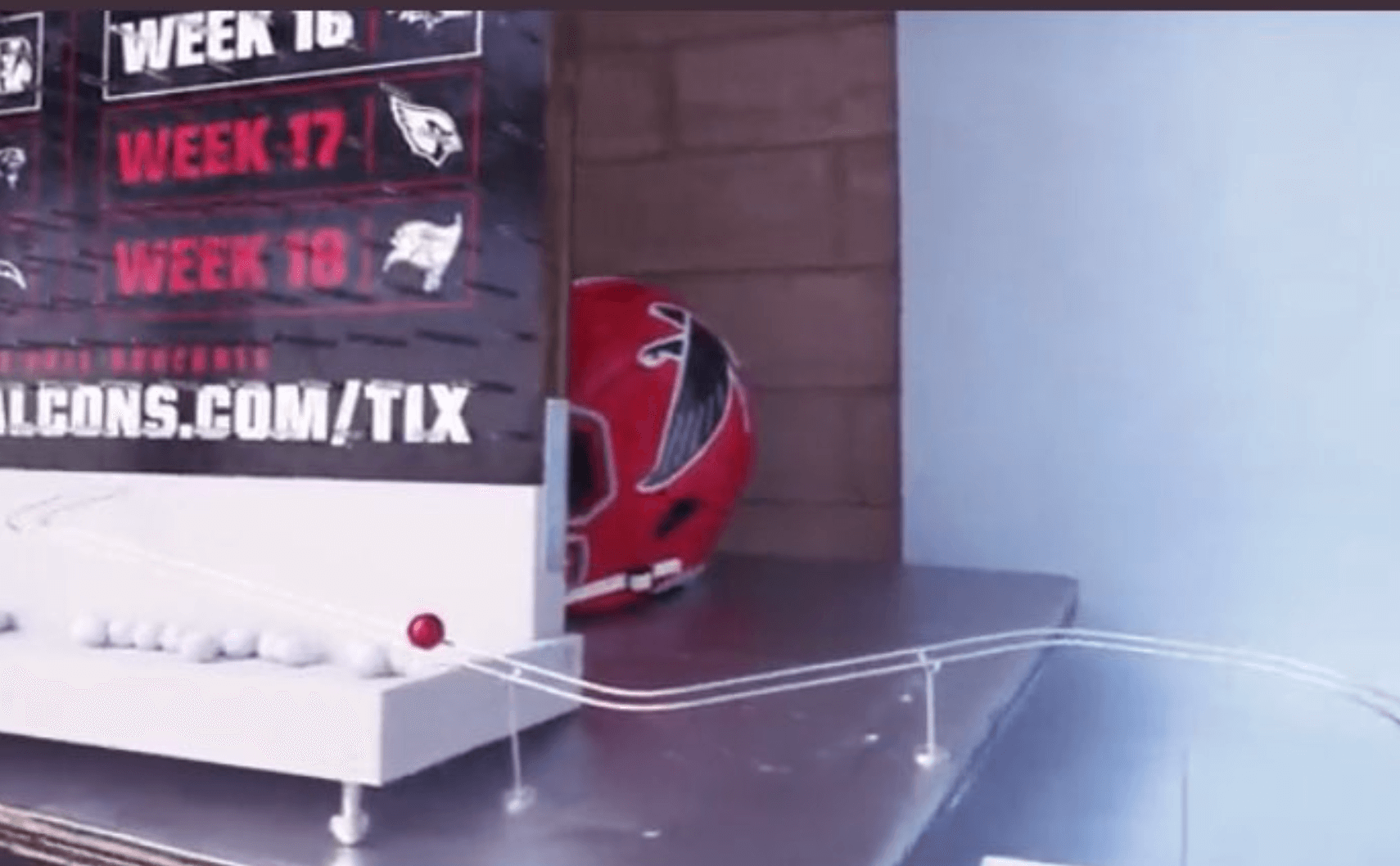 The Falcons figured to be one of the teams going with throwbacks now that the one-shell rule has been lifted, but several other teams have pushed back their throwback plans to 2023 due to supply-chain issues. Good to see that this hasn't affected the Falcons.
It's not yet clear which game(s) on Atlanta's schedule will get the retro treatment — something to keep an eye on.
2. CBS Sports took a look at the Saints' schedule and came up with this truly excellent graphic: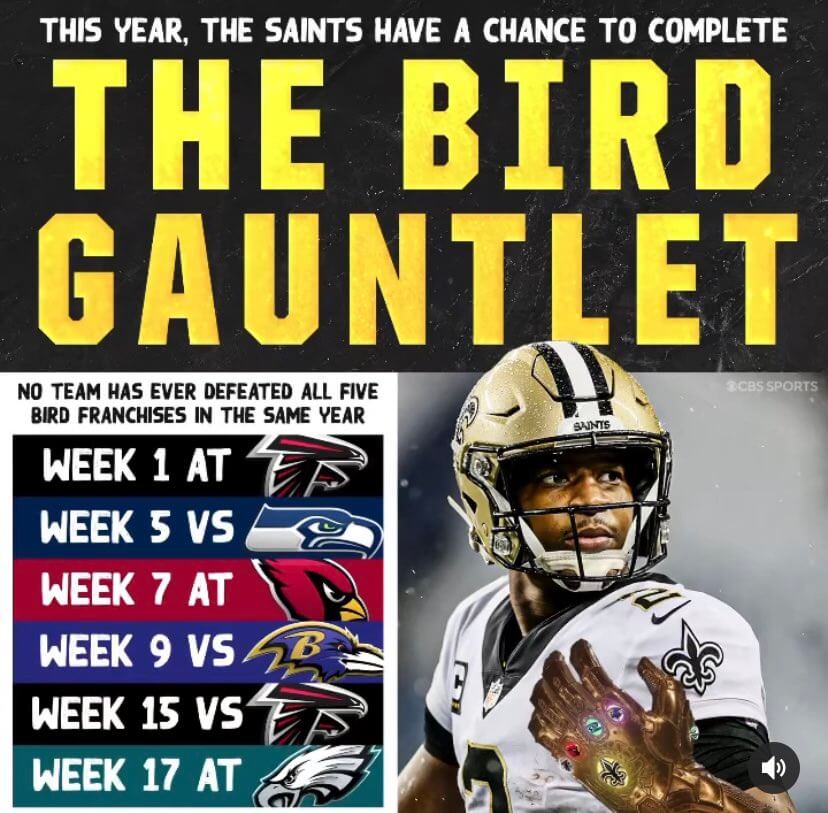 Love that! But it leads to a good trivia question: In addition to those five teams, there is a sixth NFL team with a bird on its jersey. What is it?
3. The NFL inexplicably promoted the Week One game between the Broncos and Seahawks with a graphic showing Broncos QB Russell Wilson in a uni combo that the team has never worn:
Russ returns to Seattle. Week 1.

📺: 2022 NFL Schedule Release — 8pm ET on @nflnetwork pic.twitter.com/Wz0SipAxS2

— NFL (@NFL) May 12, 2022
At that angle, it doesn't look bad. But from the side, you'd have the jersey's blue side panels colliding with the pants' orange panels — a mess.
4. It's hard to be 100% sure, but it looks like the 49ers Photoshopped the new chest mark onto their sked-release player photo but didn't bother to add the new third stripe on the sleeve: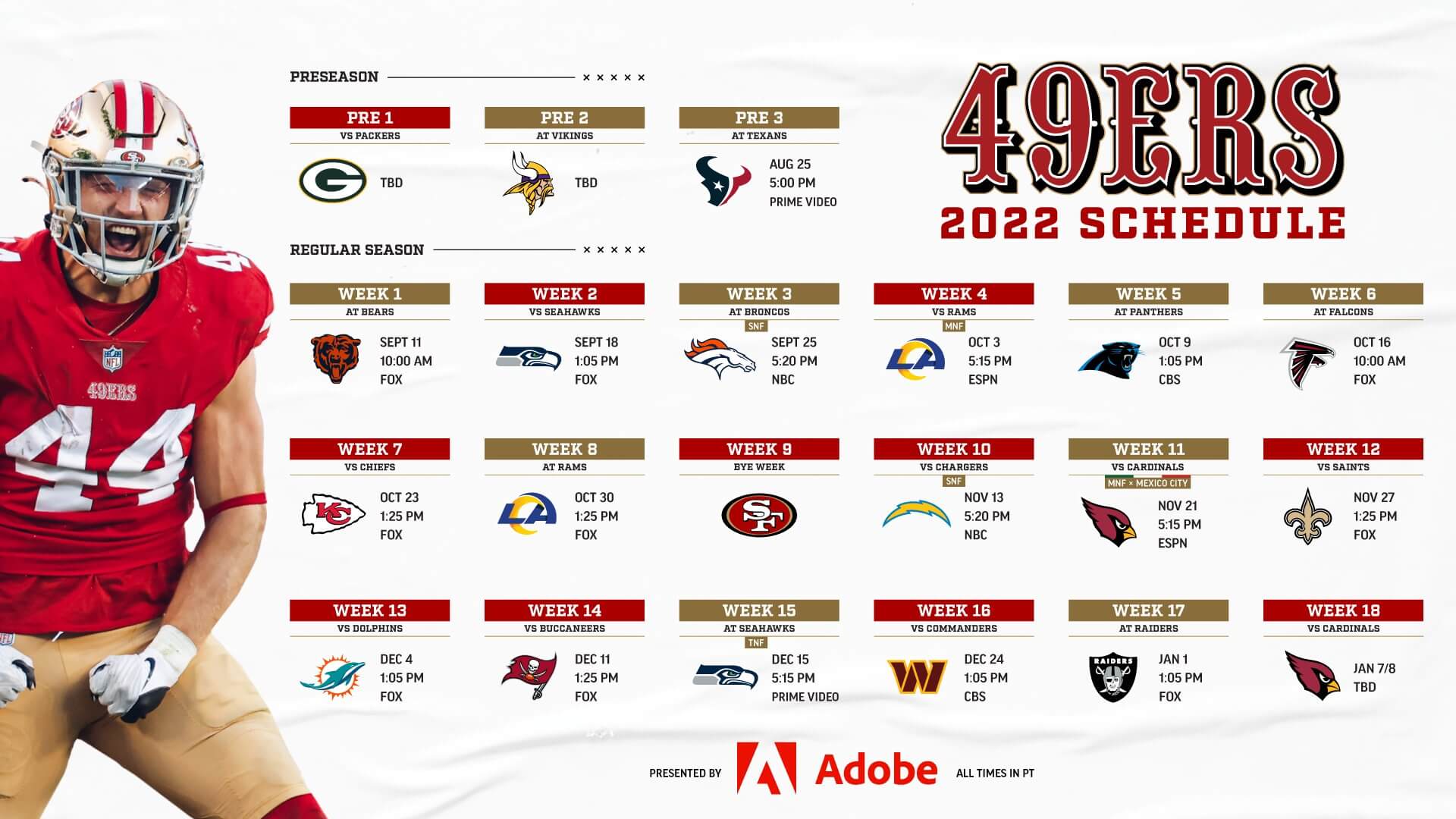 5. The Texans' sked-release video featured players attempting to draw the opponents' logos:
You're watching a ✨Texans Channel✨ original movie

🎟 » https://t.co/Vv9ajw5wE4 pic.twitter.com/ntE14Qahgp

— Houston Texans (@HoustonTexans) May 13, 2022
6. The Bears also had players draw their opponents' logos, but on footballs (click on the tweets to see the entire thread):
Weeks 2 & 13

🎨 @JaquanBrisker pic.twitter.com/3Z0g36Zwct

— Chicago Bears (@ChicagoBears) May 13, 2022
7. The Chargers came up with a really funny anime-style video for their sked release (and also posted a thread in which they listed their opponents as various flavors of Pop-Tarts):
Should we REALLY make our schedule release video an anime?

yes yes yesyes
yesyes yes yes yes
yes yes yes yes yes
yes yesyes yes yes
yes yesye yes yes
yes yes yesyes pic.twitter.com/A0TvmYJUOQ

— Los Angeles Chargers (@chargers) May 13, 2022
8. Lots of fun bits in the Bengals' sked-release video, including a Jets jet, a Dolphins race car, and a school bus driving through Pittsburgh (it's yellow and black, get it?):
What happens when you combine 100+ stock photos, bad animation, and the biggest Bengals season ever?
The 2022 Schedule Release!

🎟 Single game tickets are on sale at https://t.co/RXVXLW0wuy pic.twitter.com/F9ka8zZNze

— Cincinnati Bengals (@Bengals) May 13, 2022
9. The Dolphins unveiled a 50th-anniversary logo for the 1972 "perfect season" team, which went 17-0: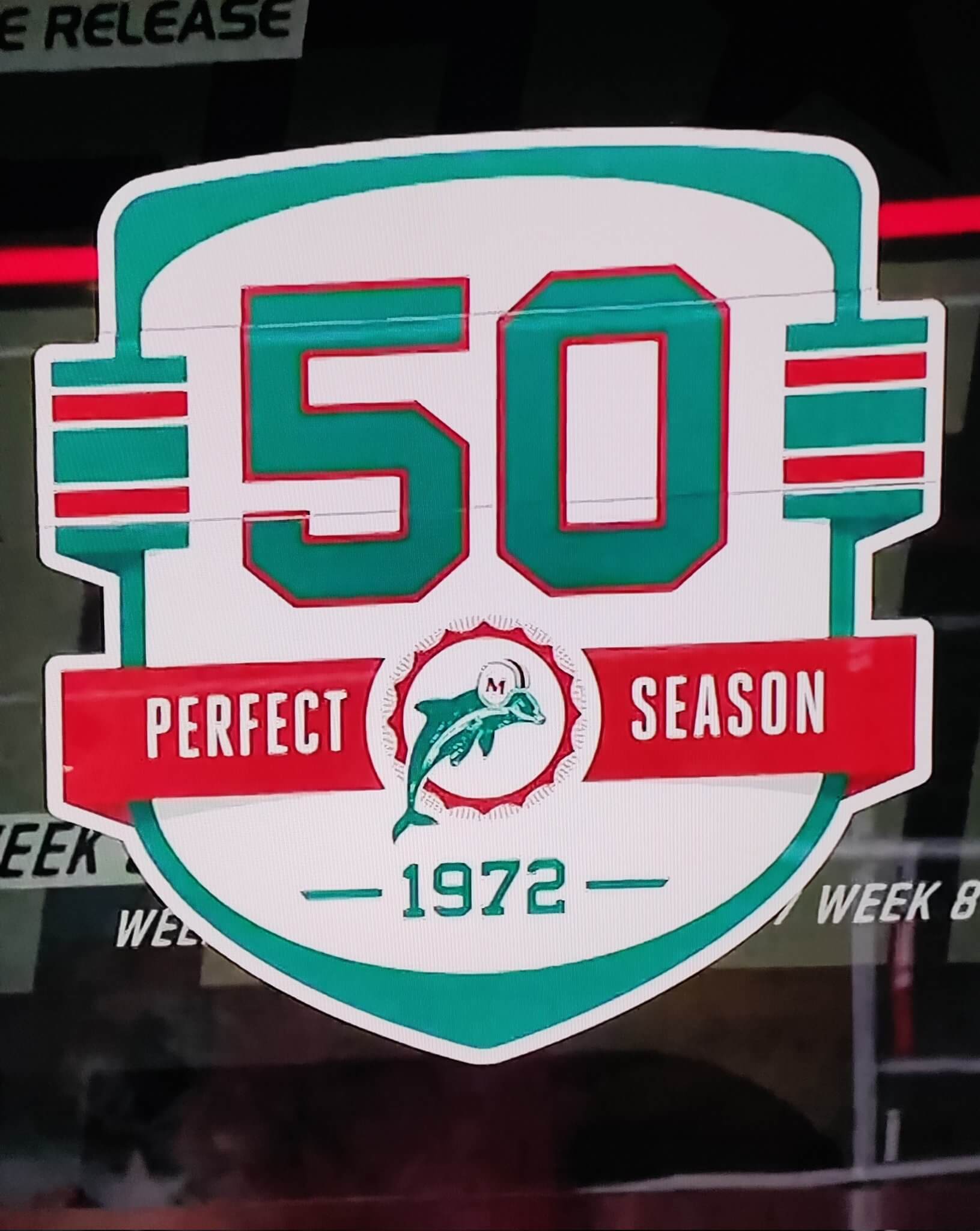 They're planning to honor the '72 team as part of their Oct. 23 game against the Steelers, so it seems like a safe bet that they'll wear throwbacks for that game, perhaps with the anniversary logo as a jersey patch and/or rear-helmet decal.
10. The last graf of this article indicates that the Steelers will probably wear their throwbacks on Nov. 20 against the Bengals.
Honorable Mention. While not uni-related, the Seahawks pranked their players by showing them a fake schedule, which prompted some very amusing reactions (if you don't see the video embedded below, look here):
There were probably other uni- and logo-related bits that I missed. Feel free to list them in today's comments.
(My thanks to Samuel Lam, Preston Feiler, @kcequipmentfar1, plus our own Lloyd Alaban, Brinke Guthrie, and Jerry Wolper, for their contributions to this section.)
• • • • •
• • • • •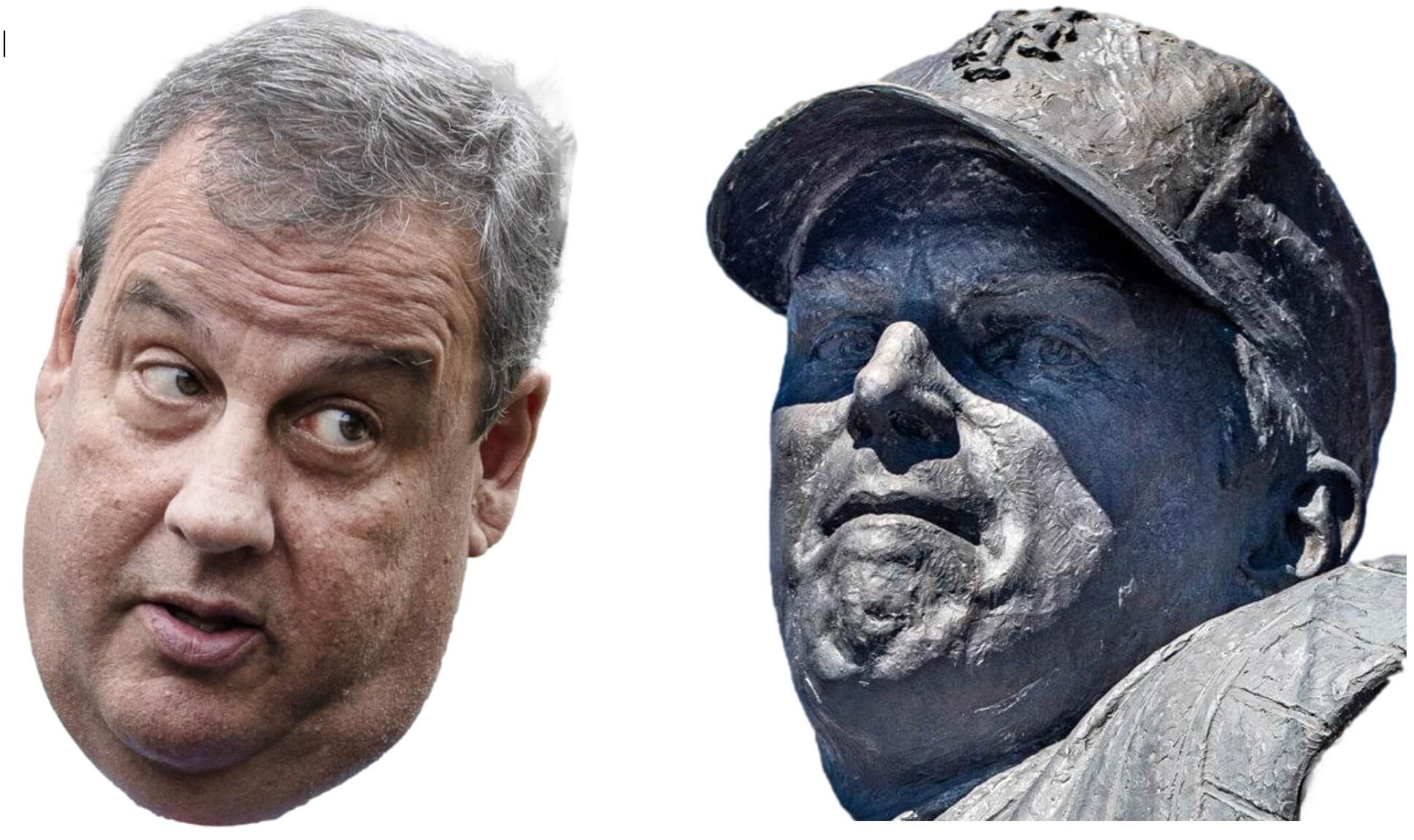 Christie/Seaver saga, continued: Yesterday I invited readers to submit T-shirt designs inspired by former New Jersey Gov. Chris Christie saying, "Get a life!" in response to my article about the inaccurate "4" on the Tom Seaver statue.
I received a bunch of submissions yesterday (thank you!). All were fun and interesting, but one design concept — submitted by Erik Hoover — easily stood out as the best. It's so good that I've already put it into production (click on each image to go to its ordering page):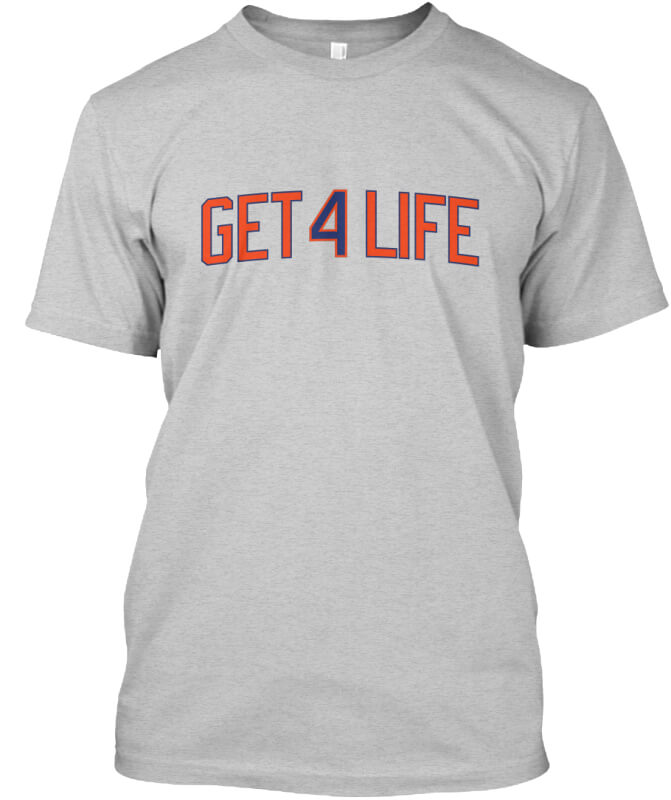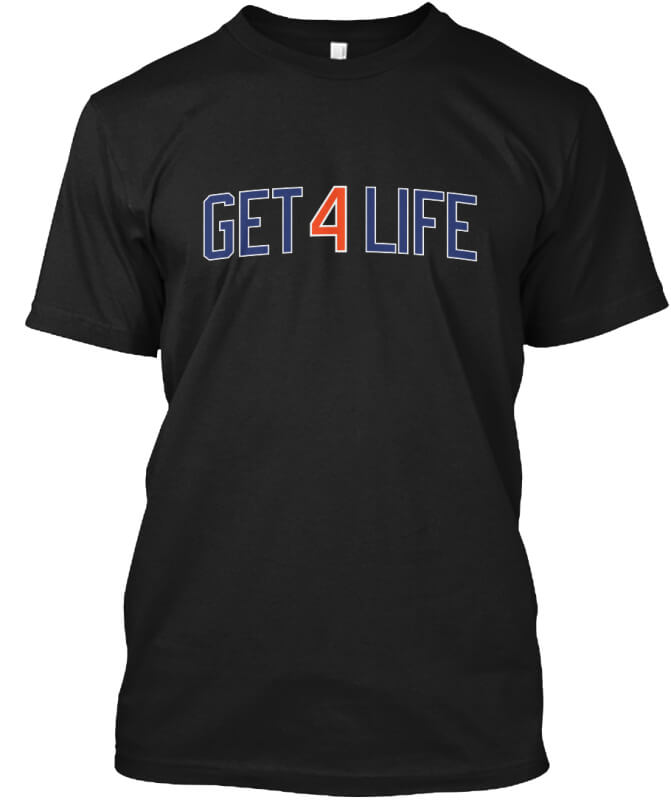 So simple, so good! As I promised yesterday, all profits will be donated — the blue and BFBS proceeds will go to the >American Society of Civil Engineers (for bridge and infrastructure maintenance), and the grey proceeds will go to Clean Ocean Action (for NYC/NJ ocean and beach cleanliness).
I'm still very open to other design ideas that relate to the Seaver/Christie storyline. If you have one, feel free to send it here. My continued thanks to Ted Bloss for suggesting that we use the Christie quip as the inspiration for a shirt!
Meanwhile: As you may know (it was definitely mentioned on Uni Watch at the time), Christie participated in a charity softball game to support families of slain police officers back in 2015. What you might not know — and what I didn't know myself until our own Brinke Guthrie pointed it out to me yesterday — is the uniform number he wore in that game: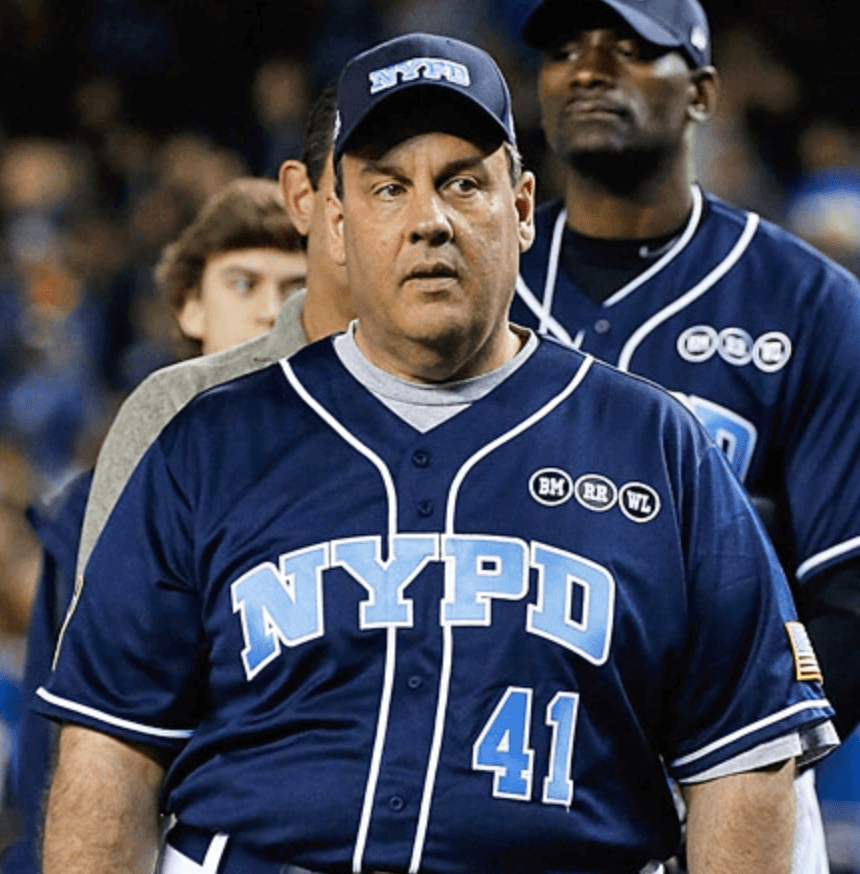 That's just too perfect. What a week this has been!
• • • • •
• • • • •
Uni Watch News Ticker
By Anthony Emerson

Baseball and Softball News: Nationals Park has switched the traditional helmet sundae to a cap sundae, complete with faux stitching (from Lowell Frank). … This clip of a Lou Whittaker homer in the 1986 All-Star Game features a cool Easter egg at the end — Roger Clemens wearing Jim Rice's batting helmet! As an AL pitcher a decade before the introduction of interleague play, there's no way he had his own helmet to bring to Houston (great spot by Cliff Corcoran). … New unis for the American Association's Winnipeg Goldeyes (from multiple readers). … Staying in the American Association, the Cleburne Railroaders have introduced a new alternate jersey (from multiple readers). … The Traverse City Pit Spitters of the Northwoods League will become the Up North Cork Dorks for a game in August. The name is a nod to the Traverse Wine Coast (from multiple readers). … Here's a sensationally written and researched piece about the history of player autographs on baseball gloves. It's long but very entertaining and definitely worth checking out (from Trevor Williams). … Michigan's softball team has some excellent stirrups (from @TDawg1551). … The Rangers' red alternate jersey, one of many MLB alternates whose production was delayed by this year's shortened spring training, will make its season debut tonight. … The Bobblehead Hall of Fame and Negro Leagues Museum have teamed up to release a series of Satchel Paige talking bobbleheads.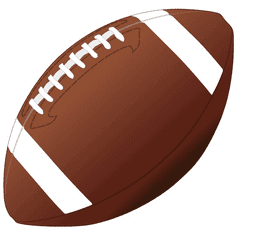 Football News: In what may just be a social media marketing move, the Panthers swapped out their Twitter avatar and background image for their original logo and wordmark on Twitter (from Craig Lucas). … Washington, DC's Archbishop Carroll High School loves the NFC North so much, they poached both the Bears' and Lions' logos (from Matt Ipri). … Former Texans RB Arian Foster has quite the impressive jersey collection from his NFL days (from multiple readers). … Here's a look at the evolution of LSU's helmets (thanks, Phil). … The Marlboro County (S.C.) School District is paying $90,000 to replace football uniforms and equipment that were damaged by mold and mildew.

Hockey News: The Quebec-based Ligue Nord-Américaine de Hockey, an independent league, has announced a new expansion team, Bâtisseurs de Montcalm (from Wade Heidt).


NBA News: The NBA has tweaked the Larry O'Brien trophy and introduced new Conference Finals MVP trophies, named after Larry Bird for the East and Magic Johnson for the West (from multiple readers). … The FanNation Hawks blog has a great interview with Tom O'Grady, the NBA's first creative director (thanks, Phil).

Soccer News: Mexican side Club León have unveiled a newspaper-inspired away kit, of all things (from Mauricio Gómez Montoya). … Newcastle United's new away kit has leaked, and the green-and-white design — a first for the club — is drawing negative comparisons to the Saudi flag. A consortium backed by Saudi Arabia's sovereign wealth fund controversially purchased the club last year (from Mark Coale).

Grab Bag: Here are the liveries for this weekend's IndyCar race in Indianapolis (from Tim Dunn).
• • • • •
And that's a wrap for this week. Stay well, enjoy Phil's weekend content, and I'll see you back here on Monday — Purp Walk Eve. Peace. — Paul