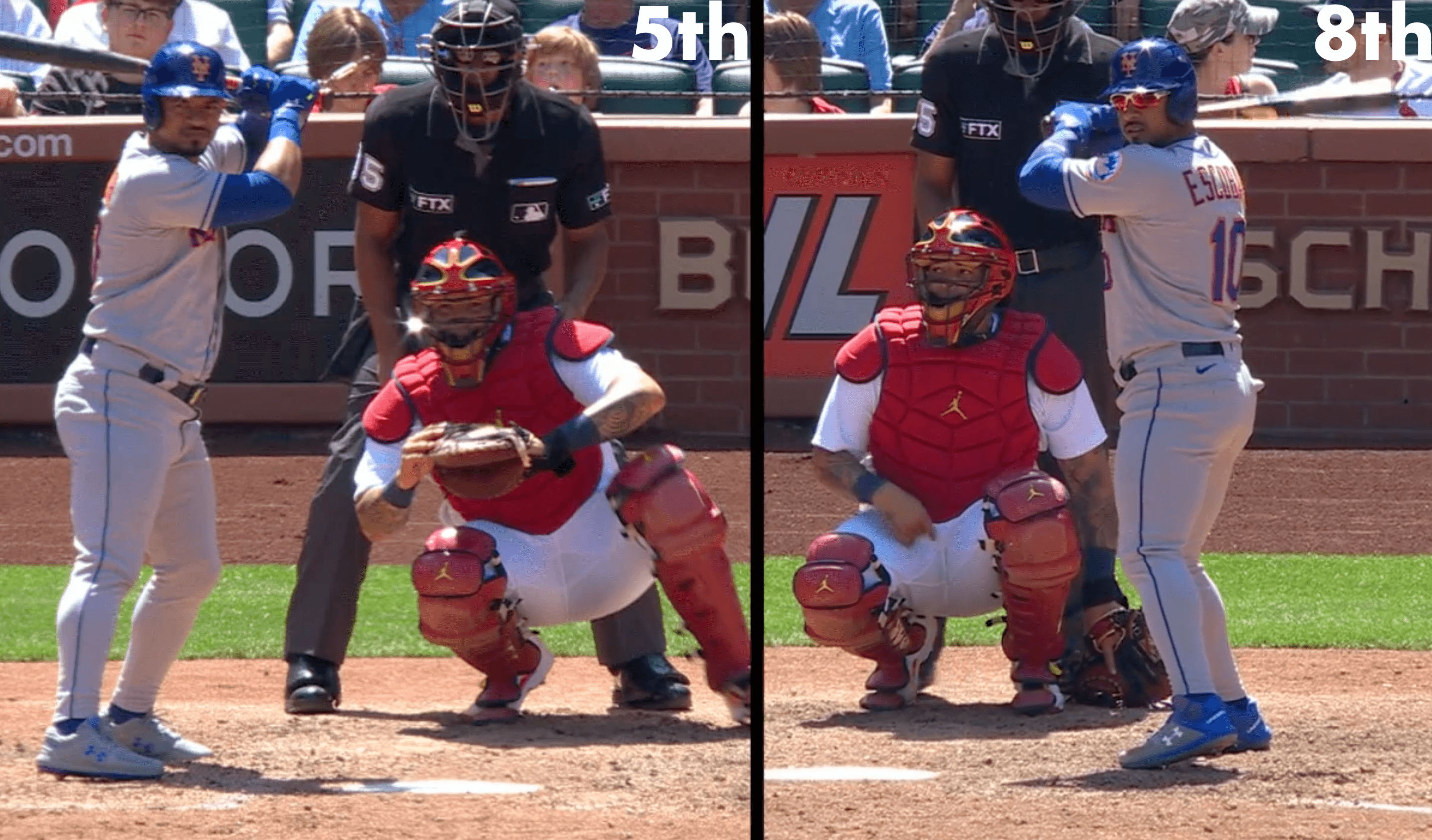 Click to enlarge
Mets DH Eduardo Escobar changed his shoes in the middle of yesterday's game against the Cardinals. What was that about? SNY broadcaster Steve Gelbs was all over it:
We talk about superstition all the time amongst baseball players. Well, when Eduardo Escobar doesn't like an at-bat, he goes and changes his cleats. In his last at-bat, he struck out [he also struck out in the at-bat before that — Paul], he was wearing pretty much all-grey. This at-bat, half-grey, half-blue. He keeps a lot of different cleats in his locker just in case he doesn't like his AB.
That's some excellent uni-watching by Gelbs, who clearly Gets It™. Escobar promptly doubled, so his slump-buster move worked!
As an aside, I've noticed that Escobar has a very snug fit on his pants, especially over his calves. It's like he's wearing skinny-cut stretch jeans!
• • • • •
• • • • •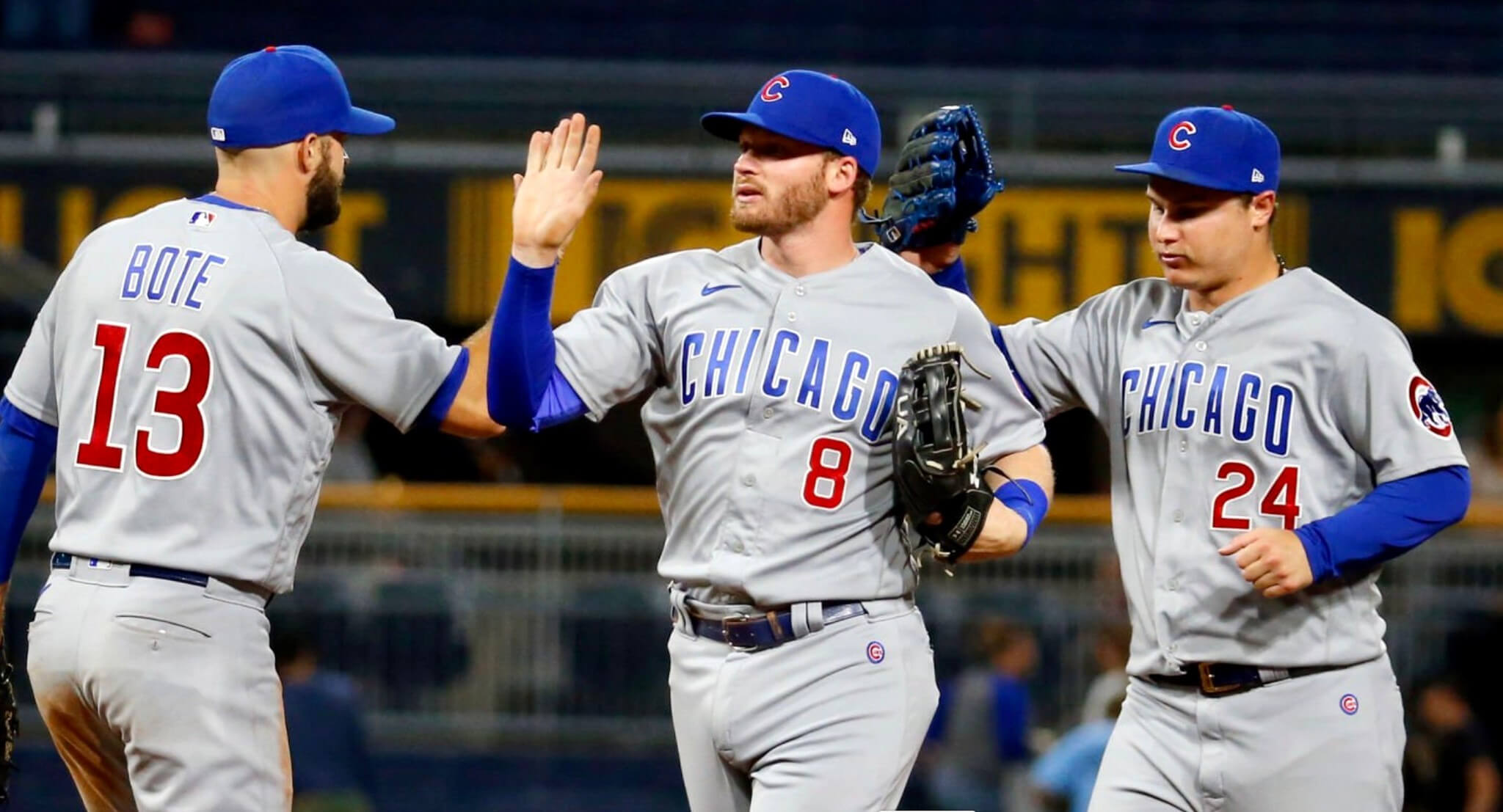 ITEM! New Bulletin article: Due to the delayed delivery of MLB alternate uniforms, we're seeing a lot more home whites and road greys so far this season. Road uniforms usually don't get a lot of attention, so I've decided to give them the Uni Watch Power Rankings treatment for this week's Bulletin article — a worst-to-first assessment of MLB greys (or, in San Diego's case, tans).
My premium subscribers can read the article here. If you haven't yet subscribed, you can do that here (you'll need a Facebook account in order to pay). Don't have or want a Facebook account? Email me for workaround info. Thanks!
• • • • •
• • • • •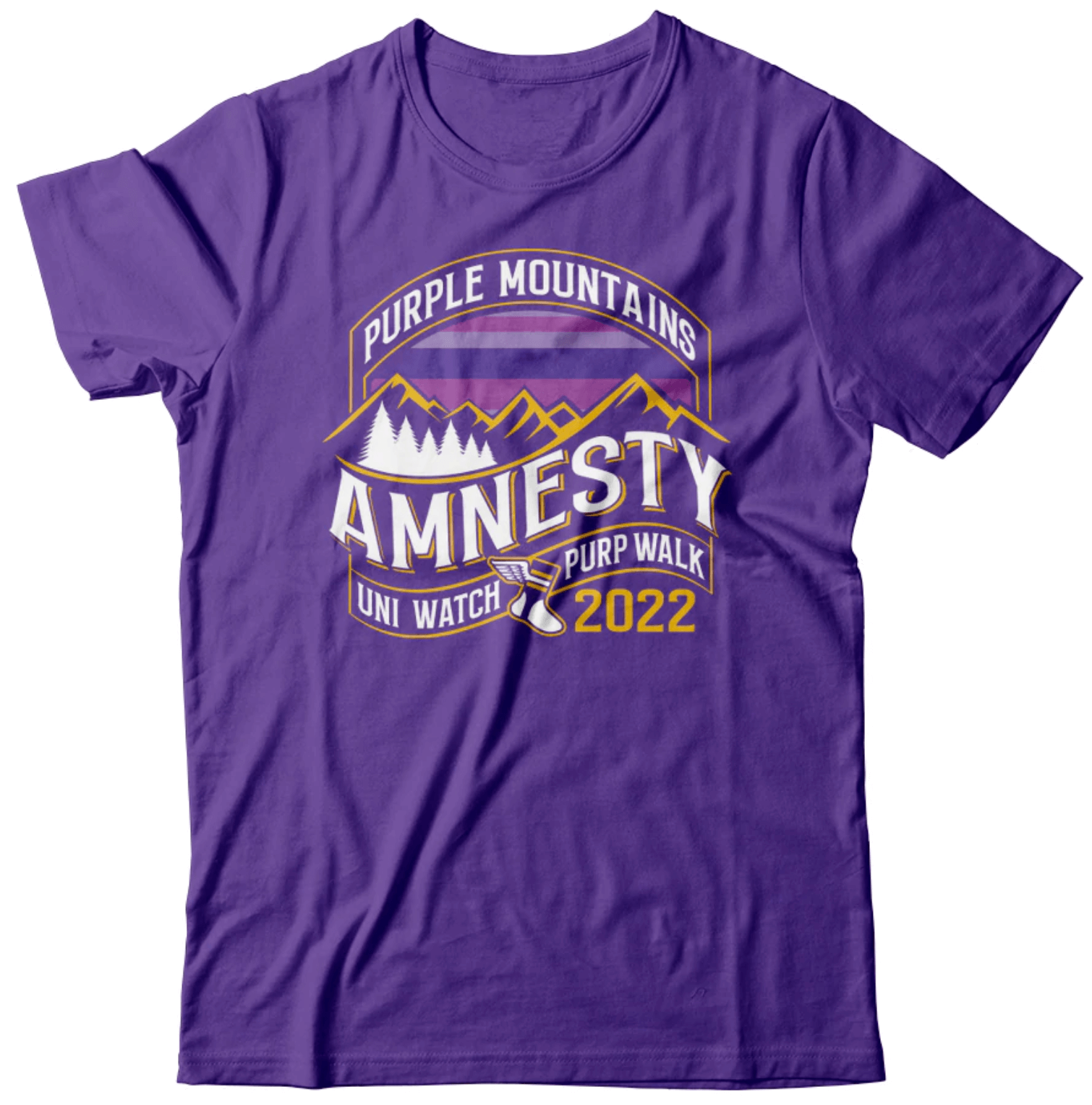 Click to enlarge
IMPORTANT Purp Walk reminder: If you plan to attend the Purp Walk party in Denver on May 17, today is the last day to pre-order the shirt with the bonus logo on the back. So if you want in on that, order your shirt now.
We'll be giving out these shirts at the party, so don't pre-order unless you're going to be there. If you're not going to be there, don't worry — you can still order the shirt on Purple Amnesty Day, but it won't have the bonus logo on the back.
• • • • •
• • • • •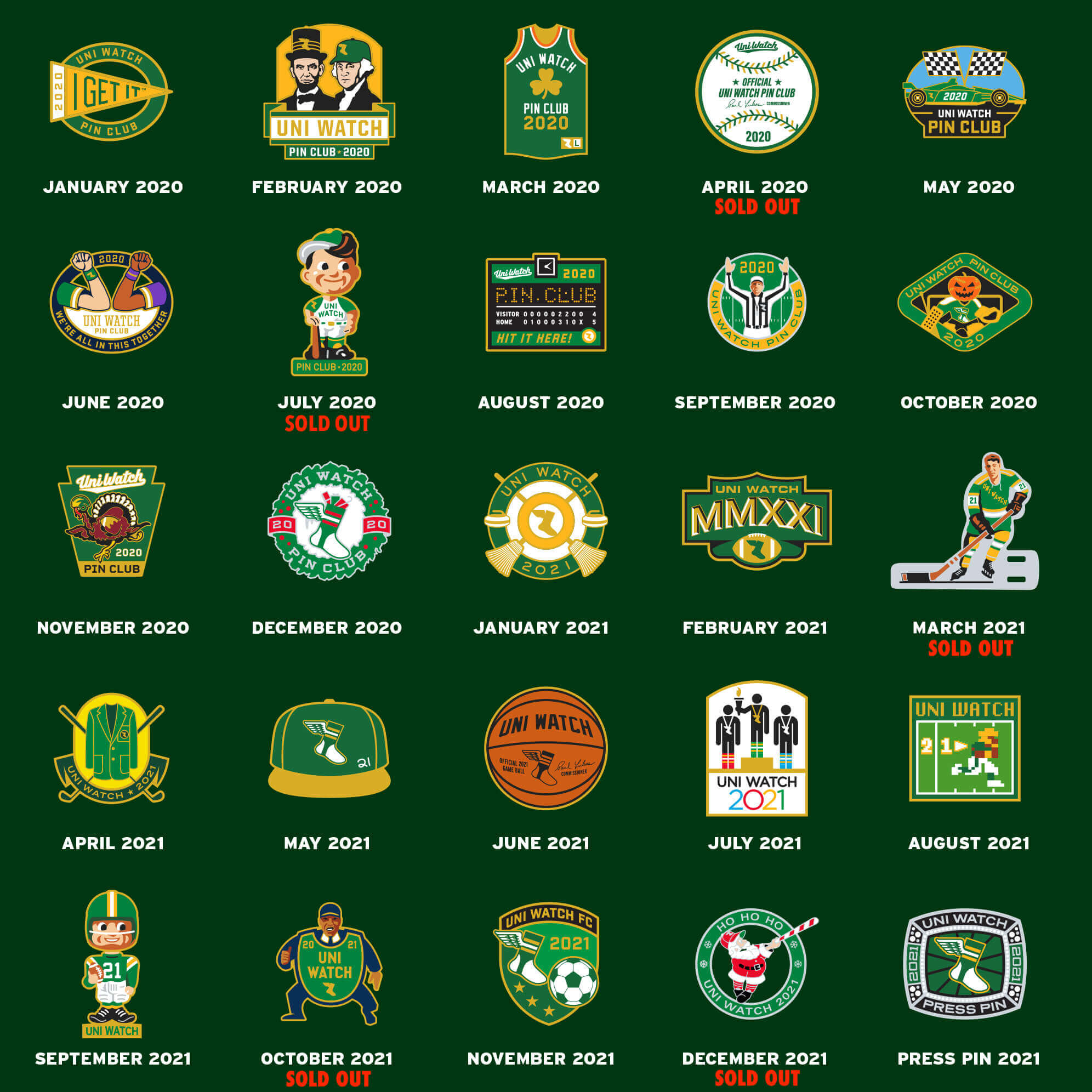 Click to enlarge
Pin sale reminder: In case you missed it, I'm running a sale on Uni Watch pins for the rest of this week, as follows:
• One pin for $9 for $6
• Any two for $16 for $11
• Any three for $21 for $15
• Any five for $30 for $20
• Any 10 for $30
If you want more than 10, email me and I'll give you a price.
Full ordering details here. My thanks, as always, for your consideration of our products.
• • • • •
• • • • •
The Ticker
By Paul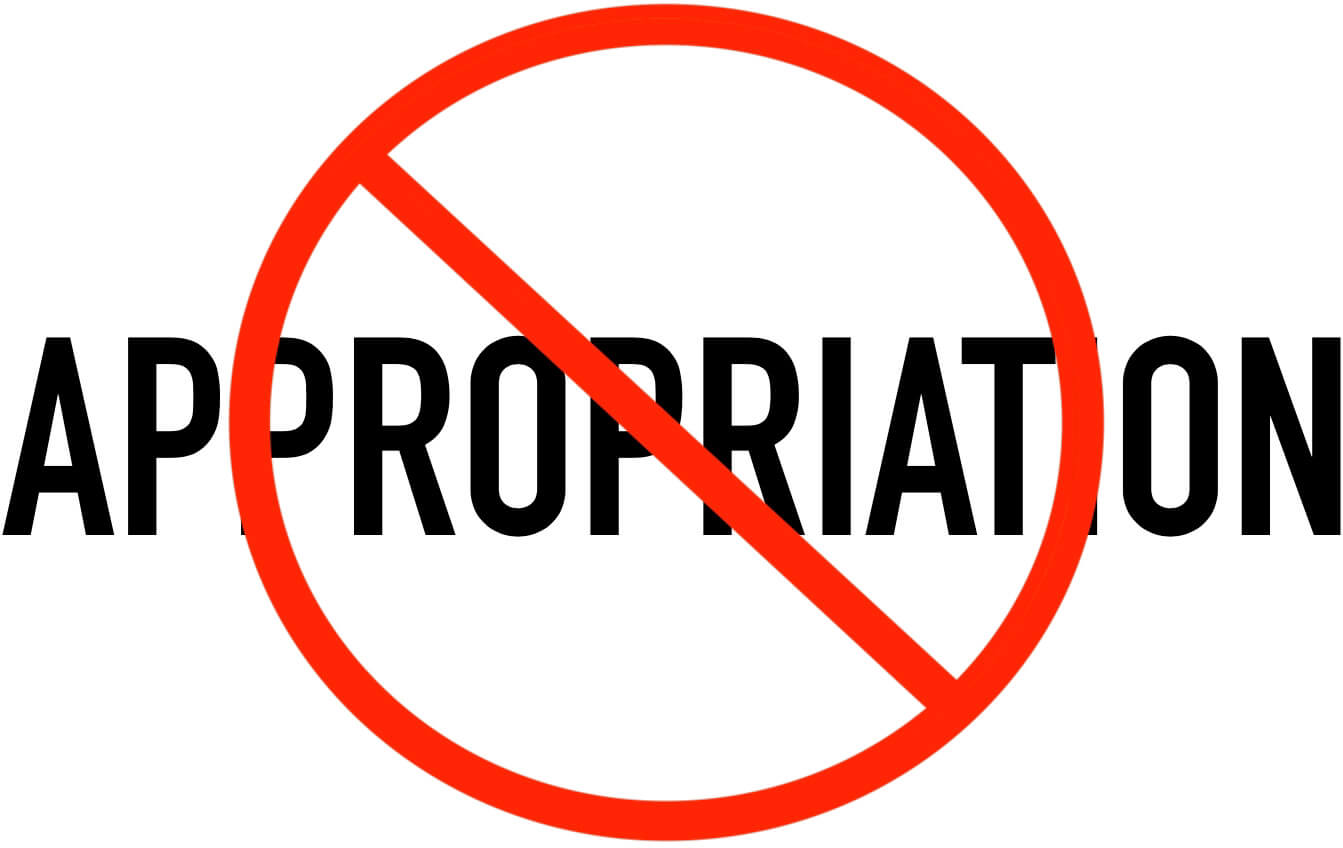 Indigenous Appropriation News: Anderson (Ind.) High School has suspended the use of its "Indians" team name. The move comes after the spread of a viral TikTok video that showed students performing in Native garb prior to a basketball game (from Kary Klismet). … Also from Kary: Waterloo (N.Y.) High School will no longer call its teams the Indians and is asking for community input on a new name. … Catawba College in North Carolina, whose teams are called the Indians, has changed its logo to eliminate a pair of feathers but is keeping the team name.

Baseball News: New "Rodeo Weekend" uniforms for the Double-A Corpus Christi Hooks (from Ignacio Salazar). … Main & Mill Brewing Co. in suburban St. Louis is collaborating with Uni Watch pal Graig Kreindler to showcase his portraits of Negro League players on a series of beer cans (from Kary Klismet). … New York Post columnist Jon Heyman says that some new lines could be drawn on MLB fields next season. Key passage: "One exec estimates 80 percent of baseball folks are anxious to see [the shift] outlawed, with the plan for two infielders on either side of second (though drawing lines to keep fielders farther away from second is being discussed)." This reminds me of the chalk "balk lines" that were added to the mound for spring training games in 1974 (photos from Trevor Williams). … The Worcester Bravehearts, a summer collegiate team, will wear in-game rally jerseys this season, changing into a new jersey design if they're losing after seven innings (thanks, Phil). … Twins SS Carlos Correa wore the wrong cap last night. … I've seen women's stirrup pants before, but never high-cuts like this. Very much like baseball stirrups! (From Harry Kent.)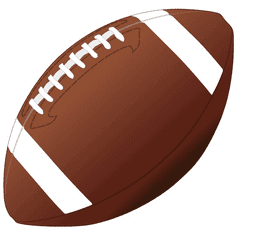 Football News: Following up on a teaser item from yesterday's Ticker, here's the new helmet for the CFL's Montreal Alouettes. … Rams RB Cam Akers is changing his uni number for 23 to 3.

Hockey News: NSFW: Here's a story about RISD's costumed mascot, Scrotie, who's as risqué as his name implies (from Kary Klismet).


Basketball News: A huge mural of Bucks C Giannis Antetokounmpo, with the back of his jersey facing outward, is being painted in downtown Milwaukee (from Jeff Ash). … Georgia Southern has unveiled renderings of its planned new basketball arena (from Kary Klismet). … Here's a gallery of Pacers jerseys uniforms through the years (thanks, Phil). … Kareem is wearing an awkwardly lettered "Kareem" jacket in this 1981 fast food commercial (from Willard Kovacs).

Soccer News: New shirt advertiser for the NWSL's Washington Spirit (thanks, Jamie).


Ukraine News: Portland Timbers and Portland Thorns players played a coed charity match yesterday to raise funds for Ukrainians affected by the war. One side wore yellow with blue trim, the other side wore blue with yellow trim, corner flags were Ukrainian flags, and the center logo was a peace sign (thanks, Jamie).

Grab Bag: Here's a nice interview with me by fellow Bulletin writer Stefano Fusaro. … New athletics logo for Allan Hancock College (from proud alum Mike Chaldu). … Fun story about a collector who specializes in memorabilia from defunct companies (from Jon Vieira). … New logo for CNET (thanks, Brinke).
• • • • •
Our latest raffle winner is Nick Ruggeri, who's won himself a vintage Mets glove. Congrats to him, and my repeated thanks to the awesome Jimmy Lonetti for making this one possible. — Paul