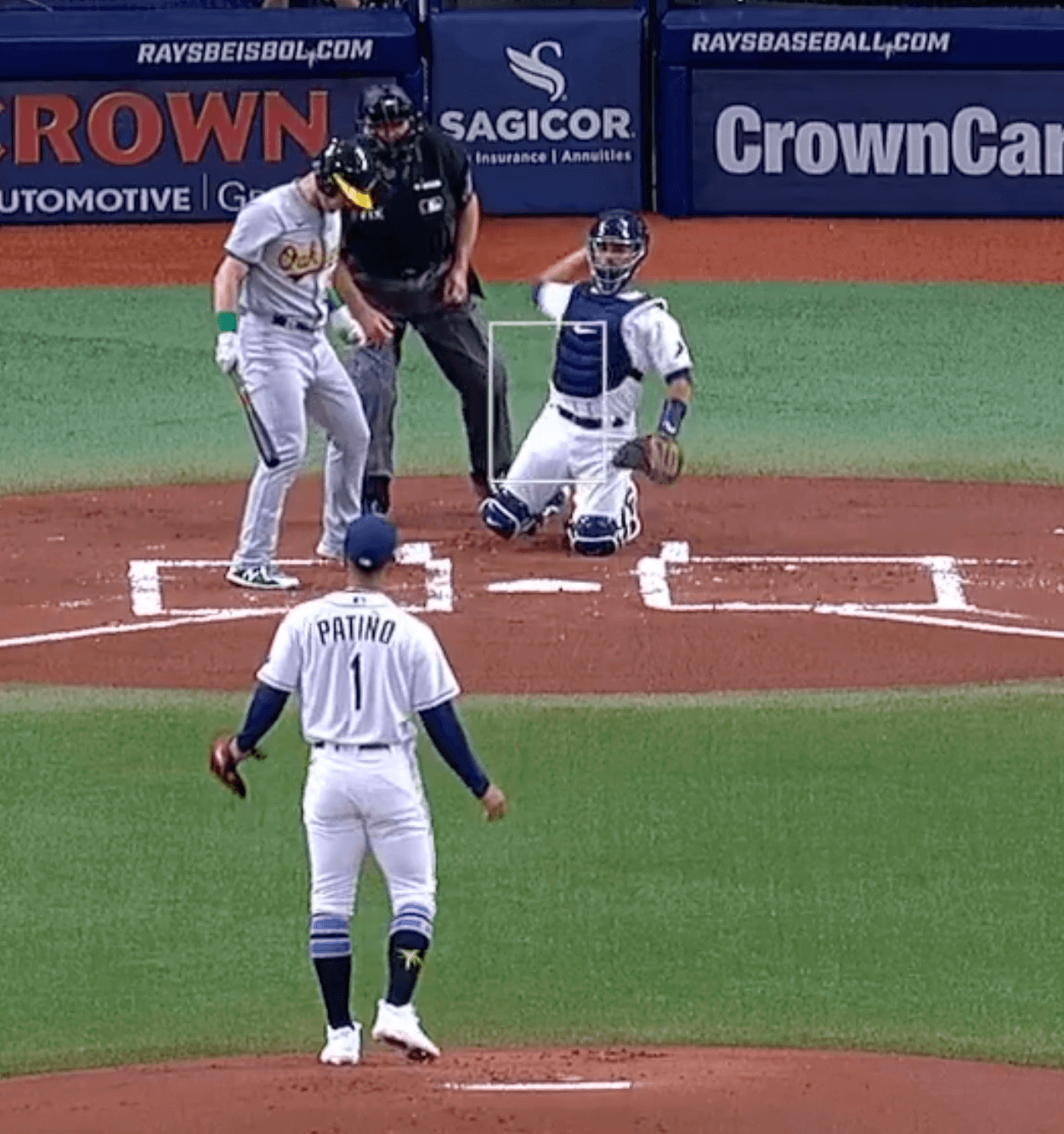 Good morning! A bunch of different uni-numerical storylines will be colliding on the baseball diamond today. This is the kind of trivia-nerd bonanza that totally pushes my buttons, so I'm excited to tell you all about it.
Let's start with something I completely missed earlier in the week: Right-handed pitcher Luis Patiño started Monday night's game for the Rays. He lasted only 13 pitches before exiting with an injury, but that was enough to make him, by my count, just the third pitcher in MLB history to wear No. 1 (following Matt Young of the 1990 Mariners and Shun Yamaguchi of the 2020 Blue Jays).
I didn't realize that Patiño, who wore No. 61 last year, had switched to No. 1 this season. I had expected that Padres prospect MacKenzie Gore, who also wears No. 1 and was widely expected to be called up at some point this season, would have the distinction of being MLB's third 1-clad pitcher. But Patiño has now leapfrogged ahead of Gore.
And that's where it gets interesting: Gore just got called up yesterday (as expected, he's been assigned No. 1) and is slated to make his MLB debut tonight for San Diego, replacing the injured Blake Snell. So he'll become the fourth pitcher to wear No. 1 (and the second this week!). Moreover, Snell wears No. 4, so Gore taking Snell's rotation spot is the rare case of a single-digitized pitcher being replaced by another single-digitized pitcher.
Or at least that's what would be happening if Gore was making his debut on any other day. But today is Jackie Day, so Gore will be wearing No. 42 for tonight's game! He'll have to wait for his next turn in the rotation to become the fourth 1-clad pitcher.
But what if he doesn't get another turn in the rotation? What if Gore, like Patiño, suffers an injury? I don't want to jinx him, but what if he somehow blows out his arm and never pitches again after tonight's game? How would he be listed in the all-time baseball register and on baseball-reference.com? Would they show him wearing No. 1, because that's his assigned roster number, even though he never actually wore that number on the field?
That leads to an intriguing question: Since 2007, when players began wearing No. 42 on Jackie Day, has any player ever made his only MLB appearance on Jackie Day, so the only number he ever wore in the bigs was 42? According to baseball-reference.com's "Cup of Coffee" page, no player since 2007 has had his only MLB appearance on April 15, so the preliminary answer would appear to be no.
But! In many instances, teams have held their Jackie Day events on some other date, usually because they had an off-day or a rainout on April 15. In 2009, for example, the Nats/Phils game scheduled for April 15 was rained out, so the two teams wore 42 in the second game of a doubleheader on May 16. And in the pandemic-shortened 2020 season, Jackie Day was on Aug. 28!
So it's possible that a player could have had his 42-clad cup of coffee on any number of dates other than April 15. In order to research this properly, we'd have to determine the dates of all of those non-April 15 Jackie Days that various teams have observed since 2007 (that in itself would be a challenge) and then cross-reference those dates with the "Cup of Coffee" listings. Anyone want to tackle that one?
Anyway: Today is Jackie Day, with all uniformed personnel wearing No. 42. At least two teams — the Mets and Red Sox — will be playing their first home games today, so there'll be some extra pageantry at their ballparks. Enjoy the 42-fest, and condolences in advance to reader Mark in Shiga for all vertically misaligned numbers.
(My thanks to Ross Winkler for bringing Patiño's new number to my attention.)
• • • • •
• • • • •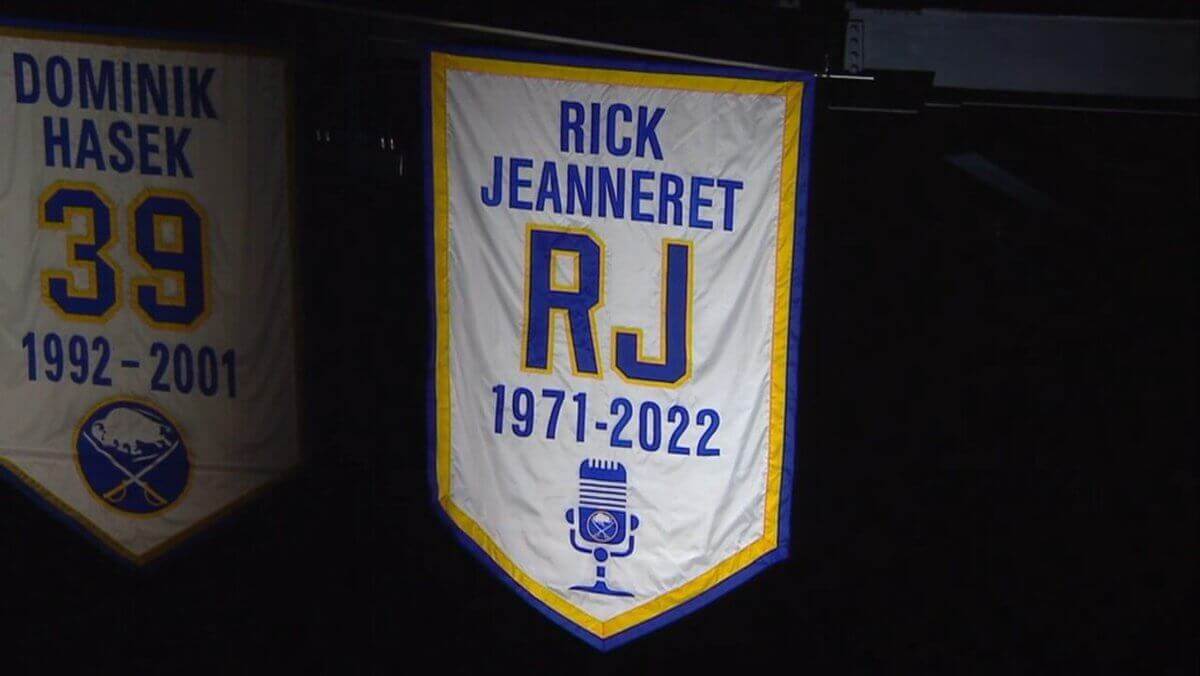 Click to enlarge
Bulletin reminder: When you see a banner hanging from the rafters, do you ever wonder how it got made? My Bulletin article this week is an exclusive interview with the CEO of Oxford Pennant, the Buffalo-based company that made the latest banner for the Sabres. It's a really fun interview, full of fascinating info about banner production — I think you'll enjoy it a lot!
My premium subscribers can read this article here. If you haven't yet subscribed, you can do that here (you'll need a Facebook account in order to pay). Don't have or want a Facebook account? Email me for workaround info. Thanks!
• • • • •
• • • • •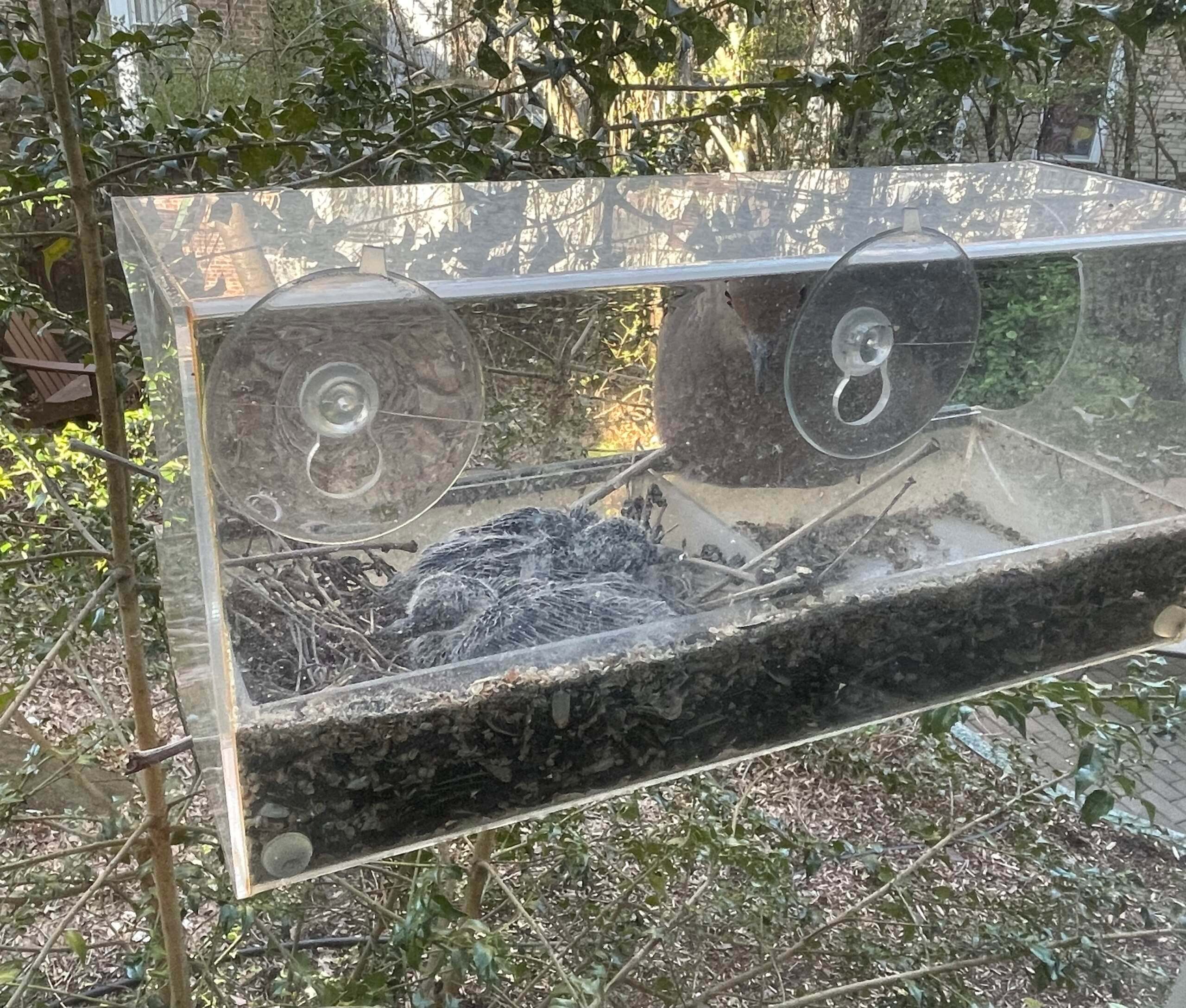 Click to enlarge
Dove nest update: Caught a glimpse of the babies this morning during a shift change. They're definitely getting bigger!
Something I've been meaning to mention: Suction cups are amazing! That feeder has been mounted on the window for the better part of a year, through all kinds of weather, with various birds coming and going, but it remains firmly in place. Impressive!
• • • • •
• • • • •
The Ticker
By Anthony Emerson

Baseball News: It wasn't obvious in the reveal photos, but the Astros' City Connect hats are a much lighter shade of blue than their standard caps (from Ashly Elam). … Mr. and Mrs. Met are still wearing last year's Tom Seaver memorial patch (from Ryan Kelly). … Anyone notice anything weird with Jeff Francoeur's portrait on his 2007 Gold Glove Award? … Following up on an item from yesterday: After former A's P Dave Stewart expressed frustration about the team's abortive plans to retiree his No. 34, the A's said they'll definitely do it this year although a date hasn't yet been picked (thanks, Brinke). … Gross: The Akron RubberDucks, Double-A affiliates of the Guardians and champions of Double-A East last year, have received their championship rings, whose design includes an ad from an energy company (from Sean Spitzer). … The Nashua Silver Knights of the Futures Collegiate Baseball League will wear these absurd unis for Monday home games, Memorial Day, and Independence Day (from @JMStone79). … Nebraska players wore batting helmet decals commemorating the 75th anniversary of Jackie Robinson breaking the color barrier.

NFL News: Not sure if this is a rendering issue, a retail-only change, or an actual on-field change, but the retail listings for Bills' jerseys have removed the navy number outline on both the home and road jerseys (from Scott Allen). … Here's a fun retro NFL logo quiz (from Max Weintraub).

College/High School Football News: Florida has BFBS unis in the works, probably for 2023 (thanks, Phil). … Also from Phil, Ohio State will honor Dwayne Haskins, who died last weekend, with a helmet decal during their spring game, among other gestures.

Hockey News: It's always fun to see the Cooperalls in action, and Jeff Wilk sends along about 25 seconds' worth here.


NBA News: After getting a black eye in a 1988 game against the Cavs, Larry Bird wore Kareem-style goggles for a few games (from a reader who prefers to remain anonymous). … A 1985 Suns old-timers game featured an ad on the players' shorts (from A.E.T. Kron).

Soccer News: Adidas is apparently looking into dropping the wordmark from their logo, especially on soccer kits (thanks, Brinke). … Lansing Common FC, a team in the Midwest Premier League, have unveiled some pretty wild kits. I dig them! (From Geoff Sykes.) … The following are all from Kary Klismet: New away kits for Peruvian club Sporting Cristal. … New kits for Grêmio of Brazil's Série A. … New kits for Ponte Preta of Brazil's Série B.

Grab Bag: Guitar Center, after decades of pretending that a guitar looks like a "G," has finally added a "G" to their logo (from multiple readers). … New logos for the Kenosha (Wis.) Unified School District (from Geoff Poole). … New athletics logos for Greenville (Mich.) Public Schools. "No word on whether they worked out a licensing arrangement with Georgia Tech to use that Yellow Jacket mascot," says Kary Klismet. … Also from Kary, A British rail workers' union has called on the Avanti West Coast trainline to recall flimsy new staff uniforms that the union describes as "see-through." … Here's a rarity: cornhole uniforms (from Ben Weber).
• • • • •
Raffle results: Our latest raffle winner is Daniel Beaulac, who's won himself a Uni Watch membership card. Congrats to him, and thanks again to Noah Sidel for sponsoring this one.
Happy Good Friday and Passover to all who are observing today and tonight, respectively, and happy Easter to all who'll be observing on Sunday.
That'll do it for me for this week. Stay well, enjoy Phil's weekend content, and I'll see you back here on Monday. Peace. — Paul