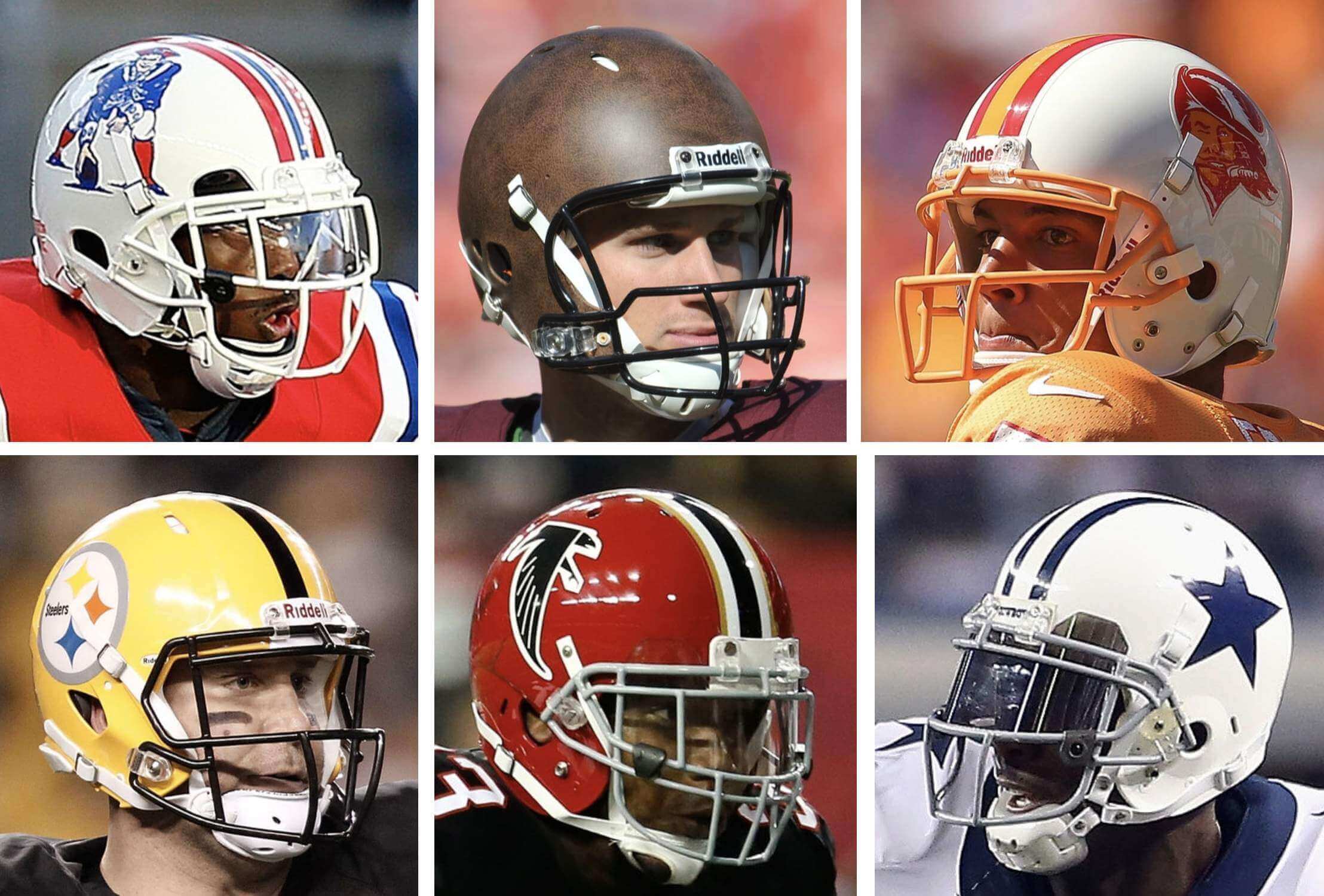 Good morning! Welcome to the first day of the final month of the year.
Now then: As we all know by now, the NFL will be lifting the one-shell rule next season, which means we'll start seeing throwback and alternate uni designs that have been impossible since the rule went into effect in 2013. But how many teams will take advantage of the new state of affairs, and what sorts of designs are they thinking of adding to their helmet rotations?
The other day I got the answers to those questions — or at least some initial hints — from a source who recently had some discussions with one of the major helmet manufacturers. In the spirit of Watergate source Deep Throat, I'll call my helmet source Deep Shell. Here's a transcript of a short interview I recently did with him, edited for length and clarity:
Uni Watch: When you were interacting with this company, they told you some things about NFL teams adding alternate helmets, when the one-shell rule is lifted next season, is that right?
Deep Shell: Correct.
UW: Did they say how many teams would be adding a new helmet next year? And if so, did they mention any specific teams that would be on board?
DS: They said it was about 15. I tried prying at least a couple of teams out of them — I specifically mentioned the [redacted], because they're my hometown team — but they didn't mention any team names.
UW: Fifteen teams — so that's about half the league, which is a little surprising, because you'd think that more teams would be on board.
DS: Teams didn't have much time. The window from when the NFL announced that the rule would be lifted to the deadline for submitting a new design for next season was relatively small.
UW: So even if there are only about 15 teams adding a new shell color in 2022, there could be a lot more in 2023?
DS: It could work out that way, sure.
UW: Did they mention any specific teams that would not be on board?
DS: They said possibly the Raiders, just based on their previous interactions with that team. They said even for merchandise stuff, like when they do white mini-helmets for every team, the Raiders won't do it. One guy actually said, "Mark Davis believes that he invented the color silver."
UW: Did they mention anything about specific throwback designs like, New England bringing back Pat Patriot or Tampa bringing back Bucco Bruce?
DS: No. I would assume those are some of the ones [that we'll see], but they didn't specifically mention them.
UW: What about possible alternate helmets — any mention of possible designs that could be in the mix?
DS: No. Except for the Raiders, they really didn't get into specifics.
UW: Did they say anything at all about Nike's role in all of this?
DS: Well, some of the helmet designs may be coming from Nike, so they [the helmet company] have to be in touch with them to produce these new designs. But they didn't say anything beyond that.
UW: You mentioned earlier that the helmet manufacturers produce mini-helmets and other helmet-related collectibles. Does that factor into the thinking regarding what the teams will wear on-field? Like, if you have a hydro-dipped design, or some crazy gradient, or whatever, is that harder to reproduce at the retail-collectible level, and then does that factor into the thinking of what gets worn on-field?
DS: Yes, absolutely. They have several levels of collectibles — first there's the helmet version of an authentic jersey, just like the players wear. Then there's the helmet version of a lower-priced replica jersey, so it's the same size as the authentic but it doesn't have the same level of padding and stuff like that. Then there's mini-helmets, and then there's the one like you would get out of a gumball machine.
UW: So as the designs get more complex, it's more complicated and expensive to reproduce those?
DS: Yeah. And you're not gonna be, like, hydro-dipping something that's so small, right? That's an expensive process. So the issue becomes, how do you replicate that so that all four of them [the retail collectibles] look the same in terms of color, finish, and so on.
So that factors into the process. They see all the design concepts that people are posting on the internet and submitting to your website. But a lot of those designs just aren't feasible. Even if you could make it happen on the field, you couldn't replicate it at scale for merchandise.
———
And there you have it. I realize it's frustratingly short on specifics, but we do have three main takeaways:
• We should expect only about half the league to have alternate shell colors next season.
• We should not expect the Raiders to be one of those teams.
• We probably shouldn't worry too much about wackadoodle alternate designs, because those would be difficult to reproduce at the retail level.
If anyone has more info next season's helmets, you know what to do.
• • • • •
• • • • •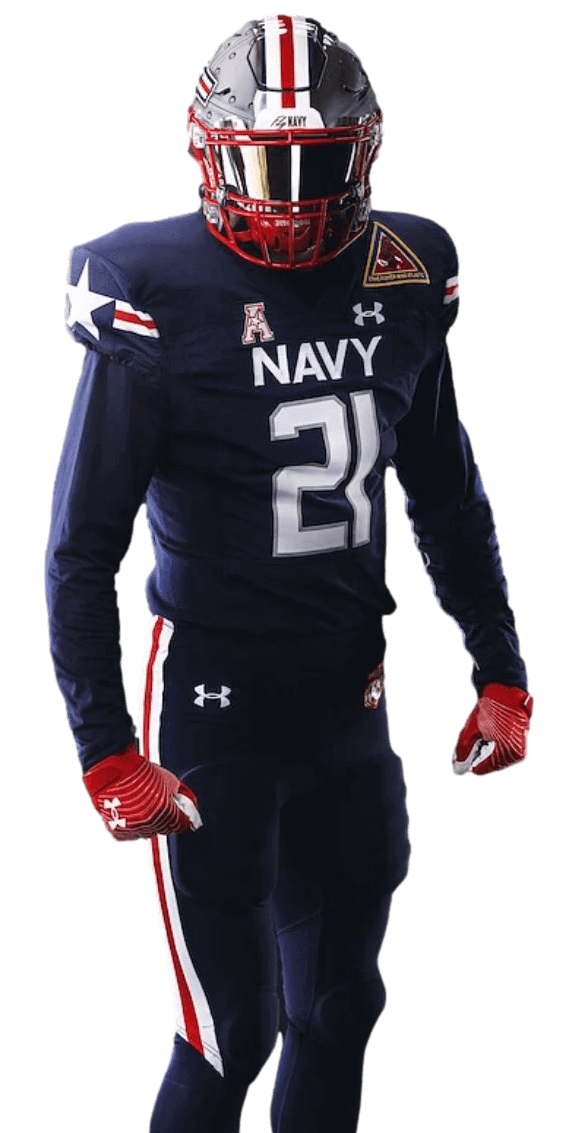 Navy uni reveal: With this year's Army/Navy game coming up a week from this Saturday, Navy have unveiled its uniform for the big game. The design is a shout-out to the F/A-18 Super Hornet fighter plane. Additional info here.
In case you missed it in yesterday's blog post, Army has unveiled their uni for the game as well. So that gives us the following uni matchup: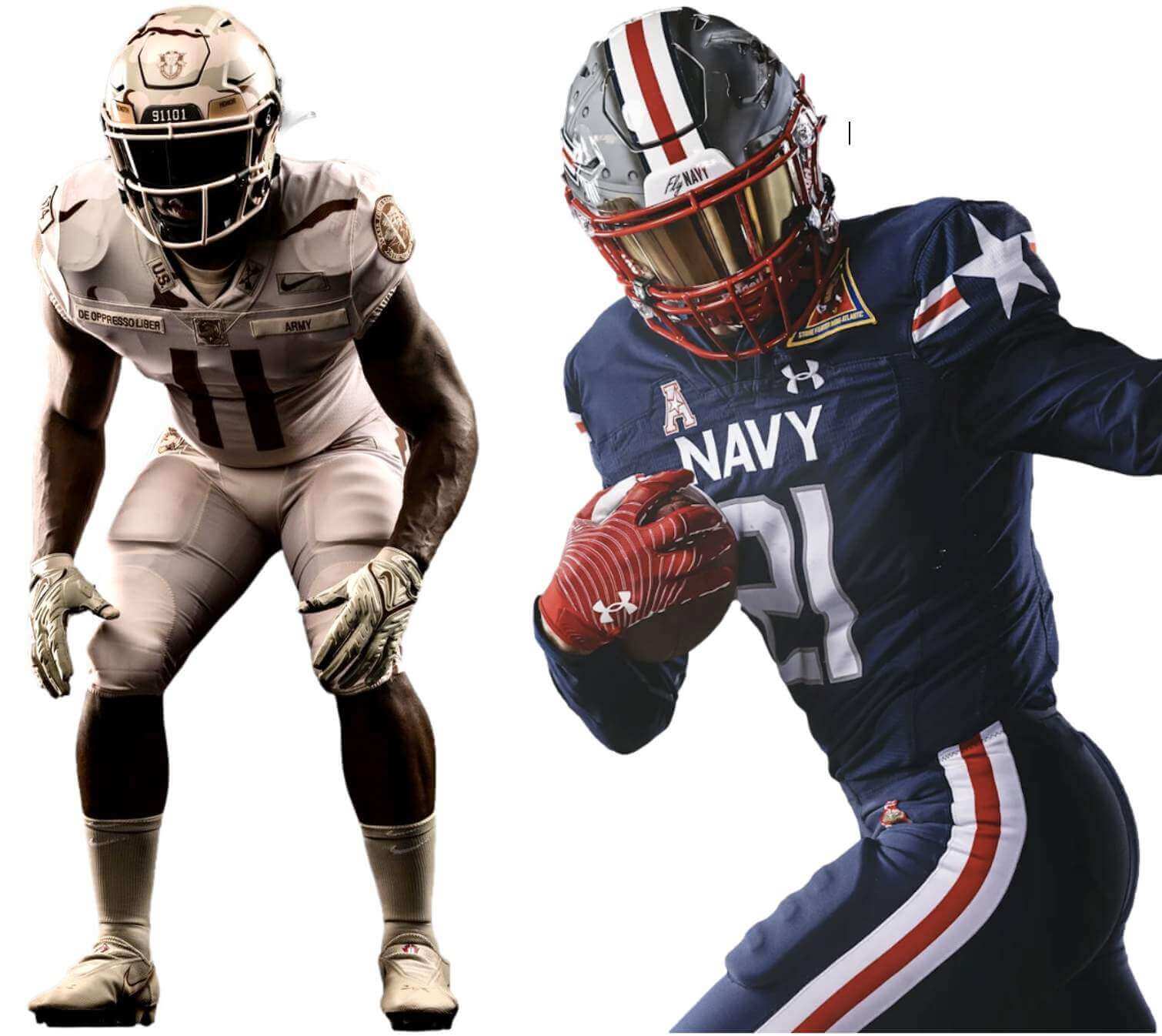 • • • • •
• • • • •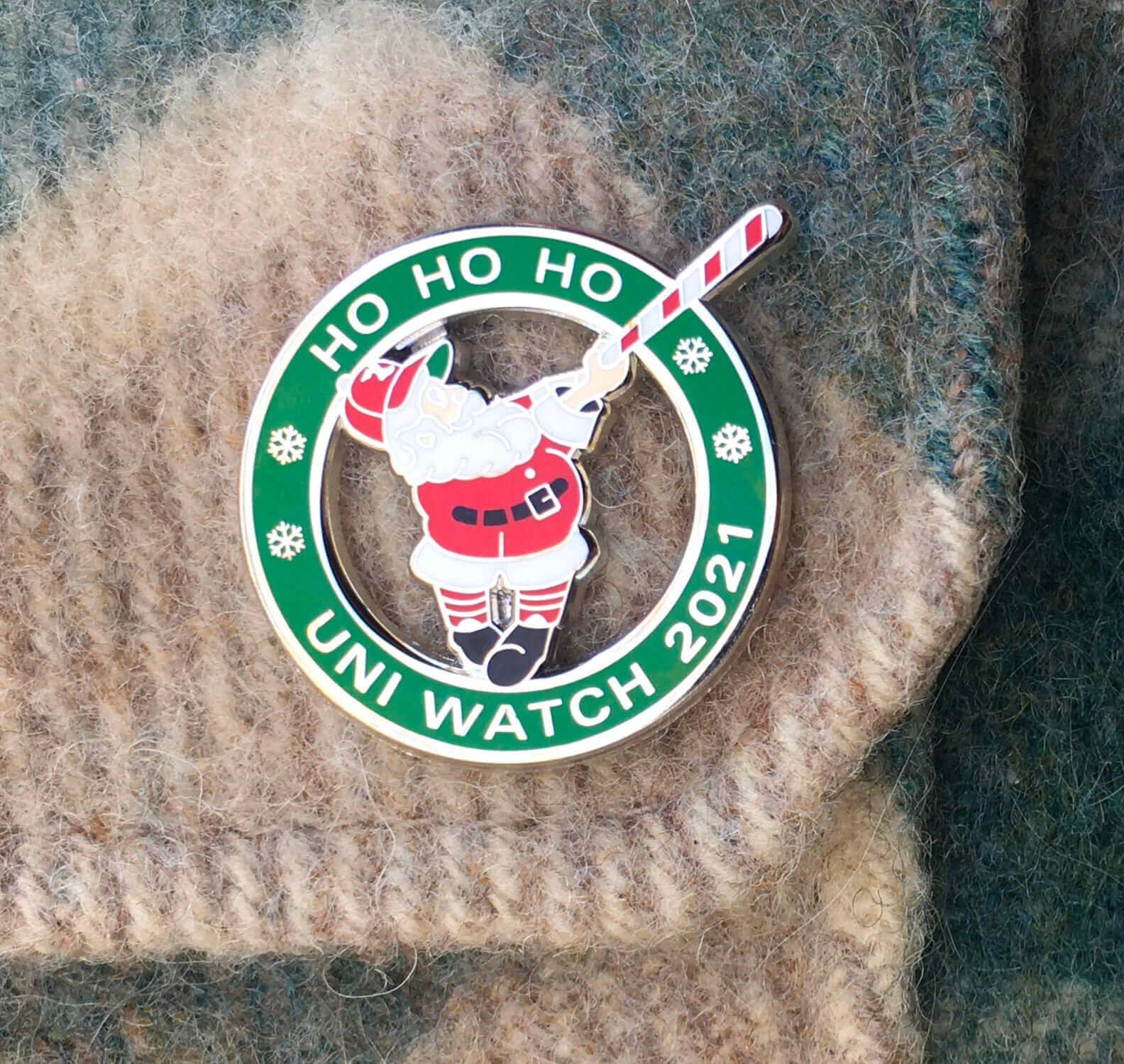 Click to enlarge
ITEM! December pin launch: Today is the first day of December, which means it's time for our final Uni Watch Pin Club release of the year. As you can see above, it's a swingin' Santa with a candy cane-striped bat!
It was difficult to photograph the silver highlights while also showing Santa's proper skin tone. Here's another view (click to enlarge):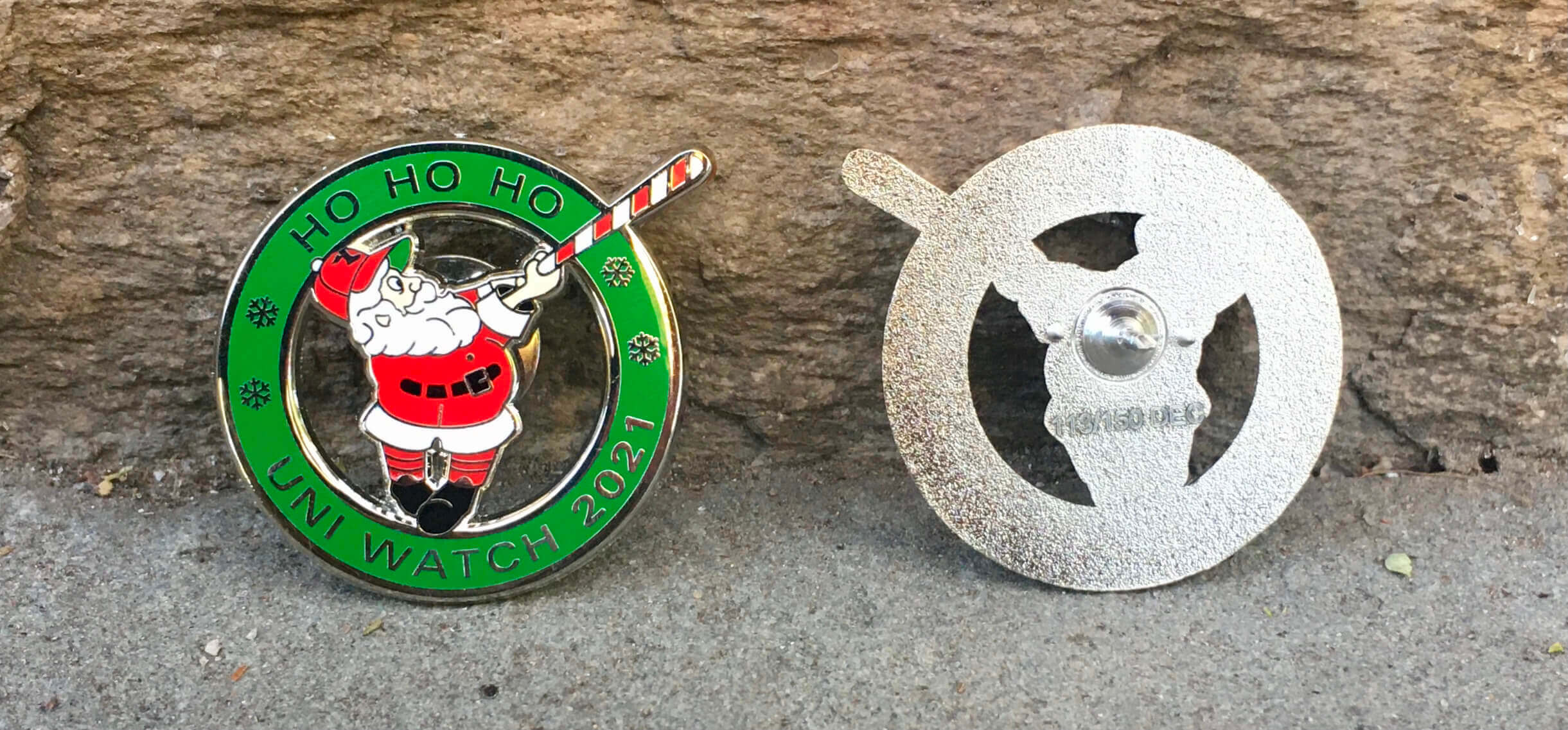 This pin was produced in a numbered edition of 150. It's available here. (Need to get caught up? Here are our January, February, April, May, June, July, August, September, and November pins. Sorry, March and October are sold out!)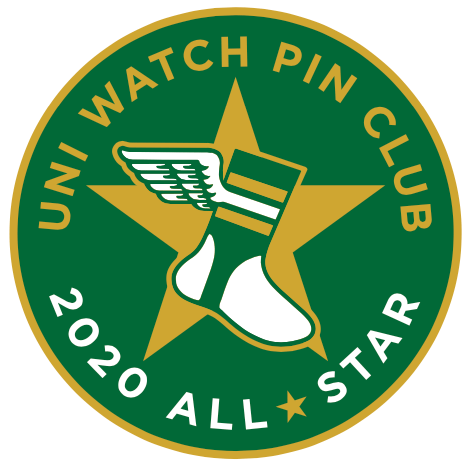 Also: As you may recall, everyone who collected all 12 of last year's pins received a bonus "2020 All-Star" pin. We'll be doing a "collect 'em all" bonus pin this year as well, but we need to know how many of them to make. So if you've collected 'em all, please email me with (a) your name and address, and (b) proof that you've collected all of this year's pins. The proof can include photos of the pins themselves and/or order-confirmation emails from Teespring. The bonus pins will ship out early next year.
• • • • •
• • • • •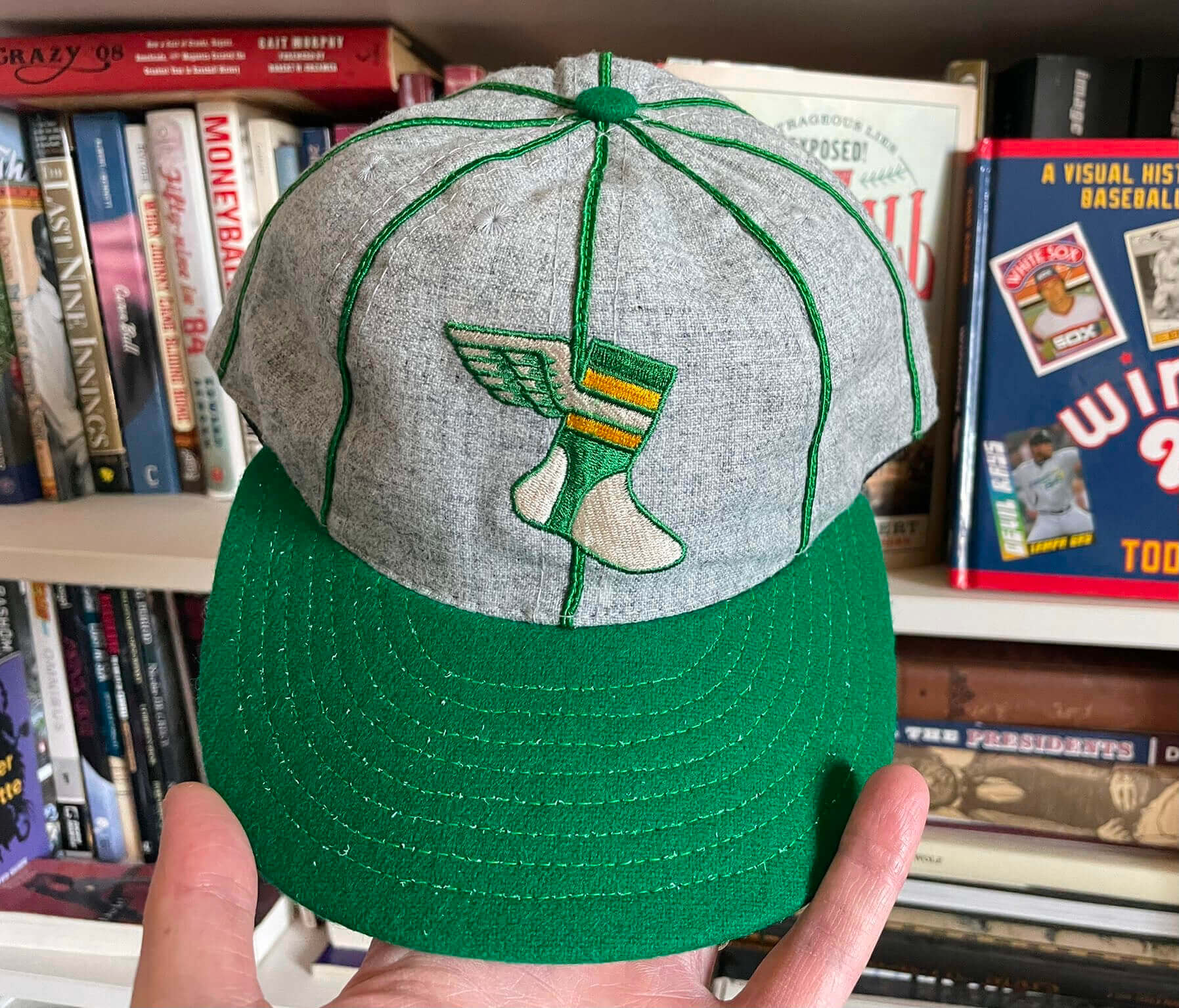 Cap inventory update: Supplies of the Uni Watch Alternate Cap continue to dwindle. Here are the sizes and quantities I have remaining:
7-1/8: 1 cap
7-5/8: 2
7-3/4: 1
7-7/8: 2
Ordering info and additional photos are available here.
• • • • •
• • • • •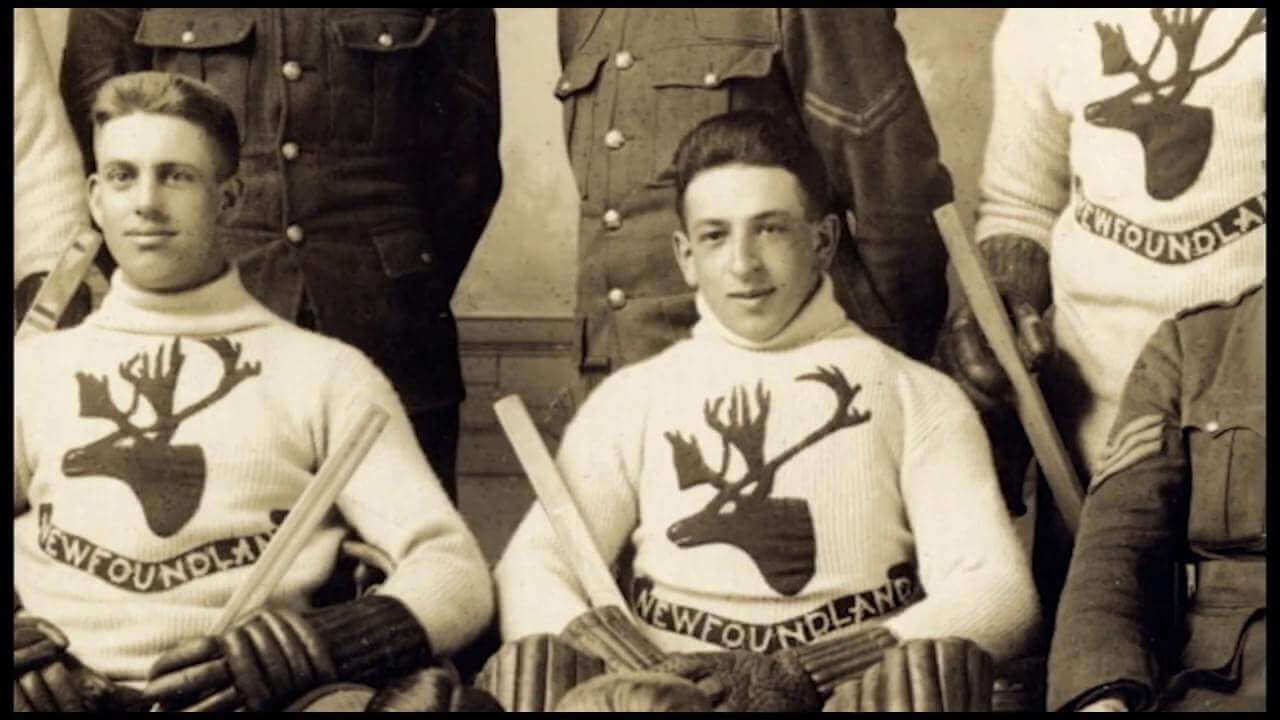 Click to enlarge
Too good for the Ticker: Oh baby, look at the amazing sweaters (literally) worn by the 1917 Royal Newfoundland Regiment hockey team. Additional info here and here.
(Big thanks to Brandon Weir for this one.)
• • • • •
• • • • •
The Ticker
By Lloyd Alaban

Baseball News: Newly signed Blue Jays P Kevin Gausman has worn No. 34 as a tribute to former Jays P Roy Halladay (from Wade Heidt). … Per the Mariners' roster page, newly acquired P Robbie Ray and INF Adam Frazier will wear Nos. 38 and 26, respectively (from Tim Dunn).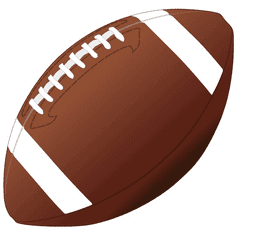 Football News: Black jersey and white pants for the Bengals this week (from @Jacobt66). … For the state costume competition at this year's Miss USA pageant, Miss Ohio wore a stylized Ohio State uniform that also featured a Cincinnati Bearcats logo on one side of the helmet (from Kary Klismet). … St. Francis Academy in Baltimore has managed the neat trick of poaching both the 49ers' and San Francisco Giants' logos (from Carlos Montalvan).

Hockey News: The Wild have announced that they will retire Mikko Koivu's No. 9. Koivu will be the first Wild player to have his number retired (from Wade Heidt). … Might be the lighting, but do the Wild have inconsistent shades of green for their helmets? (From John Muir.) … When the Lightning are on the road, they bring along a small carpet with their team logo, which they put inside their visiting locker room (from Bobby Fenton). … A Maple Leafs mega-fan has a serious memorabilia collection (from Andreas Papadopoulos).

Basketball News: Numerologist Etienne Catalan has the latest in NBA uni number assignments. … The Texas men's team played a "students only" home game on Monday night at Gregory Gymnasium, the program's former home arena prior to the opening of the Erwin Center in 1977 and the current home of Texas's women's volleyball team (from multiple readers). … An inactive player on Ohio State's bench was wearing an Ohio State hockey jersey last night (from Ryan Cotter).

Soccer News: New crest for Mexico's national team (from multiple readers). … From our own Jamie Rathjen: Germany's women's team has players wear a small patch when they reach appearance milestones. This one is for MF Melanie Leupolz, who hit 75 caps.

Grab Bag: F1 drivers' names have been rendered in Arabic calligraphy for the first time ahead of the Saudi Arabia Grand Prix (from @bryant_rf). … The National Lacrosse League's Halifax Thunderbirds will wear orange jerseys at Saturday's home opener (from Wade Heidt). … U.S. Air Force pilots might be getting new helmets for the first time since the 1980s (from Timmy Donahue). … New home jersey for the New Zealand rugby league team Vodafone Warriors (from Allan Jennings). … Nebraska AD Trev Alberts wants the school's various sports uniforms to have more uniformity (from Gil Neumann).
• • • • •
Happy birthday to our own Anthony Emerson, who produces the Tickers that appear on Fridays and Saturdays. Enjoy your special day, Anthony! — Paul