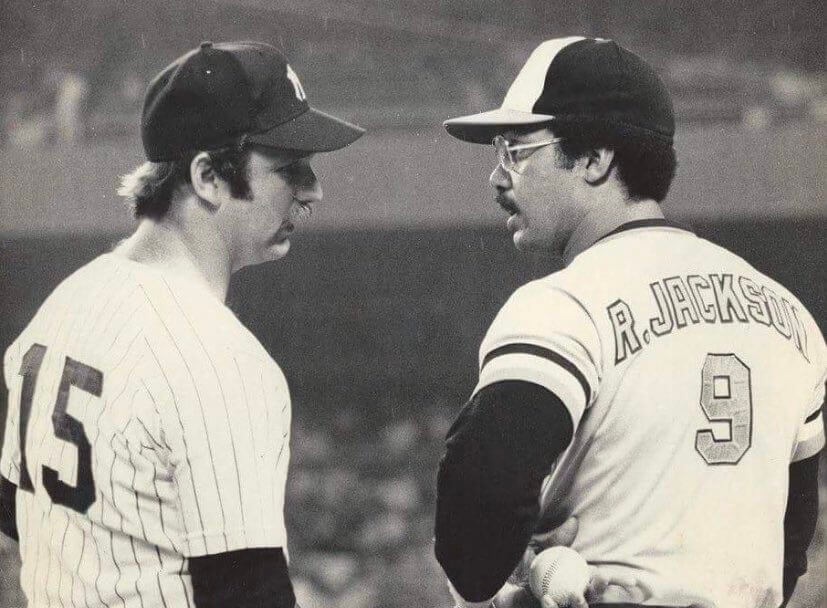 For all photos, click to enlarge
Good morning, and happy last day of February! Hope you all had a good weekend.
Now then: People often forget that Reggie Jackson played one season for the Orioles, in 1976. It was sort of a layover between his stints with the A's and the Yankees. But when I saw the photo above, which was recently posted to Twitter by Jim Forman, I was struck by two other things I'd forgotten: First, the Orioles' road jerseys had really small uni numbers! And second, it had completely slipped my mind — or did I ever even know? — that Reggie wore a first initial that season, because pitcher Grant Jackson was also on the O's roster.
Just to make sure it wasn't an aberration, I went looking for other pics. Sure enough, Reggie wore the first initial on his home whites and orange alternates too (and the alternates had similarly tiny numbers, although the home numbers were more reasonably sized):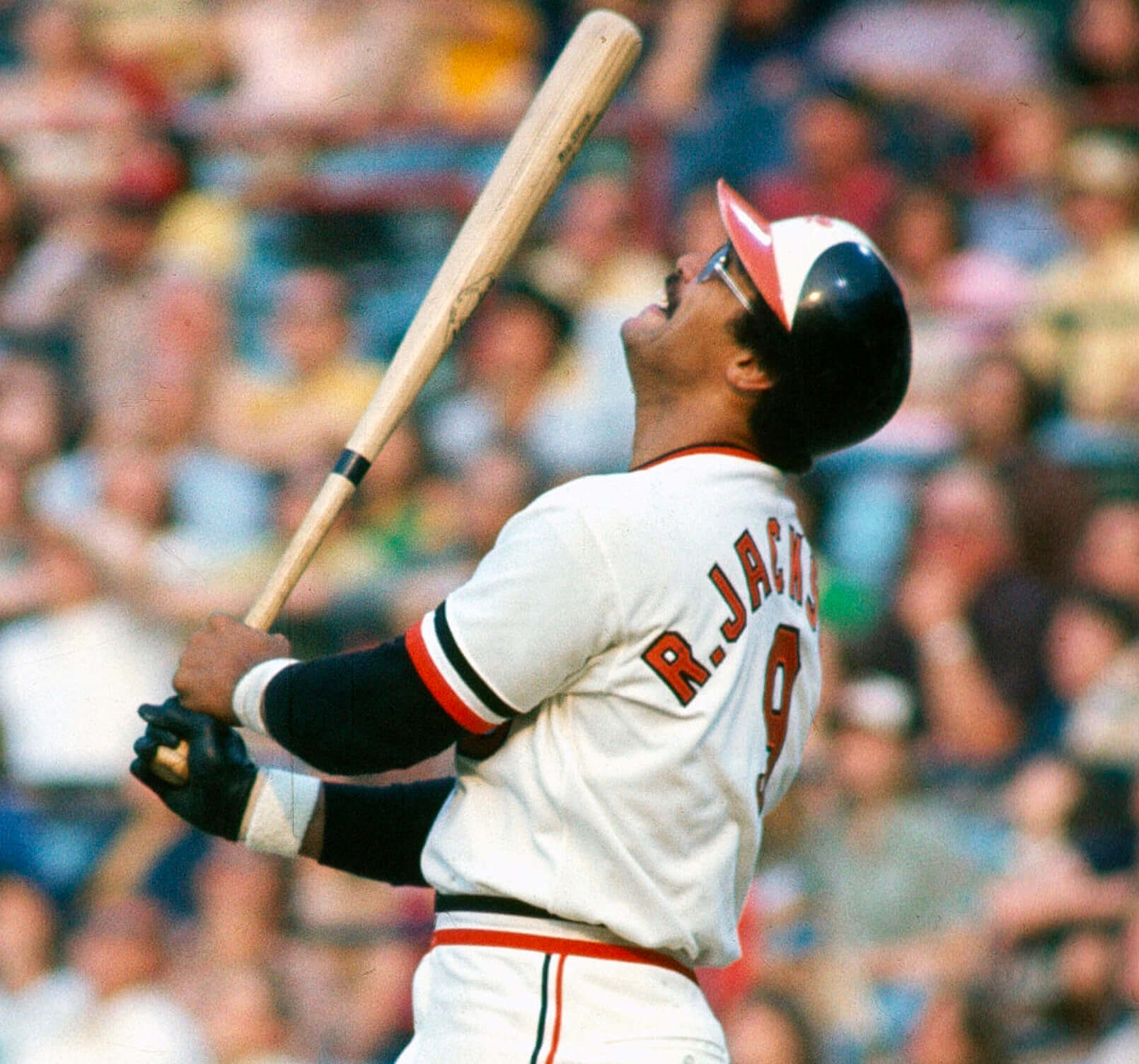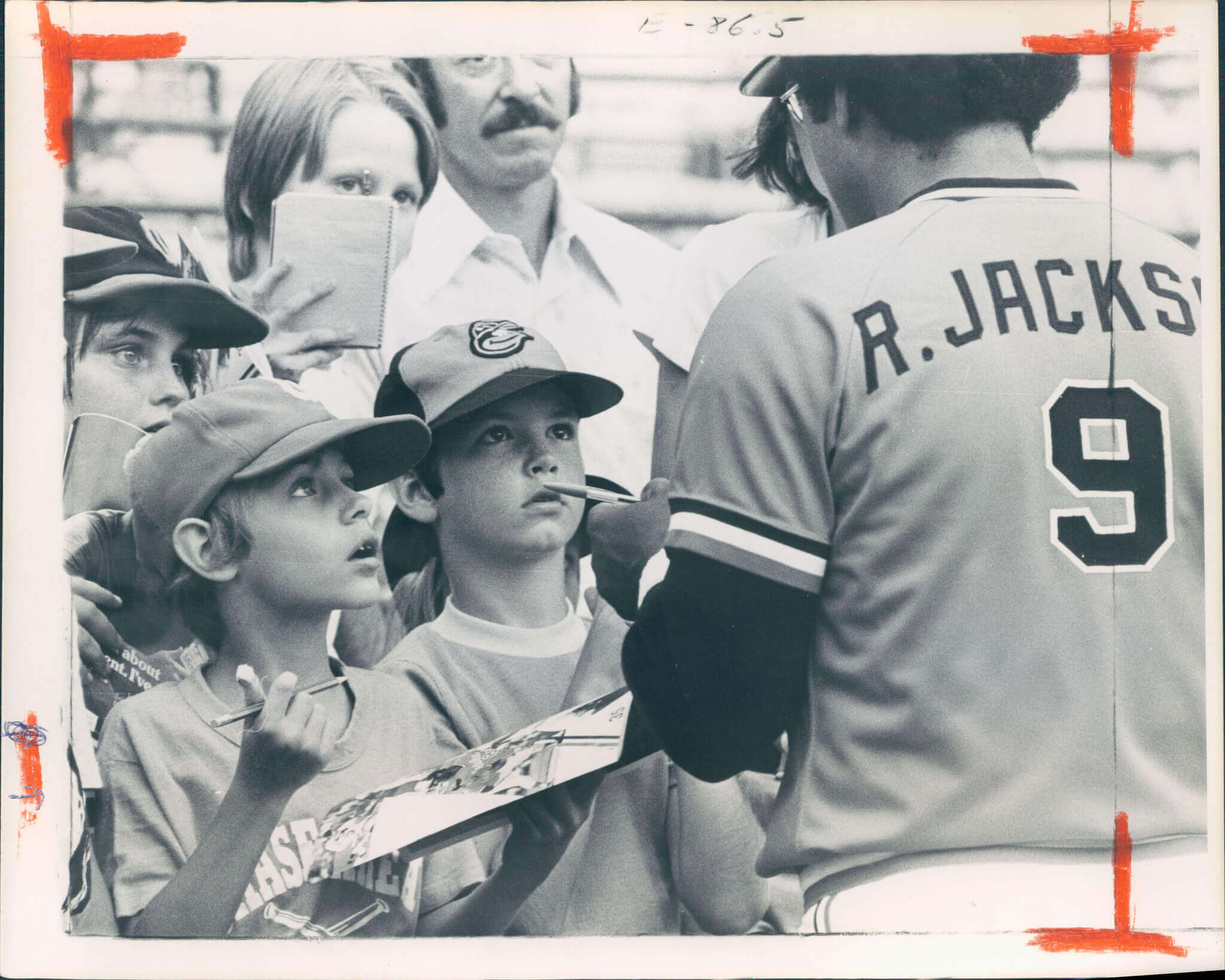 And then, as I was looking at those photos, it hit me: The Orioles' home NOBs were radially arched, but the road and alternate NOBs were vertically arched.
That seems really weird, no? Like, it's one thing for a team's different jerseys to have different NOB fonts, but different arching styles? I'd never noticed or thought about that before.
According to Bill Henderson's guide, the Orioles wore those same home and road jerseys with the mismatched NOB styles from 1973 through 1988, and the orange alts were in the mix for most of those same years. For most of that period, the home uniforms were made by Rawlings, while the road and alternate designs were made by Wilson. (In those days, it was common for MLB teams to have separate uni suppliers.) So that presumably explains the stylistic differences in the NOBs, as well as the different-sized uni numbers. Still you'd think the team might have requested a bit more consistency, no?
I asked Bill if he knew of any other MLB teams that had vertically arched NOBs on one uni set and radial arching on another. He couldn't think of any off the top of his head, but I came up with an example of my own after poking around through Bill's guide: In the early 1970s, the Astros had vertical arching at home and radial arching on the road.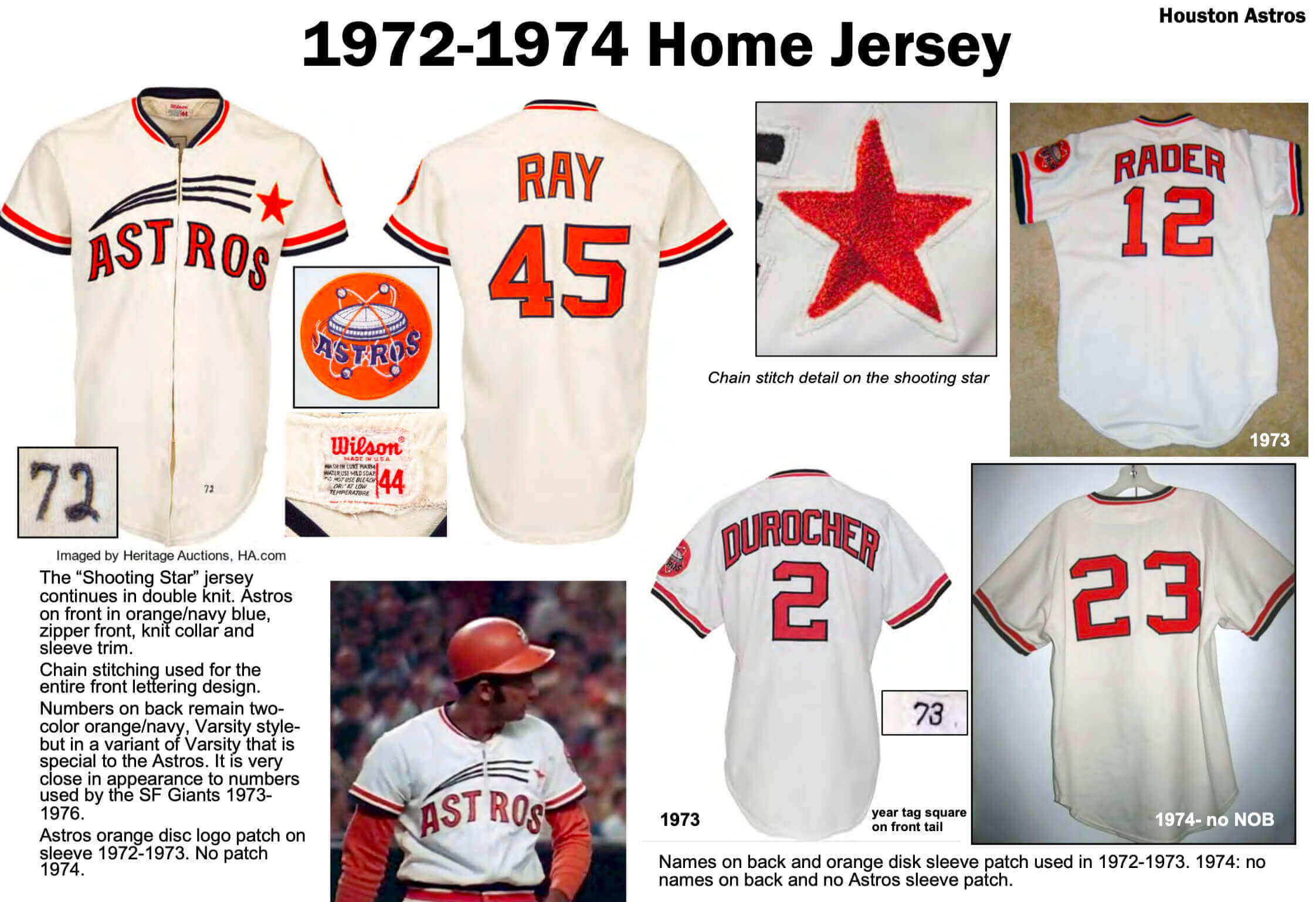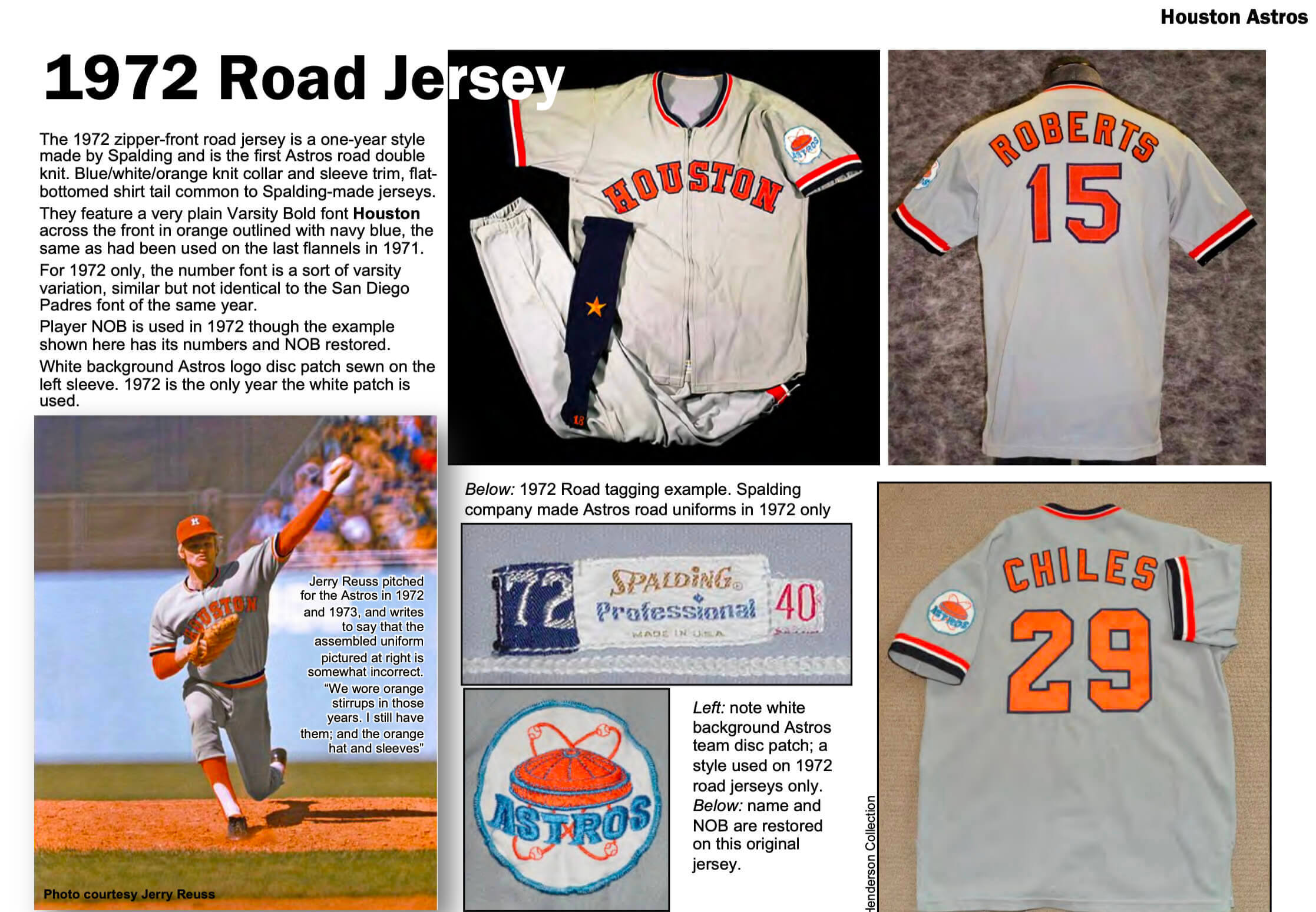 Getting back to Reggie for a minute, 1976 wasn't the only time that he was on a team that had another Jackson on the roster. In the early 1980s he played for the Angels, where one of his teammates was first baseman Ron Jackson. Obviously, first initials wouldn't have worked in that situation (you'd just end up with two guys wearing "R. Jackson"), so Reggie wore his surname and Ron went FNOB: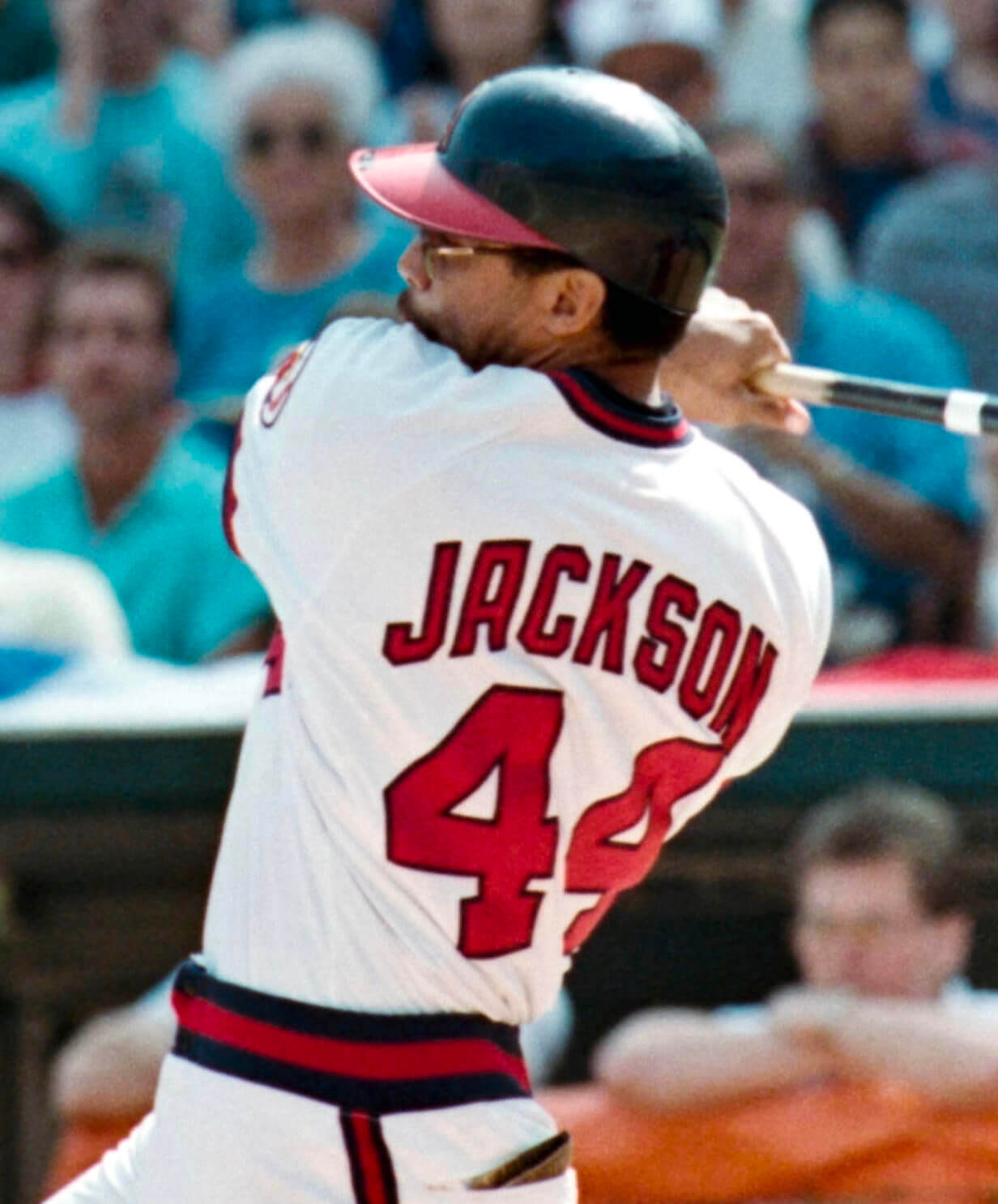 As you can see in those photos, while the Angels may not have been consistent about the Jacksons' NOBs, at least they were consistent about the vertical arching on the home and road jerseys.
(My thanks to Jim Forman for starting me down this rabbit hole.)
• • • • •
• • • • •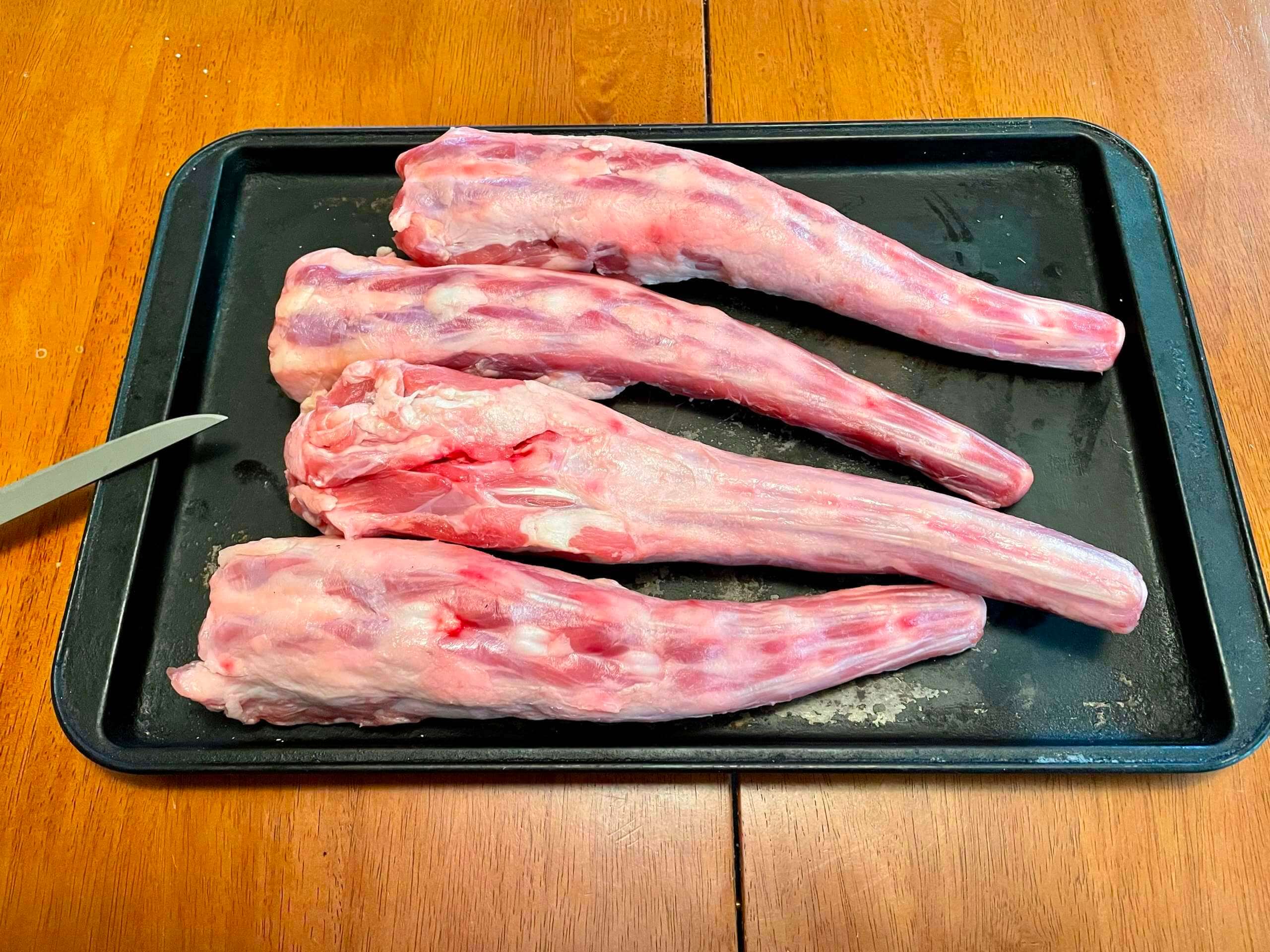 For all photos, click to enlarge
Culinary Corner: The wonderful Halal butcher around the corner from us recently started carrying oxtails, so we decided to make a big stew on Saturday. It was a perfect meal for a cold-weather Saturday. Here's how we did it.
1. We went to the butcher and got a bunch of oxtails (which despite the name are actually from beef cattle, not oxen). We could have had the butcher cut them into pieces, but I wanted to do that myself. It's pretty easy to cut along the joints (there's a good video tutorial here):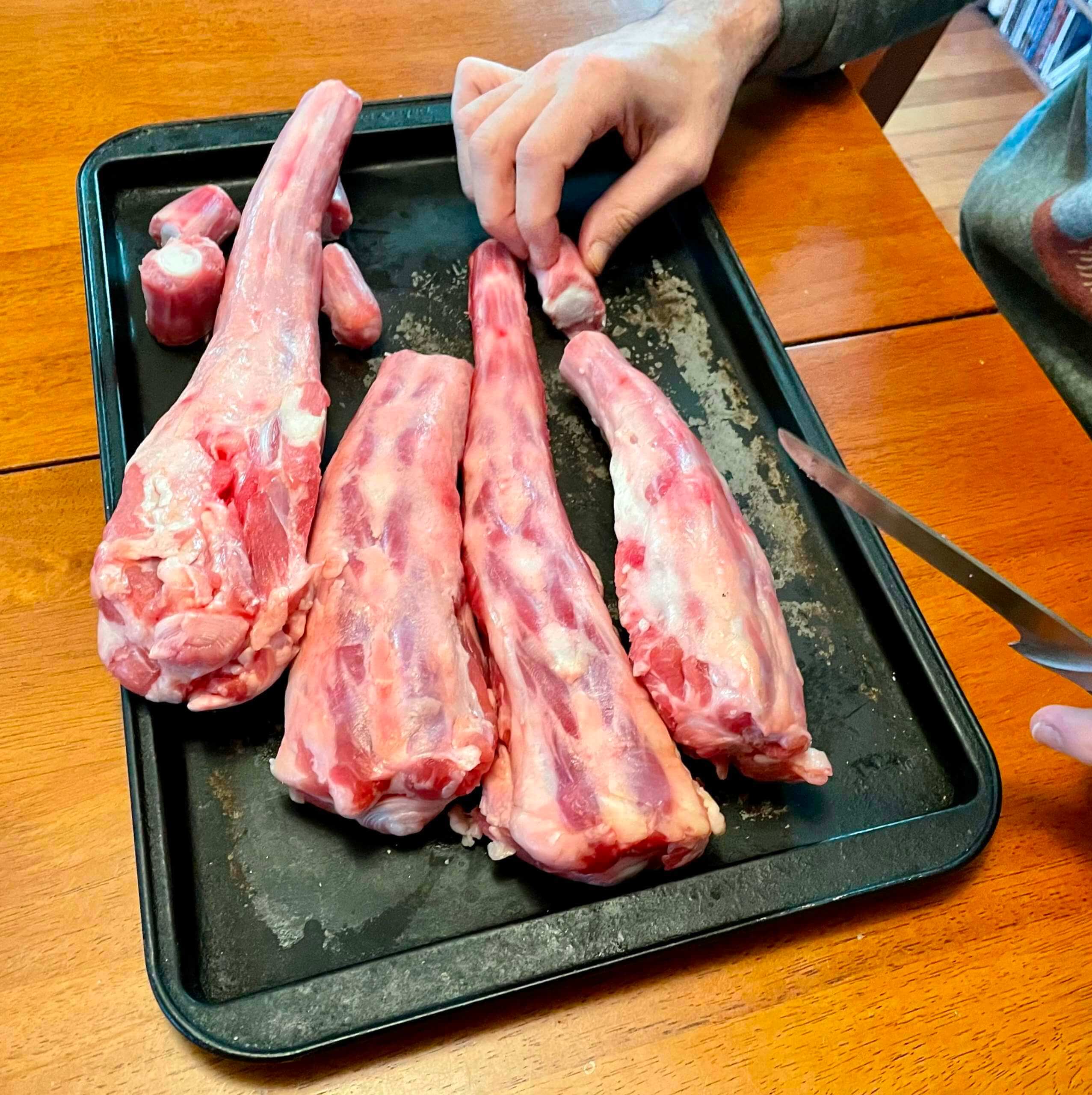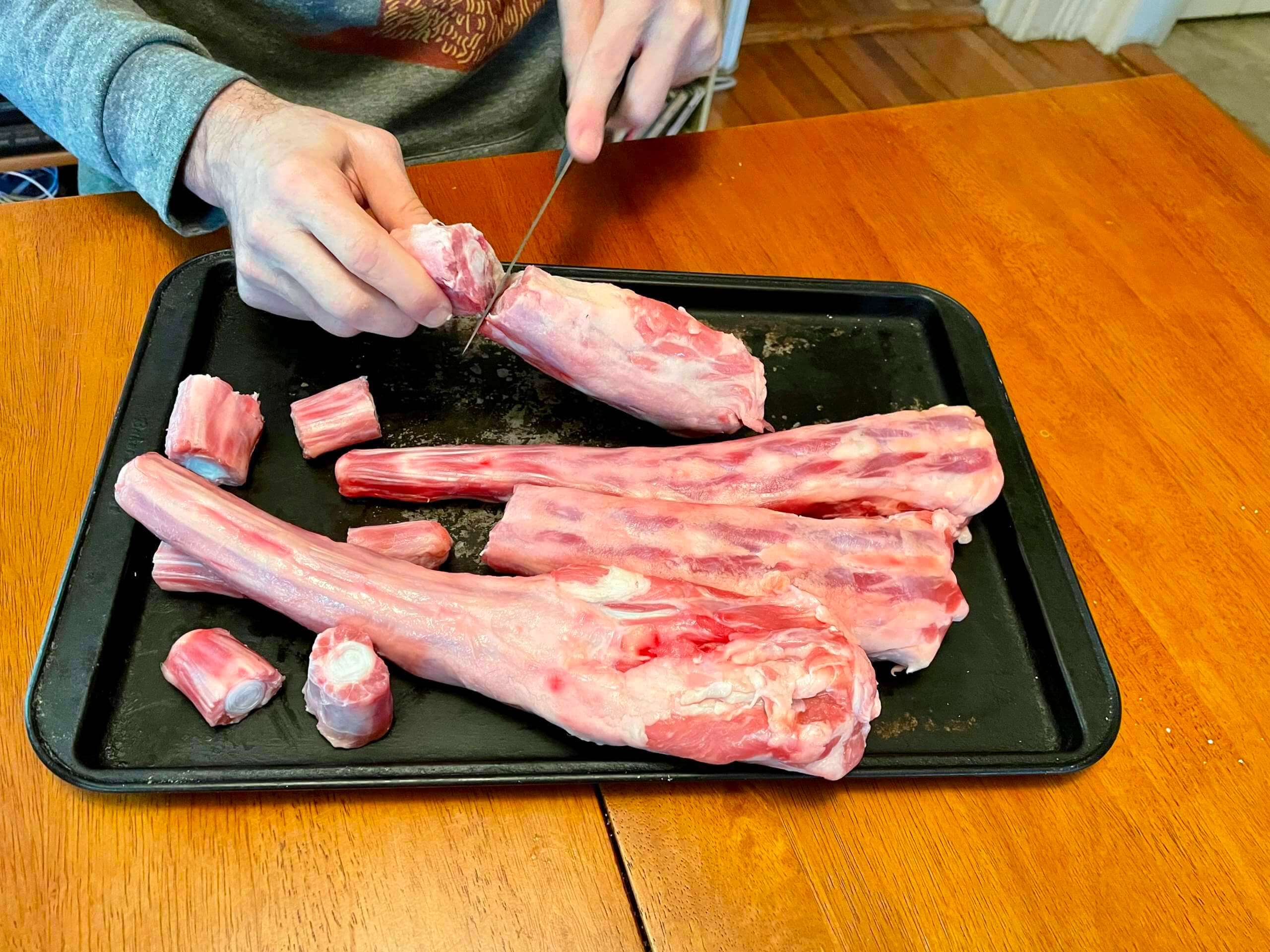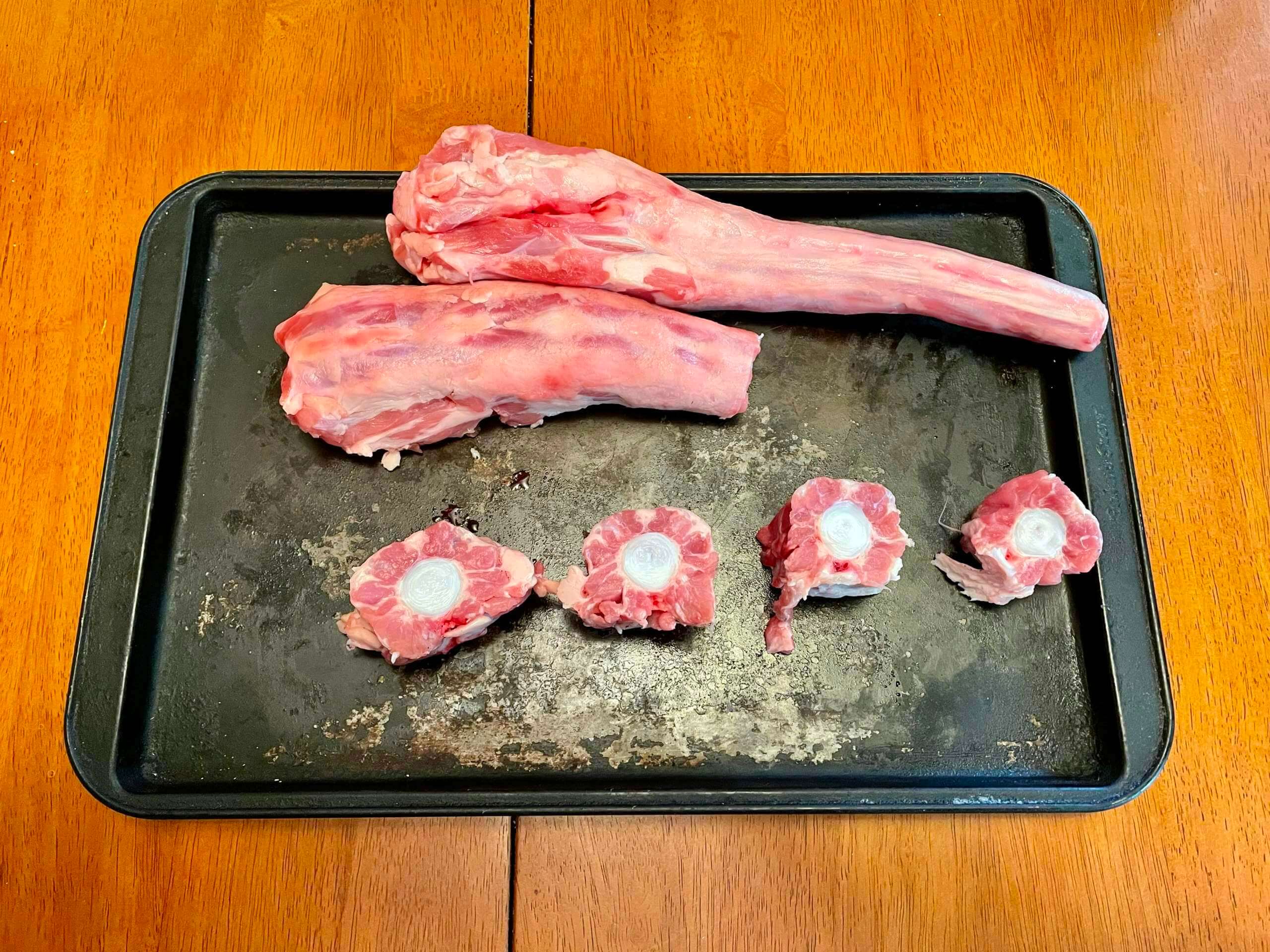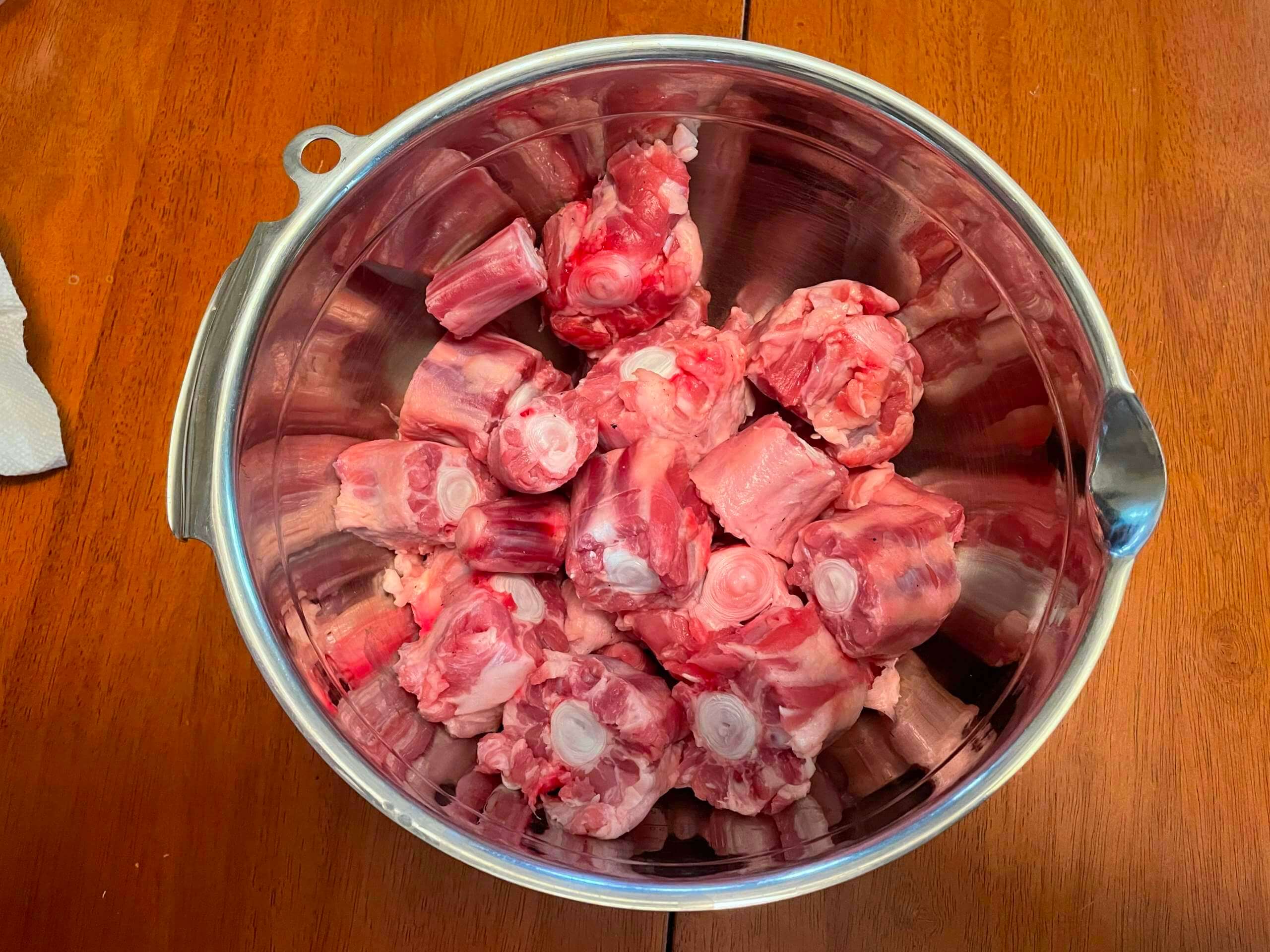 2. We tossed the meat in a spice mix of salt, pepper, allspice, and sumac and let it sit in the fridge for a couple of hours.
3. Working in batches, I used olive oil to brown the meat in a large pot and then set the browned meat aside: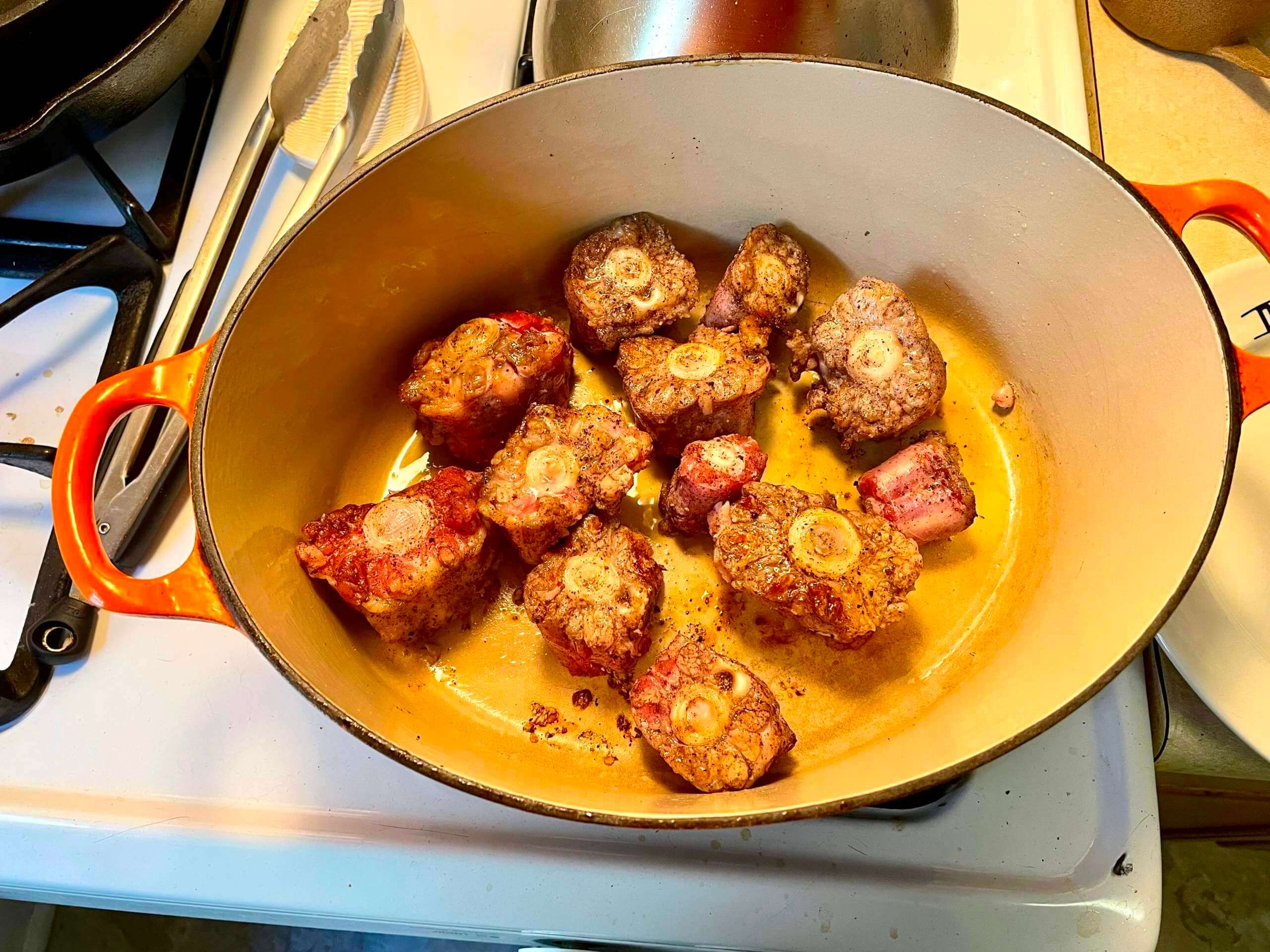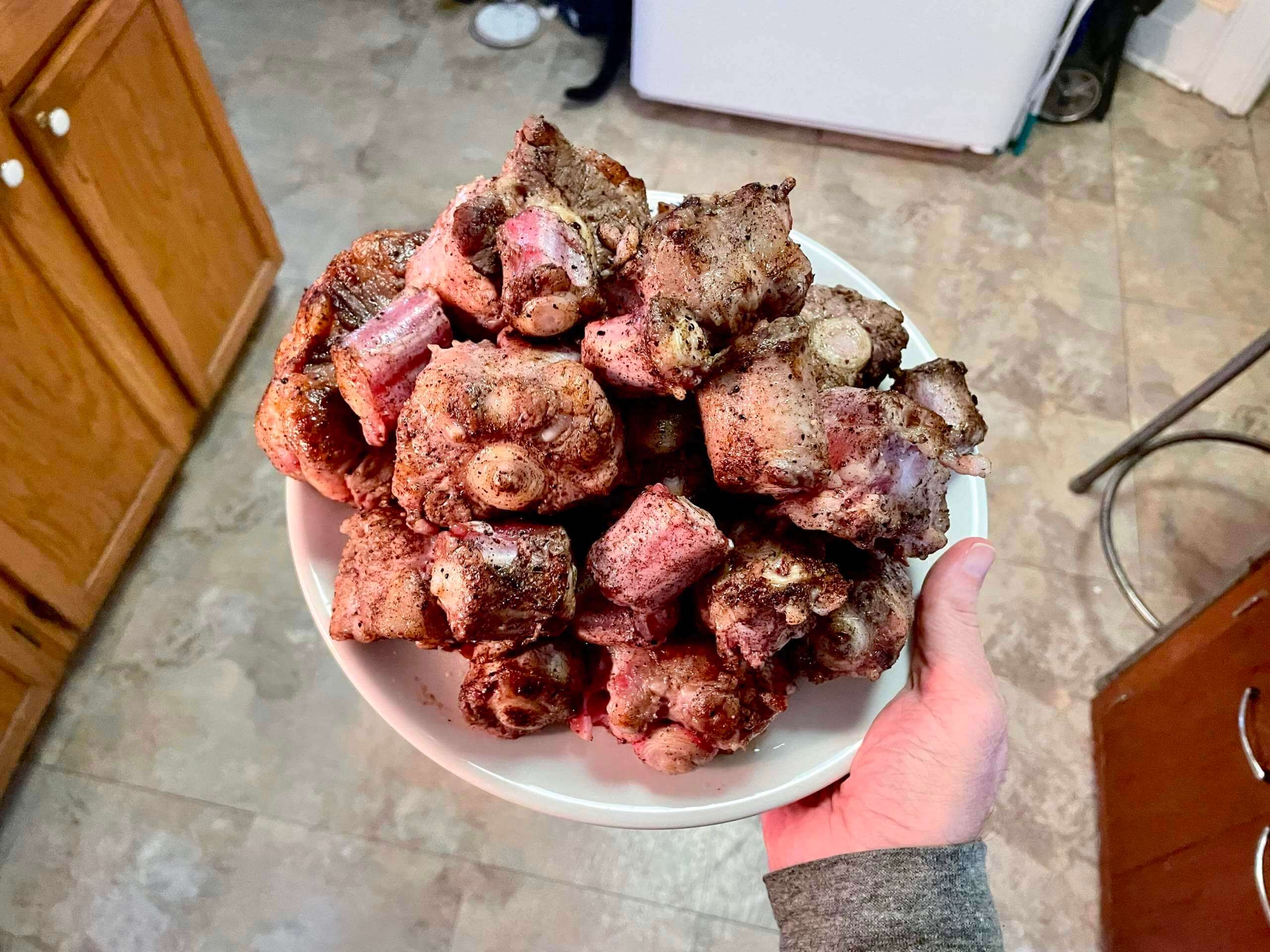 4. We added a bit more oil to the pot and browned some pearl onions. Then we added chopped carrots and parsnips and browned those: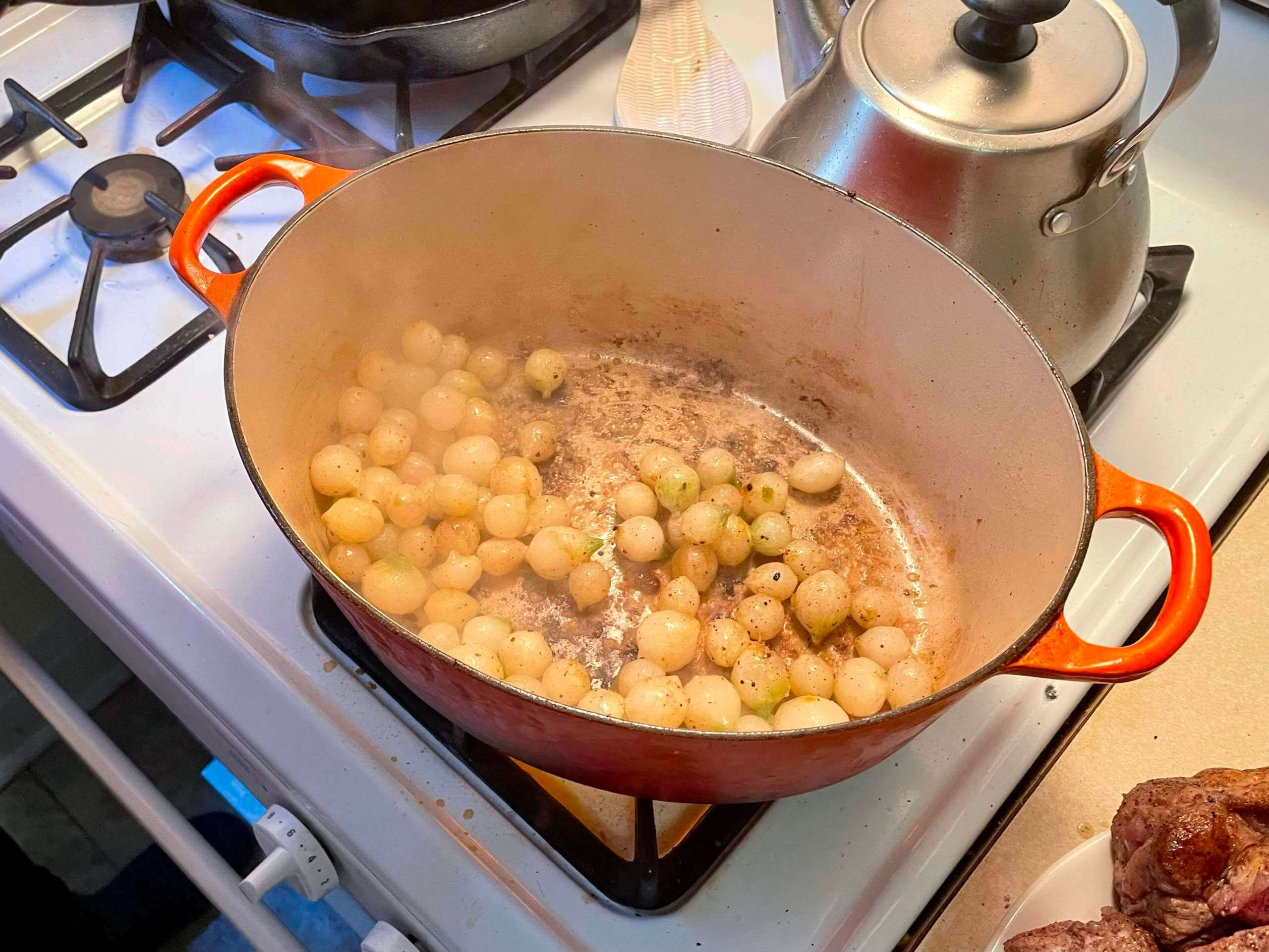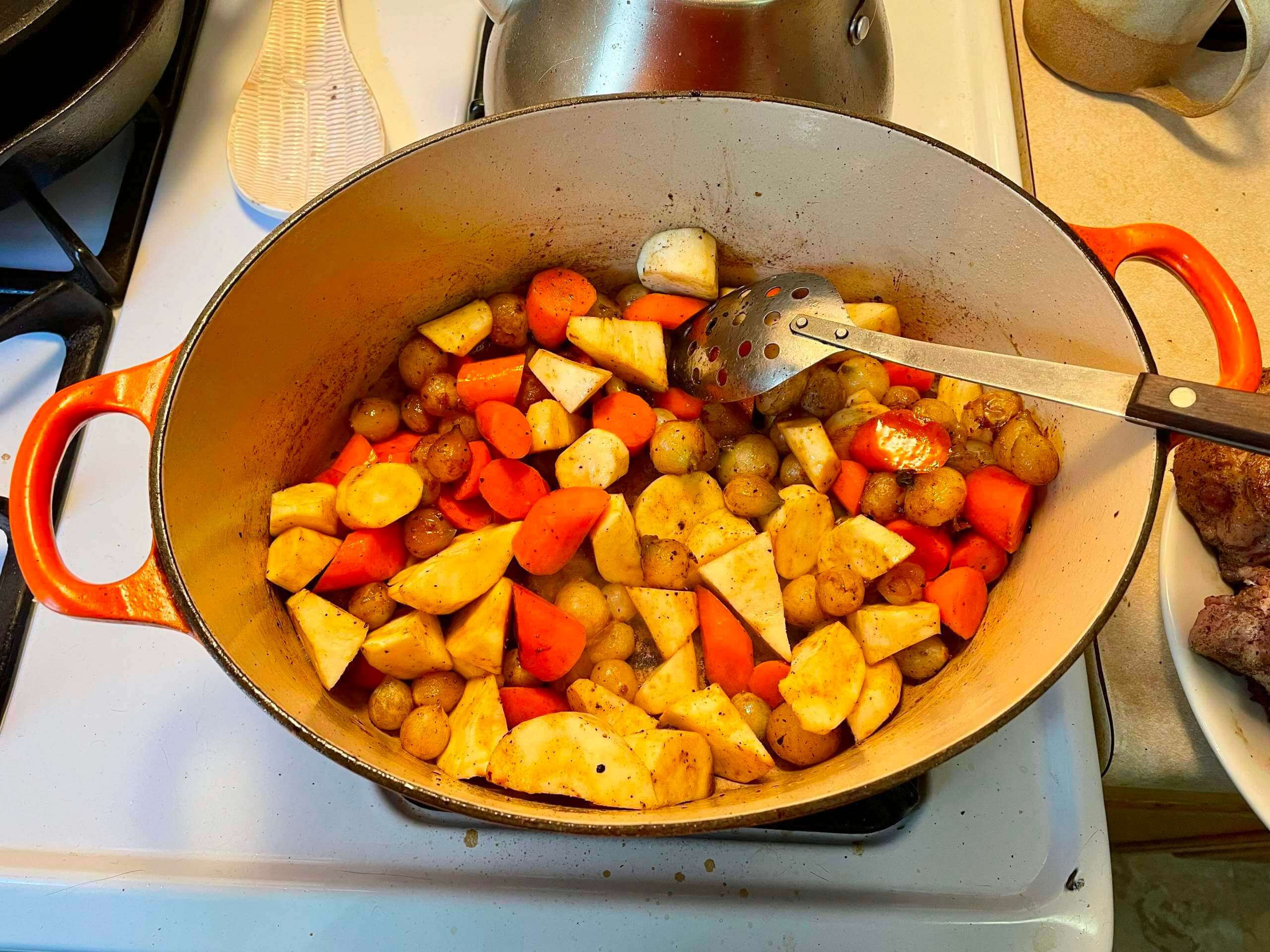 5. Now it was time to add the stew liquid — a bottle of red wine and some chicken stock — and let it reduce and thicken for a bit: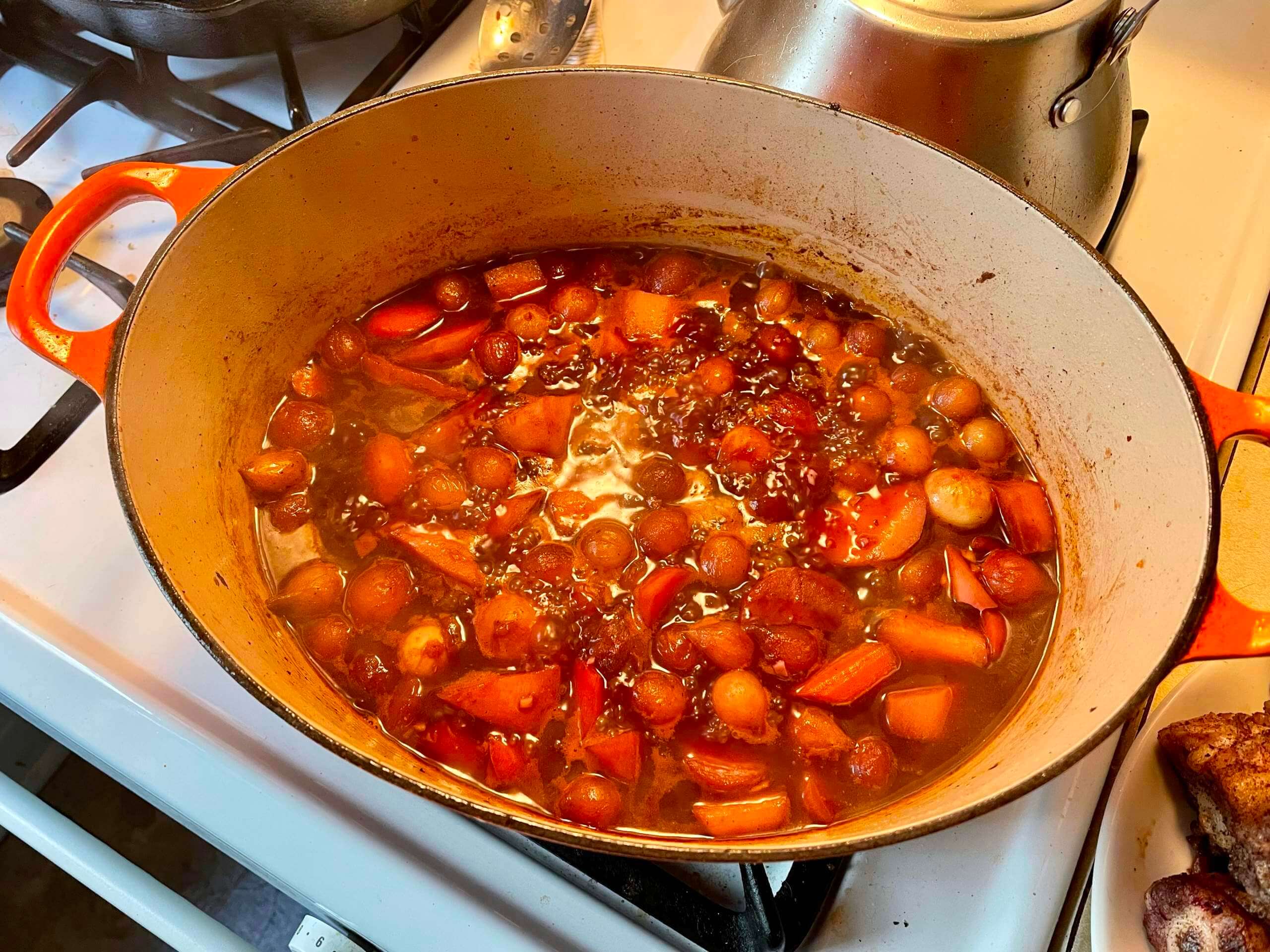 6. When the liquid was reduced, we added some new potatoes and the browned meat. It just barely fit: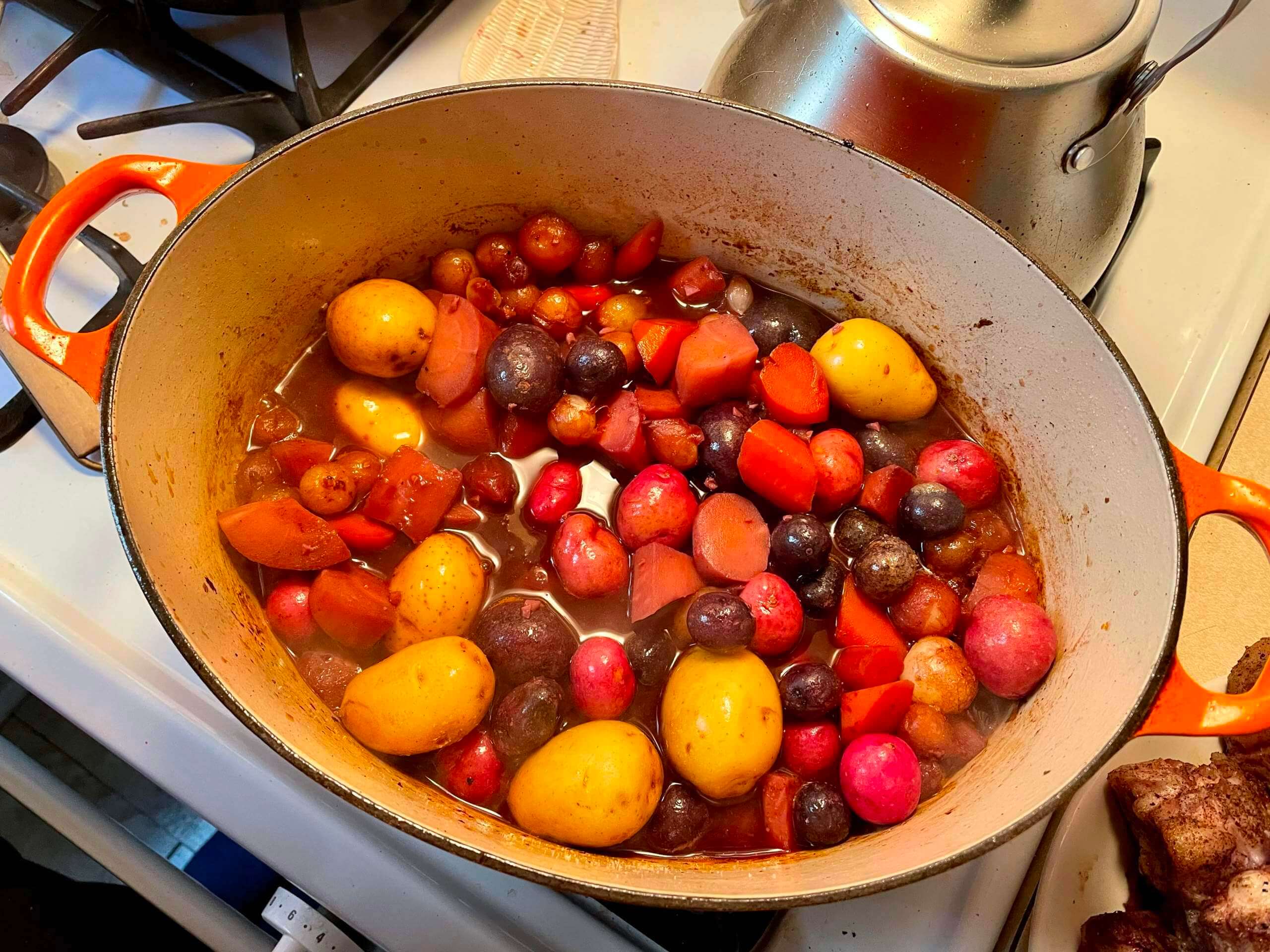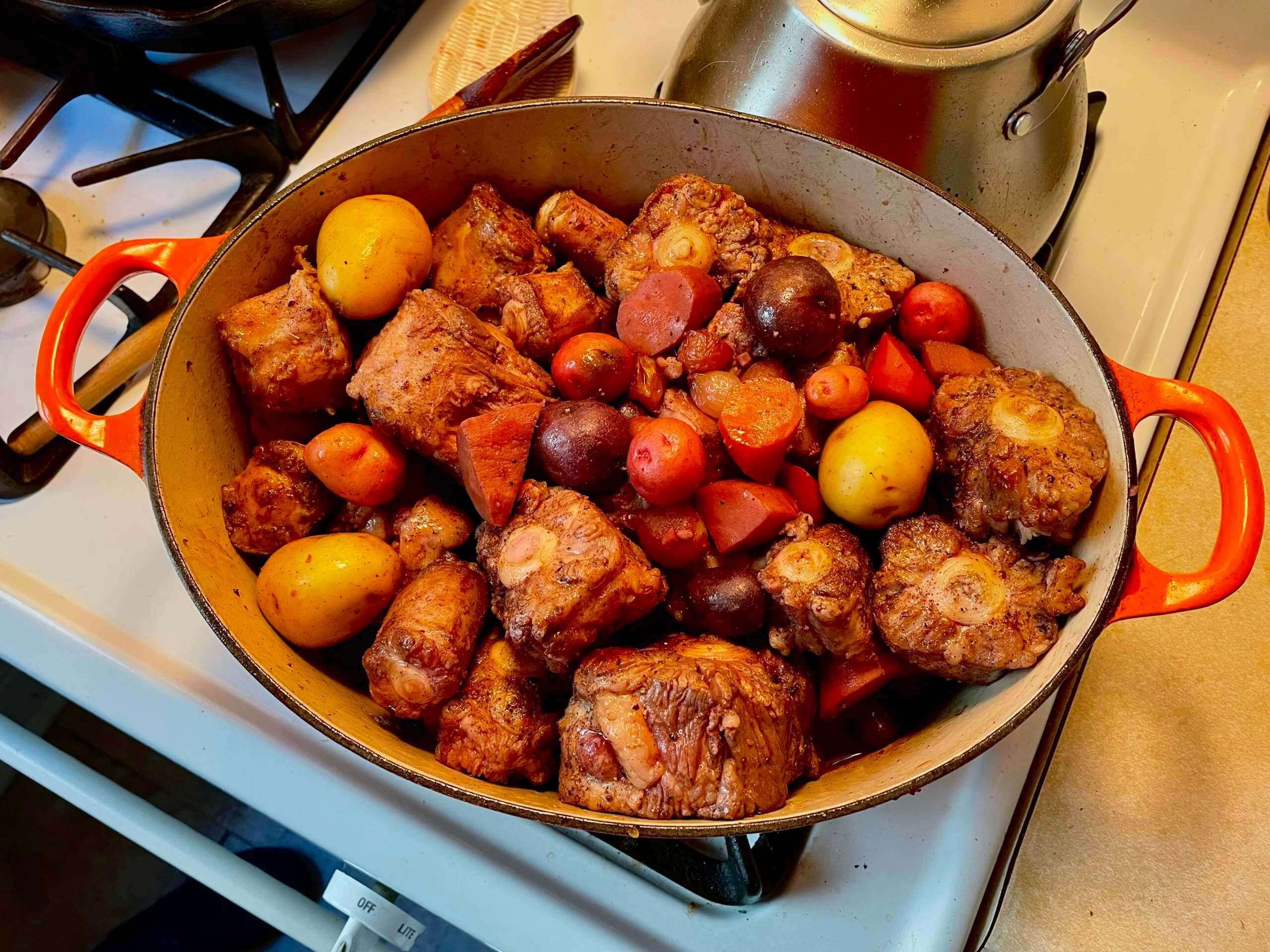 7. The final step was to cover the pot and put it in a 350º oven for three and a half hours, stirring every 45 minutes or so. Then we garnished it with gremolata (a mix of lemon zest, garlic, and parsley) and served it over polenta. Admittedly, cooked stews aren't that photogenic, but believe me when I say it was reeeeeaaaallly good: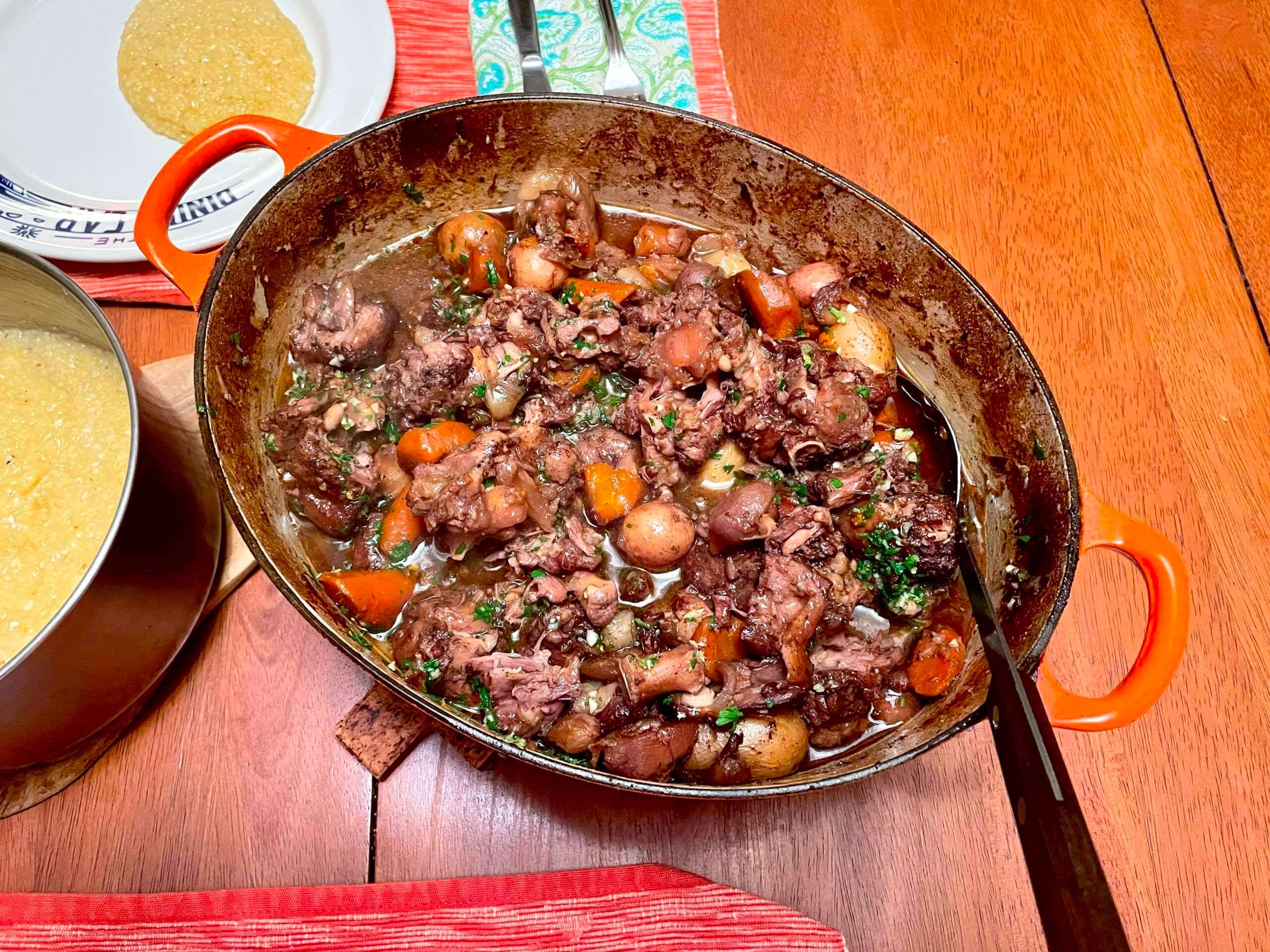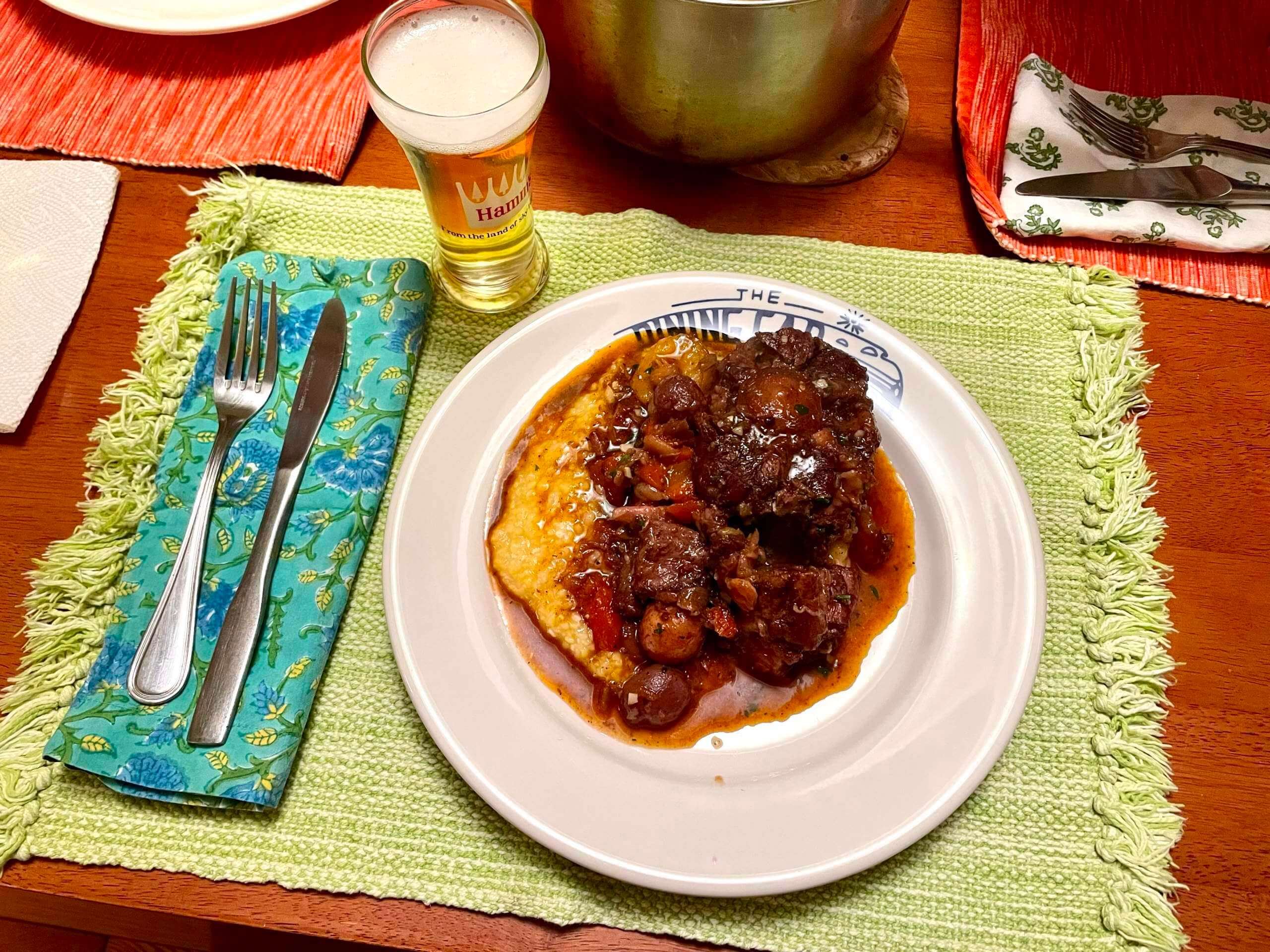 ———
Since oxtails have a high ratio of bone and cartilage to meat, they release a lot of collagen and marrow in the stewing process. The result is a stew that's particularly earthy and silky. Plus you repeatedly get to say "oxtails," which is a fun thing to say!
You could easily use different root vegetables than the ones we used — there's really no wrong thing to put in a stew.
• • • • •
• • • • •
Uni Watch Hit Parade: I was listening to my friend Todd-o-Phonic Todd's radio show on WFMU on Saturday, and he played a great song called "The Fixer" by a British band I'd never heard of before, the Bug Club. I looked them up and found that a lot of their stuff is really good (especially the Pure Particles EP), but "The Fixer" is definitely their high-water mark. Addictive stuff.
Todd-o-Phonic said the Bug Club will have some live dates in the States later this year. Can't wait!
• • • • •
• • • • •
The Ticker
By Jamie Rathjen

Baseball and Softball News: One of the early-season college baseball tournaments in Round Rock, Texas, ended up featuring "home" teams with grey pants and "away" teams with white. Arkansas also wore grey pants with 2009-12 throwback jerseys for apparently the first time (from Chris Mycoskie and @HogFlashbacks). … Oklahoma softball's Jocelyn Alo is on the verge of breaking the college home run record. A group of ball chasers was on hand in hopes of catching the record-breaking home run at the California tournament where Oklahoma played this weekend (from Greg Franklin). … Cross-posted from the soccer section: Some Astros players went to the Houston Dynamo's game yesterday and got Dynamo shirts with their numbers and NOBs (from Ignacio Salazar). … Updated league logo and new 40th-anniversary logo for the KBO (from @beartorius).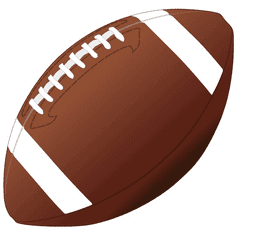 Football News: The CFL's Edmonton Elks are teasing something for this Thursday. "The helmet striping in this photo is different than what they wore last season," says Wade Heidt.


Hockey News: Left over from the Stadium Series game Saturday: Predators G Juuse Saros was missing the guitar pick logo in the center of the jersey (from @saxbrack). … The designer of the Sharks' original logo dropped the puck at their game on Saturday (thanks, Brinke). … The PHF's Metropolitan Riveters wore Pride jerseys yesterday. … The OHL's Sault Ste. Marie Greyhounds wore 2000s throwbacks on Saturday (from Wade Heidt). … The AHL's Springfield Thunderbirds wore U.S. Air Force Thunderbirds-themed jerseys. An interesting design feature is that the uni numeral 5 was intentionally positioned upside-down as a tribute to the No. 5 Thunderbird jet, which spends most of its time upside-down when the Thunderbirds are flying in formation (from Matt Pelletier).

Basketball News: Utah State men's player Max Shulga is Ukrainian, so the student section did a Ukrainian flag card display on Saturday (from Benji King). … Women's college teams that wore pink or pink accents included Ball State, Hofstra, Iowa State, and UNC Wilmington. … Miami (Fla.)'s men's team wore "Honoring Black Excellence" alternates on Saturday (from Kary Klismet). … During yesterday's Georgetown/Connecticut men's game, the scoreboard flipped around the teams' halftime scores (from @bryanwdc). … There is now somehow a Nike/LeBron James/Fruity Pebbles collaboration (from John Cerone).

Soccer News: Shows of support for Ukraine included Everton and Manchester City's warm-ups, which featured flags and T-shirts, respectively, before their Premier League game on Saturday. Both sides had a Ukrainian player. … Aston Villa midfielder Matty Cash, who plays for Poland's men's team, celebrated a goal with an undershirt supporting Dynamo Kyiv's Polish center-back Tomasz Kędziora, who is stuck in Kyiv. … Elsewhere in the Premier League, West Ham United's warmup shirts featured Ukrainian winger Andriy Yarmolenko's NOB and No. 7. Yarmolenko was given time off by West Ham because of the invasion. Their opponents, Wolverhampton Wanderers, wore "No to War" warm-up shirts. … The next two are from Kary Klismet: Germany's Augsburg also wore warm-up shirts and a patch for their Bundesliga game yesterday. … The reserve team at Austria's Austria Wien wears an ad for the Russian state energy company, which was gone on Friday. The more prominent club with such an ad, Germany's Schalke 04, covered it with a "Schalke 04" patch on Saturday. … Yesterday, FIFA said Russia's national teams can't use the flag and anthem or play games at home and must use the name "Football Union of Russia" in all competitions. The other three participants in Russia's men's World Cup playoff tournament, having already refused to play Russia, were not impressed. … Non-Ukraine news from here on: Scottish club Aberdeen revealed a statue of former men's team manager Sir Alex Ferguson on Friday. It's based on a picture of him celebrating after winning the 1980 Scottish Premier Division title. … Another from Kary Klismet: Chelsea didn't wear the Club World Cup winner's patch in the men's English League Cup final yesterday, I would imagine because they didn't have the permission from the English Football League that they do from the Premier League. … New shirts for the USL Championship/W League's Detroit City (from Ryan Keberly and @DetroitCSC). … Some Houston Astros players went to the Houston Dynamo's game yesterday and got Dynamo shirts with their numbers and NOBs (from Ignacio Salazar).

Grab Bag: The last of the Formula One liveries for this season, for Alfa Romeo, is out, and here are all 10 together (from Russ Flynn). … The NLL's Rochester Knighthawks wore black alternates on Saturday (from Wade Heidt). … Also from Wade: Saskatoon's arena has a new scoreboard, first used for the NLL's Saskatchewan Rush on Saturday. … The Japanese men's volleyball team VC Nagano Tridents have a topographic map on their shirts (from Jeremy Brahm). … The AFL Women's Indigenous round had its own logo for this year. Since the government recently bought the copyright to the Aboriginal flag, the flag was painted on the field. … Meanwhile, Giants Netball, the Super Netball team run by the AFL's Greater Western Sydney, have new kits. … The University of Iowa had several other mascots before settling on Herky the Hawk (from Kary Klismet). … Saturday's episode of Saturday Night Live featured John Mulaney wearing a Mets sweater and Aidy Bryant wearing an Islanders beer helmet (from multiple readers).
• • • • •
• • • • •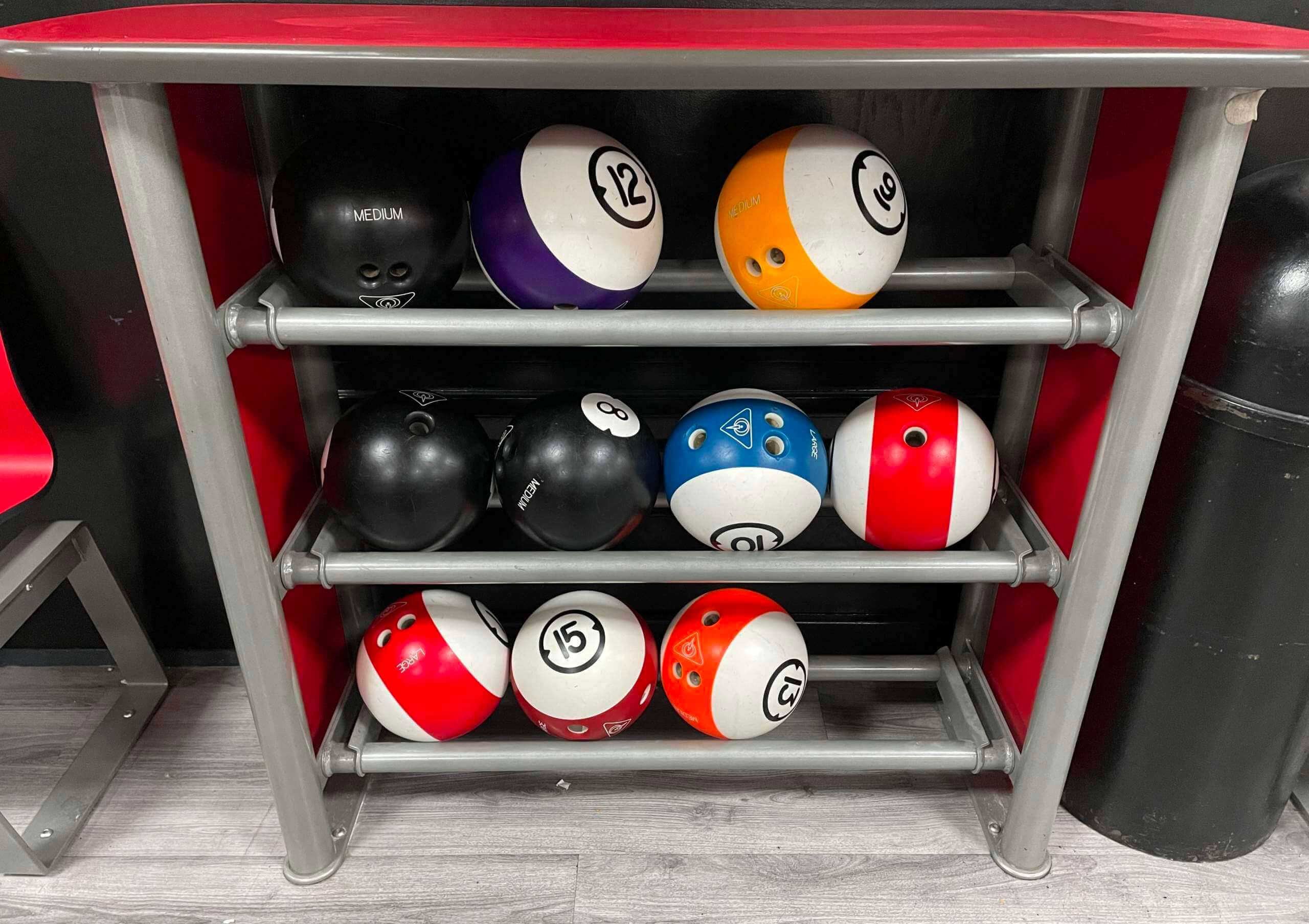 For all photos click to enlarge

What Paul did last night: Went bowling last night. It was the first time I'd gone in two years (almost to the day), which is probably the longest I've gone without pin-bashing since the first time I went as a kid.
As you can see above, the house balls at the center we visited all looked like billiard balls, with the numbers representing the balls' weight. Maybe that's common at some bowling centers, but I'd never seen it before. Clever!
Also, a guy two lanes over from us had a Mets logo on his ball, which looked pretty cool: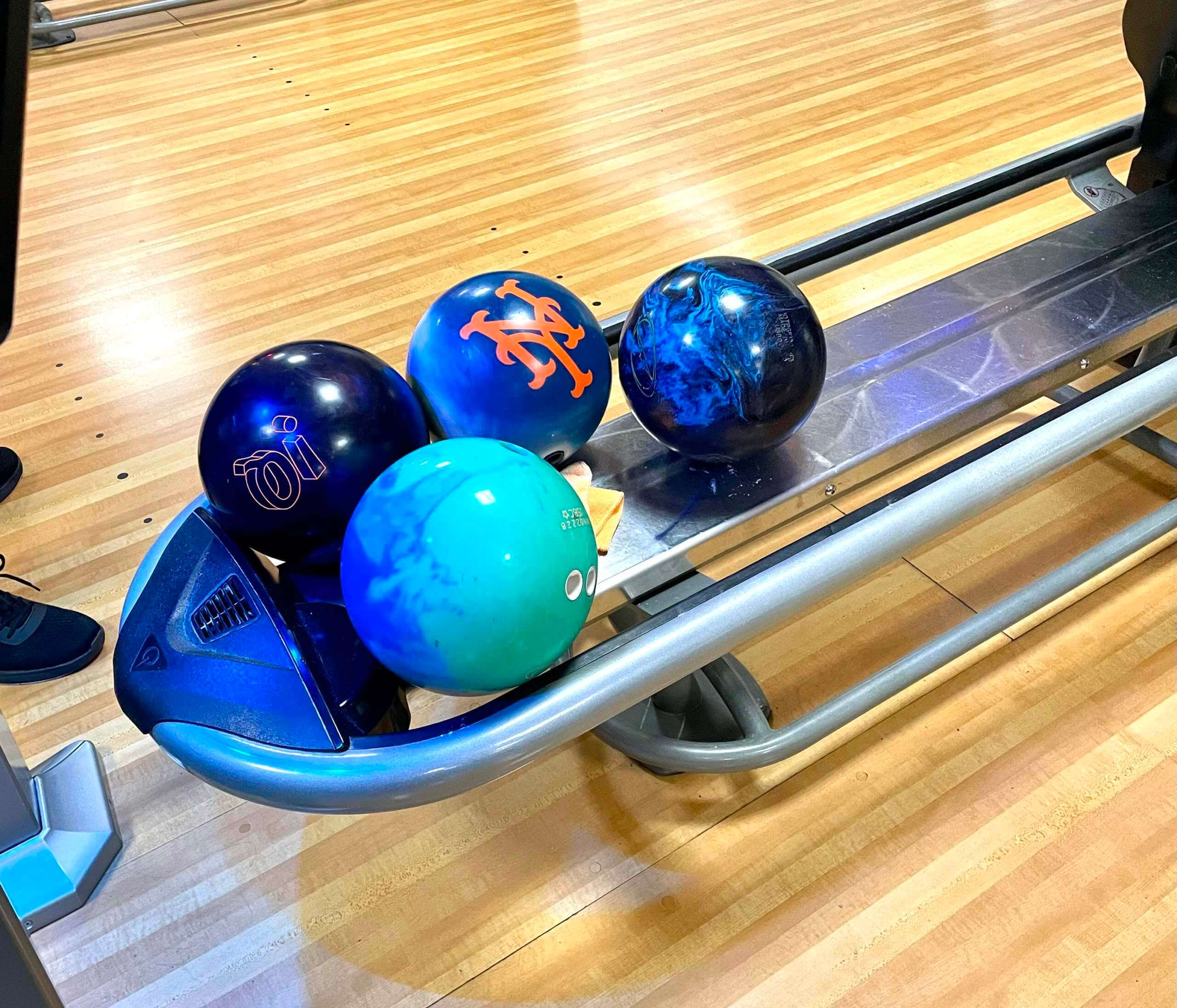 • • • • •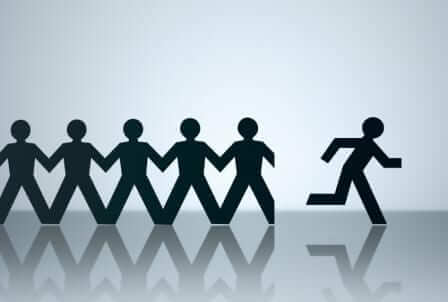 Emancipation Day (observed): Twenty-six years ago today (well, it was actually Feb. 29, but that date doesn't exist this year), I walked out of my office at Billboard Books for the final time and began life as a full-time freelance writer. I'd been freelancing on the side for a little over two years and decided it was time to take the plunge. Giving up a stable job was a bit scary, but I had to give it a try, because I wasn't happy with my life or career up to that point and knew I needed to make changes or else I wouldn't be able to keep facing myself in the mirror each morning.
That decision has worked out much better than I ever could have imagined, in part because of the wonderful and supportive comm-uni-ty that's formed around this website. On a near-daily basis, you folks make it clear to me that I made the right choice.
Emancipation Day feels a bit different this year because of the Great Resignation. Judging from all the stories I've read about that phenomenon, it appears that many people are reevaluating their lives and careers — and the role that the latter plays in the former — just like I was doing 26 years ago. If you're one of those people, good for you! I hope your choice works out as well as mine has.
Of course, maybe you already like your life just fine the way it is, in which case more power to you! Either way, thanks for listening, and here's hoping we all find the best path forward for ourselves. — Paul