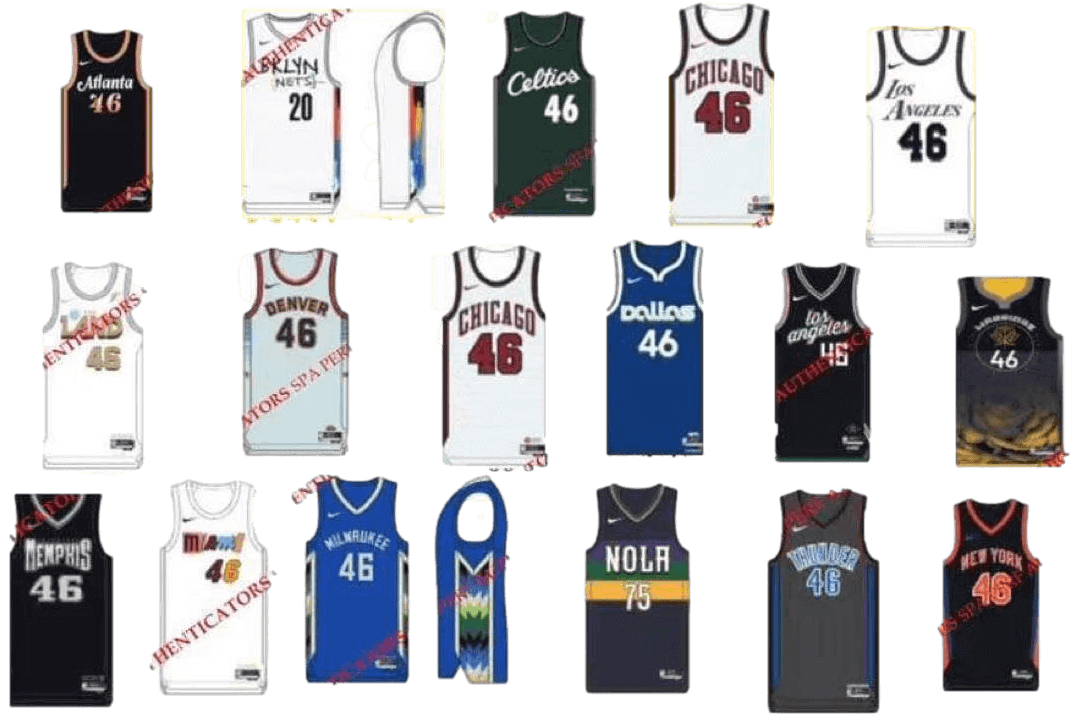 Click to enlarge
Sometimes it's hard to keep up with breaking news when covering a daily beat, and that was the case for me yesterday. I had a bunch of obligations that kept me out of the house for a good chunk of the day and most of the night. While all that was happening, a shitload of NBA uni designs for next season leaked. I saw rumblings of what was happening when I checked Twitter on my phone while running from one appointment to another, but I didn't fully comprehend the scope of the leak until I got home at 9:45pm, by which time I had other things to catch up on and was too wiped out to do a full assessment.
But I do want to provide some sort of coverage, so here are the basics:
• The leaks came from Twitter-ers Casey Vitelli (a longtime source of good NBA uni info) and @skunwong32 (with whom I'm unfamiliar).
• All told, those two sources provided 37 leaked designs — 22 City, six Statement, and nine throwback, all for next season. Some of them are shown above, and here's a bunch more: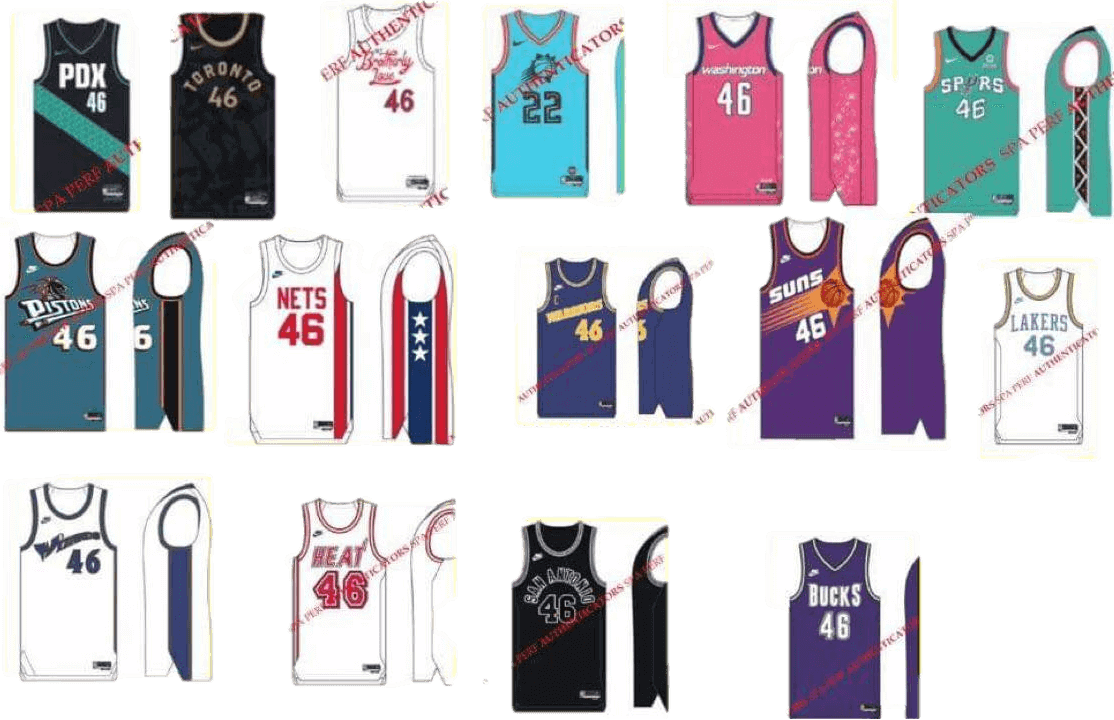 • SportsLogos.net's Chris Creamer is reporting that he has confirmed the designs as legitimate, so these uniforms will indeed appear on the court next season. Chris has also done a good job of organizing the leaked designs into their City, Statement, and throwback groupings (he apparently had a less busy day yesterday than I did!). I heartily recommend that you
read his report
.
• In addition, the @JazzNationNews Twitter account shared photos — not just catalog mock-ups — for some additional leaked designs that appear to confirm the long-suspected change to the team's color palette: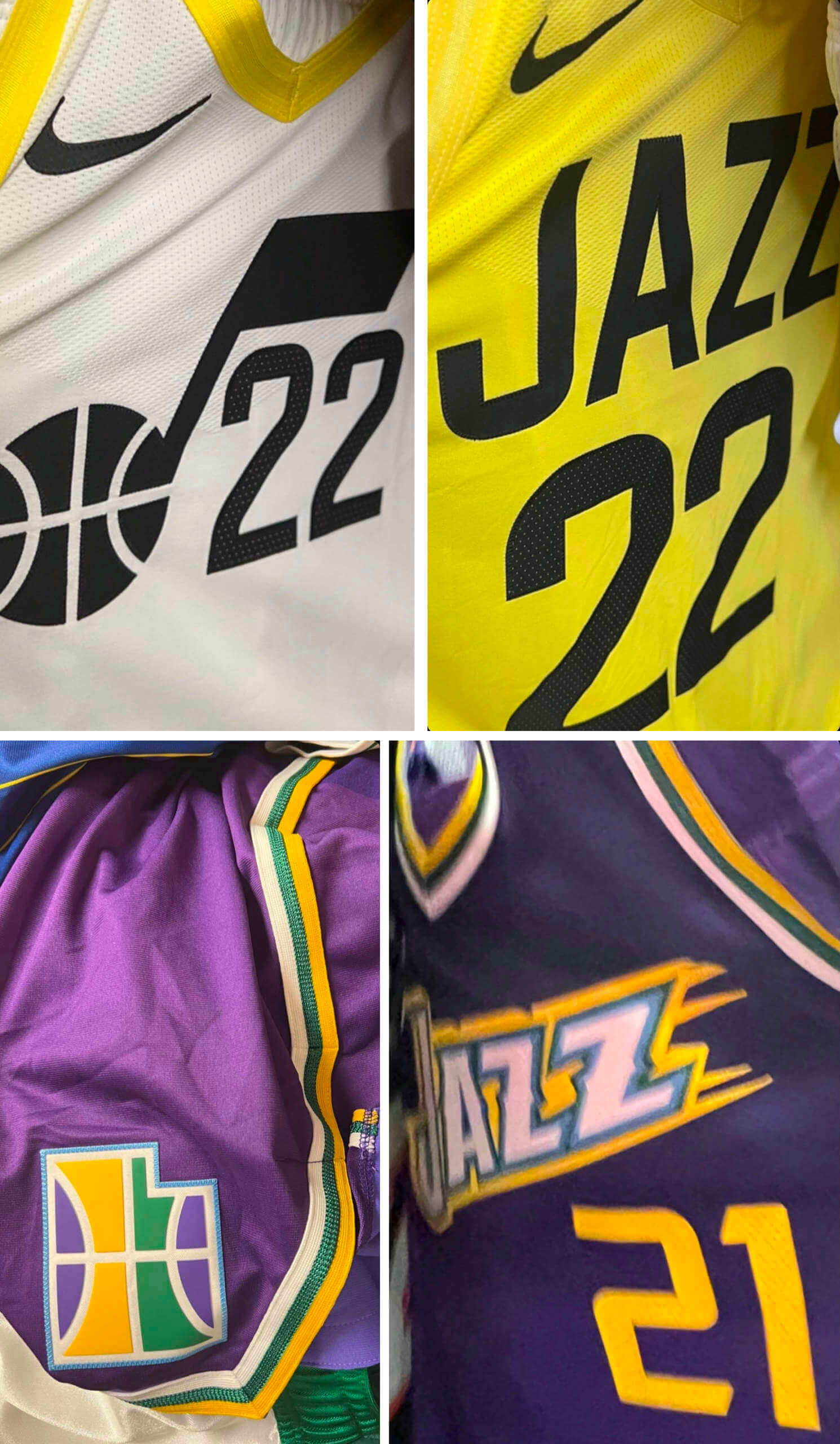 So those are the basics. As for the designs themselves, some of them look fine, some look awful, some are head-scratchers, and some fall into the "Let's wait until we see more" category.
Obviously, this all qualifies as big news in the uni-verse, so you'd think I'd be excited about it. But I have to admit, the endless churn of NBA uni designs has become numbing. Just the thought of 30 new City designs next fall, plus all the other alternates, makes my eyes start to glaze over. Even the good designs seem more like happy accidents — the proverbial blind squirrel finding a nut — than the result of a healthy creative process. And what's the point in getting excited about a good design anyway if it's just going to be mothballed after one season?
I know there are some people out there who love the constant rush of new product, but I find that a lot of it leaves me cold. Even if all the designs were great, I don't want to eat a new amazing flavor of ice cream every day — sometimes I just want chocolate, you know?
But that's just me. What do you folks think?
• • • • •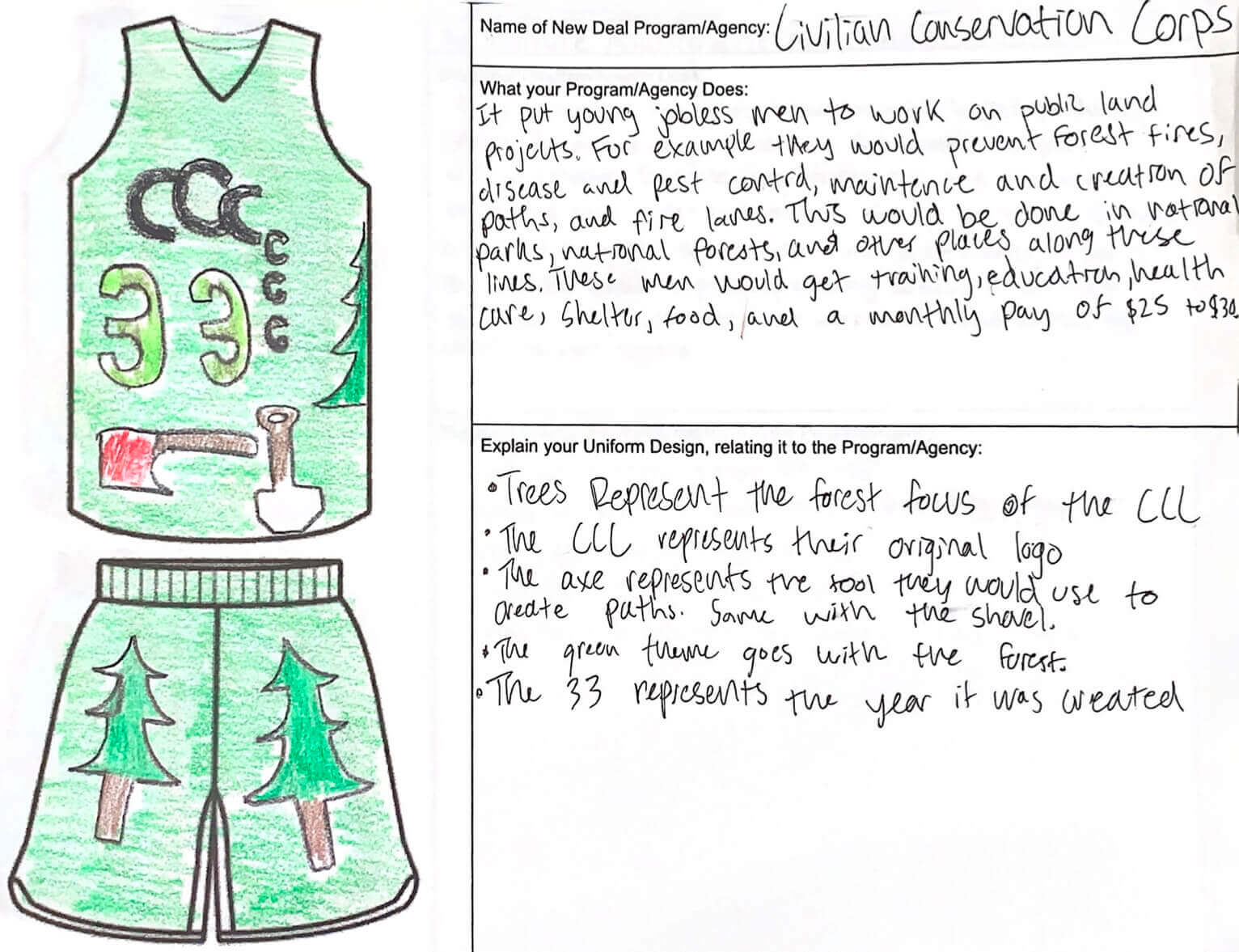 • • • • •
Click to enlarge
Uni-related school assignment: If you know your basic American history, then you know that the Civilian Conservation Corps was an important government program that was part of the New Deal. To my knowledge, the CCC didn't have a basketball team — but if it did, maybe it would have worn a uniform like the one shown above.
What's this all about? I'll let Uni Watch reader Tom Roddy, who teaches 11th grade history, explain:
I recently had students design a basketball uniform for a New Deal-era federal agency, as if the New Deal programs had a basketball rec league. I was super-pleased with my results!  The students were really excited to be able to color in class — I've never seen 17-year-olds so excited to use colored pencils!  It was a nice distraction from the hellscape this school year has been at times.
You can see 16 of the best submissions from Tom's students here. Of particular note is this one, for the Tennessee Valley Authority, which Tom says is the one that included a Nike maker's mark: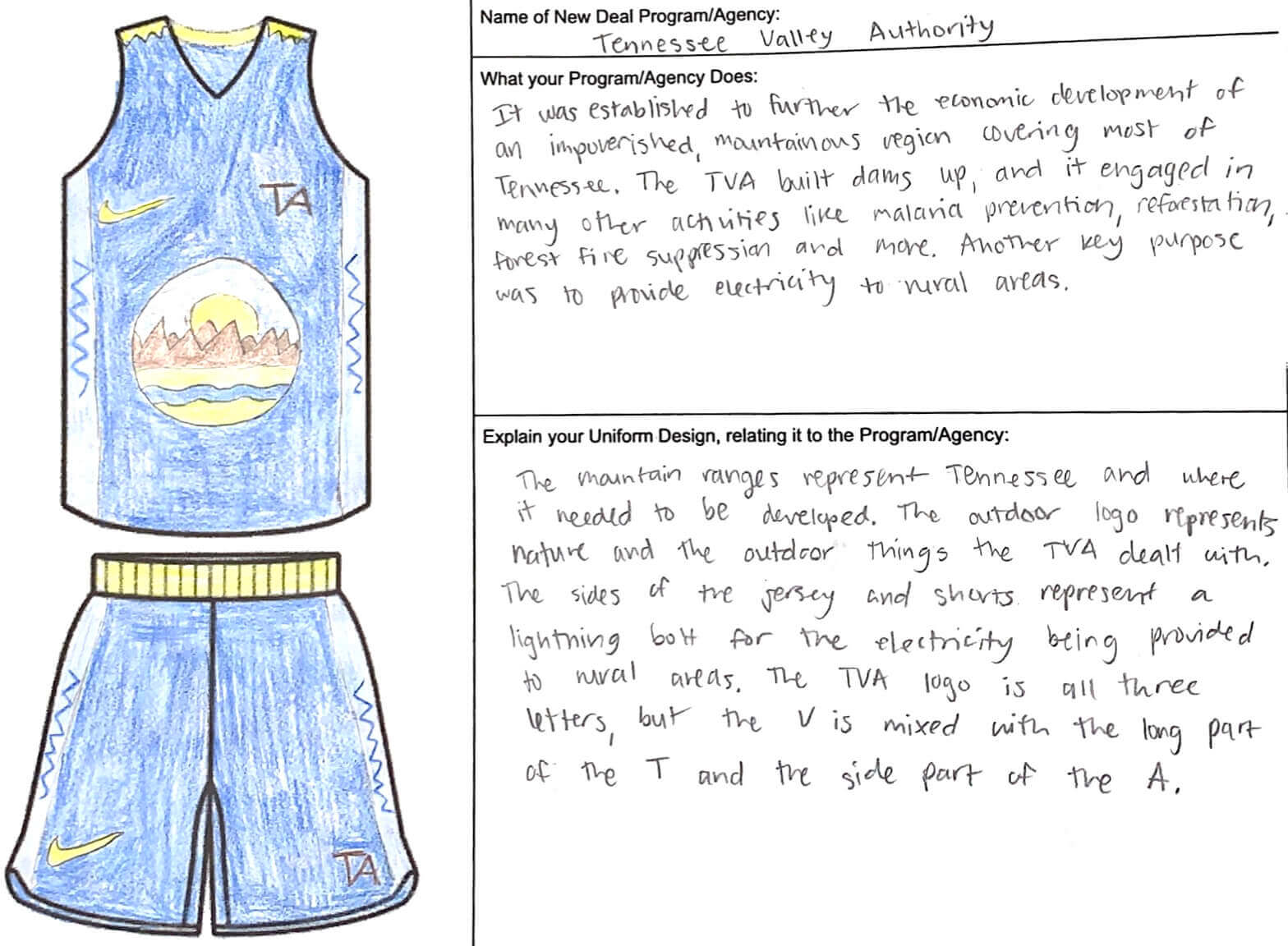 "Aside from the anachronism of Nike existing in the 1930s, it was also interesting that this student also put a monogram for the TVA in the same spot as the current NBA ad patch location," says Tom.  "Seeing how teenagers react to current uniform design was a real treat and filled my tank."
It's always a treat to learn that a teacher is incorporating uniforms into their lesson plans (other reader-teachers who've done this are Marty Hick and Trevor Williams). Thanks for sharing the results, Tom, and, more importantly, thanks for the important work you do as a teacher!
• • • • •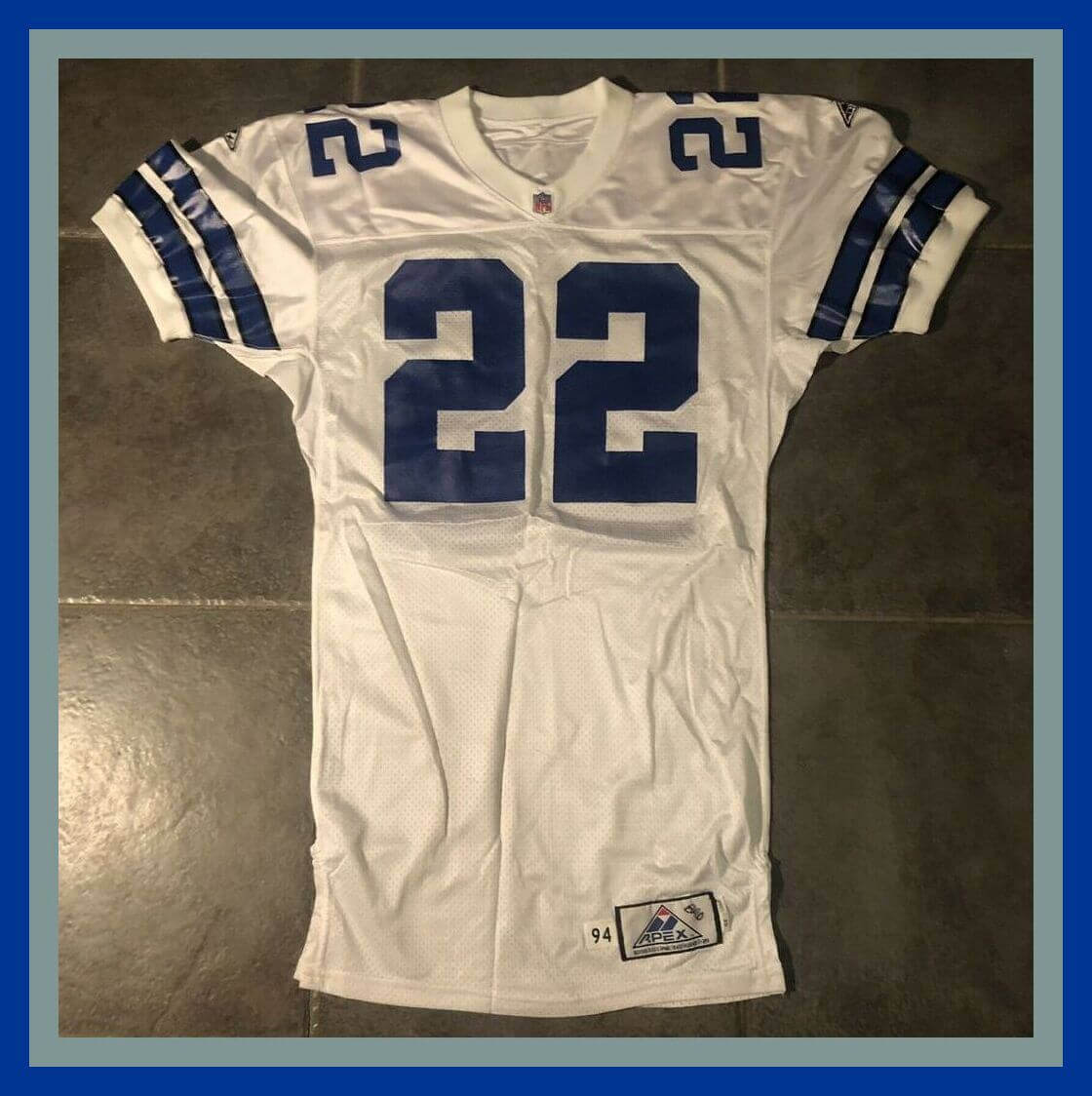 • • • • •
Collector's Corner
By Brinke Guthrie
Follow @brinkeguthrie
Following up on yesterday's 22-centric blog post, here's a game-issued Apex No. 22 worn by one of the game's greatest players, Emmitt Smith of the Dallas Cowboys. The jock tag down by the hem says "94" indicating the 1994 season, and someone wrote "Bad" on the label — no idea what that means. Maybe like the Michael Jackson song?
Now for the rest of this week's picks:
• C'est magnifique!! Check out the rouge, blanc, et bleu artwork on this 1970s Ken Dryden/Montreal Canadiens lunchbox.
• The Boston Patriots are represented on this 1960s Technigraph helmet plaque. (This is the small size. You can see the larger size here for the 49ers. )
• These 1960s Packers slipper/socks (looks like a sure Sears item to me but no tag) might not be quite right for a visit to Lambeau, but they're just right for Cheeseheads who want to watch their team at home.
• A few more Pack items here. First, this 1968 Bart Starr paperback from Scholastic. I remember loving this cover illustration back then, especially the look of the football coming at you in an underhand spiral. (The photo the artist based it on is here.) Next, this Packers poster, also from 1968. And finally, a golf-style cap from the 1970s that says "America's Pack, Green Bay USA."
• Player's Choice: Great Tales of the Gridiron is the title of this 1969 book featuring Gale Sayers and others.
• Here's a 1960s Kansas City Chiefs "Touchdown for Boy Power" patch from the Boy Scouts.
• This 1970 item is called an NHL Hockey Computer. It seems you slide the inner card inside the sleeve to line up stats in the little windows.
• Something similar here from 1989 with a bit more technology: a "Sports Talk" player. With this one, you'd stick a card in the slot, and it would talk to you. "Hear the real voices of your favorite sports superstars!"
• "The Coolest Game on Earth" is the slogan on this 1996 NHL school folder. You can fill in your class schedule on the inside, with the days of the week shown in French and English.
• The cover of this 1958 New York Yankees yearbook shows the team's uniform in royal blue rather than dark navy. "Artistic license" at the expense of accuracy? Never!
That's it for this week, except for this shameless plug: I'm a big 007 fan, so check out my new Instagram collection page here…….Mr. Bond.
• • • • •
• • • • •
Click to enlarge
Public service announcement: Here in NYC — and, I'm assuming, in most other places — the pandemic has taken a major toll on blood supplies. So if you're not deathly afraid of needles, this is a particularly good time to donate blood (as I did yesterday — that was one of the things that kept me out of the house).
I've told this story before, but it's been a while, so once more won't hurt: I began donating blood in the aftermath of the Sept. 11 attacks in 2001, when there was a big outcry for donors. I'd never done it before, but I answered the call, and I found that it felt like a really worthwhile thing to do — a very simple way to be a good person and give something back. So I did it again two months later, and again two months after that. I've kept it up roughly every two months ever since (in case you weren't aware, I'm a pretty ritualistic person), which I figure is one small positive thing that emerged from Sept. 11.
You don't have donate as regularly as I do in order to make a difference. Even if you do it just once, that could save someone's life. You can schedule your donation here.
Thanks for listening. Now back to uni-related content.
• • • • •
• • • • •
Uni Watch News Ticker
By Lloyd Alaban

Baseball News: The Yankees will retire RF Paul O'Neill's No. 21 in August. Here's a breakdown of all of the team's retired numbers (from multiple readers). … MLB is considering holding a game similar to last season's Field of Dreams game at the Negro Leagues' historic Hinchcliffe Stadium in New Jersey (from Kary Klismet). … Here's how the Cardinals' affiliate Peoria Chiefs came up with their alternate identities for this season (from Wes Huett).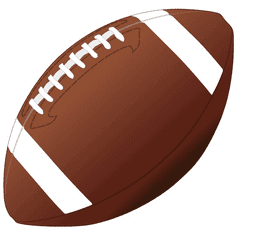 Football News: The Commies have changed their secondary logo to reflect the seasons they won the Super Bowl instead of the calendar year they won them (from multiple readers). … Here's one from Paul: "I heard former Giants RB Tiki Barber saying on the radio yesterday that he never wore a cup during his NFL career, and that most other NFL players didn't either." … If you scroll down in the USFL's Twitter feed, you'll see Photoshopped images of draft picks in their new teams' uniforms (from Marcus Hall).

Hockey News: The Capitals' Black History Month warm-up sweaters, which will be worn next Monday, have a shoulder patch for the Fort Dupont Ice Hockey Club. The team wore Fort Dupont gear at a practice earlier this month (from multiple readers). … Autism awareness-themed mask for Western Michigan G Brandon Bussi (from Kary Klismet). … Here's the logo for the OHL's outdoor game next month (from Wade Heidt).

Basketball News: Here's a video about the development of the Raptors' initial "Barney" identity (from Johnny Garfield). … Cincinnati men's "The Cats" throwbacks have a great story behind them too (from our own Phil Hecken). … Kansas is the Sunflower State, so the Jayhawks' men's team wore sunflower-themed uniforms last night (thanks to all who shared). … A Kobe Bryant card has sold for over $2 million, despite not being a rookie issue, not being autographed, and not having a memorabilia relic.

Soccer News: New crest for Argentine side River Plate. Here's the old crest for comparison (from Ed Zelaski). … Charlotte FC used a locker room-themed graphic to reveal each player's number (from James Gilbert). … Manchester City is working on building a virtual version of its home stadium in the metaverse (from Kary Klismet).

Grab Bag: Italian women's volleyball team Busto Arsizio posted a "match the shoes to the player" challenge (from Jeremy Brahm). … Here's why Syracuse chose orange and blue for its school colors (from our own Phil Hecken). … New logo for the National Space Society (from Lukas Hoffland). … New logo for The Container Store (from John Cerone). … Here's a fun thread about stadiums and arenas that have retired-number banners for the same number in more than one sport.