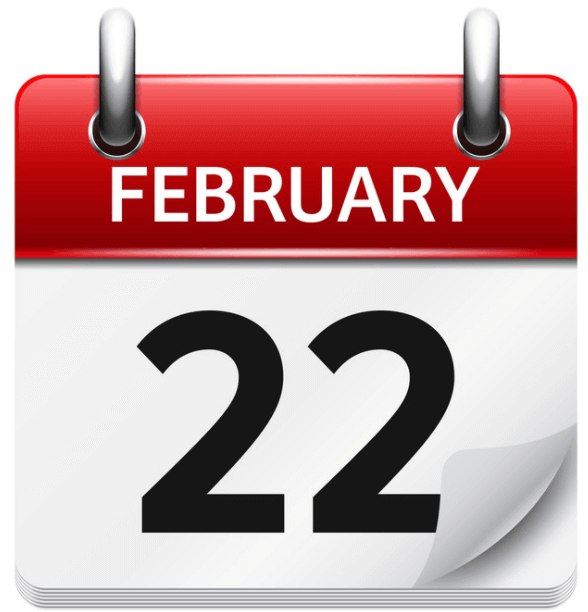 Good morning! Today is a special day on the calendar: 2/22/22. With that in mind, I've put together my picks for the 22 greatest players to wear the double-deuce — No. 22.
Before we get started, a few notes and ground rules:
• If a player briefly wore No. 22 at some point in his career but was known more for wearing some other number(s), that doesn't count, at least to me. So while it's true that, for example, Rickey Henderson, Gaylord Perry, and Mike Schmidt all had cups of coffee wearing the double-deuce, I didn't consider them for this list.
• In a few instances, which I'll explain when they come up, I chose a player based more on aesthetics than on performance. After all, this is Uni Watch.
• I was surprised by how few all-time greats have worn No. 22. Definitely not a number that's been smothered in glory over the years!
Okay, enough preliminaries. Here are my picks for the best (or at least most uni-notable) No. 22s in each of the Big Four pro leagues. In each case, my top pick is shown in the center, flanked by the runners-up; for each photo collage, you can click to enlarge.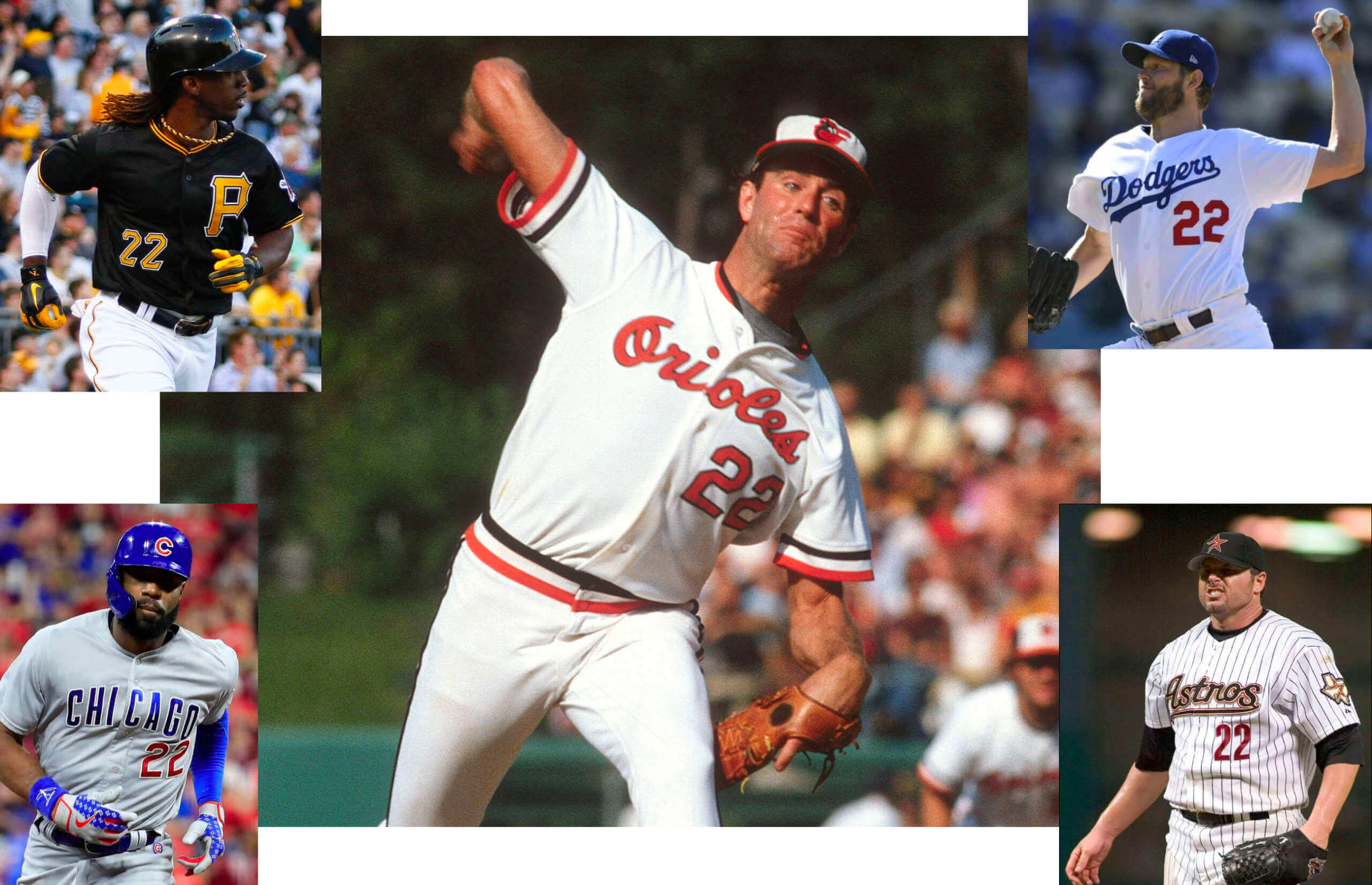 MLB

In the center, my top pick, is Jim Palmer — Hall of Famer, three-time Cy Young winner, four-time Gold Glover, and a lot more. Naturally, his No. 22 is retired by the Orioles.
The runners-up, clockwise from top left:
• Andrew McCutchen: Cutch has gone from star to journeyman with alarming speed, but he did win the 2013 National League MVP Award while wearing No. 22, so that's enough for me.
• Clayton Kershaw: Cooperstown-bound. Nuff said.
• Roger Clemens: Yeah, he was a juicer, and he was arguably known more for wearing No. 21. But he won two Cy Youngs while wearing No. 22 — one with the Astros and one with the Yankees — so I'd say that qualifies.
• Jason Heyward: Not an elite player, but I'm including him because he looks like an elite player. In fact, in my book there is no other big leaguer who looks better in a uniform than Heyward.
———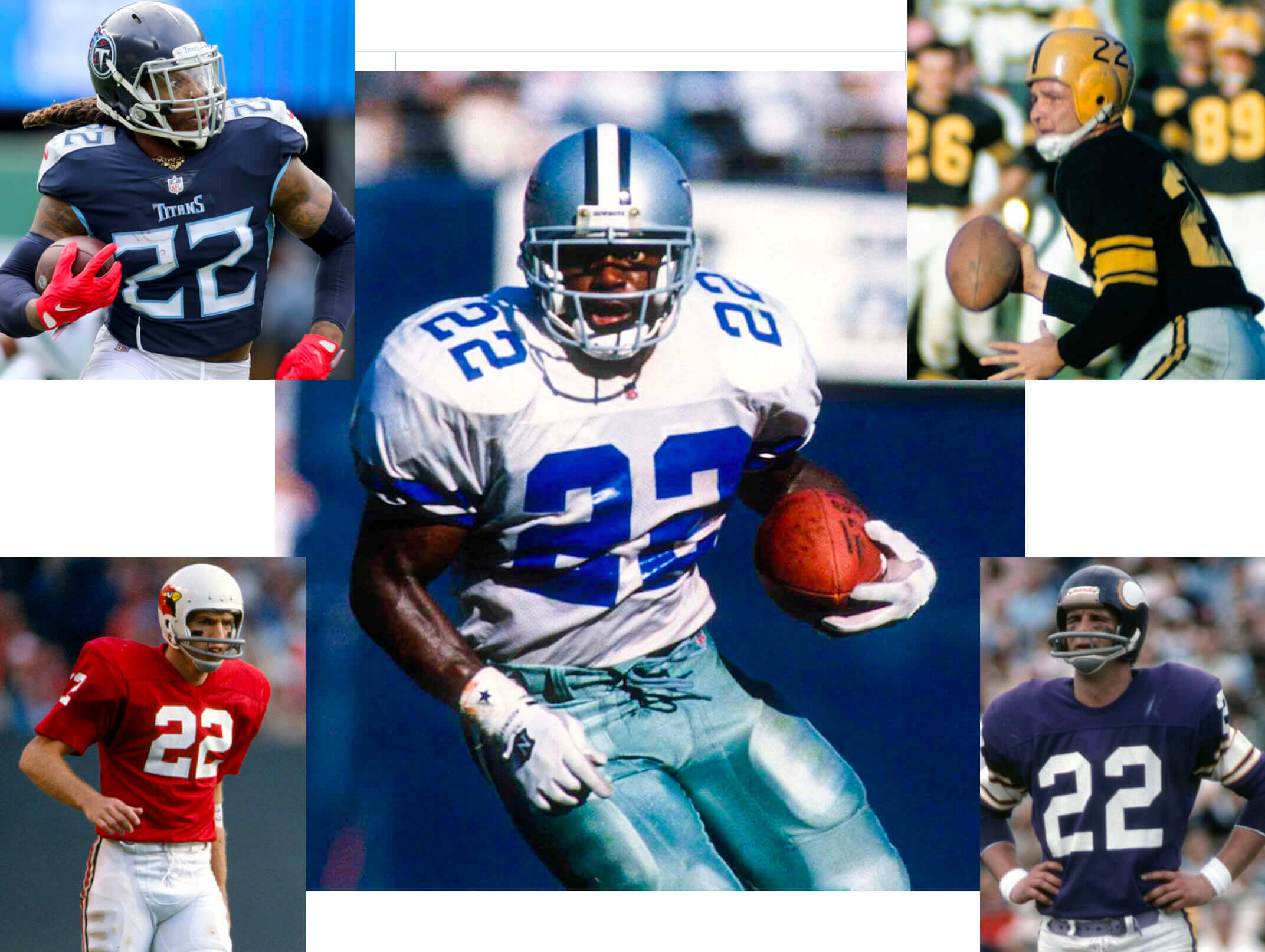 NFL

In the center, my top pick, is Emmitt Smith — Hall of Famer, all-time NFL rushing leader, 1993 MVP, 1990 Offensive Rookie of the Year, and a lot more. The definition of a durable downhill runner.
The runners-up, clockwise from top left:
• Derrick Henry: Two-time NFL rushing leader and one of the eight players ever to rush for more 2,000 yards in a season.
• Bobby Layne: Hall of Fame quarterback from the days when signal-callers were allowed to wear the double-deuce.
• Paul Krause: Hall of Fame defensive back who nobody remembers anymore.
• Roger Wehrli: Hall of Fame defensive back who nobody remembers anymore.
———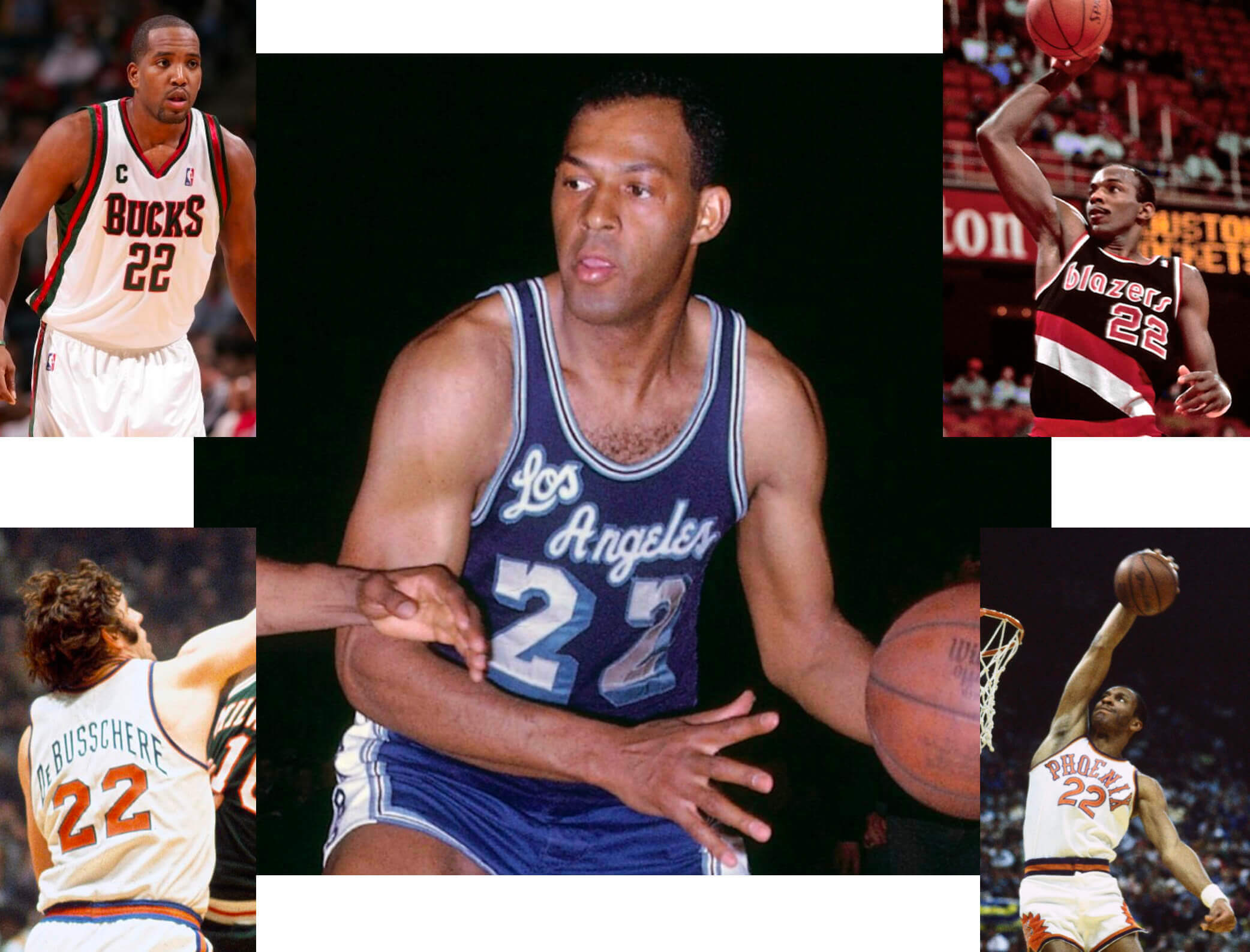 NBA

In the center, my top pick, is Elgin Baylor — Hall of Famer, 11-time All-Star, 1959 Rookie of the Year, member of the NBA 35th-, 50th-, and 75th-anniversary teams, and arguably the single best player featured in this blog post.
The runners-up, clockwise from top left:
• Michael Redd: Not an elite player, but I'm including him because he's one of the relatively few NBA players to wear a captain's "C."
• Clyde Drexler: Hall of Famer, 10-time All-Star, and a lot more. His No. 22 has been retired by both the Trail Blazers and the Rockets.
• Larry Nance: Generally considered one of the best players in Suns history, although it's the Cavs who retired his No. 22.
• Dave DeBusschere: Hall of Famer, eight-time All-Star, and the Knicks have retired his No. 22. But the real reason I've included him here is that his NOB looks so great in that vertically arched treatment.
———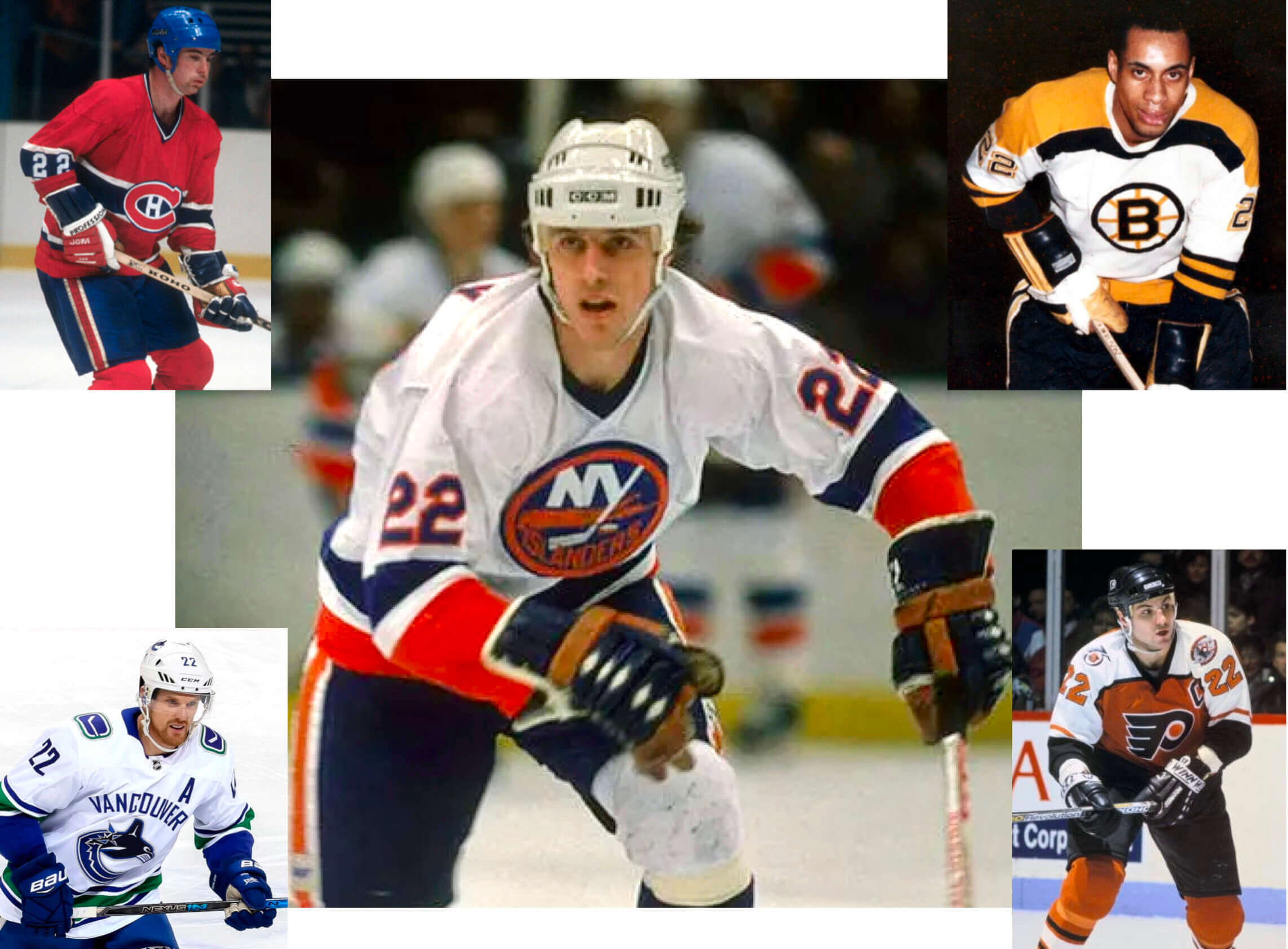 NHL

In the center, my top pick, is Mike Bossy — Hall of Famer, tied with Wayne Gretzky for the most 50-goal seasons, and the Islanders have retired his No. 22. Injuries cut his career short, but he was a key component of the Isles' glory phase.
The runners-up, clockwise from top left:
• Steve Shutt: Hall of Famer, played on five Cup-winning Canadiens teams.
• Willie O'Ree: Trailblazing pioneer who was the first Black player in NHL history. His No. 22 was finally retired by the Bruins just last month.
• Rick Tocchet: Four-time All-Star. Solid, durable player.
• Daniel Sedin: Three-time All-Star. Played his entire 18-season career with the Canucks, who have retired his No. 22. Not yet a Hall of Famer, although that could soon change.
———
So those are my picks — five players apiece for each of the Big Four pro leagues. But that adds up to just 20 players. Obviously, we need two more. And here they are: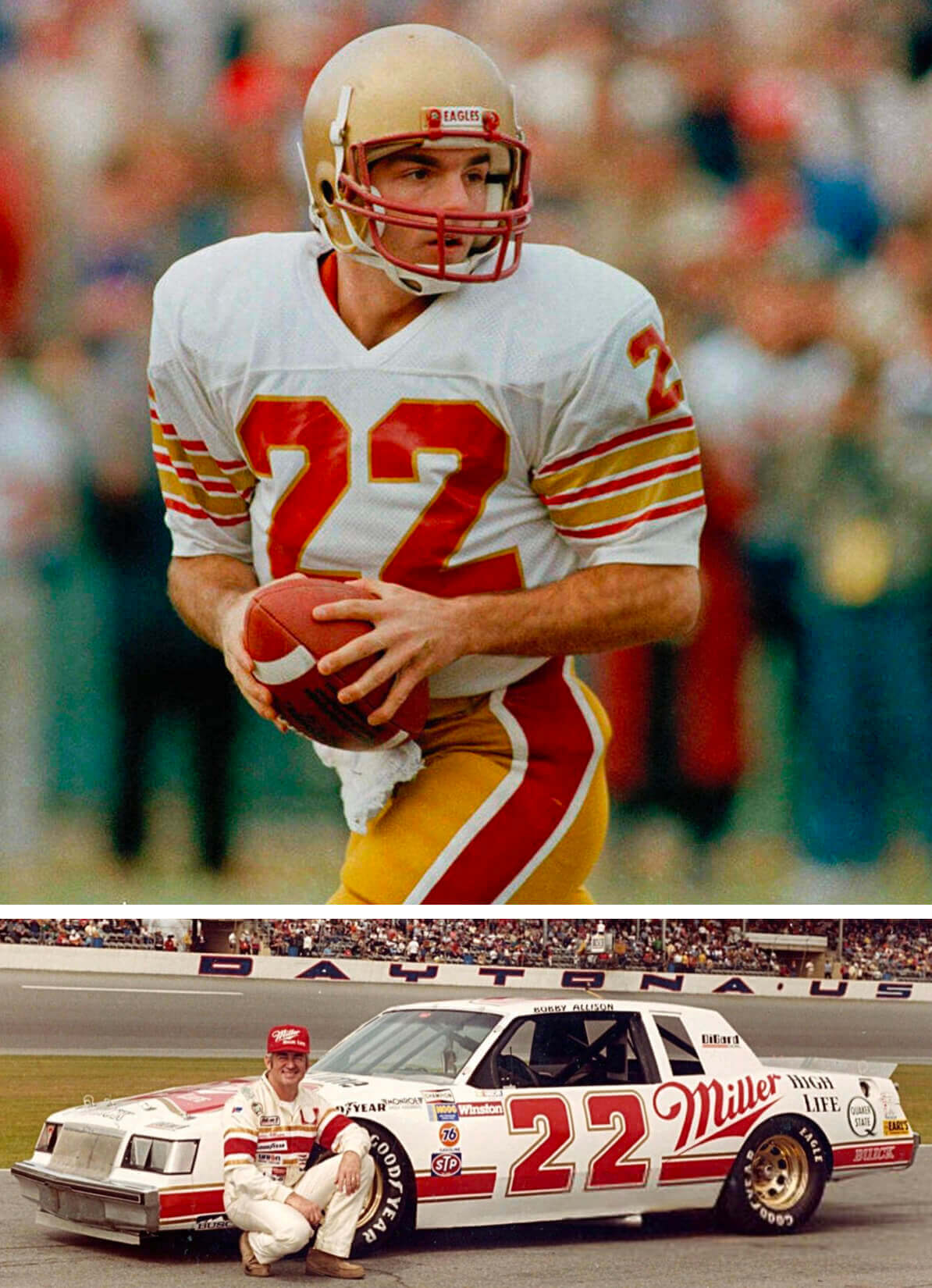 At the top is Doug Flutie — probably not the best college football player to wear No. 22, but arguably the most memorable, thanks to his 1984 Hail Mary pass. Below him is three-time Daytona 500 winner and NASCAR Hall of Famer Bobby Allison, who was my favorite auto racer when I was growing up.
And there you have it: 22 No. 22s — a double-deuce of double-deuces! Obviously, you're free to disagree with my picks (I'm sure there are lots of worthy players I overlooked). Which No. 22s would you choose? And what about 22s from other sports?
Since we'll never get this chance again, here's some additional double-deuce trivia:
• The 22nd state to join the union was Alabama, in 1819.
• The 22nd U.S. president was Grover Cleveland (who was also the 24th president).
• The 22nd amendment to the U.S. Constitution, ratified in 1951, limits how often a person can be president.
• 22º Fahrenheit is -5.55º Celsius; 22º Celsius is 71.6º Fahrenheit.
• Uni Watch is currently 22 years old.
• The number 22 always makes me think of this movie scene:
Finally, on a personal note: Feb. 22 is also the date of my parents' wedding anniversary. (If my father were still alive, they'd be celebrating 74 years together today.) They chose that date because it was Washington's Birthday — Presidents Day didn't yet exist — and they figured their anniversary would always be a holiday so they'd always have the day off. That all went out the window with the advent of Prexy Day, but I still love the story. Happy anniversary, Mom and Pop.
(Big thanks to Phil for suggesting today's topic.)
• • • • •
• • • • •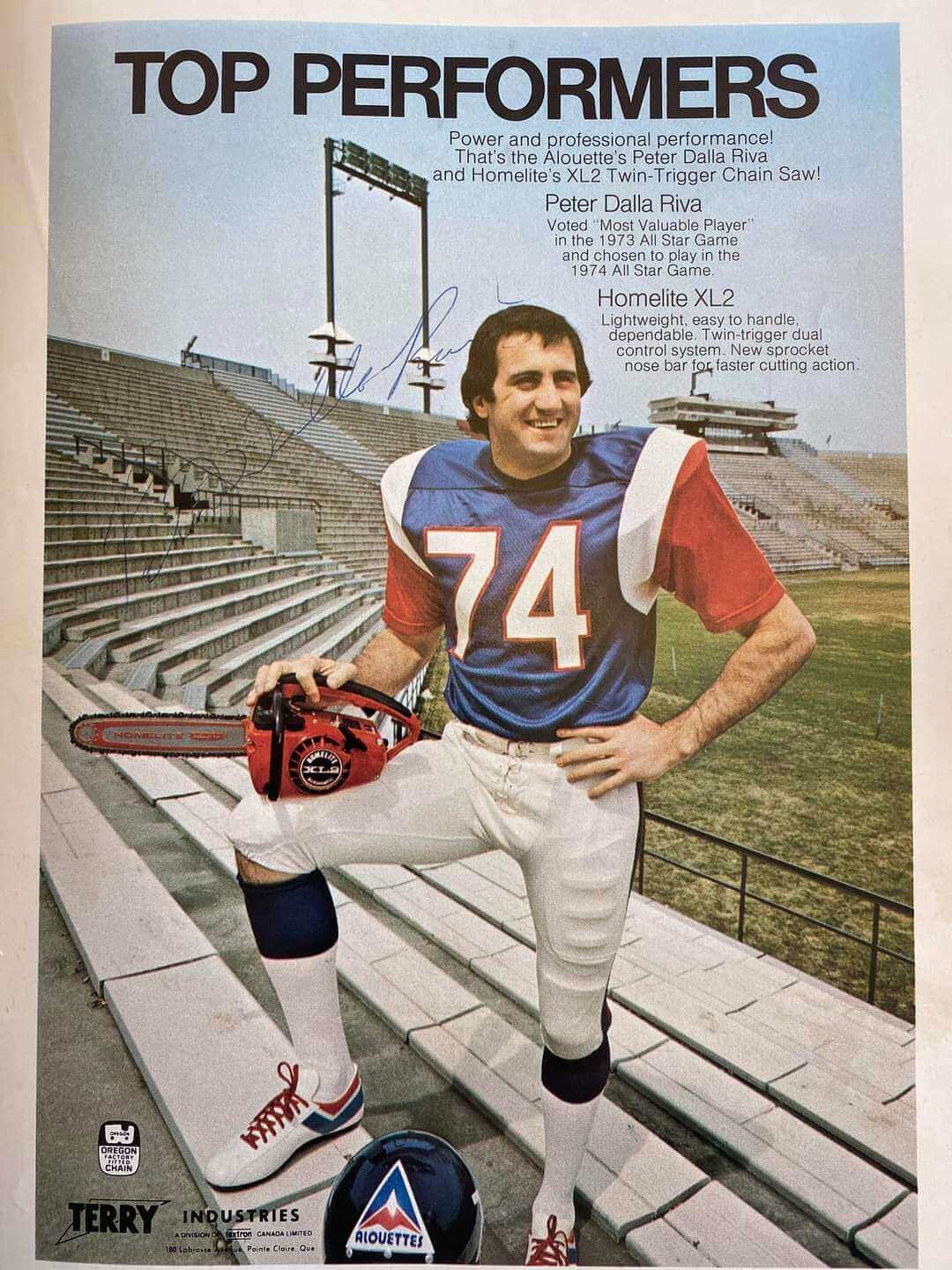 Click to enlarge
Too good for the Ticker: It's not every day that you see a football player posing with a chainsaw! That's Peter Dalla Riva of the CFL's Montreal Alouettes, repping Homelite chainsaws. But the reason the ad is particularly uni-notable is the red outlines on the uni numbers, which the Alouettes didn't actually wear on the field. So Dalla Riva was apparently wearing a prototype for that print ad — very cool!
(Big thanks to Johnny Garfield for this one.)
• • • • •
• • • • •
The Ticker
By Paul

Baseball News: The full set of MLB spring training caps has now been revealed (from David Goodfriend). … UNC is outfitted by Nike/Jordan/etc., but were their ballplayers wearing The Game caps the other day? (From Jeff Long.)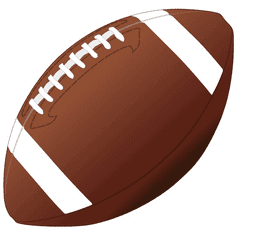 Football News: Disappointing news out of Seattle, as Seahawks prexy Chuck Arnold says the team will not have throwbacks next season, in part due to retail production issues. Tail, dog, etc. (from Rob Weber). … New uni number assignments for UNC (from James Gilbert).

Hockey News: The PHF's Minnesota Whitecaps wore pride jerseys on Saturday (thanks, Jamie). … Newly acquired G Andrew Hammond made his Canadiens debut Sunday night. "He had a new Montreal mask but was still wearing his forest green pads and gloves from the AHL's Iowa Wild," notes eagle-eyed Wade Heidt. … Here's a video report on the designers behind the Whalers' old "WH" logo (thanks to all who shared). … Holy moly, look at this amazing hockey mural, for a video about the wreckage of Berlin in the aftermath of Germany's surrender in WWII (from Jeff Wilk). … Canucks LW J.T. Miller was apparently using one of teammate Bo Horvat's sticks last night (good spot by Iain McHugh).

Basketball News: Here's the logo for next season's NBA All-Star Game, which will be in Utah (from Ian Lee). … New Ethnic Minorities of Burma Advocacy and Resource Center-themed uniforms for the D League's Iowa Wolves. … New retro-themed alternate for NC State women's (from Rex Henry). … Indiana and Ohio State men's went red vs. black last night (thanks to all who shared).

Soccer News: New logo for FC Spartak Moscow (from Ed Zelaski and Kary Klismet). … Also from Ed: New kits for Norwegian side Tromsø IL. … Here's a Lego version of Real Madrid's stadium (from James Gilbert). … Leeds United wore warm-up shirts supporting the anti-sexism charity Her Game Too prior to Sunday's game (thanks, Jamie). … New kits for Paraguayan side Club Guarani and Malaysian side Johor Darul Ta'zim (from Kary Klismet).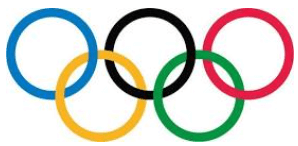 Olympics News: That Taiwanese speed skater who wore a Chinese uniform in a pre-Olympic training video is now facing potential punishment. … The organizing committee for the 2024 Paris Olympics has posted a video explainer for their logo (from Kary Klismet).

Grab Bag: New kits for Australia's Super Netball's Melbourne Vixens and New South Wales Swifts (thanks, Jamie). … Also from Jamie: AFL Women's Indigenous designs are out for Carlton, Fremantle, Brisbane, and the Western Bulldogs. … Some Gaelic games jerseys have unexpectedly shown up on the runway at a London fashion show (from Ed Zelaski). … Donald Trump's new social media platform, Truth Social, launched yesterday and immediately faced a legal challenge over its logo, which is nearly identical to that of a British company. … Norwegian handball player Marit Bøyum, who wears No. 18, somehow lost most of her "1," so the team's equipment staff replaced it with white tape (from Roy Ellingsen). … New livery for the Alpine F1 team (from Kary Klismet).