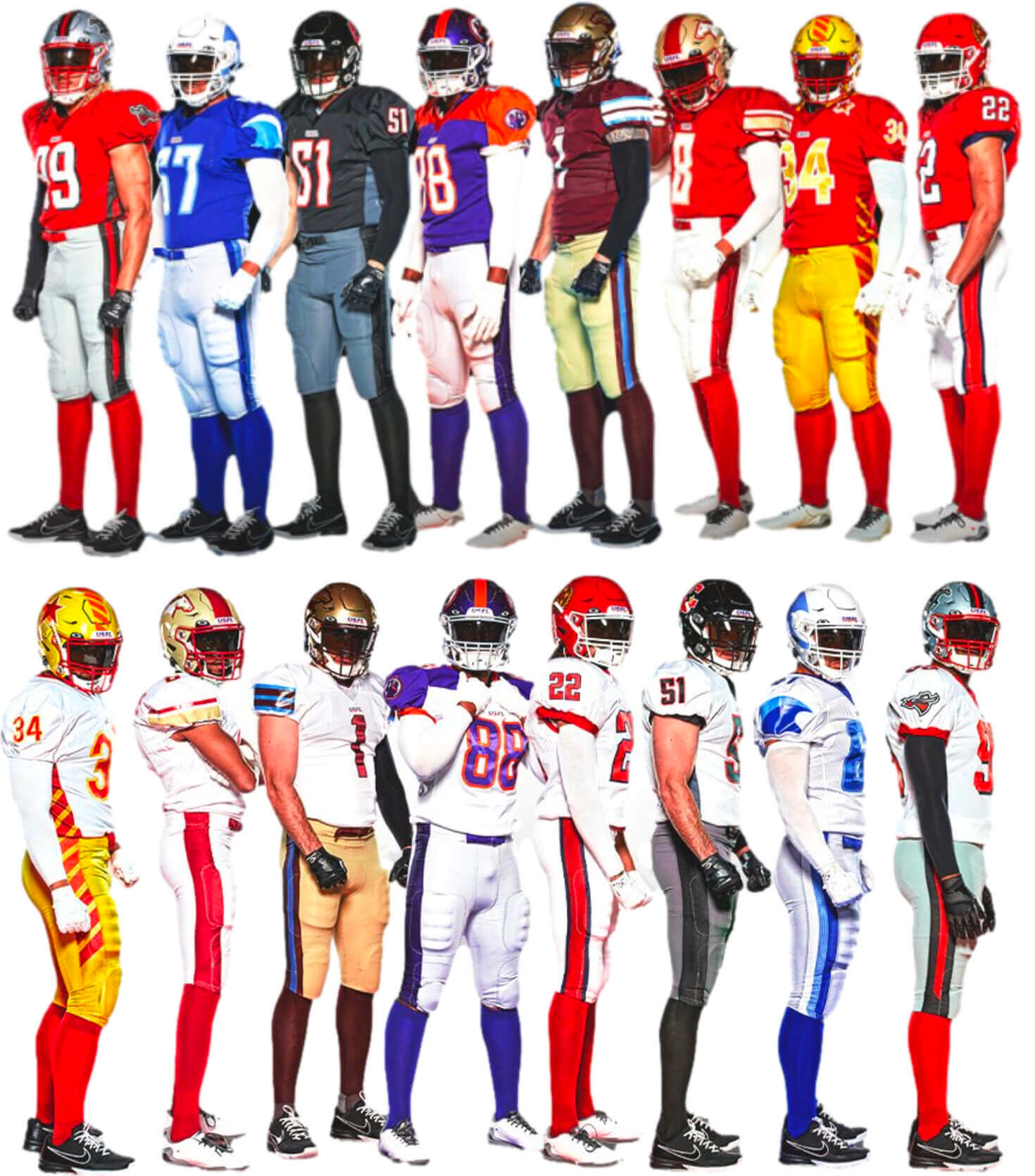 The new USFL unveiled new uniforms yesterday for all eight of its teams. It was an interesting unveiling, as they did one team per hour from 8am to 3pm — sort of a rolling disclosure. I mentioned in yesterday's Ticker that the plan was for me to provide light coverage today and then Phil would have a deep dive on Saturday. But due to some unexpected developments, the deep dive won't be happening (at least not this weekend), so I'm going to provide a medium dive today.
Before we get started, here's a quick refresher course on this league:
• The original USFL launched in 1983 with 12 teams (it eventually had as many as 18) and played for three seasons before folding. You can see the original uniforms here.
• The new version of the league will begin play this April (which I assume means they're rooting really hard for the MLB lockout to continue for a while). It has eight teams, all of whose city/name identities are carried over from the original USFL, even though there's no corporate connection between the original league and the new one.
• The new league and its teams are owned by Fox Sports, which will televise the games.
• Although the teams are nominally tied to cities like Pittsburgh, Houston, and so on, all the games will be played in Birmingham (except for the championship game, which will be played in Canton, Ohio), which I believe is because the entire enterprise is just a vehicle for online betting so the "home markets" don't really matter.
• By my count, this is the seventh non-arena pro football league to launch in the United States since the NFL/AFL merger in 1970. All six of the previous upstart leagues — the WFL, USFL 1.0, XFL 1.0, UFL, AAF, and XFL 2.0 — folded after three seasons or fewer. (An additional upstart league, the A11FL, folded before playing its first game.)
Okay, with all that in mind, here are the eight uniform sets that were unveiled yesterday, along with the uniforms worn by the original version of the team back in USFL 1.0 (for all photos, you can click to enlarge):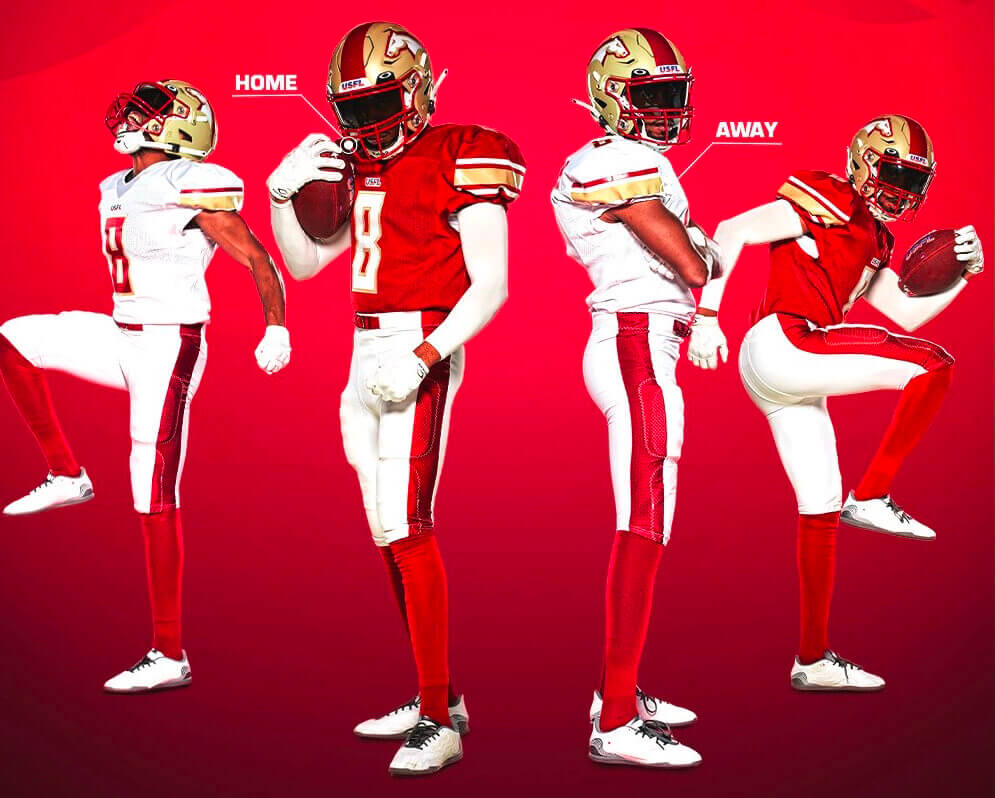 Birmingham Stallions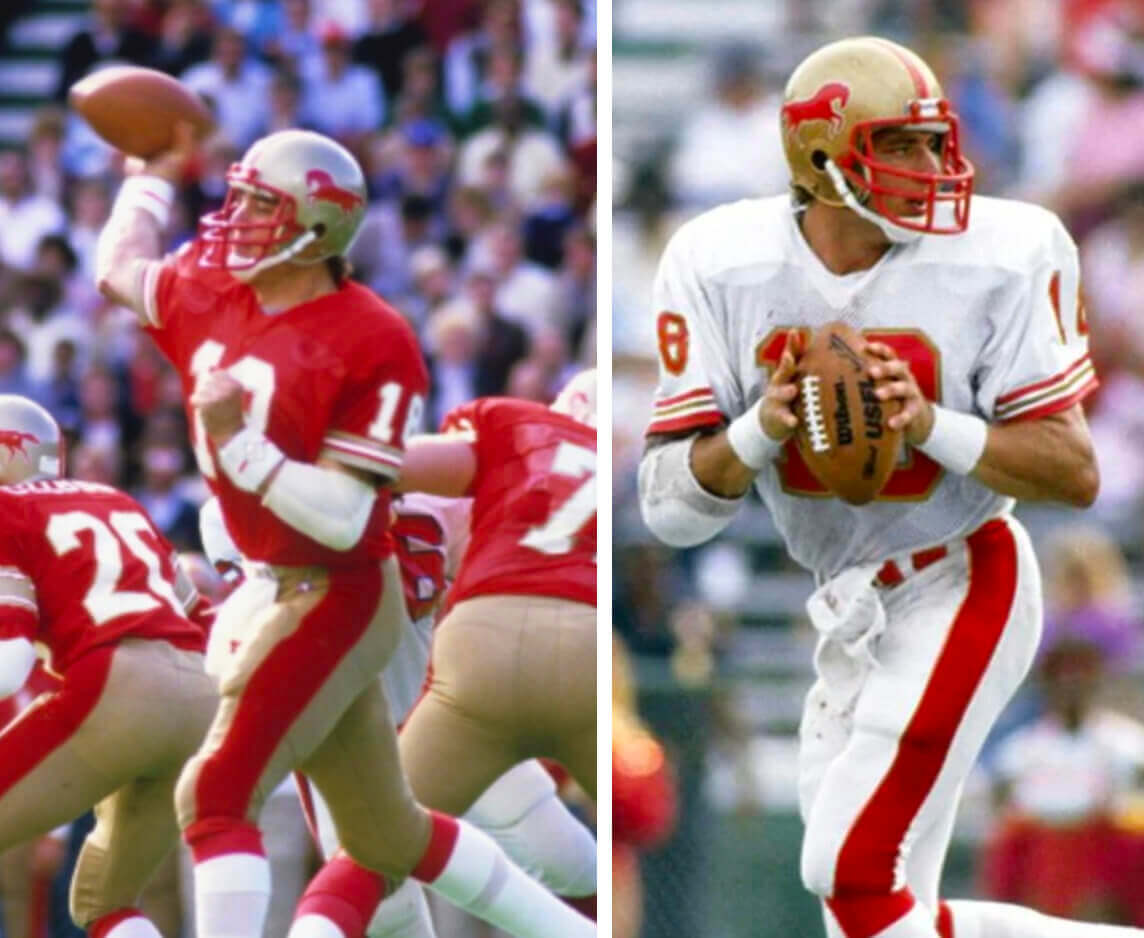 ———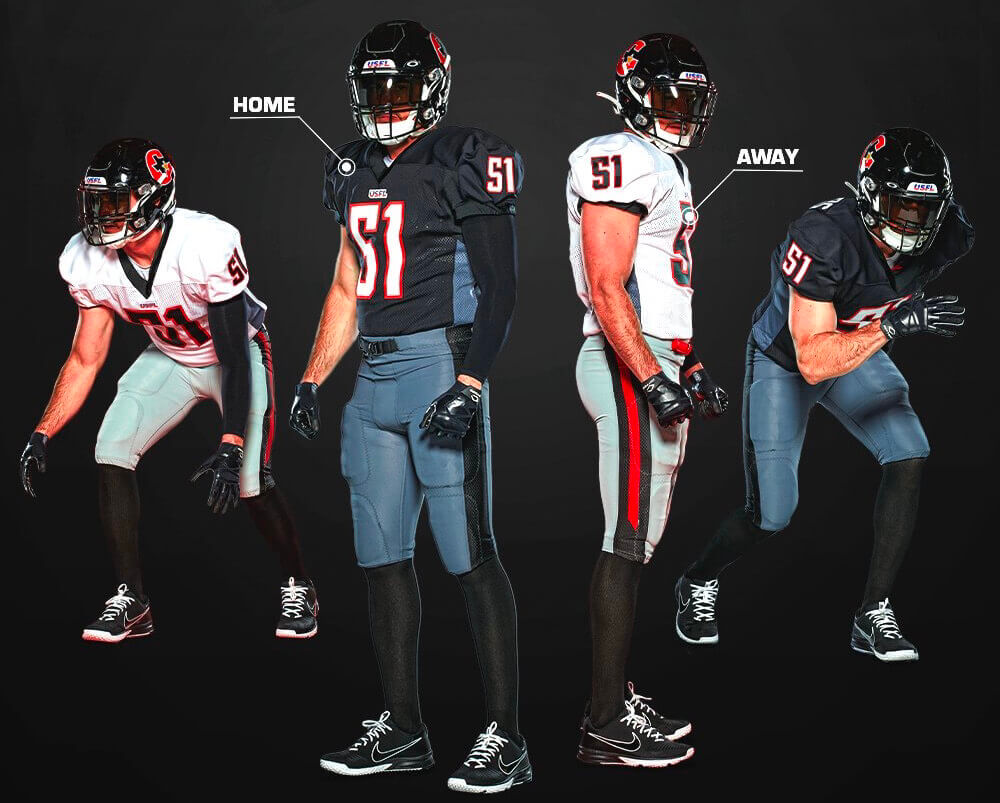 Houston Gamblers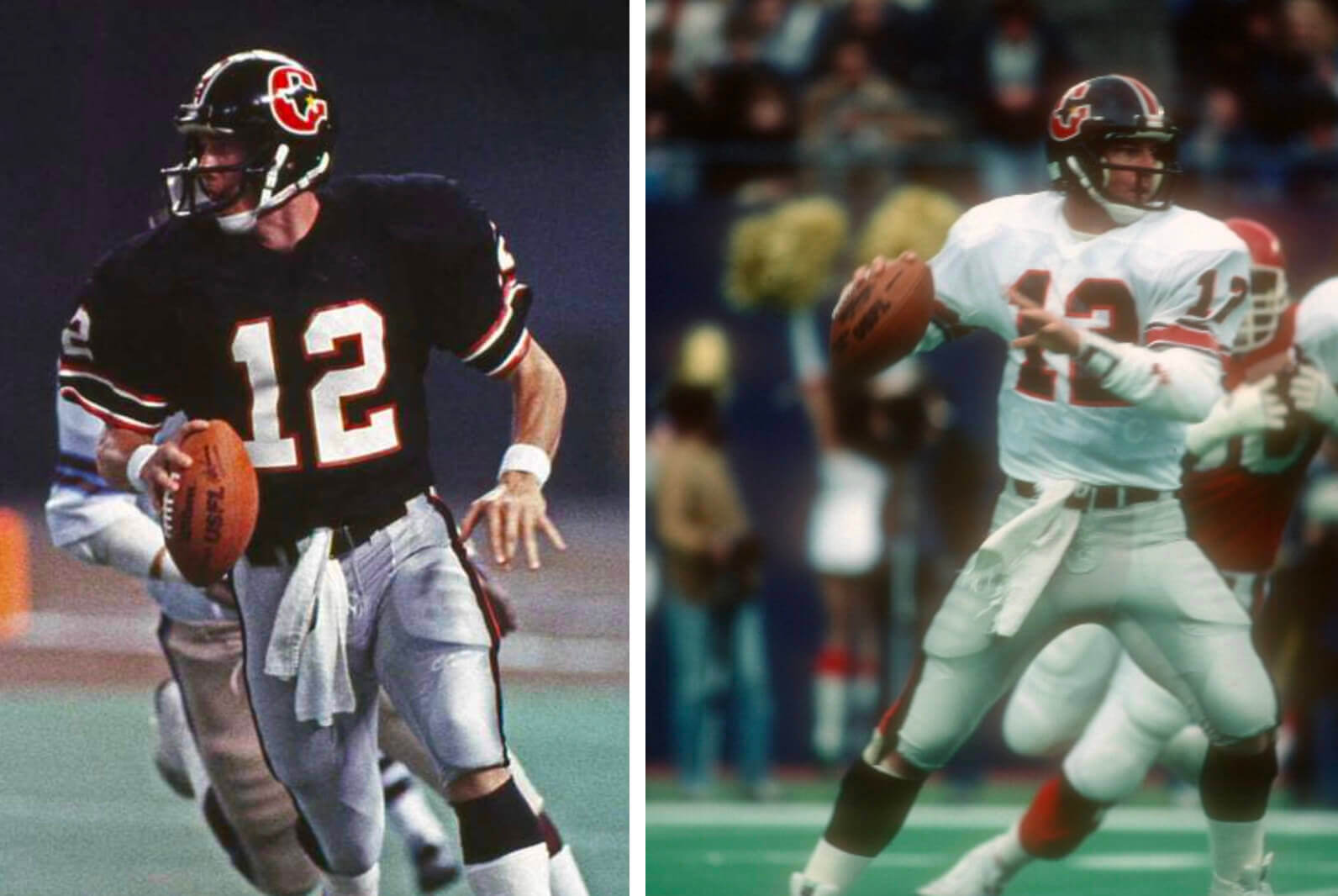 ———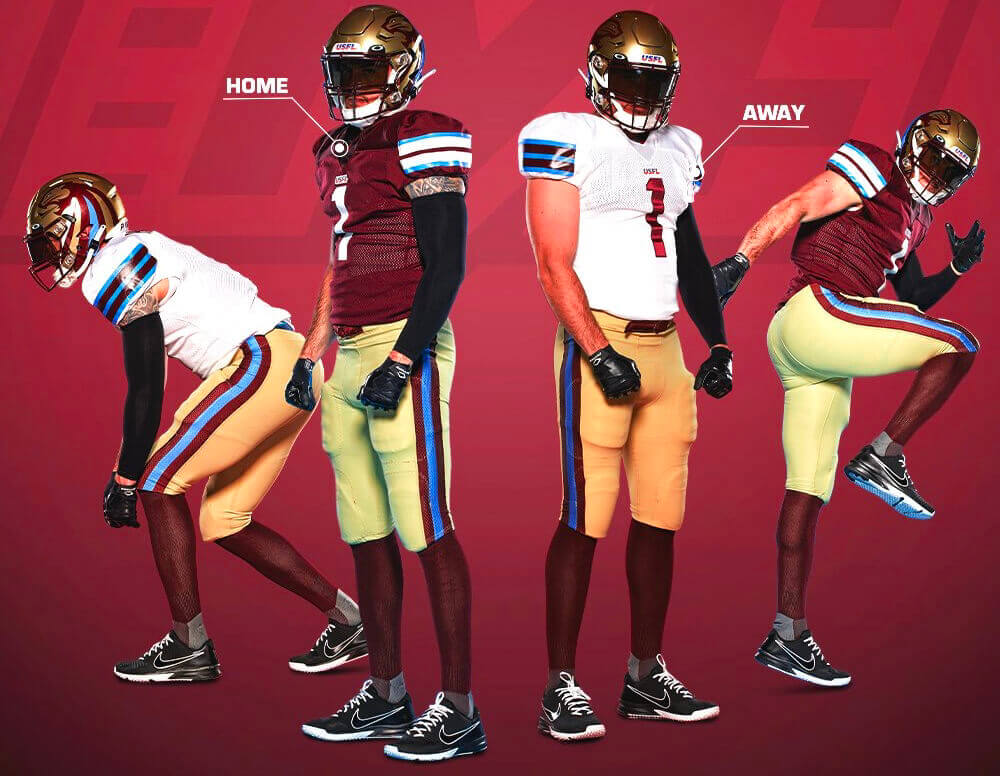 Michigan Panthers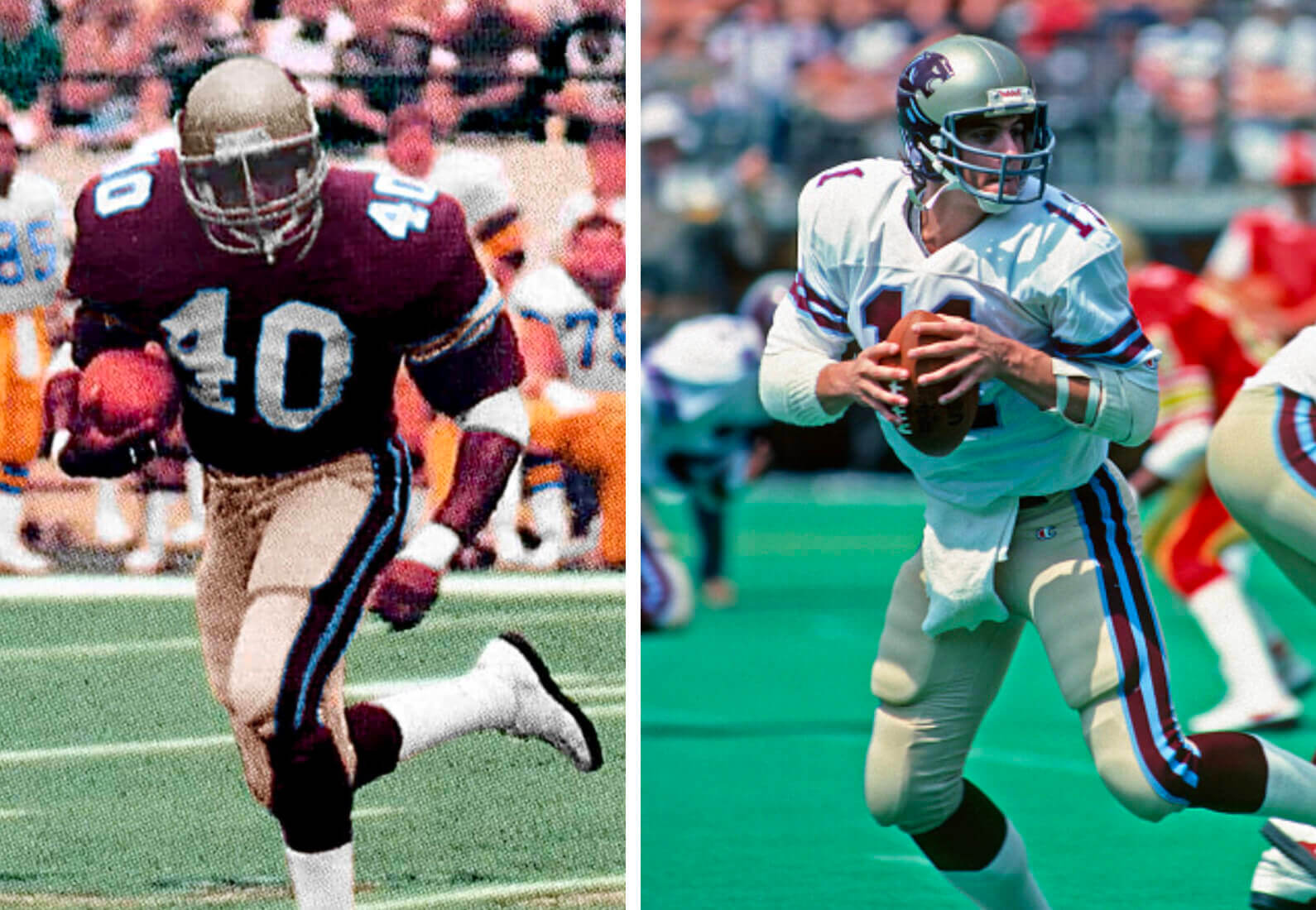 ———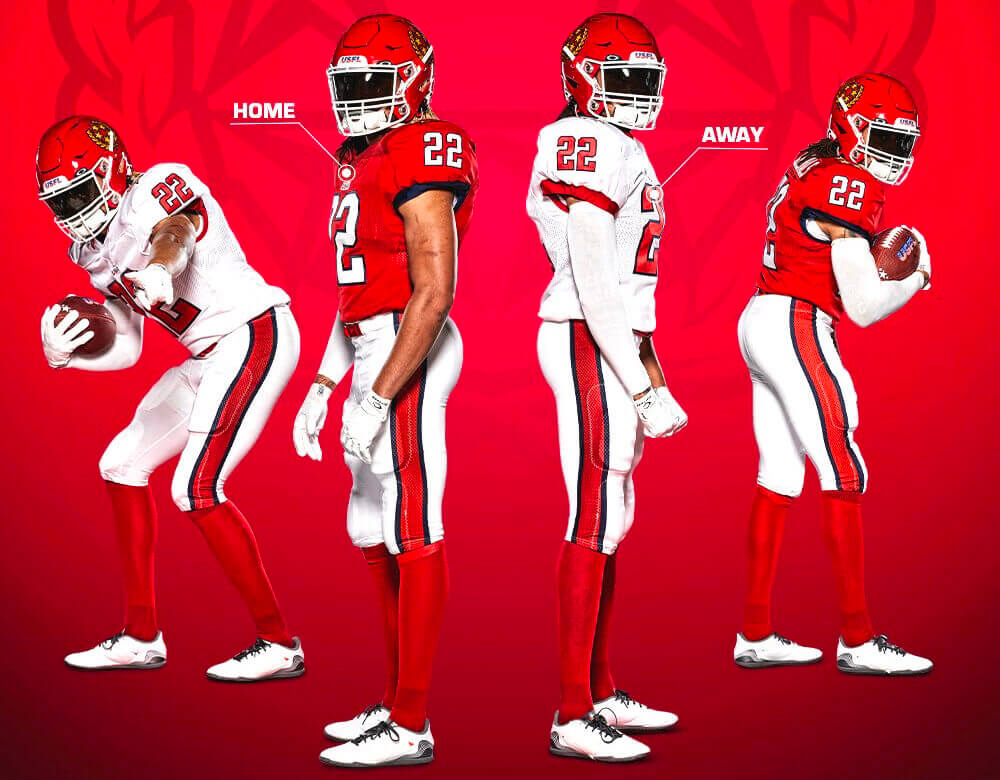 New Jersey Generals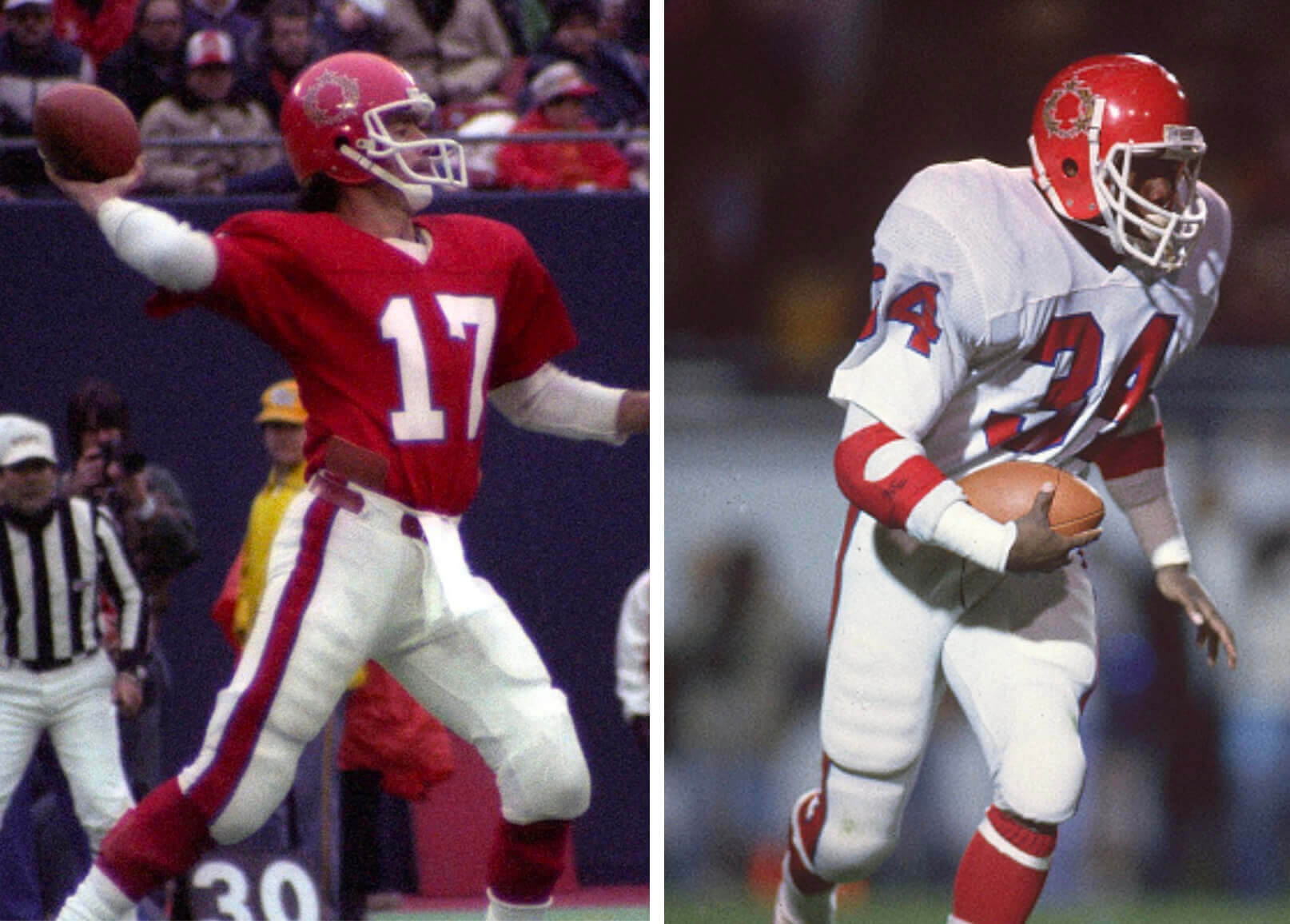 ———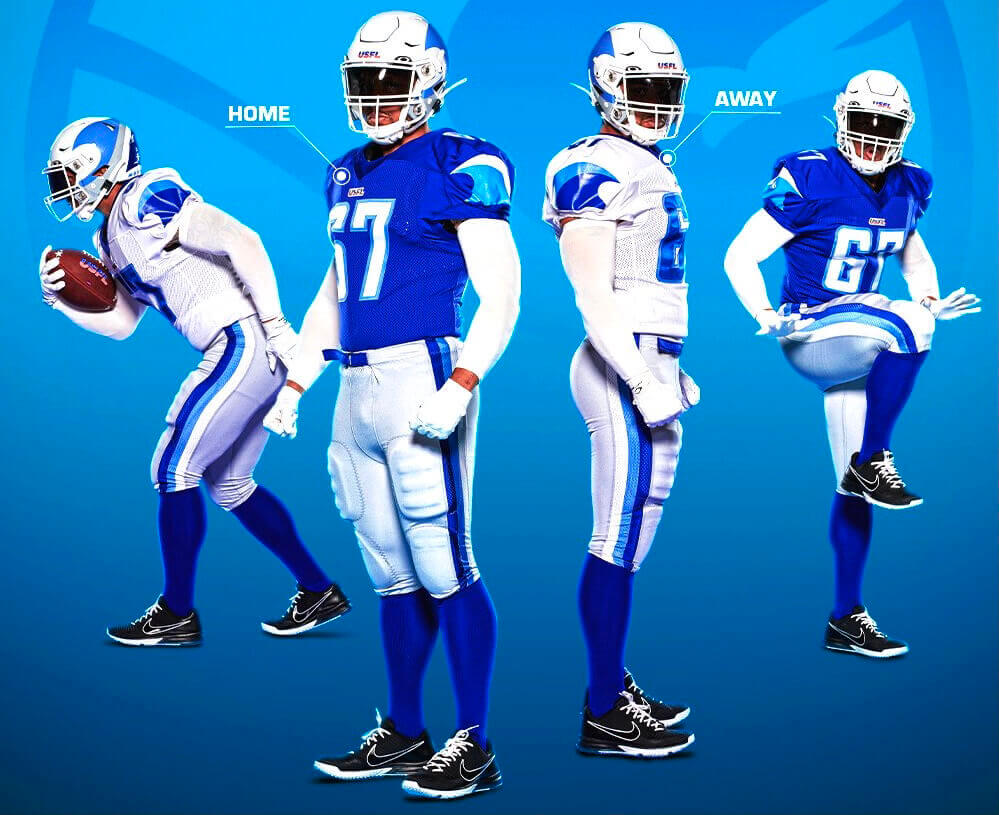 New Orleans Breakers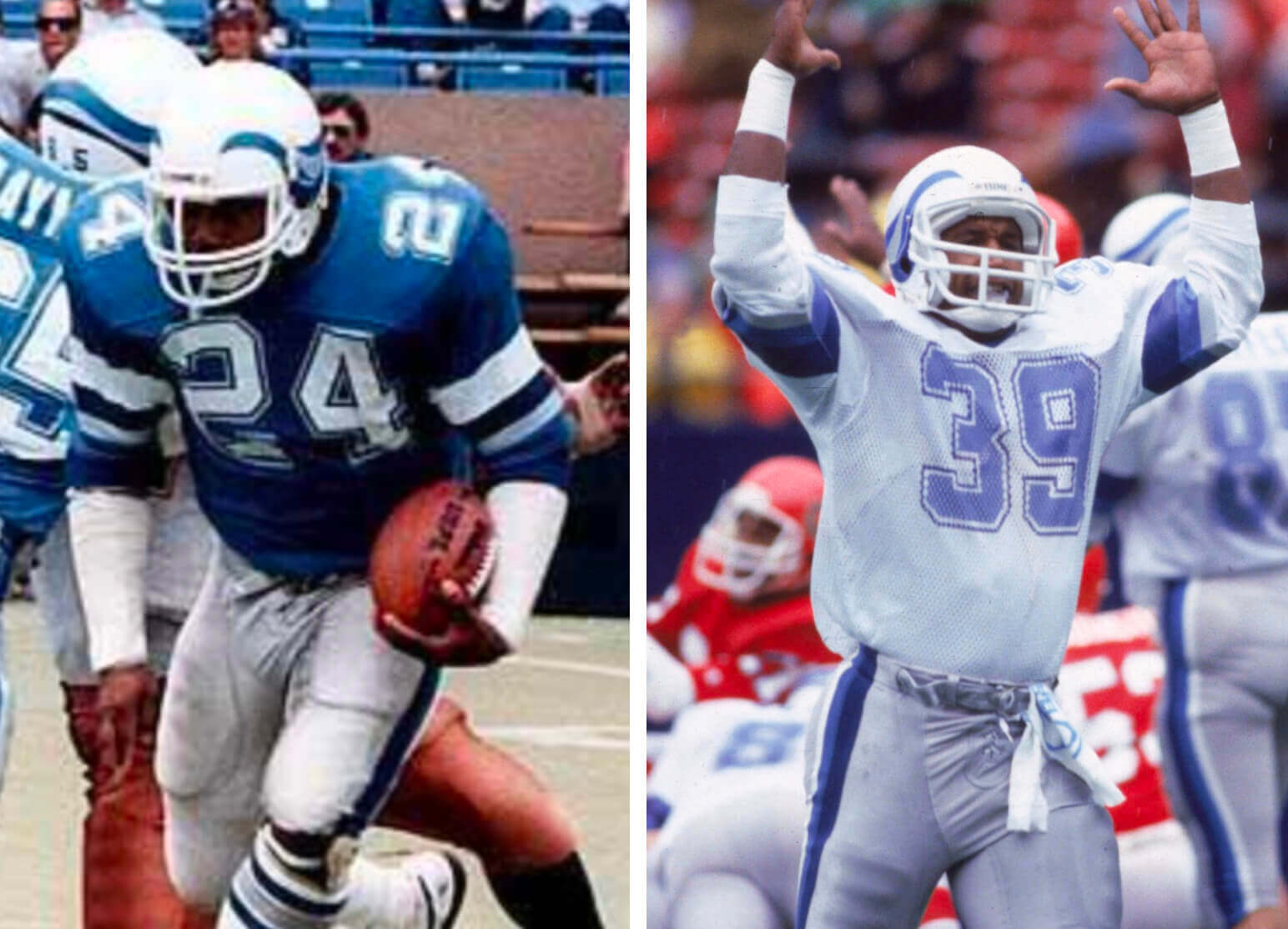 Two additional notes on the Breakers: First, it's worth noting that the new Breakers' helmet looks a bit unusual from the back: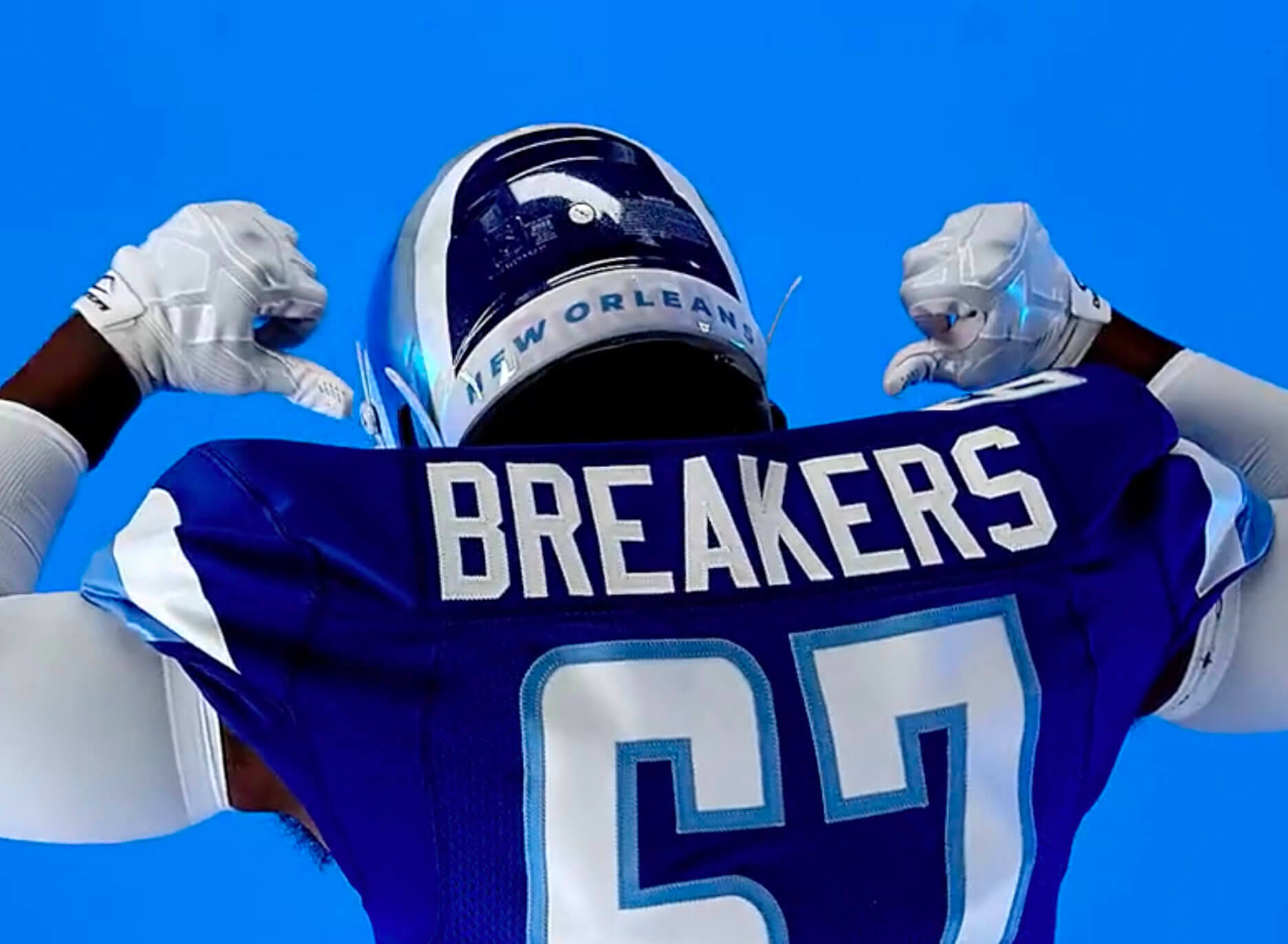 And second, back in 2017 I did a Chargers-redesign contest. Reader Gene Sanny reimagined the Chargers as the Los Angeles Surf and gave them a helmet very similar to the new Breakers helmet:
———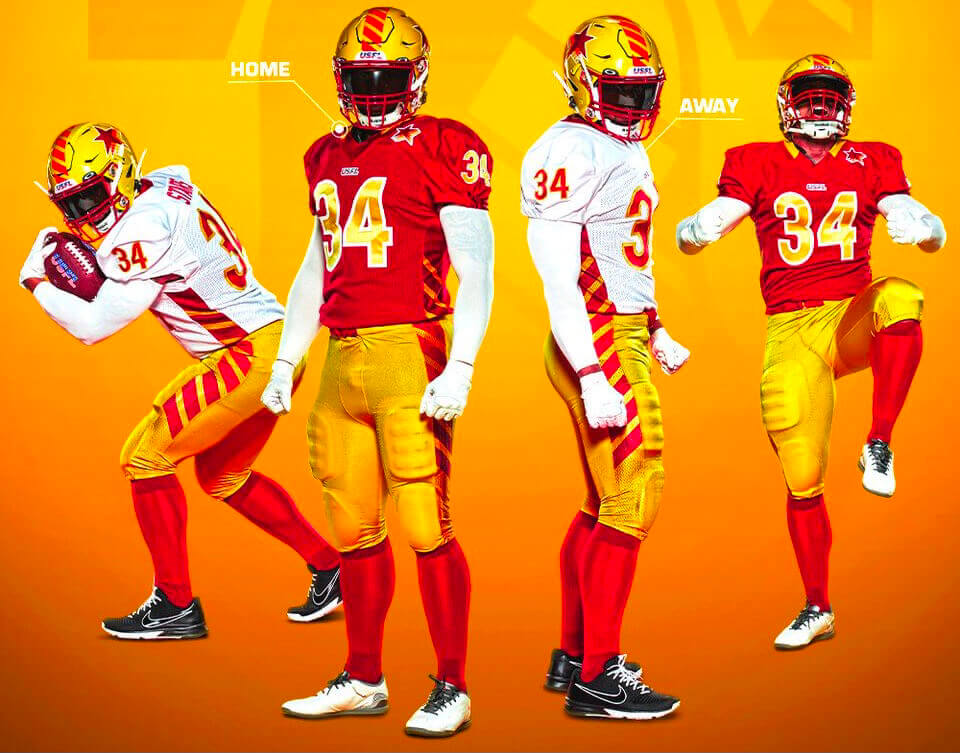 Philadelphia Stars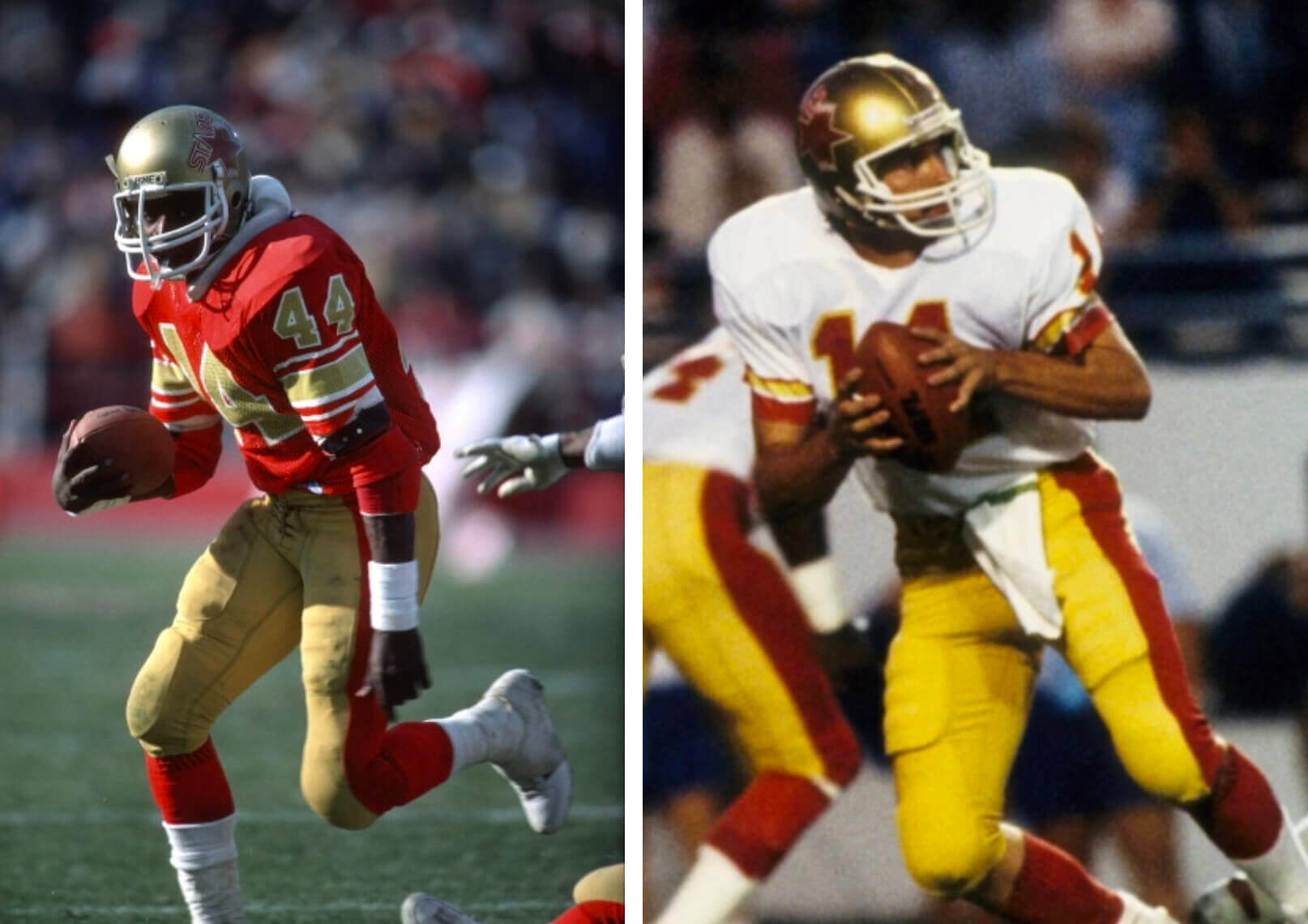 ———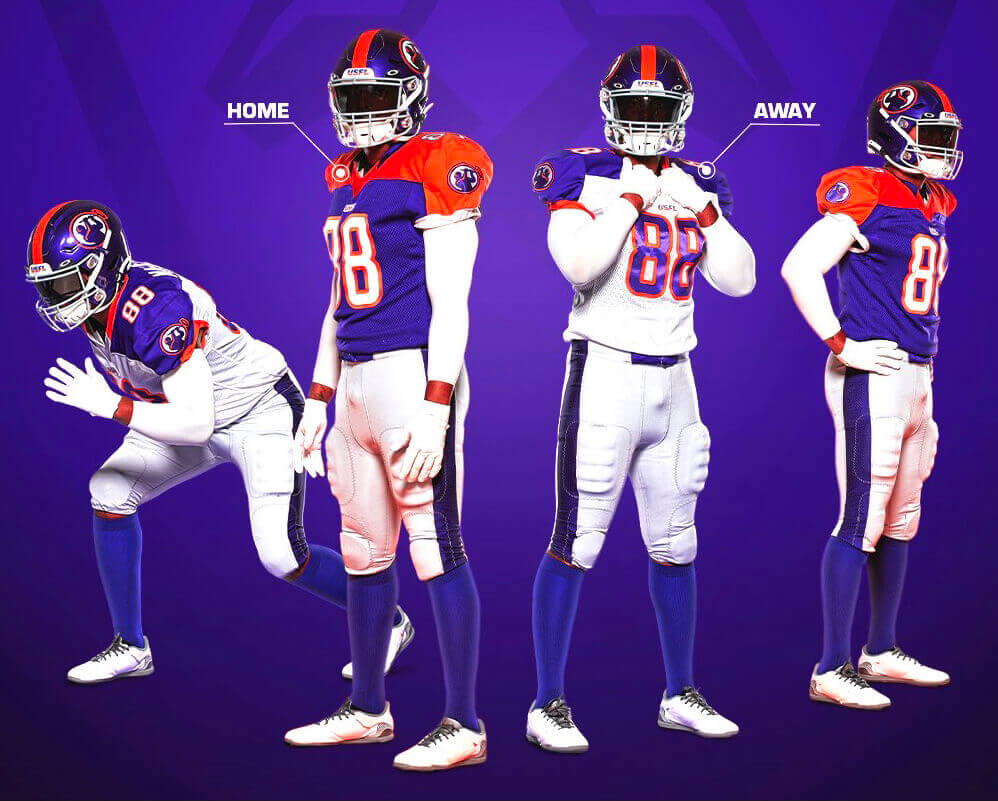 Pittsburgh Maulers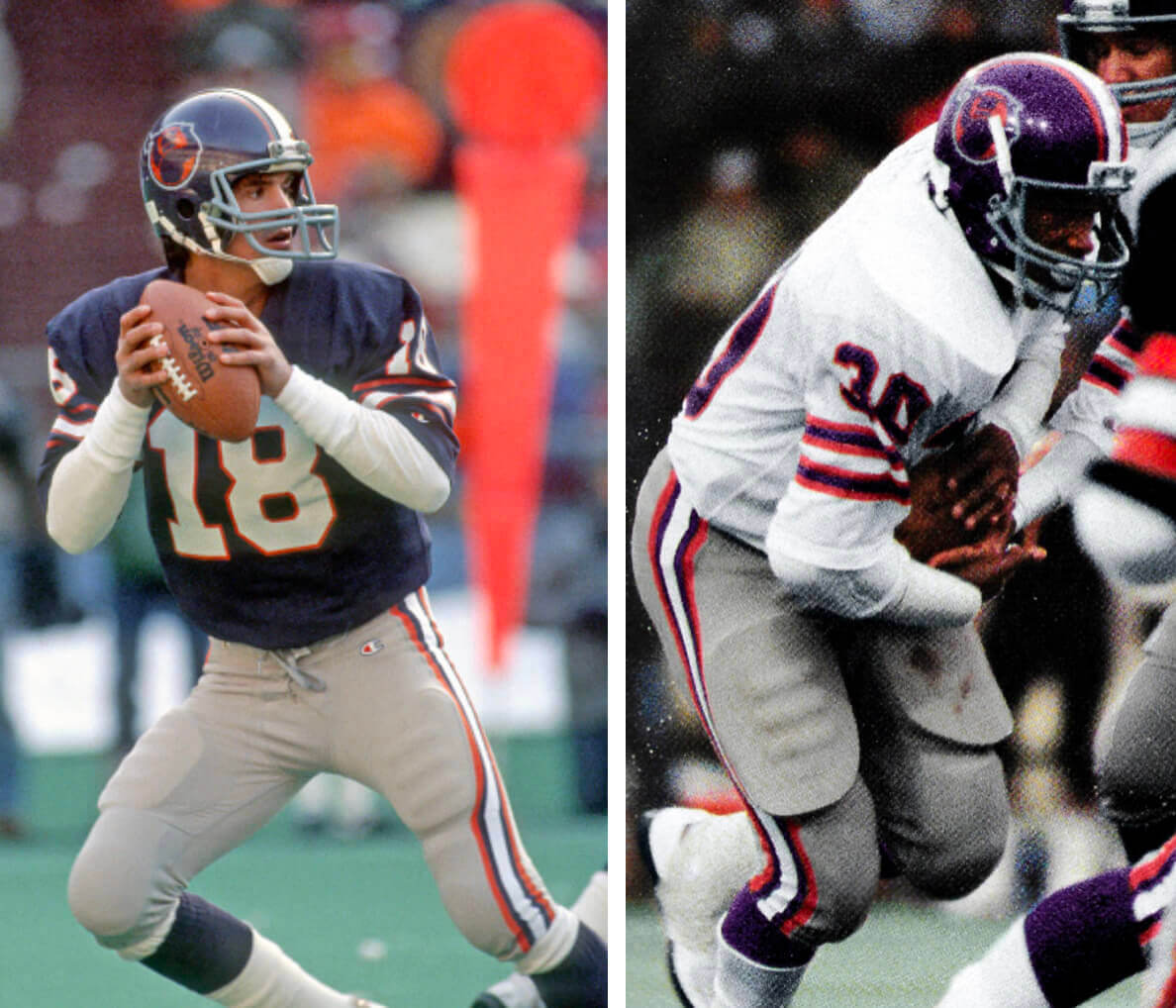 ———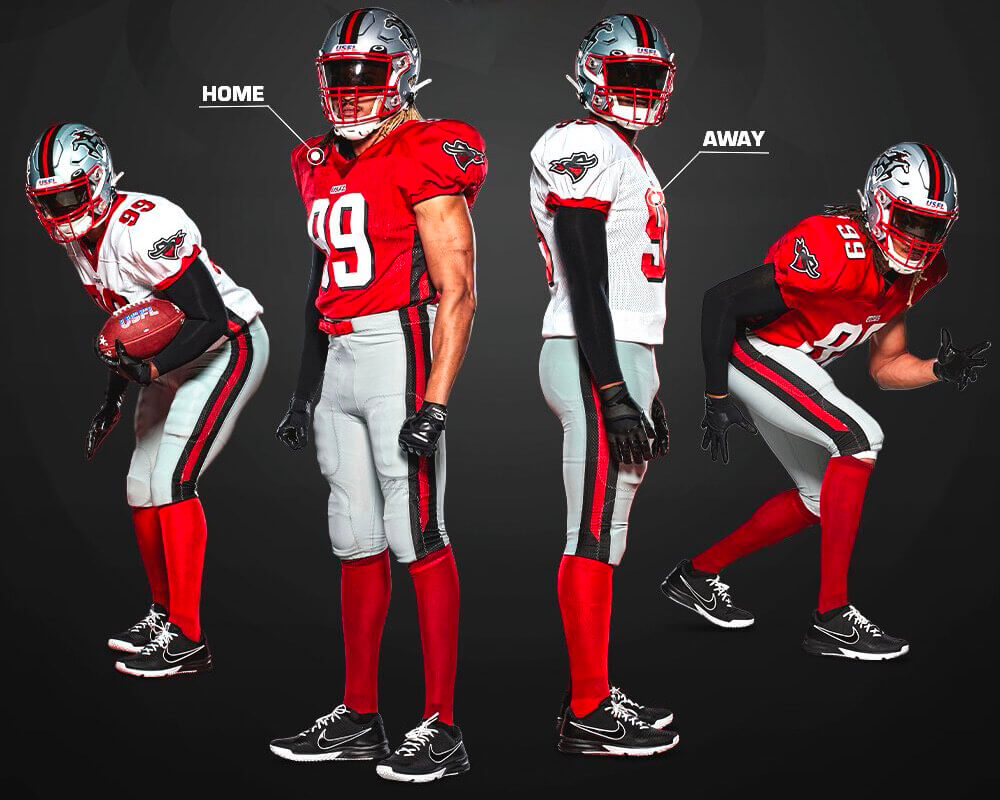 Tampa Bay Bandits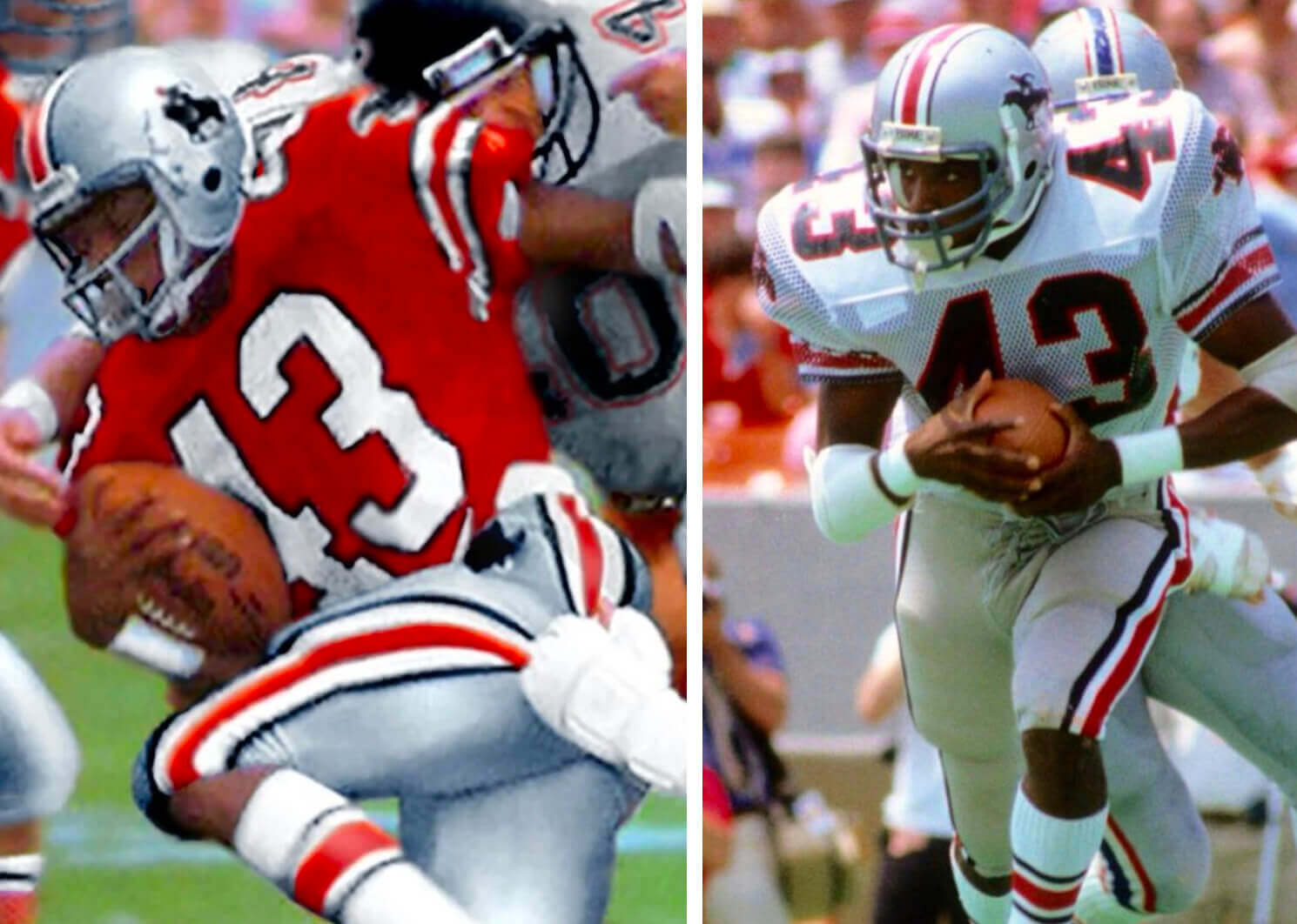 ———
Looking at these, several things jump out at me:
• Half of the teams — four out of eight — have a red jersey (and that's not counting the additional team wearing maroon), which seems like a bit much.
• Only two uniforms per team — home and road (although those designations are pretty pointless because, again, all the games are taking place in Birmingham). No alternates.
• No maker's marks (!), at least for now. I suspect this is still being worked out and that the manufacturer's logo will be added before the season starts. (I think something similar happened with the AAF and/or the XFL 2.0, but I've already forgotten all the details about those leagues, thankfully.)
• Every jersey has TV numbers, which certainly bucks the current trend in the NFL.
• The jersey fronts don't feature team wordmarks or logos — just the league logo and the front number. Or at least that's the case in the unveiling photos — but team wordmarks do appear on the chests of the replica jerseys. Hmmmm — will those retail wordmarks migrate to the game jerseys?
• Not a single mono combo is shown in the unveiling photos (well, except mono-white). In fact, none of the teams will be able to go mono even if they want to, because not a single team has colored pants that match their colored jersey.
• Similarly, there are no same-colored pants and socks, meaning that there's no leotard effect.
• Number fonts are fairly conventional.
• For teams with center helmet stripes, the striping tape is consistently unbroken across the SpeedFlex helmet's flex panel, at least in the unveiling photos. (I suppose that could change once the individual equipment managers are on the job.)
The big news, at least from my perspective, is that everything looks fairly traditional, which is not what I'd expect from an upstart league. Of course, some of it also harkens back to the original USFL, which makes sense, but I'm surprised they didn't update or modernize it more. I don't mean that as a criticism (on the contrary, I prefer it this way) — it's just not what I expected.
Overall: Not bad. Not awesome, but not bad. But I think the traditional approach is more notable than the overall good/bad quality of the individual designs. Definitely didn't see that coming — aren't they worried about appealing to the youngs? I guess not!
Noticeably absent from yesterday's unveilings: the officials' uniforms. That's significant because the original USFL zebras sometimes wore shorts! Dig: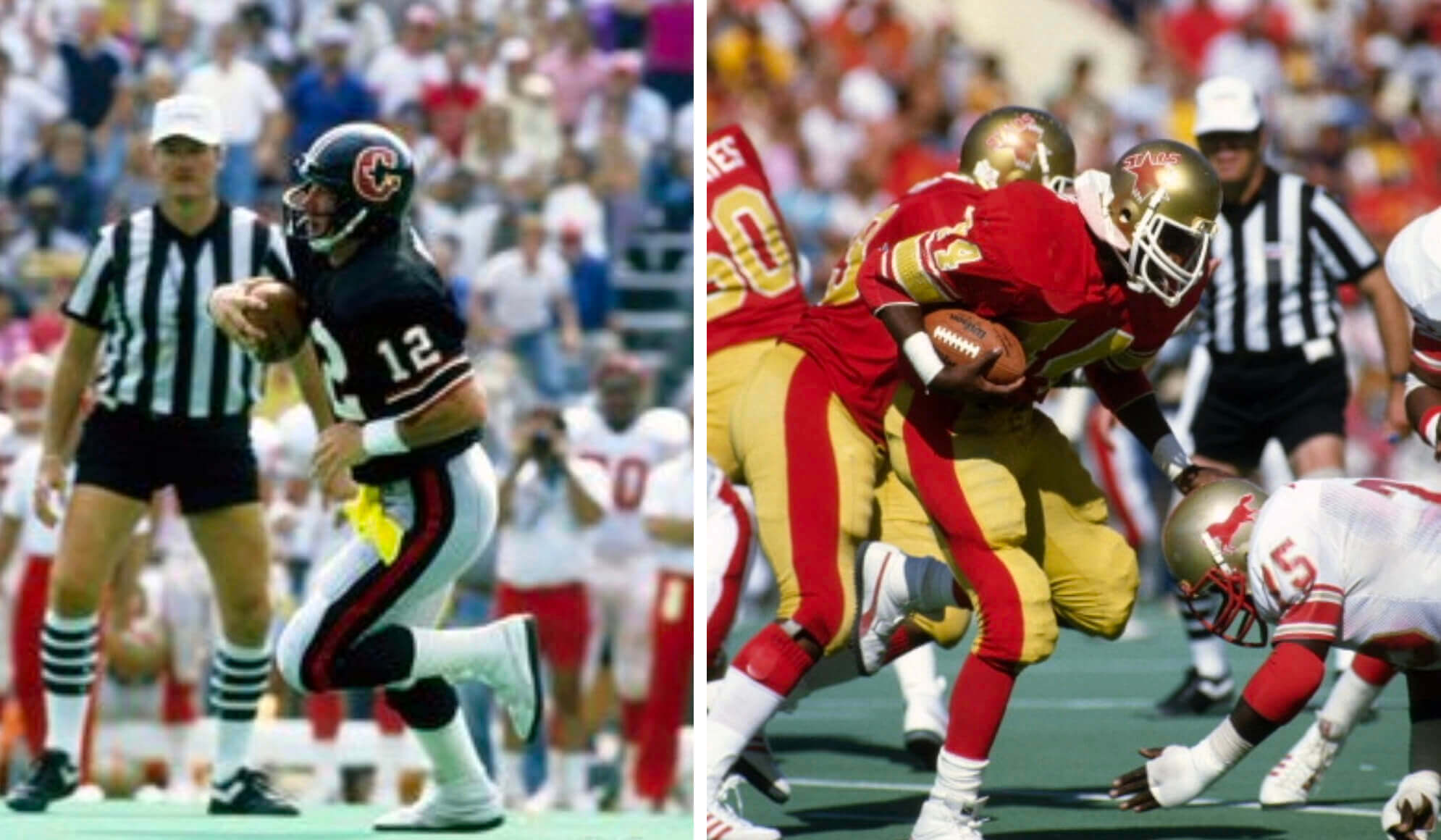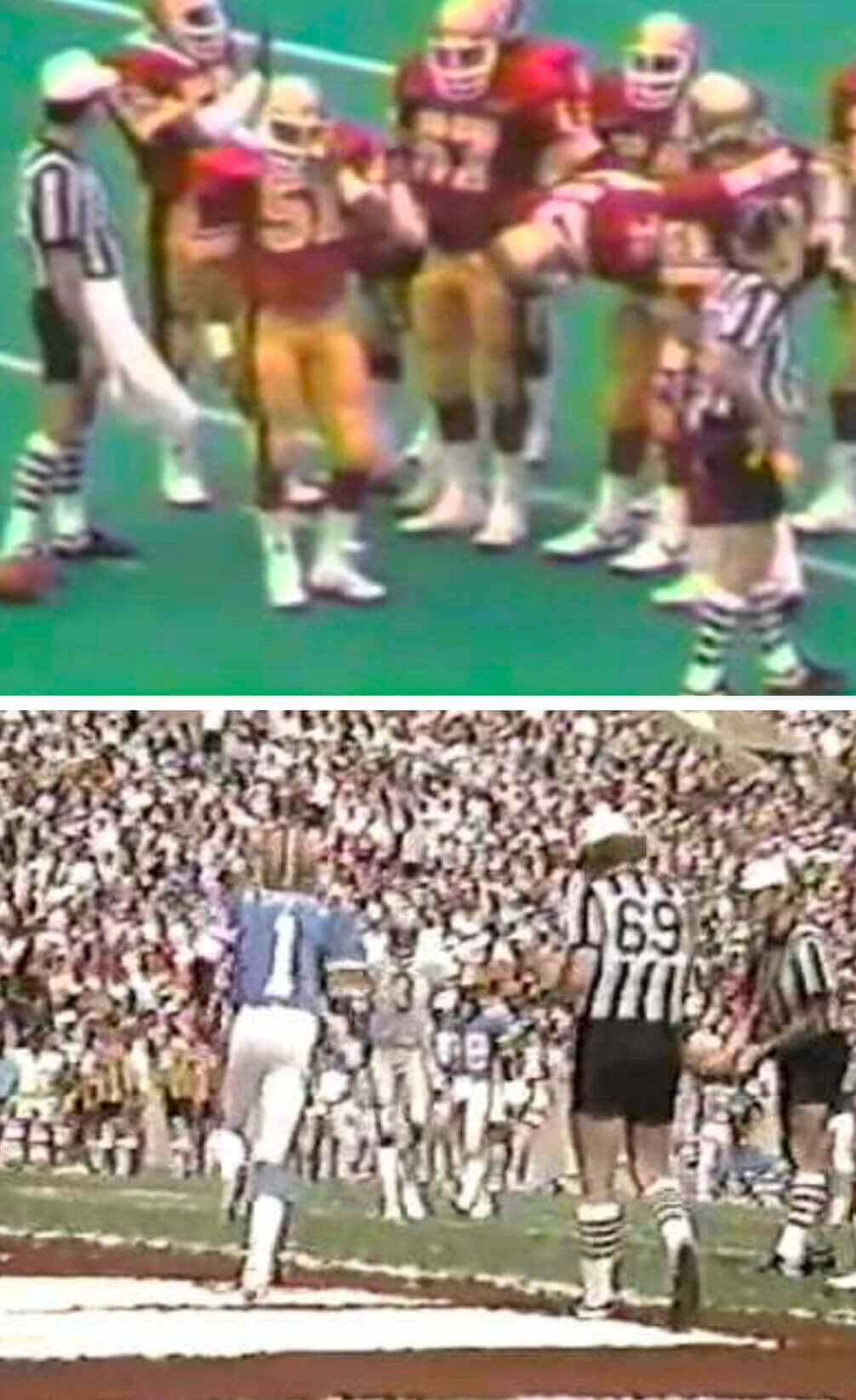 I don't really expect them to bring that back, but a guy can dream.
• • • • •
• • • • •
NBA All-Star rankings reminder: In case you missed it on Thursday: The NBA All-Star Game is this Sunday, so my Bulletin article this week is a ranking of the 10 best and 10 worst uniforms in NBA All-Star history.
My premium subscribers can read the article here. If you haven't yet subscribed, you can do that here (you'll need a Facebook account in order to pay). If you want more info on what you'll get for your money, you can find that here. And if the Facebook requirement is a dealbreaker, email me and I'll keep you posted regarding non-Facebook payment options and possible workarounds. Thanks!
• • • • •
• • • • •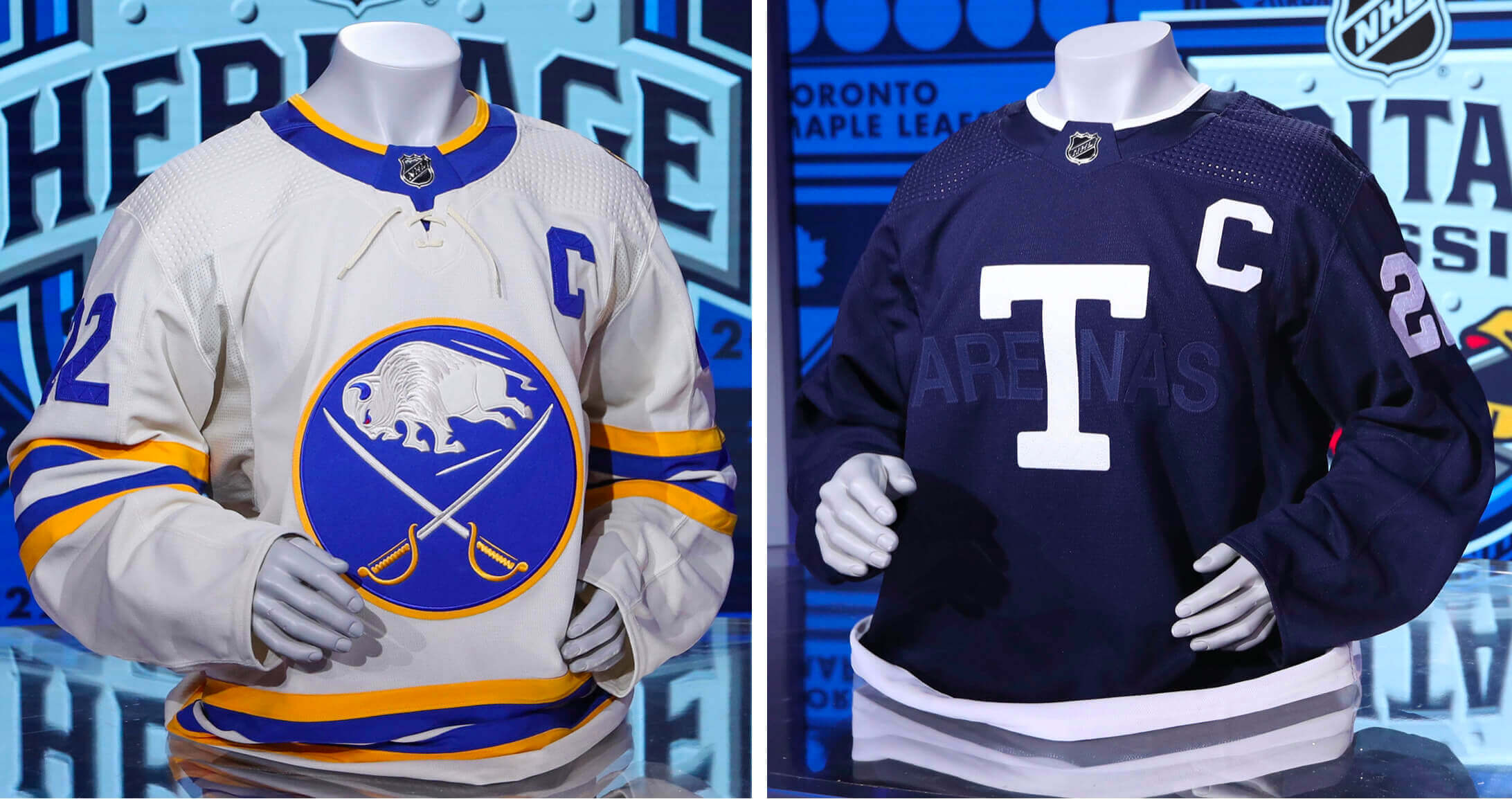 Click to enlarge
Heritage Classic uniforms now set: The Sabres and Maple Leafs both released the designs they'll be wearing when they face each other in the Heritage Classic on March 13.
Buffalo's design, which had leaked a day earlier, is a beauty, although it's really nothing new (additional photos and info here). As for Toronto's — no, that's not a Gilbert Arenas watermark on the photo. The design is a shout-out to the franchise's early incarnation as the Toronto Arenas, but I don't understand why the "Arenas" lettering is blue-on-blue (additional pics here). Maybe it's a nod to former owner Harold Ballard's infamous ghosted NOBs? In any event, it definitely feels like a step down from the Arenas throwbacks that the Leafs wore in 2017:
And now my regularly scheduled gripe: The Leafs provided photos of the jersey but not the rest of the uniform. The Sabres provided photos of the various uni elements but somehow managed to avoid showing us a single full-body shot. Lame-o.
• • • • •
• • • • •
The Ticker
By Anthony Emerson

Baseball News: Remember Paul's post last year about the thin batter's boxes at Dodger Stadium? The newest version of the MLB: The Show video game has updated to reflect that detail. Here's how the boxes looked in the 2021 version of the game (from Matthew Edwards). … The Springfield Sliders, a team in the collegiate United States Prospects League, are rebranding as the Springfield Lucky Horseshoes. The Lucky Horseshoe is "a local 'delicacy,' open-faced sandwich with your choice of meat on Texas toast covered in cheese sauce and topped with fries," explains David Dahl (also thanks to other readers who sent this our way). … New home unis for Penn State (from Chris Grosse). … Kansas will be rocking the powder blues this year (from Mauricio Gómez Montoya and David Hanson). … Vanderbilt will wear cleats honoring a fallen soldier every Sunday (from Lee Wilds). … Sugar Land, Texas, is auctioning off seats from its minor league baseball stadium that are being removed as it undergoes renovations (from Kary Klismet).

Pro Football News: The Commanders are already looking to update one of their logos, after getting the seasons of their Super Bowl victories wrong on their crest (from multiple readers). … Speaking of the Commies, the Virginia state legislature passed bills this week that could allow the team to build a new stadium. … Staying in Washington, reader Matthew Houk is reading the book I Was With Patton and sends along this photo of General George S. Patton in a self-designed uniform featuring the Washington football team's gold helmet of the era. … The Titans are "exploring" a new stadium in Nashville (thanks, Brinke).

Hockey News: New mask for Canucks G Thatcher Demko (from Wade Heidt). … Here's a ranking of all 32 current NHL arenas (from Kary Klismet).


Basketball News: Rapper J. Cole has a line of jerseys for sale that closely mimic NBA jerseys but with the word "Dreamer" in place of the team names (from Kary Klismet). … Strange scenes in Virginia high school girls' basketball last night, as both Virginia High and Richlands High brought home whites to a neutral-site semifinal. Richlands, the designated away team, was forced to wear Marion High's jerseys to avoid the clash (from @Sanchize405). … Traverse City (Mich.) Christian High School boys wore throwback uniforms on Tuesday night (from Kary Klismet). … New logo update for the National Basketball Retired Players Association.

Soccer News: New Europa League kit for Barcelona, which FW Ferran Torres promptly debuted sans club crest and Nike maker's mark during last night's match against Napoli. Stranger still, Torres changed his shirt at halftime from one that had both logos to the one that didn't. Torres, naturally, scored Barça's lone goal of the match (thanks to all who shared). … Philadelphia Union, Real Salt Lake and Chicago Fire are the latest MLS teams to unveil their home kits, while the Vancouver Whitecaps have launched their away kits (thanks to all who shared). … The next two are from Kary Klismet: New third kits for Mexico's Club América. … Borussia Dortmund is wearing a small badge under its team crest to commemorate the team's 1,000th game at its home stadium. … Japanese side Sanfrecce Hiroshima has put all of the team's kits on display as part of its 30th-anniversary celebrations (from Jeremy Brahm). … Also from Jeremy, new kits for the Kuwait national team. … Here's a soccer rarity: an outfielder wearing No. 1! Winger Jakub Kosecki of Motor Lublin of the Polish men's third tier has picked that number after signing with the team earlier this month (from Ed Zelaski).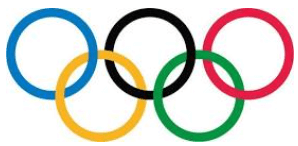 Olympics News: The IOC has offered the U.S. figure skating team Olympic torches in lieu of medals while the doping situation involving Russian skater Kamila Valieva plays out (from Kary Klismet).

Grab Bag: Ferrari has revealed its new F1 livery (from Russ Flynn). … Our own Jamie Rathjen sends along some of the Australian Football League Women's Indigenous designs for the upcoming Indigenous round. Here are Gold Coast, North Melbourne, and West Coast. … Here's a study of sleeve patches spotted at the Singapore Air Show (from Michael Mills). … A man recently discovered a Maine Department of Transportation helmet washed up on the shore in Norway (from John Muir).
• • • • •
That'll do it for me for this week. Enjoy Phil's weekend content and your long holiday weekend. I'll be back here on Monday. Peace. — Paul