Aside from all the patch shenanigans, I thought there were no major uni-related storylines during the Super Bowl. But as an anonymous reader pointed out to me yesterday, a uni-related issue may actually have determined the outcome of the game.
Here's the deal: A key play in the big game was a defensive holding penalty on Bengals linebacker Logan Wilson during what turned out to be the Rams' game-winning drive (see above). You could argue that the call was a bad one, but I'm not interested in relitigating that. I'm more interested in how Wilson clearly did himself no favors by wearing orange gloves, which made his hands stand out against Rams wideout Cooper Kupp's white jersey. I mean, if you look at that screen shot, what do your eyes immediately zero in on? Wilson's hands. Now imagine if he'd been wearing white gloves instead.
Offensive lineman often match their glove color to the opponent's jersey in order to avoid holding penalties, so you'd think linebackers and defensive backs would do the same. And in fact, most of the Bengals' linebackers and defensive backs did do that on Sunday. Here, for example, is a shot of (from left) cornerback Tre Flowers, safety Jessie Bates III, cornerback Eli Apple, linebacker Markus Bailey, and cornerback Jalen Davis, all wearing white gloves: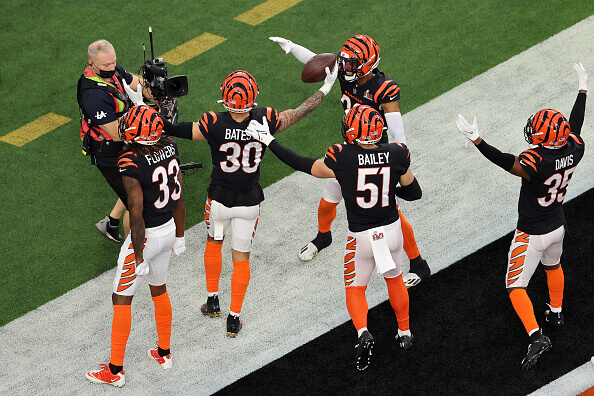 In this next shot you can see even more Cincy defensive backs wearing white gloves on Sunday, including cornerback Mike Hilton (No. 21), safety Ricardo Allen (No. 37), and cornerback Chidobe Awuzie (No. 22):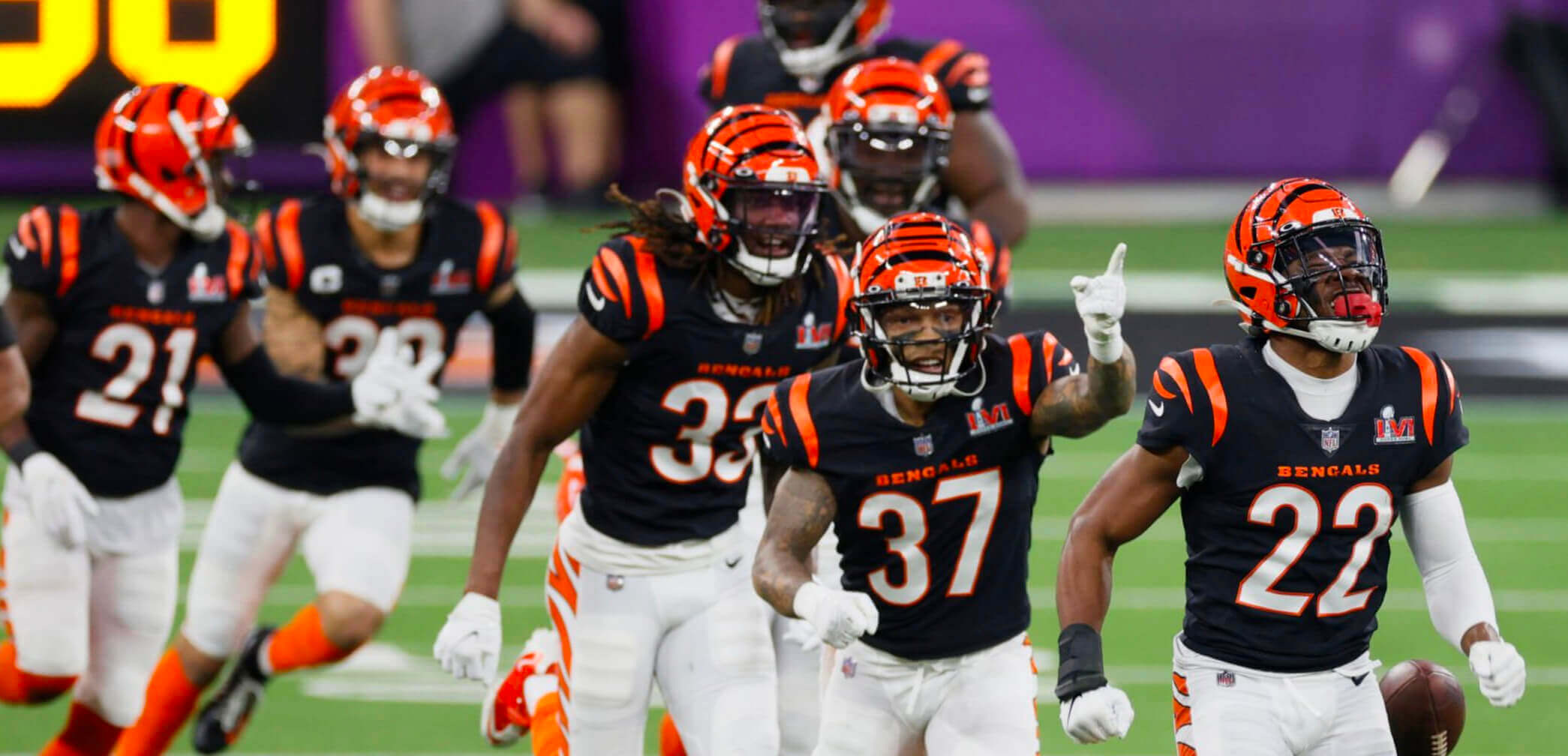 According to this box score, the Bengals had 15 linebackers and defensive backs who appeared in the game for at least one snap on Sunday. I was able to find photos of 14 of them (all except cornerback Trae Waynes, who appeared for only three snaps on special teams), and 10 of those 14 wore white gloves. The four outliers were safety Vonn Bell (who wore black), linebacker Germaine Pratt (orange), safety Michael Thomas (orange), and Wilson (the orange-gloved linebacker who drew the crucial late-game flag).
So while it wouldn't be fair to say that Wilson was the only pass-defending Bengal who didn't go with white gloves in the big game, he was definitely in the minority. It would take more research to determine if Sunday's white-gloved Bengals routinely switch colors based on the opponent (wearing, say, black when they're on the road against the Raiders, or orange on the road in Denver), but it wouldn't surprise me.
Interestingly, this tactic of players hiding hand infractions by matching their gloves to the opponent's jersey color led the NCAA to ban all glove colors except grey in 1999. But they rescinded the rule in 2011. To my knowledge, there's never been any similar rule in the NFL.
Of course, we'll never know for sure if Wilson's orange gloves led to that yellow flag. But I think it's fair to say they didn't help.
• • • • •
• • • • •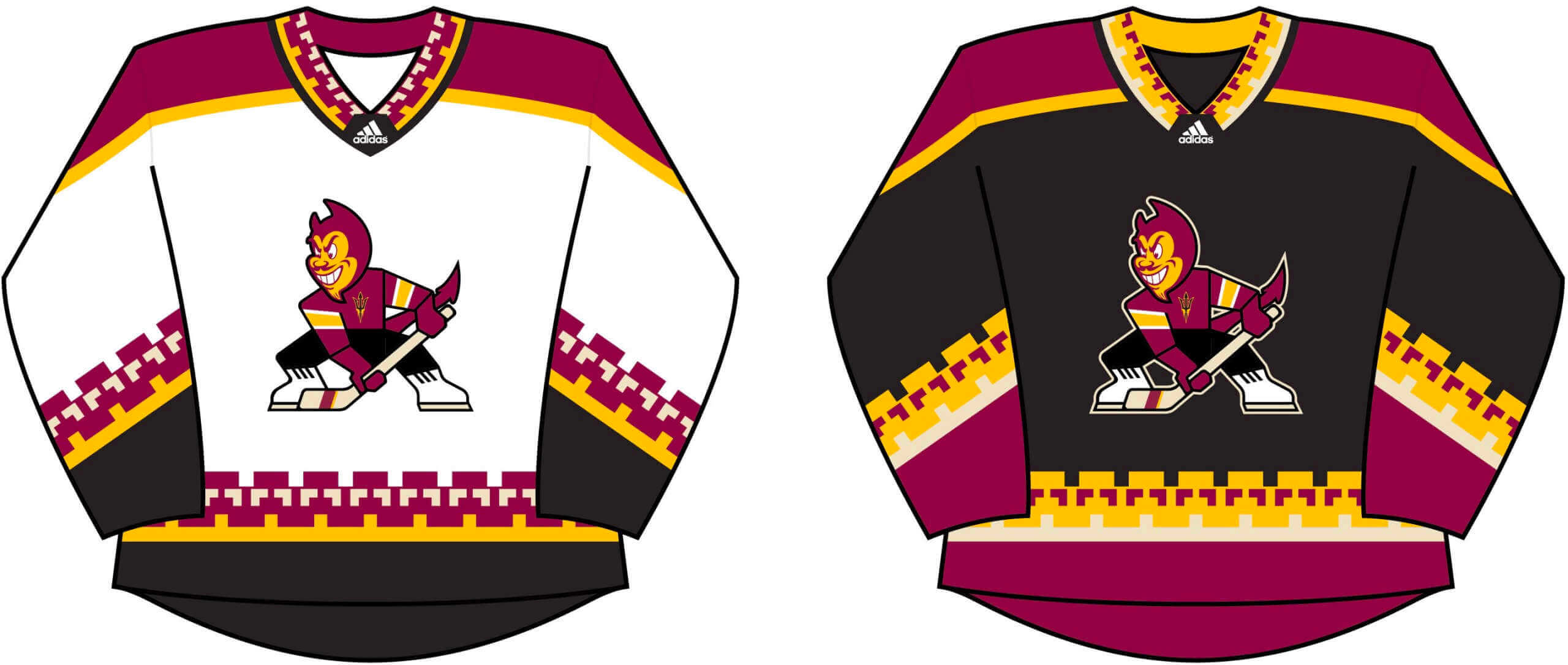 Click to enlarge
A very good idea: As you probably know by now, the Arizona Coyotes will be playing their next few seasons at Arizona State's arena. That led Joey Artigue to create the jersey concepts you see above. I hope you'll all join me in saying that this really needs to happen!
• • • • •
• • • • •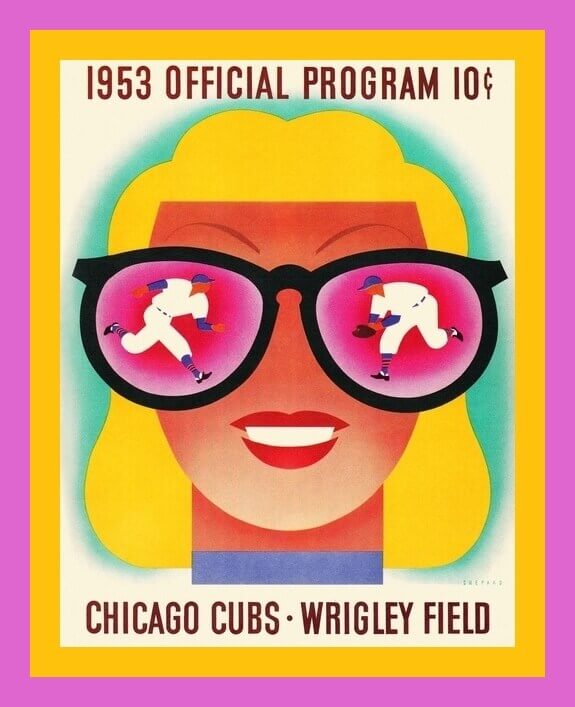 Collector's Corner
By Brinke Guthrie
Follow @brinkeguthrie    
Now that the Super Bowl is behind us, we can look forward to another sports calendar milestone: pitchers and catchers reporting — er, then again, maybe not. So let's make do for now with this terrific-looking Chicago Cubs scorecard from 1953! Sensational artwork by the great Otis Shepard.
Now for the rest of this week's picks:
• Mickey Mantle sure seemed to plug a lot of merch back in the day. Here's a 1953 ad from Gem Razor Blades with a cartoon drawing of the Mick saying, "Hey Baseball Fans! Here Are Three Swell Premiums for You!" Here he is again in an ad for Haggar slacks.
• Staying in that baseball era, check out this ad for Jackie ("Champion of Baseball") Robinson polo shirts, sports shirts, and T-shirts!  "They make swell uniforms for the neighborhood ball teams." The ad makes mention of The Jackie Robinson Story, a movie that came out in 1950, so we'll place this ad in that time frame.
• New York Football Giants star Frank Gifford was featured on the front cover of this 1958 booklet, Family Sports Fun. He covers "The Fine Points of Ball Carrying," and the publication also hits such topics as "Family Fun with Volleyball" and "How Shoulder Pads Began."
• Look at this! These are called "Baseball Tag-Ons" from 1960. This set is for the Pittsburgh Pirates, and they're made of a flexible plastic so you can peel off your favorite Buc and stick it anywhere, as the package suggests. "Pep up your wall, shirt, books, mirrors, any surface!" (Why is it that nobody uses the word "pep" in ad copy anymore?)
• Here's a Hockey Tat-oos Book from the 1950s. This little gem contains tattoos of NHL logos, equipment, and players. Instructions say just moisten your skin and press 'em on.
• Mr. Luther N. Hussey was, at one time, the proud owner of this 1963 season pass for the San Diego Padres (Pacific Coast League incarnation). "Subject to conditions on reverse side!" Looks like Mr. Hussey left us 11 seasons later. 
• Need a backup Canadiens goalie for your tabletop hockey game? Look no further.
• Here we have a set of 1970-71 ABA Kentucky Colonels thermal cups from Marathon Oil, with artwork by the great Nick Volpe. They also gave away these as individual prints and as a team poster. I still have the Louie Dampier cup, and Darel Carrier was one of my fave players simply because I liked his name. Hey, I was just 10 at the time!
• Speaking of the ABA, you can almost feel Dr. J takin' it to the rim with this 1973 New York Nets "Shot Chart Basketball" board game.
  
• Carnation Dairies is your sponsor of record on this 1985 Los Angeles Dodgers team poster featuring smiling manager Tommy Lasorda.
• And here's a contribution from Paul: A pair of vintage stadium blankets, one for the Oregon Ducks, and one for your newly crowned Super Bowl champion Los Angeles Rams.
• • • • •
• • • • •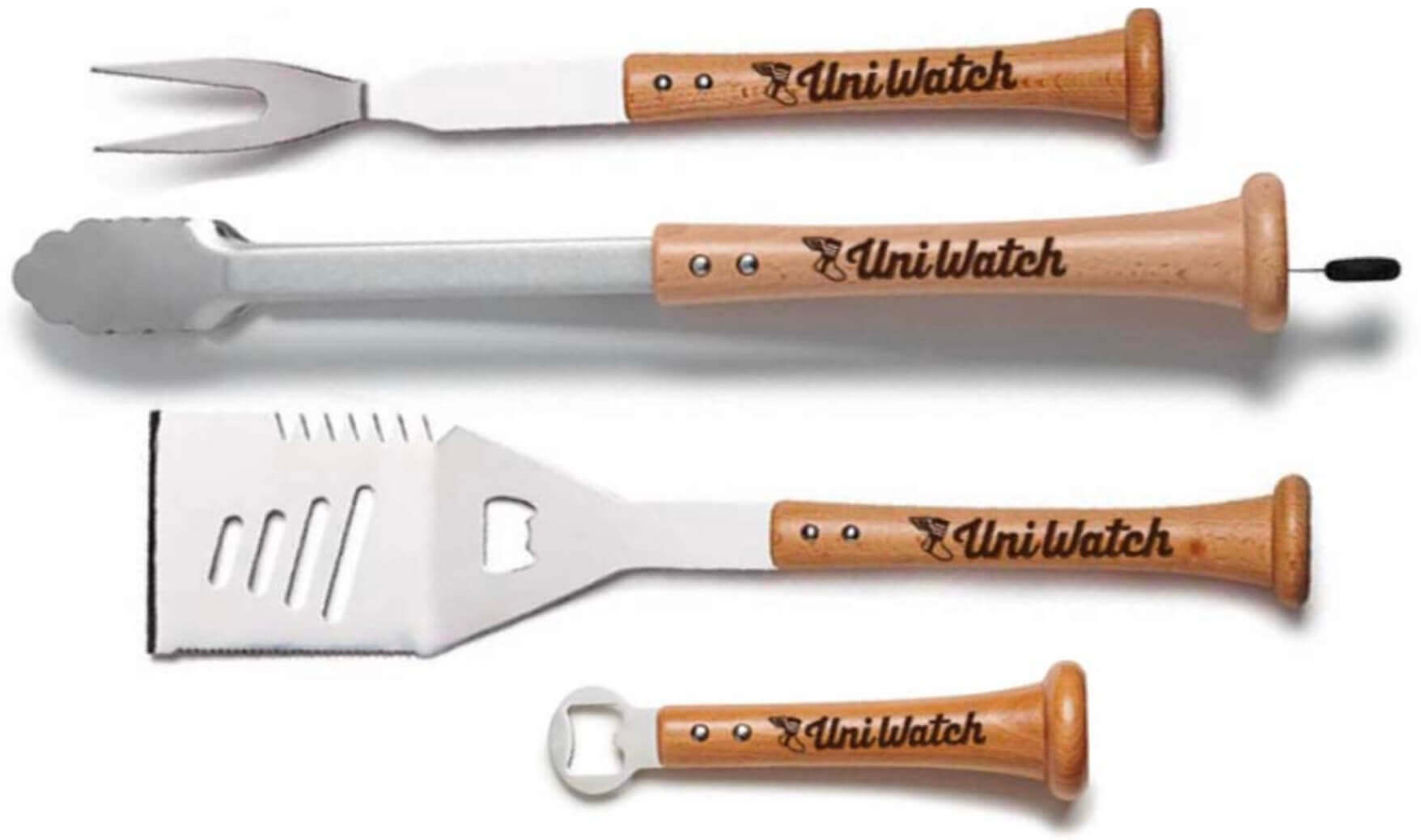 Click to enlarge
Fire up that grill: In case you missed it on Monday, the Uni Watch Grilling Tools Collection, featuring handles made from real baseball bats, is now available. Much like throwing out the first pitch at Brannock Device Night, this feels like a major life milestone. Full details here.
• • • • •
• • • • •
The Ticker
By Alex Hider

Baseball News: Hokkaido Nippon-Ham Fighters manager Tsuyoshi Shinjo is wearing his nickname, Bigboss, as his NOB (from Jeremy Brahm and @bigdaddy45_1969). … I think we've discussed this on the blog before, but The Kansas City Star published a piece about the familiar "KC Heart" logo made popular by local T-shirt company Charlie Hustle actually originated with the Negro Leagues' Kansas City Monarchs.

NFL News: The logo for next year's Super Bowl has been revealed. … Rams WR Odell Beckham Jr. wore diamond-embedded cleats during pregame activities prior to the Super Bowl on Sunday (from Brinke). … The coin used for the toss during the Super Bowl is up for auction. Last year's toss coin went for $13,000 (from David Firestone). … Here's an argument for ending the practice of counting Super Bowls in Roman numerals (from Jim Howicz). … After losing a bet with the Los Angeles Zoo, the Cincinnati Zoo has incorporated a ram into its Twitter avatar (from Kary Klismet).

Hockey News: The Canucks will wear their 1990s "flying skate" throwbacks on Feb. 24. … The abundance of uni ads in foreign club hockey is nothing new, but it seems even ickier when seen on a player of Jaromír Jágr's stature. Jágr, now 49 (!), is currently playing in Czechia (from Scott Adams). … The AHL's Springfield Thunderbirds wore Simpsons-inspired sweaters and played as the Ice-O-Topes on Saturday (from Lara Toscani Weems). … Michigan's road blue sweaters appear not to have a maker's mark (from Matt Rothman). … The now-defunct Oklahoma City Blazers minor league squad wore heart patches to mark Valentine's Day back in 1996 (from @AlexMShirley). … The Sharks wore white at home last night against the Oilers
(from @slimeman_).

NBA News: The D League's Iowa Wolves wore Black History Month uniforms last night and will auction them off to benefit local nonprofits (from @HawkeyeWeirdAl). … This Dominque Wilkins figurine from the 1990s features him wearing a striped uniform that never actually appeared on the court (from Tom O'Grady). … Newly acquired Nets C Andre Drummond is wearing No. 4, which means he's now worn Nos. 0, 1, 2, 3, and 4 during his NBA career (from @marcomanipon).

College Hoops: Kansas men's wore two-tone 1922 throwbacks last night to mark the 100th anniversary of their Helms Athletic Foundation national championship (thanks to all who shared). … Speaking of throwbacks, Indiana women's wore 1982-83 unis last night (from Terry Mark). … Speaking of the Hoosiers, the Raymond Central High School (Nebraska) girls' basketball team wears Indiana-inspired striped warmup pants (from Don Sauberan). … Virginia Tech men's wore maroon at home yesterday, with Virginia wearing white on the road (from Andrew Cosentino and James Gilbert)..

Soccer News: Charlotte FC has officially unveiled what it's calling its "community kit," featuring the same mint green color that the NBA's Charlotte Hornets used on a recent alternate uniform (from Brendan Wilhide). … The NWSL's Challenge Cup has a new logo this season (from our own Jamie Rathjen).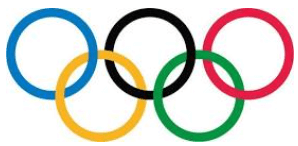 Olympics: Sisters Tara and Tabitha Peterson are part of the U.S. women's curling team. This creates issues for their NOBs, which they've solved by having Tara wear her middle initial in addition to her first initial. But reader Ben Humphries notes that both sisters have a middle name that starts with "S." "Presumably they could borrow each other's kit if something got lost in the laundry," he says.

Grab Bag: The next two items are from Kary Klismet: Here are the rings the Hawaii men's volleyball team will get for winning the national championship. …Formula 1 team AlphaTauri has unveiled its livery for 2022. … It was announced yesterday that 52-year-old Greg Biffle would attempt to qualify for the Daytona 500 this week. His No. 44 car has a Grambling State University-themed paint scheme (from Trevor Williams). … The Washington Post has a great piece on the rise of the apostrophe catastrophe (from Mark Wolf). … UNC is naming a media and communications building on its campus after longtime play-by-play man Woody Durham (from James Gilbert).