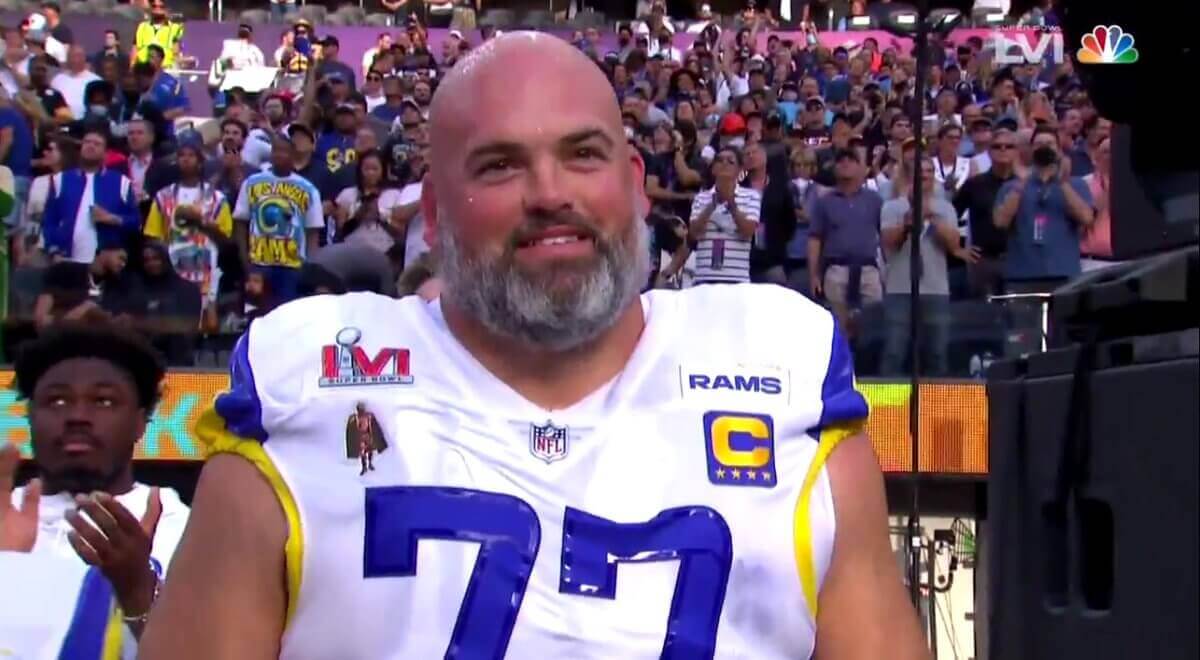 Click to enlarge
Good morning! As we speculated back on Friday, Rams offensive lineman Andrew Whitworth, winner of this season's Walter Payton NFL Man of the Year Award on Thursday night, did indeed wear the Payton patch for the Super Bowl yesterday. When combined with his captaincy patch, Super Bowl patch, and "Hi, My Name Is Rams" patch, I'm fairly certain that set a Super Bowl patch record, and I'm thinking it's also probably the most patches ever worn in an NFL game, period. How's that for uniform history?
Speaking of patches: As I also mentioned on Friday, promo photos showed most of the Rams' captains wearing their "C" patches above the "Rams" patch. (Whitworth, whose promo photo showed him wearing the "C" below the "Rams" patch, was the exception.) But in the game, it turned out that all of the Rams' captains wore the "C" below the team patch: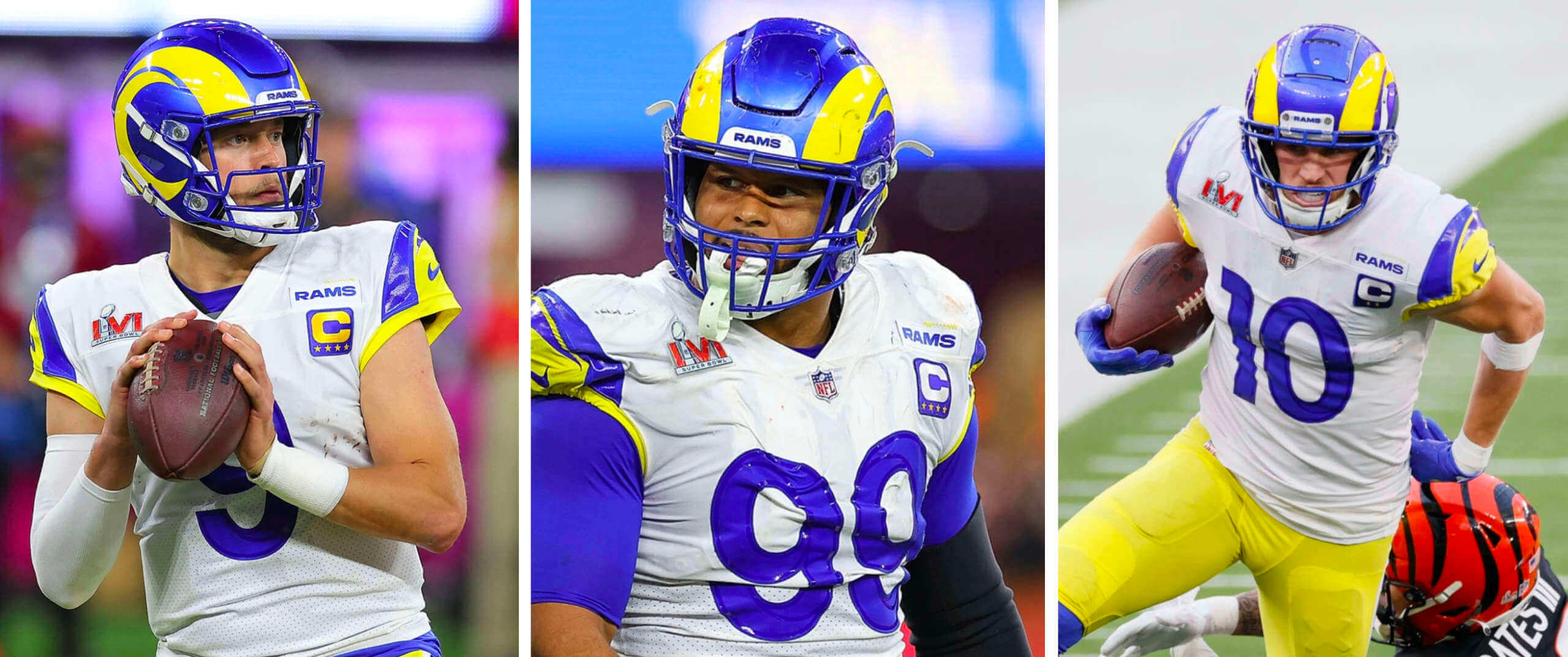 In yet another patch-related development, Rams defensive lineman Aaron Donald's Super Bowl patch was coming loose during his postgame interview:
Add Aaron Donald postgame championship interview to the all-time best pic.twitter.com/gwVfaUVMNZ

— Rob Lopez (@r0bato) February 14, 2022
Aside from that, I didn't notice anything uni-notable in the game. Admittedly, I wasn't playing super-close attention — we had company over, so I was busy hosting, yakking, etc. Was there anything I missed?
Update: Reader/commenter John Steinhart notes that the social justice messages we're used to seeing on helmet neck bumpers were not worn in yesterday's game. Bengals players all wore "Bengals" and Rams players wore "Los Angeles."
Additional update: Reader/commenter Dave Dahl says the Rams have worn "Los Angeles" bumpers, with no justice messaging, all season long. I hadn't been aware of that, but some preliminary photo research suggests that he is correct. That got me wondering about the Bengals, and it looks like their players have worn "Bengals" all season. So we had a Super Bowl matchup of two teams that have eschewed the bumper messaging — an interesting uni-related storyline that totally flew under my radar!
Yet ANOTHER update: It now turns out that the Rams did indeed wear the bumper messaging as recently as the Wild Card game, as seen here and here. Hmmmmm.
In any case: Congrats to the Rams and their fans, and my thanks to everyone who made this such a fun NFL season from a Uni Watch perspective. I look forward to seeing which teams add a second helmet color next season!
• • • • •
• • • • •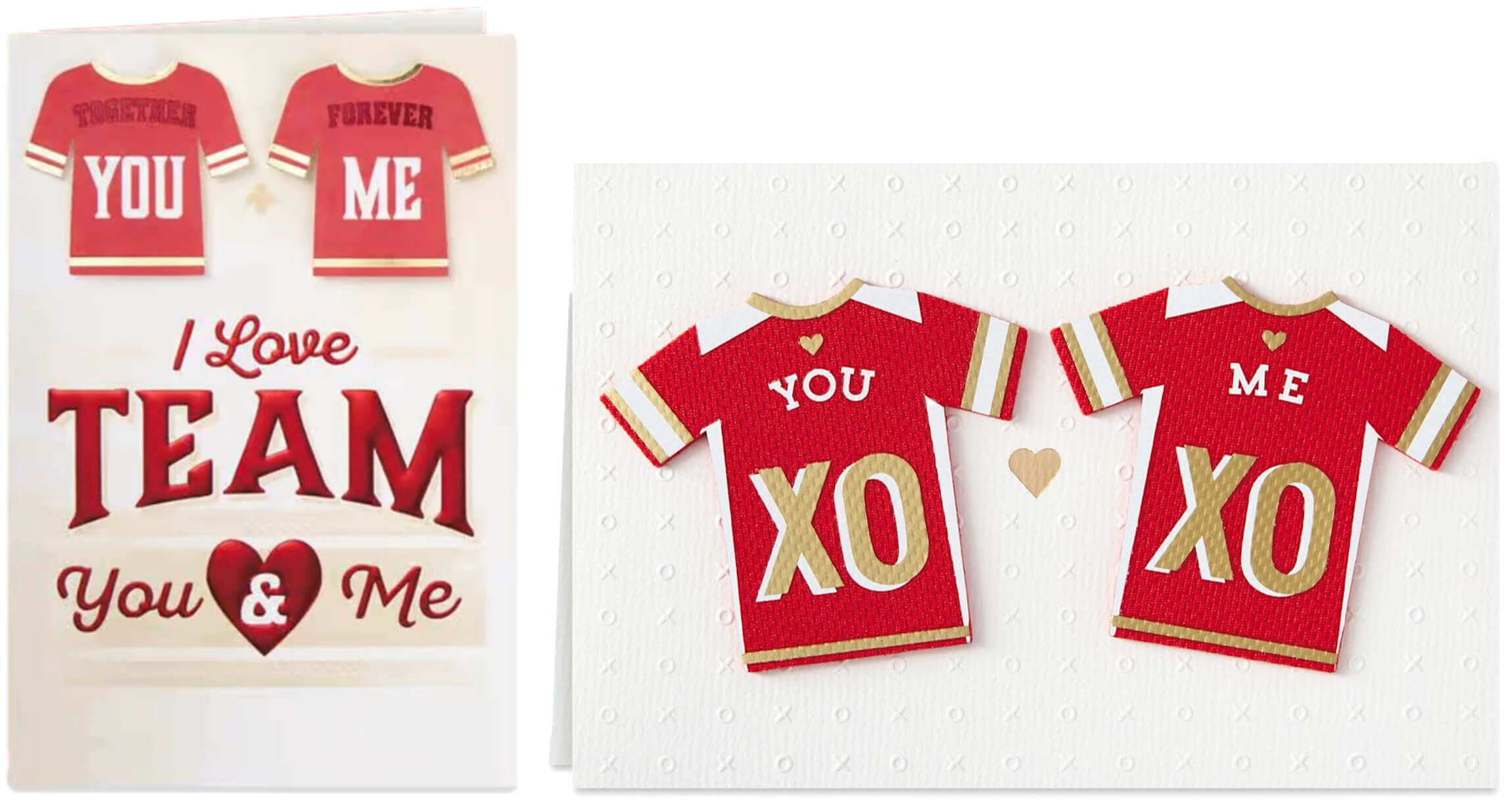 Click to enlarge
Happy V.D.: I've never much cared about Valentine's Day, but I do like that Hallmark has these uni-based cards. Seems like the NOBs on that first card would be hard to read, but it's the thought that counts, right?
That reminds me: Back in 2012, I did a blog post featuring dozens of sports-themed vintage Valentine's Day cards. Really fun stuff, even if you think this is a silly holiday!
• • • • •
• • • • •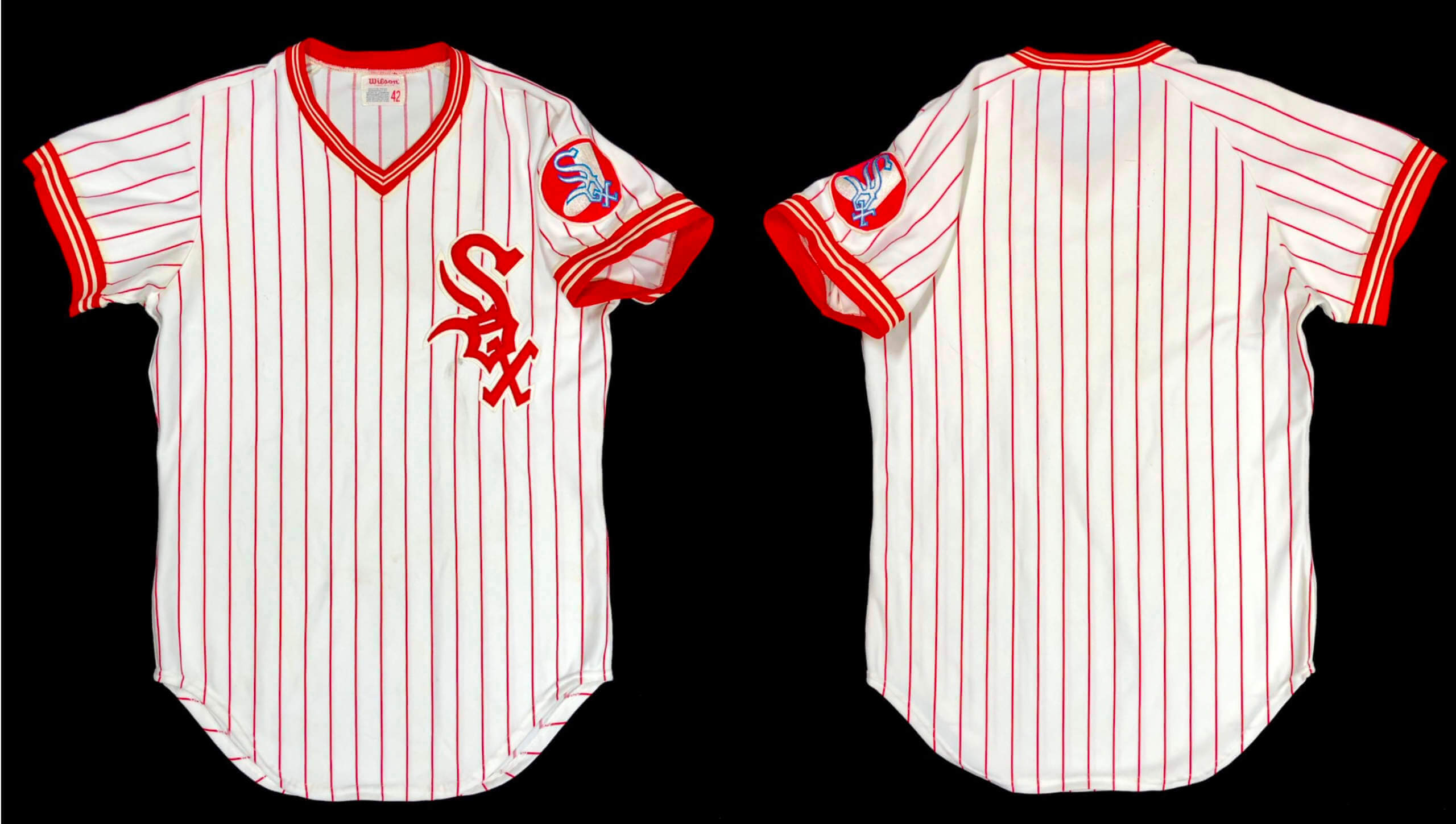 Click to enlarge
Fun find: Reader Steve Kraljic found this jersey on eBay. It appears to be a prototype White Sox pullover from the early 1970s, when the team was wearing a similar design but with a zippered jersey.
Here's a comparison between a 1972 Dick Allen gamer and Steve's apparent prototype: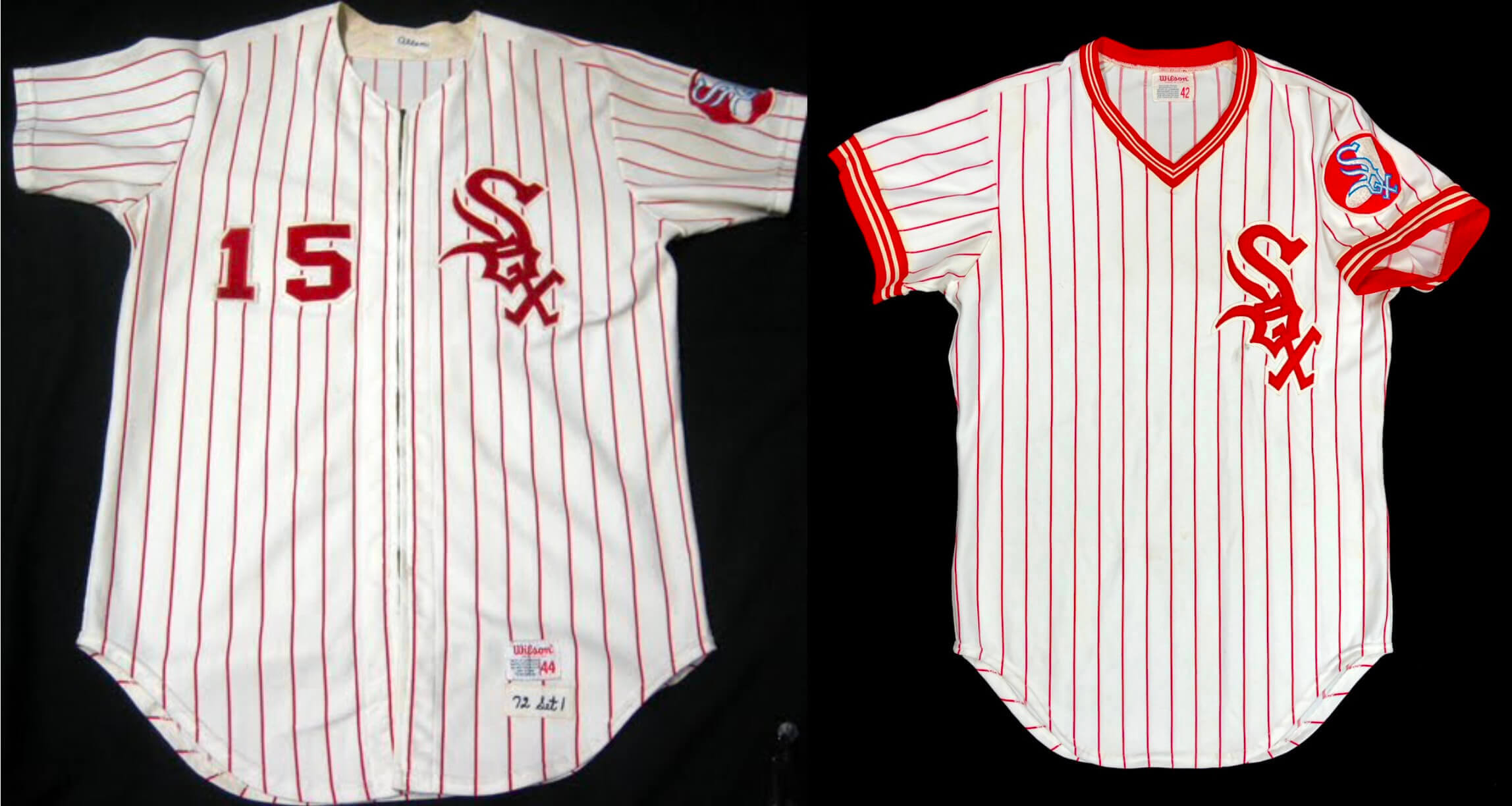 Steve reports that even the great Bill Henderson had never seen this particular prototype design before. A major find!
• • • • •
• • • • •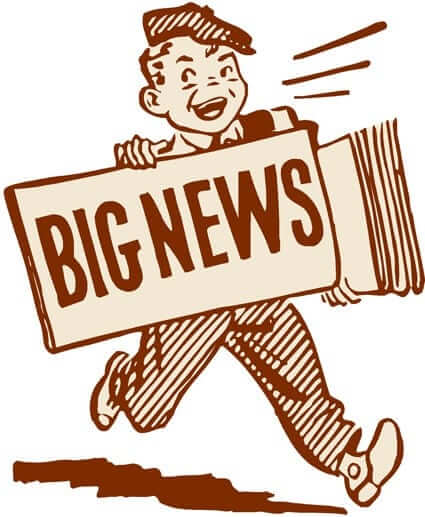 ITEM! New product launch: I'm periodically approached by various folks trying to pitch me on the idea of certain Uni Watch products. Most of the time, I turn them down. Uni Watch notebooks? Nah, doesn't feel quite right. Frosted pint glasses? I don't really like the frost. Trucker's caps? Eh, I don't much care for trucker's caps.
Every now and then, however, someone comes to me with a product partnership proposal that totally makes sense. That was the case when I recently heard from the folks at Baseball BBQ, a company that makes grilling tools (tongs, spatula, serving fork, that kind of thing) with handles made from baseball bats.
Obviously, I like grilling and I like baseball. So behold the official Uni Watch grilling tools collection (for all photos, you can click to enlarge):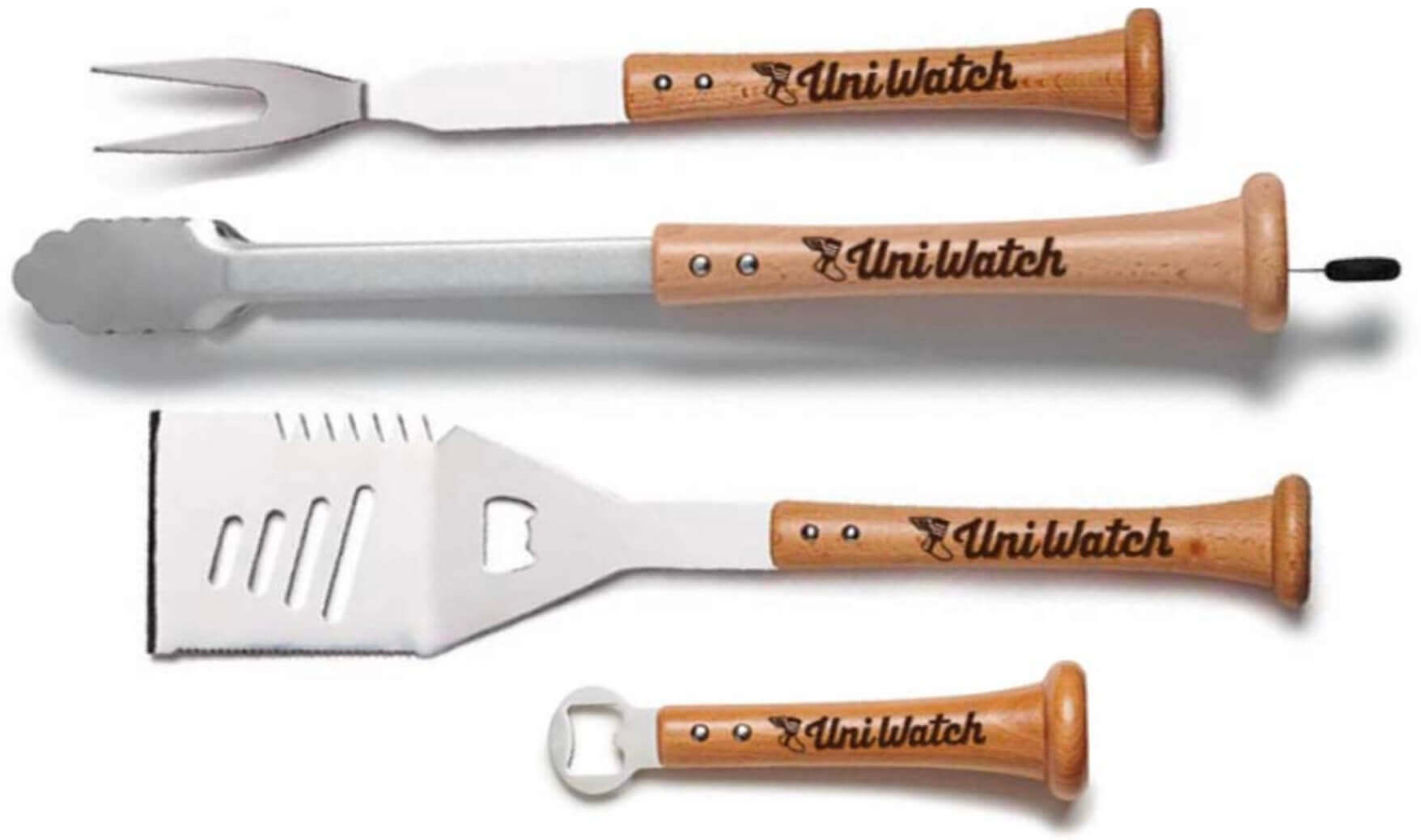 Pretty cool, right? In each case, the Uni Watch script is laser-etched directly onto the handle. And for good measure, for every product except the tongs, the winged stirrup logo is etched onto the knob: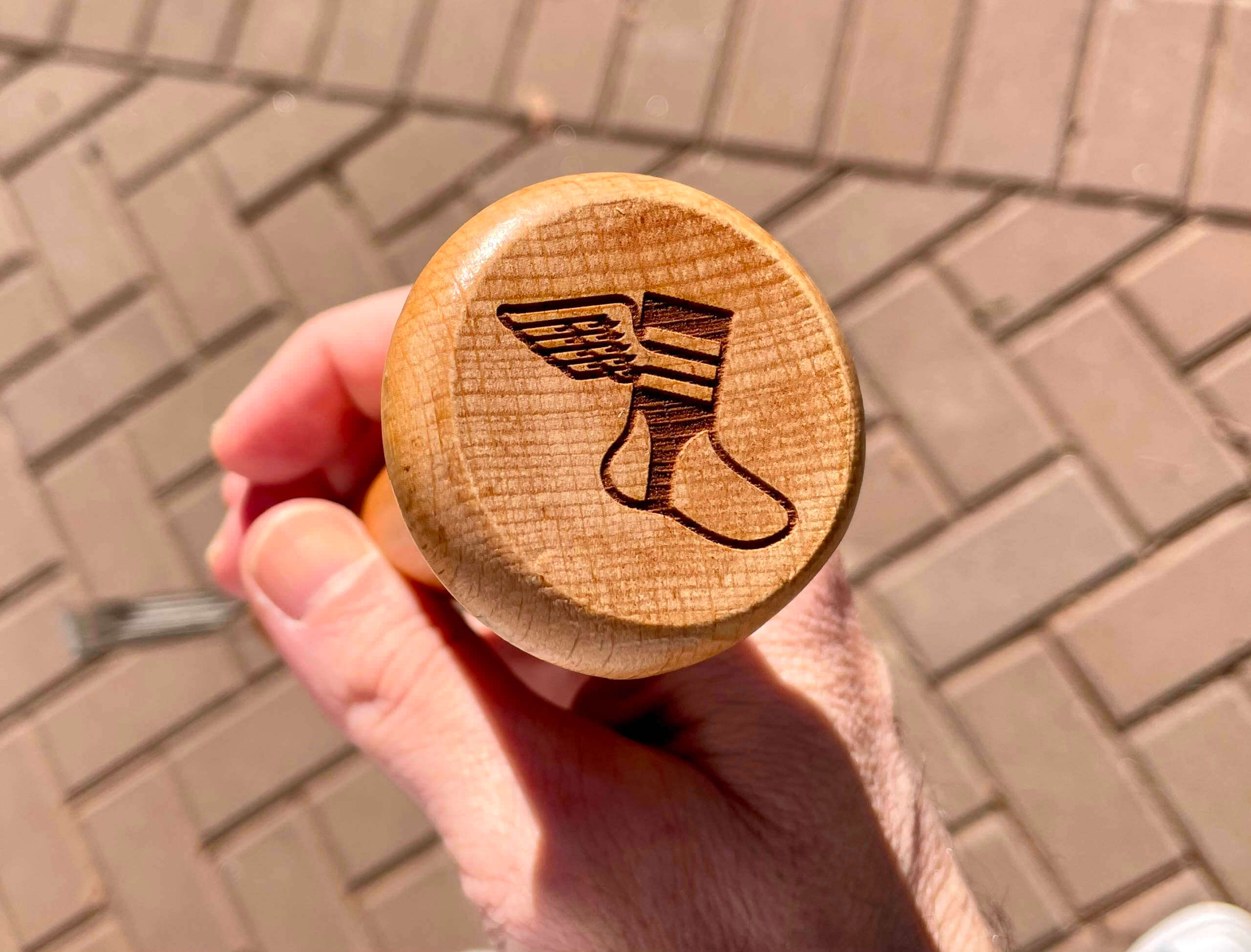 There's also this home plate-shaped cutting board, with our round logo etched into the surface (the first image is a digital mock-up; the second one is the real thing):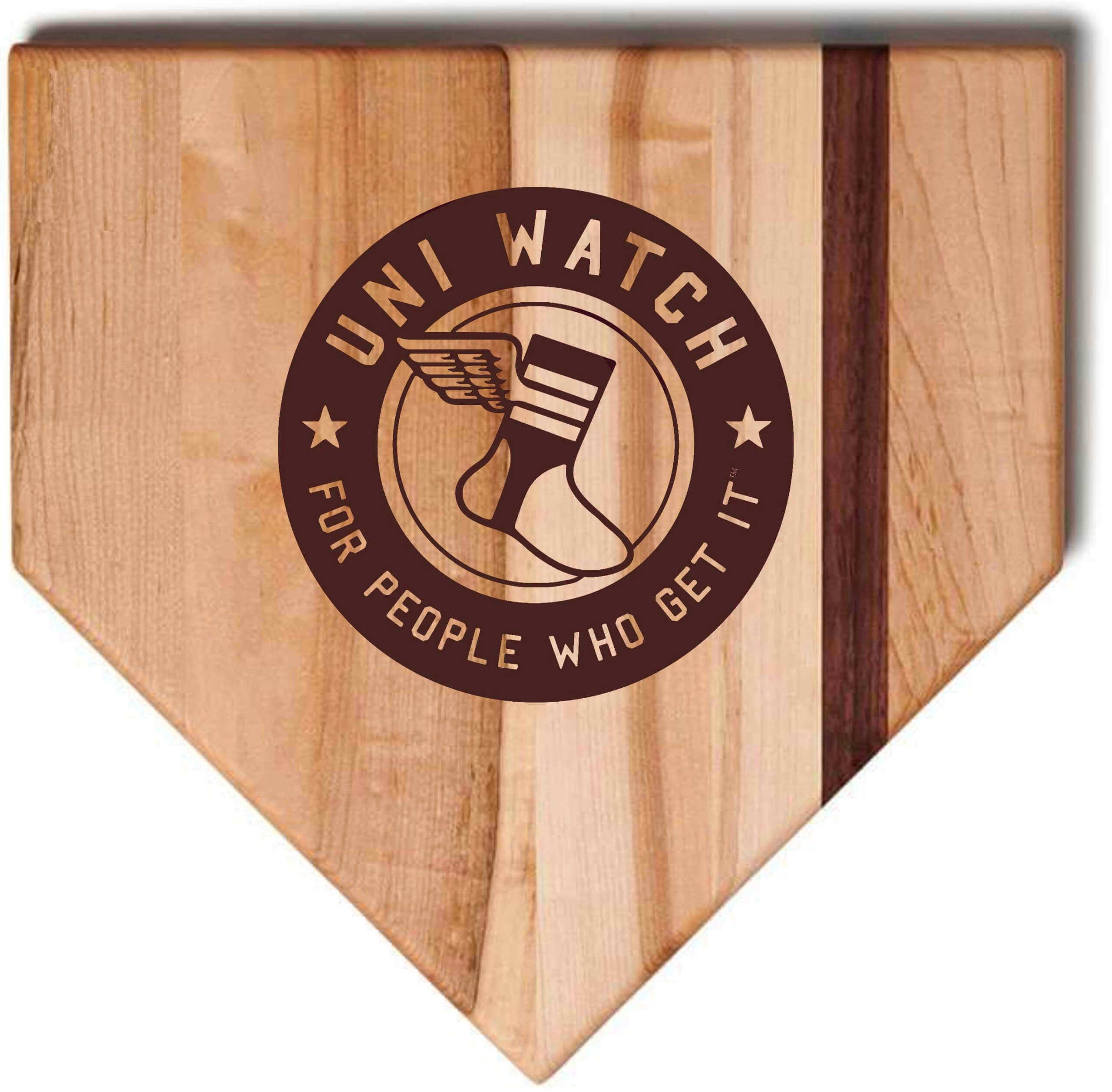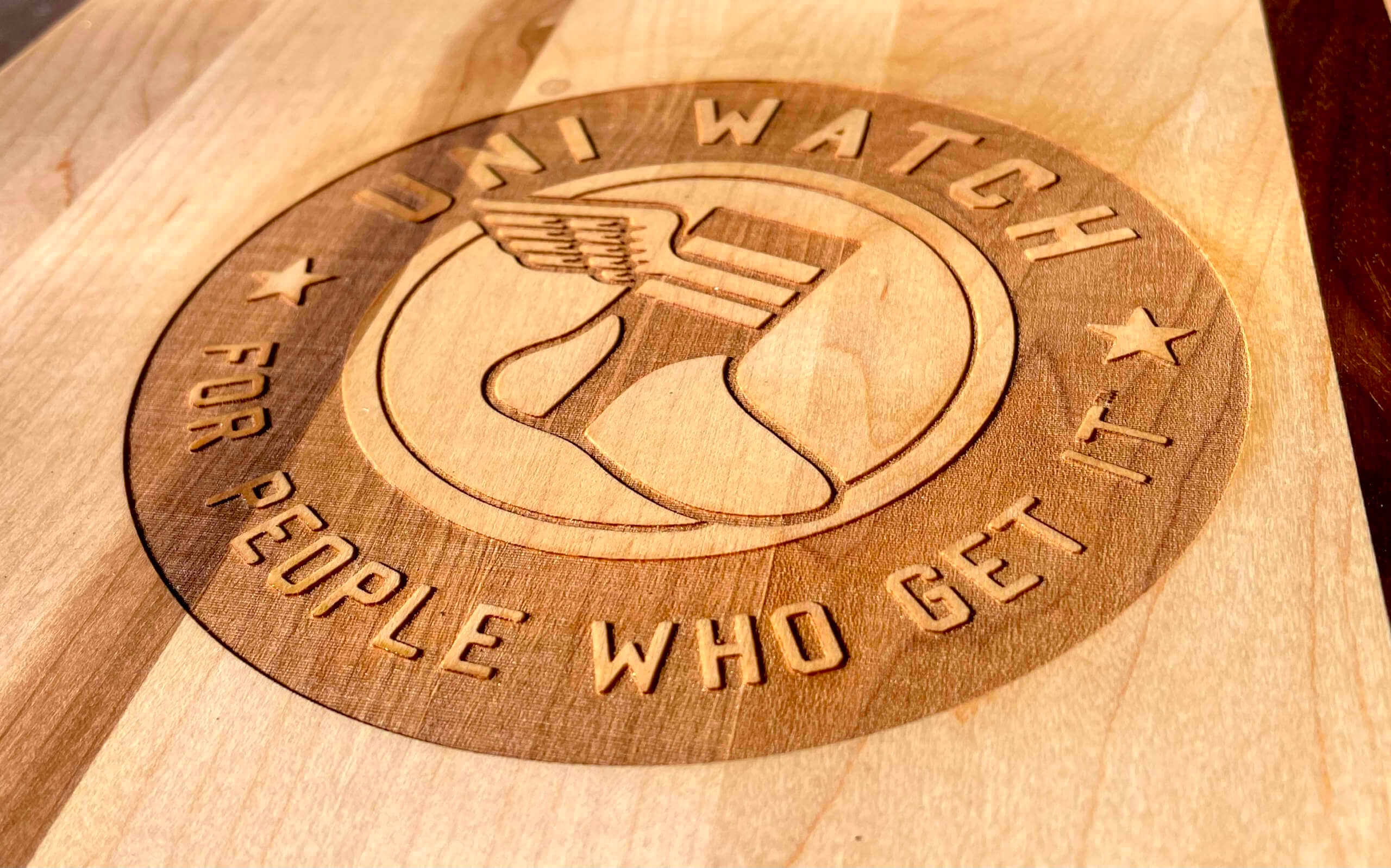 Let's shift into FAQ mode:
Does the script appear on both sides of the product handles, or just one side?
Just one side.
Based on the photo, the Uni Watch script will look good if I use these tools with my right hand. But if I use them left-handed, the script will be upside-down. Is it possible to get the script orientation reversed on the handle?
As a lefty myself, I'm very attuned to this issue, so I asked the Baseball BBQ folks if we could offer a southpaw option with the script oriented for lefties. Unfortunately, they said it's not possible due to the way their production process is set up. Sorry.
You mentioned that all the tools have the winged stirrup on the knob, except for the tongs. So what's on the tongs knob?
Here's the deal: As you all know, I don't like to have visible maker's marks on Uni Watch products, so I asked the Baseball BBQ folks to eliminate their logo from all of these items. They graciously agreed to do so whenever it was possible, but there were three items — a grill brush, a "pigtail" turner, and the tongs — whose knobs were already pre-etched with their logo. I opted to skip the brush and the pigtail for this reason, but I decided that we could go ahead with the tongs because the knob is split into two sections, rendering the maker's mark pretty innocuous: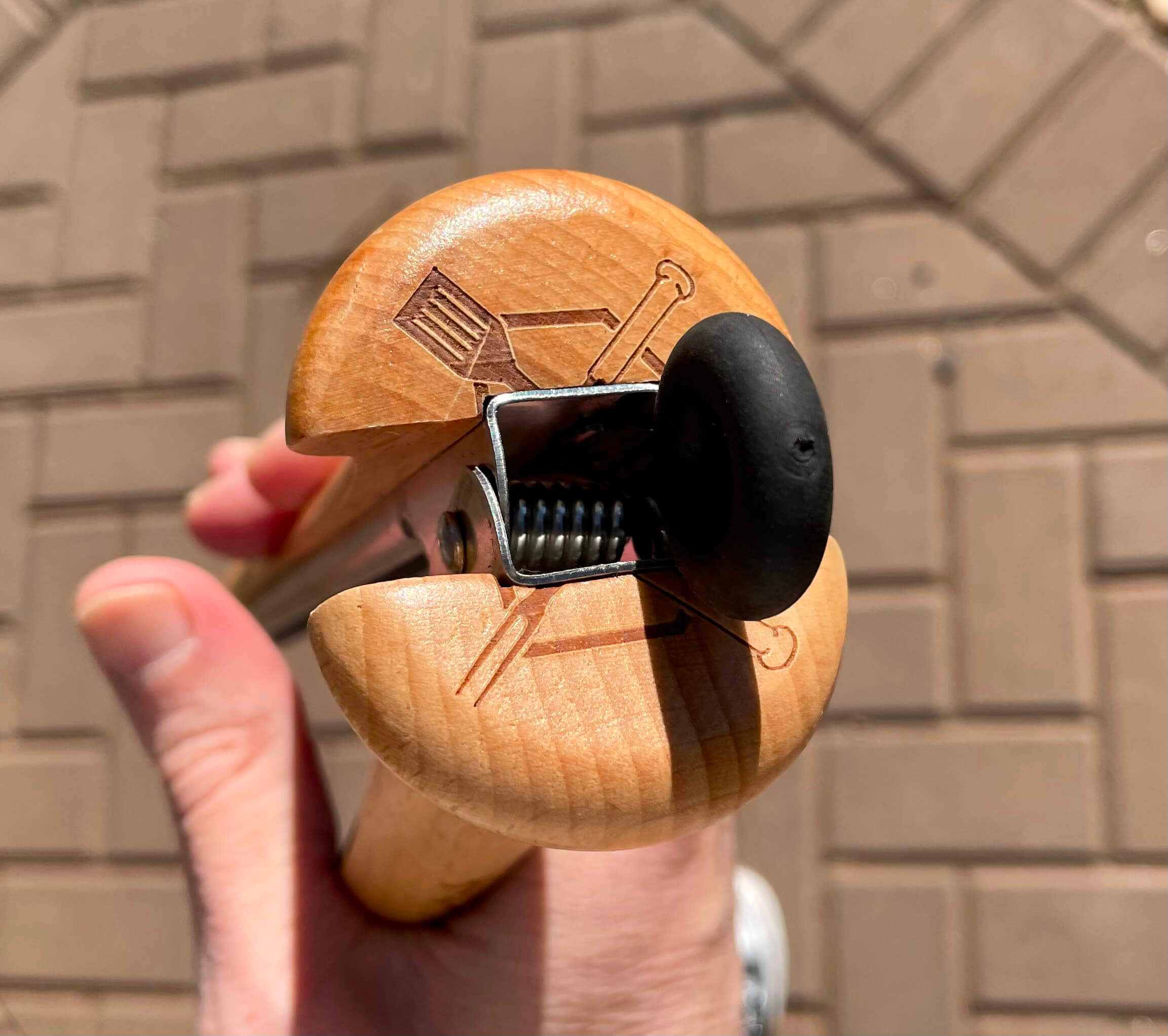 Isn't it sort of weird to be launching a line of baseball-themed grilling products in February, when there's no baseball and not much grilling?
Definitely! But we figure there's no harm in launching the products now. They'll still be here when the the weather warms up and the lockout is settled.
Okay, where do I order?
———
If you have any other questions, feel free to post them in the comments and I'll do my best to answer.
I'm super-grateful to Baseball BBQ exec Brett Mandel for approaching me with this idea, and for being so patient with all my picky requests. Thanks, Brett!
• • • • •
• • • • •
The Ticker
By Jamie Rathjen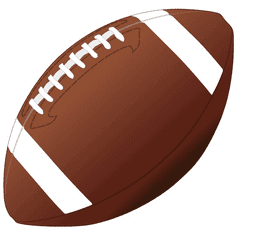 Football News: The Commanders tweeted a graphic showing our first official look at their burgundy-over-white uni combo (thanks to all who shared). … Reader Rich Gagliano saw some Super Bowl team-colored bagels at his bagel shop on Long Island, one day after the Ticker featured doughnuts with the same idea. … Marshall is apparently planning to wear mono-black for the next anniversary of the team's 1970 plane crash (from @Marshall_FQ). … A team in the British American Football Association's second tier, the Nottingham Caesars, had their equipment eaten by mice during the winter offseason (from Kenneth Traisman and Matt Beahan).

Hockey News: The Canucks teased parts of a '90s-era throwback at practice yesterday, but different parts of the gear had different amounts of white in the logo. Goalie Thatcher Demko also had a matching mask (from @brianspeaksnow and Wade Heidt). … Shortly before becoming queen, then-Princess Elizabeth visited Toronto and went to a Maple Leafs game. "What caught my eye was the stitching pattern on the number of the player's sweater. Haven't seen that before," says Brandon Weir. … Reader Wade Heidt has two items from the Junior A British Columbia Hockey League: The Victoria Grizzlies wore white jerseys supporting a local charity, the Help Fill a Dream Foundation. … The Powell River Kings wore their BCHL 60th-anniversary throwback-inspired jerseys for the first time. "The opponent Nanaimo Clippers wore their dark uniforms so we had an old-time yellow as light colour at home game," Wade says.

Basketball News: Reader Willard Kovacs found some 1978 TV footage on YouTube mentioning the 76ers' then-new red uniforms. … Women's college teams that wore pink or pink accents this weekend included Baylor, both Duke and NC State, George Mason, James Madison, Kent State, Providence, both Tennessee and Vanderbilt, Tulane, and both Virginia (again) and Wake Forest. Some of the resulting games were color vs. color.

Soccer News: Washington Spirit coach Kris Ward teased the first piece of team gear with a championship star added, and which is also a lighter shade of blue than the team has ever used. I will say, though, that training gear isn't necessarily in team colors. … Manchester City goalie Ellie Roebuck got a commemorative shirt yesterday for making 100 City appearances. … Scottish club Partick Thistle wore blue and white 1921 throwbacks for what I think is the third time in the Scottish Cup on Saturday. Bizarrely, two of those games have been Scottish Cup losses to Dundee United, in each of the past two seasons. … Australian club Adelaide United's men's and women's teams will become the first Australian professional sides to wear Pride Game uniforms on Feb. 26 (from @BluesBrother95).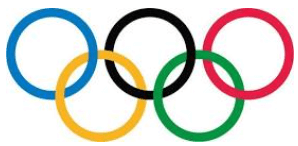 Olympics News: WaPo has a story on the extremely orange costumes worn by Canadian ice dancers Piper Gilles and Paul Poirier. … The Royal Dutch Skating Federation got permission for its short track speed skaters to wear a memorial patch for world champion and 2018 bronze medalist Lara van Ruijven (from emailer Timmy the Cop). … Here's a look at some of the creative helmet designs in the women's skeleton event (from Jeremy Brahm). … Lots of fun bobsled designs, too (from @jmanker).

Grab Bag: The North Carolina/Colgate men's lacrosse match yesterday was color vs. color (from James Gilbert). … The NLL's Philadelphia Wings and Halifax Thunderbirds played in Hamilton, Ont., where the Toronto Rock play, because of Nova Scotia's Covid restrictions. They also used the Rock's turf (from @PhillyPartTwo).