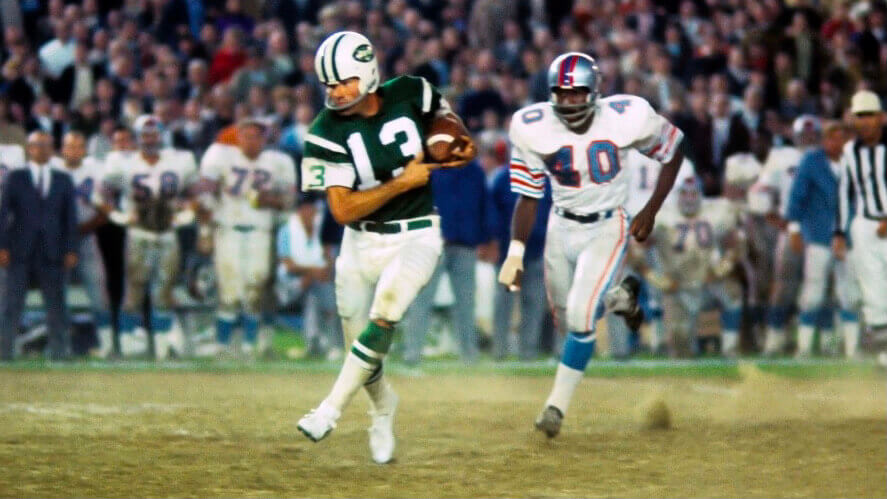 Click to enlarge
Pro Football Hall of Famer Don Maynard died yesterday. I saw him play during the tail end of his career in the early 1970s, when I was just starting to watch football as a kid, and even then I spotted the uni-notable thing about him: He never wore a chinstrap.
It turns out that the chinstrap was just the most obvious example of Maynard's unusual approach to his gear. Quoting from this 1973 Sports Illustrated article:
The ear flaps of [Maynard's] helmet are specially molded to fit snugly over his wide cheekbones, and so he needs no chin strap. His shoulder pads have been carved down to an almost transparent shell of plastic and foam rubber. The front of the pads extends far enough over his rib cage to allow him to dispense with rib pads. Maynard would as soon wear chains as the heavy, long-sleeved jerseys worn by most of his Jet teammates. His are made of a lightweight mesh and usually have short sleeves. Most players use leather belts, but Maynard's is made of a stretchy elastic. He wears cutdown, kangaroo-skin soccer shoes with about 20 cleats (the conventional football shoe has seven) because he has decided they are easier on his legs and provide greater traction. When sleekly decked out for action, Maynard somewhat optimistically estimates that he carries five pounds less uniform than any other wide receiver in the NFL.
Yikes — probably not the best way to take care of your body. Still, it's fascinating that Maynard was doing all of this decades before the modern wideouts who were similarly obsessive about stripping their gear down to the bare minimum (Ed McCaffrey comes to mind). He was an early pioneer in this regard.
Here's a closer look at those custom cheekbone pads that kept Maynard's helmet anchored to his noggin: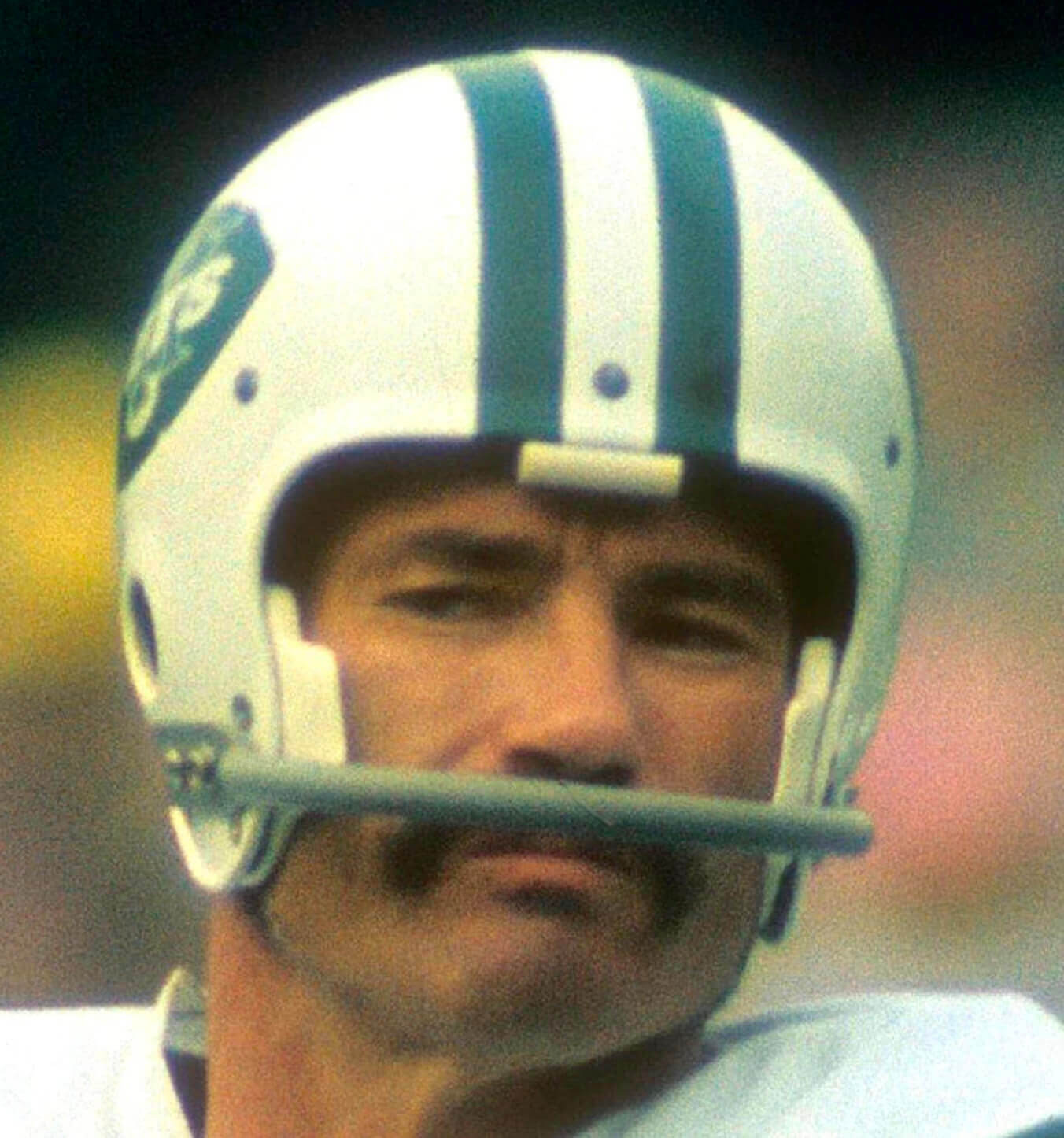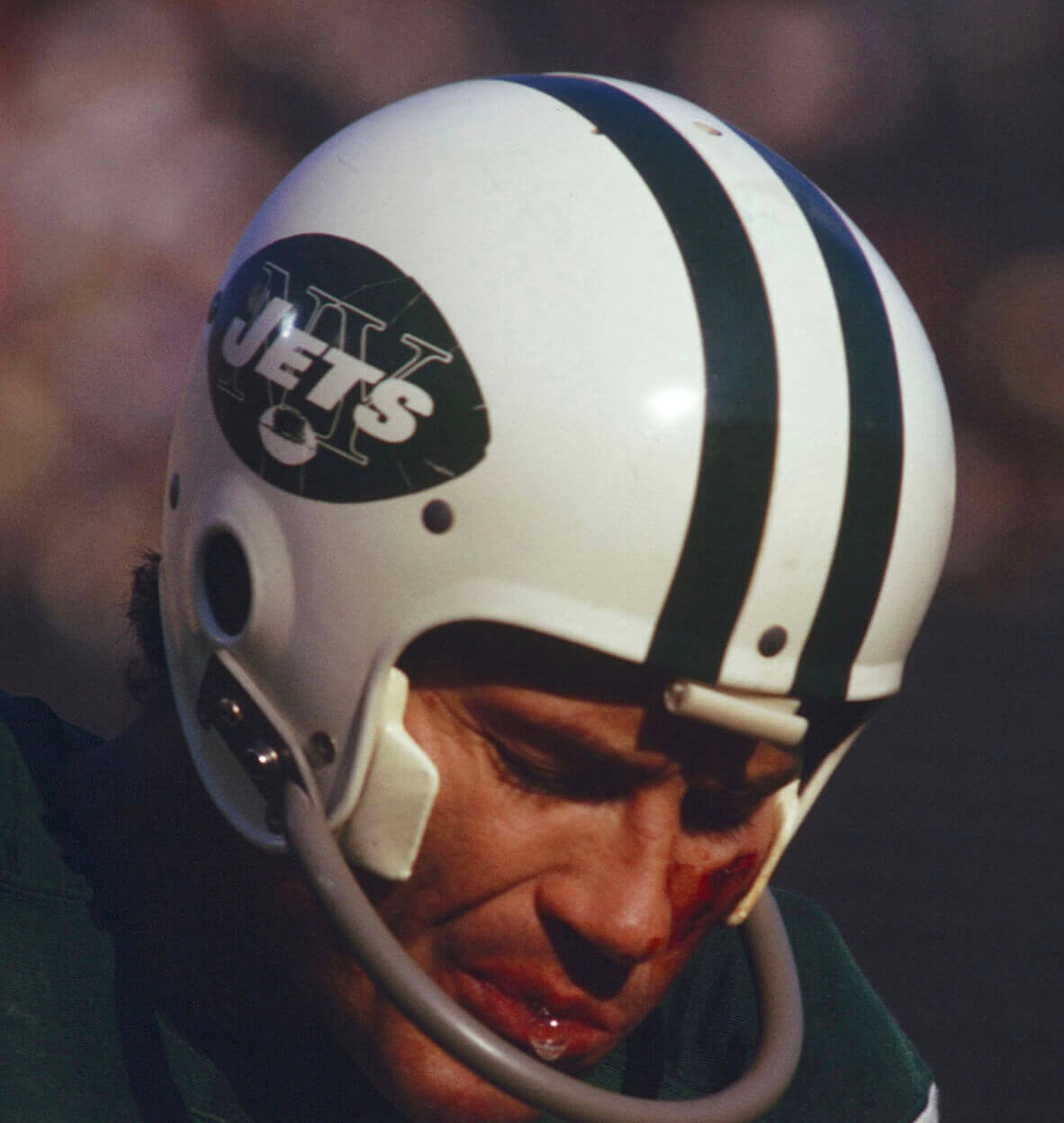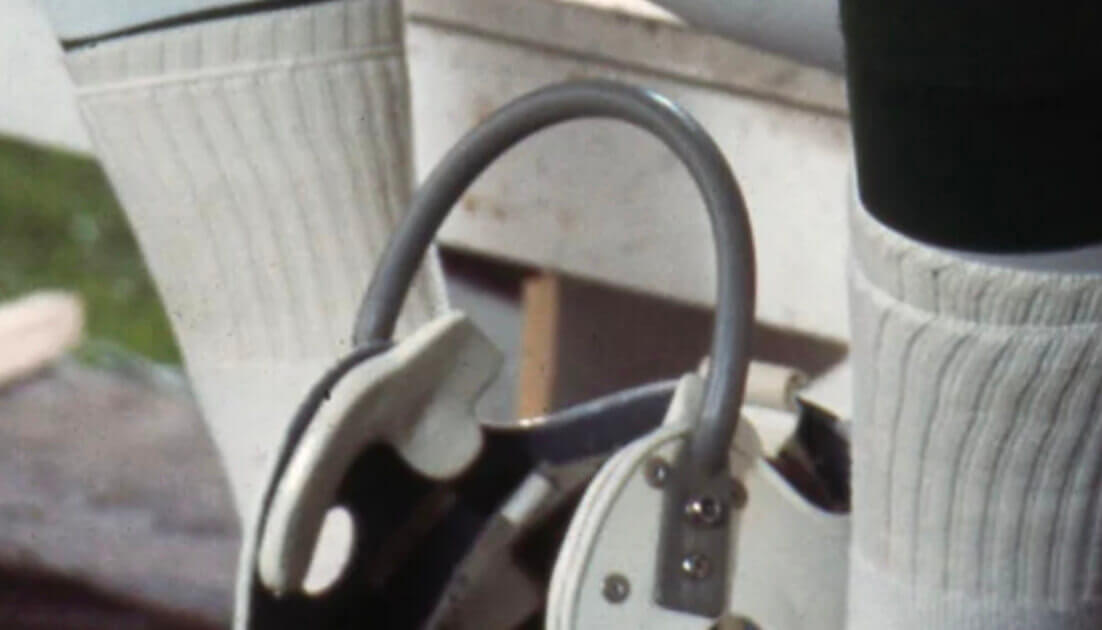 He even went strap-free when wearing an earlier, more primitive helmet model in 1963 (when the Jets were still the Titans):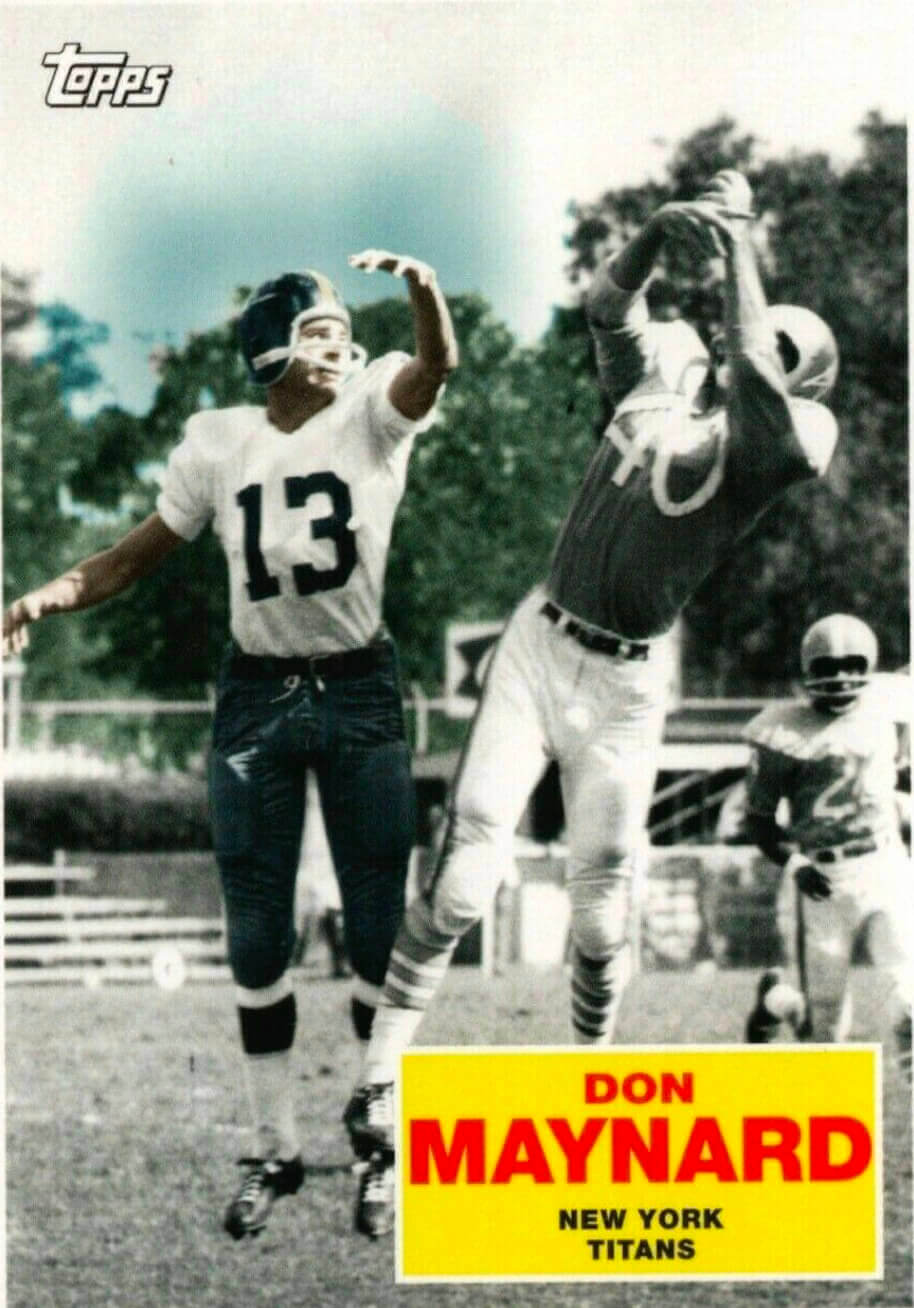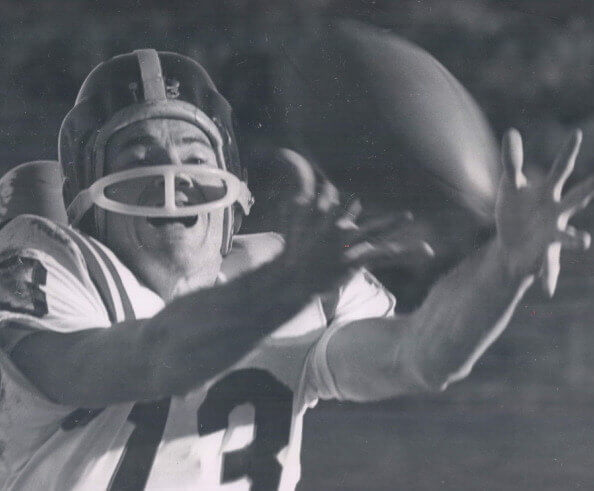 And here are some looks at Maynard's era-unusual short sleeves — again, decades before that became a common thing: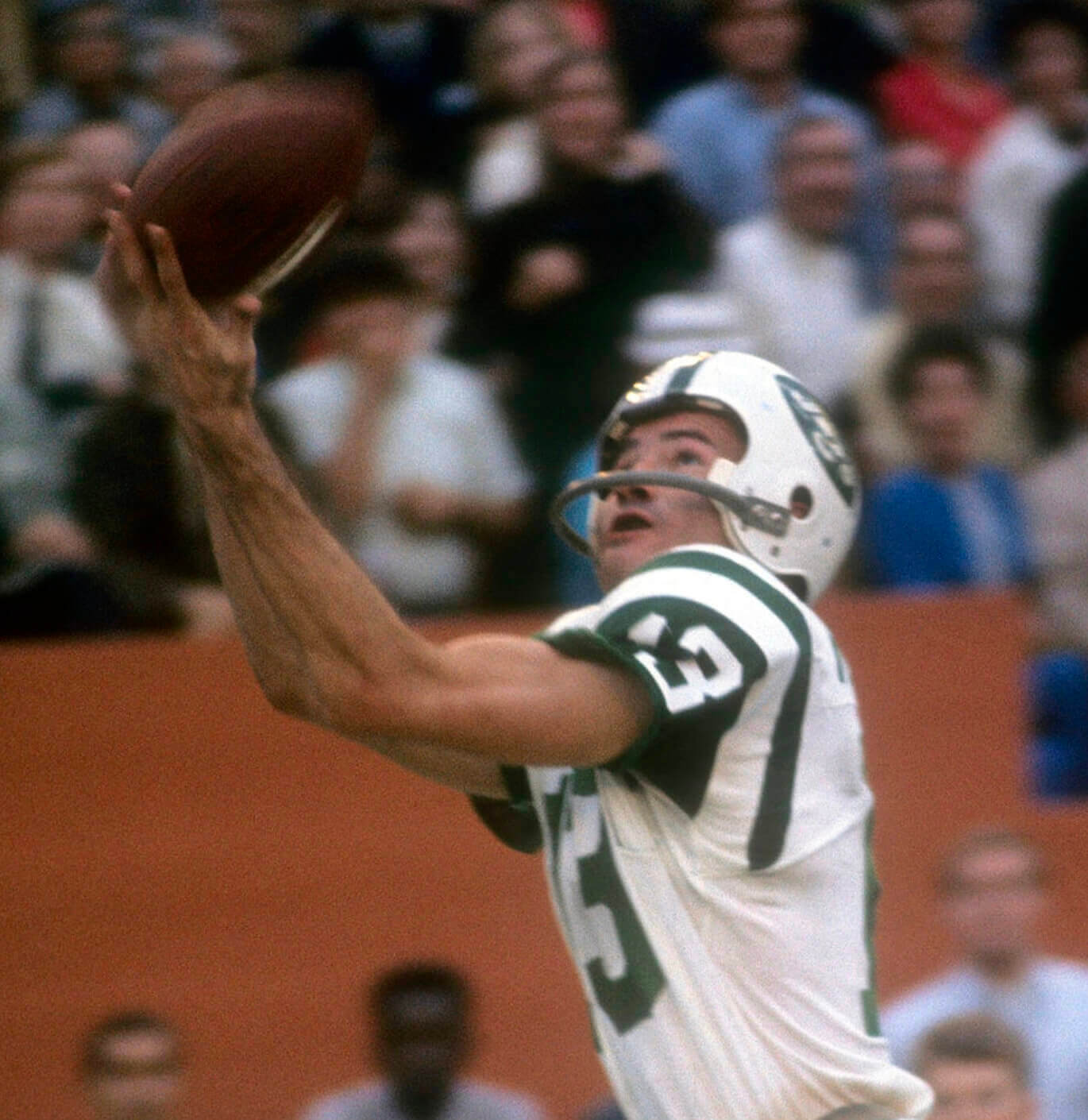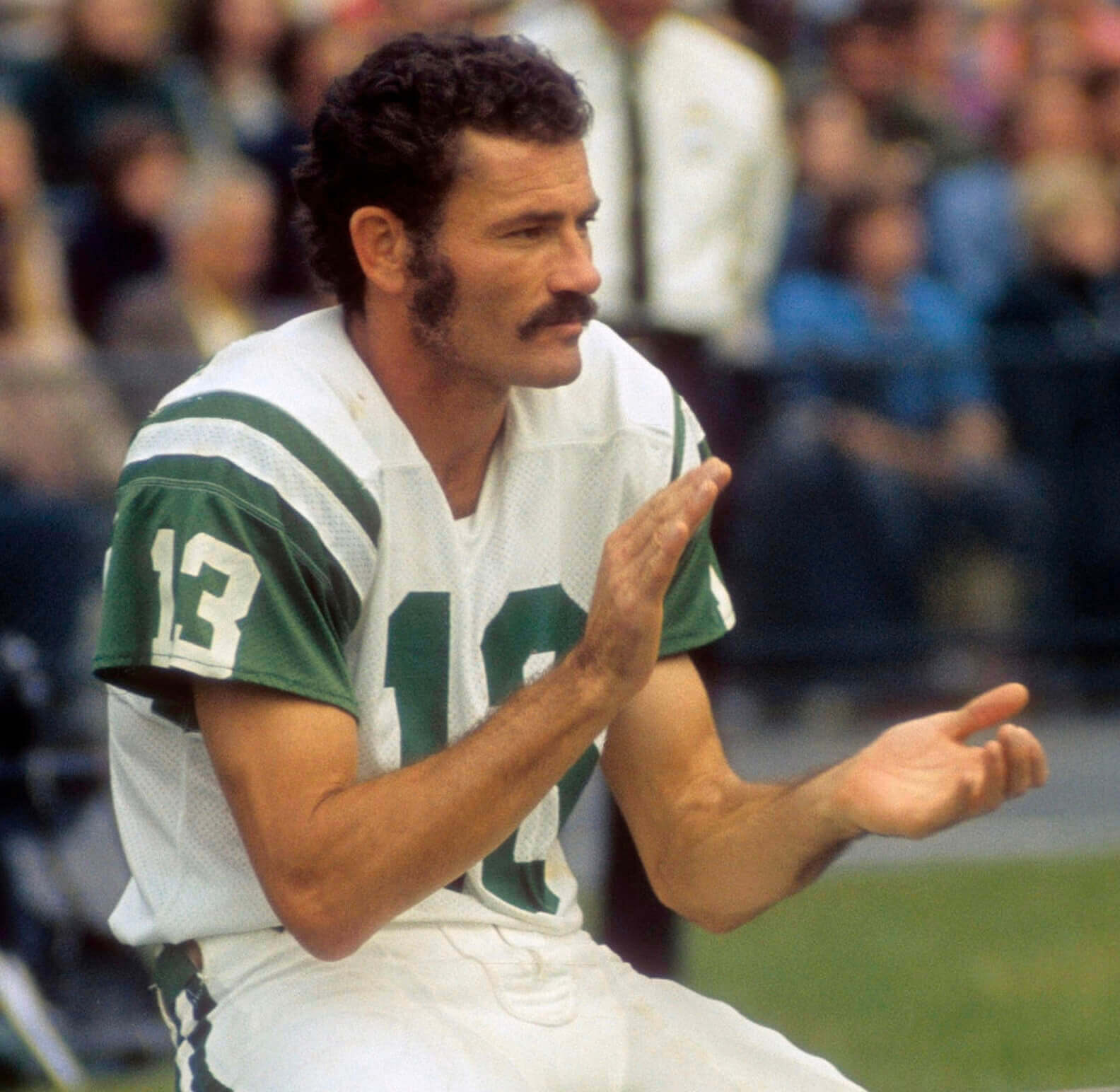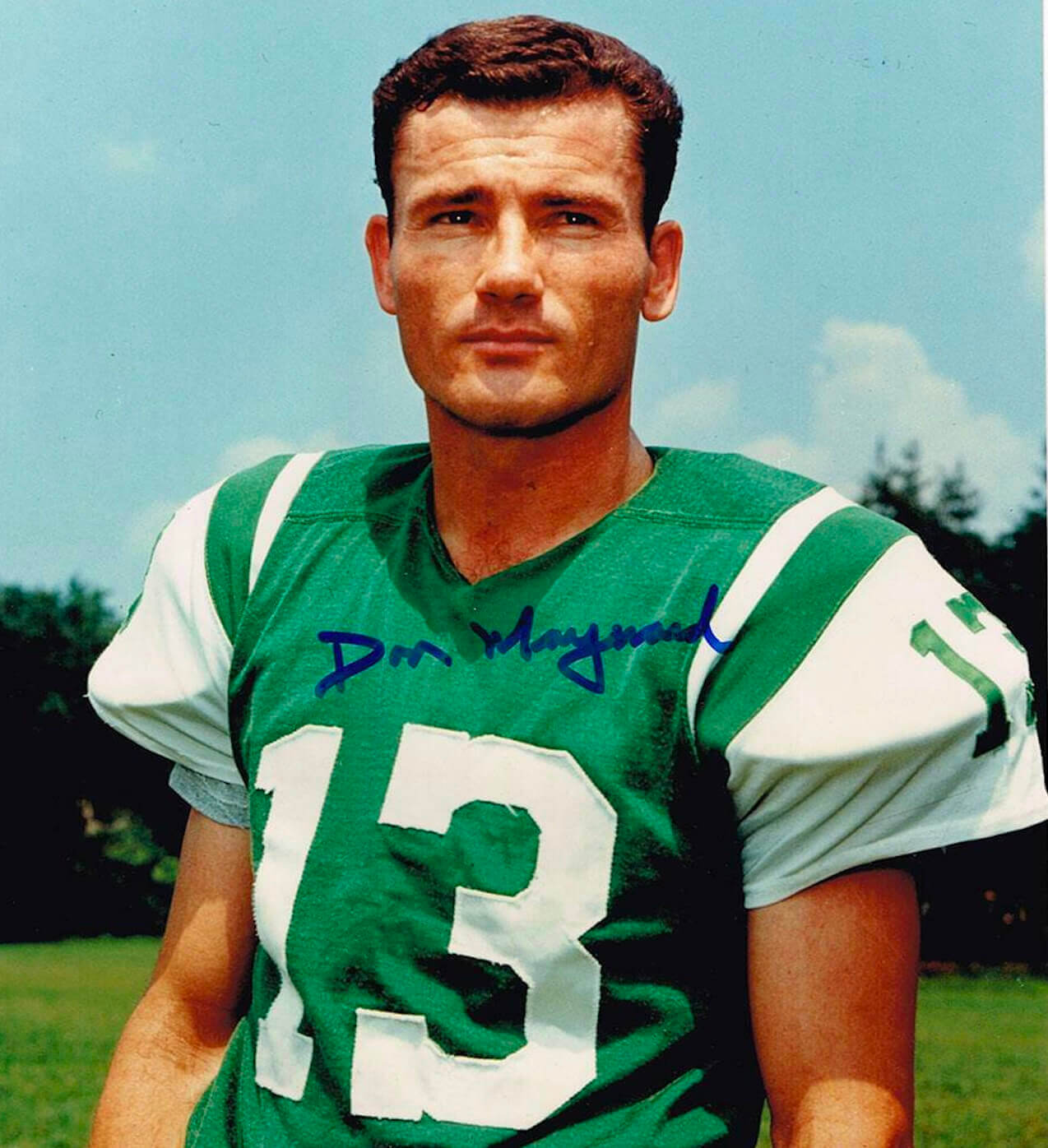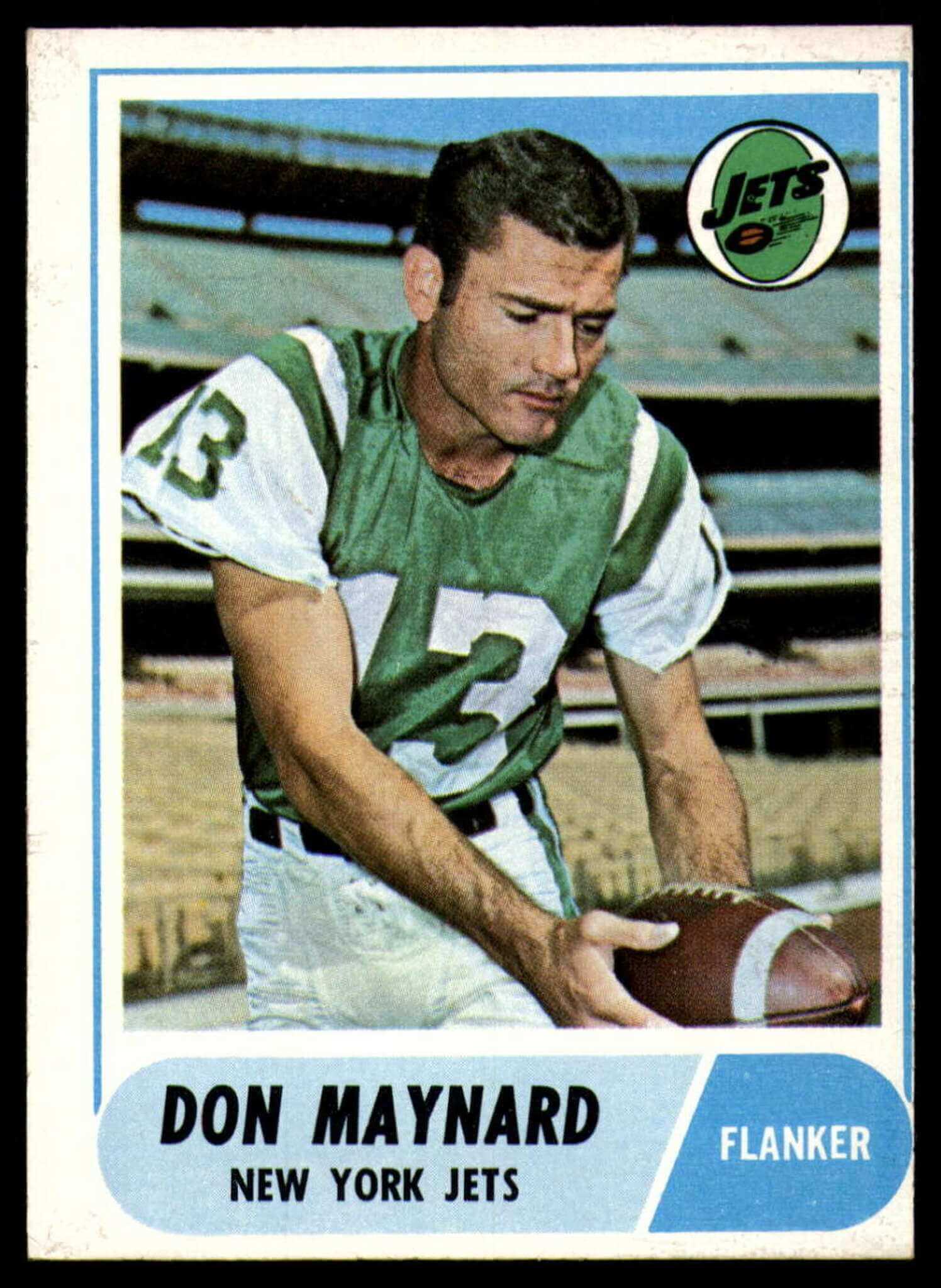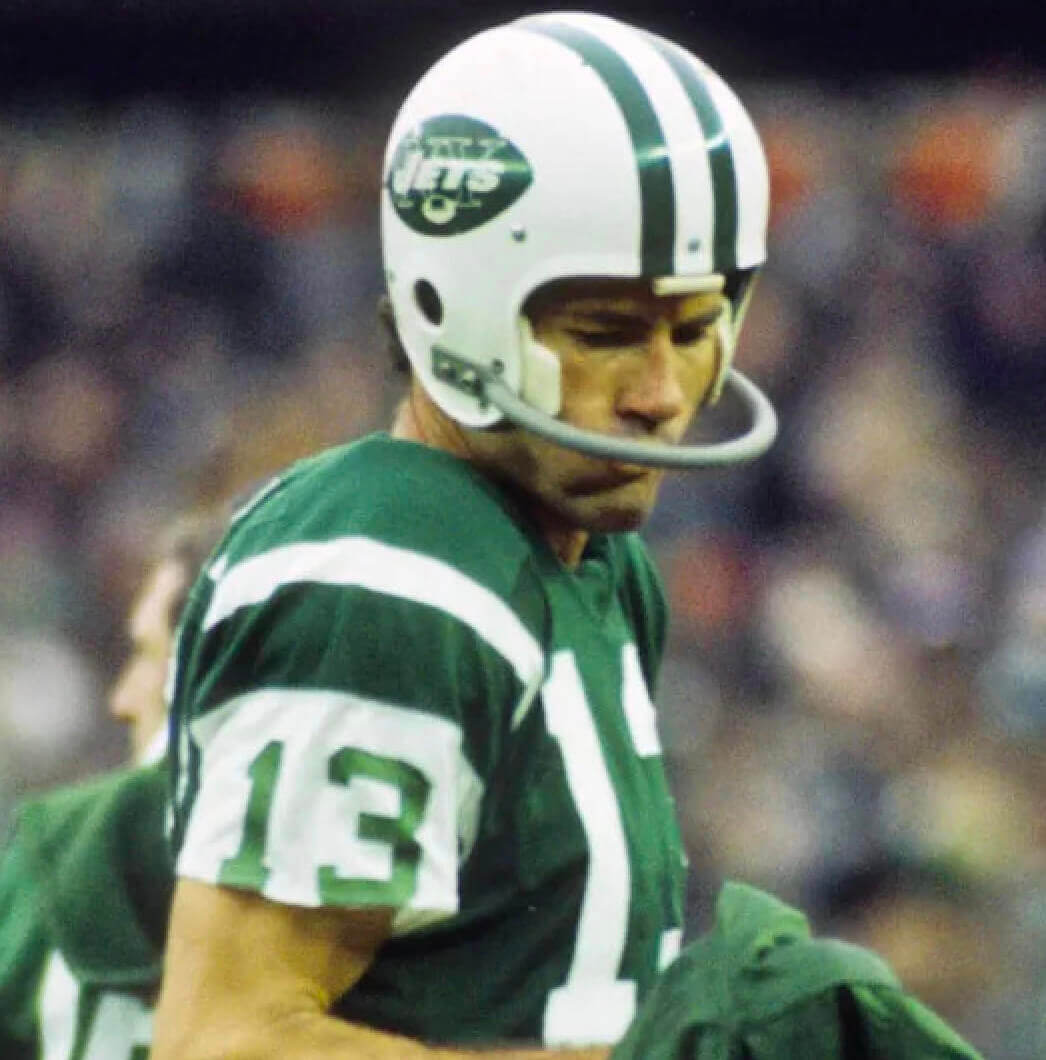 A few other uni-related notes about Maynard:
• Although Maynard is best known for his lengthy tenure with the Jets, he spent his rookie season of 1958 with New York's other team, the Giants. Here's a shot of him in a Jints uni: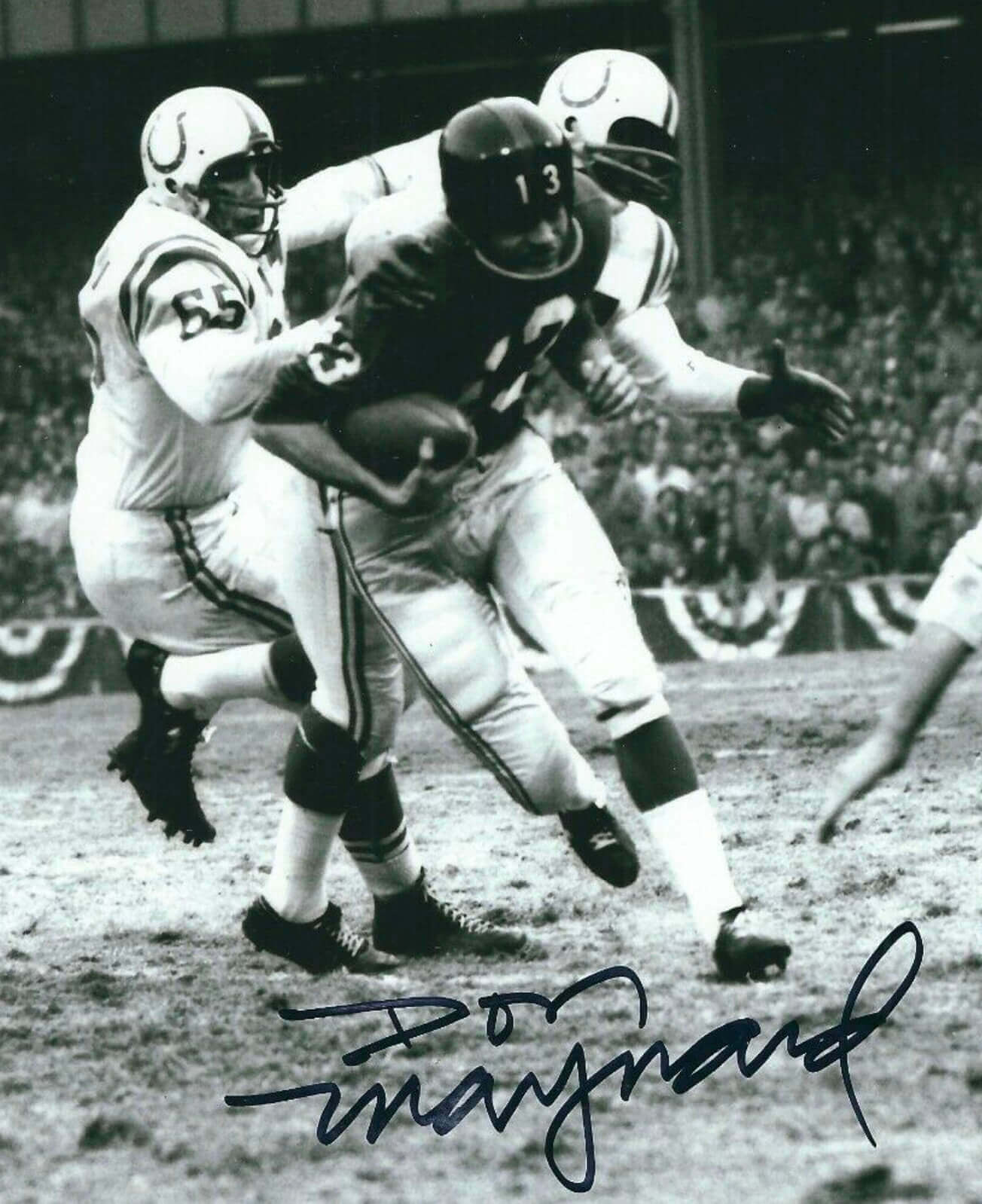 • Maynard spent his final NFL season, 1973, with the Cardinals. I was unable to find an action photo of him from that year (he played in only two games and had just one reception), but here's a shot of him in a Cards uni: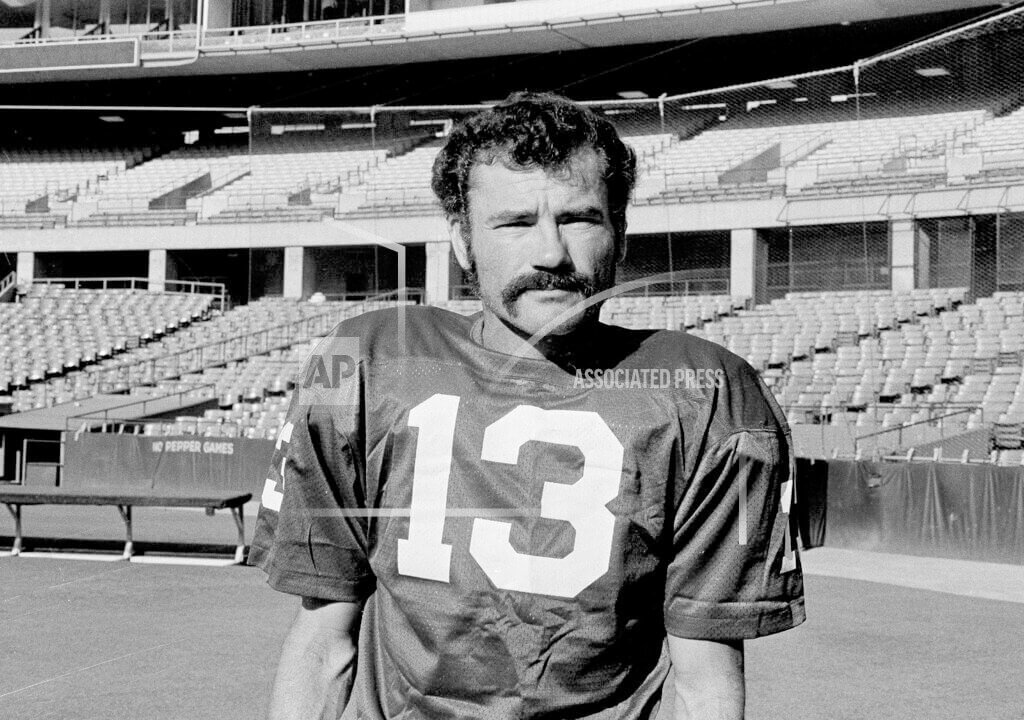 • After his NFL finale, Maynard hooked on with the WFL's Houston Texans (who quickly morphed into the Shreveport Steamer). This is apparently the only photographic record of him in a Houston/Shreveport uni: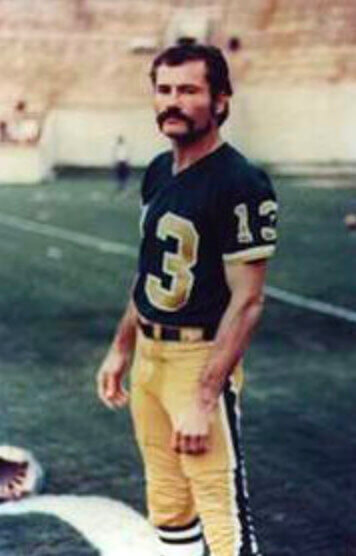 Although the jersey in that last photo looks black, it was actually green. Here are two reputedly game-used Maynard jerseys from that 1974 season: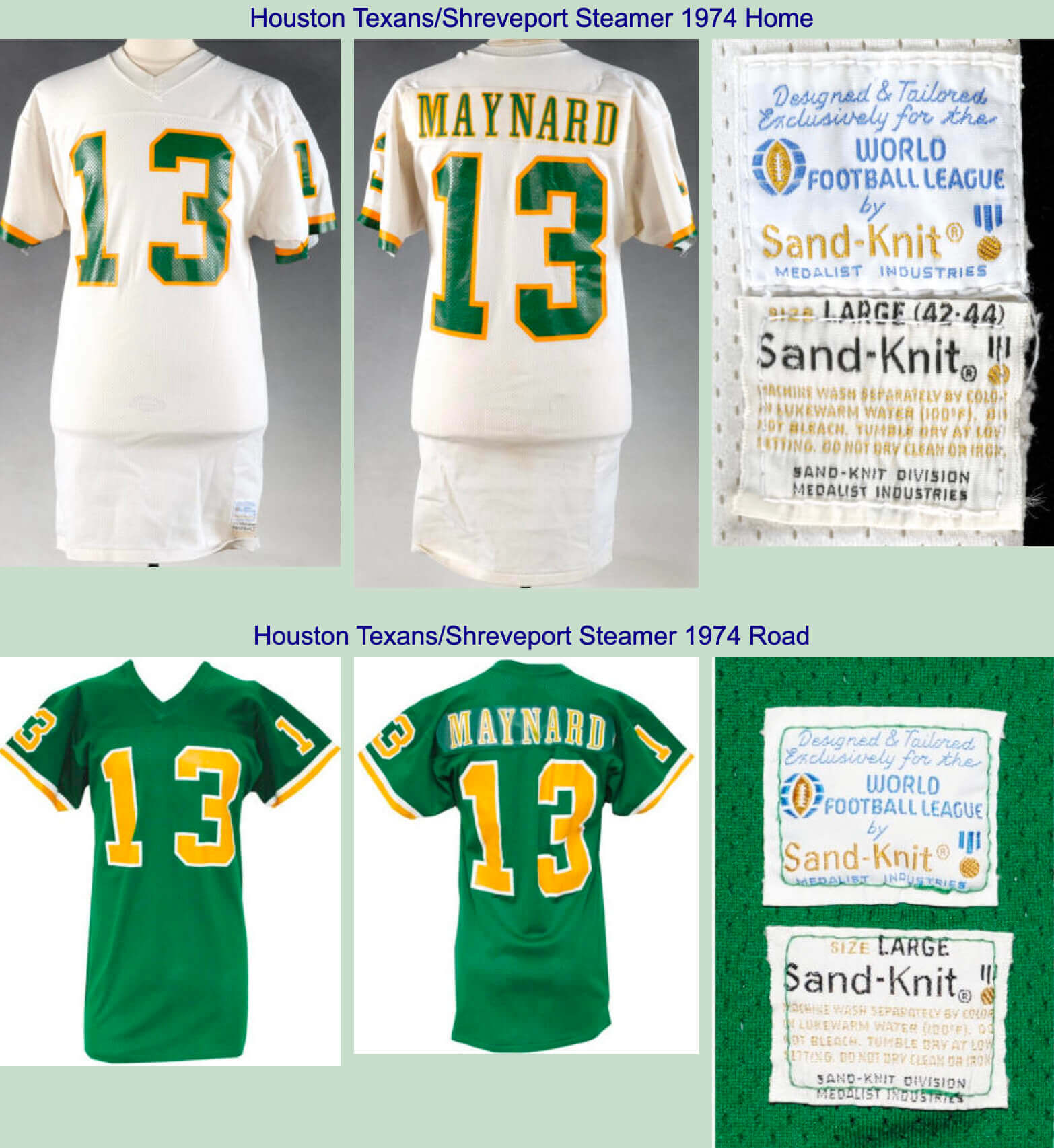 • Maynard spent 1959 playing for the CFL's Hamilton Tiger-Cats. Unfortunately, I was unable to find a photo of him in a Ti-Cats uni. (And before you get too excited, this one is a Photoshop job.)
• When Maynard was inducted into the Jets' Ring of Honor in 2010, he wore his green necktie in what's known as the Onassis knot (also known, at least at Uni Watch HQ, as the Herb Tarlek knot):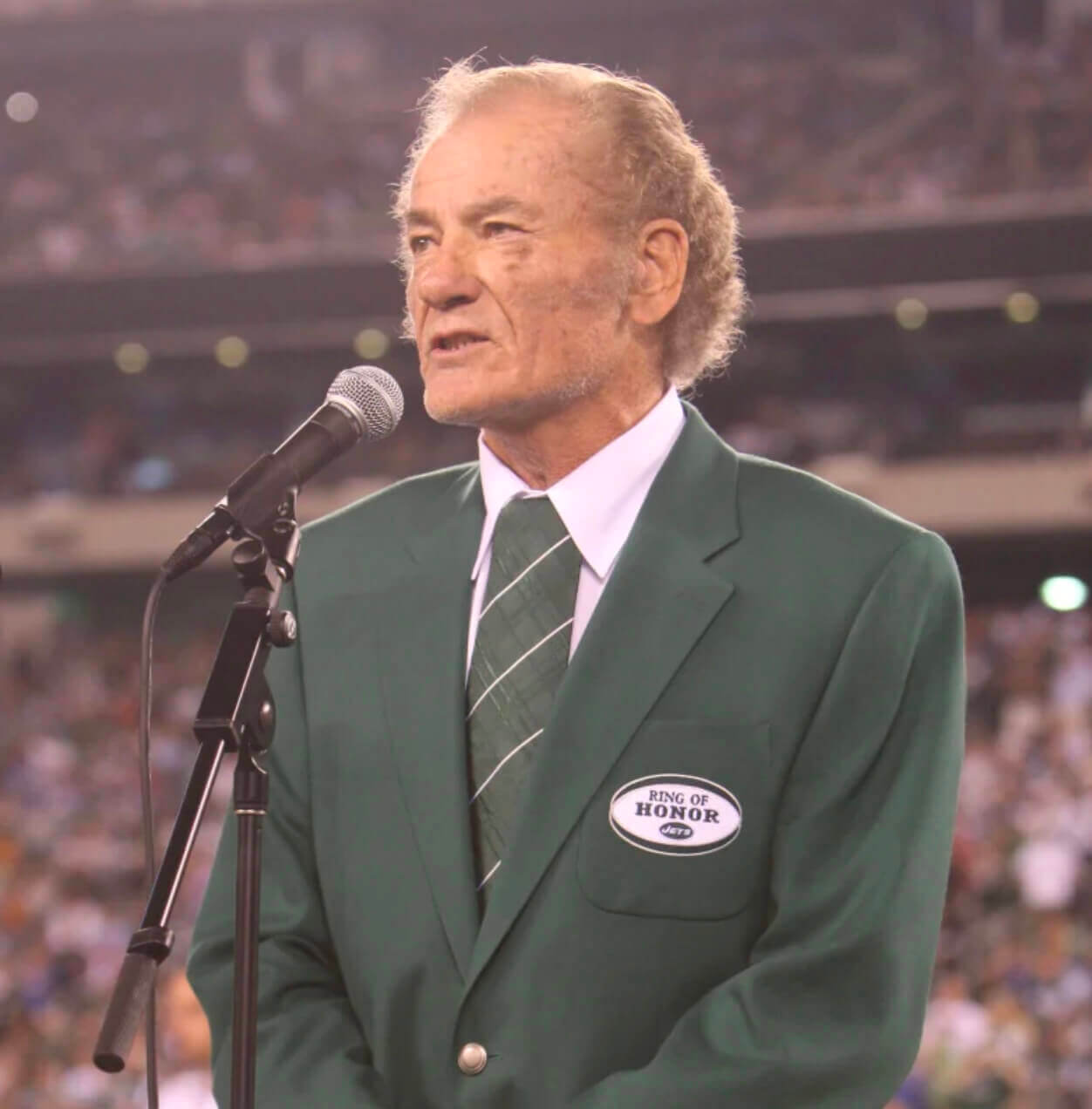 ———
Finally, as an aside, there's this: While looking for Maynard pics, I came across a 1965 shot of Joe Namath with a conventional two-bar facemask. Almost startling to see him without his usual cowcatcher mask design: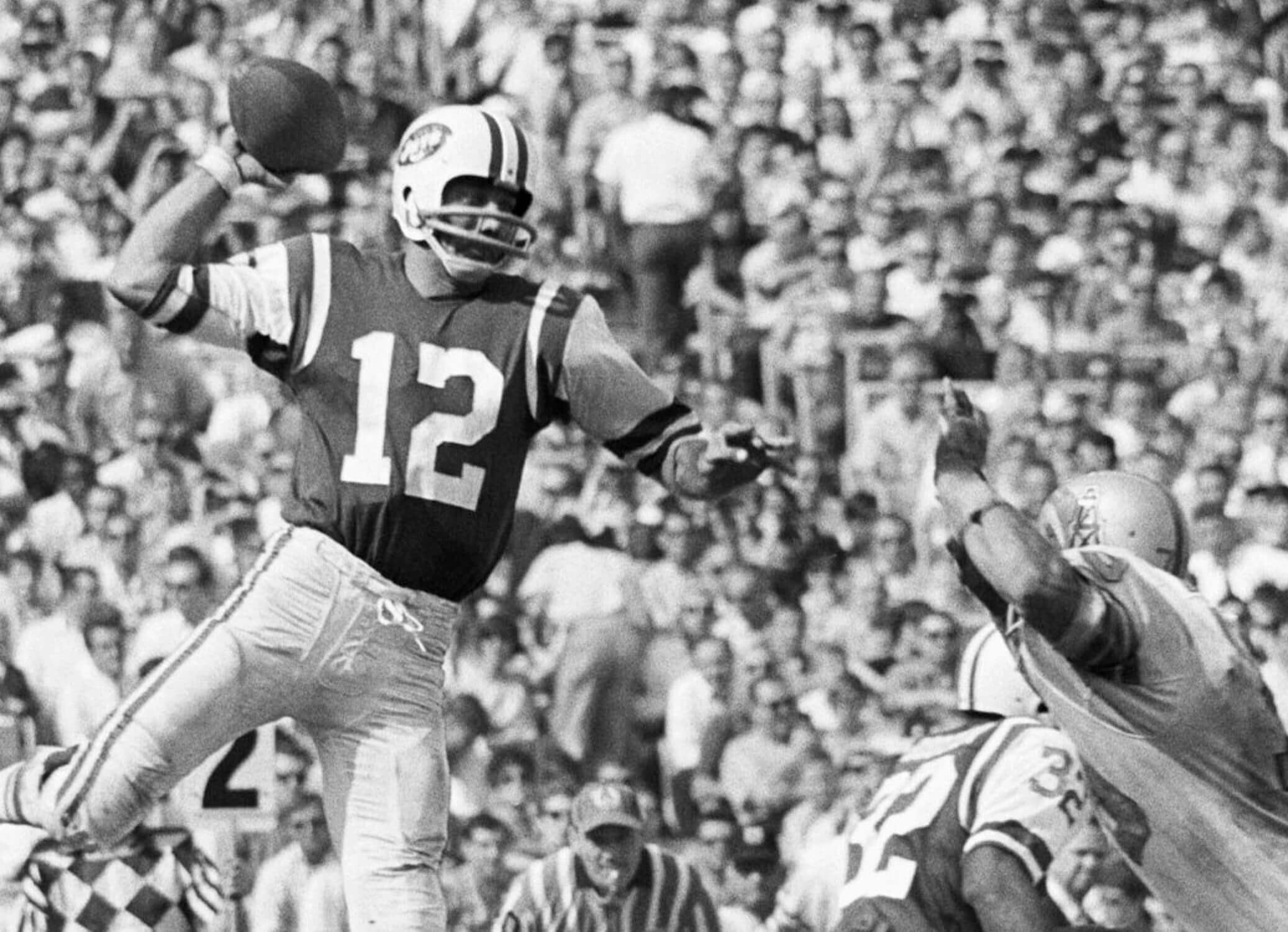 Naturally, Maynard was the targeted receiver for that pass, as he was for so many others. R.I.P.
(My thanks to longtime reader Doug Brei for his assistance in preparing this article.)
• • • • •
• • • • •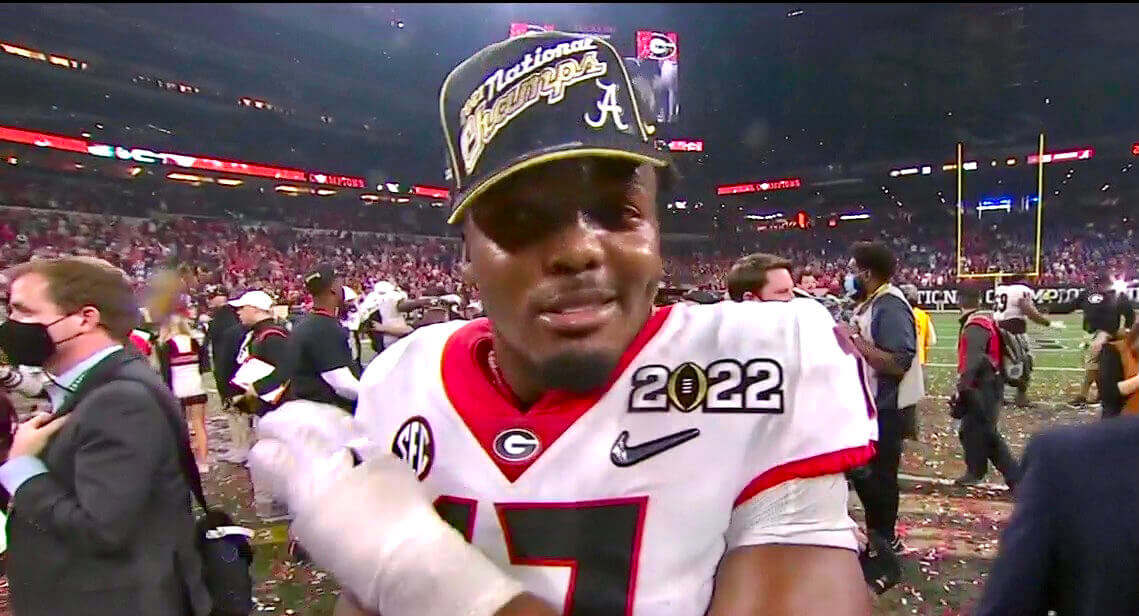 Click to enlarge
Oopsie: In the aftermath of last night's national championship game, Georgia linebacker Nakobe Dean somehow ended up wearing an Alabama cap.
It's not clear how that happened, but phantom caps are fun collector's items, so Dean now has himself a little bonus story to go along with the national championship.
• • • • •
• • • • •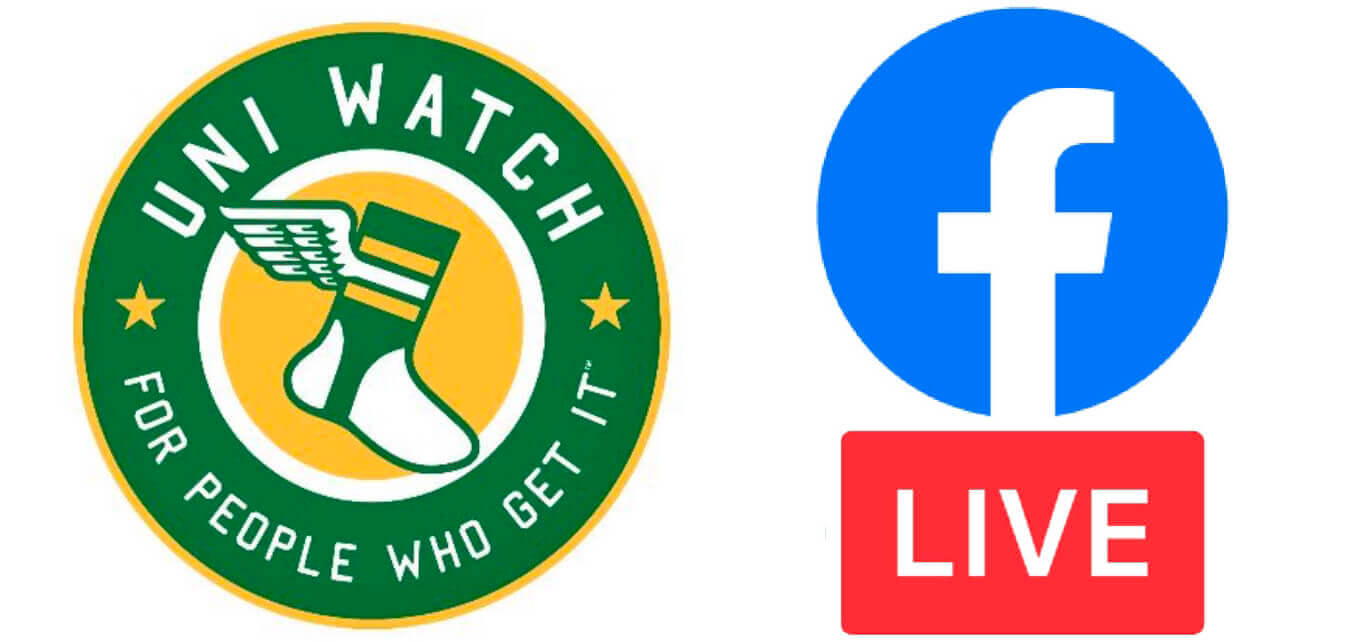 ITEM! Facebook Live event this Thursday: With winter and the pandemic combining to keep many of us holed up inside, I've decided to try doing a half-hour Facebook Live session this Thursday, Jan. 13, at 7pm Eastern.
I'll respond to questions that people post in the comments and will also show-and-tell a few items from my vintage jersey collection. I've never done one of these before, so we'll see how it goes, but I'm hoping it will be a nice little comm-uni-ty event.
The event will livestream on my Facebook page. Anyone can view it, even if you don't have a Facebook account, but you do need an account if you want to post a comment or question.
Looking forward to it — see you then!
• • • • •
• • • • •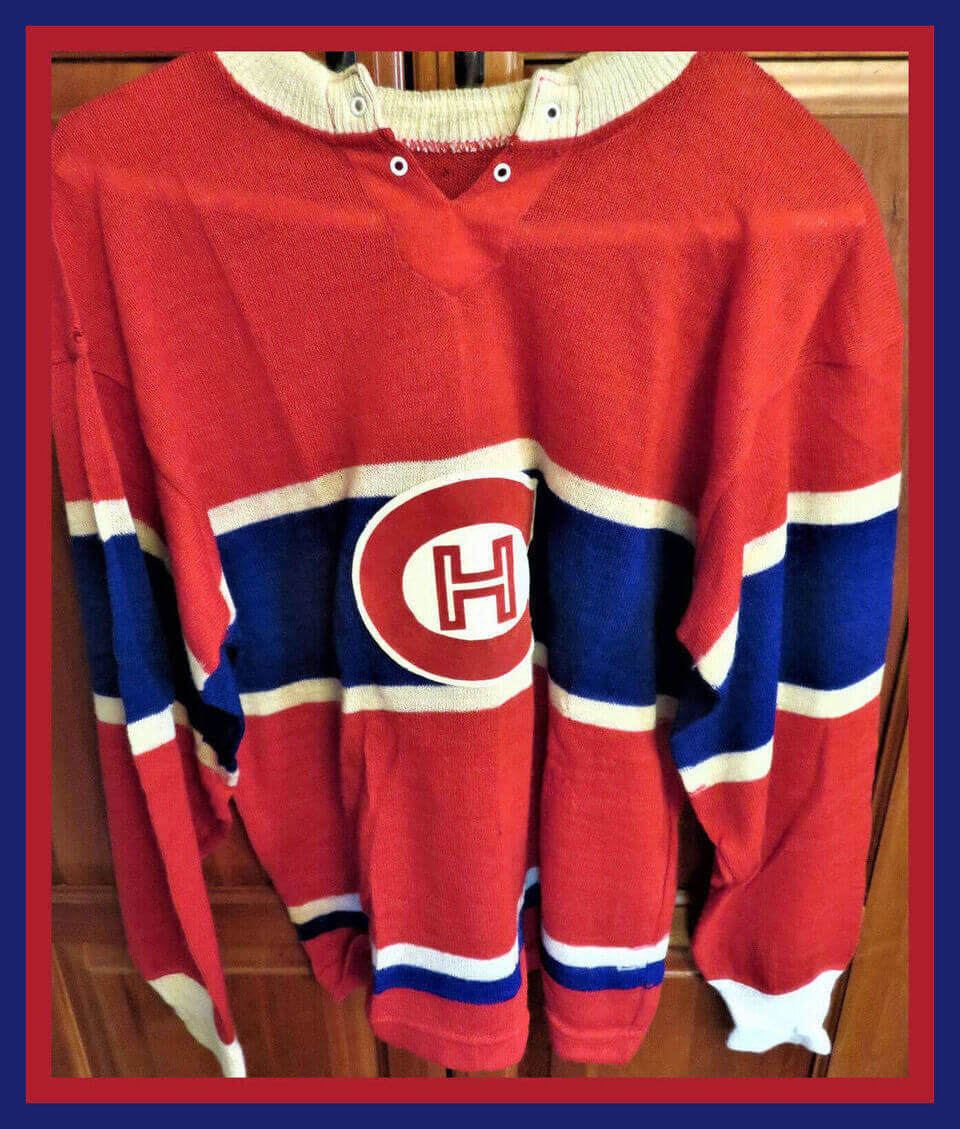 Click to enlarge
Collector's Corner
By Brinke Guthrie
Follow @brinkeguthrie    
Kicking off this week with this excellent Montreal Canadiens knit jersey sweater. The seller says "This is small, which makes it great for a display to add that vintage look to your hockey room." Or good for your kid, or just for yourself if you're on the smaller side!
Now for the rest of this week's picks:
• Here's another vintage hockey sweater from the same period, this one for the Toronto Maple Leafs.
• Check out this Chiquita Banana "50th Anniversary Special" NFL radio from 1969. I have one of these in pristine condition, and this one looks great too. Note: The seller says it does power up but you get static. Well, so does mine, but I fiddle with the stations and they eventually come in. 
• Here's a 1972 Atlanta Flames hockey puck pencil sharpener.
• Hutch labeled this 1950s-60s kids' football gear set as a "Football Uniform Outfit for Future All-Americans." 
• This is a 1950s advertising sign for Cincinnati brewery Hudepohl's sponsorship of NFL games with "Red" Grange on WLWD in Dayton. 
• Look at this terrific 1975 NFL helmet "divisional" poster! It's got the Disco NY Giants, and I had forgotten the Falcons were once in the NFC West!
• Got some more posters here, including a 1966 Dave Boss print;  a 1970s Puma Fran Tarkenton promo poster;  a 1970s "Charger Power on 1160 KSDO" poster; and an "Evolution of the Uniform" poster from General Tire. 
• Got a nice-looking "foil"- like 1970s Minnesota Vikings decal here.
• It looks like Mickey Mantle had his own line of denim jeans at one point. Here's a set of seven baseball-themed buttons from 'em.
• Choose your favorite team from this set of 1970s-80s NFL helmet ink-stampers!
• • • • •
• • • • •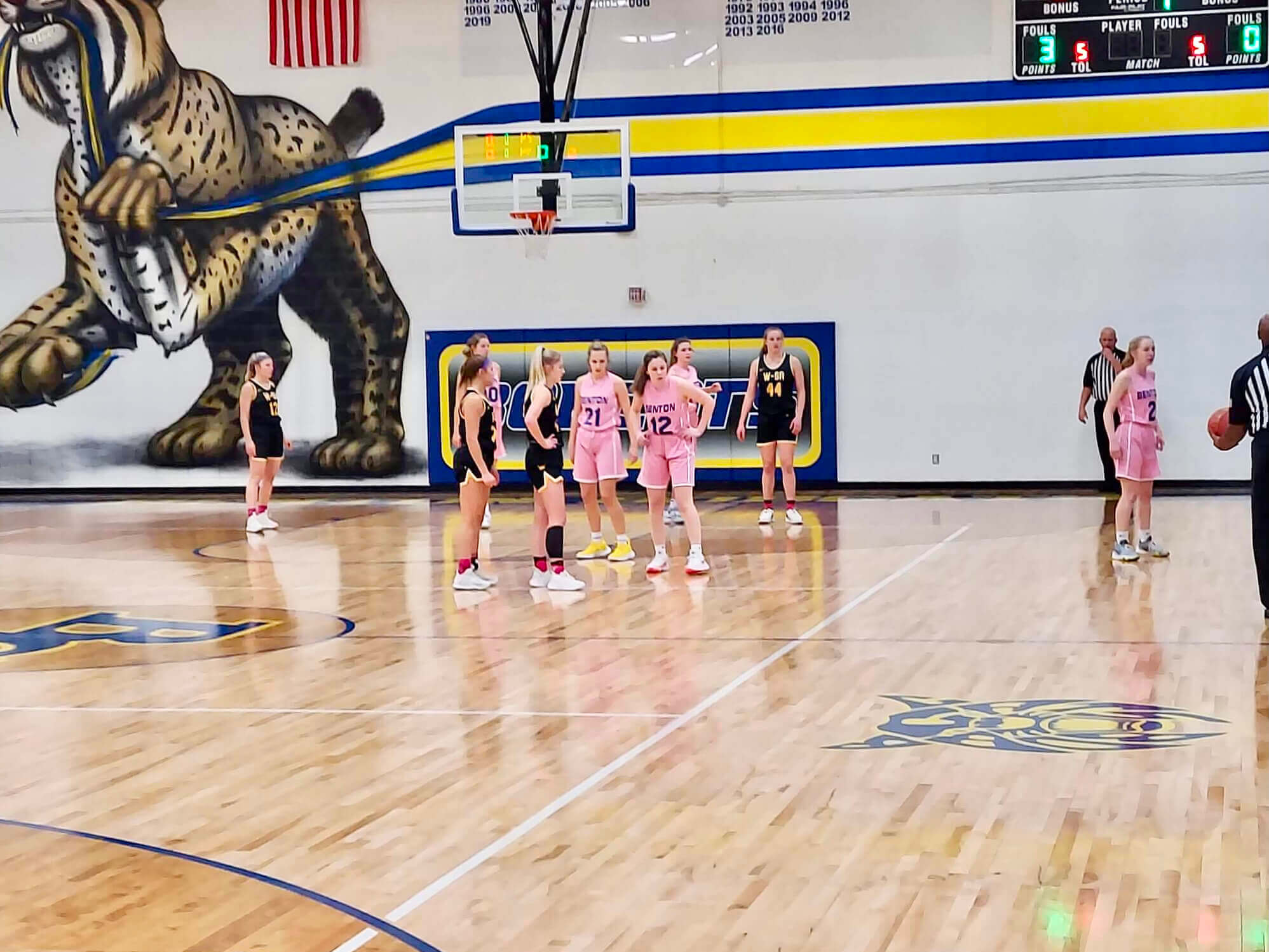 Click to enlarge
Too good for the Ticker: I don't usually get too excited over gym murals, but the one at Benton Community High School in Iowa is so awesome! Their teams are called the Bobcats — hence the giant feline having its way with the big stripe on the wall. Love it!
Actually, I misspoke: Benton's boys' teams are called the Bobcats. The girls' teams are the Lady Cats, which is sexist and pathetic. Come on, Benton — your girls deserve better.
(Big thanks to Owen Siebring for this one.)
• • • • •
• • • • •
part 2 pic.twitter.com/3Ghm9e7EN8

— kelli anderson (@kellianderson) January 7, 2022
Oh. My. God. This has nothing to do with uniforms or sports, but these two videos of finished projects from a paper engineering class are completely amazing pieces of design. Totally worth your combined four and a half minutes — trust me.
The woman who teaches the class, Kelli Anderson, appears to be a genius. If you want to learn more about her, here's a good primer video, along with her Vimeo channel and blog. It's all really inspiring!
(Mega-thanks to the Tugboat Captain for bringing those tweets to my attention.)
• • • • •
• • • • •
The Ticker
By Alex Hider

Baseball News: We've had this before, but once more won't hurt: Juan Francisco has been wearing No. 111 (no, that's not a typo) while playing for the Gigantes del Cibao of the Cuban Winter League (from Bryan Beban). … The Asheboro Copperheads of the collegiate summer Coastal Plain League have are now the Asheboro ZooKeepers (from Kary Klismet and Rex Henry). … New 20th season logo for the Tri-City ValleyCats of the Frontier League (from @ThatShaneBua). … Baseball cartoonist Carl Skanberg definitely Gets It™ (from @esbrechtel).

NFL News: At least one DC-area newscaster thinks the WFT's new name will be "Commanders" (from Andrew Cosentino). … Fox displayed a graphic featuring former Vikings WR Randy Moss during Sunday's Vikes/Bears game. The graphic improperly listed Moss as wearing No. 81, even though the accompanying photo showed him wearing No. 84 (from Matt Sanderson). … I've never heard this before: On Feb. 17, 1975 — a year and a half before the Buccaneers' on-field debut — The Tampa Times reported that their colors would be orange, green and white. The story also notes that the team considered "Bay Bucs" as a team name (from Edward Hickey). …  Reprinted from yesterday's comments: Yesterday's MMUW report failed to mention that the Rams added a "KW 1946" helmet decal. "I pieced together that it must be to celebrate Kenny Washington, because they just announced a memorial scholarship fund in his honor last week," says Ken Hanson. 1946 was the year that Washington and Woody Strode broke the NFL's modern color barrier. … A game-worn Tom Brady jersey from last season has been auctioned off for $480,000, a record for a game-worn NFL jersey (from Brinke). … Carrboro High School (North Carolina) is poaching the Jags logo. They covered their tracks a bit by changing the tongue color from teal to purple (from Akul Nishawala). … The NHL's Nashville Predators tweeted their support of the Titans' upcoming postseason run but used an outdated white Titans helmet in their photo. The Titans changed to navy helmets in 2018 (from @KCNep95).

College Football News: Reader Jordan Daniels is talking about the topics that matter: Georgia's record based on coach Kirby Smart's visor color. For the record, Smart wore a white visor last night. … The next two notes are from Kary Klismet: An Atlanta news station published a history behind Uga, Georgia's live bulldog mascot, ahead of last night's National Championship game. … A Cincinnati Bearcats fan is creating a series of graphics for the school's football and men's basketball games based on their opponents' logos. … Joe Owen found an eBay listing for a T-shirt commemorating the 1997 Rose Bowl matchup between Ohio State and Arizona. Just one problem: The Buckeyes played Arizona State in the Rose Bowl that year. … As talented as modern equipment managers are, I don't think I could see any of them going to these lengths on the sidelines these days (from Andreas Papadopoulos).

Hockey News: The Huntsville Havoc of the Southern Professional Hockey League will wear jerseys designed by a seven-year-old fan on Jan. 15 (from Kary Klismet). … Here's a series of concept sweater designs, based on old casino neon signs, for this year"s NHL All-Star Game in Las Vegas (from @theerandomfan). … Coaches often lace up the skates during practices, but Herb Brooks, then the coach of the Minnesota Gophers, went a step further by wearing shinguards during a practice in the 1970s. Also: That photo shows two players wearing the captain's "C"! (From Ben Hagen) … Cross-listed from the NFL section: The Preds tweeted their support of the Tennessee Titans' upcoming postseason run but used an outdated white Titans helmet in their photo. The Titans changed to navy helmets in 2018 (from @KCNep95). … Lakeland Union High School (Wisconsin) will wear camo uniforms tonight for military appreciation night (from @paulmjung). … More bad news for the Coyotes, who reportedly do not have sufficient city council support for a new arena in Tempe.

Basketball News: New Jazz G Denzel Valentine will wear No. 15 (from Etienne Catalan). … During at least one game in the 1980s, Lakers G Byron Scott was wearing a NNOB No. 00 jersey. Further research shows that the Showtime Lakers carried No. 00 as their spare jersey in case of emergencies (from @GotEm_Coach and @NBACobwebs).

College Hoops: Syracuse G Buddy Boeheim has his own cereal (from Max Weintraub). … Cross-listed from the college football section: A Cincinnati Bearcats fan is creating a series of graphics for the school's men's basketball and football games based on their opponents' logos (from Kary Klismet).

Soccer News: Borussia Dortmund is asking fans to help design the club's home uniform for the 2023-24 season (from Kary Klismet). … Spanish side Athletic Bilbao will add chest and sleeve patches for the upcoming Supercopa de España this week (from Ryan Maquiñana). … New jerseys for Peruvian club Universitario (from Ed Żelaski). … New jerseys for Japanese club Kawasaki Frontale (from Jeremy Brahm).

Grab Bag: The U.S. Mint has released a Maya Angelou quarter design, which is the first edition in its American Women Quarters Program (from Marcus Hall). … Check out actor Steve Buscemi wearing a singlet for his high school wrestling team. That photo comes from the National Wrestling Hall of Fame, where he's enshrined not for his achievements on the mat but as an "Outstanding American" award winner (from Max Weintraub). … The Professional Bull Riders have unveiled the team logos for the new PBR Team Series (from Kary Klismet). … NASCAR driver Kyle Larson will have two racing suit options in 2022. He'll wear white during "home" races and blue during "away" races. The team will determine "home" and "away" races based on the proximity of the car dealerships owned by Hendrick Cars, his team advertiser (from @spadilly). … Speaking of NASCAR, here's the paint scheme Denny Hamlin will sport next season (from @indywestie). … The Norwegian military says it's struggling with dwindling supplies and has ordered conscripts to return their underwear, bras, and socks at the end of their service so that the next group of recruits can use them (from Timmy Donahue). … Speaking of Timmy, not only did he get his daughter some mini football helmets for Christmas and her birthday, but he also got her a display case to show them off. Pretty cool! … The Fresh Prince of Bel-Air is getting a reboot, and the show's new trailer features several Southern California and Philadelphia uniform references (from @PhillyPartTwo). … Here are the new 2022 jerseys for the Australian National Rugby League (from @TheBigJamesG). … New city flag for Springfield, Mo. (from Rob Turning). … Pro sports teams are expected to spend over $10 billion this decade on new and renovated stadiums and arenas, most of which will likely be smaller than their predecessors and will also aim to be carbon-neutral.