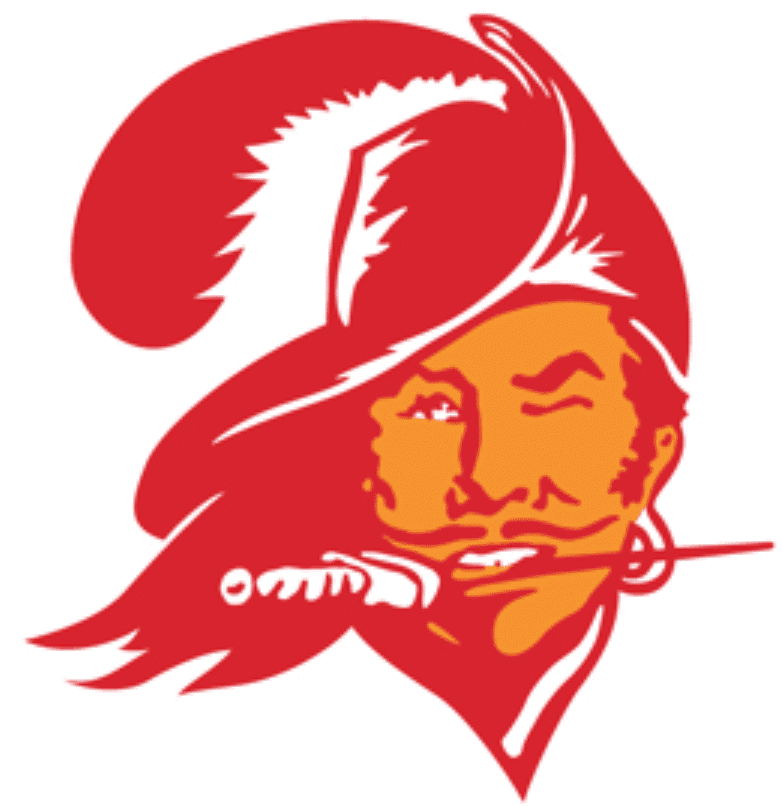 Way back in June of 2016, I did a blog post about Bucco Bruce's name. Reader Matt Sammon responded a few weeks later by sending me some really interesting Bucs info — which then got buried in my in-box, where I kind of forgot about it. Two and a half years later, I'm finally dealing with it.
At the time, Matt wrote to me, "I was able to get over to the John F. Germany library in downtown Tampa and go through the old newspaper collections they have. In the 1960s and '70s, someone at the library had cut out and cataloged every story in the local papers. I found a treasure trove of info on the Buccaneers' name, colors, and uniform."
Here are the primary things Matt discovered:
1. "Buccaneers" won two different name-the-team competitions. According to a Tampa Tribune article from Feb. 16, 1975 (a good year and a half before the team's first NFL game), "a 14-man advisory committee sifted through 400 names" and quickly settled on "Buccaneers." But that wasn't much of a surprise because, according to that same article, "WFLA Radio held a Name-The-Team Contest in 1974. Its judges selected Tampa Bay Buccaneers as their pick. … Dr. Richard Molloy of Tampa Carrollwood sent in the first received recommendation of that name and 45 more suggested the same name." Here's the full article (click to slightly enlarge):
2. St. Petersburg residents resented the name. On that same day — Feb. 16, 1975 — St. Petersburg Times columnist Hubert Mizell suggested that sportswriters use the shorthand term "Bay Bucs" for the team. "There has always been a battle between Tampa and St. Pete (not all that different from Minneapolis and St. Paul), and this was supposed to placate them," says Matt. "According to a team timeline from the special edition of the Tribune, a month after the name was announced, St. Pete business leaders tried to get the name changed to be more regionally appealing."
3. The Bucs' current logo is exactly what the original management team tried to avoid. An article from the July 25, 1976, edition of The Tampa Tribune-Times described how the team drew a distinction between a pirate, which was considered "scruffy" and "hairy-legged" and "sweaty-looking," and a buccaneer, which ownership described as "high-class" and "devil-may-care." The article says that Lamar Sparkman, who created the logo mascot, originally came up with a skull and crossbones design, but management rejected it because it was too pirate-y. The Bucs' current logo, of course, is a skull and crossbones.
4. There were separate left- and right-side versions of the mascot. According to that same article, "[T]wo different symbols had to be drawn to go on the sides of the Bucs' helmets. The plum feather has to be facing backwards on both sides, so it was necessary to redraw the logo to fit those specifications."
Plenty of teams have separate logo variations for the two sides of their helmet, of course, but I hadn't realized that the Bucs had done this. Sure enough (click to enlarge):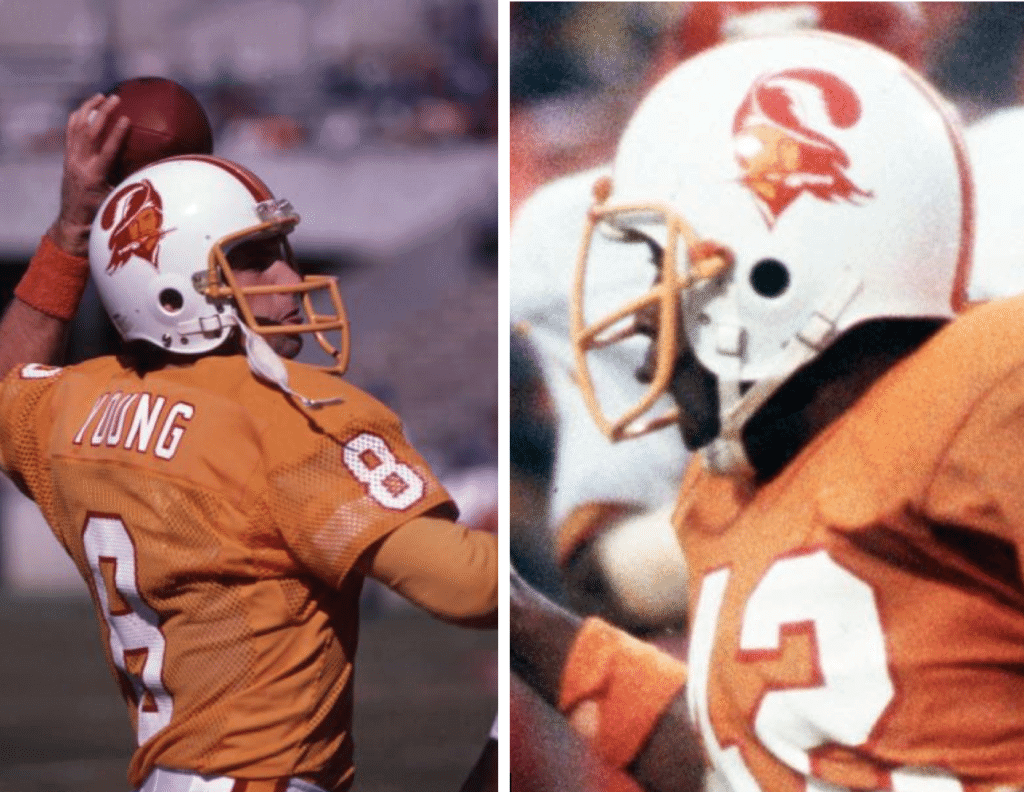 5. At least one female team employee thought the mascot was sexy. There's been debate over whether whether Bucco Bruce is gay, and/or whether the nickname "Bucco Bruce" (which was never the mascot's official name) was intended as a gay slur. But according to that same article, a woman named Glenna Hancock, who worked in PR for the team at the time, thought the mascot's wink "looked like a leer, and that it was kind of sexy." Of course, lots of women find gay men sexy, but you get the idea — the team clearly thought the character epitomized a kind of classy masculinity.
6. The original team colors were slated to be orange and green. At one point in 1975, after the team name had been chosen but before the logo or uniforms had been settled, a St. Petersburg Times artist came up with a placeholder logo and a mascot. Both featured orange and green: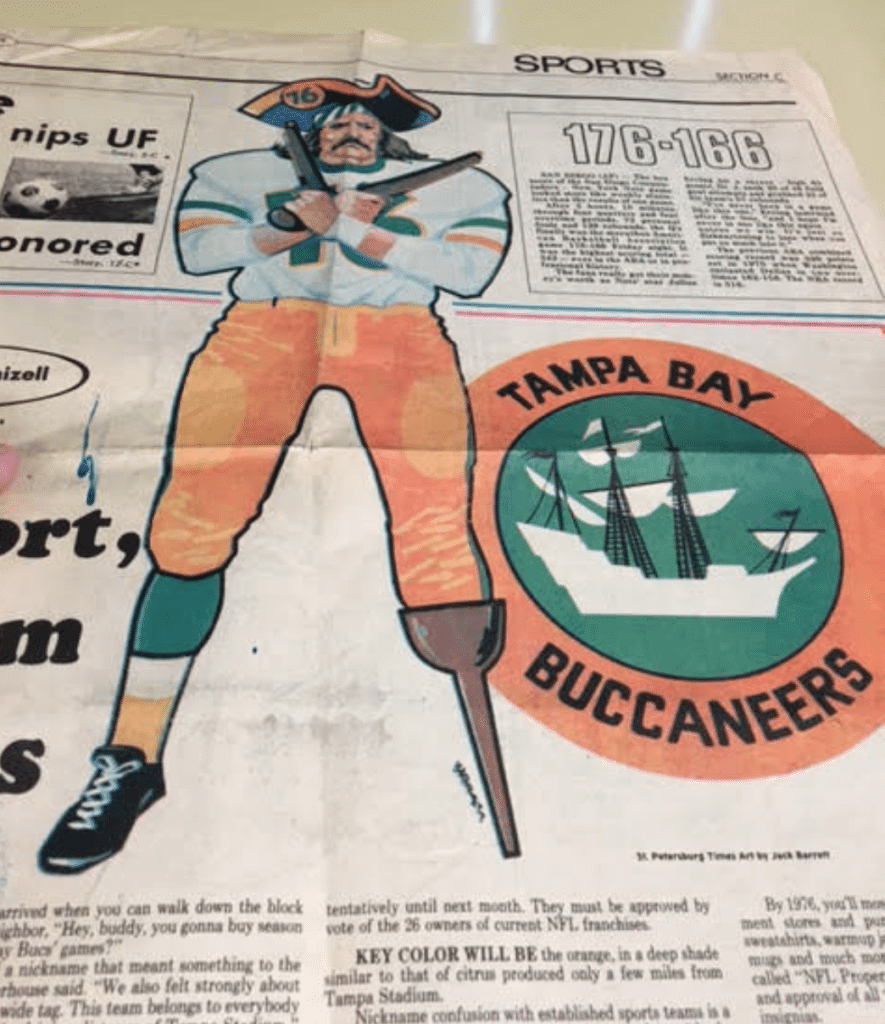 While these renderings weren't official, the team really was planning to go with that color scheme at the time. A 1975 Tampa Tribune article explains that green was later scrapped "because of possible conflicts with colors now used by the Miami Dolphins and Florida A&M University." Matt says he saw another article that mentioned a similar concern regarding the University of Miami.
7. The uniforms were originally supposed to have shoulder stripes. On June 15, 1975, The St. Petersburg Times published a team rendering of what the Bucs' uniforms would look like. It featured shoulder striping, among other details that never made it to the finished uniforms: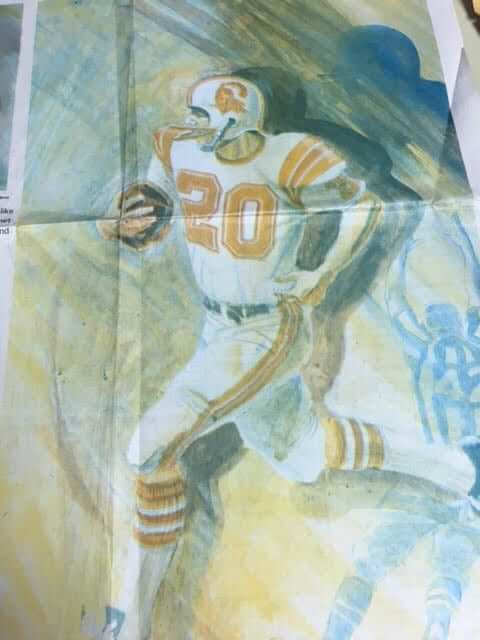 Update: The great Pro Football Journal has provided a higher-res version of that image (click to enlarge):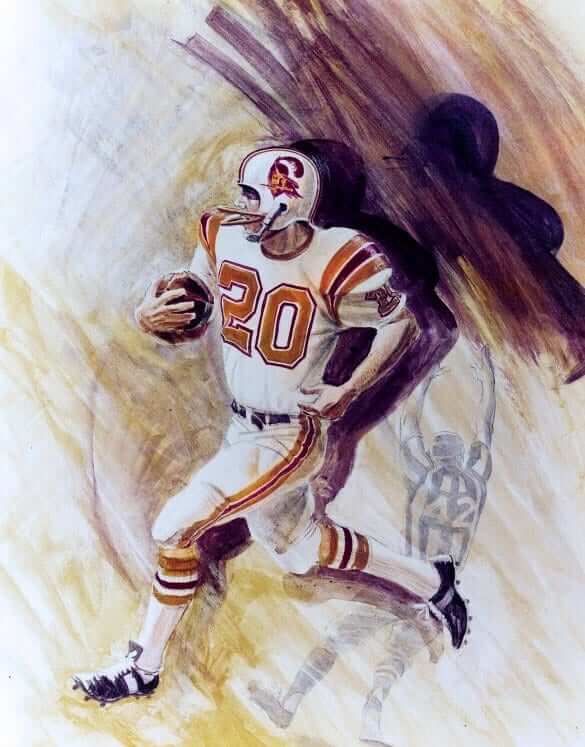 All very interesting! Big thanks to Matt for all of this research, and even bigger apologies for my sitting on it for so long.
• • • • •
Raffle results: The winner of the Vintage Brand raffle is Joey Shemansik. He says he'll probably choose something Notre Dame-related as a Christmas gift for his brother. Congrats to him, and thanks to all who entered.
• • • • •
• • • • •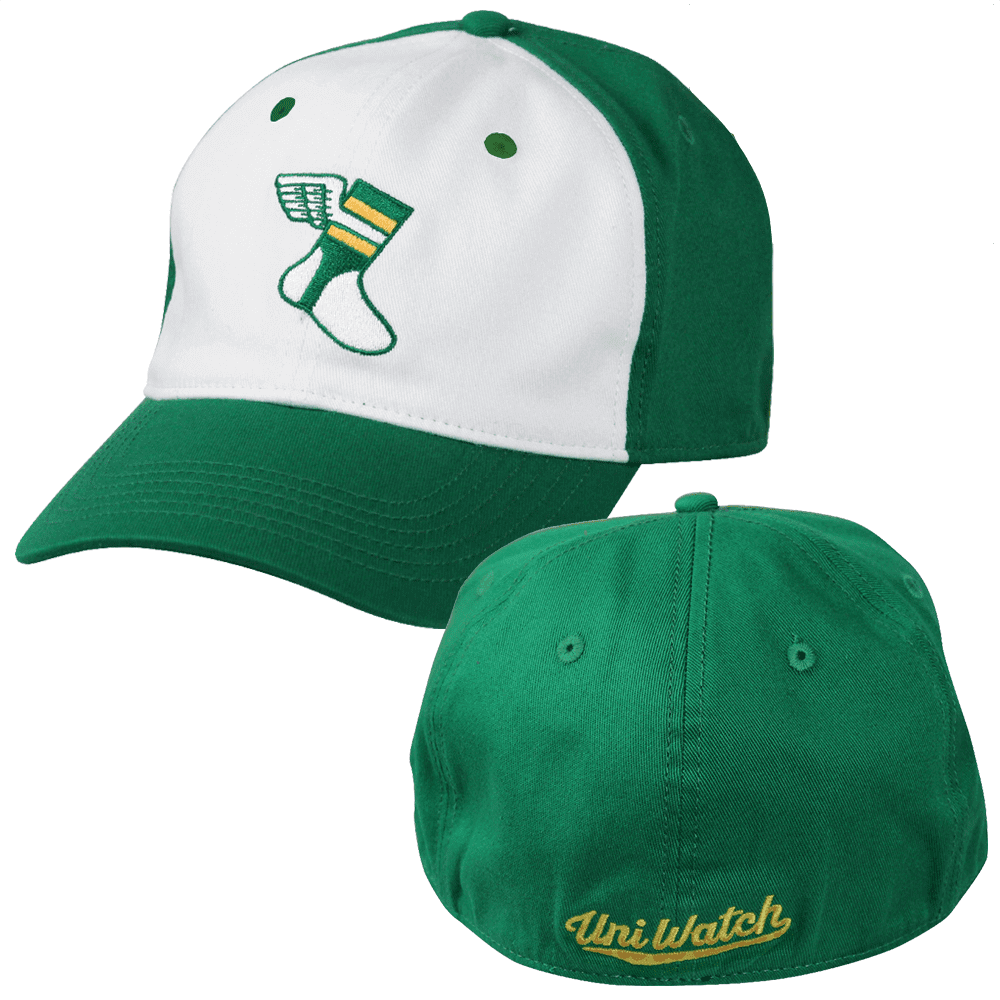 ITEM! Free shipping: We recently offered a one-week additional $5 price break on our flex-fit Uni Watch Alternate Cap, knocking the price down to $19.99. While the price has now gone back to $24.99 (still cheaper than the original $29.99), we've decided to offer free shipping, which is more or less the same thing as maintaining the price break. If you're thinking, "Wow, he must really have a lot of unsold caps that he's trying to move," you're right! Get yours here.
Meanwhile: All of our fine Uni Watch products, including a few that you may have forgotten about, are listed on this one handy page.
• • • • •
• • • • •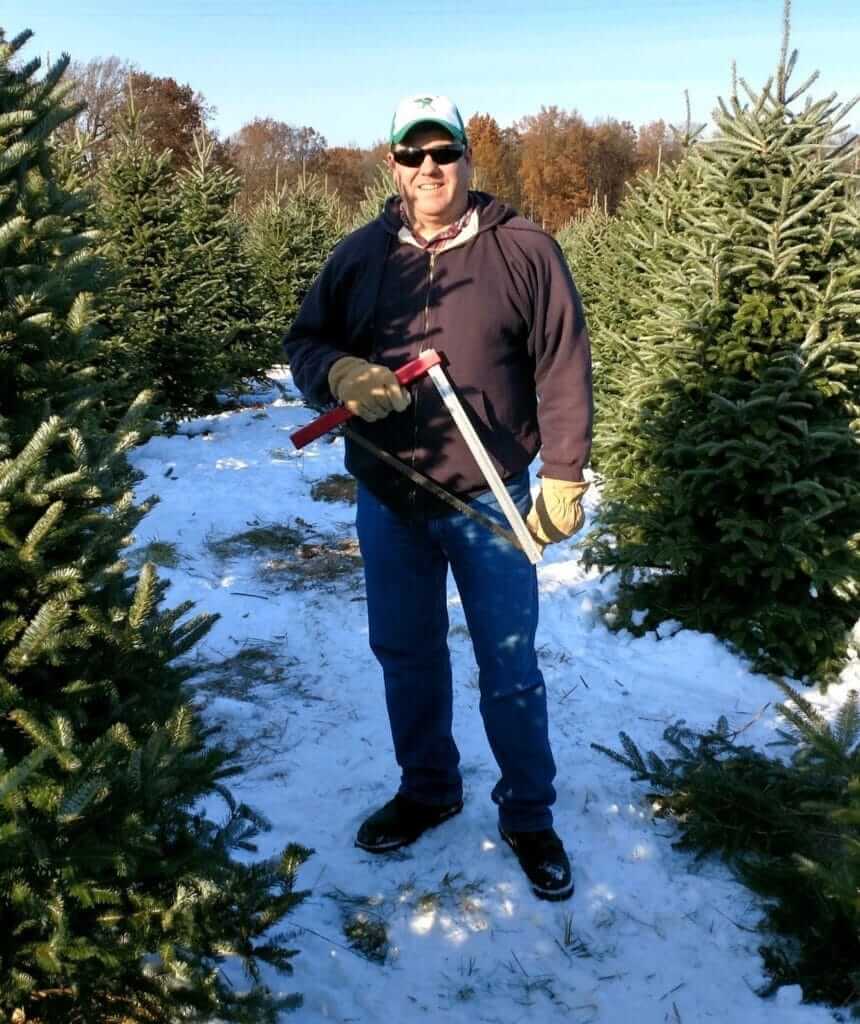 For all photos in this section, click to enlarge
And speaking of that cap…: Longtime reader Joe Werner (that's him above) and his family have an annual Christmas ritual. "We always cut our own tree," he says. "And every year when we go to the tree farm, I wear the same flannel shirt (I've had it for over 20 years!), and one of my many sports caps. In the past I've repped the Pirates' 1971 throwback, a generic Steelers hat, an RIT Tigers hat (my alma mater), and a Rochester Red Wings FC (Flower City) alternate, just to name a few. This year, it was the Uni Watch Alternate!"
How cool is that? I'm genuinely honored that Uni Watch was part of Joe's family tradition. And Joe wasn't the only participant — he let one of his daughters wear the cap while he cut down the tree, so the cap wouldn't get dirty: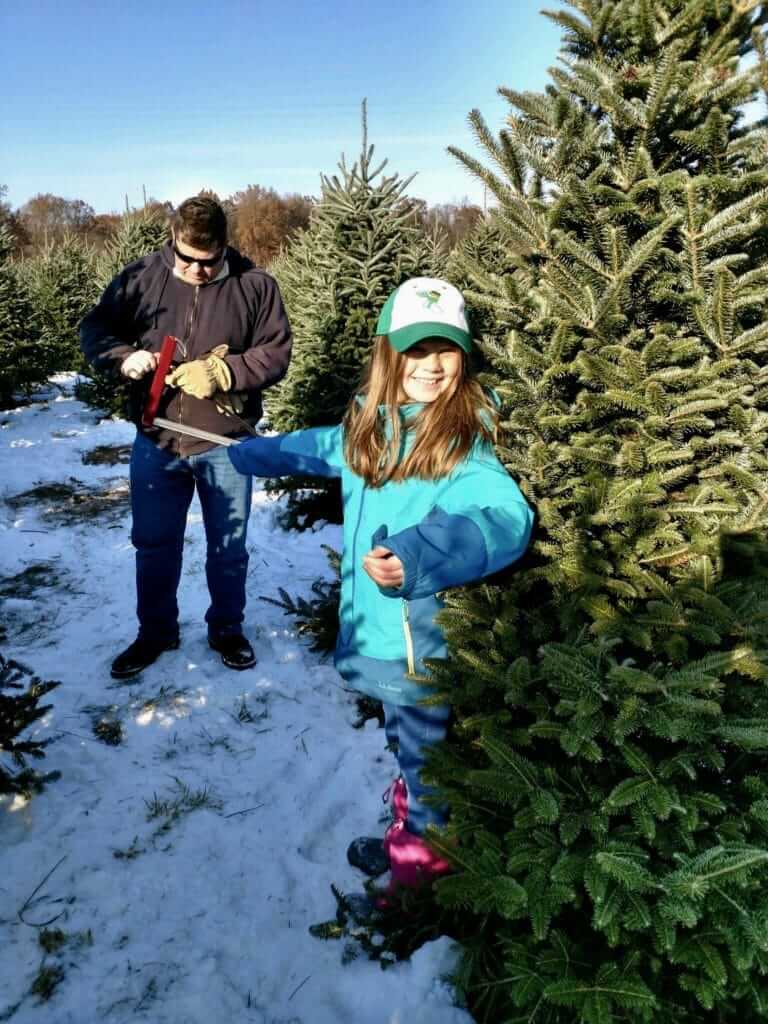 And there's more: "This picture of my family next to our tree will go in our annual picture calendar," say Joe, "so the cap will be immortalized in our 2019 calendar!" Here's that photo: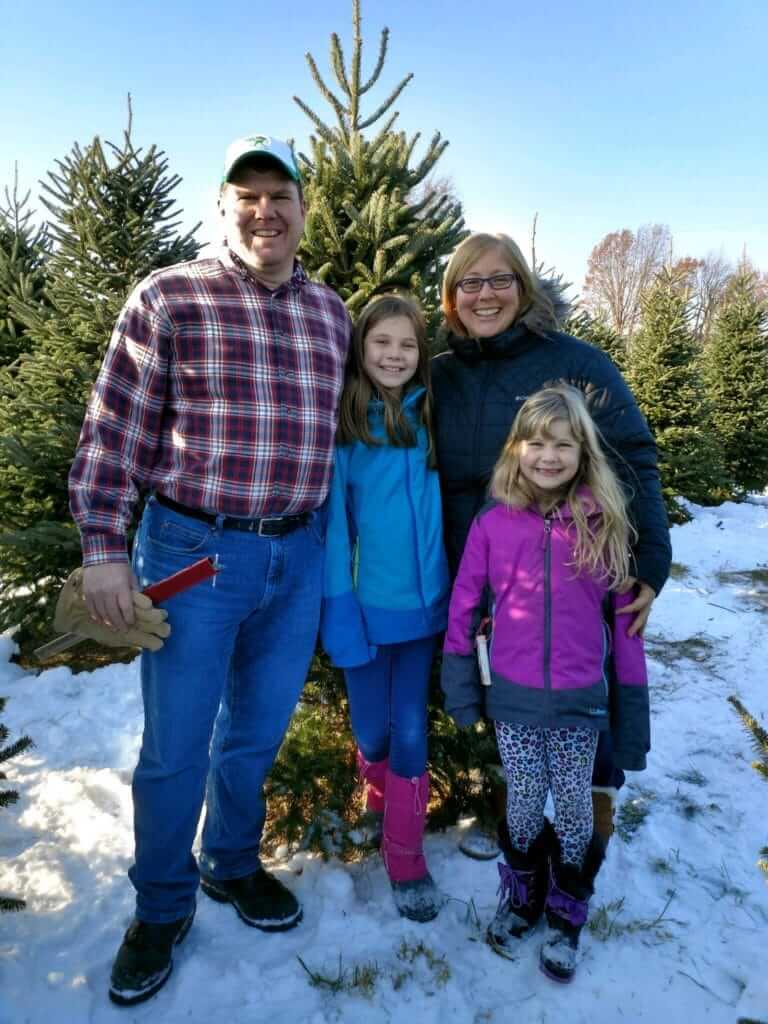 This is all pretty amazing. Big thanks to Joe for sharing all of this — it's very, very special.
• • • • •
• • • • •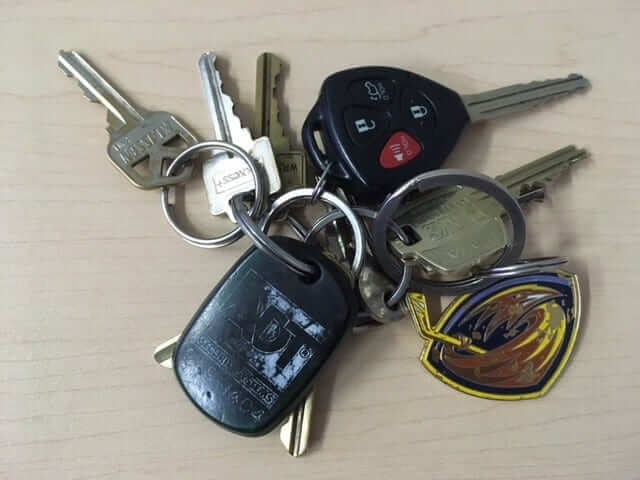 KRC update: The latest installment of Key Ring Chronicles is actually sports-related! It's about an Atlanta Thrashers key tag, and there's also a Red Sox angle. Check it out here.
• • • • •
• • • • •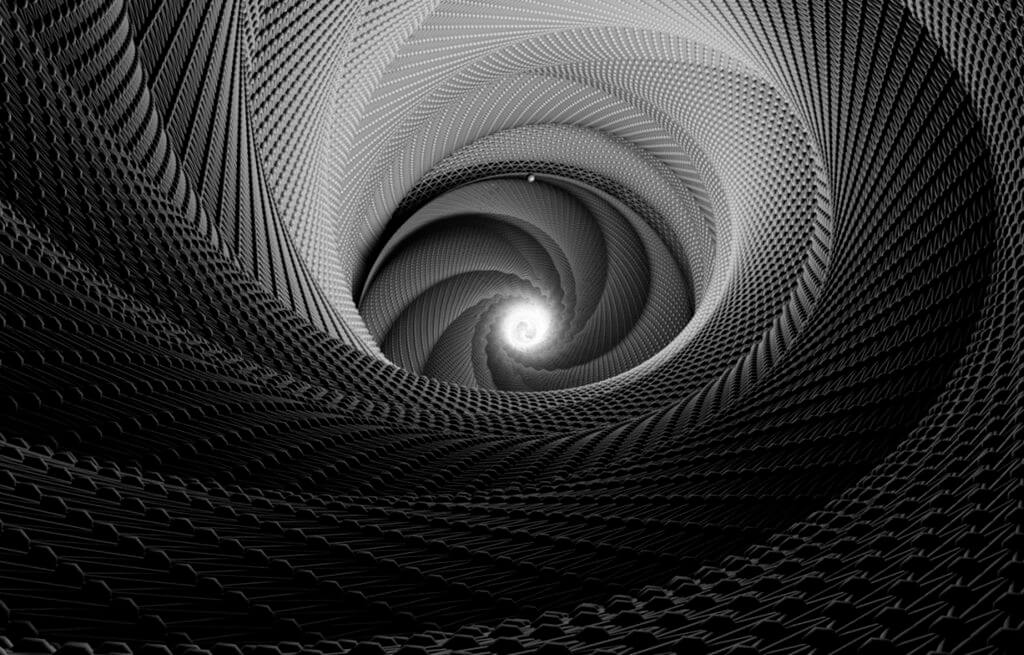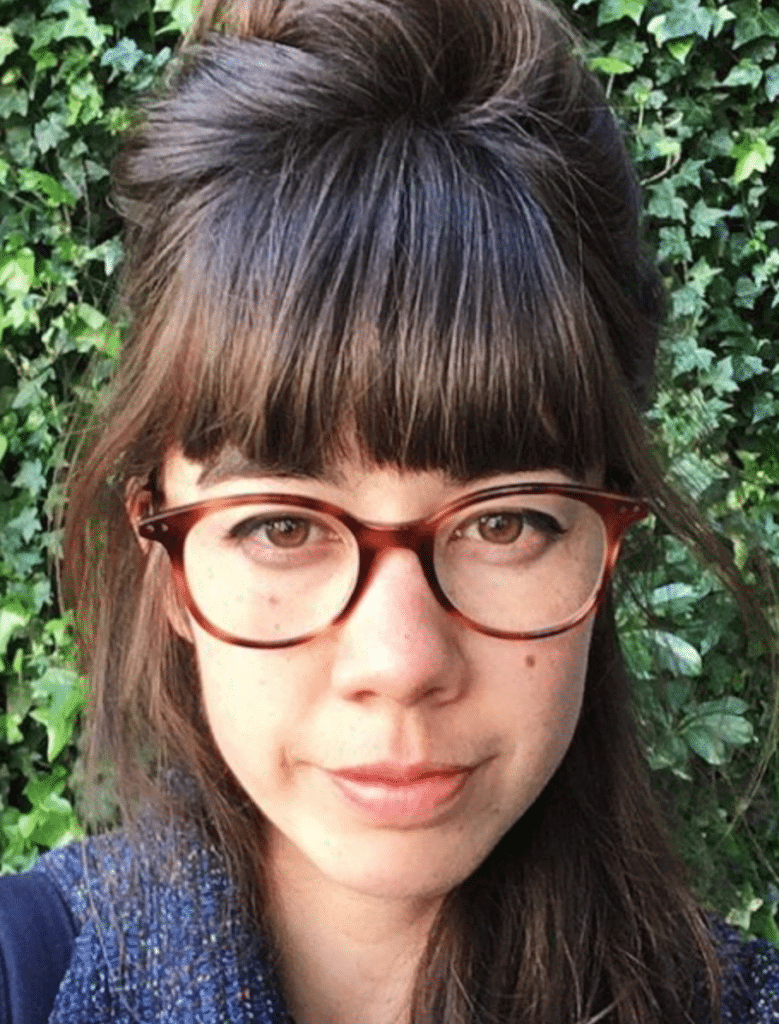 Rabbit hole becomes wormhole: Back in 2011, I participated in sports-themed "issue" of the performance series Pop-Up Magazine (which, incidentally, was purchased earlier this week by Steve Jobs's widow). One of the other participants that night was a Bay Area-based artist/writer named Jenny Odell (that's her at right), who I'd never heard of before, but I've followed her work since then and have decided that she's sort of a genius. It doesn't hurt that her "About" page begins by saying, "My work is generally an argument for the rewards of close observation," something I wish I'd come up with as a description for my own work.
Odell has now written an absolutely amazing interactive article about — hmmmm, where to start? The short version is that it's about a super-complex series of interconnections involving a bunch of dubious-seeming e-commerce sites, a small chain of bookstores, an upstate New York furniture manufacturer, and a Christian university. It's an admirably obsessive trip down an absolutely bizarre series of rabbit holes, and Odell makes it all highly entertaining with a witty narrative voice and lots of engaging graphics. She also put a lot of research and reporting into this. If I'm lucky, one day I'll write something half this good. Maybe.
The article is lengthy, and you'll have to spend a NYT click on it, but it's so, so worth it. Best thing you'll read today, guaranteed. Don't miss.
• • • • •
• • • • •
The Ticker
By Yianni Varonis

Baseball News: Incredible visuals from this new video footage of a Babe Ruth and Lou Gehrig barnstorming tour that was recently discovered. … You probably know that there was a baseball centennial patch that major and minor league teams wore on their sleeves in 1939. What you might not know is that the patch design had to be revised — the original version featured a ballplayer who looked too much like Joe DiMaggio. But two teams — the Philadelphia Athletics and the minor league Baltimore Orioles — used the original version. So in this photo of Orioles manager Rogers Hornsby and Toronto Maple Leafs manager Tony Lazzeri, Hornsby is wearing the original patch while Lazzeri is wearing the revised patch, although we can't quite see it on his sleeve (from Will Shoken). … Here's a look at the Astros' uniforms through the years. … Rapper Jay-Z is in a legal battle stemming from the agreement between Major League Baseball and his clothing brand company, Roc Nation, to sell New Era baseball caps with the Roc Nation logo (NYT link).

College Football News: Navy will wear a uniform featuring its mascot, "Bill the Goat," against Army on Dec. 6. … Vanderbilt TE Turner Cockrell unfortunately passed away yesterday after his year-long battle with cancer. His high school teammate, Citadel QB Brandon Rainey, has been wearing No. 82 in honor of Cockrell. … Despite being the designated home team, Oklahoma will wear its cream alternates vs. Texas in the Big XII championship game. It's worth noting that the Sooners lost to the Longhorns earlier this year while wearing their crimson jerseys (from Sam McKinley). … In its regular season finale, South Carolina will wear its script Carolina helmets with black jerseys and garnet pants (from Brett Shugart). … We mentioned earlier this week that Cal will wear a helmet decal this weekend honoring the victims of the Northern California wildfires. Now it turns out that the opposing team, Stanford, will wear the same decal, but in cardinal. … A site that documents Auburn sports now features football uniforms dating back to 1933. … Wearing No. 25 for Virginia Tech this week will be WR Tre Turner (from Andrew Cosentino).

Hockey News: The Bruins retired Rick Middleton's No. 16 last night. All Bruins players wore No. 16 jerseys during pregame activities, and the team wore a commemorative patch during the game (from Anil Adyanthaya).

NBA News: The Thunder's fifth uniform set — the "Earned" design — may have leaked. … A young girl and fan of Warriors PG Steph Curry wrote him a letter expressing her disappointment that his shoes weren't available in girls' sizes. Curry wrote a letter in return, assuring her that he's addressed the problem and inviting her to join him on International Women's Day in March (from our own Brinke Guthrie). … CBS has ranked its view of the best City alternate uniforms from top to bottom. … Reader Andy Vander Meulen reports that there's a store in Seattle dedicated to selling Sonics gear, even though the team left town a decade ago. He also used to run a camp gift shop that sold out of this T-shirt design reminiscent of the old Sonics skyline logo. … The Hawks' e-team, called the Hawks Talon Gaming Club, unveiled its logos and colors yesterday. … The Pacers wore their Hickory throwbacks, which include yellow shorts, against the yellow-clad Lakers last night. … Lakers coach Luke Walton and Raptors coach Nick Nurse supported former broadcaster Craig Sager's foundation by wearing wacky sportsjackets last night (from WB Young). … New uni number assignments: Brandon Goodwin will wear No. 6 for the Nuggets, Alec Burks will wear No. 10 for the Cavs, and Kyle Korver will wear No. 26 for the Jazz.

Soccer News: Footy Headlines says it's confirmed that Nike's 2019-2020 kits will feature a classic Nike logo. It's rumored that the kits will be influenced by designs from the 1990s. The article also features a graphic showing the evolution of the Nike logo (from Josh Hinton). … Also from Josh: Details about French club PSG's new away kit might have leaked, including that it will feature the Jordan Brand logo. … Scottish club Celtic normally wears the logo of an online betting company on the front of its jerseys. But in a match yesterday in Norway, where gambling advertising has been regulated, Celtic instead wore its foundation logo (from Ed Zelaski). … The Michigan Bucks of the USL League Two are asking fans to vote on a potential new name for the team and possibly a new logo and colors.

Grab Bag: The Vancouver Warriors of the National Lacrosse League unveiled a new uniform set (from Wade Heidt). … Prada is attempting to give the America's Cup, the global yacht racing competition, a more modern "visual identity" (from Jeremy Brahm). … This fashion designer reuses old military uniforms and turns them into bags, with some of the proceeds donated to veterans' organizations. … The U.S. Air Force's new physical training uniform may have leaked. … Vogue featured a design duo who partnered with Fila to develop a line of Indian-inspired athleisure clothing. … Also in the baseball section: Rapper Jay-Z is in a legal battle stemming from the agreement between Major League Baseball and his clothing brand company, Roc Nation, to sell New Era baseball caps with the Roc Nation logo (NYT link). … George Washington University's water polo team has some pretty nifty robes (from Matt Eliot).
• • • • •
I'm going out to the Meadowlands this morning to interview someone connected with the Giants (no, not Joe Skiba). Play nice while I'm away, okay? Thanks. — Paul