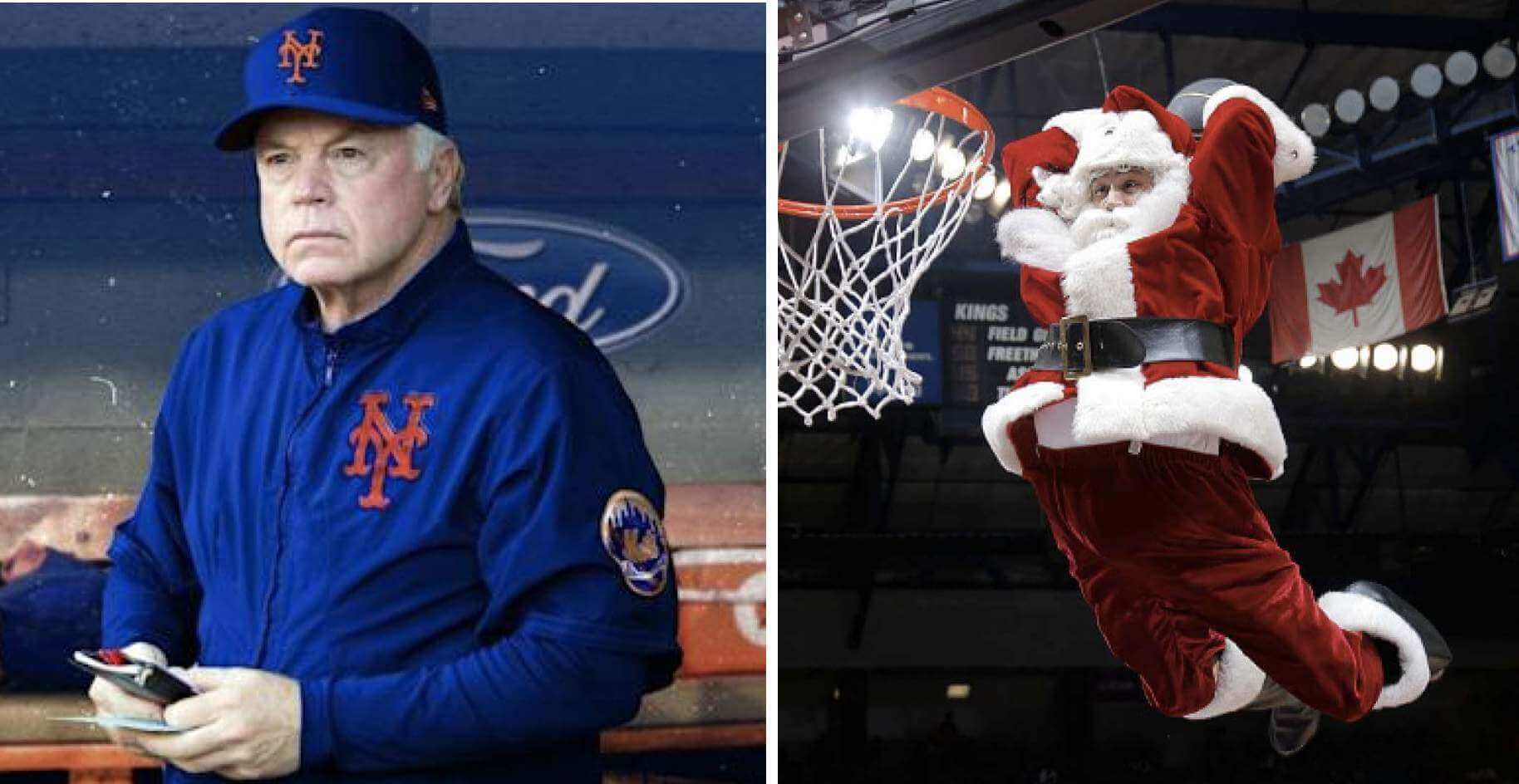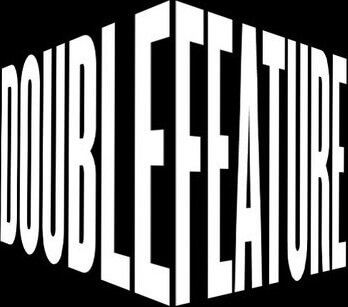 Ho-ho-ho, boys and girls! It's a big day here at Uni Watch, because I have not one but two feature-length pieces for you today.
First, with the Mets introducing Buck Showalter as their new manager yesterday, I've taken a deep dive on Showalter's history with athletics aesthetics, which is much more involved than that of the typical MLB skipper. I know some of you are probably thinking I only wrote this piece because it involves the Mets, but believe me when I say it's not a Mets article — it's a Showalter article, and I don't mind saying that it's one of the best things I've produced in a while. I hope you'll check it out over on Bulletin.
Second, with the NBA's annual slate of Christmas games coming up this Saturday (pandemic willing), I've ranked the league's Christmas uniforms from years past and also ranked this Saturday's uni matchups. You can read this one over on InsideHook.
That should keep you busy for a bit. Enjoy the double feature!
• • • • •
• • • • •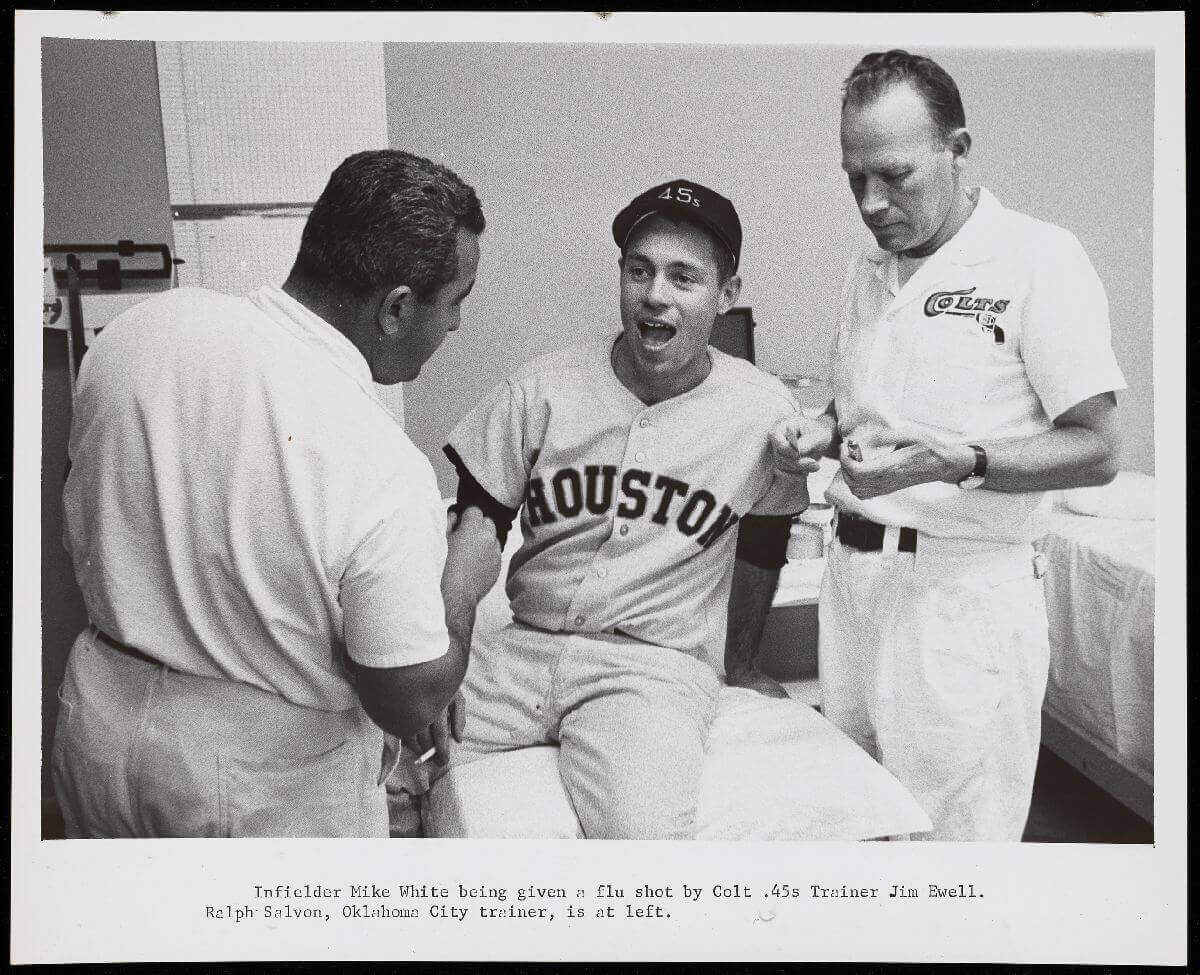 Click to enlarge
Vaccination in uniform: So many great things about this early-1960s photo of Colt .45s infielder Mike White getting a flu shot from trainer Jim Ewell. First, there's the whole concept of receiving a vaccination while suited up in uniform — love it! Then there's Ewell's polo shirt. And then, although you have to look closely to see it, there's the fact that White is receiving this shot while smoking a cigarette. Wow — different times for sure.
• • • • •
• • • • •
Hurry hard! Longtime Uni Watch reader/pal Marty Hick cemented his status as America's Coolest Teacher by giving his fifth grade students a multiplication worksheet that, when filled out properly, revealed an image of a curler. How great is that? "We also watched footage of the USA team winning gold," says Marty. So great!
• • • • •
• • • • •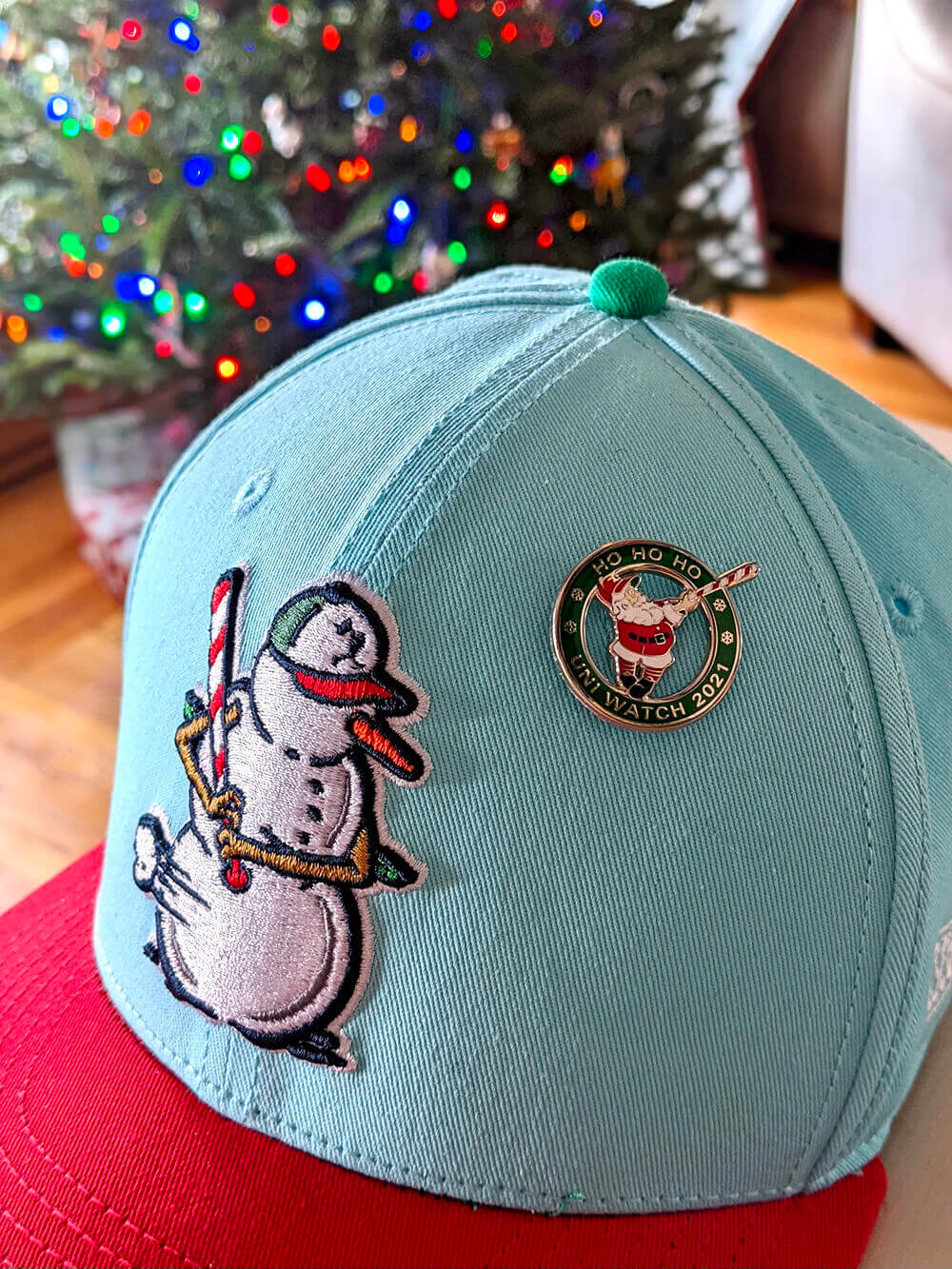 Two of a kind: Longtime reader/pal Dan Cichalski notes that his "Swinging Santa" pin pairs well with his "Swinging Snowman" cap from Baseballism. Good one, Dan!
While we're at it: Dan also sent along some drawings he did in around 1989 or '90, when he was about 13 years old, showing team logos with player names embedded in them ("I can't figure out what the name in the Devils logo might be," he says):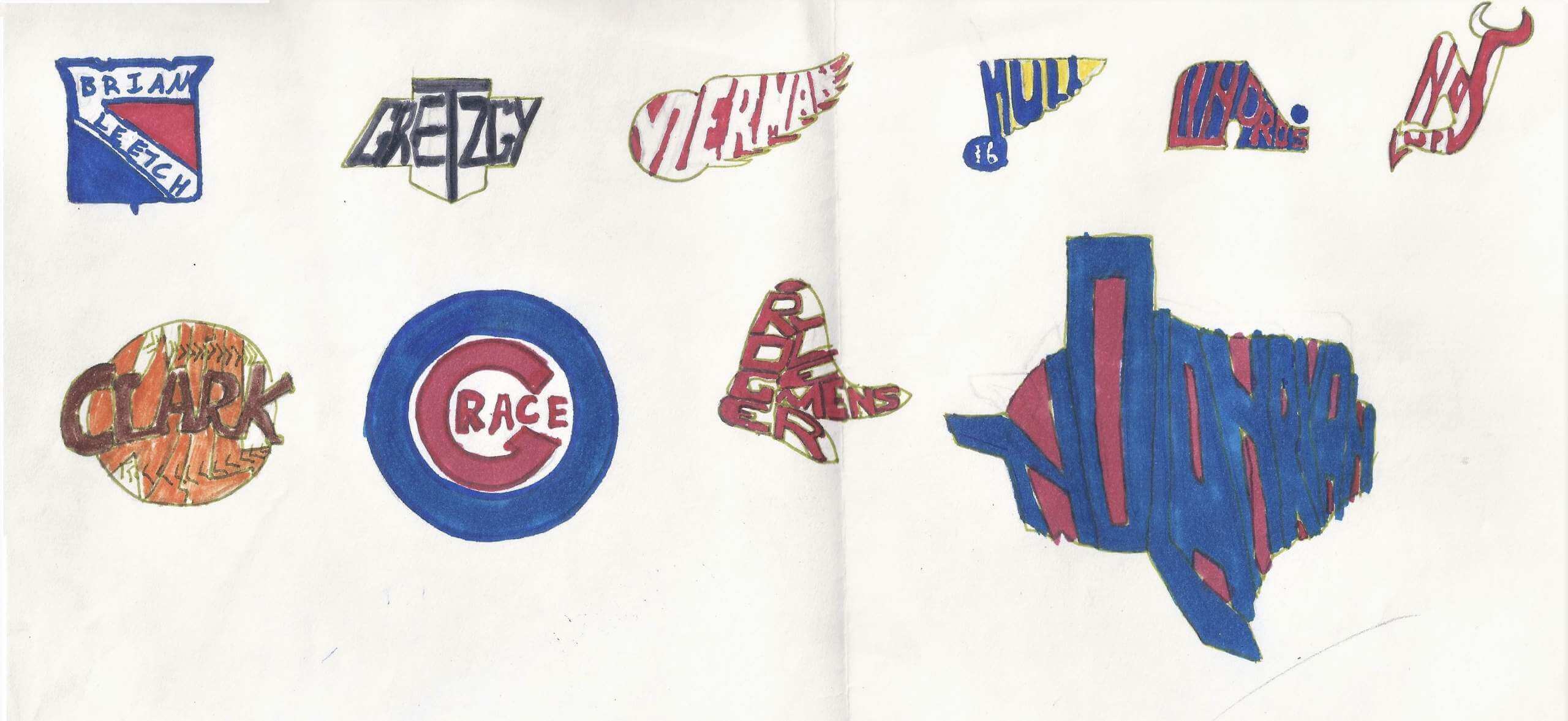 As always, I love childhood uni/logo artwork like this!
• • • • •
• • • • •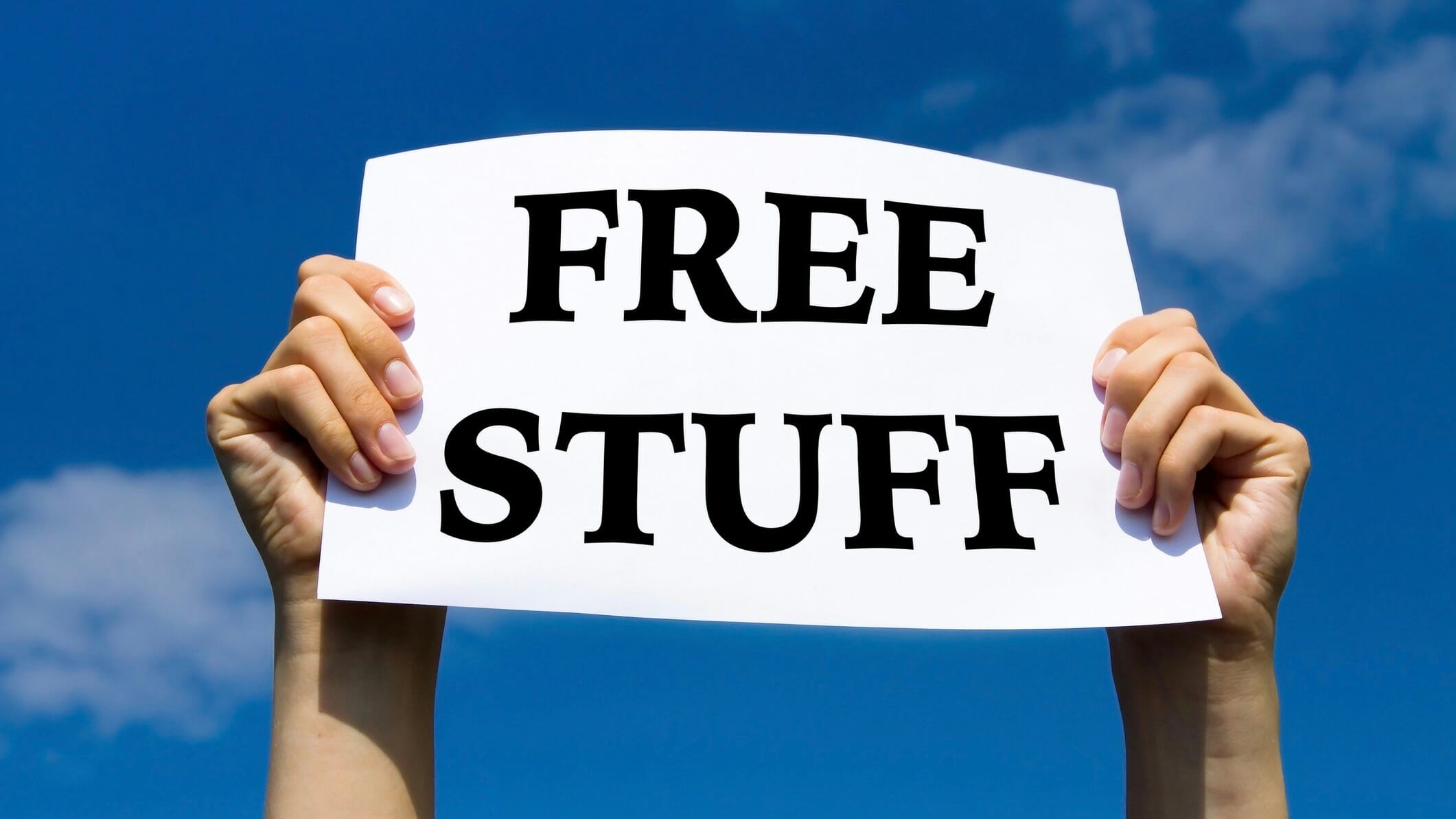 Year-end raffle reminder: In case you missed it last Thursday, Uni Watch's annual year-end raffle, featuring all sorts of cool stuff I'm giving away (including several one-of-a-kind prototypes for Uni Watch products I decided not to put into full production), is now in full swing. Full details here.
• • • • •
• • • • •
Too good for the Ticker: Uni Watch proofreader Jerry Wolper came across this amazing 1959 video clip from The Ed Sullivan Show, featuring the Harlem Globetrotters playing against the singing group the Ames Brothers (an unfair fight, obviously, so Wilt Chamberlain played for the Ameses).
By weird coincidence, the celebrity ref was Duke Snider, who was the subject of yesterday's blog entry!
• • • • •
• • • • •
The Ticker
By Lloyd Alaban

Baseball News: Here's the backstory on how the Padres almost moved to Washington, D.C., in the 1970s (from our own Brinke Guthrie). … The Pirates have made a gingerbread version of their ballpark (from Trevor Williams). … Here's a story about how a baseball signed by a bunch of Milwaukee Braves players connected two Southern California residents. Plus, the article has photos of some great semi-pro unis (from David A. Wishinsky).

NFL News: Mono-black for the Bengals this week (thanks, Phil). … The WFT reportedly wants to build a new domed stadium in northern Virginia. The team's lease at its current stadium expires in 2027. … Speaking of WFT, they will bring heated benches with them for their final three road games. … Here's Jason Von Stein's illustration showing this week's mascot/uni matchups. … A New Jersey man has pleaded guilty to impersonating then-Pats QB Tom Brady in order to obtain "Super Bowl family rings," which are available to families of the players (from our own Brinke Guthrie).

College Football News: Kent State and Wyoming both wore yellow pants yesterday in the Famous Idaho Potato Bowl, and fans weren't happy about it (from multiple readers). … Black/white/black for Mizzou against Army in the Armed Forces Bowl (from Matthew Reitman). … UTSA wore San Antonio's area code, 210, on their helmets in the Frisco Bowl last night (from Bob Hille). … Cincinnati will wear black/white/black vs. Alabama, who will wear crimson/crimson/white, in the College Football Playoff Semifinal (from our own Phil Hecken). … Also from Phil: Kansas State will wear a wildfire recovery helmet decal for the Texas Bowl. … White helmets for Ole Miss in the Sugar Bowl. More details here (from multiple readers). … Teamwork: Michigan players will get their booster shots as a team today.

Hockey News: New alternates for the Vancouver Giants of the Western Hockey League (from Wade Heidt). … Oilers F Zach Hyman received a Lego jersey with his NOB in Hebrew (from Kevin Brewer).

Basketball News: SportsLogos.net has confirmed a leak indicating that the Suns are bringing back the "shooting sun" design next season. … NBA numerologist Etienne Catalan has the latest in NBA uni number assignments. … Since registering "Greek Freak" as a trademark in 2018, Bucks F Giannis Antetokounmpo has filed over four dozen trademark-infringement lawsuits. … BFBS last night for Stanford women's (from Rick Johnston). … GFGS (or officially, pewter) for Utah State men's last night (from @akaggie).

Soccer News: New third shirt for English side Wigan Athletic (from Trevor Williams). … New sleeve advertiser for Inter Miami (from Noah Berger). … Paris Saint-Germain has a Theragun massage gun with their logo on it (from Steve Kriske). … North Carolina is making Charlotte FC license plates available (from James Gilbert). … New home and away kits for the J1 League's Sanfrecce Hiroshima (from Jeremy Brahm).

Grab Bag: David Blitzer, who already co-owns the NHL's New Jersey Devils and the NBA's Philadelphia 76ers, is reportedly close to acquiring a 35% stake in MLB's Cleveland Guardians. Has anyone ever simultaneously owned parts of three different teams in three different leagues and three different states? … Lithuanian boxer Vaida Masiokaite wears green, red, and yellow trunks in the ring, which are the colors of the Lithuanian national flag (from Graham Clayton). … Here's a really engaging article about how a small company in Pennsylvania made most of the Christmas ornaments during the 1940s and '50s (from Gerry Dincher).