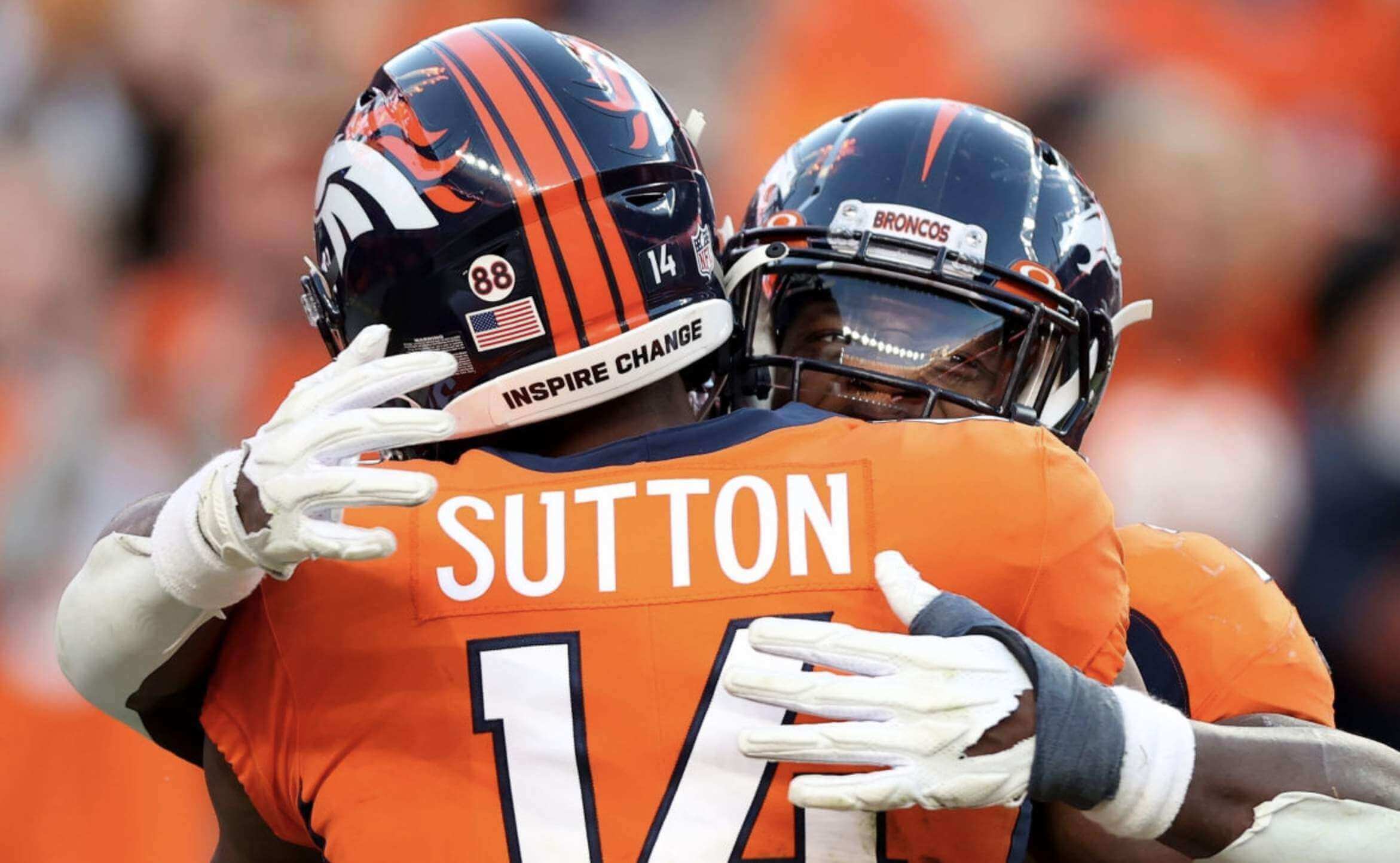 For all photos, click to enlarge
Good morning, and welcome to another edition of Monday Morning Uni Watch! Let's begin in Denver, where the Broncos had all sorts of visual salutes to former wide receiver Demaryius Thomas, who was found dead in his home earlier this week.
First, as you can see above, they added an "88" rear-helmet memorial decal for Thomas. It's not clear, at least to me, whether this decal will be worn for the rest of the season, or if it's just a one-game thing.
Second, they painted the decal design on the sidelines: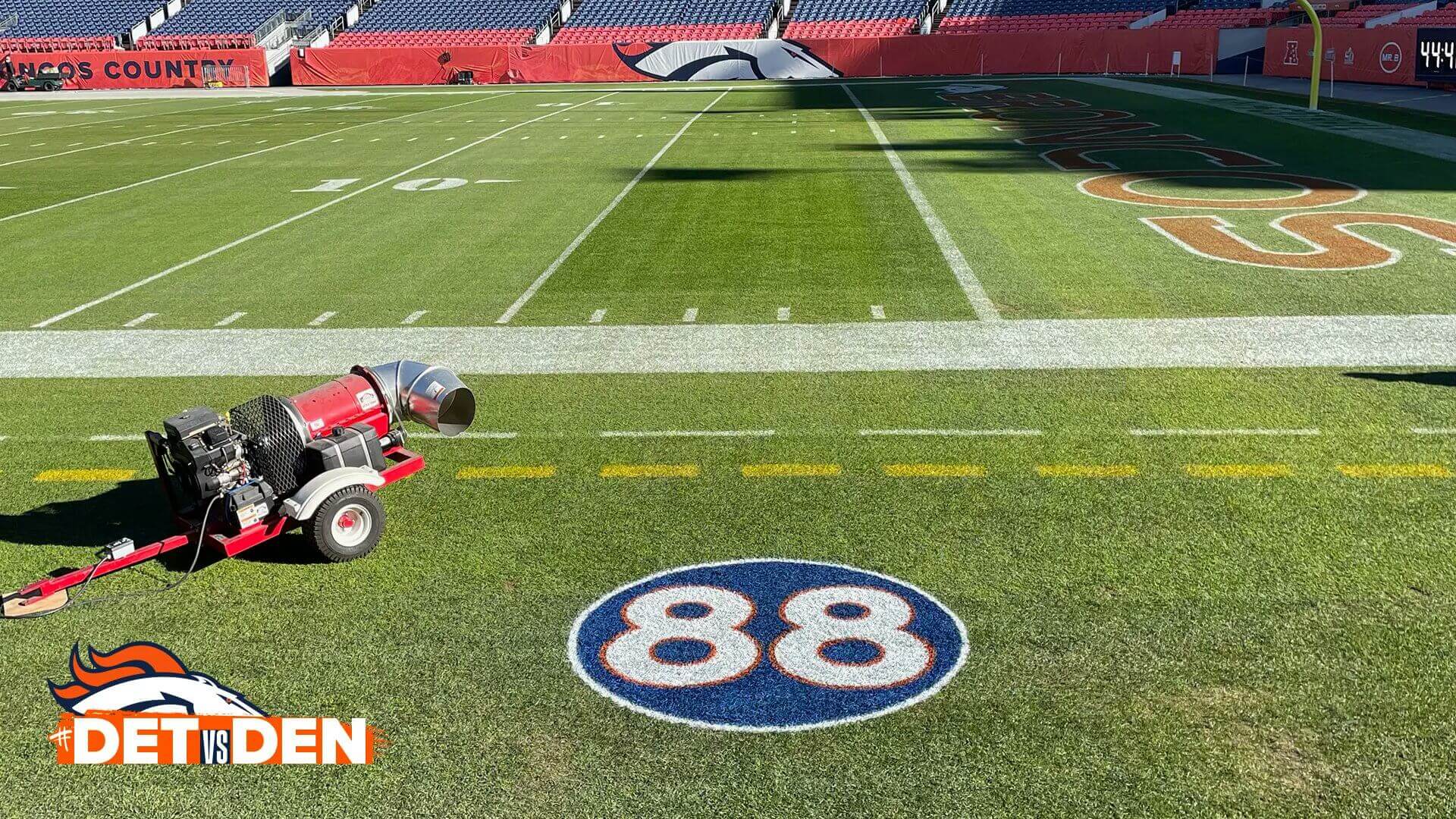 Third, kicker Brandon McManus had Thomas's No. 88 on the toes of his cleats: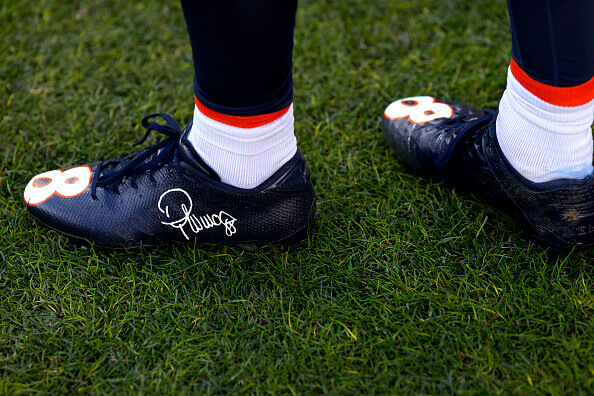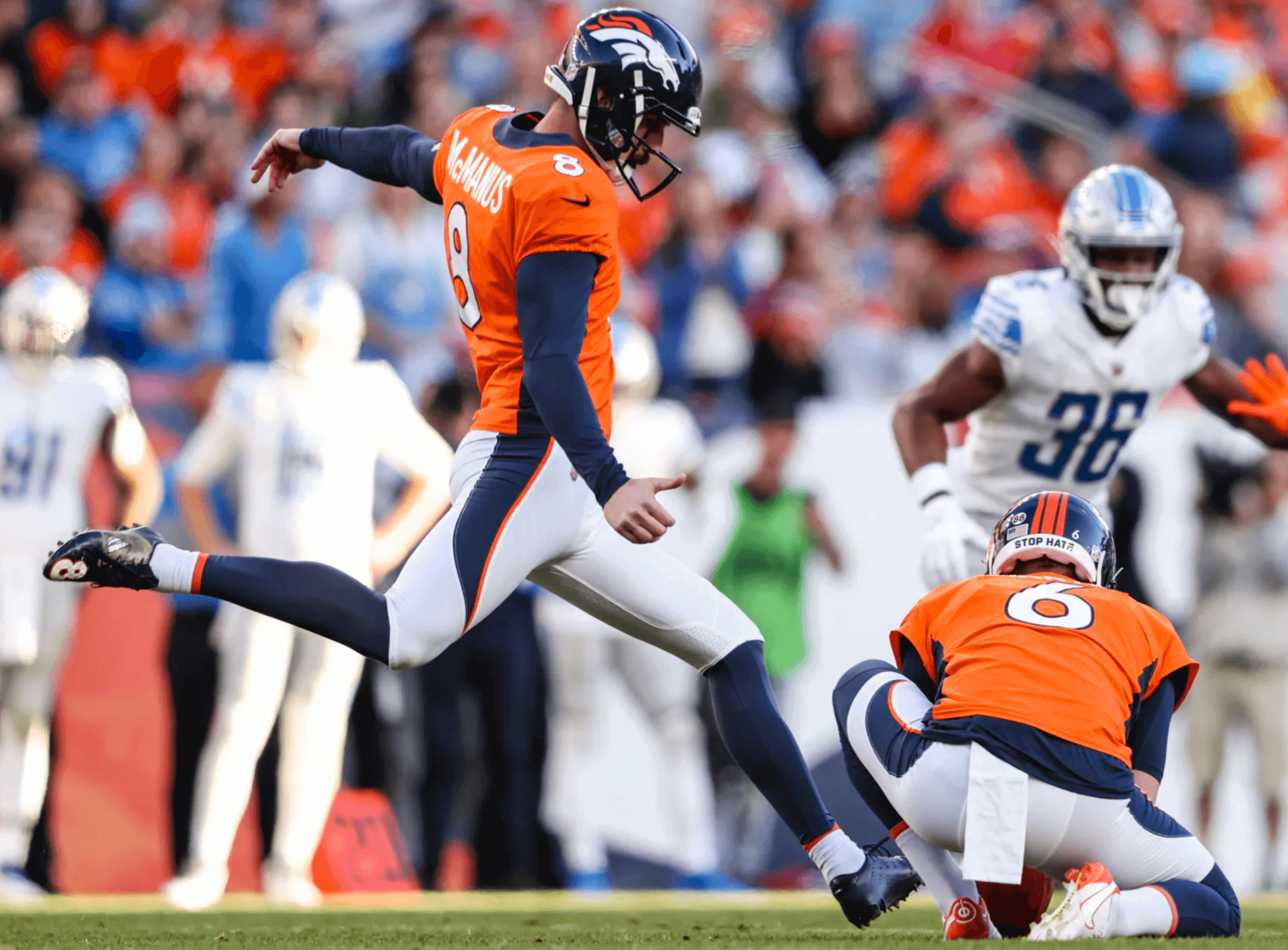 Fourth, the Broncos lined up with only 10 men for their first offensive play of the game (additional info here):
The @Broncos lined up with 10 men on the first play of the game in tribute to Demaryius Thomas 🙏 pic.twitter.com/nL6RxGx7Bj

— NFL (@NFL) December 12, 2021
The one thing I didn't see, surprisingly, was some sort of memorial pin or patch being worn by the sideline staff. Head coach Vic Fangio didn't seem to be wearing anything like that, and I couldn't find photos of anyone else wearing a memorial on the sideline either. Did I just miss it?
In other news from around the league yesterday:
• In that Broncos/Lions game, the Lions were still wearing the "O" logo decal the for Oxford High School mass-shooting victims, so it appears that we'll be retaining that decal for the balance of the season: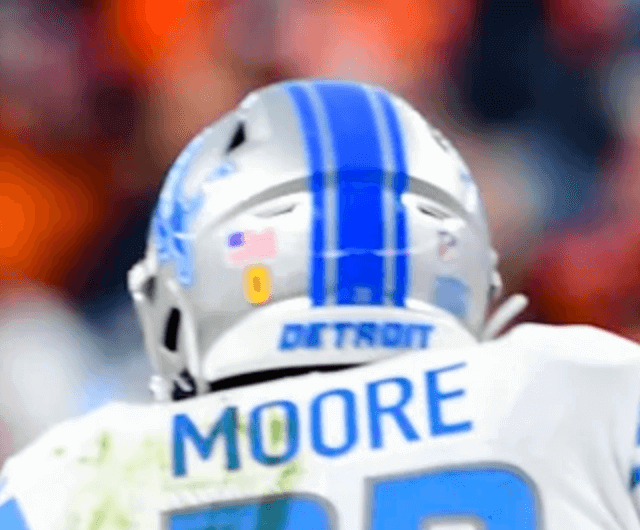 • Packers and Bears at Lambeau is always a good-looking game:
.@AaronRodgers12 ➡️ @Showtyme_33

TOUCHDOWN 🙌#ProBowlVote | #CHIvsGB | #GoPackGo

📺 NBC pic.twitter.com/Fu63NXpNwN

— Green Bay Packers (@packers) December 13, 2021
• The Panthers went mono-black, although wideout D.J. Moore wore white leggings while everyone else had black hosiery (something he also did a few weeks earlier):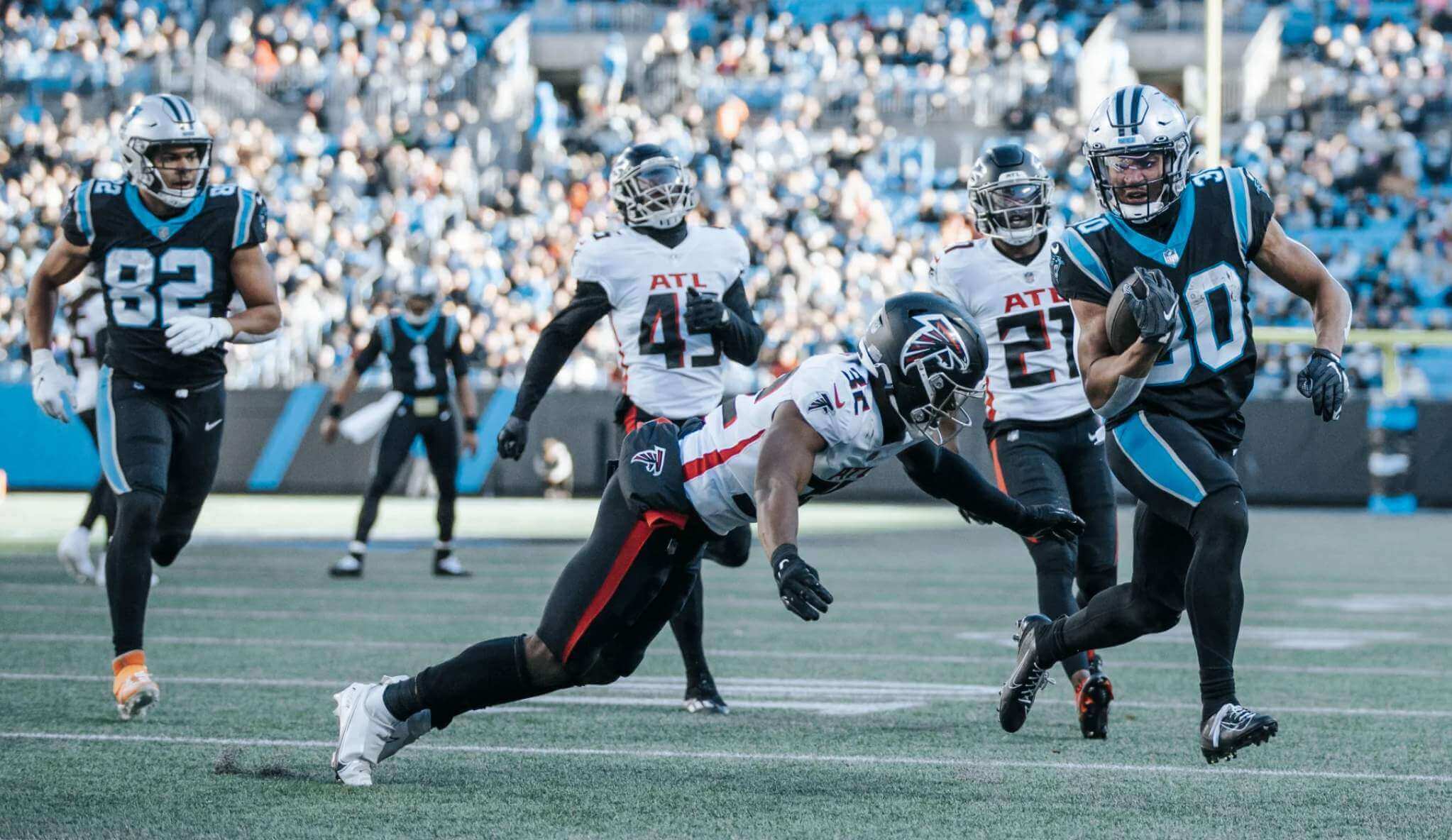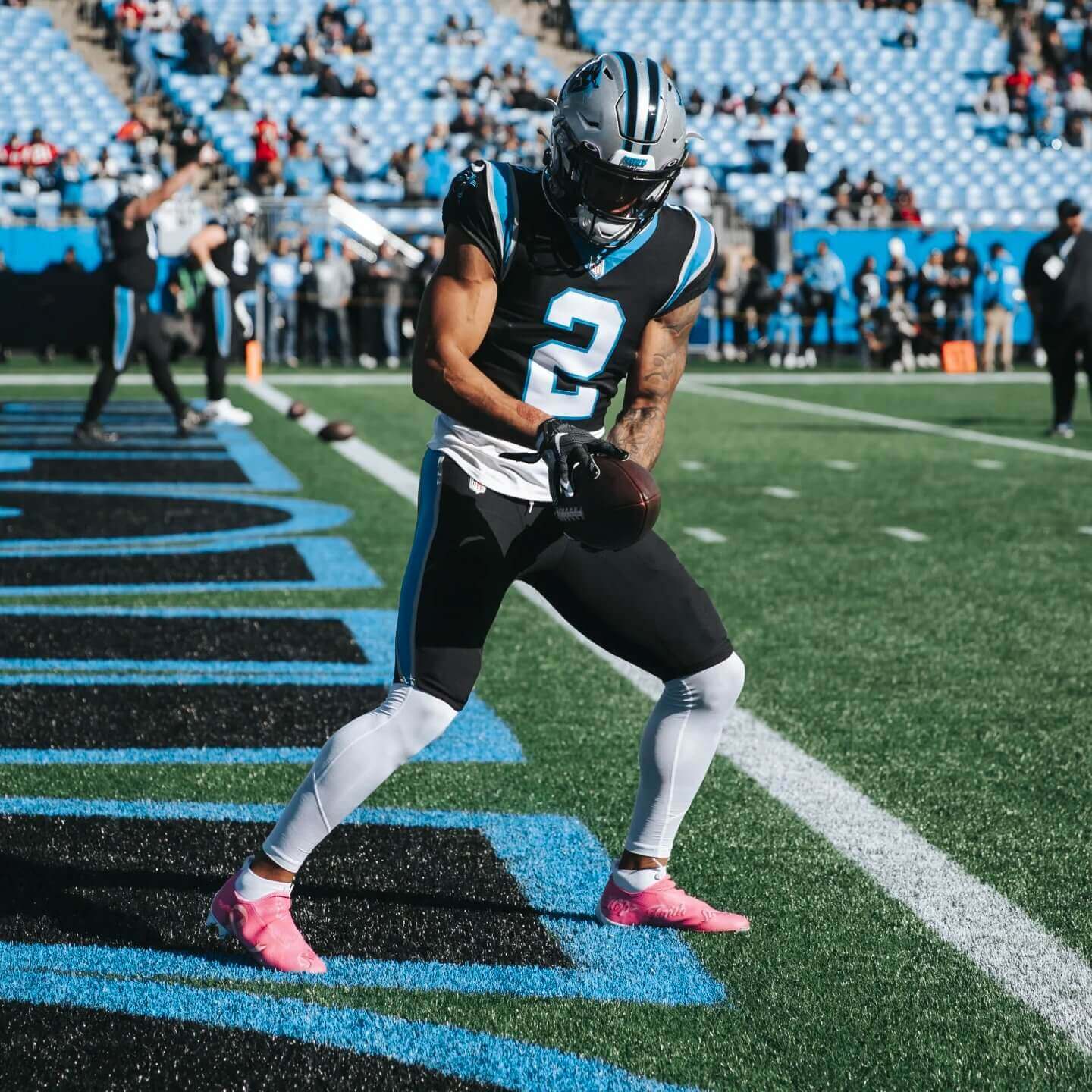 • The Titans went mono-navy: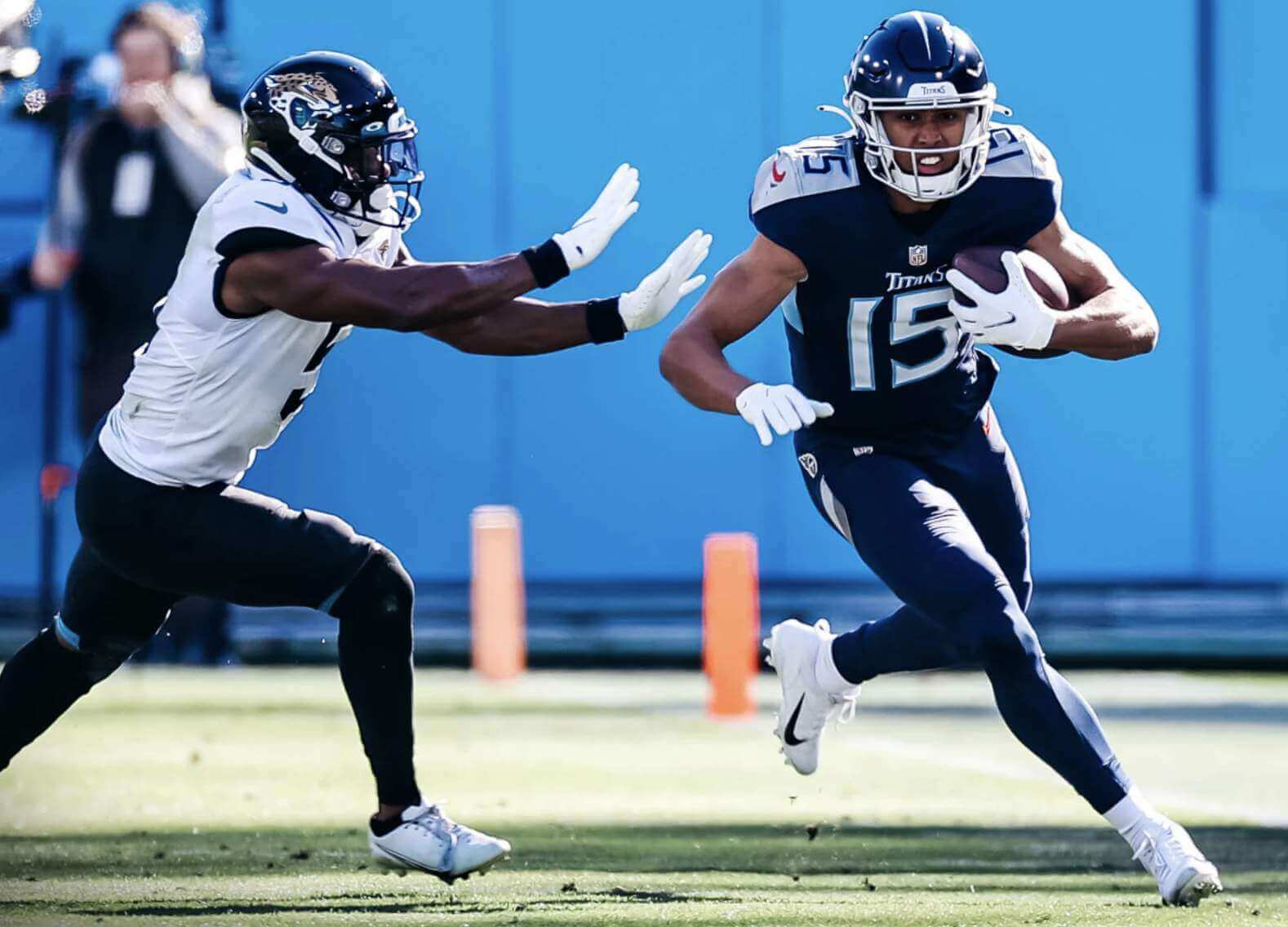 • The Jets' uniforms are bad enough to start with, but the costume effect is really accentuated when they go mono-green: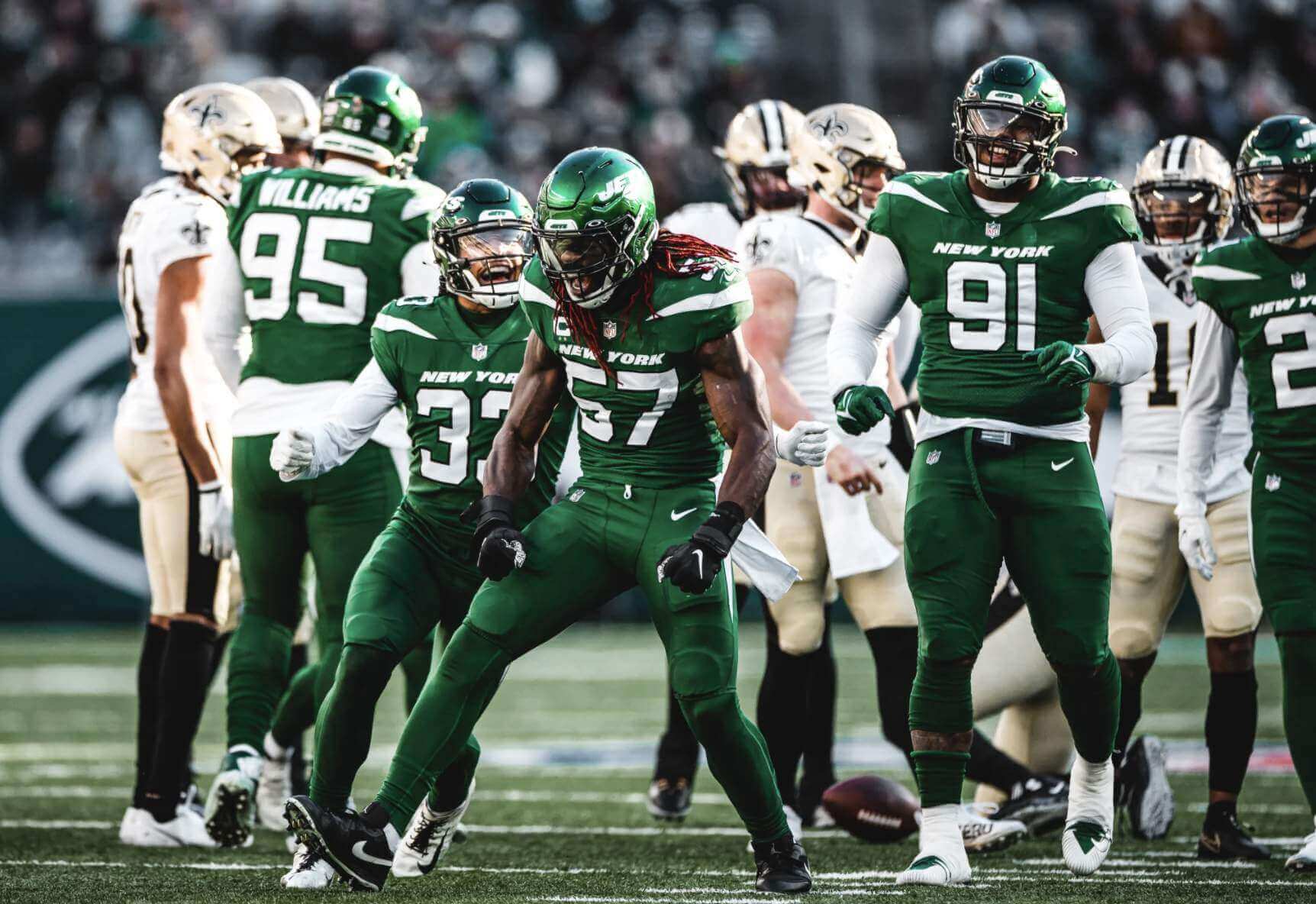 • Unusual situation in L.A., as the Chargers wore their mono-royal alternates (with white helmets) against the mono-white giants (with royal helmets). You could make the case that the teams would've been better off swapping headgear: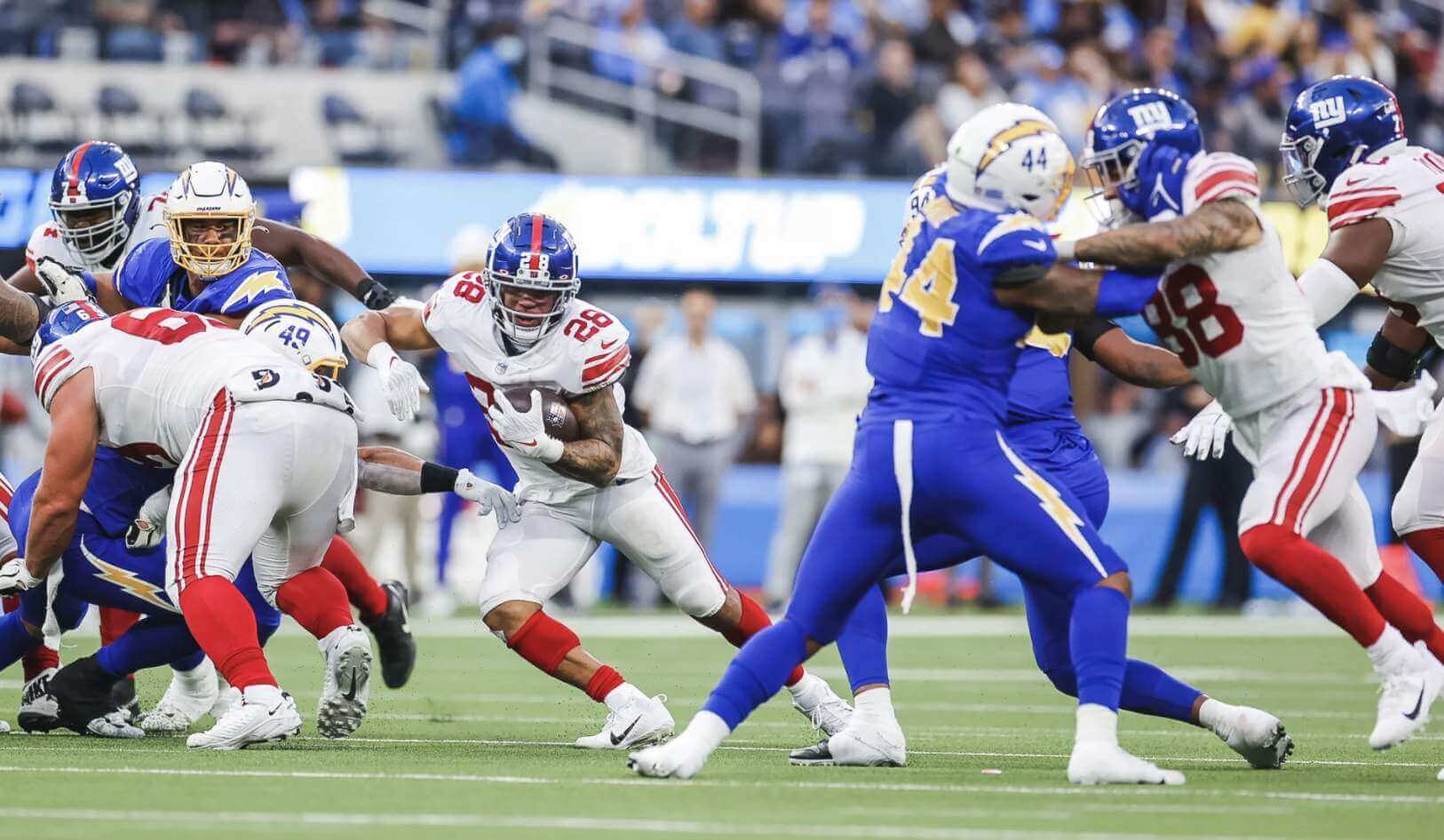 • In that same game, Giants wideout Kenny Golladay went bare-legged early the game (but went with full-length socks later on):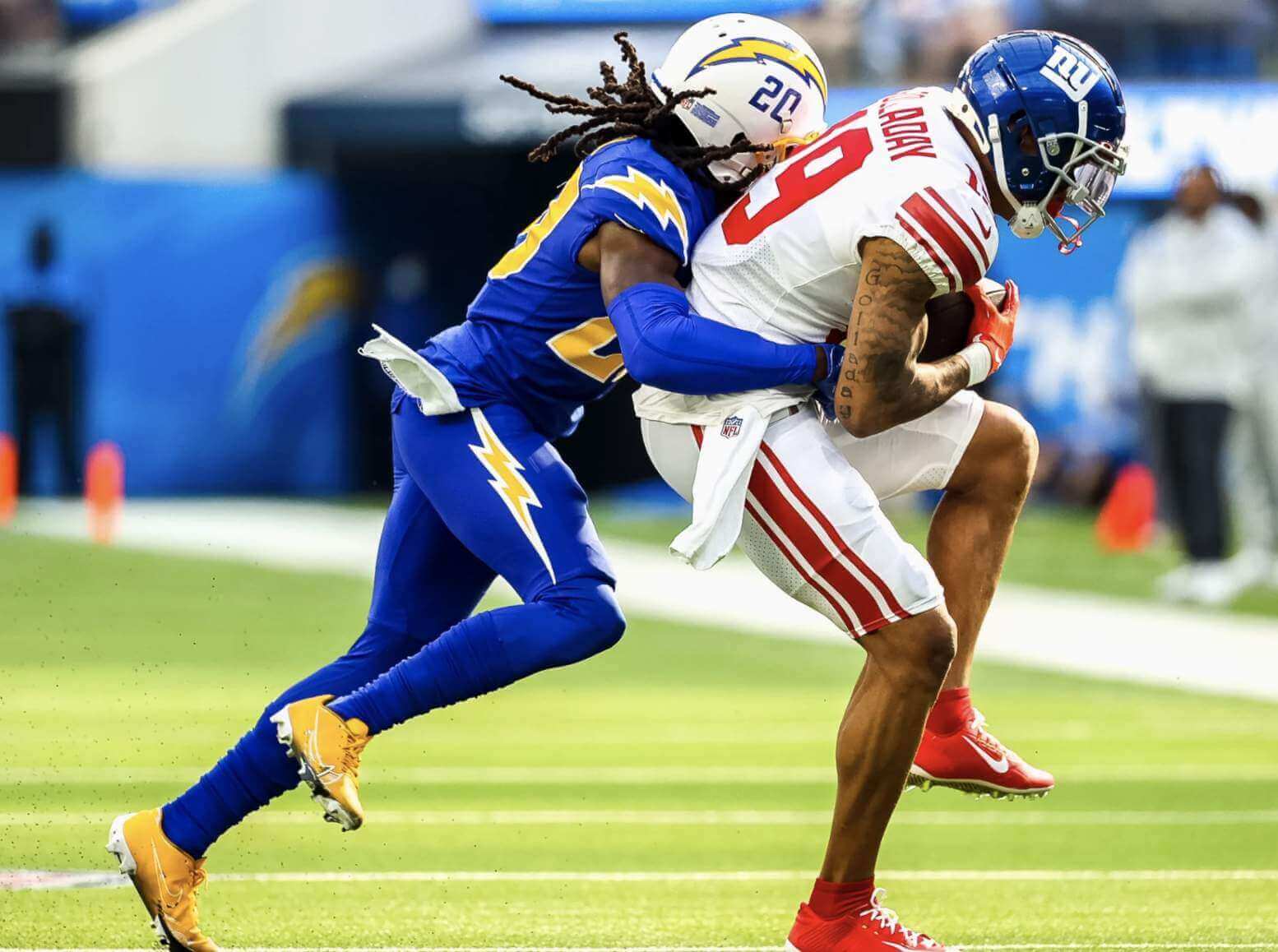 • Remember the first Bengals/49ers Super Bowl in 1982? Both teams looked very similar for yesterday's game: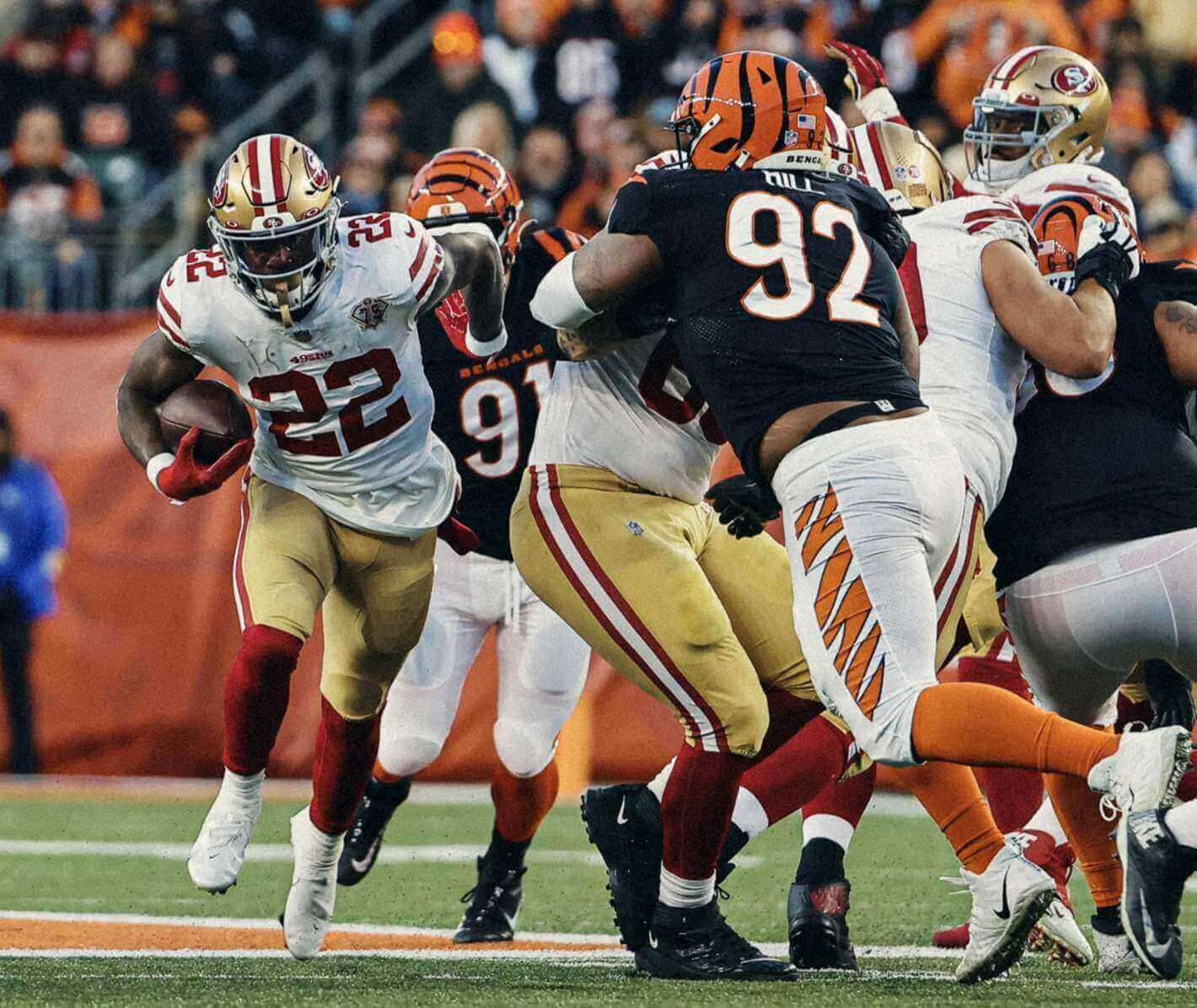 • In that same game, Niners coach Kyle Shanahan wore a Demaryius Thomas memorial pin (exactly what I thought the Broncos' sideline personnel would be wearing) but wore it upside-down: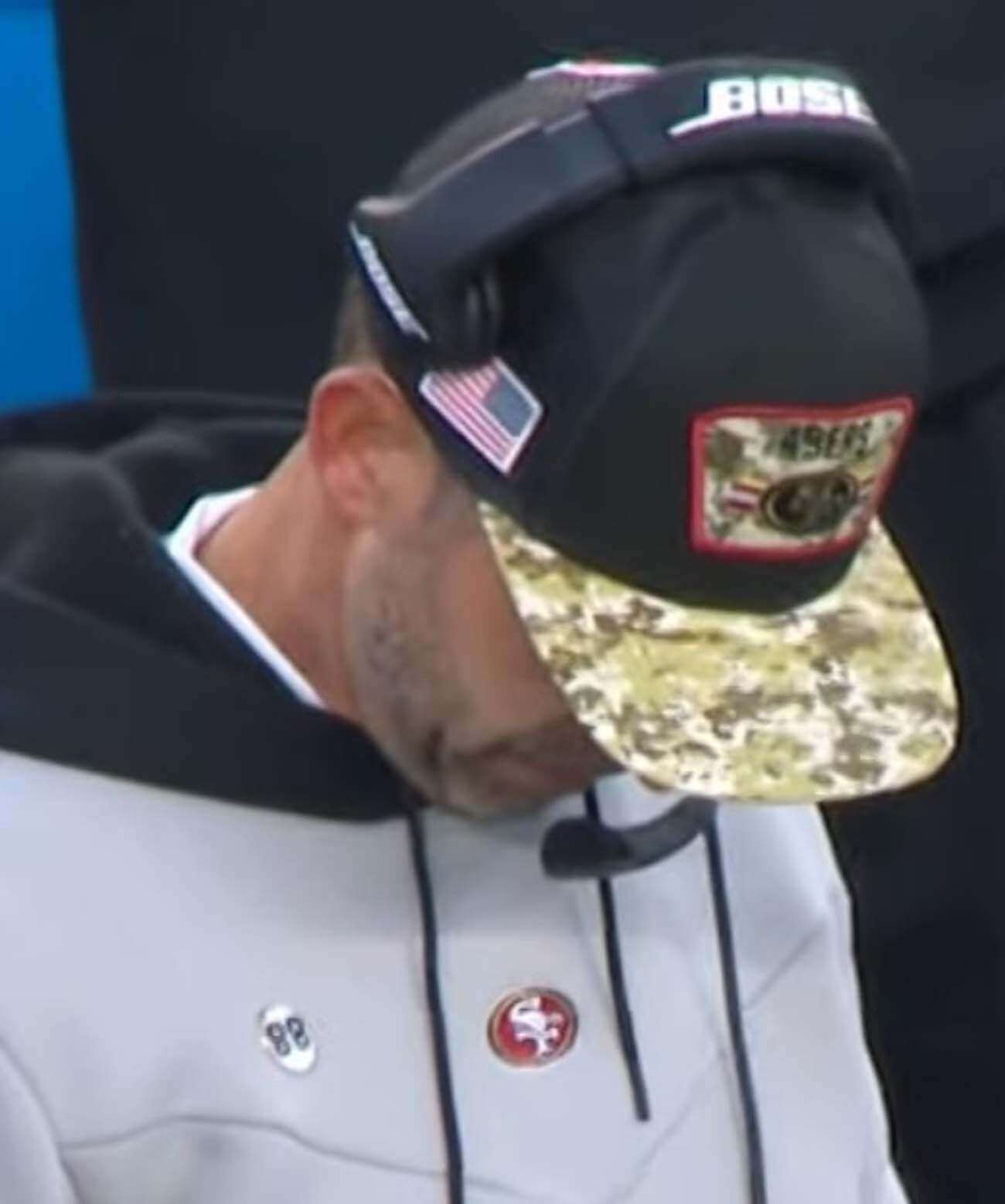 • We all know how I feel about purple, but I found that the combination of orange, brown, purple, and white in the Ravens/Browns game made for a very pleasing visual tableau (lots of additional pics here and here):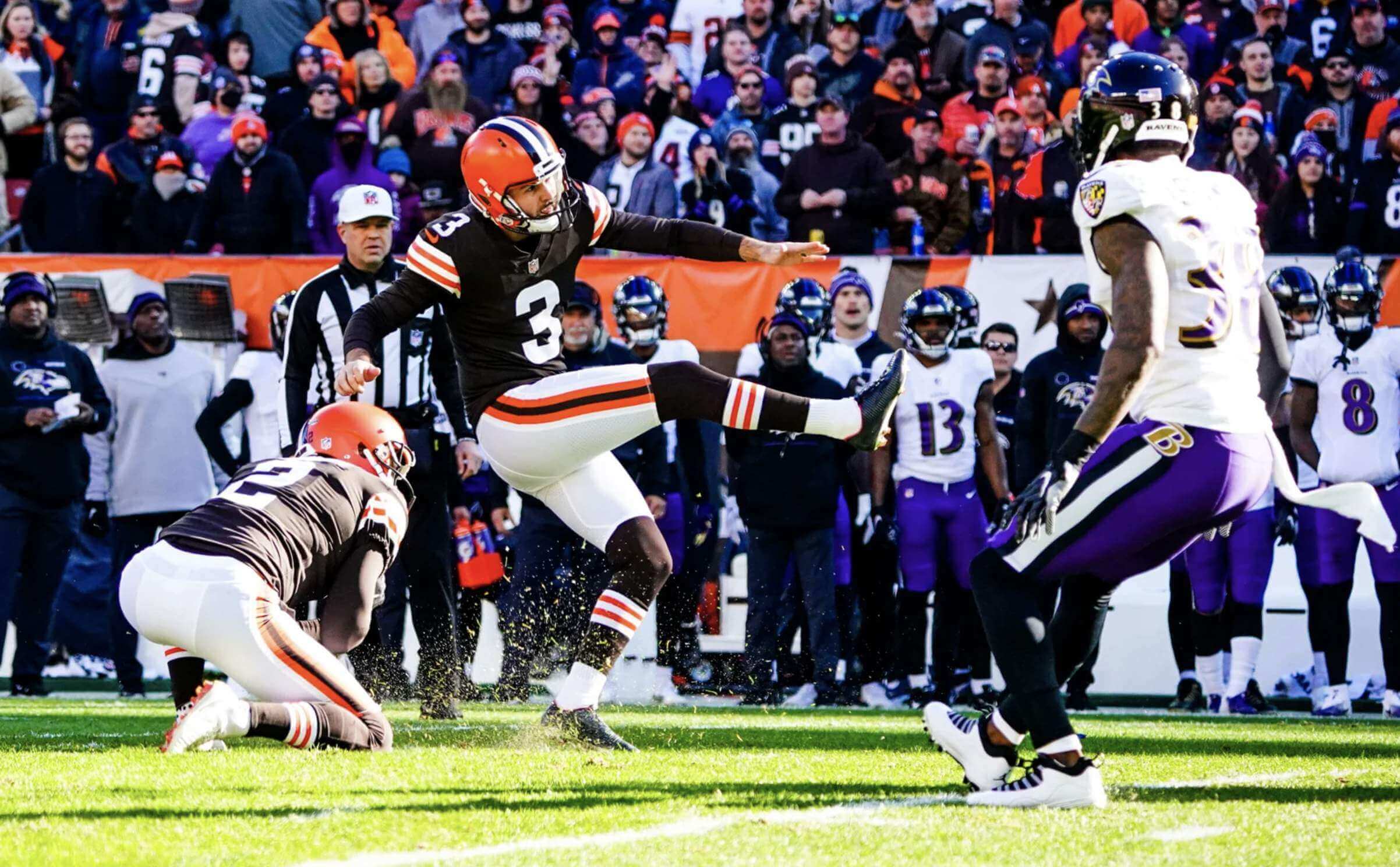 • In that same game, the chain crew's first down marker apparently had a stripe: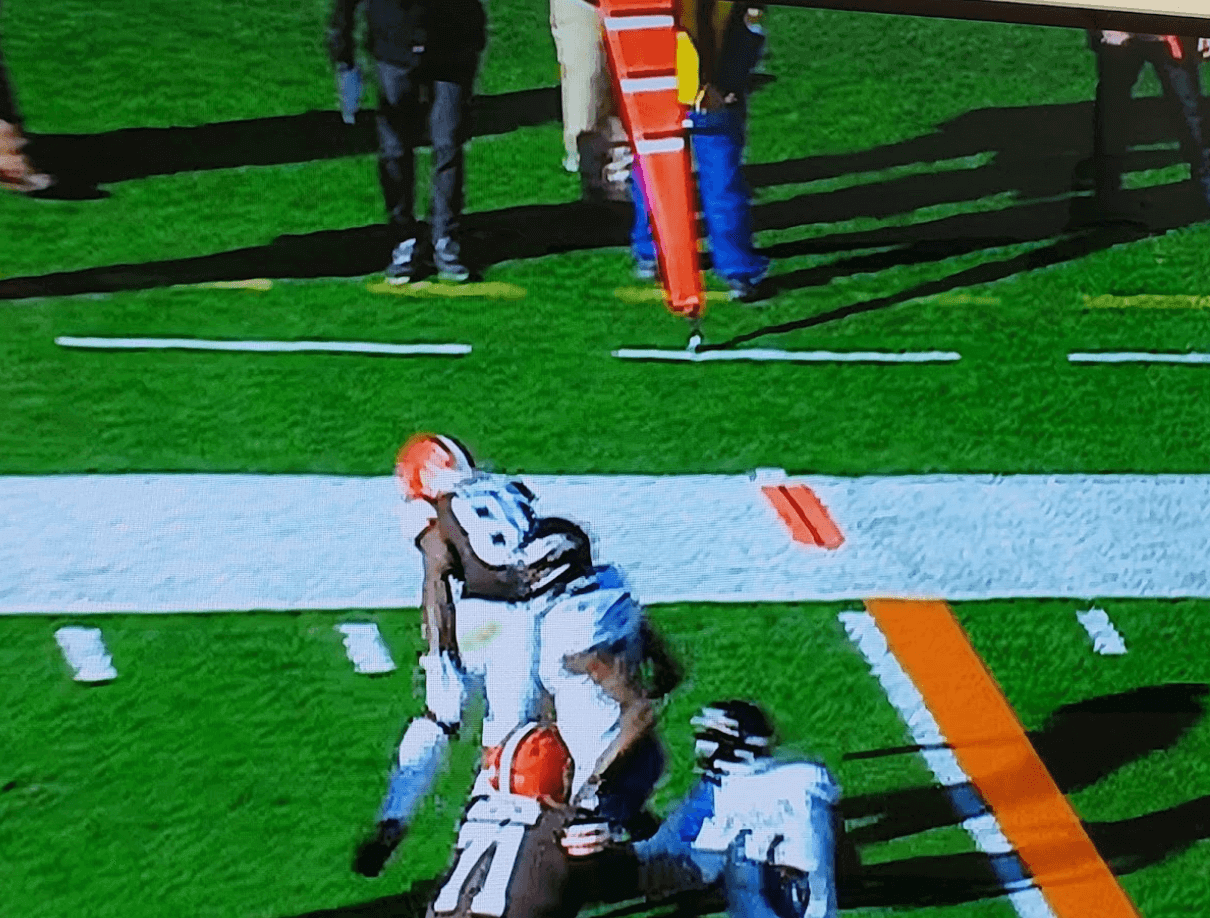 • This is interesting: The Cowboys had a new set of team-branded heated benches made for their game in Washington, because the Seahawks told Dallas that the heat cut out on the visitors' benches at Washington's stadium a few weeks ago.
• In that same game, "matchup T-shirts" weren't available because the Cowboys wouldn't allow Washington to use their logo:
Before every home game, Washington sells a "matchup" t-shirt in the stadium.

The Cowboys denied Washington permission to use their logo on merchandise today. There will be no shirt. pic.twitter.com/2mqCx7d5Tb

— michael phillips (@michaelpRTD) December 12, 2021
• In a tedious development that I guess I have to write about because it's logo-related, the Raiders concluded their pregame warm-ups in KC by gathering on KC's midfield logo, which apparently motivated the KC players because they felt "disrespected." I'm not sure which is more pathetically juvenile: thinking that you're making some sort of edgy, transgressive statement by standing on a particular patch of painted grass, or taking offense at same. As this type of thing becomes more common, it's a good argument for just leaving the center of the field blank, like the Browns do.
• Just one team wore white at home: Washington.
(My thanks to all contributors, including John Chapman, Paul Quinn, Neil Vendetti, Brian Smith, Matthew Wolfram, @PanthersUnis, @NYCommenter, and our own Brinke Guthrie.)
• • • • •
• • • • •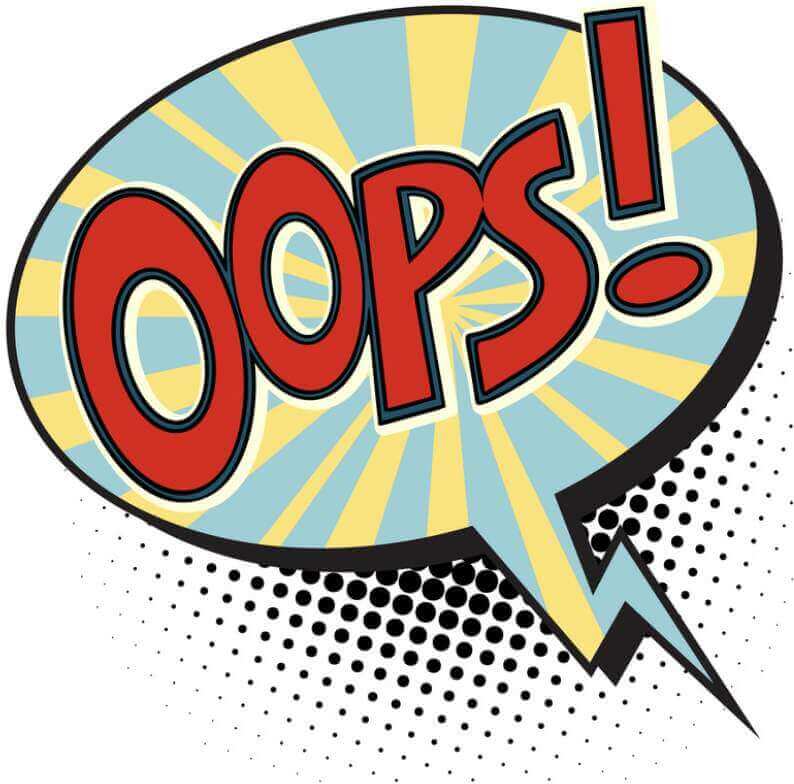 Teespring Shipping Snafu reminder: As I mentioned on Friday, there have been some shipping problems with our December "Swinging Santa" pin. Some people have received more pins than they ordered, while others have received an empty mailer with no pin inside.
I've been arranging for people who received extra pins to send their extras to the people who received empty mailers (and I'm reimbursing them for the shipping, of course), so I'm pretty sure we can make everyone whole. If you received too many pins, or if your pin was a no-show, please let me know ASAP so I can make the proper arrangements.
Also: I've now heard from two people who say they ordered a December pin (and have the digital evidence to prove it) but haven't yet received anything. That could just be a case of the mail being slow, especially during the holidays, but we may as well keep an eye on this as well: If you think you should have received your December pin by now but it hasn't arrived, drop me a line. If possible, please include your Teespring order confirmation number.
I want to add here that this whole incident, despite being regrettable and upsetting, has been a really awesome example of how special the Uni Watch comm-uni-ty is. For starters, it's so great that the people who received extra pins have identified themselves as such and have offered to go through the hassle of mailing out the extras. On the other side, a few of the empty-mailer people have actually told me, "I'm not a big pin collector, so put me at the end of the line — if you don't have enough to go around, I'd rather see a 'Collect 'em all' customer get one." How amazing is that? (Of course, I've told those people that every customer is special and everyone deserves the same treatment, so we're going to do our best to make sure everyone is taken care of.)
As for how this all happened in the first place, Teespring is still investigating. I'll keep you posted, and my thanks to everyone for their help and patience.
• • • • •
• • • • •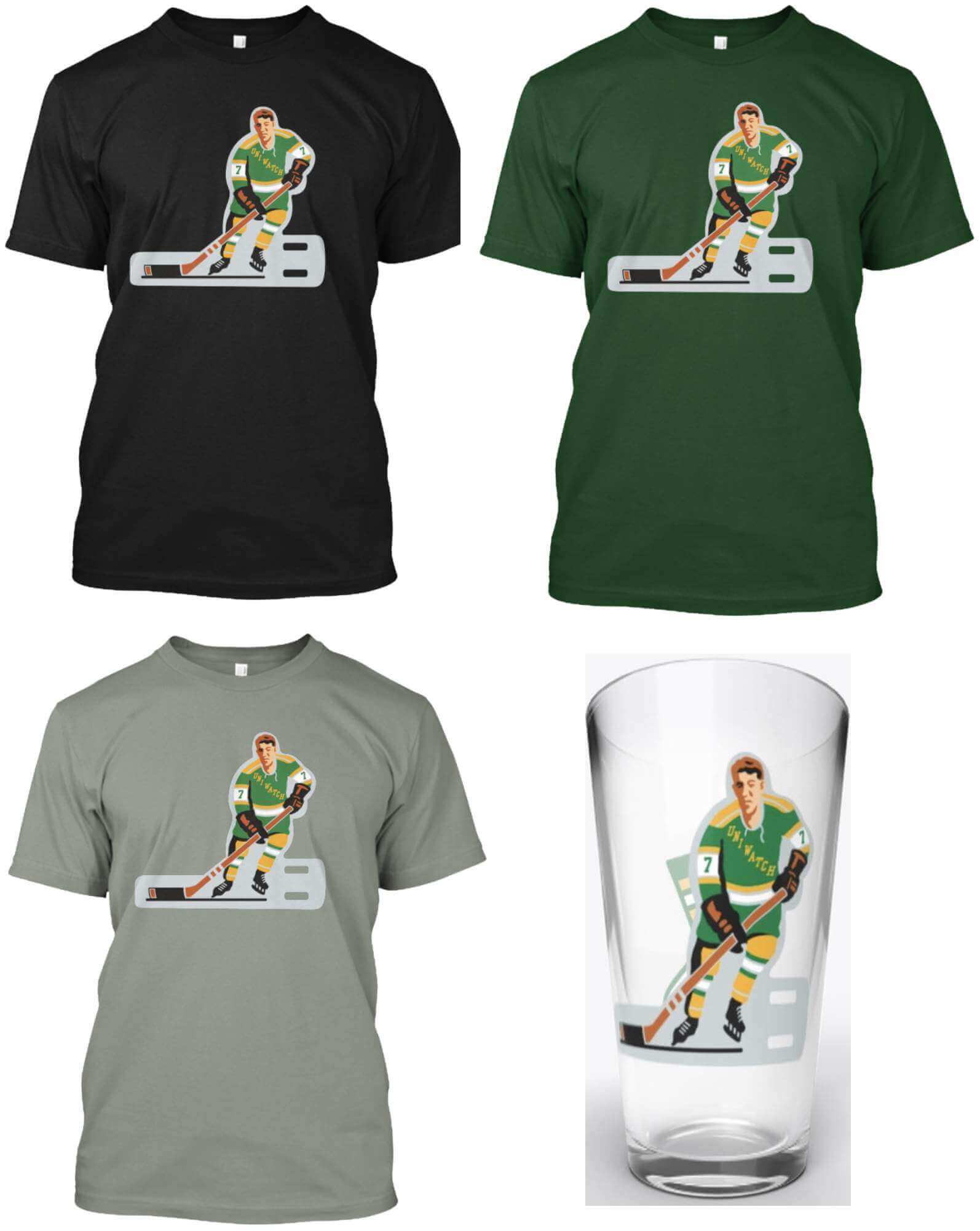 Click to enlarge
Assorted reminders: In case you missed it, we've repurposed a few more of our pin designs as T-shirts and pint glasses, beginning with our awesome table hockey design (which originally appeared as the March 2021 pin), shown above.
All of the T-shirt colors are also available as long-sleeve tees and hoodies, plus we've done a pint glass (with the hockey player on one side and the winged stirrup on the other). Here's where you can order these in black, green, grey, and the pint glass.
In addition, our baseball bobblehead design, which originally appeared as the July 2020 pin, is likewise available in black, green, grey, and as a pint pint glass. Ditto for the football bobble, which originally appeared on the September 2021 pin: black, green, grey, pint glass.
Meanwhile: If you're a Rutgers fan, you'll want to check out the new Naming Wrongs shirts for the Rutgers Athletic Center: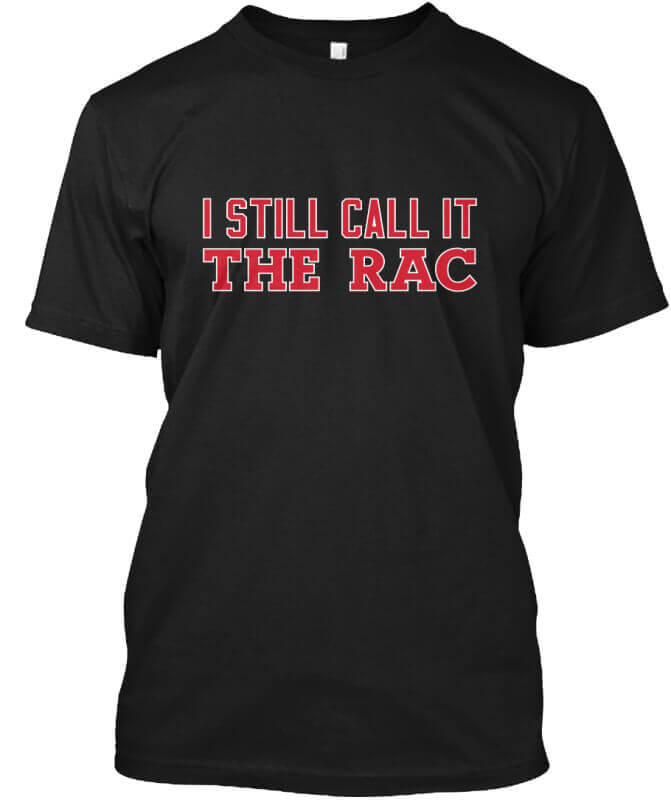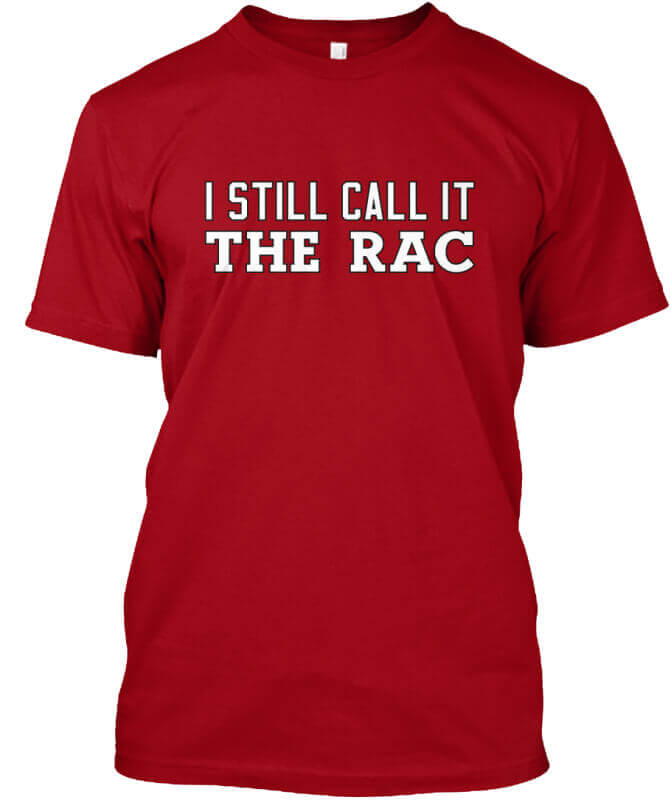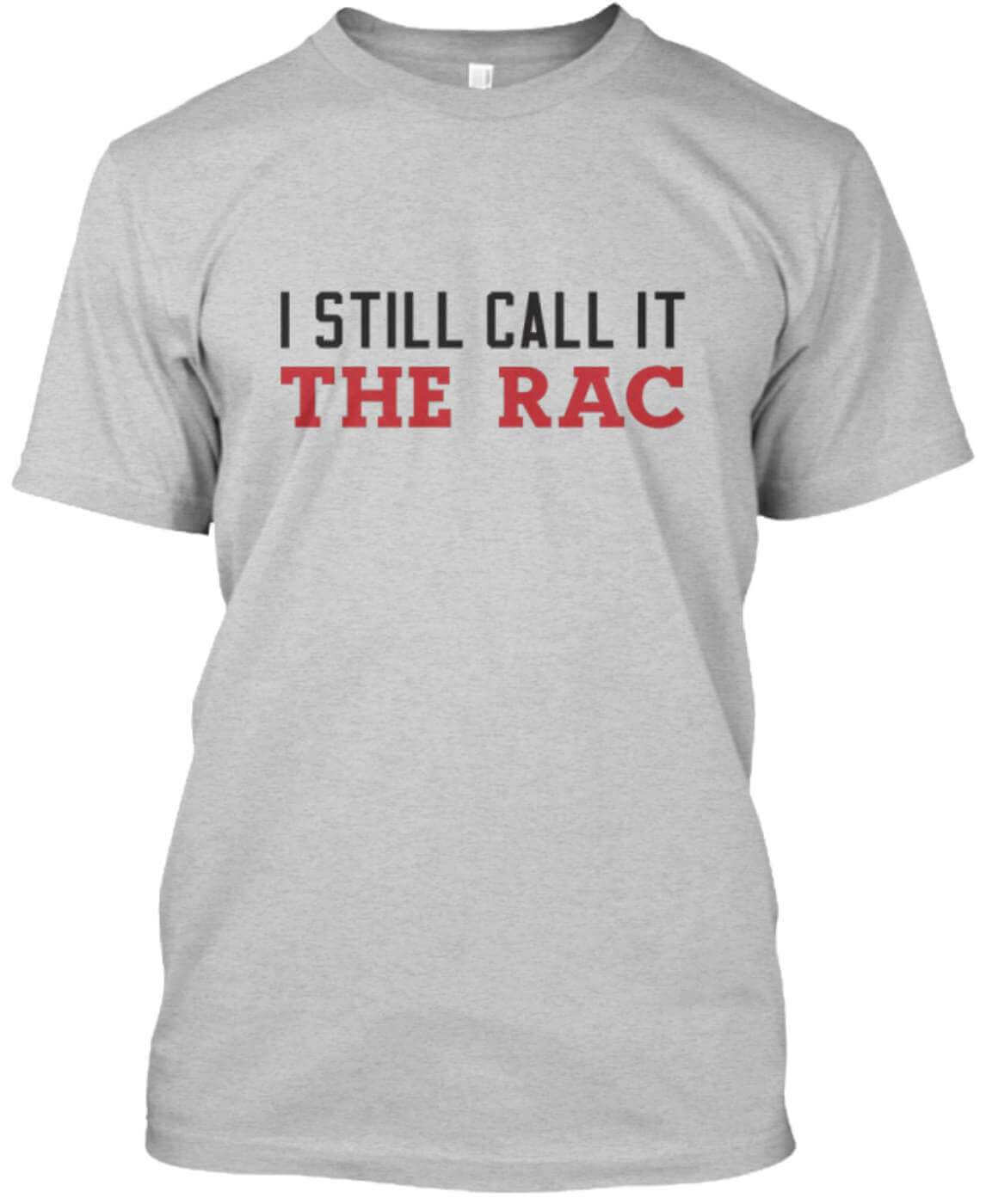 Here's where you get get these T-shirts (which are also available in long-sleeved and hoodie versions) in black, red, and grey.
You can see the rest of our merchandise offerings here. My thanks, as always, for your consideration of our products.
• • • • •
• • • • •
The Ticker
By Jamie Rathjen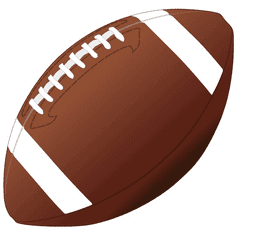 Football News: The officials in yesterday's Grey Cup wore Indigenous-designed necklaces during warm-ups (from Moe Khan). … Meanwhile, this was the Grey Cup field design (from Wade Heidt). … Ohio State QB C.J. Stroud wore a suit honoring past Ohio State Heisman winners for Saturday's trophy ceremony (from Jason Hillyer). … An ESPN graphic for Alabama QB Bryce Young's Heisman win used a picture of the trophy with now-Ravens QB Lamar Jackson's name on it (from Drayton Jackson). … A restaurant in Kalamazoo, Mich., poaches the Bears logo, but also sort of doesn't (from Rusty Lee). … The Patriots are planning a series of stadium renovations, including the installation of the country's largest outdoor video board.

Hockey News: The first three items are from Wade Heidt: The Coyotes wore warm-up jerseys with a new/different chest logo on Saturday. "I understand these jerseys were worn as part of Throwback Night but I'm not sure how they follow that theme well," Wade says. … The AHL's Providence Bruins wore "first responder appreciation" jerseys on Friday. … The OHL's Flint Firebirds wore Christmas-themed uniforms on Saturday. … I'm not sure how many high school goalies even have painted masks, but one in Massachusetts managed to incorporate four different tributes at once into his (from @jimdubyad).

Basketball News: Yesterday's Louisville/Kentucky women's game was red vs. blue (from Ethan Moore).


Soccer News: The Portland Timbers supporters' groups released red smoke in the 24th minute of Saturday's MLS Cup, as has happened for some time at both Portland teams' games, to show support for NWSL players who were victims of abuse. … English women's teams and Scottish men's teams participated in the annual LGBTQ Rainbow Laces campaign this weekend. … Stonewall F.C., an LGBTQ club in London and not related to the same-named charity that organizes Rainbow Laces, had one of its shirts added to FIFA Ultimate Team. The club actually has FIFA maker EA Sports as its advertiser. … In France, Paris Saint-Germain wore gold numbers and NOBs in Ligue 1 yesterday because striker Lionel Messi recently won the men's Ballon d'Or, which goes to the world's best male and female players of the past year (from Michael Zerbib). … A Women's FA Cup game between Bristol City and Lewes yesterday saw Lewes goalie Laura Hartley enter as a substitute outfield player, borrowing the shirt of midfielder Paula Howells. Lewes had Covid-19 problems, meaning Hartley was one of only three substitutes named (from Graham Clayton).

Grab Bag: The Japanese city of Sendai will issue motorcycle license plates with the mascots of four of its pro sports teams in baseball, soccer, and basketball (from Jeremy Brahm). … One English field hockey goalie, wanting her Rainbow Laces shoelaces to be visible, tied them to the side of her helmet. … The U.K.'s Netball Superleague's Surrey Storm switched outfitters to Mizuno, and recently got a naming-rights advertiser to boot. … An ESPN broadcast of a high school girls' lacrosse club tournament spelled one of the teams' names, "Precision," wrong (from Daniel Hresko). … Italian women's volleyball team UYBA Volley retired Giulia Leonardi's No. 9. But the framed jersey they gave her "was the ridiculous number font version from the 2019-20 season, which didn't even finish the season due to Covid," says Jeremy Brahm.
• • • • •
• • • • •
Click to enlarge

What Paul did last night on Saturday and Sunday: The Tugboat Captain and I had been laying low and staying close to home after the Covid outbreak here at Uni Watch HQ. But on Saturday we picked up our friends Jon and Karen and drove out to Long Island to check out Hildebrandt's, an old-school ice cream parlor that totally hit our sweet spot (pun fully intended). Unfortunately, the neon wasn't turned on, but the signage still looked great, even though it wasn't illuminated:
I got a hot butterscotch sundae with coffee and cappuccino-chip ice cream, which was every bit as good as it sounds. Interestingly, they served the butterscotch sauce in a little side pitcher (ditto for people who got hot fudge). Never seen that before, but I liked it, because it allowed me to keep adding a bit more butterscotch here and there as I ate my way through the sundae:
Later on, we were at a discount store and I couldn't resist this six-pack of tube socks because of its clever packaging gimmick — a little cutout that literally lets the consumer "feel the softness":
The next day, Mary and I stopped in at a vintage store, where I saw this T-shirt for World Championship Tennis, which seemed like something our own Brinke Guthrie would get a kick out of:
Later, as we headed back to our car, we walked smack into a really big church parade of some sort. Not sure exactly what it was for, and I didn't do a very good job of photographing it, but you can see that participants were wearing a uniform of sorts — matching sweatshirts (#alwaysuniwatching):
• • • • •
On a serious note, I don't know if we have any readers in the region that was affected by Friday's deadly tornadoes, but the swath of destruction was so large that it seems possible, or maybe even likely, that some of our comm-uni-ty members were affected. My thoughts are with you, and feel free to let us know how you're doing if you see this message. — Paul