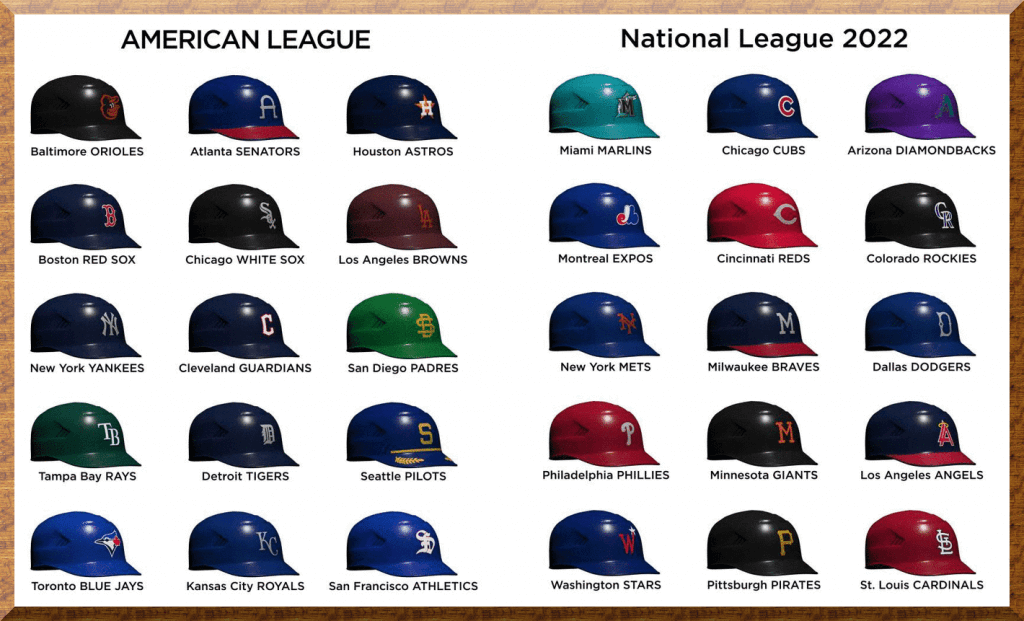 By Phil Hecken
Follow @PhilHecken

Good morning and a good Saturday, Uni Watchers. Hope everyone had a good week. I myself very much enjoyed my curling bonspiel last weekend (even though my rink didn't fare particularly well).
Over Paul's August hiatus, when I handled the weekday duties, I ran a really fun post from Chris Diamond on his helmet map projects. He mentioned he had some more ideas in store, and in mid-October (while the MLB playoffs were happening), he sent me another piece, this one focusing on baseball and potential relocations over the years. Unfortunately I didn't get to run it while baseball was still happening, but I promised him I'd get to it before Christmas. I know the hot stove is ice cold now, what with the lockout and all, but this is another fun article. Chris uses lots of words, so I'll just turn it over to him right now. Enjoy!
• • • • •
Alternate History MLB 2022
by Chris Diamond
Back on Christmas Day 2020, mlb.com ran a feature called "The L.A. Browns? How one day in '41 changed MLB".
The alternate reality question posed by the feature is; "How would baseball be different today if the St. Louis Browns had moved to LA in 1942 as planned?". In reality the advent of WWII put it on indefinite hold and in the end of course they moved to Baltimore in 1954 to become the Orioles and the west coast was empty of MLB until the Dodgers and Giants moved for the 1958 season. But what if they had moved to LA? The article takes this premise and then travels forward through history following the possible consequences up to the present day. I won't repeat the whole article here, but there are some huge ramifications for the MLB as we know it which you can see below in the 2020 divisional line-ups from the feature (differences in RED and BLUE).
_____
AL East: Baltimore Orioles, Boston Red Sox, New York Yankees, Tampa Bay Rays, Toronto Blue Jays
AL Central: ATLANTA SENATORS, Chicago White Sox, Cleveland Indians, Detroit Tigers, Kansas City Royals
AL West: Houston Astros, LOS ANGELES BROWNS, SAN DIEGO PADRES, SAN FRANCISCO ATHLETICS, SEATTLE PILOTS
_____
NL East: New York Mets, MONTREAL EXPOS, Philadelphia Phillies, WASHINGTON STARS
NL Central: Chicago Cubs, Cincinnati Reds, MILWAUKEE BRAVES, MINNESOTA GIANTS, Pittsburgh Pirates
NL West: Arizona Diamondbacks, Colorado Rockies, DALLAS DODGERS, LOS ANGELES ANGELS, St. Louis Cardinals
_____
As you may recall I am into helmet maps, so after reading the article I immediately thought; "What would an MLB map look like for this fascinating alternate reality?". The article itself has a few graphics, but they felt a bit half-hearted and without too much thought. What might these alternate reality MLB teams caps/helmets actually look like? Is there a way to make credible guesses? I decided I'd like to have a go!
So may I present Alternate History MLB 2022! Below is my map and other graphics to tell the story of how I came up with my design choices – please feel free to agree/disagree robustly.
First of all in theory, with alternate realities like this, anything goes. But I wanted this to feel credible and not to change things for change's sake. I feel that some teams have a large amount of what you might call uni-momentum behind them. So the Yankees, for example, have had the same classic look for most of their history. Idiosyncrasies aside (as featured by Paul recently) this gives them a huge uni-momentum. So in most alternate realities the Yankees would most likely look the same (note here I am only considering caps/helmets). I feel the same applies to some other teams; the Cubs, Cardinals, Pirates, Red Sox, Rockies and Royals. Other teams have slightly less uni-momentum but still have a reasonably stable cap/helmet look; the Astros, Blue Jays, Orioles, Phillies and White Sox. So for these teams I have kept them more or less the same as real life. In the case of Cleveland I have just gone with the new Guardians identity to make it simple. I've also not included things like raised logos or matte helmet finishes as it's quite random which team currently has them.
So what about the other teams? Well in addition to the differences due to the mlb.com feature, I added one more thing to this alternate reality. No BFBS! BFBS has been hanging over uni trends in all sports since the 80s. What if in this reality the dark shadow of BFBS never loomed over baseball?
So first up are the different teams (in RED and BLUE above). The alt history comes from the mlb.com feature, and the design choices are mine except where such things were mentioned in the feature.
Los Angeles Browns 1942:
The seed of this whole alt reality. Moved from St. Louis to LA in 1942 to become the LA Browns, sticking with their distinctive brown and orange colour scheme. They also use the same cap font as for St. Louis but make it an interlocking "LA", similar to the style the LA Dodgers chose in the real world. They will be the only big four pro sports team on the west coast until 1948 when…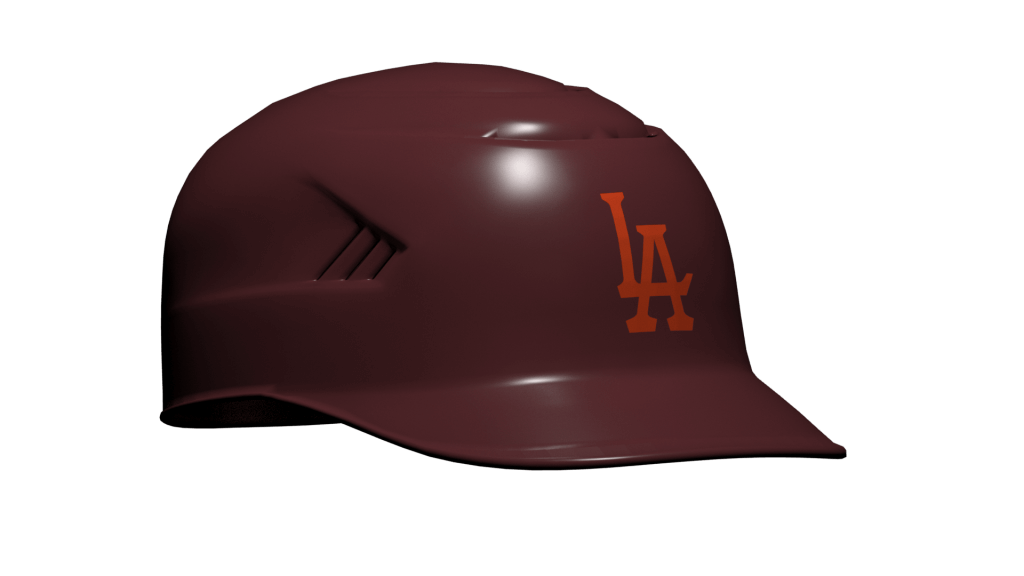 San Francisco Athletics 1948:
Like the St Louis Browns, the Philadelphia Athletics are the second team in town and are struggling to compete with their rival. They are sold to a San Francisco business man and as the Browns are an AL team, it makes sense for the Athletics to join them on the west coast. For their cap/helmet they keep the team blue and red colours but replace the old English "A" with an interlocking old English "SF" to reflect their new city.
Milwaukee Braves 1954:
The same move as happened in reality, but they never move to Atlanta because of other events (see below).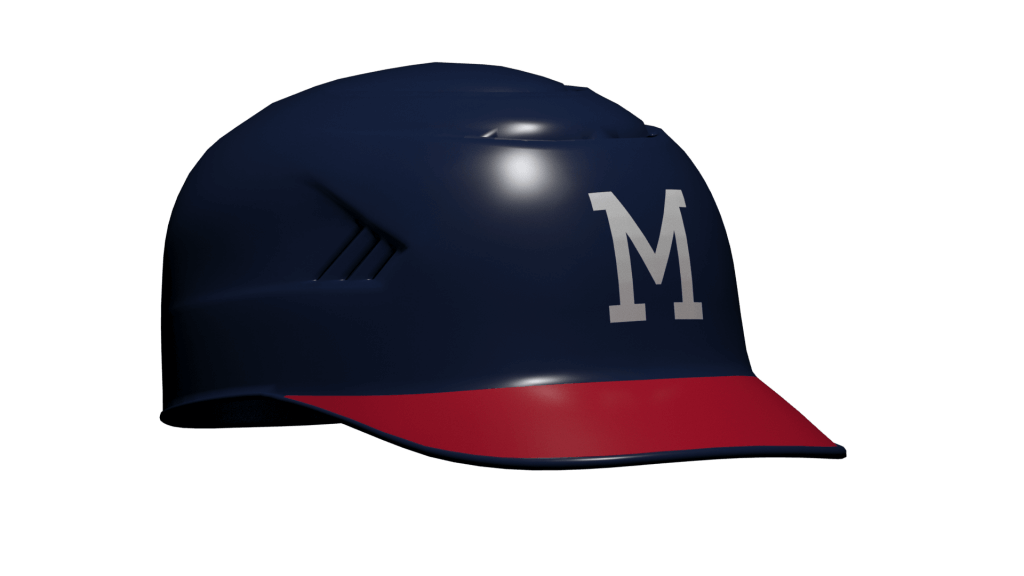 Minnesota Giants 1954:
Before they moved out west with the Dodgers in real-life, the Giants were looking at moving to Minneapolis. So in this alt reality as the AL have the west coast already, they do move to Minneapolis-St Paul. But here, the quandary of how to deal with the name issue is solved by calling them Minnesota from day one with an "M" on the cap/helmet. As it looks good, they keep the same font as they had in NY.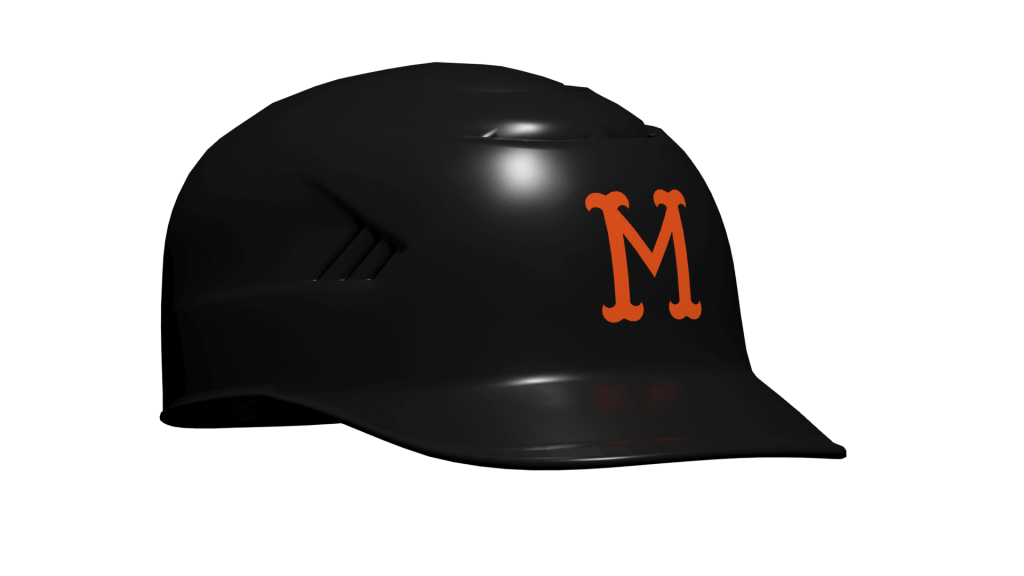 Dallas Dodgers 1958:
The problems that affected the Brooklyn Dodgers in our reality are the same here, even though they are now the only NL team in NY. Dodgers owner Walter O'Malley has interests in Texas, and LA already has the Browns so they move to Dallas instead. Like with the Giants "M", the Dallas Dodgers "D" looks great in the same cap font so they stick with it (unlike the LA Dodgers did).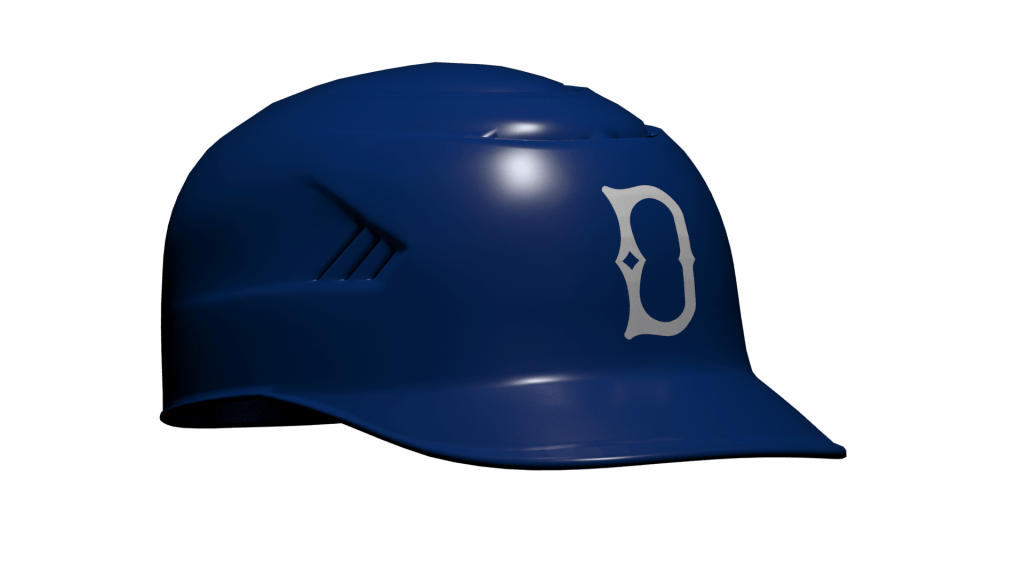 Los Angeles Angels 1961:
In real 1961 the Angels arrive to get an AL foothold in Southern California. But here the AL already has the Browns, so instead they are the in the NL. They choose the same Navy/Red colour scheme as the real Angels did, but unlike the real Angels, they stick with LA as a team name so keep an interlocking LA logo.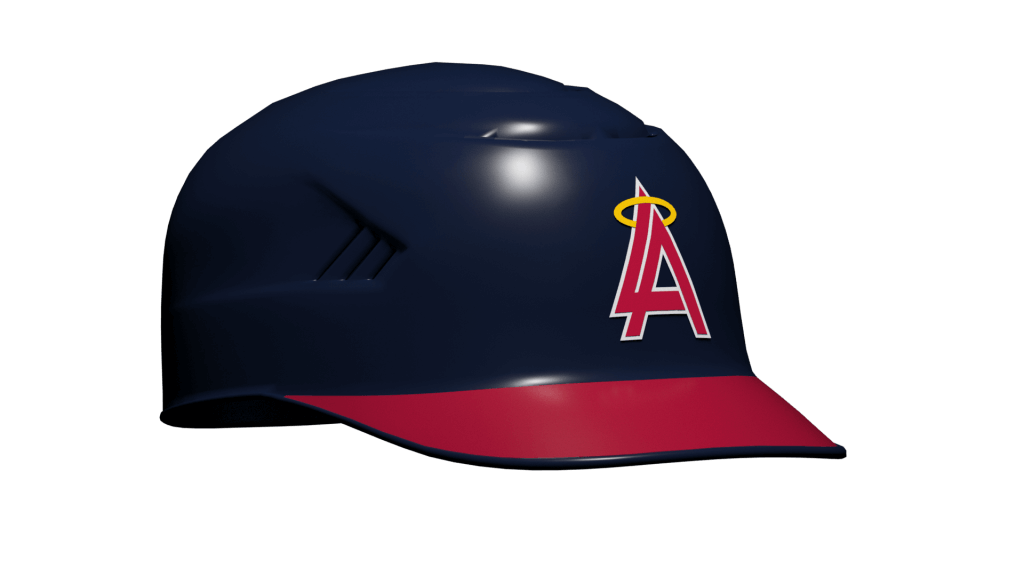 Atlanta Senators 1966:
In reality the Washington Senators moved to Minnesota in 1961 becoming the Twins. But here the Giants have already relocated there, so instead they move to Atlanta. The cap "A" represents a stylised outline of the Georgia Senate building as shown on the state seal.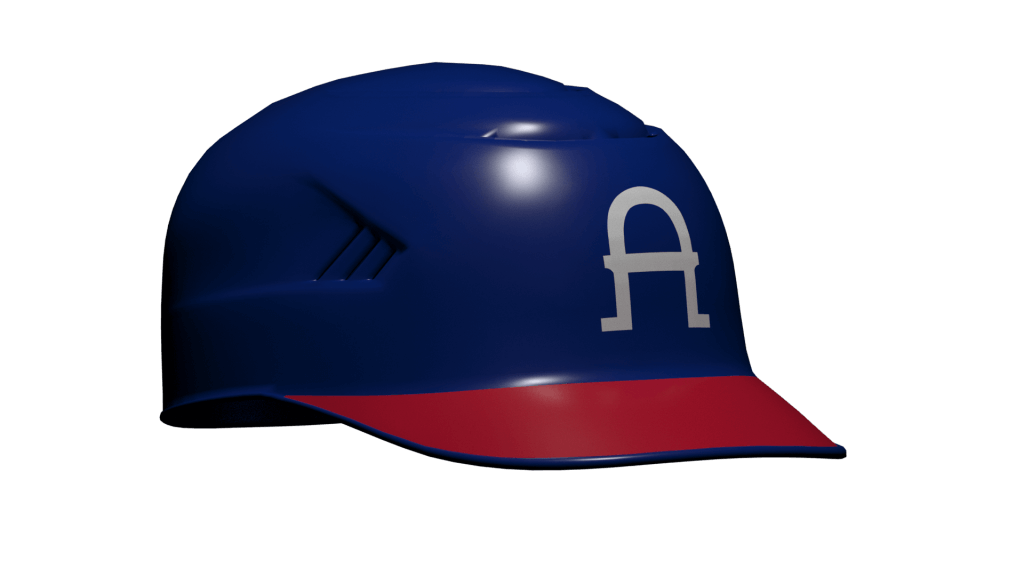 San Diego Padres 1969-74:
The Padres are an expansion franchise as in reality, but the Browns have Brown/Orange sewn up so instead they choose Blue/Red like the PCL Padres. But instead of the PCL Padres "S" they have an interlocked SD on their cap.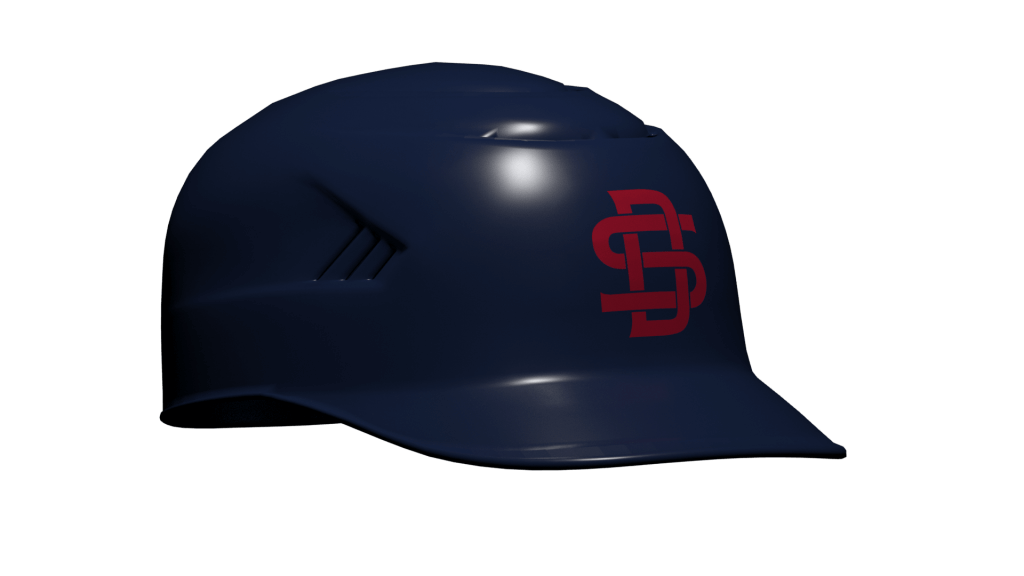 Washington Stars 1974:
In reality, Washington got the expansion Senators in 1961, but in the alt reality, as the Browns didn't move there, the 1961 expansion team goes to Baltimore instead as the Orioles. Then in 1974 the San Diego Padres are sold to a Washington group and become the Stars (this almost happened in reality, they even had uniforms made). They keep the same Blue/Red colours as the Padres. This also means that the Expos don't relocate to Washington in 2006.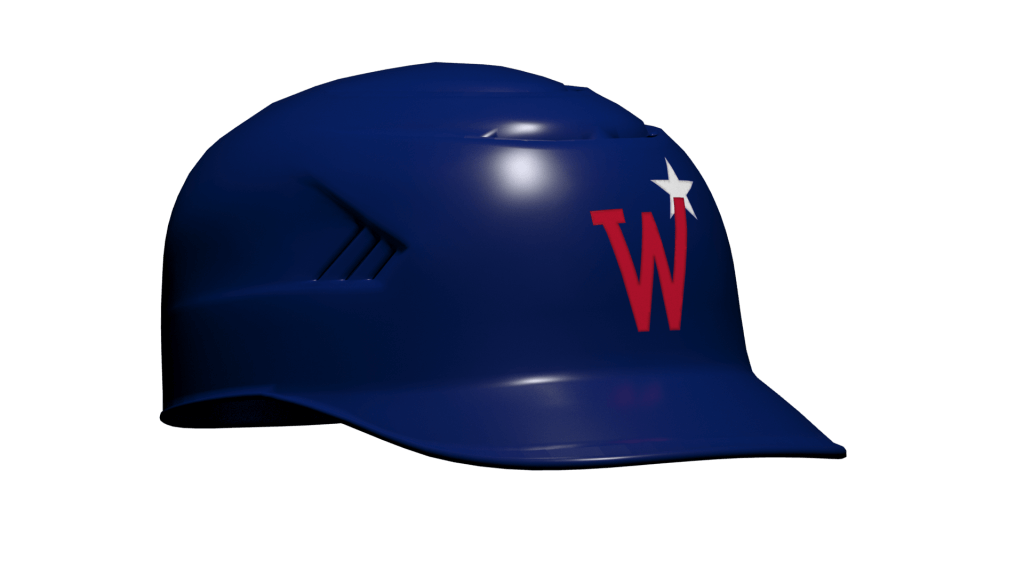 Seattle Pilots 1977:
Born as in reality in 1977, but Milwaukee still has the Braves so they stick it out in Seattle instead of moving. Their unique look persists until the present day.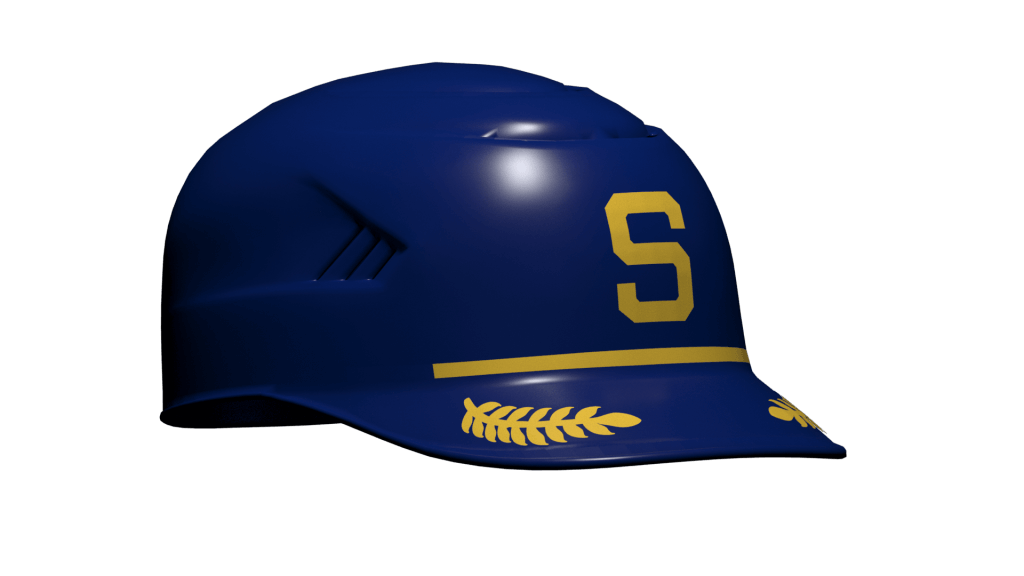 San Diego Padres 1977:
Following the relocation of the original Padres in 1974, San Diego gets an expansion team in 1977. The 1969-74 Padres wore Blue and Red, but there is already the LA Angels and SF Athletics in these colours, so they choose Green and Gold (the same colours the San Diego Rockets of the NBA chose in 1973). Don't forget, in this alt reality, there is no Oakland Athletics so green and gold become unique to them.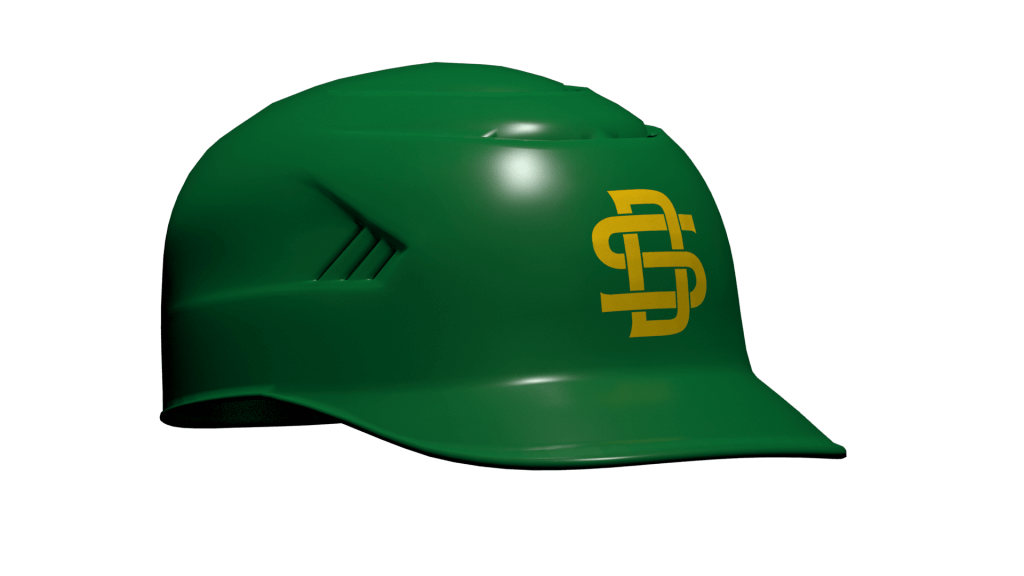 _____
That covers all the new or relocated teams, but what about some of the franchises that are the same in this alt reality? How might they have been affected uni-wise? Especially with no BFBS!
Arizona Diamondbacks:
In reality the D-Backs changed colours in 2007 to their current Black/Red/Sand scheme. But in this alt reality the LA Browns are synonymous with their Brown/Orange scheme and so other west coast teams steer clear of anything even vaguely similar (see Padres 1969-74). So wisely the Diamondbacks stick with their purple and teal.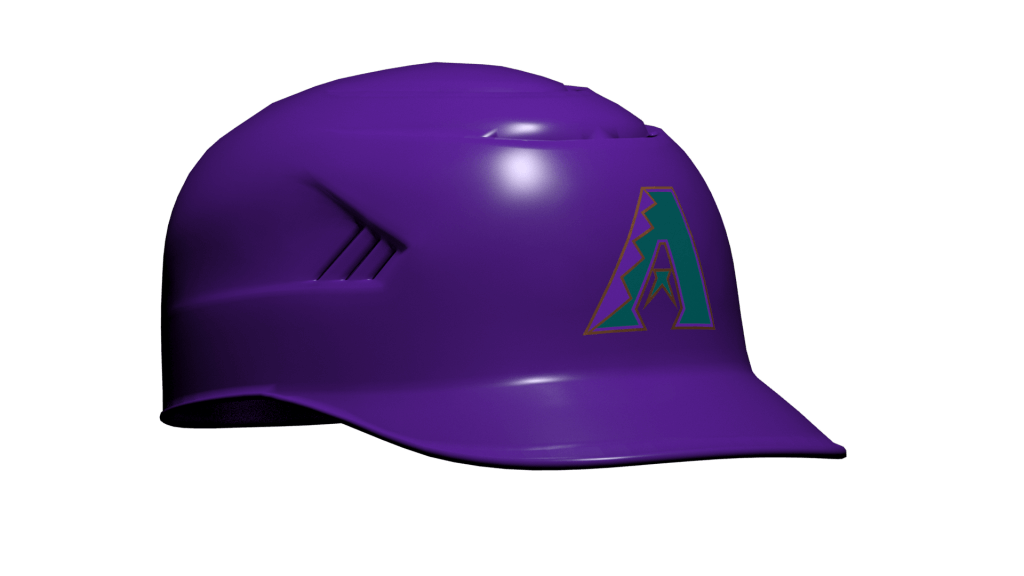 Cincinnati Reds:
Another victim of BFBS in real life, in this reality the helmet remains an un-sullied red and white!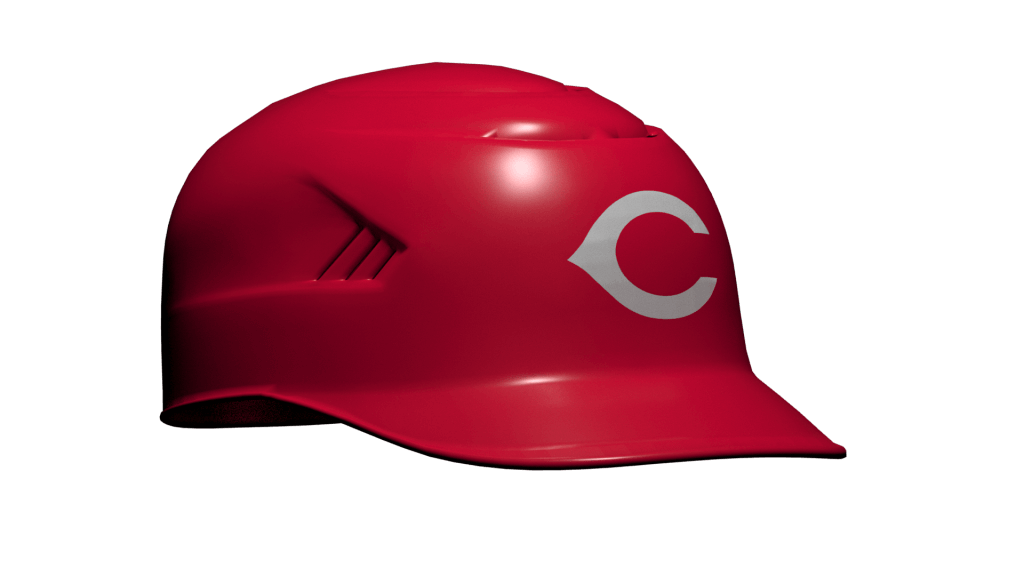 Detroit Tigers:
Back in 2016, the Tigers changed their jersey "D" to match the cap "D". This made quite a few fans unhappy. But what if instead in this alt reality they changed the cap "D" to match the jersey "D"? Is that any better? Or is it just a "don't mess with it at all" thing? :)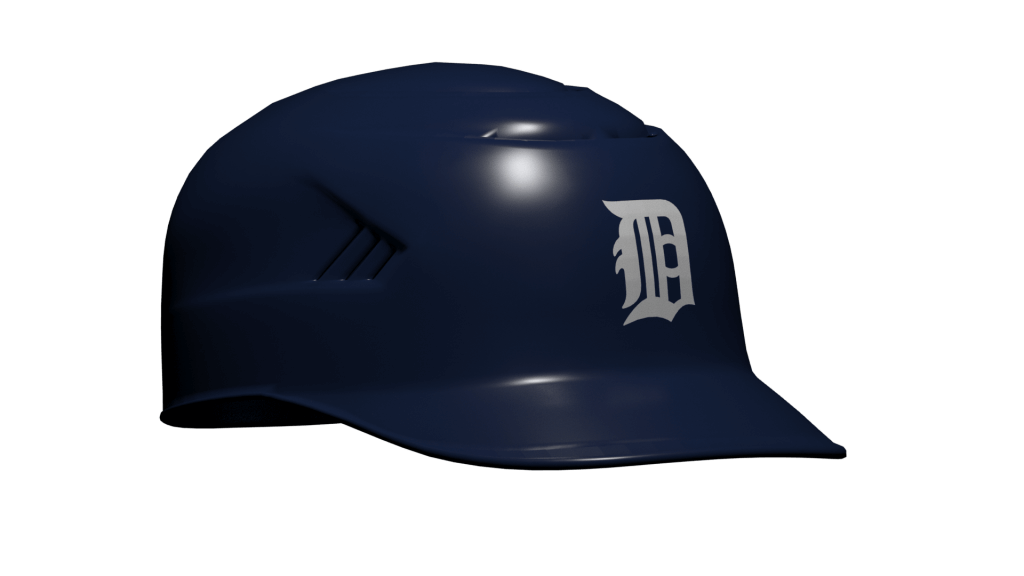 Miami Marlins:
This alt reality not being infected with BFBS, the Marlins stick with their primary "Marlin Blue" (aka teal) colour scheme and logo. So when they move to their new stadium in 2012 and change from Florida to Miami they simply change the "F" to "M".
New York Mets:
The Mets are born like they are in reality. They take the orange "NY" logo from the Giants and the Dodgers blue, but because Minnesota's "M" still uses the distinctive "NY" font, to avoid legal battles they choose an older NY logo style.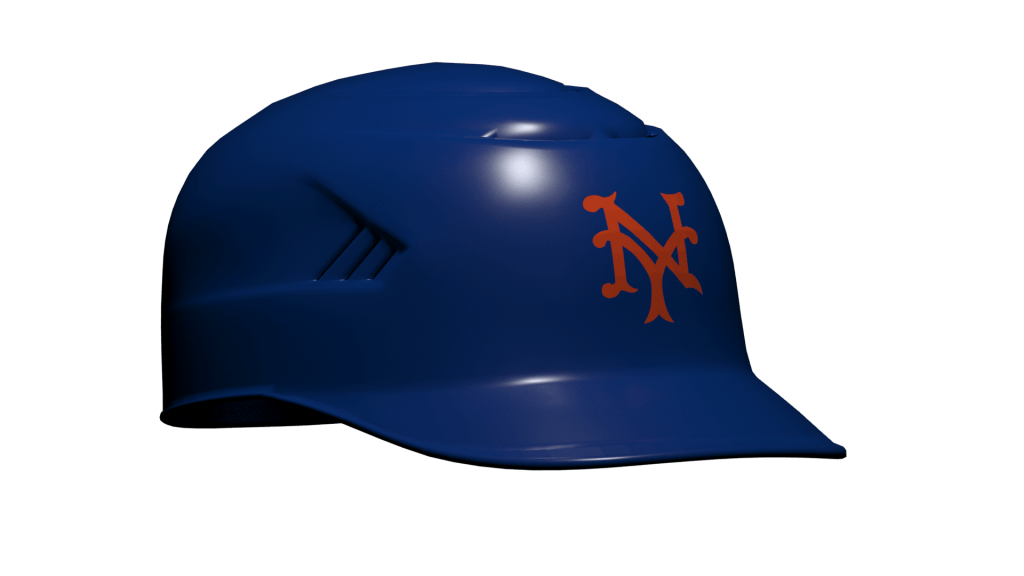 Tampa Bay Rays:
In reality in 2008 when the team became the Rays they switched from their green/blue colours to two shades of blue. In this alt reality they change the logo, but stick with their distinctive colours.
So finally here is the map! And for reference the two leagues laid out side by side. I'd love to know what you guys think of the designs/changes.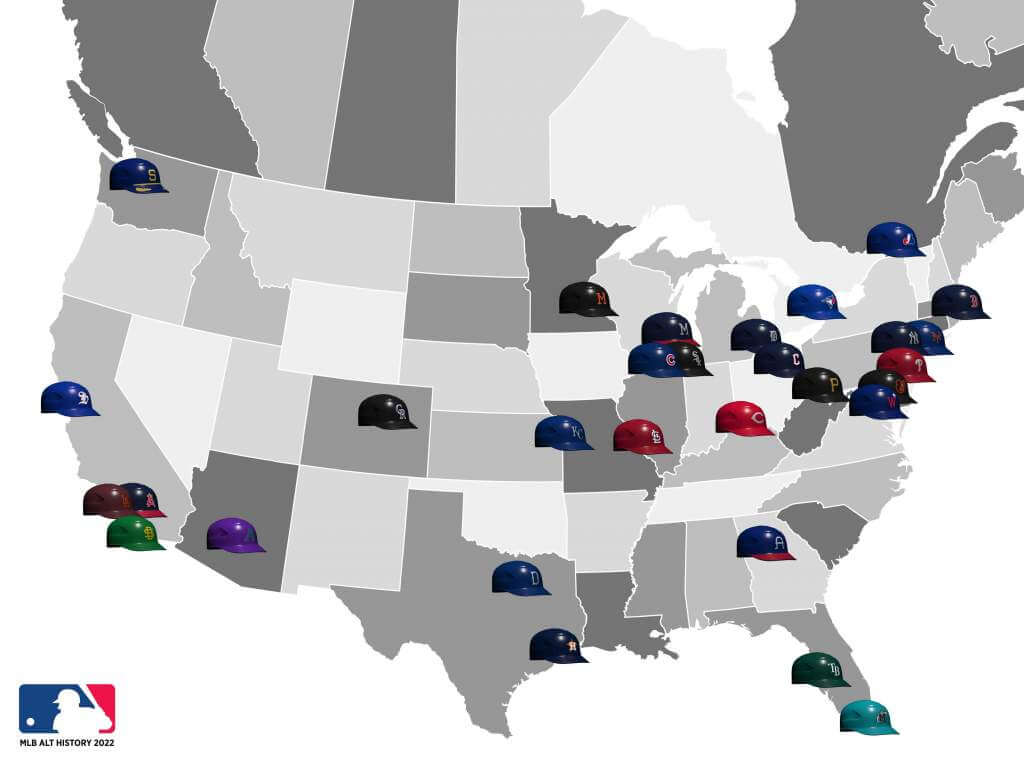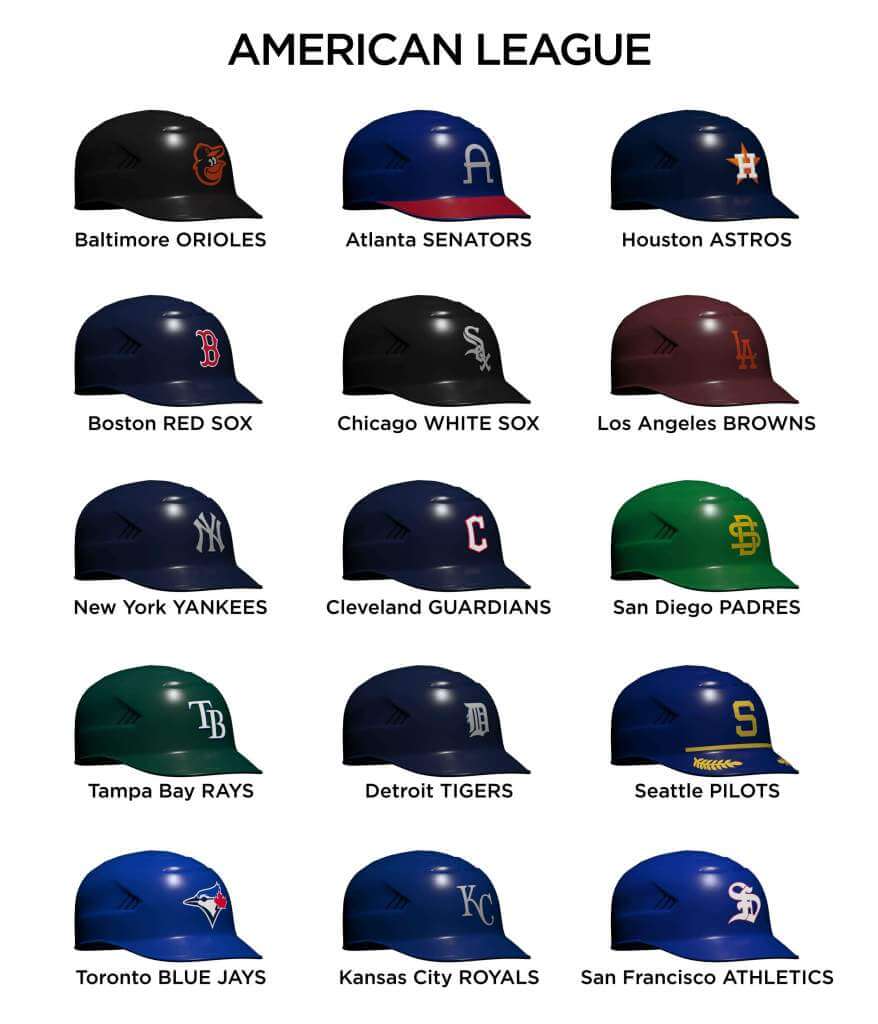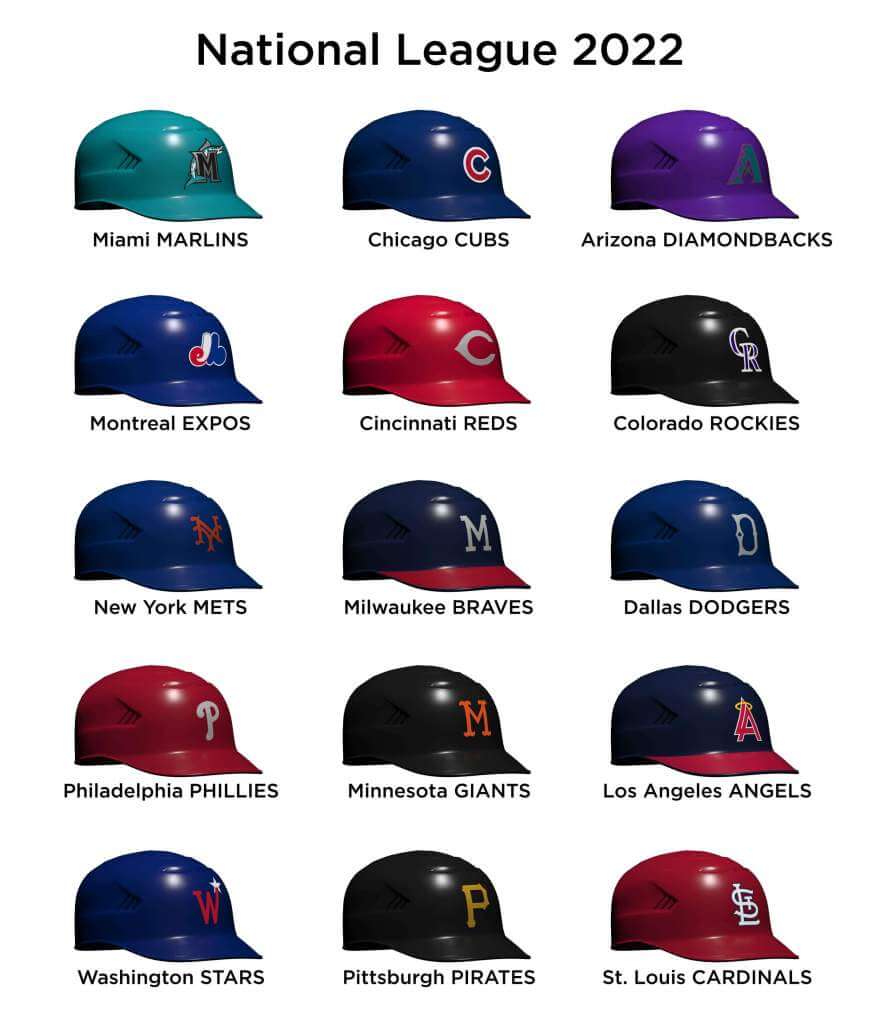 Next up I want to do something similar for the NFL. So if anyone knows of any similar articles or has their own ideas, let me know in the comments!
• • • • •
Thanks Chris! Really good thought piece about how relocation (and unis!) could have all been completely different had the Browns made that first move during World War II — pretty interesting domino effects there. Great stuff. Readers? What say you?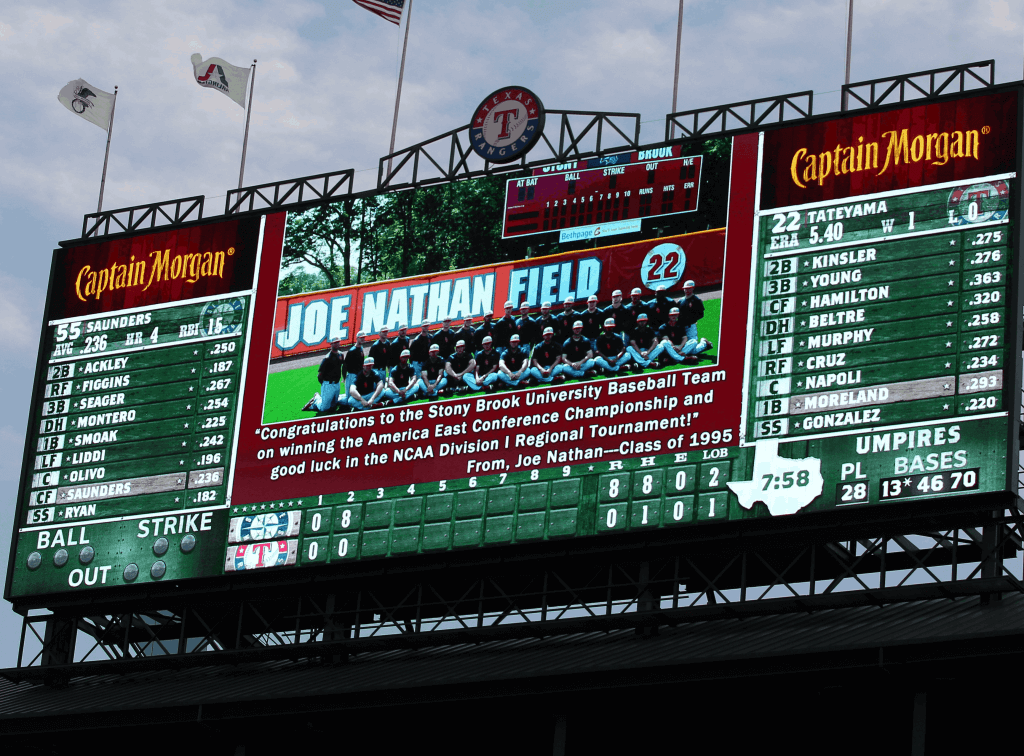 Guess The Game…
from the scoreboard
Today's scoreboard comes from Daniel Cordrey.
The premise of the game (GTGFTS) is simple: I'll post a scoreboard and you guys simply identify the game depicted. In the past, I don't know if I've ever completely stumped you (some are easier than others).
Here's the Scoreboard. In the comments below, try to identify the game (date & location, as well as final score). If anything noteworthy occurred during the game, please add that in (and if you were AT the game, well bonus points for you!):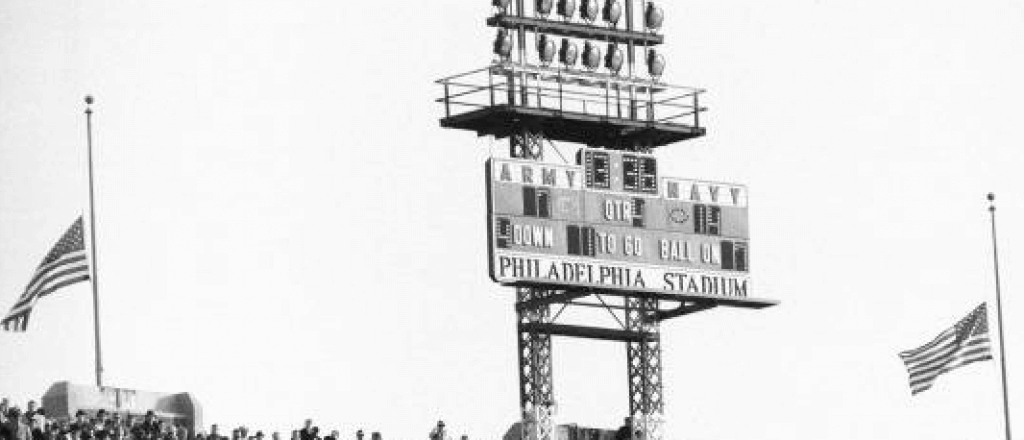 Please continue sending these in! You're welcome to send me any scoreboard photos (with answers please), and I'll keep running them.


It's The Only Game In Town…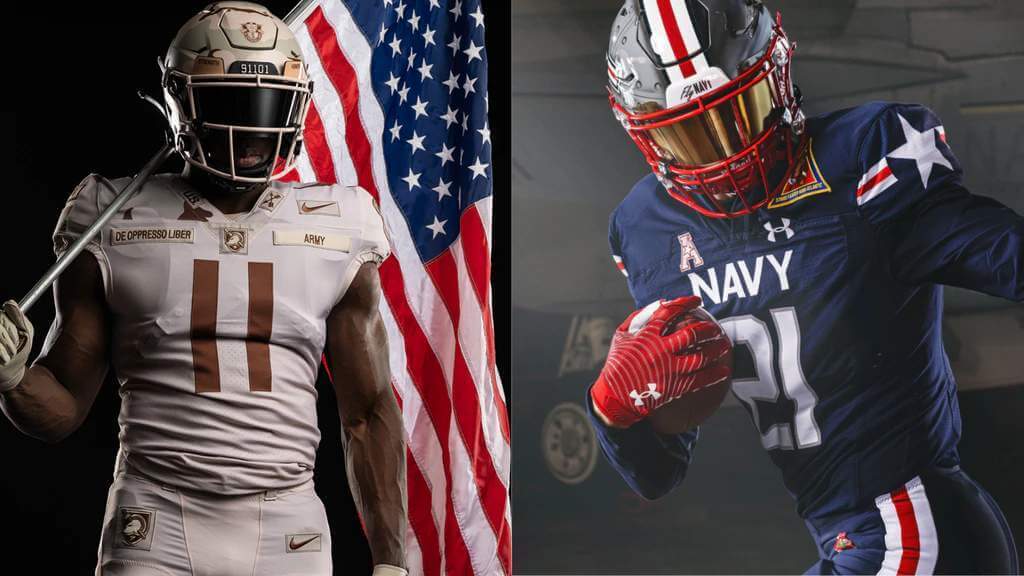 The traditional end to the regular college football season — Army vs. Navy — is today. As they have for over a decade, both teams will be wearing special uniforms for the occasion. I usually take the day of the game to preview those uniforms, but rather than saddle you with two days of Army/Navy uni coverage, I'll be covering those uniforms, and the game, tomorrow. But as you can see above, both teams have once again gone all out uni-wise for the big game. I'll have all the "storytelling" behind those uniforms tomorrow.
After last year's COVID-interrupted season, Army/Navy was (for the first time in the past several generations) forced to share the stage with many other teams, due to COVID's delays and postponements earlier in the 2020 season. But this year, all is right with the world they're back to having the whole day to themselves (at least as far as FBS teams are concerned). Hopefully the game will be as good as the uniforms!


NCAA Championship Games Tracking
Last weekend the FBS teams held their Conference Championship Games, and since I was off, I wanted to run those this weekend.
We've got Rex Henry (tracking the ACC), Dennis Bolt (tracking the PAC-12), Kyle Acker (tracking the B1G), and Ethan Dimitroff (tracking the Big XII AND the SEC).
Here are the uniforms for the Power 5 Conferences Championships (there was also one makeup game for the PAC-12):
+ + + + + + + + + +
Rex is up first today (ACC):
• • •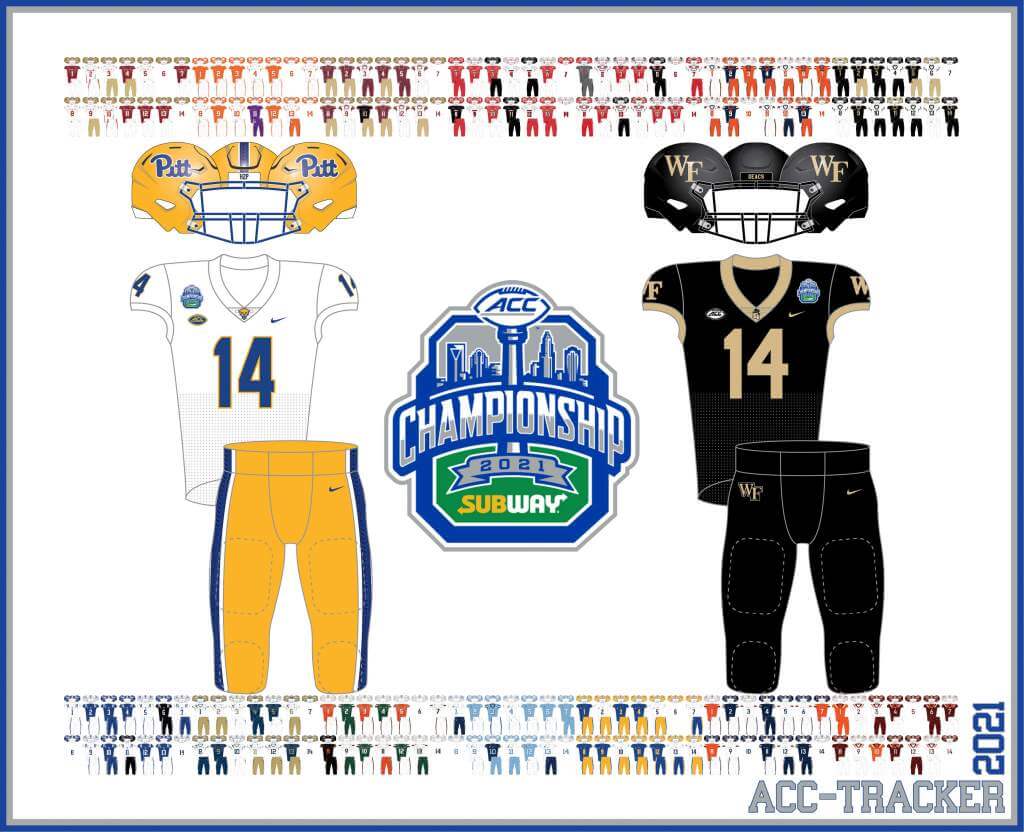 ACC

More Here.
Follow Rex on Twitter here.
• • •
And now, here's Dennis with the PAC-12: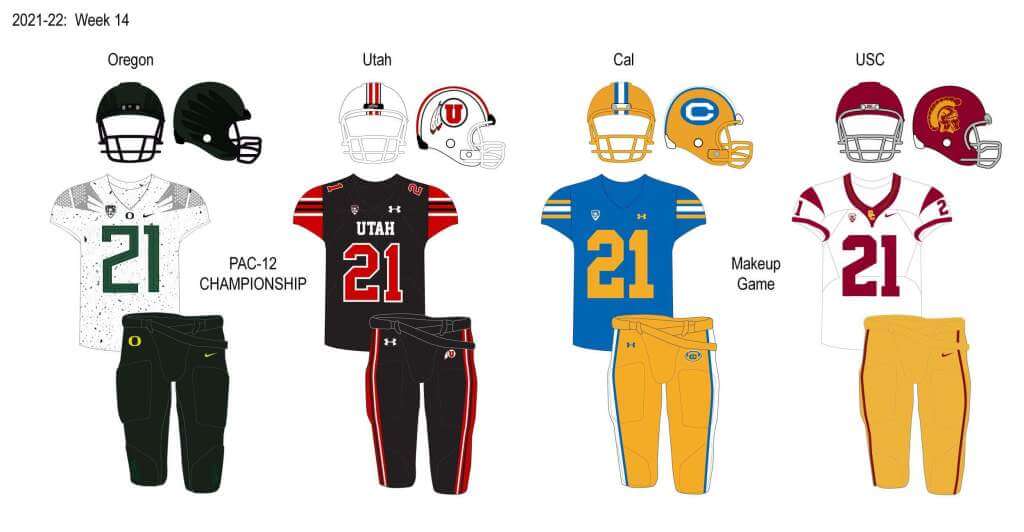 PAC-12

More here.
Follow Dennis on Twitter here.
• • •
And here is Ethan, with the SEC: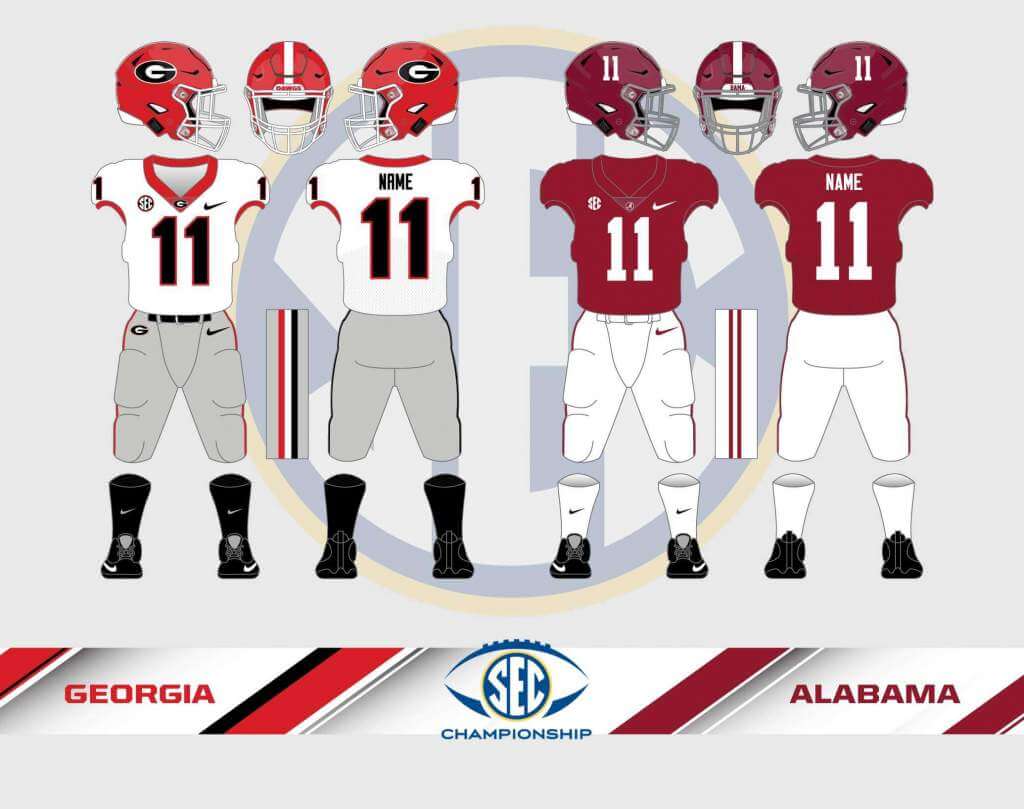 SEC

And be sure to check out Ethan's WVU Mountaineer Tracker.
Follow Ethan on Twitter here.
• • •
And here is Kyle with the B1G: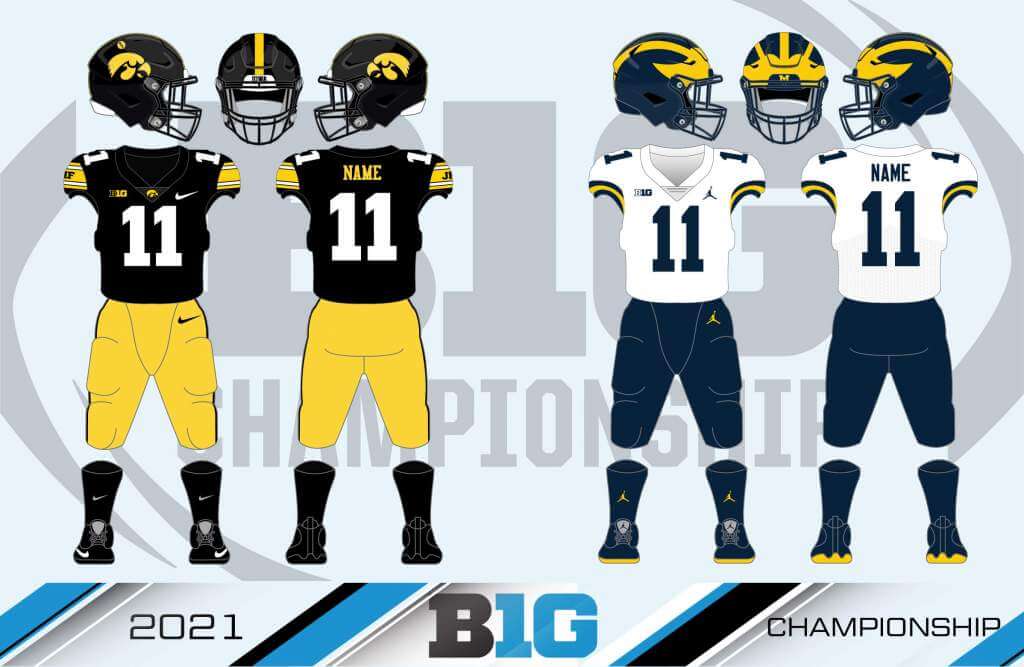 B1G

Follow Kyle on Twitter here.
• • •
And here's Ethan with the Big XII: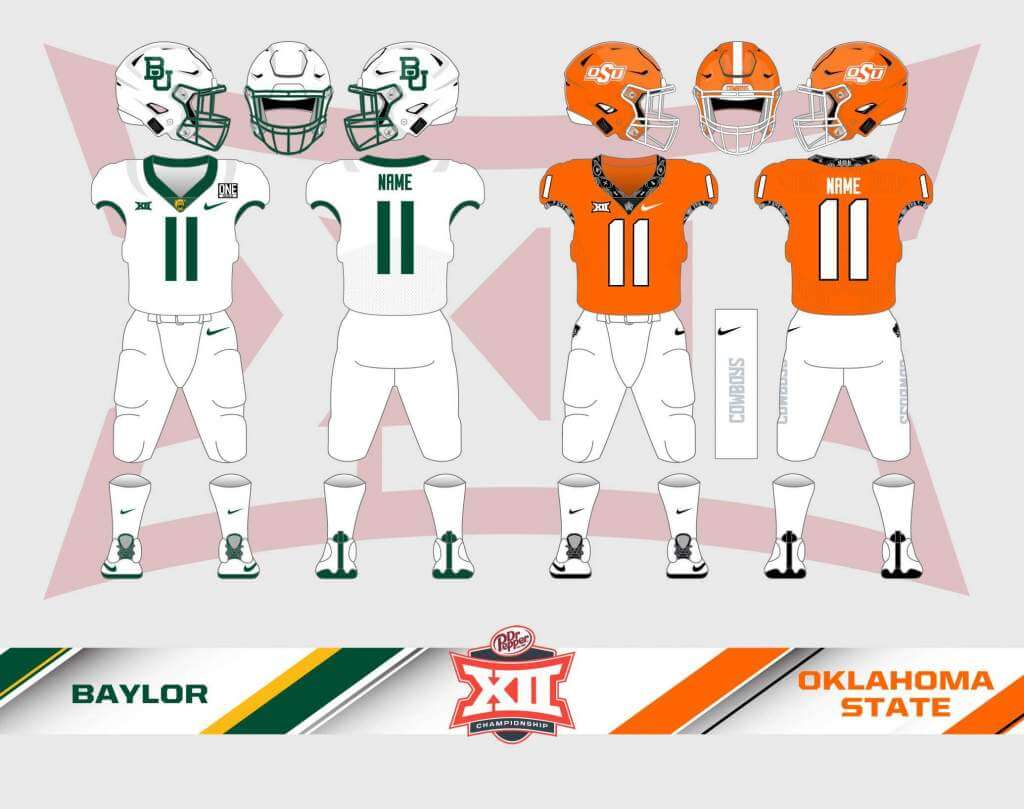 Big XII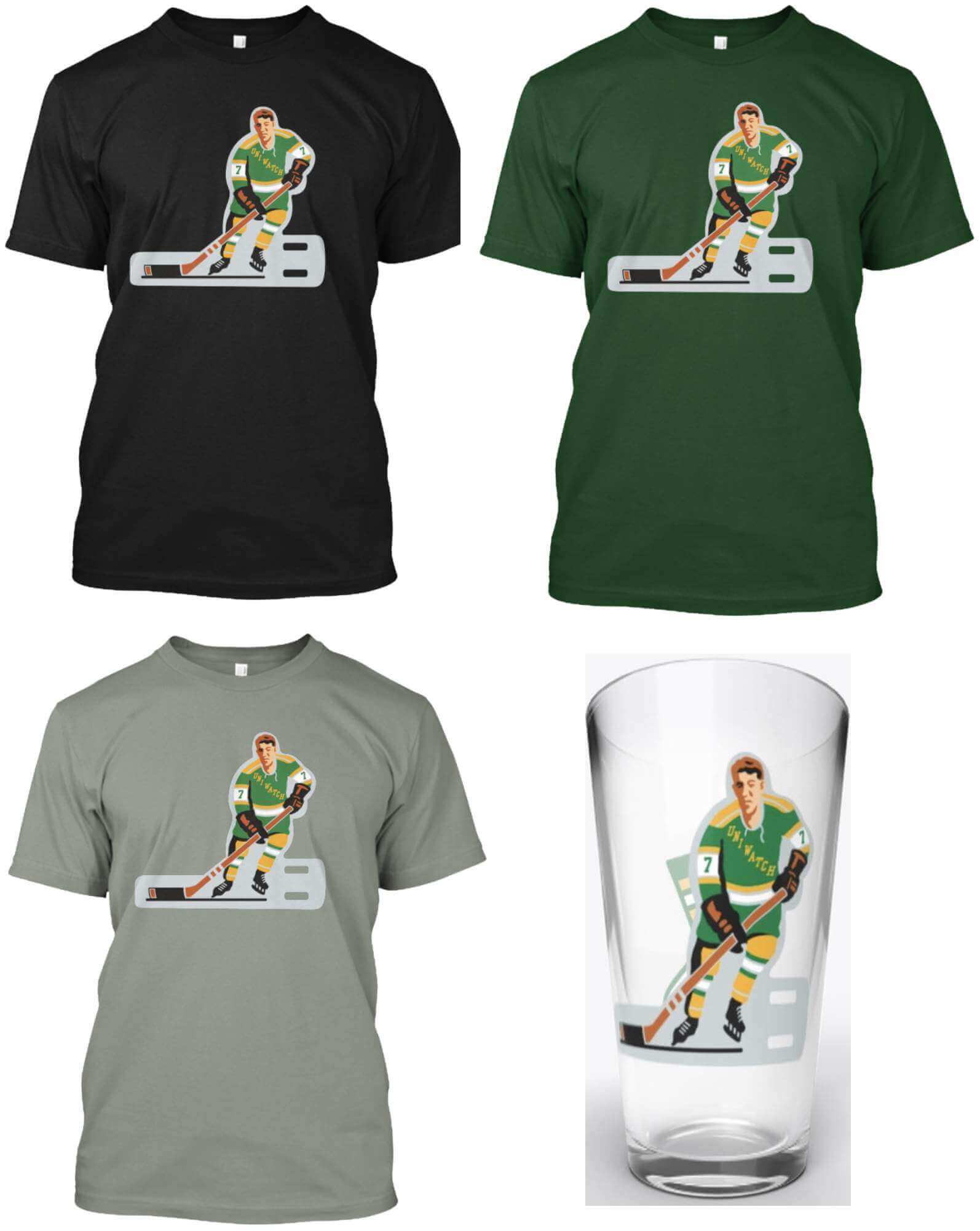 Click to enlarge
And now a few words from Paul: Hi there. In case you missed it this past week, we've repurposed a few more of our pin designs as T-shirts and pint glasses, beginning with our awesome table hockey design (which originally appeared as the March 2021 pin), shown above.
All of the T-shirt colors are also available as long-sleeve tees and hoodies, plus we've done a pint glass (with the hockey player on one side and the winged stirrup on the other). Here's where you can order these in black, green, grey, and the pint glass.
We've also rolled out this same assortment of products for our baseball bobblehead design (which originally appeared as the July 2020 pin):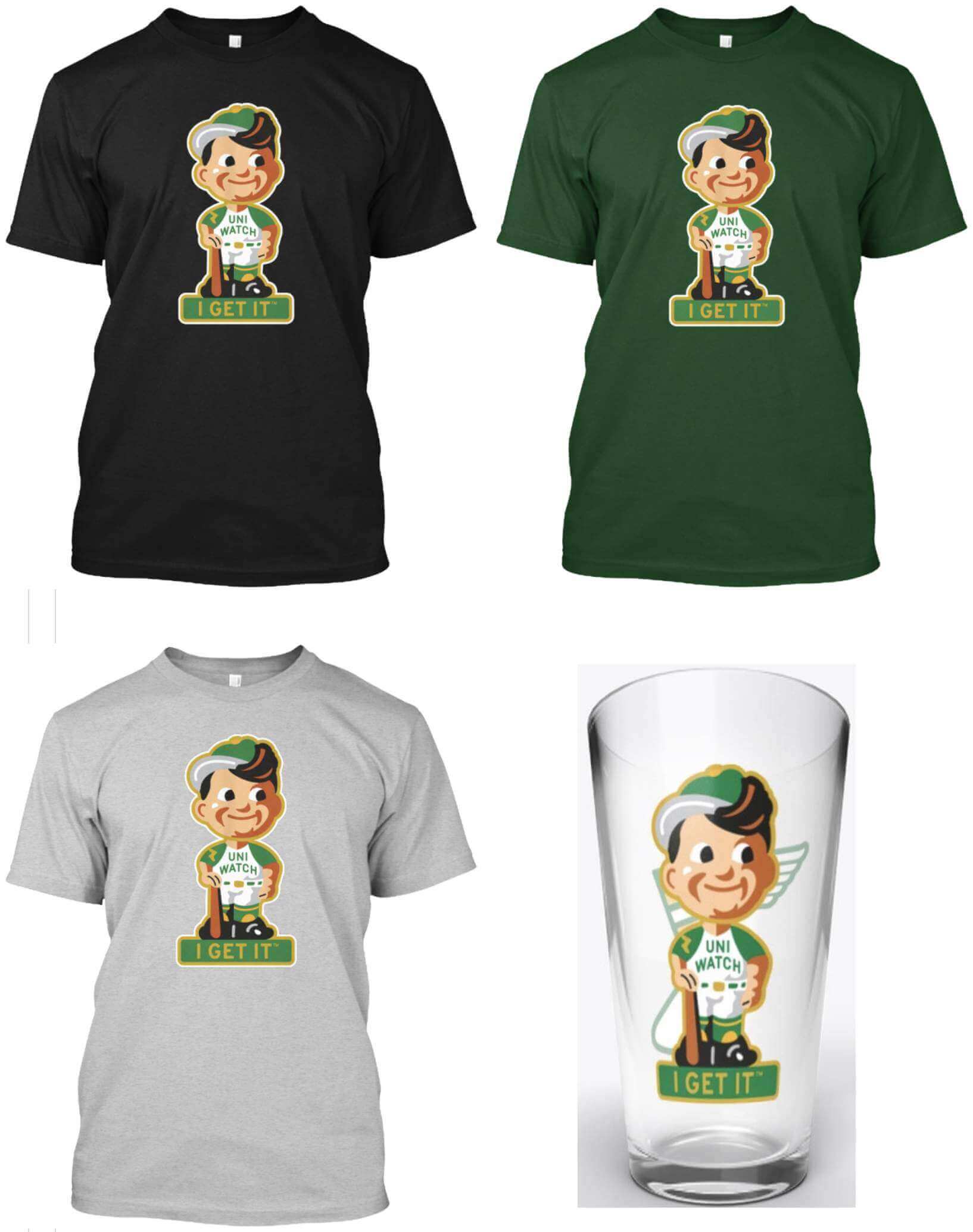 Here's where you can get this one in black, green, grey, and the pint glass.
Finally, we're also doing the football bobble (which originally appeared on the September 2021 pin). We changed the number from 21 to 64 — the year that both Todd and I were born: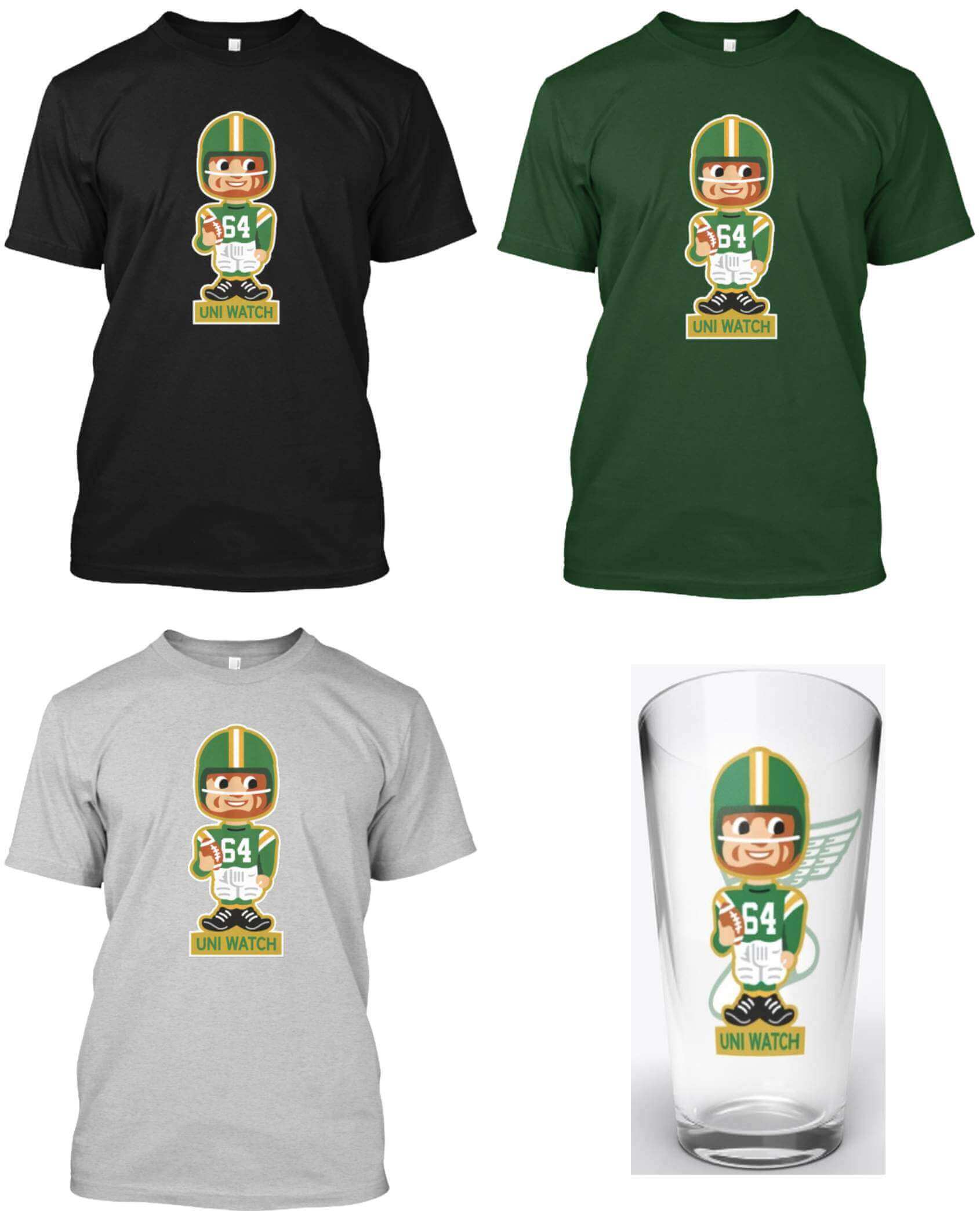 Here's where you can get this one in black, green, grey, and the pint glass.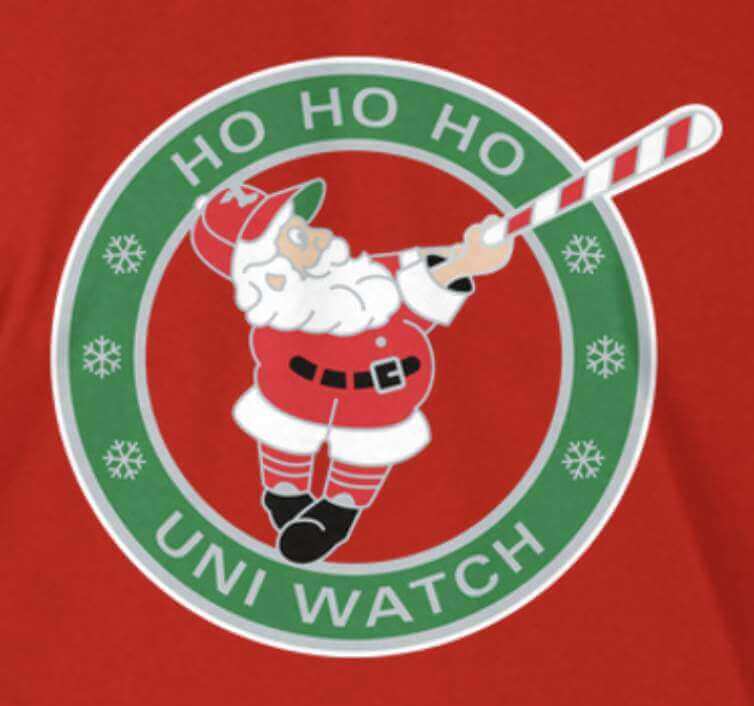 Meanwhile, our Swinging Santa shirt (based on the December 2021 pin) is still available green, red, and grey.
For all of these, if you're interested in other shirt colors, other shirt styles (women's, tank top, V-neck, etc.), or other products (posters, canvas prints, etc.), let me know and I'll do my best to take care of you.
Other things to keep in mind:
• If you're a Rutgers fan, you'll want to check out the new Naming Wrongs shirts for the Rutgers Athletic Center: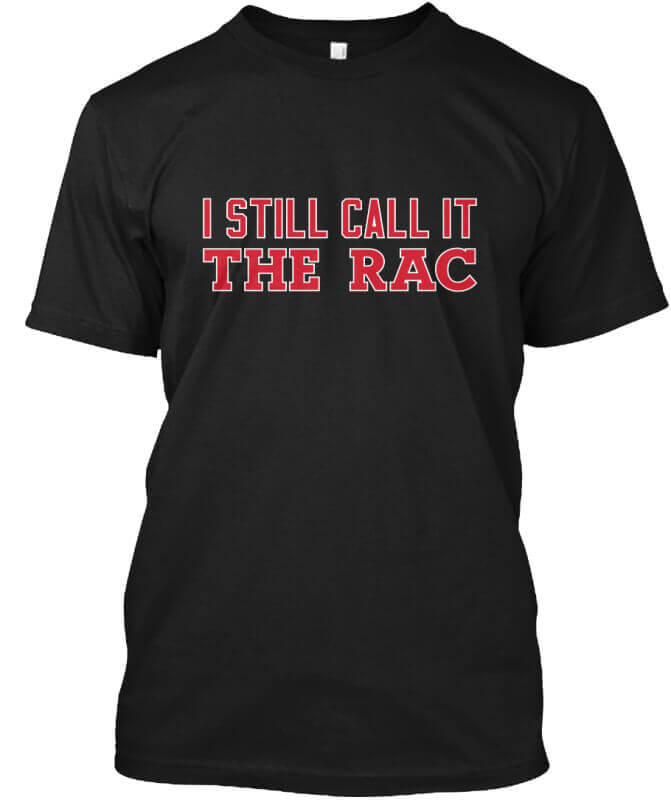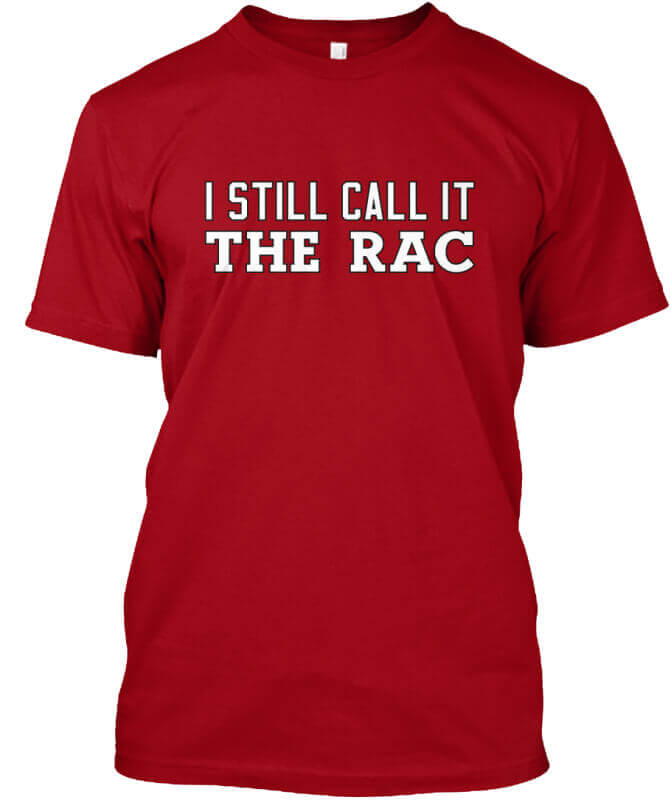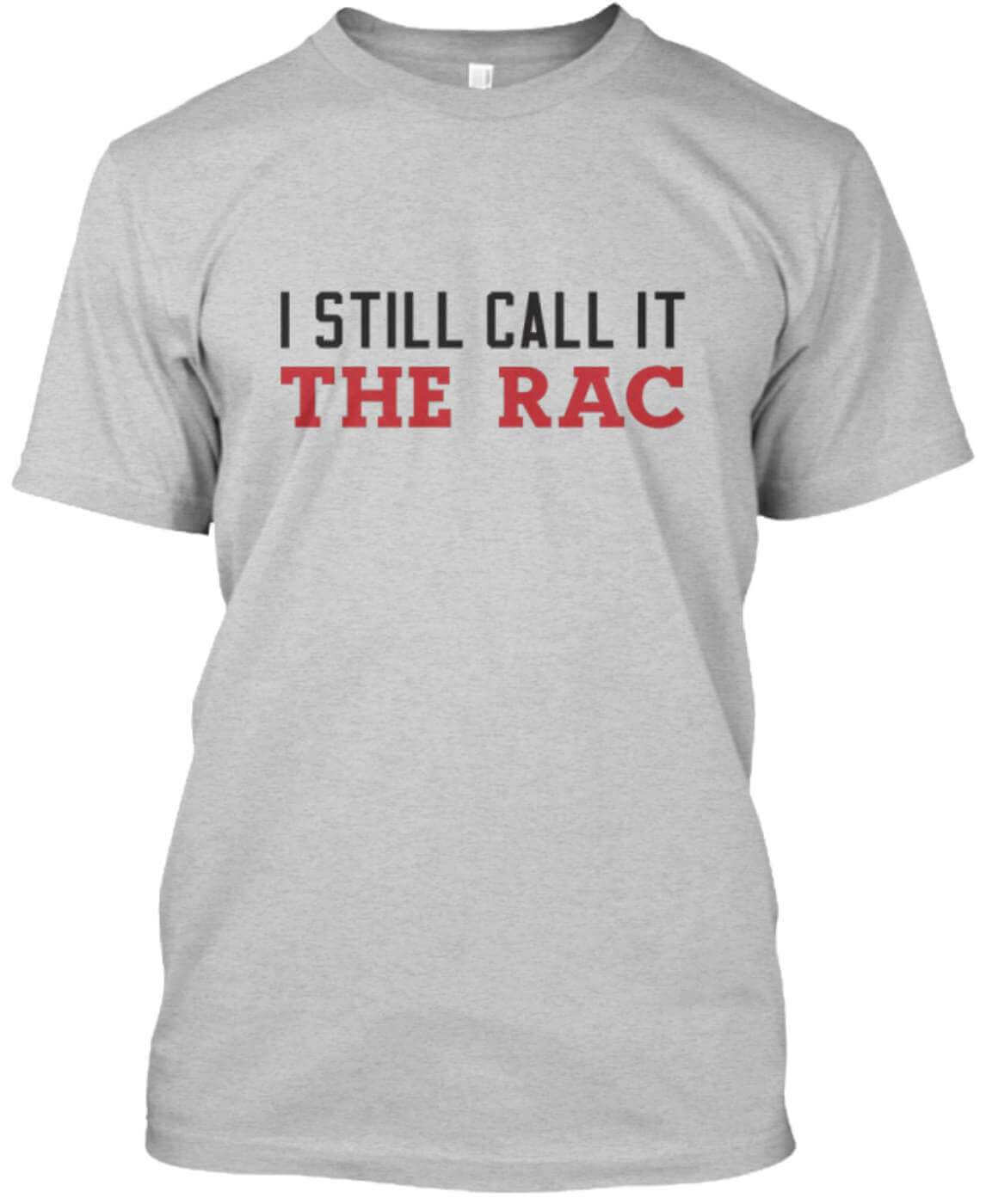 Here's where you get get these T-shirts (which are also available in long-sleeved and hoodie versions) in black, red, and grey.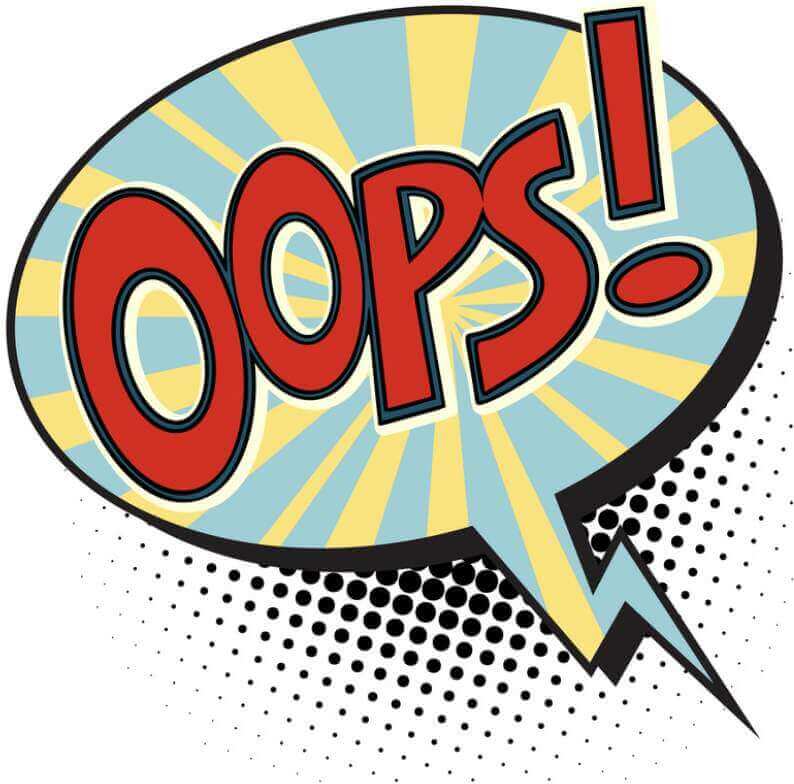 • Due to a Teespring shipping snafu, a few people received more December pins than they ordered and other people who ordered the pin received empty mailers with nothing inside. If you fall into either of those categories, please let me know ASAP so we can arrange to get the right pins to their rightful owners. Thanks!
• In case you missed it on Thursday, my latest piece for Bulletin is an "Ask Me Anything" entry, in which I answer reader-submitted questions. You can check it out here (and you can subscribe to receive my Bulletin posts via email here).
That's it for me. Now back to Phil with the rest of today's content.


The Ticker
By Anthony Emerson


Pro Football News: Steve Mathonnet-VanderWell was digging through some old papers and came across this old scrap of paper from what appears to be a Goodyear advertisement featuring the logos of 15 NFL teams. Steve clocks it as circa 1966, as it includes the Falcons but not the Saints. … Gillette Stadium will undergo a major remodel, its first in its 19-year history (from multiple readers). … Also posted in the hockey section: Longtime Maple Leafs owner Harold Ballard also owned the Hamilton Tiger-Cats. He's pictured here in a Leafs/Ticats frankenjacket (from @ballparkhunter).

Hockey News: The AHL's Laval Rocket, affiliates of the Canadiens, are wearing fauxback jerseys on January 7, inspired by the Habs' affiliates from 1965 to 1969, the Houston Apollos (from James Beattie and Moe Khan). … BU wore throwbacks to their first every unis during last night's game against BC (from Craig W.). … The Jackson Hole Moose of the US Hockey Association Senior A are celebrating their 25th anniversary with a patch worn on both the chest and the shoulder (from John Muir). … Cross-posted from the pro football section: Longtime Maple Leafs owner Harold Ballard also owned the Hamilton Tiger-Cats. He's pictured here in a Leafs/Ticats frankenjacket (from @ballparkhunter). … Next weekend, the Carolina Thunderbirds of the FPHL will be wearing these one-off jerseys for "Youth for Christ Night" (from @ColHapablap).

Soccer News: Barcelona have been forced to use a two-season-old kit in some Champions League matches due to the iridescent club crest on their primary away kits. Iridescent effects are banned in UEFA competition. The "Senyera" kit from 2019, inspired the flag of Catalonia, looks much better anyway.

Grab Bag: Athletes Unlimited, a group that runs a basketball, lacrosse, softball and volleyball league, has pledged to become the first carbon-neutral US-based sports league…or sports leagues, I guess (from our own Jamie Rathjen). … 15 of the 20 Formula One drivers are wearing one-off helmets for tomorrow's final Grand Prix of the season in Abu Dhabi (from Russel G. Flynn). … The new Toronto club in the Tewaaraton Lacrosse League is holding a "name the team" contest (from Michael Sullivan).


Uni Tweet of the Day
Go Army. Beat Navy!
Jimi Hendrix playing guitar in US Army uniform, 1961. pic.twitter.com/ahMmXAYUQk

— Classic Rock In Pics (@crockpics) December 9, 2021


And finally… thanks to Chris for that look at what MLB could have looked like had one simple franchise move taken place in the early 1940s. Would all the franchise location that took place (and new expansion teams) have unfolded they way they ultimately did? We'll never know, of course, but it was fun to see how it could have played out!
Enjoy the Army/Navy game today. I'll have full coverage tomorrow. Until then…
Peace,
PH