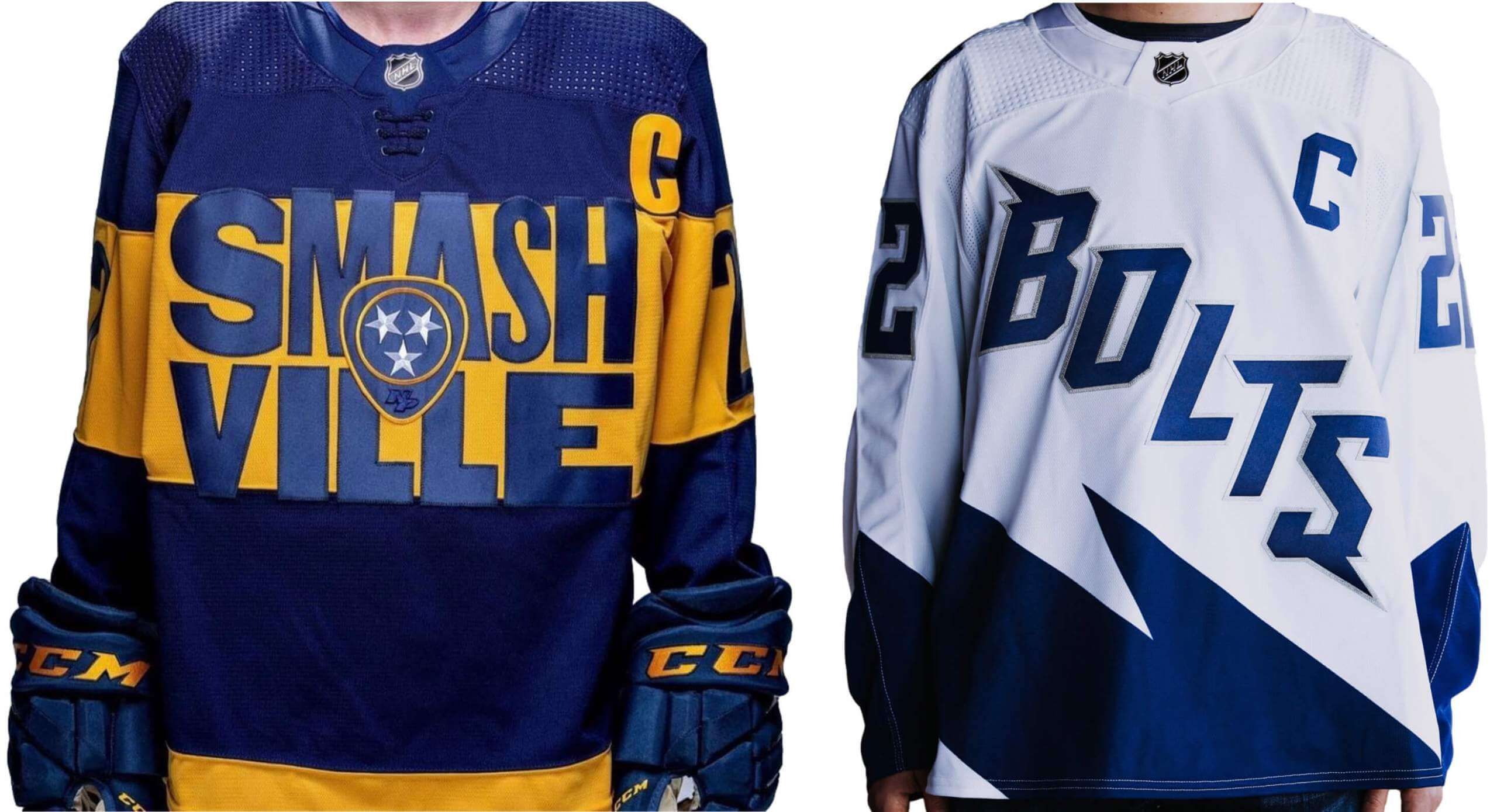 Click to enlarge
The Predators and Lightning, who'll be facing each other in an NHL Stadium Series game on Feb. 26, both released their uniforms for that game yesterday.
I understand that Stadium Series uniforms (a) are designed to be seen from a greater distance than a usual hockey uni and (b) have a history of pushing boundaries, but these are pretty bad. The Preds design is particularly embarrassing — not just the idea of putting "Smashville" on a jersey (which is bad enough) but also the specific execution of that word. I mean, jeez, look at the two "S"es! Look at the center stroke of the "E"! And hey, let's throw a guitar-pick logo in the center just to make sure everyone knows which team this is for, even if it disrupts the lettering! The whole thing diminishes the sport, the uni-verse, and all of us who are exposed to it. Piece o'.
The Tampa design isn't as bad, but that doesn't mean it's good. Not a fan of the nickname insignia or the font, the latter of which is also used for the numerals: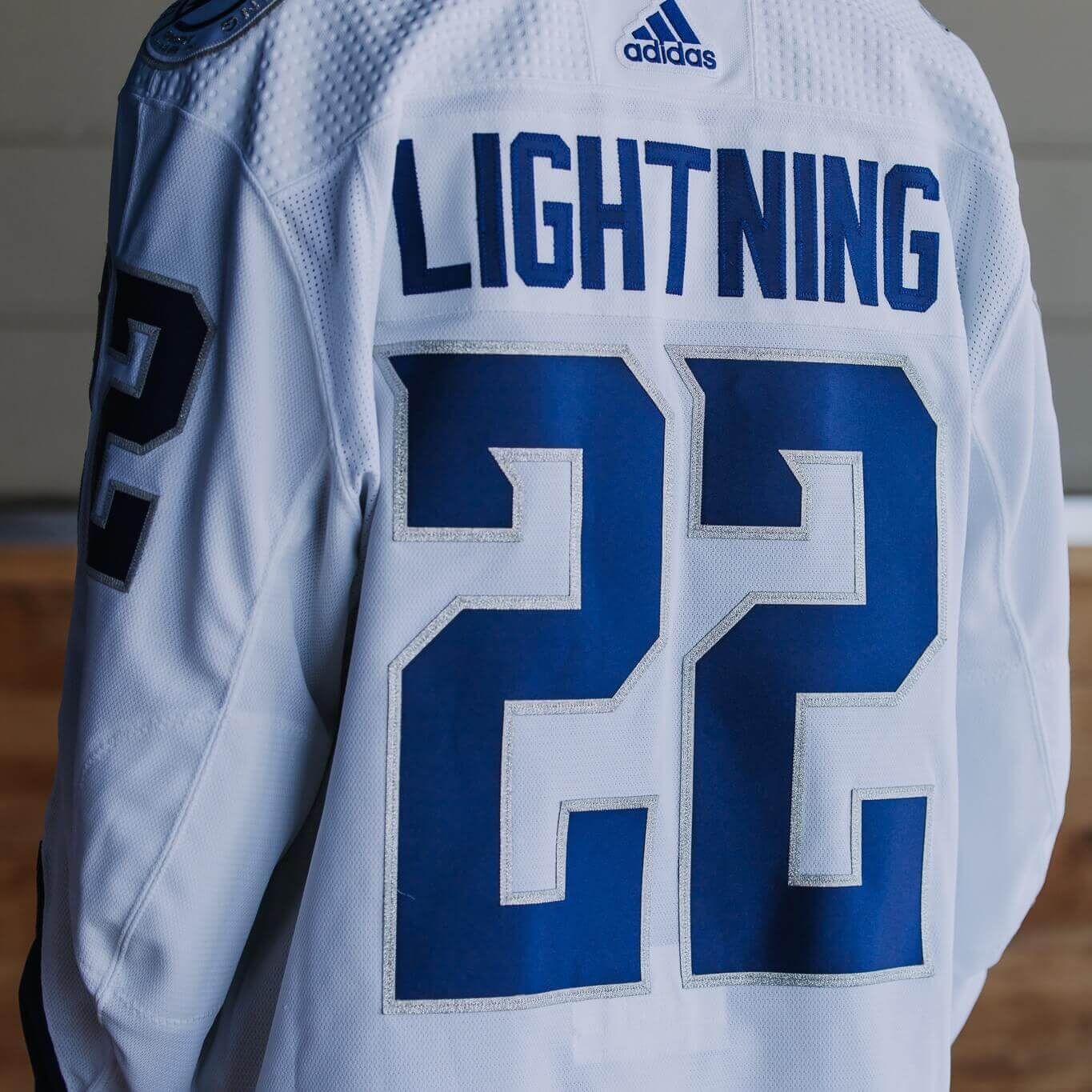 On the plus side, Tampa's shoulder patch looks really good: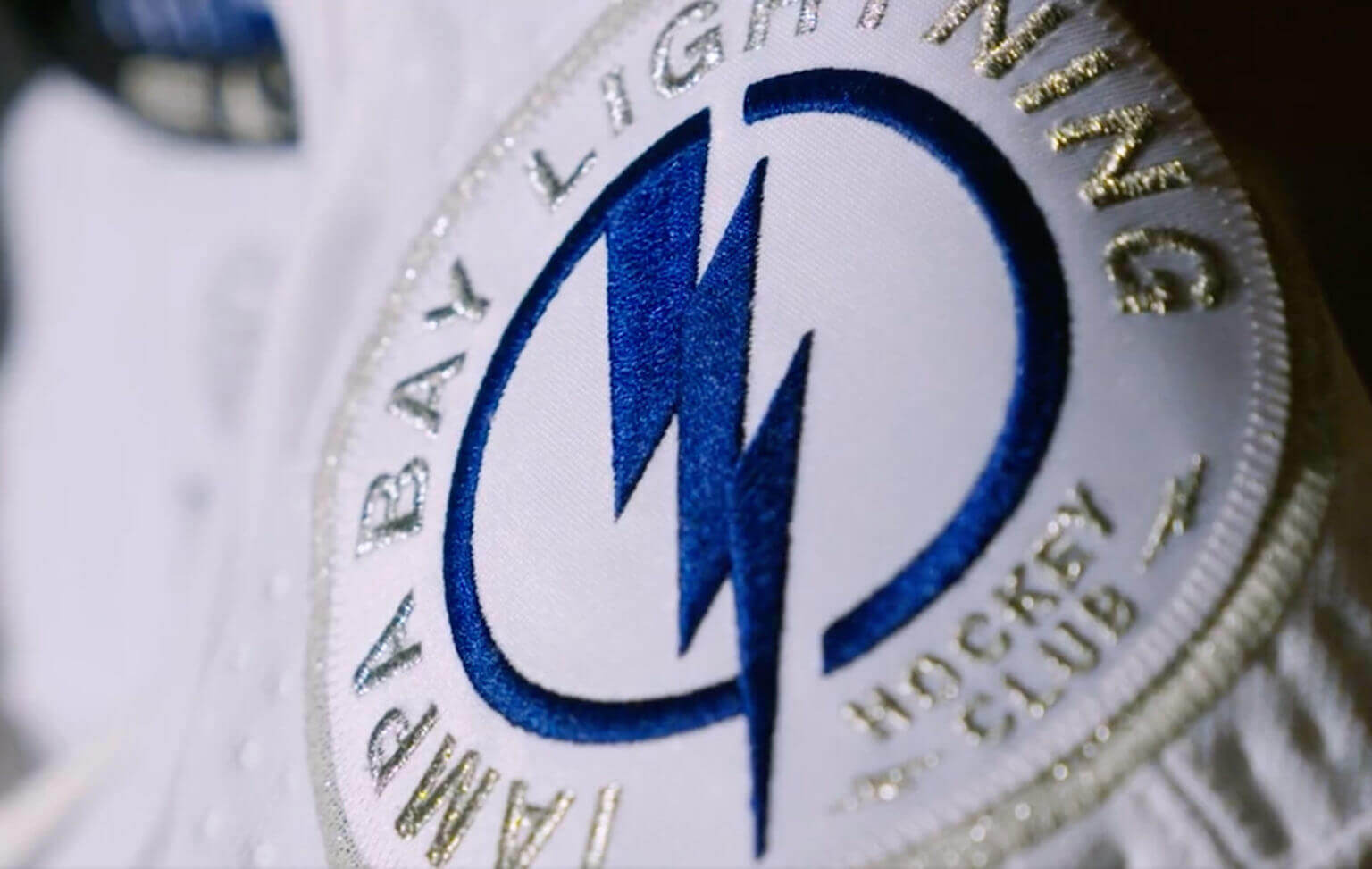 I do think the Lightning jersey might look better in the context of the full uniform, but there's no way to know for sure because they didn't bother to show us the full uniform. Sigh.
• • • • •
• • • • •
#NewProfilePic pic.twitter.com/YUmIhSybau

— Taijuan Walker (@tai_walker) December 2, 2021
The shadow knows: As noted in yesterday's Ticker, all the player headshots on MLB.com roster pages were scrubbed and replaced with plain silhouettes when the MLB lockout began two nights ago (a move that the owners say was done out of legal necessity, not as a form of trolling). Lots of players responded yesterday by using the silhouettes as their new social media avatars, which is pretty funny. Additional details here.
In addition, MLB.com has stopped publishing new articles about current players and is instead leaning heavily on content about team history. This is all part of the brave new world of labor strife in the internet era. Stuff like this never came up before because there was no MLB.com back in 1994, which was the last time baseball had a labor impasse.
Interestingly, however, the official MLB retail channels are still selling jerseys with players' NOBs. According to Cardinals beat writer Derrick Goold, that's because merchandising is covered by licensing agreements, not by the now-expired collective bargaining agreement.
Speaking of merchandising: You can buy a plain player silhouette T-shirt, wheee!
And then there's this, which I'll leave as the last word on this topic (for now):
New Lockout Edition of @MLBTheShow 22 leaked pic.twitter.com/f02jP3Dgbg

— Kasabe_ (@kasabekompiles) December 2, 2021
(My thanks to Marcus Hall for that last embedded tweet and our own Anthony Emerson for the T-shirt link.)
• • • • •
• • • • •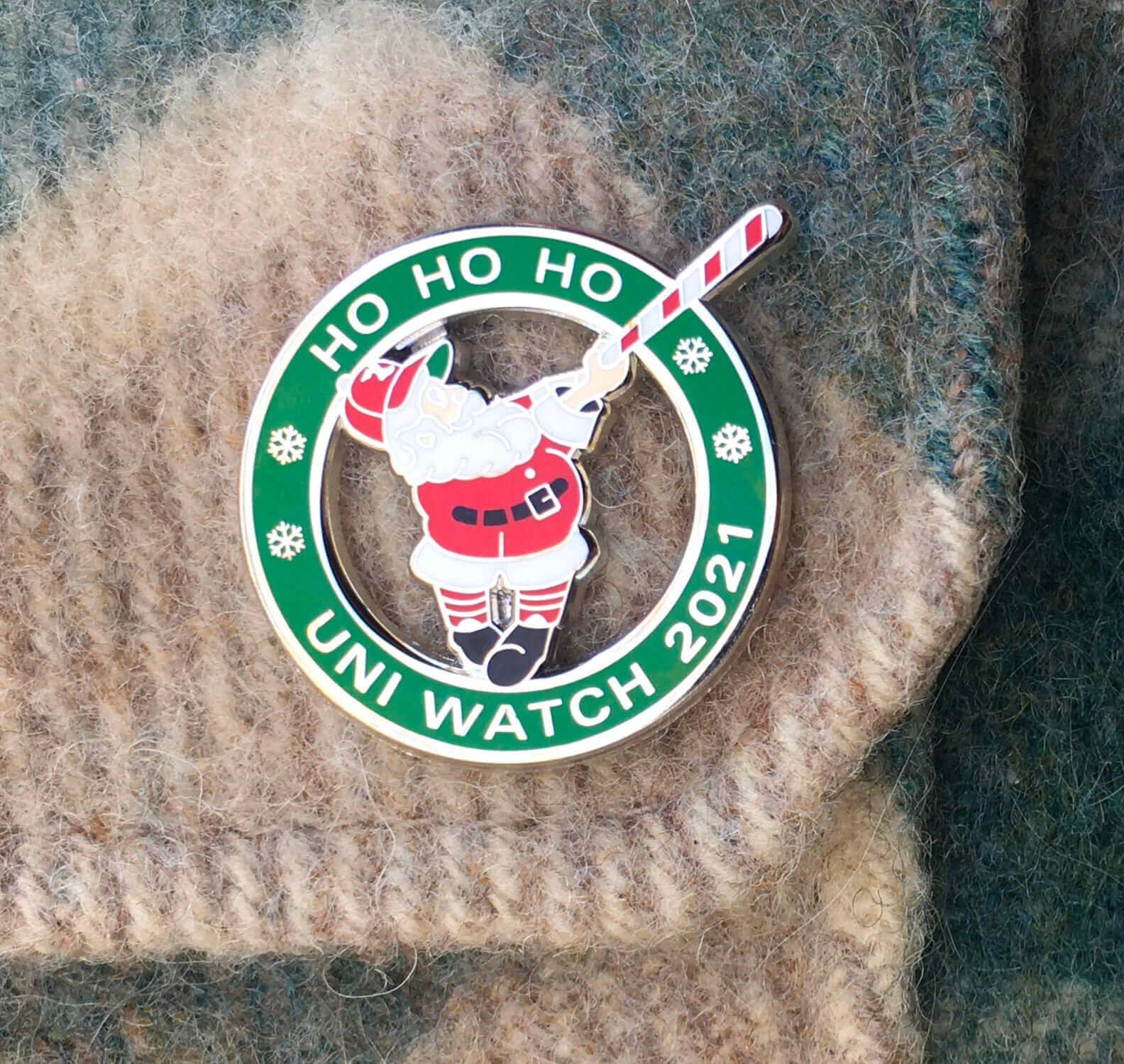 Click to enlarge
December pin almost gone: In case you missed it on Wednesday, the Uni Watch Pin Club's December design is now available. As you can see above, it's a swingin' Santa with a candy cane-striped bat!
It was difficult to photograph the silver highlights while also showing Santa's proper skin tone. Here's another view (click to enlarge):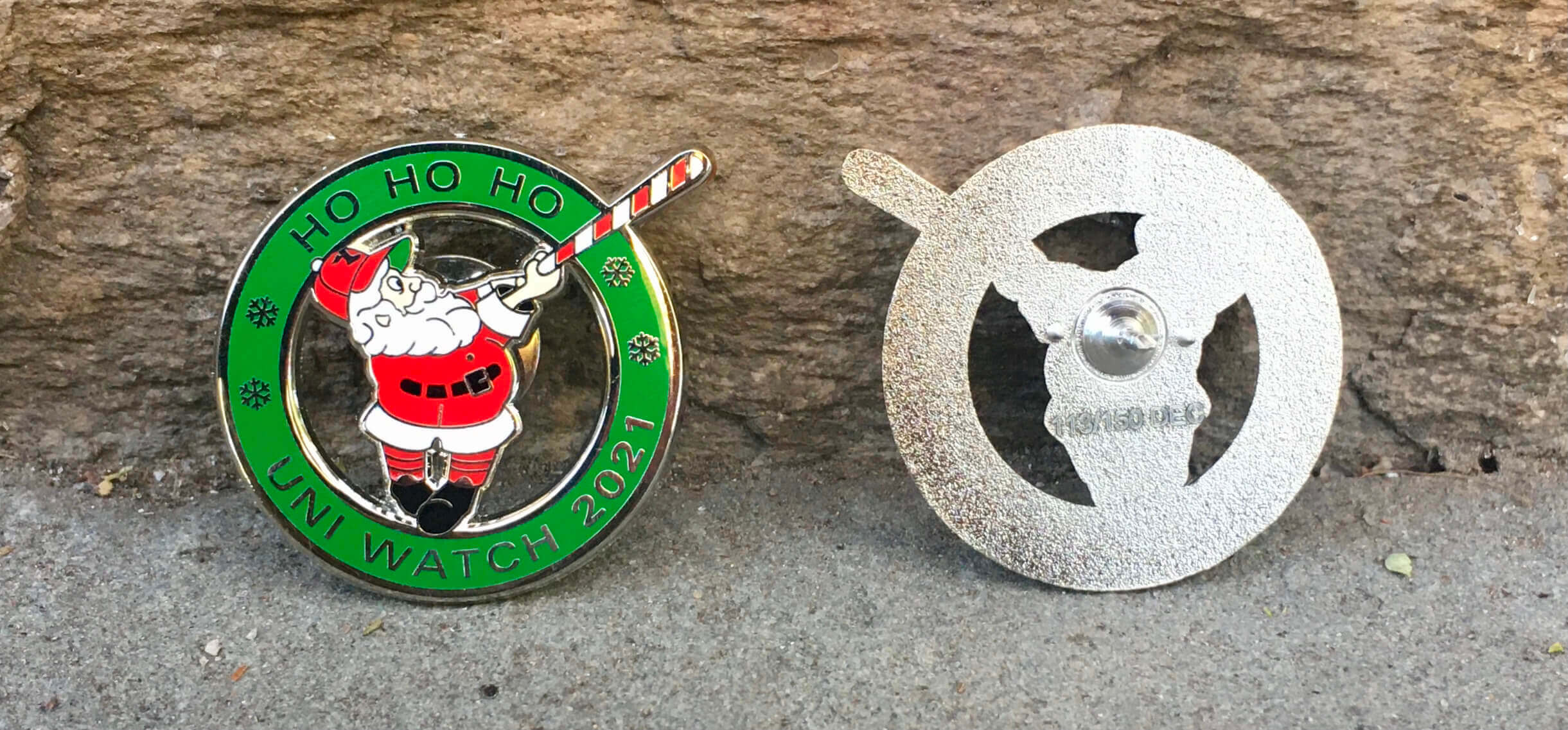 This pin was produced in a numbered edition of 150. As of this morning, there were only eight remaining, so this one will likely sell out today. Move fast if you want one!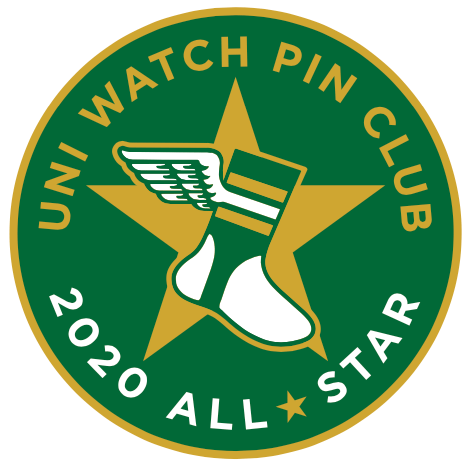 Also: As you may recall, everyone who collected all 12 of last year's pins received a bonus "2020 All-Star" pin. We'll be doing a "collect 'em all" bonus pin this year as well, but we need to know how many of them to make. So if you've collected 'em all, please email me with (a) your name and address, and (b) proof that you've collected all of this year's pins. The proof can include photos of the pins themselves and/or order-confirmation emails from Teespring. The bonus pins will ship out early next year.
And speaking of things that will likely sell out, we're down to the last few Uni Watch Alternate Caps. Here are the sizes and quantities remaining:
7-1/8: 1 cap
7-5/8: 2
7-7/8: 1
Photos and ordering details here.
• • • • •
• • • • •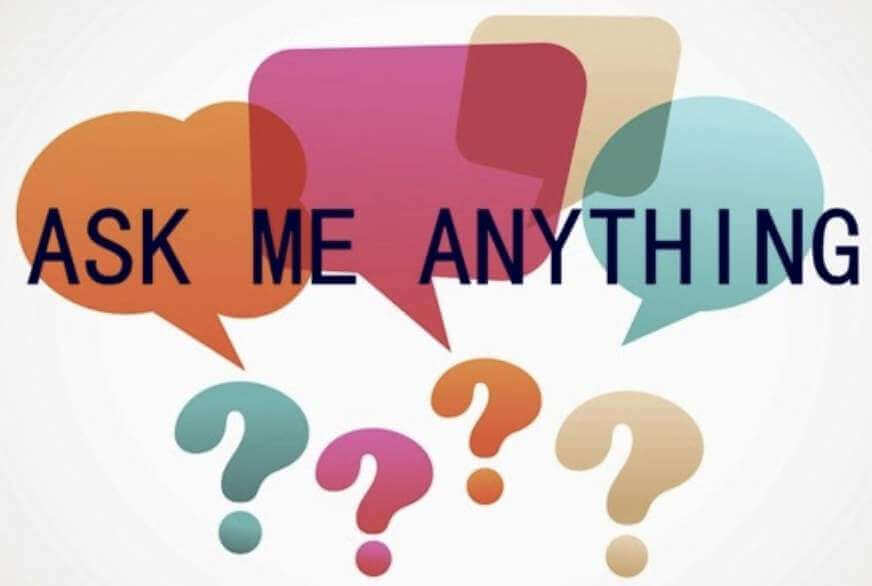 ITEM! Call for new AMA questions: As you may recall, the series of posts that I used to call "Question Time" (you can see those 11 entries here) is now known simply as "Ask Me Anything." The first entry under the new rubric ran on Bulletin a few months ago, and I plan to keep doing new AMA segments on Bulletin every three or four months, which means it's time to ask you folks to submit new questions.
You can ask me a question about Uni Watch, about uniforms, about sports, or just about me. No question is out of bounds (it never hurts to ask!), but I reserve the right not to answer questions that I feel are too personal or otherwise inappropriate. Send your questions here (note that this is not the usual Uni Watch email address), and please stick to just one question per person. Thanks!
• • • • •
• • • • •
The Ticker
By Anthony Emerson


Baseball News: The new owners of the Springfield Sliders of the United States Prospect League are rebranding the team to a yet-to-be announced identity (from David Dahl). … Speaking of team renamings, the Highline Bears, a Seattle-area summer collegiate team, will now be known as the DubSea Fish Sticks.

NFL News: If the Broncos and Bears had a baby, it might turn out like this hat. Tyler VanDenRostyne spotted that at Ross. … I know we've covered this before, but it's always weird to see Ricky Williams's FNOB during his stint in New Orleans (from Kristian Nicosia).

College/High School Football News: Michigan will wear a patch memorializing the victims of this week's Oxford High School mass shooting for the Big 10 Championship (from multiple readers). … New front helmet bumper for Virginia Tech (from Andrew Cosentino). … Here's this weekend's uni combo for Appalachian State (thanks to all who shared).

Hockey News: Kyle Konin, the emergency backup goalie for last night's Blues/Bolts game, was assigned to the Blues but wore Lightning pads and pants (from Wade Heidt). … A New Jersey brewery is poking fun at the Devils' new "Jersey" jersey with a "Beer" beer (from Ed Kalas). … The WHL's Regina Pats will wear a one-off gradient jersey this Saturday (from Wade Heidt). … New BFBS unis for Quebec's Concordia University women's team (from Trevor "Teebz" Alexander).

College/High School Hoops News: The 2023 Men's Final Four logo has been revealed (from Ignacio Salazar).


Soccer News: The Museum of Jerseys blog has a fascinating new post about outfield kits that looked very similar to keeper kits (thanks, Jamie). … Reader @GoDarkHorse noticed that Brentford keeper Álvaro Fernández wore spiked gloves during yesterday's match against Tottenham. … Brazilian side Cruzeiro have had their new home kit leaked (from Trevor Williams). … New children's hospital-inspired shirt for Italian side Parma (from Steve Kriske).
• • • • •
And that's a wrap for this week. This is the part where I'd normally say, "Enjoy Phil's weekend content," but I can't say that this time because Phil's taking a well-deserved weekend off to compete in a curling bonspiel. So the site will be closed for the next two days, but I'll be back as usual on Monday. See you then! — Paul