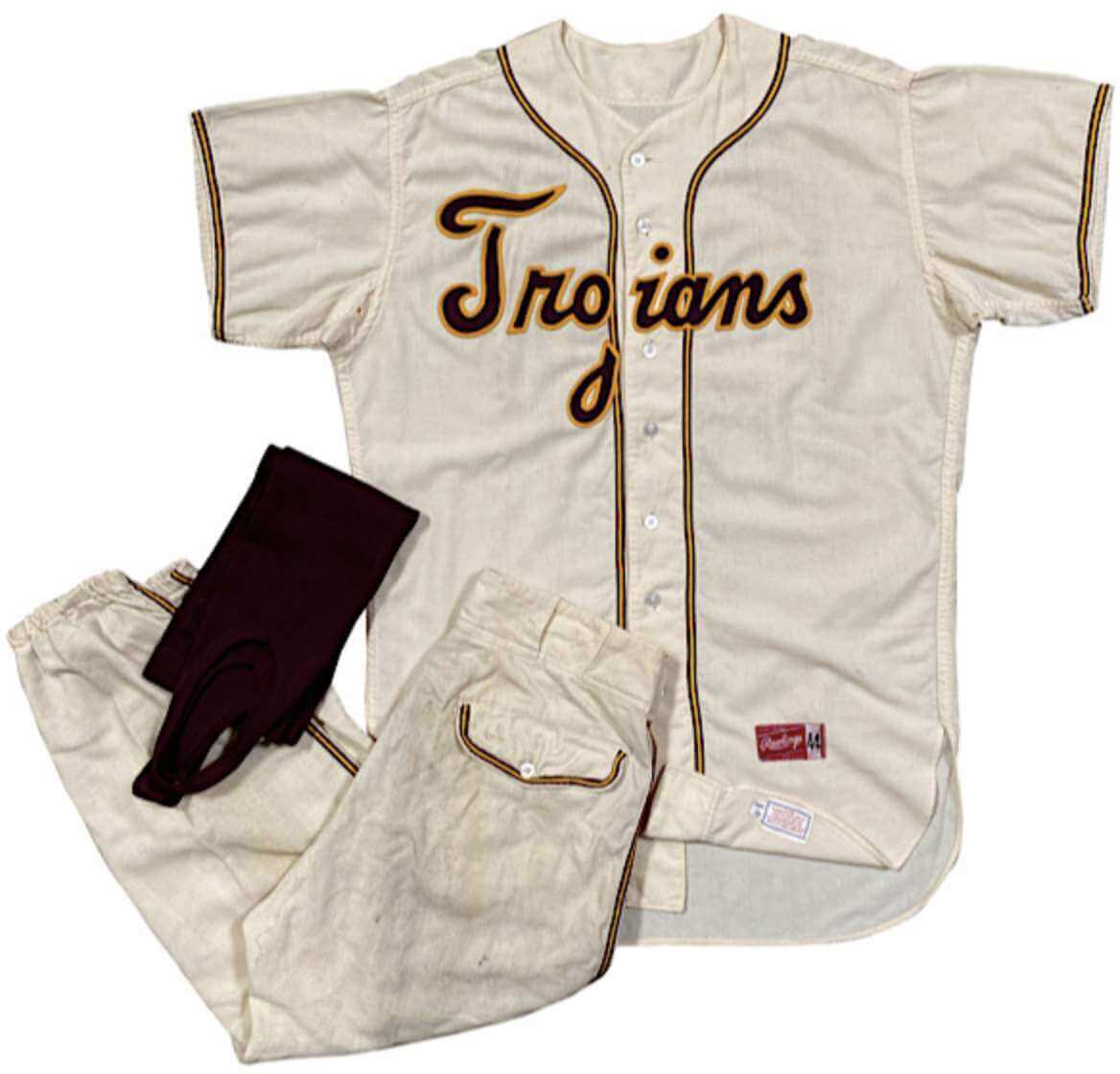 For all photos, click to enlarge
As you may recall, Grey Flannel Auctions and I recently put out one of our periodic "What's It Worth?" calls, where GFA offers free appraisals of your sports memorabilia. One submission we received this time around was from Uni Watch reader Craig Jelsovsky, who was curious about the value of the USC baseball uniform shown above. And it's not just any USC uni — it was worn by Tom Seaver!
Here's the backstory, as explained by Craig's father, Carl:
In the mid-1960s, I was a student manager on the USC baseball team. I assisted with equipment and some travel arrangements. I had the opportunity to sit on the bench during home games and once even got to warm up Tom Seaver between innings while the catcher was getting his gear on.

After graduating in '66, I procured a baseball uniform as a memento of my college years. At the time, I am pretty sure I was not aware of the significance of the number on the jersey and for years it just hung in our closet. Somewhere along the way I made the connection that this was Tom Seaver's jersey.
Possession of the uniform eventually passed to Craig. Here's what he has to say about it:
I was always aware of the USC baseball uniform in my dad's closet. I remember sneaking peaks at it from time to time when I was a kid and thinking the flannel was so cool. I wore the pants during an alumni game in the early '90s when I was in high school. I paired them with an amazing retro gold jersey with an oversized burgundy collar (à la the 1976 White Sox) and topped it off with an old burgundy and gold pillbox hat (think late-'70s Pirates), both from the school's past, then added striped stirrups with white Pony spikes for good measure.

I only wore the Seaver jersey once, when my dad, my father-in-law, and I went to a USC/Oregon football game. I'm certain I was still unaware of the jersey's significance at the time, otherwise I would never have worn it so casually. After my dad informed me that it was Seaver's, I immediately put it up on the wall in our game room.
And that's where it stayed, until Craig sent in some photos in response to our recent "What's It Worth?" solicitation. After a bit of back-and-forth with Grey Flannel director of operations Michael Russek, he decided to put it up for auction. What a great story! (Full disclosure: If the uniform sells, Uni Watch will get a portion of Grey Flannel's consignment fee.)
The Seaver uni is one of many interesting items in the latest Grey Flannel catalog auction. Here are some others that caught my eye: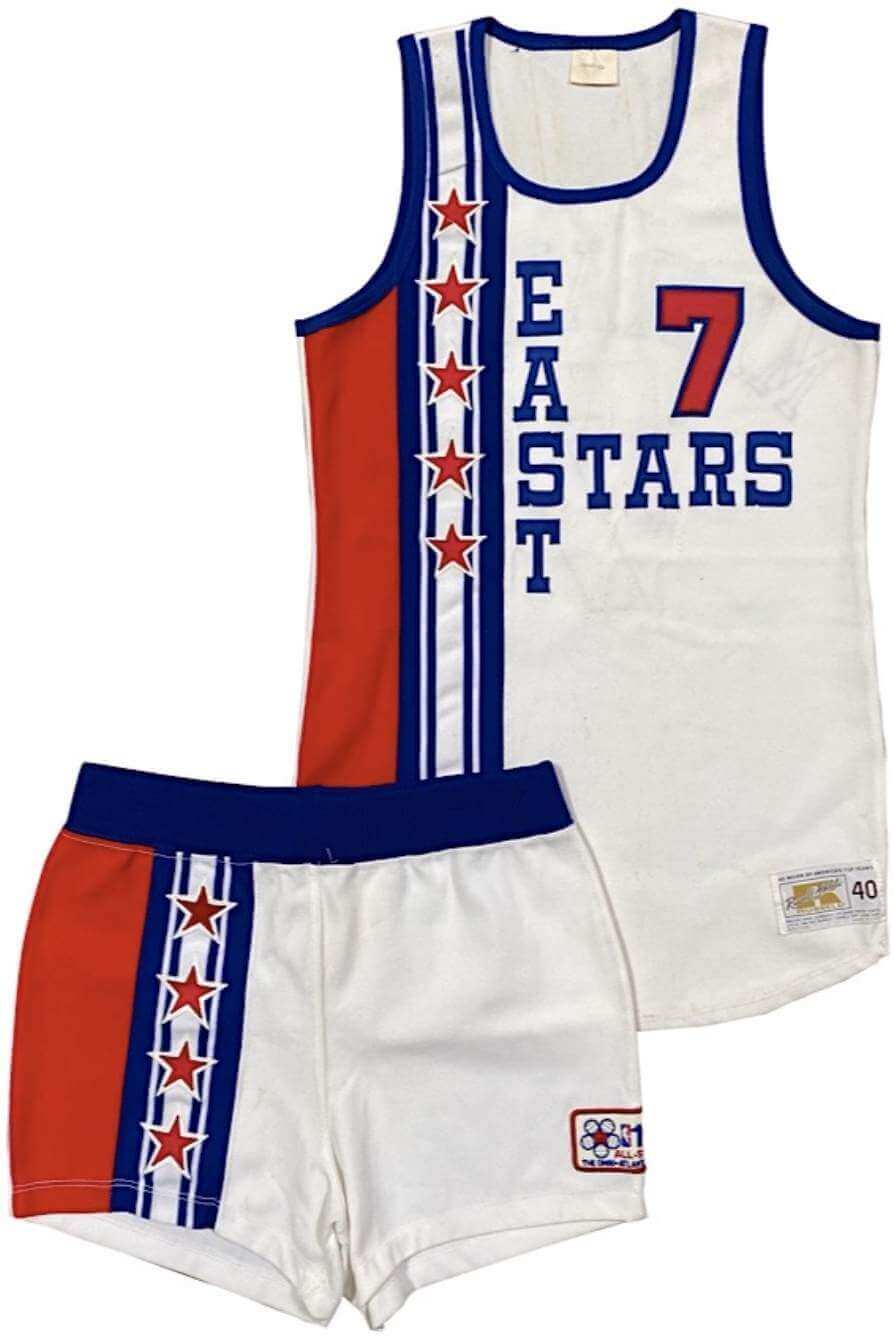 • I love this 1978 NBA All-Star uniform worn by Pete Maravich. (Also available: Maravich's personalized travel suit bag from the 1977 All-Star Game.)
• Speaking of NBA All-Stars, here's a Kobe Bryant reversible practice jersey from the 2001 game.
• Did you know that ABA players had their own union? Here's Dr. J's membership card, which shows the group's logo.
• Longtime readers know that I'm a big fan of the Steelers' "Batman" jerseys. Here's a game-used example, worn by offensive lineman Sam Davis.
• Did you know that the 49ers' white jerseys had gold-red-gold sleeve striping in 1957, and Colts-style shoulder loops in 1960? Now you do!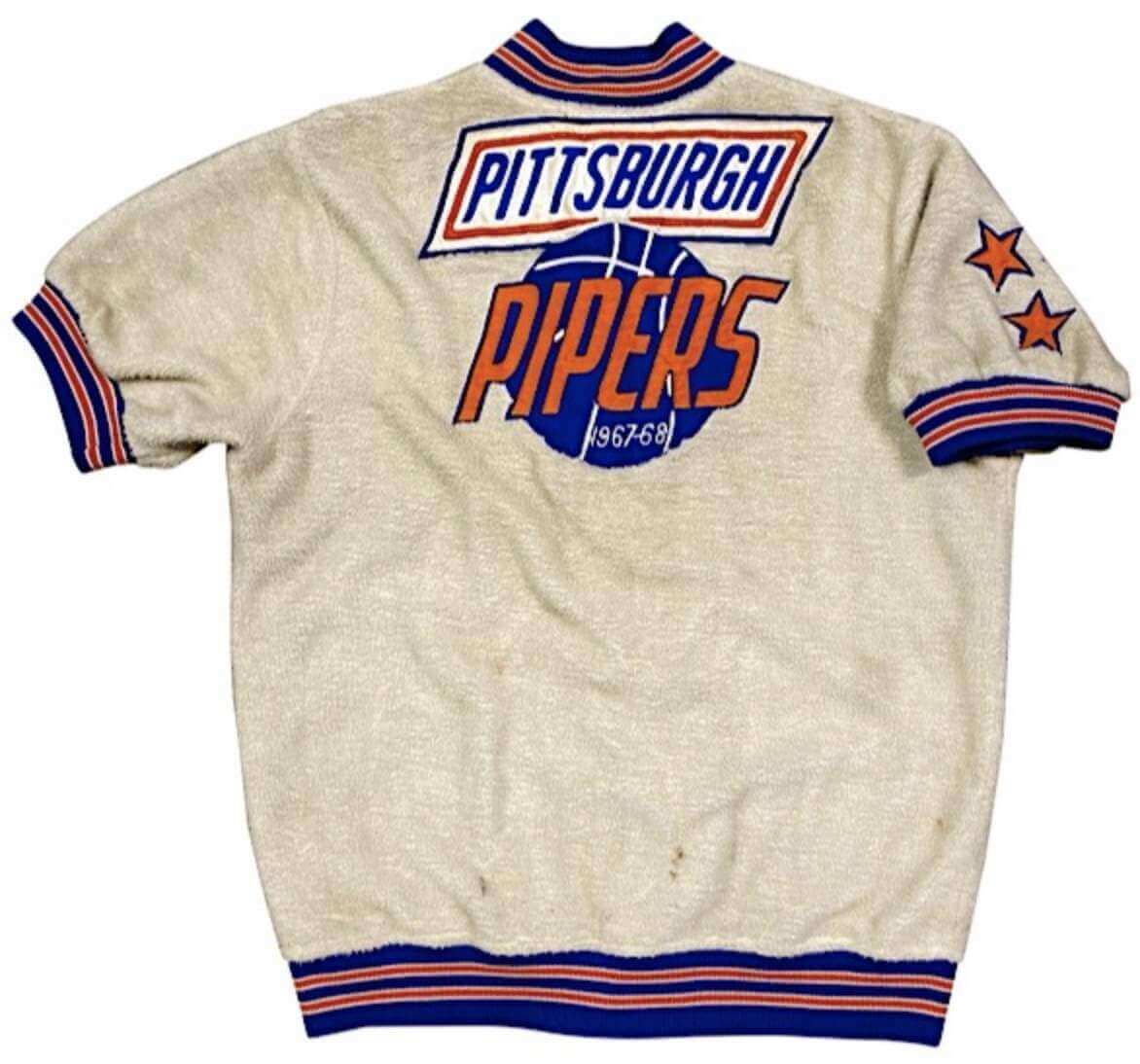 • This late 1960s Pittsburgh Pipers warm-up top is right in my wheelhouse. Love that graphic on the back, and the championship patch is a nice bonus.
• Oooh, I really like this 1933 All-America blanket, personalized for Princeton offensive lineman Charles Ceppi. What a beauty!
• Here's something interesting: This game-used 1975-76 Tony Dorsett Pitt jersey had the NOB stenciled on instead of sewn. I'm guessing that's because this was a tearaway jersey.
• Here's something I didn't know: Instead of (or maybe in addition to..?) receiving World Series rings, players on the 1924 Washington Senators were given championship medallions.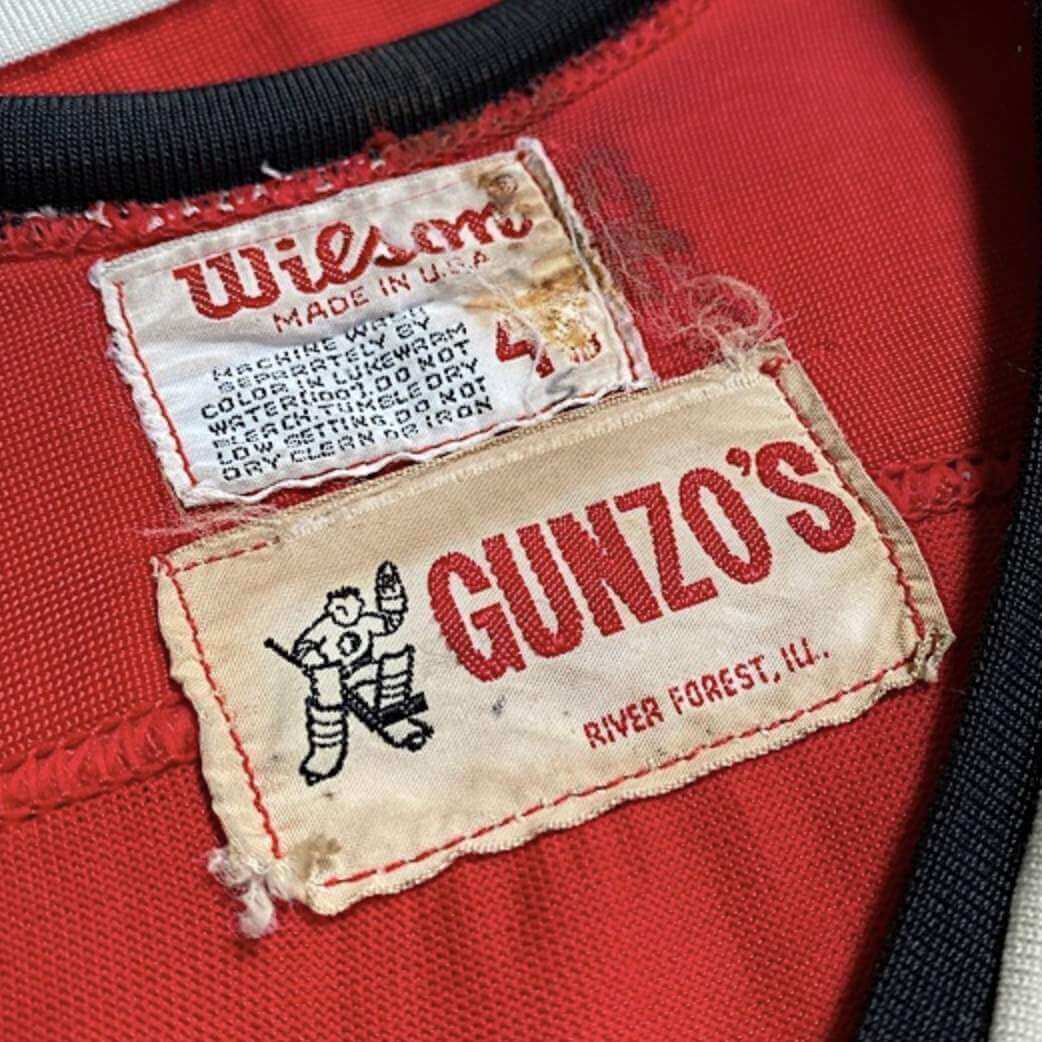 • Oh man, look at the spectacular "Gunzo's" tagging on this 1973-75 Tony Esposito NHL jersey.
• Reds catcher Johnny Bench wore No. 5 throughout his big league career, but there are several photos out there showing him wearing No. 53 during spring training of 1966 and '67. Here, apparently, is one of those No. 53 Bench jerseys.
———
Want to see more? You can click through the entire auction catalog here.
• • • • •
• • • • •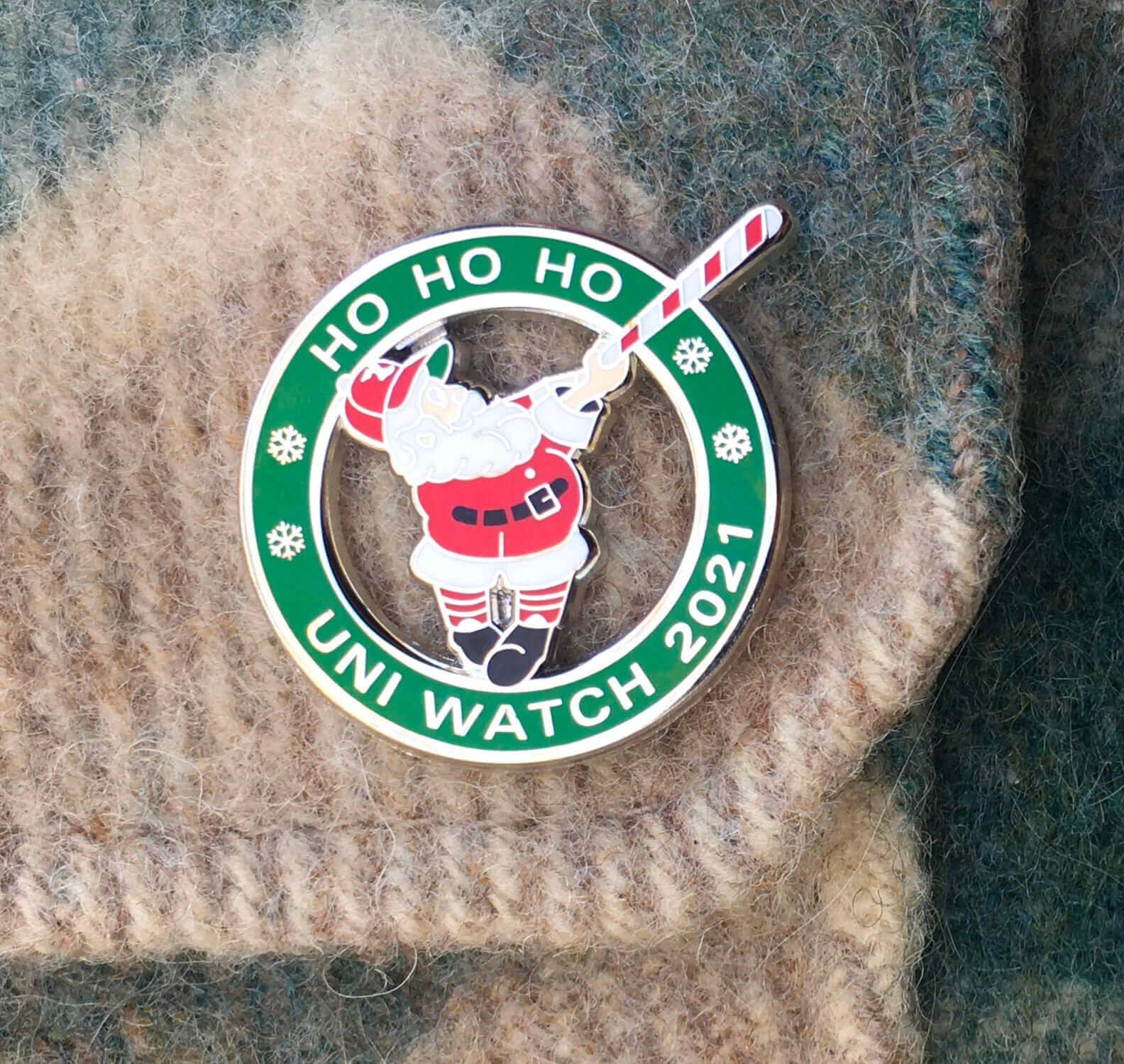 Click to enlarge
December pin reminder AND new Teespring discount: In case you missed it on Wednesday, the Uni Watch Pin Club's December design is now available. As you can see above, it's a swingin' Santa with a candy cane-striped bat!
It was difficult to photograph the silver highlights while also showing Santa's proper skin tone. Here's another view (click to enlarge):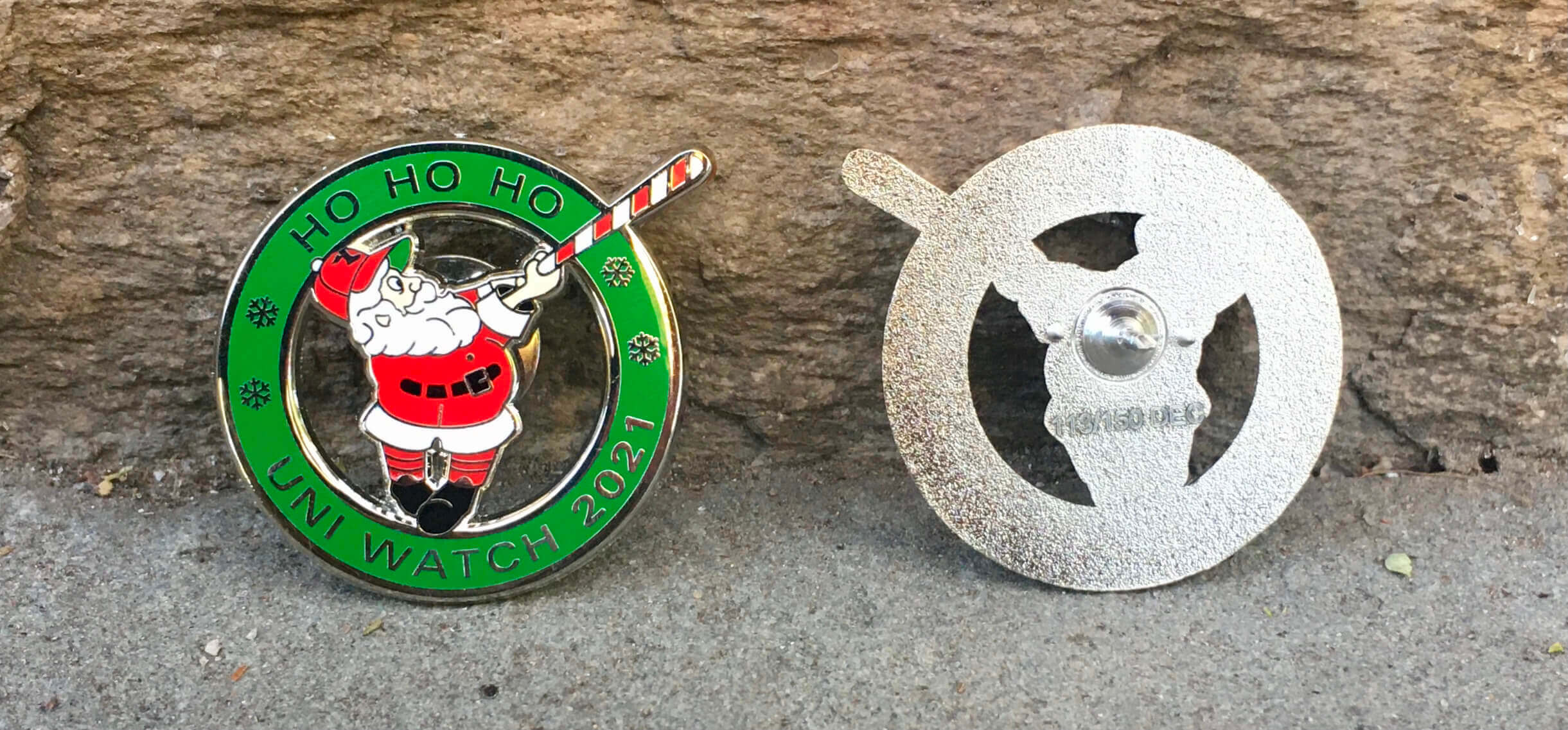 This pin was produced in a numbered edition of 150. First-day sales were brisk — as of this morning, there were just 39 pins remaining.
Also: Last night Teespring announced that they'd be running a 24-hour site-wide sale today. Until midnight Pacific tonight, you can save 15% on this pin (and on anything else from the Uni Watch, Naming Wrongs, and Uni Rock shops) by using the checkout code HOLIDAY15. The discount will come out of Teespring's revenue cut, so Uni Watch will still make its full profit.
I'm sorry I didn't know about this yesterday. If I had known, I would have delayed the new pin's launch until today, so everyone could take advantage of the discount.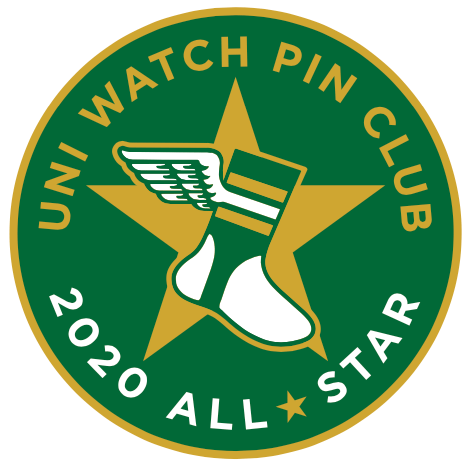 Meanwhile: As you may recall, everyone who collected all 12 of last year's pins received a bonus "2020 All-Star" pin. We'll be doing a "collect 'em all" bonus pin this year as well, but we need to know how many of them to make. So if you've collected 'em all, please email me with (a) your name and address, and (b) proof that you've collected all of this year's pins. The proof can include photos of the pins themselves and/or order-confirmation emails from Teespring. The bonus pins will ship out early next year.
• • • • •
• • • • •
Naturally coloured eggs showing the variations produced by different chicken breeds. pic.twitter.com/iHVFH3w0PH

— Mark Stephens (@MarksLarks) December 1, 2021
Too good for the Ticker: Is that awesome or what? I have no words to add!
But as long as we're in TgftT mode, check out this amazing logo for a UK veterinarian called Medivet: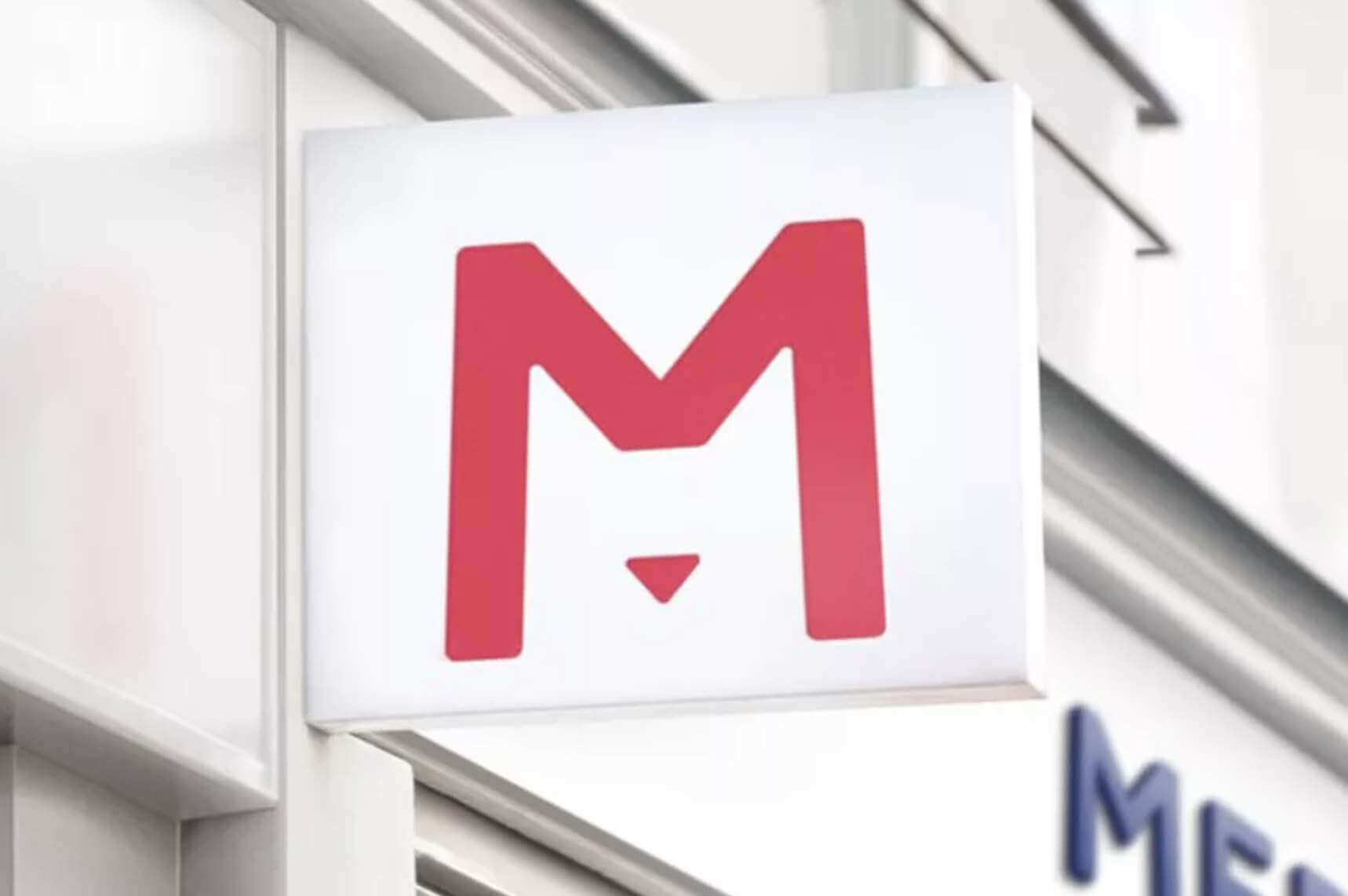 How great is that? Brilliant use of negative space. Additional info here.
(My thanks to Jonathon Binet for pointing me toward the eggs tweet.)
• • • • •
• • • • •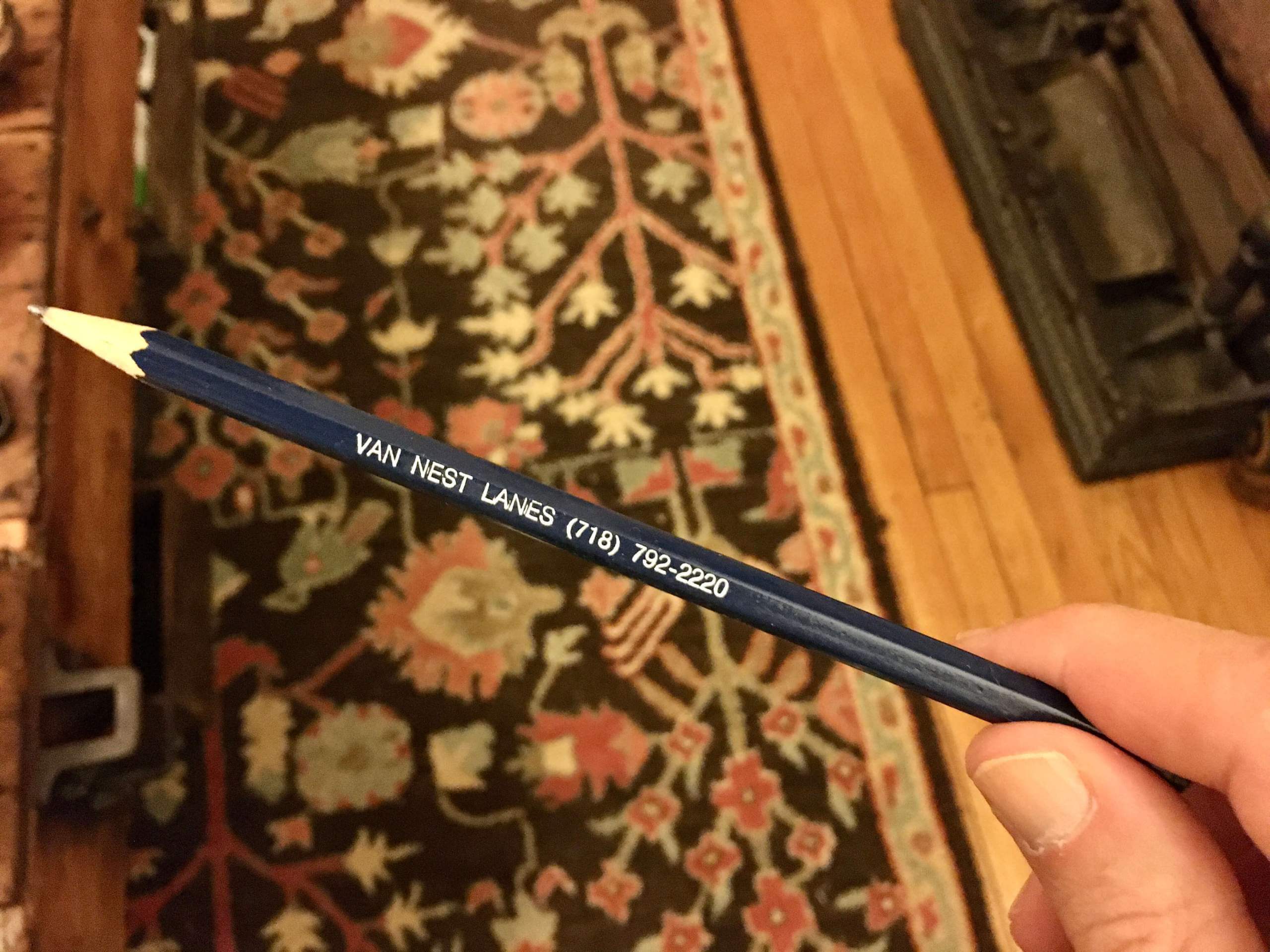 Dang: Nearly four years ago, I wrote a blog post about the magnificent Van Nest Lanes, a Bronx bowling alley that was, as far as I knew, the only NYC pin-bashing emporium that still had manual scoring. Everything about the place was Perfect — the fixtures, the decor, the cranky owner, the cheap beer, the waffle fries — and I ended up bowling there a lot over the next two years.
The pandemic put an end to my Van Nest trips. And last night I learned that the pandemic has also put an end to Van Nest — it recently shut down for good. I know that lots of businesses have closed over the past year and a half, but this one really hurts. It hurts because Van Nest felt more like a community than a business. It felt like an organic thing — and unfortunately, organic things die. That's part of what makes them so special, and why we feel their loss so powerfully.
My last trip to Van Nest was on March 1, 2020, for my friend Michael's birthday party. Fortunately, the Tugboat Captain had the foresight to procure one of the scoring pencils, which we still have here at Uni Watch HQ, so a small piece of the place will live on. R.I.P.
• • • • •
• • • • •
The Ticker
By Paul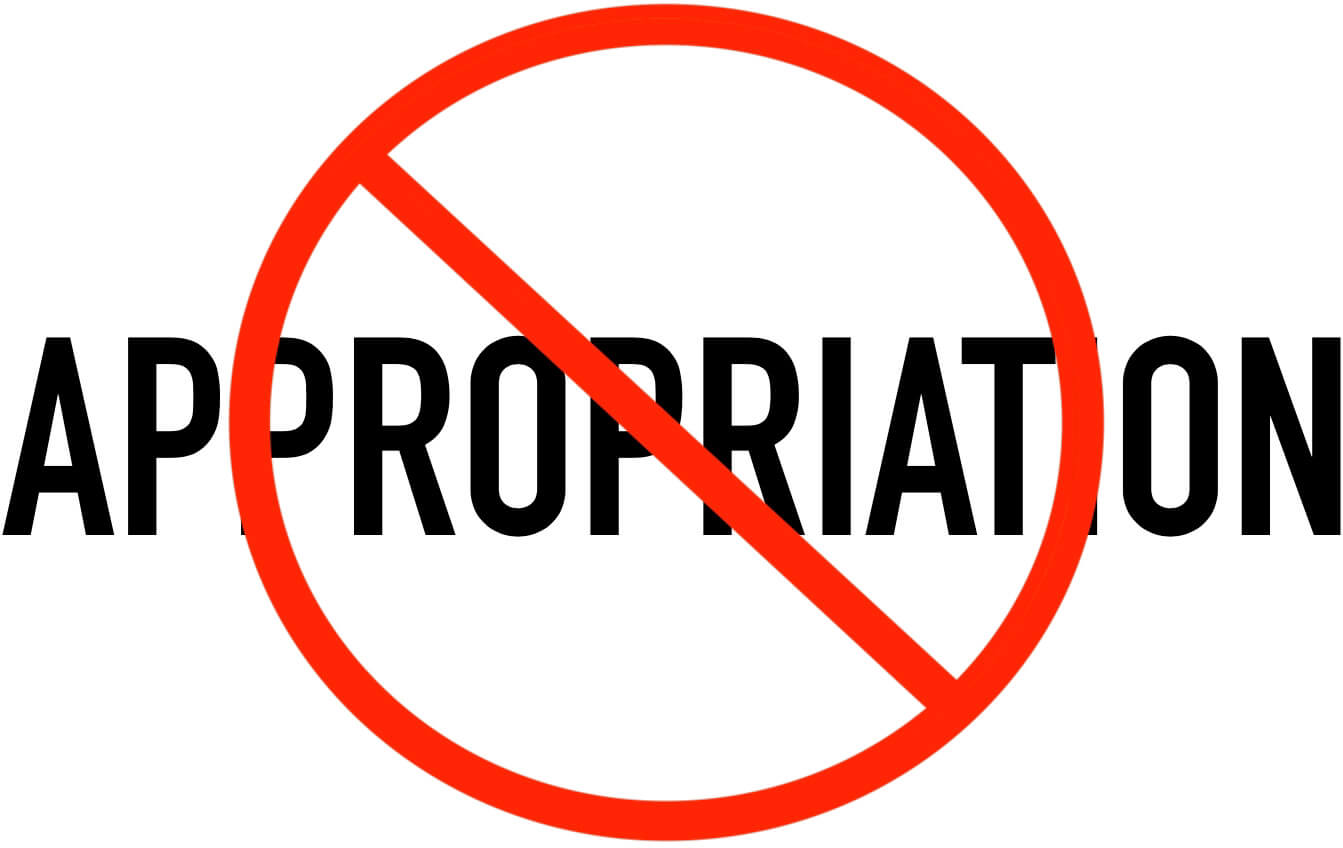 Indigenous Appropriation News: There's a petition for Jupiter High School in Florida to change its Native-themed team name and iconography (from Gregory Kohn). … English rugby union side Exeter Chiefs are scrapping their Native American branding (from @greetingsADM). … Clover Park High School in Washington State will no longer call its teams the Warriors. The move is in response to a new state law that bans the use of Native American imagery without tribal authorization (from Tim Dunn).

Baseball News: When the MLB lockout kicked in last night, the little player headshots on team roster web pages were eliminated, although headshots of managers and coaches remain. In addition, MLB.com is no longer running articles about active players. All this is to comply with federal labor laws. … Speaking of team roster pages: As of yesterday afternoon, the Mets' website showed newly signed P Max Scherzer wearing No. 31 — a number that has been retired for Mike Piazza. By this morning, Scherzer's number had been changed to 21 (from Alan Kreit). … Speaking of the Mets, it turns out that their distinction of having No. 0 (Marcus Stroman) and No. 99 (Taijuan Walker) in the same starting rotation will go down as just a one-season thing, as Stroman signed with the Cubs yesterday. … Speaking of Stroman, he will keep wearing No. 0 for the Cubs, becoming the first Cubbie ever to do so (from Jeff Stark). … More Stroman: This Photoshop of him in a Cubs uni shows the jersey with set-in sleeves — a no-no, because the Cubs actually use raglan sleeves (good spot by Matt Sanderson). … Not surprising, but still depressing: Buried within this article is the news that the union's latest proposal to MLB owners included "advertising patches to be worn on jerseys." … One of the Nats' racing presidents, Teddy Roosevelt, wearing a gigantic cloth mask, joined former president Barack Obama and Dr. Anthony Fauci at a DC elementary school's student vaccination clinic (from Mike Bilder). … The Double-A Chattanooga Lookouts introduced a new ownership group by having them pose in front of a bunch of old Lookouts jerseys (from David Clemons). … Due to pandemic-related production issues, MLB used two different kinds of baseballs last season (from Trevor Williams). … Newly acquired Mariners P Robbie Ray talked about why he wears tight pants on the mound (from Dustin Jensen). … This isn't new, but it's always fun to revisit the moment when Dbacks P Randy Johnson mistakenly put on a Giants cap after an on-field brawl (from Christopher Jowdy).

NFL News: This week's NFL games will be the annual "My Cause, My Cleats" promotion. Remember when that was a big deal, instead of an afterthought? Anyway, here's a breakdown of all the causes and organizations that players will be supporting. Additional info here. … Here's Jason Von Stein's uni/mascot-themed illo for this week's games. … Rams WR Odell Beckham Jr. changed from black cleats to orange during Sunday's game against the Packers.

College Football News: Back in 2009, I did an ESPN story about LSU tailgating. The big tailgating thing down there these days is apparently grilled alligator.

Hockey News: The Penguins officially unveiled a new 1990s throwback alternate and announced the schedule for it. Unlike the original 1990s design, it has a shoulder patch of the skating penguin instead of the robo-penguin (thanks to all who shared). … New 75th-anniversary retro jersey for the KHL's SKA Saint Petersburg (from Wade Heidt). … The WHL's Edmonton Oil Kings will wear "Teddy Bear Toss" jerseys this weekend. … Here's an Instagram account that specializes in NHL goalie photos (from Adam Mergens). … G Tera Hofmann of the Premier Hockey Federation's Toronto Six has a new mask (thanks, Jamie). … Islanders TV broadcaster Brendan Burke routinely lists the opposing team's RGB color code in his game notes (from John Muir).

NBA News: As I mentioned on Monday, Celtics C Enes Kanter has changed his name to Enes Freedom, which is now reflected on his NOB.


College Hoops News: D3 school Yeshiva University men's G Ryan Turell wants to become the first NBA player to wear a yarmulke on the court. … Here's the logo for the 2023 Women's Final Four (thanks, Jamie). … The refs working last night's Nebraska/NC State men's game all had the Smitty maker's mark on their jerseys, but only one of them — Ted Valentine — also had the Nike mark, apparently because he has a deal with Nike (good spot by @sitting_by).

Soccer News: The USL W's new Minnesota team, set to begin play next May, has narrowed its potential team names to three finalists (from Chris Kwapick). … The name of Australia's women's A-League is now corporate-advertised. "I liked the 'A-League Men' and 'A-League Women' format, but now they're both '[Advertiser] A-League,' so the ads are the only way to tell them apart, and you have to know which one goes with which," says our own Jamie Rathjen. … If you're new to soccer, here's a primer on kit culture (from @CharlotteFCkits). … Charlotte FC's new home shirt has leaked (from Jack Steele). … Mexico's Liga MX is introducing a series of lucha libre-themed shirts (from Scott Whitt and @dnip7). … New third shirt for Mexican side Tigres (from Jose Cantu). … Seattle-based Ballard FC is the latest club to join USL League Two (from Paul Buxton). … With EPL club Brentford keeping its same home kit for a second year, this article asks if a two-year kit cycle might become the EPL norm, instead of the current one-year standard (from Trevor Williams).

Grab Bag: The latest episode of the great design podcast 99% Invisible is about the invention of barbells, and it's really good. Highly recommended! … A Florida JROTC student was told that he can't wear his uniform until he cuts his dreadlocks. … An Illinois police department is selling old uniform patches, including one with the controversial "thin blue line" symbol. … Budweiser has rolled out a World War II olive drab throwback can design.