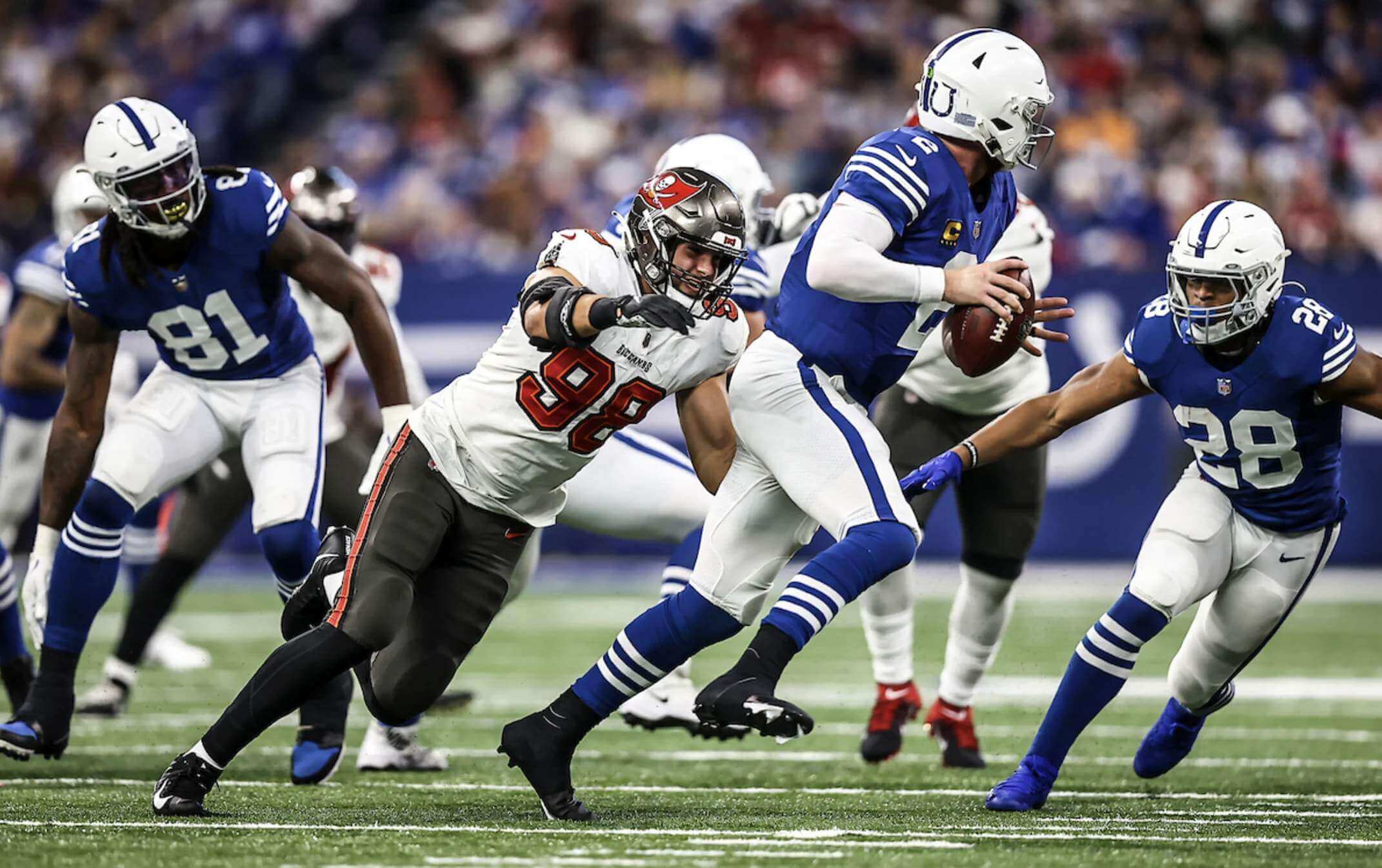 Click to enlarge
Good morning, and happy post-Thanksgiving! Lots of throwbacks around the NFL yesterday. Let's start in Indy, where the Colts wore their 1956 throwbacks for the first and only time this season. Lots of people probably didn't notice, but I enjoyed the sleeve stripes, sock stripes, and rear-helmet horseshoes. Lots of additional photos here, here, and here.
In other news from around the league yesterday:
• The Browns wore their white throwbacks while the Ravens wore their mono-black alternates, creating a white-vs.-black matchup:
• The Giants were another team wearing throwbacks (for the second consecutive week, oddly):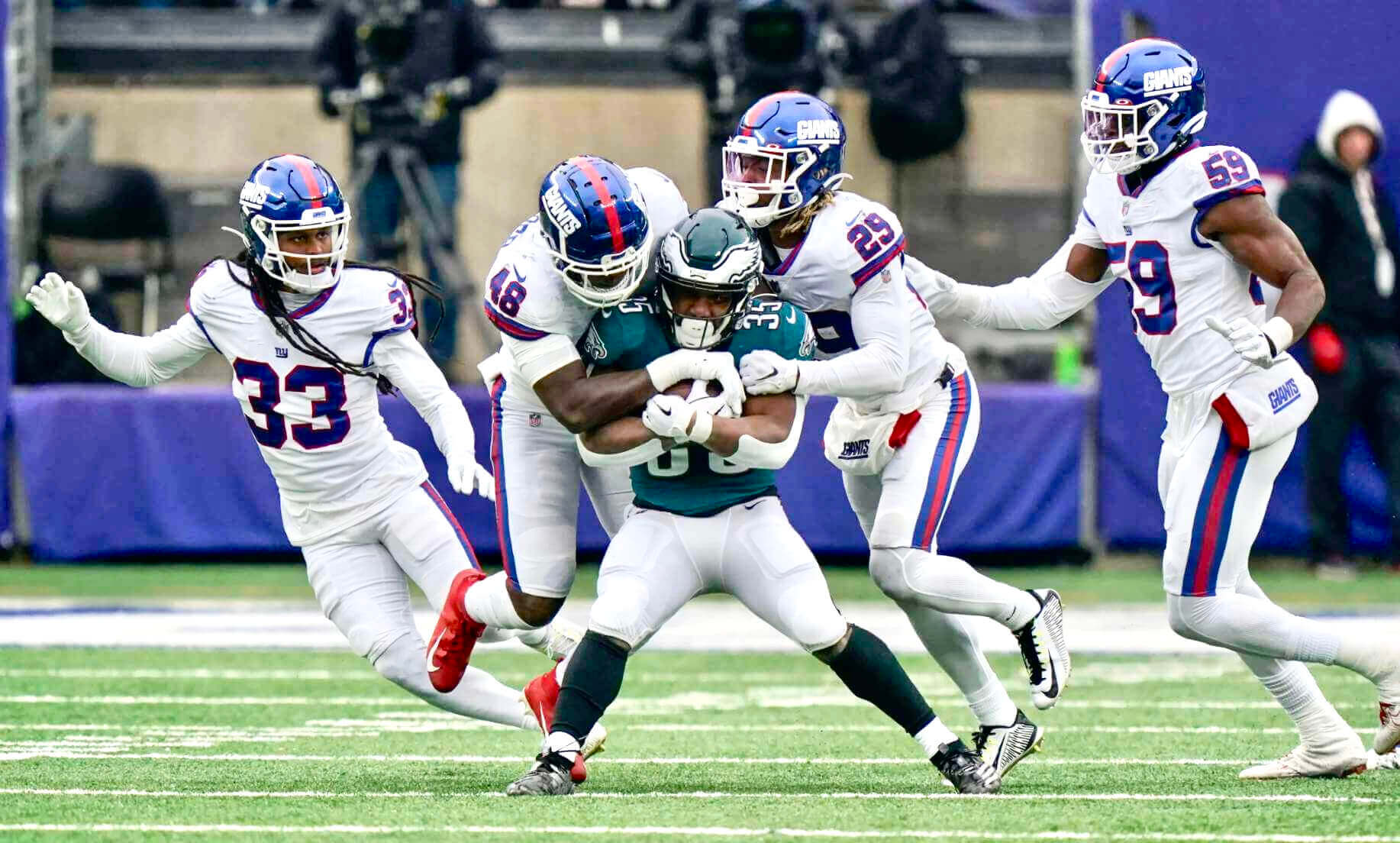 • Speaking of the Giants, here's something that isn't new but that I'd never noticed before: They routinely cut the red helmet stripe as it crosses the cutout on Riddell SpeedFlex helmets but don't cut the stripe on Schutt F7 helmets: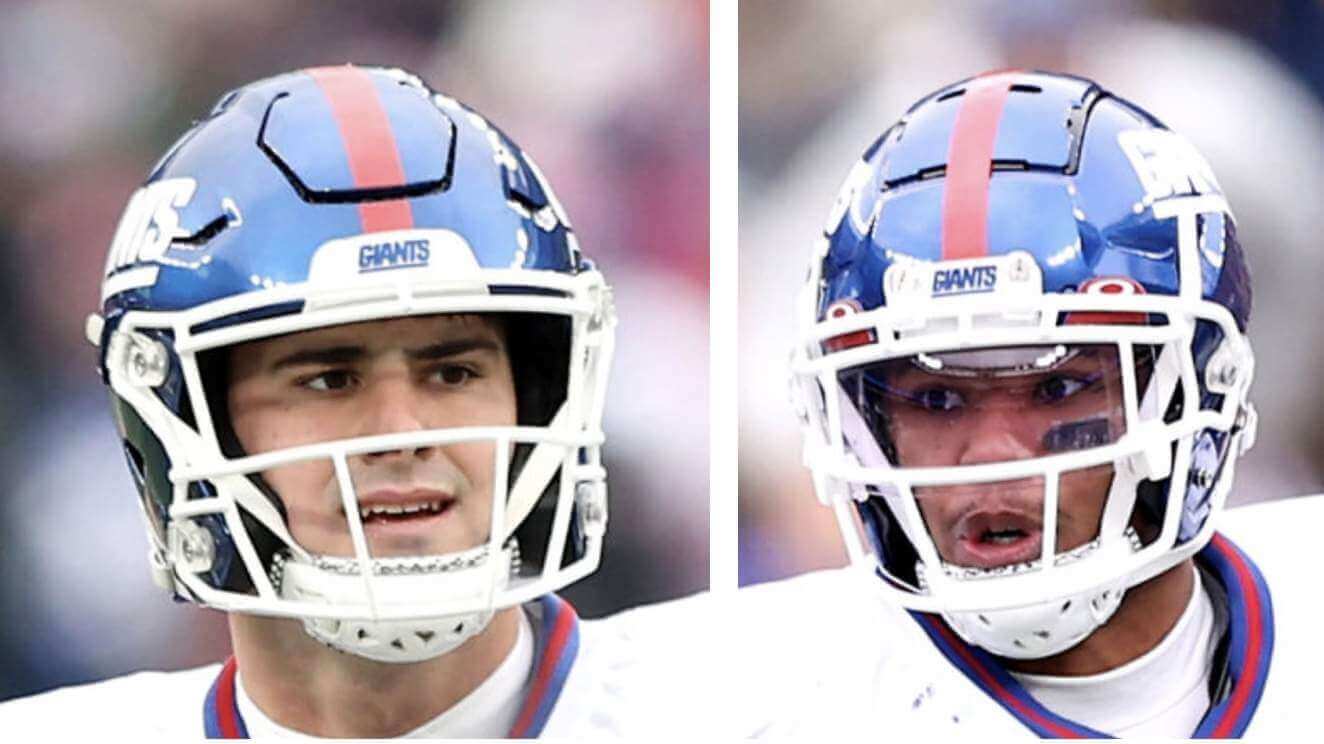 • In yet another Giants development, they retired Michael Strahan's No. 92 at halftime (interestingly, only one other player — a replacement player during the 1987 strike — has ever worn that number for the Jints):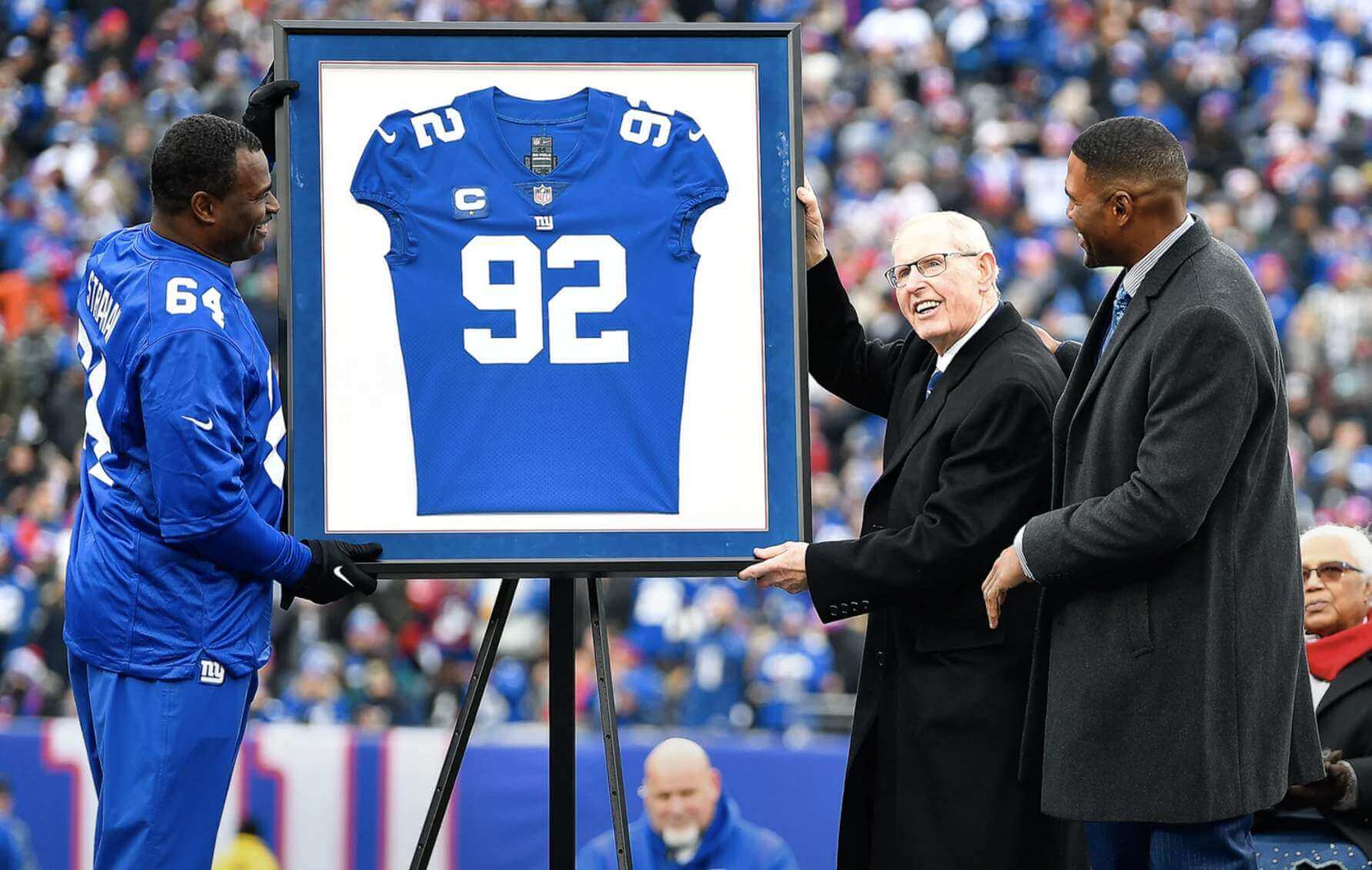 Note that they gave Strahan a current-template Nike jersey with a captaincy patch. Obviously, Strahan never wore that template during his career. Moreover, he only wore the captaincy designation during the NFL's Reebok era.
Also, note that Strahan's former teammate Jessie Armstead wore a No. 64 jersey with Strahan's NOB. That's because Strahan was initially issued that number as a rookie in 1992 but changed to a different number because he didn't like the way 64 looked:
#fbf fact: I was #64 as a rookie and changed to 92 after seeing a pic in the paper. Didn't like how 64 looked so I asked what was available! pic.twitter.com/LAFTNfDps5

— Michael Strahan (@michaelstrahan) August 18, 2017
So Strahan was into uni aesthetics from the start of his career!
• The Bengals wore their orange alternate jerseys: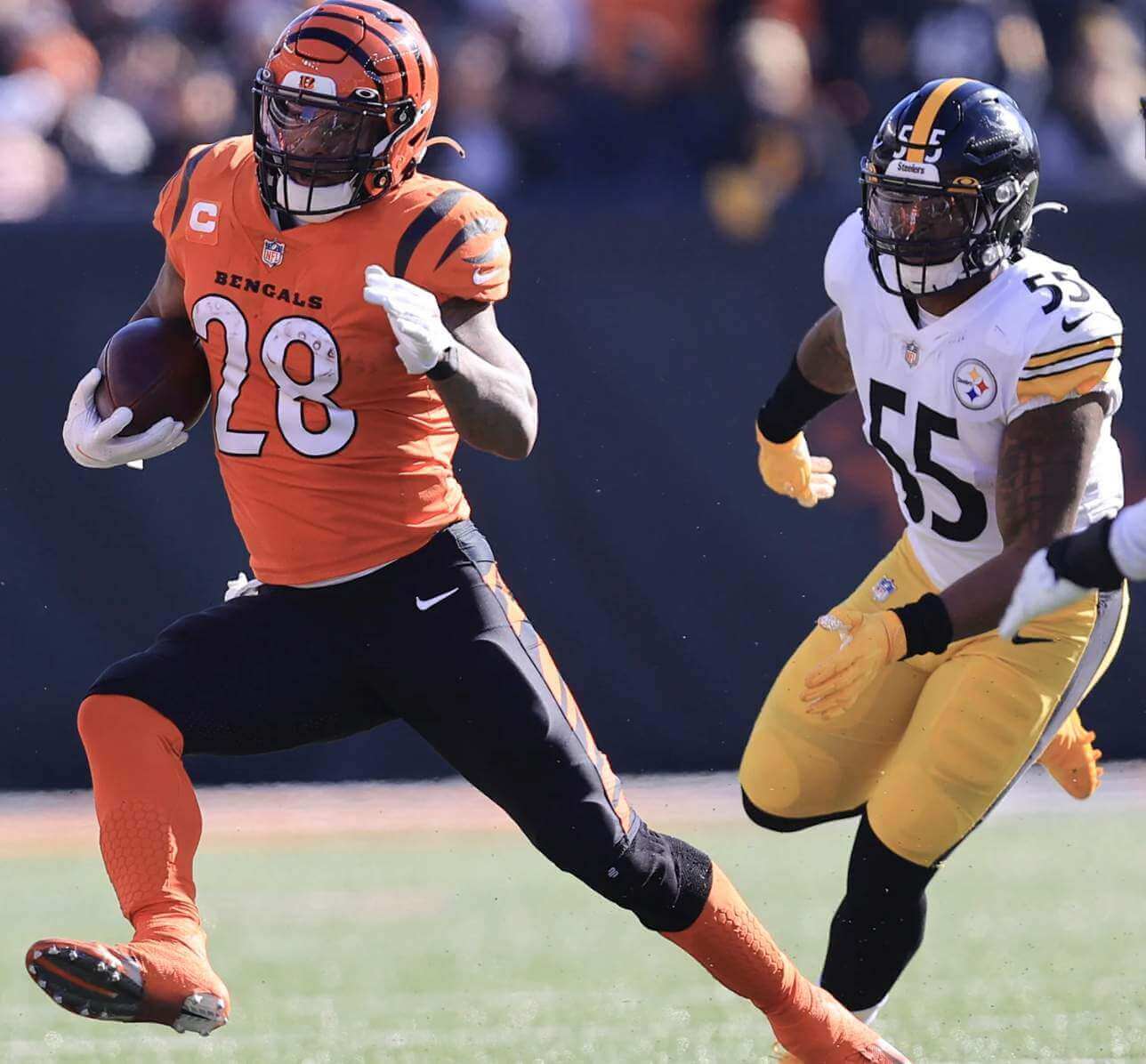 As reader/commenter Tom Juettner points out, this was the first time the Bengals wore black pants with orange socks since 2005, and the first time they'd done so while wearing an orange jersey since 2004.
• The Panthers wore their blue alternate jerseys: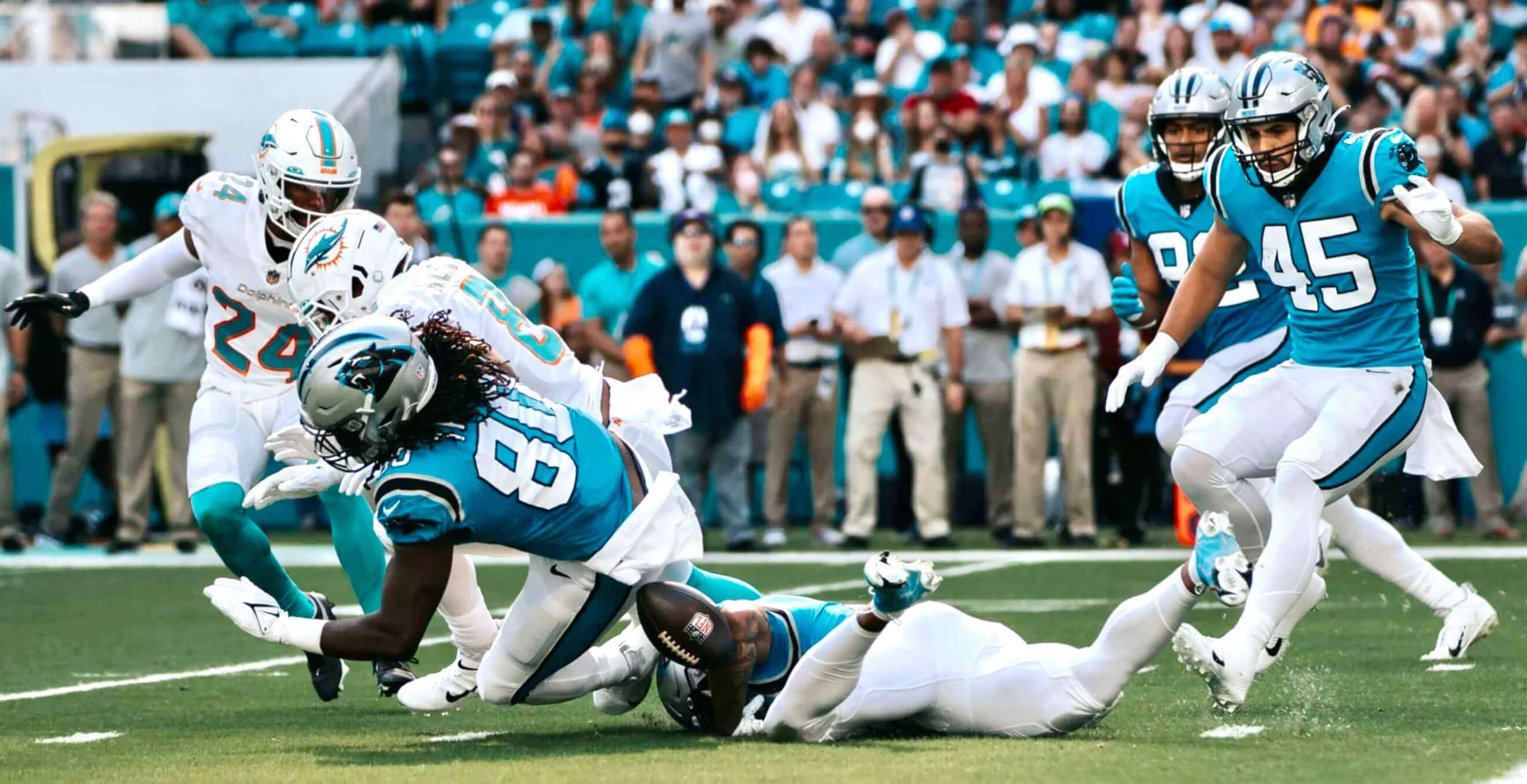 • Vikings linebacker Eric Kendricks's nameplate was coming loose: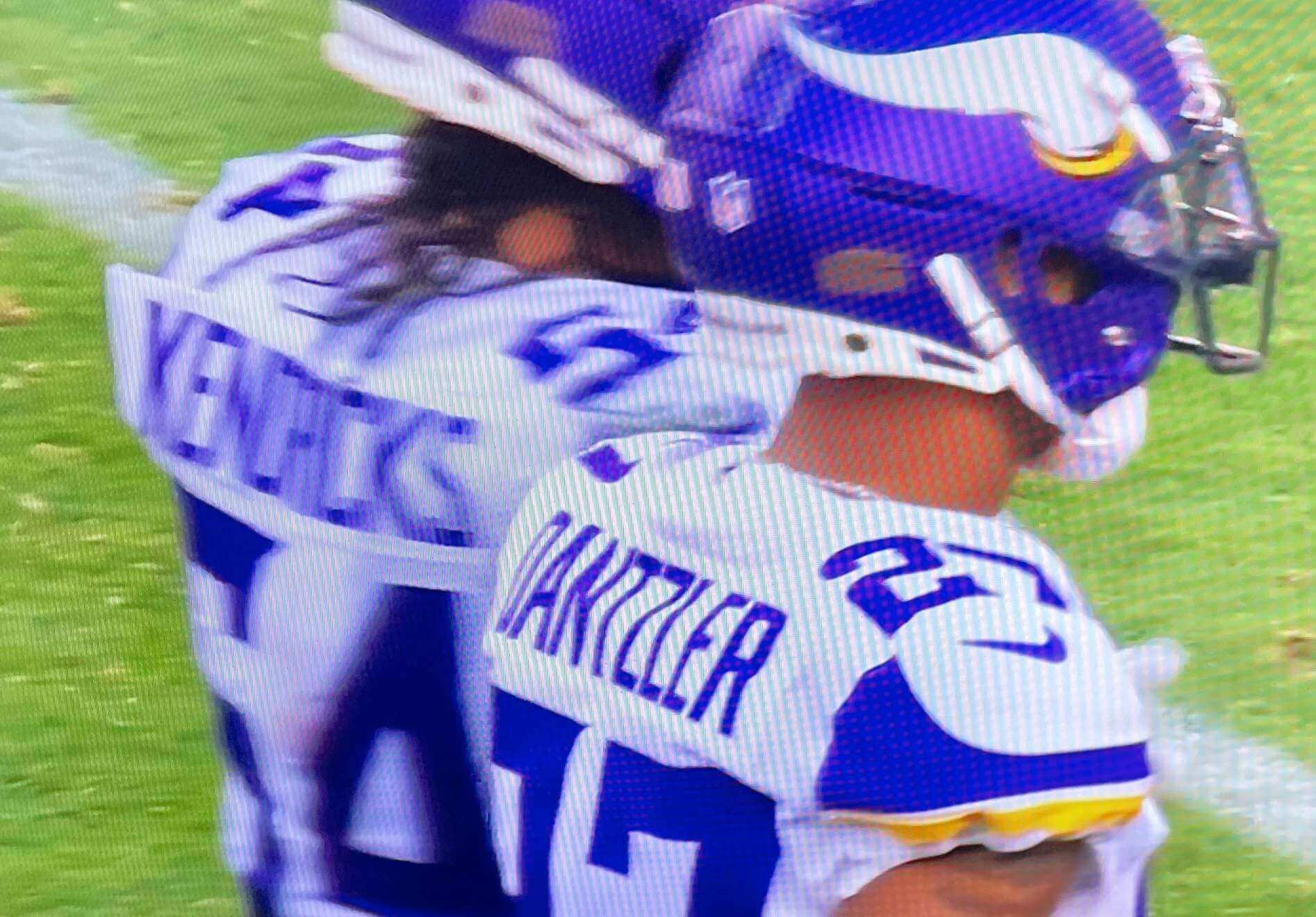 • Two teams wore white at home: the Dolphins, plus the aforementioned Giants. (If you toss in the Cowboys and Saints from Thanksgiving Day, that means four home teams wore white this week.)
(My thanks to Jamie Burditt, Chris Sadeghi, and @r_v04 for their contributions.)
• • • • •
• • • • •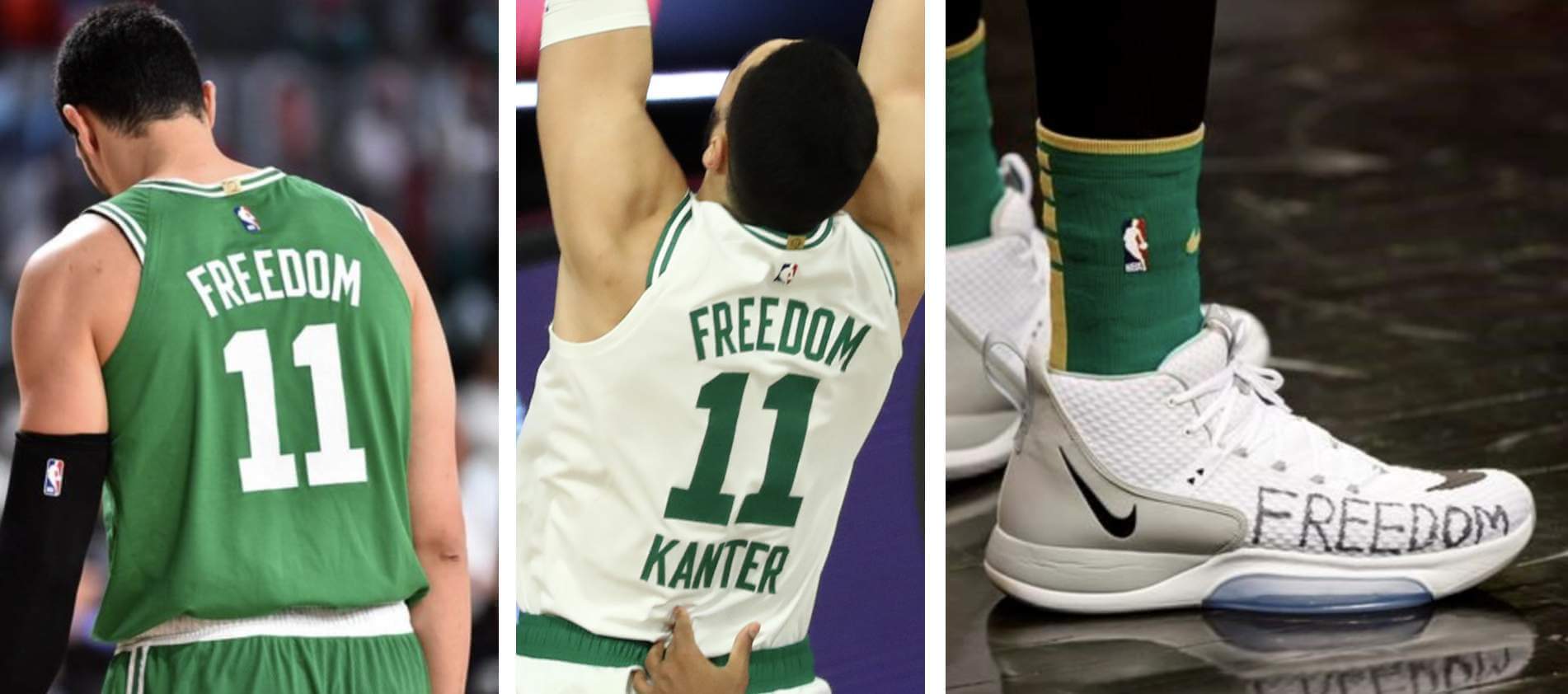 Walking the walk: Celtics center Enes Kanter wore "Freedom" as his NOB during the 2020 NBA bubble games, and he also has a history of inscribing "Freedom" on his sneakers (all shown above). Now he's making it official by legally changing his surname to Freedom.
This presumably means that his NOB will change back to "Freedom," although it was still "Kanter" last night (as you can just barely see on the right here).
• • • • •
• • • • •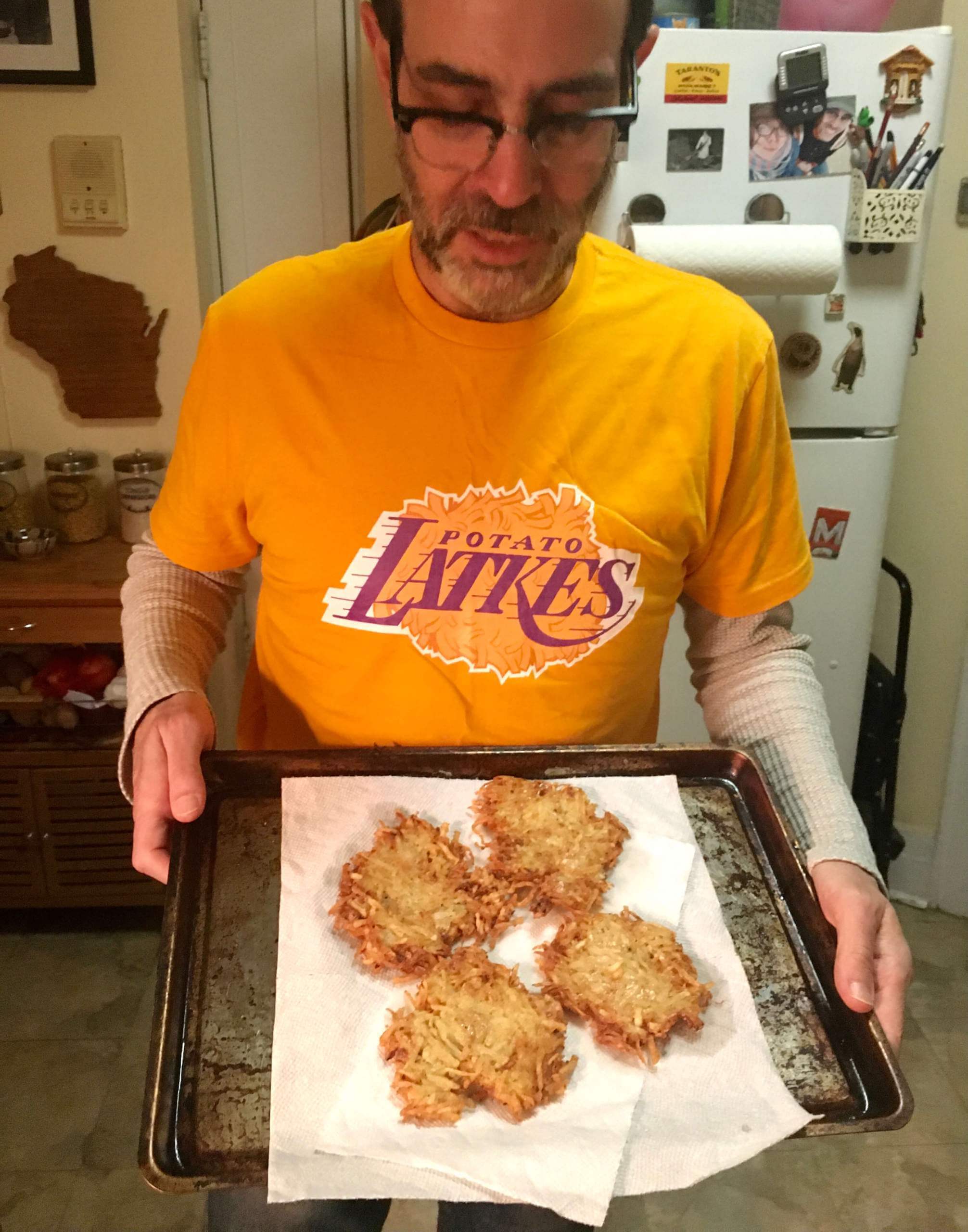 Click to enlarge
'Tis the Season, Part One: Hanukkah began last night, so the Tugboat Captain (who's back from the sanitarium and has regained most of her taste and smell, phew!) made latkes and I dressed accordingly.
Yes, it's true — I wore a shirt that includes a bit of purple. It's a Hanukkah miracle!
• • • • •
• • • • •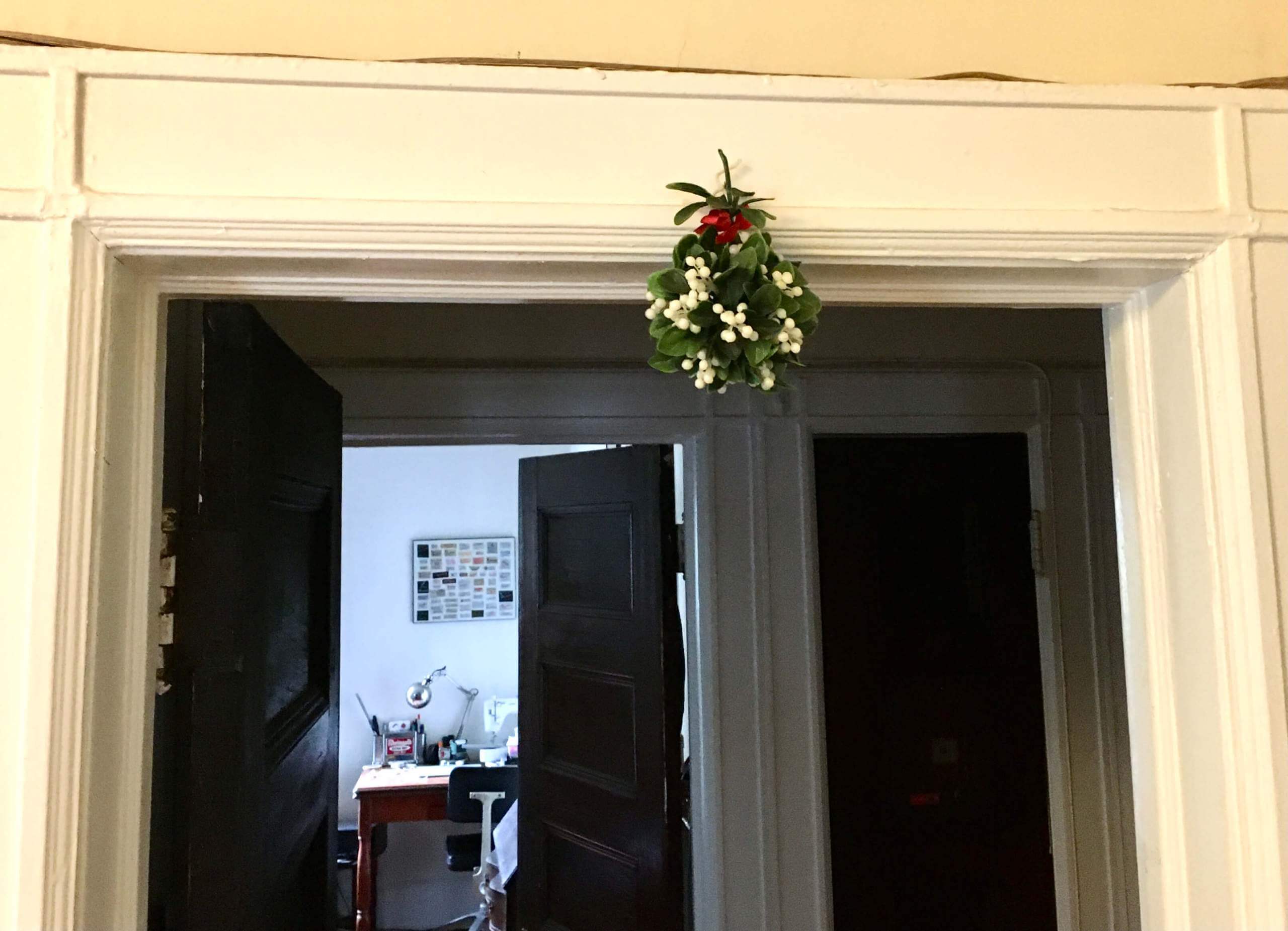 Click to enlarge
'Tis the Season, Part Two: With Thanksgiving now over, it's time for a longstanding Uni Watch HQ tradition: the hanging of the plastic mistletoe that I bought for $2.99 at the now-defunct Woolworth's at Herald Square in 1993. This marks the 29th consecutive year I've hung the faux 'toe, which, as always, will remain in place through the 12th day of Christmas. Let the Yuletide necking commence!
• • • • •
• • • • •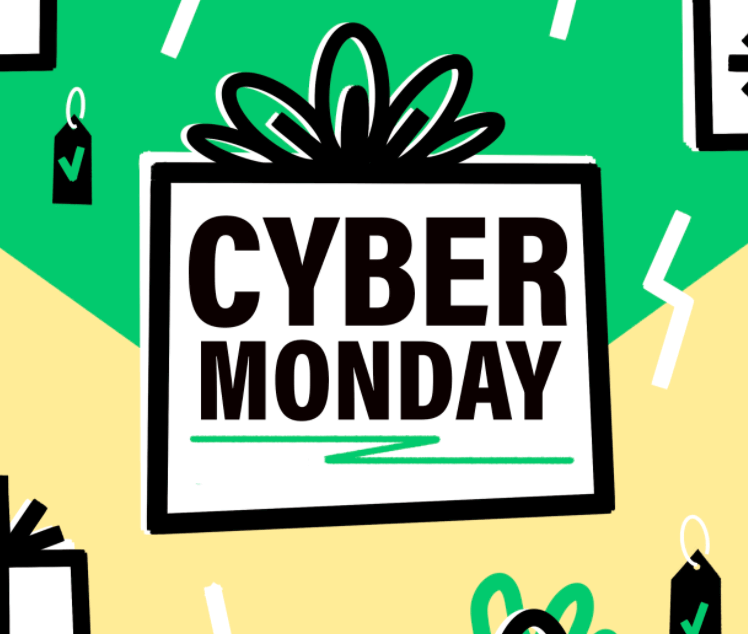 ITEM! Two-day merch and membership sale: Since most of the retail world is offering discounts today, I figured I'd do the same. For today and tomorrow, you can save 20% on anything in the Uni Watch, Naming Wrongs, and Uni Rock shops by using the checkout code CYBER2021.
In addition, for today and tomorrow, the price of a Uni Watch membership card will be $20, instead of the usual $25 — a 20% discount. That goes for gift memberships as well.
My thanks, as always, for considering our products.
• • • • •
• • • • •
The Ticker
By Jamie Rathjen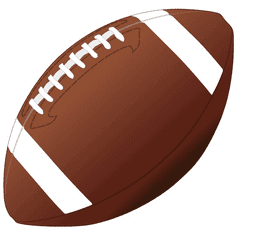 Football News: The designer of this season's Super Bowl logo has come out as transgender (from Fran Fried). … Left over from Saturday: The TV first down line was missing from some of the Michigan State/Penn State game because of snow (from David Dahl). … Reader Wade Heidt has Canadian college uni tracking in yesterday's comments. … Also from Wade: The CFL's Calgary Stampeders wore alternate helmet logos yesterday.

Hockey News: Maple Leafs C Jason Spezza's 1,200th NHL game was last night, so to mark the occasion they had an artist who makes mosaics for sports teams out of Rubik's Cubes make a piece based on Spezza's face (from Andreas Papadopoulos). … The Junior A British Columbia Hockey League's Vernon Vipers wore their ""BCHL 60th-anniversary throwback-inspired uniforms" on Saturday (from Wade Heidt). … New white jersey for Division III Williams College's men's team (from Andrew Ayres). … Someone photographed near President Biden, on vacation in Nantucket, was wearing the jersey of Finland's HIFK (from Rob Yasinac).

College Hoops News: Milwaukee's men's team wore striped warm-up pants yesterday (from Bob Brainerd). … California's men's team's jerseys have piping that only goes around half of the arms and neck this season, though last season it was also there but only around the arms (from Mac MacArthur). … Valparaiso's men's team played NAIA Trinity Christian College yesterday. Trinity's team name is the Trolls and it has a logo to match (from @beardedup).

Soccer News: Thursday was also known in the rest of the world as the International Day for the Elimination of Violence against Women, and the color for the UN's campaign for it is orange. Germany's women's team wore orange warm-up shirts on Friday to commemorate the day. The German Football Federation also turned its logo orange. … In Italy, Juventus put an orange cover on every third seat in their stadium on Saturday to symbolize that one-third of women suffer from violence. … Also in Italy, Napoli are up to 10 different shirts this season after a blue version of a Diego Maradona-themed design was worn yesterday in Serie A. Some of the differences are just variations in accent colors (from Trevor Williams). … U.S./Portland Thorns midfielder Lindsey Horan is wearing No. 10 for the USWNT friendlies in Australia, which makes her the first USWNT player other than Carli Lloyd to do so since 2008. … New shirts for Japan's J1 League's Vissel Kobe and the J2 League's V-Varen Nagasaki (both from Jeremy Brahm). … Speaking of the J1 League, new home shirt for Hokkaido Consadole Sapporo. … England/Manchester City striker Ellen White got a commemorative No. 100 shirt for 100 national team apperances (from Graham Clayton).

Grab Bag: The charity Stonewall UK's Rainbow Laces campaign runs for the next two weeks, and participants this weekend included the Premier League, English Football League, England's women's soccer team, and Premiership Rugby. … England Netball has a new logo, and for a series starting yesterday the national team plans to repeat something they've done before by having each player wearing the name of someone they consider inspirational, most often a parent, below their crests. … Here is an older article on transit systems that use "M"-based logos (from @churchofbasebal). … With the New Jersey Devils wearing "Jersey" on their new jersey, here's a really fun Twitter thread on self-referential uni elements (thanks to all who shared). … The pandemic has effectively changed the dress code for Capitol Hill staffers.