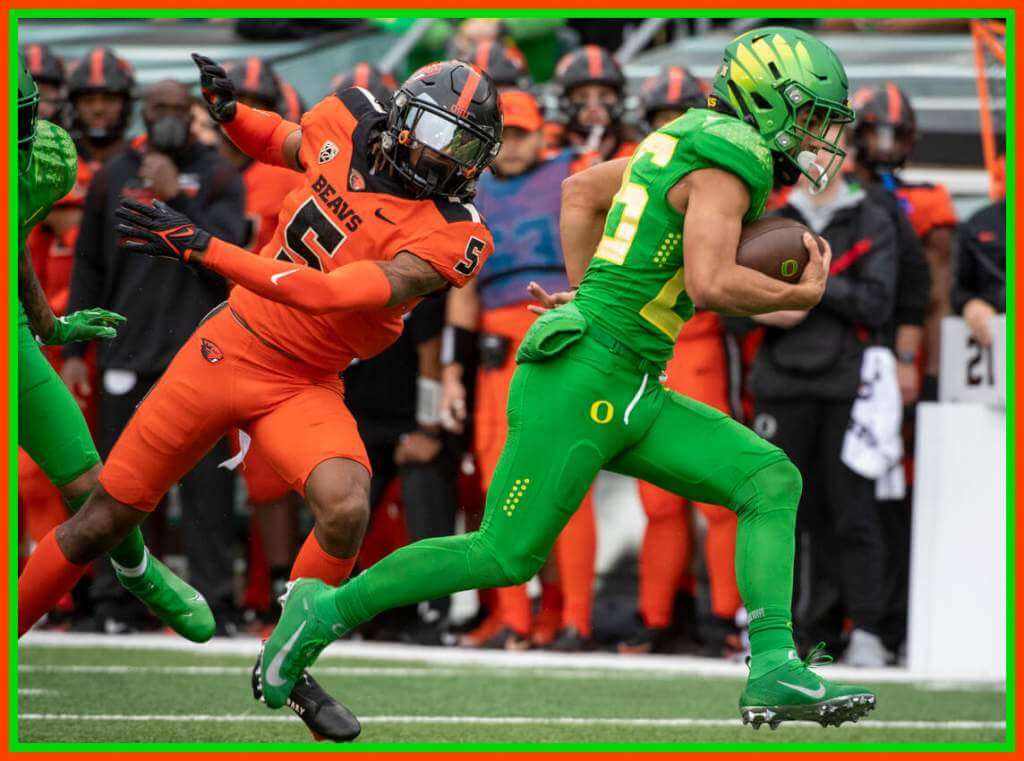 By Phil Hecken with the SMUW Crew
Follow @PhilHecken

Good Sunday morning all!
Yesterday, like many teams, Oregon and Oregon State played in their annual rivalry game — which was known as the "Civil War" until 2020 — and the game has been known for it's (mostly) colorful uniform matchups since the mid-2000s. If you're interested in the history of the rivalry, click here. It's been going on for well over 100 years, so it's definitely one of the older games out there.
As has happened a few times in the past, yesterday's game was color vs. color. In this case, Oregon went head to toe "Apple Green," which the Beavers of Oregon State countered with black/orange/orange.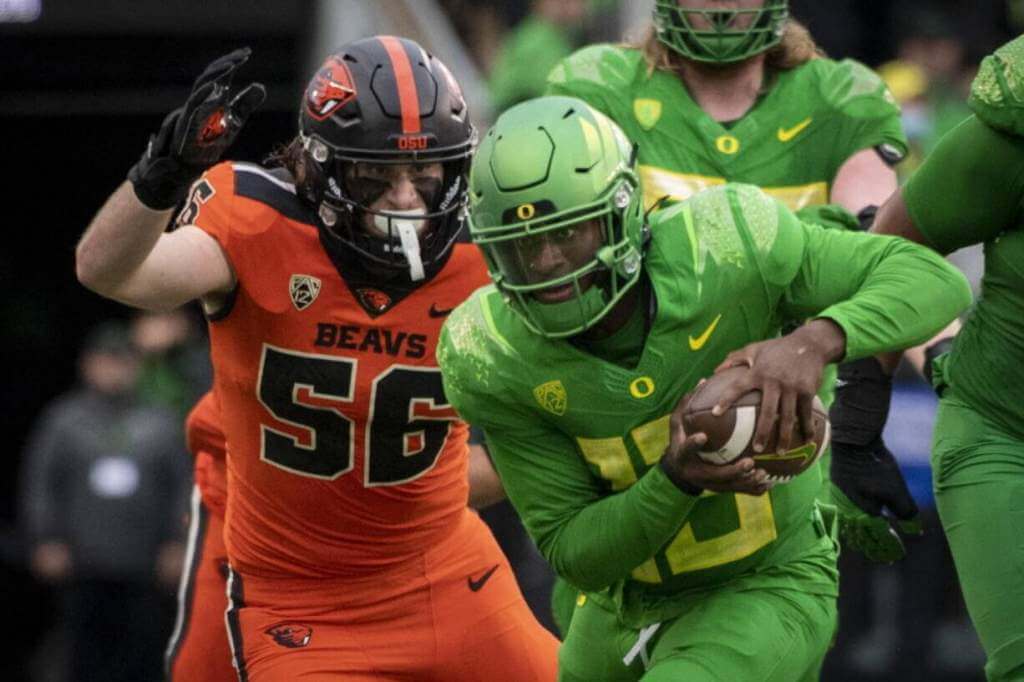 While in most cases, I'm all for color vs. color games — especially rivalry games — as is often the case between these schools, that doesn't make for a particularly good looking (or high contrasting) game. The overcast skies over Autzen Stadium only seemed to exacerbate the oversaturated look of the teams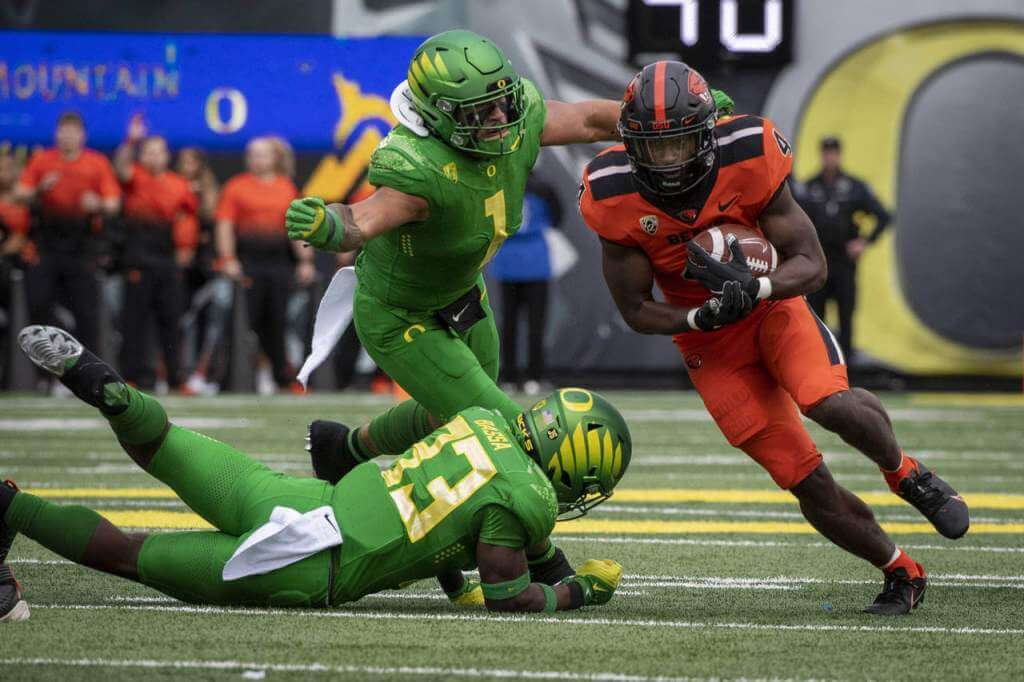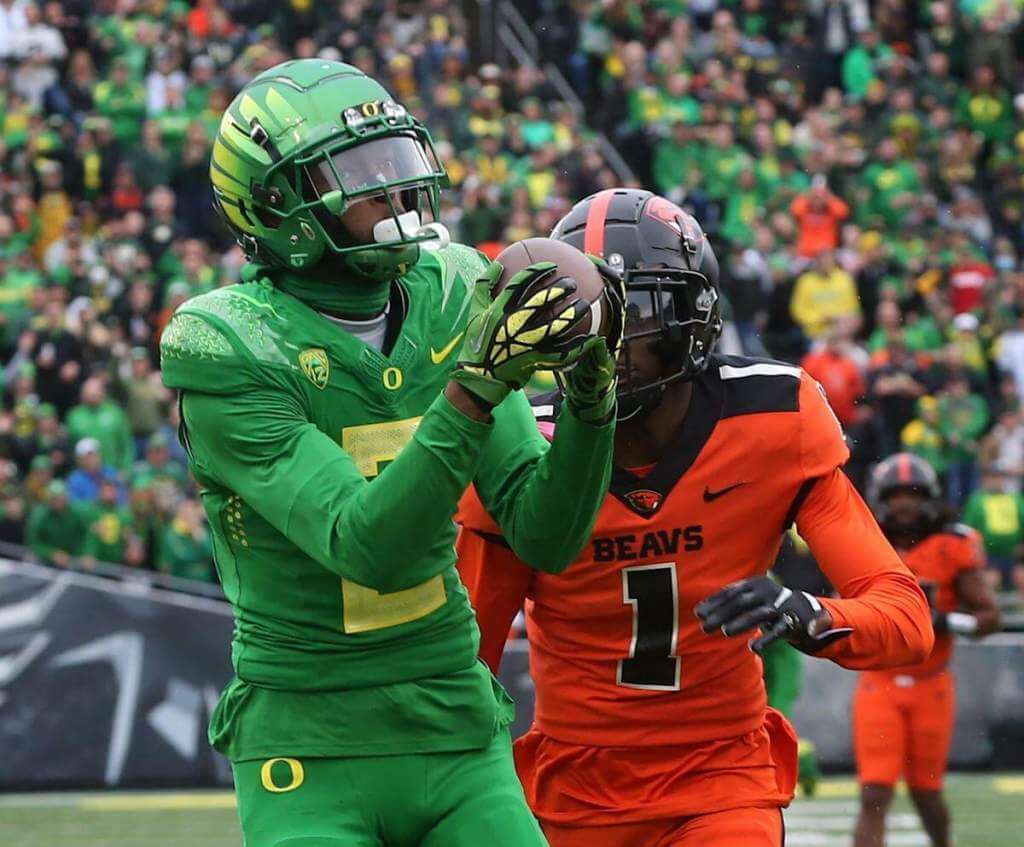 When talking about this game with Duck Tracker Dennis Bolt, I remembered Oregon/OSU being color vs. color a few times (I thought three or four prior to today) and he confirmed they've done so three previous years.
Last season, with OSU hosting, the Ducks wore silver/yellow/yellow vs. black/orange/orange for OSU in what was known as the Fog Bowl. Prior to that, in 2018 it was mono-yellow vs. mono-black. Neither of those two games, at least to me, was particularly good looking, despite school colors on full display. The one color vs. color game I did enjoy was way back in 2013, when the Ducks wore green/green/yellow (with contrasting yellow sleeves) while OSU went mono-orange. Visually — at least to me — it was very appealing.
Over the past couple decades, when the at least one team has worn a white road jersey, the matchups have ranged from very good, to … well, let's say if there was an all-time NCAA 5 & 1, the bra-straps vs. diamondplate game (that was in 2007) would be MY all-time & 1!
And with that, and a rivalry-weekend wrap, here's TJ with your…
• • • • •
Sunday Morning Uni Watch
by Terry Duroncelet, Jr.
It's that time of year again… RIVALRY WEEK. And let me just say, this year did not disappoint. Lots of close games, lots of glorified exhibition games *coughgeorgiavsgeorgiatechcough*, and plenty of uni news. No time waste, jus– just DO.
From Friday:
• Arkansas and Mizzou once again played in a color-vs-color game against each other, a tradition of sorts that was started shortly after the (MO) Tigers moved from the Big XII to the SEC. I like the idea, but I REALLY wish that Mizzou would wear this instead, that would truly make this a visual delight.
• I'm just gonna say it: at this point, South Florida owns the super-nuclear neon aesthetic (for special occasions, of course). If these were worn in the mid-to-late-90s (especially during the "Space Jam" era), they'd fit right in. Fitting, too: they had a new helmet stripe that showed the names of the original USF Bulls from 1997.
• Utah wore tribute helmets against Colorado (another look).
• I feel like I never get to see these two teams in broad daylight as much as I would think.
• Simple, but effective. Seriously, I love UTEP's official shade of orange.
• *sigh* So much colorful potential, wasted.
From Saturday:
• GO (too much) BLUE! Seriously, what's wrong with this? I still think that this game should be color-vs-color (with OF in maize pants, of course). I'll also add that the weather conditions added that quintessential late-November touch. During the end of the game (specifically, the last sack the Buckeyes took), I noticed that the Jumpman logo on Wolverines junior Linebacker David Ojabo seemed to have jumped off. Additionally, I wasn't able to get a clear enough screenshot, but the corners of Ojabo's back numbers (these corners, specifically) were also starting to peel a bit (again, this was on the back of his jersey, not the front where the arrows are).
• You already know what I'm gonna say.
• I don't know what it is, but this look just seems so… CHAMPAIGN. I kinda like it. It does however, show just how badly-balanced the navy jersey is, not a fleck of white to be found.
• Speaking of which, LSU wore all-white against Texas A&M. No 2,456 overtimes this year.
• I don't know how they do it, but Oklahoma State almost always has a killer look almost every week. Also, Michigan's David Obajo wasn't the only one having Jumpman glitches on Saturday.
• Oh, but when Boise State does it, suddenly, there's a problem. But for real, a snow game is ALWAYS a welcome sight around here. I just wish Sparty wore green lids, never was a fan of the whipped-cream-on-pie look. That belongs in your mouth, not on the field.
• Orange trou for Clemson.
• Retros for Maryland.
• Looks like the Team Typically Known as the Golden Flashes need to replace all of the burnt-out light bulbs in all of their unis.
• …Well, at least Southern Miss is playing the role. of the Golden Eagles. Tragic choice of color for the numbers, tho.
• Arizona State kept to a very Sparky look against Arizona, who themselves wore their Military Appreciation uniforms for a second time since revealing them.
• Okay, you guys have my attention.
• Just NOB things in the B1G.
• Lastly, you know I can't not talk about this game. You want to talk about a visual masterpiece…
And with that, Week 13 is in the books. Now that we've reached the peak of the regular season graph, things will most likely slow down a bit with the conference championship games happening next week, teams that aren't bowl eligible go into hibernation, awaking only at the first sight of a shiny object (age needn't matter), and I think there was an upcoming game between two academies? Dunno what that's about, but what I DO know is, I'll see you next week. Hope everyone had a fun and safe Thanksgiving, and as always, HUGE thanks to Blaise D'Sylva for all of the helmet news that he provides.
• • • • •
Thanks, TJ! And now on to Jimmer's 5 & 1.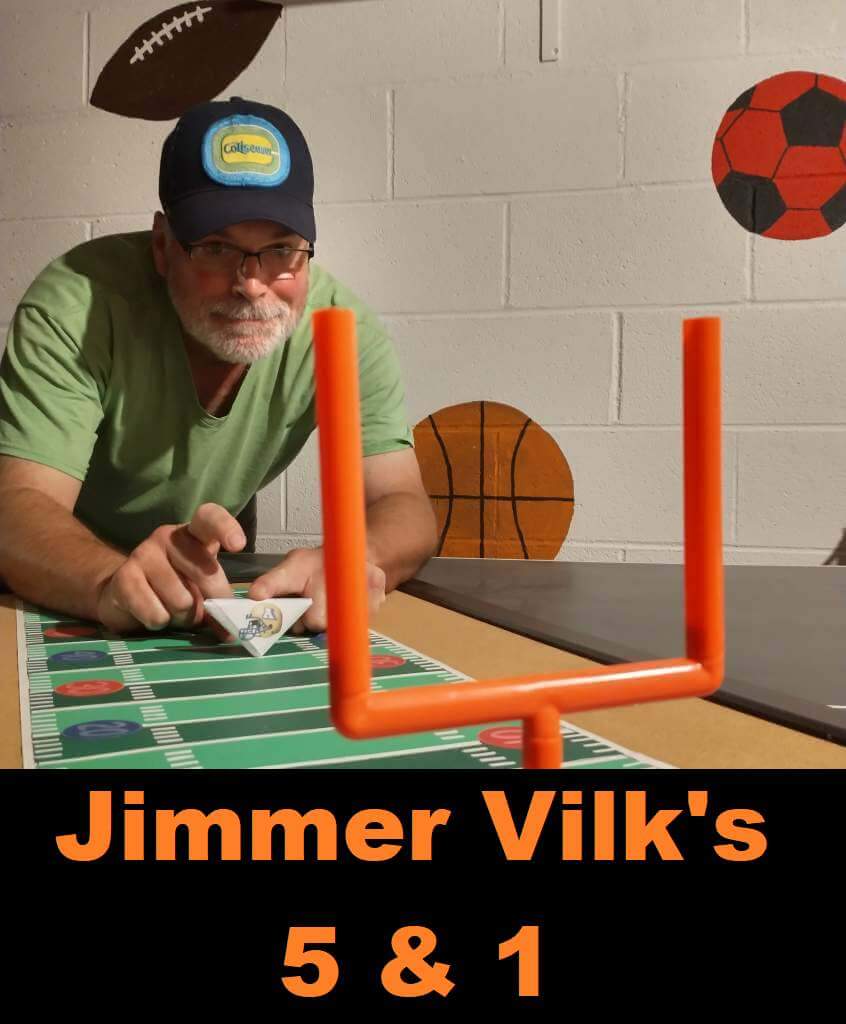 Jimmer Vilk's 5 & 1
After more than a decade in hiatus, the original "5 & 1" decider, Jim Vilk, has returned! Jim began doing the 5 & 1 many years ago, followed Catherine Ryan, Joe Ringham, Michael "Memal" Malinowski, and several guest pickers. Once again, Jim will pick HIS 5 best looking/1 awful matchup, and occasionally have some honorable mentions (both good and bad). You may agree and you may disagree — these are, after all, just opinions and everyone has one. Feel free to let him know what you think in the comments section.
If you have a game you feel is "worthy" of consideration for the 5 & 1, please either post it in the comments below or tweet Mr. Vilk @JVfromOhio.
Here's today's 5 & 1:
• • • • •
This season went by pretty quickly, huh? Well, it was fun while it lasted.
Honorable Mentions to
Utah State/New Mexico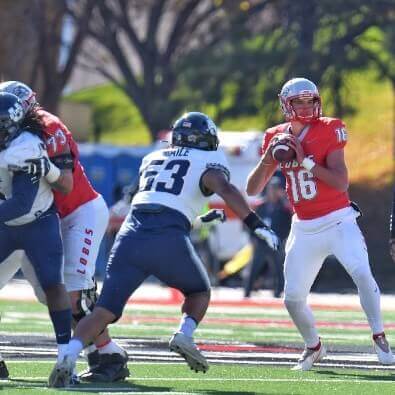 A nice contrasting game on a nice sunny day.
__________
Alabama/Auburn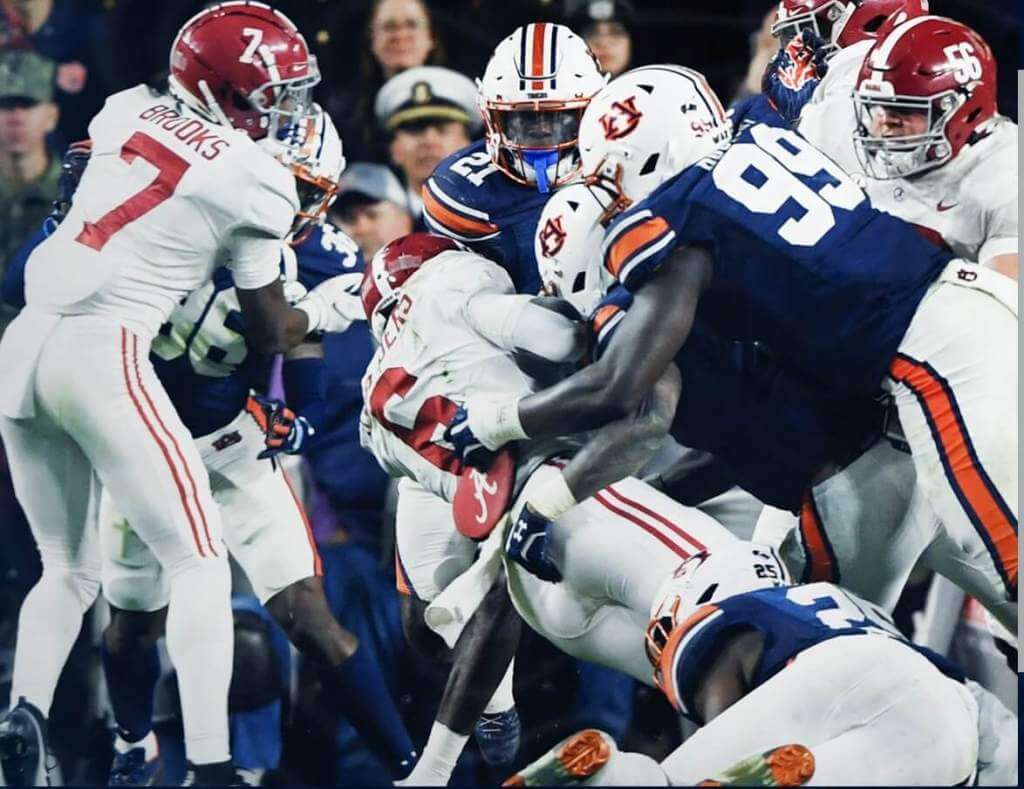 Next year's matchup should make the Top Five, but this one's pretty good too.
__________
5. Ole Miss/Mississippi State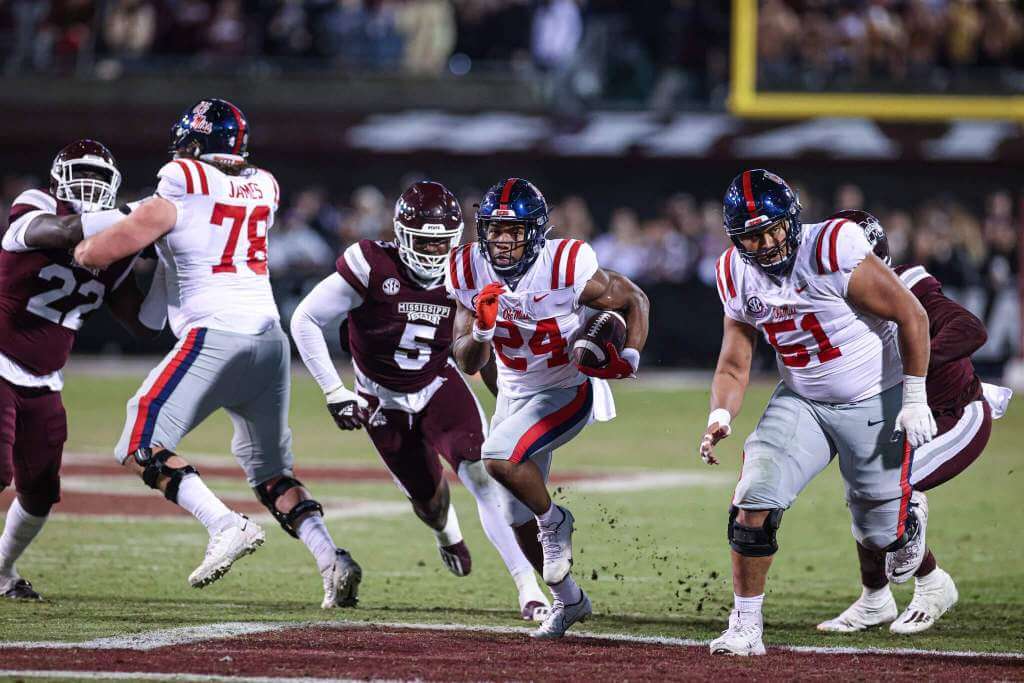 With the Egg Bowl on Thursday, I didn't have to scramble at the last minute to find a good photo.
__________
4. Iowa/Nebraska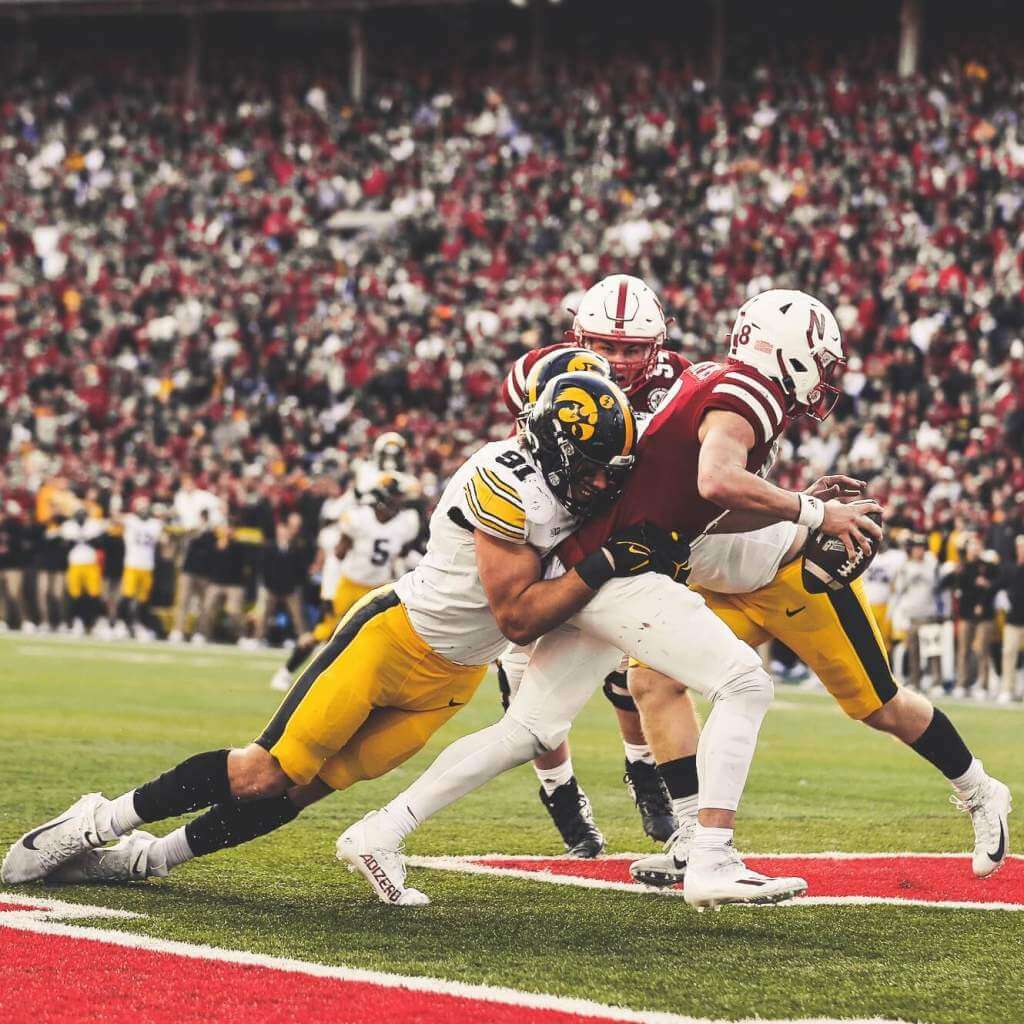 One of the newest Big Teen rivalries might be my favorite… although I still wish the Huskers could end with the Sooners.
__________
3. Pitt/Syracuse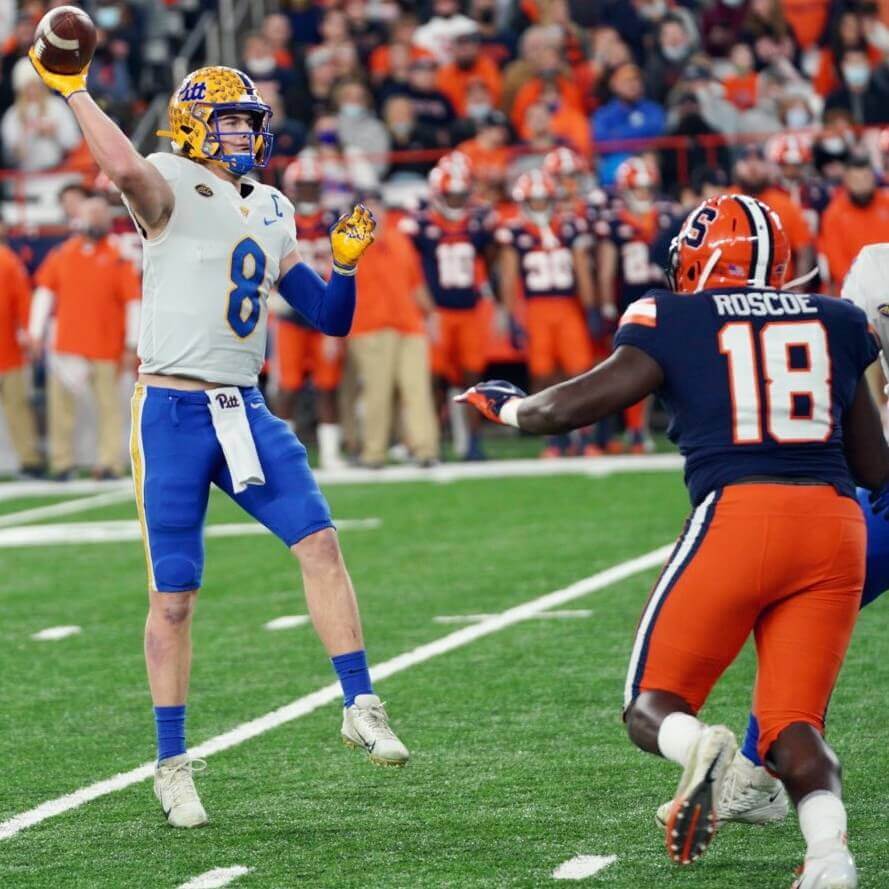 The blue pants turned a good matchup into a real Color Palette Special.
__________
2. Arizona/Arizona State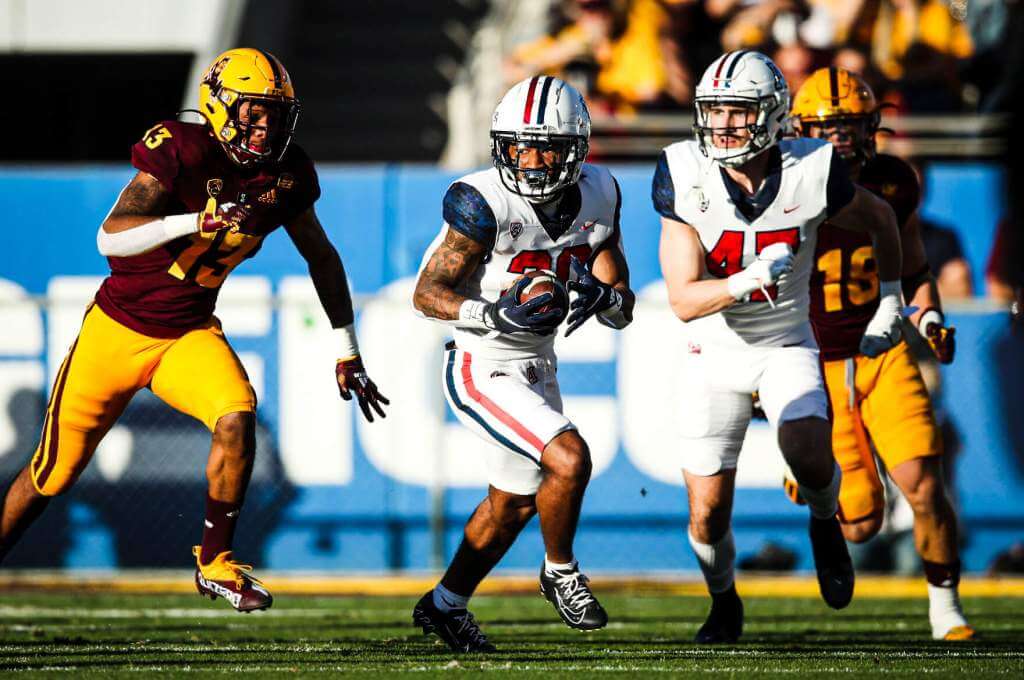 I don't miss the Wildcats' blue pants when they wear this great jersey.
__________
1. BYU/USC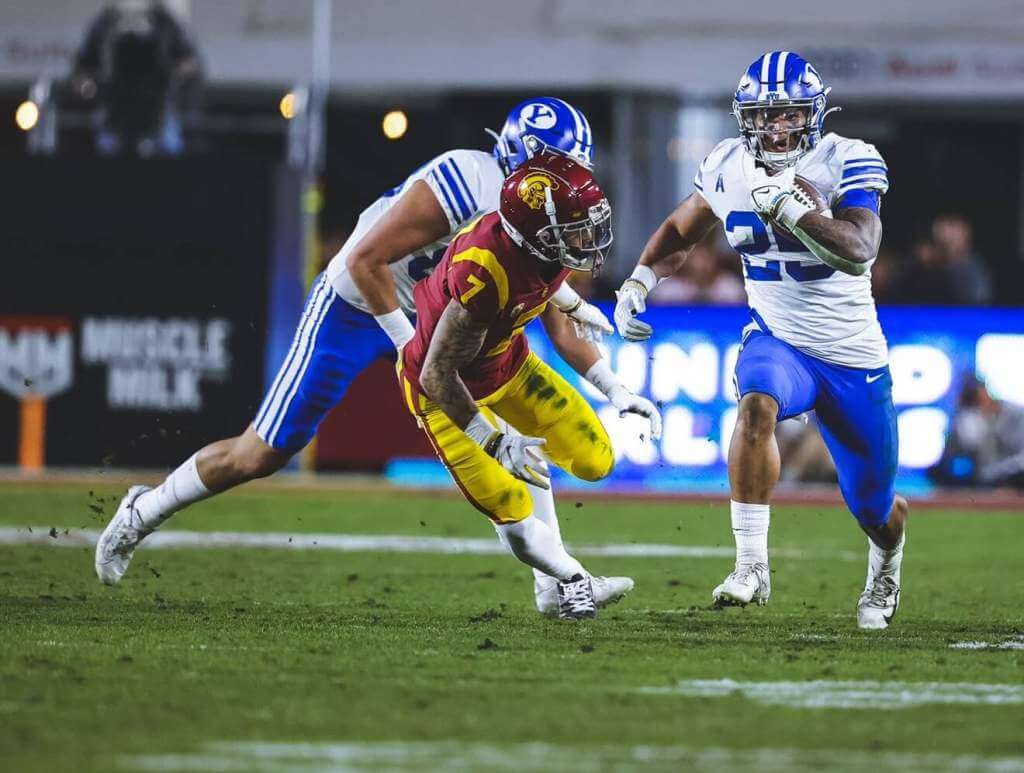 The "Royal Oreo" looks sweet versus the cardinal and gold.
__________
Dishonorable Mention to
Florida International/Southern Miss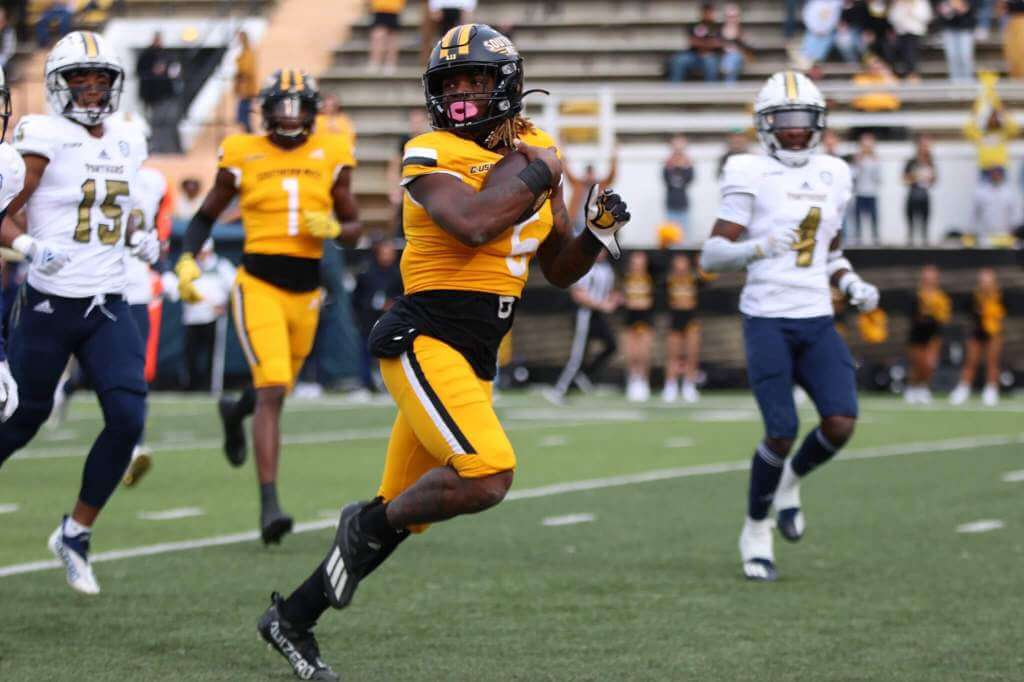 I was so excited about this combo… until I saw (or tried to see) those unreadable white numbers.
__________
&1. UMass/New Mexico State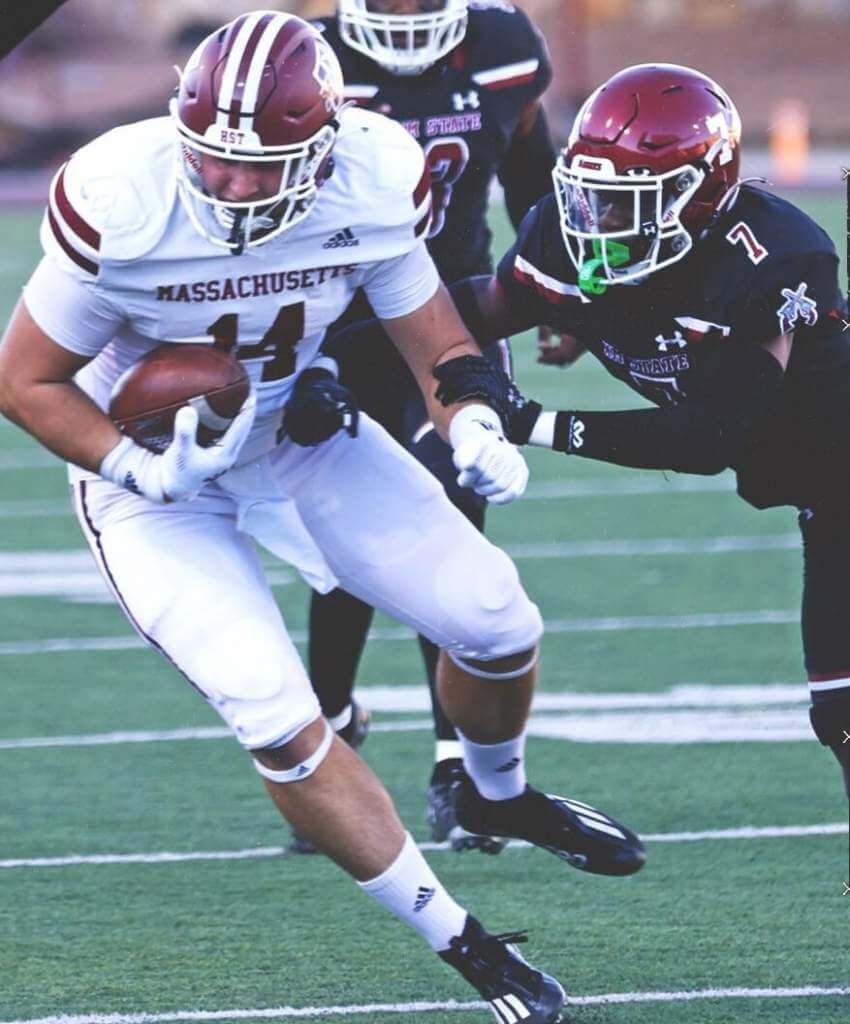 Small *and* unreadable numbers make a (mostly) black & white matchup even worse.
Enjoy the postseason!
• • • • •
Thanks, Jim! OK readers? What say you? Agree or disagree with Jimmer's selections? Let him know in the comments below.


NCAA Uni Tracking
Uni Watch will again track the uniform combinations worn by the "Power 5" conferences. All of the 2020 trackers are back!
We've got Rex Henry (tracking the ACC), Dennis Bolt (tracking the PAC-12), Kyle Acker (tracking the B1G), and Ethan Dimitroff (tracking the Big XII AND the SEC). Rex, Dennis, and Kyle and are all returning from 2015, and Ethan is back after joining the NCAA Uni Tracking a couple seasons ago. Ethan will continue to track the SEC, and has swapped the B1G for Big XII (with Kyle).
Here are the Uni Trackers for the Power 5 Conferences (along with each tracker's info):
+ + + + + + + + + +
Rex is up first today (ACC):
• • •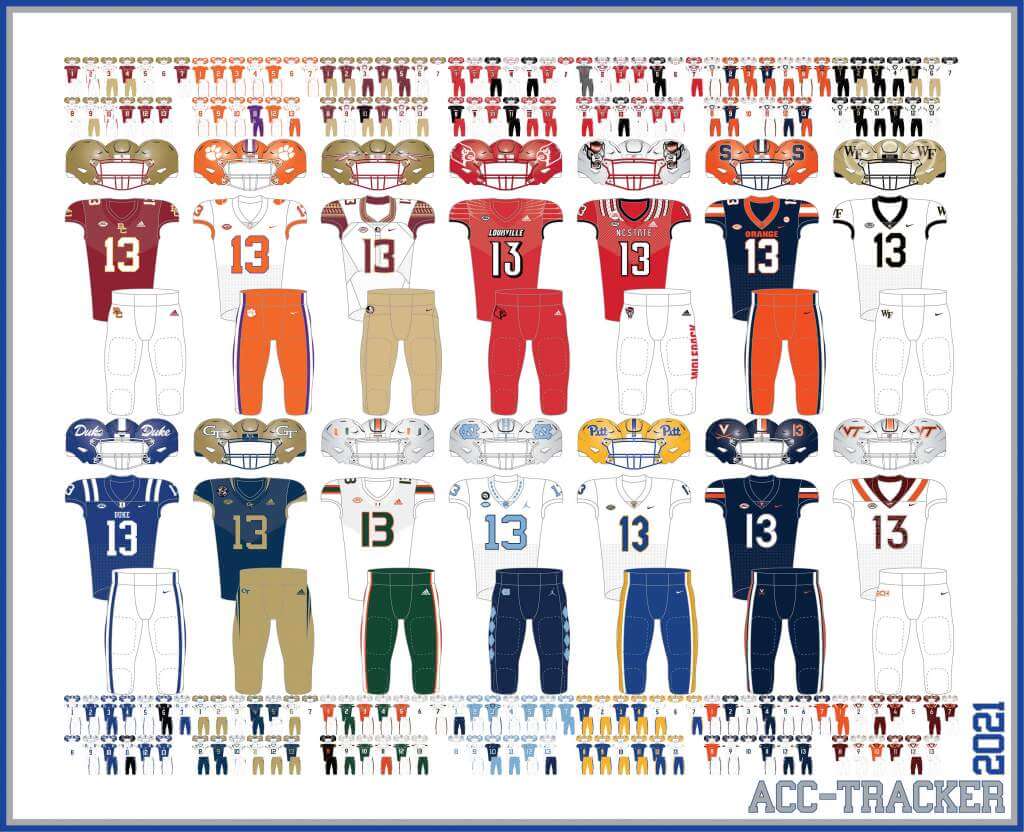 ACC

More Here.
Follow Rex on Twitter here.
• • •
And now, here's Dennis with the PAC-12: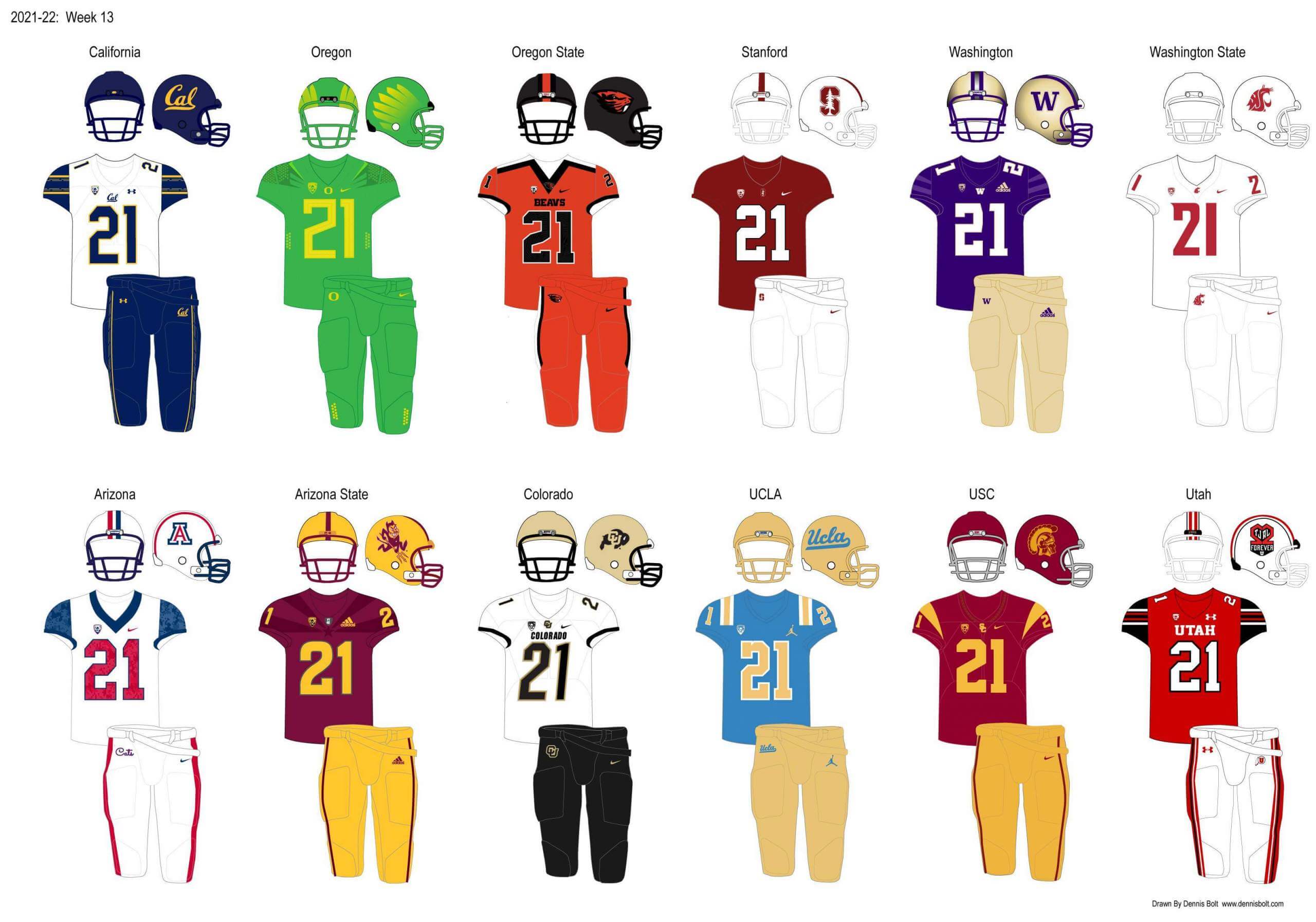 PAC-12

More here.
Follow Dennis on Twitter here.
• • •
And here is Ethan, with the SEC: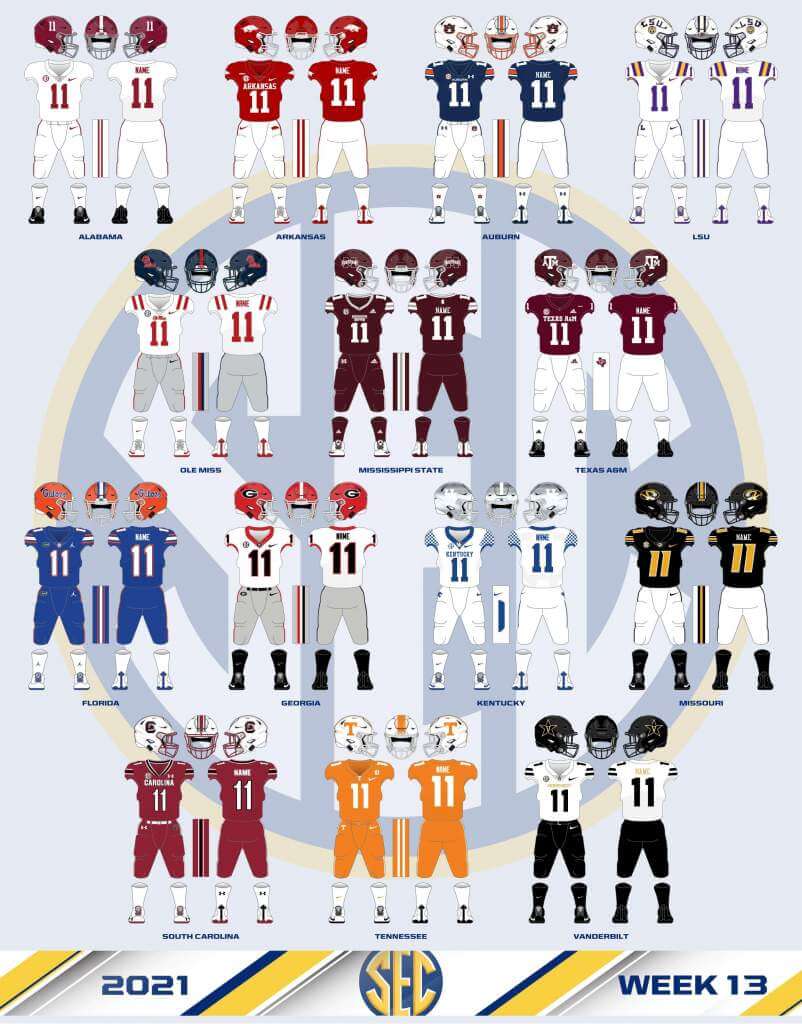 SEC

And be sure to check out Ethan's WVU Mountaineer Tracker.
Follow Ethan on Twitter here.
• • •
And here is Kyle with the B1G: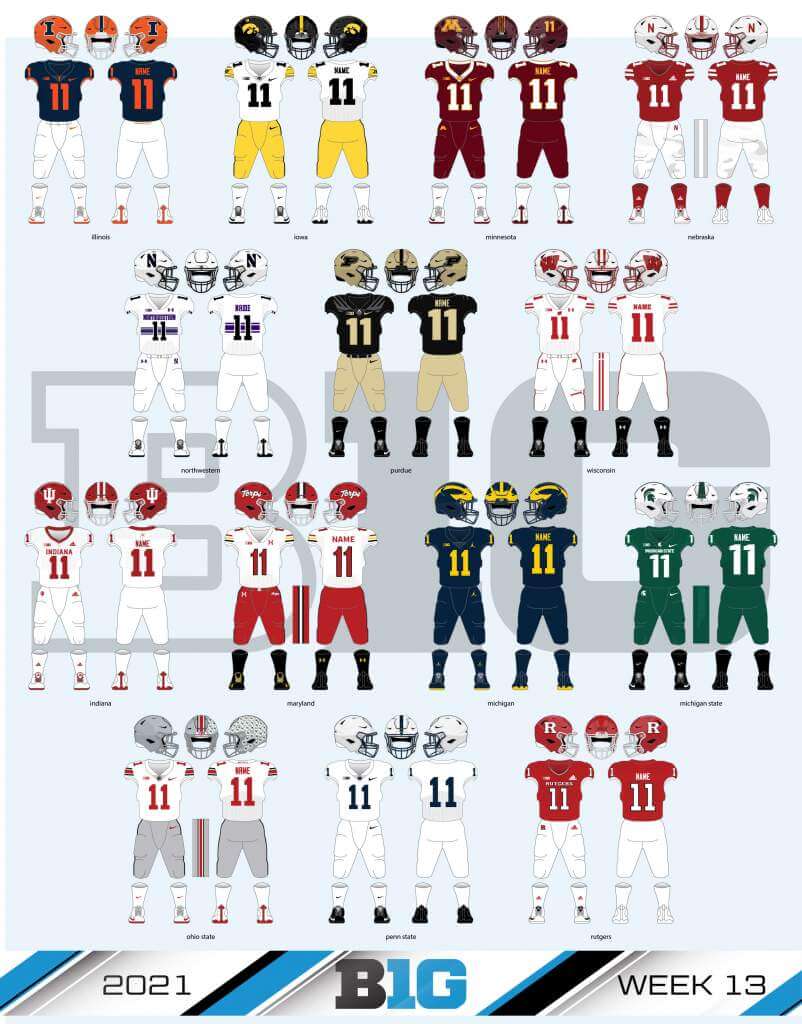 B1G

Follow Kyle on Twitter here.
• • •
And here's Ethan with the Big XII: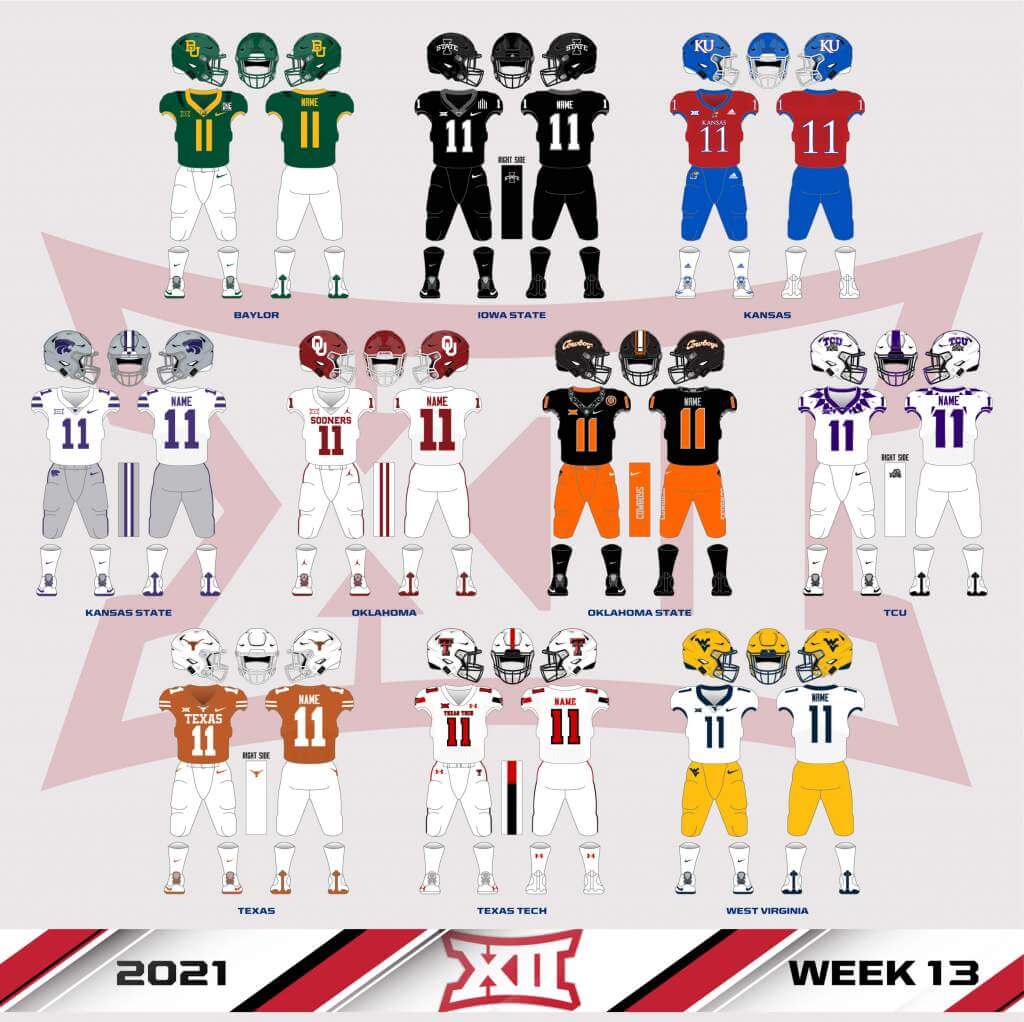 Big XII




Welcome to the 2021 Oregon Ducks Uni Tracker. This little project was originally begun way back in 2008-09 by Michael Princip, who retired after several seasons, whereupon the project was continued by Tim E. O'Brien. He, too, retired from the tracking, but the project has been ably kept up by the man who also tracks the Pac12, Dennis Bolt.
Here's this week's Uniform Combo for the Ducks (you can click to enlarge):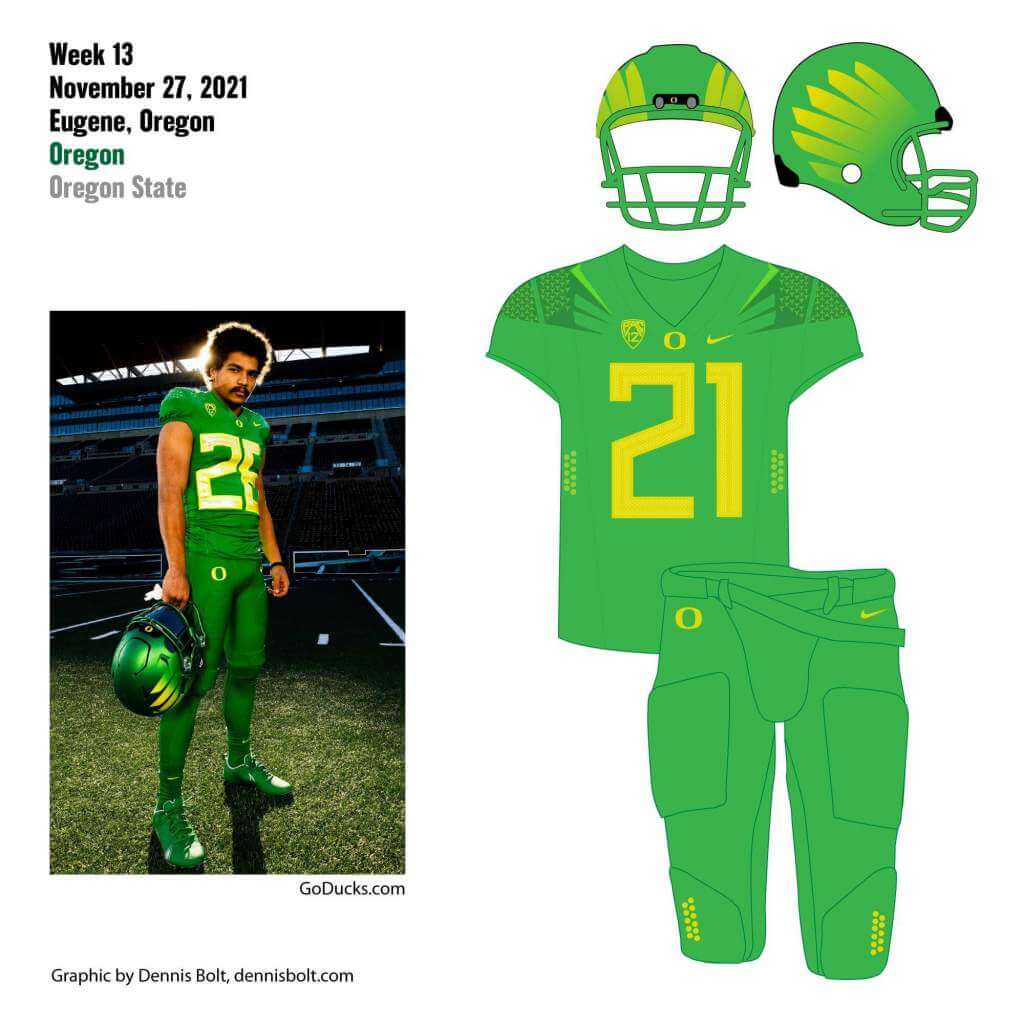 You can read about this uniform, and MUCH MORE, by checking out the Duck Tracker here and the color combo spreadsheet here!
Thanks Dennis!


Uni Watch News Ticker
By Phil

Baseball News: Cleveland's baseball team can't seem to catch a break. First the sign falls off the Clubhouse store, and now Progressive Field's new Guardians sign is off-center (from David Raglin). … Lots and lots of triple digit numbers for the Yakult Swallows (from Steve Sher).

NFL/Football News: "I found a beetle in a museum who is a Seahawks fan," writes Jay Shapiro. "Spotted this at the 'exquisite creatures' exhibit in Raleigh NC. This beetle sure loves the Seahawks." … Jonathan Earl writes, "Apologies if I've missed this already featured, but NFL Auction (a great place to find interesting game worn items) has a Baker Mayfield jersey with sewn in hand warmers." … ICYMI, the Colts will be wearing their 1956 throwbacks today against the Bucs. … For the first time this season, the Cincinnati Bengals will wear orange jerseys over black pants (against Pittsburgh). … The Browns will again be wearing their 75th Anniversary uniforms, this time against the Ravens. … ICYMI, on Thanksgiving, the Bears' David Montgomery had his jersey stretched about eight feet by a tackler. … Maybe much moreso than other teams, Jets Twitter is having quite and effect on the New York Jets uniform choices, perhaps even forcing a redesign in a couple years. … Check out this high school color vs. color game, plus interesting number font for the yard lines (from Paul).

Hockey News: Brandon Weir notes that Bruins LW Brad Marchand often cuts slits or notches in his glove cuffs, apparently to a get a slightly greater range of motion. … Thursday was the time for the Sudbury Wolves wore their CHL Leave Your Mark jersey design contest winner (from Wade Heidt). … The following is also from Wade The CHL Leave Your Mark jersey contest winner was worn by the Windsor Spitfires on Friday. … Another from Wade: Here is a look at the new mask from Kraken G Chris Driedger, paying homage to the old Seattle Metropolitans. … Also on Friday, the Minnesota Wild wore warmup jerseys celebrating Native American Heritage Day. … The AHL's San Diego Gulls debuted a new third sweater on Friday. … Welp: this was bound to happen when two teams share identical color schemes, right (from Jerry Wolper). … The QMJHL Halifax Mooseheads dressed like the old AHL Halifax Citadels on 90s night (from Wade Heidt).

NBA/College Hoops/Basketball News: The Canadian Elite Basketball League has added an expansion team in St. John's. The CEBL's 10th club is the Newfoundland Growlers. Wade Heidt adds, "It is the same owners of the ECHL's Newfoundland Growlers. So yes, there will be the hockey team and basketball team with the same name." … The Memphis Grizzlies announced four years ago they'd retire Tony Allen's No. 9 this season (set for January), but Allen got arrested for allegedly defrauding the NBA's health plan for retired players, so he wants them to retire his jersey next season. … London has a basketball team. Check out the socks on Shanice Norton (via Paul). … Going back to a classic Bucky Badger logo, Wisconsin showed off a sneak peek of the new uniform on Twitter earlier this week. Based on the clues, it looks like we may see the full uniform on Monday. … Tweeter Carlos Montalvan points out Washington and Winthrop were "competing for least visible NOB color combos" last night.

Soccer News: Great spot by Art of Scorebug who notes the shape and placement of the shirt advertisement "make me think Newcastle are the 4s." He adds, "Come on you 4s!" … J. League champion Kawasaki Frontale have revealed what kits they will wear for the 2022 season from PUMA. Design is based on bath tiles, and the 26th anniversary patch is for when the club became professional in 1996 (from Sy Hart). … The ESPN Streak for the Cash with the Philadelphia Union logo incorrectly in place of FC Union Berlin (from Eric Kohli).

Grab Bag: Sick of corporate names on your sports stadiums and arenas? If so have you bought a naming wrongs shirt yet?, the folks at Deadspin agree with you and they have some suggestions for non-corporate names and nicknames (from K.C. Kless and Ron Ruelle). … NLL Team The Toronto Rock unveiled their new third jerseys. Wade Heidt adds, "The black and yellow jersey pays homage to the CFL's Hamilton Tiger-Cats and OHL's Hamilton Bulldogs." … Also from Wade, Panther City Lacrosse Club is the new NLL expansion team in Fort Worth, TX. Here is a look at the mask for Panther City G Kevin Orleman for upcoming season. … In women's rugby union, the Barbarians took on South Africa, who decided to wear their clash white jerseys instead of their primary green against the Baa-Baas' traditional black and white hoops (from Sy Hart).


And Finally… that's it for this weekend. Thanks, as always, to the entire SMUW crew: TJ, Jimmer, Rex, Dennis, Kyle, and Ethan. Great season fellas!
Next weekend, I'm going to be curling in a Bonspiel up in Connecticut — my first trip out of state (believe it or not) since COVID hit, so I'll be taking a one-weekend hiatus from UW for that. On that note,I'll catch you back here in two weeks. Again, I hope everyone had a great Thanksgiving, and I want to wish a Happy Hanukkah to all those celebrating.
Peace,
PH