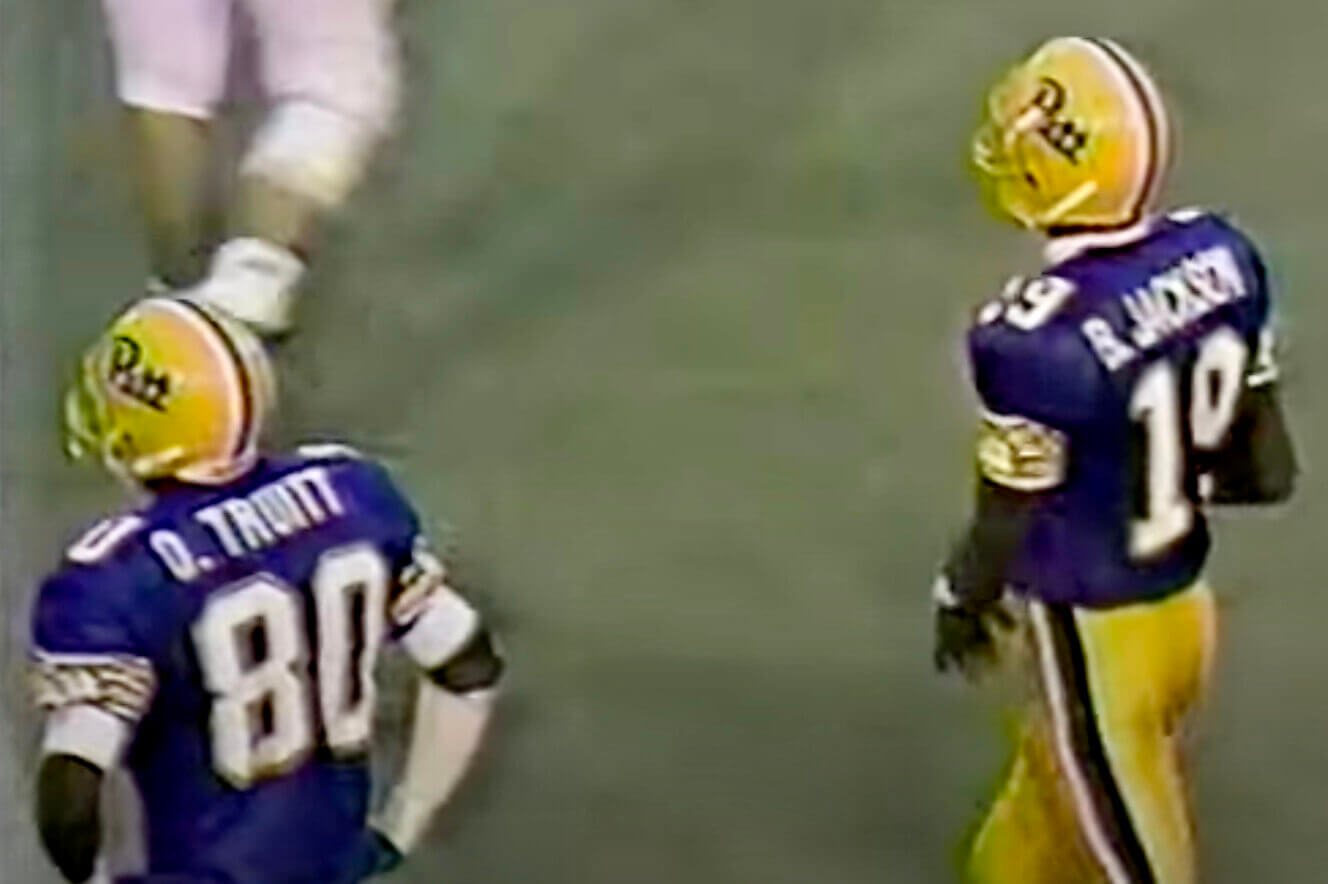 The screen shot above is from the 1989 game between Pitt and Penn State. It shows Pitt wide receivers Olanda Truitt and Baron Jackson. It's funny that their NOBs both included first initials, right? And it was a nice additional coincidence that the camera happened to capture the two wideouts and their two FIOBs, side by side.
But wait — quarterback Alex Van Pelt and offensive lineman Scott Miller also wore first initials that season, and the camera managed to capture them together as well: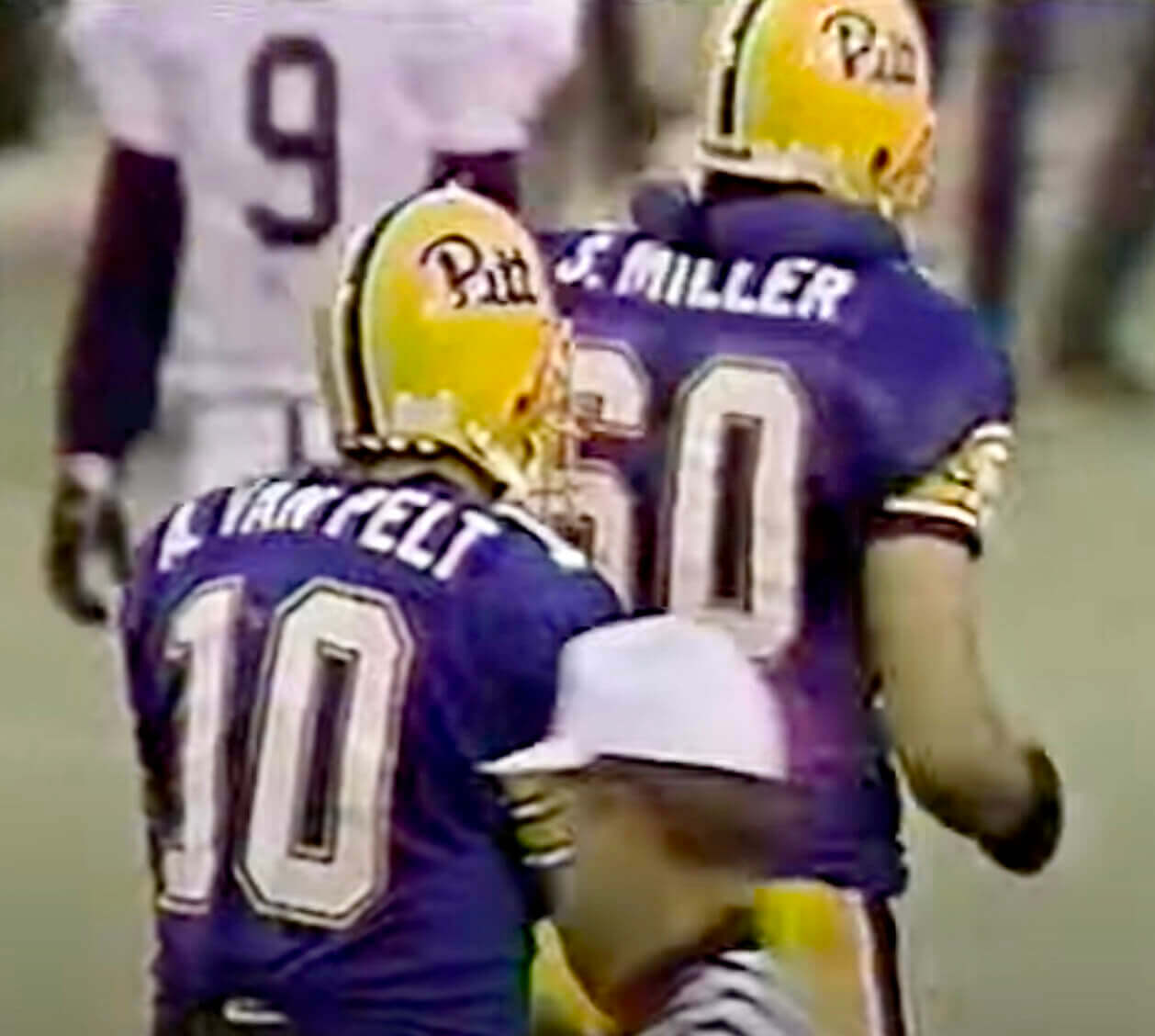 If this seems like something too unlikely to be mere happenstance, that's because the entire Pitt team wore first initials in that game (and, I'm assuming, for the whole 1989 season). You can see more examples here: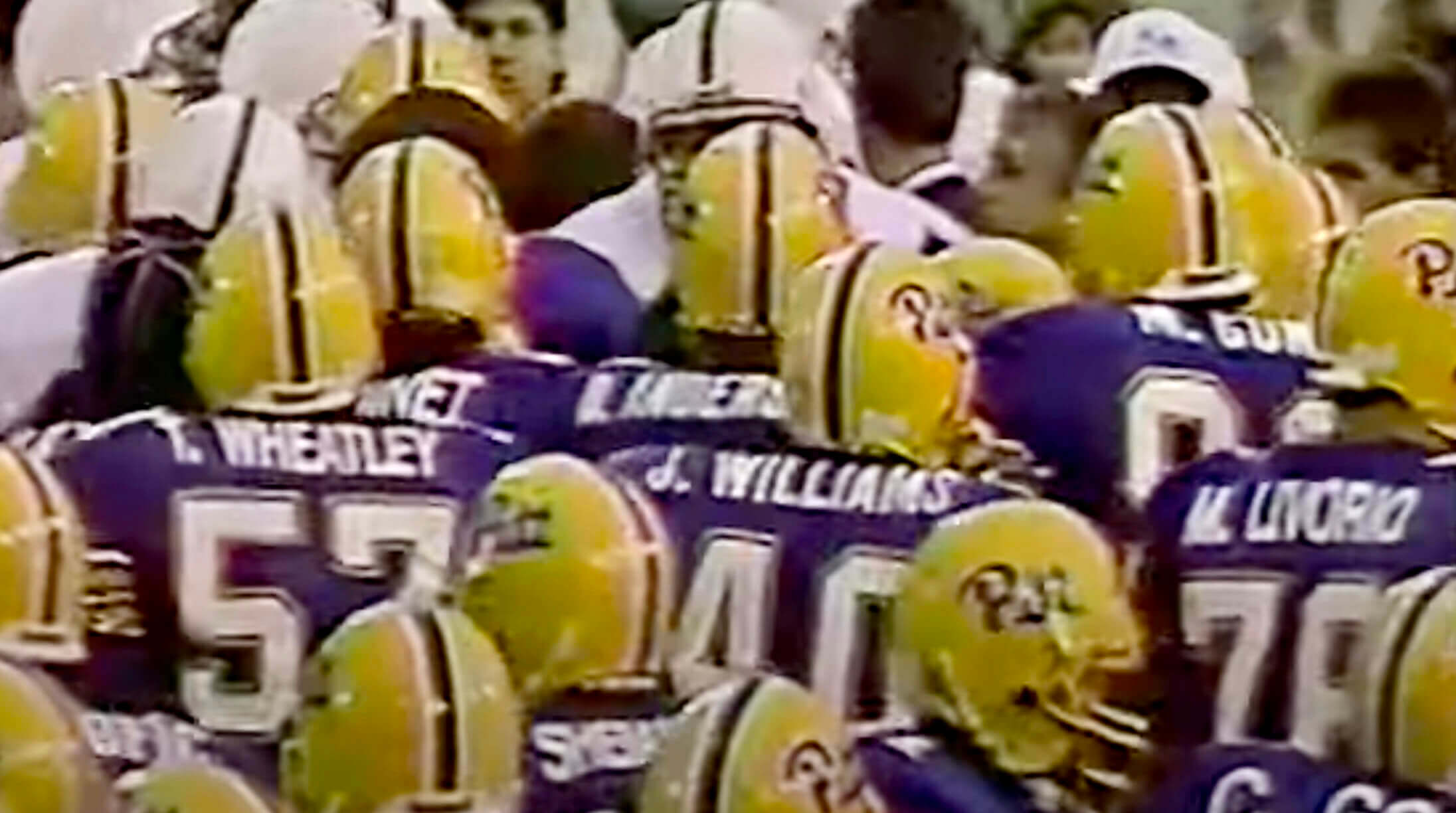 All of those screen shots come from this video clip, which shows the last few minutes of the game:
I had no idea that Pitt went all-FIOB that season. Is this common knowledge? Maybe something I once knew but then forgot about..?
Off the top of my head, I can think of only one other team that went full-FIOB. That would be the 1977-78 Cincinnati Stingers of the old WHA, as seen here:
Have there been other all-FIOB teams that I'm overlooking?
As a footnote: It's also worth noting that there's been at least one all-FNOB team — the 1960 and '61 Oakland Raiders (more details here):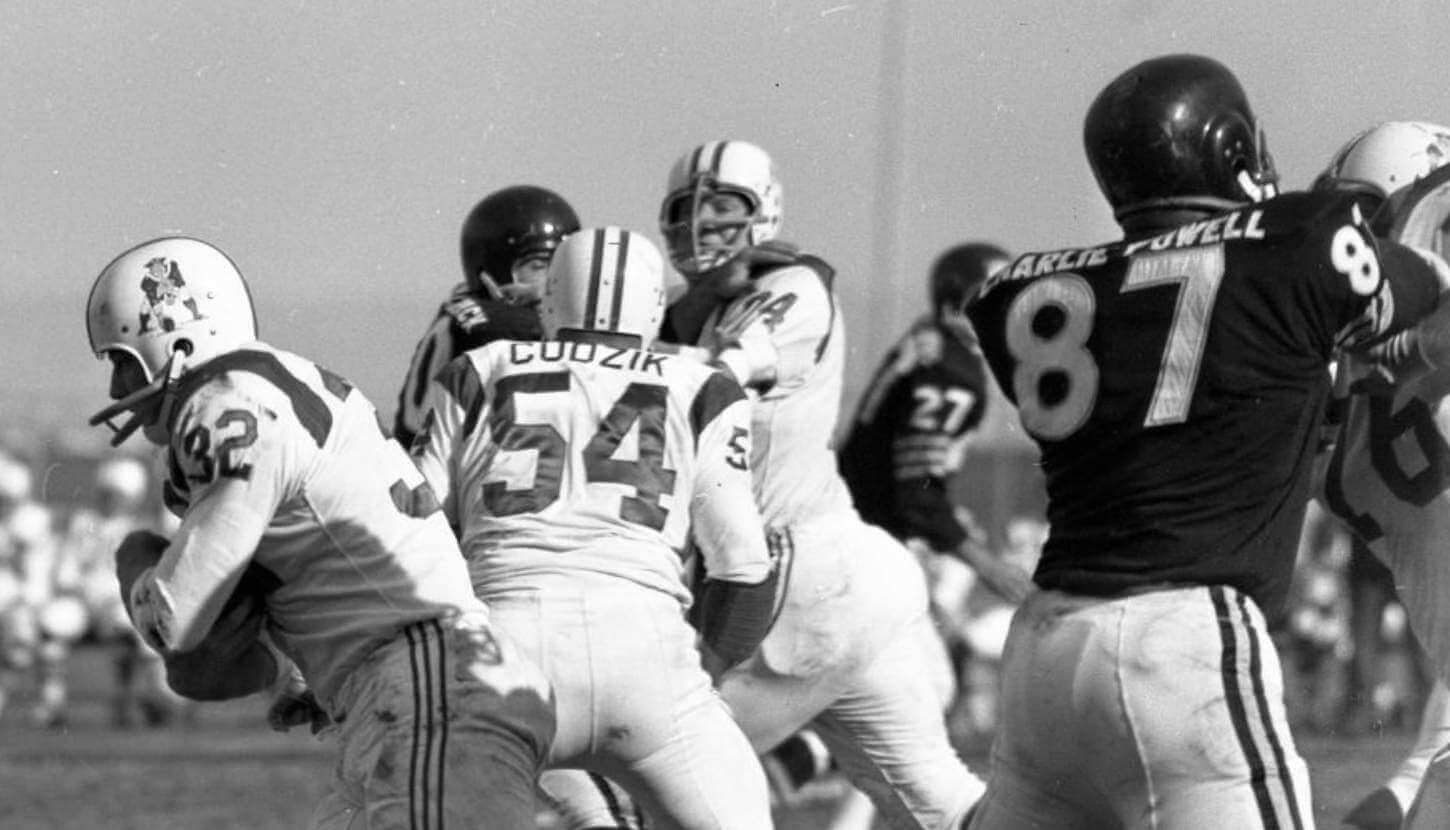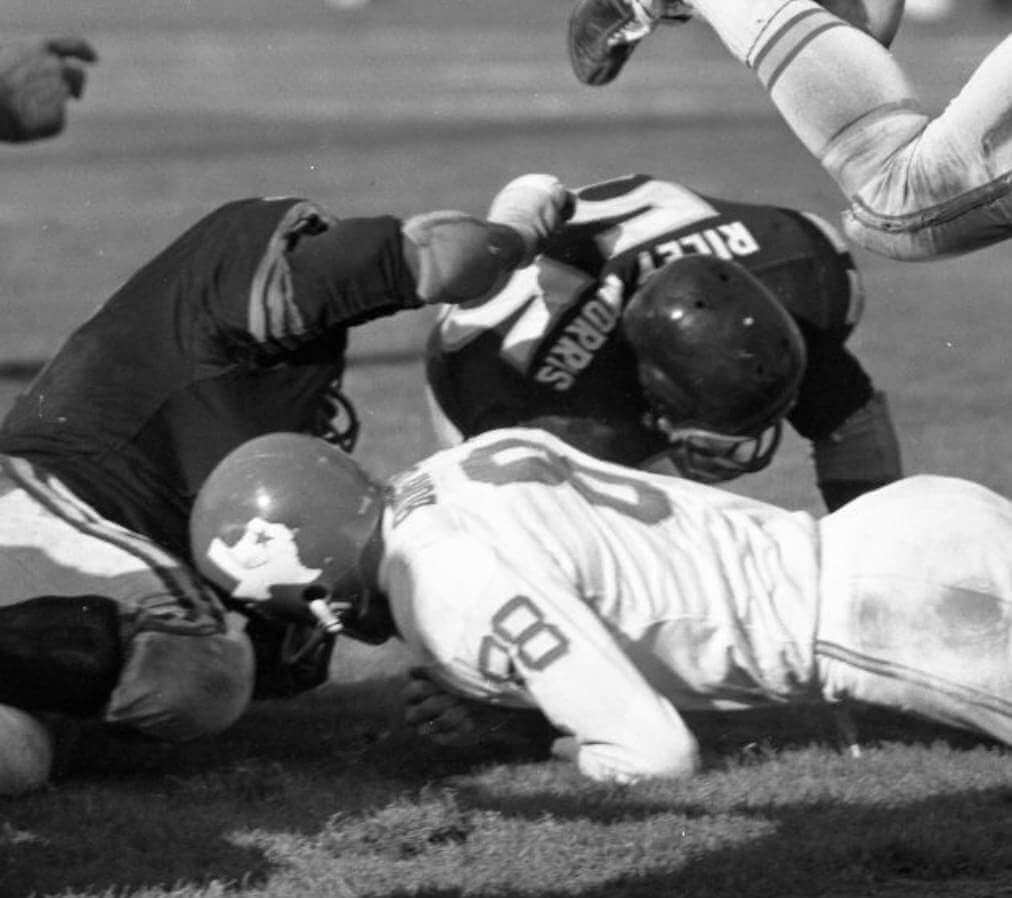 But for some reason all-FIOB seems even more eccentric than all-FNOB. Crazy stuff!
Update: Our own Jamie Rathjen reminds me that all-FIOB teams are common in South Korean soccer: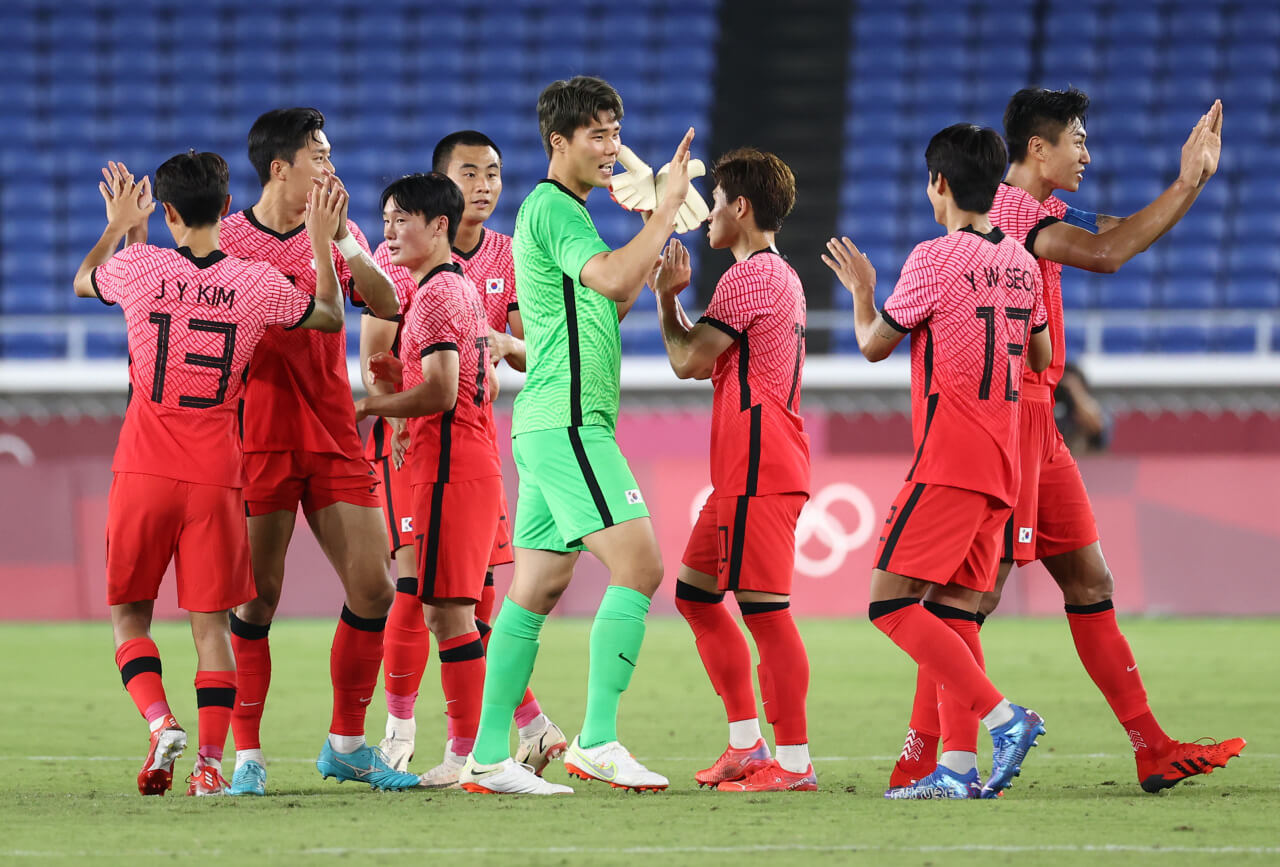 (Big thanks to Matthew Troy for bringing the Pitt situation to my attention.)
• • • • •
• • • • •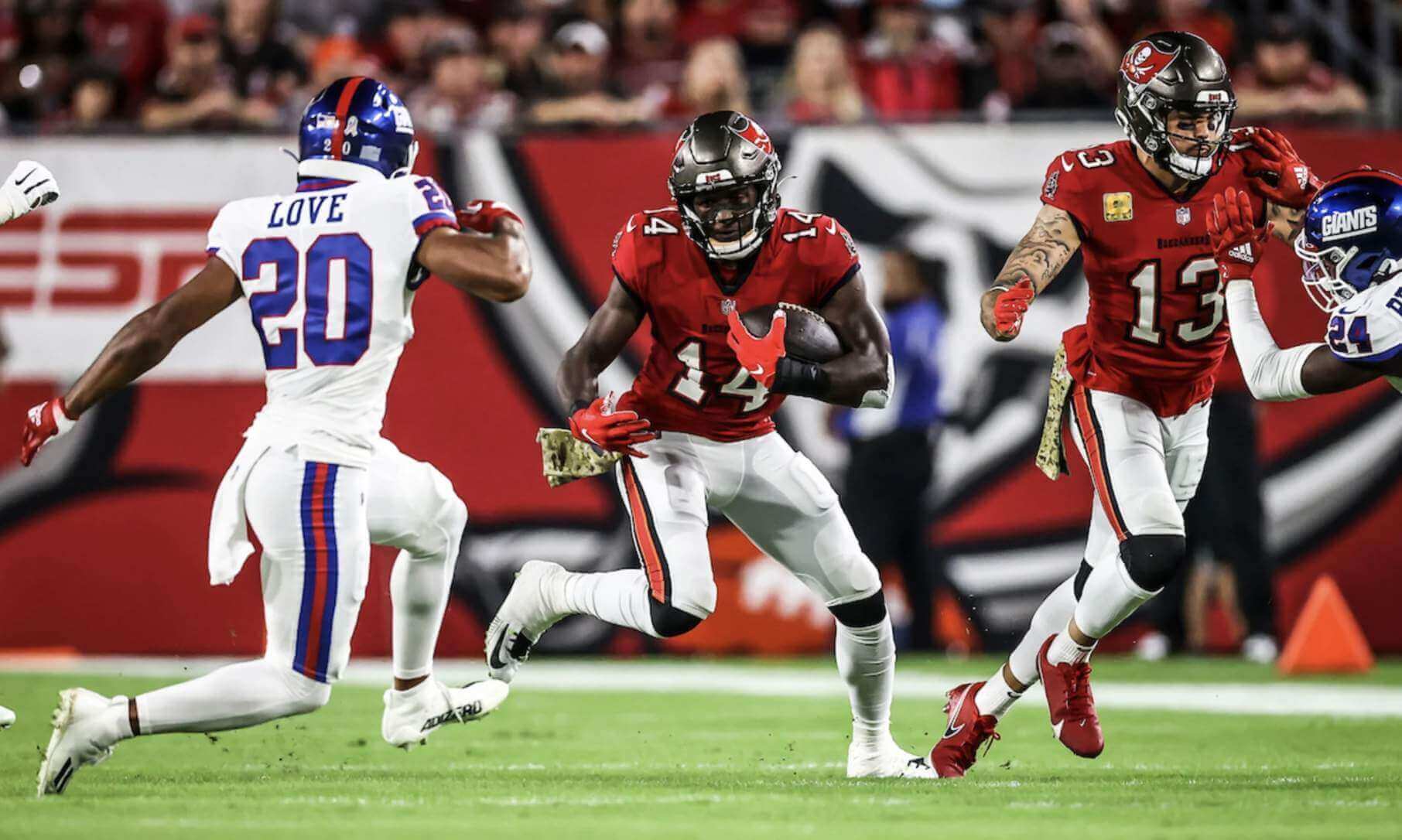 Buckaroo switcheroo: When the Bucs posted their 2021 uni schedule back in September, they called for last night's game against the Giants to be mono-pewter. But as you can see above, they changed their minds somewhere along the way (thankfully) and decided to wear red over white instead. (The home team is allowed to change their original uni choice as long as they don't change from color to white or vice-versa.)
According to the Gridiron Uniform Database, the last time Tampa wore red jerseys and white pants prior to last night (preseason notwithstanding) was all the way back in 2011, for a Week 10 game against the Texans. Personally, I like that look and hope they wear it more often.
(My thanks to Dom Ingram for pointing out the discrepancy from the Bucs' original uni schedule.)
• • • • •
• • • • •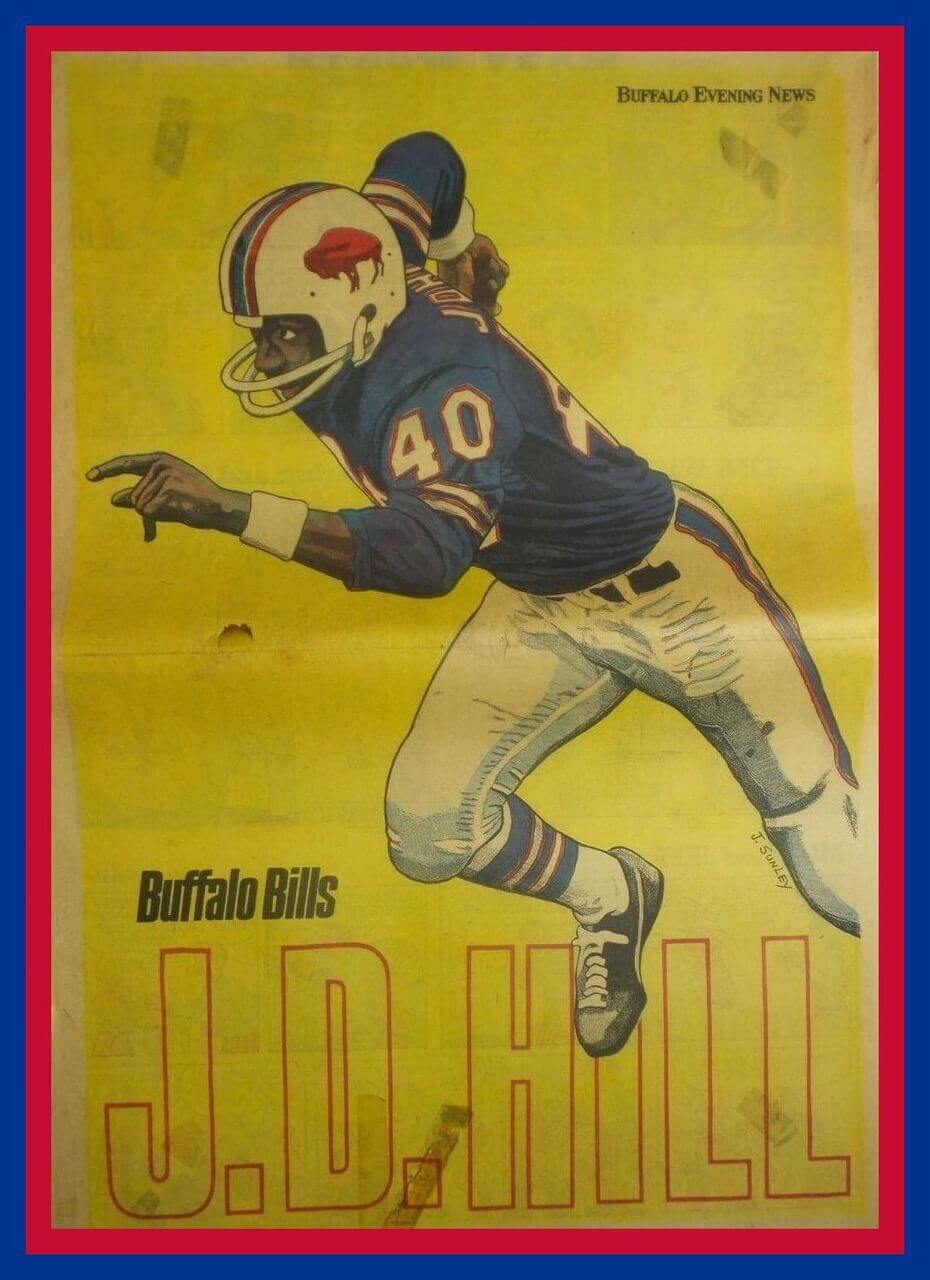 Click to enlarge
Collector's Corner
By Brinke Guthrie
Follow @brinkeguthrie    
Leading off this week with this 1972 Buffalo Evening News fold-out poster of 
Bills wide receiver J.D. Hill. If you check the seller's other auctions, there are posters for the Braves and Sabres too.
Now for the rest of this week's picks: 
• Let's go way back for this one; the Spalding Official Athletic Library Baseball Guide from 1914. Such a deal — just 10 cents!
• This Knothole League of America membership card (#7595) was at one time issued to one Edmund Heyne Jr. It was duly signed by Knothole President Lou Gehrig, entitling Eddie to "all privileges." 
• Here's one of those late-1960s/early-1970s Westclox Team Mate pocket watches. This one is for the Montreal Expos. 
• Since the 1989 MLB All-Star Game was held in Anaheim, the logo designer decided to put a halo on the "A" as you see on this decal.
• Union 76 sponsored this booklet featuring Dodgers outfielder Willie Davis, The 1961 Dodger Family. (He's a "new Dodger with speed to burn!")
• Look at that great old-timey cover on this 48-page booklet from 1949, Playing the [New York baseball] Giants Game.
• This Yahtzee Travel Edition game comes with a New York Yankees baseball that contains the game pieces.
• Yikes — it's my bet that the designer of this scary vintage Joe Namath statue indulged in a bit of artistic license when making this one. Say it ain't so, Joe.
• It seems that back in 1986, the Massachusetts Interscholastic Athletic Association had no problem using the trademarked name "Super Bowl" — or Bob Griese's — likeness, on this game program. 
• Speaking of quarterbacks wearing No. 12, that's clearly 49ers QB John Brodie on the cover of this 1977 NFL Properties publication, How to Play Quarterback.
• And let's go out with this beauty: a 1950s Green Bay Packers jacket in great condition.
That's it for this week. Happy almost-Thanksgiving!
• • • • •
• • • • •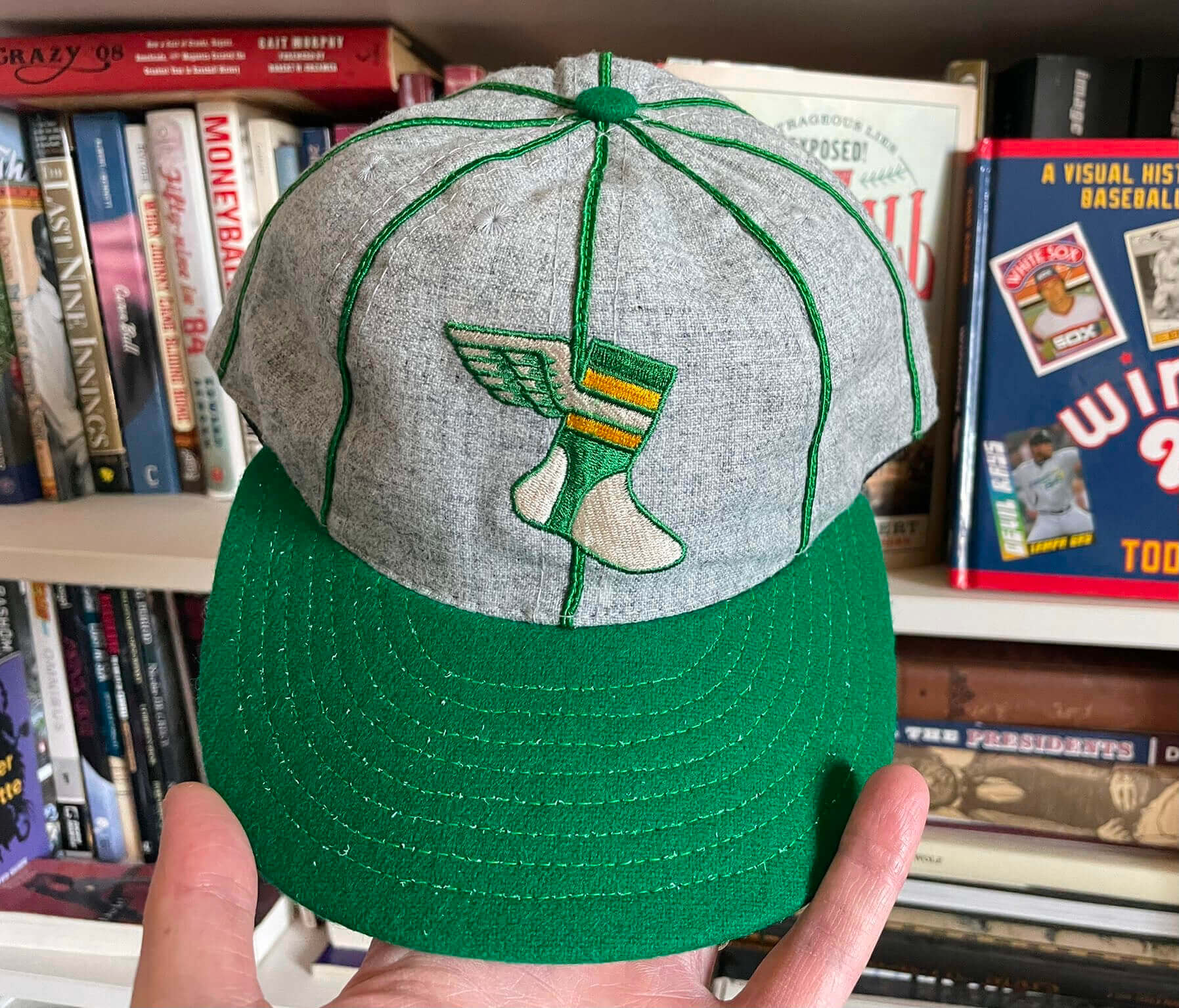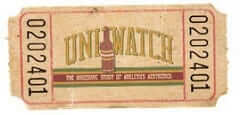 ITEM! Cap raffle: Longtime reader Chris Hickey's birthday is this Sunday, and he's celebrating by giving a gift! Chris has generously supplied funds for a Uni Watch Alternate Cap to be raffled off, so that's what we're going to do today.
This will be a one-day raffle. No entry restrictions, but there are two caveats to note:
• Non-USA addresses will require the raffle winner to pay for overseas shipping. Figure an extra $20 or so, depending on which country it's going to.
• The only sizes we have remaining are 7-1/8, 7-5/8, 7-3/4, and 7-7/8.
To enter, send an email with your shipping address and preferred size, to the raffle in-box by 9pm Eastern tonight. One entry per person. I'll announce the winner tomorrow. Big thanks to Chris for sponsoring this one (and happy almost-birthday!).
• • • • •
• • • • •
The Ticker
By Alex Hider

Baseball News: Whoops — somehow, a Brewers/Pittsburgh Steelers mashup knit cap made its way to retail. Perfect for that Wisconsin-based Steelers fan on your holiday shopping list! (From @sdextrasmedia).

Pro Football News: In last night's Giants/Bucs game, a Giants player was having issues with his throwback helmet decal (from Joel Hooper). …   Reminder from Phil: The Colts will be wearing their new throwback uniforms on Sunday. … Fox is re-launching the USFL in 2022, and yesterday it was revealed that the league would be reviving eight classic team identities from the league's heyday in the '80s (from Kenn Tomasch). … The Vikings use their number font to mark parking stalls at their stadium, but they only use the font for the 10s digits, not the 1s digits (From Kyle Hammer). … Back in 1983, a Buccaneers fan apparently took out a newspaper ad to encourage coach John McKay to run more trick plays (from Trevor Williams). … The Jets have a podcast featuring former QB Mark Sanchez and C Nick Mangold. The video version of the podcast features graphics showing the two players in modern Jets unis that neither player ever wore on the field (from Chris Wilde). … The Hamilton Tiger-Cats are asking fans to wear black to their playoff game on Sunday. Could they be going mono-black? (From Wade Heidt.) … Cross-listed from the Baseball section: Somehow, a Milwaukee Brewers/Steelers mashup knit cap made its way to retail (from @sdextrasmedia).

College/Youth Football News: Columbia and Cornell played a mono-blue and mono-red color-on-color matchup on Saturday (from Jace McKeighan). … USF will wear all-white uniforms with "slime green" accents on Friday against UCF. Meanwhile, UCF will be going mono-black, including helmets with a Knight decal (from Phil and Teddy Gorman). … San Diego State has sold the naming rights to its new stadium, which is being built on the site of old Jack Murphy Stadium (from Timmy Donahue). … BYU will wear royal helmets and pants along with white jerseys on Saturday at USC. The Cougars will finish the 2021 season without repeating a uniform combo (from Josh Hjelmstad). … The film The Big Short features a youth football flashback scene that takes place in the '80s. However, the scene was clearly filmed on a FieldTurf surface, which didn't yet exist in the '80s (from @_BenBecker).

Hockey News: The Kitchener Rangers of the OHL wore jerseys designed by a young fan on Sunday as part of the CHL's Leave Your Mark program (from Wade Heidt).


Basketball News: Enjoy all the classic NBA logos shown in this 1989 Converse ad (from @kidhell). … The Yes Network mistakenly used a Magic logo instead of a Cavs logo in a recent social media graphic (from Jorge Cruz). … The Celtics used throwback scoreboard graphics yesterday for '80s night (from Ignacio Salazar). … One Coppin State player went NNOB last night (from Andrew Green).

Soccer News: EA Sports may be headed to a divorce with FIFA, as the video game maker says it may not want to pay the governing body for naming rights for its soccer video game moving forward. … Toronto has a new logo for its campaign to host a game during the 2026 World Cup, which will take place throughout North America (from Gabriel Hurl).

Grab Bag: Papa Johns founder "Papa" John Schnatter isn't happy that the company decided to drop the apostrophe from the company name (from Timmy Donahue). …  Colombia's president has issued an apology after cadets at a police academy wore Nazi uniforms during a "cultural exchange" event in honoring Germany.