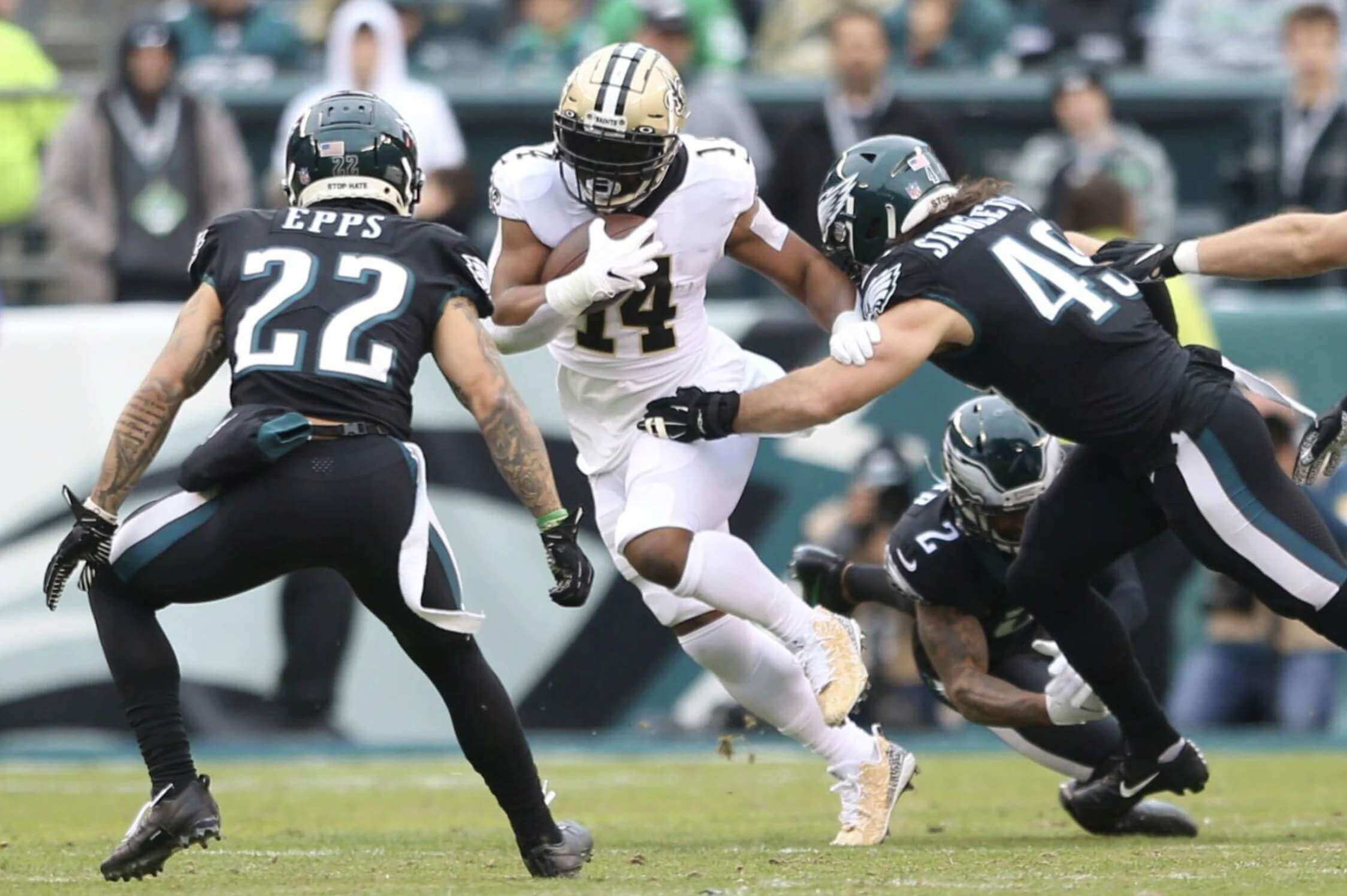 For all photos, click to enlarge
It was a study in contrasts yesterday in Philly, as the Eagles and Saints went mono-black vs. mono-white. Not my favorite look for either club, but at least it was easy to tell the two teams apart.
Here's how it looked in action:
.@TJEdwards8 patrolling the skies!#NOvsPHI | #FlyEaglesFly pic.twitter.com/IkVDcBJLj2

— Philadelphia Eagles (@Eagles) November 21, 2021
Since the Iggles went white-over-black last week, this means they've now worn the black pants for two consecutive games — something I'm pretty sure has never happened before.
In other news from around the league yesterday:
• The Panthers and Washington also went mono-black vs. mono-white. In addition, Panthers quarterback Cam Newton (No. 1) threw a touchdown pass to wideout D.J. Moore (No. 2). I don't know if that's the first 1-to-2 TD pass in NFL history, but it must be a pretty rare occurrence:
This TD is everything!!!

📺: FOX pic.twitter.com/bG4YbZlVqU

— Carolina Panthers (@Panthers) November 21, 2021
• The Chargers, in addition to wearing a camouflage-patterned ribbon decal (which is worn for all "Salute to Service" games), added a "We Salute Our Military" decal, plus players wore the decals of various fallen service members (even though the reason for G.I. Joevember is that Veterans Day takes place this month, not Memorial Day):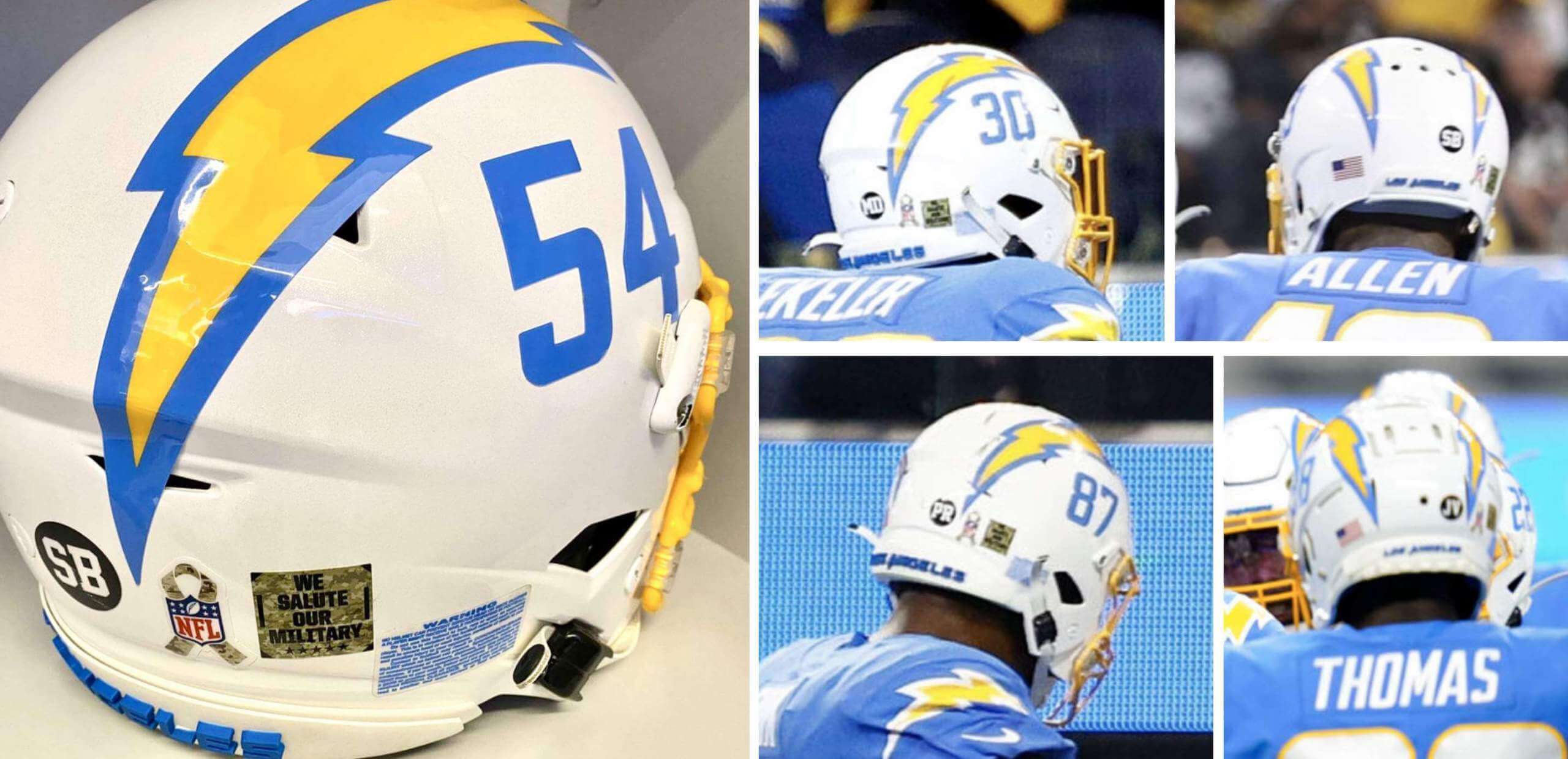 • NFL socks have become such a free-for-all that I rarely if ever call out hosiery inconsistencies anymore. But it does seem notable that Browns running back Nick Chubb wore the team's road socks, instead of the standard home socks: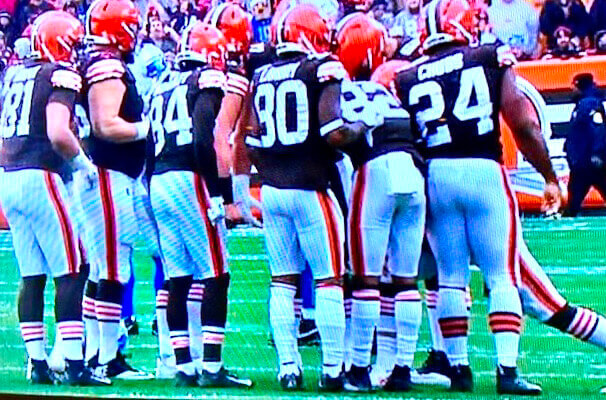 Or at least that's what he did in the first half. Someone must have brought it to his attention, because he later switched to the proper socks.
• Under Armour no longer has an NFL licensing deal, so the UA logo isn't supposed to appear on any on-field gear anymore. But Jags defensive lineman Jihad Ward was wearing UA-branded footwear yesterday: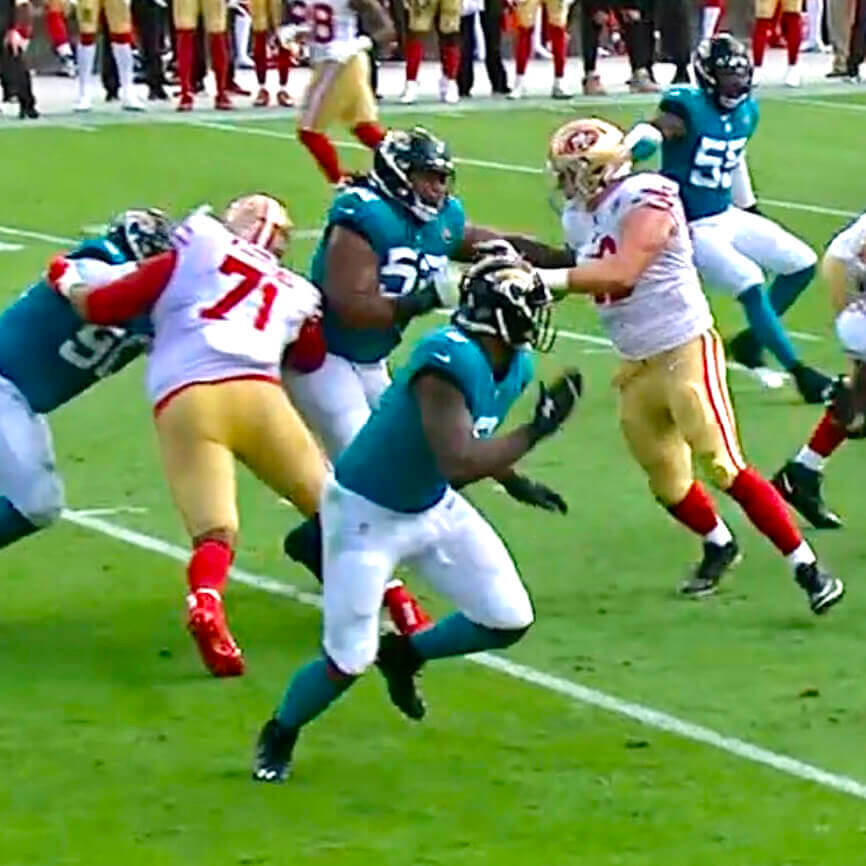 Ward routinely wore UA shoes prior to this season, when the logo was permitted for on-field use. His shoes this season appear to have been unbranded (maybe UA shoes with a cover-up tape job?), so yesterday's game was apparently his first slip-up of the year.
• Speaking of the Jags: Remember how members of the late-2000s Eagles would often have their jock tag showing, and how I dubbed that stylistic quirk a "Philly tag"? At first I thought Jags defensive back Daniel Thomas had a little Philly tag action going on yesterday: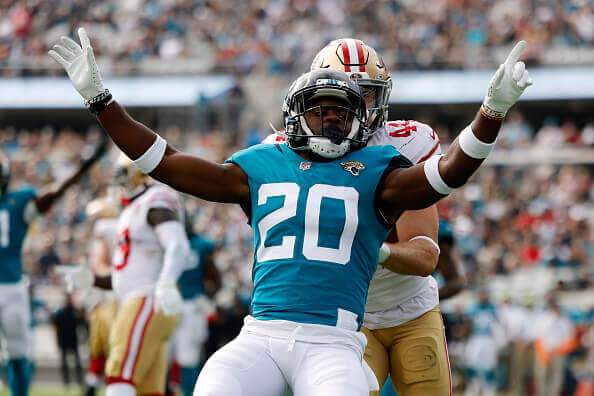 But then I zoomed in and saw that the lower edge of his jersey had flapped upward, and the white patch is actually the underside of the jock tag. Not quite a Philly tag, but still interesting: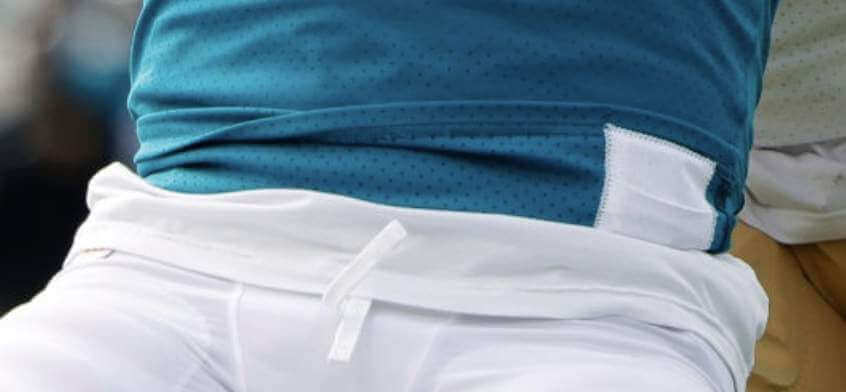 • From that same game: It's a little hard to see, but 49ers quarterback Jimmy Garoppolo suffered a jersey tear around the left armpit area during the first half. They stitched it up during halftime, leaving him with a very visible jersey repair: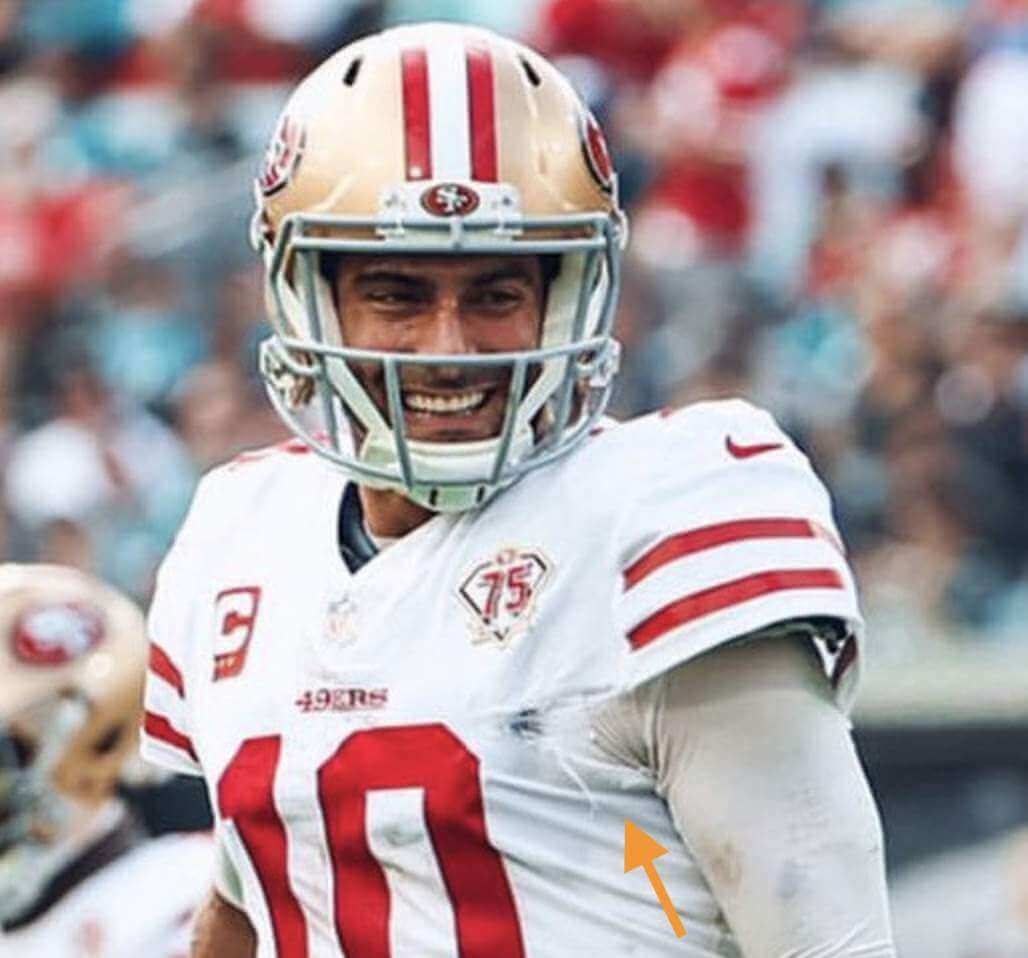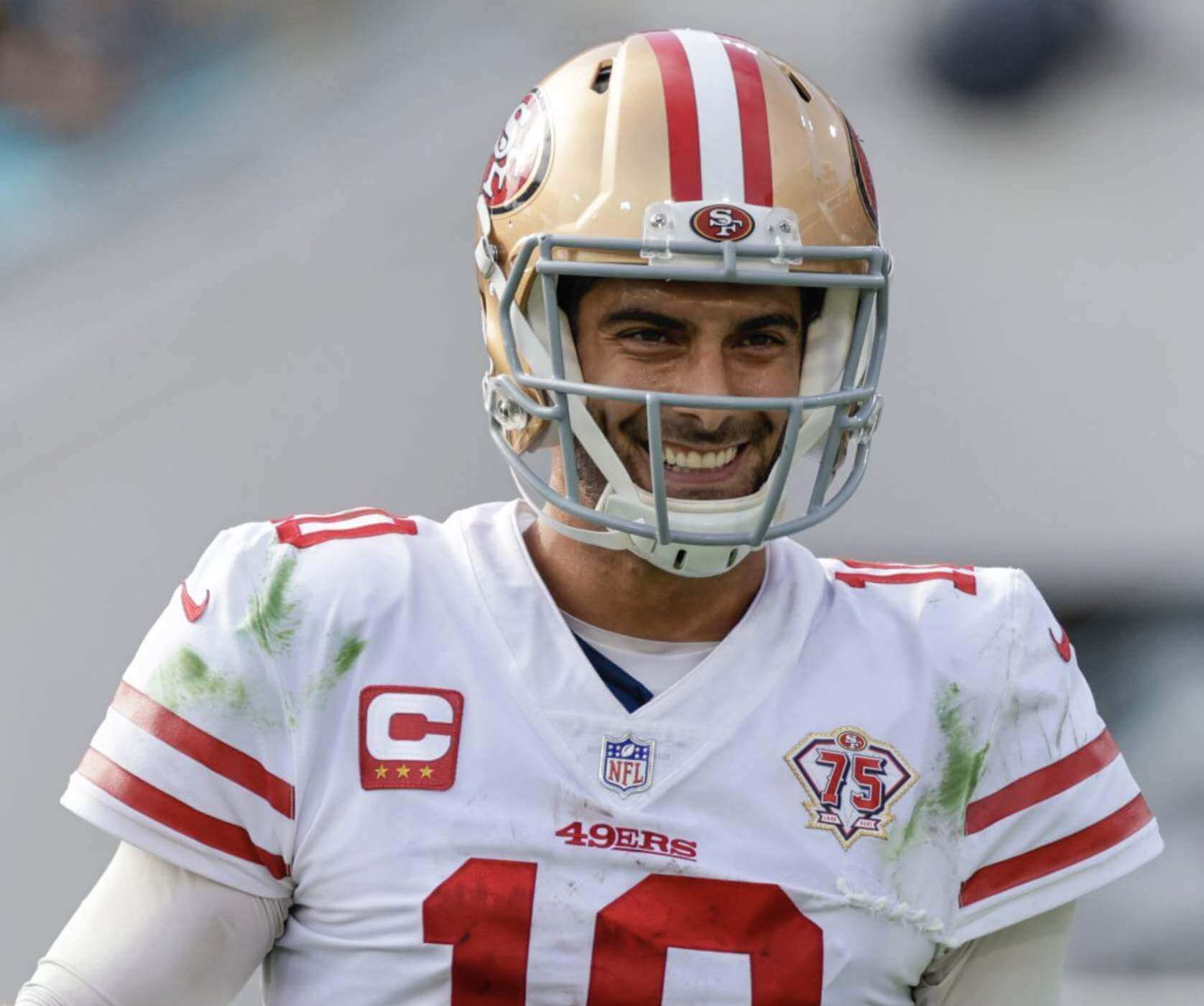 • Remember my post last Tuesday about the faded/deteriorated NFL logo on KC quarterback Patrick Mahomes's pants? His pants logo was crisp and shiny yesterday: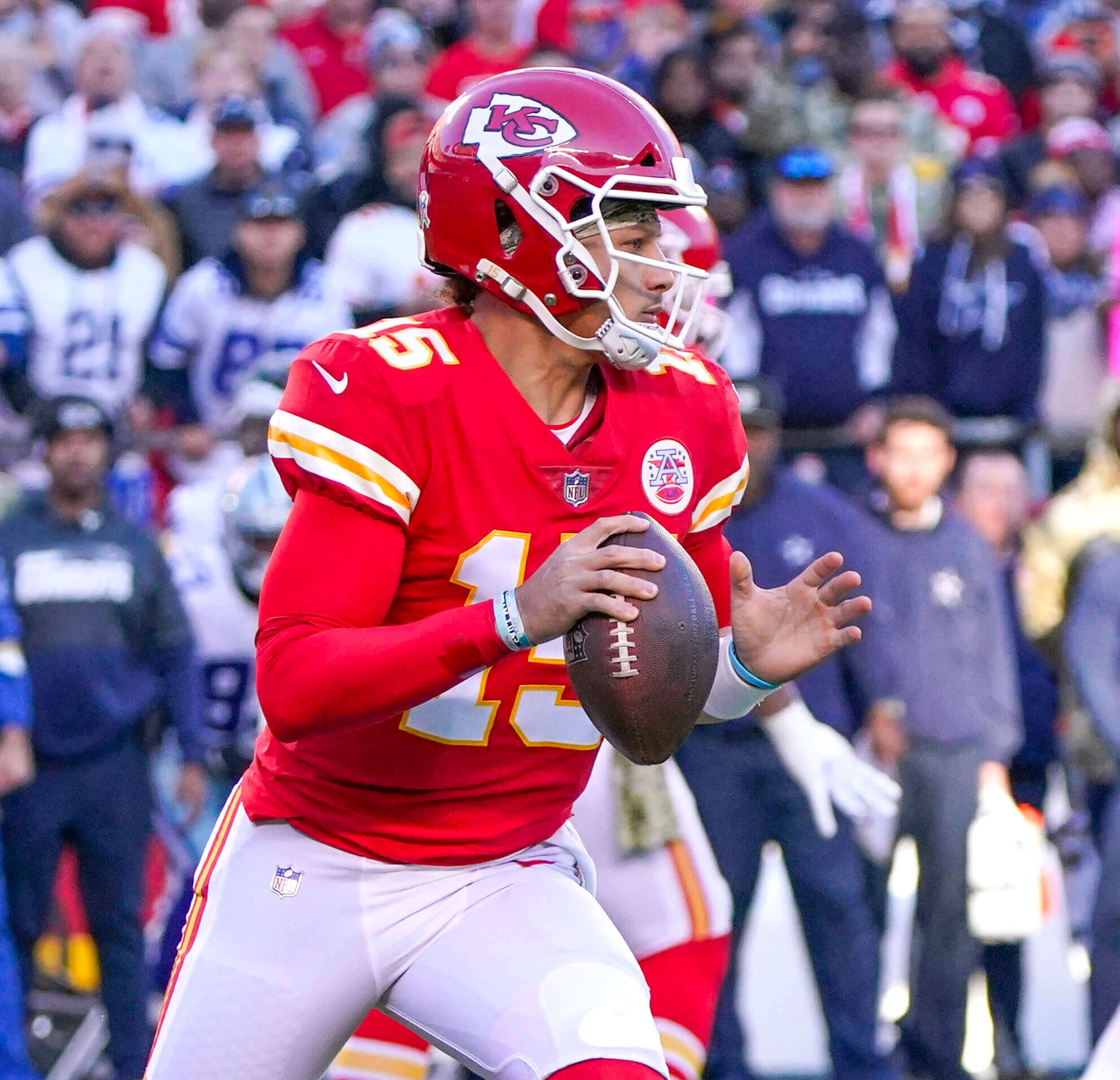 A team source tells me that he was wearing the same pants as before — they just swapped out the NFL logo. He said Mahomes, like most players, prefers to stick with the same pants because he's used to how they fit, how they're broken in, and so on.
• I should have mentioned this last week, but newly signed Jets quarterback Joe Flacco is wearing No. 19. When's the last time an NFL signal-caller other than Johnny U wore that number? (Update: Reader/commenter Billy Joe reminds me that Joe Montana wore No. 19 late in his career with KC. I'm sure there are others, too. But it still seems pretty rare.)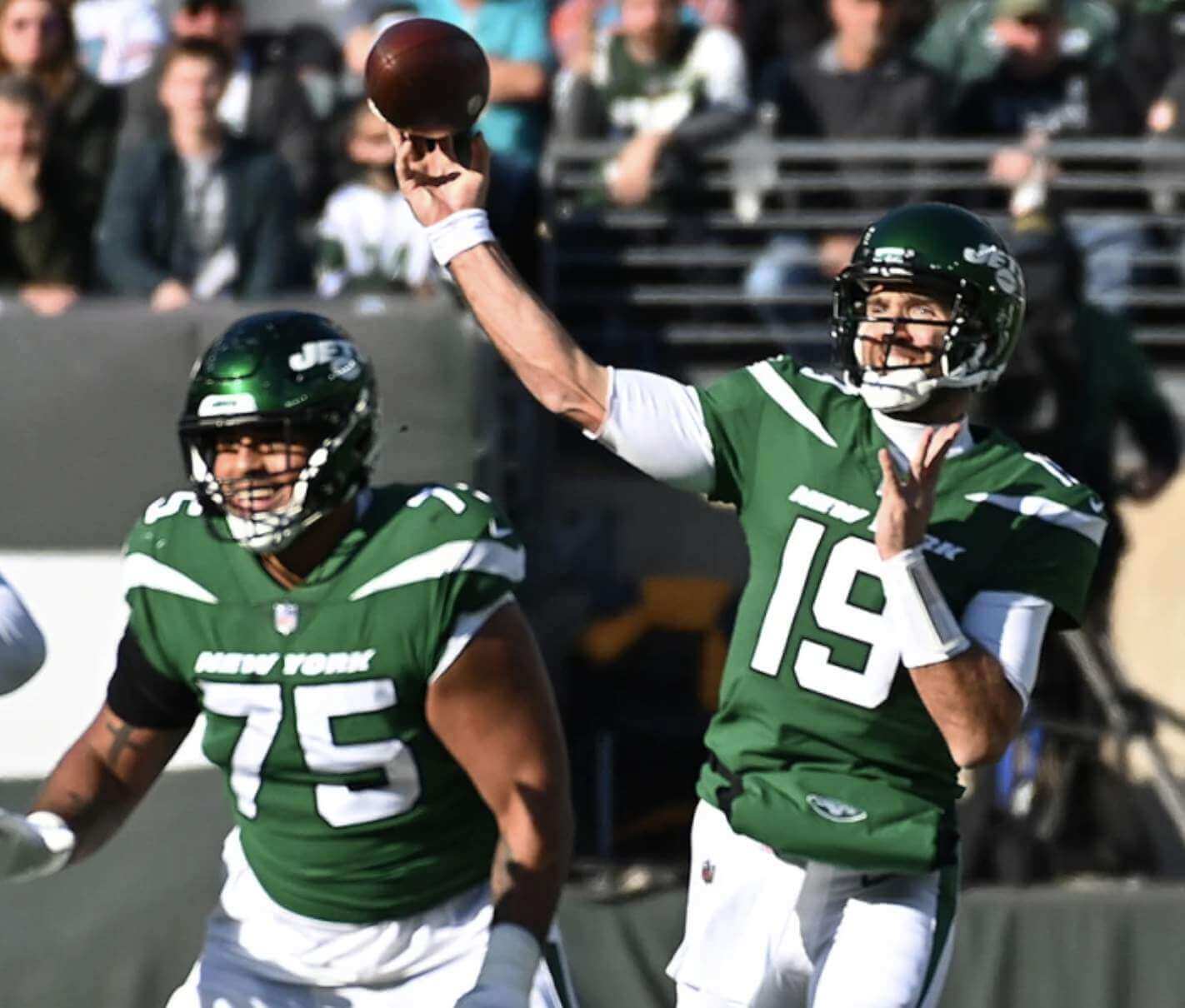 • This is odd: Bills coach Sean McDermott routinely wore a camouflage cap in the early weeks of the season and is actually one of this year's Salute to Service Award nominees. Unlike other members of his coaching staff, however, he didn't do the G.I. joke cosplay nonsense yesterday: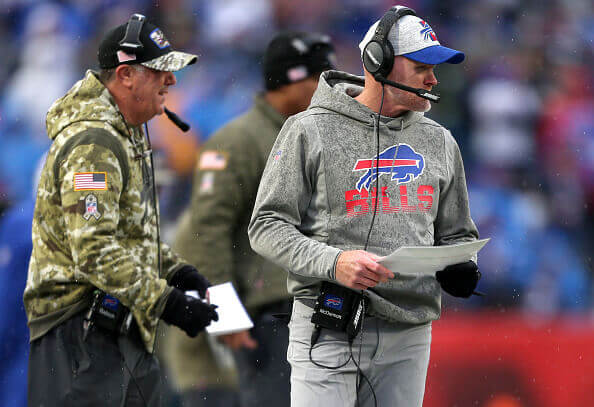 I guess he wants to stand out on the sidelines and be easy to spot..?
• Panthers defensive back Jeremy Chinn has been wearing a different jersey when arriving at each game this season and has then auctioned off the jerseys for charity. Yesterday he wore the jersey of A'ja Wilson from the WNBA's Las Vegas Aces (additional info here):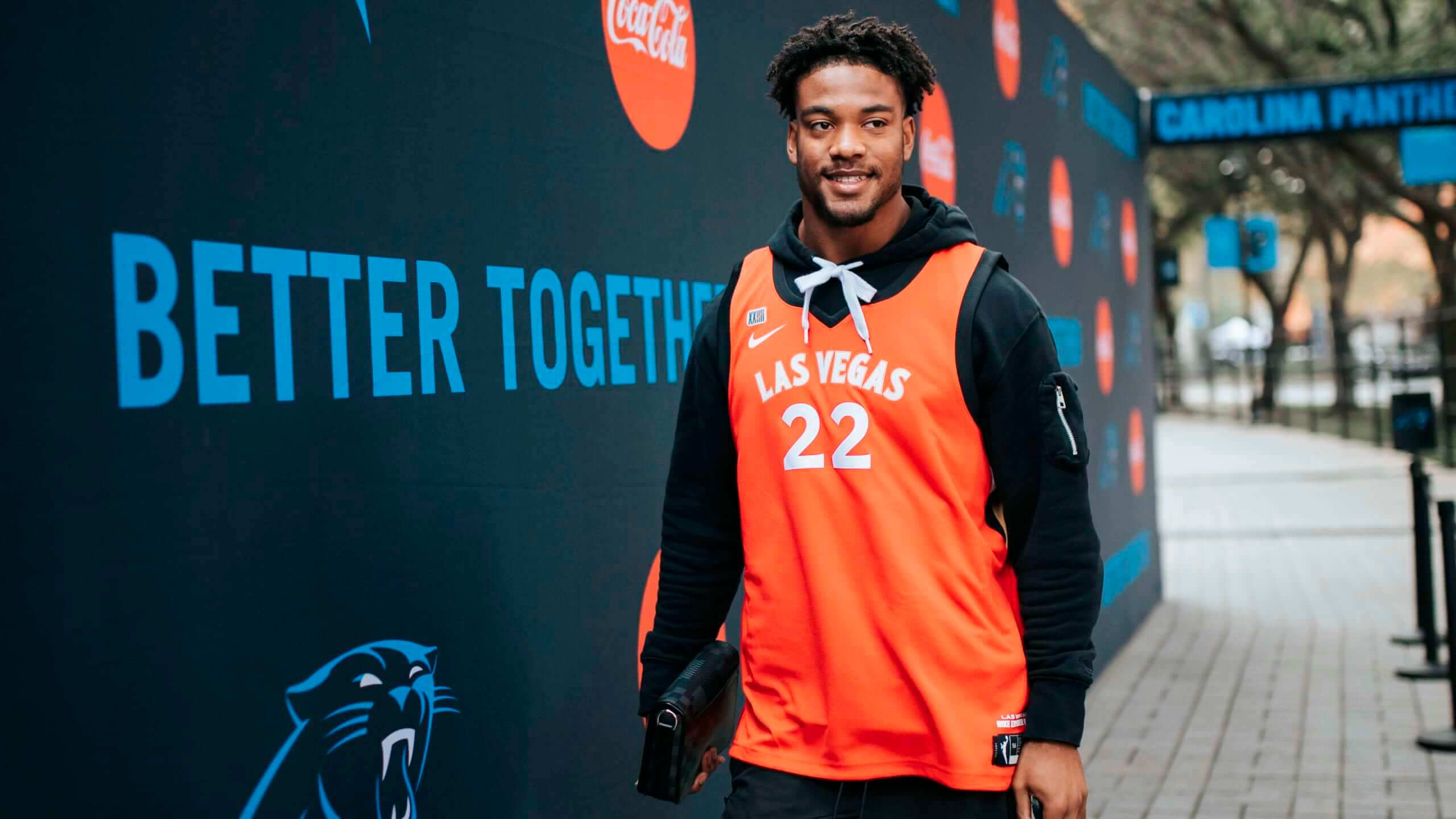 I don't follow stadium/arena-arrival attire very closely, but it seems notable to see a male athlete wearing a female player's jersey, no?
• Packers running back Aaron Jones, who likes to wear sombreros, dressed for the team's road trip to Minnesota by also wearing the Saskatchewan Roughriders jersey of his twin brother, linebacker Alvin Jones, who recently signed with the CFL team (additional info here):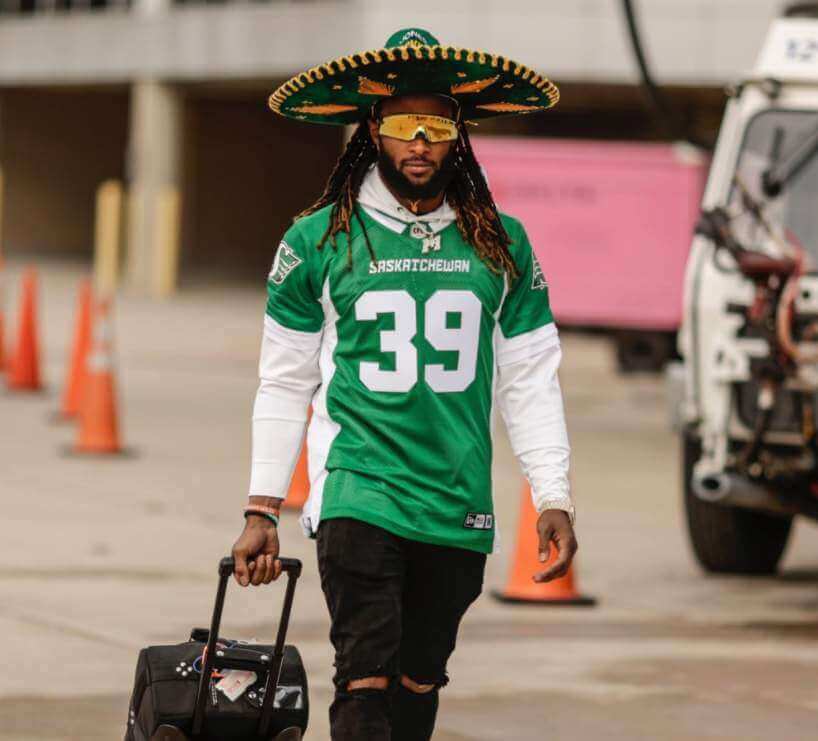 • Three weeks in, there's still no uniformity regarding the officials' "CM" cap patches for referee Carl Madsen (who died last month), with some officials wearing the memorial and others not wearing it.
• Not a single home team wore white.
(My thanks to all contributors, including Jeff Moulden, Wade Heidt, @finerific, @Random49ers, and our own Alex Hider and Brinke Guthrie.)
• • • • •
• • • • •
DA is making light work of the Nuggets down low tonight. pic.twitter.com/pNDnDC0wb5

— Bally Sports Arizona (@BALLYSPORTSAZ) November 22, 2021
Oh for fuck's sake: Last night's Nuggets/Suns game in Phoenix featured something I haven't seen before: a QR code on the court.
Or at least it looked like it was on the court. After I looked at some other video clips, it became clear that the QR code is one of several digitally projected ads being rotated into that spot on the floor.
Is this new, or has it been going on for a while and I just hadn't noticed?
(My thanks to Adam Kunos for this one.)
• • • • •
• • • • •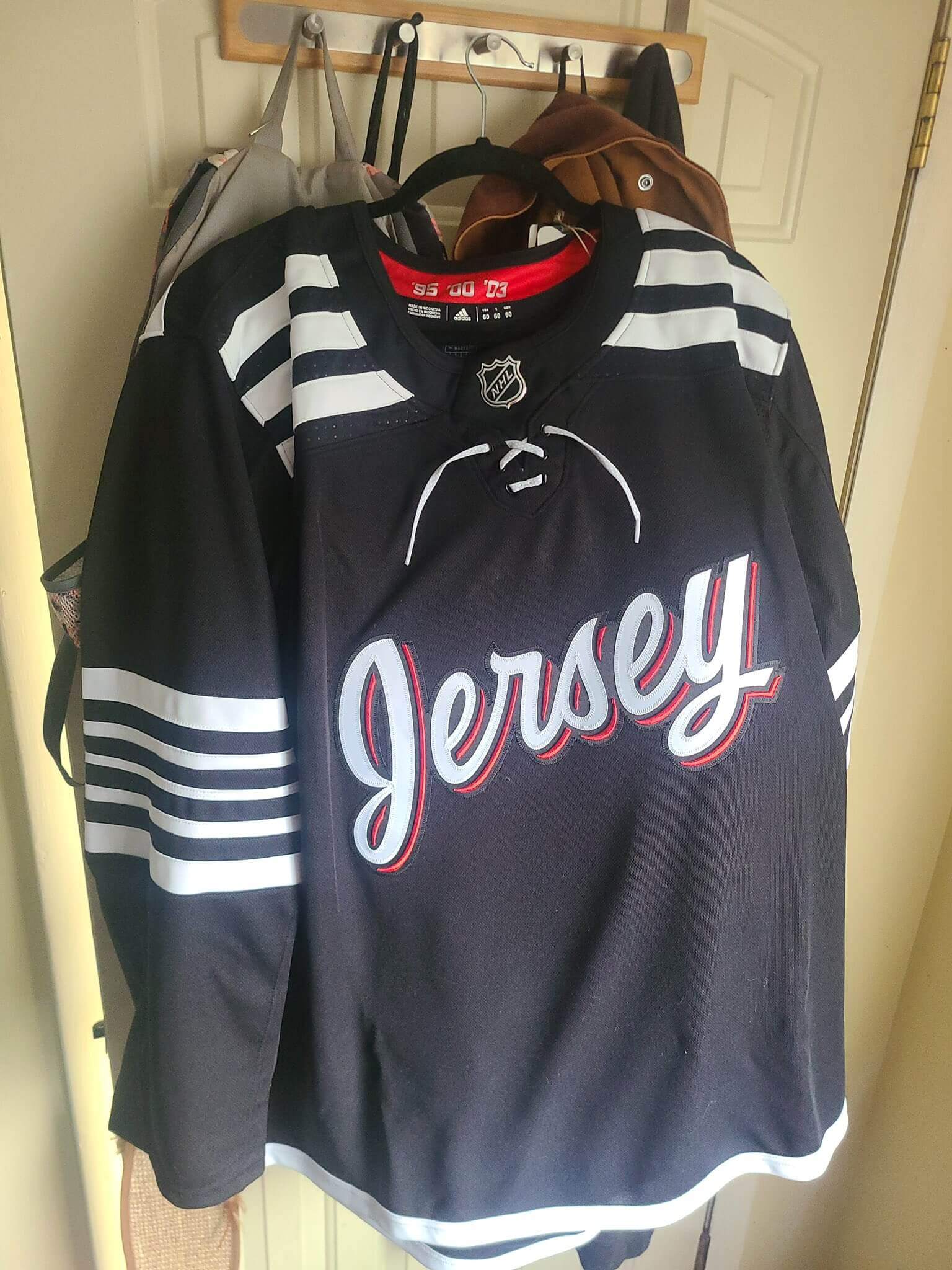 In case you missed it: Phil had this in yesterday's Ticker, but I'd be remiss not to mention the purported Devils alternate jersey that leaked on Saturday. Is it legit? Beats me — but I hope so. A jersey that says, "Jersey" — what could be better?
Let's get the obvious jokes out of the way:
• "The pants should have 'Pants' printed on them!"
• "Their helmet ad should be from Lids!"
• "It should actually say, 'Sweater'!"
Okay, haha. But I see some fun marketing opportunities here. For example, when the Devils wear this design, they could serve the same beer that appeared in the 1984 movie Repo Man: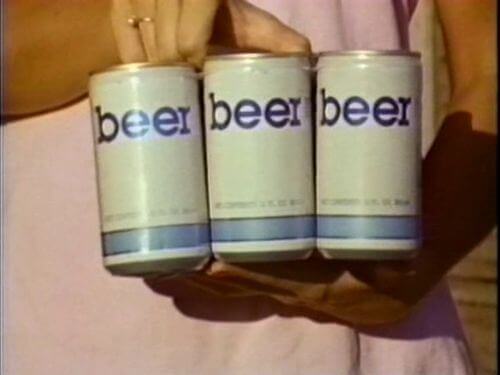 They could also play Public Image Ltd's 1986 album, Album, on the sound system: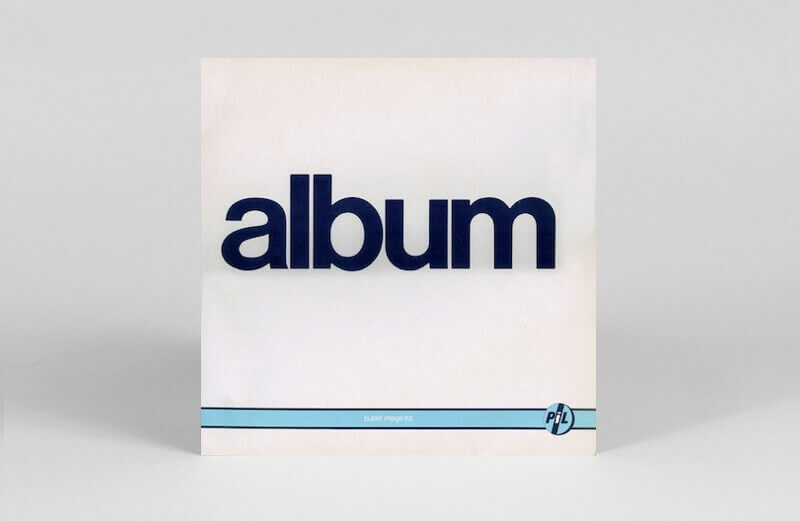 And so on. The "Jersey" design does have a historical "storytelling" aspect (it's apparently a nod to the old Newark Bulldogs), but nobody will care about that. Just lean in on the meta aspect!
• • • • •
• • • • •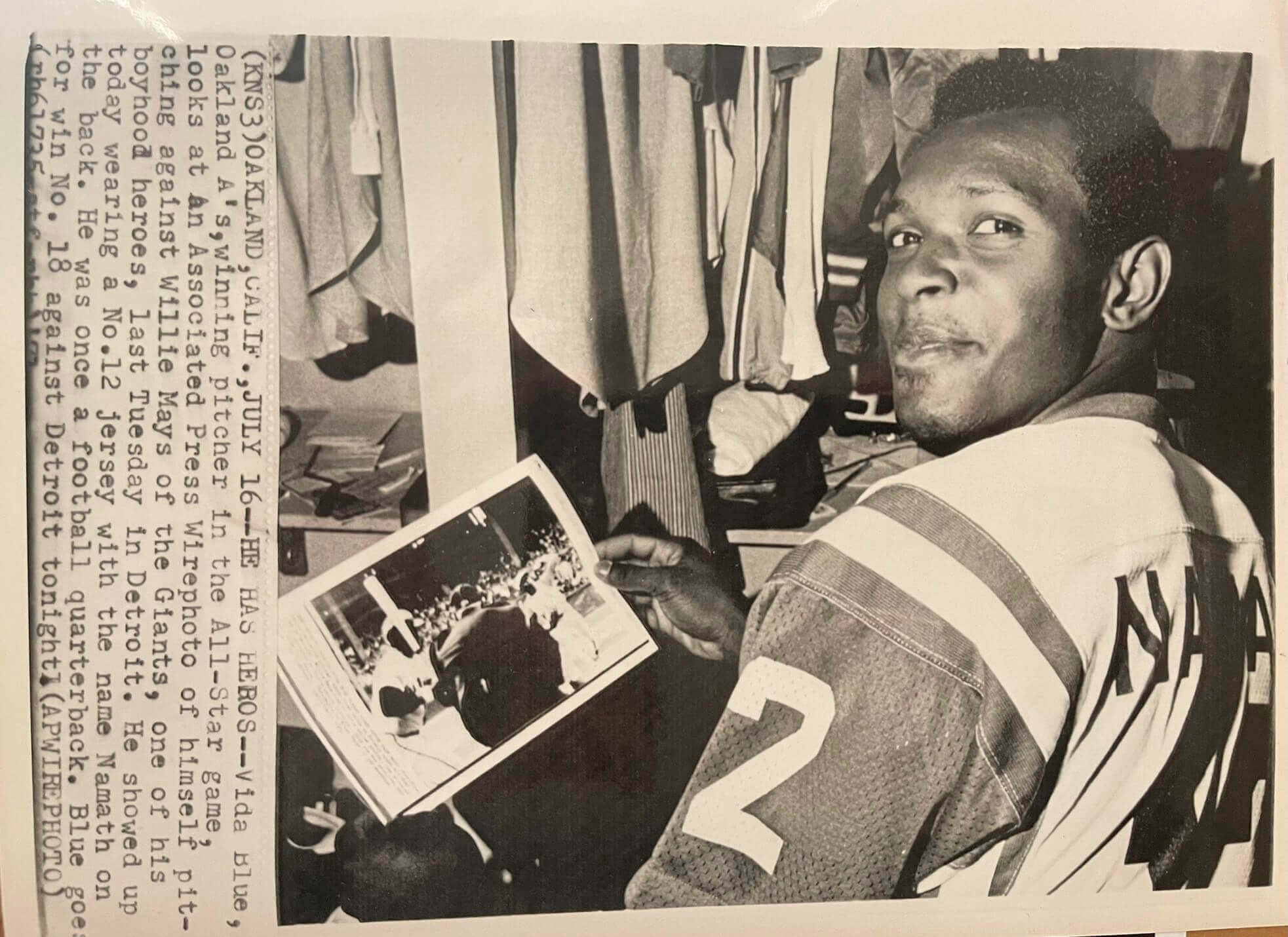 Click to enlarge
Too good for the Ticker: Who's that in the Joe Namath jersey? None other than Oakland A's pitcher Vida Blue, shown at his locker in 1971. Even better, this wirephoto shows Blue holding a wirephoto of himself! That's him pitching to Willie Mays in '71 All-Star Game. Love it!
(Big thanks to @weirdsportmerch for this great find.)
• • • • •
• • • • •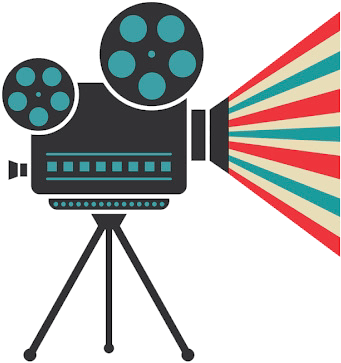 Uni Watch Screening Room: On Friday night I streamed How They Got Over, an absolutely fabulous documentary about southern gospel quartets, mostly from the 1930s-60s. It's chock-full of mind-blowingly good performance footage and really interesting interviews. It doesn't matter if you don't know all that much about gospel (I have only a fairly basic working knowledge of it myself) — if you like the trailer, shown above, you'll love the movie. Trust me.
Links for streaming, along with a list of select live screenings, can be found here. Don't miss.
• • • • •
• • • • •
Covid update: I'm happy (and relieved) to report that my final Covid tests on Friday were, once again, negative. I'm now 100% in the clear. The Tugboat Captain is still stuck in the hotel sanitarium but will come home on Friday, at which point she will no longer be infectious. Her symptoms are still mild, but she's now lost her senses of smell and taste — a particularly cruel twist, because food and cooking are such big parts of her life. We know that this is temporary and are hoping she regains her full sensory capacity soon. Whenever that happens, we'll have a Thanksgiving Day (Observed) feast.
I drove out to the hotel on Saturday to drop off some stuff for her (including some hooch, which is technically not allowed in the hotel, but I put some vodka in a Sprite bottle and that successfully evaded the security check). Wasn't permitted to see her, alas, but it was interesting to see the facility, which is indeed a regular hotel that's been transformed into a tight-lockdown setting. What crazy times we live in.
One of the weirdest things about her stay at Chez Covid is that if she stays for the entire recommended 10 days (which she will indeed do), she gets a free Coach bag when she leaves. It's a bizarre combination of an incentive and a parting gift. She plans to list it on eBay as "Deluxe Coach Covid Hotel™ Bag," or something like that. (I'm not sure what the men get if they say 10 days. Maybe a wallet..?)
• • • • •
• • • • •
The Ticker
By Jamie Rathjen

Baseball News: The Rays' High-A affiliate, the Bowling Green Hot Rods, have new uniforms and logos (from @SVeillance).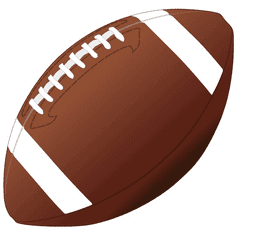 Football News: "For some reason, the NFL is auctioning off a toss coin from 2019 in 2021," says David Firestone, though I will say the timing — it's from a Panthers/Washington game — is apt because that was the last game before current Washington coach Ron Rivera was fired by the Panthers, and he returned to Carolina with Washington this weekend. … Left over from Saturday: Michigan DE David Ojabo was missing most of the Jordan logo (from Jay Sarkar). … FCS school Brown wore solid brown helmets this season which had the paint coming off by this weekend (from Tris Wykes). … A D.C. high school game, between Bell Multicultural and Coolidge, was black-vs.-black or nearly so (from @koTenSixtySix). … Reader Wade Heidt has Canadian college uni tracking in yesterday's comments. … Here's this Saturday's uni combo for BYU (from Phil).

Hockey News: The Rangers had purple chinstraps yesterday for Hockey Fights Cancer (from @uniformnerd). … The PHF's Metropolitan Riveters have new alternates (from Shane Bua). … The Canada and U.S. women's teams are currently playing an exhibition series. Canada F Emily Clark, on the right of this picture, had her helmet ad coming off yesterday (from L.J. Sparvero). … The rest of these are from Wade Heidt: Three teams wore their winners of the CHL's Leave Your Mark Design a Jersey contest, the OHL's Barrie Colts and London Knights and the WHL's Prince George Cougars. … Meanwhile, the WHL's Moose Jaw wore purple Hockey Fights Cancer jerseys on Saturday.

Basketball News: North Carolina's women's team has new navy blue alternates (from James Gilbert). … Virginia Tech's men's team wore orange at home yesterday, and opponents Merrimack wore white (from Andrew Cosentino).

Soccer News: Celtic's men's team wore large No. 10s on the front and back of their shorts in Saturday's Scottish League Cup semifinal to memorialize midfielder Bertie Auld. Auld played when Celtic only wore numbers on their shorts domestically, and the memorial emulated the oversized style and placement of that era (from Denis Hurley). … Celtic's women's team did not do the same yesterday, but did wear black armbands. … The Scottish Women's Premier League has a new title advertiser. … Japan's J2 League's JEF United Chiba have a new shirt (from Jeremy Brahm and Trevor Williams). … Brazil's Botafogo wore a shirt called the "shirt of inequality" in Série B yesterday that uses their black and white stripes as a bar graph to display a number of statistics related to racial inequality in Brazil. … The NWSL's Washington Spirit have already added a star above their crest after winning the championship on Saturday. And with that, #RiseUpDC. … The Spirit gave injured midfielder Tori Huster, who's played for the Spirit for the NWSL's entire existence, a locker at the game and let her be the first to keep the trophy. … The game also featured team-specific commemorative captain's armbands, black for the Chicago Red Stars and white for the Spirit. … Manchester United's Twitter feed is hinting that the team may wear its third shirts tomorrow. If so, it would be just the second time this season that they've done so.

Grab Bag: The owner of what this article claims is the world's only bobblehead museum, in Milwaukee, created two Hanukkah-themed bobbleheads this year (from Adam Herbst).
• • • • •
Tomorrow: A really good raffle. You'll see. — Paul