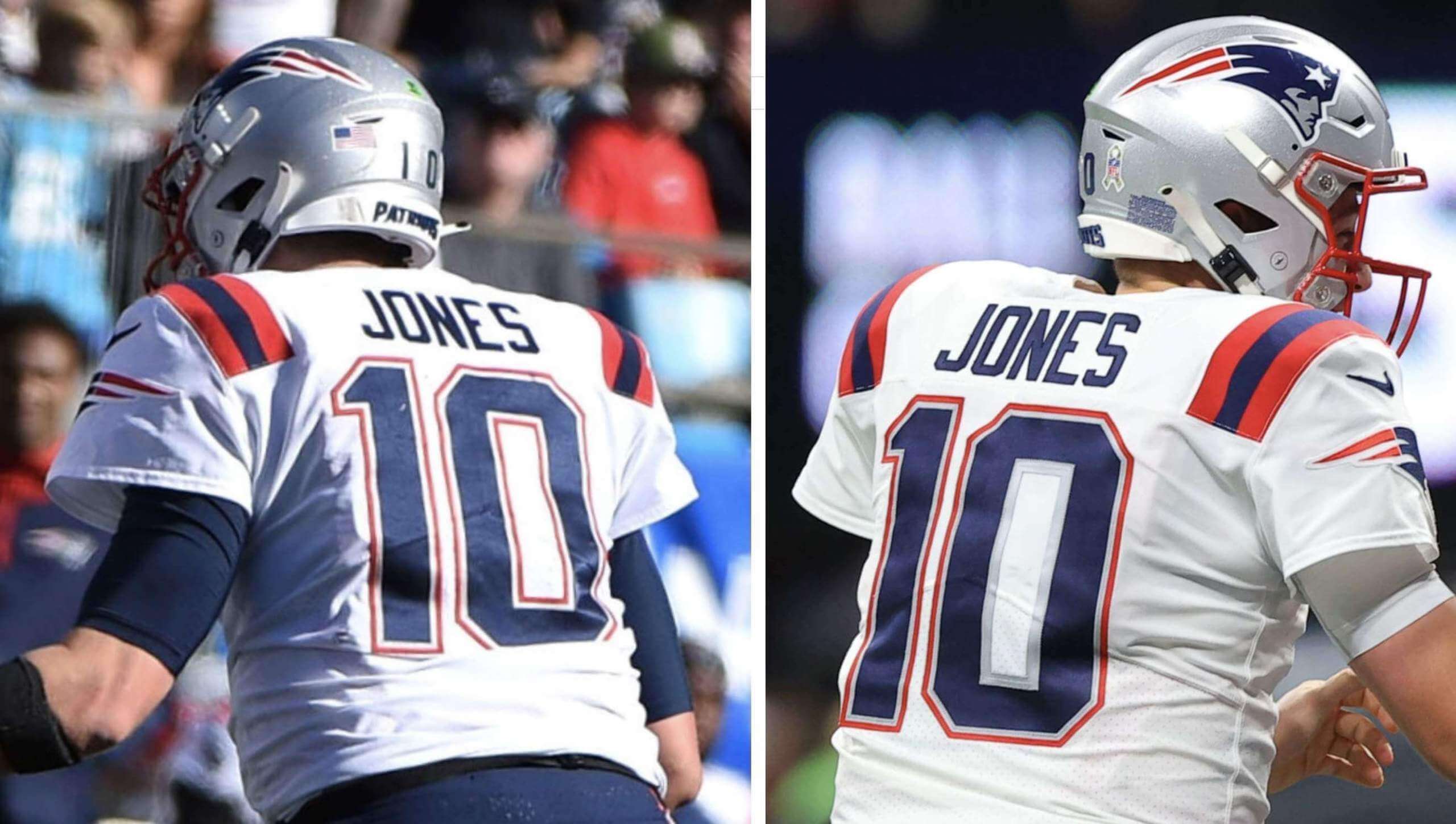 For all photos, click to enlarge
On the left is how Patriots quarterback Mac Jones's white road jersey is supposed to look. On the right is how it looked during last night's game against the Falcons — note the missing red inlining on the 0. (The red trim was fine on the front of the jersey.)
This is the second consecutive game in which Jones has been victimized by a jersey snafu. As you may recall from Monday's post, on Sunday the Flying Elvis logo patch on his right sleeve was missing its star: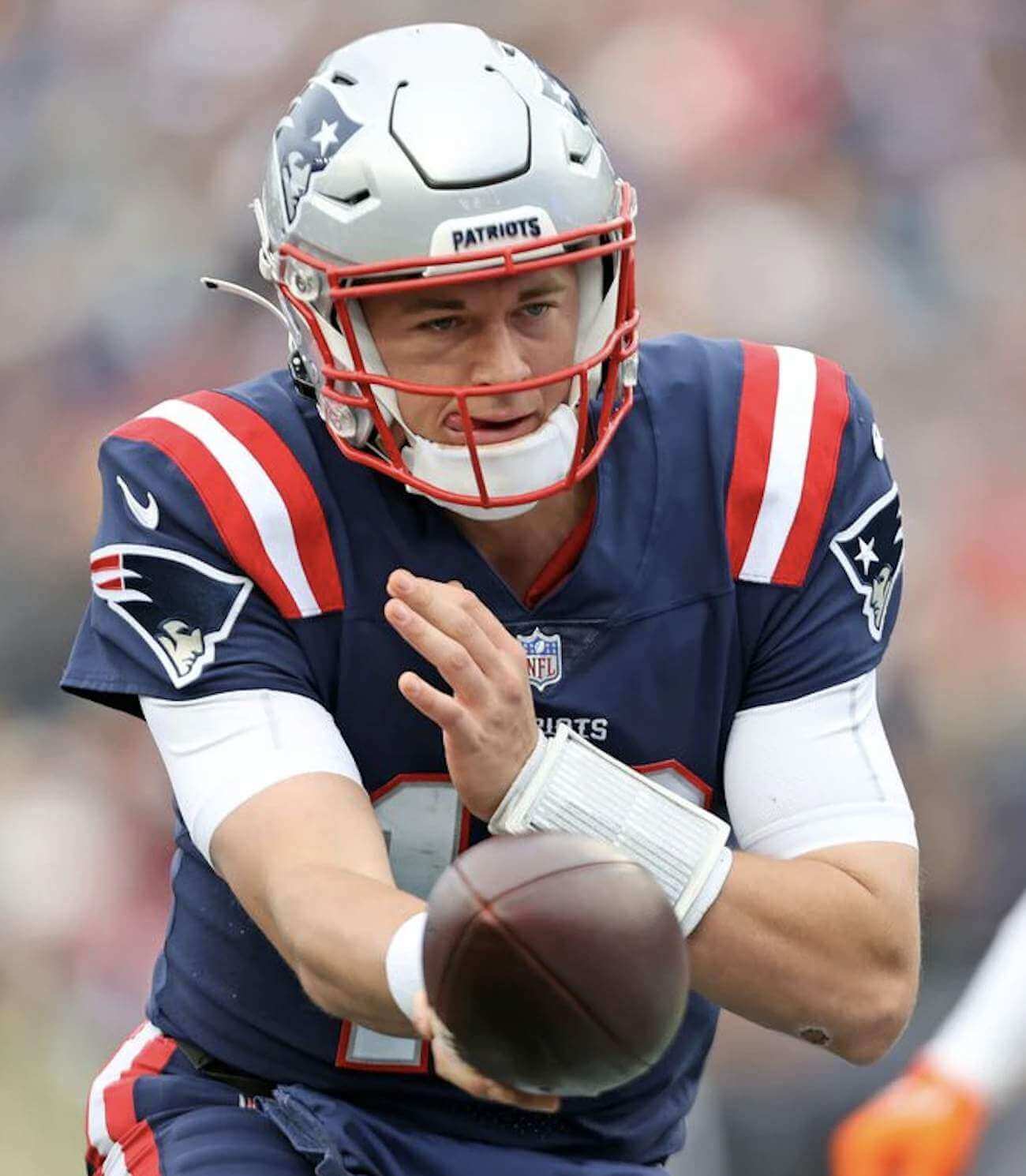 These glitches follow a slew of miscues last season, when several players wore the team's old number and NOB fonts: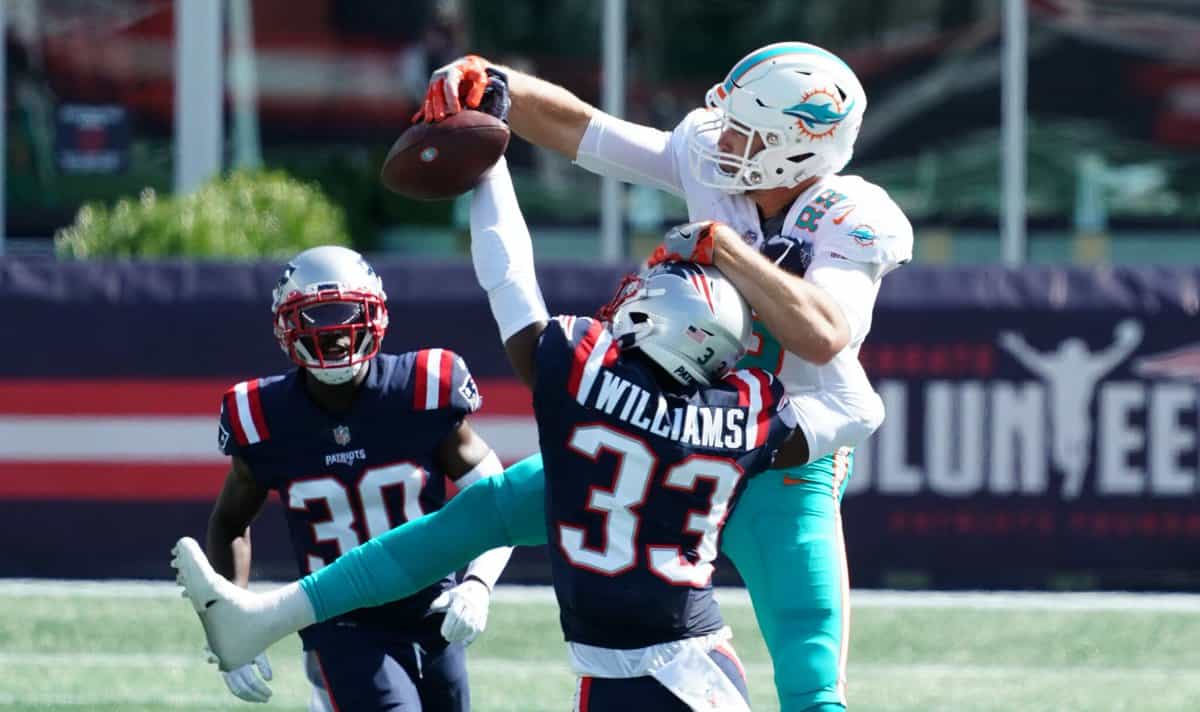 Or the old number font with the new NOB font (on the left):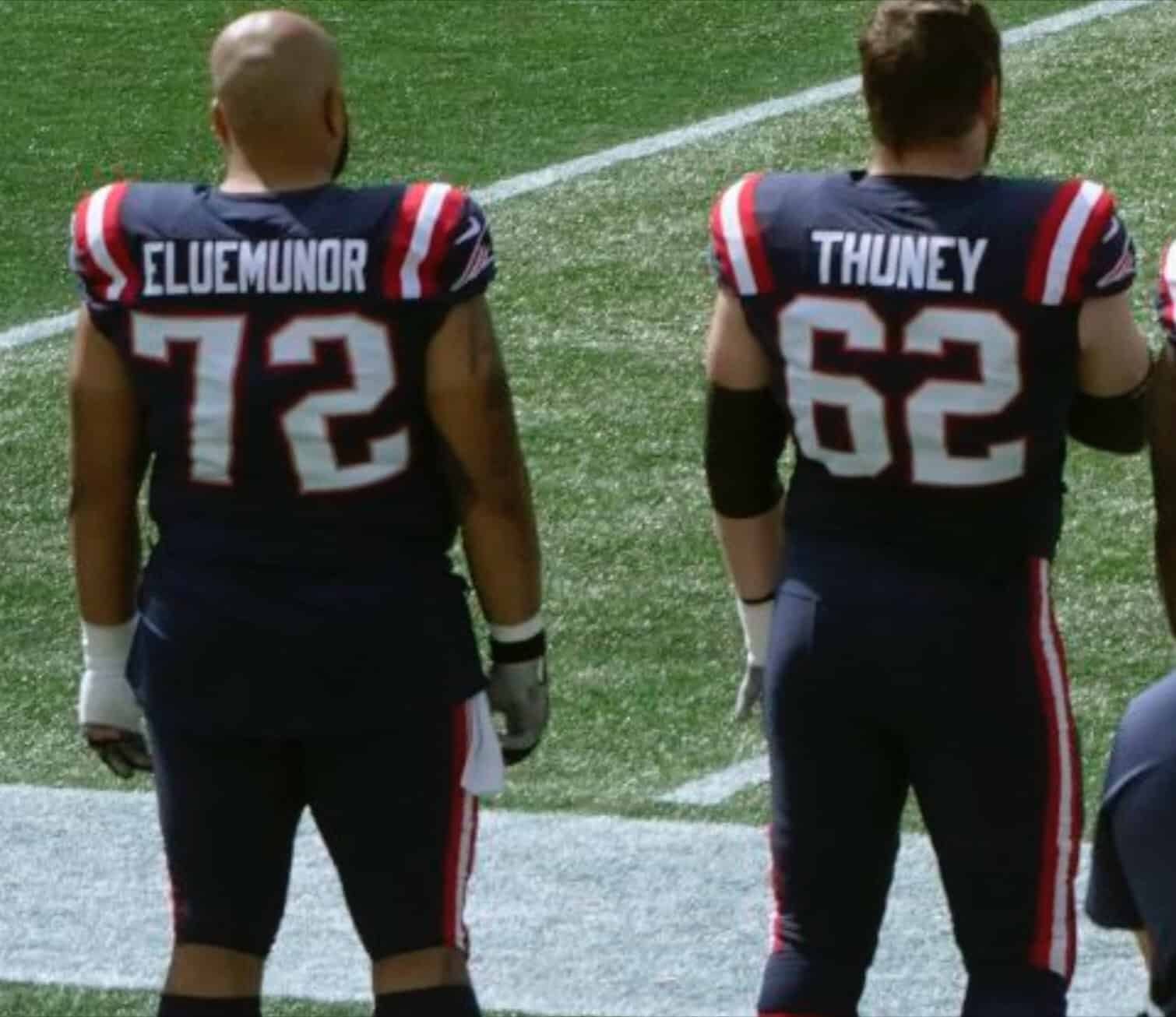 Or the old NOB font with the new number font (on the left):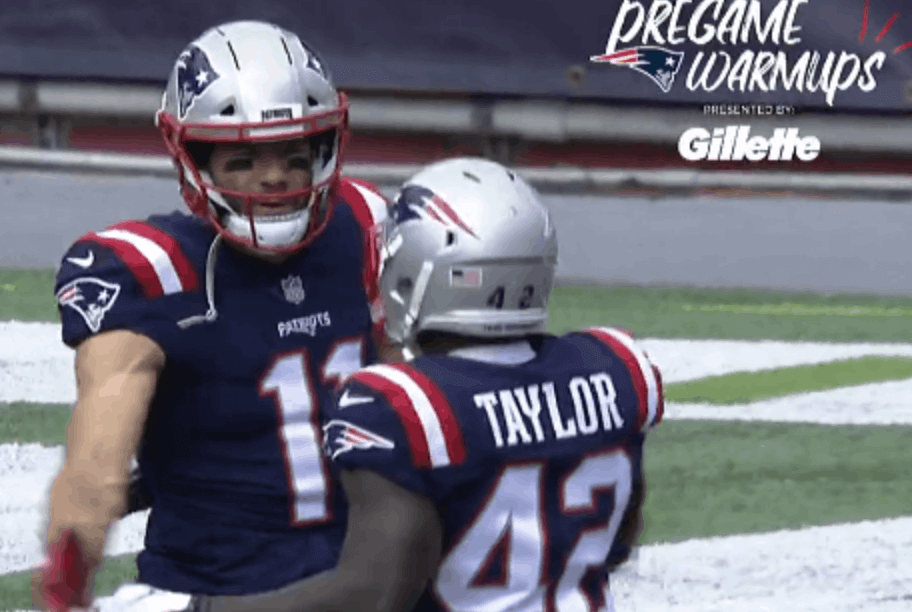 What a mess! How can one team have so many jersey errors in such a short period of time?
Side note: I was impressed by how many people alerted me to Jones's missing red trim last night. It's a reasonably subtle detail (not, like, super-subtle, but not Uni Watch 101 either), so it was great to see that so many folks noticed it. Good work, people!
While we're at it: Pats offensive lineman Trent Brown chose to go bare-legged last night. If not for the lack of knee braces, you'd think he was a college player: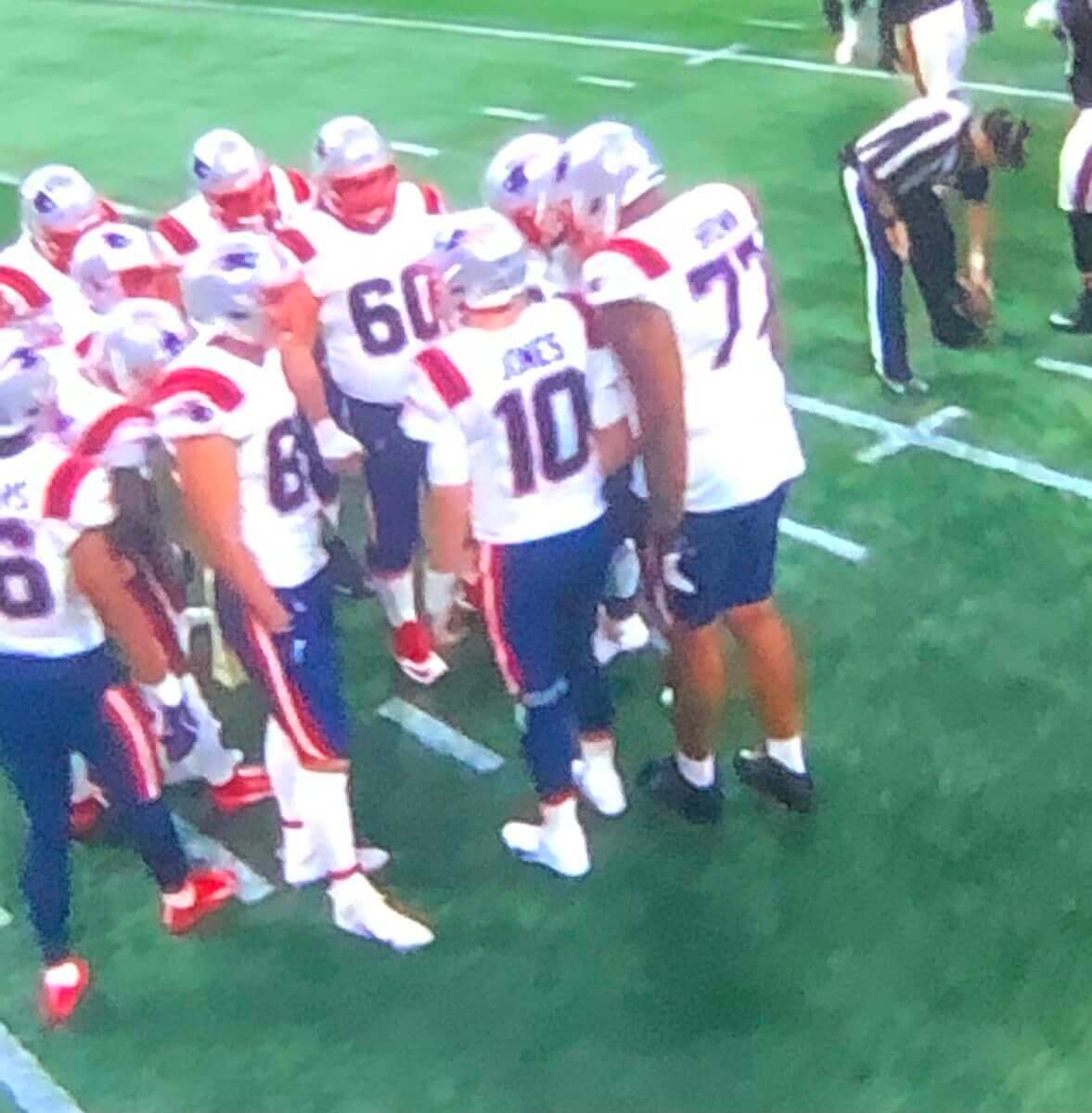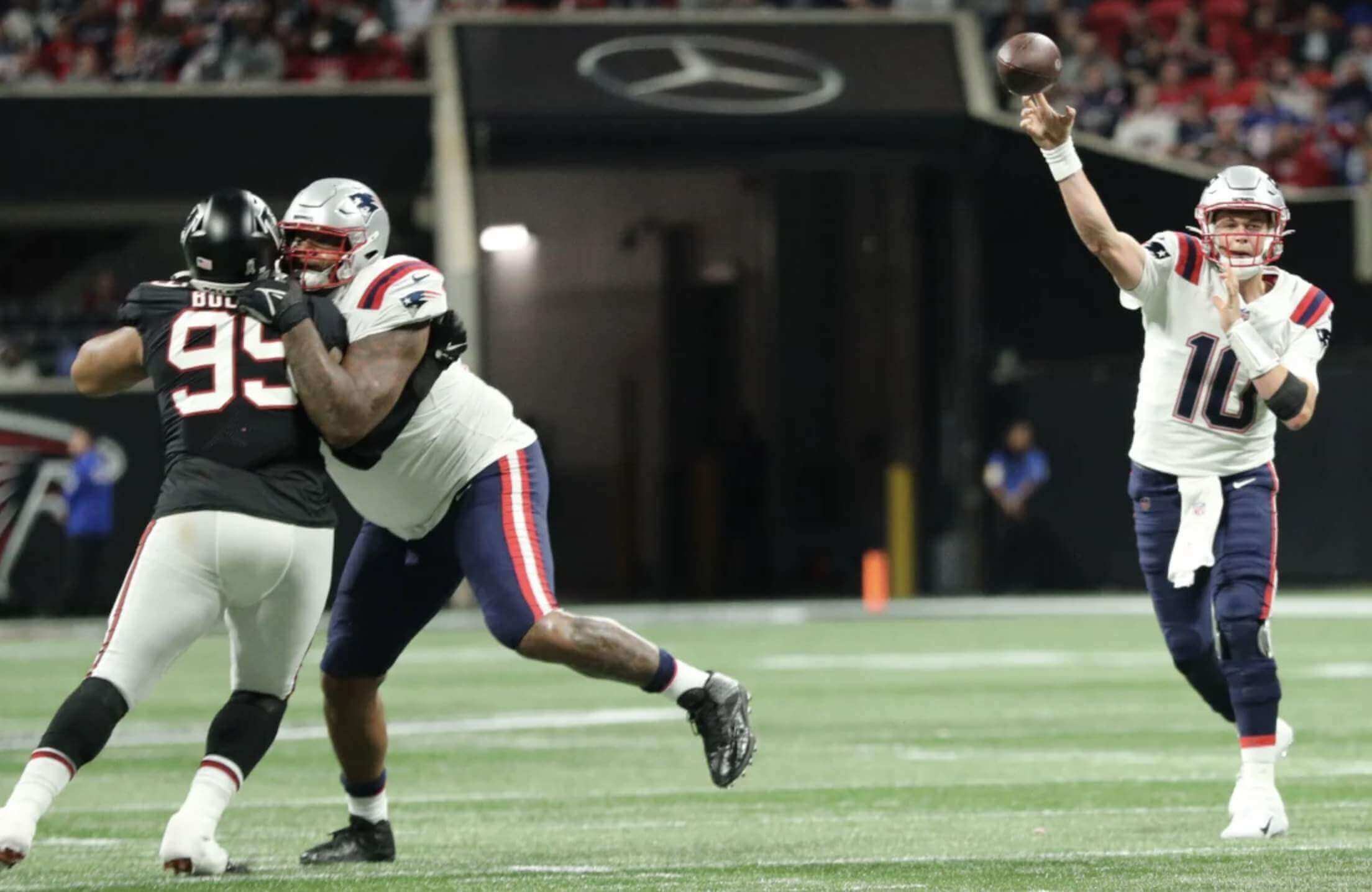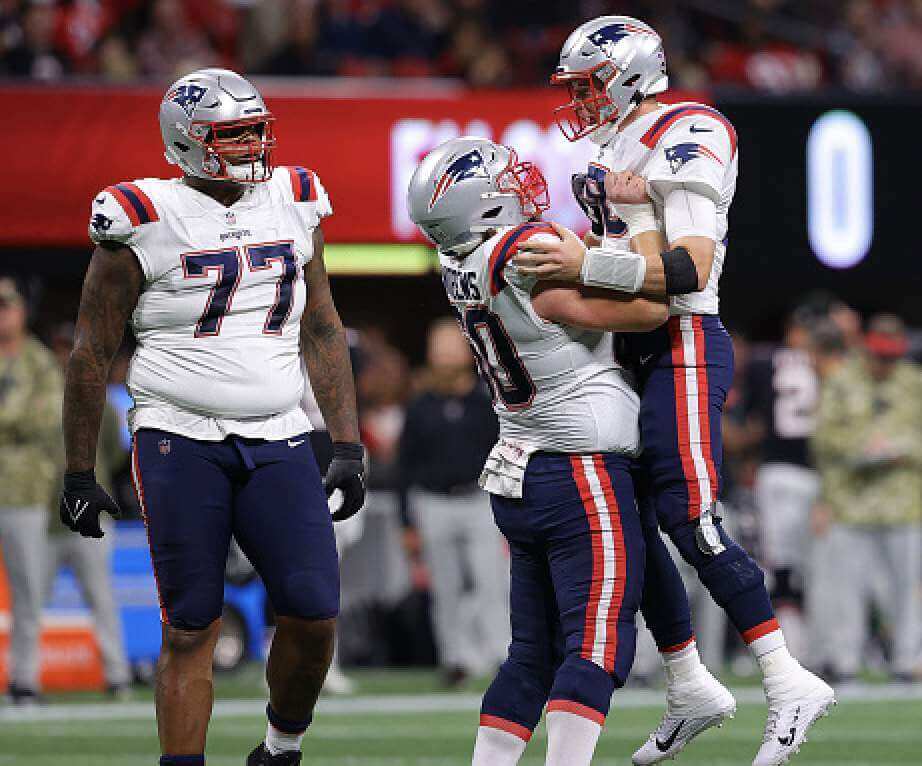 In addition, the Falcons wore their black fauxbacks: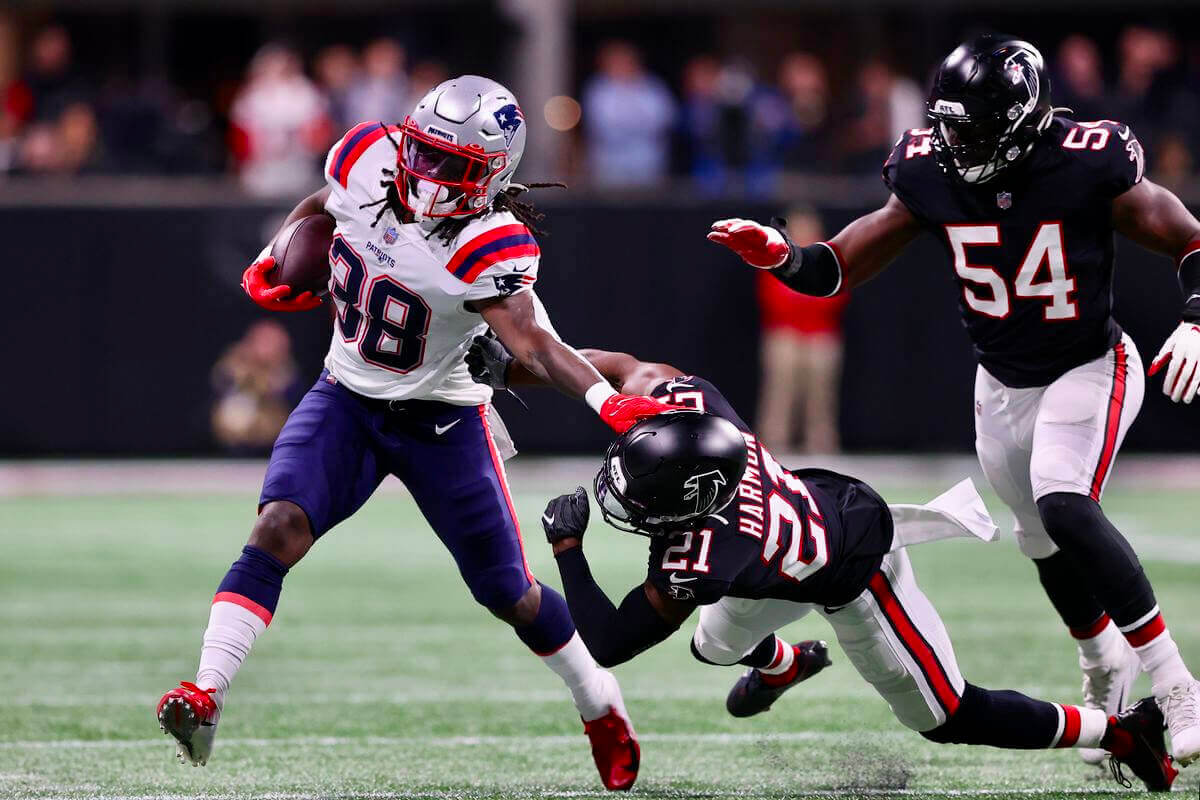 (My thanks to Ben Oship for the first Trent Brown photo.)
• • • • •
• • • • •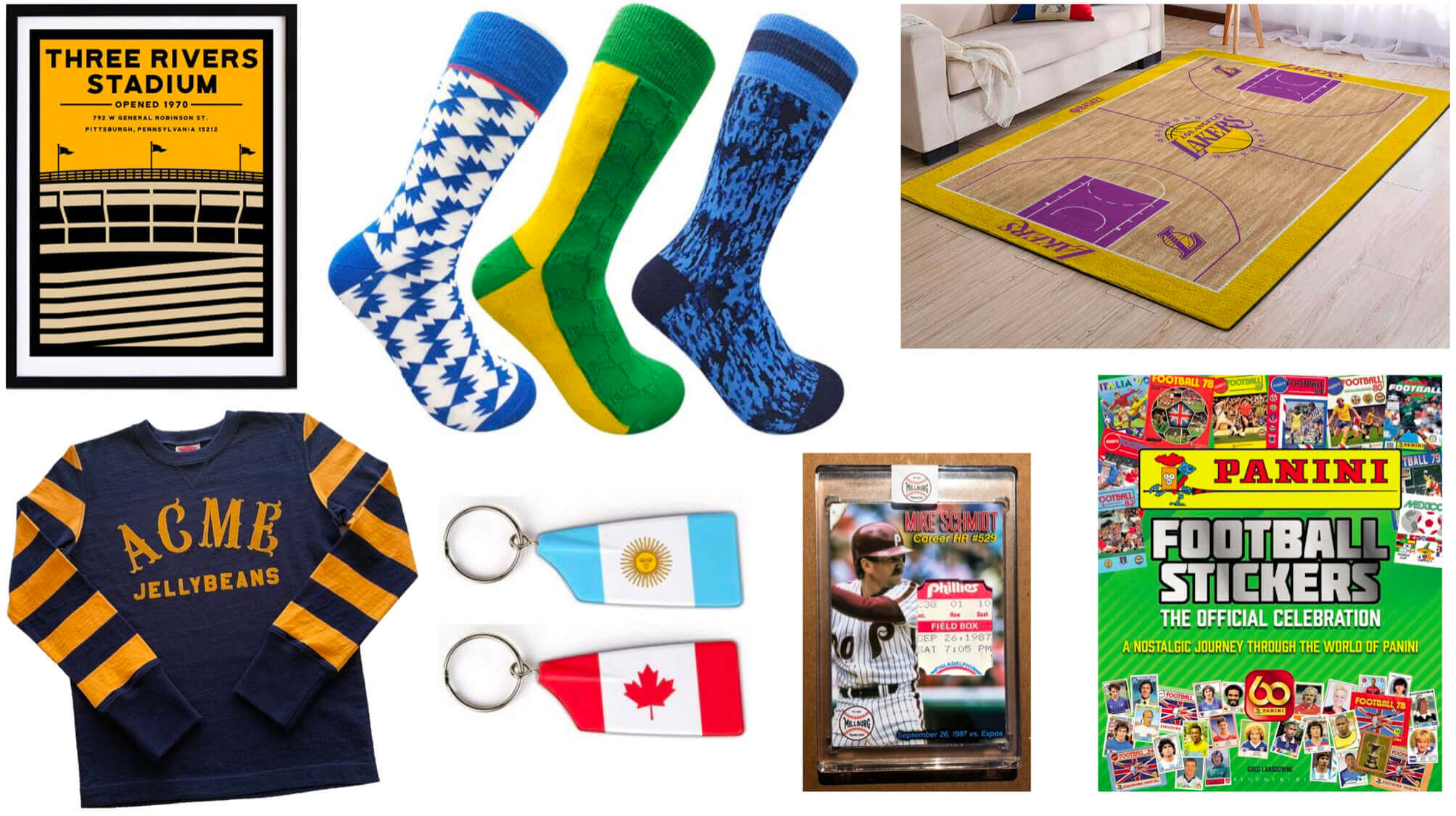 ITEM! 2021 Gift Guide now available: With the winter holidays right around the corner (Hanukkah is on Nov. 28), I've decided to run my annual Uni Watch Holiday Gift Guide a bit earlier this year. It was published earlier this morning on Bulletin.
Those of you who've subscribed to receive my Bulletin content via email should already be seeing this piece in your in-boxes. Everyone else can read it on my Bulletin page. Enjoy!
• • • • •
• • • • •
Covid update: I'm happy to report that I once again tested negative yesterday, and I continue to feel 100% shipshape. At this point, I'm pretty sure I'm in the clear, but I'll get tested again today, just to be safe. The downside, of course, is that this means Mary has to stay in the sanitarium, which really sucks.
Longtime readers may recall that we usually attend the annual oyster roast on Virginia's Eastern Shore on the Saturday before Thanksgiving. Obviously, that won't be possible this year, but I've arranged to have a virtual/remote oyster fest via Zoom with all our usual participants. Since Mary's still sequestered, I'll buy some oysters for her tomorrow morning and deliver them to the front desk of the place where she's staying, along with shucking tools, so she can participate. Won't be as good as being in Virginny, but we'll make do. I'm looking forward to it!
• • • • •
• • • • •
The Ticker
By Anthony Emerson

Baseball News: And now it's official: If you go to Indians.com, it redirects to mlb.com/guardians. … New logos for the Aberdeen IronBirds, who are the Orioles' High-A affiliate (from Marcus Hall).


College/High School Football News: WR Tre Turner will wear Frank Beamer's No. 25 for Virginia Tech this week. … Here are this weekend uni combos for Virginia Tech, NC State, Troy, South Carolina, Michigan State, Houston, Missouri, UNLV, LA Tech, Mississippi State, UCF, and Virginia (thanks to all who shared).

Hockey News: Back in the '90s, a Canucks equipment manager wrote "weird" on G Kirk McLean's skate because he felt McLean was "too normal" for a goalie (from Brandon Weir). … Following up on an item from yesterday's blog post, David Uhrin writes in about the AHL white-on-white mixup that happened on Wednesday evening: "Syracuse in town for a two-game set. Friday, Cleveland is wearing these Top Gun-inspired jerseys, so they asked Syracuse to wear their lights.  Apparently Cleveland forgot about that for the Wednesday game, which was delayed while they got into their darks." … The Wild will mark Native American Heritage Day by wearing Native-themed pregame jerseys on Nov. 26.

Basketball News: New Lakers SG Chaundee Brown will be the first player in franchise history to wear No. 38. … New skyline-themed uniforms for Penn. Additional photos here.

Soccer News: I think this might be the first time we've ever seen the old Columbus Crew logo be reappropriated (from Rick Logan). … New sleeve ad for Nashville SC (from Trey Norfleet).

Grab Bag: Here's an amazing story of a lost letterman jacket that was rediscovered many years later (from Jason Hillyer).
• • • • •
• • • • •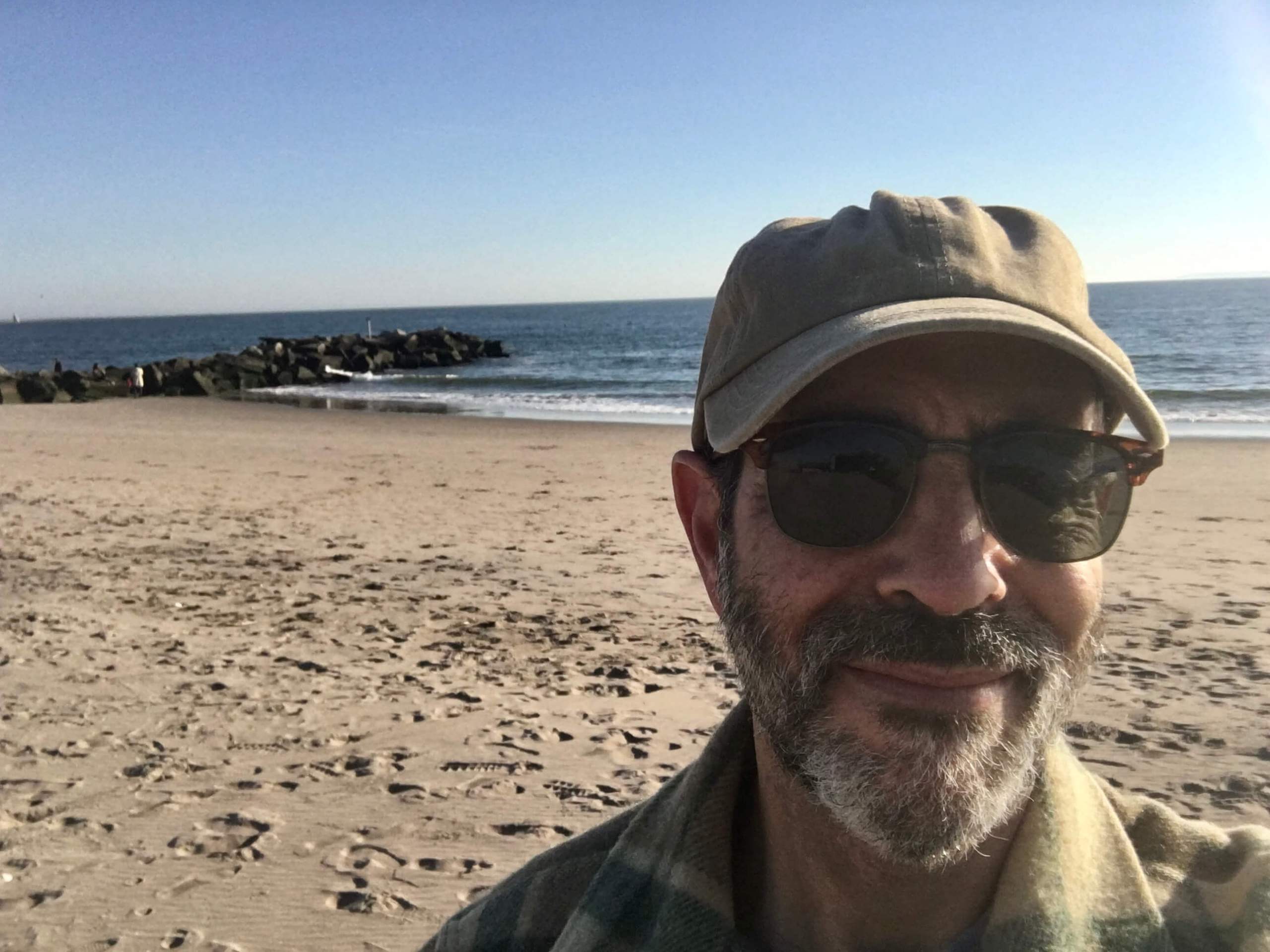 Click to enlarge

What Paul did last night yesterday afternoon: Life has been a little stressful lately. So with yesterday's weather being unseasonably warm (mid-60s), I gave myself the afternoon off and went down to Coney Island to spend a few hours at the beach.
It was low tide and the waves were virtually non-existent. The Atlantic Ocean felt more like a calm bay: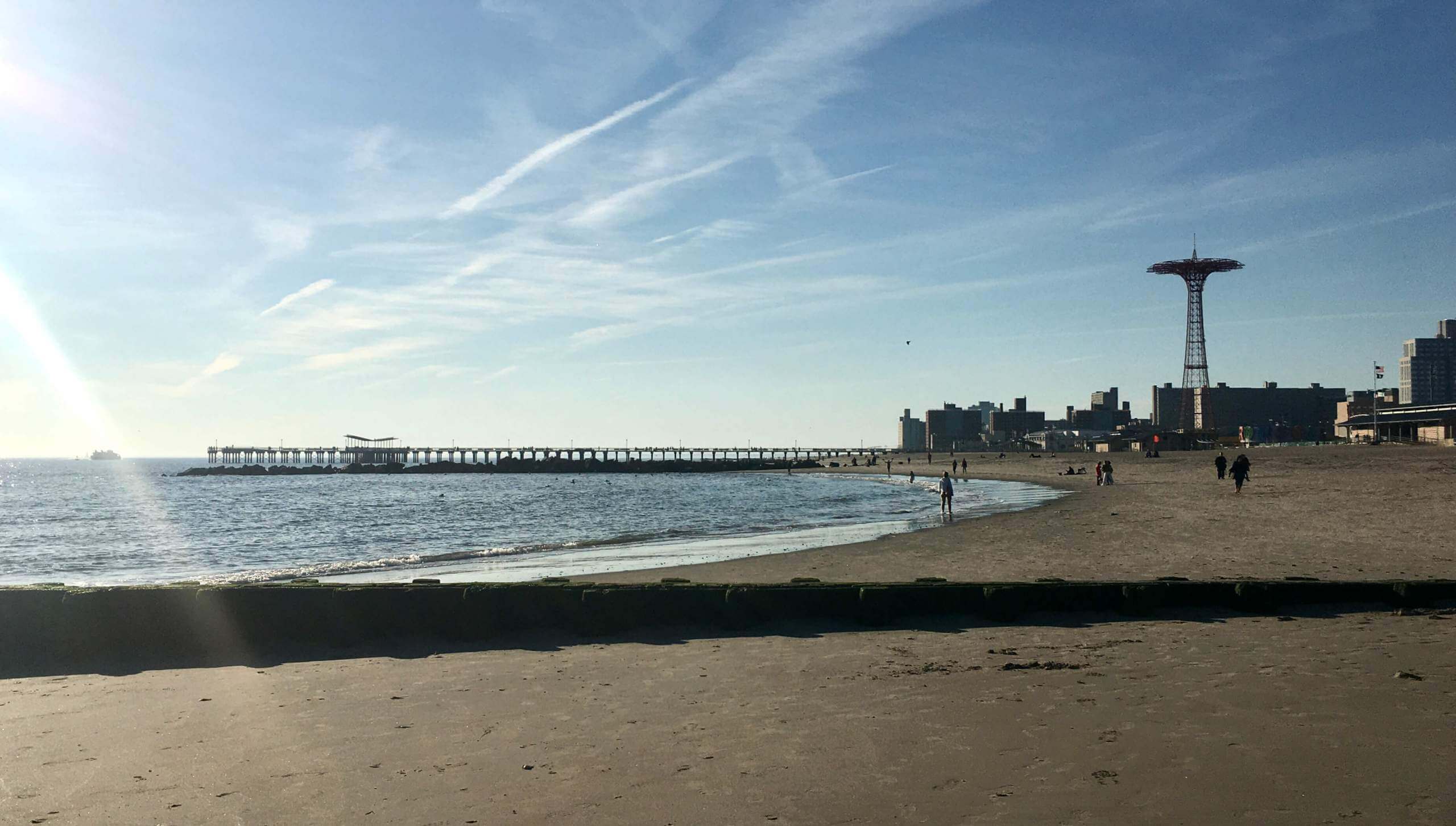 We've all seen people throwing a frisbee to a dog. But I saw a woman on the beach throwing lots of frisbees to her dog. The pooch caught them (or tried to) but didn't retrieve them. Maybe she was training him for something..? In any case, it was very nice to watch:
• • • • •
And that's a wrap for this week. Thanks again for all the support and kind words over the past few days — it makes a difference, really. Enjoy Phil's weekend content and I'll see you back here on Monday.— Paul