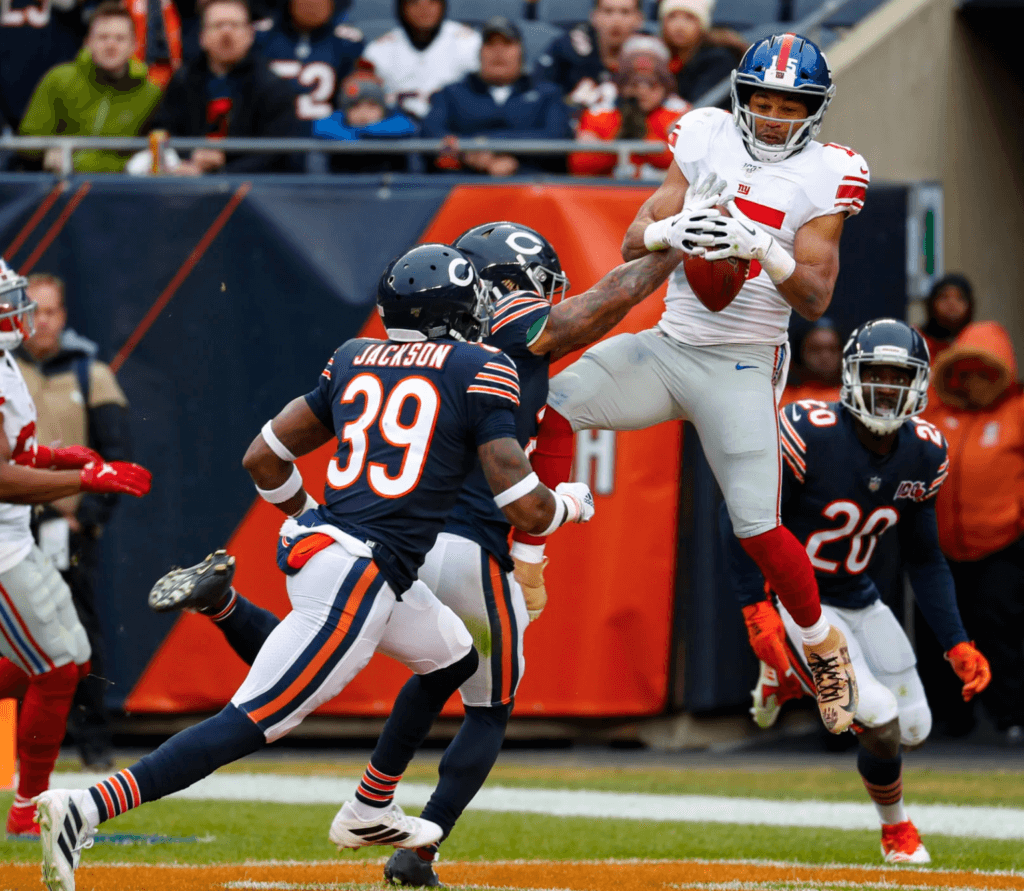 Click to enlarge
Good morning! Greetings from Virginia, where I've been spending the past few days. As you can see above, the Bears wore 1960s throwback helmets — a white "C" logo, grey facemasks — for yesterday's game against the Giants.
Interestingly, on Friday we Ticker-linked to a video showing the Bears' equipment staff preparing the helmets. The video clearly showed them adding "GSH" memorial decals for George Halas to the helmet shells — but they didn't wear that decal in the game.
I didn't really understand why they were adding the "GSH" decal to begin with. They were wearing their regular primary jerseys that have the "GSH" sleeve lettering, so why repeat the memorial on the helmet? I guess they eventually came to the same conclusions. (By contrast, their 1936 throwback does include the helmet decal, because the throwback jersey doesn't include the sleeve lettering.)
In other news from around the league yesterday:
• The Cowboys wore their mono-white alternates. But defensive lineman Maliek Collins wore the wrong pants:
@UniWatch @PhilHecken 96 with different pants (Silver vs. White) for the Cowboys. pic.twitter.com/AS5zvVAcU9

— Josh Richardson (@jr_richardson) November 24, 2019
In that same game, the Cowboys wore sideline capes featuring an old-school two-bar helmet graphic: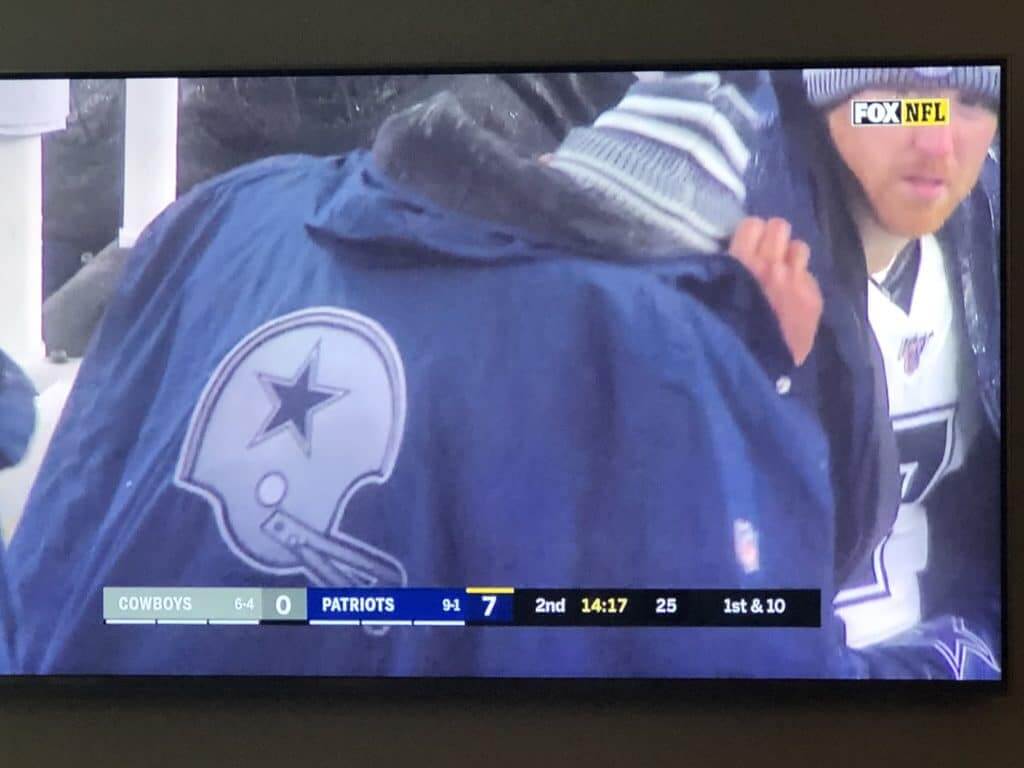 Also from that game, check out this great photo from Boston Herald photographer Nancy Lane, who captured what appears to be a stray fragment of Cowboys safety Jeff Heath's helmet logo: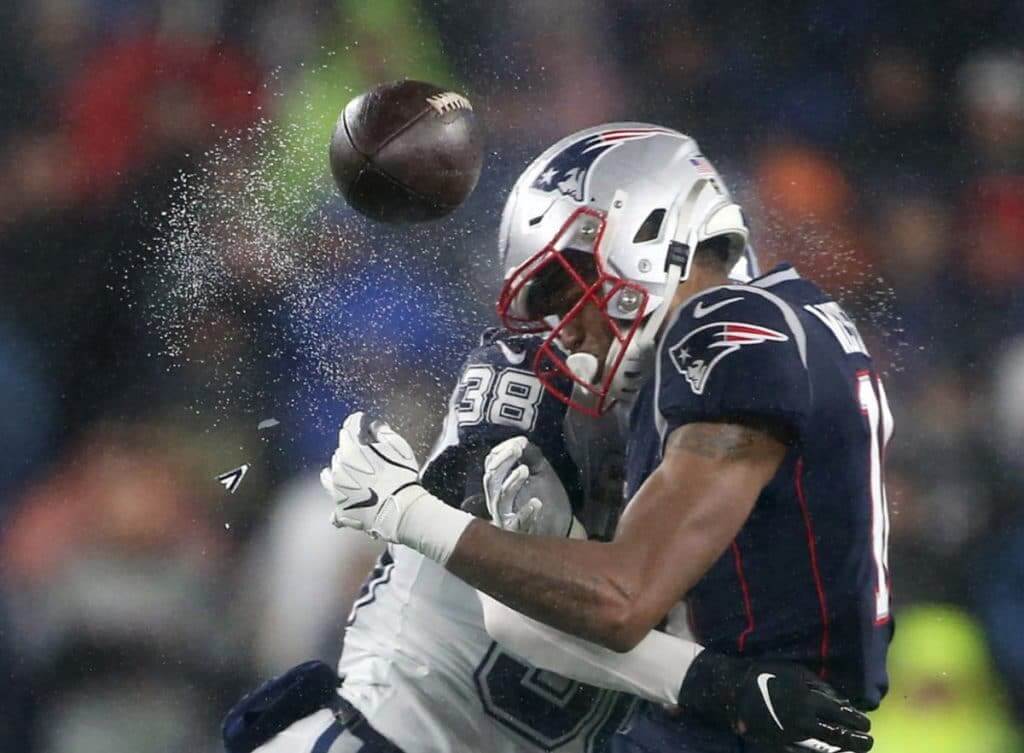 You can also see that the water droplets mirror the shape of the New England receiver's helmet — amazing!
• The Titans went mono-navy against the Jags:
• 49ers wideout Deebo Samuel wore a Louis Vuitton visor during pregame activities:
Deebo Samuel rocking the Louis Vuitton tinted visor 🔥 pic.twitter.com/wKLHY6QhKB

— ESPN (@espn) November 25, 2019
And that's it. No other monochromatic uniforms (unless you count the Saints going mono-black, which is no longer uni-notable because they do it all the time), nobody wearing white at home, no nothin'. A very quiet week.
(My thanks to Pete Clark, Charlie Eldred, Joe Giza, Justin Hicks, Bill Schaefer, Mark Stevenson, and Larry Schmitt for their contributions to this section.)
• • • • •
• • • • •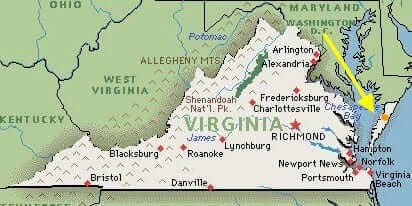 Virginia road trip report: This is the third consecutive year that I've spent the weekend before Thanksgiving on Virginia's Eastern Shore, where my friend Carrie's father lives. As usual, on Saturday we attended the annual Ducks Unlimited Eastern Shore Oyster Roast. And as usual, it was a hoot:
And as usual, I was excited to score a few pea crabs in my oysters (for those who don't know what pea crabs are, you can check out this article I wrote last year):
Speaking of oysters: In restaurants, they're typically sold by the dozen. Clams, too. Now, if you buy a dozen doughnuts or a dozen bagels, you often get 13, not 12 — a baker's dozen. The Tugboat Captain and I have long maintained that anyone who orders a dozen oysters should get 13 — a shucker's dozen! So we were surprised when we had lunch at a seafood joint yesterday and saw that they were offering a "baker's dozen" of steamed clams (but only a "full dozen" of oysters):
It's a start. I count this as progress!
The trip also included a very nice walk on a beach, where we found an impressively barnacle-encrusted object; a really good shrimp and oyster po' boy; a sighting of some wild horses; and more. But the best part was reconnecting with Carrie's dad's pooch, Tuck. I missed you too, cutie:
We'll already be driving back by the time most of you read this. Should be back at Uni Watch HQ right around sundown.
• • • • •
• • • • •
Click to enlarge
ITEM! Anniversary plate finally available: As you may recall, the 20th anniversary of something is the "China anniversary" (that's China as in plates, dishes, etc.), so I had some Uni Watch 20th-anniversary plates made earlier this year. The design was done by Scott M.X. Turner, with the little cherubs at the top by the great Rob Ullman.
We took pre-orders on these several months ago and had three additional plates made for retail sale. Those three plates were listed on the UncommonGoods website of the weekend — and one of them has already sold, so only two are left. If you want one, you can order here.
• • • • •
• • • • •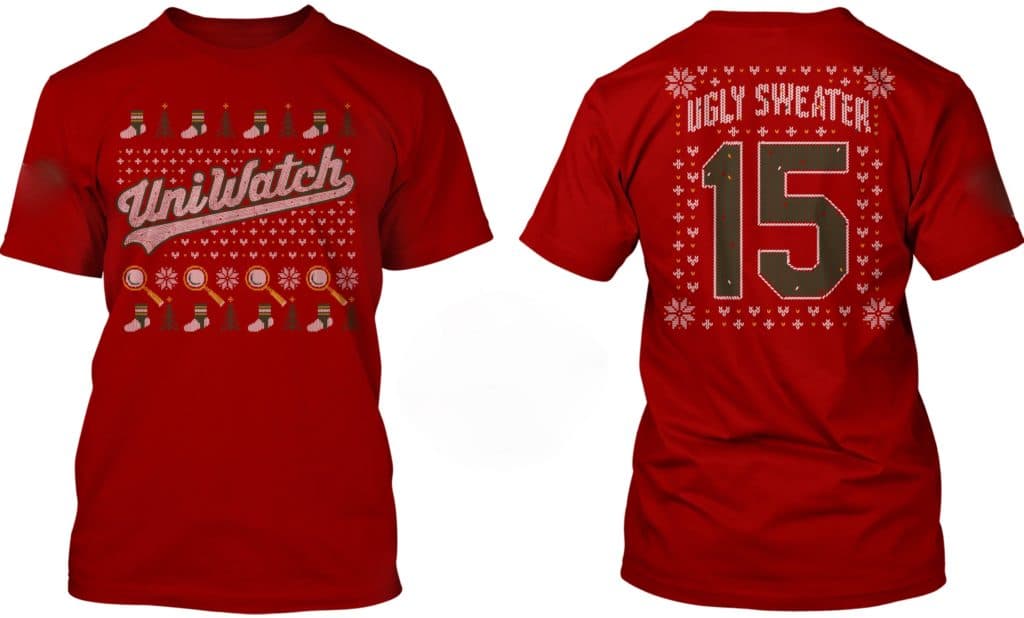 Click to enlarge
'Tis the season: With the winter holidays fast approaching, it might be time to break out the ol' Uni Watch ugly sweater shirt. If you don't already have one, it's available in long-sleeved and sweatshirt versions, too. Details here.
• • • • •
• • • • •
The Ticker
By Jamie Rathjen

Baseball News: The Japanese Pacific League's Orix Buffaloes revealed new uniforms, including an alternate of white pinstripes on black that Shawn De Haven says "many fans are saying look like pajamas." … The Green Bay Press Gazette did an article on the designer of the Brewers ball-in-glove logo (from Kurt Rozek). … Angels P Shohei Ohtani appeared on the anime Sazae-san in full uniform wearing a rough approximation of their red alternates (from Jeremy Brahm). … Paul Deaver sent us pictures of a 1946 Oklahoma City junior team.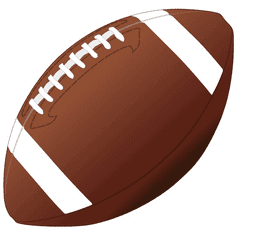 Football News: You can see Wade Heidt's review of the Canadian college championship, the Vanier Cup between Calgary and Montréal, in yesterday's comments. … Jordan Grimes sent us a '60s Bears concept. … The latest school of the day from Blaise D'Sylva's helmet collection is Colorado State. … Ohio State and UCLA went color vs. color in 1975 (from Kenny Kaplan).

Hockey News: The Bruins revealed a third uniform, confirming long-running rumors (from multiple readers). … The OHL's Hamilton Bulldogs wore Hockey Fights Cancer jerseys, (from Wade Heidt). … Going down a level in junior hockey, the British Columbia Hockey League's Vernon Vipers wore yellow first-responder themed alternates (also from Wade). … The Federal Prospects Hockey League's Danbury (Conn.) Hat Tricks (in black) and Battle Creek Rumble Bees played a color-vs.-color game (from Casey Bryant).

Basketball News: East Tennessee State is wearing what looks like throwbacks on Tuesday (from Brooks Savage). … The Grizzlies debuted their Vancouver throwbacks last night, but they apparently got the number fonts wrong.

Soccer News: German team Fortuna Düsseldorf wore their special kit incorporating the logo of the local band Die Toten Hosen — the socks even say "F95 x DTH." … German fans bring all sorts of colorful protest banners to games, but Borussia Dortmund fans brought a new kind on Friday asking for a women's team. "Football is for everyone — women's team now," it says. … Scottish team Aberdeen's center-back Andrew Considine made his 500th appearance for the club — he is one of perhaps 15 or so active players in the world to reach that milestone with one team — and received a special captain's armband. … The Rainbow Laces campaign, in which players in many sports wear rainbow shoelaces and teams break out other rainbow-accented items, started this weekend in the UK. Premier League teams didn't participate this week, but some English Football League and women's teams did, and you can see some examples on the Twitter feed of Stonewall, the organizing charity. The next two items were also done in support of the campaign. … In Scotland, teams in the Scottish Cup third round wore rainbow captain's armbands and Partick Thistle wore their white/black rainbow-trimmed second kit at home. … The Cheshire League team in the FA Inter-League Cup, a competition featuring representative teams from amateur leagues covering English counties, also wore a rainbow shirt with Stonewall as the ad.

Grab Bag: The NLL's former Rochester Knighthawks moved to Halifax to become the Thunderbirds, so Wade Heidt sent us the team's new floor. … Timmy Donohue sent us a Life magazine article listing all the shoulder insignia worn by U.S. Army troops in World War II. … Tennis's Roger Federer, who is a big sneakerhead, invested in a small Swiss sneaker company called On (NYT link) (thanks, Brinke). … Yuma (Ariz.) HS's nickname is the Criminals, because it was once briefly located in a disused prison. It's better than another Bulldogs or Tigers school (from Alan Kreit). … Reader JohnMark Fisher says the logo for Hennepin County, Minn., which contains Minneapolis, cleverly references the county government building in the negative space of the H, though if you ask him, "all I see is a bottle of wine." … Here's a Sporcle quiz: Can you identify these logos from now-defunct sports teams? "I scored 14 out of 16," says Christopher Fyfe.