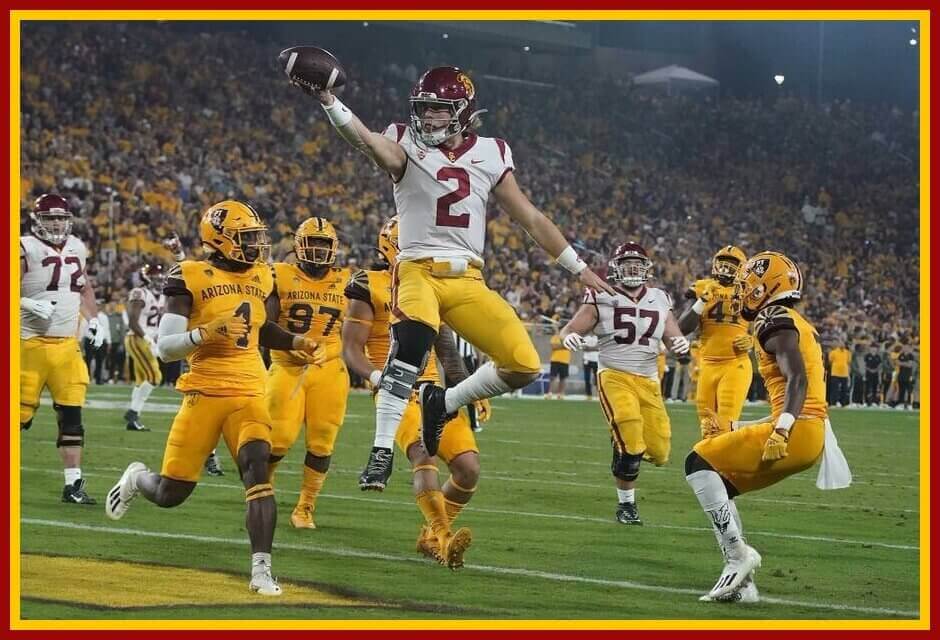 By Phil Hecken & the SMUW Crew
Follow @PhilHecken

Good Sunday Morning Uni Watchers. I hope everyone had a good Saturday. It's definitely football weather (at least it is where I live). Hope everyone enjoyed the "extra" hour of sleep — if you somehow forgot to turn your clocks back an hour, now's a good time to do so. I'll wait.
Week 10 of the NCAA Football season didn't feature too many special costumes, but with Veterans Day coming up this week, yesterday was a day when a lot of teams practiced flag desecration busted out their S&S/camo stickers and related ephemera.
One team which did the "Salute to Service" thingy was Arizona State, but in a unique way. They wore mono-gold for the first time this season, and really turned the Salute to Service into a Salute to Pat Tillman, who, had he lived, would have turned 45 years old yesterday. The main feature of their tribute was found on the helmet, where they removed the pitchfork (or Sparky) decals they normally wear, and replaced them with "PT42" logos on both sides of their helmets, as well as displaying "PT42" right above the facemask. Both the decal and helmet stripe had a subdued maroon camo pattern.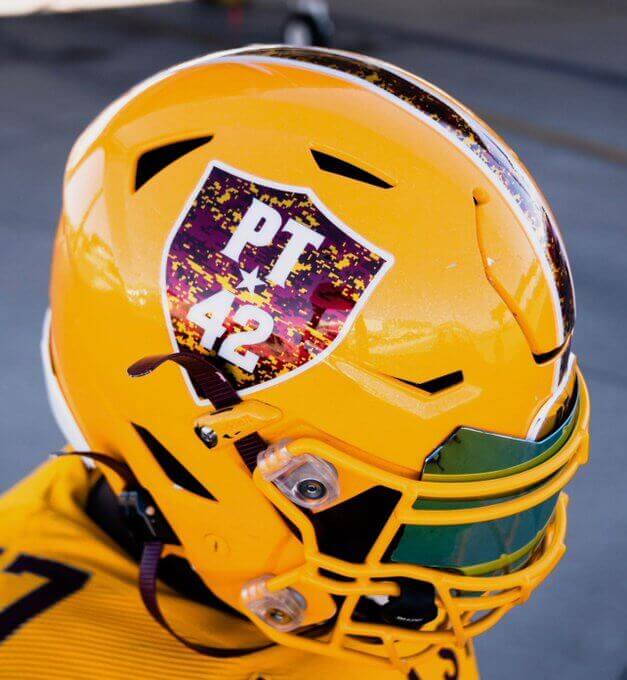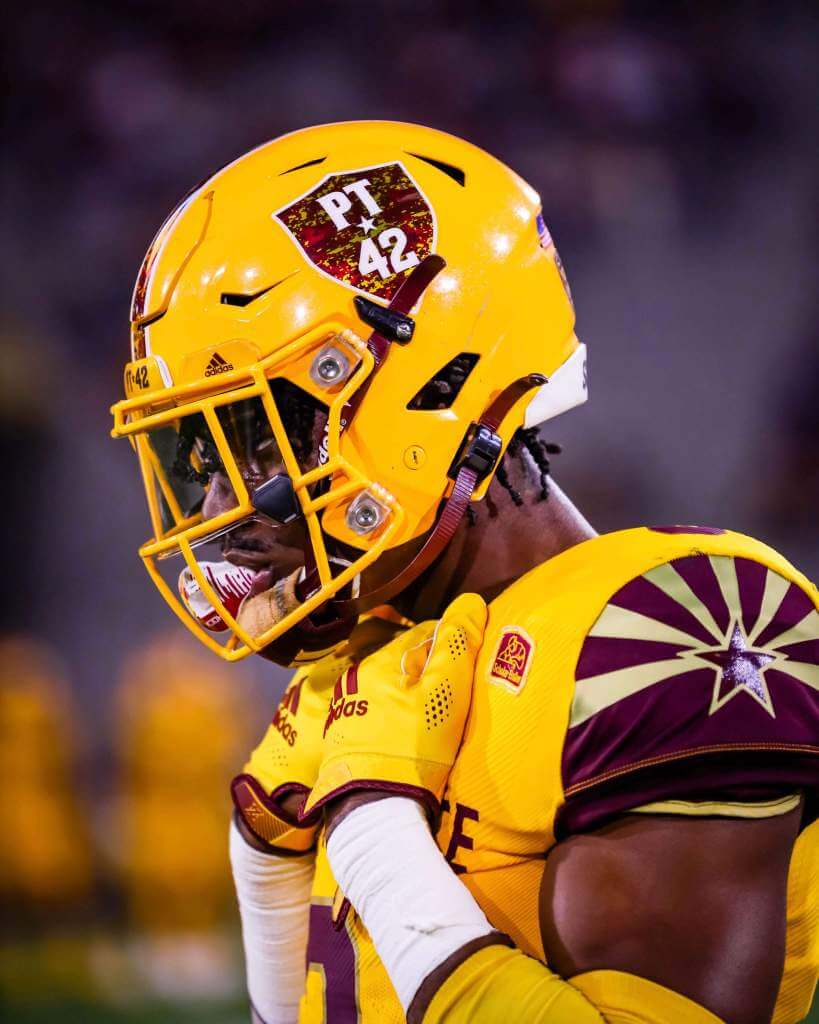 They also wore a "PT42" logo on their pants. You can see these much better in the "hype" video:
Salute to Service. 🇺🇸

This week we recognize those who have bravely served our great country. pic.twitter.com/JjQVCcm7Jw

— Sun Devil Football (@ASUFootball) November 5, 2021
Both ASU and USC, their opponents yesterday, have similar colors — gold and maroon for ASU and cardinal and gold for USC. So when they meet up, ASU (who have a bazillion uni combos) generally doesn't wear a uniform that makes it look like a game between the two is a scrimmage. But by going mono-gold last night, both teams had similar looking lower-waist stylings. You can see the slight difference in shades of gold here: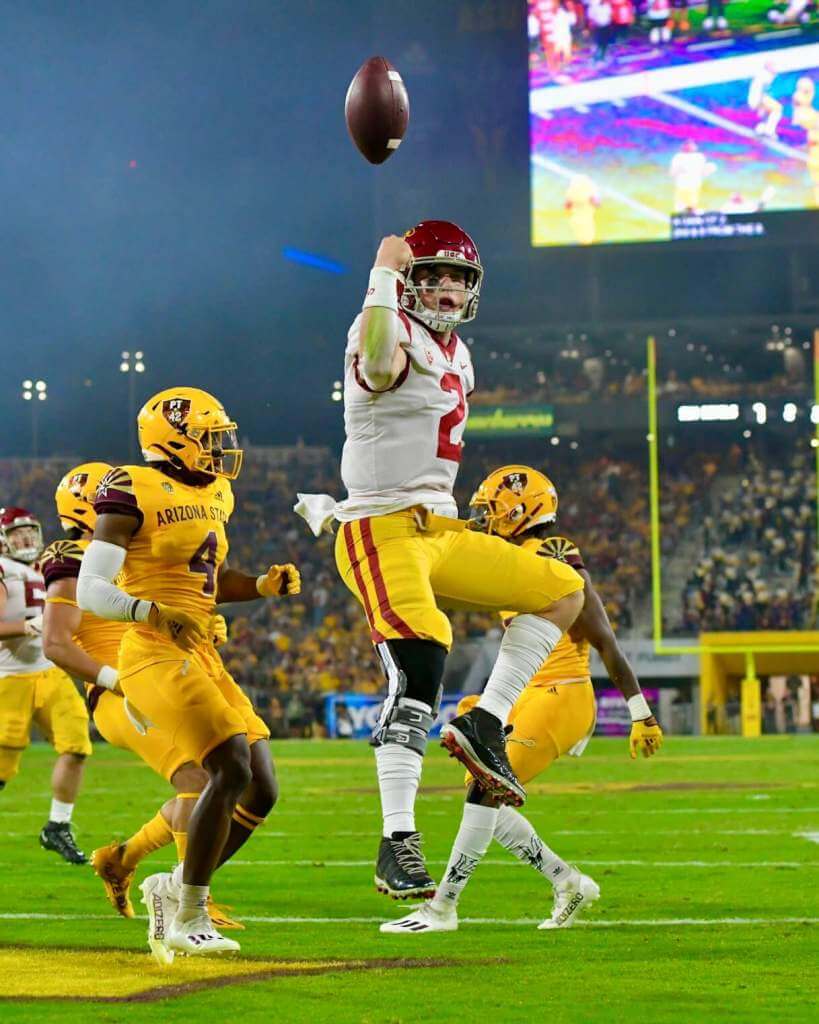 That's a lot of gold.
Patience is 🔑@Chipperrz_ caps off the 94 yard drive with a TD. pic.twitter.com/UmoDNb9fIF

— Sun Devil Football (@ASUFootball) November 7, 2021
Interestingly enough, the most notable moment in the game came not between the two teams, but on the field. A desert fox somehow found its way onto the field. And while I wouldn't want to own one as a pet, it was pretty cute…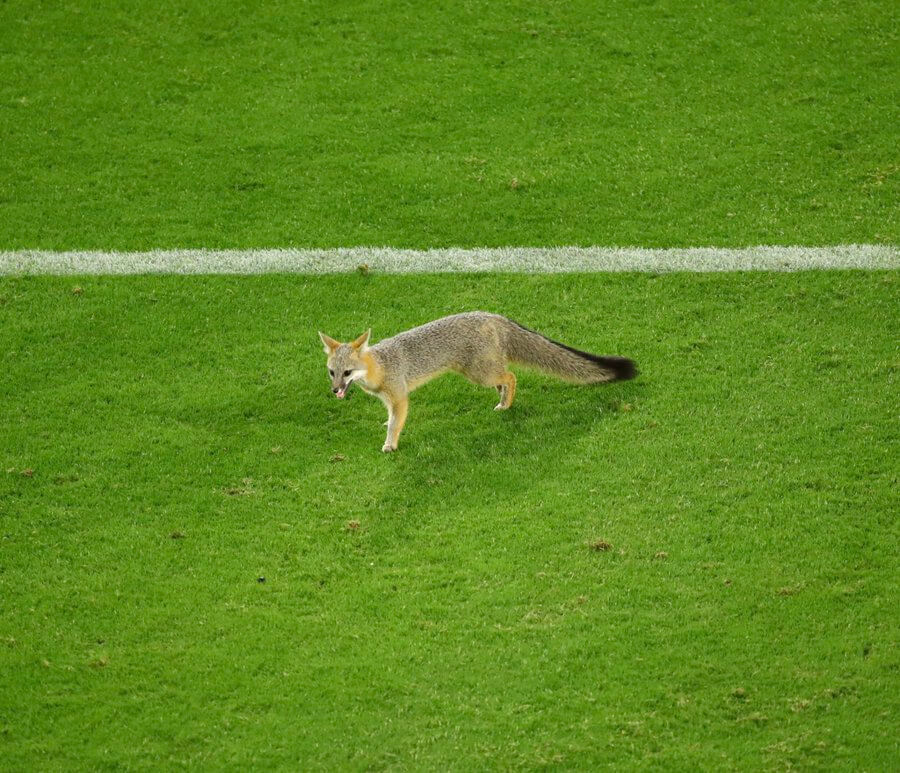 The usual hilarity ensued, as is wont to happen whenever an animal finds itself on a ballfield.
We interrupt this regularly scheduled program to bring you this important message.

There is a FOX on the field, @ASUFootball. 🦊

📺 ESPN
📱 https://t.co/oIyZfYSpgK pic.twitter.com/5jSzEckkE1

— Pac-12 Conference (@pac12) November 7, 2021
Awww. Poor thing. He did apparently escape unharmed, so all's well that ends well.
And on that note, I'll now turn this over to TJ with the rest of your …
• • • • •
Sunday Morning Uni Watch
by Terry Duroncelet, Jr.
From Tuesday:
• Hey, Ohio: you missed your BFBS window by a few days.
From Wednesday:
• Tell me you're a fan of the Chargers without telling me you're a fan of the Chargers. Here's a closer look at the helmet (H/T to Blaise D'Sylva), plus the only correct answer for these lids.
From Friday:
• Boston College wore their Red Bandana uniforms for the second time this season against Virginia Tech.
From Saturday:
• The team names might be Rite Aid garden variety fare, but the visuals were anything but! And check out the striped socks on Mizzou Junior defensive lineman Isaiah McGuire in that last photo. Also, Atlanta Braves mascot Blooper had some fun at this game.
• I actually really liked North Carolina's CAR/NAVY/CAR combo from their game against Wake Forest.
• Like clockwork, SEVERAL teams had some display of flag pandering and G.I. Joevember shenanigans, including (but not limited to): Minnesota, Purdue, West Virginia (more on them later), Illinois State, Southern Illinois (I love the 'Salukis' name, BTW. Such gorgeous dogs), New Mexico State, Georgia Southern, and New Mexico. (Blaise, you're a legend)
• Speaking of Countr– NO, I ALREADY MADE THAT JOKE LAST WEEK *ahem* speaking of West Virginia, Mountaineers Senior linebacker Josh Chandler-Semedo chose not to wear the S&S helmet decal, and it's apparently not the first time that he's done so. And you know what? I'm in full support of this. No photos, though.
• Oklahoma State do be looking pretty nice. But to be fair, most of their looks hit.
• Florida State wore gold/black/gold for the first time in school history against NC State, who themselves is wearing black/white/black for the first time in their team's history, as well.
• TCU wore their bloody squirty eye uniforms against Baylor. (for the uninitiated).
• How do you make a game between two teams who share at least one primary school color look good? This is how. And normally, I CANNOT STAND Brush Script, but I can make an exception for Duke.
• Someone's seeing red, in more ways than one.
• Smoke/black/black for Troy.
• UCF wore white at home, and Tulane took that opportunity to wear light blue (closer look at Tulane's helmet, as well as UCF's).
• A month early for the Xmas colors (unless your name is Mariah Carey), but I'll take it!
• USF partied like it was 1997 (for those not in the know).
• • • • •
Thanks, TJ — and now on to one very happy Jimmer, who's basically going to sing you through the 5 & 1.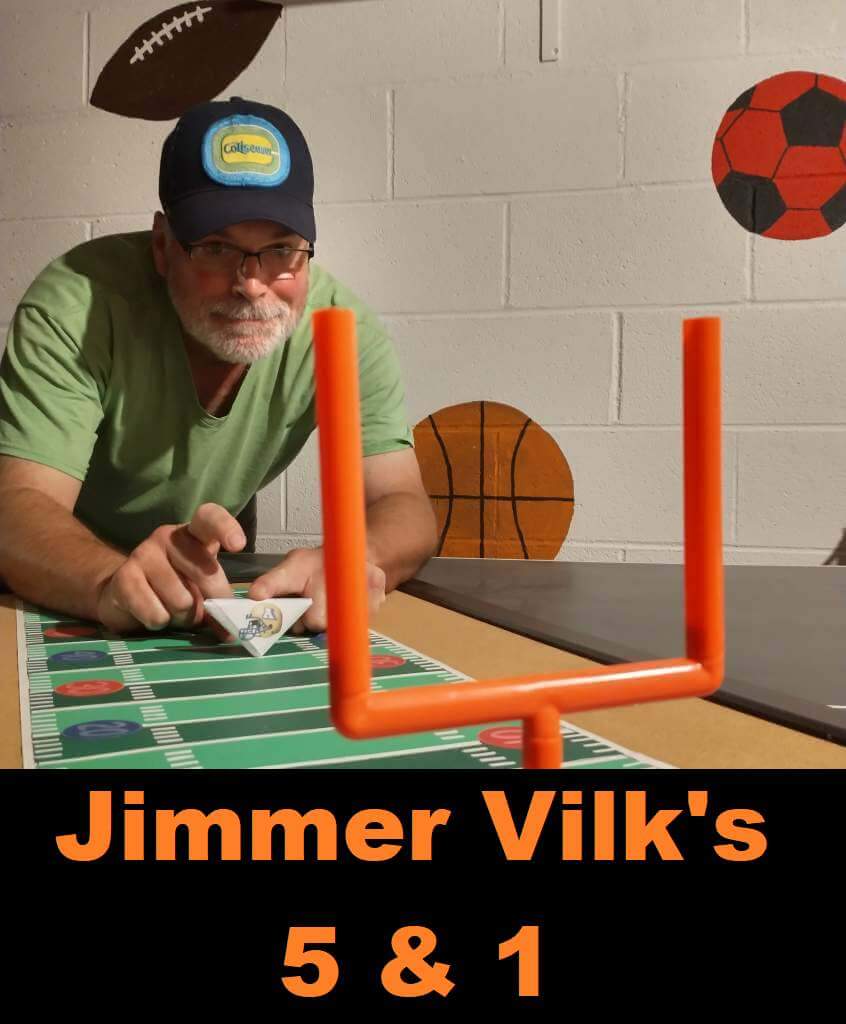 Jimmer Vilk's 5 & 1
After more than a decade in hiatus, the original "5 & 1" decider, Jim Vilk, has returned! Jim began doing the 5 & 1 many years ago, followed Catherine Ryan, Joe Ringham, Michael "Memal" Malinowski, and several guest pickers. Once again, Jim will pick HIS 5 best looking/1 awful matchup, and occasionally have some honorable mentions (both good and bad). You may agree and you may disagree — these are, after all, just opinions and everyone has one. Feel free to let him know what you think in the comments section.
If you have a game you feel is "worthy" of consideration for the 5 & 1, please either post it in the comments below or tweet Mr. Vilk @JVfromOhio.
Here's today's 5 & 1:
• • • • •
Breathe deep the gathering gloom, my friends! It's Standard Time again…the Most Wonderful Time of the Year. I'm so psyched about the cooler darker days that I could sing, but I'll just get right into the list instead.
Honorable Mentions to
Tulane/UCF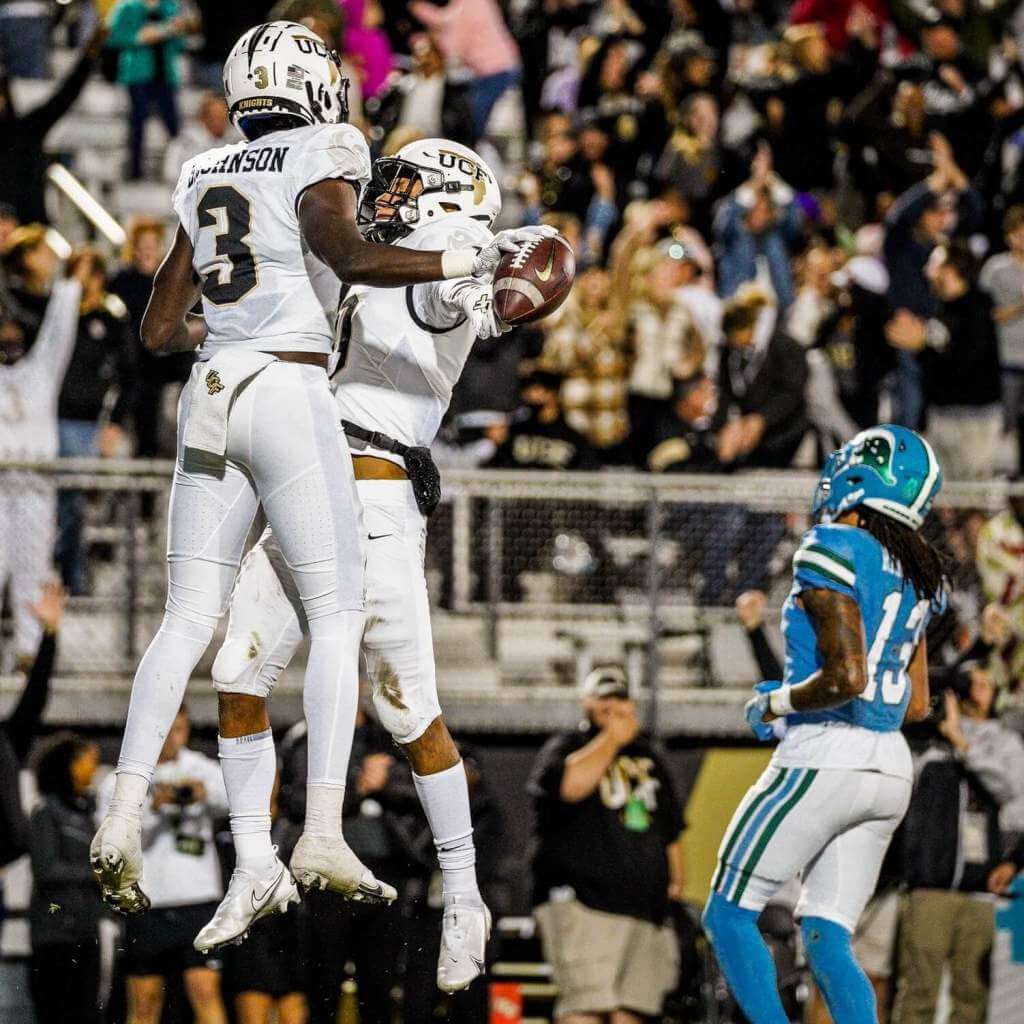 The Green Wave in their Moody Blues vs (K)nights in white satin polyester.
__________
Illinois/Minnesota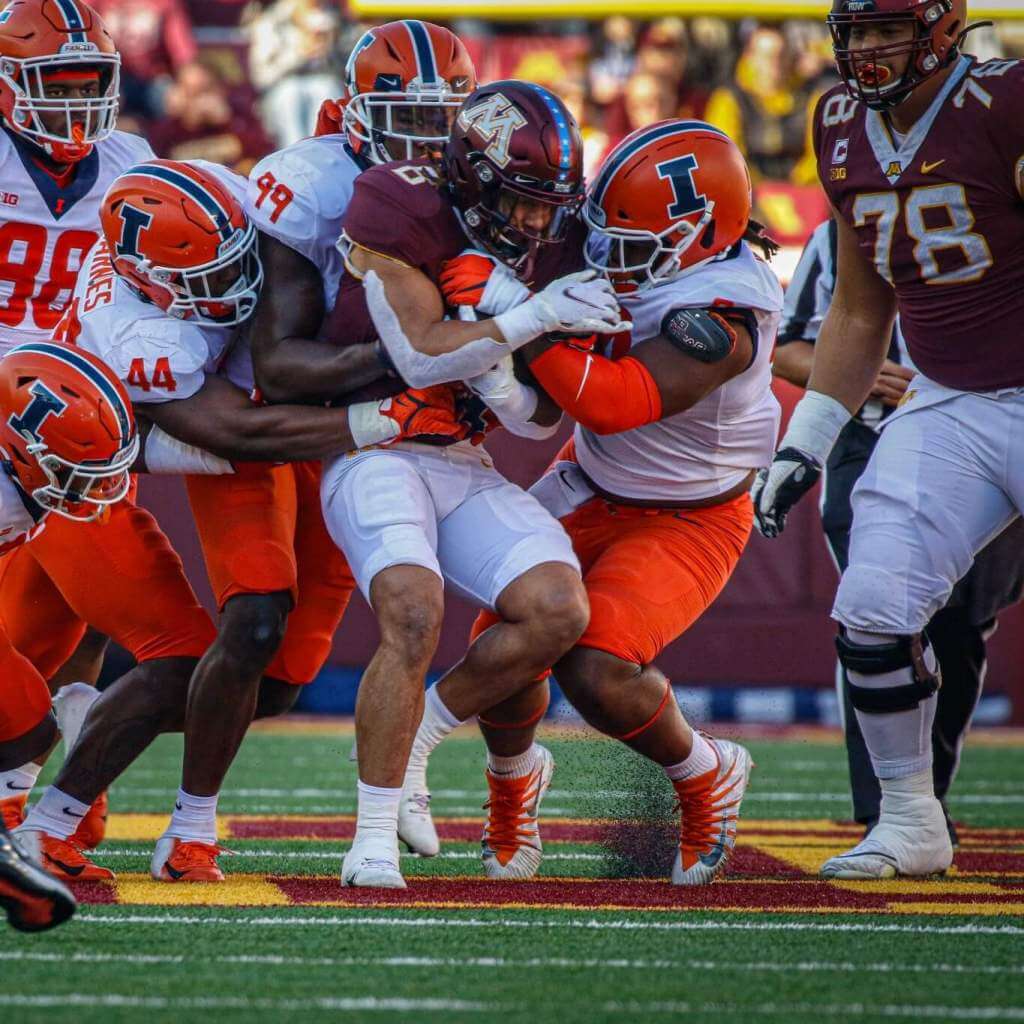 The Gophers didn't row gently down the stream, but they paired nicely with the Illini.
__________
5. Idaho State/BYU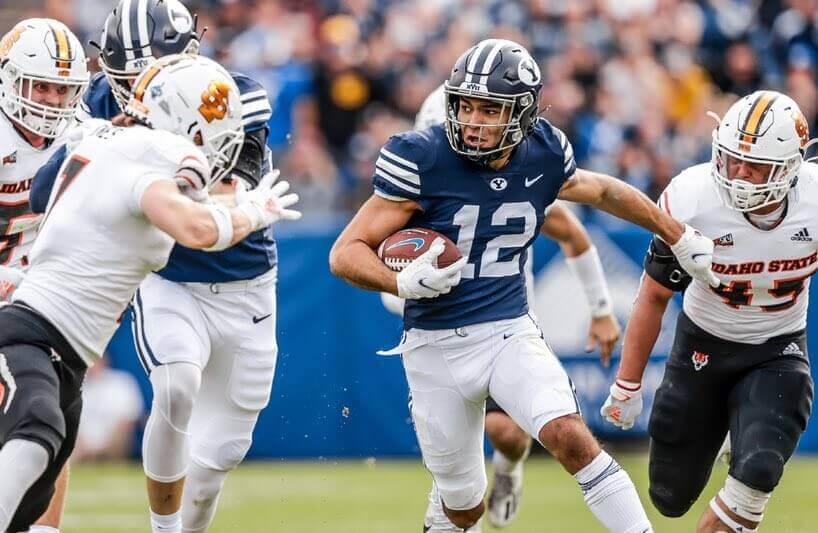 Even with BYU in the navy, this matchup put my mind at ease.
__________
4. UTSA/UTEP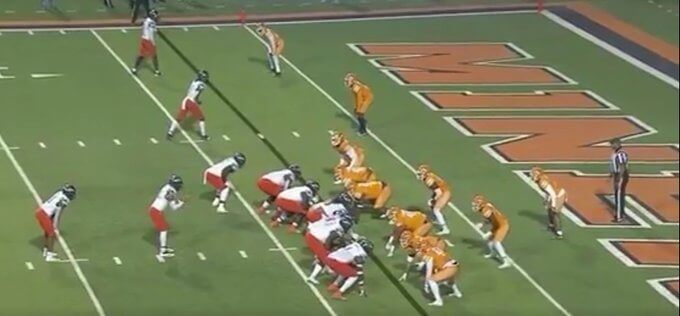 All that orange has me "walking on sunshine, whoa-oh, and don't it feel good!"
__________
3. Missouri/Georgia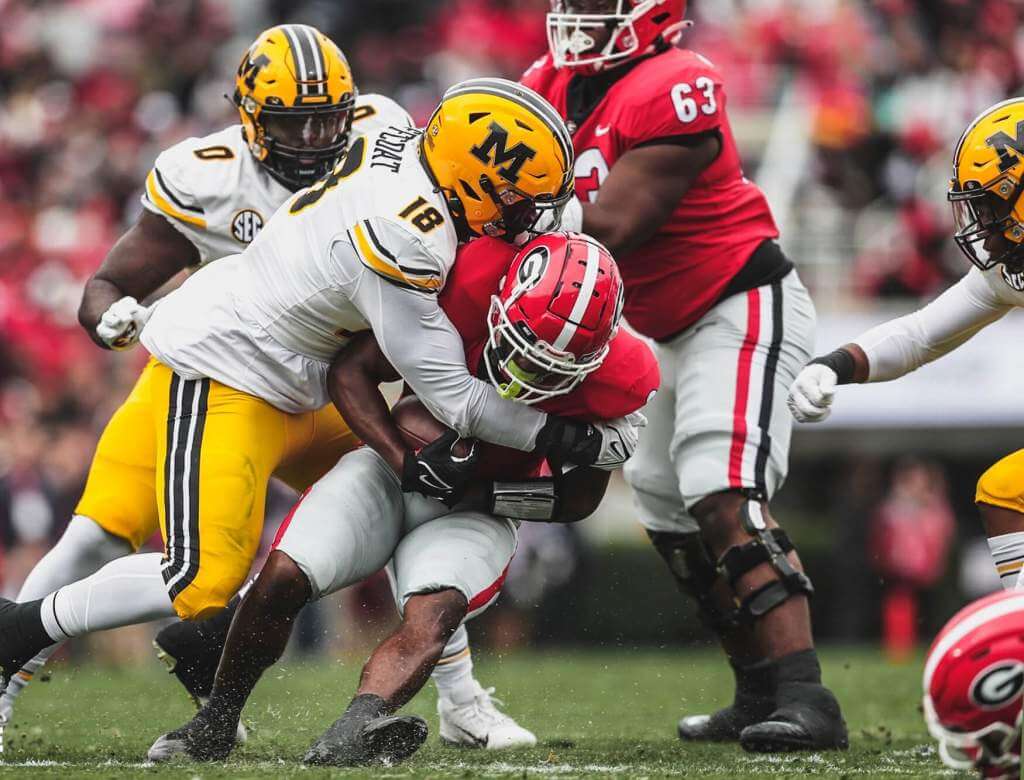 This mustard/ketchup matchup was definitely on my mind.
__________
2. Tennessee/Kentucky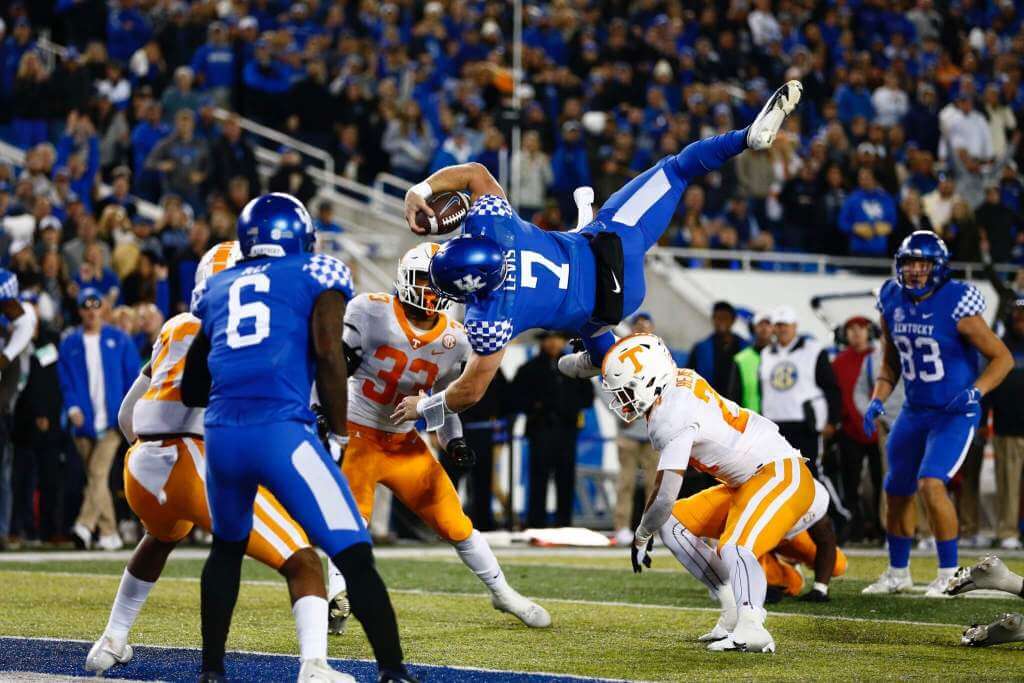 "How about a pair of pink sidewinders and a bright orange pair of pants?"
__________
1. LSU/Alabama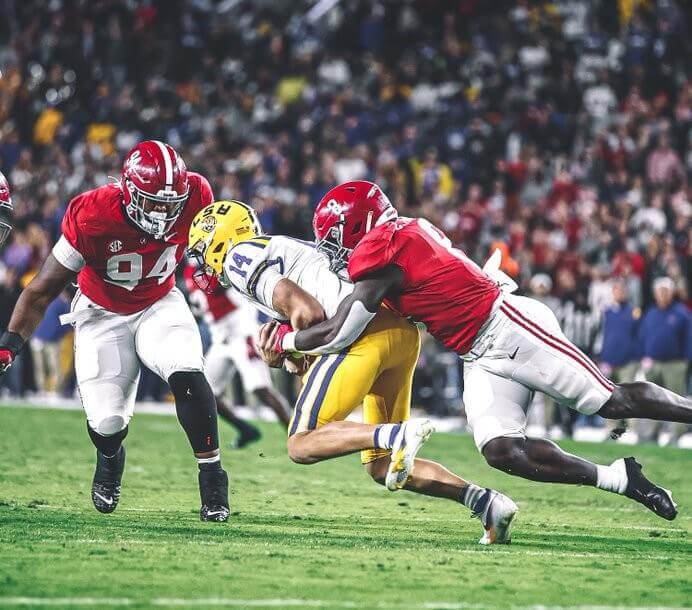 When Phil found out this game was on the schedule, I bet he was singing "The Tide is hiiiigh, I'm holding on, I'm gonna be your number one."
__________
Dishonorable Mention to
Georgia State/Louisiana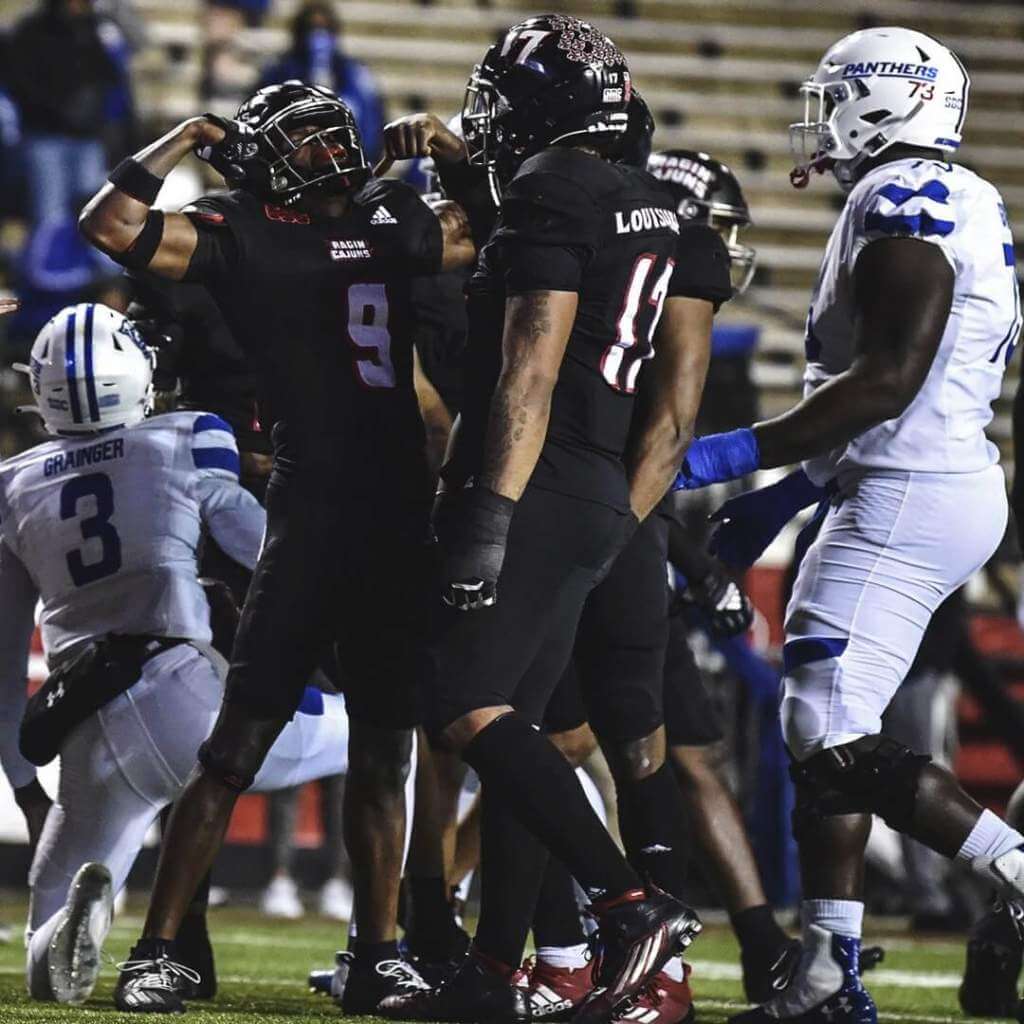 "Cold hearted orb that rules the night, removes the colors from our sight."
__________
&1. SMU/Memphis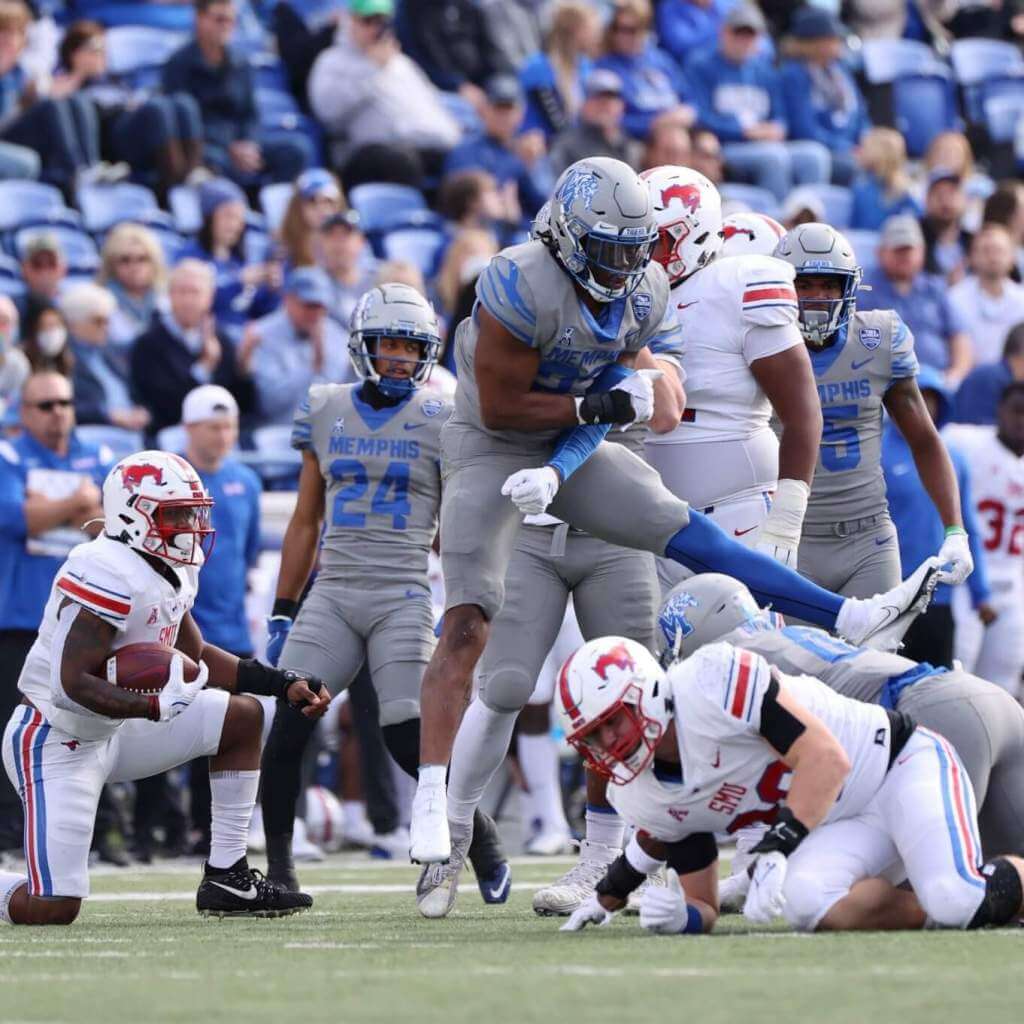 No, Tigers, this touch of grey doesn't suit you in *any* way.
• • • • •
Thanks, Jim! OK readers? What say you? Agree or disagree with Jimmer's selections? Let him know in the comments below.


NCAA Uni Tracking
Uni Watch will again track the uniform combinations worn by the "Power 5" conferences. All of the 2020 trackers are back!
We've got Rex Henry (tracking the ACC), Dennis Bolt (tracking the PAC-12), Kyle Acker (tracking the B1G), and Ethan Dimitroff (tracking the Big XII AND the SEC). Rex, Dennis, and Kyle and are all returning from 2015, and Ethan is back after joining the NCAA Uni Tracking a couple seasons ago. Ethan will continue to track the SEC, and has swapped the B1G for Big XII (with Kyle).
Here are the Uni Trackers for the Power 5 Conferences (along with each tracker's info):
+ + + + + + + + + +
Rex is up first today (ACC):
• • •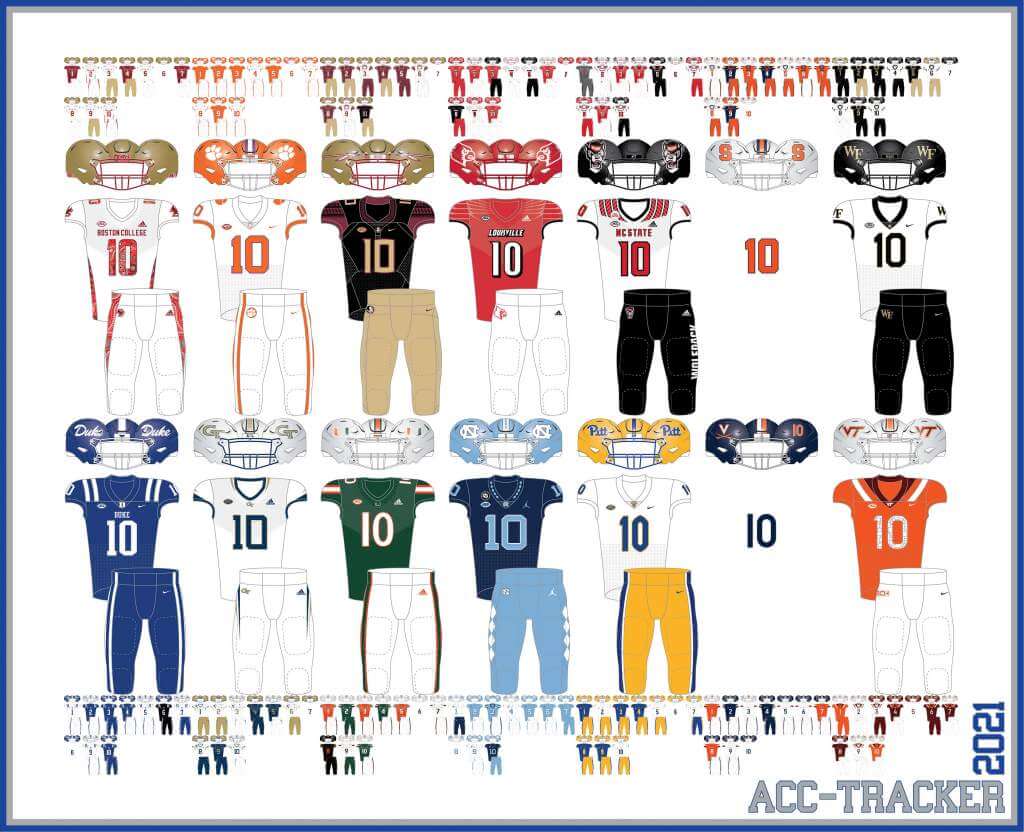 ACC

More Here.
Follow Rex on Twitter here.
• • •
And now, here's Dennis with the PAC-12: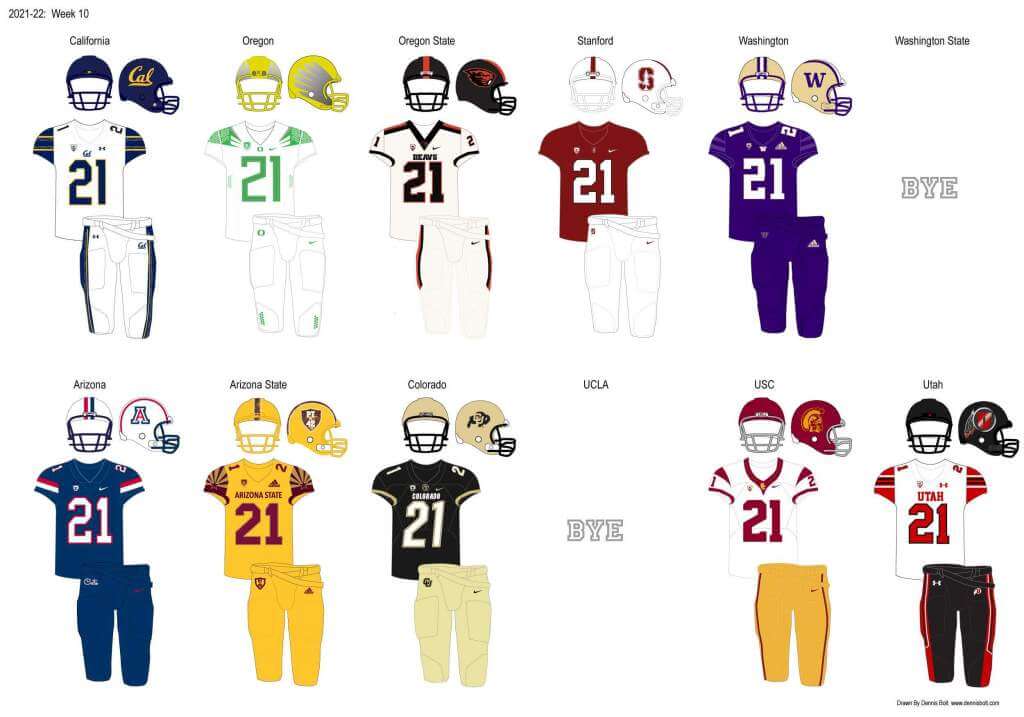 PAC-12

More here.
Follow Dennis on Twitter here.
• • •
And here is Ethan, with the SEC:
SEC

And be sure to check out Ethan's WVU Mountaineer Tracker.
Follow Ethan on Twitter here.
• • •
And here is Kyle with the B1G: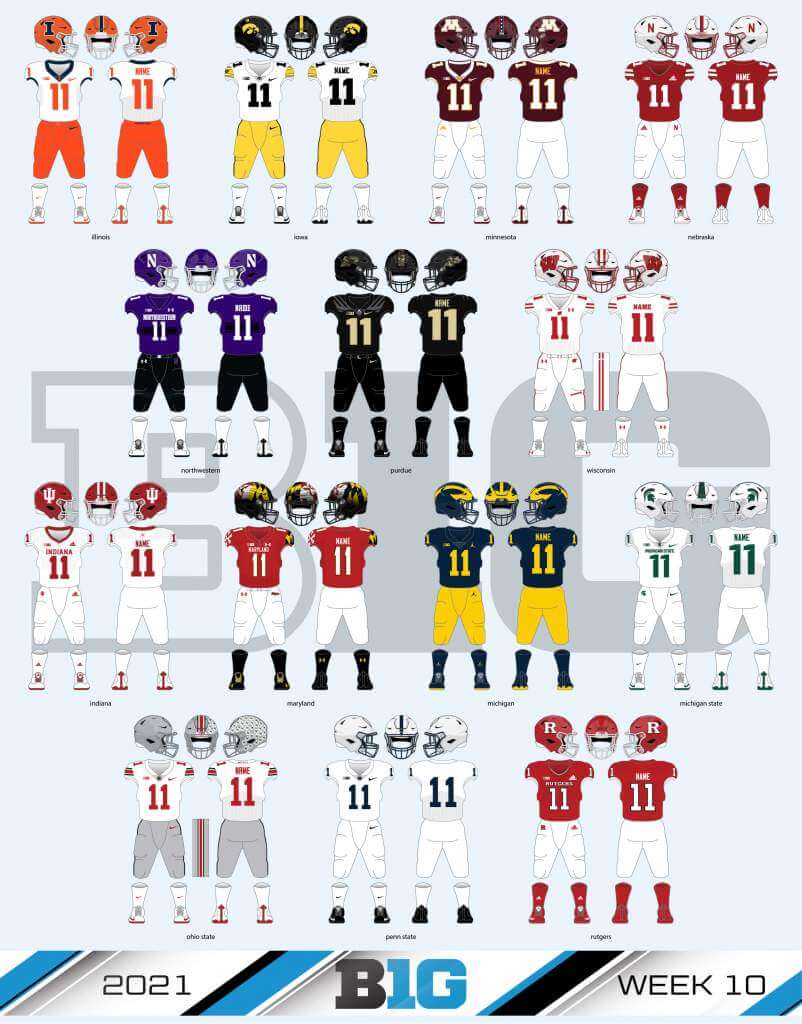 B1G

Follow Kyle on Twitter here.
• • •
And here's Ethan with the Big XII: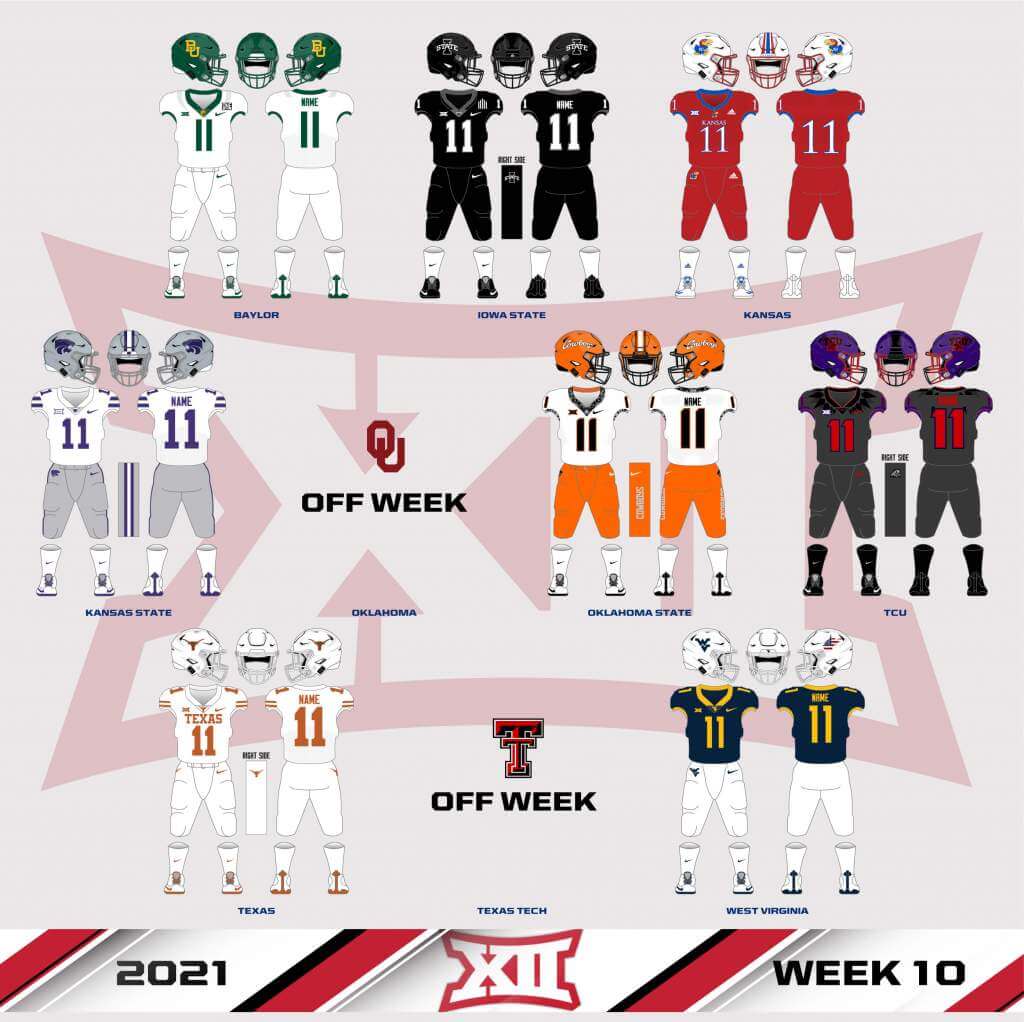 Big XII




Welcome to the 2021 Oregon Ducks Uni Tracker. This little project was originally begun way back in 2008-09 by Michael Princip, who retired after several seasons, whereupon the project was continued by Tim E. O'Brien. He, too, retired from the tracking, but the project has been ably kept up by the man who also tracks the Pac12, Dennis Bolt.
Here's this week's Uniform Combo for the Ducks (you can click to enlarge):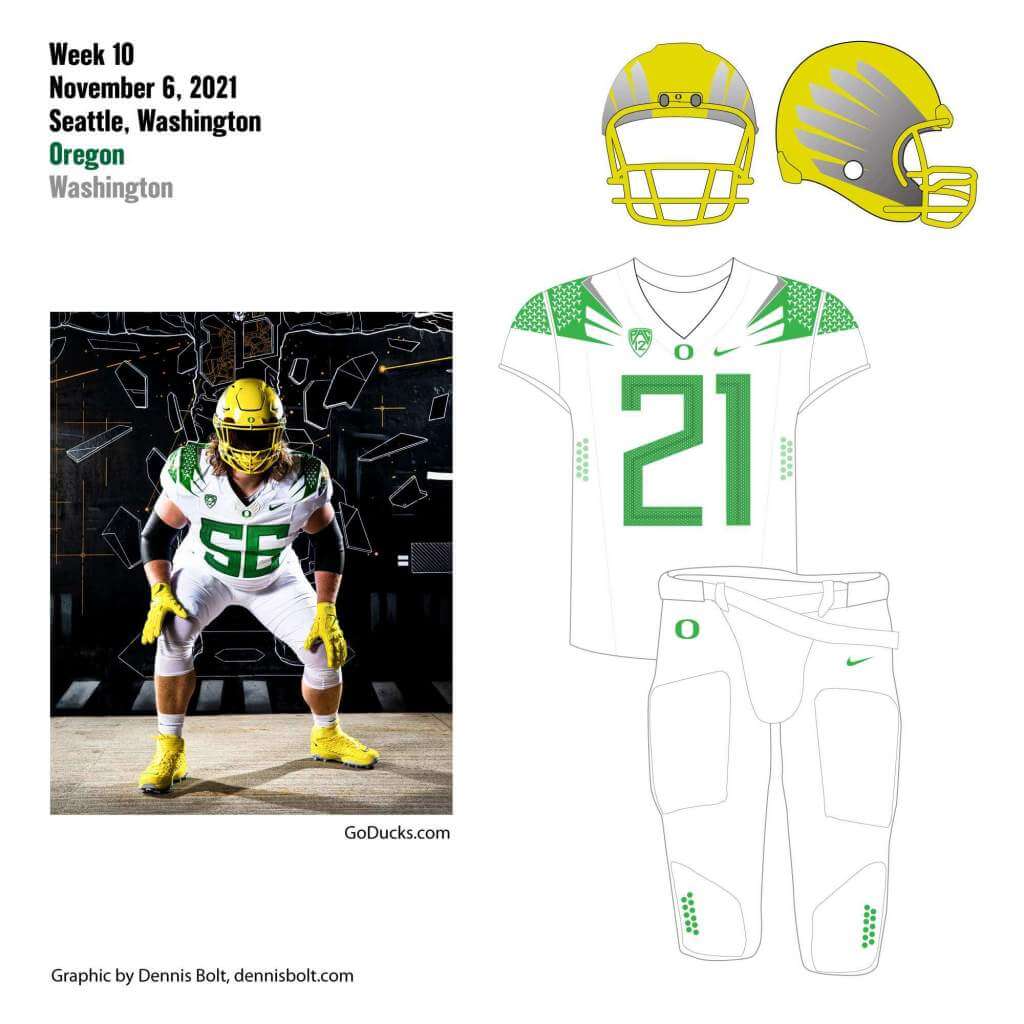 You can read about this uniform, and MUCH MORE, by checking out the Duck Tracker here and the color combo spreadsheet here!
Thanks Dennis!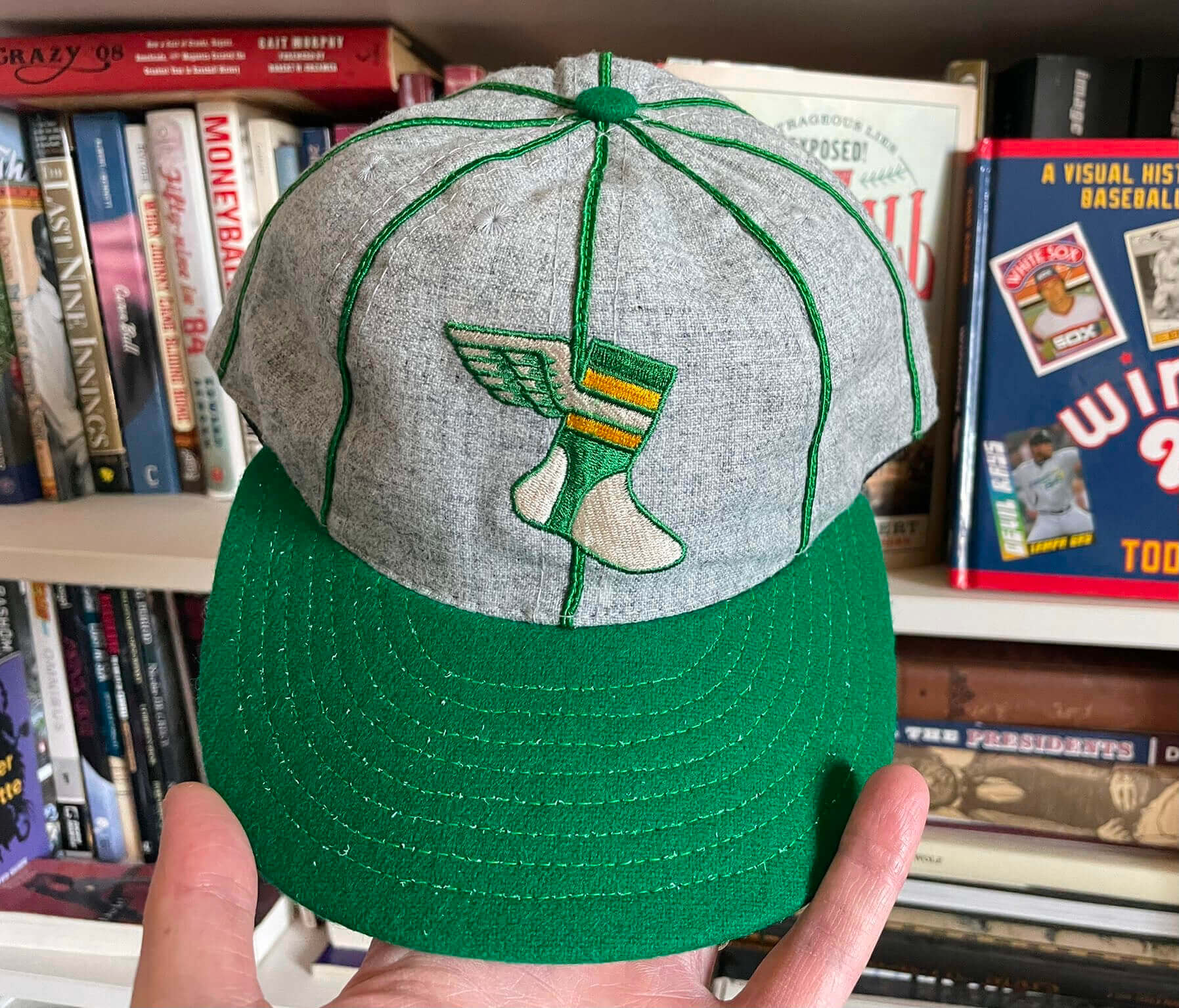 For all photos, click to enlarge
And now a few words from Paul: Hi there. In case you missed it earlier this week, I'm now taking orders on a small batch of our new Uni Watch Alternate Cap. Supplies of this one are extremely limited. Additional photos and ordering details here.
While I have you here:
• If you want some Uni Watch headwear but don't care for the new ballcap, our Uni Watch Toque might do the trick.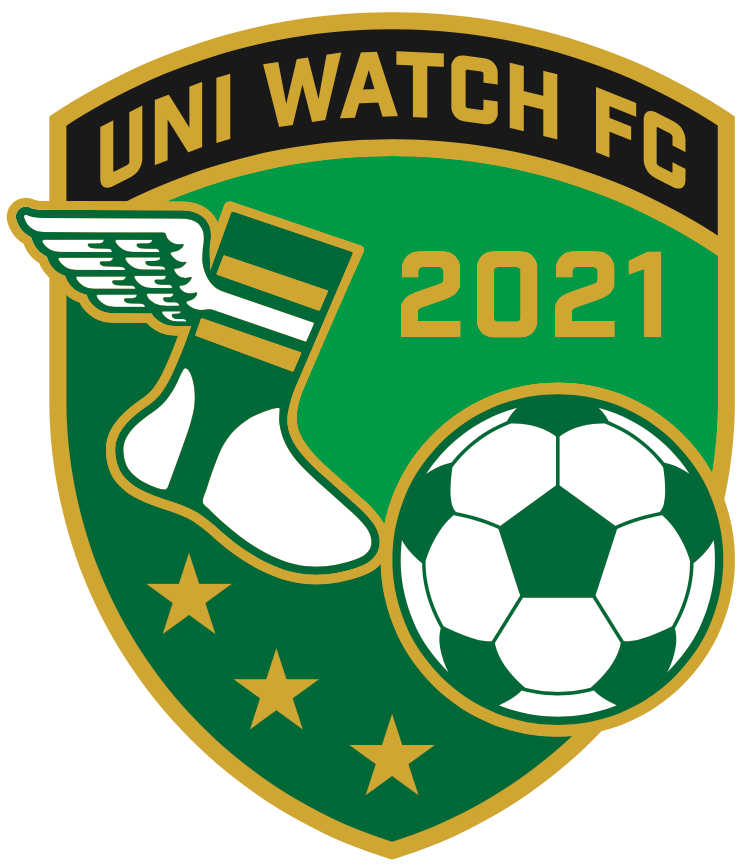 • Our soccer-themed November pin — the first soccer design we've done (shown at right) — launched earlier this week. It's a numbered edition of 150, and we're down to about 30 remaining. It's available here while supplies last.
• Todd Radom's awesome "Hit Sign, Win Stirrups" graphic, which was originally available on a limited-edition T-shirt in 2017, has been revived and is now available a variety of formats. You can get it as a T-shirt; as a hoodie; as a pint glass; as a poster; and as a canvas print.
• I'll be traveling in North Carolina next weekend and will be convening a Uni Watch gathering on Saturday, Nov. 13, 2:30pm, at Tobacco Road in Durham. I look forward to seeing lots of you there!
Okay, that's it from me. Now back to Phil with the rest of today's content.


Uni Watch News Ticker
By Phil

Baseball News: Check out this wonderful colorization of Walter Johnson by Chris Whitehouse (aka "ManCave Pictures), who was featured right here last weekend. … Rakuten in NPB have an alternate uni with their home town Sendai's prefecture name Tohoku instead of the co. name Rakuten. Colors also blue instead of red (from Johnny Cauucklehead).

NFL/CFL News: The Buffalo Bills will go white/white/blue against the Jacksonville Jaguars, who will counter with black/teal/white. … Is there anything the Apple Watch can't do? Colin MacIntyre writes, "I always enjoy the ticker stories about media using wrong or out of date logos, and I just noticed this evening (after having an Apple Watch for 2 years) that Sportsnet's app uses the CFL logo from 2002-2015." … This is interesting — I had been chatting earlier in the week with Jimmer Vilk about various kerning issues for players who wear #11, and here's a prime example of different kerning for the same team (from Alaska Titans). … Packers President/CEO Mark Murphy confirmed today on http://Packers.com that the team will wear their 1950's jerseys one game a year for the next four seasons (from Kyle Malzhan).

Hockey News: The Junior "A" BCHL's Prince George Spruce Kings showed us their BCHL 60th anniversary throwback-inspired jerseys for the first time on the ice Friday night (from Wade Heidt). … ICYMI, there's a new AHL team and logo: the Coachella Valley Firebirds (from #Thibodeaux2NYG). … I'll be honest — I don't follow which NHL teams have helmet ads and which don't, but apparently the Calgary Flames and Edmonton Oilers don't (h/t Alan Wrench). … The Peoria Rivermen have really taken the whole S&S thing to another level (from Dave Eminian). … Check out these Buffalo Sabres warm-up sweaters (from Paul). … ICYMI: The Vancouver Canucks paid tribute to our Southeast Asian community with a Diwali warm-up jersey that has some special features (from Dime Store Greaser).

NBA News: Lotsa "0"s alert: Joe Farris "Love(s) when there is a 0 and 00 on the same floor. Warriors Gary Payton Jr and Jonathan Kuminga." Extra bonus: the Pelican's Didi Louzada #0 on the floor at the same time.

Soccer News: Reader Jamie (who prefers his last name not be used) is struck by the dichotomy of how sports teams (mostly, but not exclusively, college football) recognize "Remembrance" (or Veterans) Day in the US, versus how the Premier League does. "The premier league meanwhile had an underrated, solemn ceremony involving 2 wreaths being laid by each manager, a trumpeter, an understated and appropriate pregame midfield logo and then simply poppies on each teams uniforms. All of this understated, yet seemingly so genuine and on point. No union jacks all over the uniforms or pro-England sentiments. Instead it's all just overwhelmingly reverential." … Check this out: an original MLS media guide complete AOL emails (from Adam Vitcavage).

Grab Bag: During the recent WBBL match between the Melbourne Renegades and the Brisbane Heat, Renegades player Harmanpreet Kaur wore a gold cap in the field instead of the normal red cap (from Graham Clayton). … Here's a look at BC women's lax championship rings (from Bill Abely).


And finally… that's gonna do it for me for the weekend. Big thanks, as always, to TJ, Jimmer, Rex, Dennis, Kyle & Ethan, for all their efforts to make the SMUW come together. Good stuff fellas!
You guys and gals have a great week and I'll catch you here again next Saturday.
Peace,
PH