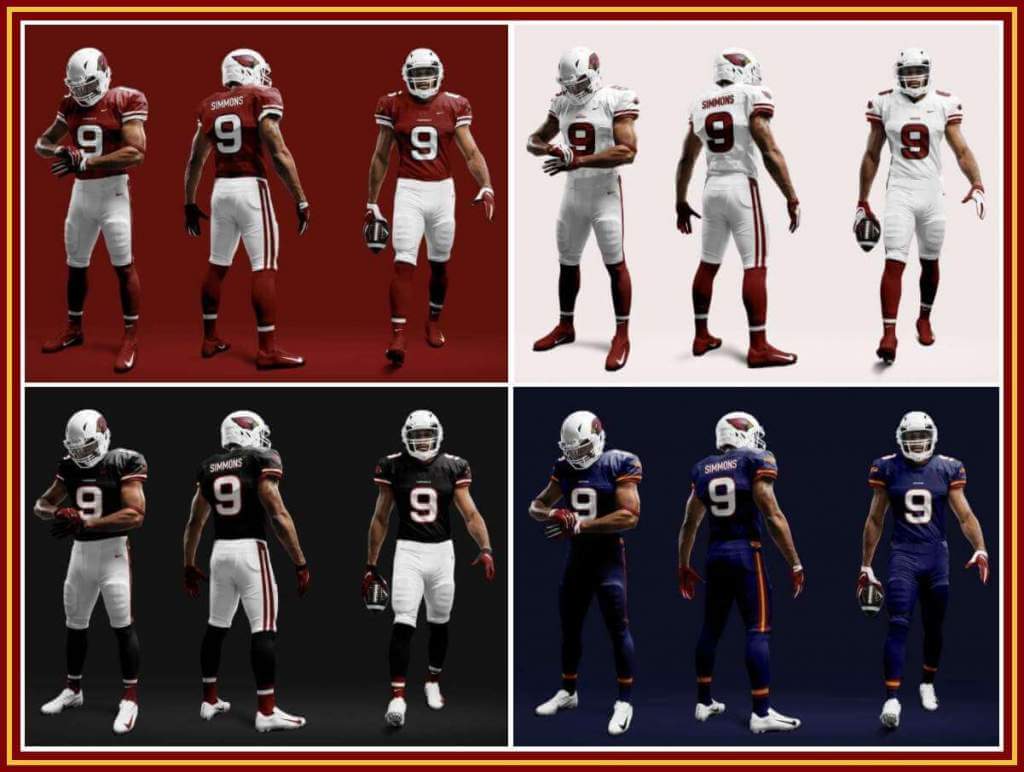 By Phil Hecken
Follow @PhilHecken

Greetings and a very good Saturday morning to you all. I hope everyone has had a good week so far.
A couple days ago, knowing how much I enjoy uniform concepts, Paul shot me an e-mail with the following message: "This came in a week ago. Thought I might do something with it, but now I'm thinking it might be better for you." He was right.
The e-mail was from reader Drew Domm, and it was actually sent on October 27th — the day before last week's Thursday Night Football game between the Arizona Cardinals and the Green Bay Packers. Although the game was awesome (the Pack won late), it wasn't exactly a uni-matchup for the ages, with the Cards wearing their BFBS Color Rash alternates. Sadly, one could actually make an argument that this is their least terrible uniform … which is saying a lot. Even if you're (the one) fan of any of the Cardinals uniforms, I think few would argue they're in need of a redesign. With the Bucs, Browns and Jags all redesigning in the past couple years, the Cardinals (IMO) have the worst uniforms in football.
So when Paul forwarded me Drew's e-mail with new Cardinals uniform concepts, I was more than happy to share it with you. Obviously it was written before last week's game, but no matter — the proposals below are an immense improvement over the current Cards' kits. I'll let Drew take it from here…
• • • • •
Fixing this upcoming Thursday Night Football issue
by Drew Domm
Hey all of you at Uni-Watch👋
Thanks for everything, huge fan of your site, twitter, and your attention to details.
I've been a designer over at Apple for several years and finally got a little free time to try and fix my hometown football team's less than stellar uni; the Arizona Cardinals. I know there's a huge game coming up tomorrow against the Packers, of which will prominently display two legacy football franchises doing very well this year. Unfortunately I know you, myself, and all of your readers will be paying more attention to the current head-scratching uniform choices of the Cardinals. That being said, I hope you appreciate this take on simplifying the Cardinals uniforms to something more classic and simple.
Done away with are the odd curves and pipings that scream 1999, replaced with some classic shoulder/pant stripes to harken back to their timeless history back from the Chicago and Phoenix era uniforms. The helmets are left white, keeping with their long history of having that white top, but with a simple tweak to lose the grey in the facemark for clean and focused white.
The home and away jerseys are simplified down to their respective red and white colors, where on the chest, (a la baseball jerseys) the embroidered center piece witches from "Cardinals" when home to "Arizona" when away.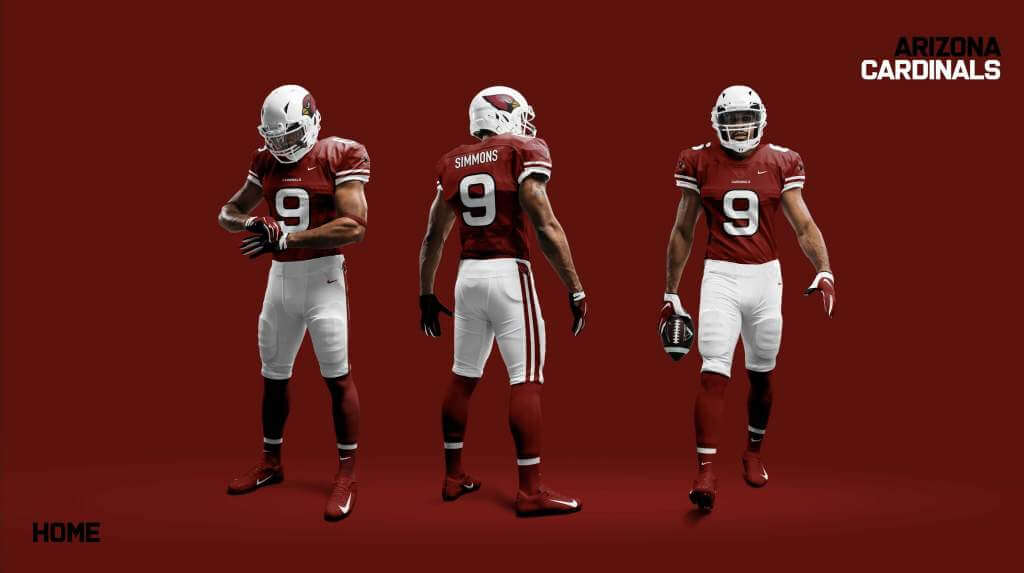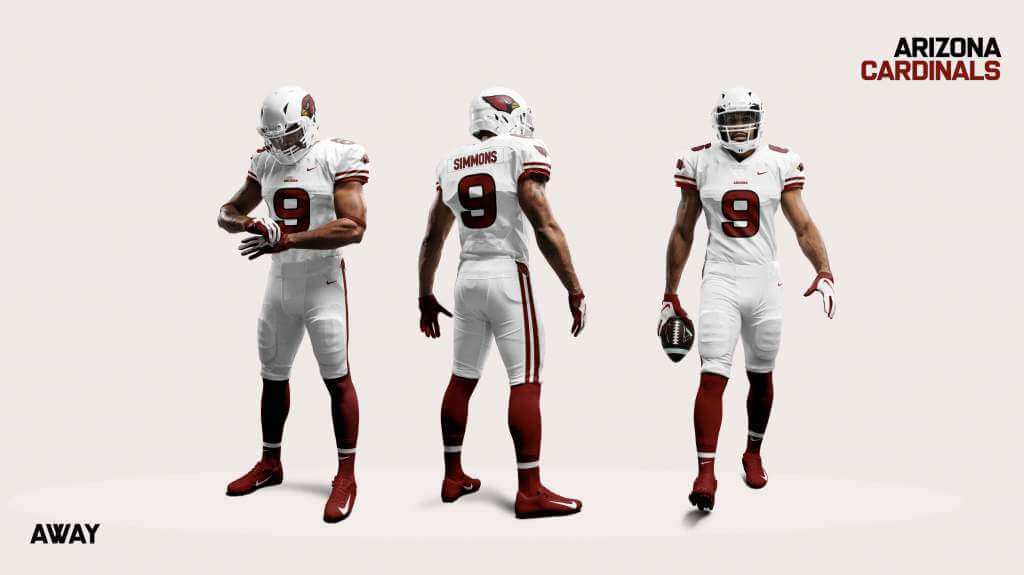 If they must keep around the black alternate jerseys, they're now met with team-colored stripes on the shoulders to harmonize them with their home/away fits and have easy-to-read, strongly team colored numbers (that honestly kinda looks Dale Earnhardt-esque).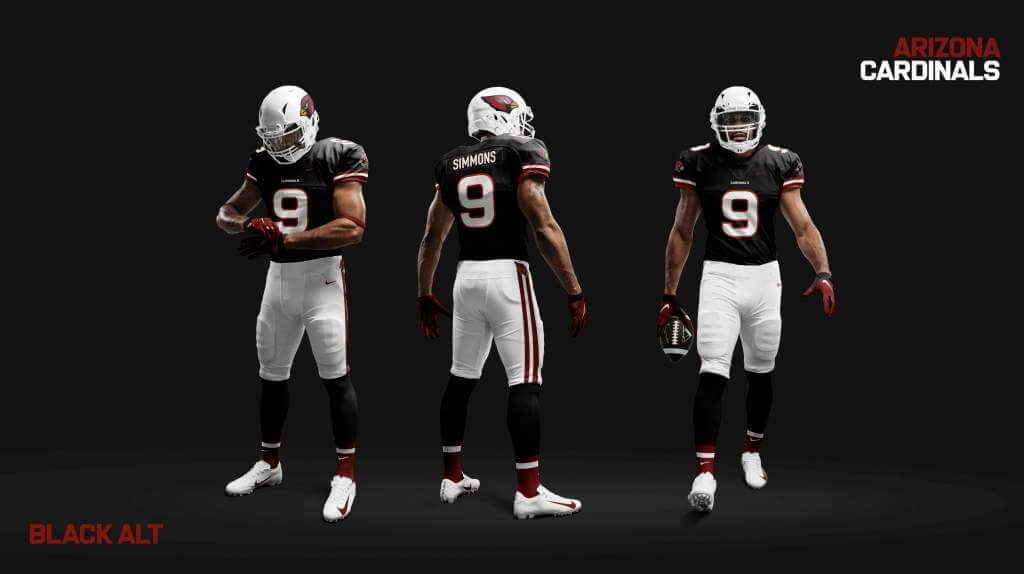 Finally, I also included a fun alternate based on the legacy of a blue jersey that was produced by Reebok for the Cardinals during their 2004 Phoenix year (before changing to "Arizona") that was inspired by the Arizona state flag and was embroidered on the shoulders. The jersey even made its way into video games, but was never actually worn on the field. I've recreated it here to pull the team colors both from the gold and maroon in the Arizona state flag and the Cardinals feather and beak.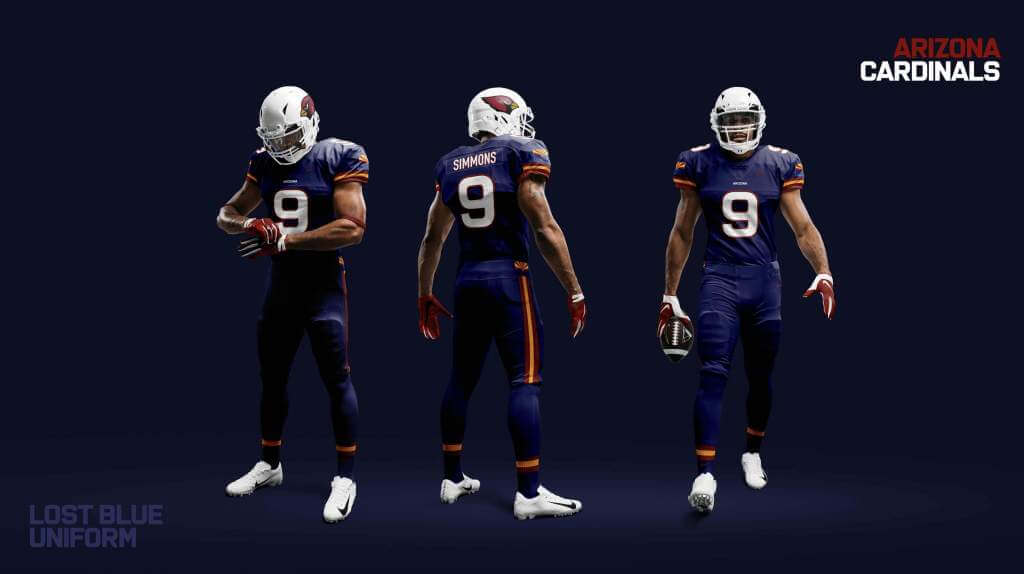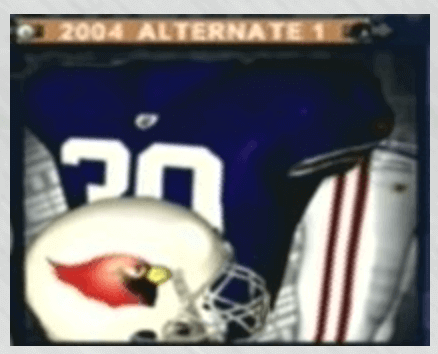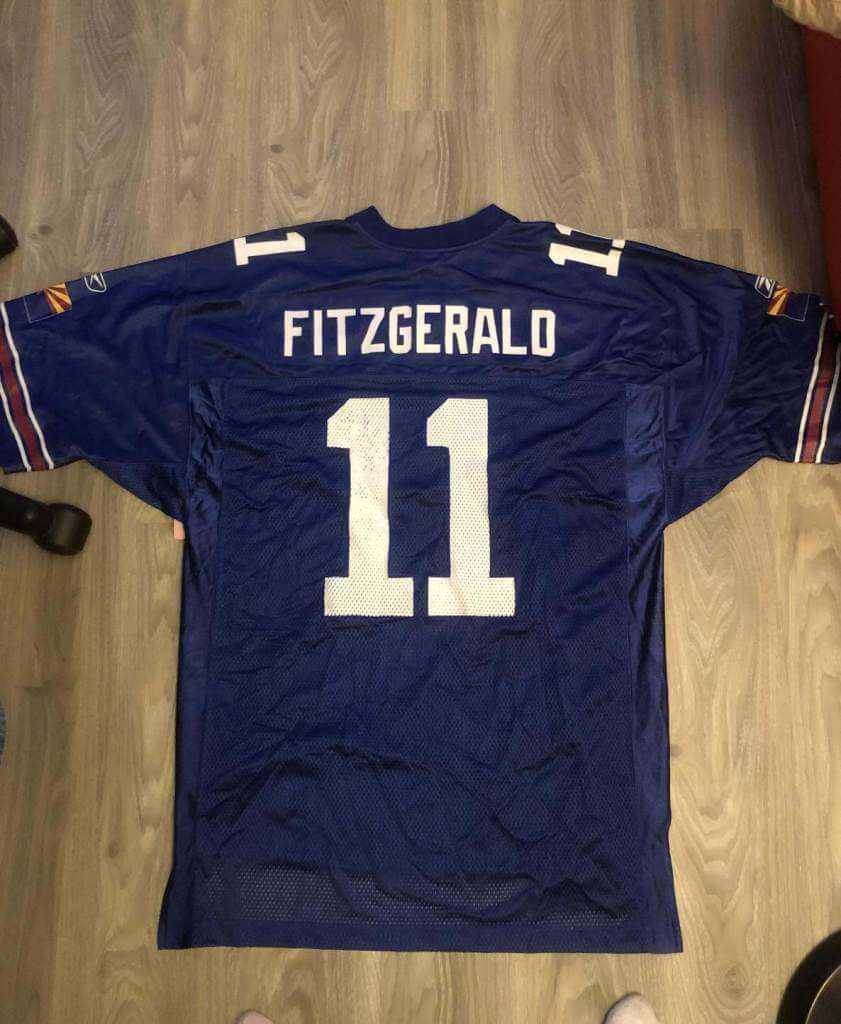 At any rate, I had a blast making them and hope you enjoy them and that we some day get some uniforms that look anything like the historical team that's finally coming around again.
Thanks for all that you do,
Drew
• • • • •
Thanks, Drew! I've seen many Cardinals redesigns over the years, and your concepts are up there with the best of them. Interestingly enough, most (including yours) return the Cardinals uniforms to a much simpler design — simpler, but definitely NOT boring. With many teams moving back to more "classic" looks, we can only hope a Cardinals rebrand/redesign is in the, ahem, cards, in the near future and I think these designs would go a long way towards improving the team which currently wear the worst uniforms in the league. Thanks for sharing!
Readers? What do you think?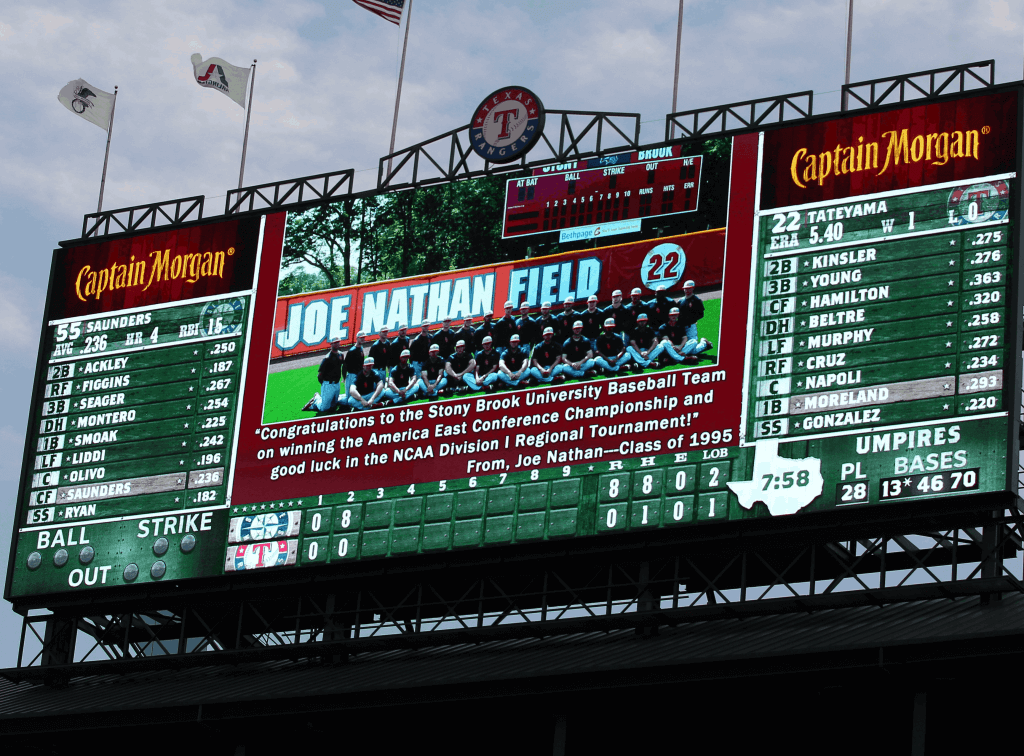 Guess The Game…
from the scoreboard
Today's scoreboard comes from Tom Goshaw.
The premise of the game (GTGFTS) is simple: I'll post a scoreboard and you guys simply identify the game depicted. In the past, I don't know if I've ever completely stumped you (some are easier than others).
Here's the Scoreboard. In the comments below, try to identify the game (date & location, as well as final score). If anything noteworthy occurred during the game, please add that in (and if you were AT the game, well bonus points for you!):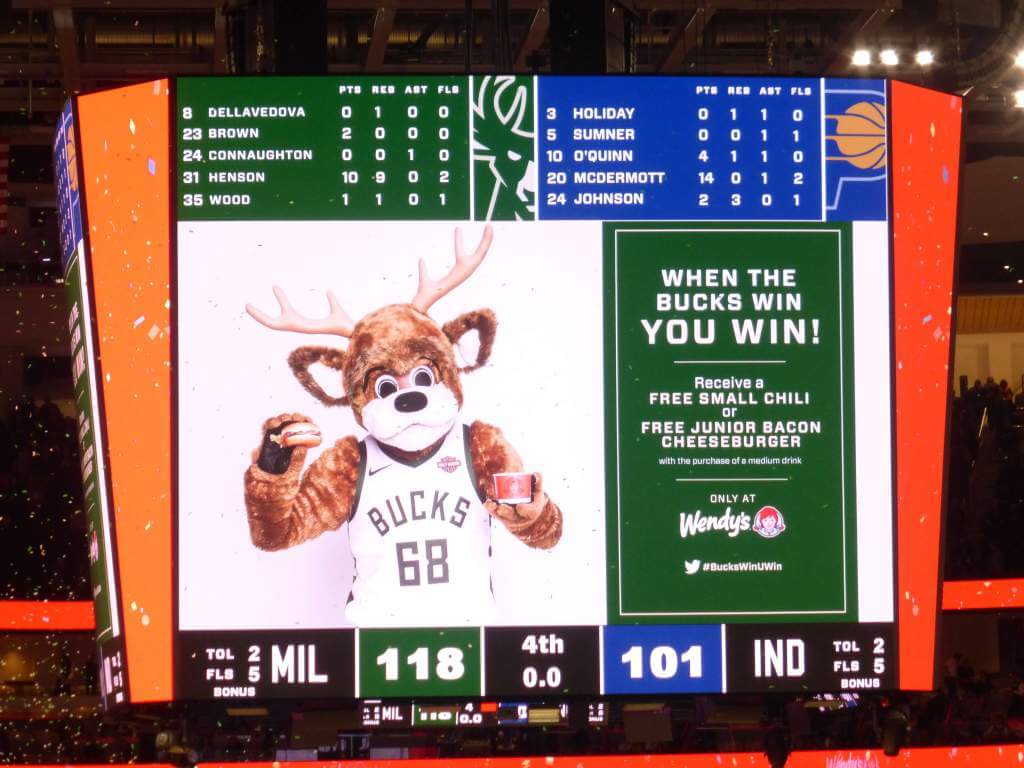 Please continue sending these in! You're welcome to send me any scoreboard photos (with answers please), and I'll keep running them.


Forkballers Update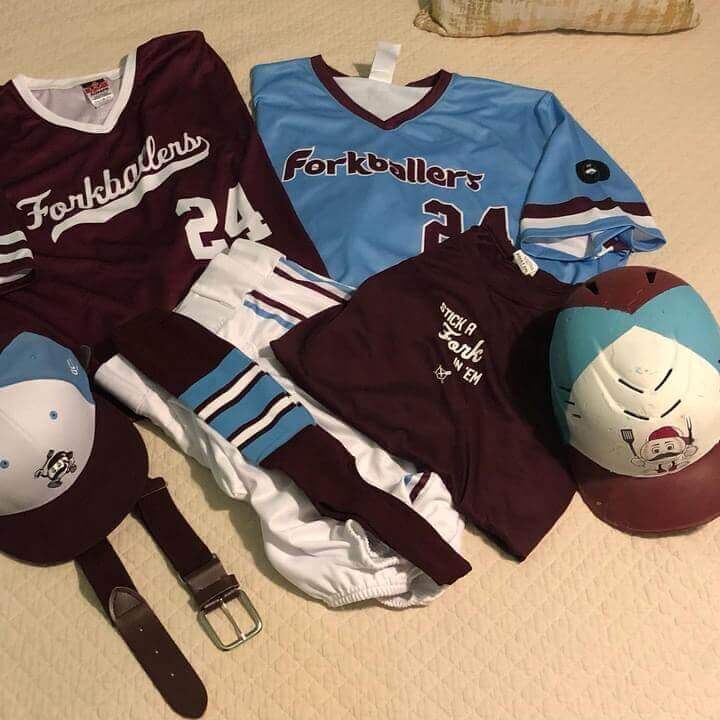 In case you missed it, this past August while I was doing the weekday ledes, I ran a neat little (sub-lede) from reader Brett Mandel on his Men's Senior Baseball Team, the BaseballBBQ Forkballers (click here and scroll down a bit). Back then, Brett showed us some serious uniform concepts his team would be wearing, but the uniforms hadn't yet been created. Well, not only were they created, but Brett has a nice update on how things went. Here's Brett:
• • • • •
Hey Phil!
The BaseballBBQ Forkballers won the Men's Senior Baseball League 40+ World Series and everyone loved our unis! Take a look at how they turned out…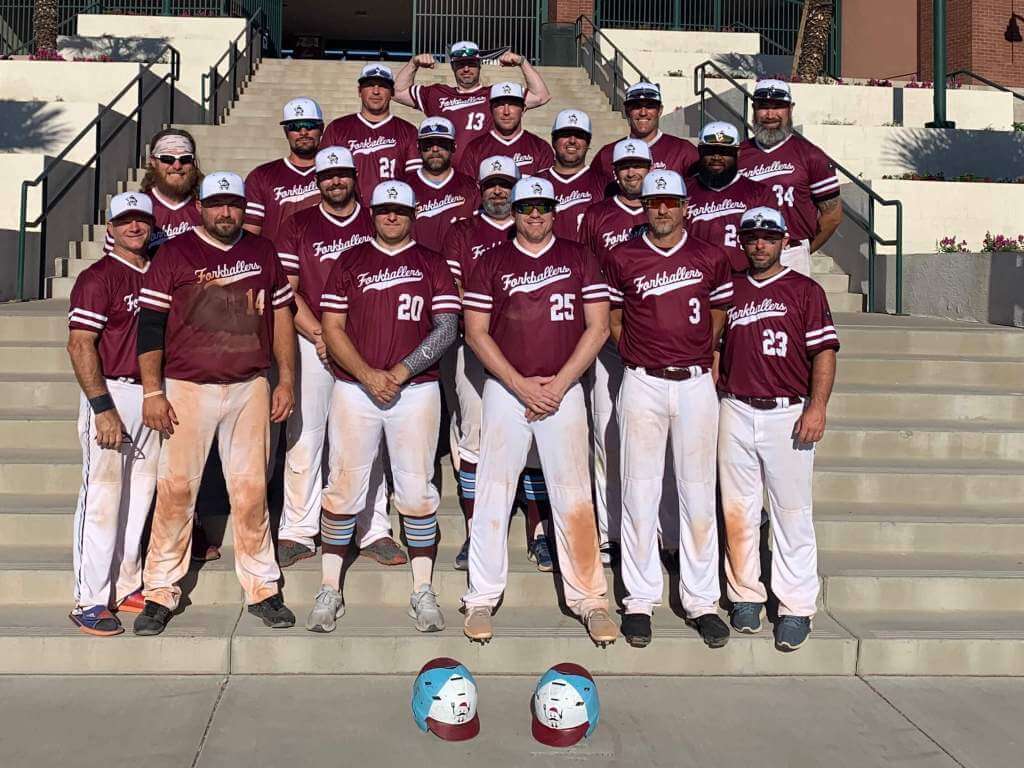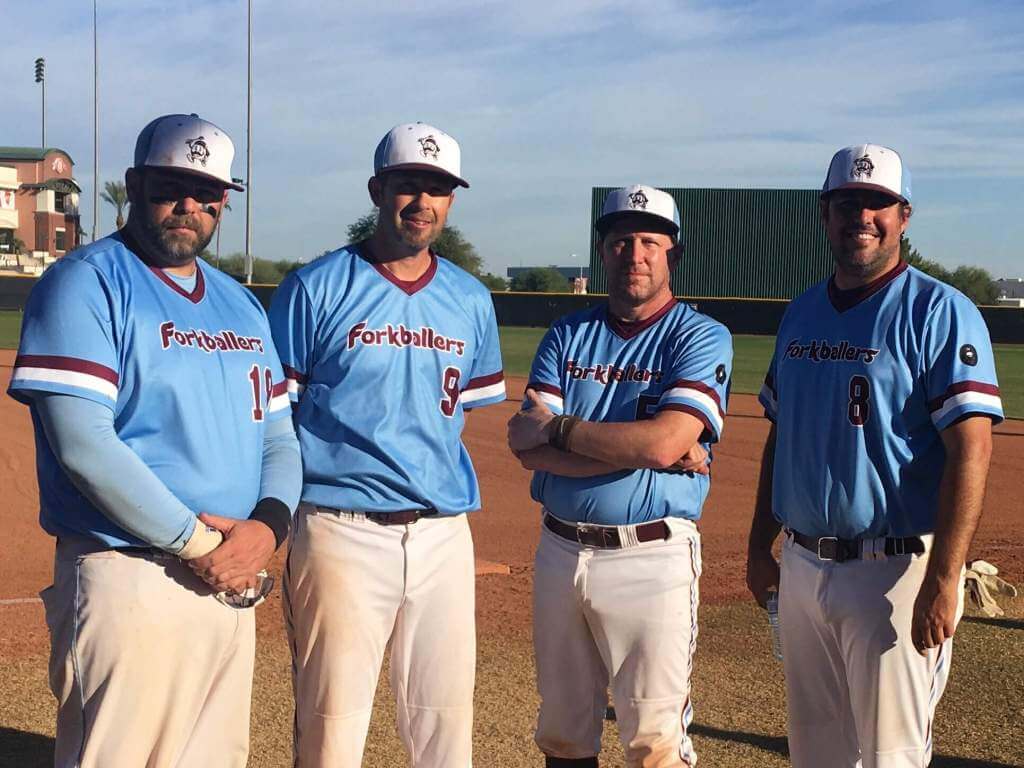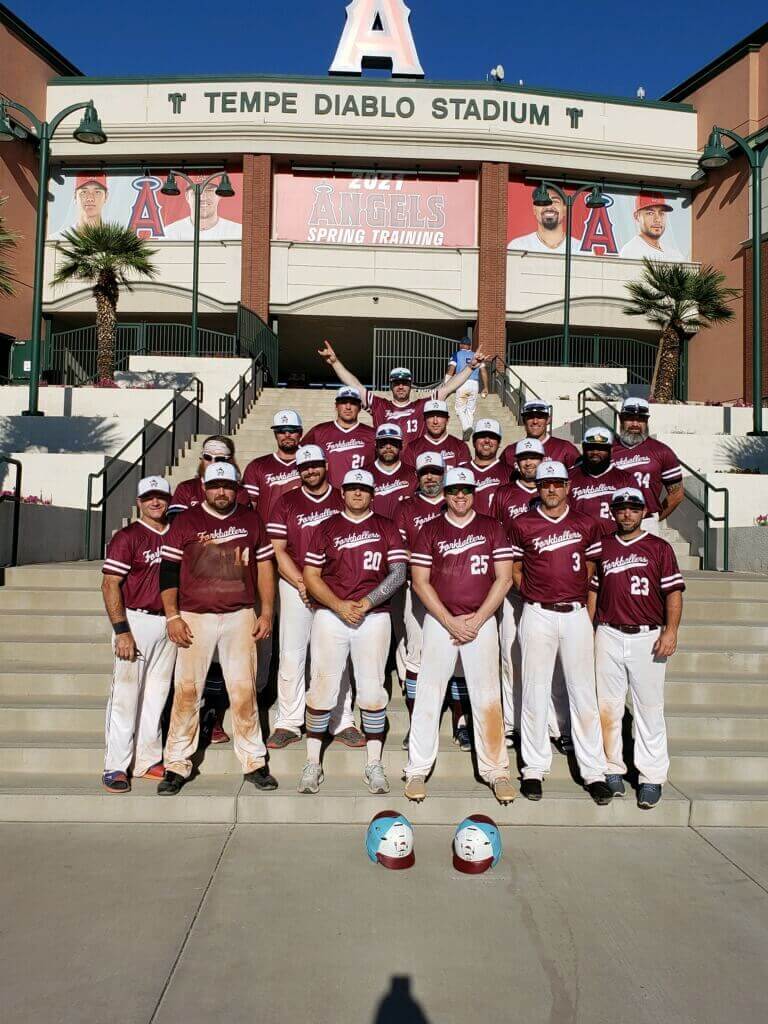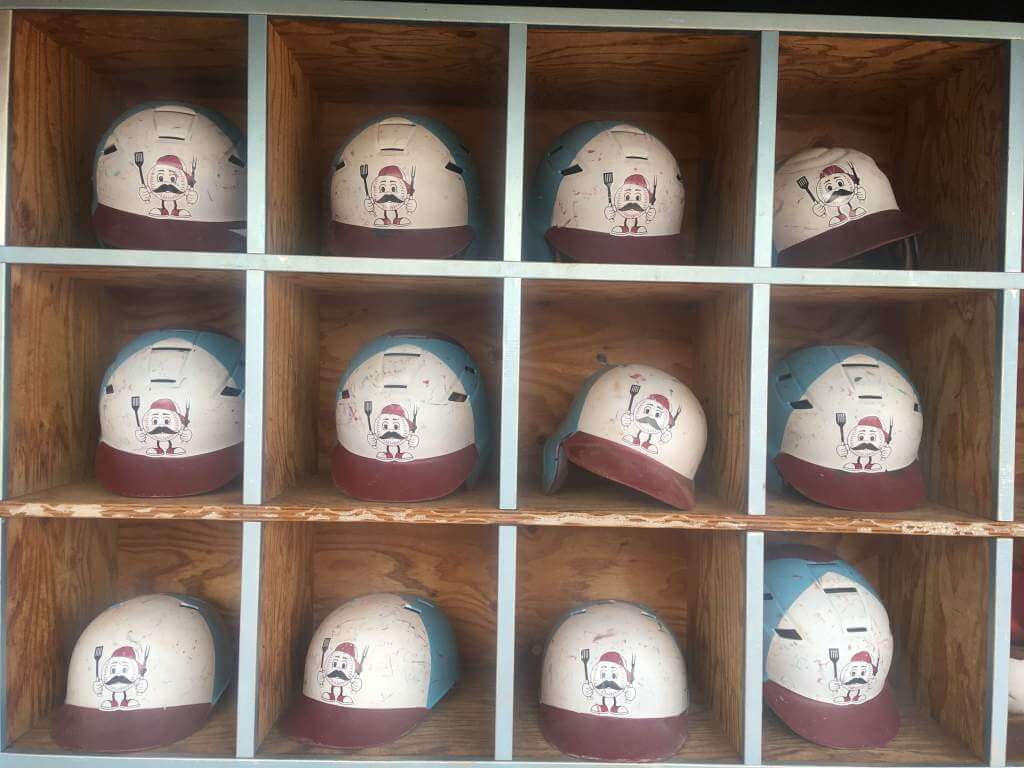 One of our teammates even said that his buddy told him about your article BEFORE he even saw our uniform in person. You're our lucky charm!
Thanks again.
Brett
• • • • •
That's fantastic Brett! The uniforms turned out great (although I wish you could have used your influence to get everyone to go high-cuffed — those stirrups were gorgeous!). And even better, you won the whole thing. Not only were the Forkballers more than likely the best dressed team on the field, they were the best team on the field as well.
Congratulations and thanks for the update!


MLB Playoff Uni Tracking
It's BAAAAACK.Alex Rocklein has been tracking the jerseys of all the teams involved in the MLB Post Season for the past several seasons.
Now that the World Series has concluded (congrats to Atlanta), this will be our final MLB Playoff Tracker for the year. Alex notes there is a "Little bonus easter egg for the Braves fans out there."
So here are all three "rounds" of tracking, plus the final final tracker. Enjoy!
Wild Card & Divisional Series: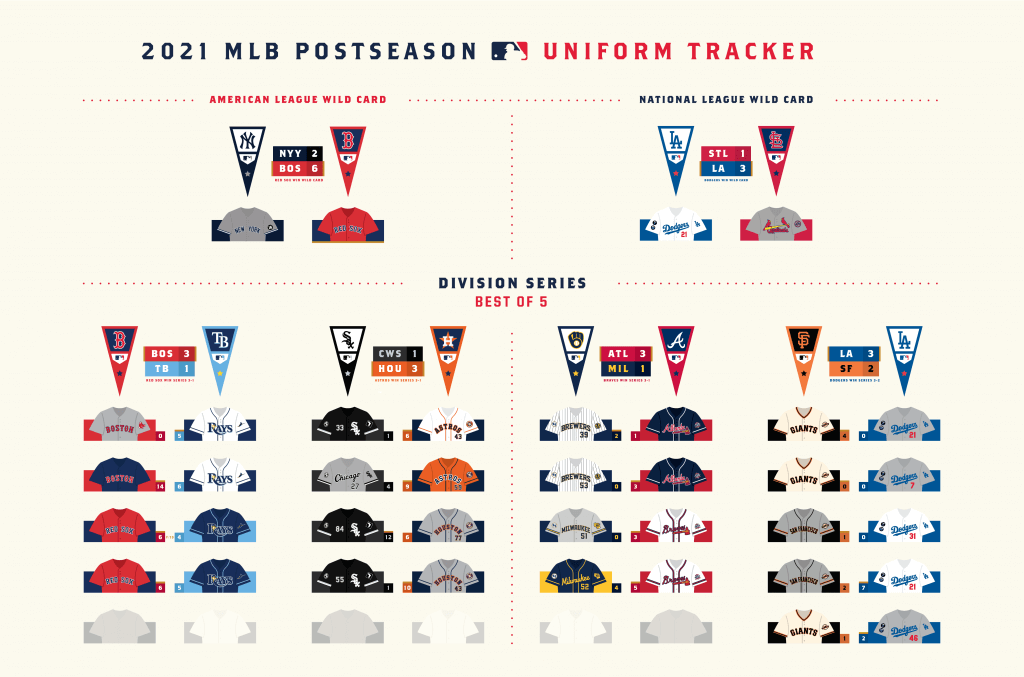 League Championship Series: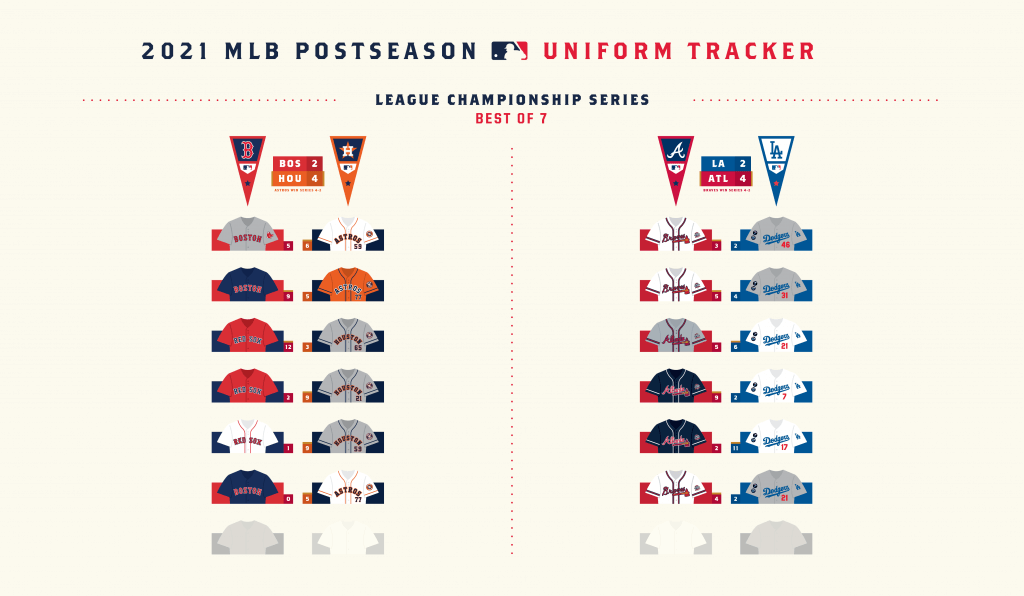 World Series: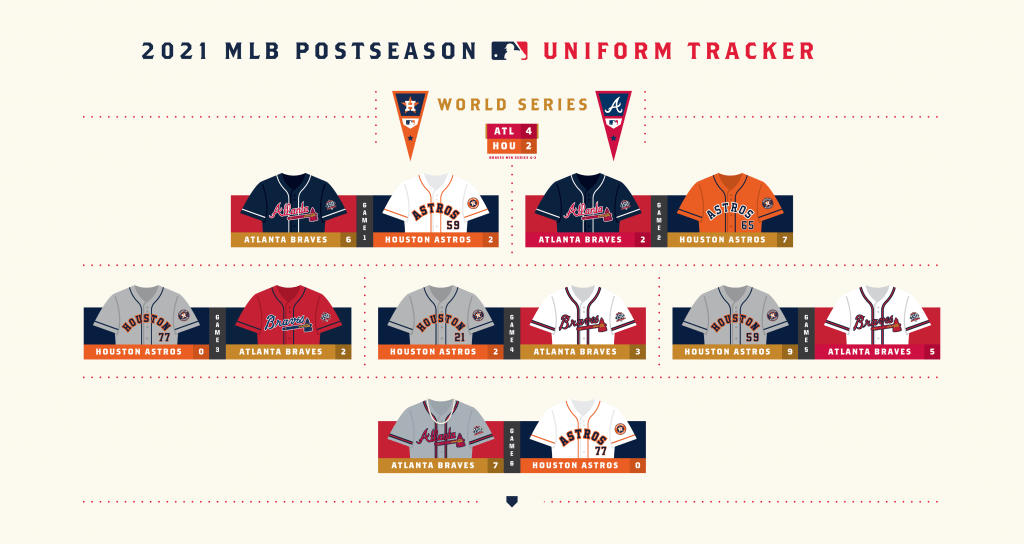 And finally, the full tracker: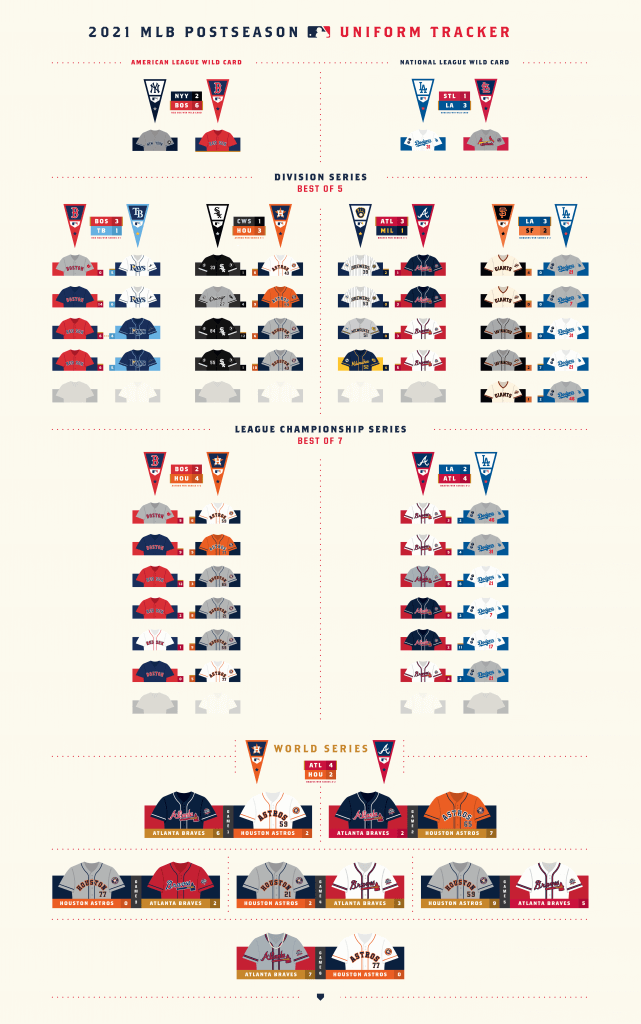 Thanks Alex! Once again, great job tracking the jerseys of the playoff teams for 2021. Everyone, please throw Alex a nice "thanks" in the comments below, and we look forward to his playoff tracking in 2022.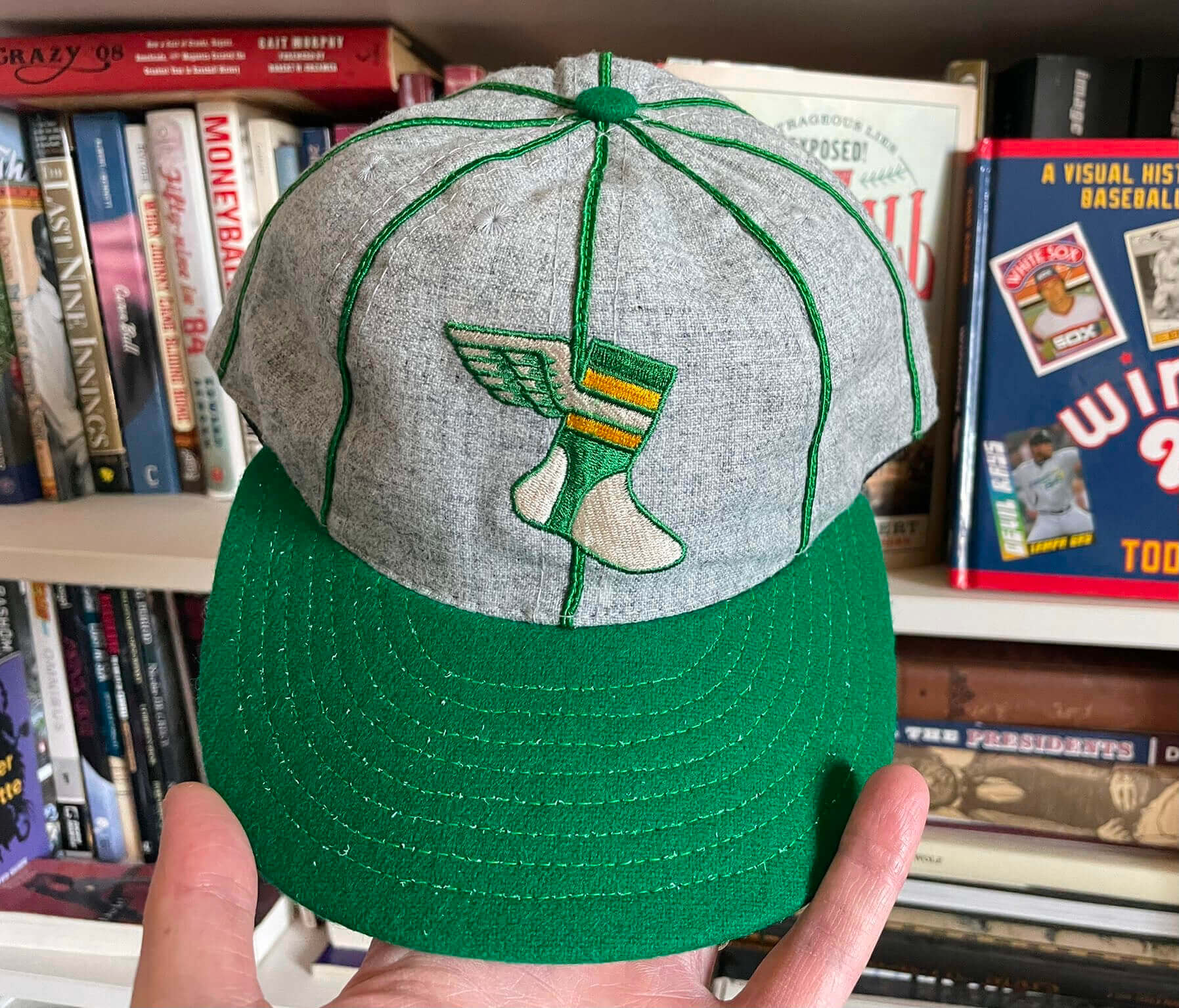 For all photos, click to enlarge
And now a few words from Paul: Hi there. In case you missed it earlier this week, I'm now taking orders on a small batch of our new Uni Watch Alternate Cap. Supplies of this one are extremely limited. Additional photos and ordering details here.
While I have you here:
• If you want some Uni Watch headwear but don't care for the new ballcap, our Uni Watch Toque might do the trick.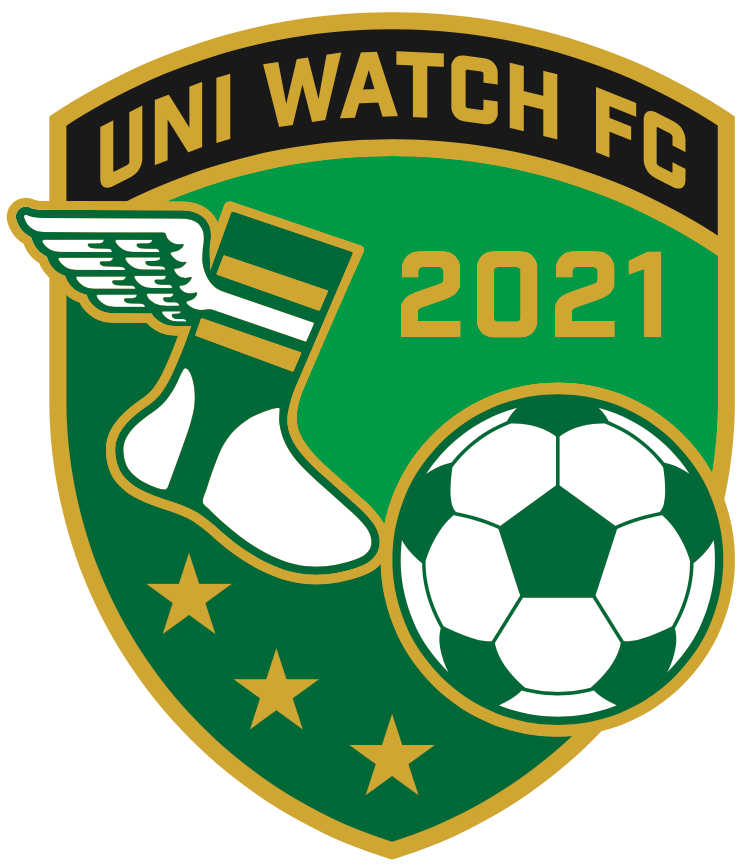 • Our soccer-themed November pin — the first soccer design we've done (shown at right) — launched earlier this week. It's a numbered edition of 150, and we're down to about 30 remaining. It's available here while supplies last.
• Todd Radom's awesome "Hit Sign, Win Stirrups" graphic, which was originally available on a limited-edition T-shirt in 2017, has been revived and is now available a variety of formats. You can get it as a T-shirt; as a hoodie; as a pint glass; as a poster; and as a canvas print.
• I'll be traveling in North Carolina next weekend and will be convening a Uni Watch gathering on Saturday, Nov. 13, 2:30pm, at Tobacco Road in Durham. I look forward to seeing lots of you there!
Okay, that's it from me. Now back to Phil with the rest of today's content.


Your Annual Fall Back Reminder…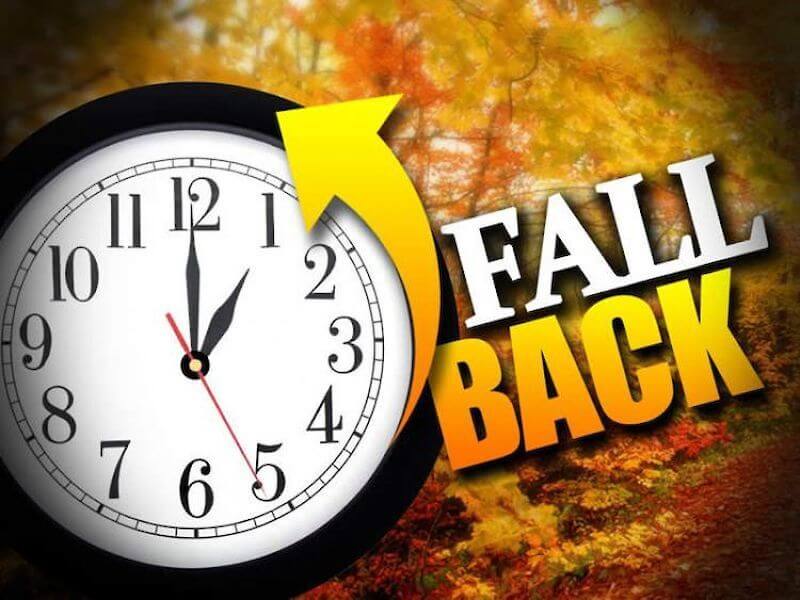 It's that time of year again (sadly). But here's my annual reminder for everyone (semi-annual, if you count the "Spring Ahead" reminder):
Don't forget to turn your clocks BACK one hour tonight. Daylight Saving Time comes to an end at 2:00 am. There's good news and bad news. The good news is that we get an "extra" hour of sleep. The bad news is that the sun now sets an hour earlier than it did the day before (actually it's more like an hour and 2 minutes, give or take). I know some of you, particularly in the western ends of the time zones, probably welcome the switch (yeah, I know, it's dark when most of us wake up), but I hate it. Official sunset where I live tomorrow will be 4:44 pm. Ugh.
Anyway, don't forget to adjust your clocks (if you still have clocks that actually need to be manually set, anyway) tonight. I'll remind you again next spring to push them ahead again.


The Ticker
By Anthony Emerson


College/High School Football News: Here are this weekend's unis for Purdue, Oklahoma State, UNLV and SFA (thanks to all who shared).

Hockey News: The Kraken's AHL affiliates, to begin play next season, will be called the Coachella Valley Firebirds (from Bridger Deschamps). … Yesterday, we ticker-linked a video of the Stars' public address announcer wearing a jersey with "PA" where the captain's patch would normally go. Looks like the Hurricanes' PA announcer has the same detail on his jersey (from Michael Raskin). … The Michigan/Michigan State game last night was color-vs-color, creating a very pleasing look for the game (from L.J. Sparvero). … The Canucks wore these warmup sweaters to celebrate Diwali (from Wade Heidt).

NBA News: Pacers F Damontas Sabonis will rock these amazing sneakers honoring his father Arvydas (from Paul Simpson).


College/High School Hoops News: New unis for Richmond men.


Soccer News: Bundesliga side 1. FC Köln's annual Carnival shirt has been unveiled (from our own Jamie Rathjen). … The Irish national team has unveiled new orange away kits. Orange is a color rarely worn by the national teams of Ireland and Northern Ireland due to its religious and political connotations (from multiple readers). … Celtic FC are wearing their charity arm's logo on their kits this weekend against Dundee, instead of their usual shirt ad (from Ed Zelaski). … According to the official Liverpool Twitter account, Premier League matches this weekend will be using this gaudy ball (from Moe Khan). … Real Madrid have launched a sexy new video showing off their plans for the remodel of Estadio Santiago Bernabéu. Plans include the ability to host basketball games and tennis matches at the arena. There's also a rendering of the field set up in an American football configuration, but the field is Gridiron Uniform Database's rendering of Super Bowl XXX's field, of all things (from @VerbDC).

Grab Bag: Allan Jennings reports that the Australian National Rugby League's newest team, Redcliffe Dolphins, have released their "heritage" jerseys before they've released their primary jerseys. The Dolphins will begin play in 2023. Allan also provided us with links to the new unis for some other NRL teams: Brisbane Broncos, Canberra Raiders, Newcastle Knights, North Queensland Cowboys, and Penrith Panthers. … A new documentary is being released called 16, detailing what the uni number means to Penn State lacrosse (from Michael Zarkzewski).


Uni Tweet of the Day
I'd be on board for this…
Next year, I would love to see the nfl designate the final four games of the regular season for all teams to wear throwback uniforms (would love to see more snow games with throwback uniforms too). pic.twitter.com/g2RZ7JnNQp

— Patriots Uniforms (@PatsUnis) November 6, 2021


And finally… that's it for today. Big thanks to Drew for the Cardinals concepts, Brett for the Forkballers update, and of course Alex for the MLB Playoff Jersey tracking the past month. Well done, gents.
Everyone have a great Saturday (and last day of Daylight Saving Time), enjoy the extra hour of sleep tonight, and I'll catch you back here with the SMUW crew tomorrow morning.
Peace,
PH