Click to enlarge
It's time to take a look at another vintage sports merch catalog from Kevin "Gashouse" Cearfoss's collection. We've already examined his NFL catalogs from 1970, 1971, and 1973, and today we're going to shift sports and look at a 1976 MLB catalog.
Like all of Kevin's catalogs, this one was intended for retailers looking to stock their stores, not for consumers. The cover is shown above; here's the inside front cover and the first page:
The first full-page spread shows a Dodgers Stadium photo that I believe is from the 1974 World Series — Dodgers lined on up on the left, A's on the right. Note, however, that there are five umpires, instead of the usual World Series contingent of six:
"Okay," you're saying, "but what about the merch?" Okay, okay — here's some of what's inside:
• Start 'em young with these bibs and toddler tees. I do like the illustrations on them:
• Gotta like the belt buckles shown on this next spread:
• Sadly, almost all of the models in this catalog are White. One of the few exceptions is shown on this next spread:
• Naturally, I love the green/yellow A's rain jacket shown on this next spread:
• Oh man, so many interesting things on this next two-page spread. The kid wearing multiple wristbands! The raglan-sleeved T-shirt with the Royals' logo on both sleeves! The numbered socks! Dig:
• Why would you put other teams' logo stickers on your favorite team's helmet? Or on your clothing? Meanwhile, look at the sneakers on the right-hand page — I can imagine a young Brinke Guthrie being all over those:
• Oh man, look at the shorts on the next right-hand page. You can almost feel those kids getting beaten up after school, am I right?
• I have no memory of either the shirts or the leather wristbands shown on this next spread — guess they weren't a hit:
• This next spread is right up my alley — helmet buggies and other miniature items on the left, striped team-logo tube sox on the right:
• Nothing says 1970s like a helmet lamp:
• Check that — nothing says 1970s like a team-logo bedspread:
• For this next spread, check out the posters on the left-hand page. Seems kinda odd that they all have just a photo, without the player's name or team logo. I had a poster like that, of Mets outfielder Tommie Agee, in my childhood bedroom, so I guess that was just the standard poster style at the time, but it seems oddly minimalist now:
• No retail caps from New Era in 1976 — they were from American Needle:
• Oh baby, check out the radios shown on the next right-hand page. And they even got Oakland's white shoes right:
• Everyone — everyone — loves magnetic standings boards, am I right? Got 'em right here:
———
Want to see more? There are a few pages I left out, but you can see the entire catalog here.
(My continued thanks to Kevin Cearfoss for sharing his catalog collection with me and allowing me to share it with you.)
• • • • •
• • • • •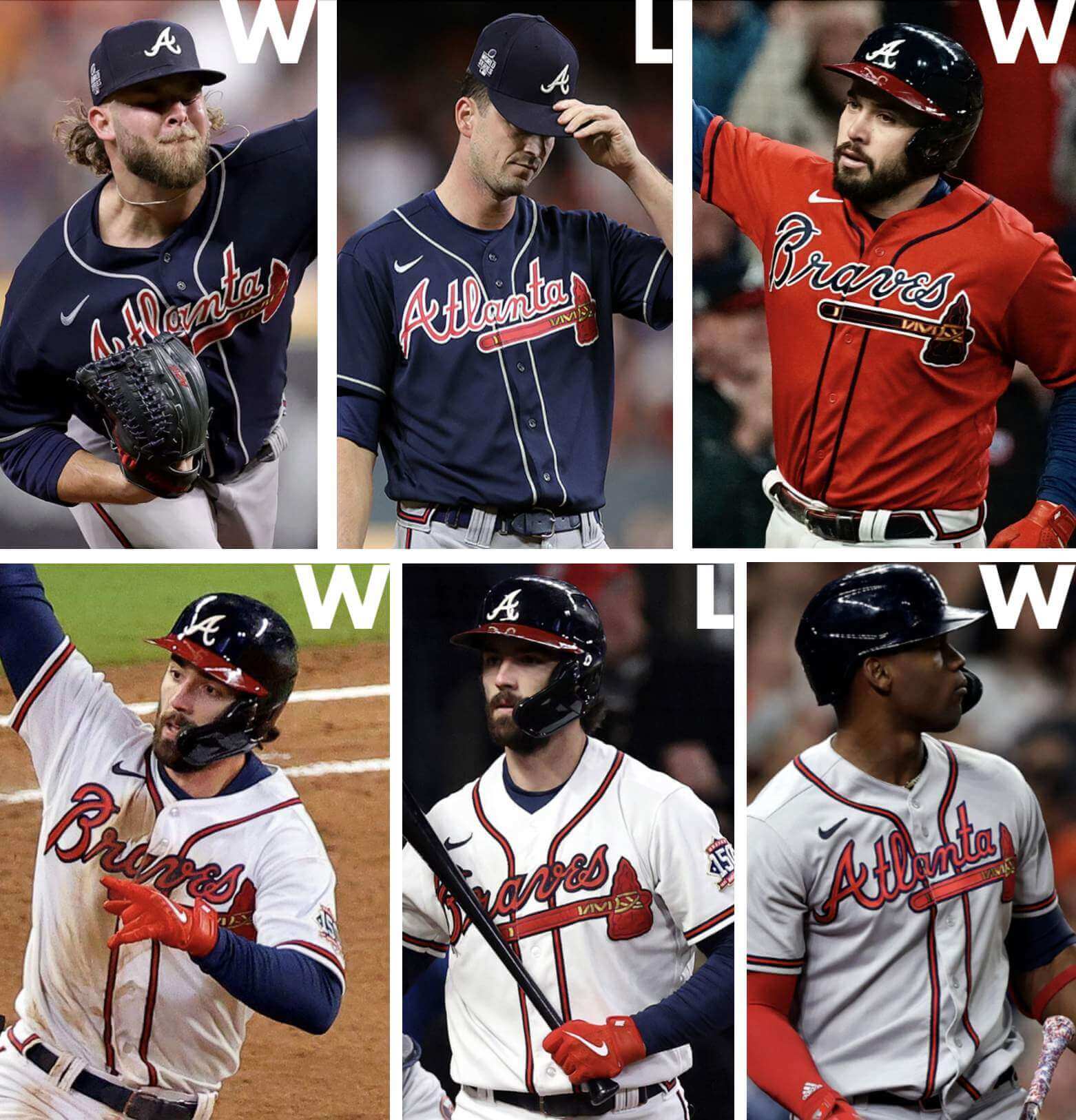 Click to enlarge
Another season in the books: In Monday's Ticker, reader Derek Linn noted that Atlanta had won every World Series game in which they'd worn a uni combo for the first time, and had lost every Series game in which they wore a uni combo for the second time. That pattern continued last night, as they broke out their road greys for the first time in the Series and defeated the Astros to win their first championship since 1995. You can see their full Fall Classic uni sequence, from Game One through Game Six, above.
I was rooting for Houston and, especially, for Dusty Baker, so I'm a bit sad that they lost. But I'm sadder, as I always am around this time of year, that the baseball season is over. And I'm saddest of all that when baseball reappears next year, there's a strong possibility that it may come with ads on the jerseys and/or batting helmets, since both the owners and the union have shown signs of wanting to go that route in the new collective bargaining agreement.
But we'll worry about that if and when the time comes. For now, congrats to Atlanta, and especially to longtime Uni Watch reader and lifelong Atlanta fan Marty Buccafusco, who I assume has a big smile on his face today. Enjoy it, Marty!
Now then: How many days until pitchers and catchers?
• • • • •
• • • • •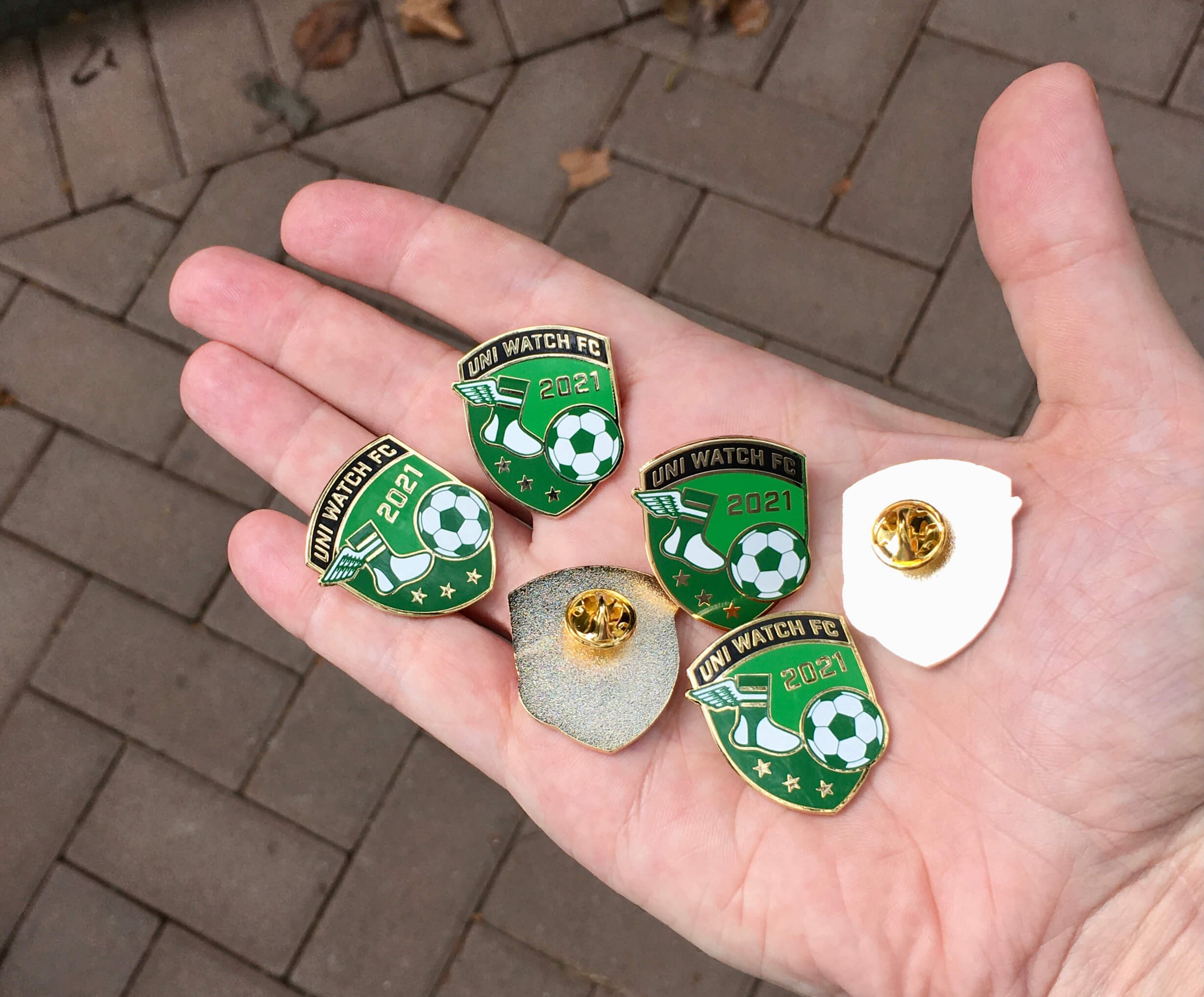 Click to enlarge
November pin reminder: In case you missed it on Monday, our latest Uni Watch Pin Club design is soccer-themed — a Pin Club first! I love how the winged stirrup is kicking the ball.
This pin was produced in a numbered edition of 150, with the number and month laser-etched onto the back. As of this morning, there were 43 remaining. You can get yours here while supplies last.
• • • • •
• • • • •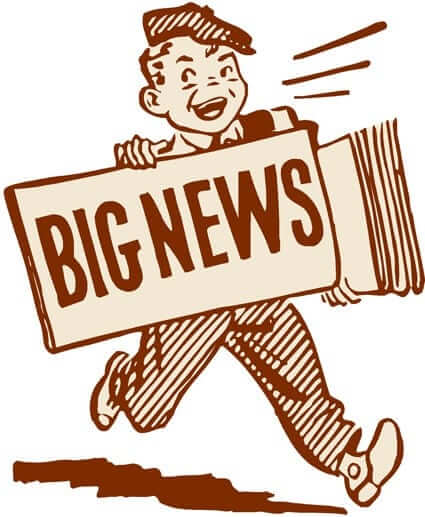 ITEM! North Carolina party update: Last week I mentioned that I'd be convening a Uni Watch gathering during my upcoming trip to Durham, N.C., but hadn't yet finalized the details.
I've now decided that the party will take place on Saturday, Nov. 13, 2:30pm, at Tobacco Road, so you can officially mark that down on your calendar.
This will be the first Uni Watch gathering since the 20th-anniversary parties in 2019. I'm looking forward to meeting lots of you!
(Big thanks to everyone who provided info and suggestions about the venue — much appreciated.)
• • • • •
• • • • •
The Ticker
By Lloyd Alaban

Baseball News: Check out the unusual cap logo that the Clearwater Phillies, had back around 1990 — a "C" with water trailing it (from Steven Cook). … The Green Bay Booyah of the Northwoods League are changing their name to the Green Bay Rockers (from Brian Kerhin).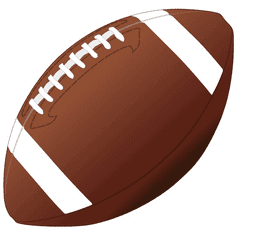 Football News: Color Rash unis for the Steelers on Monday (from our own Phil Hecken). … The Cardinals have never won while wearing mono-black (from Sion Fawkes). … Ball State TE Jordan Williams's nameplate overlapped his shoulder stripes last night. Ditto for teammate Brett Anderson (No. 23) (from L.J. Sparvero). … This article includes a team photo of the UNC squad from 1893 (!) (from Eric Bangeman).

Hockey News: The Oilers on Monday hosted Indigenous Celebration Night, which came with a commemorative logo (from Wade Heidt). … A sportswriter has listed 10 hockey sweaters that need to return (from our own Phil Hecken). … Northern Michigan has added a memorial helmet decal in honor of P.A. announcer Tim "Mac" Macintosh, who died last month (from Jerry Nitzh).

Basketball News: Not sure if any players will actually wear them, but some of the new NBA City Edition uniforms will apparently have some really nice striped socks (from @boo_hickey). … Kevin Cearfoss's latest 3D logo is a doozy: Spurs Fiesta!


Soccer News: Two players on the NWSL's Washington Spirit got framed shirts for appearance milestones last weekend. Midfielder Tori Huster hit 150 (all with the Spirit), and fullback Kelley O'Hara hit 100 total NWSL appearances with three teams (from our own Jamie Rathjen). … New shirts for the Milwaukee Torrent of the National Premier Soccer League (from Ed Zelaski).

Grab Bag: Troy added its "Power T" logo to the main intersection at the front of campus this week (from Ben Whitehead). … Interesting choice of font sizes for "Fitzgerald" among the names in Notre Dame's Heritage Hall (from @Atxprogress). … The Philadelphia Wings of the National Lacrosse League have released their holiday-themed jerseys (from @PhillyPartTwo). …