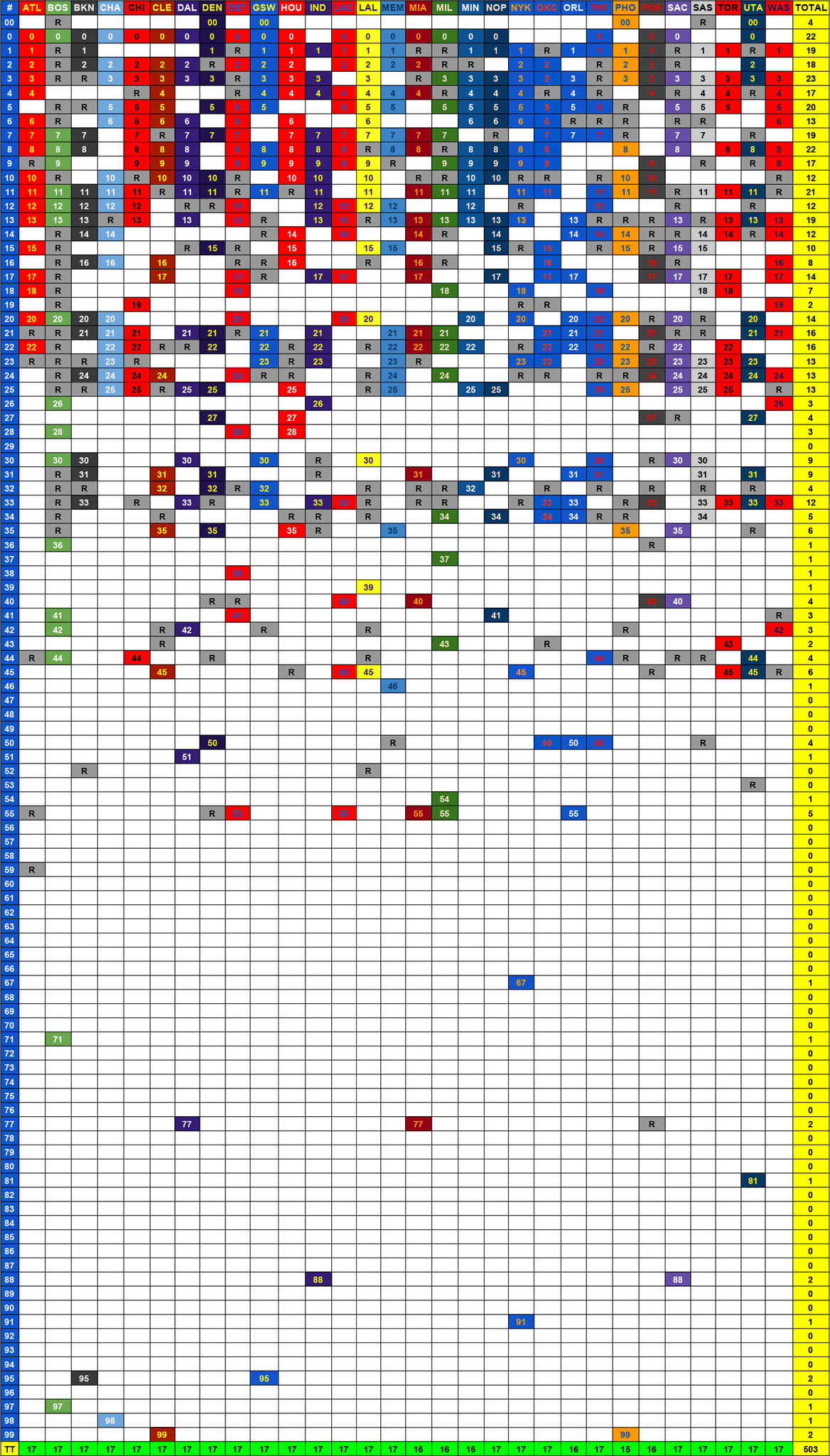 Click to enlarge
NBA numerologist Etienne Catalan, who I recently interviewed, has really outdone himself by creating a chart that shows which uni numbers are currently roster-assigned for each NBA team (those are the vertical columns) and also which teams currently use each number from 00 to 99 (those are the horizontal rows). If you go to the spreadsheet version and click on each box, you can actually see who's wearing each number for each team!
A few quick notes:
• The most-worn number in the league at the moment is 3, which is currently active on 23 teams' rosters.
• The second-most popular numbers, with 22 teams apiece? 8 and 0 (I wouldn't have guessed that one!).
• There are 13 numbers currently worn by only one team apiece: 36, 37, 38, 39, 46, 51, 54, 67, 71, 81, 91, 97, 98. (As noted in yesterday's Ticker, the 97 is Celtics guard Brodric Thomas, who's the first player to wear that number in NBA history.)
• The grey "R" boxes are for retired numbers. You probably knew already that the Celtics have more of those than any other team (22 of them). But which number has been retired by the most teams? That would be 32, which has been decommissioned by 11 clubs, followed by 10 (eight teams) and 24 and 33 (eight teams each).
You might be thinking, "Well, this is nice but it'll be obsolete as soon as a player is traded, or injured, or released." But Catalan tells me he plans to keep the spreadsheet updated with each NBA roster move. In fact, he's been keeping this chart for two years but never shared it publicly until now.
Again, you can keep up with the updated spreadsheet here. Now we just need someone to create something similar for all the other pro leagues!
• • • • •
• • • • •

ITEM! New Bulletin article: As most of you know, it really bugs me that teams and leagues never refer to their uniform ads as "ads," or to their uni advertisers as "advertisers" (instead using terms like "branding partner" or "helmet entitlement partner").
One person who disagrees with me on this is Ben Thoma, a longtime Uni Watch reader who also happens to be a longtime veteran of the advertising industry. For my latest article on Bulletin, I interviewed Thoma about the language of advertising, and about whether a company's logo on an NBA jersey is or isn't an ad.
Those of you who've subscribed to receive my Bulletin content via email should already be seeing this piece in your in-boxes. Everyone else can read it on my Bulletin page. Enjoy!
• • • • •
• • • • •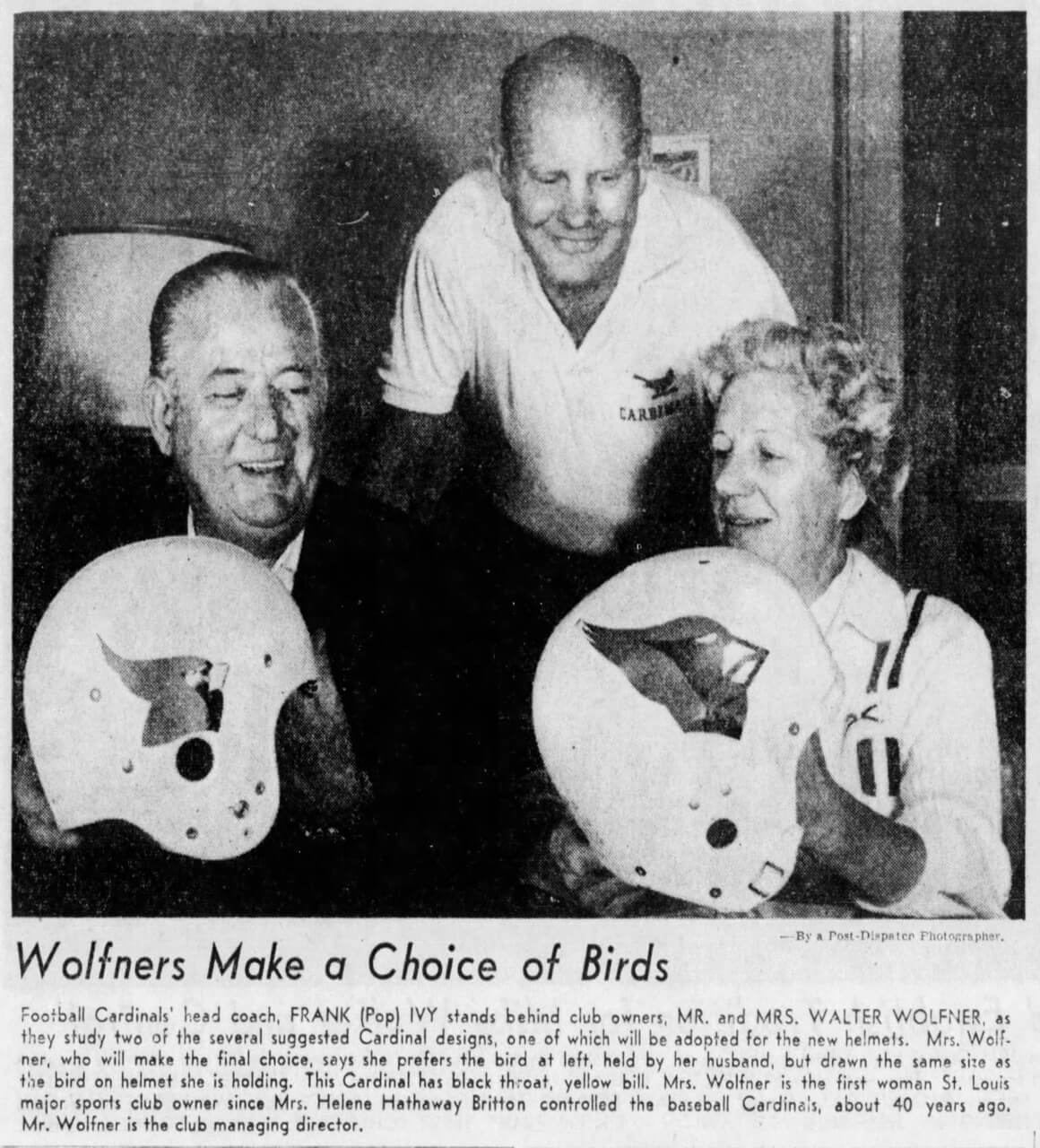 Click to enlarge
Too good for the Ticker: I love this 1960 photo showing the St. Louis football Cardinals' owners, "Mr. and Mrs. Walter Wolfner" (for the record, Mrs. Wolfner's first name was Violet), examining a pair of helmet prototypes. The caption says Violet Wolfner preferred the design on the left, but that's not the one they ended up using — hmmmm.
Also, note the logo on coach Frank Ivy's shirt in the background — almost looks more like a St. Louis baseball Cardinals logo. Never seen that one before, and it doesn't appear on SportsLogos.net either. Interesting!
(Big thanks to Mark Haarmann for this one.)
• • • • •
• • • • •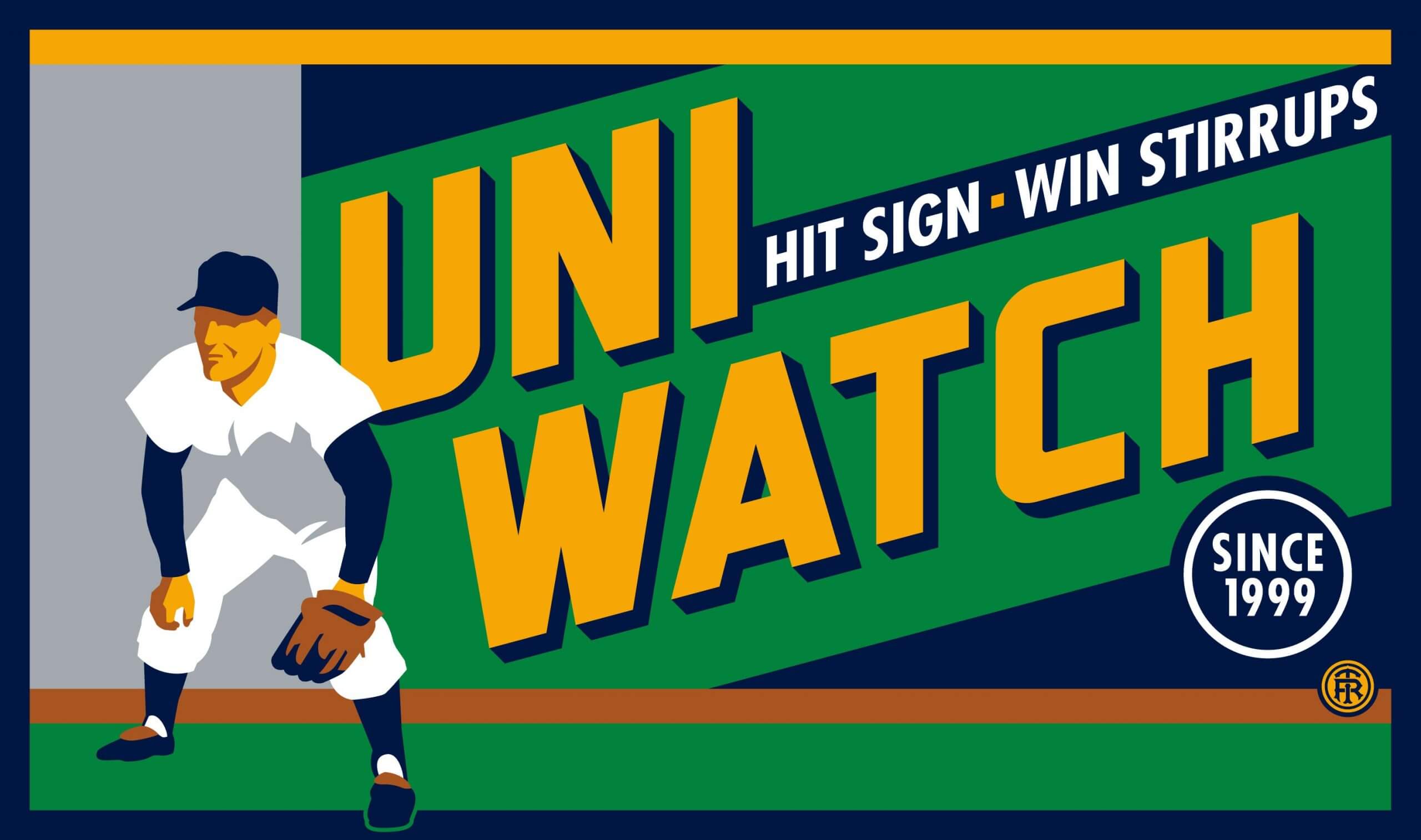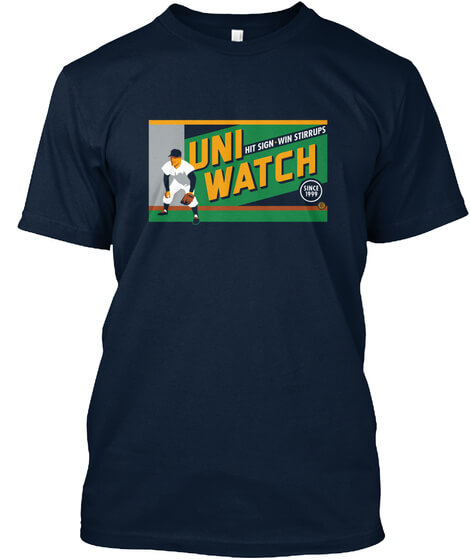 By popular demand: This awesome "Hit Sign, Win Stirrups" T-shirt, designed by the great Todd Radom, was originally available as a limited edition in February of 2017. Lately I've had a few requests for it (apparently some of the originals have gotten a bit ratty over the past four and a half years), so I've decided to revive the design.
Short- and long-sleeved versions are available here. If you want any other formats (women's, kids', hoodie, V-neck, etc.), drop me a line and I'll hook you up.
My thanks, as always, for your consideration of our products.
• • • • •
• • • • •
The Ticker
By Anthony Emerson

Baseball News: Here's a 1979 video clip showing late-night TV host Tom Snyder asking Pirates stars Dave Parker and Willie Stargell about their uniforms (from Michael Ortman).

NFL News: The Nike logo on the pants of Browns QB Case Keenum and RB D'Ernest Johnson were backwards during last night's game (from multiple readers). … The Big 10 Network had Big 10 coaches try to guess which NFL team had which throwback NFL logo. Real easy for us, kinda difficult for them (from Igancio Salazar).

College Football News: DL Amare Barno will wear Frank Beamer's No. 25 for Virginia Tech versus Syracuse (from Andrew Cosentino). … Here is a pretty good high-level overview of Penn State football uniform history (from William F. Yurasko). … Here are this week's uni combos for GT, TCU, Texas State, Illinois, Purdue, Virginia, Tulane, SMU, Ole Miss, Middle Tennessee, Oregon, West Virginia, and Oklahoma (thanks to all who shared).

Hockey News: New mask for Habs goalie Jake Allen (from James Beattie). … The WHL's Vancouver Giants have a new third sweater (from Wade Heidt). … Also from Wade, the OHL's Windsor Spitfires wore commemorative jerseys for their 75th-anniversary game. … The Blues have unveiled their uni schedule for this season (thanks, Brinke).

NBA News: The Warriors debuted their new throwbacks last night. … The Pistons' new City alternate — or at least its base design — has leaked. … The Pacers teased their new City uni, which they plan to unveil on Nov. 1 (thanks, Phil). … With the regular season now under way, the Wizards and Grizzlies still don't have uniform advertisers. They are currently the only two ad-free teams.

Soccer News: New third shirt for top-tier Argentine side Lanús (from Ed Zelaski). … USWNT midfielder Lindsey Horan reached 100 caps last night and players reaching milestones are usually made captain for the game so she wore this armband (thanks, Jamie). … This weekend, Everton will wear new warm-up kits, designed to pay tribute to the club's American fans (from Mark Cartman).

Grab Bag: The U.K. Netball Superleague's Wasps Netball have a new second kit (thanks, Jamie). … Ohio has a new license plate design, depicting the Wright Flyer carrying a banner declaring the state as the birthplace of aviation. Except the license plate depicts the Wright Flyer backwards. Oops (from multiple readers). … Dublin GAA has a new alternate jersey (from Phil Santos). … McLaren F1 driver Lando Norris is an Englishman, but you wouldn't know that based on his helmet design for the forthcoming US Grand Prix (from Russell G Flynn).