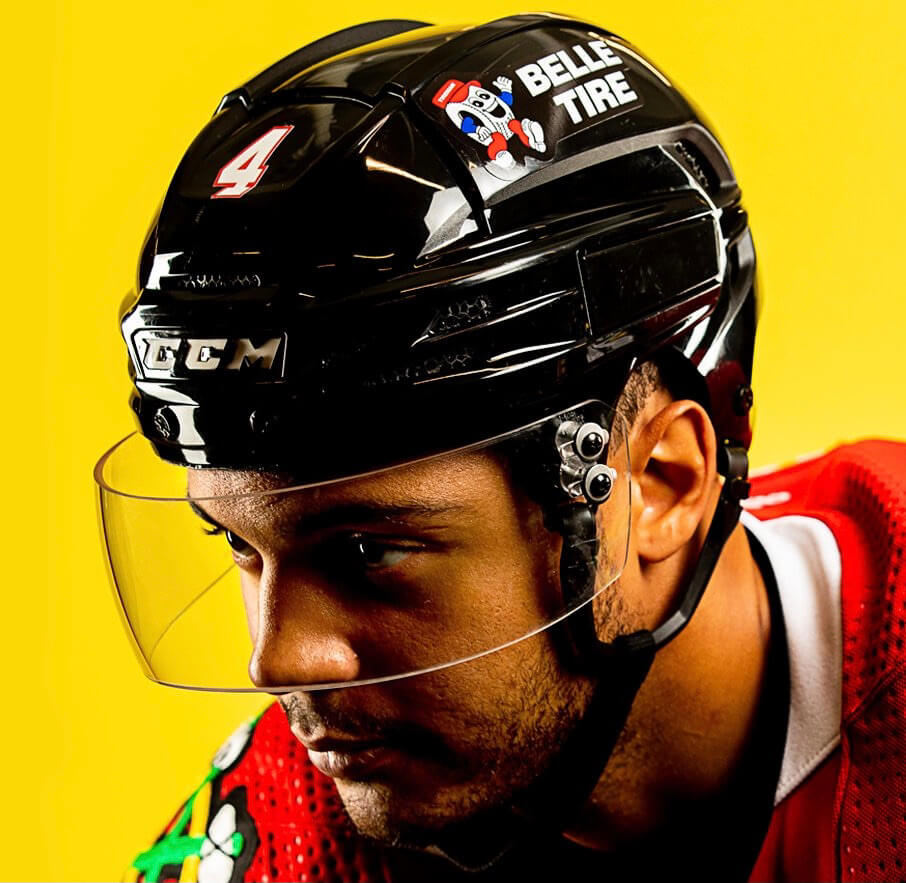 Click to enlarge
Okay, so we all know that I really dislike ads on uniforms. But even if you have no problem with uni ads, the events that unfolded yesterday were pretty weird.
First, the Chicago NHL team announced a new helmet advertiser (describing the company initially as a "sponsor" and then as a "partner" — the usual Orwellian linguistic gymnastics). As many fans quickly noted, it's one thing to wear a company's logo on your uniform, but it's another to wear the company's cartoon mascot character. This will be the second season of NHL helmet ads, plus we've had NBA uni ads since 2017 and occasional MLB uni ads, but I don't think any of those ads have included a cartoon mascot character, so this appears to be a Big Four first. (Are there any previous instances I'm overlooking..?)
Now, I happen to be a big fan of cartoon mascot characters — for teams, for corporations, for for your local power utility, whatever — especially when they involve anthropomorphized inanimate objects. And I particularly like the character used by Chicago's new helmet advertiser — he looks happy, friendly, helpful. The uni-verse could use more characters like him! Just not as part of a uni ad.
But wait, it gets weirder. Shortly after the new helmet ad was announced, beat writer Scott Powers, who covers the team for The Athletic, reported that the team had erected a series of "massive helmet replicas" at its practice facility, which is also used by local high schools, beer leagues, and public skaters. He shared a photo of one such helmet (click to enlarge):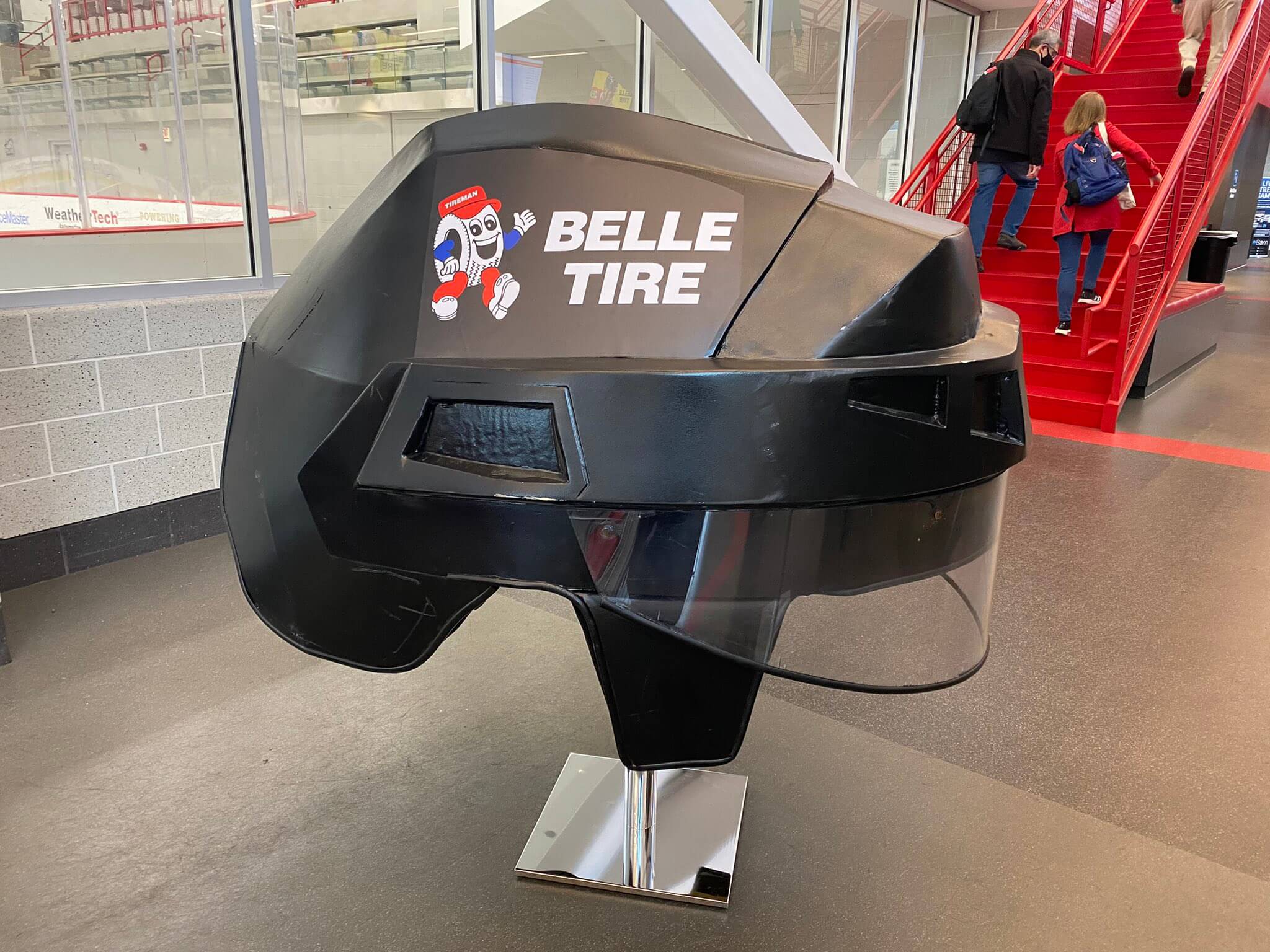 How weird is this? Let us count the ways:
1. I'm all in favor of oversized representations of uniform elements, but only if they're good representations. This looks like something between a bad parade float and a bad junior high craft project put together with electrical tape. Like, at least make the helmet glossy.
2. The ad looks slapped-on (literally) and has been applied pretty sloppily, with several puckers.
3. The helmet appears to have some scratches and maybe even a crack: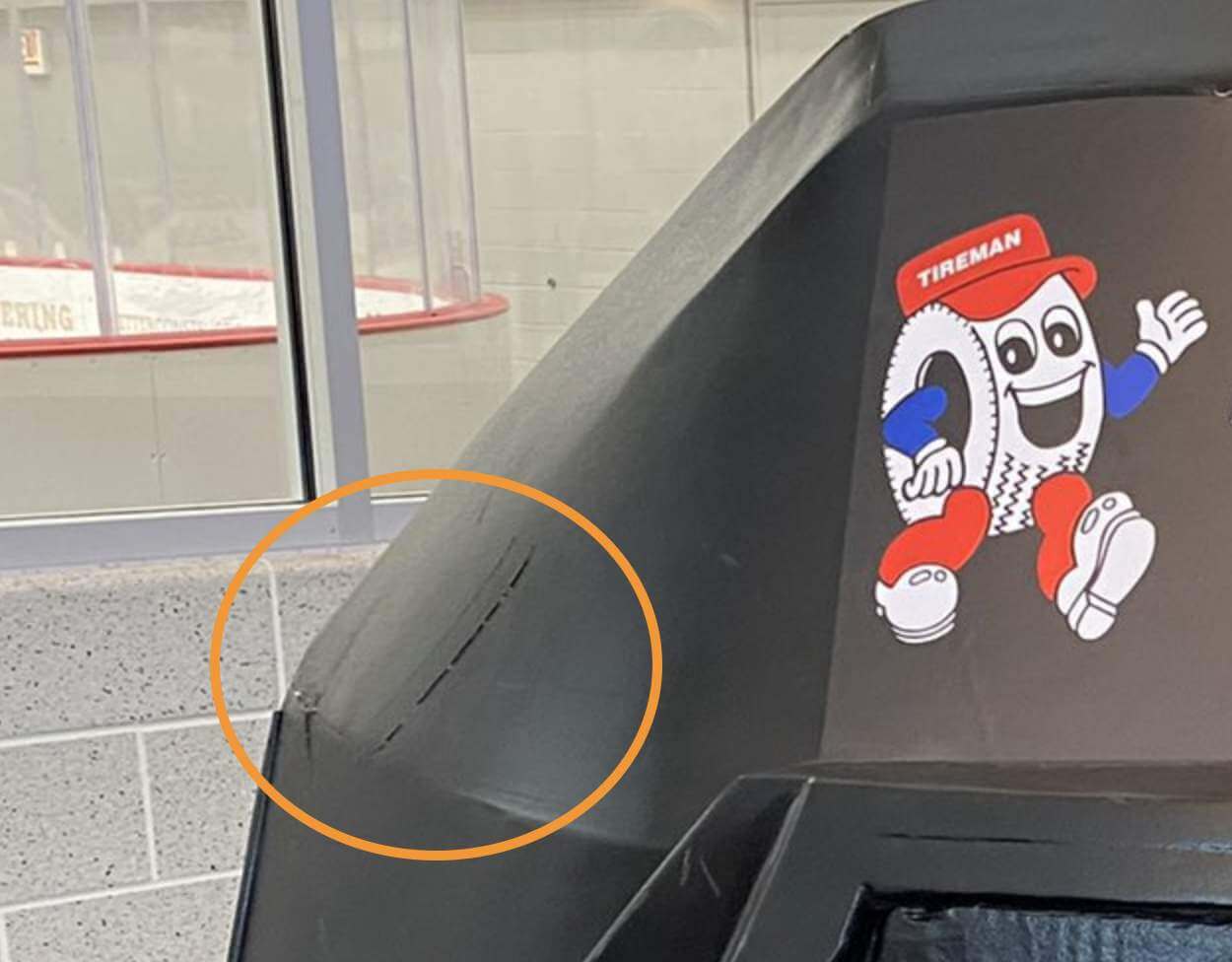 4. Now that I can get a closer look at the cartoon character, I see that he has five fingers. That is completely unacceptable, because we all know that cartoon characters, especially those wearing white kid gloves, must have four fingers because that is just how these things work and don't try to tell me otherwise, the end. Don't believe me? Check this out — there's also a live/costumed version of this character, and he has four fingers, as the cartoon gods intended: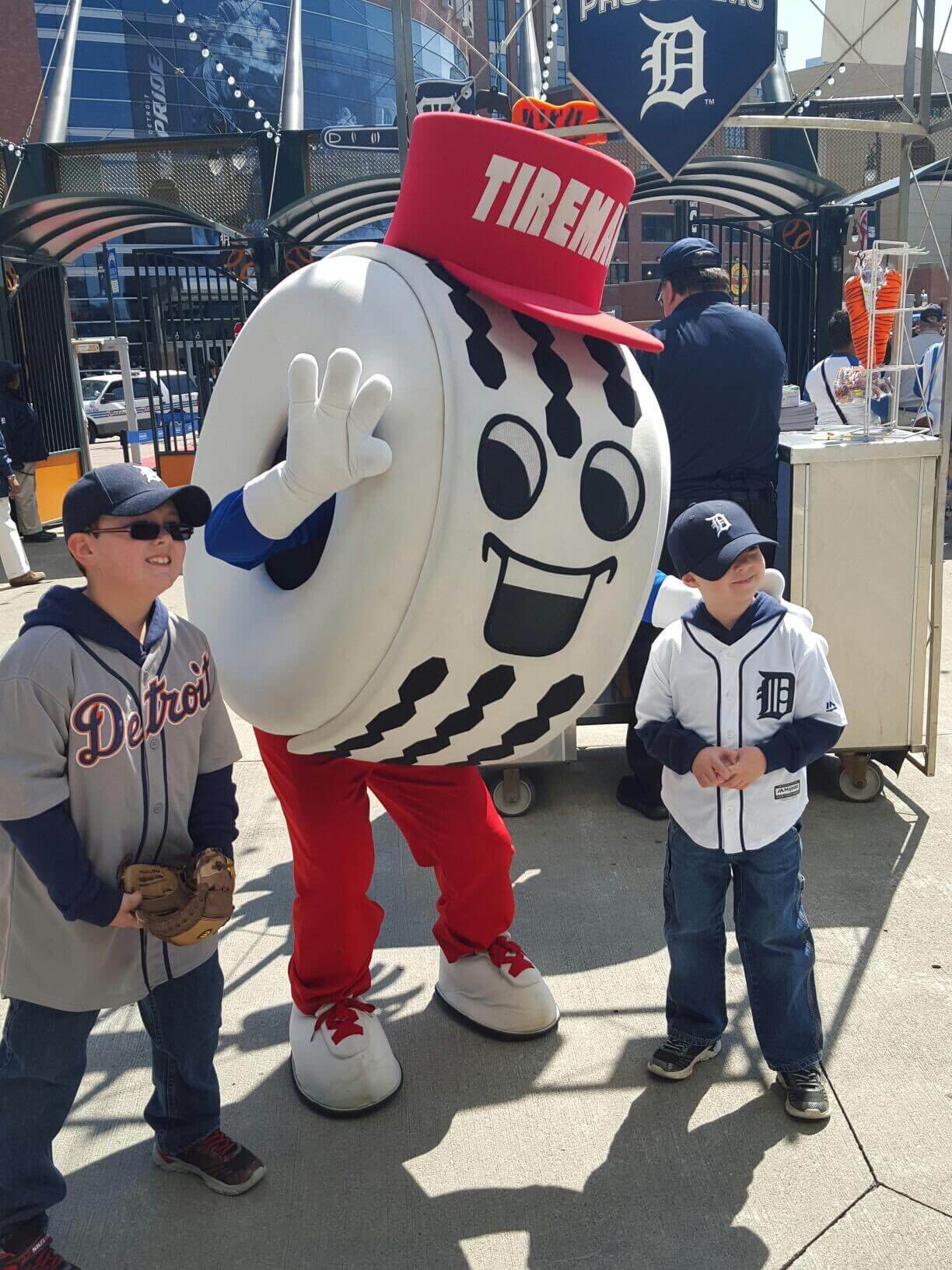 So the real-life representation of the cartoon character is more cartoon-like than the actual cartoon!
5. Isn't it weird that a character based on a car tire would be white, instead of black? And it's not just because the character is appearing on a black helmet — he's always white! Strange.
Anyway: Uni ads are gross, giant ads at public skating rinks are gross, blah-blah-blah, but everything surrounding this one is just bizarre. Welcome to our brave new ad-driven uni world!
Speaking of which: As you probably know, NHL teams can have jersey ads — not just helmet ads — starting next season. This morning the Capitals became the first team to announce who their advertiser will be — and it's a sportsbook. Sigh.
• • • • •
• • • • •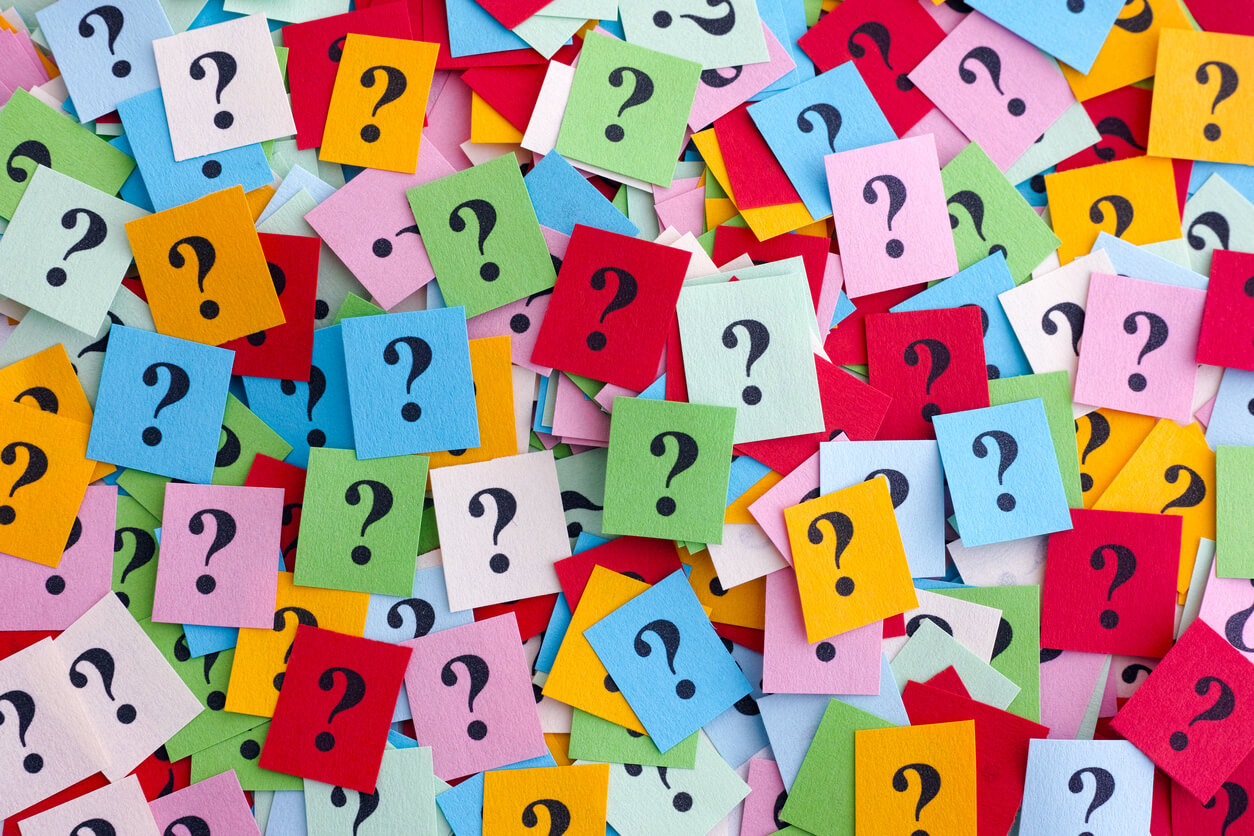 ITEM! New "Question Time" "Ask Me Anything" Bulletin article: It's been about a year and a half since the last installment of "Question Time" (the series where I answer reader-submitted questions). Going forward, that segment will appear on Bulletin and will be called "Ask Me Anything." The new segment is up today.
Those of you who've subscribed to receive my Bulletin content via email should already be seeing this piece in your in-boxes. Everyone else can read it on my Bulletin page. Enjoy!
Also: If you use an RSS reader, like Feedly or Inoreader, you can now subscribe to my Bulletin content via RSS. Just plug "https://paullukas.bulletin.com/rss" into your reader and you should be good to go.
• • • • •
• • • • •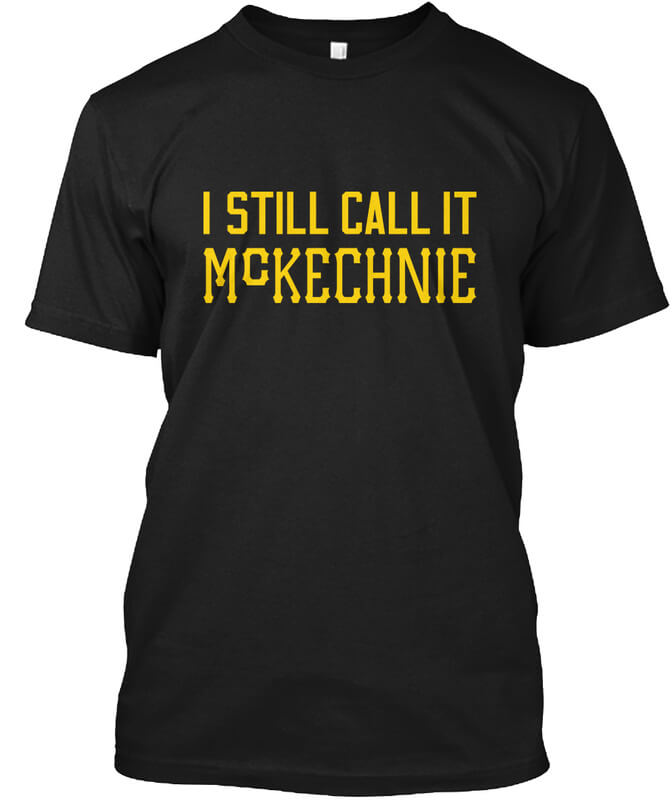 ITEM! Naming Wrongs update: It's been ages since we had a new Naming Wrong shirt. We don't normally do them for MLB spring training facilities, but reader James Kushner recently asked us to do one for McKechnie Field in Florida, the Pirates' spring home, which has had an annoying corporate-advertised name since 2018, so we went ahead and made one for him. (He bought four of them for his family!)
This shirt is available here, and you can see the rest of the Naming Wrongs collection here. And as always, if you have requests for new Naming Wrongs designs, my door (or at least my in-box) is always open. Thanks.
• • • • •
• • • • •
The Ticker
By Anthony Emerson

Baseball News: MLB will allow the Red Sox to wear their City Connect uniforms into the postseason, if they qualify. The Boston Globe also has an article on the effect the superstitious Sox players think they get from the unis (from @mattyp763 and Bryan Person respectively). … During last night's Brewers/Cardinals game, umpires made Brewers P Jake Cousins change the light-tan/grey glove he's been using all season and replace it with a black one (from @shwrth). … Twins OF Byron Buxton's helmet decal was askew during last night's game (from multiple readers). … ABC's reboot of The Wonder Years has lots of very good-looking period-appropriate Little League uniforms.

College Football News: The Air Force Academy sells game-worn jerseys for $99. While browsing the collection, reader Shawn Dzwonkowski noticed this jersey from the mid-'90s, which seems to have had a patch removed from the right side. Note the central location of the Reebok maker's mark, too. … LB Dean Ferguson will wear Frank Beamer's No. 25 for Virginia Tech this weekend (from Andrew Cosentino). … Here are this weekend's uniforms for Wisconsin, Virginia Tech, Purdue in Drew Brees-era throwbacks, Wake Forest, Florida, Louisville, Mizzou, Utah State, Tennessee, and Oregon (thanks to all who shared).

Hockey News: The Rangers have a number of events planned to honor the late Rod Gilbert, including wearing memorial patches all season and the whole team wearing No. 7 jerseys during pregame activities for the Oct. 14 home opener (from @uniformnerd). … Some hot new pads for Flames G Adam Werner (from Wade Heidt).

Basketball News: The Undefeated has a retrospective on signature sneakers in the WNBA (from K.C. Kless). … Gorgeous new unis for Marshall women (from M. Brinston Berry).

Soccer News: If you go to the 1:12 mark of this video, you can see Partick Thistle player London Pollard going NNOB while the rest of her teammates all have NOBs. What's stranger is that this wasn't a spare jersey — according to Partick Thistle's website, Pollard wears No. 23 (from Graham Clayton). … The Columbus Eagles, a team joining the WPSL in 2022, have unveiled their kits (from Ed Żelaski).

Grab Bag: The Canadian Imperial Bank of Commerce (CIBC) is getting a new logo (from Wade Heidt). … Lululemon will be the new opening and closing ceremony outfitter for the Canadian Olympic Team, starting in February in Beijing (from multiple readers). … Here's a fascinating story about how a perfectly preserved World War II Royal Air Force uniform was found wrapped in an old newspaper during a house cleaning in Staffordshire, England (from Kary Klismet).
• • • • •
That's a wrap for this week. I have big weekend plans — a New Jersey pig roast on Saturday and upstate studio art and public art on Sunday. Whatever you have planned for your weekend, I hope it's a good one. See you back here for MMUW on Monday. — Paul