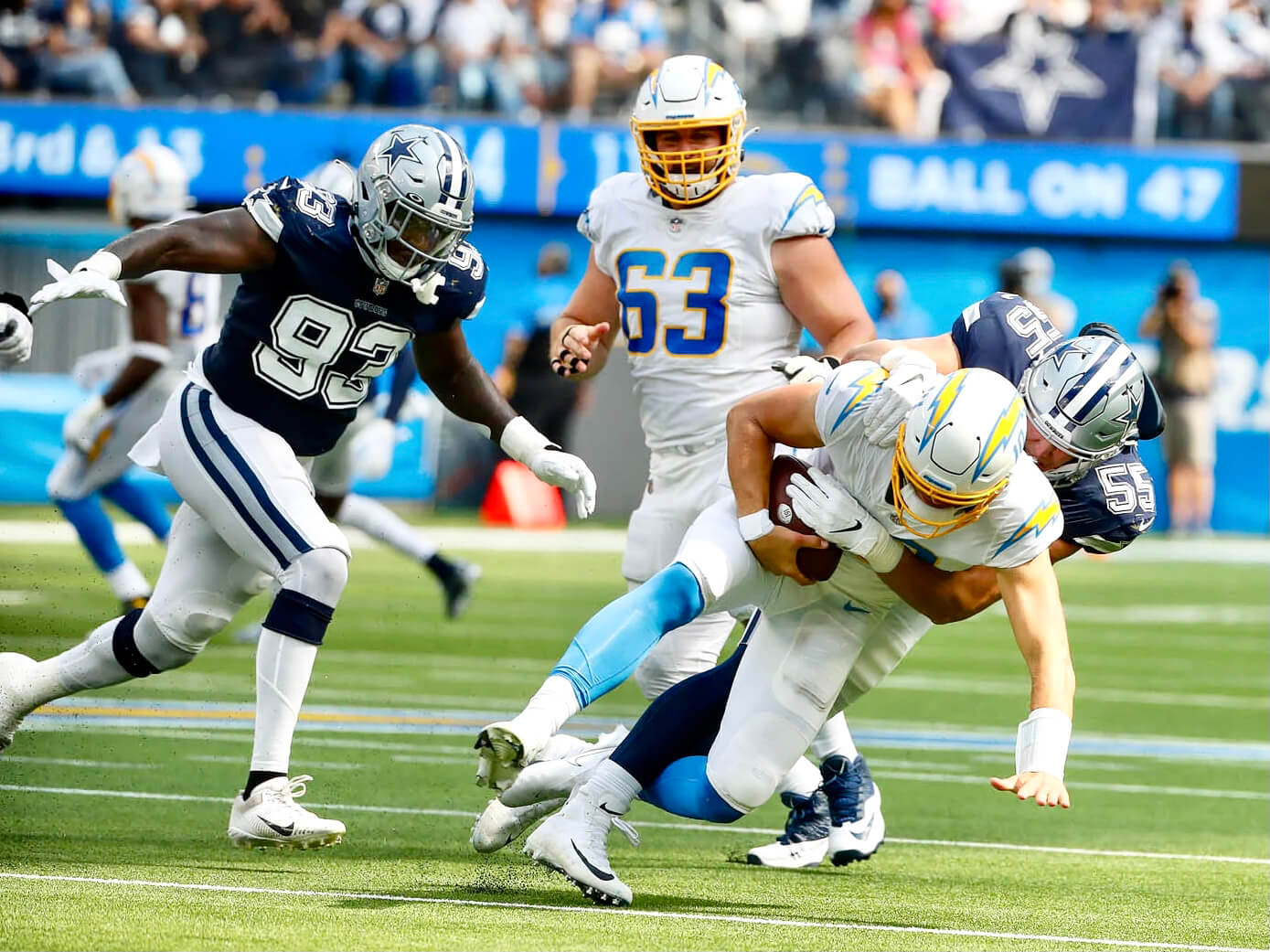 For all photos, click to enlarge
Good morning, and welcome to our second Monday Morning Uni Watch report of the 2021 season. Let's start in L.A., where the Cowboys were forced to wear their navy jerseys because the Chargers opted to wear white at home. The same thing happened to the Cowboys for their season opener in Tampa, which means they've now begun the season by wearing navy jerseys for their first two games. According to the Gridiron Uniform Database, the last time that happened was all the way back in 1983!
Also, as you can see in today's header photo, Dallas paired the navy tops with their white alternate pants, instead of the usual silver. The last time they wore that navy/white combo was Week 15 of the 2019 season.
In other news from a fairly uni-uneventful day around the league yesterday:
• The Colts wore pregame T-shirts featuring assorted messages relating to mental health awareness: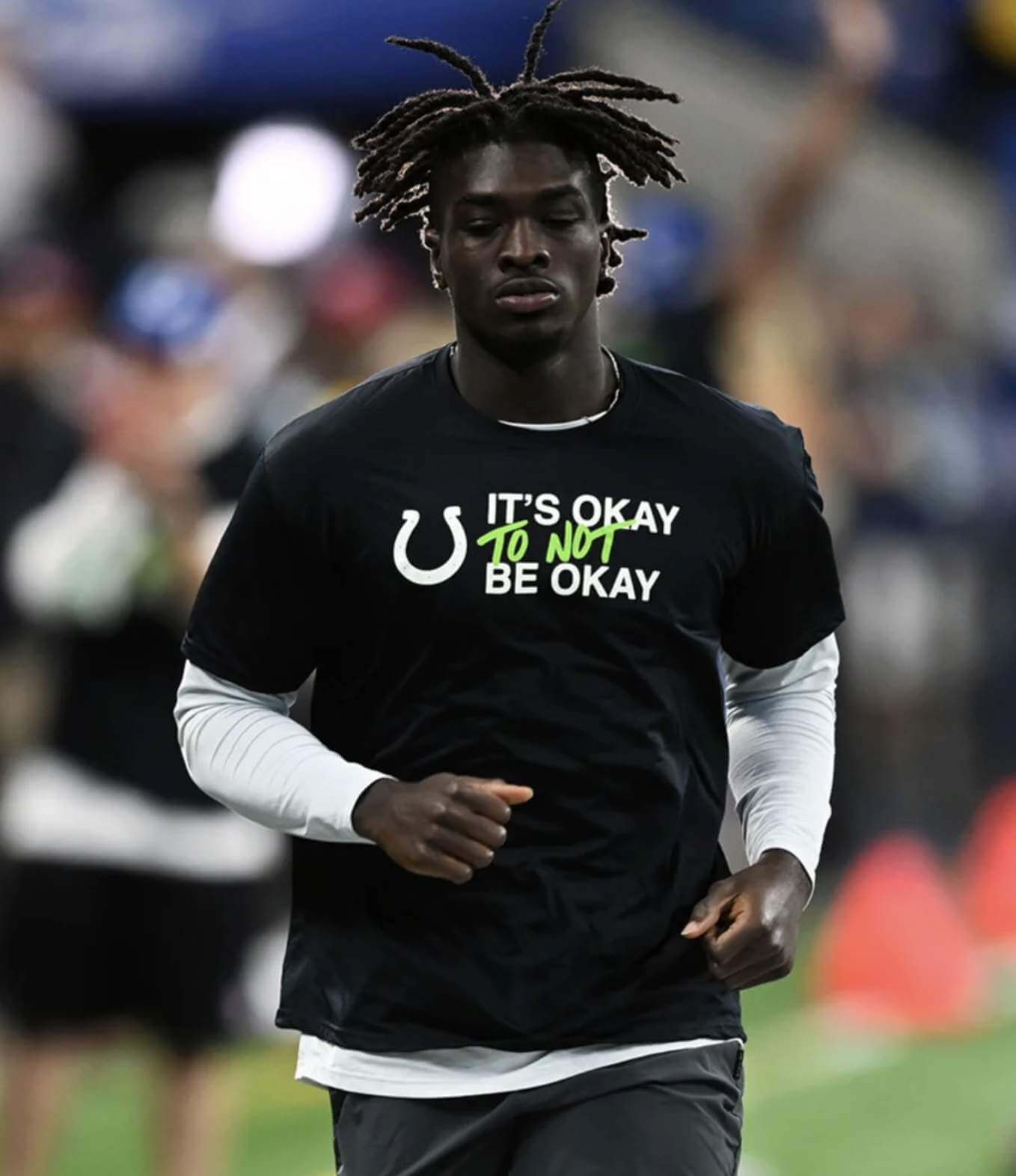 It's part of their "Kicking the Stigma" program, which has included team co-owner Kalen Jackson writing about her own anxiety issues. In addition to the "It's Okay to Not Be Okay" shirt shown above, there were three other messages: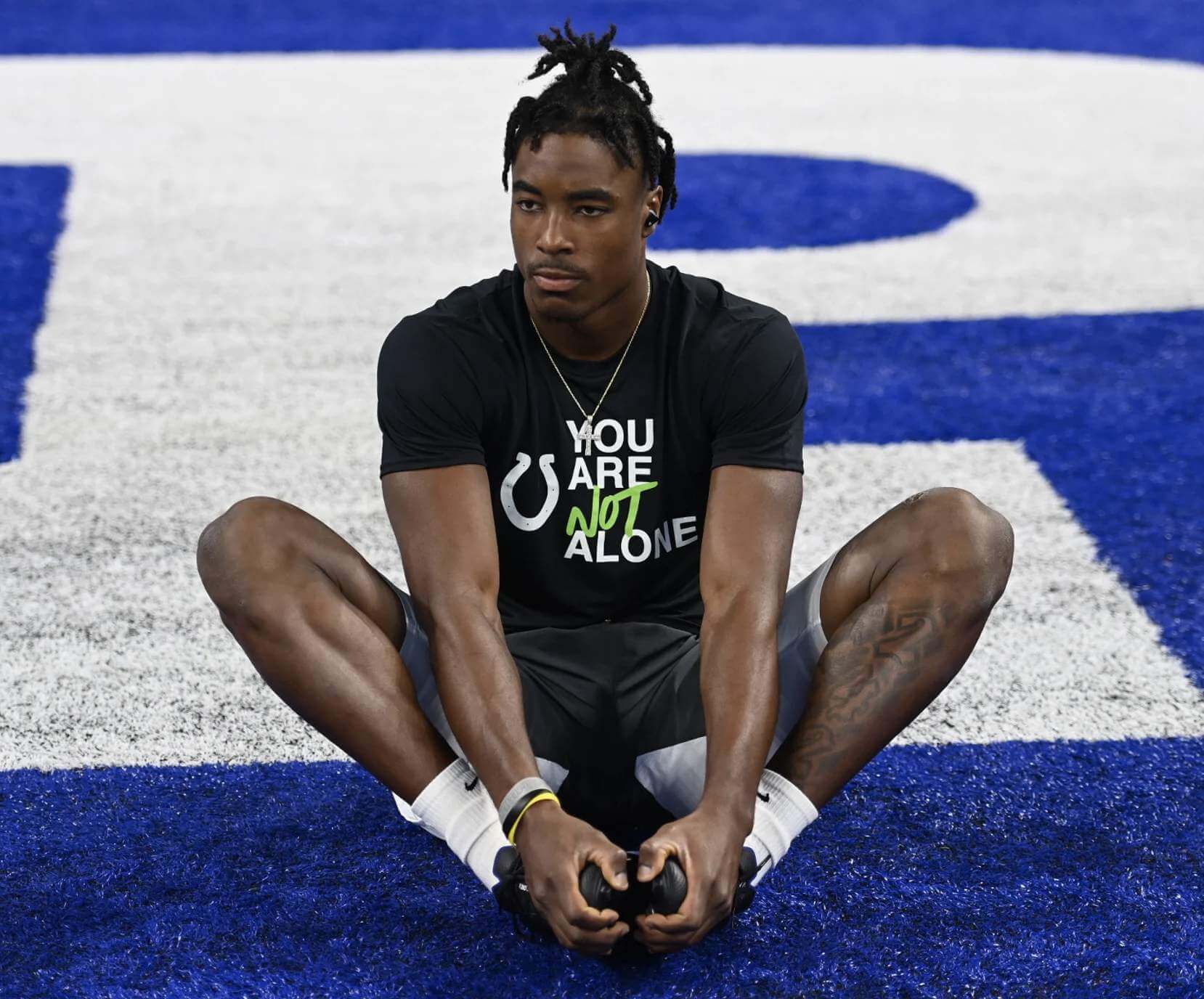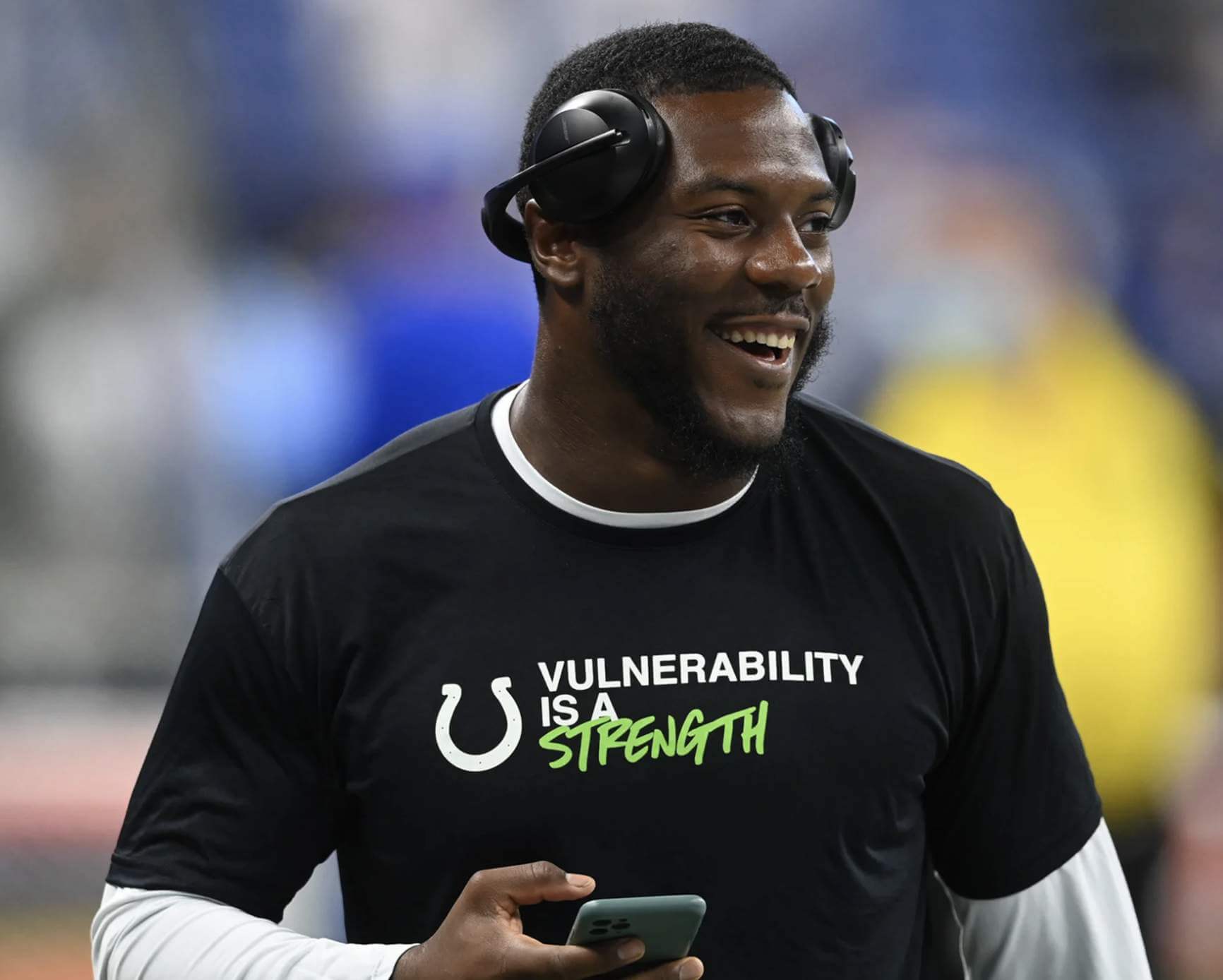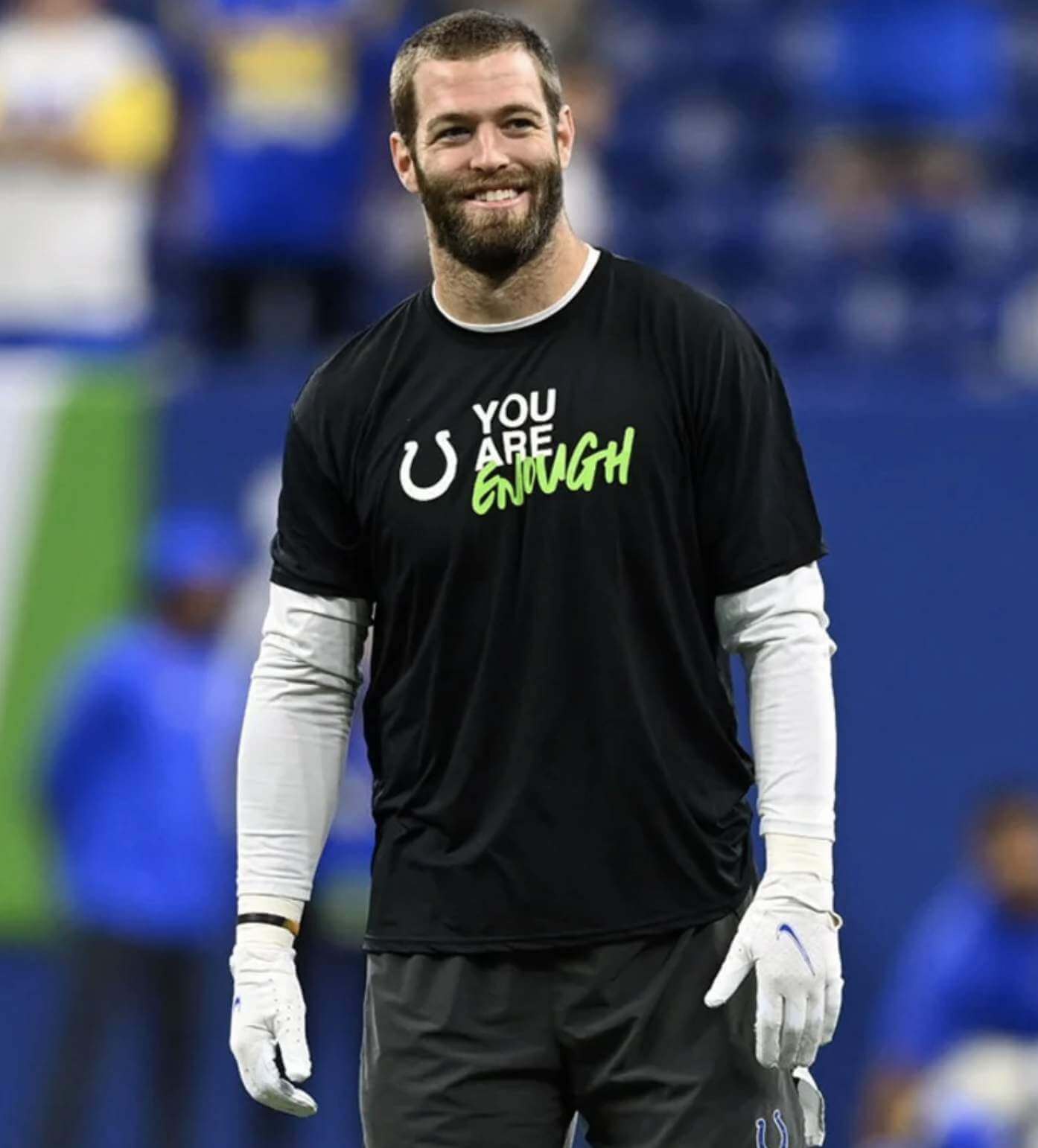 Good for the Colts for doing this, and here's hoping the sports world continues to do more to destigmatize mental health issues.
• Chargers wideout Keenan Allen arrived at the stadium wearing a Boston Celtics/Kyrie Irving jersey:
well good morning, slay pic.twitter.com/iF8WbgEXFk

— Los Angeles Chargers (@chargers) September 19, 2021
• The Panthers enlarged their end zone lettering. Last week on top, this week on bottom: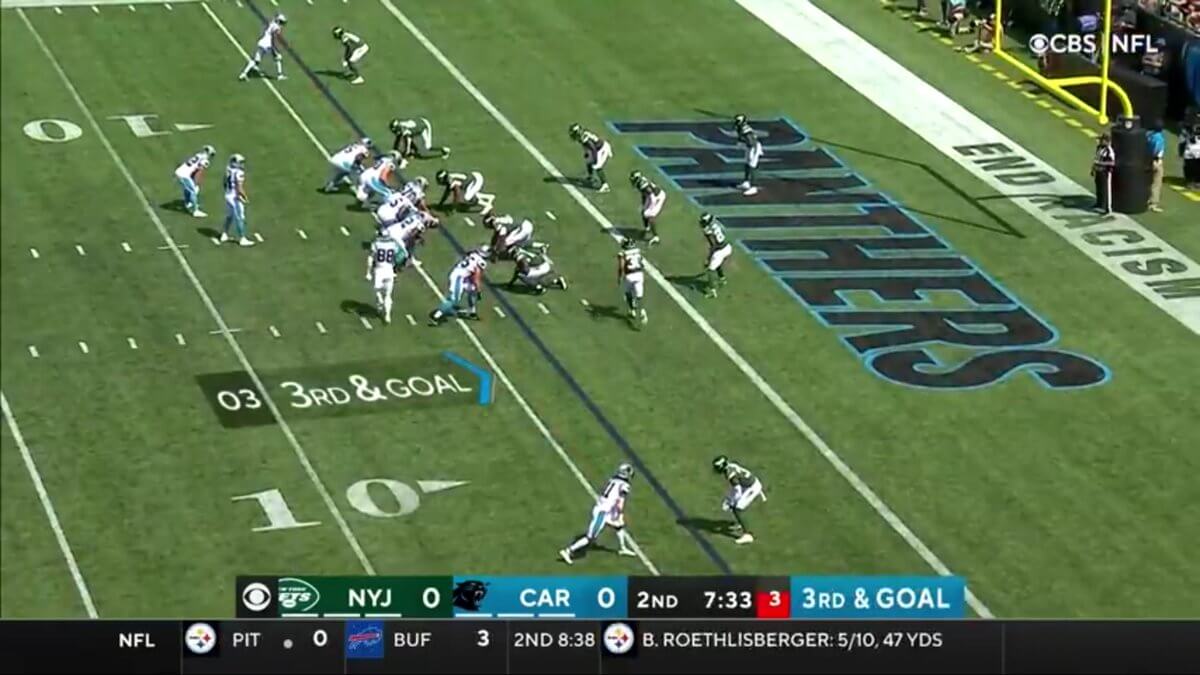 • The Eagles set up a little press box memorial for local sports radio guy Big Daddy Graham, who died last week:
Eagles with a seat saved for Big Daddy Graham. Philadelphia legend. pic.twitter.com/ki97UEH4Cy

— Eliot Shorr-Parks (@EliotShorrParks) September 19, 2021
• An NBC graphic during the Ravens/KC game inexplicably showed a KC helmet with a black facemask — something the team has never worn:
• Speaking of that Ravens/KC game, I thought that was a pretty good-looking matchup — purple and all. The uniforms complemented each other really well, and football looks so much better on natural grass:
Primetime Jets 🔥🔥🔥

Tune in on NBC! pic.twitter.com/ufkg7nivtr

— Baltimore Ravens (@Ravens) September 20, 2021
• Six teams wore white at home: the aforementioned Chargers, plus the Panthers, Jags, Dolphins, Jets, and Bucs.
(My thanks to all contributors, including Cory Fisher, James Gilbert, Michael Hochman, Ryan Maquiñana, and @NFL_Journal.)
• • • • •
• • • • •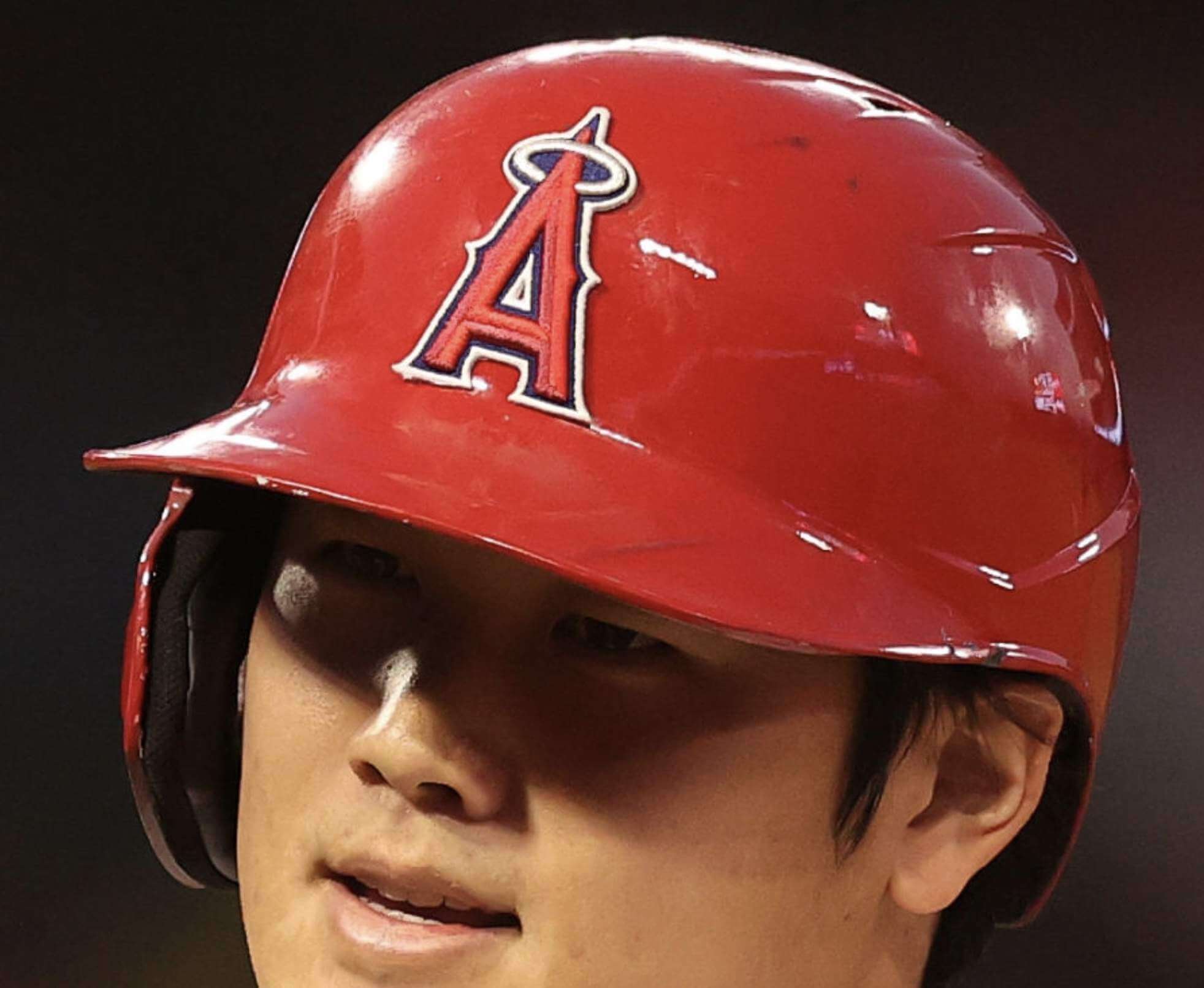 For all photos, click to enlarge
Halos get new halo: Notice anything unusual about Angels pitcher/DH Shohei Ohtani's batting helmet logo in the photo shown above? It's not the standard flat decal that most MLB teams use, nor is it the rubberized 3D logo that an increasing number of teams have been using in recent years.
No, it's a peel-and-stick embroidered patch! The Angels began wearing the new headwear mark a little over a week ago, during a road series in Houston. Here are some additional views, plus a side-by-side comparison: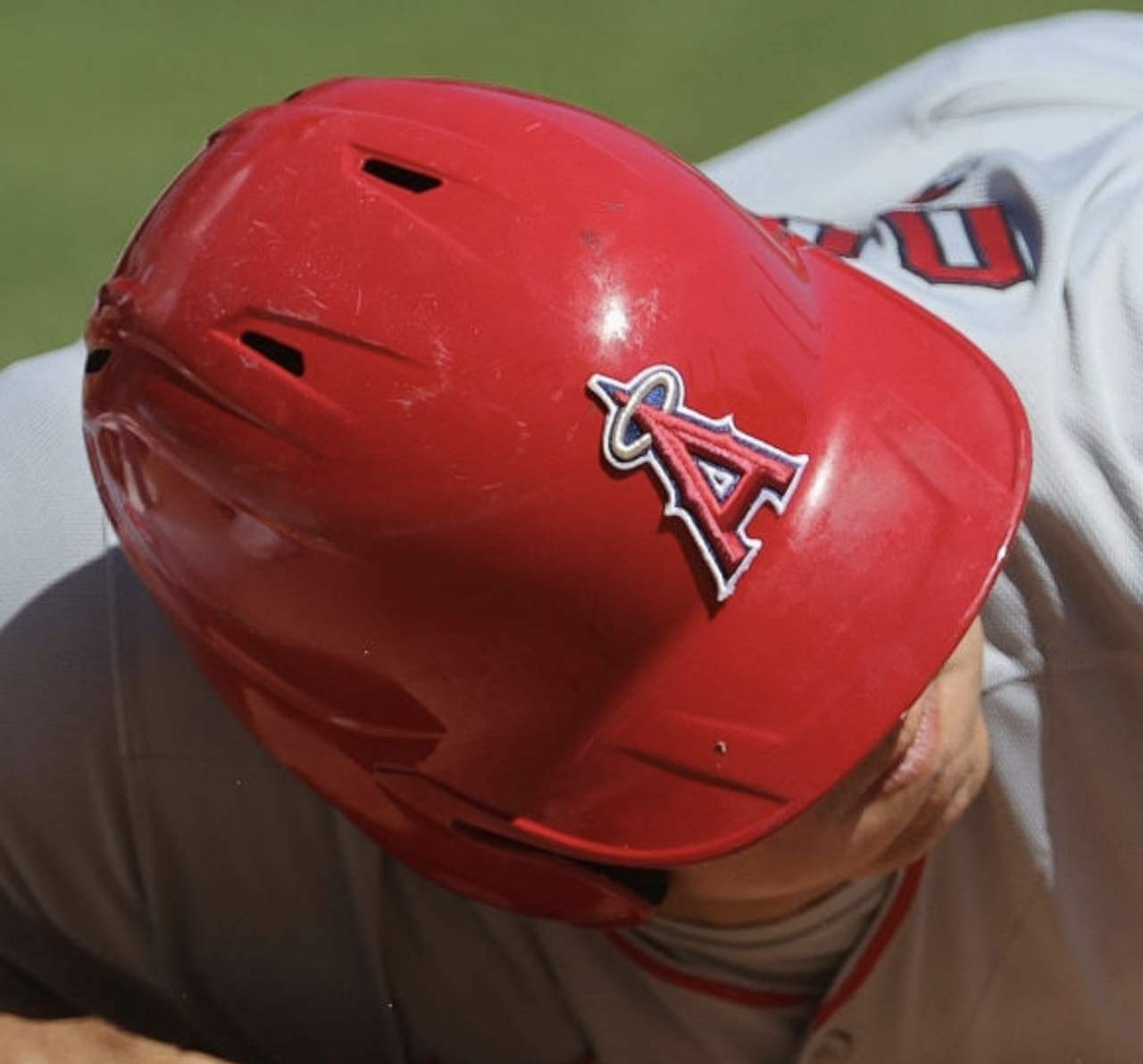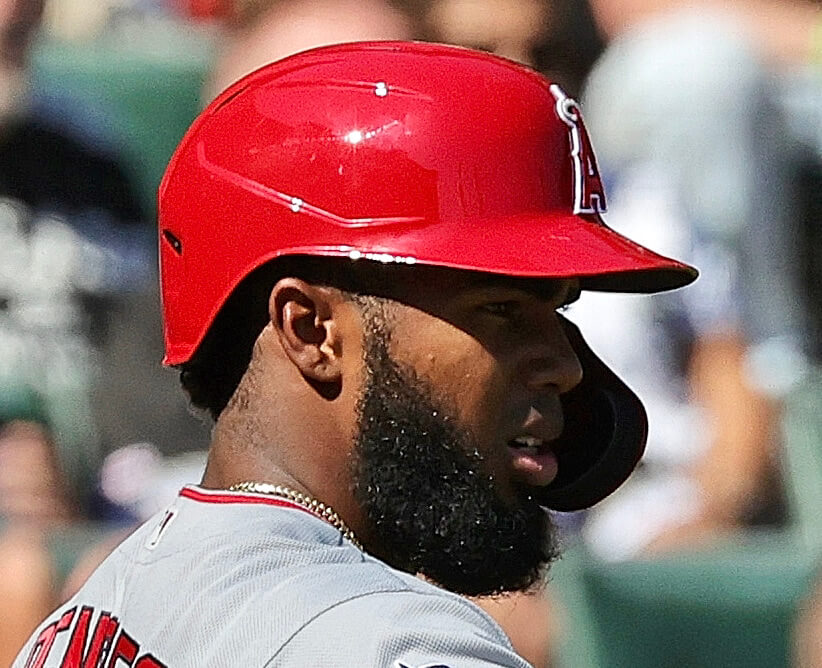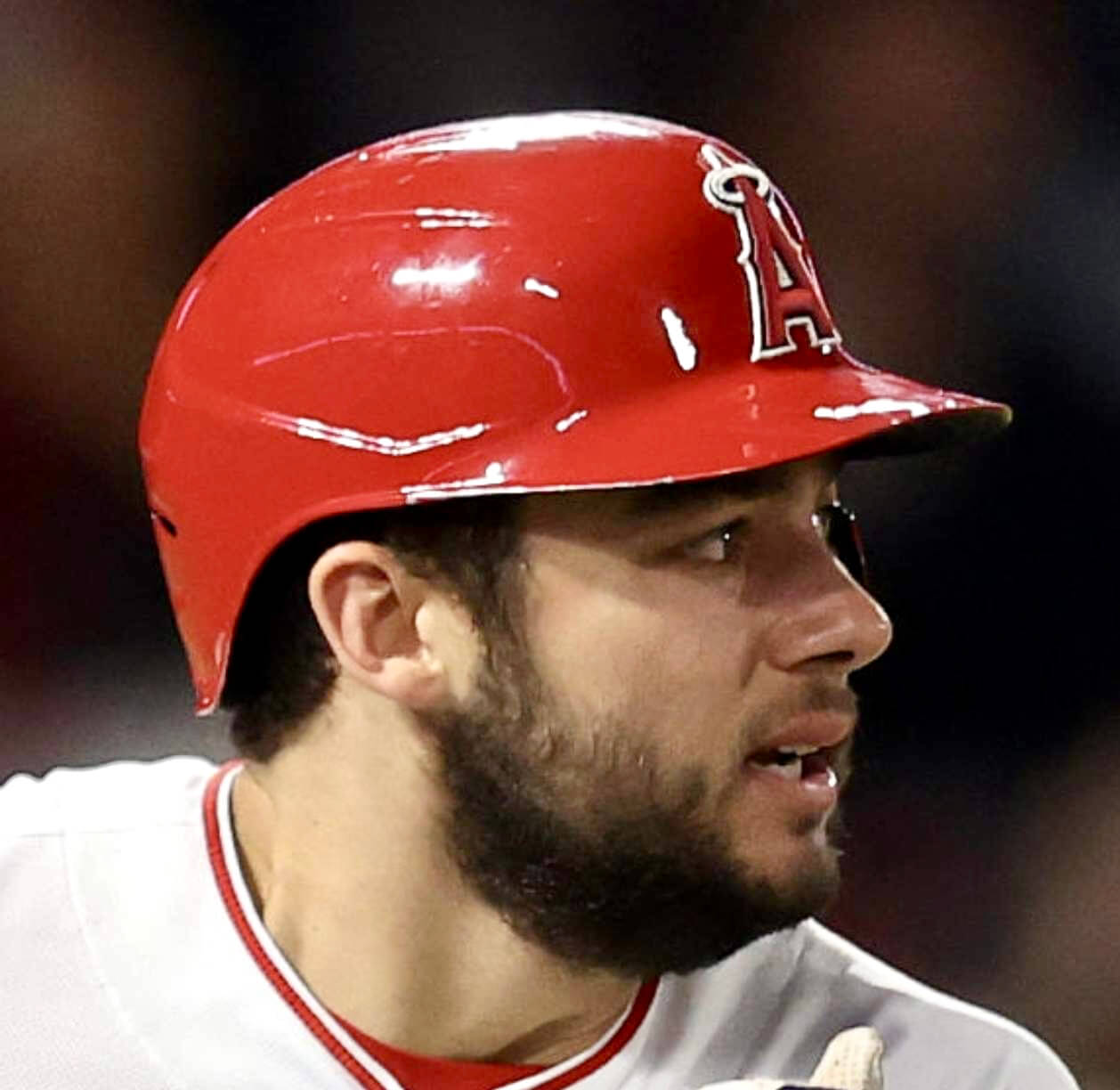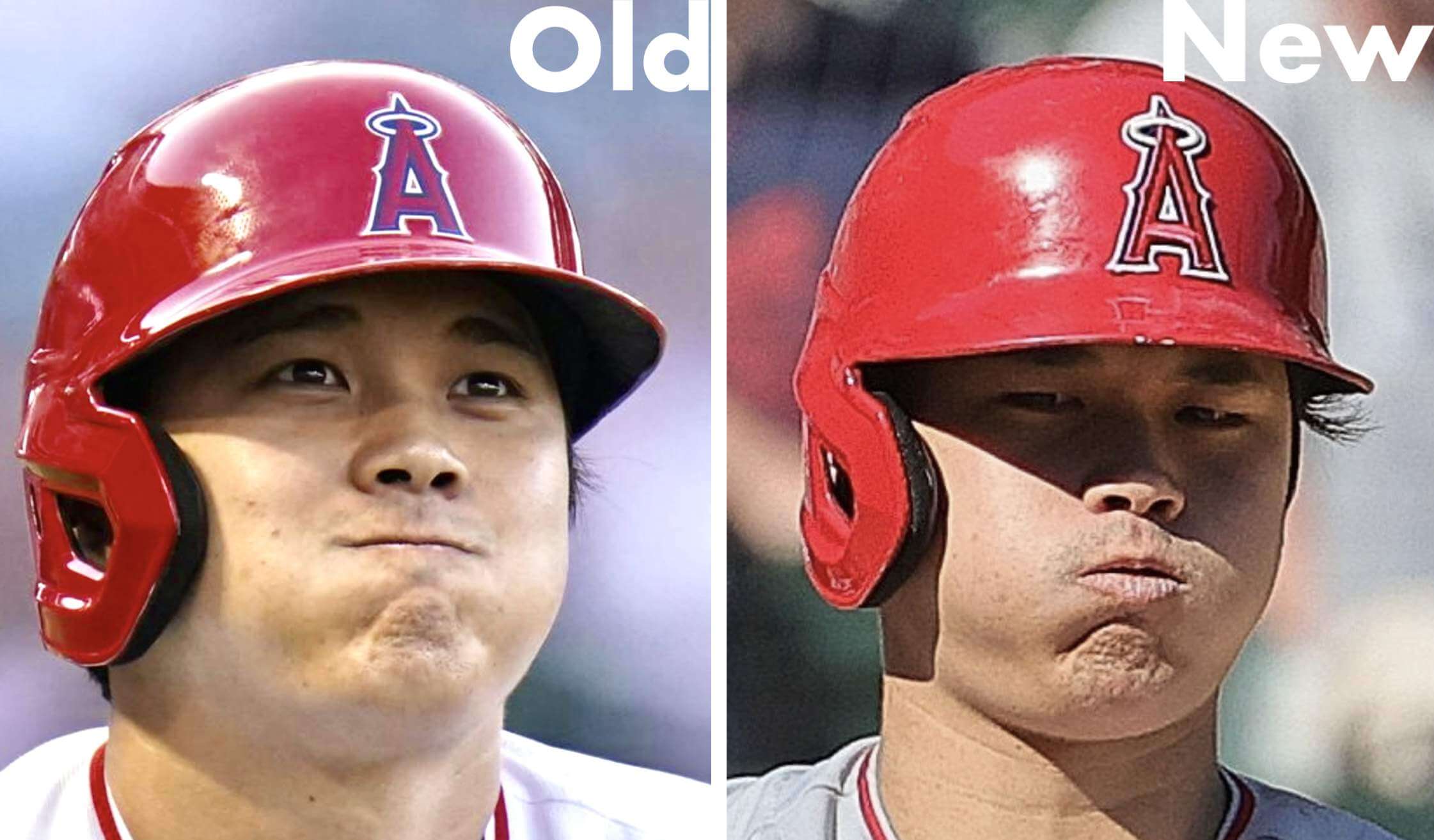 Only one other team uses an embroidered batting helmet logo. That would be the Cubs, who've used a cloth "C" patch since the late 1960s. To my knowledge, no other team has ever worn anything comparable until now, so the Angels are venturing into rarefied air here.
It's odd that an also-ran team would make a change like this in the middle of a September road trip. Then again, maybe the perfect time to test-drive something new is when you're playing out the string, away from the media glare. Either way, I was hoping to speak to Halos equipment manager Guy Gallagher to learn more about the thinking behind this move, but two different team sources told me that he prefers to keep a low profile — too bad.
(Big thanks to Twitter-er @ShrubbyG for spotting the logo switcheroo.)
• • • • •
• • • • •
The Ticker
By Jamie Rathjen

Baseball News: There was an MLB jersey swap yesterday between the Blue Jays' Vladimir Guerrero Jr. and the Twins' Josh Donaldson (thanks, Brinke). … The Yankees' groundskeepers apparently had some difficulties around the plate area yesterday (from @FreyDaddy4). … Players on the High-A Brooklyn Cyclones and Jersey Shore BlueClaws wore teal wristbands on Saturday to protest their pay. Minor league players' minimum pay is less than what their counterparts in ice hockey and basketball make (thanks, Paul).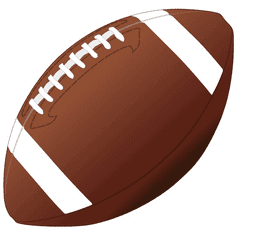 Football News: The Dolphins hinted that they'll be wearing throwbacks for their next home game in two weeks (from Preston Feiler). … Left over from Saturday: South Carolina RB Kevin Harris was missing his SEC helmet decal (from @willchitty4). … Division III Saint John's (Minn.) University wore powder blue (from Shane Fennell). … The CFL's BC Lions wore orange pants with white socks on the road in their current uniform set for the first time, instead of the usual black socks (from Wade Heidt). … Wade also has some Canadian college uni tracking in yesterday's comments.

Hockey News: As had been widely expected, the Coyotes are bringing back the white Kachina uniform (from Mike Gould)
The PHF's most recent champions, the Boston Pride, got their championship rings on Saturday. … The WHL's Kelowna Rockets wore their previous white jerseys, which last appeared in 2018-19, in a preseason game (from Wade Heidt). … Also from Wade: The OHL's Kingston Frontenacs have a new logo.

Basketball News: NBA numerologist Etienne Catalan has more new and changed player numbers. … The WNBA's Las Vegas Aces retired a No. 25 jersey for Becky Hammon last week. She didn't play for them, but did for their previous incarnation, the San Antonio Stars, who'd already retired her number. Aces owner Mark Davis held the second retirement to connect the current team to their predecessors. … New uniform for the Japanese women's team Chanson V-Magic (from Jeremy Brahm).

Soccer News: All three Premier League games yesterday featured both teams wearing black armbands in memory of English striker Jimmy Greaves. … Bayern Munich revealed, and wore, a green and black Oktoberfest-themed kit in the Bundesliga on Saturday. … New second shirt for Australia's Adelaide United, and two for A-League-only Western United. … Unusually for UEFA, a Women's World Cup sleeve patch has been very inconsistently appearing on teams playing in those qualifiers, with most that I saw pictures of not wearing it. In their men's competitions, various types of sleeve patches are ubiquitous. … In Japan's men's second tier, Blaublitz Akita midfielder Tomofumi Fujiyama ripped his shirt yesterday (from Jeremy Brahm). … Top-tier Polish side Legia Warszawa's fourth kit has leaked (from Ed Zelaski). … FIFA is pushing to increase the frequency of the men's World Cup to every two years, instead of the current four-year cycle.

Grab Bag: Fans often wear costumes to the Canada Sevens rugby sevens tournaments in Vancouver, and here is some of what was seen on Saturday (from Wade Heidt). … Australian cricket's men's and women's Big Bash Leagues revealed new kits overnight. … The Gaelic Athletic Association approved sleeve ads for Gaelic football and hurling teams this weekend. … Arlington County, Va., chose its new logo (from Dell Michaels).