[Editor's Note: Paul is on his annual August break from the site. Deputy editor Phil Hecken is in charge from now through the end of the month, although Paul may be popping up here occasionally.]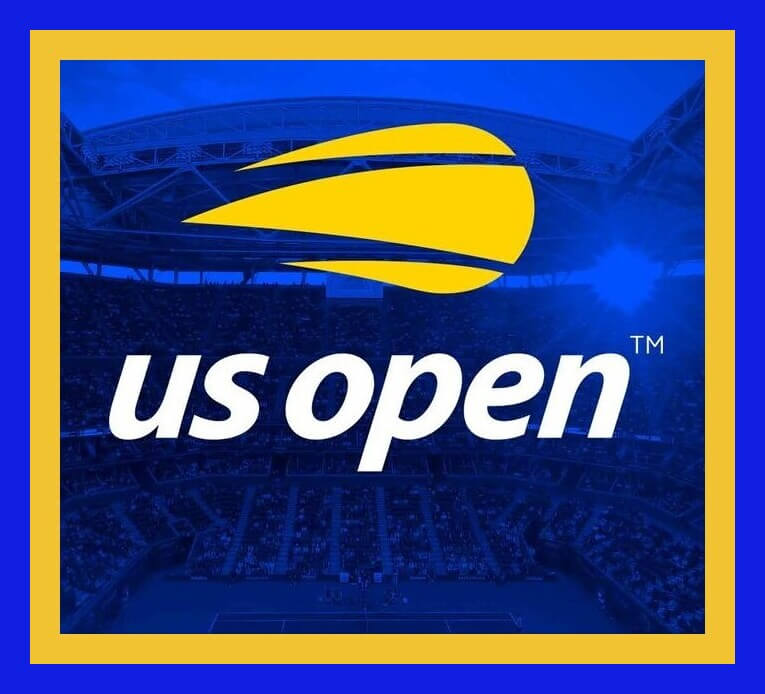 By Phil Hecken
Follow @PhilHecken

Greetings and a good Monday morning, all — I hope everyone had a pleasant weekend.
I'll be joined today by my doubles partner, our own Brinke Guthrie, who is back once again to give you a preview of the sartorial choices of the tennis players at this year's United States Tennis Open, which begins today. Brinke's been bring us previews of all the tennis majors (aka "Grand Slam" tournaments) for the past several years, and this is the final major of the season. Ready? New balls please…
• • • • •
US Open Preview
by Brinke Guthrie
And so we come to the end of Uni Watch's Phil's tennis Grand Slam season (although we might just have something in October for the BNP Paribas Open in Indian Wells — which is usually in March but it got moved 'cause of, well, you know).
Anyway, the pros will kick things off today at the US Open with fans in the stands, unlike last year. Some of the usual suspects are MIA. No Federer, no Nadal, no Serena, no Venus, no Kenin, no defending men's champ Thiem, but the show must go on. Let's see what the players will be wearing on court.
__________
New Balance
Coco Gauff is New Balance's flagship star. Hopefully, we'll see Gauff-Osaka battles for years.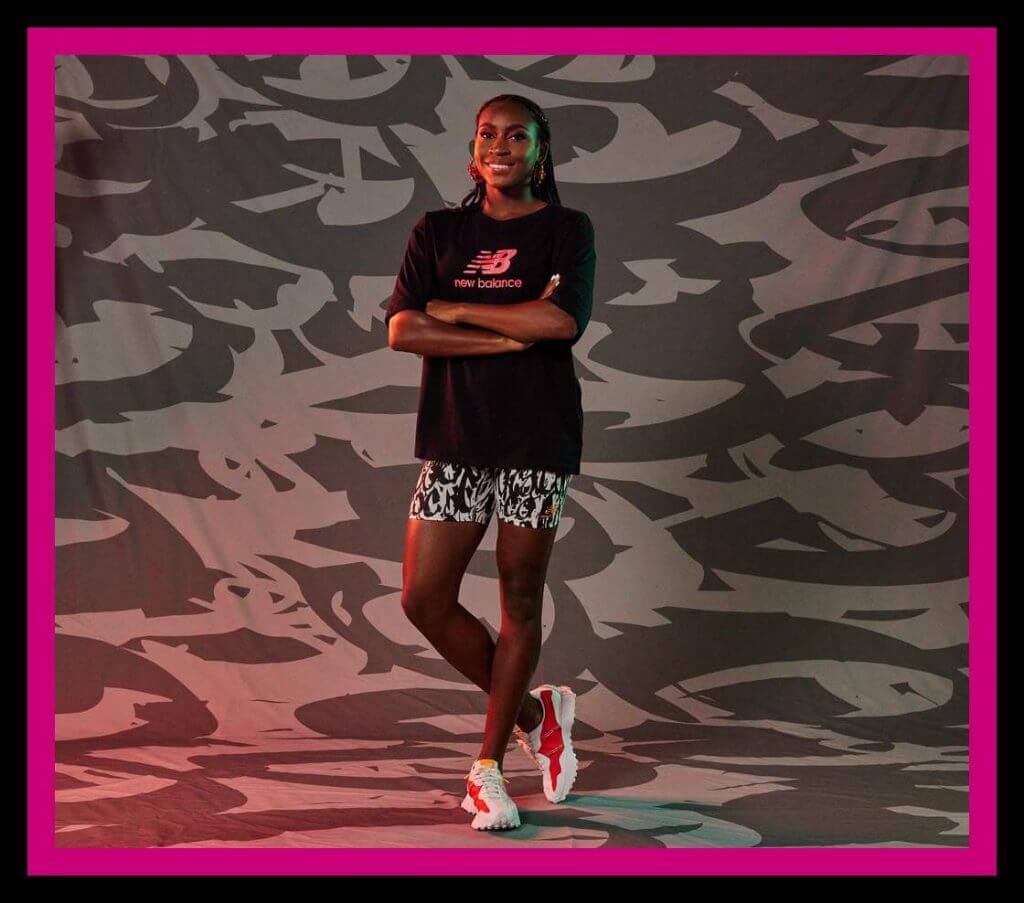 They debuted her first collection last week:
"I loved working with the design team on the inspiration boards and seeing it fully come to life at the photo shoot was a dream come true," says Gauff. "I wanted to push it with the graphics and fit of the collection so I am pumped to finally see it in store and let fans get their hands on it."
This is the NB Fuel Cell 996v4.5; "inspired by the marquee atmosphere under the lights in New York City." Gauff will be wearing this one.
__________
Yonex
Naomi Osaka and Japanese contemporary artist Takashi Murakami created a one-off racquet with a Murakami cherry blossom design. She started using it in Cincinnati, and the "Naomi x Murakami EZONE" racquet is not for sale. Naomi will auction a small number of racquets with all proceeds benefiting Play Academy with Naomi Osaka.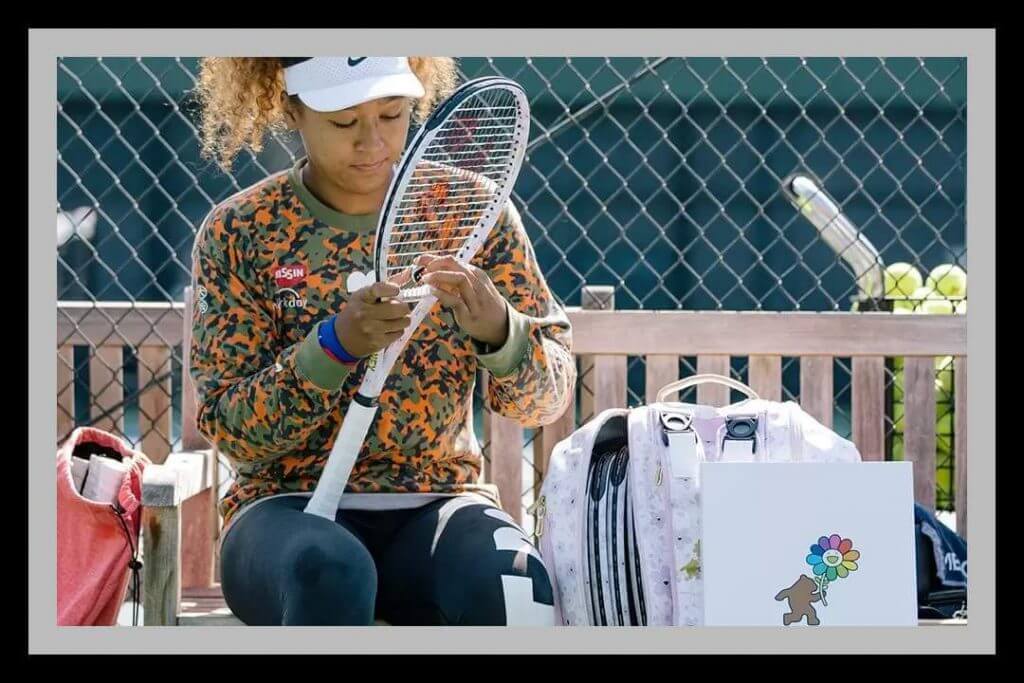 Other Osaka news; she's quite the marketing juggernaut entrepreneur, and has rolled out a Levi's line as well; that is one terrific "Naomi" logo, too:
Nike developed their own minimalist "NO" logo for her: I really like that one, right up there with the Federer "RF" and the old Borg "Bj."
__________
Nike
Did you know there was something called the "Serena Williams Design Crew" at Nike? I didn't, either. In 2019, Swoosh and their leading endorser created a "design apprenticeship program" at Nike to "promote diversity in design and establish a new generation of design talent." Nike is now introducing the first collection from the SWDC group, "which seamlessly connects sport and culture while drawing upon 90s nostalgia."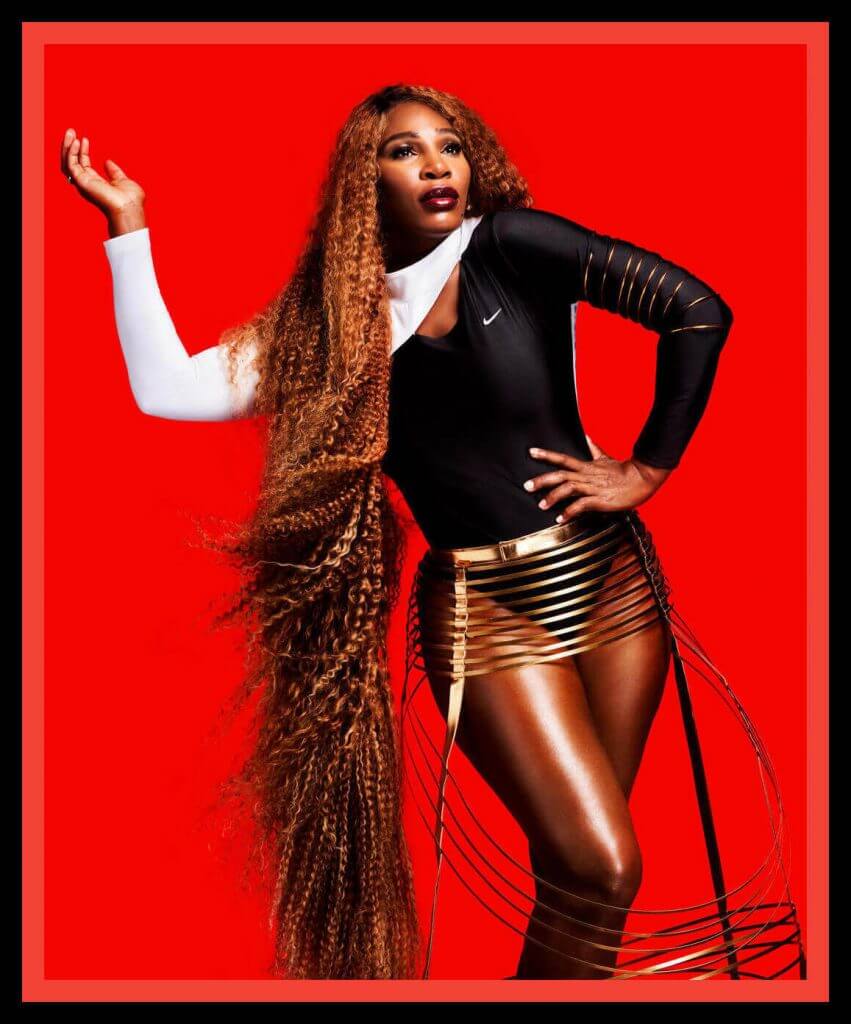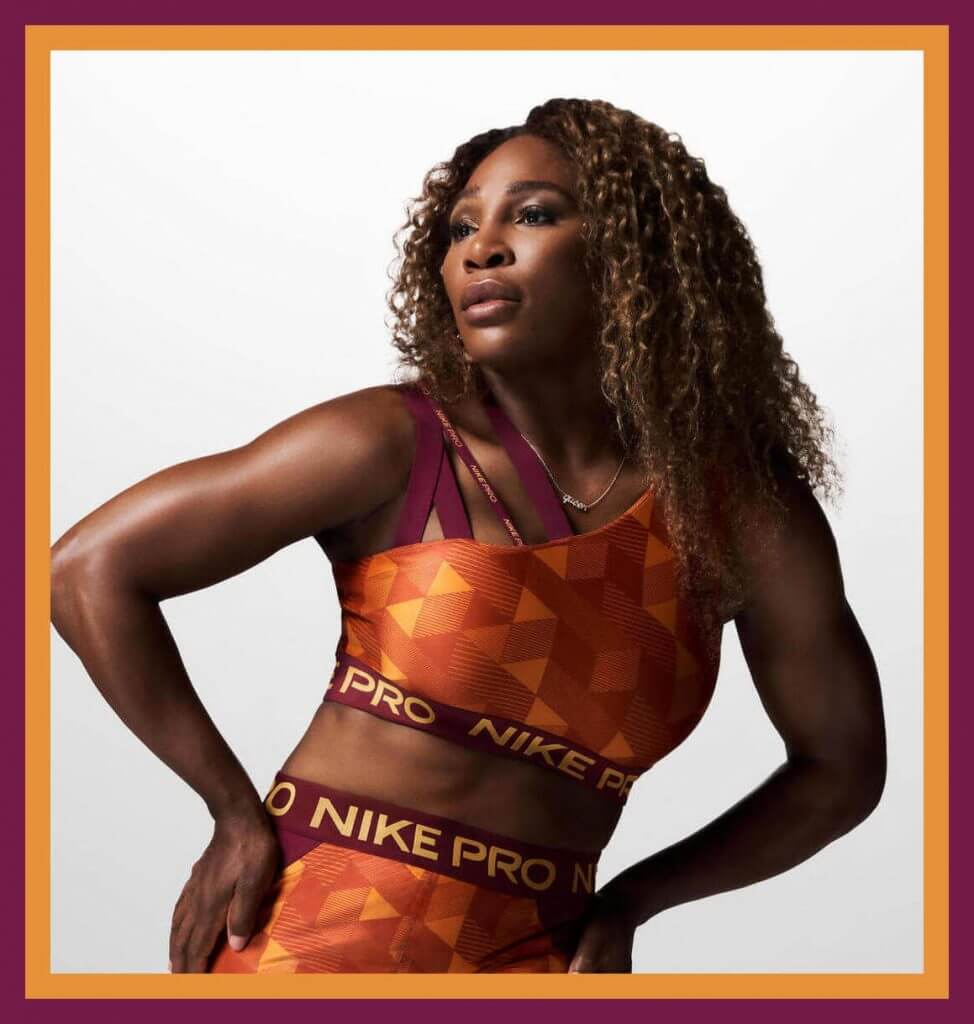 __________
Adidas
Look for their players to be wearing a new version of their popular "Barricade" sneaker, back after brief hiatus:
__________
Uniqlo
As I said earlier, no Federer this time around, and it's possible he has played his final match. (Here's a behind the scenes look at how Fed grew his considerable empire.) Uniqlo did just release this new T design for their 15 year anniversary: yes, they got my money.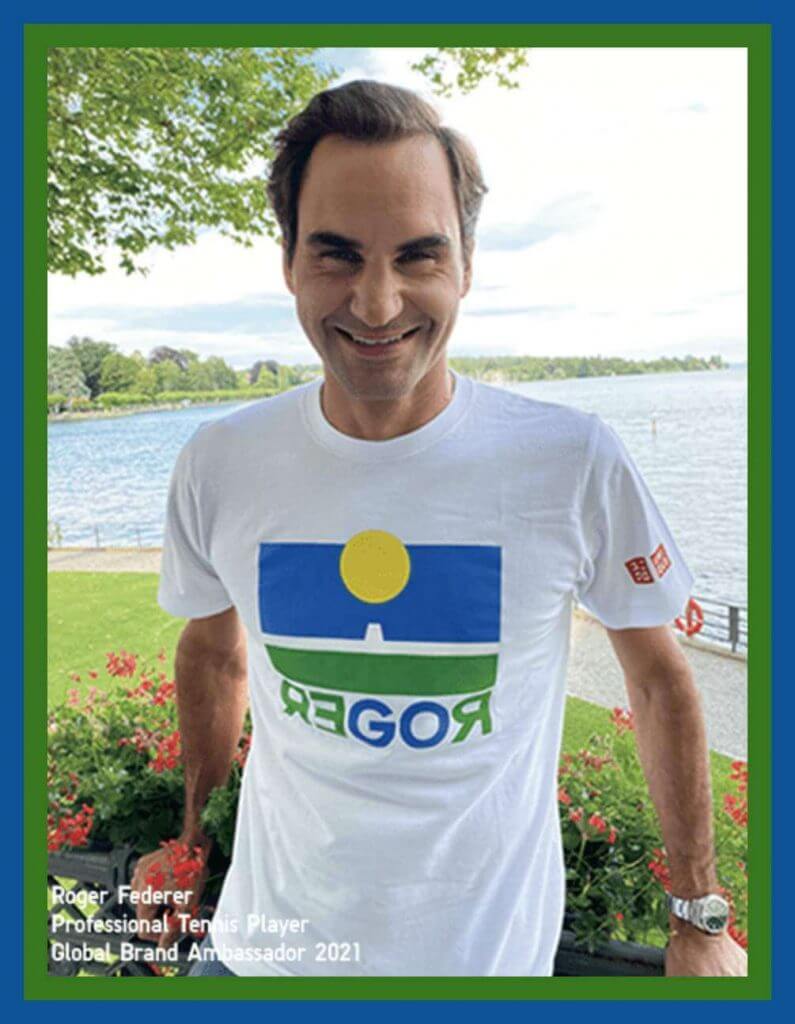 Ah well, The 'Qlo also has Kei Nishikori on their roster, and he'll sport this look:
__________
Fila
Fila is 110 years old. The brand will release two all-new collections to be worn on court by select players in NYC. World No. 1 Ash Barty, along with John Isner, Reilly Opelka and Sam Querrey will wear the "110 Year Collection," while Karolina Pliskova and Diego Schwartzman will sport the new Wildcard Collection: here's Barty and Opelka: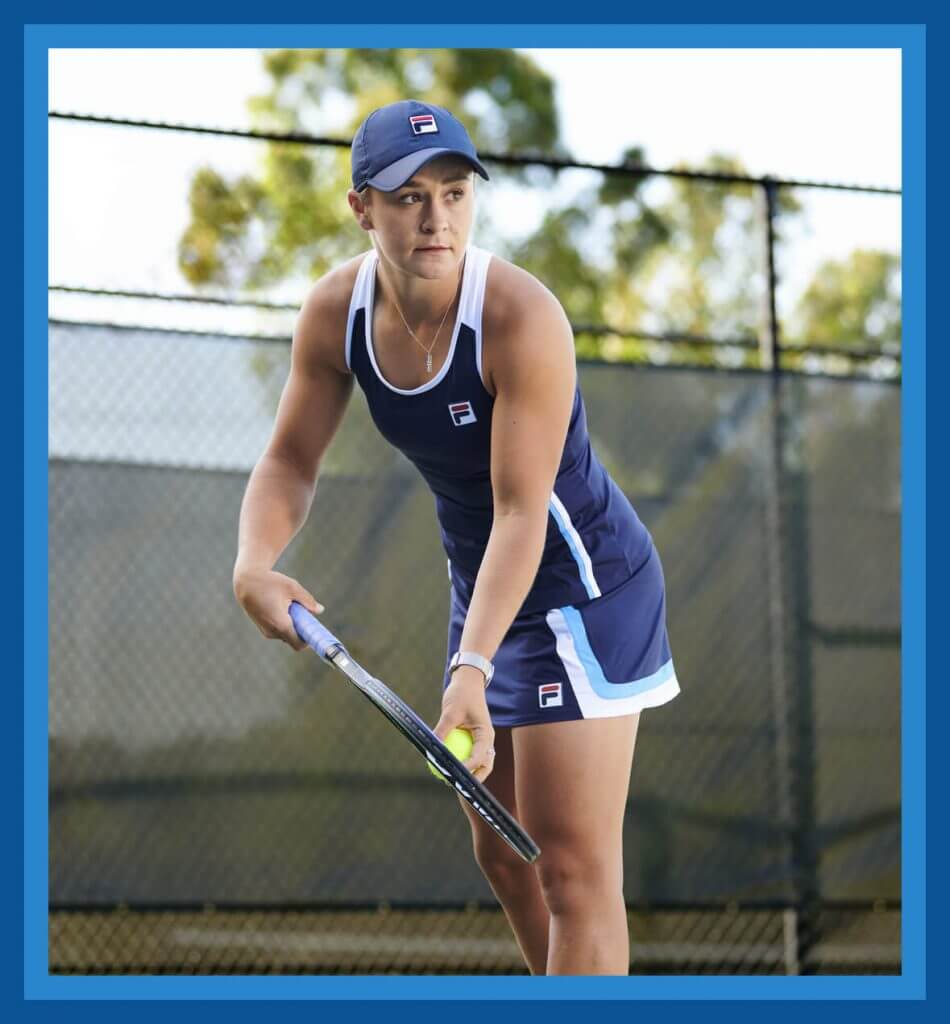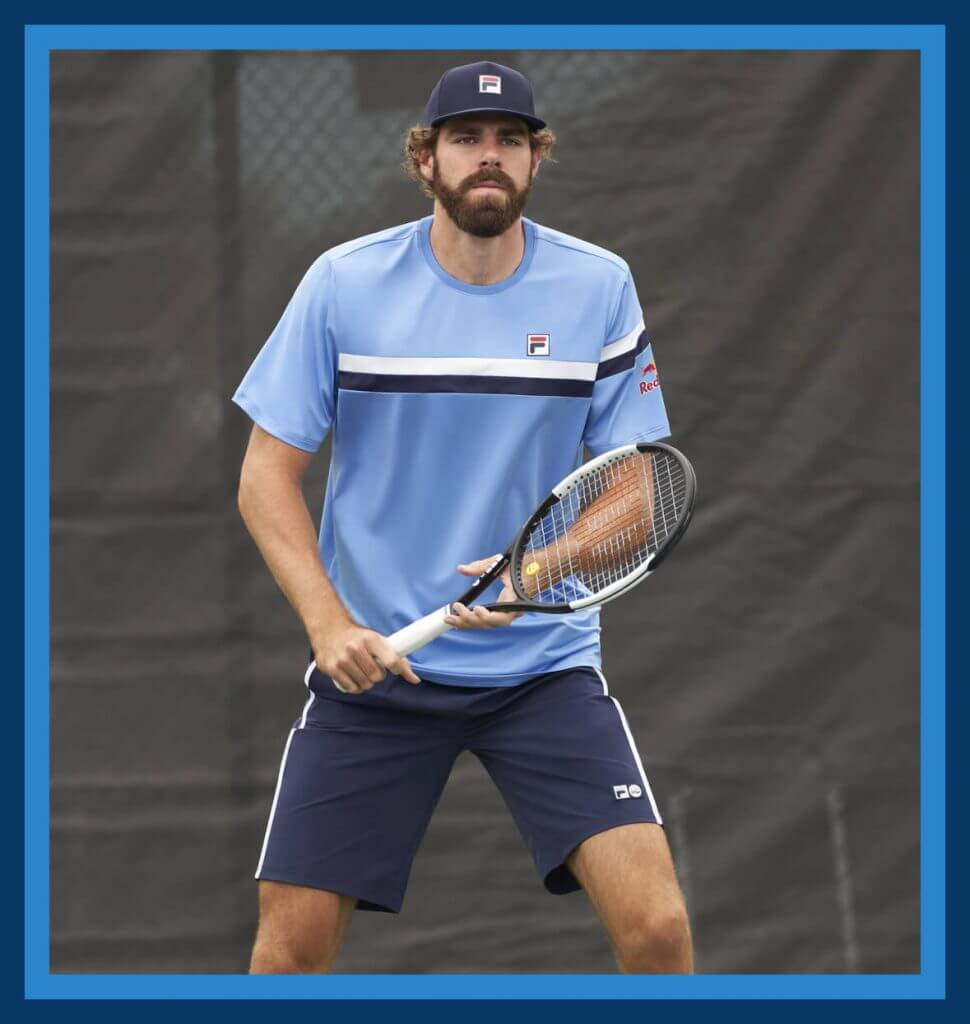 …and here's Schwartzman.
__________
Lacoste
Life is good for the venerable brand these days, with the top two mens players sporting their line. World #1 Novak Djokovic and Le Croc have extended their deal for another four years, likely to the end of his career:
It's an honor to extend my partnership with @LACOSTE. A true privilege to be a part of the family and continue the croc legacy! 🐊 #TeamLacoste https://t.co/tYQwx8l9Pu

— Novak Djokovic (@DjokerNole) August 24, 2021
Djokovic has been a tennis gear gypsy, bouncing from Adidas to Sergio Tacchini to Uniqlo to Lacoste for clothing, Wilson to Head for racquets, and Adidas to Asics for shoes. These days, his current on-court is well coordinated, and he'll wear this in NYC: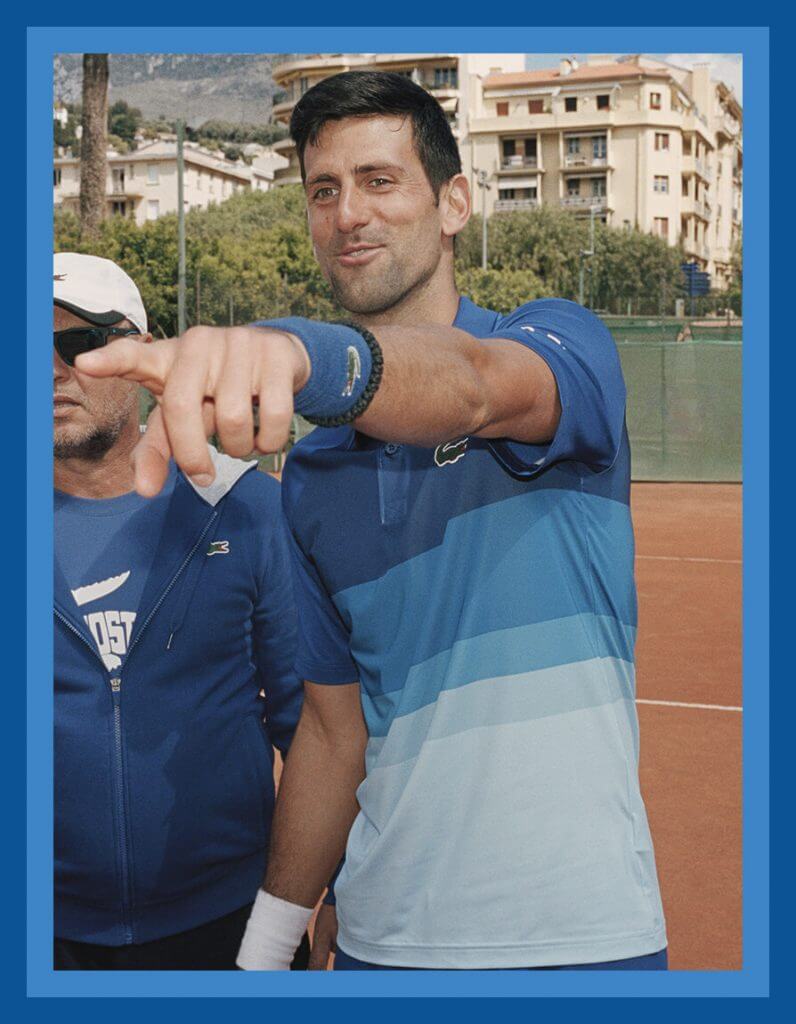 Meanwhile, World #2 Daniil Medvedev will sport this Lacoste look- those are Lacoste sneakers, too- to my knowledge, the only pro that wears them. His racquet is by Tecnifibre, which Lacoste owns. If anyone is going to stop The Djoker, it's this guy.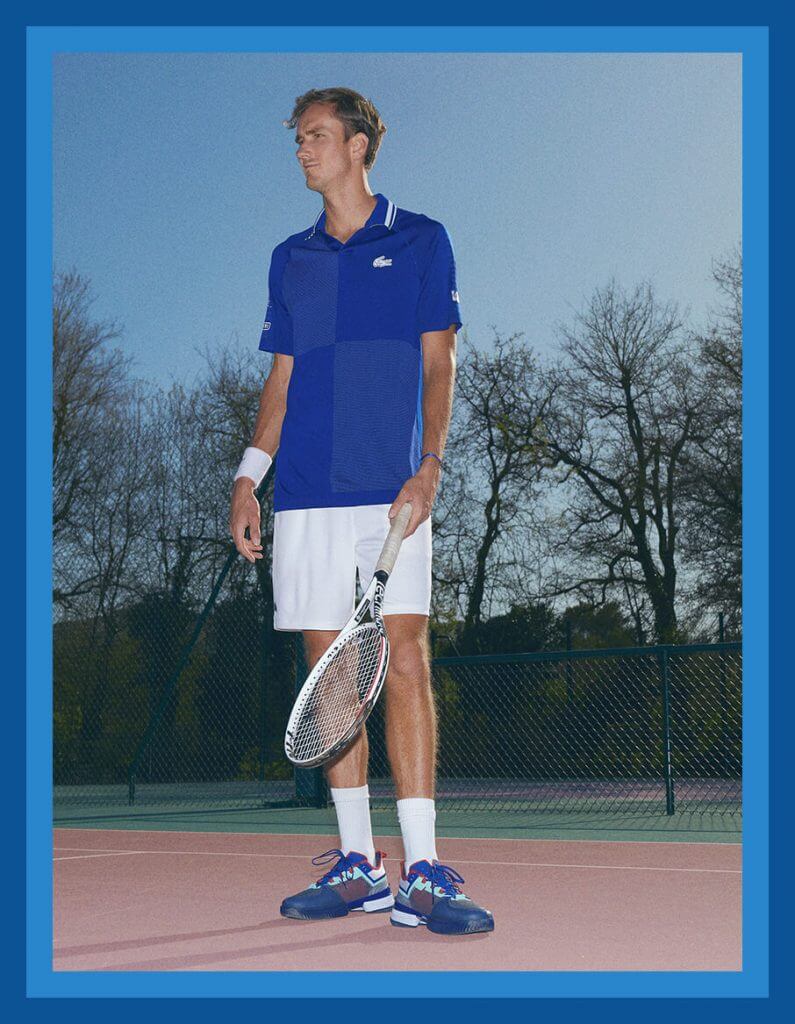 • • • • •
Thanks, Brinke — as always, nice job on the kit rundown! Normally I'm not a big fan of Djokovic, but with a Grand Slam on the line (and no Rafa or Fed playing), I'm actually gonna be pulling for him!
• • • • •
• • • • •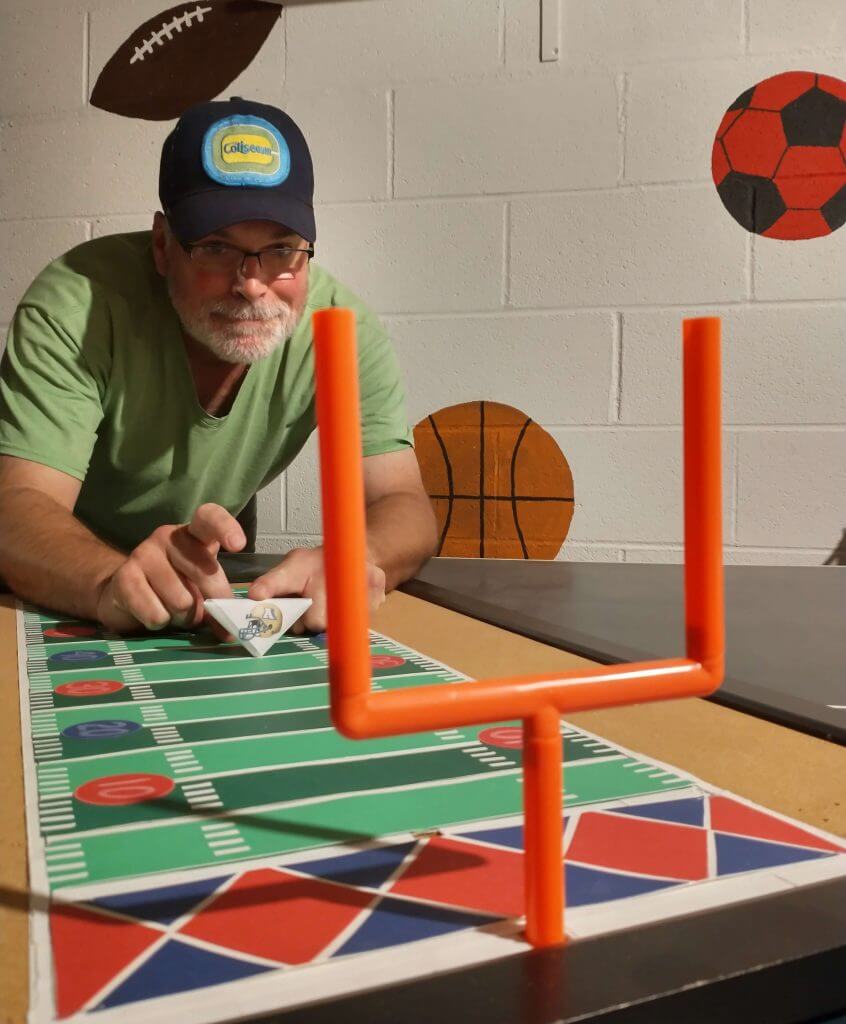 He's Baaaaaaaaaaaaack…
I'd kinda wanted to make this one a surprise when we kick off the Sunday Morning Uni Watch for good in a couple weeks, but this one is just too good.
Ladies and gentlemen, returning from his EIGHT year hiatus manning the "5 & 1," I present to you … the one and only … Jim Vilk.
For those of you unfamiliar — every Sunday during the College Football season, I host the "Sunday Morning Uni Watch" in which we give the most complete rundown of all the college football uniform machinations, track the uniforms of the Power 5 conferences (and the Oregon Ducks in particular), and rank the best five, and worst one (hence the "5 & 1") uniform matchups that occurred during the week. The 5 & 1 actually pre-dates SMUW, and for several years was manned by Jimmer Vilk. However, Jim stepped down from that role in 2012 (I think), and the 5 & 1 was handled by Catherine Ryan, Joe Ringham, Michael "Memal" Malinowski, and a few guest pickers during the next several years. I told Jim if he ever wanted to reprise his role, it was always open to him, but he always demurred (and basically stopped watching "concussionball" during those years). Well, the urge to return proved just too strong, and Jim has now returned to the role he helped create for the foreseeable future.
Ladies and gentlemen, please welcome back Mr. Vilk.
• • • • •
5 & 1 0
by Jimmer Vilk
Hi! Been a while, eh?
So, I took a little break and was seeing some other sports (because that's what you do when you're on a break), but I'm back because I missed picking uniform matchups. And kickers. I really missed kickers.
Before we jump back into this, I just wanted to let you know that Jim 2.0 is going to have a few less rules. Hopefully this will lead to a greater variety of games making the list. And I promise that I won't pick any SEC games this week. ;)
And away we go with…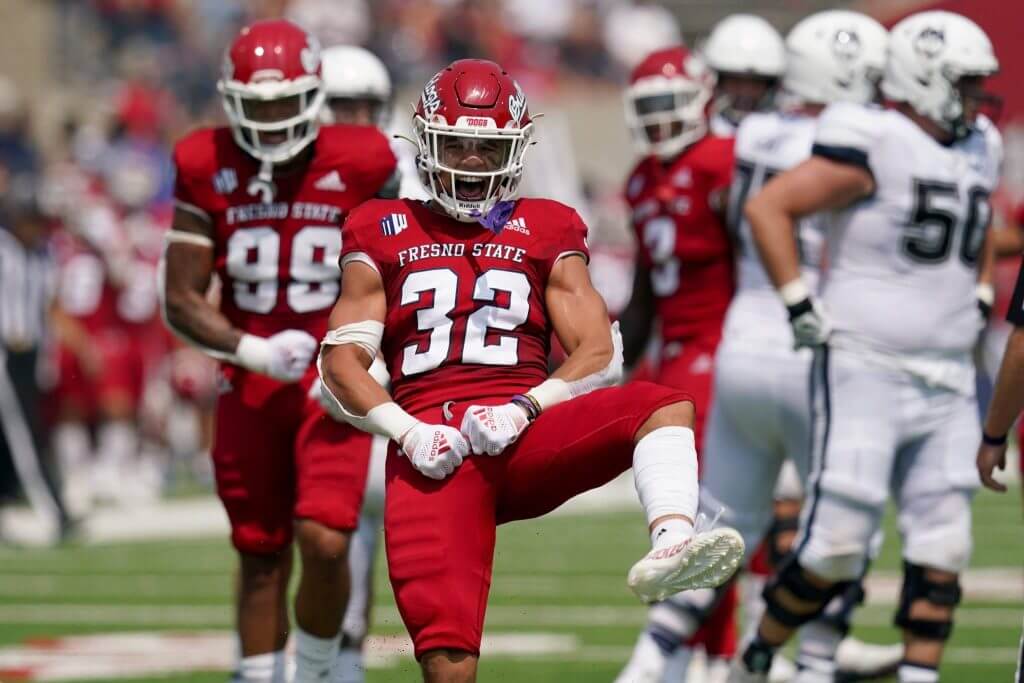 5. UConn/Fresno State

Mono y mono rarely does it for me.
__________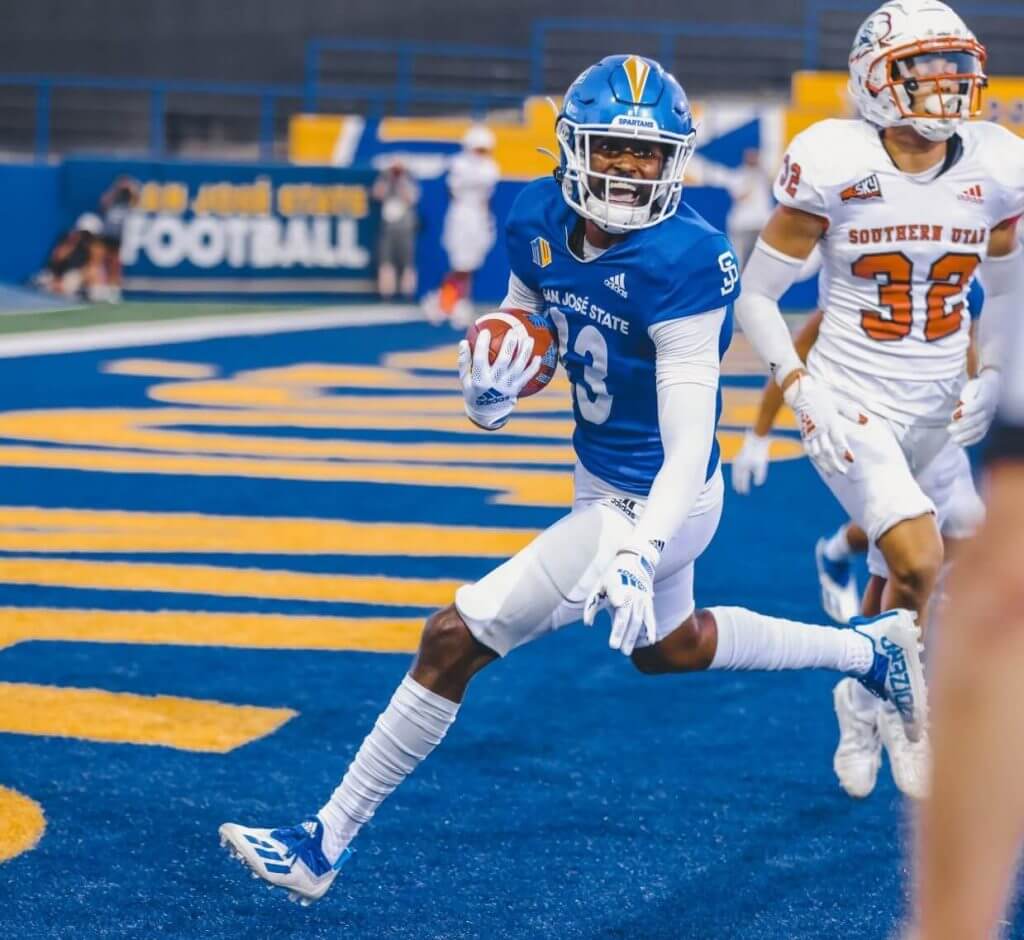 4. Southern Utah/San Jose State

A lot of plain and a lot of white.
__________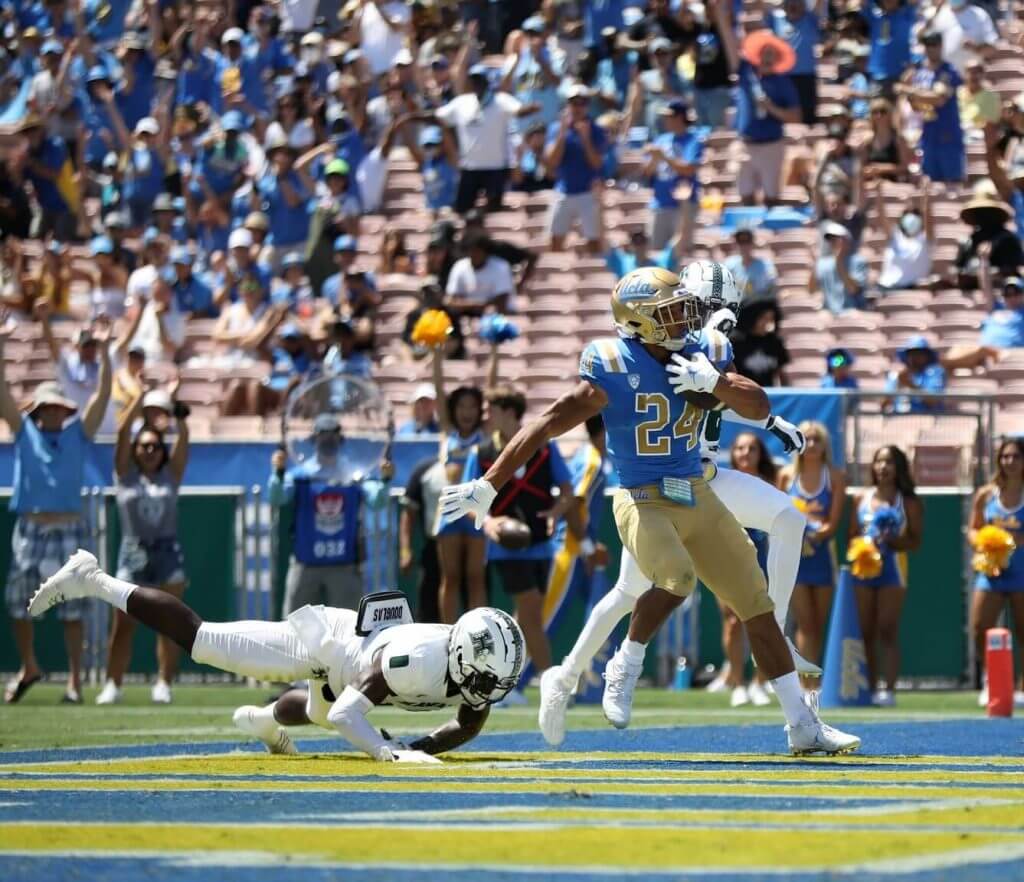 3. Hawaii/UCLA

What I said about number four applies to you, Hawaii.
__________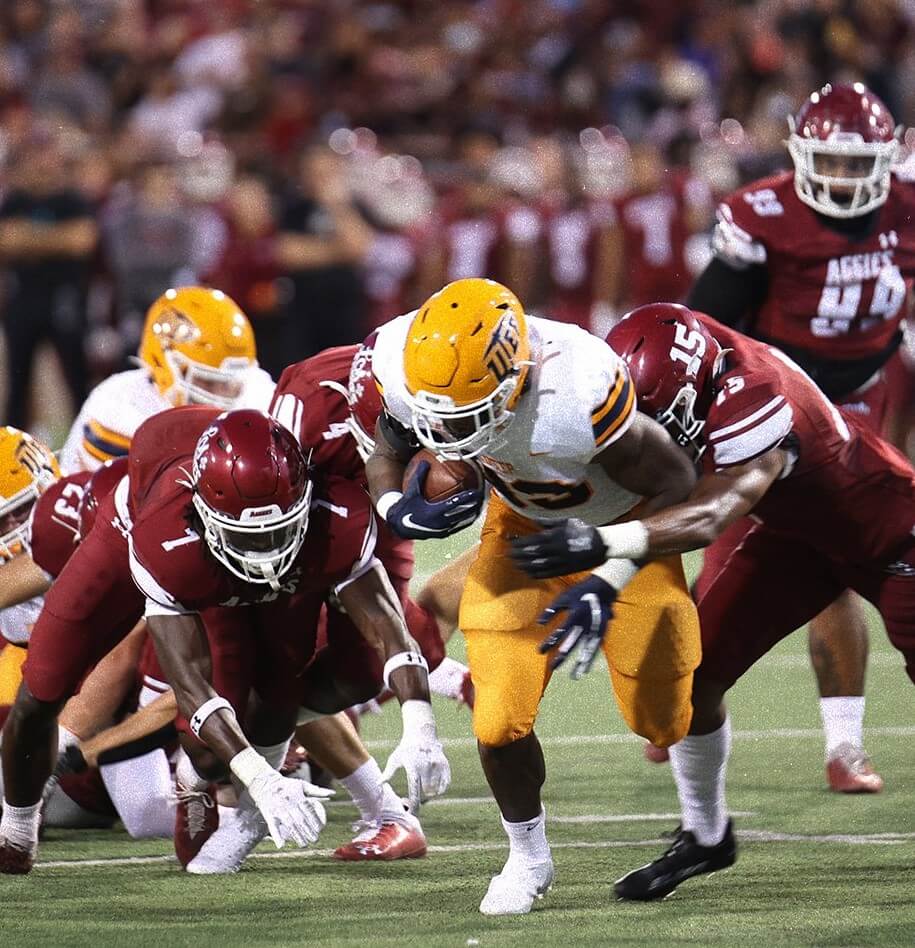 2. UTEP/New Mexico State

Finally, some contrasting road pants!
__________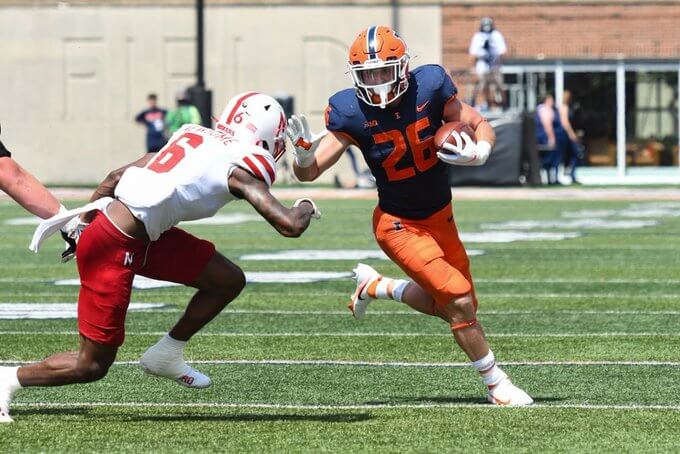 1. Nebraska/Illinois

This B1G matchup is a big colorful winner.
__________
No &1 this week, so everyone gets a gold star. See you in September!
• • • • •
Thanks Jim, and welcome back! See ya in about two weeks!
• • • • •
• • • • •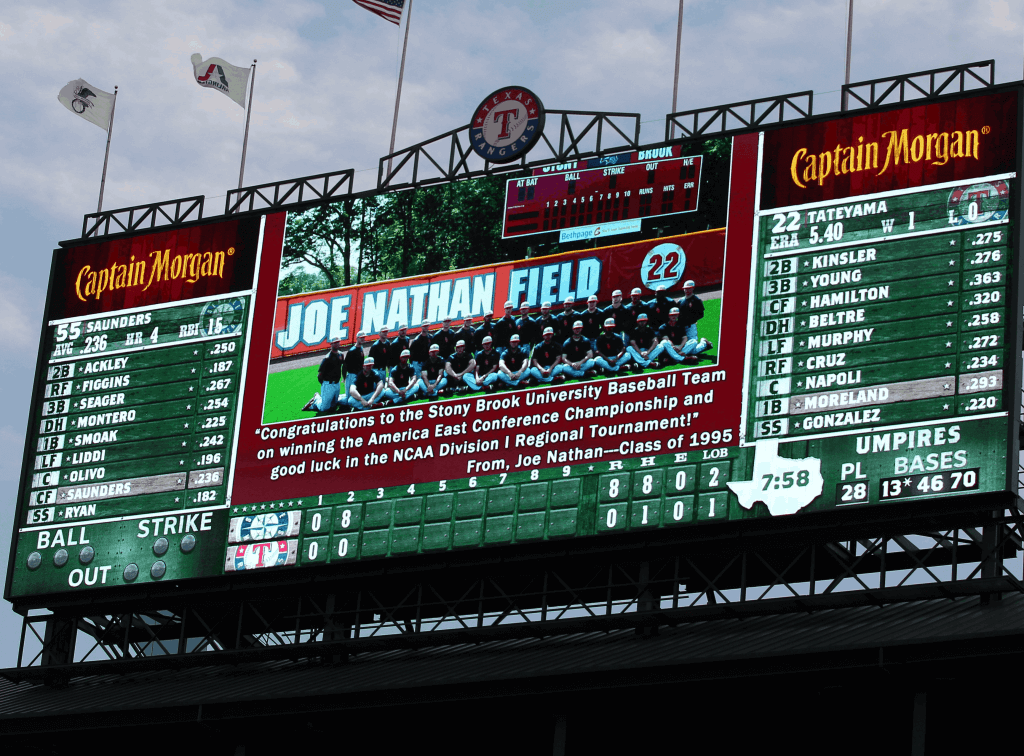 Guess The Game…
from the scoreboard
Today's scoreboard comes from ojai67.
The premise of the game (GTGFTS) is simple: I'll post a scoreboard and you guys simply identify the game depicted. In the past, I don't know if I've ever completely stumped you (some are easier than others).
Here's the Scoreboard. In the comments below, try to identify the game (date & location, as well as final score). If anything noteworthy occurred during the game, please add that in (and if you were AT the game, well bonus points for you!):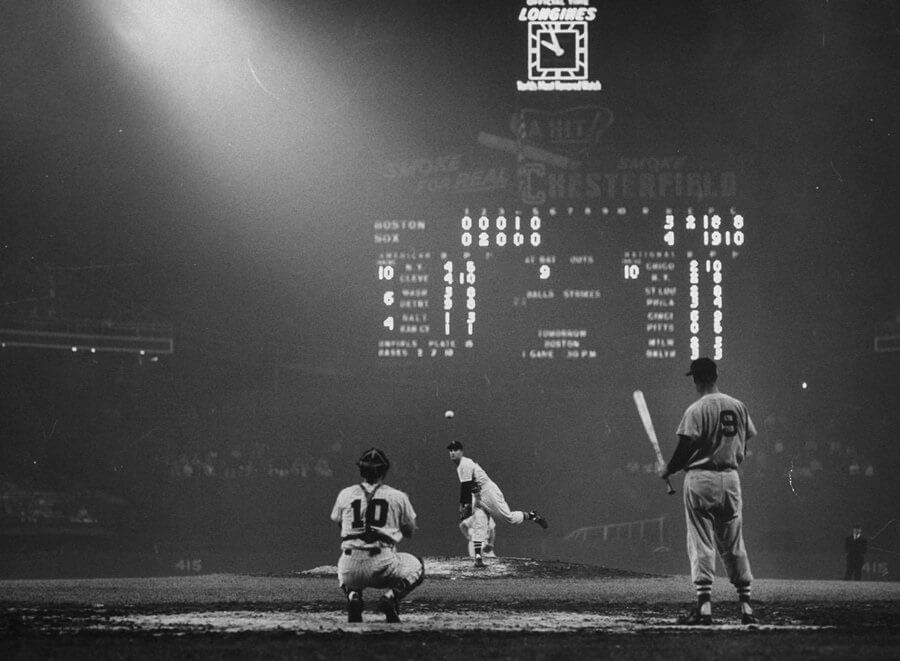 Please continue sending these in! You're welcome to send me any scoreboard photos (with answers please), and I'll keep running them.
• • • • •
• • • • •
The Ticker
By Jamie Rathjen

Baseball News: The Mets retired P Jerry Koosman's No. 36 yesterday. They were supposed to do it last year, as Paul wrote about in 2019 (thanks, Brinke). … Through Saturday, the Red Sox wore alternate jerseys almost two-thirds of the time this season (thanks, Phil). … The Athletics' jerseys looked odd on yesterday's ESPN broadcast because they were too close to the green used for the ads' green screens (from multiple readers). … Giants OF Austin Slater pitched yesterday using 3B Kris Bryant's glove (from Ryan Walters). … The Atlantic League's Lancaster Barnstormers wore jerseys designed by Penn State Children's Hospital patients. … Meteorologist Jim Cantore wore a batting helmet for Hurricane Ida coverage (from multiple readers).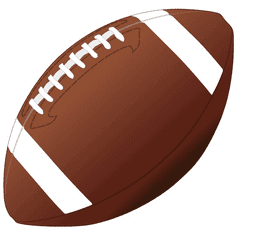 Football News: Giants coach Joe Judge wore a Marines cap for yesterday's last preseason game (from @Wilds_Lee). … The Titans added a helmet decal in memory of former GM Floyd Reese (thanks, Phil). … Also from Phil: If you can't wait for Paul's FBS preview, Sportslogos.net already has one. … The second group of Virginia's number selections for this season were released on Thursday night. Of note is that backup QB Jacob Rodriguez picked No. 98 and is the fourth different QB since 2018 to wear Nos. 98 or 99. … SMU is to wear blue alternate jerseys twice this season (from Chris Mycoskie). … Also from Chris: Aledo (Texas) HS updated its helmet now that it's won 10 state championships. … Wade Heidt is back with Canadian college football uni tracking in the Sunday comments, including that Sherbrooke's gold — as in their "Vert et Or" team name — is actually now gold instead of yellow. … The rest of these are also from Wade: The CFL's Ottawa RedBlacks entered the field with the Progress Pride flag this weekend. … The Calgary Stampeders have new road pants. … The student athletic association at St. Clair College, in Windsor, Ont., bought a team in the Canadian Junior Football League, so even though it's not a university team it's called the St. Clair Fratmen and uses the college's green and gold colors.

Hockey News: The Kraken revealed their inaugural season player numbers yesterday (from John Muir).



Basketball News: NBA numerologist Etienne Catalan has more new and changed player numbers. … The FIBA Americas under-16 women's championship in Mexico has a green court (from Marcus Hall). … The next two are also posted in the soccer section: France's ASVEL Basket got a variation of the soccer club Olympique Lyonnais' third shirt for this season, as both of their teams are partially owned by OL. … Paris Saint-Germain are the only Jordan-branded soccer club, and their shorts this season use a similar template to the Bulls' (from @MA_Gonz06).

Soccer News: France's Olympique Lyonnais got a new third shirt: not only for OL's two teams, but the club also has stakes in both basketball teams at Lyon's ASVEL Basket, who got a version of the same shirt. … You may know that Paris Saint-Germain are the only Jordan-branded soccer club. Their shorts this season also use a similar template to the Bulls' (from @MA_Gonz06). … D.C. United held a pride night on Saturday, which included rainbow corner flags and an extra appearence from this season's MLS pride warm-up shirts. … Leicester City's newly-promoted Women's Super League team are to play a majority of their home games at the club home stadium. … New first kit for the second-tier English women's team London City Lionesses.

Grab Bag: The NLL's Vancouver Warriors look to be changing the color of their nameplates this season, to gold on black jerseys and black on white jerseys, and their helmets appear to now have a center stripe (from Wade Heidt). … Several Division I field hockey teams, including Duke, Iowa, Old Dominion, Virginia, and others, wore white at home yesterday when it's a dark-color-at-home sport and all wore dark colors in their first games this weekend. I wonder if that's a habit left over from last season, when a lot of matchups were played twice consecutively at the same place and often the home team would dress as home for the first and away for the second. … If you haven't heard, NASCAR car numbers are moving further forward next season (from Christopher Hickey). … A Connecticut high school that used the Warriors name and a Native American logo is changing the logo but keeping the name (from multiple readers).
• • • • •
• • • • •
Uni Tweet of the Day
How great are those Cubbie throwbacks? Have I ever mentioned I love vertical placket lettering?
Turn it back to 1909 at @TMobilePark or "Yesler Way Park" on June 29, 2013. The @Mariners brought back the Seattle Turks of the Northwest League. The @Cubs were also wearing 1909 uniforms. The NL team won 5-3. #SeaUsRise pic.twitter.com/zGg35pPLVN

— Mariners Uni Database (@Ms_uni_database) August 29, 2021
• • • • •
• • • • •
And finally… that'll do it for today. Big thanks to Brinke for another stellar Grand Slam "uniform" preview. And please join me in welcoming Jimmer Vilk back to the 5 & 1!
Everyone have a good Monday. And my thoughts and prayers go out to all our Gulf Coast readers and friends who are dealing with the aftermath of CAT IV Hurricane Ida, as well as those still in her path and could see life-threatening flooding. I hope one and all are safe and you guys come through this with minimal damage.
Peace,
PH