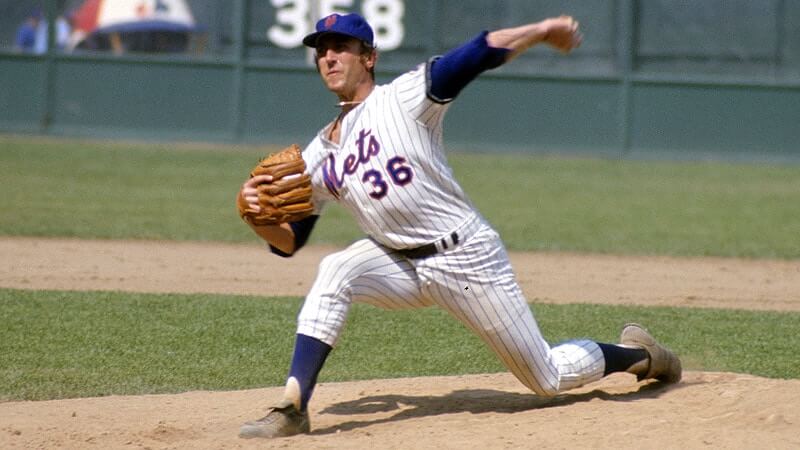 The Mets have a habit of making some really odd decisions — naming an agent as their general manager, refusing to create a statue for Tom Seaver until after he had retired from public life due to dementia, trading for Robinson Canó, mistakenly listing two former players as dead even though they were very much alive — and they made another one yesterday, as they announced that former pitcher Jerry Koosman's No. 36 will be retired at some point next season.
First, some quick background: Despite having existed for nearly 60 years, the Mets have retired only two players' numbers: Seaver's No. 41 and Mike Piazza's No. 31. (They've also retired two managers' numbers: Casey Stengel's No. 37 and Gil Hodges's No. 14.) Part of this is because the franchise has been fairly strict about retired numbers — something I generally approve of — and part of it is that most of the seemingly obvious candidates are problematic in one way or another. For example:
• Keith Hernandez: Played only six and a half seasons with the Mets, the last two of which were total duds. … Had his best years, including an MVP award, with the Cardinals.
• Gary Carter: Only five seasons with the Mets, two of which were duds. … Had his best years with the Expos. … Repeatedly behaved like a jerk while lobbying for the Mets' managing gig in 2008.
• Dwight Gooden: Constant drug issues that continue to this day.
• Darryl Strawberry: Lots of drugs and legal problems, although I hear he's turned things around lately.
• Rusty Staub: Had his best years for other teams. … Spent his final three years with the Mets almost exclusively as a pinch-hitter. … Wore two different numbers with the Mets, so which one would you retire?
• John Franco: Wore two different numbers with the Mets, one of which has already been retired for Piazza.
• Tug McGraw: Wore the other number that Franco wore, so you'd need to retire that number for both of them (which isn't a bad idea, actually).
And so on. It's been widely assumed that David Wright's No. 5 would be the next one to be retired, and that would have been fine and dandy with me — good player, spent his entire career for the Mets, fan favorite. But instead they've chosen to go with Koosman.
Now, I grew up watching and rooting for Jerry Koosman. I liked that he was a lefty, just like me, I liked that he was sort of the Hydrox to Seaver's Oreo, I tried to imitate his pitching motion while standing in front of a full-length mirror, the whole bit. He's already a member of the Mets Hall of Fame, as he should be. But it's hard to overstate what an odd choice the Mets have made here. Here's why:
1. Jerry Koosman's last year in the big leagues was 1985, his last year with the Mets was 1978, and his last good year with the Mets was 1976. In other words, no Mets fan younger than 40 years old ever saw him pitch, and no fan younger than 50 is likely to have any fond memories of him in a Mets uniform. He hasn't been particularly visible as a Mets alum, either (which I don't mean as a criticism, just as an observation). If you wanted to retire his number, the time to do it was 20 or 25 years ago. Doing it now seems like an odd way to energize the fan base, since Koosman means nothing to today's Mets fan and even less to tomorrow's Mets fan. He does mean a lot to yesterday's Mets fan, but that's a strange approach to take for the third retired player number in team history.
2. Jerry Koosman went to prison for tax evasion in 2009. And it wasn't just that he got paid in under-the-table cash for some autograph sessions at card shows or something like that — he was one of those tax denier crackpots who've done "research" to "prove" that the income tax is unconstitutional, so he just stopped filing tax returns for a few years because he decided he didn't have to. Granted, he took responsibility for his crimes and paid his debt to society, literally and figuratively — good for him. But again, this seems like an odd choice for the third retired player number in team history. I can think of only one other MLB player who did prison time for felony tax evasion and then had his number retired: Pete Rose. (Are there any other examples I'm overlooking? And before you say Duke Snider or Willie McCovey, they pleaded guilty to tax evasion but got probation and a fine, not prison time. Also, their numbers were retired before their tax crimes.)
3. No. 36 has been worn for the past two seasons by Mets manager Mickey Callaway. He switched to No. 26 for last night's game in deference to Koosman, and will continue to wear that number for the remaining five games of the season, all of which seems awkward. I'm not a Callaway fan, but couldn't the Mets have waited until after the season to make the Koosman announcement? Callaway is widely considered to be on the hot seat and iffy at best to return next season, so why not wait until he's out the door instead of making him change numbers while playing out the string? Seems like a shabby (and thus very Metsian) way of handling things.
Okay, I know some of you get itchy when I talk too much about the Mets, so I'll stop here. But seriously, this is the latest chapter in the Mets' long history of strange decision-making.
• • • • •
• • • • •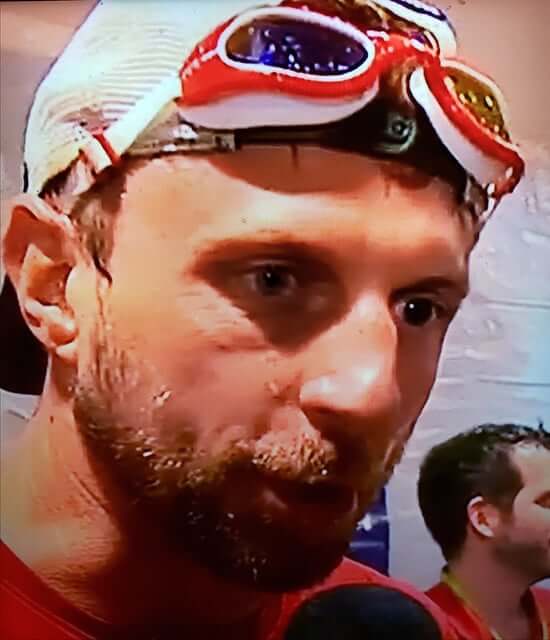 Best goggles ever: You know how Nationals pitcher Max Scherzer has one blue eye and one brown eye? After the Nats clinched a Wild Card spot last night, he had goggles to match! That's pretty great.
(My thanks to John Muir and William Yurasko for this one.)
• • • • •
• • • • •
A different perspective on throwbacks: The Bears will be wearing their 1936 throwbacks this Sunday. In advance of that, team Chairman George McCaskey and the players on the team's Social Justice Committee issued a video last night about how black players were shamefully excluded from the NFL back in 1936, which means this Sunday will mark the first time black players have had the opportunity to wear this uniform. It's worth watching:
For our NFC North showdown this Sunday at Soldier Field we'll be wearing our classic jerseys for the first time since 1936.

Here's an important message from our players and Chairman, looking ahead to Sunday. pic.twitter.com/SPbraNMFvL

— Chicago Bears (@ChicagoBears) September 25, 2019
Most of us love throwbacks (myself probably as much as anyone). But this is the first time I'm aware of that a team has acknowledged that some throwbacks come from very problematic times and contexts. It's a good reality check, and a welcome corrective for the temptation to view the past through the lens of romantic nostalgia. It will be interesting to see if other teams start doing this.
One gripe: Everyone in the video repeatedly refers to the throwback "jersey," instead of the uniform. Sigh.
• • • • •
• • • • •
Premier League Uni Roundup — Week 6 (Sept. 20–22)
[Editor's Note: We've running the Premier League Roundup for several weeks now, and I'm curious to know what you think of it. If you're a soccer fan, please feel free to leave feedback in today's comments. Thanks. — PL]
By Josh Hinton
Southampton (red/white) 1-2 Bournemouth (navy)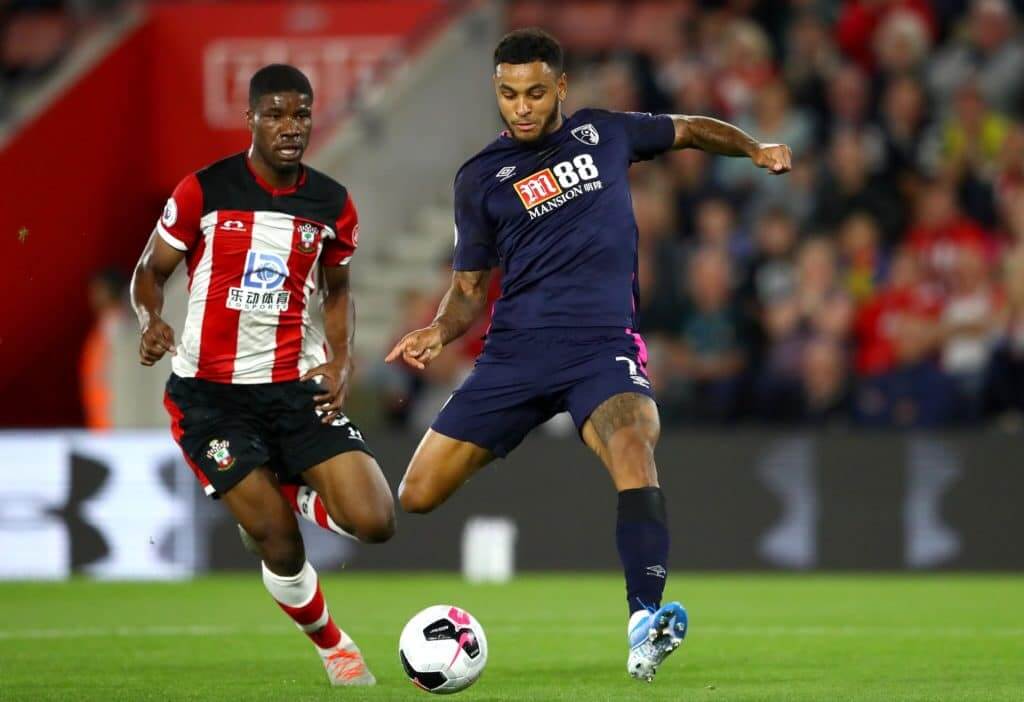 I was watching this game when it hit me that Bourmeouth (above) and West Ham both (essentially) have the same change kit. Made by Umbro, they both feature a navy design, navy/white club badge, and pink accents. In any case, this was not a bad-looking matchup to get the weekend started. 6.5/10
———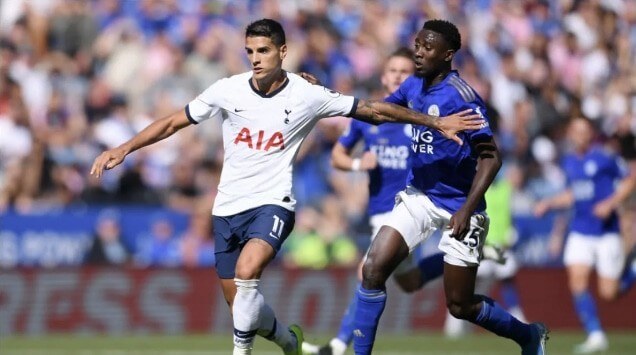 Leicester (blue) 2-1 Tottenham (white)

This isn't quite on the same level as the lovely 2017/18 Spurs/Leicester kit matchups, but it's close, and very classy. 8.5/10
———
Everton (blue) 0-2 Sheffield United (white)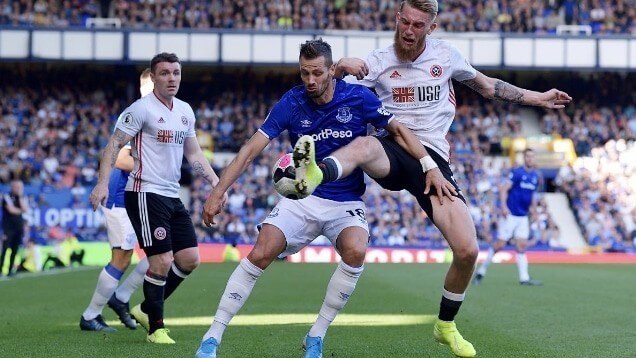 Not a huge fan of that pattern on the chest of all the Umbro goalkeeper kits and this blue Everton home shirt. Sheffield United break out their Tiro 19 teamwear template away kit, pairing it with black shorts in order to avoid a kit clash. This is the third set of socks the Blades have worn with this away kit (they previously wore red at Chelsea and white in non-clashing matches). 3.5/10
———
Burnley (claret) 2-0 Norwich (yellow/green)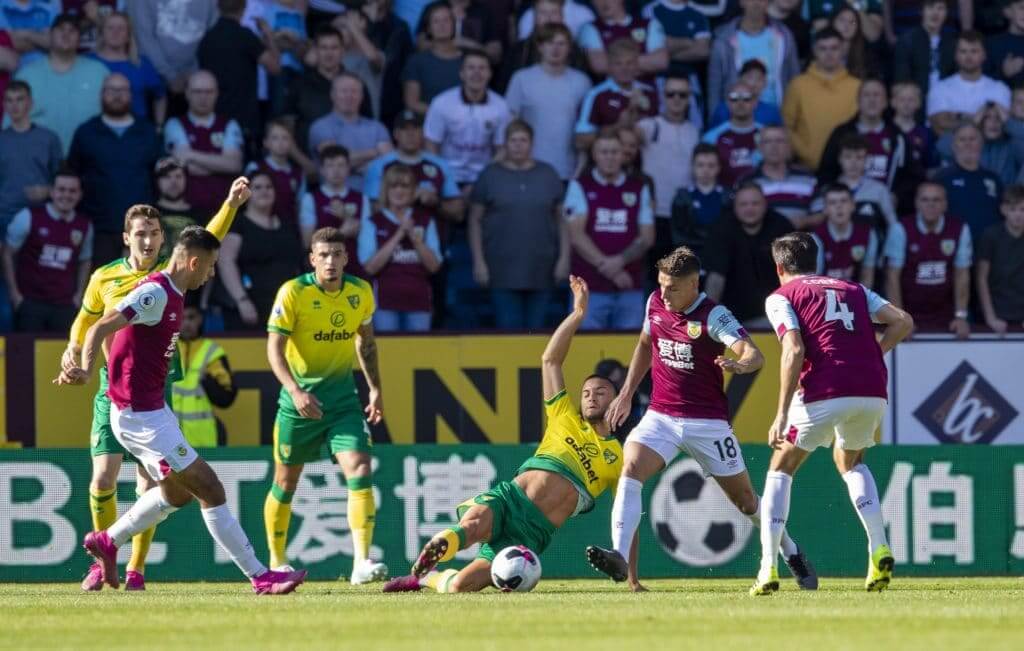 Absolute beauty of a matchup. Too bad NBC Sports relegated (pun absolutely intended) this matchup to NBC Gold, the pay-for-access streaming service. Would be a perfect 10 had Burnley elected to wear sky blue shorts and socks as part of their standard home kit. 9.5/10
———
Manchester City (sky blue) 8-0 Watford (yellow/black)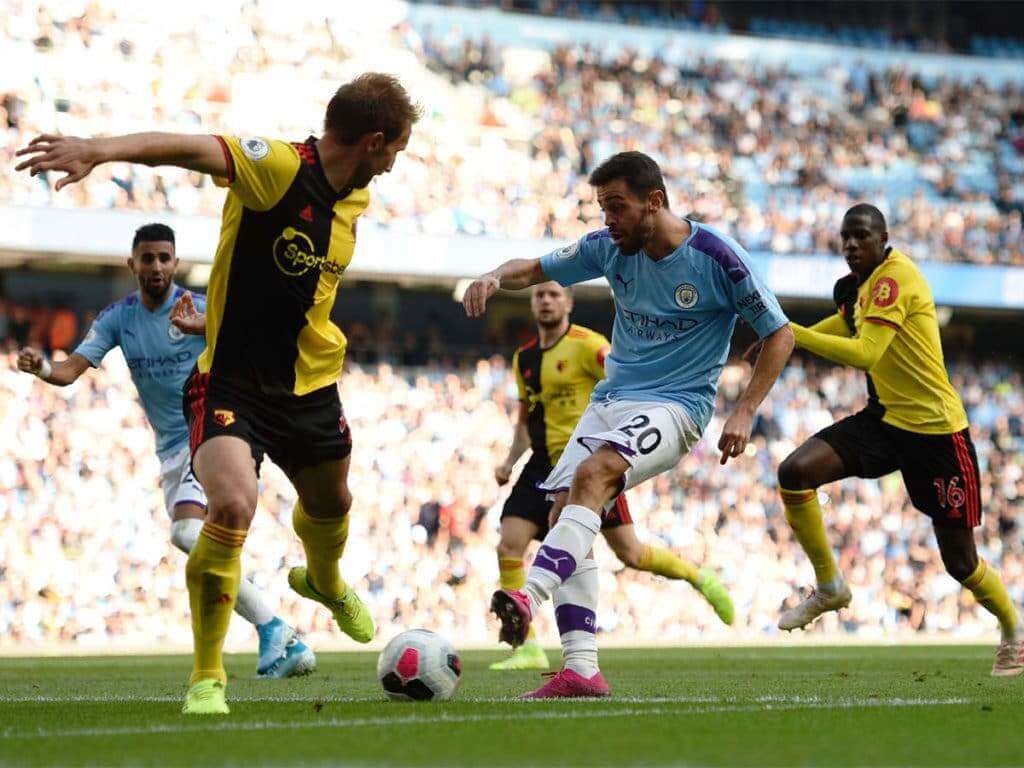 This would have been much better had the Hornets stuck to a traditional yellow home kit. As always, that black half of the kit feels out of place. Still love that City home strip, though it would be perfect with sky blue socks. 8/10
———
Newcastle (white/black) 0-0 Brighton (green)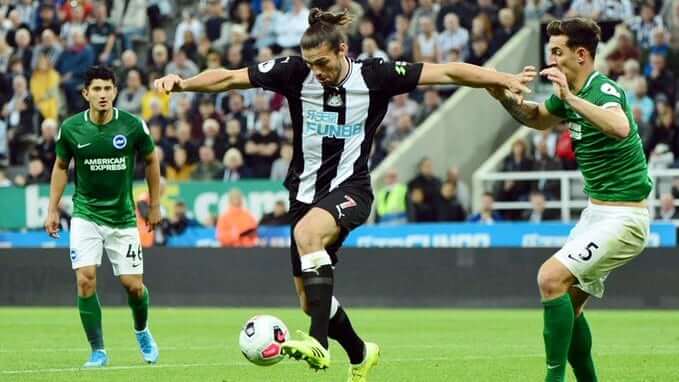 An unexciting match with mediocre kits. Newcastle sport their awful home kit, and Brighton carried over a past Nike teamwear template change kit as their third strip for this season. 3/10
———
Crystal Palace (red/blue) 1-1 Wolves ("old gold")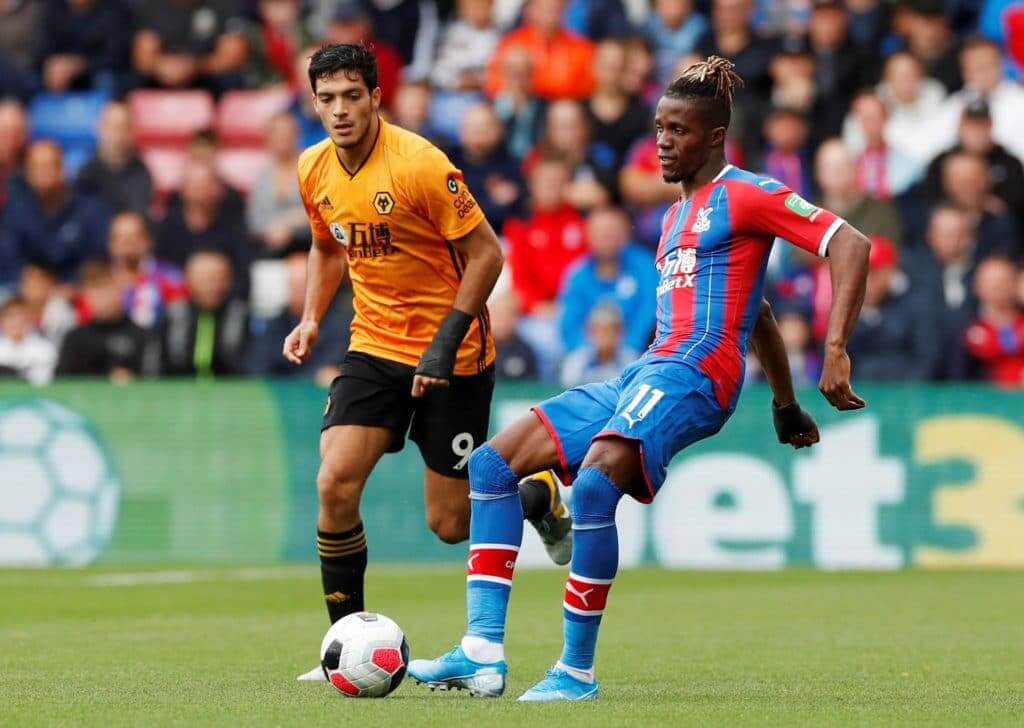 This is a perfect example of two kits that are great on their own (excusing Wolves' teamwear template, because it actually looks pretty good on the pitch) and elevate the match when paired together. 10/10
———
West Ham (claret) 2-0 Manchester United (beige)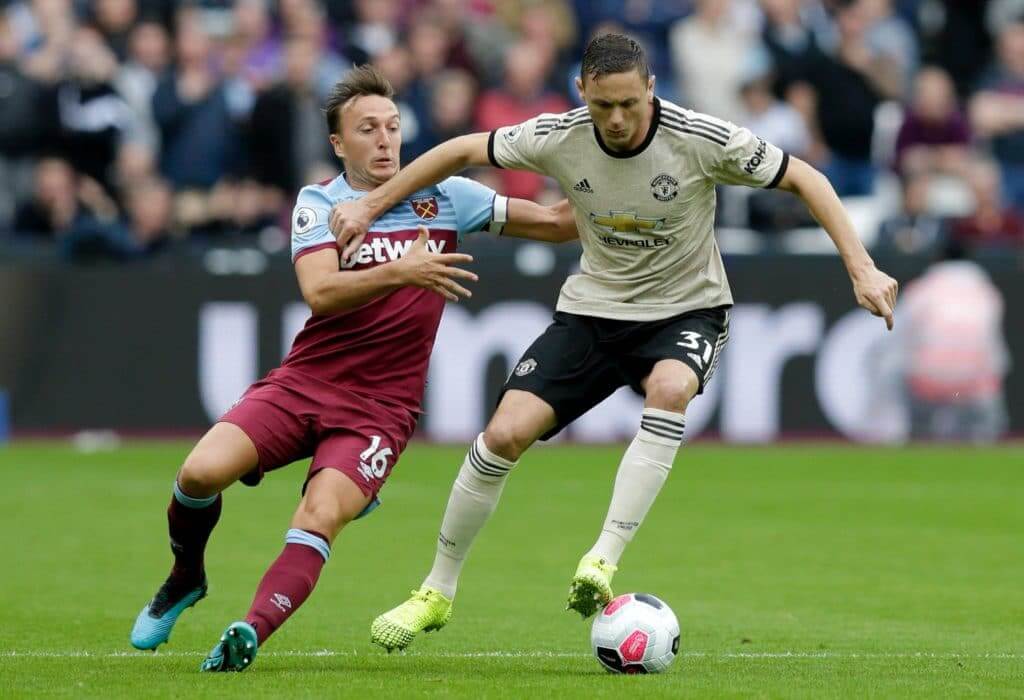 It has been years since Manchester United had a classy white change kit. Is it too much to ask for? This beige design is the latest in awful Adidas United change kit. 3/10
———
Arsenal (red) 3-2 Aston Villa (sky blue)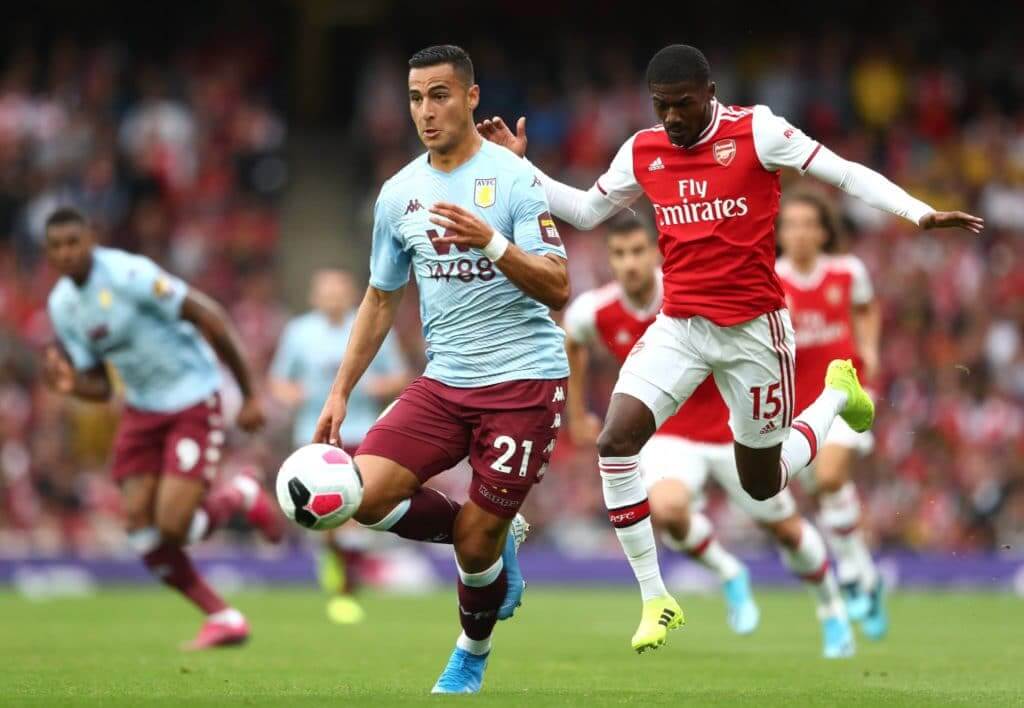 Two beautiful kits on their own, but something felt off about the red shirts when paired with claret shorts and socks. 7.5/10
———
Chelsea (blue) 1-2 Liverpool (red)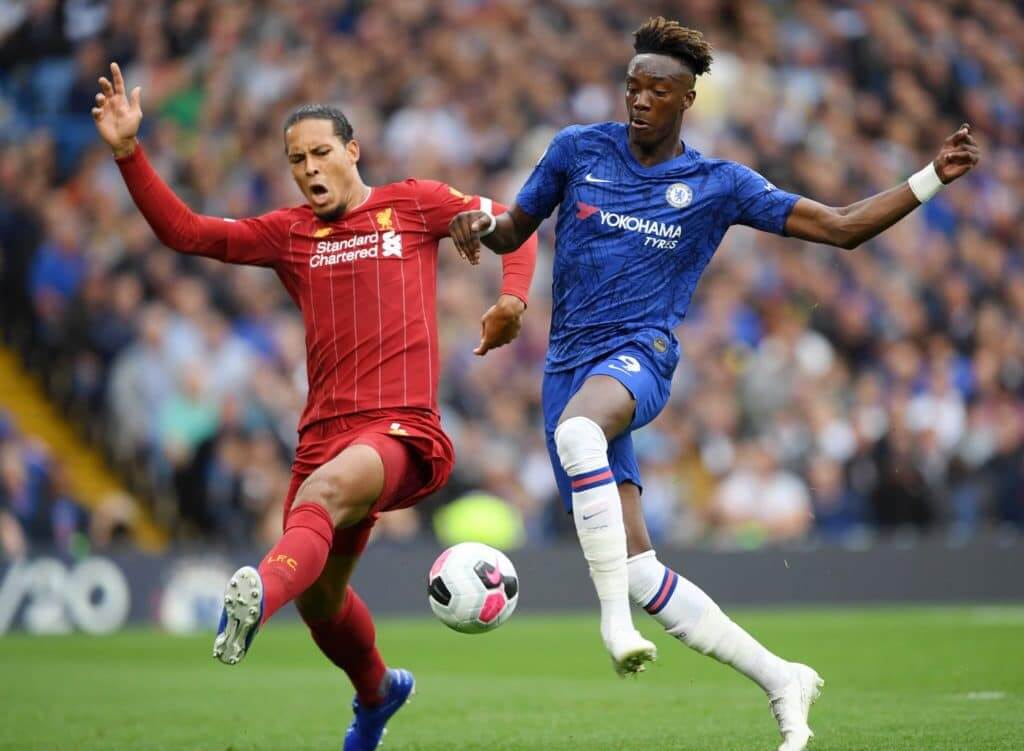 Mono vs. mono. Chelsea have a garish Stamford Bridge pattern on the front of their shirt, which is unappealing. Liverpool looked fine, especially in their all-red change socks. 7/10
• • • • •
[adrotate group="2″]
• • • • •
The Ticker
By Lloyd Alaban

Baseball News: Dodgers P Rich Hill wore his knee brace again last night after re-aggravating his injury in his last start (from Jakob Fox). … Mark your calendars: A Padres exec announced via San Diego Studio's Twitch stream that the team will unveil their new uniforms on Nov. 9 (from @FriarGal). … Fifteen-year Nats season ticket holders are receiving this commemorative pin (from multiple readers). … The fan who caught the home run that marked Angels DH Albert Pujols's 2,000th RBI has given the ball to the Baseball Hall of Fame in honor of his late son.

NFL News: Washington misspelled LB London Fletcher's name at Monday's Ring of Honor ceremony (from Mike Chamernik). … Former Vikings RB Oscar Reed wore a current-day jersey at Sunday's pregame ceremony instead of a period-appropriate jersey from his time with the team (from @NFL_Journal). … The Lions will wear their throwbacks against the Chiefs on Sunday (from multiple readers). … Here's how the Jags' grounds crew maintains the playing field (from James Gilbert). … Following up on an item from Paul's MMUW report two days ago, here's why Seahawks DL Ziggy Ansah wore three different pairs of shoes on Sunday. … In addition to being benched on Sunday, Giants QB Eli Manning didn't have the NFL 100 logo on his jersey collar (from @HarriBacardi).

College Football News: Nevada released a hype video for their all-blue outfit. The player wearing the uniform in the video, DE Dom Peterson, has a off-center NOB (from Sam Wescott). … Throwbacks for Penn this week. Scroll down a bit on the thread and you'll find the "inspiration" for the throwbacks (from multiple readers). … Georgia Tech is wearing gold facemasks at practice this week, and will presumably wear them against Temple on Saturday (from multiple readers). … This sportswriter proposes 10 Syracuse players who should have their jerseys retired (from @walbergLines). … Here's the ACC Uni Tracker for Week 3. … Here's an article on Utah State's uniform seamstress (from Benji King).

Hockey News: Wisconsin women's received recently received their national championship rings, but they came with a typo. Hamden, Conn., the site of the national championship game, is misspelled as "Hampden" (from Jeff Ash). … Here's a hype video showcasing Day of the Dead-themed sweaters for the San Antonio Rampage, affiliate of the Blues (from Ryan Russell). … Here's the logo for the 2020 AHL All-Star Game in Ontario, Calif (from Jakob Fox).

Basketball News: Looks like the Suns are getting orange uniforms (from Josh Pearlman). … The Nuggets have updated their ad patch to reflect the new Western Union logo (from Tyson Ruch). … For the latest on new NBA number assignments, check out Etienne Catalan's Twitter feed. … New court for Marshall (from M. Brinston Berry). … Alabama has taped an extra-far away three-point line onto their practice court, even further from the NBA line in white (from Griffin Smith). … New uniforms for Wake Forest men's (from James Gilbert).

Soccer News: From Josh Hinton: Manchester City chose to wear their third kit last night. … Change socks for Southampton and Tottenham Hotspur. … For more kit-related news, make sure to check out Josh's Twitter feed. … Las Vegas Lights FC of the USL Championship is holding a jersey design contest (from Zak, who didn't give his last name).

Grab Bag: New logos for WWE's flagship shows Raw and SmackDown. Old logos on top, new logos on the bottom. … A group of high school cheerleaders held up a Trump banner (NYT link) at a football game in North Carolina, and of course a controversy followed.
• • • • •
[adrotate group="2″]
• • • • •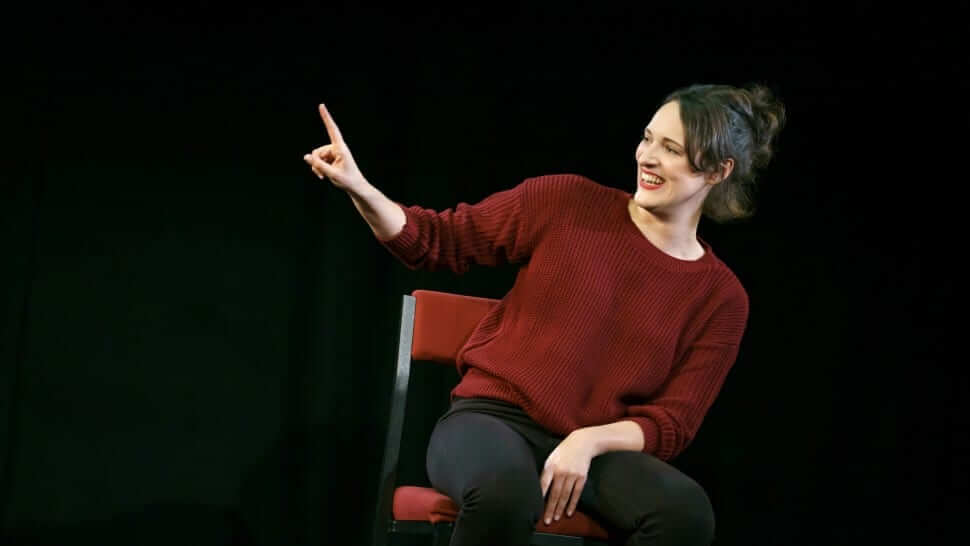 What Paul did last night: I watch very little TV these days except for sports, but earlier this year I watched both seasons of Fleabag, the show that won all those Emmys a few nights ago, and fucking loved it. As you may be aware, the show was based on a one-woman play by Phoebe Waller-Bridge. A recent performance of that play here in NYC was filmed, and the resulting movie is now screening at the IFC Center. My friend/cat-sitter Laura — who hadn't seen the TV version — joined me to see it last night.
The most interesting thing about the play was how some of the writing decisions played out very differently in a monologue setting. On TV, it was fine (if a bit weird) for the protagonist's best friend to be named Boo, because Boo was a real character, played by a real actress, which sort of normalized the name. But if you're alone onstage, talking directly to the audience in a sort of theater/stand-up hybrid, it seems really odd to just off-handedly mention "my friend Boo," because it's such an unusual name. Like, why not call her Jane, or Carrie, or whatever?
Similarly, the guinea pig-themed café was a very entertaining device in the TV show, because every scene that took place there featured all sorts of guinea pig artwork on the walls, sort of like a silent joke. But in the one-person stage format, referring to a "guinea pig-themed café" without any supporting visuals just sounds odd and hard to wrap your head around.
Since I had seen the TV show and Laura hadn't, I kept wondering how these references sounded to her. When we compared notes afterward, she confirmed that she didn't even understand at first that "Boo" was meant to be a person's name, and that she initially thought the guinea pig-themed café was supposed to be a conceptual metaphor or something like that.
Personally, I much preferred the TV version (not only for the reasons I just listed, but mainly because I preferred the interaction between Waller-Bridge and the other cast members over the one-person format), but it was really interesting to see where it came from. A good night.