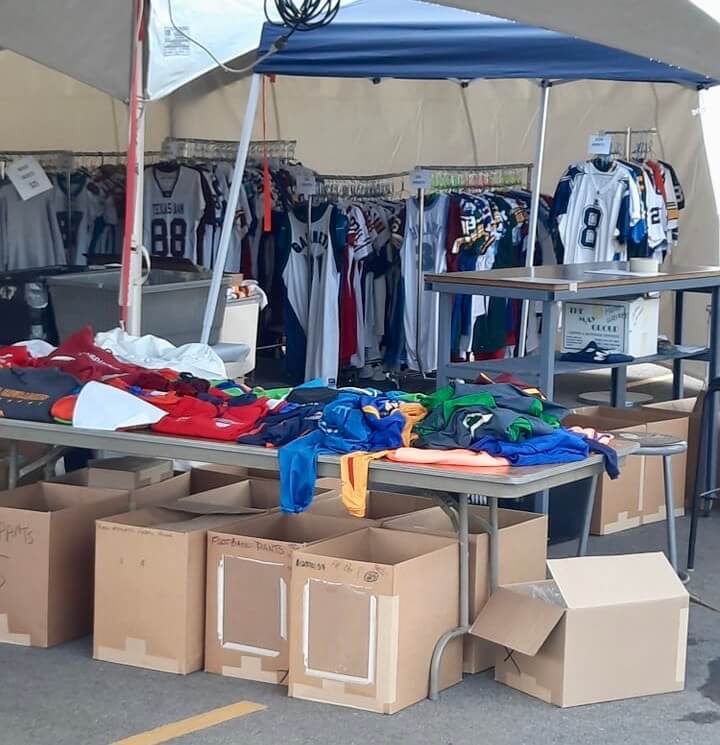 For all photos, click to enlarge
[Editor's Note: Today we have a guest entry from Jake Jahimiak, who's going to tell us about some very unusual shopping experiences he recently had. Enjoy. — PL]
By Jake Jahimiak
On May 6 and 7, Ripon Athletic — the longtime uniform manufacturer located in Berlin, Wis., which has made many NFL jerseys over the years — held a warehouse sale. As a Wisconsin resident and a longtime collector of game-used and -issued items, I decided to check it out, so I made the roughly 90-minute drive from my suburban Milwaukee home.
On the morning of May 6, I was first in line. Right before the sale opened, I saw racks of jerseys roll into the pop-up tent that was serving as the "warehouse," including a Jerry Rice 2003 Raiders sample jersey, a Josh Sitton Packers throwback jersey, and Kahlil Mack's 2020 Pro Bowl jersey — all jerseys not usually available to the public. At that point I realized that this would not be like a typical team garage sale — it was going to be a sumptuous buffet of product.
Once they opened the doors, it was fairly hectic, sort of like the Black Friday news footage of people running amok. Definitely not a casual shopping experience (which is why I didn't get many photos on-site). You might think I felt like Charlie in the Chocolate Factory, but I actually felt closer to Augustus Gloop. I came across all sorts of unexpected treasures, like a prototype Buccaneers hand-warmer pouch that was not the correct shade of pewter — a real gem for a Bucs fan like me.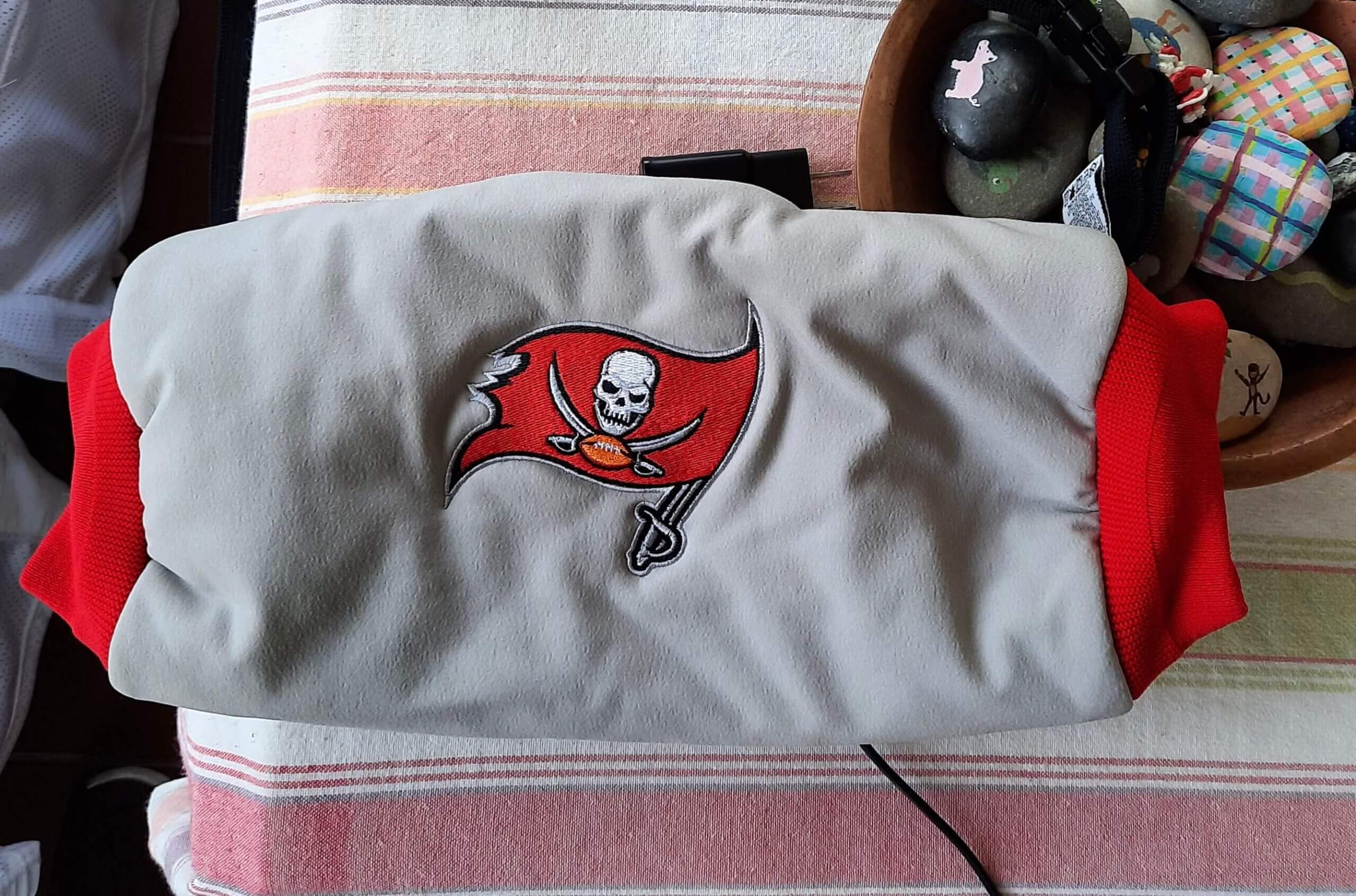 And that wasn't the only prototype I snapped up. As many uni fans know, Packers GM Ron Wolf tinkered with the idea of changing the team's yellow to gold in 1993. Although they eventually thought better of it, I found what appears to be a prototype version on the racks at Ripon: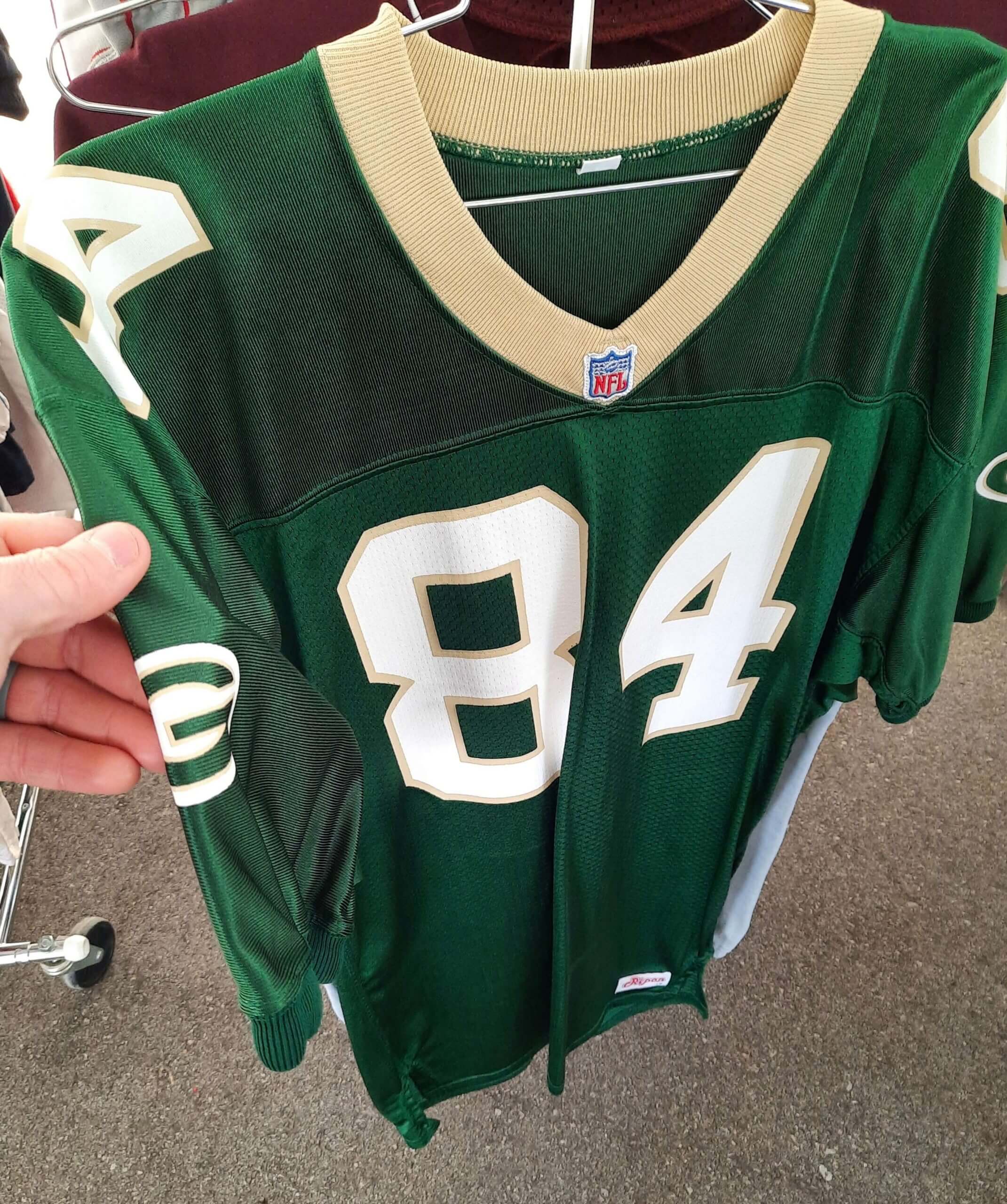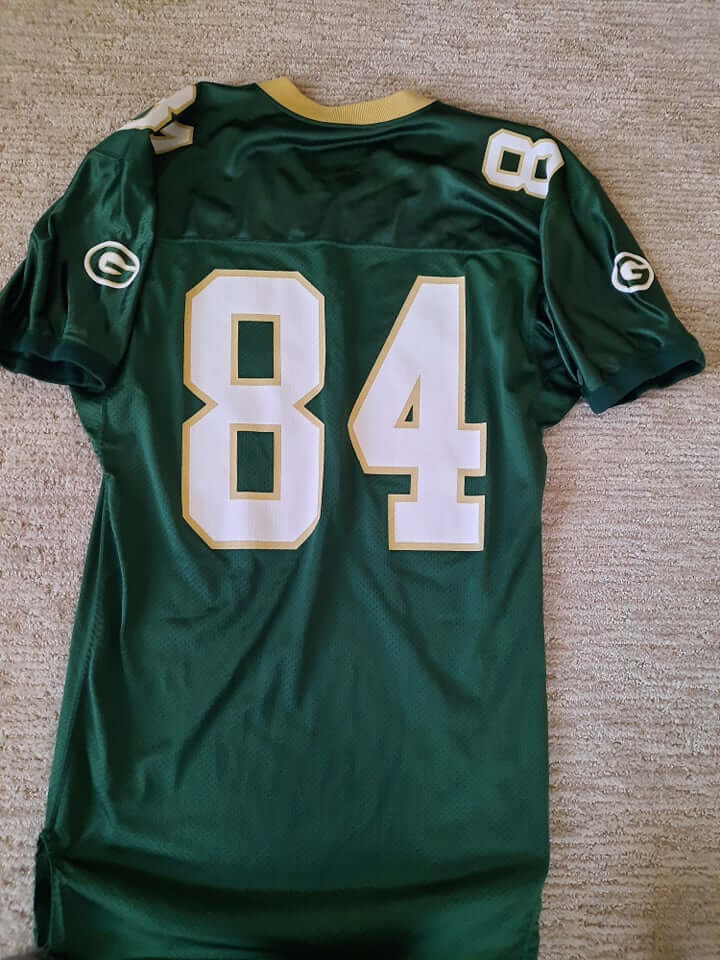 Next to that jersey sat a couple hideous Dolphins prototypes, circa 2008. They looked like, at best, bad Miami Hurricanes concepts — so distant from the Dolphins' visual DNA that I'm surprised they took the time to convert the design to a physical product. I didn't purchase these, but one of them later showed up on eBay: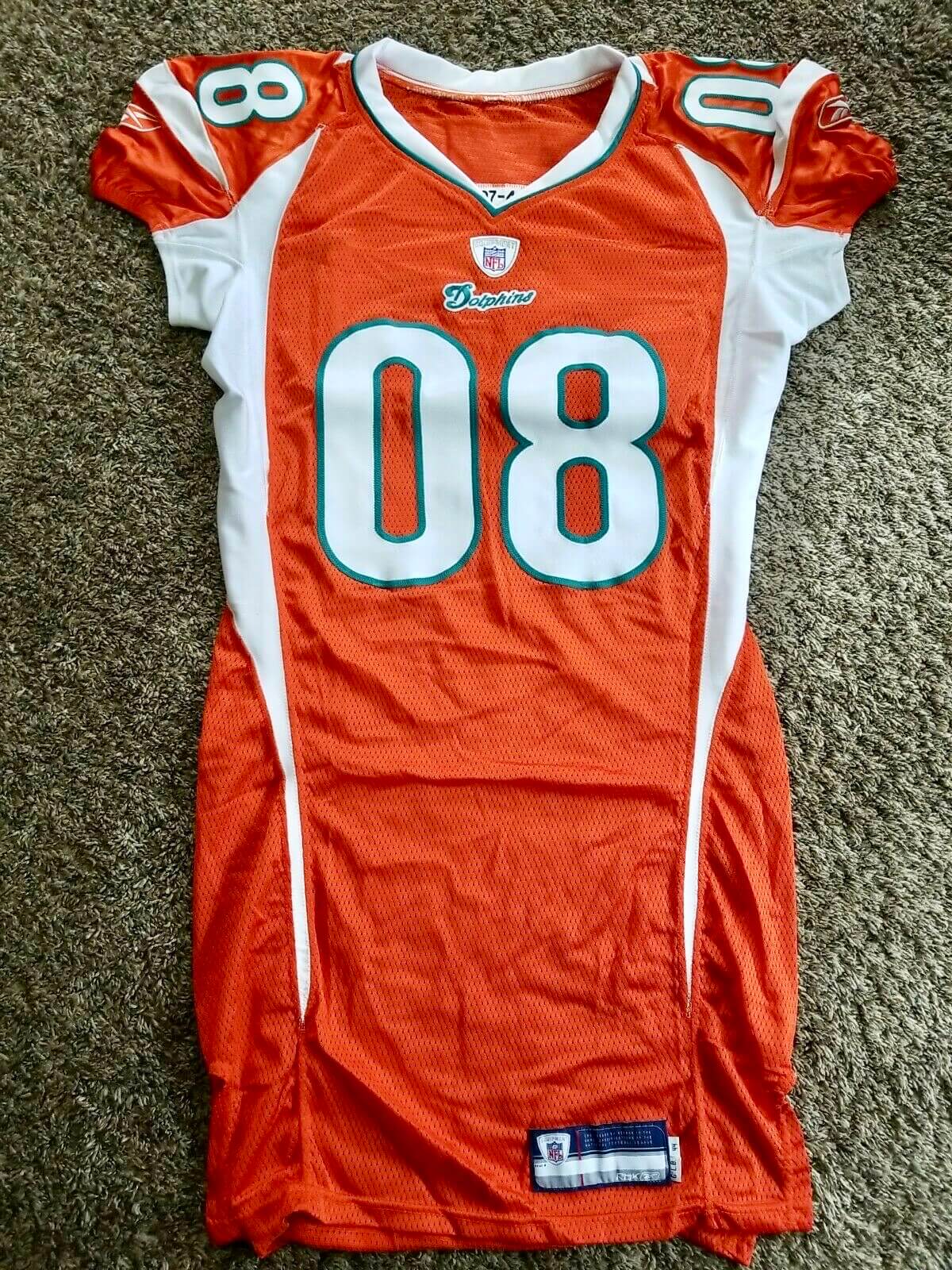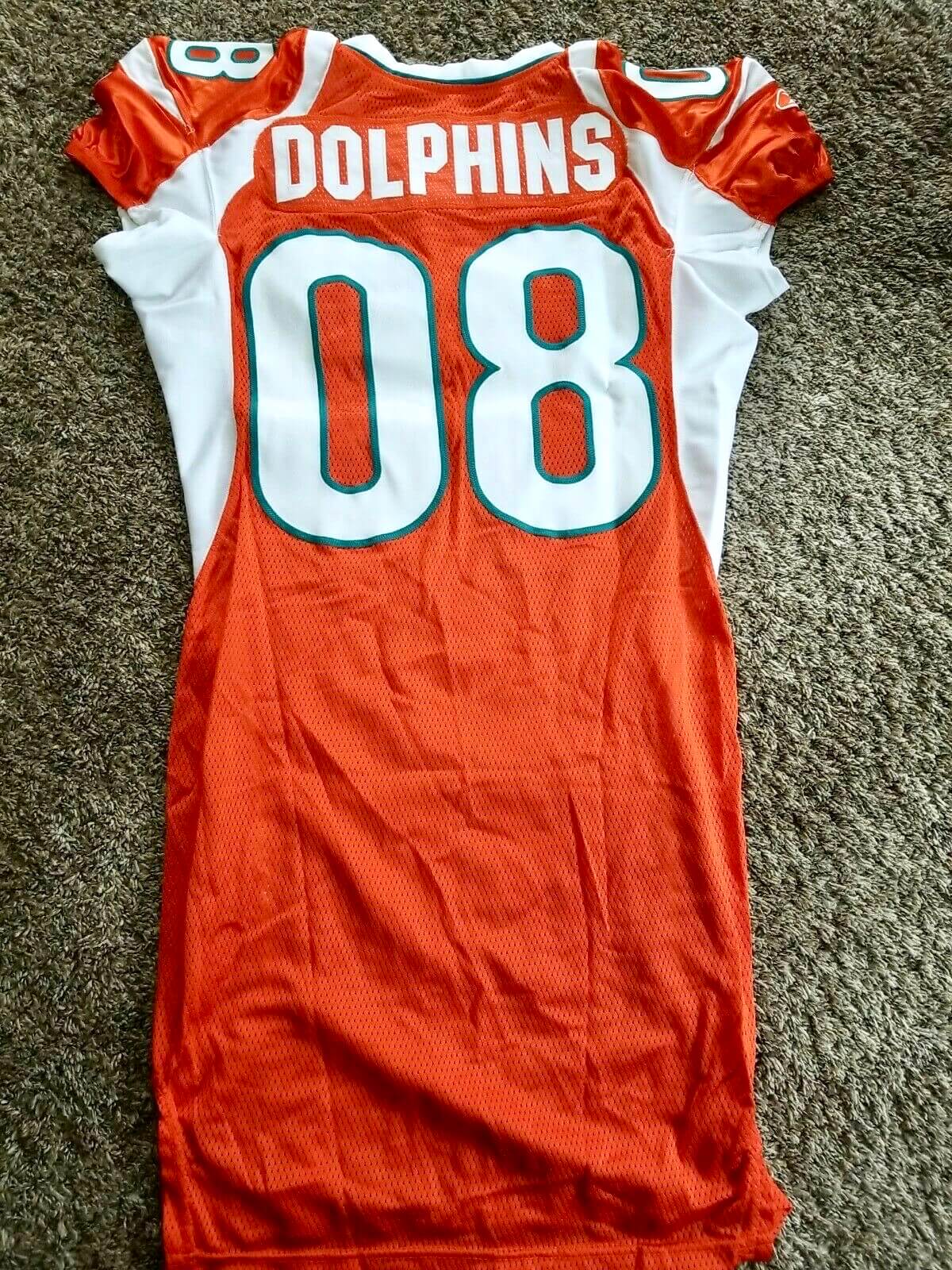 The most entertaining thing I saw were a couple of sample Pro Bowl jerseys. Nothing overly special about them, but I smiled at the thought of someone wearing a jersey with "Sample" or "Player Name" as the NOB.
I believe this was Ripon's first warehouse sale. The morning of the sale, their Facebook page had fewer than 100 followers; within 24 hours, they had nearly 1,000 and were being flooded with calls asking when the next sale would occur, so they scheduled another sale for June 23. I made the trip for that event as well.
This sale had 10 times the attendance of the first one (I know some people who traveled from as far away as California). The most unusual item this time was a blue Colts prototype. Much like the Dolphins prototype, I would have taken this for a fan-made fake or an amateur jersey if I hadn't seen it at Ripon: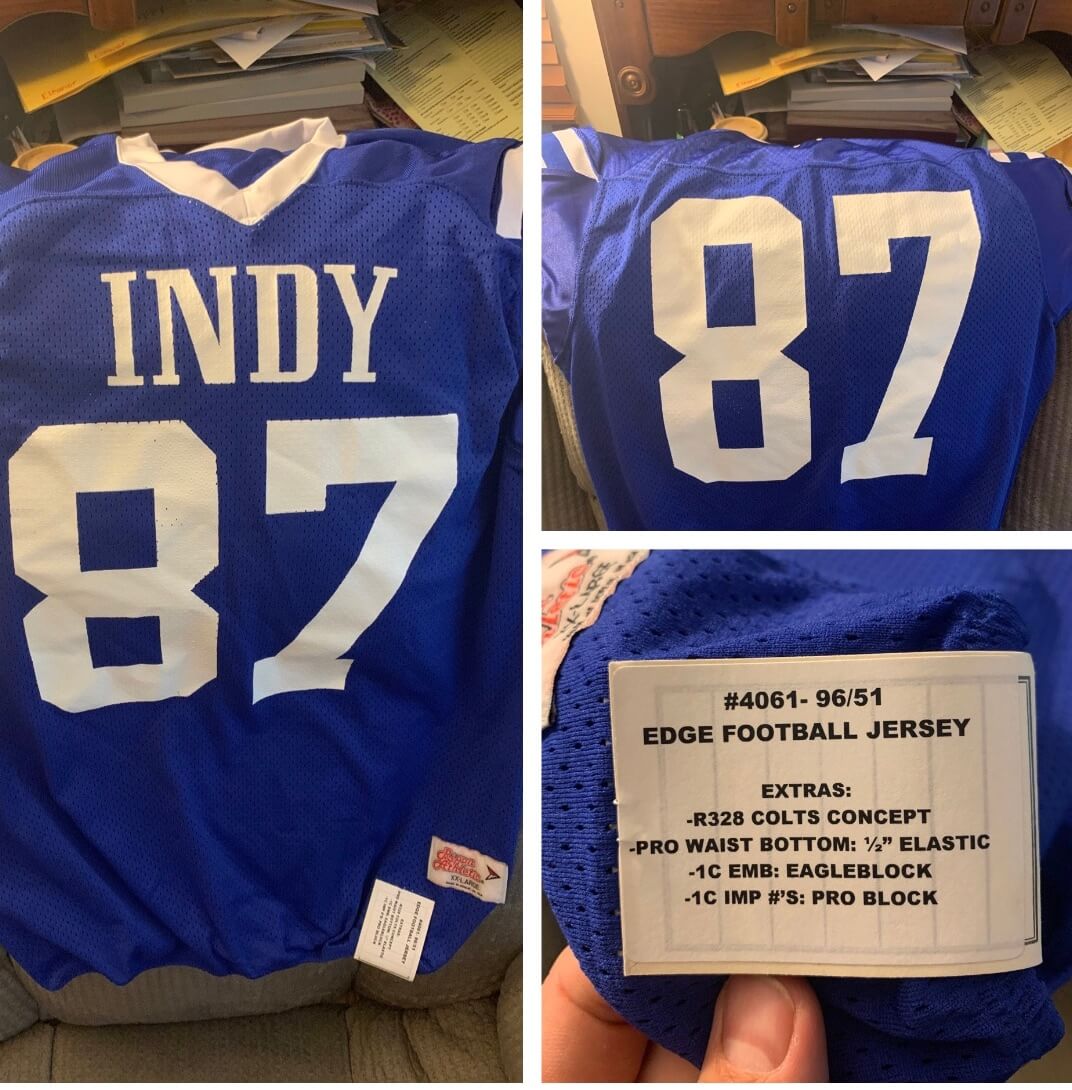 For a uniform fan, it was more like a museum experience than a sale, although I did come away with a few thousand team-issued Pro Bowl patches — product that's never available to the public as standalone items: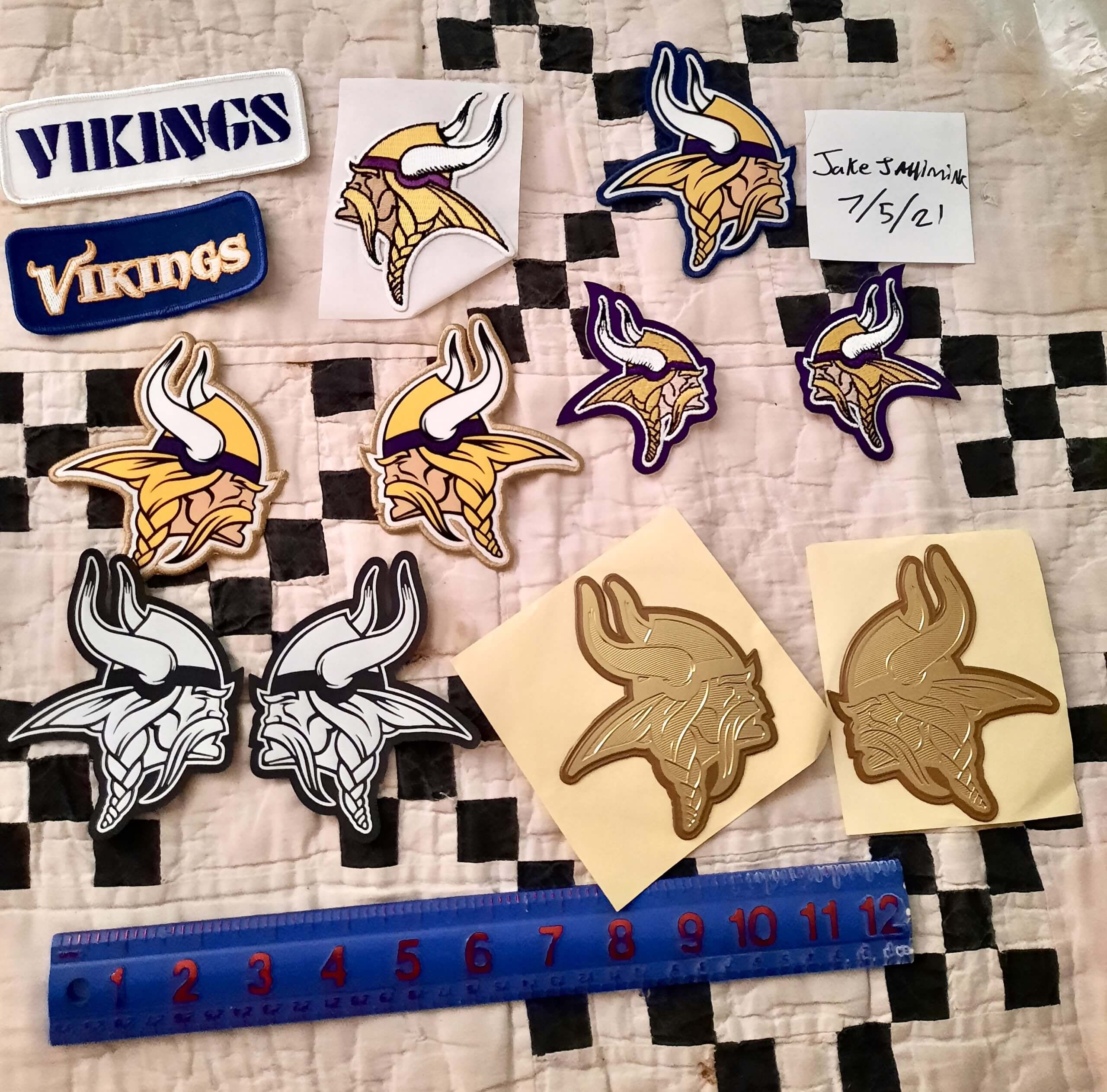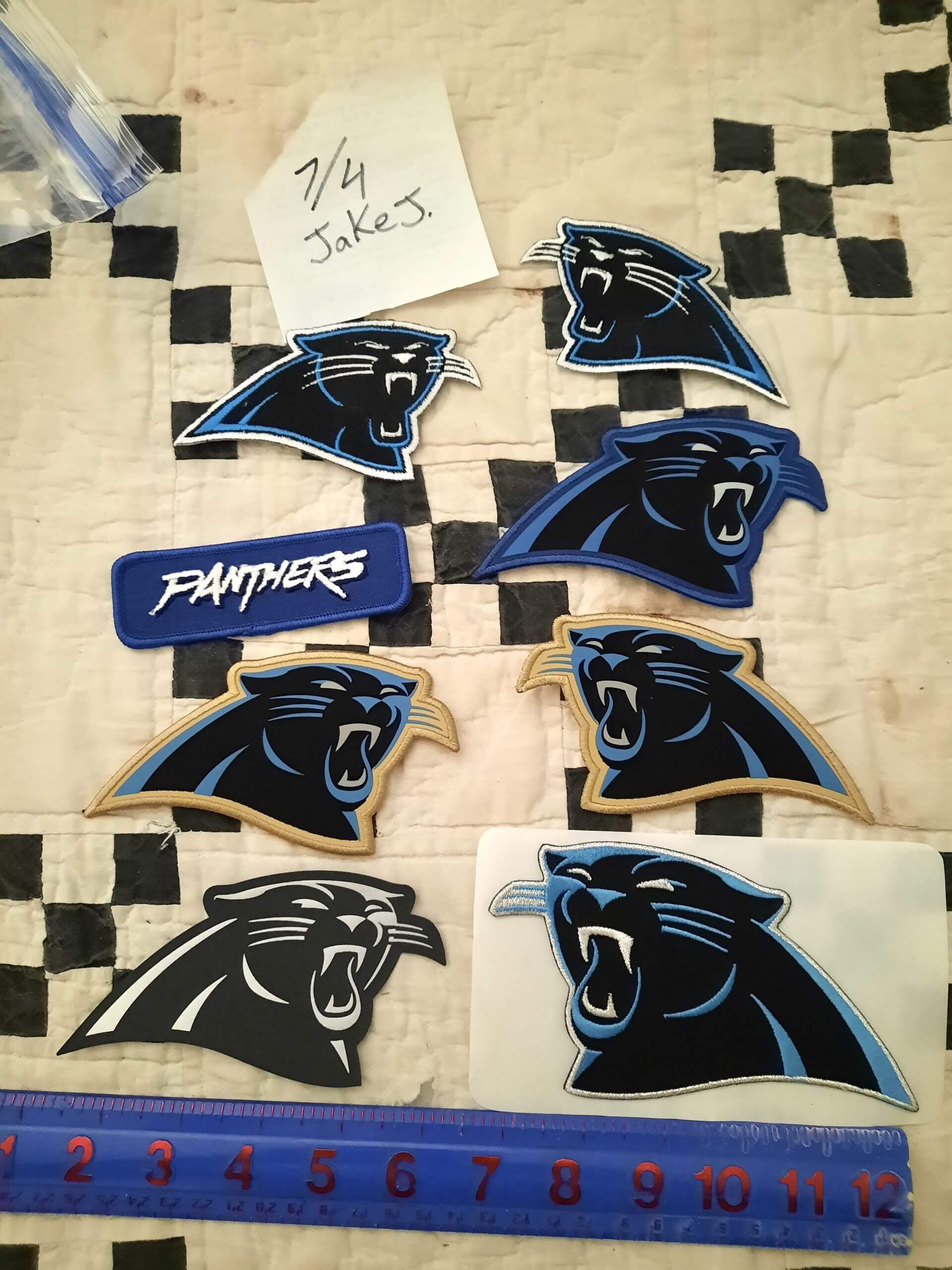 All in all, these sales were like a visit to the island of misfit jerseys. I'm just happy my hands will be kept warm this winter in my slightly mis-colored Bucs hand-warmer.
———
Paul here. Please join me in thanking Jake for sharing all of this with us.
As an aside: Uni Watch didn't yet exist in 1993, but I was already very uni-aware and, of course, was a big fan of the Packers' green/yellow color scheme. So when word began circulating about them changing their uniforms, I sent a note to the team (I didn't save a copy, unfortunately) and received a response from team prexy/CEO Bob Harlan, as follows:
Note that the description of the jersey matches Jake's prototype!
• • • • •
• • • • •
Click to enlarge
Back in the USSR: Yesterday's post about a goodwill tour of the United States by the Soviet Union's national baseball team prompted a nice note from reader Wayne Koehler:
In 1989, Florida Southern College hosted the Russian Olympic baseball team for two exhibition games at Joker Marchant Stadium (spring training home of the Tigers). Florida Southern won both games, 23-0 and 8-0. We were lucky enough to find a PA guy who spoke Russian, so he would throw in various baseball terms in Russian throughout the game.

The first game was televised on a regional cable channel. At one point, a Russian player broke his leg while attempting to slide into second base and the game was delayed as an ambulance was called and drove out to second base. Not exactly must-see TV.
The photo above shows Florida Southern head coach Chuck Anderson and his USSR counterpart, Alexander Ardatov. I think we'd have to say that Ardatov had the better uniform!
Here's a shot of Ardatov watching as reliever Alexey Ovsyannikov took his warm-up tosses. Looks like they were wearing two-in-ones: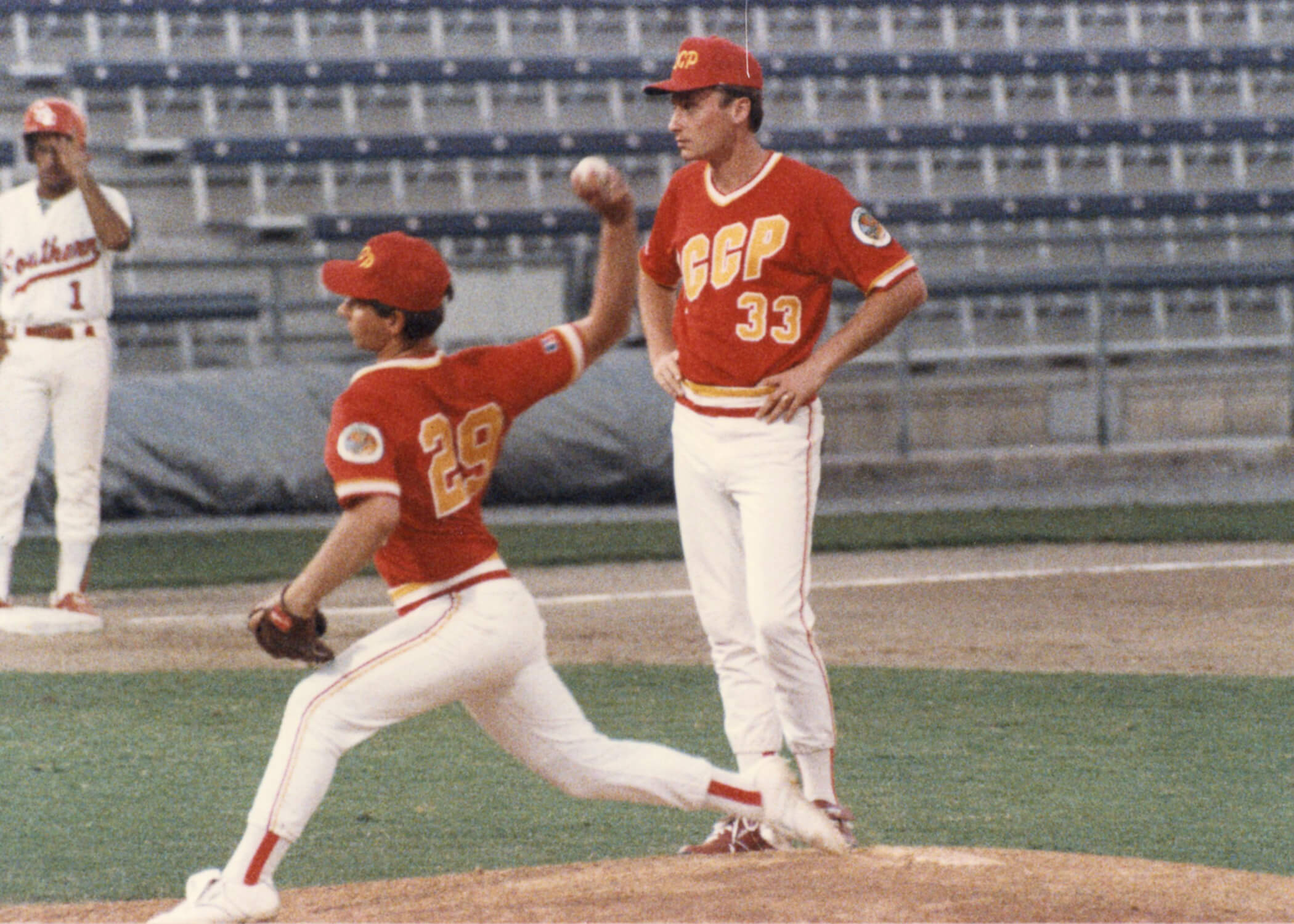 And here's a nice shot of the Soviet jersey and cap, as worn by first baseman Nugzar Pophadze: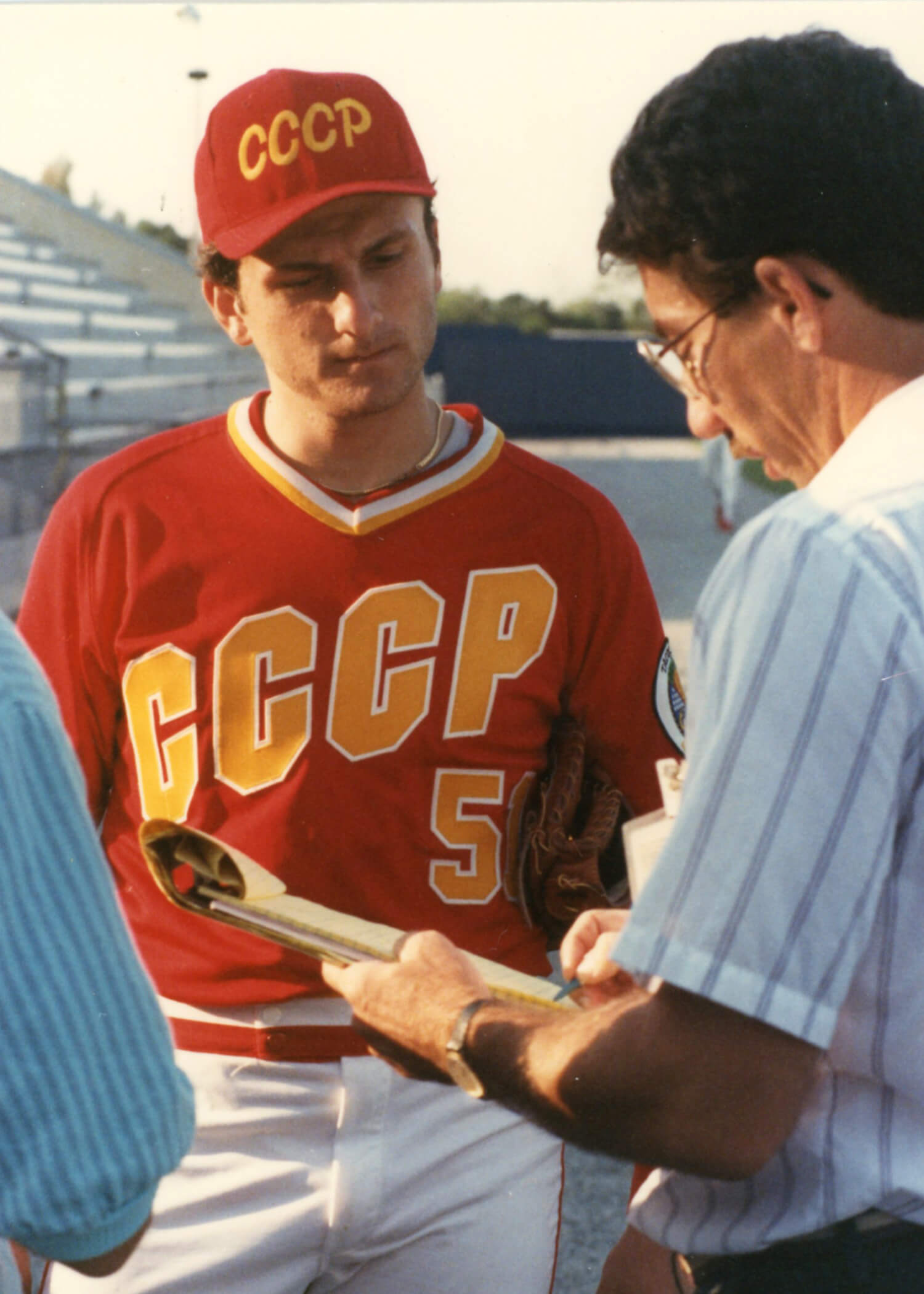 Big thanks to Wayne for sharing all of this with us!
• • • • •
• • • • •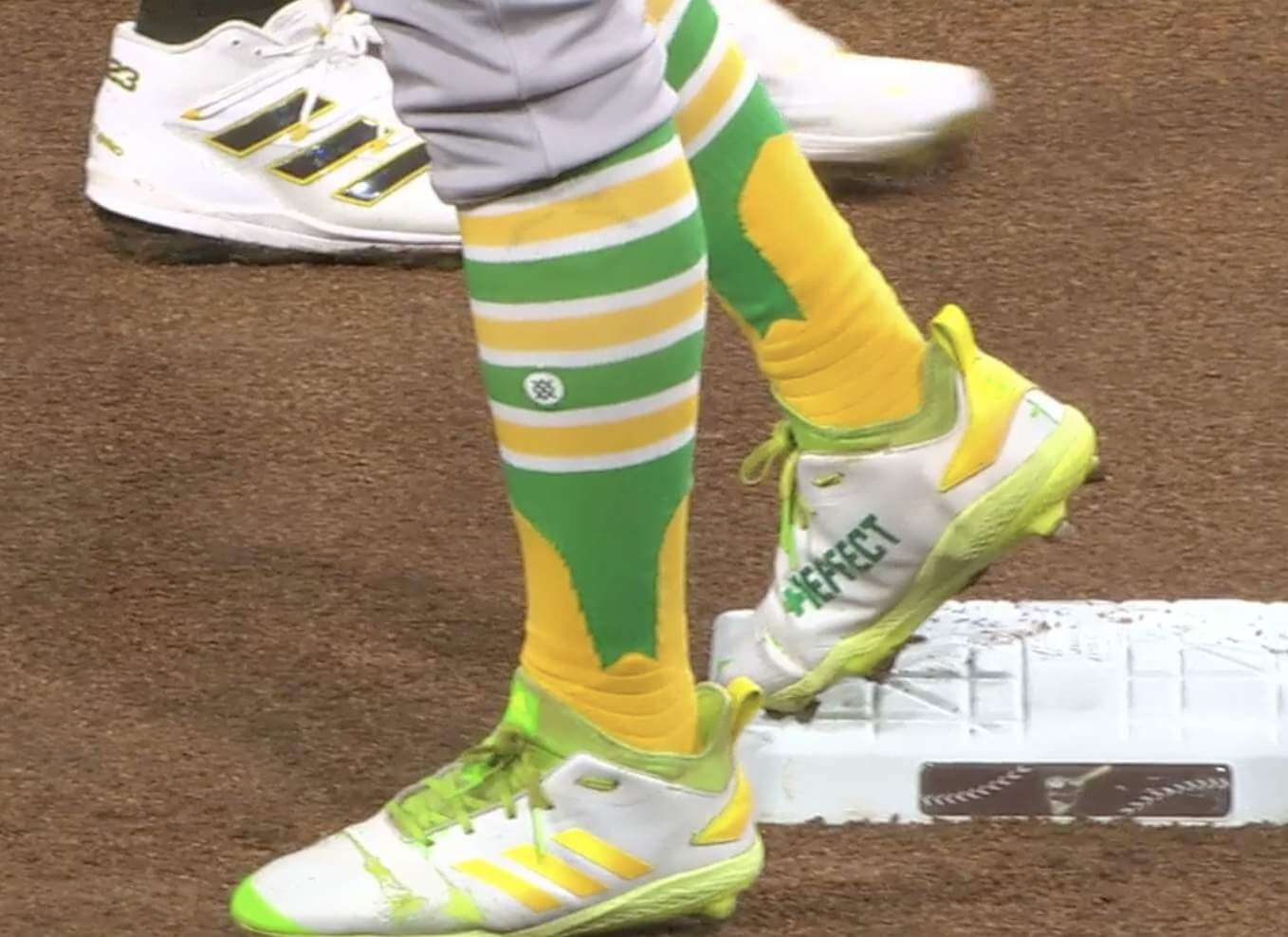 Click to enlarge
Sock it to me: Oakland pinch-hitter Tony Kemp's two-in-ones were the subject of some uni-related chatter by San Diego broadcasters Mark Grant and Don Orsillo during the seventh inning of Tuesday night's A's/Padres game. Here's how it went:
Mark Grant: You know, I'm a big fan of these uniforms for Oakland. I love Tony Kemp rockin' the two-in-one stirrups, but I'm not a big fan of the two-in-one. Two-in-one is the sock with the stirrups knitted in, as one. It's not a separate sanitary sock and then a stirrup. Love the look, though — the green and yellow.
Don Orsillo: So you like the uni, you just don't like the socks.
Grant: Yeah, because it's two in one. One sock with the appearance of wearing st — see, the stirrups don't go down all the way to the shoe!
Orsillo: Right.
Grant: Yeah. But I love the look, though.
Orsillo: Yeah, that's a fugazi stirrup.
Grant [laughing]: Right, exactly!
———
Footnote: Grant, who was a journeyman MLB pitcher in the 1980s and '90s, does appear to have worn real stirrups throughout his career, but he usually went so low-cuffed that his stirrups were essentially rendered moot. Too bad he didn't practice what he now preaches!
(Big thanks to Aaron M. for letting me know about this broadcaster banter.)
• • • • •
• • • • •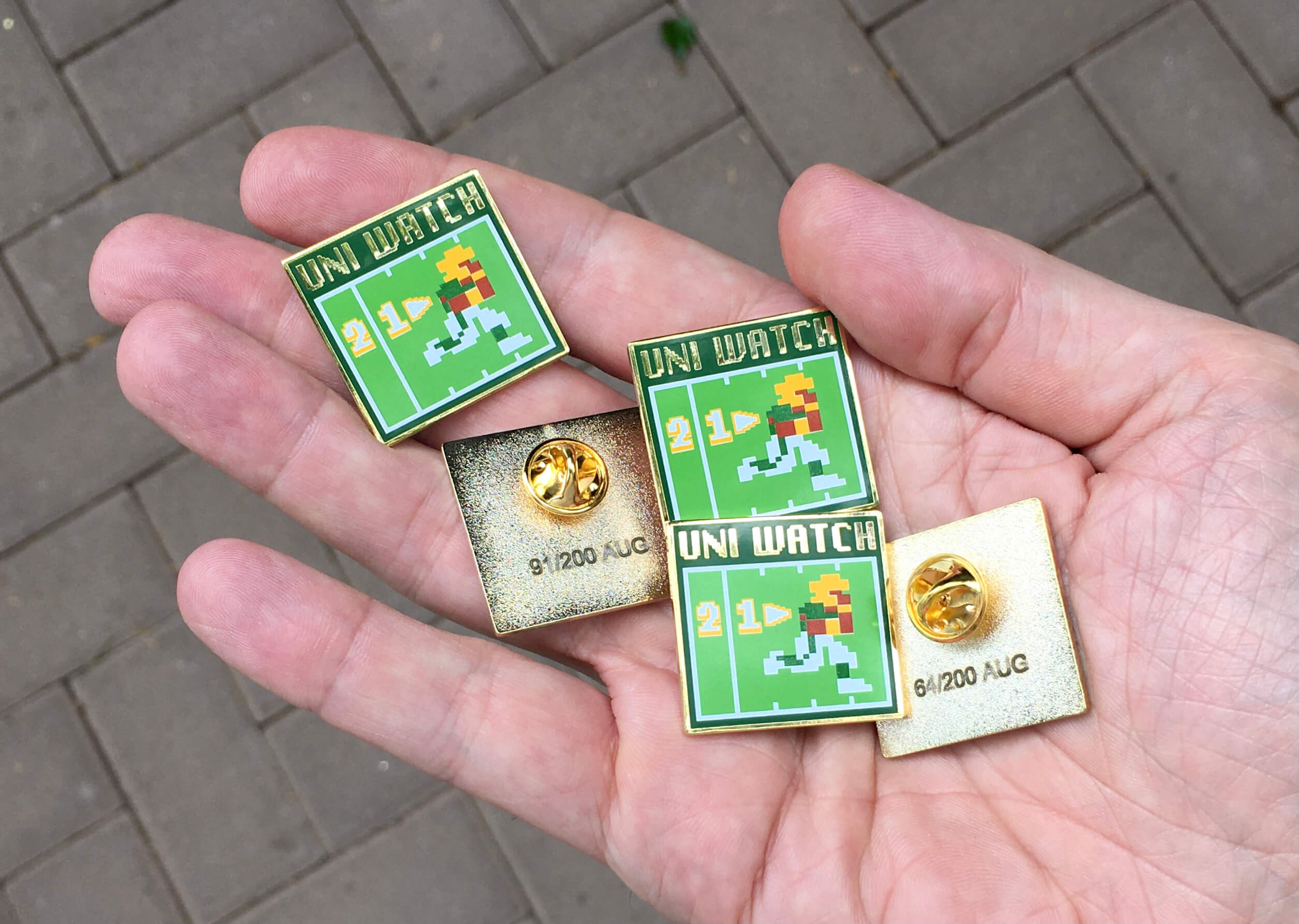 Click to enlarge
ITEM! August pin launch (a few days early): Okay, so it isn't quite August yet, but I'm going to be taking my annual break from the site next month (more on that tomorrow), and I know some of you don't follow the site as closely in August either, so I wanted to get the new pin out there while I still have your attention.
So: With football training camps gearing up, Todd Radom and I thought it would be fun to do a Tecmo Bowl-style pin, complete with 8-bit graphics. I really love how this one turned out. This is a numbered edition of 200 pins. You can order it here.
Need to get caught up? Here are this years pins from January, February, April, May, June, and July (sorry, March is sold out!), plus all of our remaining pins from last year are available at a discounted price.
My thanks, as always, for considering our products.
• • • • •
• • • • •
The Ticker
By Paul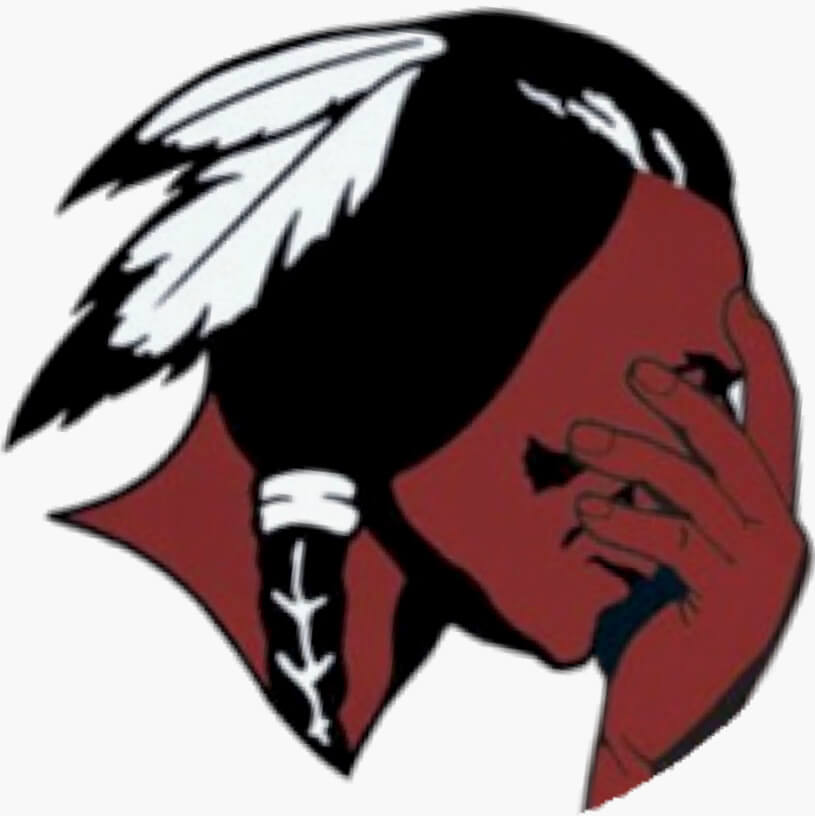 Indigenous Appropriation News: Schools in Wilson, Pa., will no longer use Native American iconography. … Indigenous New Zealand communities will give input in the design of Christchurch's new multi-sport stadium (from Kary Klismet). … Reprinted from yesterday's comments: After consulting with a local tribe, La Conner High School in Washington State will keep calling its teams the Braves but will change some of its imagery (from Matthew Williams). … The rest of these are from Kary Klismet: The good news is that the Mitchell Hawks of the Provincial Junior Hockey League in Ontario are no longer using the Blackhawks' logo. The bad news is that their new logo features a stylized hawk head that still incorporates significant Native imagery, including ceremonial feathers and warpaint. … The Oklahoma School for the Deaf has changed its team name from "Indians" to "Bisons." … Toledo (Wash.) High School is seeking an exemption that would allow it to keep "Indians" as its team name based on the school's relationship with the nearby Cowlitz Tribe. … A group of San Diego State supporters and alumni is fighting to save the school's costumed Aztec Warrior mascot.

Baseball News: Not so fast: According to this fairly in-depth analysis, the Indians/Guardians could face some substantial legal hurdles — or at least a major financial payout — in order to secure the trademark rights to "Cleveland Guardians" from that men's roller derby team with the same name. … In addition, Cleveland.com has this (paywalled) article about the current state of the trademark situation (from Peter Gill). … Meanwhile, it appears that "Guardians" was chosen as the new team name at least as far back as early April. … In a related item, here's a writer who thinks the "Guardians" moniker "is a win for architecture nerds and preservationists" (from Gordon Blau). … And in yet another related item, here's the backstory on how the team settled on the new name (from Chuck Ryals). … Still more on the Cleveland Baseball Team: They wore the Lou Gehrig Day patch yesterday, because their original LGD game was rained out (from Peter Gill). … Fans are being invited to help choose the name for a new minor league team in Staten Island (from @MiLBpromos). … Oooh, look at this sensational 1949 baseball/softball uniform fabric swatch book that @spesh98 just scored. I'm officially envious! … The burning question of our age: Can Mets players paint their faces to look like Mr. Met? … Nine rest stops on New Jersey's Garden State Parkway are being renamed, including one for former MLBer Larry Doby (from William Yurasko). … The Single-A Fredericksburg Nationals have absurdly small NOB lettering. … The batter's eye at the St. Paul Saints' ballpark has an ad for an eye clinic (from Segev Goldberg).

Pro Football News: The Jets are adding a memorial decal this season for assistant coach Greg Knapp, who died last week from injuries sustained in a bike accident (thanks, Phil). … Longtime Bills beat reporter Vic Carucci recently announced that he's retiring from full-time NFL coverage, so the team presented him with a personalized jersey (from @mrmichael21). … Ravens QB Lamar Jackson, who wears No. 8, says he'll switch to No. 1 if/when he wins the Super Bowl (from Andrew Cosentino). … A trading card autographed by KC QB Patrick Mahomes has sold for $4.3 million, a record price for a football card. … New helmets for the CFL's Toronto Argonauts who are going with an updated version of their old boat logo (from Wade Heidt).

College and High School Football News: Washington's No. 44 has long been retired for Roland Kirby, but the number will be worn this season by CB Bookie Radley-Hiles. Kirby's family OK'd the use of the number. … Interesting uni-related quote from Arizona coach Jedd Fisch, buried in the middle of this article: "I do believe in tradition. I do believe in basics. I believe in being able to wear the same helmet for every game." That certainly goes against the current trends in college football (from Rocky De La Rosa). … Jamie Rathjen, following up on an earlier Ticker item, says: "A few weeks ago I sent in an item about Iowa wanting to rename its football field after Duke Slater, a pioneering Black player from 1918-21. They've now officially said they're doing so and that article includes a mock-up of the field with the new name added on the 25-yard lines." This means the team's stadium and field will both have non-corporate names — imagine that. … Wanna see a doozy of a signature? Check out Big 12 commish Robert A. Bowlsby's John Hancock (thanks to all who shared).

Hockey News: New road jerseys for the SPHL's Vermilion County Bobcats. … Here's a great 1973 patent-application drawing for a goalie mask (from TR Herzog).

Basketball News: The Rockets' jerseys were blissfully ad-free last season, but that won't be the case going forward. … The Cavs' D League affiliate, the Canton Charge, is moving to Cleveland. They'll still be called the Charge but have a new logo. … I don't usually share jersey concepts, but here's an above-average set of NBA mock-ups from Roberto Custodio. The Bucks design is a particularly nice mix of old and new, and several of the other designs are similarly sharp — nicely done.

Soccer News: American player Gio Reyna is now wearing No. 7 for Bundesliga club Borussia Dortmund following the departure of Jadon Sancho (thanks, Anthony). … English clubs Wycombe Wanderers and Leicester City both wore new second shirts for a preseason men's match yesterday (thanks, Jamie). … New kits for Polish club Widzew Łódź and Ukrainian club Dynamo Kyiv (both from Ed Zelaski).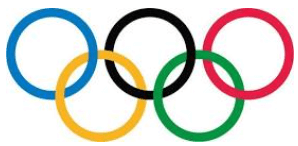 Olympics News: Want to look ahead to the 2024 Olympics? The logo for those Games has received a lot of online mockery. … Looking even further ahead, cheerleading could become an Olympic sport in 2028. … French men's handball player Ludovic Fabregas lost part of his front jersey number yesterday (from Bernd Wilms). … Here's an article on the helmet rules for Olympic skateboarders (from Kary Klismet). … Also from Kary: Good articles about the history of sexist uniforms for women Olympians here and here. … In a related item, here's a funny cartoon about the sexist uniform thing (from Jeremy Brahm). … USA women's BMX cyclist Felicia Stancil has daisies on her helmet because that's the name of her Covid puppy (thanks, Phil). … During the medal ceremony for the women's individual time trial for road cycling, two Netherlands cyclists — Annemiek van Vleuten, who won the gold, and teammate Anna Van der Breggen, who won bronze — wore different shirts. "I couldn't determine why they were dressed differently," says Peter Hymas. "During the competition itself, they wore identical skinsuits issued by their federation." … Allison Schmitt, a swimmer on the Team USA relay team, appears to have covered up the maker's mark on her swimsuit. Also, it's weird that the relay team members all wear different uniforms (thanks to all who shared). … The Chinese water polo team has really nice warm-up bathrobes (from Steve B).

Grab Bag: Students in the Cleveland Metropolitan School District will no longer wear uniforms and will instead follow a gender-neutral dress code. … New jerseys for the the East and West divisions of Minor League Cricket (from Peter Kurilecz). … The next two are from Kary Klismet: New girls' volleyball uniforms for Nederland (Tex.) High School. … New athletics logos for John Paul II High School in Greenville, N.C. … Wade Heidt writes: "Looks like players in the MSL Classic — the Ontario-based Major Series Lacrosse's month-long return-to-play tournament — brought their own helmets and gloves. Makes sense from a cost-saving perspective, as it is not a complete season. Interesting visuals from a uni-watching perspective." … Here's a really great story about a retired couple who recently learned that the gorgeous neon sign from their old corner store in Vancouver had been saved by a local collector, so they got to have a reunion with the sign (from Wafflebored). … New uniforms for Japanese men's volleyball team VC Nagano Tridents (from Jeremy Brahm).