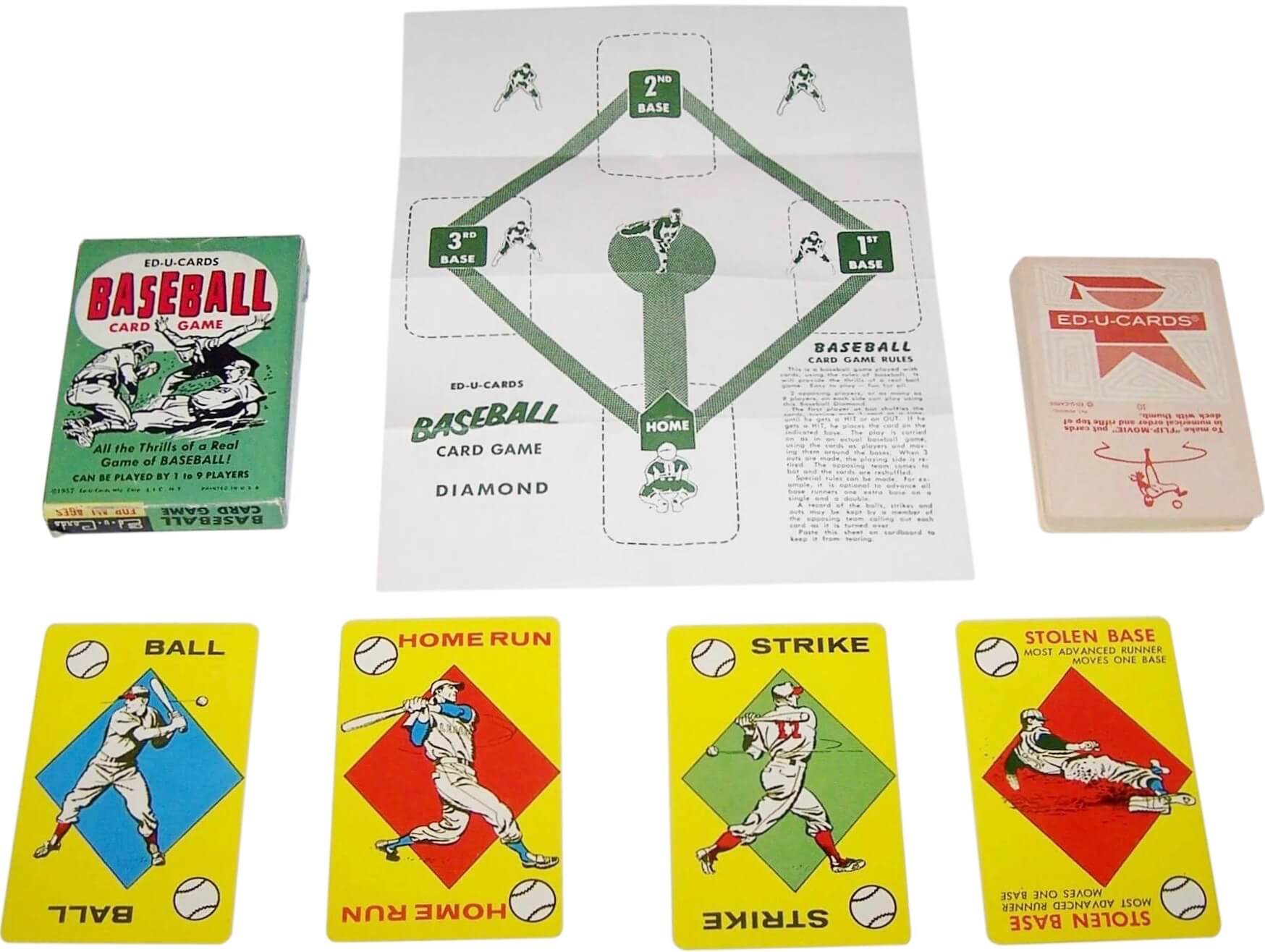 For all photos, click to enlarge
[Editor's Note: Today we have a guest entry from membership card designer Scott M.X. Turner, who's going to tell us about a vintage sports collectible that he recently acquired after seeing it listed in our own "Collector's Corner" column. Enjoy! — PL]
By Scott M.X. Turner
Brinke Guthrie's "Collector's Corner" is a repository of eBay goodness. I usually manage to resist the enticing offerings he features, but recently he linked to something that was just too good and too inexpensive, so I snapped it up.
The item in question was a card-based baseball game called — wait for it — Baseball. It appeared to date back to the 1960s. Some of the cards shown in the eBay listing featured basic baseball scenes, like these: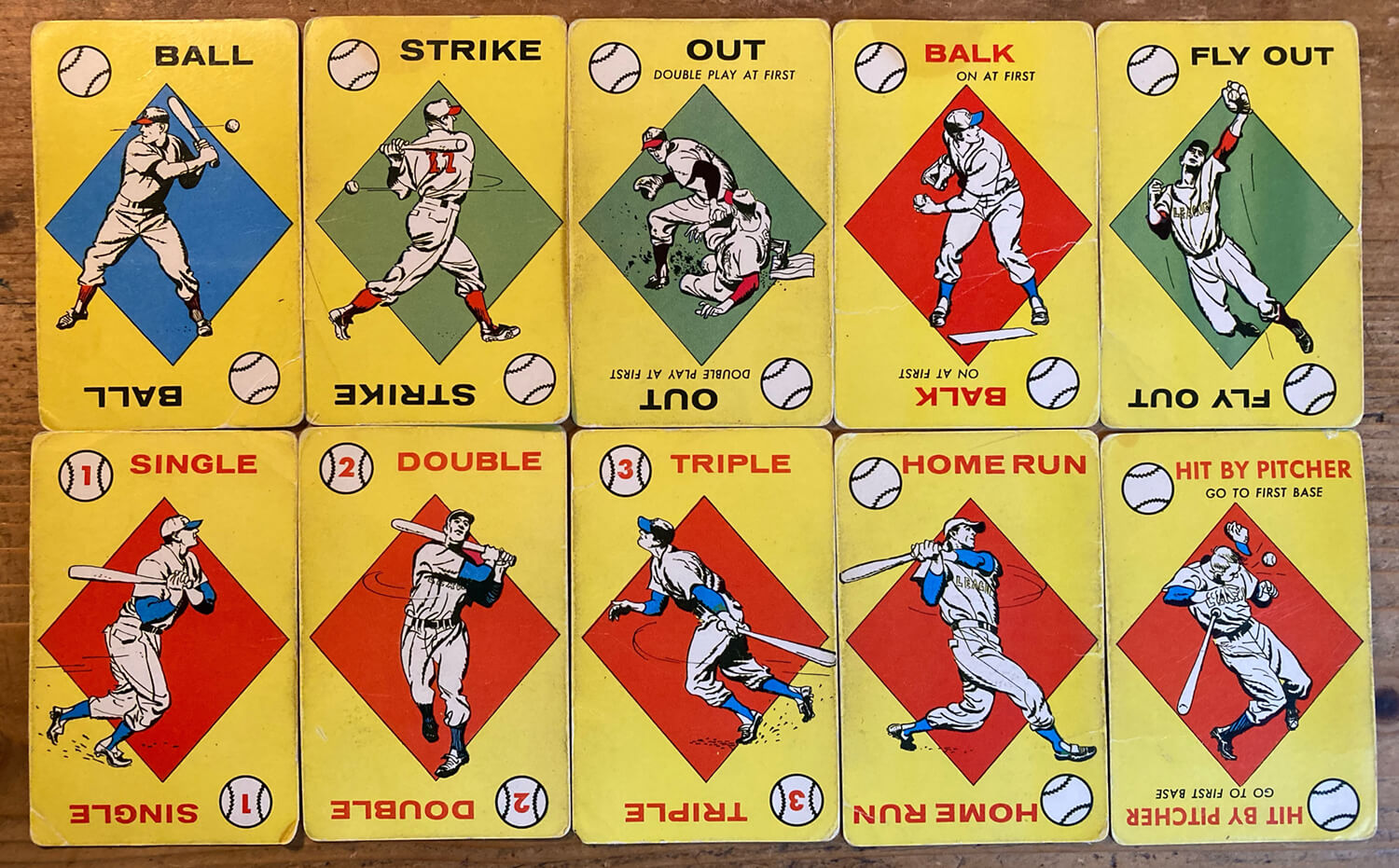 The rest of the cards — and this was the real selling point for me — featured Mr. Met. I figured maybe I'd frame the Mr. Met cards, or possibly give them away to fellow Mets fans:
Now that I've received the cards from the eBay seller, I've learned that the game was manufactured by a New York-based company called Ed-U-Cards. That's about as classic a mid-century company name as you'll ever find, and they had a classic mid-century logo to go with it: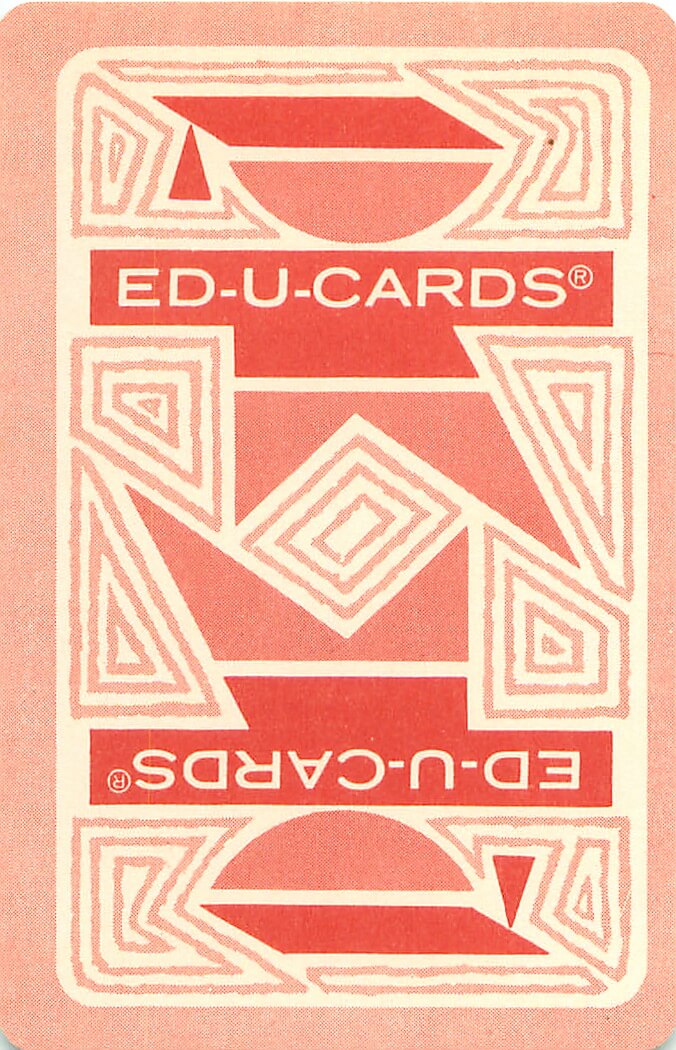 It turns out that the batch of cards I received is made up of two separate Baseball decks: The generic cards were the standard set, and Ed-U also released a special Mr. Met edition. According to this useful Wiki page, the original game debuted in the late 1940s, while the Mets edition looks to date from the early 1960s. (There were also versions for at least three other teams: the Cardinals, Dodgers, and Red Sox.)
 
My collection is missing some cards from each version (the one wayward Mr. Met card, sadly, is the Home Run card). On the plus side, if you scroll back up and look at the Mr. Met cards, you'll see that the expressions on his face when things go wrong are priceless. For example:
• The oddly-named "hit-by-pitcher" card (who else would hit the batter?): Can Mr. Met even get hit anywhere other than his giant noggin?
• The strike card: Mr. Met's frustrated resignation is so, so on-brand.
• The stolen base card: He's oversliding that sack. Classic Amazin's.
• And the best is the balk card's utterly sheepish expression. Mr. Met is praying hard that if only everyone in the stadium didn't see him balk, then he'll do whatever God wants of him for the rest of his days.
The big treat for the standard set is on the back of the cards, which feature a flipbook-style animation of a pitcher tossing a pitch and then fielding a ball hit back to him: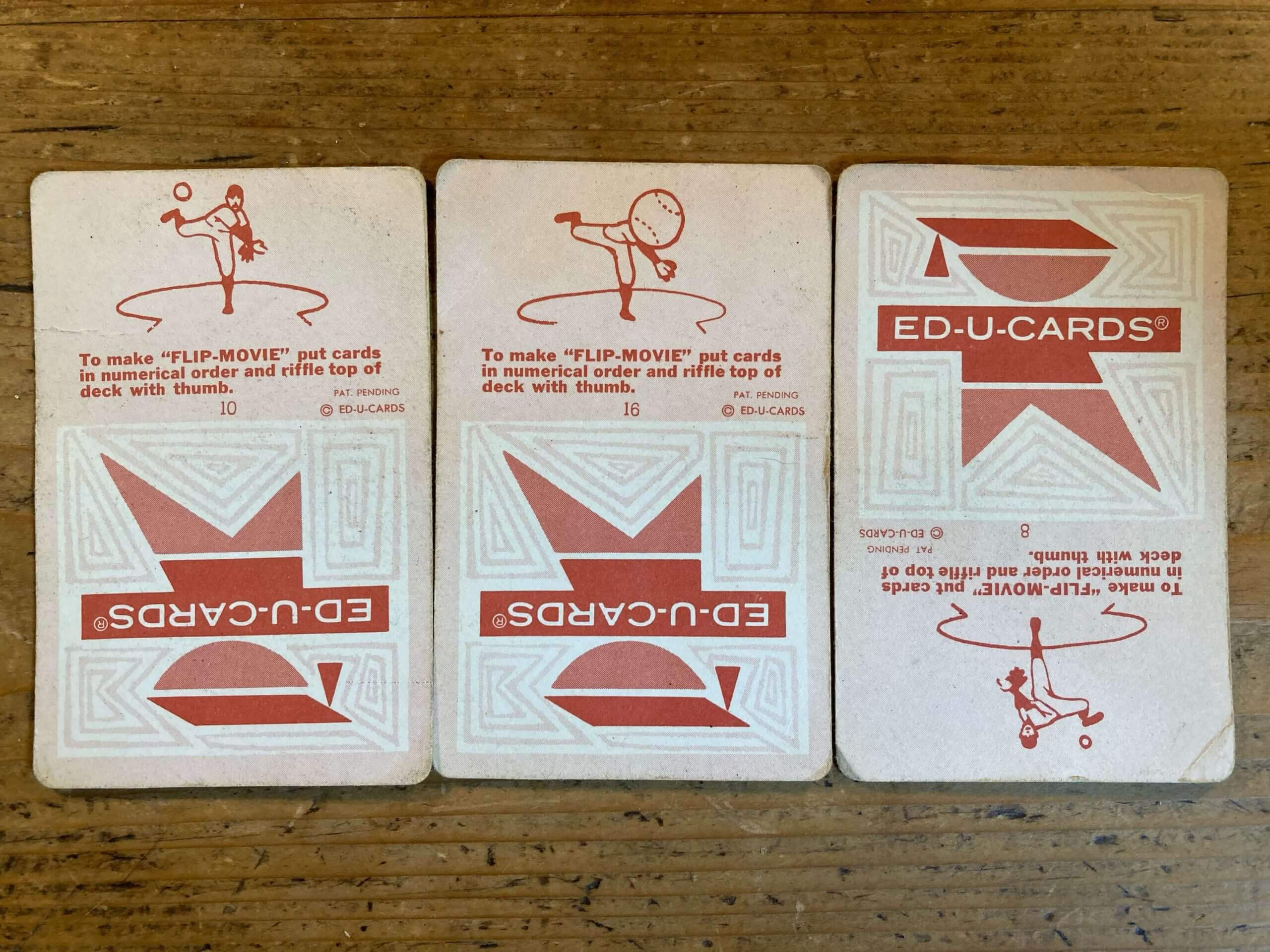 Unfortunately, several cards from my standard set are missing, so the flip-motion is a bit choppy, but you can still get the idea:
And how does the game itself play? Enjoyably, hypnotically, unrealistically, at least for this participant. It wasn't exciting, but it was also hard to stop playing. And if you like shuffling cards, this is the game for you.
 
The game is 100% chance. There's no opportunity to choose different approaches, to announce an attempted steal and then see if the next card determines you're out. Instead, you might draw a stolen-base card whether you entertained that notion or not. It's a baseball version of the card game War.
 
A player keeps drawing cards until an at-bat is completed. Could be a single card with a base hit or a fly out, could be several cards involving a full count. After each at-bat, the player on offense shuffles the cards.
So … much … shuffling.
Also, Ed-U-Cards may not have fully vetted the game's appeal when they insisted it's for one to nine players.
 
The game was originally sold with a fold-out sheet of paper printed with rules and a baseball diamond (as shown in the photo at the top of this page). This wasn't included with my cards, so I drew one myself, giving it a dopey, non-corporate name to celebrate Uni Watch and New Orleans, where I live: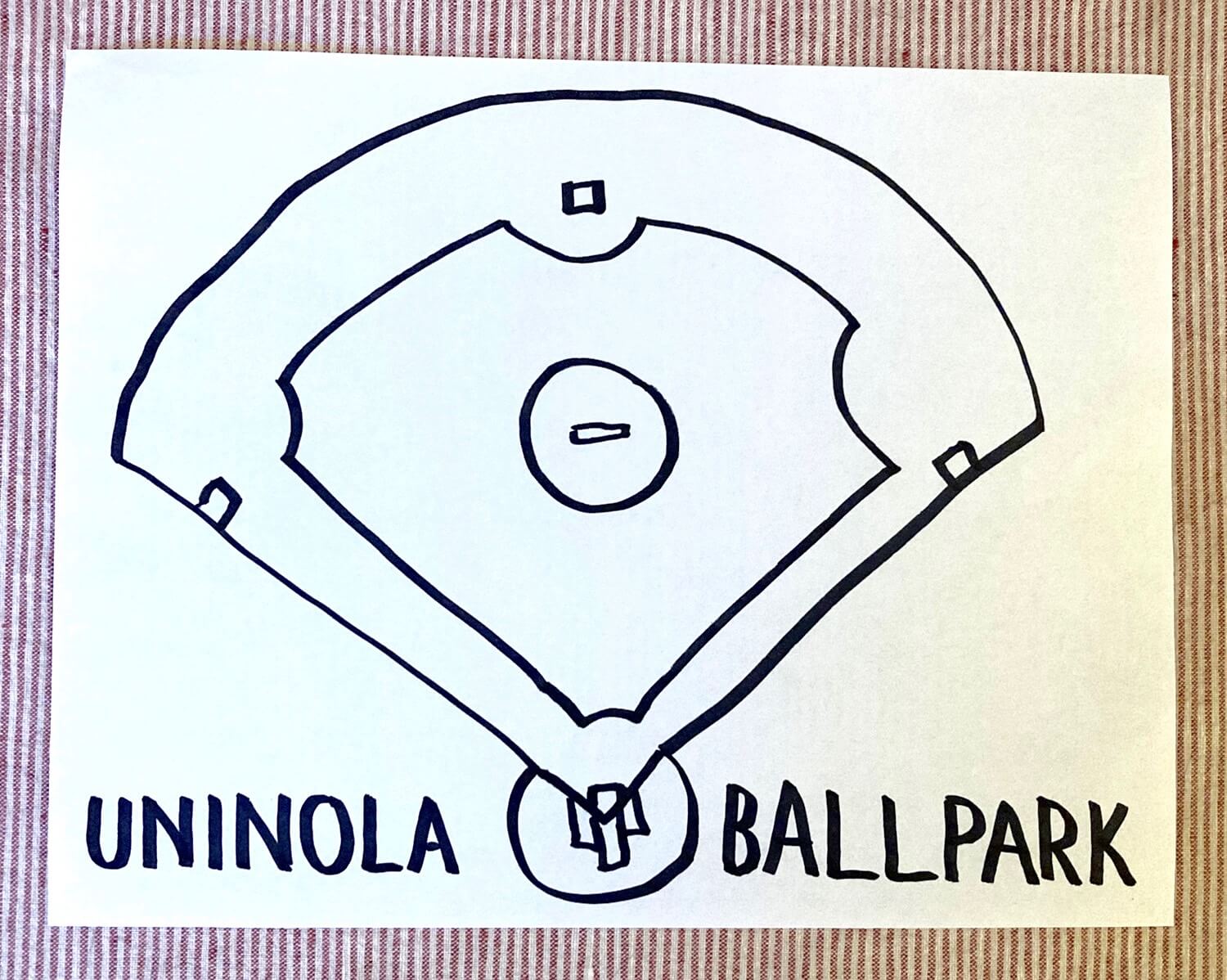 If you draw a single, you place that card on first base. Draw a stolen-base card, you slide your base-hit card to second. This alters your card-draw chances because those cards are taken out of the deck for that inning's subsequent at-bats, or until they come around the bases and score.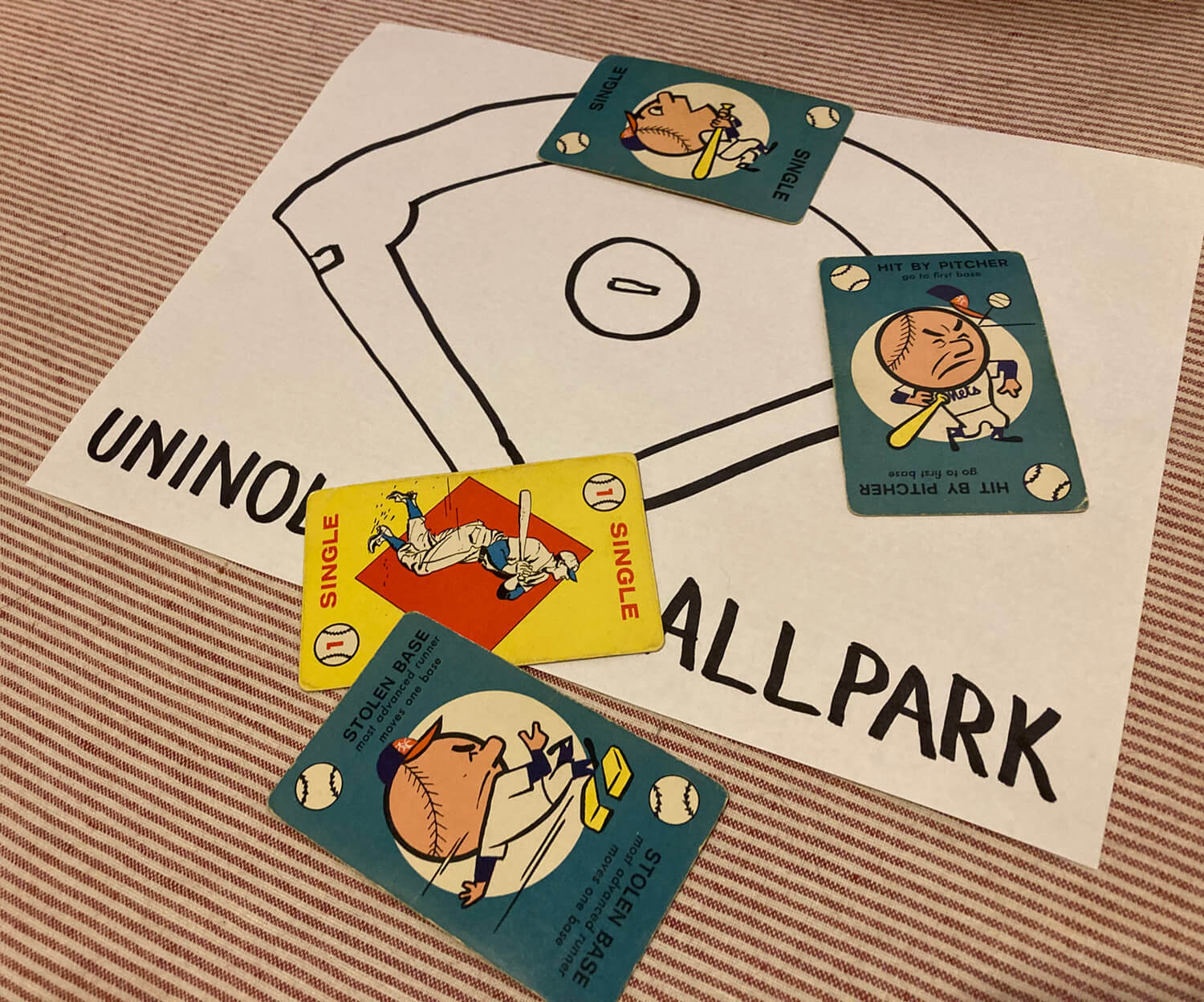 For a test drive, my wife and I played a game. We discovered after a few innings that using the entire batch of cards I received, mixed from two separate sets, resulted in an artificially high-scoring slugfest. (After I removed the excess cards, the game played much truer to life.) Here's the scorecard for our one-game series between the Lyin' Cheatin' Astros and the Climate Chaos Mets. I made a few modifications to how I usually score a ballgame: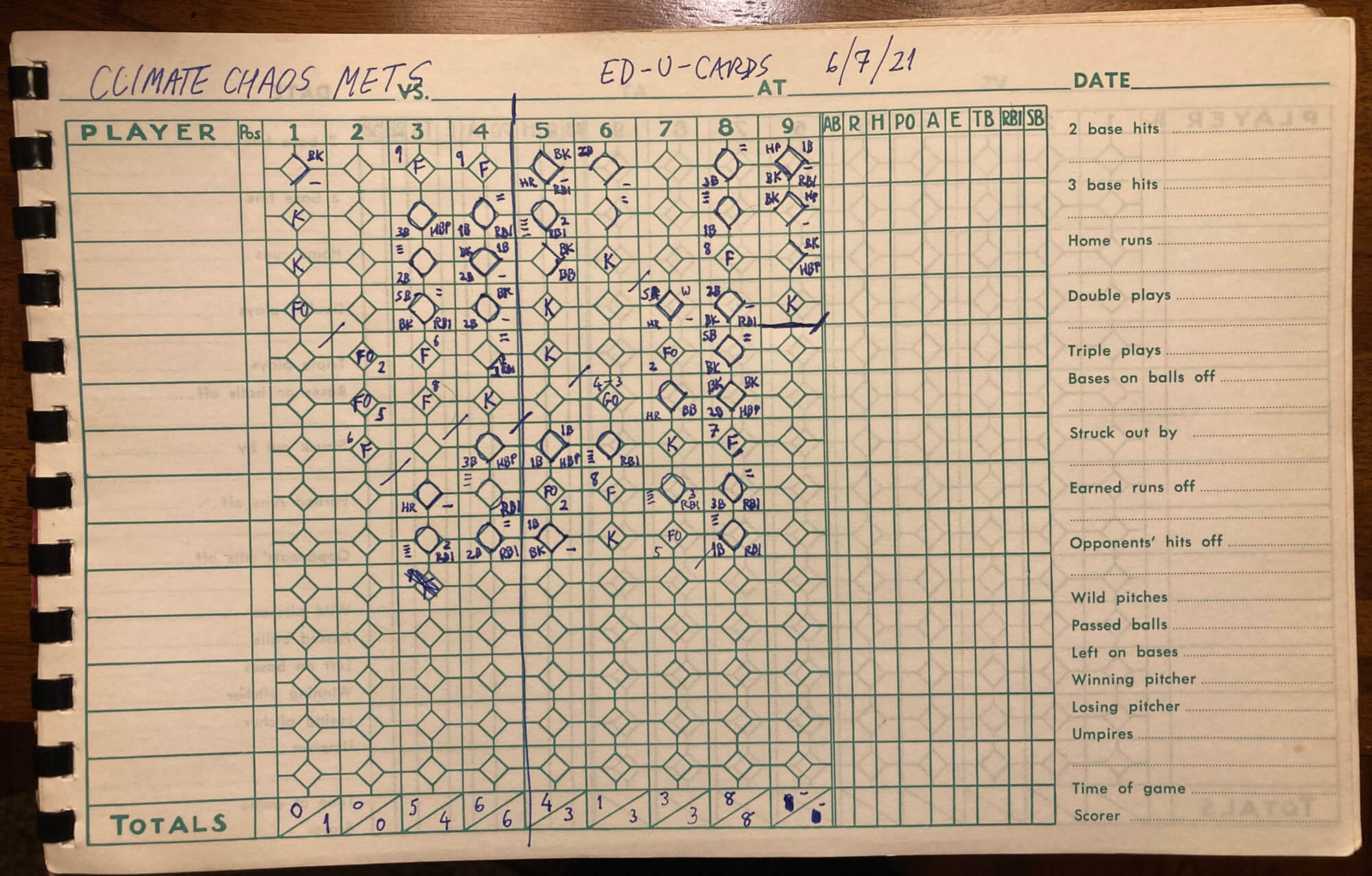 Ed-U-Cards Baseball is no Strat-O-Matic or Sports Illustrated Baseball. (The 1972 version of the latter, with team sheets based on the 1971 season, is the best baseball board game ever. Come play me when you're in New Orleans.) Ed-U-Cards is, however, a fun, undemanding pastime. Good for playing with kids who are just starting to like the game. And much like attending a real baseball game, it leaves plenty of room for conversation, which is one of the real pleasures of baseball, in any form.
• • • • •
• • • • •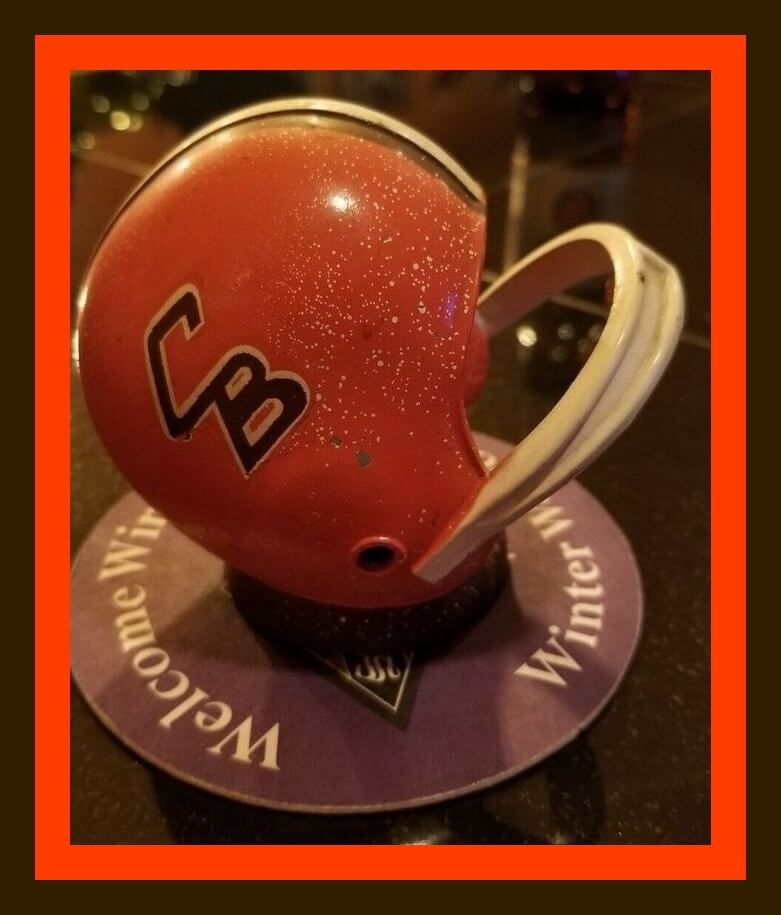 Click to enlarge
Collector's Corner    
By Brinke Guthrie
Follow @brinkeguthrie    
Leading off with this 1960s Brownies item, a helmet bottle opener. Never seen one of these before — and with the phantom "CB" logo to boot!
Now for the rest of this week's picks:
• Here's an "extremely rare" 1960s San Francisco Giants ashtray. Wish they'd bring that logo back!
• This Big-Time Baseball book is from 1961 and includes "thrilling diamond episodes," "greatest all-time records," and "pictures of today's stars." Beat that with a stick!
• I can promise you that this is the first time I've ever included Avon Sure Winner Baseball Hair Trainer in Collector's Corner. Train your hair? To do what, exactly? "This listing is an exclusive item from the collection of sports author Billy Staples." Well then!
• Tube socks were alive and well in the 1980s, and here's a pair featuring the Los Angeles Dodgers logo.
• Staying with the Dodgers — but from their Brooklyn era — here's a 1955 Golden Stamp Book featuring "32 picture stamps of baseball players in full color, plus their batting averages and life stories, team history, seating plan of the ballpark, and 32 black-and-white drawings." All for 50 cents!
• How 'bout dem (crocheted) Cowboys! Here we have DIY crocheted versions of Roger Staubach and an NFL referee. Another Collector's Corner first!
• Artist extraordinaire Nick Volpe painted this 1970 "Pro Star Portrait" of ABA Kentucky Colonels star Cincy Powell. (I had the thermal cup collection and probably the poster too, from your neighborhood Marathon Oil dealer! I also had Cincy's autograph from when my dad sat next to him on a plane.)
• Take a look at this Green Bay Packers lighter. It says "World's Champion" on it, with a rather odd-looking helmet depiction as well.
• Very nice helmet logos shown on this 1983 NFL Sticker Album.
• If you're an Atlanta Falcons fan looking for an undrilled bowling ball with the Falcons and NFL logos, I have just what you're looking for.
Got an item to include on Collector's Corner? Tweet submissions to @brinkeguthrie.
• • • • •
• • • • •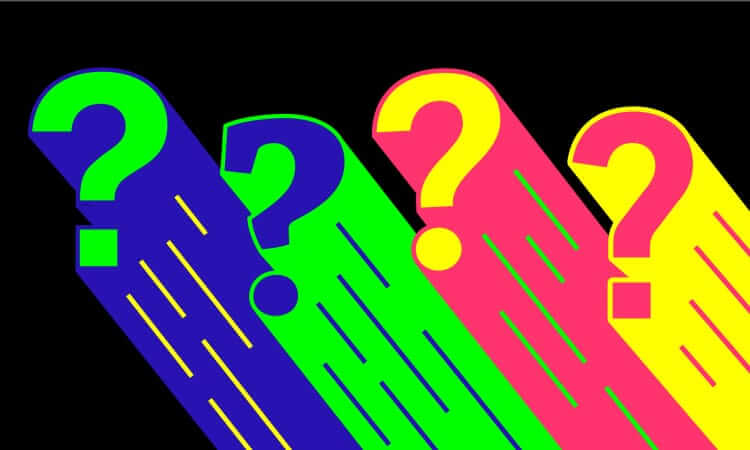 Question Time reminder In case you missed it on Monday, I'm now taking queries for the next round of Question Time, the "Ask Me Anything"-style series where I respond to your questions.
As always, the ground rules are as follows:
• One question per person.
• You can ask me about uniforms, about Uni Watch, about sports in general, or just about me.
• No question is out of bounds, but I reserve the right to ignore questions that I think are too personal.
• I usually receive more questions than I have the time or resources to answer, so apologies in advance if I don't get to yours.
With all that in mind, email your question — again, just one per person — to the Question Time address. (Please note that this is not the usual Uni Watch email address.) I'll respond to them in a new Question Time installment soon. Thanks!
• • • • •
• • • • •
The Ticker
By Alex Hider

Baseball News: Reader Derick Sears points out that the Nationals pulled off the unlikely trick of wearing four different uniform combinations in the span of three games over the weekend. That's because they switched uniforms Sunday when they resumed Saturday night's game after a shooting near the ballpark. … Todd Frazier may not be on an MLB roster at the moment, but he was well represented on fan jerseys during last night's Mets/Reds game in Cincinnati. … Staying in Cincy: I couldn't grab a photo, but Reds C Tyler Stephenson suffered a serious pants tear early in last night's game. … Twins C Mitch Garver, who took a foul ball to the groin in June, was activated from the IL yesterday. A Twins beat writer quoted him as wearing a new cup "made of Kevlar and epoxy that can 'stop a bullet.'" (From @LeSabot). … The Hartford Yard Goats, the Rockies' Double-A affiliate, wore hockey sweater-inspired jerseys on Sunday for Hartford Whalers Alumni Day (from Jeff Schleicher). … Here's something you don't often see: Angels P Shohei Ohtani wore grey sleeves under his grey road jersey last night, instead of the team's usual red base layer. That photo also gives a good view of how the umps' new ads look on one of their windbreaker tops (from Alex Gleitz).

NFL News: A Browns blog has a deep dive on the team's new potential alternate uniform design, which will likely be unveiled on July 24 (from Phil). … Interesting move by Pro Football Magazine, which chose to use an old photo of Titans RB Derrick Henry in an outdated uniform design for the cover of its 2021 season preview issue (from Sam McAnally). … Back in March, KC announced they were selling the naming rights to Arrowhead Stadium. Yesterday, they removed the exterior "Arrowhead" sign from the stadium's scoreboard to prepare for the renaming (from Timmy Donahue). … Also from Timmy: Falcons K Younghoe Koo had his car stolen and asked the thief to return his cleats. … With the U.S. pulling out of Afghanistan, military personnel have been scrambling to save mementos and historical artifacts, including a framed Pat Tillman Cardinals jersey that was displayed at Bagram Airfield. According to that linked article, "The Tillman jersey is now at USO headquarters in Arlington, Va. It may be sent later to Arizona, where [Tillman's] family and foundation are based, the USO said" (from Timmy Donahue).

College Football News: Quite the name for the first (D-III) bowl game to be held in Wisconsin: the Culver's Isthmus Bowl (from Joel Mathwig). … We have our first look at Akron's new uniforms, which will be manufactured by Nike. They've been wearing Adidas uniforms for the past several seasons (from Jacob Farrar). … Milford High School in Ohio has sold the naming rights to its football stadium (from Timmy Donahue). … The MAC has a new 75th-anniversary logo.

Hockey News: The Allen Americans of the ECHL are holding a jersey design contest (from @StarsAsylum). … Cross-listed from the baseball section: Hartford's minor league baseball team, the Yard Goats, wore hockey sweater-inspired jerseys on Sunday for Hartford Whalers Alumni Day (from Jeff Schleicher).

Basketball News: A Bucks fan has designed player prayer cards in the style of old Catholic icons in advance of tonight's Game Six of the NBA Finals (from Jeff Ash).

Soccer News: Italian side Sassuolo has a new second shirt (from our own Jamie Rathjen). … Staying in Italy, Serie C has a new ball design (from Jeremy Brahm). … Also from Jeremy: New shirts for FC Tokyo. … The Athletic (hard paywall) has a deep dive on why the world loves soccer shirts (from John Flory). … New jerseys for Russian Premier League club Akhmat Grozny (from Ed Żelaski). … Also from Ed: New badge for Ukrainian side FC Lviv. … Adidas printed the wrong ad on the away jerseys for second-tier German club Hamburger SV, meaning the shirts will be unavailable for the beginning of next season, so the team will have to wear this year's shirts for the first few games (from Greg Phillips). … All-Stars from MLS and Mexico's Liga MX will face off in an exhibition next month. Here's what the Liga MX All-Stars will wear (from @Link73). … Two more from Ed Zelaski: New home shirts for Dynamo Moscow and new kits for Polish club Korona Kielce, which is now being outfitted by 4F.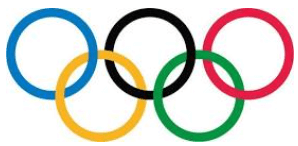 Olympics News: U.S. flag bearers at the Opening Ceremonies on Friday will have a "cooling device" built into their jackets to battle the expected scorching temperatures. "How about — I dunno, stay with me here — just don't wear the jackets when it's 90 degrees?" says Akul Nishawala  (also from Brinke). … Olympic torchbearers have been wearing shirts and shorts made from recycled plastic bottles (from Phil). … English para-athlete Olivia Breen says she was admonished by officials at a meet on Sunday for wearing shorts that were "too revealing." Jamie Rathjen finds this "ironic," given that, as we Ticked on Sunday and Monday, Norway's women's beach handball club was recently admonished for wearing shorts that weren't revealing enough. … Here's what Japanese athletes competing in the modern pentathlon will wear at the Olympics (from Jeremy Brahm).

Grab Bag: New home uniforms for Japanese men's volleyball club team Sakai Blazers (from Jeremy Brahm). … Pittsburgh plans to paint its fire engines grey to match the new paint scheme for its police cruisers (from Dane Drutis). … The SEC came up with a Band-Aid-style logo as part of a campaign to encourage Covid vaccinations (from James Gilbert). … Dell Michaels found a bunch of great sports photos from the 1942 West Virginia University yearbook. … At a Kentucky state legislative hearing earlier this month, a state lawmaker voiced concerns about the U. of Kentucky's continued use of checkerboard in its athletics uniforms (from Josh Claywell). … A Tennessee WWII veteran was presented with a new uniform and medals after he lost all of his possessions in a house fire (from Timmy Donahue). … Uni Watchers, how well did everyone do on this BuzzFeed car logo quiz? … This story investigates how CNN managed to render a plus sign in its familiar inlined font for the branding of its new CNN+ streaming service.
• • • • •
I'll be announcing some big Uni Watch news around 11am Eastern today. I'll tweet about it (here's my Twitter feed, in case you want to keep an eye on it), and here it is. I realize you may have many questions about this — I promise to answer them here on the blog tomorrow. See you then. — Paul