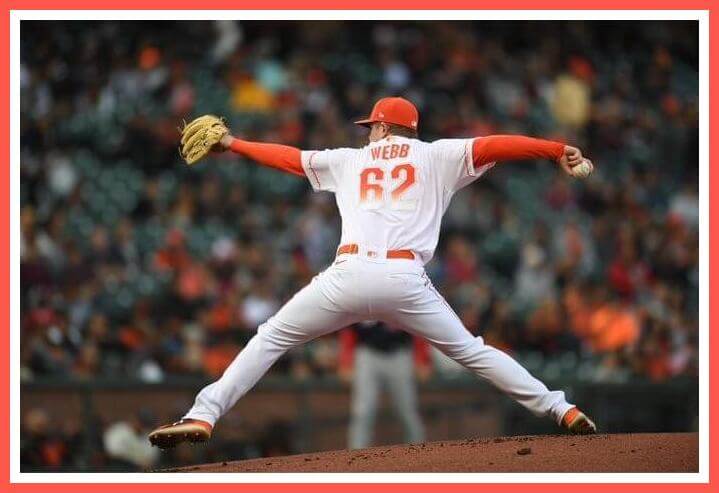 By Phil Hecken
Follow @PhilHecken

Greetings and good morning, Uni Watchers. I hope everyone has had a good couple weeks, and your Independence Day weekend was good.
Last evening, the San Francisco Giants became the sixth (of seven, this year) team to debut their "City Connect" uniforms. In case you missed it, here's the MLB spin and also Paul's take (scroll down), if you aren't aware of how these unis came about, or why they were created in the first place.
I admit I had somewhat high hopes for this uniform, as I pretty much liked every detail and nuance, but for "the fog" element/sublimation. Yes, I get what they're going for, but I was worried the unis would not look good on the field — particularly (as you can see in the splash photo), the "fog" effect upon the readability of the numbers. Generally, when something is difficult to discern up close, chances are it's going to be magnified (as you'll pardon the paradoxical phrase) at a distance. Unfortunately, that maxim held up on the field of play.
But first the "good," which is a relative term when discussing "City Connect" uniforms. In general, I thought the uniforms looked really good; I liked the brighter white uniform (I know the creamish home SF uniform is almost iconic at this point, and a lot of people love it, but I'm a fan of the brighter uni), I thought the shade of orange, even if it technically didn't match that of the Golden Gate Bridge, was sharp, and I even liked the orange caps.
I even liked the "bridge" motif sublimated into the sleeves. If there was a spot to really add a foggy effect, this was it.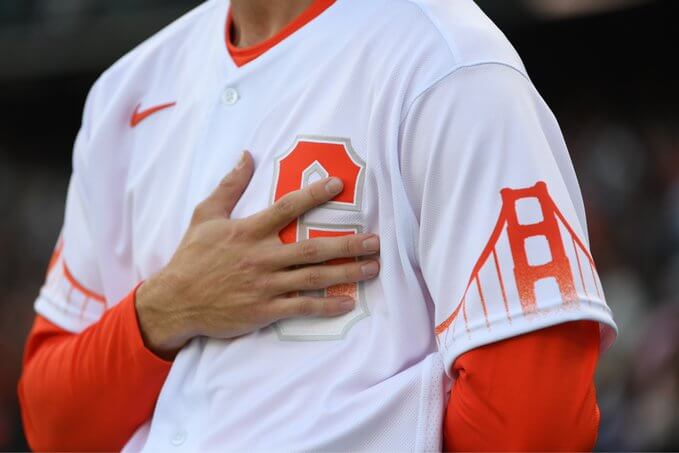 About the only effect I didn't like (other than the excessive fog sublimation on the numbers, which we'll get to in a second) was the bridge design repeated on the cap. Not only was this overkill, but because it was rendered on the cap, it didn't have the same "fog" effect as that design on the uniform itself.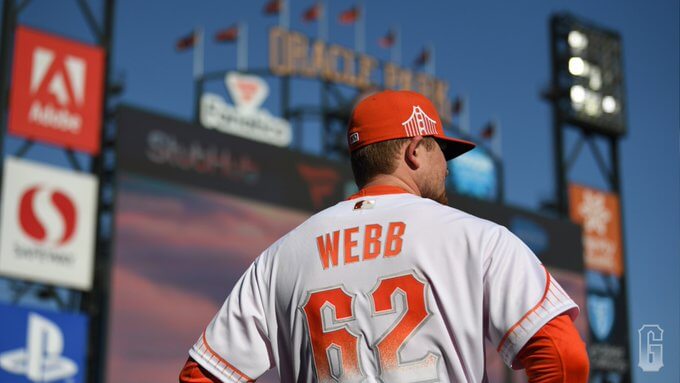 Here's another look at the cap and jersey:
City Connect threads are ready for their on-field debut: pic.twitter.com/bjMMsL12UD

— SFGiants (@SFGiants) July 9, 2021
As mentioned above, in a still, up-close shot, the numbers are readable, but even then, aren't particularly easy to read (much like Paul, I do like the custom font):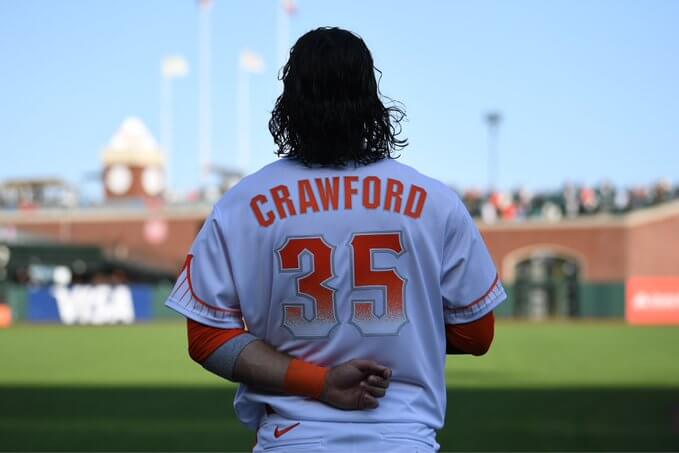 However, at any distance (even in a still shot), that "clever" fog/sublimation design begins to get lost in the white of the uniform:
Other than the NOB (which is honestly not necessary), the one other identifier in a sports uniform is a players number. Haven't we learned yet that contrast is important, and purposely creating a shading that will blend in with the uniform is not the ideal way to display a player's number? Sure, sublimate the "G" on the front, sublimate the bridge on the sleeves — hell, even sublimate that player's NOB, but the one thing that should always be clear and readable is the number. And in their quest to be clever, Nike was too clever by half. You can notice how difficult it is to read the number at distance and in action:
Man, he REALLY hit that 💪 pic.twitter.com/YPbhMDUjtm

— SFGiants (@SFGiants) July 10, 2021
Woof. What was that number?
OK — don't get me wrong, you can read the numbers, but not without some effort. In the tight shots, it's fairly easy, but not at any great distance, and certainly not to most of the fans.
Teamwork makes the dream work✨

(via @SFGiants) pic.twitter.com/MvjQ20Vl88

— FOX Sports: MLB (@MLBONFOX) July 10, 2021
Even with my complaint about the number readability, I generally liked this uniform (not that any team needs a CC alternate). In terms of CC unis, I'd say of the six so far released, this one is my third or maybe fourth favorite. It's interesting the team (or Nike) chose to go with a bright white uniform, as this was the first (and perhaps will be the only) CC uni to be manufactured in this color. As we have now seen with the Cubs and Diamondbacks, custom helmets were not created (or ready) in time for the debut of this uniform (the Cubs finally got matching CC helmets for their CC uniforms yesterday) — so the Giants wore their normal black batting helmets. While there is no black to be found anywhere on the uniform, the helmets looked fine. I'll be interested to see when (if) they add an orange helmet.
Maybe I'm being a bit overcritical (or overdramatic?) in disliking how the numbers looked, but if there was one thing to change on the uniform, it would be making the numbers solid orange. Everything else seemed to work nicely.
You can see more photos here. Your thoughts?


NFL Films Lost Treasures "The WFL"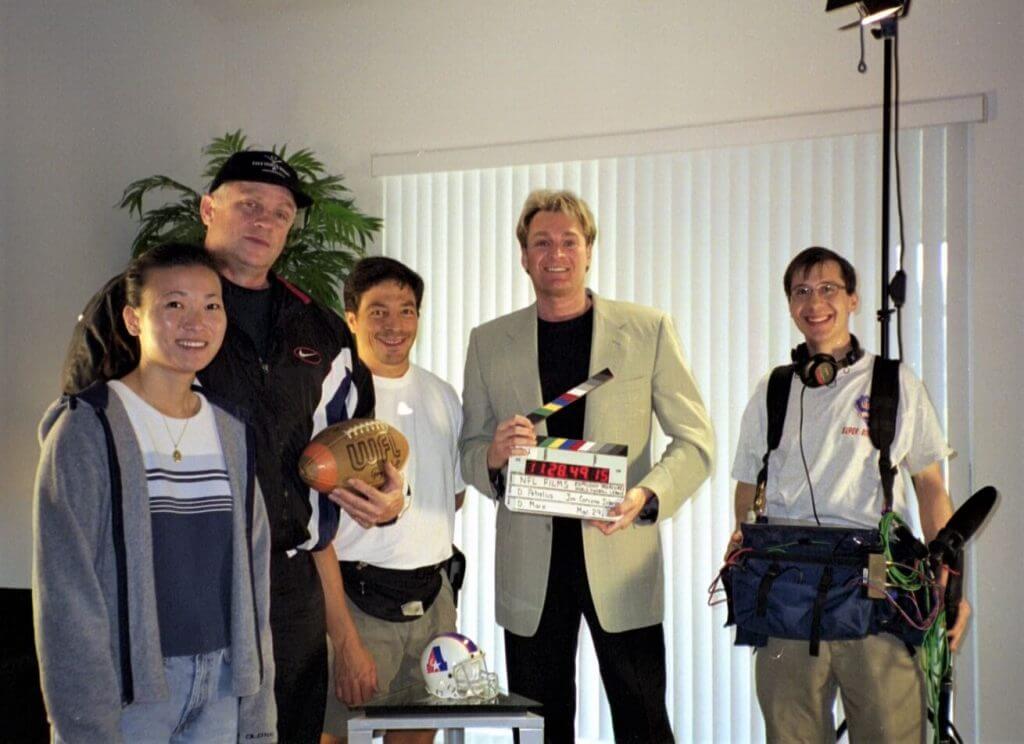 Got a spare 45 minutes this morning (or any time this weekend)? Then you won't want to miss what follows.
I received an e-mail from my (and UW) pal Jimmy Corcoran (who, if you don't remember, had his father — "King" Corcoran — starred for the Philadelphia Bell in the World Football League) which I'd like to share with you. Jimmy is quite the WFL expert and has assisted me on several WFL articles that have appeared on Uni Watch over the years. Here's Jimmy:
Hey Phil,

I know you have read quite a few WFL related articles I have written for Uni Watch over the years but I'm not sure if you have ever seen the movie? On Thursdays the NFL Network has throwback day and have started airing some of these movies again. People ask me if I know when the WFL movie will air again? Considering I don't know one person at the NFL Network, their guess is as good as mine?

Someone posted it a couple of months ago on YouTube.

I always loved the beginning with the movie projector turning as they play Steve Sabol's favorite song, A Hero Remembered. There is something sad and nostalgic about the tune, almost telling you, here comes a part of football's past that is no longer here but I still like hearing it. I remember when I saw Lance Alworth in one as the music was playing and the projector clicking Lance says "Oh my God was that me?" Almost surprised how young and swift he was all those years ago.

When NFL Films came to my house to interview me for this film, I just said, what do I have to do to get myself in the opening credits when the music is playing? Phil Tuckett looked at me and says that's not easy Jimmy my best advice is to say something good? I filmed this in March 2001 and the movie was released in October 2001 and no one told me if I made it into the opening or not? When I would ask them they would say, we're working on it, but you're still in the running. A few days before the movie premièred on ESPN I got a FedEx box from NFL Films. When I put the VHS tape in I saw that I made it into the opening credits of a Lost Treasures film and it wasn't even part of my formal interview? That was Phil Tuckett and I talking after the interview and they had the cameras still rolling.

Jimmy Corcoran
Thanks Jimmy. It can't be embedded, but if you want to watch a great little movie, here you go! Delta Burke never looked so good (you need to watch this to figure out why…).
Post Script: Jimmy followed up with the following (one of the photos of which Jimmy speaks was used for this section's splash, and the second follows)…
Here are two photos from that movie, they turned my living room into an NFL Films studio. I was in charge of getting the mini helmets, I was worried that some of the logos were not accurate enough for NFL Films? but they never noticed the Chicago Fire flame was wrong. Then I remembered they never saw a WFL game and would not know what the uniforms looked like.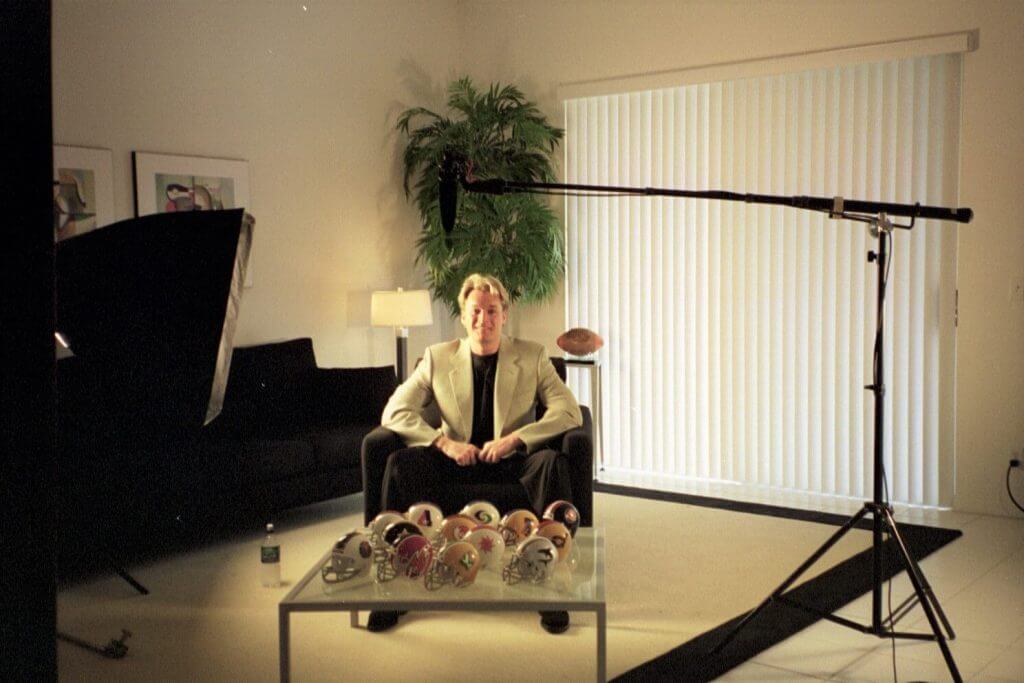 Uni-sleuthing Help Sought…
About a year ago, I received an e-mail from reader Tanith Harley, who had sought reader assistance in identifying an obscure pair of jerseys she had purchased, and thanks to some excellent research/sleuthing, you guys were able to provide her with an answer. Now, she seeks your help again, if possible.
Her latest e-mail reads as follows:
Hello Phil.

I hope this finds you safe and well and enjoying the summer months over there.

I am hoping you may be able to assist me in me uniform information again…?

I have recently purchased this dairy farm uniform. I was guess it's from the 1940's but happy to be proven wrong. Unfortunately I can find very little information, in fact none, on a clover leaf dairy baseball or softball team. Perhaps your wonderful readers might?

I hope you don't mind me reaching out again and I understand if you're unable to help as I'm sure you get thousands of emails.

Warmest regards.

Tanith.
She attached the following two photos: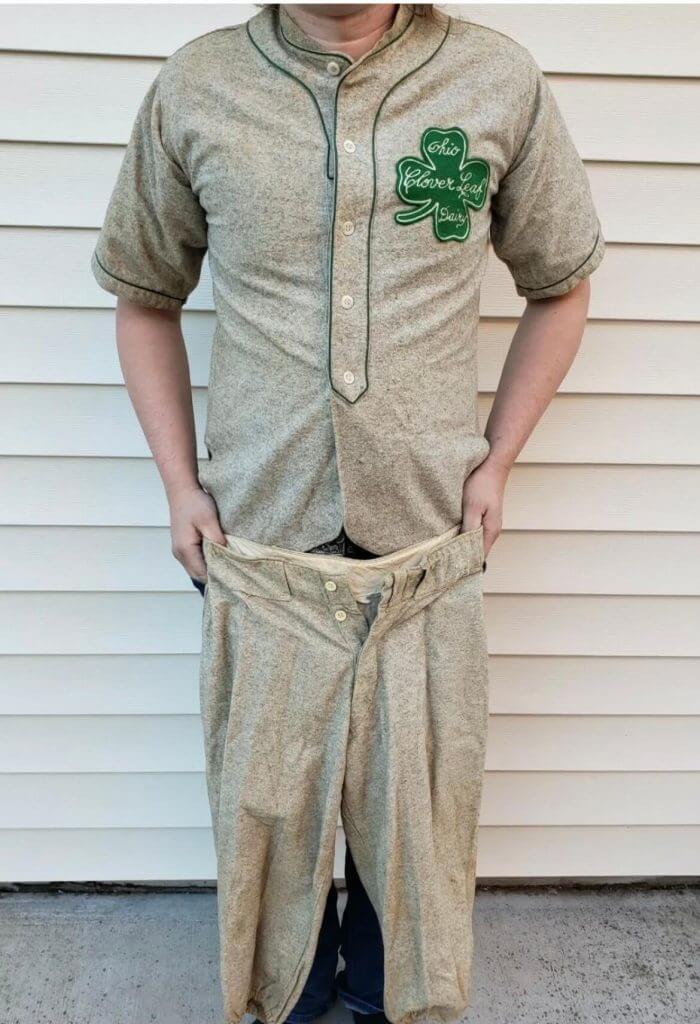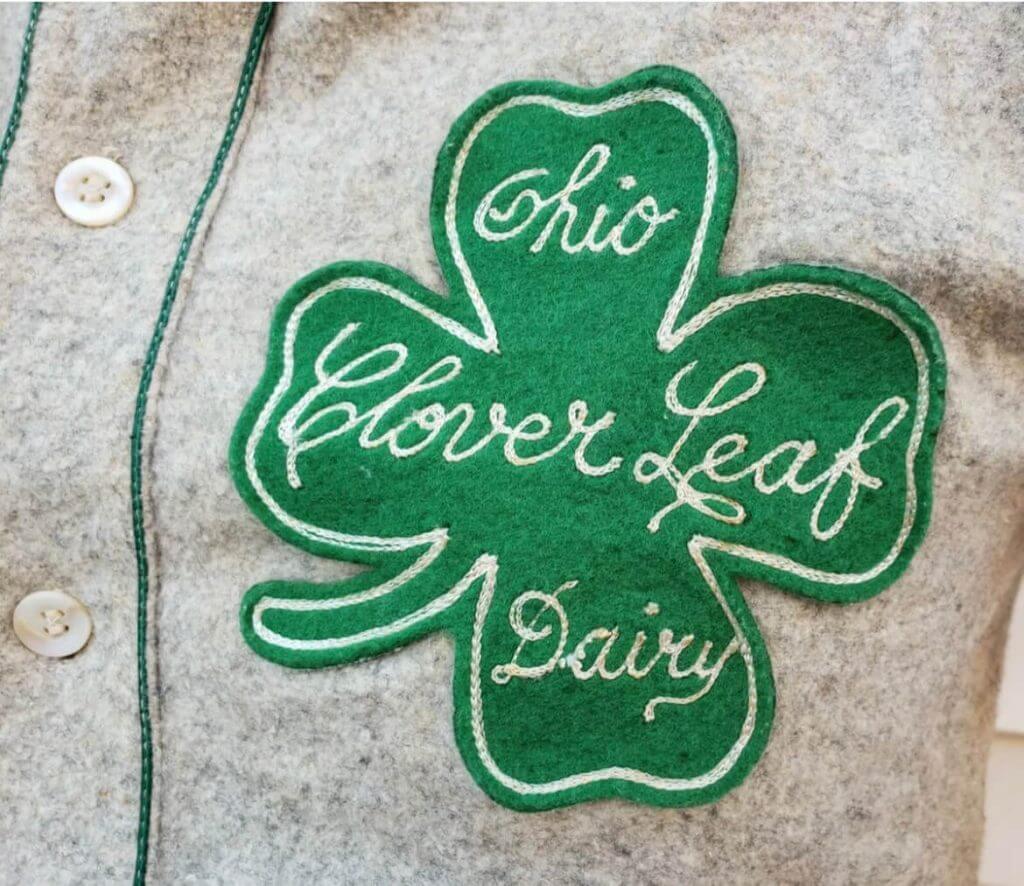 After I offered to show the photos to you guys, she followed up with the following:
Thanks so much. Hopefully someone can help me solve the dairy mystery. I had thought it might be from the Clover Leaf Dairy Farm in Pella Ohio but can't find any further info.
Anyone out there have any additional information about this (full) uniform? Please either post your thoughts in the comments or e-mail me, and I'll forward along your replies to Tanith.
Thanks!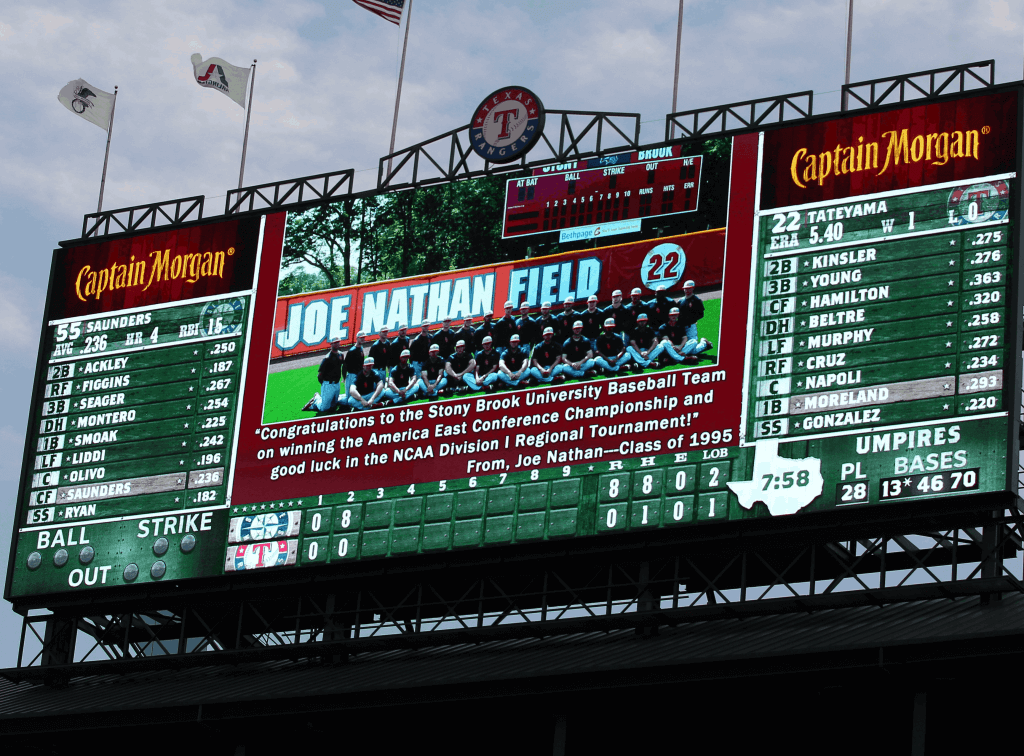 Guess The Game…
from the scoreboard
Today's scoreboard comes from ojai67.
The premise of the game (GTGFTS) is simple: I'll post a scoreboard and you guys simply identify the game depicted. In the past, I don't know if I've ever completely stumped you (some are easier than others).
Here's the Scoreboard. In the comments below, try to identify the game (date & location, as well as final score). If anything noteworthy occurred during the game, please add that in (and if you were AT the game, well bonus points for you!):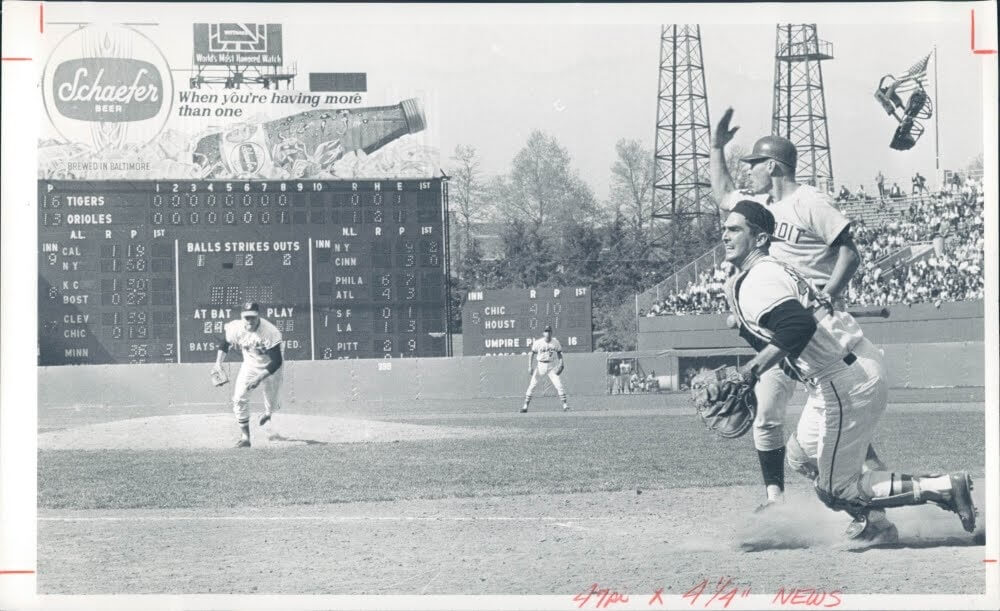 Please continue sending these in! You're welcome to send me any scoreboard photos (with answers please), and I'll keep running them.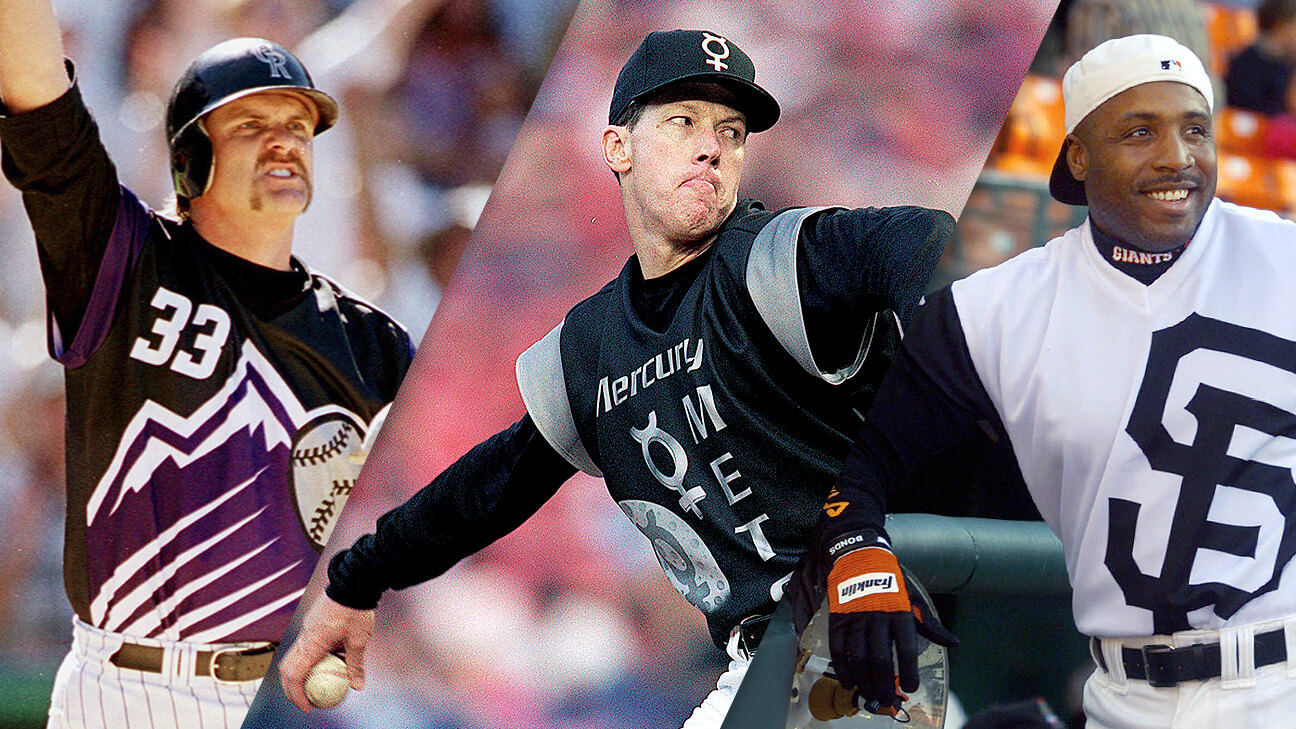 InsideHook/TATC reminder: Paul here. In case you missed it earlier this week, my latest piece for InsideHook is an in-depth oral history of MLB's "Turn Ahead the Clock" promotion from 1999. The uniforms were supposed to represent the year 2021, so the future is now! You can check it out here.
Okay, now back to Phil!


The Ticker
By Anthony Emerson


Baseball News: The Cubs finally got matching City Connect helmets for their City Connect unis (from James Huenig). … Giants C Curt Casali has bright orange catcher's gear, matching the team's City Connect unis (from Josh Crome). … The Rocket City Trash Pandas, Double-A affiliates of the Angels, have unveiled their uniforms for Space Night (from @CaliGlowin). … At the 39:00 minute mark of this podcast, actor Robert Wuhl goes off on the All-Star uniforms (from Douglas Ford).

NFL News: A blog has chosen the best player for each uniform number (thanks, Phil). … Also from Phil: The Street has an article about how Nike and the NFL profit from uni number changes.
.

Pro Hoops News: Images of LeBron James's new No. 6 jersey have leaked online (thanks to all who shared). … The Big3 has named a major multinational corporation its "title sponsor" (thanks, Phil).

Soccer News: New kits for Scottish sides Hamilton Academical and East Fife. The Scottish League Cup also has a new logo (both from our own Jamie Rathjen).


Uni Tweet of the Day
I had no idea Mike Piazza had a guest appearance on Bay Watch. I can never unsee this…
I too like to go to the beach in uniform and practice my swings. https://t.co/rJTuhpzvqY

— Matt Zawaski AKA Father Zo (@SouthsideZo) July 9, 2021


And finally… apologies on the length/appearance of the ticker, as Anthony had major connectivity issues yesterday and ended up having to create the ticker on his phone. Thanks to Jimmy for sharing the WFL video and his recollections, and Tanith for the uniform: hopefully one or more of you will be able to give him a full identification.
Unfortunately, we had major cloud cover at sunset yesterday (after having had Tropical Storm Elsa pass through overnight into the early afternoon). In fact, the weather in the NYC area has been kinda gross of late (either 90 and humid, or frequent rain/thunderstorms…and sometimes both). But we did have a gorgeous sunset last weekend on the Fourth of July, so that's what I'll show you guys today: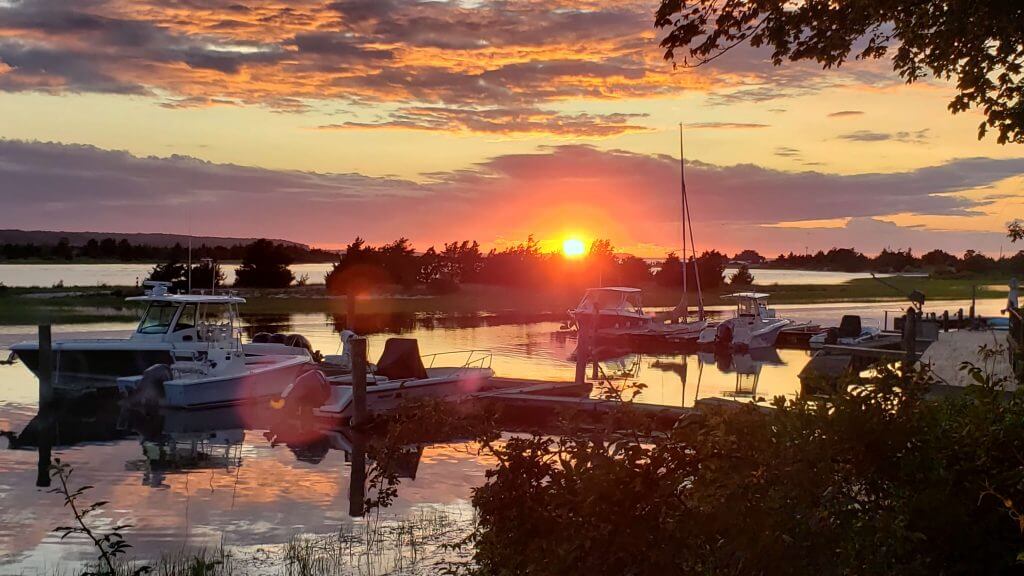 Everyone have a good Saturday and I'll catch you back here tomorrow.
Peace,
PH