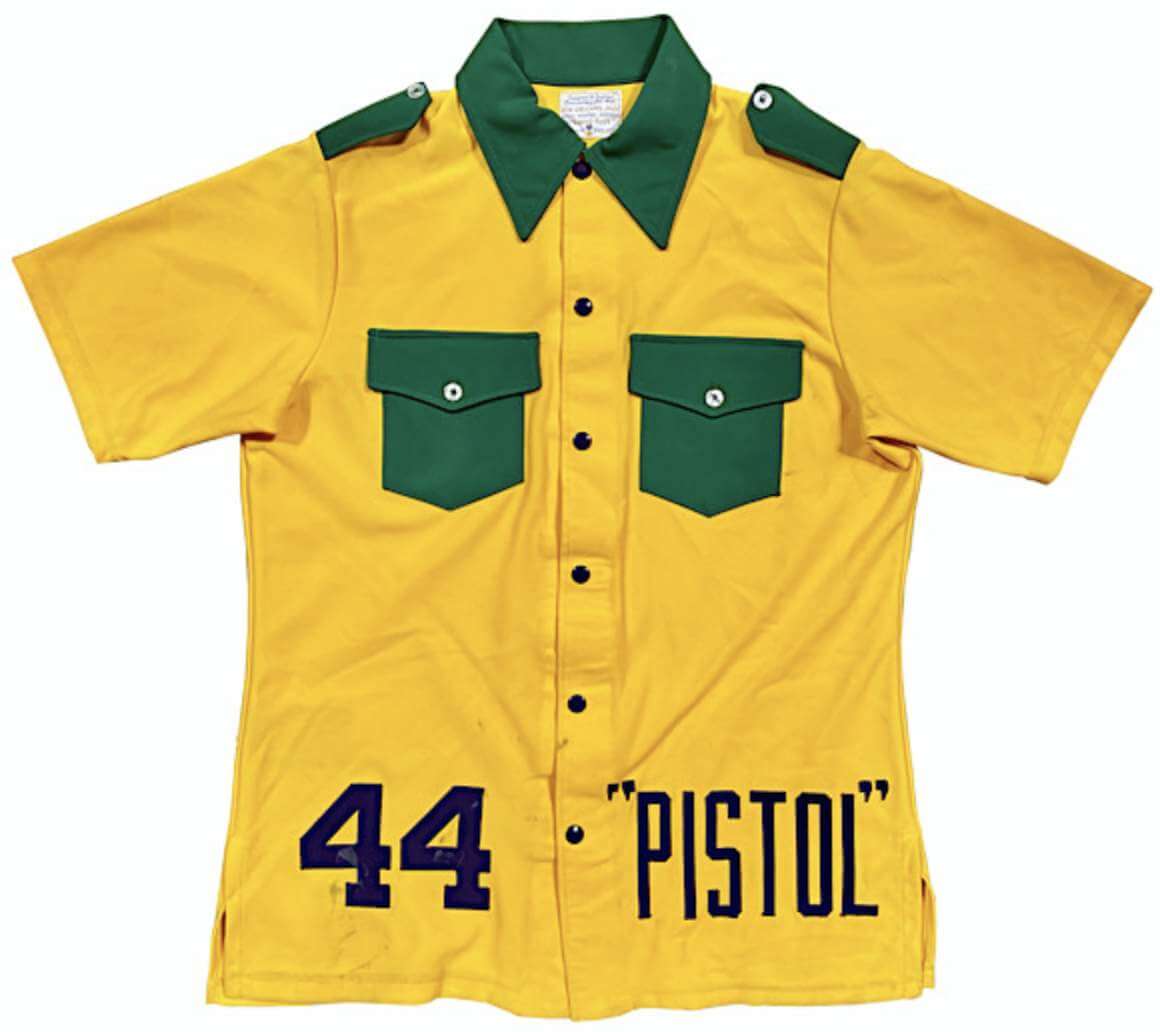 For all photos, click to enlarge
As you may have noticed in the left-hand sidebar, our friends at Grey Flannel Auctions have another catalog auction in progress, so today we're going to look at some of the more interesting items, beginning with this absolutely ridonkulous mid-1970s New Orleans Jazz warm-up top. Have you ever seen anything so wonderfully absurd? I mean, what the hell was the player supposed to keep in those pockets? It looks like a misguided Boy Scouts uniform or something. What a doozie!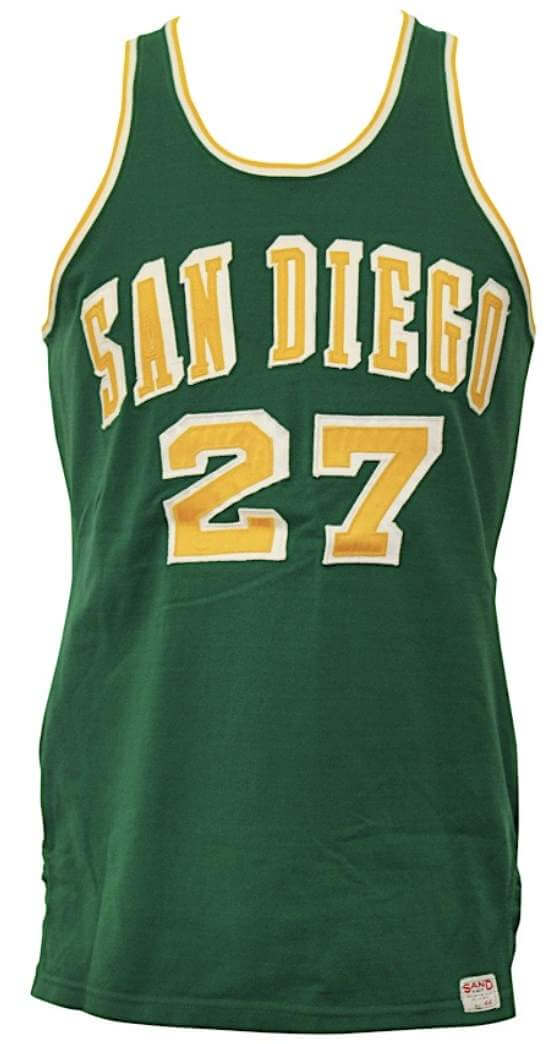 Here are some of the other items that caught my eye:
• I love the Uni Watch colors on this late-1960s
San Diego Rockets jersey, but check out the oddly inconsistent block-shadowing on both the front and back typography.
• It's always fun to see old Kentucky Colonels jerseys, because they were among the very few teams to include lowercase lettering on their NOBs. Some gamers are available here and here, plus there's a really nice set of warm-up gear, complete with the team's championship patch, here.
• There are a million game-used Michael Jordan jerseys floating around about there. But this one is different, because it's from a charity game arranged by Larry Bird.
• Interesting to see a Kareem Abdul-Jabbar Lakers jersey that doesn't have the hyphen on the NOB. But sure enough, he sometimes wore it that way on the court.
• Speaking of NOB peculiarities: Some people hate the use of first initials on NOBs, while others are okay with it. But I hope we can all agree that if you're going to include the initial and a period, you must include a space in between the period and the surname — unlike, say, the situation on this Andruw Jones jersey. I hate that!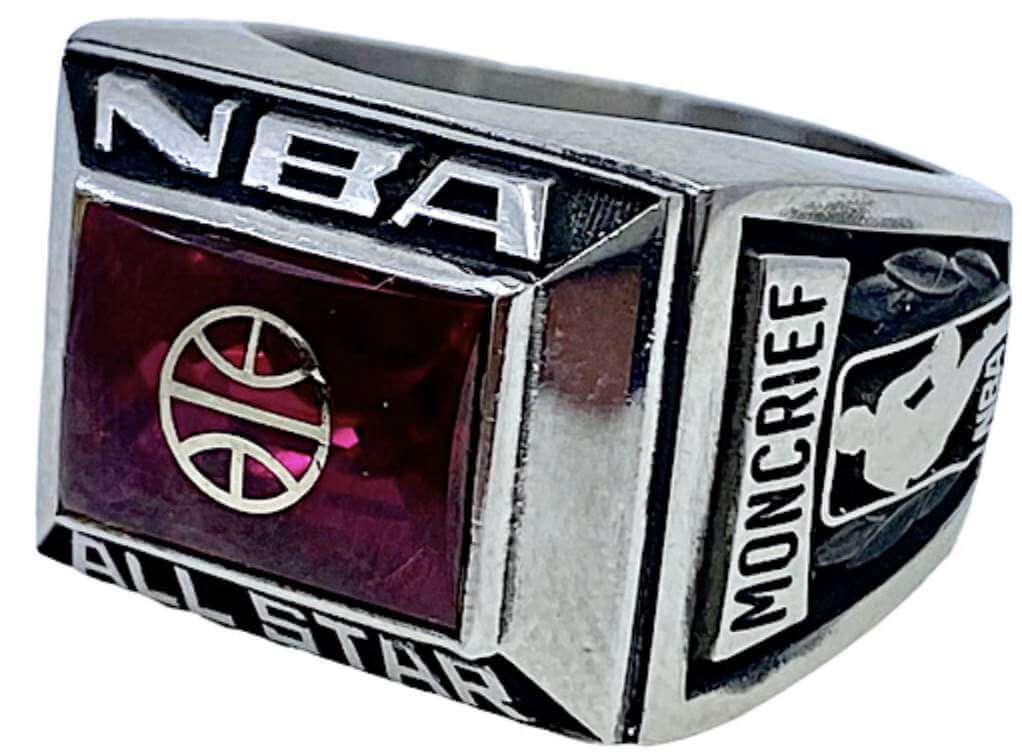 • Did you know NBA All-Stars receive rings? I didn't! Here's one from 1984 (shown at left) and from 1952.
• Speaking of rings, here's a really nice Mets ring that was apparently given to office staffers in the pre-Miracle 1960s. Shea on one side, Mr. Met on the other!
• What's better than a barber pole-striped 1992 NHL All-Star Game jersey? A barber pole-striped jersey that was worn by Wayne Gretzky!
• Not sure I've ever seen these up for sale before: two of Bear Bryant's famous hats.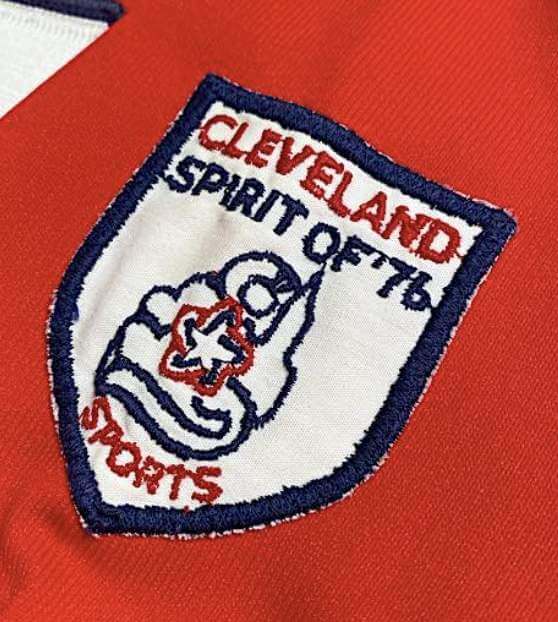 • This Frank Robinson jersey, from the period when he was managing in Cleveland, includes the rarely seen "Cleveland Spirit of '76" sleeve patch (shown at right).
• Here's a 1959-60 Philadelphia Warriors jersey. Definitely not a well-known design!
———
Want you see more? You can browse through the entire auction catalog here.
• • • • •
• • • • •
• • • • •
• • • • •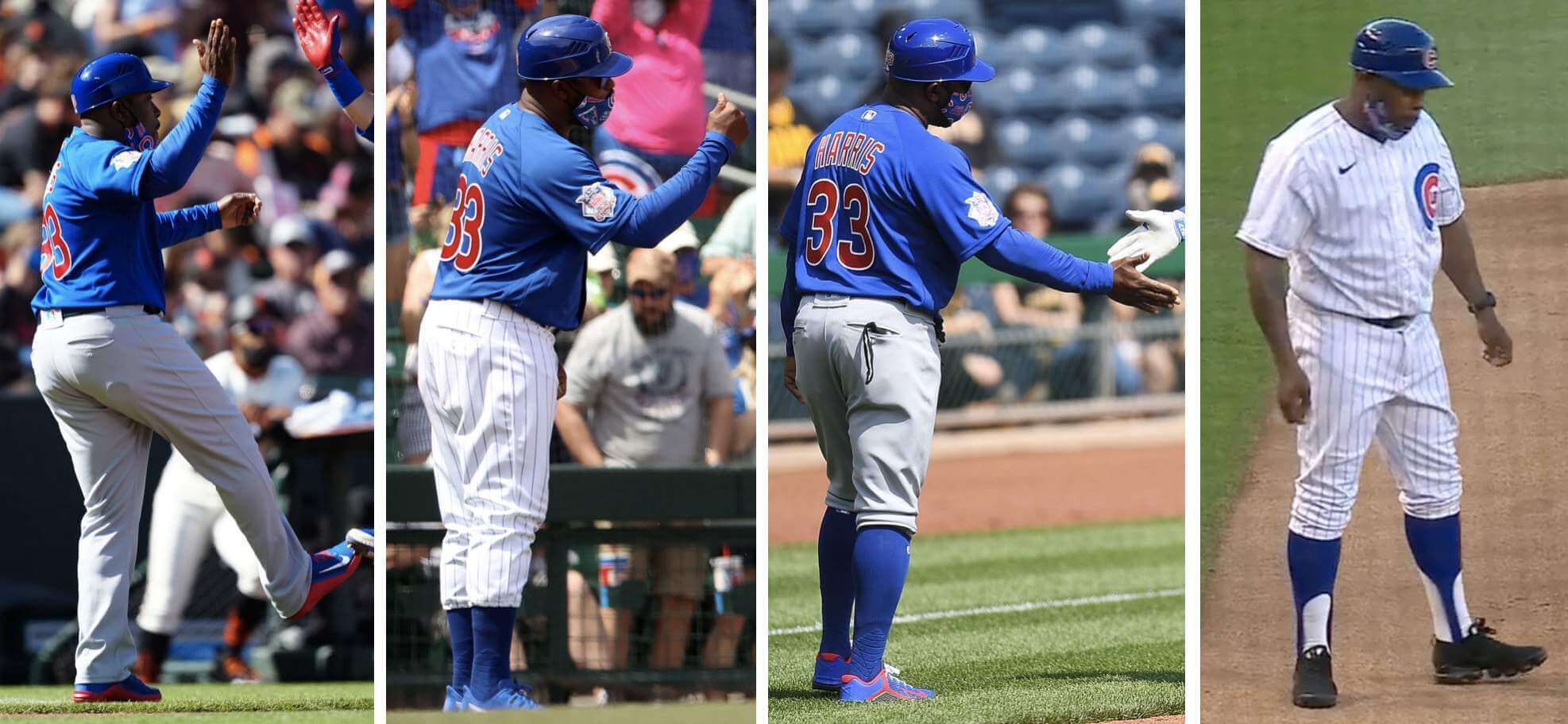 Click to enlarge
Cubbie coach: MLB coaches don't tend to vary up their uni stylings. But Cubs third base coach Willie Harris has sported at least four different pant/sock formats so far this season. He leads in the league in coaching uni variety!
(My thanks to Ron Roza for pointing out Harris's stirrups, which in turn led me down the Harris rabbit hole.)
• • • • •
• • • • •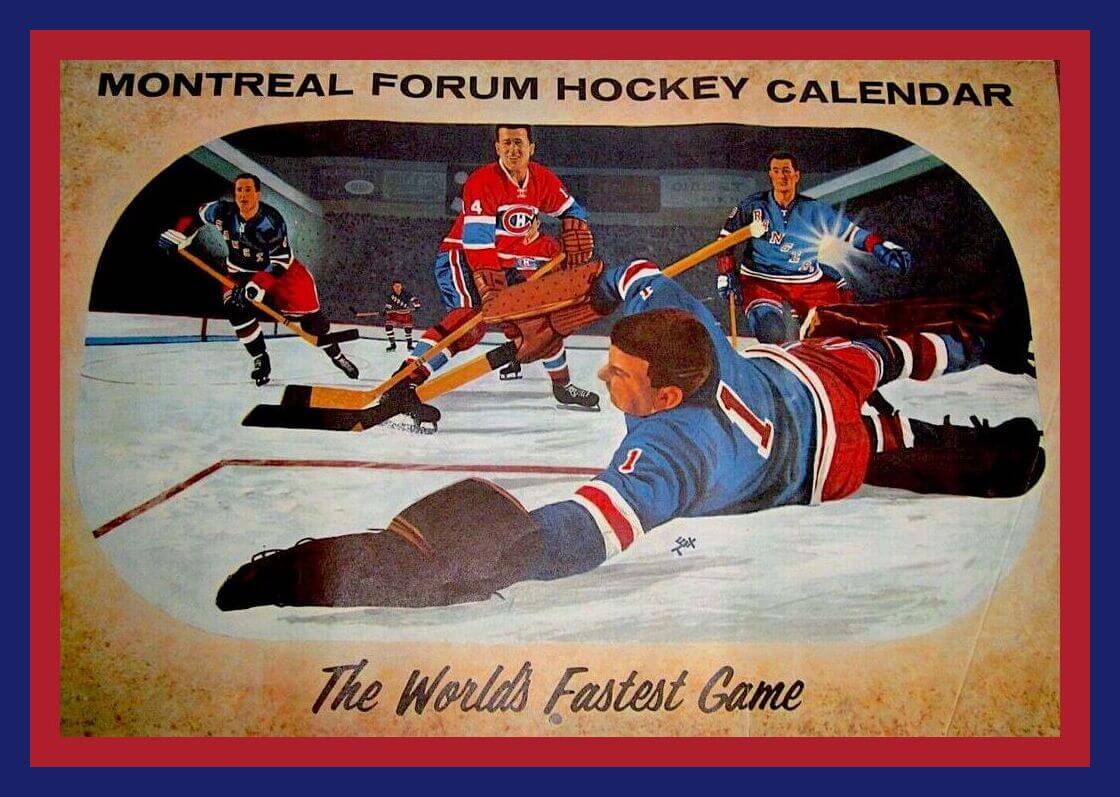 Click to enlarge
Collector's Corner
By Brinke Guthrie
Follow @brinkeguthrie  
Let's go back to the 1962-63 season for this Montreal (Canadiens) Forum Hockey Calendar. Some terrific artwork on this one! Also have one here for the 1964-65 season.
Now for the rest of this week's picks:
• What a great hockey promotion for McDonalds back in 2003 with this set of six NHL Trophies (including the Stanley Cup, of course). Look how detailed these are! You also get a display stand and 32 gumball goalie helmets.
• J-E-T-S Jets Jets Jets! Check out this set of four unopened New York Jets book covers — just 59 cents! Well, that's what they went for in 1971, anyway. 
• This 1950s Green Bay Packers beer stein is in great shape.
• How about this 1930s New York Yankees fountain pen and pencil set?
• Here's a nice-looking NHL hockey puck lamp of indeterminate vintage.
• This Pittsburgh Penguins Lucite hockey puck is from the 1972-73 season and says, "Many Thanks." Maybe it was given away at the last home game for a fan-appreciation promotion.
• Isn't the spacing on this 1970s-80s Felco Cincinnati Reds jacket just a bit off? 
• Detroit Red Wings fans, how 'bout this cute DIY/handmade needlepoint keychain?
• This Atlanta Falcons poster is part of the 1968 NFL Collector's Series. Says so right there on the bottom!
• Gonna go out on a limb here and say this "Pgh. Steelers Super Bowl Champs" coffee mug was unlicensed.
• • • • •
• • • • •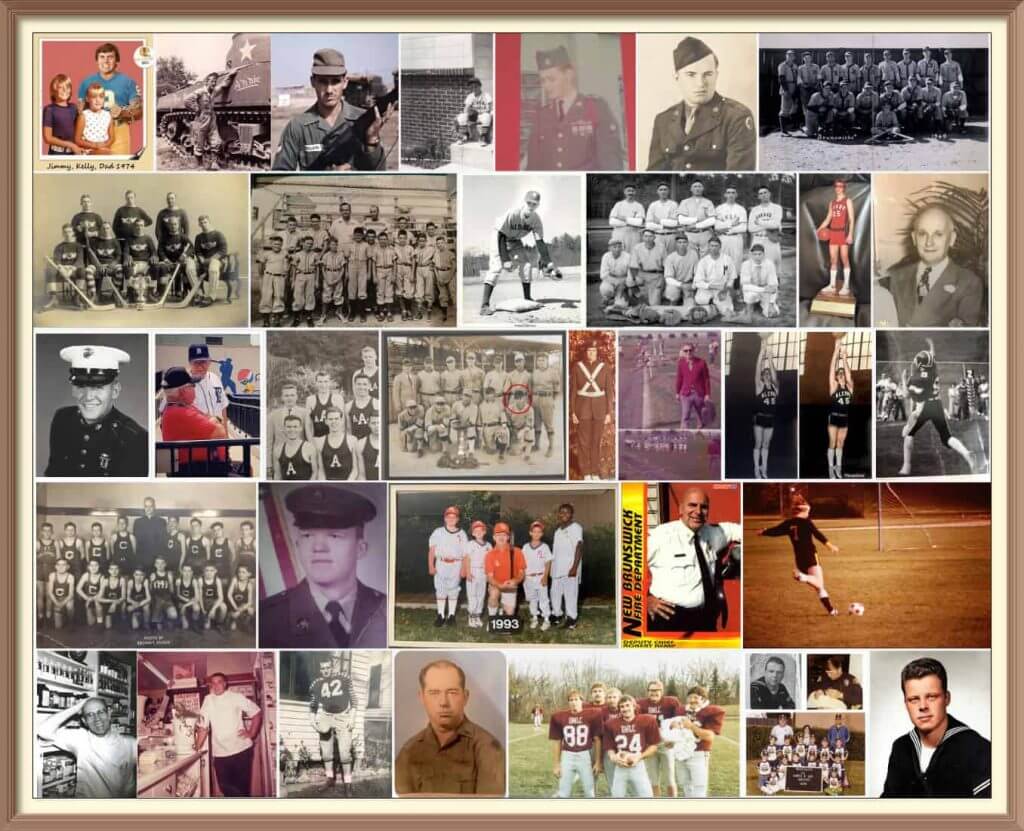 And now a few words from Phil: Phil here. Sunday is Father's Day, and I'll once again be posting photos of Uni Watch readers' "Dads in Uniform," an annual tradition that began in 2013. This is always a very special day on the site, and I'd love for as many readers as possible to participate — especially those of you who haven't done so before. A few of you have reached out to me saying "I've run out of photos of my Dad," so if you want to resubmit a photo that we've used before, please feel free to do so!
To take part in this annual tradition, select one photo of your father (or grandfather or uncle) in uniform (it can be sports, military, work — as long as it's a uniform) along with a short description of 100 words or fewer. Then email your description along with the photo — again, only one, please — to me by by this Thursday, June 17, midnight Eastern. I'll run all of the submissions this Sunday. Thanks!
• • • • •
• • • • •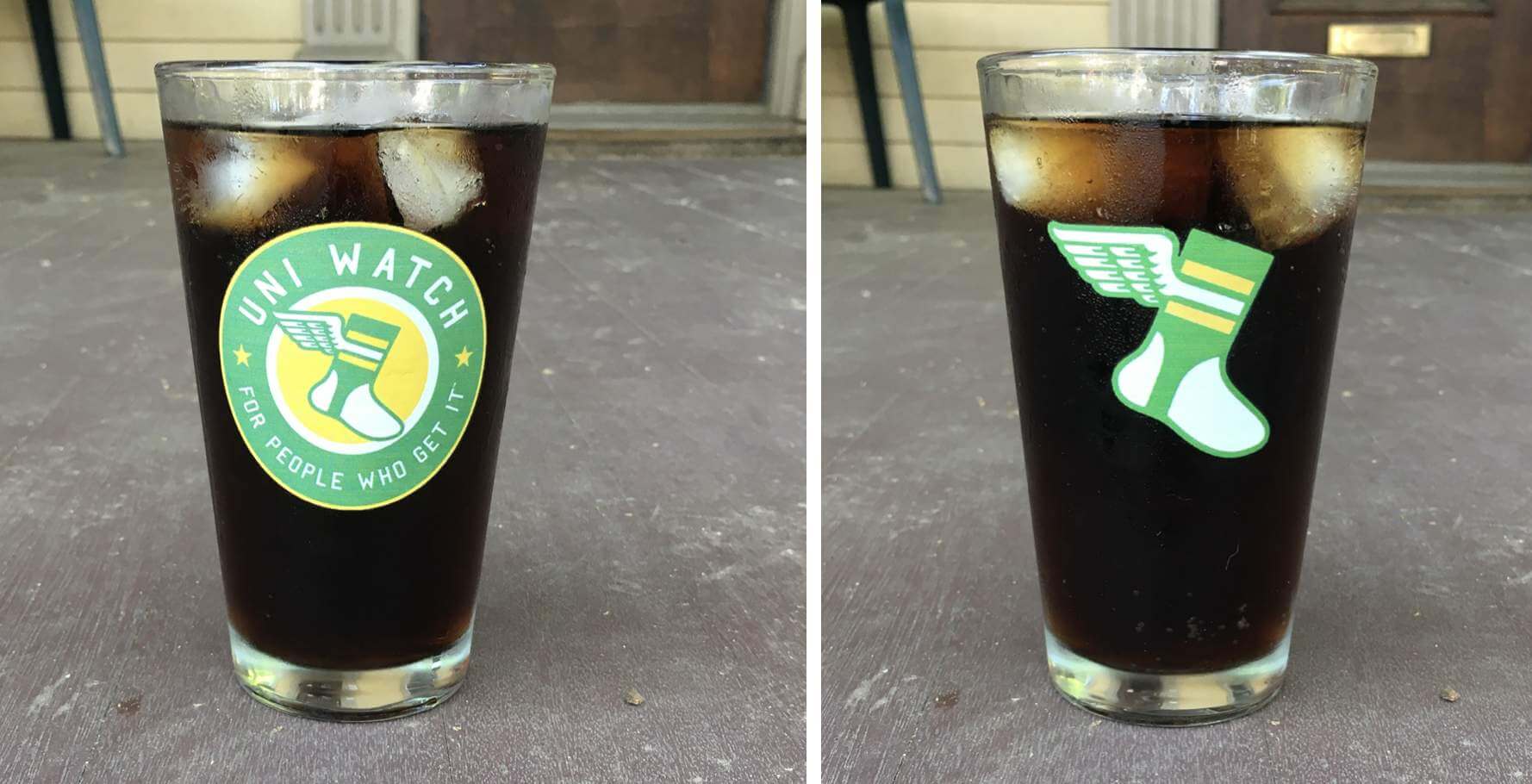 Click to enlarge
ITEM! Possible new product: For years I've wanted to offer Uni Watch pint glasses. Two things have kept me from doing that: First, most places that offer custom glasses have fairly large minimum orders. And second, I really didn't want to deal with stocking and shipping lots of fragile glassware.
So I was excited when Teespring recently told me that they were adding pint glasses to their print-on-demand product line. It seemed to solve both of the problems — the on-demand aspect would eliminate the need for minimum quantities, and Teespring would handle the fulfillment.
So I created myself a sample glass with our round logo on one side and the winged stirrup on the other. As you can see above, it looks good. But here's the thing: If you look closely, you can see faint little horizontal white lines running through the logos, sort of like what you'd get with an inkjet printer. That's because Teespring is digitally printing the logos, not screening them. Here's what I mean: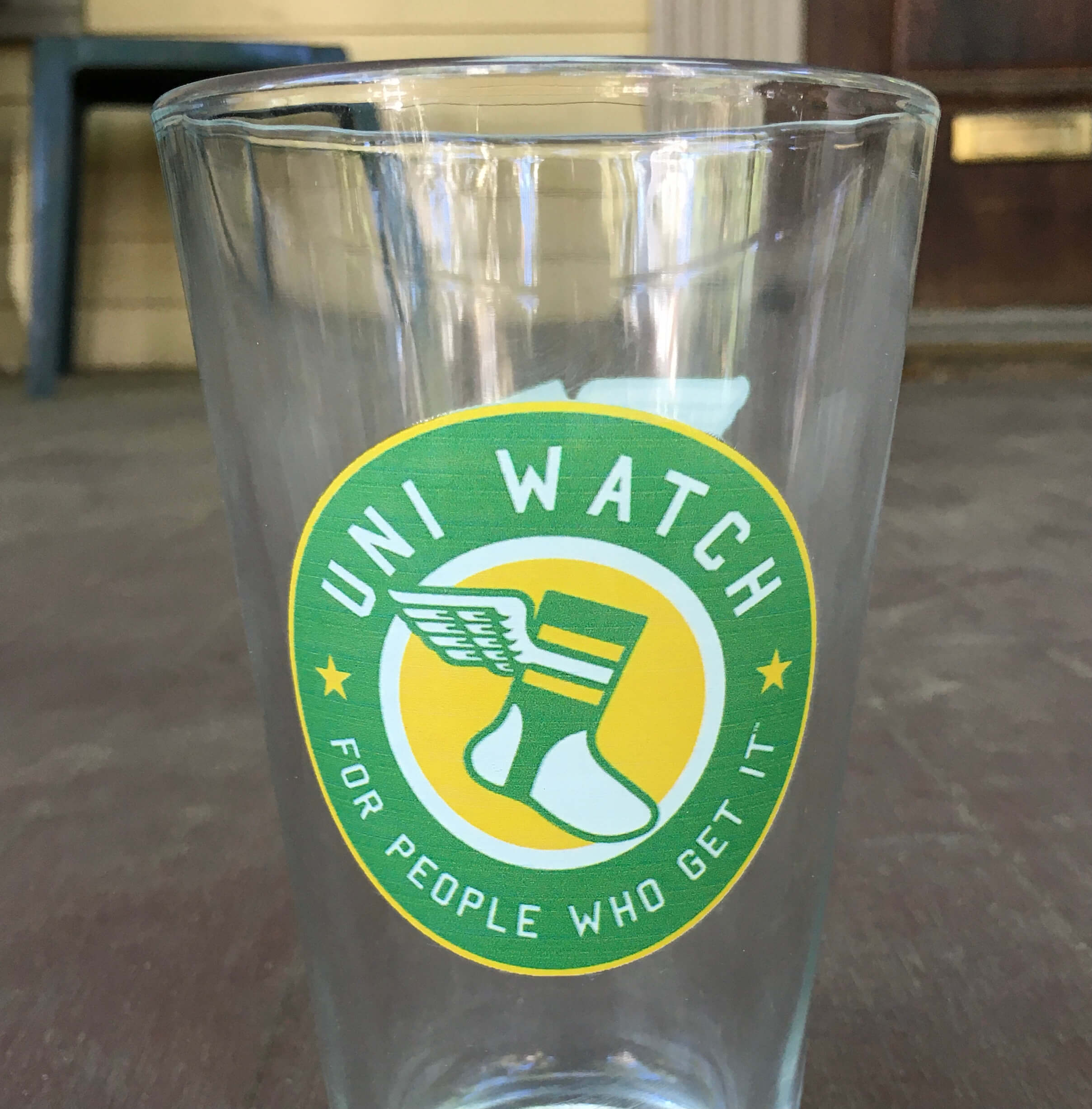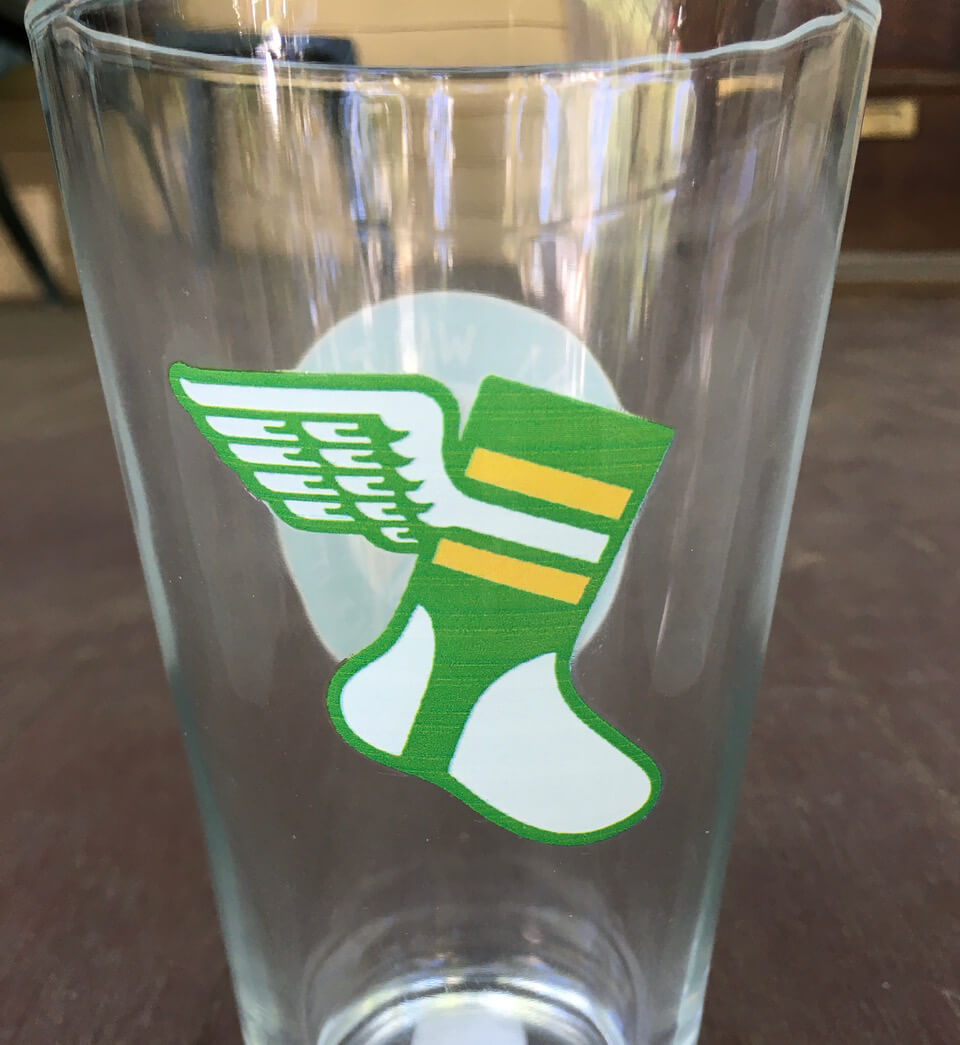 I was hoping this might be a glitch, so I talked to my Teespring rep, who arranged to send me a new sample — same thing. So this appears to be the nature of the beast.
On the one hand, it's not terrible. You have to hold the glass really close to your face to see the little lines, and the lines are less discernible if there's liquid in the glass. Honestly, it looks worse in those photos than it does in real life.
On the other hand, it's definitely not Perfect, and I want to be as transparent as possible with you folks regarding the product quality. What do you think — would you be interested in this glass, even with the digital printing? (The price would likely be $18-ish.) Thanks in advance for your feedback.
(As an aside: I'm trying to keep life as simple as possible these days, so I'm not really interested in finding another source for the pint glasses. For now, it's Teespring or nothing. Thanks for understanding.)
• • • • •
• • • • •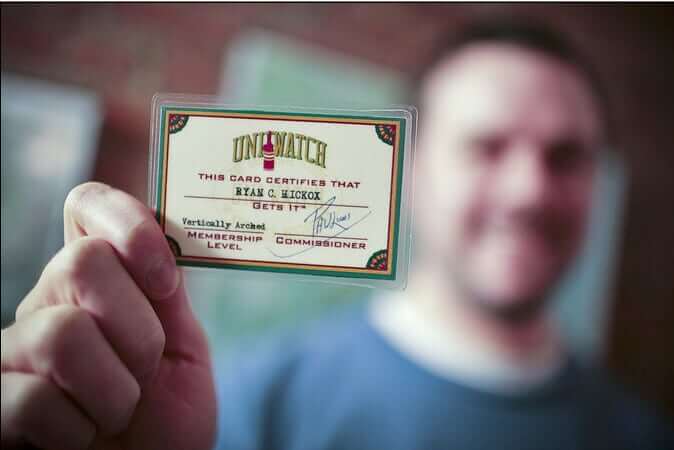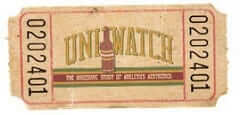 ITEM! New raffle: It's been a few weeks since we raffled off a membership card, but reader James Flagg has generously donated one for me to give away, so that's what we're going to do today.
This will be a one-day raffle. No entry restrictions. To enter, send an email to the raffle in-box by 8pm Eastern tonight. I'll announce the winner tomorrow. Thanks to James for sponsoring this one!
• • • • •
• • • • •

Click to enlarge
Cap update: We've sold so many Uni Watch caps over the past four days that we've run out of shipping boxes! We have more boxes on the way, but orders placed over the next few days may not ship out until this weekend or next Monday. Thanks in advance for your patience.
Here's what we have left, broken down by size:
7: 1 cap
7-1/8: 1
7-1/4: 6
7-3/8: 4
7-1/2: Sold Out
7-5/8: Sold out
7-3/4: 6
7-7/8: 6
8: 2
Adjustable: Sold out
Once they're gone, they're gone! So if you want one (or more than one), get your order in now.
• • • • •
• • • • •
The Ticker
By Alex Hider

Baseball News: Beginning tomorrow, the Phillies will start wearing their red spring/BP jerseys sporadically on the road. Players, including OF Bryce Harper, have been lobbying to wear them in games (from Matt Breen and Joe Mays). … Lots of player/team logo errors with this graphic that aired on MLB Network yesterday (from Dave Holz). … Speaking of graphics, SNY used a logo the Angels haven't used since 2004 in a graphic yesterday (from Jake Elman). … MLB yesterday formally unveiled this year's Independence Day caps, although friend of the site Chris Creamer had the scoop on that a few weeks ago (thanks to all who shared). … Subscriber exclusive: Cleveland.com examines some of the difficulties Cleveland's baseball team faces in renaming the club (from Pete Gill). … The Altoona Curve, the Pirates' Double-A affiliate, will play as the Altoona Brookies from June 25-27 in a fishing-themed promotion (from Matthew Lourdeau). … The Somerset Patriots, the Yankees' Double-A affiliate, had a recent BBQ apron giveaway ahead of Father's Day (from John Cerone). … The new Oconomowoc, Wis., team in the independent American Association in will be called the Lake Country DockHounds and will play in a new ballpark slated for completion in 2022 (from Kary Klismet). … Notre Dame wore white as the visiting team during a NCAA tournament game last night. Mississippi State wore red as the home team (from Chris Mycoskie). … Gwinnett County in Georgia is named after Button Gwinnett, one of the signers of the Declaration of Independence. So on July 9, the Triple-A Gwinnett Stripers will wear jerseys featuring his signature as the chest insignia.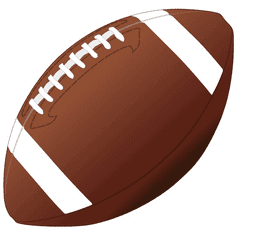 Football News: A Vikings blog has ranked the team's various uniforms through the years (from Kary Klismet). … Although the Falcons have not officially retired No. 10 for former QB Steve Bartkowski, they recently blocked WR Russell Gage from wearing it. … Georgia Tech appears to have added an "ATL" logo to its front helmet bumper (from @TheLumberJacket).

Hockey News: Niagara Falls was lit up in Canadiens colors on Sunday night in honor of the team's postseason run (from Wade Heidt). … Looks like Memorial Healthcare may have poached their 100th-anniversary logo from the NHL's 100th-anniversary patch, which all teams wore in 2017 (from @Nas_160).

Basketball News: According to this blog post, the Knicks played their best basketball in 2020-21 in their white "Association" uniforms (from Phil). … New jerseys for both Japan and the Philippines. The teams will wear those during the FIBA Asia Cup (from Jeremy Brahm and @marcomanipon). … Mountain View High School in Virginia — a school that was formerly known as Stonewall Jackson High School — has a new midcourt logo to match the school's new name (from Kary Klismet).

Soccer News: Costa Rica has a new dark blue 100th-anniversary shirt. Jamie Rathjen notes that the women's team debuted the kit Sunday and that the men's team will wear it first next month at the Gold Cup. … Also from Jamie: Here's next season's Premier League ball. … The next three items are from Kary Klismet: The Crew have unveiled their championship rings from their MLS title last season. … FC Tulsa of the USL Championship has unveiled a new jersey featuring design elements inspired by a mural project at a local public middle school. … MLS expansion club St. Louis City SC has released new renderings of its planned stadium. … New kit outfitter for top-level Spanish club Cádiz, which is switching from Adidas to Macron next year (from Jonathan Sluss). … New home and away uniforms for Czech First League club AC Sparta Prague (from Ed Żelaski). … Mike Pendleton notes that Fox Sports used three different scorebug styles in a 24-hour span during Copa América coverage. …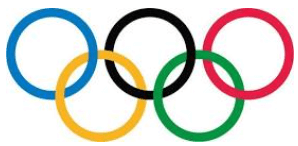 Olympics News: Great Britain has unveiled their opening and closing ceremony uniforms (from Phil).
.

Grab Bag: Ever wonder where mascot costumes are made? Many of them are created by a small business in Marion, Ohio (from Kary Klismet). … Prada is selling a $995 volleyball for some reason (from @bryanwdc). … The next three items are from Timmy Donahue: The Air Force has officially added camouflage ballcaps and green coveralls to its uniform (also from Sean Gierke). … New badge design for the Laredo Police Department in Texas. … The Manly Warringah Sea Eagles of Australia's National Rugby League have a new stadium advertiser. … The PRO14 — an annual rugby union competition involving professional sides from Ireland, Italy, Scotland, South Africa, and Wales — will now be known as the United Rugby Championship.