Here's a bizarre item that I missed over the weekend: During Sunday's NCAA Regionals game between Arizona State and Fairfield, with the Sun Devils batting and runners on second and third, a pitch sailed past the Fairfield catcher's mitt and struck the plate ump in just the right spot so that it plunked into the chest pocket of his jersey.
As you can see in the video above, much hilarity then ensued. At first nobody seemed to know where the ball had gone. Then, once everyone realized that the ball was in the ump's pocket, everyone started wondering which provision in the rulebook — if any — would apply to a situation like this. Was it a dead ball? A wild pitch? Something else?
Here's another angle:
Still trying to comprehend this pic.twitter.com/eRt2rV58hV

— Sun Devil Baseball (@ASU_Baseball) June 6, 2021
The ump ultimately ruled that it was a wild pitch and that both runners were therefore entitled to move up one base, Correction: The rule is that a ball lodged in the ump's equipment is a dead ball with all runners moving up a base, which meant Arizona State scored a run on the unlikely play. But Fairfield ended up winning the game, ending State's season.
More than any other sport, baseball tends to have incidents of balls ending up lodged inside the uniforms (although usually it's the players' unis, not the umps'), mainly because it's the only major sport with button-front jerseys. Here's a really fun video compendium of MLB players who ended up with a batted ball inside their jerseys — fielders, mostly, although the first example on the video involves a batter who ended up wearing his own foul ball:
Most of those involve ground balls. But here's an even stranger one, involving a line drive hit back to the pitcher:
Some people no doubt view these types of plays as good arguments for eliminating button-front jerseys and replacing them with pullovers. Personally, I see it the other way around: Plays like these, embarrassing as they might be for the fielders involved, are so much fun that they form a strong argument in favor of button-fronts. Imagine if all the players in those video clips had been wearing pullovers. Wouldn't you rather live in a world where unusual plays like that can take place? I sure would.
There have also been instances of a batter being hit by a pitch that ended up in his jersey. One that I remember very clearly, because I was watching on TV when it happened, took place on April 23, 1992, when a pitch hit Mets outfielder Daryl Boston in the belly and somehow ended up in his jersey. The bases were loaded in the bottom of the 13th inning of a scoreless game at the time, so Boston retrieved the ball from his jersey, flipped it to the ump, and trotted to first with one of history's most unlikely game-winning RBIs.
I couldn't find video of that incident (or of any other pitches that lodged in batters' jerseys, alas), but here's a newspaper account that ran in the following day's New York Times: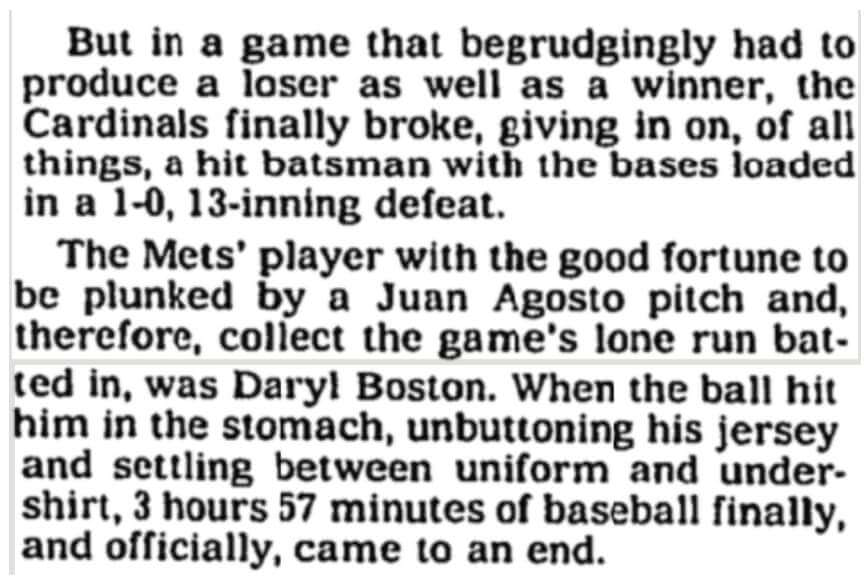 Until now, though, I'd never see a ball lodge in an umpire's jersey — nor would I have thought that such a thing was even possible, given how small the umps' jersey pockets tend to be. I bet you could try to duplicate the result of that Fairfield pitch a thousand times without being able to do so. A genuine one-in-a-million fluke!
Also: As you may recall, last Friday I wrote about the phony story that Steelers coach Bill Cowher has been telling about the time he stuffed a photo in an NFL ref's pocket. That means two of my last blog posts have been about sports officials' jersey pockets. That's probably another million-to-one shot!
(Super-duper-thanks to our own Brinke Guthrie for bringing the pocket-pitch incident to my attention yesterday.)
• • • • •
• • • • •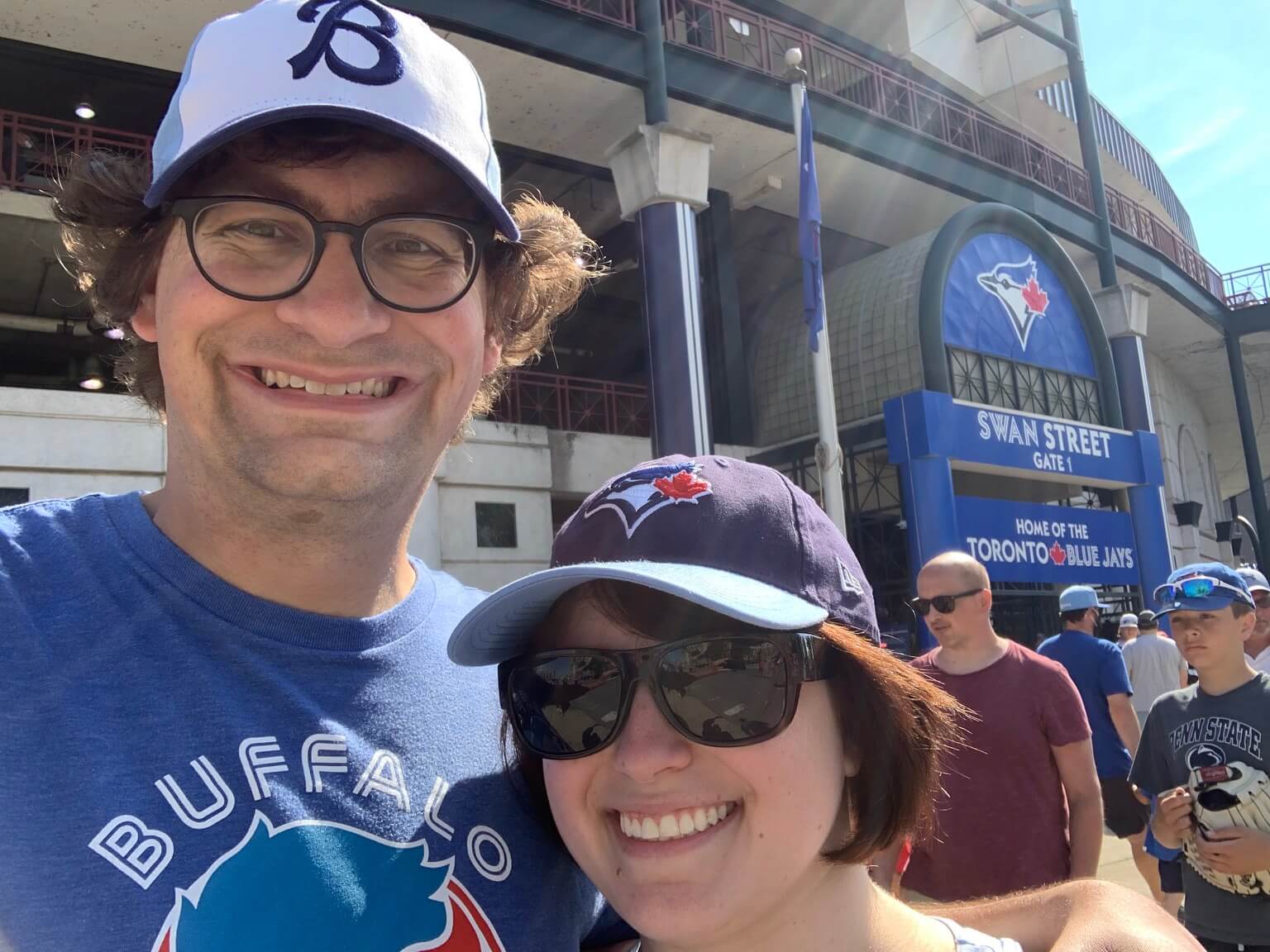 Click to enlarge
Buffalo ballpark report: With the Blue Jays recently shifting their home games from Dunedin, Fla., to Buffalo — and with fans permitted to attend the Buffalo games, unlike last season — Uni Watch reader Brad Loliger and his wife took in Sunday's Jays/'Stros game. "It's wild to see what they've done to the stadium," he says. "The renovations are incredible."
In addition, Brad has this very interesting report:
The in-stadium experience was different from any other sporting event I've gone to, relative to advertising. Yes, there are ads for Canadian companies on the outfield walls. But as far as I could tell, there were no jumbotron commercials or PA announcements shilling products — no "2nd inning replays brought to you by Tim Hortons" or "Molson Canadian, the official beer of the Blue Jays" or "Blue Jay Trivia Brought to you by Hudson Bay Co."

During stoppages in play, they just played music and showed the Blue Jays logo on the screen, or played a montage of Blue Jays clips. No games with the fans in the stands, no promos. It allowed you to just focus on the game!

I'm guessing this was because the in-stadium advertisers would be Canadian companies and fans in attendance would not be able to buy from said companies? In any event, it was very refreshing, and just a really neat thing to notice — I loved it.

I'm wondering if any other Uni Watch readers have gone to Blue Jays games in Buffalo and noticed the same thing..?
Interesting! Again, this didn't come up when the Jays played in Buffalo last year because fans weren't allowed to attend. Sounds like Buffalo might be the best place to enjoy an MLB game this season! The Jays will be playing there at least through July 21.
• • • • •
• • • • •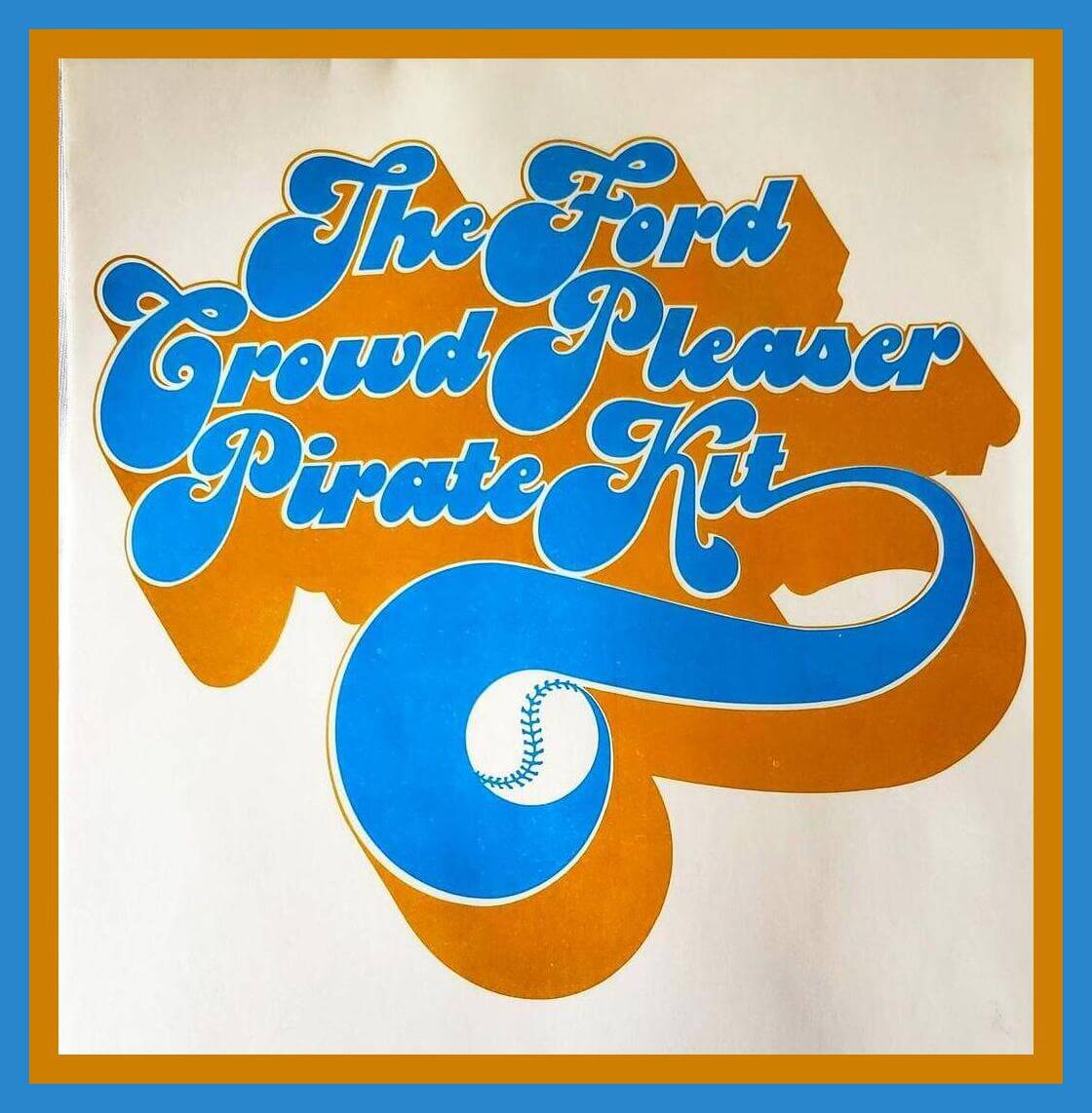 Click to enlarge
Collector's Corner
By Brinke Guthrie
Follow @brinkeguthrie
Holy flashback fonts, Batman! Love the 1970s graphics on the cover of this  Ford Crowd Pleaser Pirate Kit where you can "Back The '75 Drive" for your hometown Pittsburgh Pirates. It includes a team photo, bumper sticker, and pocket schedule. A bit strange that wasn't this done in, you know, yellow and black, but Bucs fans could snag one of these at their local Ford lot.
Now for the rest of this week's picks:
• These little team-branded paper bags from 1956 contained metal player figures for Eagle brand tabletop hockey games. The bags were for Detroit, Montreal, Boston, New York, and Toronto.
• The box cover text for this 1968 baseball card game Solo Ball is terrific. "Wholesome Entertainment and Fun for Baseball Fans of All Ages!" "Enliven Your Leisure Time for Countless Hours!" 
• Speaking of baseball games, this one goes back to 1906. Parker Brothers made this one, called College Base Ball. Dig some of the instructions: "The club 'at the bat' begins by placing a man on 'home base.' The player 'at the bat' throws the dice and places a man according to the throw of the dice as shown upon the board." 
• "Greetings From Magnificent (We Hope) Dodger Stadium," reads this 1964 postcard sent to the Lenneherr family of San Francisco. "The World's Most Beautiful Baseball Park" has indeed held up well through the years.
• A cartoon caricature of hockey great Gordie Howe in his Houston Aeros WHA uni graces this 1974 Little Caesar's calendar. And hey, a buck-off coupon for a large "Square Shooter" pizza comes with it.
• Amazin' cover art for this commemorative record album of the 1969 World Series-winning Miracle Mets. Made by Fleetwood, naturally.
• Nice artwork on this set of two Kansas City Royals Pizza Hut/Pepsi placemats commemorating the team's run of 1970s Western Division titles. 
• Couple of Big Apple baseball bumper stickers here: one for the Yankees ("Yankee Fan! Oh What a Feeling!' From your Tri-State Toyota Dealers") and one for the Mets ("I Was There at Tom Seaver Day — July 24, 1988," from WFAN).
• The Brewers' "MB" ball glove logo is shown in all its glory on at least two of these 1982 Brewers seat cushions.
• The "Sharktooth" design is the template for this 1990s Buffalo Bills NFL Pro Line Parka from Logo Athletic.
• • • • •
• • • • •
The Ticker
By Alex Hider

Baseball News: The Cubs' City Connect jerseys had already leaked, and now the caps have appeared on New Era's website. … Ump watch: Ed O'Brien notes that Marvin Hudson, working second base yesterday in the Marlins/Red Sox game, had a cross dangling from his back pocket. … Here's more on the Pride uniforms that the Giants wore over the weekend (from Phil). … Reds 1B Joey Votto has been doing a rehab stint at Triple-A Louisville. While he's been wearing the typical minor league double-flapped helmet, he's still wearing his Reds logo socks. … This animated chart tracks the Twins' all-time franchise leaders in wins above replacement. … Cleveland.com has an in-depth piece with opinions on how the city's baseball team should handle its name change (from @spiders_six). … Here's how some MLB mascots would look on a ballcap (from @OspreysFB). … Teams are only slated to wear City Connect uniforms a few times each year, but the White Sox radio team indicated during Saturday's game that the Sox plan to use theirs as a full-fledged alternate moving forward (from Kary Klismet). … Also from Kary: The city of Katowice, Poland, is building a new baseball stadium that will serve as the home field for the local Rawa Katowice club. … New caps for the New Jersey Jackals of the independent Frontier League (from John Cerone). … The Richmond Flying Squirrels, the Giants' Double-A club, will wear '50s/'60s fauxbacks this weekend (from Rob Larson). … Chris Mycoskie notes that the Big South Conference sleeve logo on Campbell University's uniforms is massive, and according to Mike Miller, it's not even current! … This photo slideshow has plenty of great old baseball pics from 100 years ago — the 1921 season (from Dell Michaels). … Hmmm, Seminoles or Semimoles? That's what happens when you split letterforms across the placket (from Joseph Tanner).

Pro Football News: Apparently, not all of the phantom Packers Super Bowl XXXII champs gear made it out of the country. The Pack lost to the Broncos that year (from @deggyfresh). … Cardinals DE J.J. Watt was wearing a practice uniform with a different color collar than the rest of his teammates during a recent practice (from @TruColorNet). … We have our first look at 49ers rookie QB Trey Lance in his new home uniform (from Phil). … Back in 2014, the CFL's Ottawa RedBlacks were slated to wear a plaid helmet to match a jersey with plaid elements on the field. The checkered lids never showed up on the field. This blog unravels the mystery behind the helmet that never saw the light of day (from Kary Klismet).

College Football News: Several Florida players posed for a photo in Gators basketball jerseys at a recent practice (from @fillupg1). … Pitt has released a limited-edition bobblehead of alum Aaron Donald, though it depicts him wearing a uniform he never wore with the team (from @Angelsand182). … Texas A&M has added white trim to its sleeve cuffs on the maroon jerseys (from Connor Russell).

Hockey News: Pandemic protocols meant the medal ceremony for the IIHF World Championship finals looked a bit different on Sunday. Team captains and management gave out medals, as opposed to tournament officials. "The NHL Network announcers, understanding of the situation, seemed to be in favor of the team-centric presentation model going forward," John Muir said. … The Manitoba Junior Hockey League club in Neepawa announced earlier this year it was moving away from an Indigenous nickname and logo it had used for several decades. Yesterday, they unveiled their new team name — the Titans (from Michal Grajewski).

Basketball News: Former NBA player and coach Steve Alford has a hotel in his hometown of New Castle, Ind., that includes tons of photos of of him — including one photo in which he's wearing his shorts backward (from Mark Montieth).

Soccer News: Norwich City, which will compete in the Premier League this upcoming season, has switched from one gambling jersey ad to another. But supporters criticized the deal when they found out the new advertiser used NSFW content to promote itself (from our own Jamie Rathjen). … Spotted at Sunday's match between U.S. and Mexico: a fan wearing a rare U.S./Mexico frankenjersey (from Ben Hagen). … Here are all the new 2021 uniforms in the Canadian Premier League (from Wade Heidt).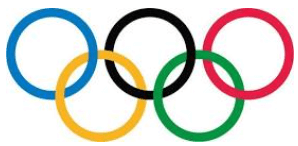 Olympics News: Former U.S. gymnast Dominique Dawes is calling for a change in uniforms across the sport that will de-emphasize the sexualization of its female athletes (from Phil). … Here are the podium designs and medal-presentation uniforms for the upcoming games (from Jeremy Brahm). … Here's the medal design for the 2020 U.S. Olympic team track and field trials (from David Wiechmann and Timmy Donahue).

Grab Bag: The next three submissions are from Kary Klismet: New logos for The Sun Conference of the NAIA (also from Timmy Donahue). … Spokane, Wash., has approved a new downtown multi-use stadium. … DC Comics' Shazam! family of superheroes is getting new uniforms for the Shazam! 2 movie. … Dr. Derek Gragg was introduced as Northwestern's AD yesterday. John Muir notes that while Gragg was wearing a purple tie, there were several shades of purple visible at the introductory press conference. Gragg was also presented with a customized football jersey with No. 23, as he's the school's 23rd AD. … With another college sports season (almost) in the books, Clint Richardson of the Auburn Uniform Database has published his annual review of all the uniforms worn by the Tigers' athletic teams in 2020-21. … Baylor University has purchased advertising at a local Topgolf location in a deal that's being called "reverse sponsorship" (from Timmy Donahue).