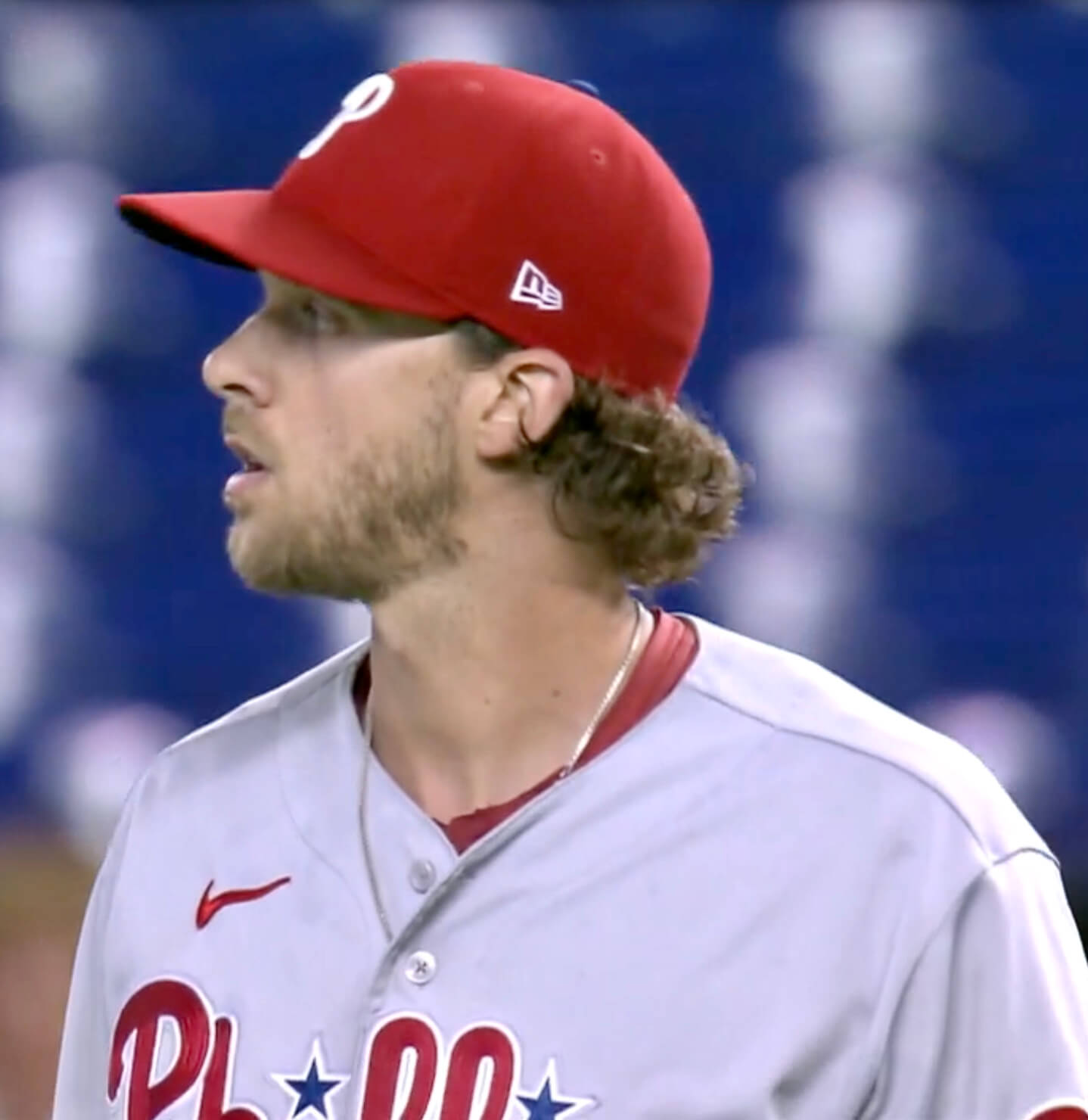 Phillies pitcher Aaron Nola started last night's Phils/Marlins game in Miami. Judging from the screen shot shown above, you might think nothing was amiss with his uniform — and that's exactly what made it so uni-notable. It marked the first time this season that Nola has had the annoying New Era maker's mark on his standard red Phillies cap.
This is a little drama I've been following all season long. It began on Opening Day, when Nola's cap was blissfully free of logo creep: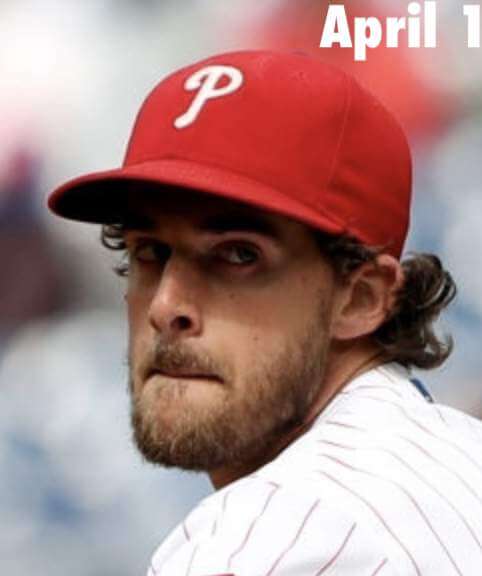 I noted the logo omission in my Opening Day roundup the following day but didn't think too much about it. There were too many other late-breaking uni moves to keep track of.
Nola's next start was on April 7. It was an afternoon home game, so the Phillies wore their cream alternates with the blue caps. This time Nola's logo creep was present and accounted for: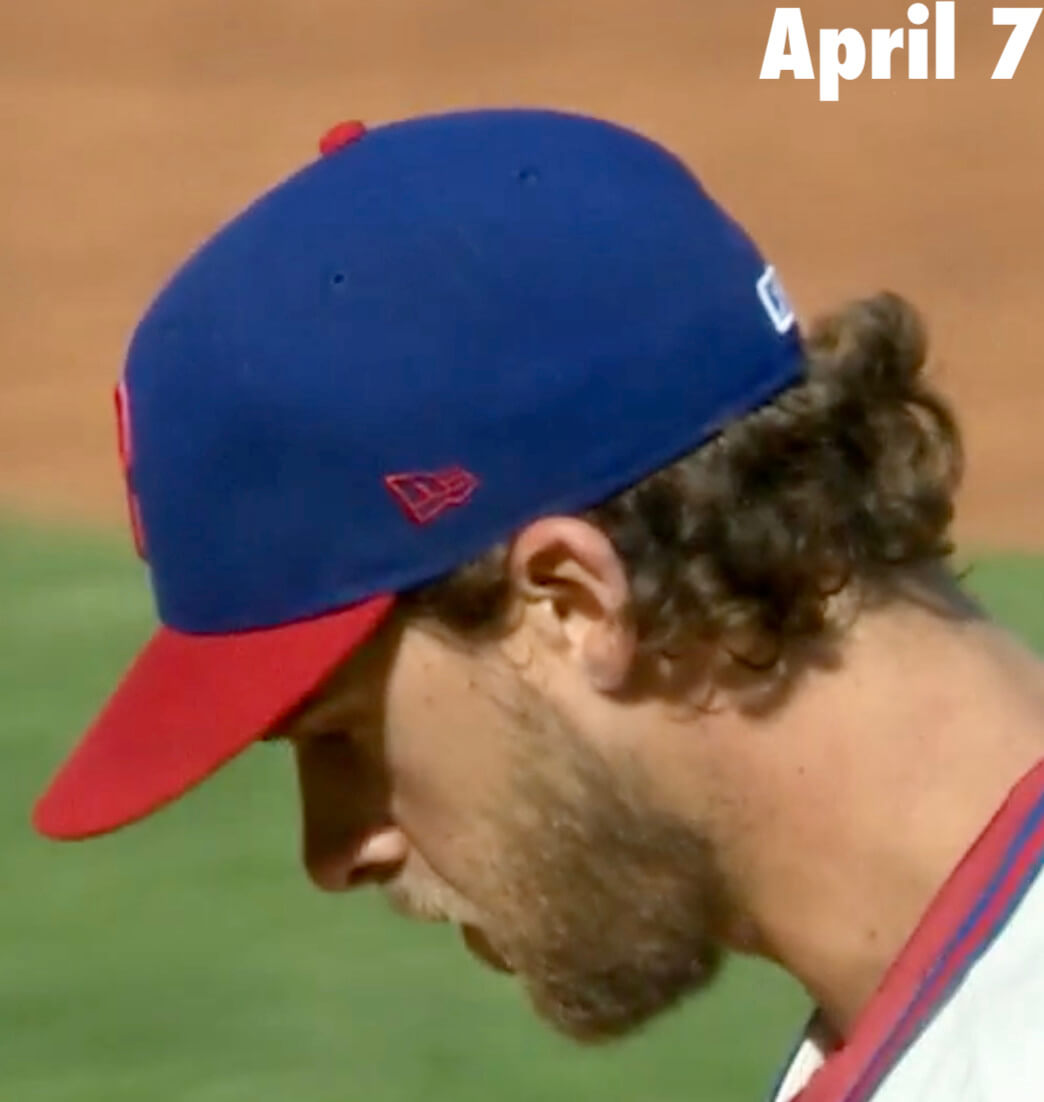 Nola next appeared on April 13 — a road game, so he wore the Phils' standard red cap. And it must have been the same one he'd worn on Opening Day, because it was logo-free: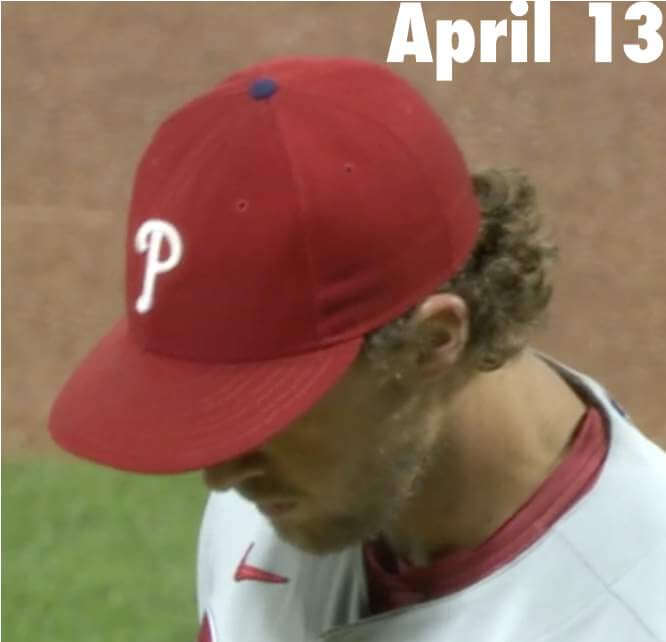 At this point I was officially intrigued. Did Nola have a lucky red cap? If so, was it an old cap that he'd been wearing for years? I checked photos from previous seasons and found that his caps routinely had the New Era logo in 2020, 2019, 2018, and 2017. Hmmmm.
I thought about contacting the Phillies and asking them. But I figured if I did that, they'd just make him start wearing a new cap and all the fun would be over. So I decided to wait.
Nola's next start, on April 18, was another afternoon home game, so it was back to the blue cap and the logo creep: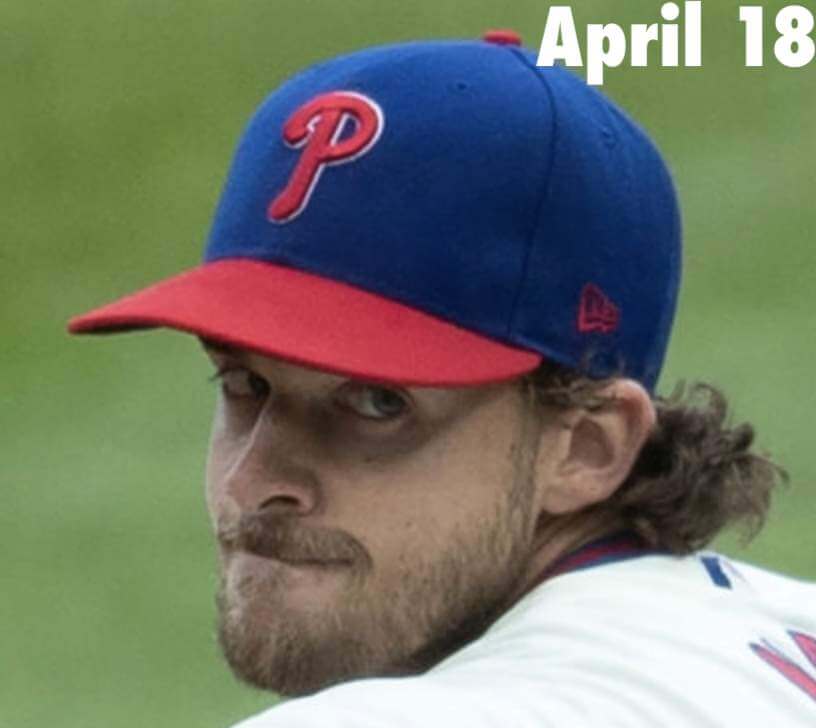 By this point I was charting out when Nola's next starts would be. I saw that his next outing would be on April 24 — a road game, so he'd be wearing the standard red cap. Would it once again be logo-free? Yes! Look: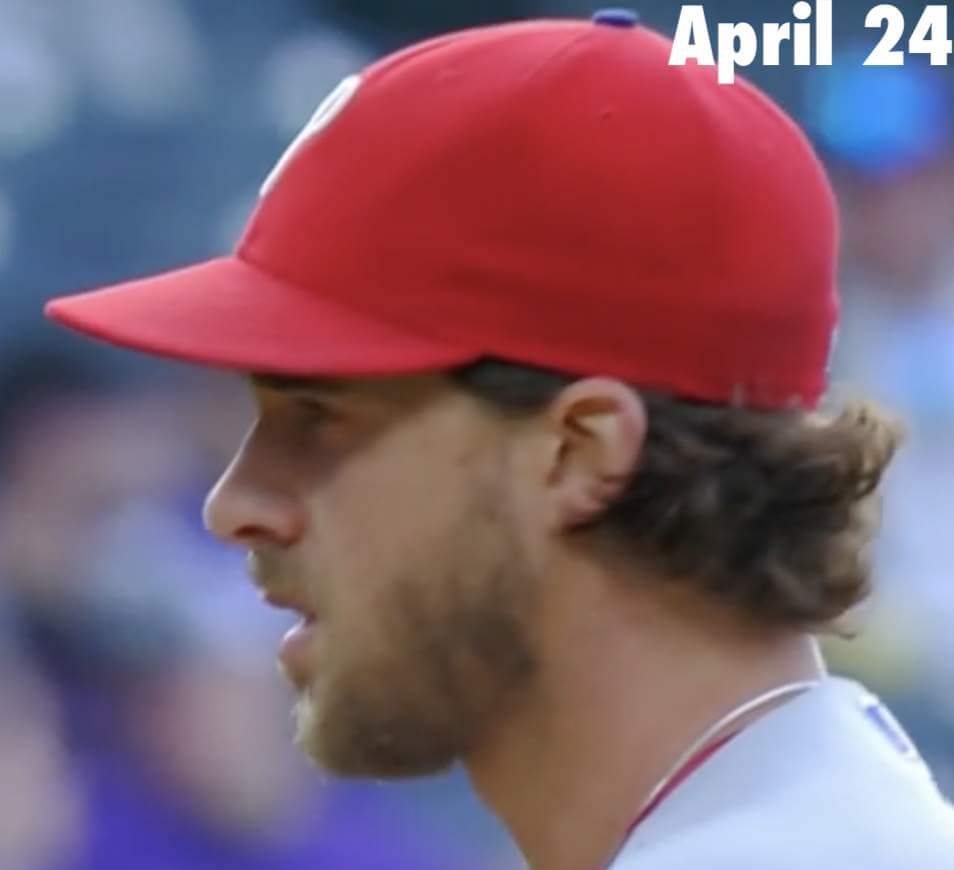 This was now getting seriously weird. Nola was clearly wearing the same red cap all season long, and nobody appeared to notice or care that it didn't have the maker's mark. MLB caps have had the logo since the 2016 postseason — was Nola's cap really that old?
The five days until Nola's next start — another road game — felt like an eternity. Would he stick with the same cap? Yup: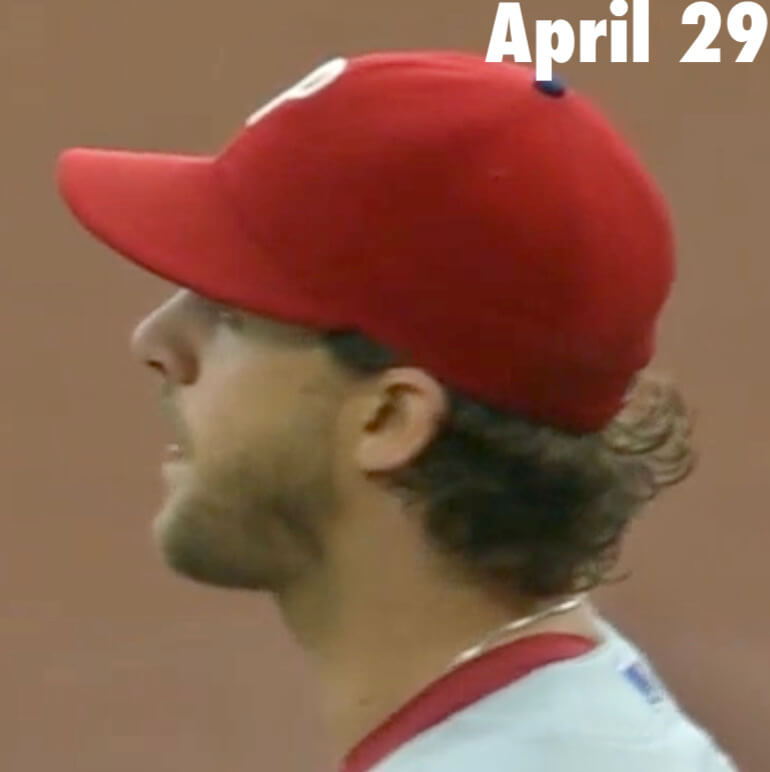 Next up: a home night game. Would Nola keep wearing the same red cap? Why yes, he most certainly would: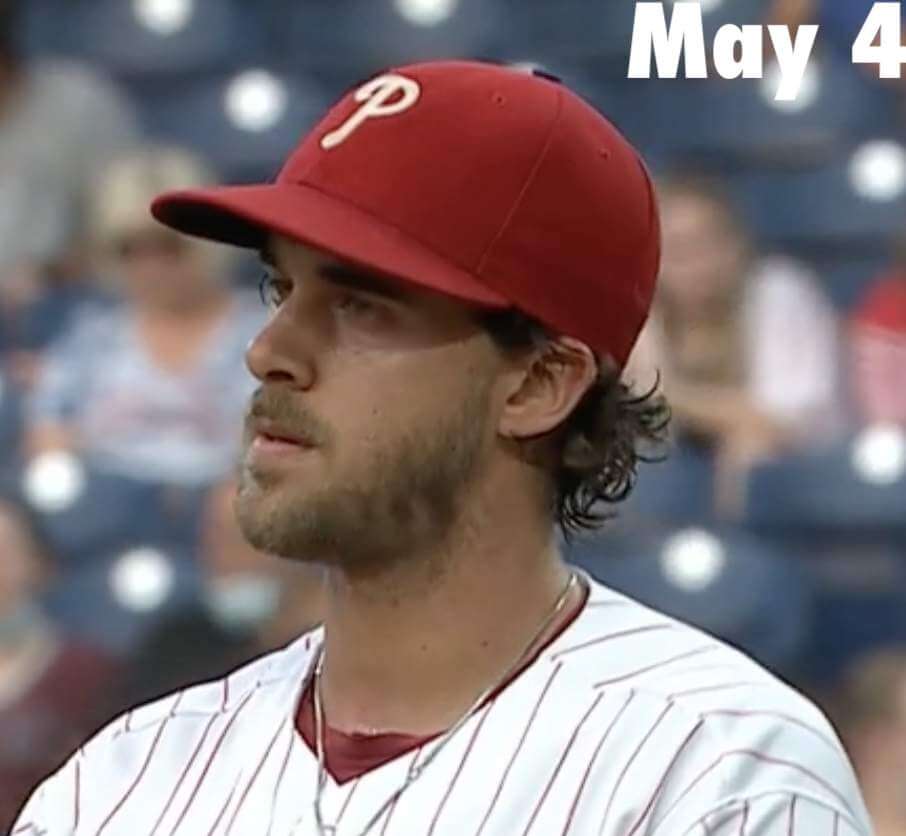 What happened next was really annoying: Nola pitched on Mother's Day and the military "holiday" that MLB uses as an excuse to sell camouflage caps, so he wore the merch-dump caps for those games, complete with logo creep: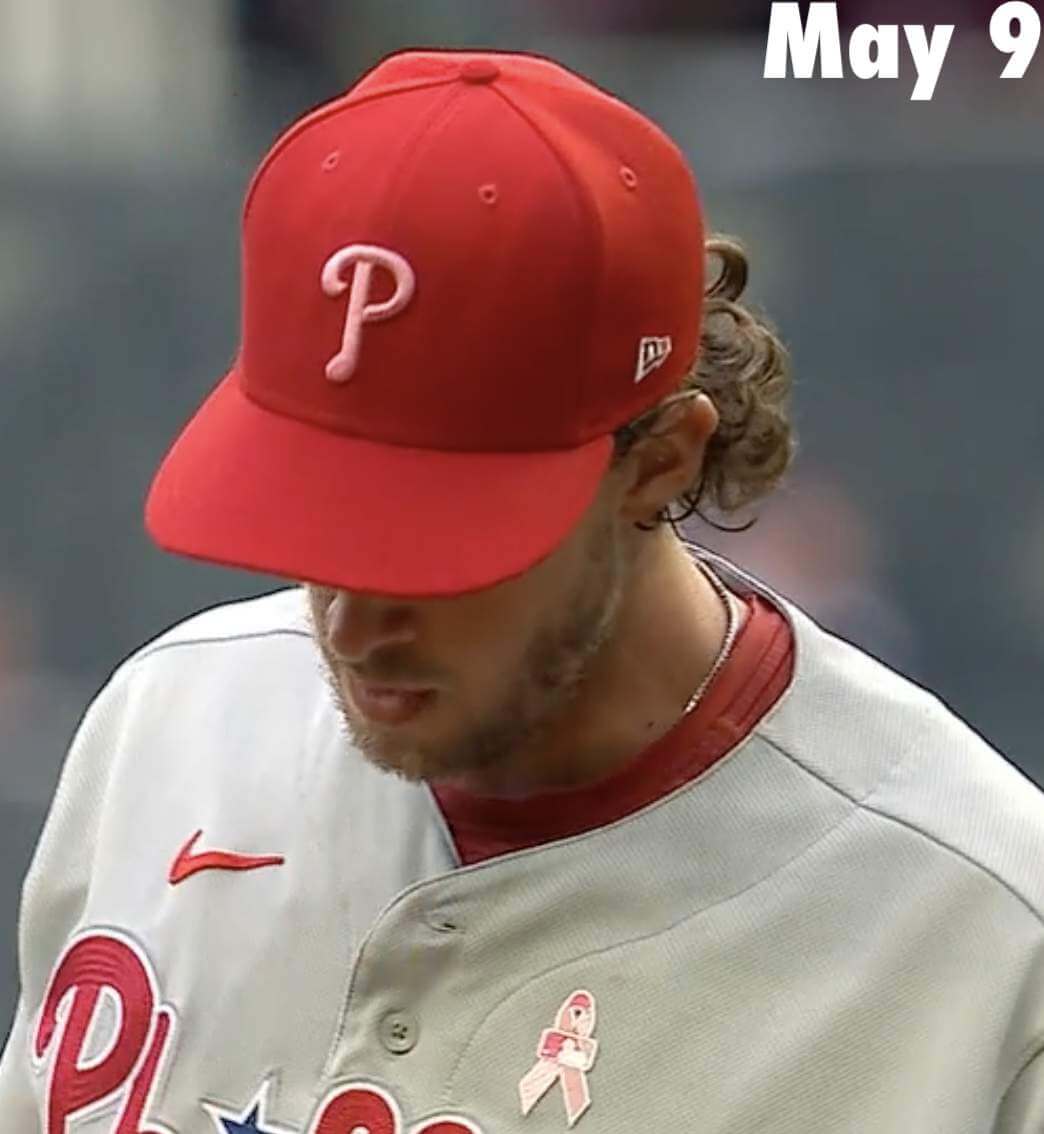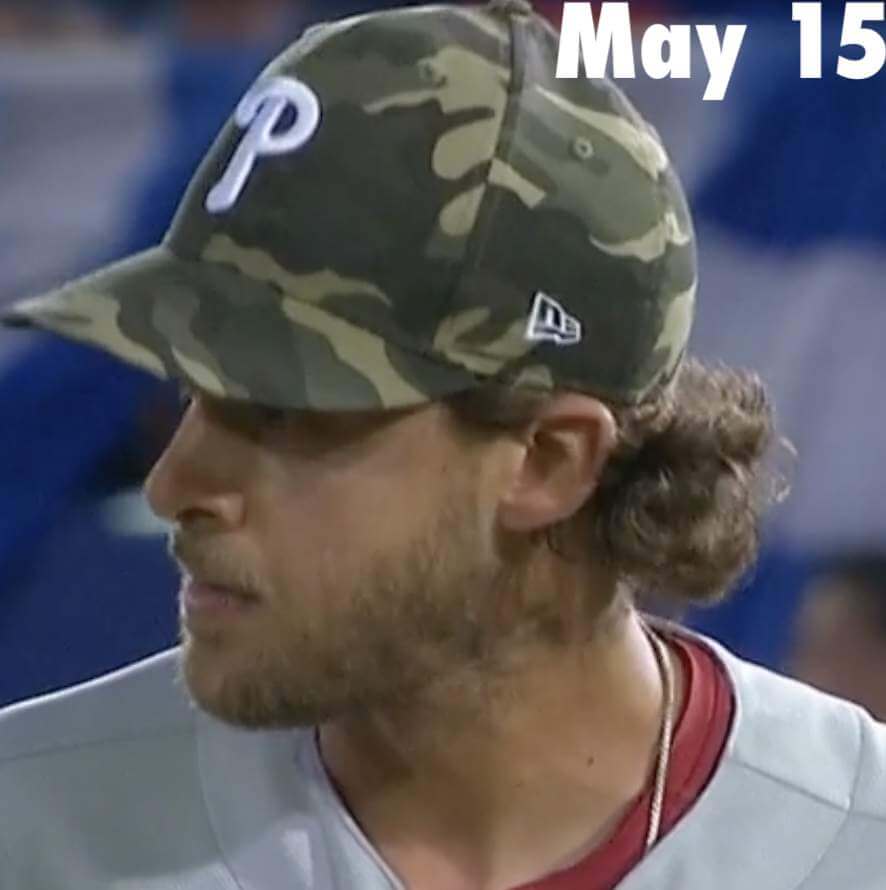 Nola's next start was on May 21. By that time it had been 17 days since he'd last worn the old-school red cap. Had it been in his locker all that time, patiently awaiting its next chance to strike a blow against logo creep? Yes!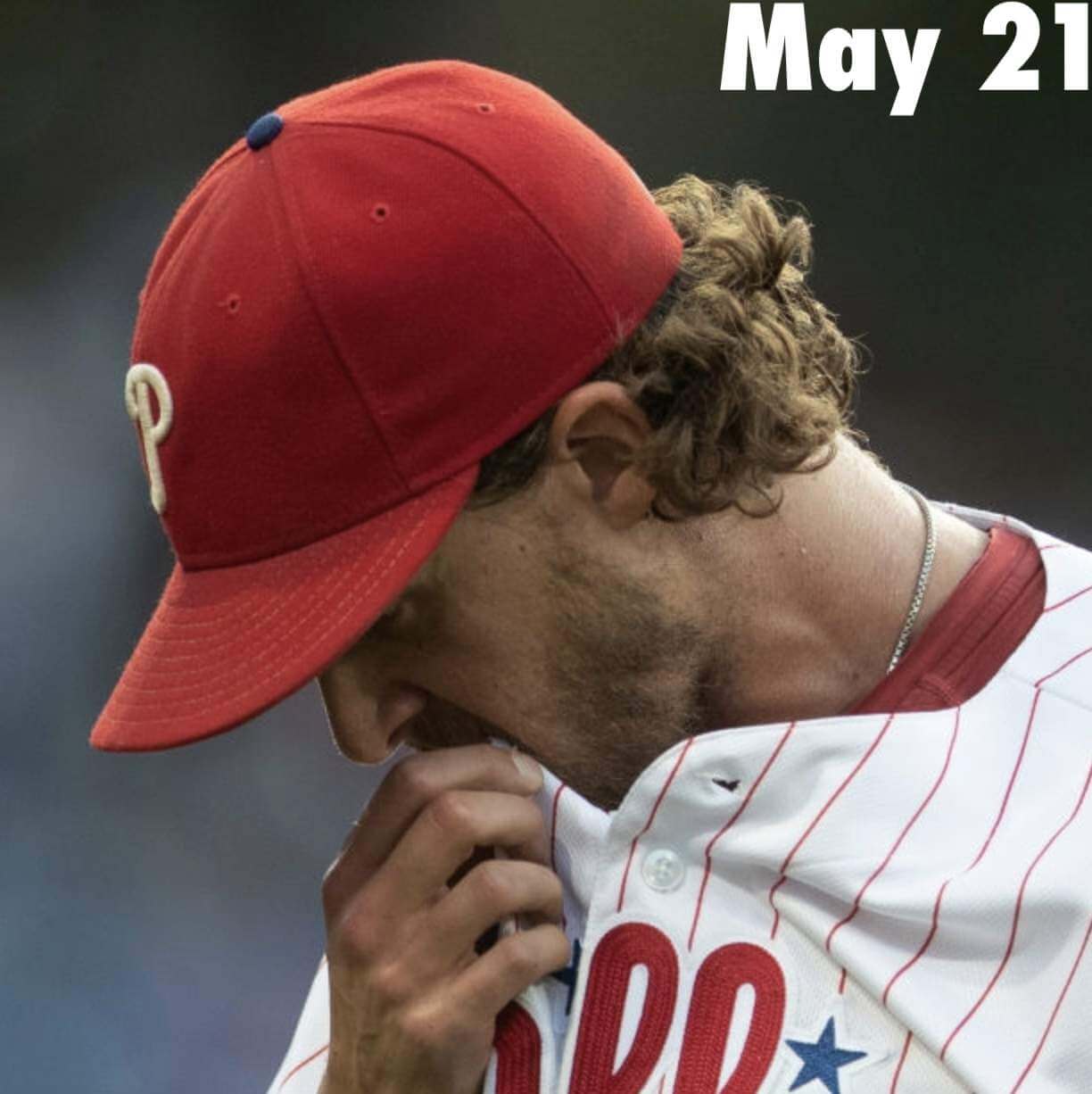 ———
Then came last night's game. I knew Nola would be pitching, and by this point I felt pretty secure in the knowledge that he'd be wearing the same cap — but that's not how it played out. I was stunned. Also sad. The little drama I'd been following was over.
Now that the streak has been broken, I'll contact the Phillies and see if they can provide any info on this. I'm not sure which aspect of this intrigues me more — the notion that they may have issued Nola a five-year-old cap at the start of the season, or the notion that he apparently kept wearing the same cap for nearly two months. In any case, it's been an intriguing subplot for me to follow.
Finally, I know some people can't hear about a story like this one without asking if the player will be fined. In this case, almost certainly not. But either way, it won't make a difference to Nola, who's making about $12 million this season.
(Thanks to Lascoux Hugo for research assistance.)
• • • • •
• • • • •
Joe West: Hat Cop. 🚔🚓🚨 pic.twitter.com/cGVxmV8Pbi

— Rob Friedman (@PitchingNinja) May 26, 2021
And speaking of MLB caps…: Bizarre situation in yesterday's Cardinals/Chisox game, as Cards pitcher Giovanny Gallegos's cap was confiscated when he entered the game in the bottom of the seventh. Umpire Joe West ordered Gallegos to swap chapeaus after fellow ump Dan Bellino noticed something suspicious-looking on the cap's brim. Gallegos said it was sunscreen, so West made him get a new cap.
Cards manager Mike Shildt was ejected over the incident. Afterward, he said:
This is baseball's dirty little secret, and it's the wrong time and the wrong arena to expose it. Here's the deal. First of all, Gio wears the same hat all year. Hats accrue dirt. Hats accrue substances. … Did Gio have some sunscreen at some point in his career to make sure he doesn't get some kind of melanoma? Possibly. Does he use rosin to help out? Possibly. Are these things that baseball really wants to crack down on? No.
Aaron Nola's cap could not be reached for comment.
• • • • •
• • • • •
Membership update: Card designer Scott M.X. Turner and I are continuing to work our way through all the Purple Amnesty Day orders. One of the more interesting ones came from reader Allen Groue, who requested a Raptors Barney-style treatment with "Name on Back" as the NOB. In 14-plus years of doing membership cards, I think this is the first time we've had that NOB request!
Ordering a membership card is a good way to support Uni Watch (which, frankly, could use your support these days). And remember, a Uni Watch membership card entitles you to a 15% discount on any of the merchandise in the Uni Watch, Uni Rock, and Naming Wrongs shops, plus the discount also applies to our Uni Watch Classic Cap. (If you're an existing member and would like to have the discount code, email me and I'll hook you up.)
As always, you can sign up for your own custom-designed card here, you can see all the cards we've designed so far here (now more than 3,100 of them!), and you can see how we produce the cards here.
• • • • •
• • • • •
The Ticker
By Paul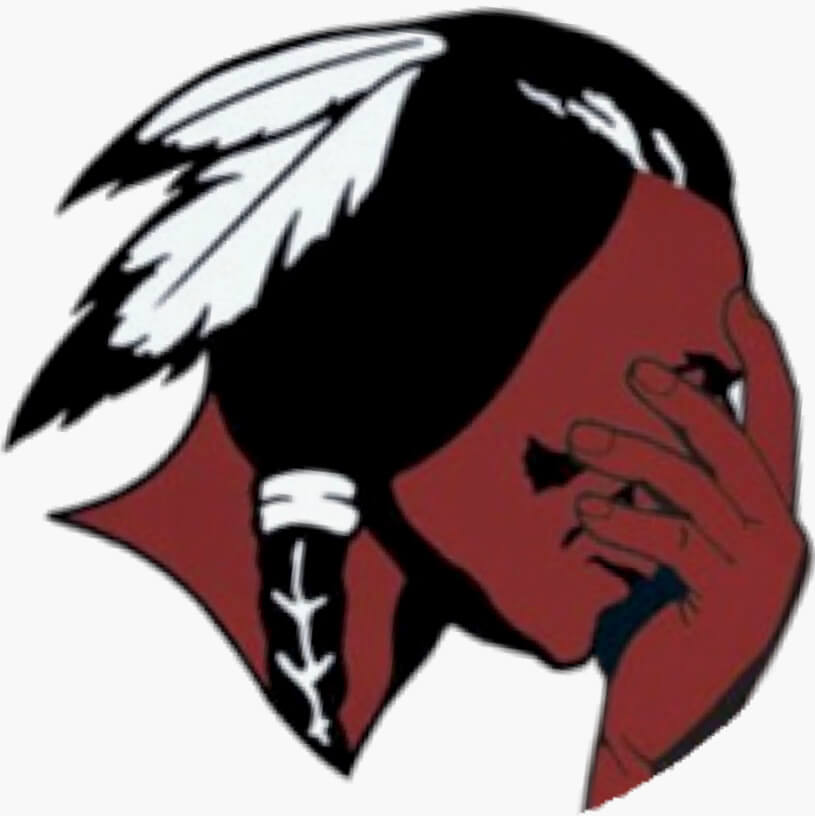 Indigenous Appropriation News: Conard High School in West Hartford, Conn., has put on a play based on the controversy over the school's "Chieftains" team name (from John Dankosky). … The Okemos, Mich., school district will no longer use the names "Chiefs" and "Chieftains" for its teams (thanks to all who shared). … Residents of Weirton, W. Va., are protesting the local high school's attempts to retire an unofficial but widely used cartoon logo of a Native American used in connection with the school's "Red Riders" team name (from Kary Klismet).

Baseball News: We've known for a while now that all MLB teams will be wearing a patch for Lou Gehrig Day on June 2 (that's next Wednesday), but we hadn't seen what the patch would look like — until now. Interesting how they chose to have Gehrig mirror the MLB/batterman logo (from @himariners). … With the Appalachian League's season set to begin next week, here's a look at all of the new team identities. … Speaking of the Appy League, the Danville Otterbots, who are about to start their first season, revealed their new jerseys. Note the cover-up button placket — looks like the same thing worn by Purdue (from Benji Boyter and Derek Linn). … Nats P Max Scherzer hates wearing dark jerseys on hot days (thanks, Phil). … A food concourse at the White Sox's ballpark that had been named for a longtime concessions worker has been renamed for Sox skipper Tony La Russa, and at least one fan isn't happy about it (from David Raglin). … Here's the backstory on LSU wearing gold jerseys on Sundays (from Kary Klismet). … Also from Kary: The Carolina Disco Turkeys, a collegiate summer wood bat team, are asking for the public's help in naming their peacock mascot. … Pirates INF/OF Cole Tucker — a switch-hitter who in the past has worn separate right- and left-earflapped batting helmets — wore a double-flapped helmet for a pinch-hitting appearance last night (from @matchewV4 and @CantankerousRex). … The Dodgers announced that they'll be giving away a Mexican Heritage Night jersey on Aug. 17 and a Filipino Heritage Night jersey on Aug. 31. … The middle section of this article has some comparison data about how the Dodgers have performed in their two road jerseys (thanks, Brinke).

NFL News: SportsLogos.net has kept a running list of all the NFL players who've changed their uni numbers since the new numbering rules recently went into effect. … Speaking of uni numbers, some new ones for the Lions. … Looks like the Bengals are changing their facemask clips from clear to black (good spot by Jake Watterson).

Soccer News: It looks like FC Cincinnati's new stadium will feature lots of enormous LED ads (thanks, Jamie). … Paris Saint-Germain has created a clever variant of their logo that incorporates an "LA" monogram into the Eiffel Tower (from @ScottyBeats86). … New home kit for Southampton (from Chris Corbaz). … Students in the Design FC program — a Pennsylvania initiative described as "an after-school program that encourages elementary and middle school students to develop creative thinking, self-expression, and autobiographical storytelling through the design of soccer jerseys" — will have some of their designs featured in the FIFA 21 video game.

Grab Bag: The National Lacrosse League's latest franchise will be in Las Vegas (from @PhillyPartTwo). … Australia's National Rugby League and Super Netball are matching the AFL by having Indigenous rounds starting this weekend. Here are the NRL designs, and the Super Netball entries from Adelaide and Collingwood (thanks, Jamie). … Here's a really interesting thread on the colors worn by flight deck personnel on a U.S. Navy aircraft carrier (from Shawn Hairston).
• • • • •
My thanks to everyone who sent along kind thoughts yesterday for Uni Watch's 22nd uni-versary. It meant a lot, really. — Paul