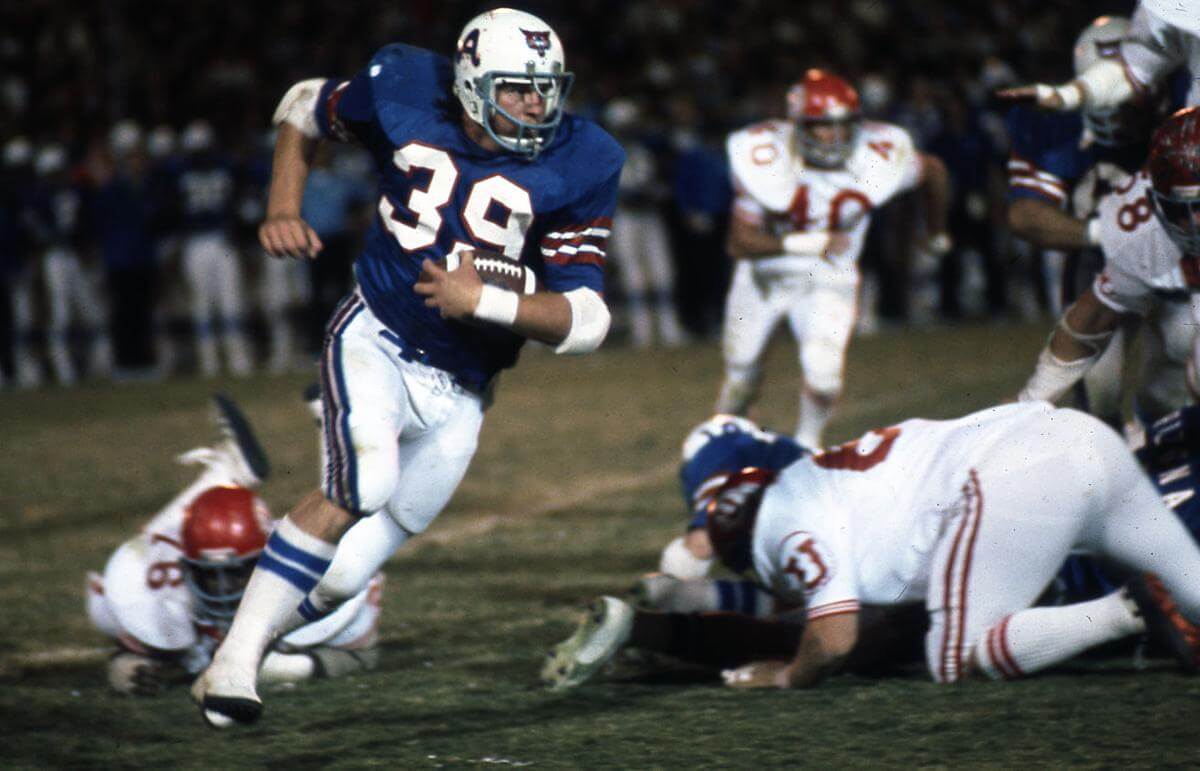 Click to enlarge
Quick, who's that running back? The blue-ish jersey with the white helmet, the No. 39, the U-bar nose protector, the ball cradled in the left arm — looks a lot like Larry Csonka, no?
It's actually University of Arizona fullback Dean Schock. The photo is from a 1975 game against Utah (the Wildcats won, 38-14). Csonka was still active at that time, of course — he spent 1975 with the WFL's Memphis Southmen but had become a star with the Dolphins over the seven previous seasons — so it's entirely possible the Schock was a Csonka fan and adopted Csonka's number and facemask style as a tribute. "Schock" and "Csonk" even sound similar!
That photo is part of a good slideshow from that game that reader Calvin Farris recently came across. He was interested in some other uni-notable details from the photos, but it was the Schock photo that really stopped me in my tracks. A Csonka-like lookalike!
And what were the other uni details that Calvin noticed? One at a time:
• As you can see in the Schock photo, the Arizona had a front helmet logo at the time, in addition to their wavy "UA" logo on the side. Here are some additional shots that show both logos pretty well: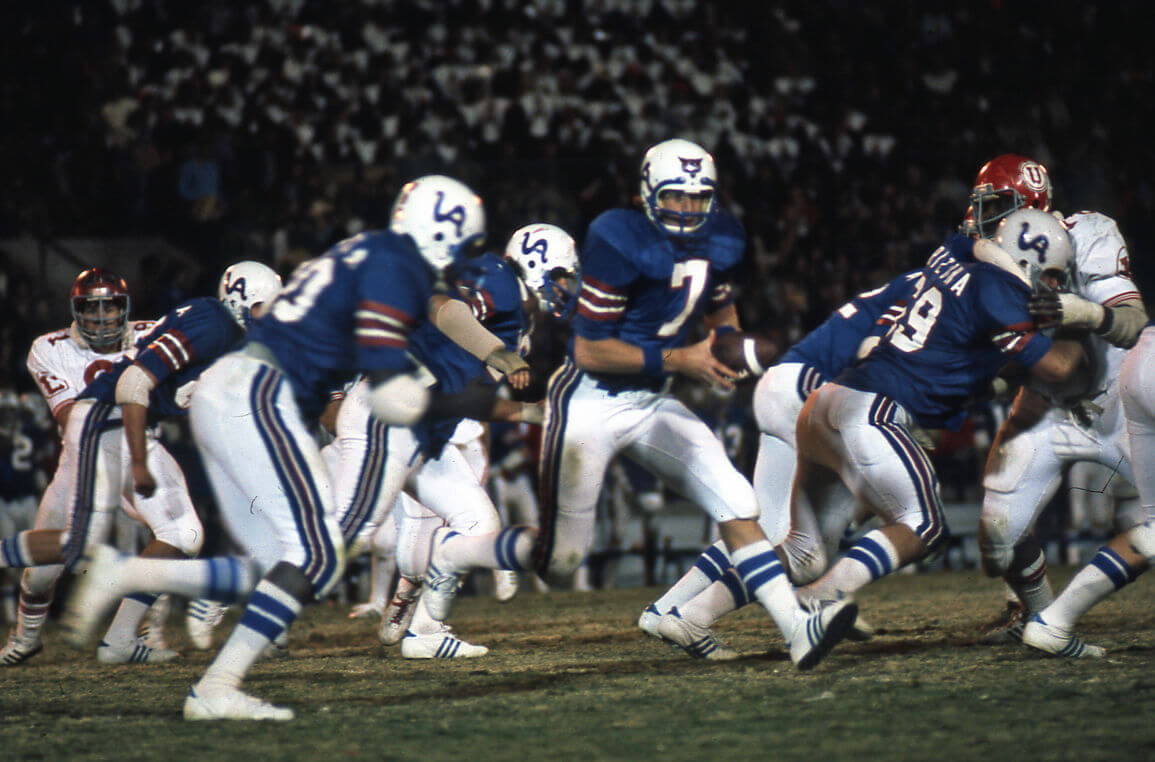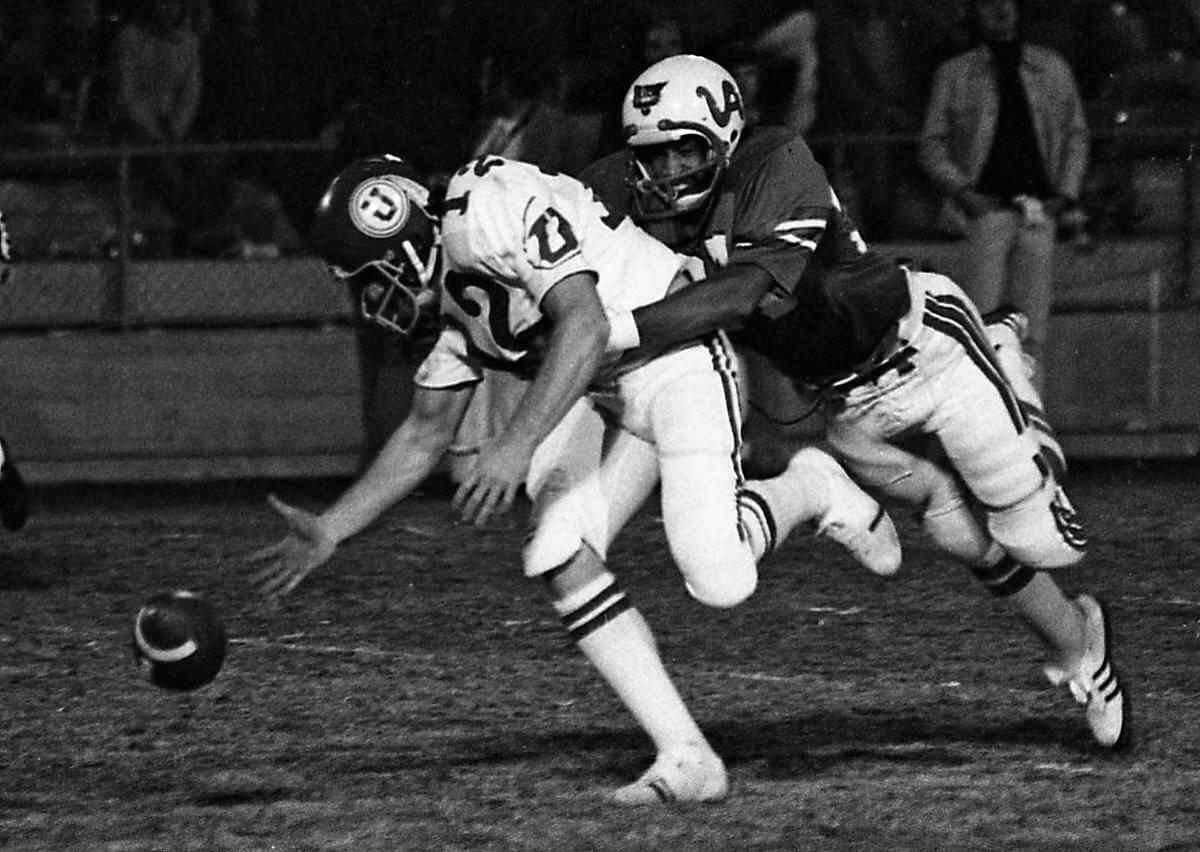 • If you look at the two color photos I've posted so far, you can see that some Arizona players had blue facemasks and some had grey.
• Arizona had SNOB (school name on back):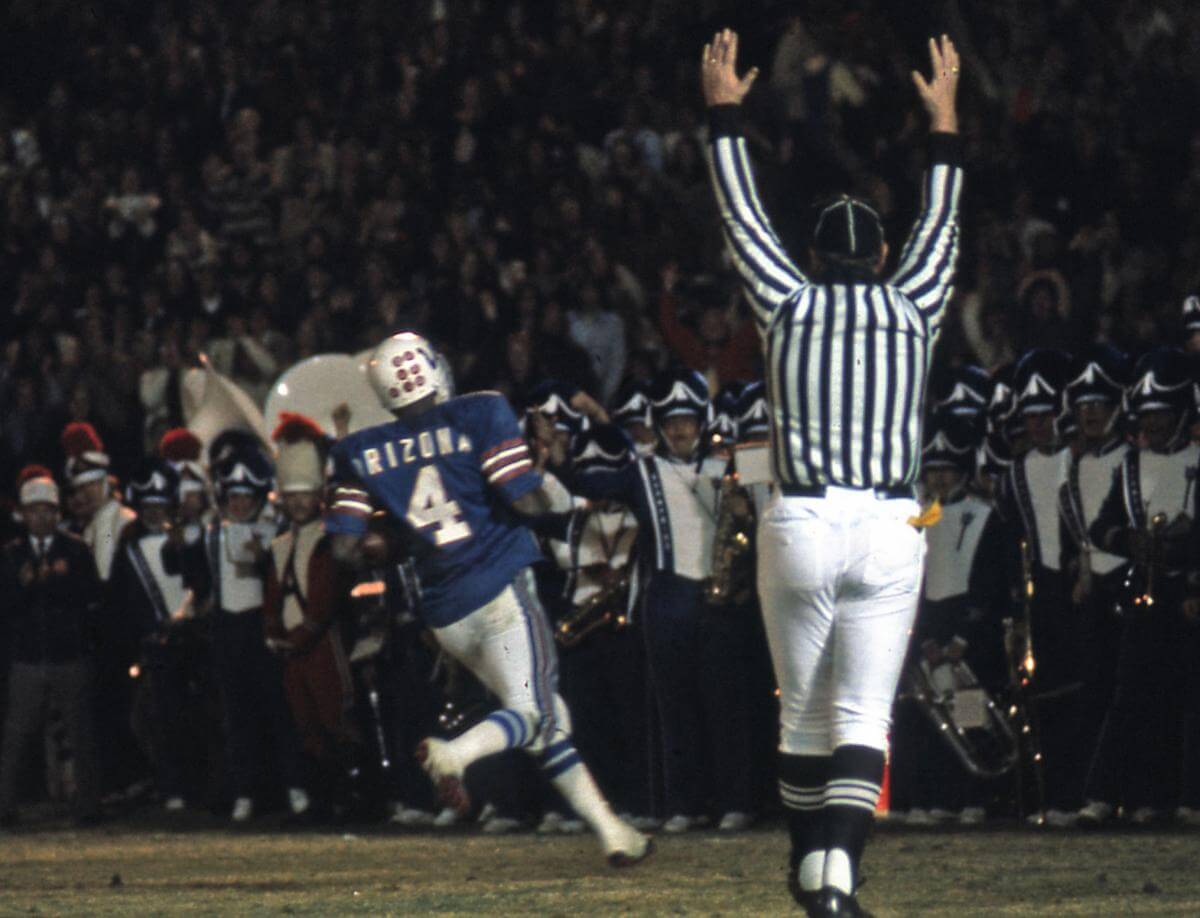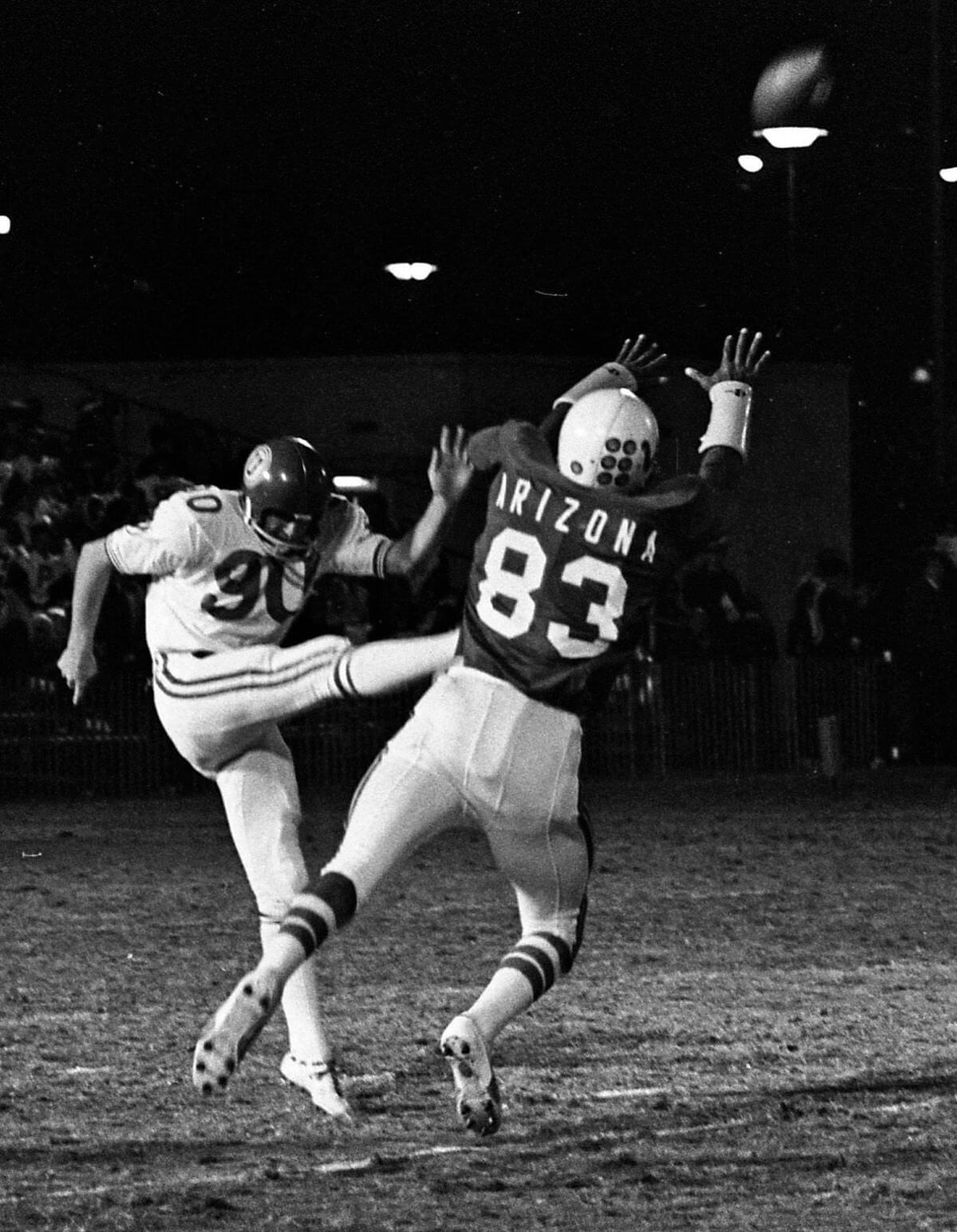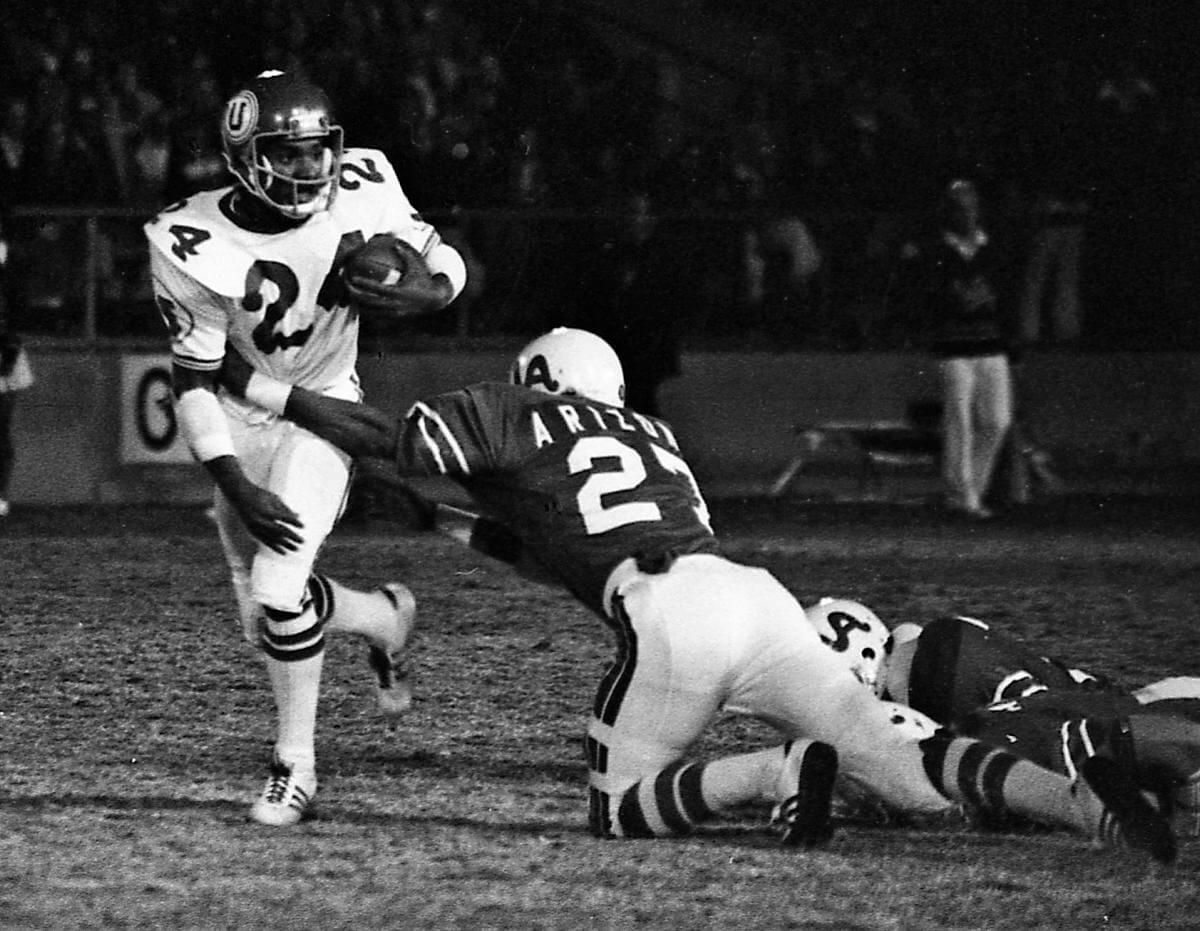 • As you can see in the photos, Arizona's jerseys had no TV numbers.
• I don't know who this is, but it's a hell of a photo: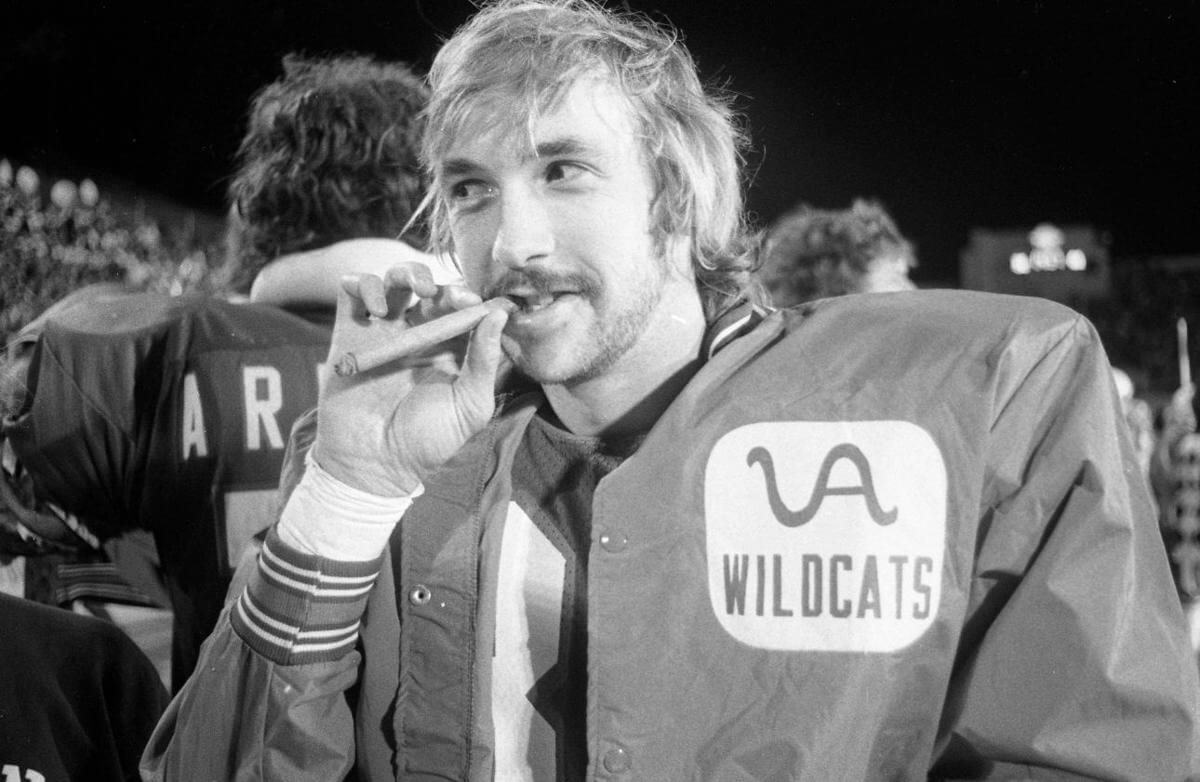 ———
I confess that I was not familiar with that "UA" logo until now. Looks more like "VA" to me! According to Blaise D'Sylva's Helmet History site, it was worn in various forms from 1972 through 1976. The wavy letterforms feel almost aquatic, which seems like such an odd fit for a place like Arizona. Does anyone know more about the story of this logo? (Update: Several readers have pointed out that the logo looks like a cattle brand, which makes sense. That probably explains it!)
(Big thanks to Calvin Farris for sharing this unusually fruitful slideshow.)
• • • • •
• • • • •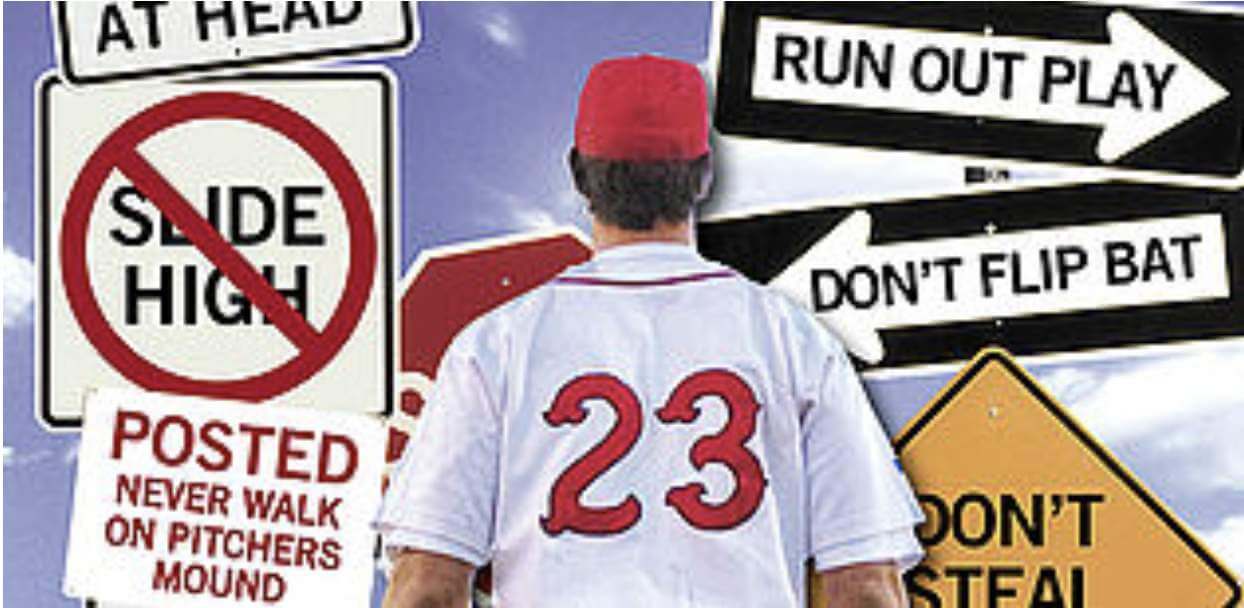 Unwritten rules, continued: Yesterday's post about baseball's unwritten rules prompted lots of really interesting discussion. My thanks to everyone who participated!
One thing that a few people mentioned, and that I've also heard in other discussions about bat flips, choreographed celebrations, and so on, is this: "Athletes are entertainers, so let them entertain."
Now, it's true that sports are part of the entertainment industry, so the statement "Athletes are entertainers" seems straightforward enough. But it's actually a lot more complicated than it seems. Here's why:
• Unlike most entertainers, athletes are part of a team. That's why they wear those uniforms that we obsess over. That's why something like bat flipping creates the tension between the individual and the collective that's at the heart of the "unwritten rules" debate.
• For most sports fans, competition and athletic excellence are inherently entertaining. That's why we consider sports to be part of the entertainment industry — because people enjoy watching top-level athletes compete, with or without the bat flip. A great catch by an outfielder or wide receiver is entertaining, regardless of whether the player celebrates afterward. In fact, sometimes even the attempt at a great play is entertaining, and the heartbreak when the attempt comes up just a little bit short is part of the drama that we find entertaining.
• It seems to me that things like bat flipping are more about attention that entertainment. Those two things aren't mutually exclusive — some fans certainly find attention-getting behavior to be entertaining — but they're not quite the same thing. Consider: Hitting a home run is entertainment; flipping your bat afterward is for attention. As it happens, attention is a commodity that translates extremely well to the internet in general and social media in particular. There's even a term for the market in which we compete for attention: the attention economy. There's a really good essay about that here — highly recommended.
I don't mean any of this as an argument for or against bat flipping. I'm just trying to add some depth and nuance to the seemingly simple statement "Athletes are entertainers." Thanks for listening.
• • • • •
• • • • •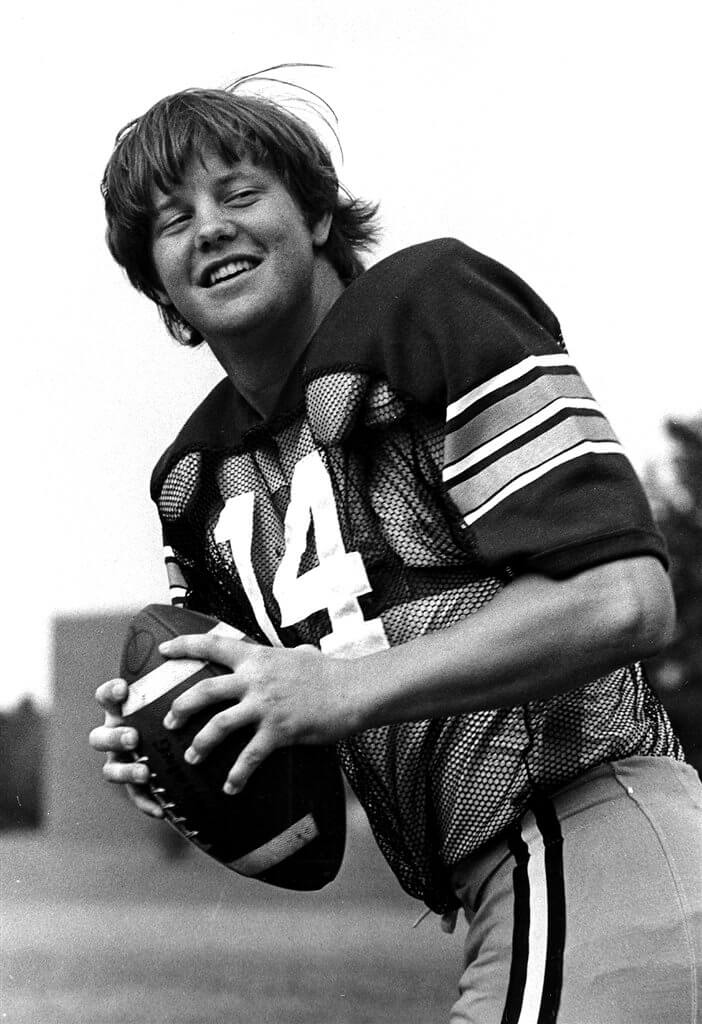 Country Joe and the mesh: MLB umpire Joe West is famous for many things: his side career as a country music recording artist; the West Vest; covid denialism. And after working the plate for last night's Cardinals/White Sox game, he now holds the all-time record for umping the most MLB games.
But I had never seen this photo of West in a football uniform until longtime reader James Gilbert brought it to my attention last night. Turns out West played quarterback for Elon College in the early 1970s. Here are some game shots: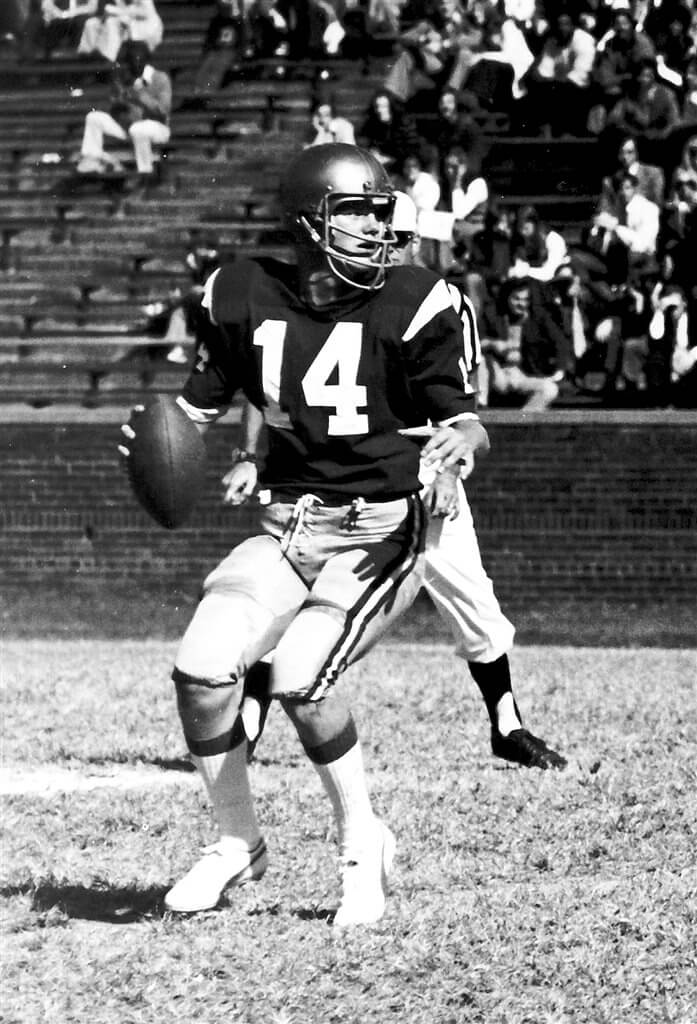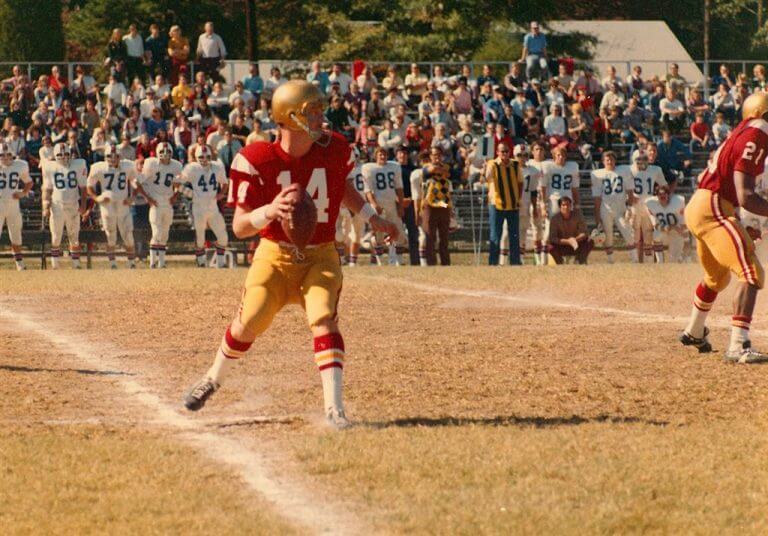 Interesting! Makes me wonder what other pics there may be of officials in one sport wearing uniforms from another sport.
(Big thanks to James Gilbert for this one.)
• • • • •
• • • • •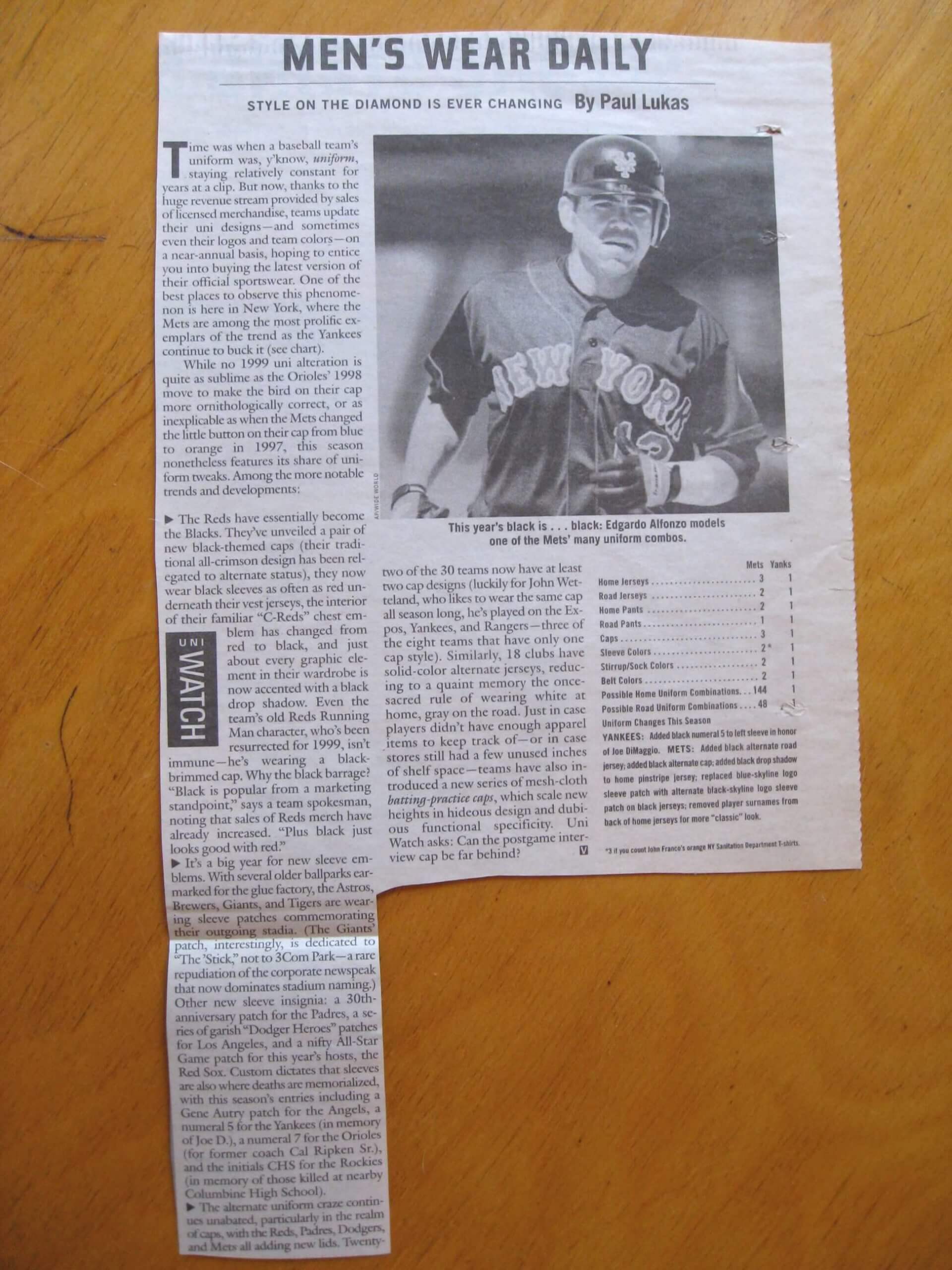 Click to enlarge
Happy Birthday to Uni Watch: It was 22 years ago today — May 26, 1999 — that the very first Uni Watch column appeared in the pages of The Village Voice. It was what we now think of as the annual MLB "season preview" column, even though it appeared in late May. If you had told me at the time that Uni Watch would still be going strong more than two decades later, I'm sure I would have laughed.
If you're thinking to yourself, "Wait a minute, didn't we just celebrate a different Uni Watch anniversary?," you're right. Nine days ago — May 17 — was the 15th anniversary of this blog (which was conceived as a supplement to the Uni Watch column but has since taken on a larger life of its own). Since the two dates are just nine days apart, there's often a bit of confusion each year around this time. In retrospect, I should have launched the blog on May 26 so the two anniversary dates would match, but that didn't occur to me at the time.
As I've mentioned a few times in the past couple of weeks, longtime reader Jason Von Stein is celebrating the uni-versary today by organizing a very special event. I'll let him explain:
Hello, Uni-verse!

I love Uni Watch because it brings people together, no matter what uniform they wear or root for. Uni Watch also celebrates the arts. So please join us for a free celebration today, as a bunch of wonderful musical performers celebrate Uni Watch's 22nd anniversary and also raise money for worthy charities.

The event will be live-streaming on this Facebook page. Here's the schedule of who'll be performing, and the charities they'll be supporting [click to enlarge]: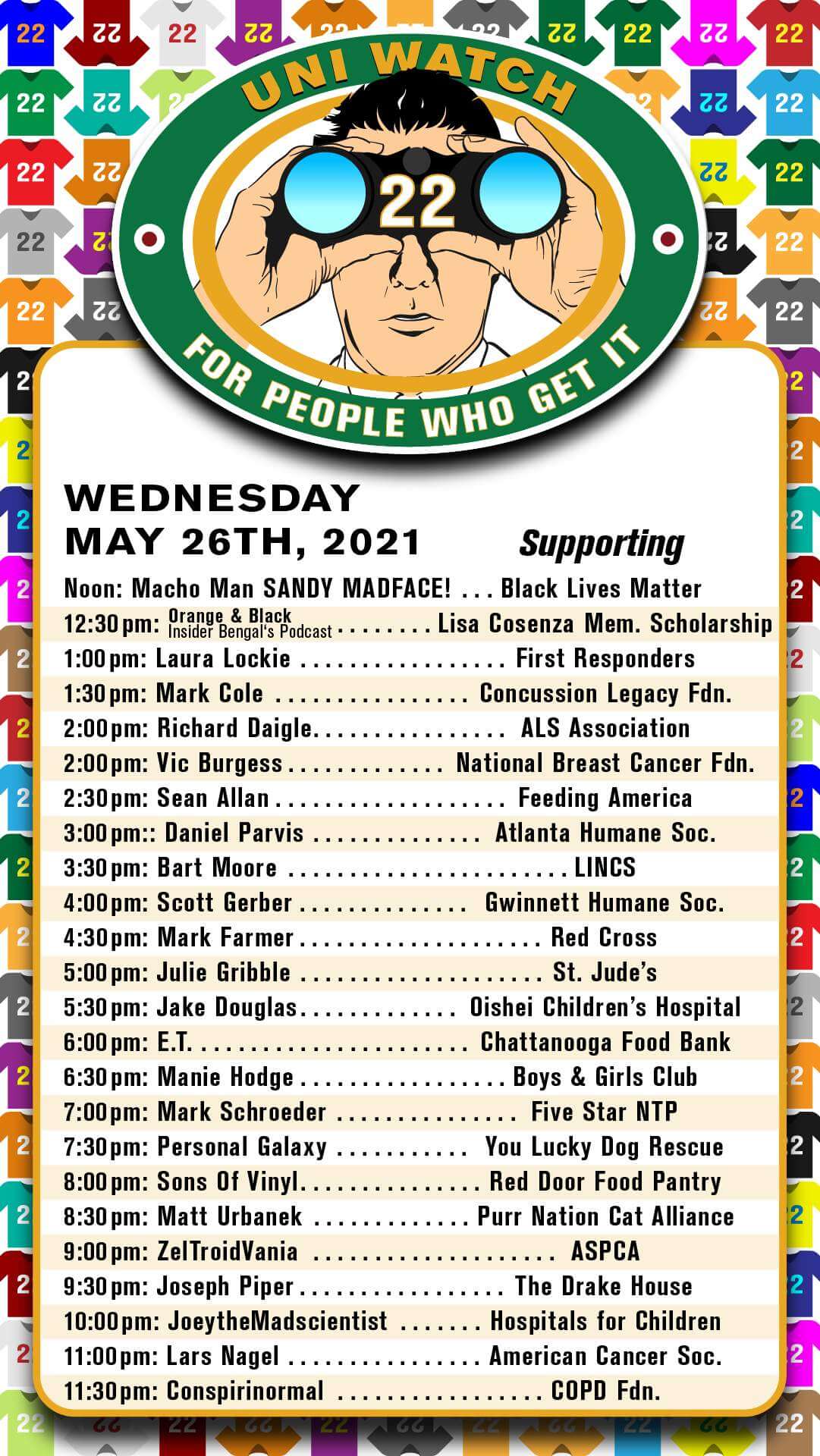 The performers will be live-streaming from their homes on the event page. You'll know who is currently performing by the red "Live" box appearing in the upper-right corner of the screen, and you'll be encouraged (but not required, of course) to donate to that performer's charity.

We will also be having "Stupid Sports Trivia" between performers, with prizes courtesy of Ebbets Field Flannels, Asgard Press, and others.

Feel free to interact with us during the event and tell us what Uni Watch means to you. If you like, we encourage you to wear your favorite uniform and post photos of yourself on the event page! The person whose photo has the most "Likes" will win a Uni Watch prize package that Paul has provided, featuring a Uni Watch koozy, trading card, magnet, and membership card.

We hope you'll join us to celebrate 22 years of Uni Watch, to enjoy lots of great musical performances, and to support lots of worthy causes. Thanks!
Isn't that nice? I've had nothing to do with the planning of this event, so Jason deserves every last bit of credit for putting it together. Thanks, Jason!
• • • • •
• • • • •
The Ticker
By Lloyd Alaban

Baseball News: Cleveland P Zach Plesac somehow managed to fracture his thumb while taking off his jersey (from multiple readers). … Someone on the App State team has his pants hiked up so high that they're basically shorts (from Cole Paveglio). … New jerseys for the Madison Mallards of the Northwoods League (from David Petroff). … The Eau Claire Express, also from the Northwoods League, were going to celebrate their "Sweet 16" ordinal last year for their 16th season.  Since the season was canceled, they now have an updated "Sweet 16" logo for 2021, which celebrates both the ordinal (16 seasons of the Express) and anniversary (16 years since their debut) (from Lukas Hoffland). … The summer softball league for NCAA players now has a mascot. It had no mascot for its first full summer last year (from Griffin T. Smith). … New Era launched a new line of ridiculous MLB fashion caps yesterday. Reaction on social media was so harsh that the line was quickly pulled.

NFL News: New numbers for Ravens LBs LJ Fort (No. 3) and Patrick Queen (No. 6) (from Andrew Cosentino). … Patriots LB Matt Judon will wear No. 9 (from our own Brinke Guthrie). … The combination of KC's blank nose bumpers and the Vicis Zero1 helmet's large bumper panel has left QB Patrick Mahomes with a big white rectangle on his forehead for the past several years. But he's been working out with the new Vicis Zero2, which has a much less prominent bumper panel (from multiple readers). … The 49ers are now using padded practice helmets (from @KD_JuanZo).

Basketball News: Jordan Brand will release a shoe dedicated to Michael Jordan's late UNC coach Dean Smith (from James Gilbert).


Soccer News: Players for French side RC Lens received miners' lamps after their season in Ligue 1 (from Kim Kolb). … This article looks at the effect of a possible ban on gambling ads in the UK and asks whether some clubs could go bankrupt because of it (from our own Jamie Rathjen). … New shirts for USL Championship side Sacramento Republic FC. The design is based on a 2016 April Fool's joke that took on a life of its own. … New shirts for Turkish side Trabzonspor (from Michael, who didn't give his last name).

Grab Bag: The New England Free Jacks of Major League Rugby will wear military appreciation-themed jerseys for their match Saturday (from Sy Hart). … New logo for the Sturgis Motorcycle Rally (from @MMMMBLT).