As you are probably aware, an incident last week involving White Sox manager Tony La Russa and one of his players — designated hitter Yermín Mercedes — has led to a lot of chatter about baseball's "unwritten rules." Since the debate over these rules has aesthetic implications, I want to talk about that today.
In case you missed it: On May 17, Mercedes had the take sign but swung anyway — and homered — on a 3-0 lob pitch from an infielder-turned-emergency pitcher during the ninth inning of a 15-4 laugher against the Twins (see video above). In La Russa's pregame press conference the next day, he called Mercedes "clueless" for swinging. According to one report, "La Russa's entire availability with reporters encompassed [discussing] the unwritten rules of the game." La Russa said, among other things, "We were taught from Day 1 to respect the game, respect the competition, respect the opponent. I heard [Mercedes] said something like, 'I play my game.' No he doesn't. He plays the game of Major League Baseball, respects the game, respects the opponents."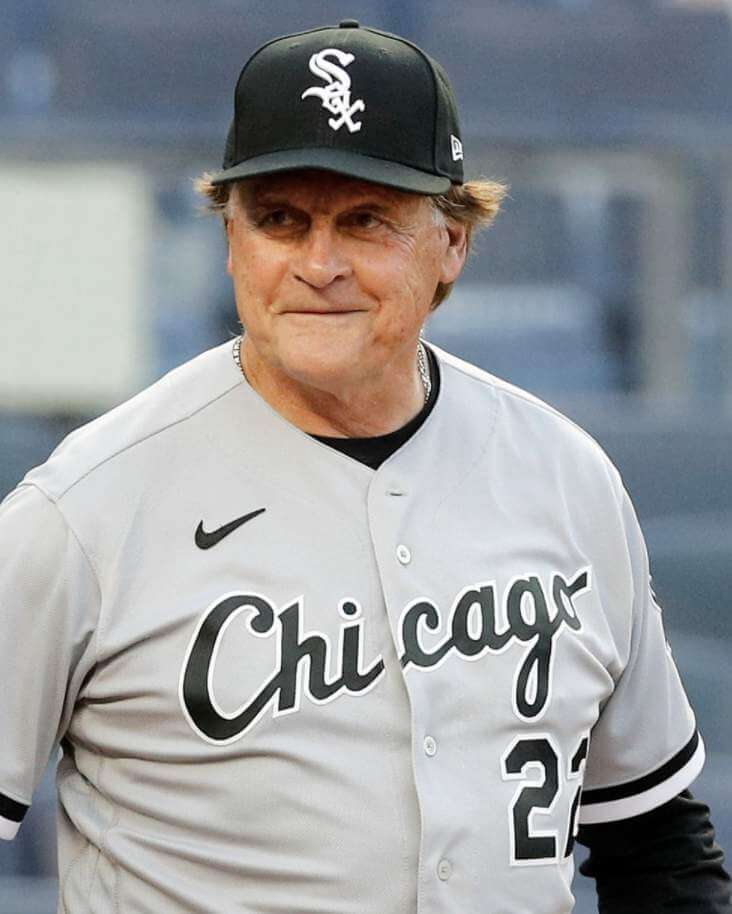 Since the 76-year-old La Russa is by far the game's oldest manager, most observers quickly described him as out of touch and used the incident as an opportunity to critique the sport's unwritten code of conduct. Former MLB pitcher CC Sabathia, for example, went off on a rant in which he referred to "these stupid-ass unwritten rules." Things reached the point where McSweeney's, of all places — the site that hosted my Key Ring Chronicles project — responded to the situation by running a satirical piece ridiculing baseball's unwritten rules. (The Twins, however, apparently agreed with La Russa, because they invoked an unwritten rule of their own by throwing behind Mercedes in retaliation for his perceived transgression.)
Discussion of baseball's "unwritten rules" has been building for several years now. But I had already observed a big uptick in such chatter this season — and, in fact, had already started writing this essay — before the White Sox incident. Here are some of the other articles and comments I've noticed recently:
• On April 7, ESPN staff writer Joon Lee ran a strongly reported piece with the headline "Unwritten rules are made to be broken! How a new generation of players is shifting MLB's culture."
• A few weeks later, on April 26, Sports Illustrated posted a video featuring several writers discussing how Padres shortstop Fernando Tatis Jr. and Dodgers pitcher Trevor Bauer are "rewriting baseball's unwritten rules."
• A few days later, on April 30, The Guardian published an article, written by freelancer Drew Lawrence, with this headline: "More than ever, baseball's unwritten rules were made to be broken."
• Ten days later, on May 10, ESPN ran a multi-writer, multi-section piece about the current state of baseball. One of the sections, written by staff writer Marly Rivera, was called "Enough with the unwritten rules already." It read, in part:
[T]here are numerous players, many of them of Latin American heritage, who were never aware of baseball's unwritten rules. … Baseball in Latin America is a much different experience than in Major League Baseball. Many players grew up playing in an environment in which celebrations that violate baseball's unwritten rules are widely accepted. Players who do not fit the mold of the "American Way" are vilified here, particularly because of the unquestionable racial undertone.

When one of these incidents of breaking baseball's unwritten rules happens, you can expect to see a Latin player standing in front of a camera saying, "I did not mean to disrespect anybody." Baseball, which aspires to be a multicultural and multiethnic sport, often falls short because of the demographics of its audience. Jose Bautista was infamously ripped for his postseason bat flip, a moment that the former Blue Jays outfielder described as an "out-of-body experience." Bautista did not do it to "disrespect" anybody. He did it out of joy. Legislating joy is a pointless attempt to not celebrate the changing culture of baseball.
• The next day, May 11, GQ published an interview with Mets pitcher Noah Syndergaard. It was conducted by staff writer Clay Skipper and included this exchange:
Skipper: I feel like there is this view that there are some unwritten rules of baseball: you don't show up your opponent, you don't engage in this type of trash talk. That feels sort of outdated to me. I'm curious how you feel about that sort of old fashioned unwritten rules of baseball.

Syndergaard: I think they're pretty stupid, to be honest. Anything unwritten sounds pretty stupid. I think it's very old school, and I think there needs to be a new school approach.
I could go on, but you get the idea. And you also know the types of unwritten rules these articles are referring to. Some of them are nebulous and open to interpretation: Don't "show up" your opponent; respect the game; respect the uniform; play the game "the right way" and "the way it's supposed to be played." Others are more specific: Always hustle, even when you hit a routine ground ball; if there's a scuffle on the field, run out there and have your teammate's back; don't bunt to break up a no-hitter; don't swing at a 3-0 pitch from an infielder during a 15-4 laugher; and so on.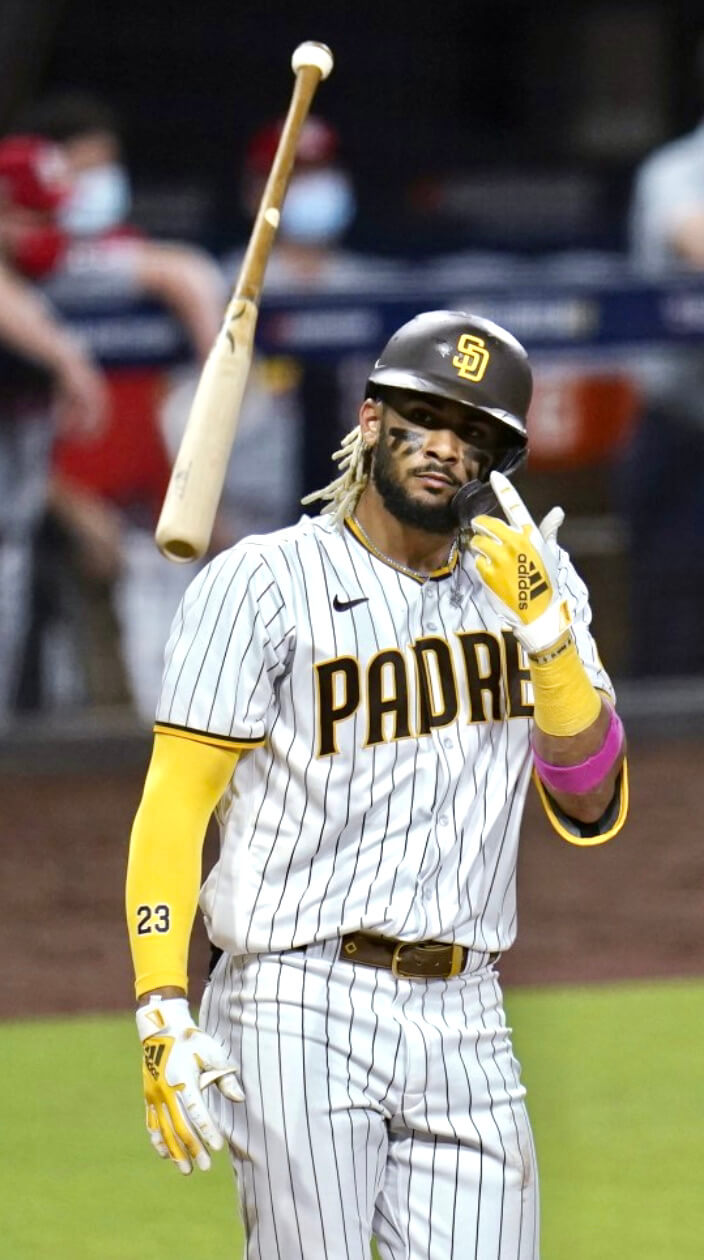 Inherent in these articles and discussions — sometimes directly stated and sometimes just as an implicit (unwritten!) undercurrent — is the notion that baseball has more of these "unwritten rules" than any other sport, and possibly more than any other sector of society. According to this notion, adherence to these rules has resulted in baseball becoming unduly tradition-bound and on the verge of becoming culturally irrelevant unless its young, bat-flipping stars can give the game some much-needed swagger.
You can like bat-flipping or dislike it — I'm not interested in debating that (at least not here, not today). What I'm more interested in is this notion that baseball's profusion of unwritten rules is somehow unique, or at least unusual.
The reality, of course, is that life is full of unwritten rules, many of which form the guardrails that allow us to maintain a somewhat orderly and pleasant society. You know these societal rules just like you know the baseball rules: Say "please" and "thank you"; do unto others; wait your turn; chew with your mouth closed; don't talk loudly at the movies; if you borrow something, return it; if someone needs help, offer it; honesty is the best policy; virtue is its own reward; don't be selfish; don't interrupt; don't show up at a party empty-handed; and so on.
These unwritten rules are collectively known by various terms, such as manners, or courtesy, or etiquette, or not being a total fucking jerk. (By any name, they overlap significantly with the concept of shame, which I wrote about last year.)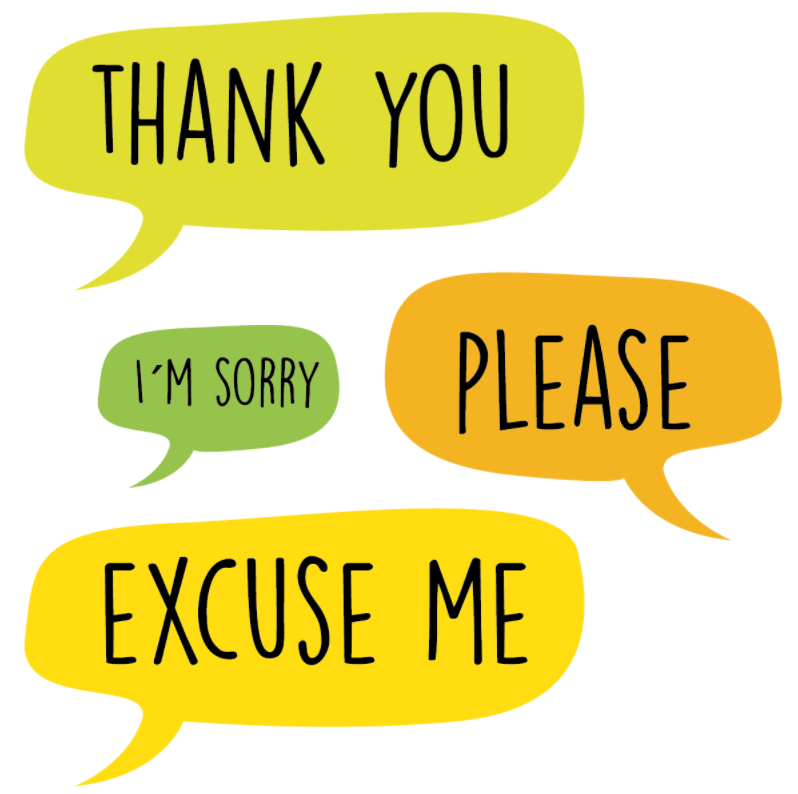 Similarly, the sports world has a term for its unwritten rules: sportsmanship (a gendered term, unfortunately, but it will have to do for now). The concept of sportsmanship is so ingrained in athletics that many sports and leagues have codified a sanction for its absence into their rules. Generally speaking, sportsmanship is just a subset of, and largely in keeping with, the larger set of societal rules we all live by. In other words, unwritten rules are not unique to sports, much less unique to baseball — they're all around us.
These guidelines — the ones that form the basis of sportsmanship and the ones that undergird our larger societal code of manners and etiquette — didn't come out of nowhere. Most of them can be traced back to ancient religious and moral teachings like the Seven Deadly Sins, the Ten Commandments, and the Golden Rule. Consider, for example, a scenario we've all seen countless times: A batter hits a long fly ball, thinks it's a home run, and stands and admires it instead of running hard out of the box. But the ball doesn't go out — it hits off the wall. The batter should be on second base with a double, but instead he ends up on first base because he didn't run hard right away. (I was once at a game when Rickey Henderson did this. Afterward, he gave one of the all-time Rickey quotes: "I hit it out but it didn't go out.") Now, we could say that this player "isn't playing the game the right way." But what we really mean when we say that, whether we realize it or not, is that the batter committed two of the deadly sins: pride and sloth.
If you look at those big societal guidelines, you'll see that most of them are designed to promote the core value of the collective good over the individual good. That's not to say that individuals don't matter — they have rights, agency, free will, all that good stuff — but they must sometimes subordinate or suppress their self-directed impulses for the sake of the greater good, or else society would devolve into chaos. That's where all those standards of manners and courtesy come from.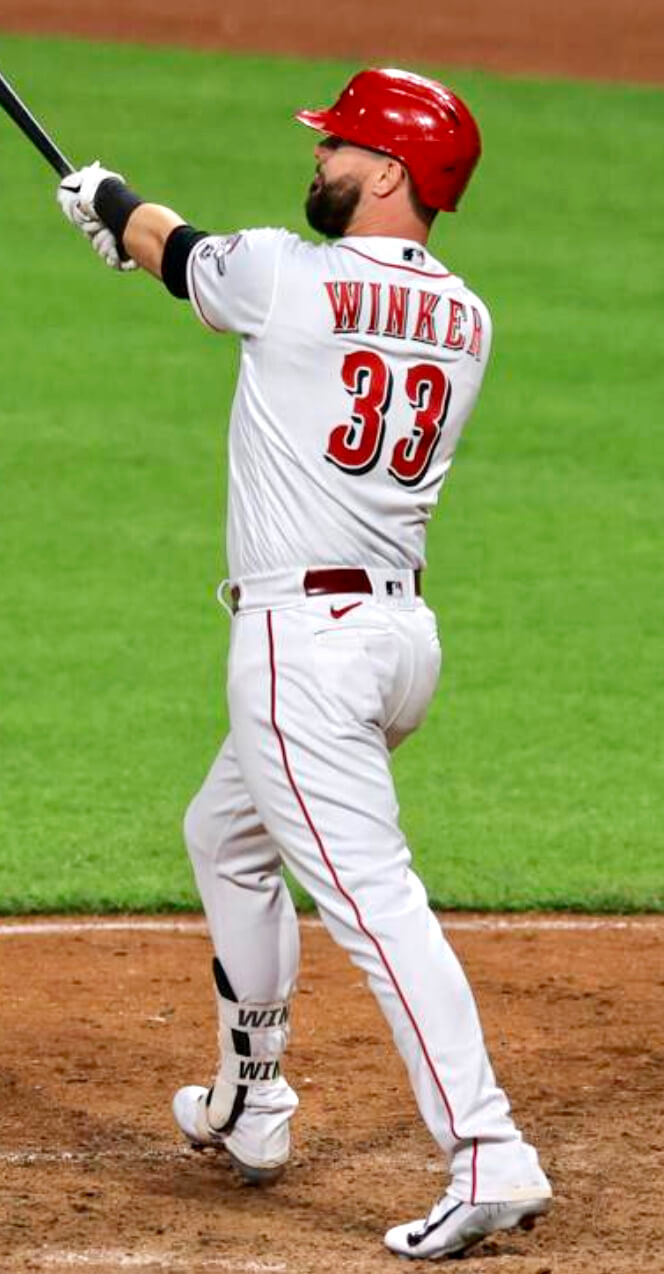 This emphasis on the collective over the individual translates well to team sports, where players are always taught to do what's best for the team, not what's best for themselves. In the big picture, the hypothetical batter who stands and admires his hit isn't problematic simply because he's being prideful and slothful, but because he hurts his team by ending up on first base instead of second base. Or to put it another way, he put his own selfish impulses above the greater good. So, again, you can see how the "unwritten rules" of baseball and other sports often reflect the same core values embodied in the longstanding behavioral codes that we all live by every day.
Now, it's true that the big societal guidelines have changed a lot over the years. At one point, for example, it was unheard of to wear jeans for an office job, a man would always pick up the tab when he and woman were out on a date, and it was common to disparage something by saying, "That's so gay" — none of which is true any longer. Does that mean our values have changed? No — generally speaking, I think our values have remained fairly consistent. But our cultural consensus regarding which behaviors do or don't embody those values has changed. The parameters of that consensus are changing all the time, as part of the endless push/pull of societal norms, especially as we realize that many of the old rules both reflected and reinforced caste and status systems that bolstered the powerful at the expense of the marginalized.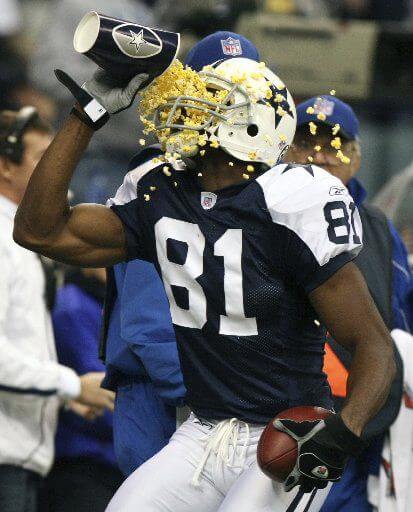 As the big societal rules have changed, so have the unwritten rules of sports. The NFL, in particular, has had lots of controversies (and, in some cases, rule changes) based on behavior that was initially thought to embody the unsportsmanlike sin of pride, from Giants wide receiver Homer Jones spiking the football to Washington's "Fun Bunch" and Jets defensive lineman Mark Gastineau's sack dance — all of which seem fairly tame by modern standards, although they were hot-button issues at the time. Other sports and leagues have seen similar changes in protocols.
I'll be frank: I'm not a big fan of bat-flipping, or choreographed celebrations, or a lot of other stuff that we now routinely see on the field. But I also realize I'm a straight, middle-aged white guy who self-identifies as a classicist. If I step outside that bubble, I can see how one person's unsportsmanlike self-aggrandizement is another person's admirable expression of joy, or how one person's idea of rubbing it in the other team's face is another person's idea of entertainment. Those lines, it seems to me, are flexible and will always be in flux, especially as our society — and our sports — become increasingly culturally diverse.
The key to finding the happy medium, it seems to me, is distinguishing between behavior and values, or maybe between behavior and consequences. In and of itself, bat-flipping doesn't amount to much: Some people may like it, others may hate it, but it doesn't really have an impact on the outcome of the game. Admiring your "home run" that turns out to be a double-turned-single off the wall, on the other hand, hurts your team. I'd like to think we can all agree that there's no excuse for that, whatever the "unwritten rules" of the cultural moment happen to be.
Either way, I hope we can see a more thoughtful approach when discussing baseball's "unwritten rules," which have deep cultural underpinnings and are more nuanced than most people give them credit for. Writing about them has helped me work out some of my own thoughts about this topic — thanks for listening.
• • • • •
• • • • •
🚨 VAZOU!

Aqui está a primeira imagem de uma das camisas alternativas que o MIAMI HEAT vai utilizar na próxima temporada.

Ela reúne elementos de uniformes utilizados em diferentes eras da franquia. Letras e números diferentes entre si, mas que contam uma história. pic.twitter.com/PXeaaNvW4G

— Camisas da NBA (@camisasdanba) May 24, 2021
NBA leaks, continued: Remember those five 2021-22 NBA leaks from last Friday? SportsLogos.net quickly confirmed their legitimacy, and now we have our first look at one of them — for the Heat — in real life. The lack of a maker's mark is puzzling, but this image is from from ace leaker Igor Coelho, whose track record on this stuff is impeccable.
As for the design, well, I'm sure it violates some unwritten rules. But today is the day I'm trying to see things from both sides.
• • • • •
• • • • •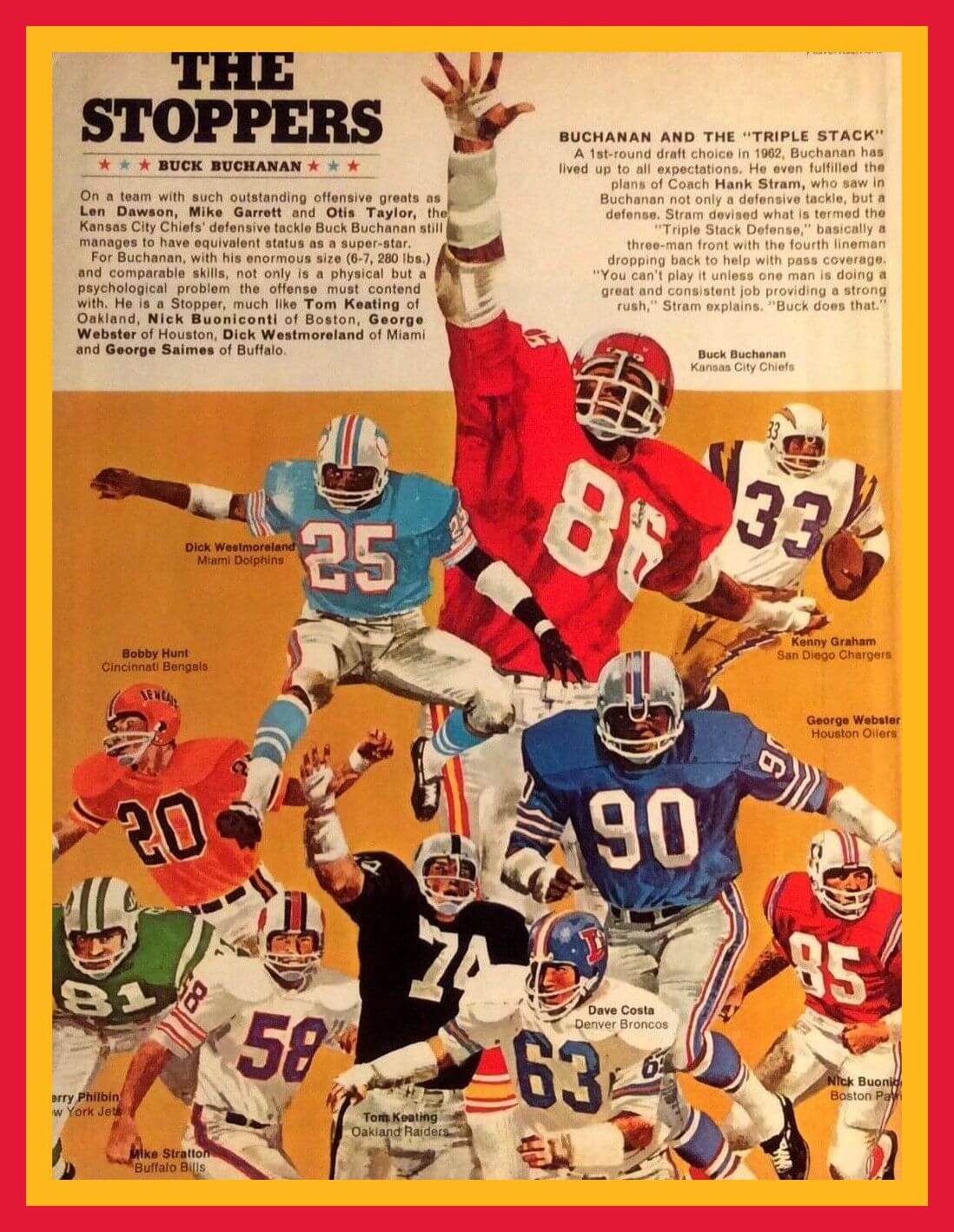 Click to enlarge
Collector's Corner
By Brinke Guthrie
Follow @brinkeguthrie    
Starting off this week with an interesting AFL-themed ad, "The Stoppers," for the 1969 Dodge Polara. While the focus of the ad is Kansas City defensive lineman Buck Buchanan, another player caught my eye — Bengals defensive back Bobby Hunt, who is shown wearing a uniform that the Bengals never wore on the field. They didn't go with orange jerseys, nor did they ever have a helmet stripe down the center. The ad must've come out in mid-1968, for the 1969 model year, before the Bengals had ever played a down.
Now for the rest of this week's picks:
• In 2003, Green Bay-area McDonald's outlets gave away small models of Lambeau Field. This seller is offering a set of three.
• Jay "Dizzy" Dean was a star pitcher in the 1930s and '40s. Here's the big guy on a 1940s Falstaff Beer hand fan, saying, "Tune In!"
• Jim "Catfish" Hunter is clearly the cover star of this 1977 MLB All-Star Game program, which makes sense — the game was played at Yankee Stadium.
• Here's another All-Star Game program from about two decades earlier — July 8, 1958, at Memorial Stadium in Baltimore.
• Actor Burt Reynolds had an ownership interest in the 1980s USFL Tampa Bay Bandits, (who weren't named for his movie Smokey & The Bandit, but rather the dog of owner John Bassett's daughter Carling) and so he was featured on this 1984 promo poster. What, no Sally Field? No Trans Am?
• This Rolling Rock/Pittsburgh Steelers insulated tote bag would be perfect for tailgating, so they called it the "SteelGater."
• Also from the Steel City: This is a very cool-looking 1947 baseball-themed newsstand sign for the (Pittsburgh) Sun Telegraph.
• Joe DiMaggio narrated this 1950 kids' record, Little Johnny Strikeout. (Such an unfortunate surname! Couldn't they have gone with "Johnny Homer" instead? Boost up the kid's self esteem!)
• Here we have a late-1970s New York Jets team bag, with player photos on the sides, as opposed to the Jets' logo. I would bet this was a National Football League Player's Association item, due to the lack of team branding.
• The 1968 Family TV Baseball Handbook was sponsored by Phillips 66. "It's performance that counts!"
• • • • •
• • • • •
The Ticker
By Alex Hider

Baseball News: Good catch by @Phixated, who notes that the Phillies' Father's Day caps have a red squatchee, while their normal caps usually have a blue squatchee. Further investigation by @barrelman_mke noted that other teams that typically wear a contrasting squatchee will have non-contrasting versions on Father's Day. … Orioles players wore hockey jerseys during their travel day to Minnesota on Sunday (from Phil). … The Blue Jays are moving a bit closer to home and will begin playing home games in Buffalo next month — and all of their cardboard cutout fans will be making the trip north as well. … Cleveland P Sam Hentges has "Dr. Honch" stitched on his glove. Team broadcasters weren't sure what it meant, but they guessed it's a nickname (from Pete Gill). … Did you know there's a small farm on the grounds of Fenway Park? The team uses the resulting produce at some of its concessions around the stadium (from Brinke). … Brian Ball notes that in the 1999 movie For Love of the Game, actors Kevin Costner and J.K. Simmons are wearing different jerseys in the same scene (note the lack of a headspoon on Costner's jersey). … The Corpus Christi Hooks, the Astros' Double-A affiliate, will play as the Blue Ghosts on Memorial Day weekend in honor of the USS Lexington, a World War II aircraft carrier that remains docked in Corpus Christ Bay (from Ignacio Salazar). … The Gwinnett Stripers, the Braves' Triple-A affiliate, are honoring essential pandemic workers by including their names in the pinstripes of their jerseys on Friday (from Phil). … New uniforms for the Hastings Sodbusters of the collegiate wood bat Expedition League (from Kary Klismet).

NFL News: The Patriots announced new numbers for new veteran players yesterday. Of note, QB Brian Hoyer, now in his third stint on the team, will wear No. 5, his third different number with the club (from Paul D. Vold). … Dolphins coach Brian Flores's signature is a rare one in sports — it's printed, not cursive! Weirder yet, Preston Feiler notes that Flores uses a lowercase "r" in his first name and a capital R in his last name. … Check out this 1951 Steelers schedule keychain. Makes good use of color to denote home and road games (from Doug Keklak).

Hockey News: The Canadiens displayed some of their fans' jerseys in the Bell Centre during last night's playoff game (from Moe Khan). … This video tells the story of how the Flyers created their mascot, Gritty (from Kary Klismet). … Brandon Weir sends along this spectacular photo of the old Lethbridge Broncos, who played in the WHL in the '70s and '80s. Lots of green and yellow, and even Cooperalls. … We've probably seen this before, but always worth seeing again. Check out the FNOF (first name on front) jerseys that the New England Whalers broke out when Gordie Howe and his sons, Mark and Marty, signed with the WHA club in 1977 (from Matt Sammon). … A committee has unanimously recommended that Michigan should rename its hockey arena, citing a history of racial issues involving its namesake, former school AD Fielding Yost (from Timmy Donahue).

Basketball News: The Celtics' DG-League affiliate, the Maine Red Claws, is adopting the name and colors of its parent club and will now be known as the Maine Celtics (thanks to all who shared). … Former Marquette players are joining together to create a team called the Ultimate Warriors for The Basketball Tournament (from Steve Flack).

Soccer News: Here's the trophy and logo for UEFA's new Europa Conference League, which will serve as the bottom level of the existing men's European competitions beginning next year (from our own Jamie Rathjen).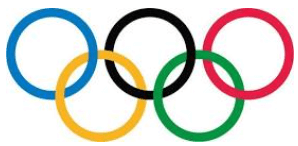 Olympics News: Here's a visual history of Team USA's uniforms through the years (from Kary Klismet and Phil). … U.S. gymnast Simone Biles — without a doubt one of the Greatest Of All Time — wore a leotard that included a rhinestoned goat while competing at the GK U.S. Classic in Indianapolis on Sunday (from @PJM75TWEETS).

Grab Bag: The New York Times (soft paywall) has published an interesting look at the psychology behind sneaker colors (from Tom Turner). … New uniforms for Hawaii sheriff deputies (from Kary Klismet and Timmy Donahue). … Benji King found a house in Bountiful, Utah, whose mailbox is inspired by Old Main — the oldest building on Utah State's campus. … Nebraska vexillologists are calling on the state to change its flag. Nebraska is currently one of the 28 "seal on a bedsheet" states (from Dave Feit). … You know how it seems that almost every high school or college team with the nickname "Bulldogs" likely uses one of just a handful of logos? It turns out, you can trace those logos back to a Disney animator named Preston Blair, who included a bulldog sketch tutorial in his book (from @lolo_phynarski). … Here are all the 2021 Australian Football League Indigenous guernsey designs (from @JeffChrz).
• • • • •
Our latest raffle winner is Aaron Lieber, who's won himself a Uni Watch membership card. Congrats to him, and my thanks to Cesar Duran for sponsoring this one. — Paul