I don't usually write about retail merch, but I recently learned about a company called Aced Out that has an intriguing niche: They have a license from the MLB Players Association, so they sell caps featuring the names of various ballplayers. The caps are usually rendered in the team colors of the featured player but don't include any team logos.
Even more intriguingly, I learned that Aced Out is basically a one-person operation, run by an Arizona-based guy named Steve Adler (shown above). I was curious about how he ended up with such a specific merchandise niche, and about what goes into getting these caps made, so we recently did a phone interview (and then, as you may have noticed, Aced Out became one of our Unified podcast advertisers, although the interview took place before Steve decided to do that). Here's how it went.
Uni Watch: What did you do before you started Aced Out?
Steve Adler: Prior to jumping into apparel, I was a sports talk show host in San Diego, covering the Padres and Chargers. And then in 2013 I decided to step away from radio, moved out to Arizona, and felt like I could create something from an apparel standpoint that would really speak to fans, so I had launched America's Finest Apparel [whose "Jew Crew" T-shirt for Team Israel in the 2017 World Baseball Classic was the subject of a Uni Watch entry — PL]. And there was Arizoniacs, which is my Arizona brand.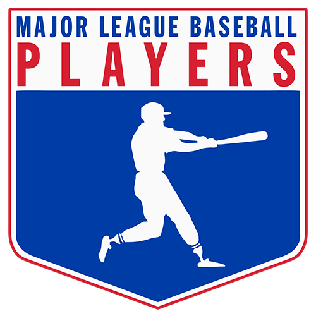 Those brands do just fine. And then in 2018, I felt like I was at a point where I could start to take on some licensing. So initially, it was some collegiate licensing, and then I sat down with the MLBPA in 2019. I feel as though the MLB players are not showcased well. A lot of the players just don't get marketed like you'd like to see in other leagues. So I felt it was a great opportunity for us to be able to create a brand that highlighted the players from a headwear standpoint. And it made sense for baseball because they're always wearing hats. So it seemed like it would be a natural fit.
UW: Did this type of product — caps featuring players' names and so on — already exist, or did you basically invent this category?
SA: My understanding is that there have been a handful of companies that have tried this in the past. But when I brought it up, nobody was doing it. I essentially had to create the market for it.
UW: And are you the only one doing it now? Is your license exclusive?
SA: New Era and 47 Brand are dual licensees — they have MLB licenses and player licenses. But we're the only one that has just the player license.
UW: So it's your bread and butter, whereas, presumably, it's just a small sliver of their overall product line.
SA: Yeah, completely.
UW: When did your first caps become available?
SA: May of 2020.
UW: Oh, man — just as the pandemic was unfolding.
SA: Yeah, we had put together a proposal for the Players Association in February. Obviously, it was a pre-pandemic proposal. And then their offices got shut down and things started getting delayed. And at one point it looked like players were going to get on the field, so they said, "Okay, green light, you're good to go. License starts May 1." And obviously once the license starts, the clock starts ticking.
UW: Once you have the license, can you basically go ahead and make a cap for any big league player? Or does the PA give you permission only for specific players? How does that work?
SA: We can make hats for any big league player on a team's active roster.
UW: Obviously, you're not gonna do a cap for the last guy on the bench, the 26th guy on the roster. How do you decide who's worth doing? Do you look at jersey sales and use that as a guide?
SA: I did take a look at that initially, because we really didn't know what direction to go. Our initial rollout was two Yankees, two Cubs, Mike Trout, and Bryce Harper. And then from there it was, okay, let's start to feel out the market, who do we think has a large social following, who can we effectively target from a marketing standpoint — that kind of thing.
You know, a lot of it is based on how well the player is doing, how the team is doing, and if we feel that fans are going to emotionally invest in this player, which will then allow them to financially invest in the player.
It's definitely a lot of trial and error. That's one thing I've had to do with the PA — I bounce stuff off of them constantly, because I want to be able to make sure that I'm making proper decisions.
UW: Do you ever work directly with a player?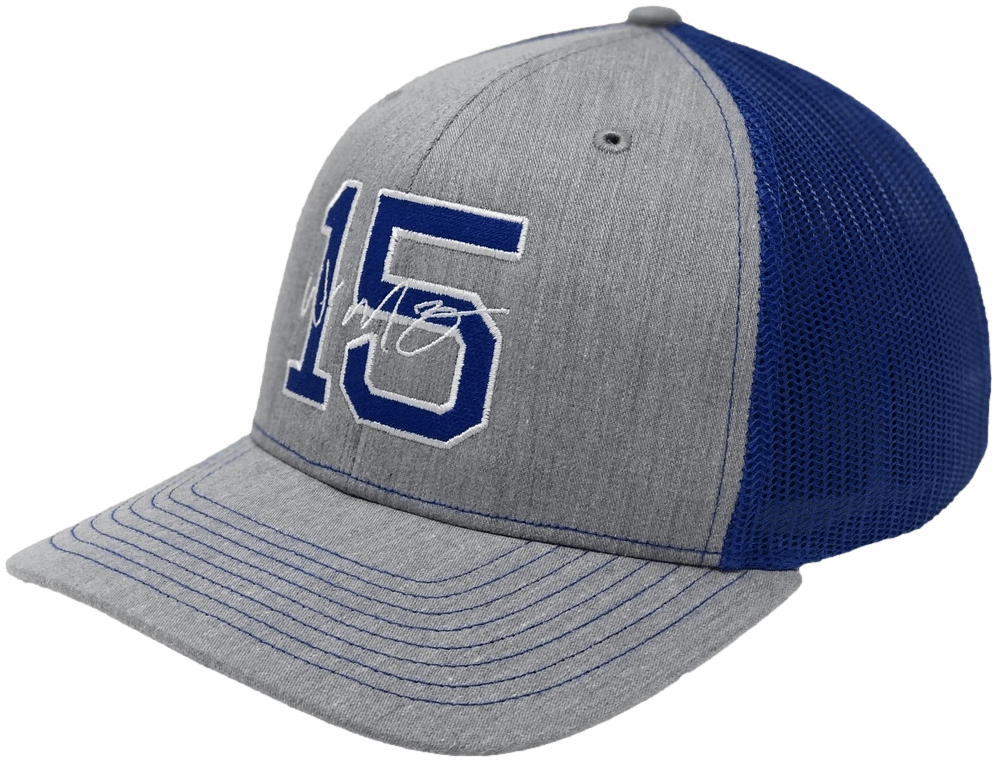 SA: A handful of players, yes. For example, at some point somebody on Twitter had had tweeted at us, and they said we should come out with a hat for [Royals second baseman] Whit Merrifield. And Whit doesn't necessarily fit into our equation — not super-well-known, plays in Kansas City, which is not a huge market, and the team was struggling. But my response was, "Well, hey, if Whit's on board we'll totally do it." And 15 minutes later, here comes a tweet from Whit Merrifield, "Hey, I'm totally down. Let's do it."
Also, Whit and I have a mutual friend, who's the strength and conditioning coach for the Royals. So we were able to connect fairly quickly. So I sent out a couple designs, he picked one, and a week later we had a Merrifield hat.
UW: But if you're not working directly with the player, does the player have to approve or sign off on the design?
SA: No. So for someone like, say, Fernando Tatis, who we do not work directly with, I can make anything that I want. Obviously, it needs to be tasteful. But I can design anything I want, send it over to MLB Players, they approve it, and we can go to market with it.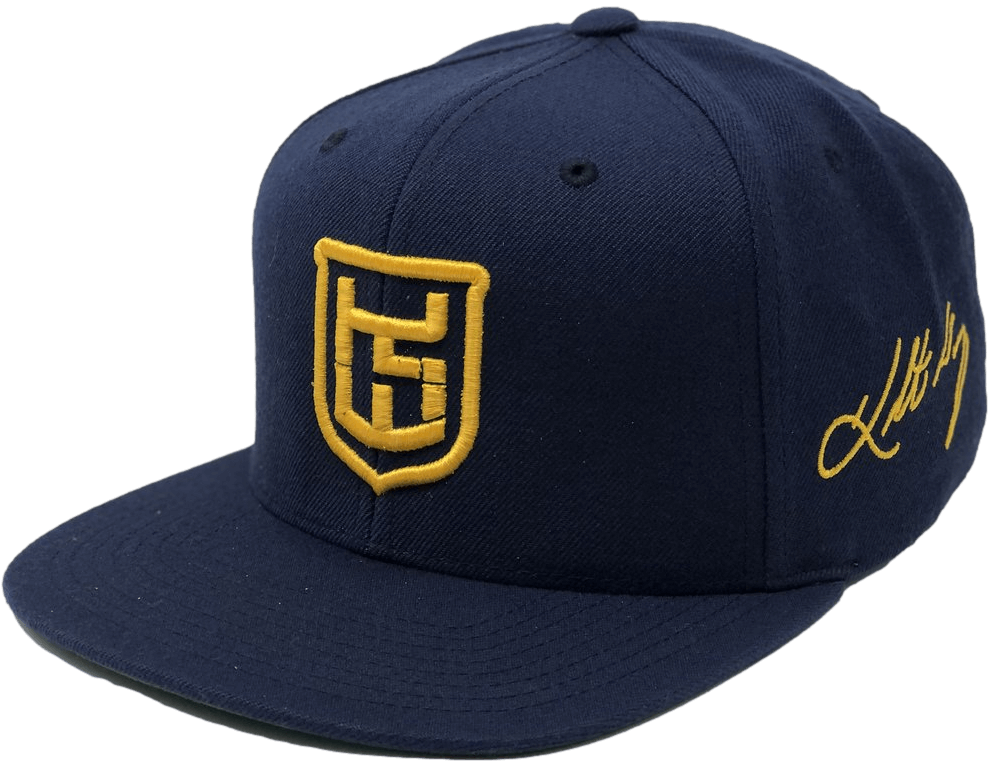 Some players like to be involved. [Brewers second baseman] Kolten Wong is a guy who really likes to be involved with the design work. So with him, I'll come up with something, I'll send it over to him. He'll throw some ideas back and forth. And that way he gets to control his own brand, so to speak, in his sphere of influence. He'll tweet about it, post it on Instagram, post it on on Twitter and TikTok, whatever their social media preferences are. So that obviously gets us a lot more traffic when a player does that.
UW: In that type of situation, are you literally communicating directly with Kolten Wong, or whoever the player might be? Or are you going through his agent, or someone else?
SA: It depends on the player. With a guy like Kolten, I deal directly with him. Now, I do know his agent, who also happens to represent Aaron Judge. So if there's an opportunity, then I'll reach out to the agent and say, "Hey, just want to let you know we're doing a cap for Aaron." And he'll take a look at it. And if he has a chance, he'll share it with Aaron and see if he's interested in getting involved. Most of the time, the player's not going to be interested,
UW: I figure most of them have bigger things to worry about and don't have time to micromanage a hat design.
SA: Exactly. And the reality of it is most of these guys are making so much money doing what they do, plus endorsements, so they're not really worried about a couple of cap sales. But they love the fact that they have their own headwear. As you know, many of them love designing their own cleats. So they work with whoever their shoe sponsor is, whether it's Nike or Under Armour, whoever it is, and they love to show off their custom cleats. So we hope to tap into that same feeling, where we can sit down with players and agents and show them styles and do some more creative designs.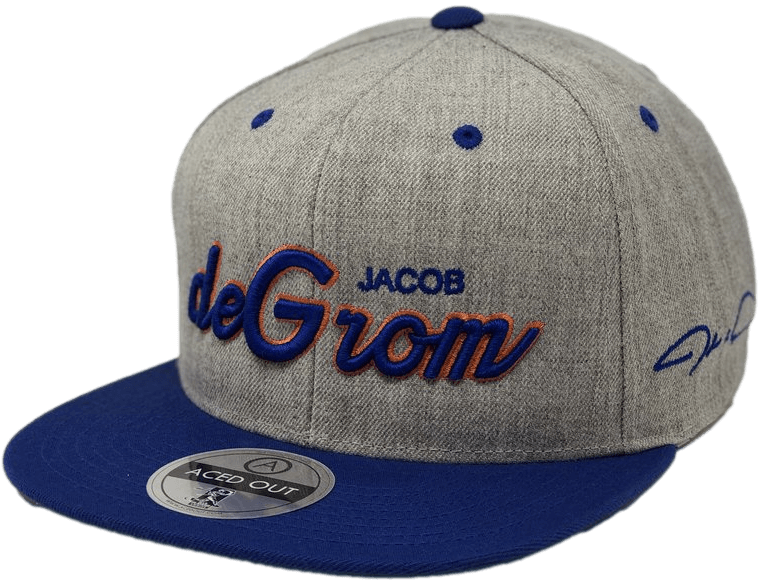 UW: I'm a Mets fan, so let's talk about your Jacob deGrom hats. Do you work directly with him?
SA: No, unfortunately.
UW: So for something like this, you can include his name, obviously, and you have his signature on the side. And you can render the product in Mets colors, blue and orange. But you can't actually use the Mets team name or logo, is that right?
SA: That is correct. And we don't necessarily try to do an exact match of the team colors — we just try to have our embroidery match the colors of the stock hat. Obviously, we want it to be in the general area for the team colors that we use, but the royal blue on that deGrom hat is not necessarily the Mets' shade of blue, because we use that same royal blue for all our blue caps.
There's a good chance that the orange on that deGrom hat is a bit brighter than the Mets' orange. And that's just more my style — I like things to be a little loud and a little noisy, so they have a pop. So we will typically use brighter colors. We don't try to necessarily match PMS for PMS on team colors.
But regarding your question, we don't use the team name or the team's trademarks. That would be a no-no.
UW: So Jacob deGrom wasn't personally involved in the design for this cap. Would someone show the design to him, just to get his approval? Does his agent approve it? Or just the union?
SA: Just the union.
UW: Do you think deGrom is even aware that this cap exists?
SA: It's likely the player has no idea it exists. That's the way it works most of the time. I mean, we have people who are family members, and girlfriends and moms who buy stuff from us, but it's likely that the player doesn't know it's out there. Similarly, they probably have no idea about most of the T-shirts and things that are made with their names.
UW: Can you recall any instances the union asked for revisions in one of your designs?
SA: Early on, I did a Mike Trout design, and they kicked it back because the lettering I used was pretty spot-on with the Angels' font.
UW: So it was too similar to their branding, basically.
SA: Yeah. So that's been their only concern, if we're veering into trademark territory and that kind of thing.
UW: What's the typical production run for these types of caps?
SA: Sometimes it's as small as 24, sometimes as large as 144. All our embroidery is done domestically, so we can turn it around quick and we can order in smaller batches.
UW: Are there are this similar caps for players in the other major pro sports leagues? Like, is there an NFL equivalent of what you're doing?
SA: No.
UW: Are you looking to get into that market as well?
SA: I did approach the NBA and the NFL. The NBA said they didn't see a market for it, and they shut it down pretty quick. And it turns out that the NFL Players Association goes completely through Fanatics. So for now we're sticking with baseball.
———
So interesting! And although we didn't cover it in this interview, Aced Out also has some officially licensed T-shirts for Baseball Hall of Famers (another very specific niche) and a handful of colleges.
Big thanks to Steve for sharing his story with us. Again, you can see his product line here.
• • • • •
• • • • •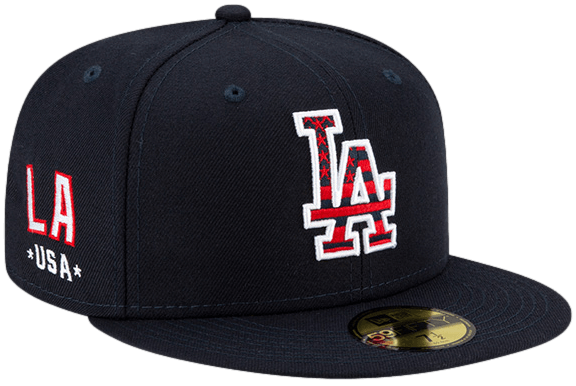 Full slate of MLB holiday slop released: What you see above is the completely ridiculous cap that the Dodgers will wear on July 2, 3, and 4 for Independence Day Weekend. SportsLogos.net had an exclusive on this one, along with the new Father's Day caps. Full details are available in Chris Creamer's report.
A few other noteworthy items from Chris's article:
• The G.I. Joke caps for Armed Forces Day (which we had already seen several weeks ago via a retail leak) will be worn for a full three-day weekend, starting today. So MLB has turned an obscure "holiday" that most people have never heard of into a three-day on-field merch dump.
• As was the case in 2019, teams will wear poppy patches on their jerseys for Memorial Day. That will be done just for the actual holiday — May 31 — not for the full weekend. This seems like the proper way to address this holiday, and I applaud MLB for taking this approach.
• • • • •
• • • • •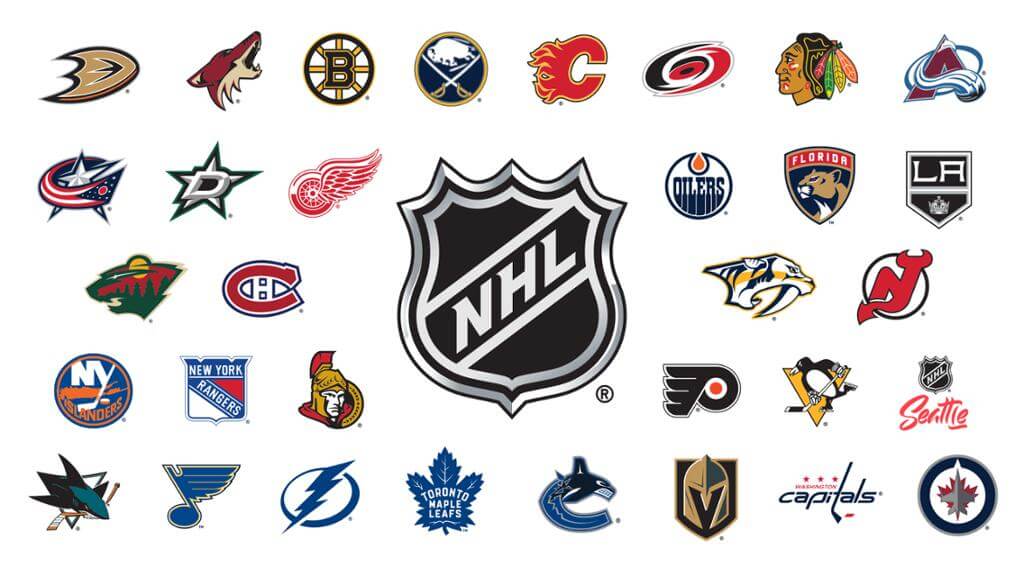 NHL Power Rankings reminder: In case you missed it on Thursday: With the NHL playoffs starting this weekend, my latest piece for InsideHook is a set of NHL uniform power rankings. You can check it out here.
I'll be doing NBA rankings — but with a fun twist — in about a week, just in time for the start of their playoffs.
• • • • •
• • • • •
Jeet jet?

Our 2021 schedule as pierogies 🤣🍽 pic.twitter.com/Rmd3LscEqw

— Pittsburgh Steelers (@steelers) May 13, 2021
Too good for the Ticker: The Steelers's new schedule-release shows their season as a series of pierogi pairings — brilliant! I particularly like that they used a neon-green pierogi for the Seahawks. Even the way they handled bye week is clever! Nicely done.
(Big thanks to Pat Dougherty for bringing that to my attention.)
• • • • •
• • • • •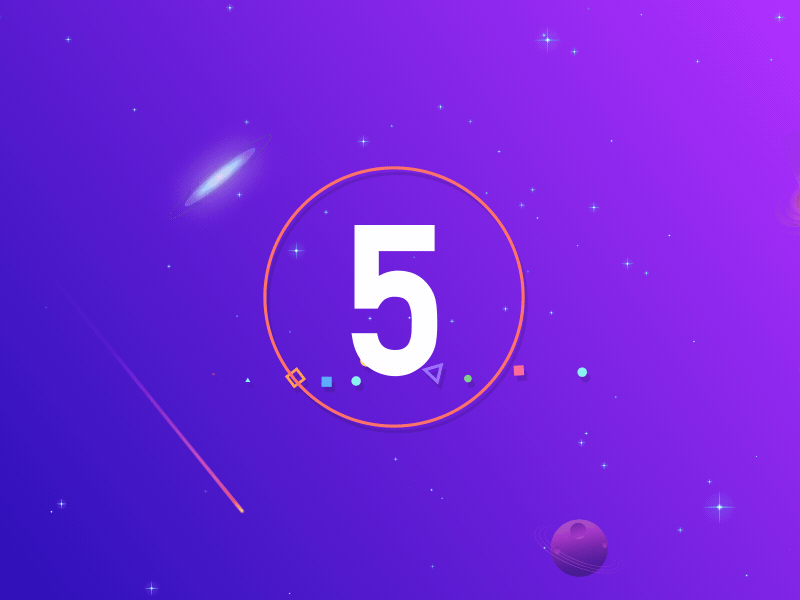 ITEM! Purp Walk countdown now in progress: Next Monday, May 17, is the (15th!) anniversary of the very first post on this blog. By longstanding tradition, that means it will also be Purple Amnesty Day. A few things about that:
• Monday's post will go live at (or about) midnight Eastern on Sunday. It will include some special purple-centric content.
• As soon as the post goes live, the usual ban on purple-inclusive Uni Watch membership card orders will be lifted for 24 hours.
• The post will include links where you'll be able to order this year's Purp Walk merchandise items. Those too will be available for 24 hours.
It'll be excruciatingly loathsome! See you then.
• • • • •
• • • • •
The Ticker
By Anthony Emerson

Baseball News: In a recent episode of The Handmaid's Tale, a Cubs hat is worn by the protagonist. But during the "deeper look" video about the episode, the Cubs logo is missing from the hat (from Robert Brashear). … The Royals came very close to adopting the most 1969 logo ever after their inception. Unfortunately, less groovy heads prevailed (from Ryan Sloop). … Here's a really cool article about the artist behind the Carolina Mudcats' logo (from @RUNCMD52).

NFL News: KC has a new logo for their now corporate-named field/stadium (from Timmy Donahue). … Lots of new rookie uni-number assignments for the Jets, Giants, Steelers, and Titans (thanks to all who shared).

Hockey News: Gross: A new betting ad will appear on the ice throughout the Stanley Cup playoffs (from Griffin Smith). … Clarkson's men's team is celebrating its 100th anniversary with a patch, but unfortunately it refers to 100 seasons. No, guys, it's your 101st season! (from multiple readers). … The Penguins will wear their gold alternate sweaters for all home playoff games (from multiple readers). … The Hurricanes will do likewise with their black alternate sweaters (thanks, Phil).

Basketball News: After four seasons, the Heat are retiring their popular Miami Vice unis (from multiple readers).


Soccer News: Chelsea have unveiled their new home kits, and they'll make their on-field debut during tomorrow's FA Cup Final. The somewhat odd design is allegedly inspired by '60s London culture (from multiple readers). … Minnesota United ST Ramón Ábila celebrated a goal on Wednesday by lifting up his jersey and revealing a picture of his brother on his undershirt. His brother died by suicide last year (from our own Jamie Rathjen). … Also from Jamie, yesterday Liverpool wore warm-up shirts honoring Jordan Banks, a young fan who was killed by a lightning strike. … Here's an article wondering if Tottenham Hotspur are missing out by not selling the naming rights to their new stadium. Only four of the 20 current Premier League stadiums have corporate names, although that number could be five next season depending which side wins the final promotion spot (from Timmy Donahue). … The USL Championship's Colorado Springs Switchbacks have revealed their new kits (thanks, Phil).

Grab Bag: The Girl Scouts are updating their "Cadette" rank uniform. Old on left, new on right (from Blake Jackson).
• • • • •
• • • • •
• • • • •
That'll do it for this week. Enjoy Phil's weekend content, get those purple-centric membership orders ready, and I'll see you back here on Monday for Purp Walk 2021! — Paul